After today's list of Asian chicken recipes, you will never think of chicken as a cheap food source anymore. Forget about what you usually order at a fast-food joint because once you taste the many chicken-based dishes below, you will never want to return.
When it comes to the most popular type of meat in Asia, chicken reigns supreme. The sheer variety of menu options is out-of-this-world. You can find excellent dishes or meals that can bring your mind to the next level of bliss.
But this much praise will not do these Asian delicacies justice. You have to taste it to believe it. And I think it's time for me to reveal this incredible selection. You can pick out any recipes from here, and I can assure you that they will be your favorite for the whole week.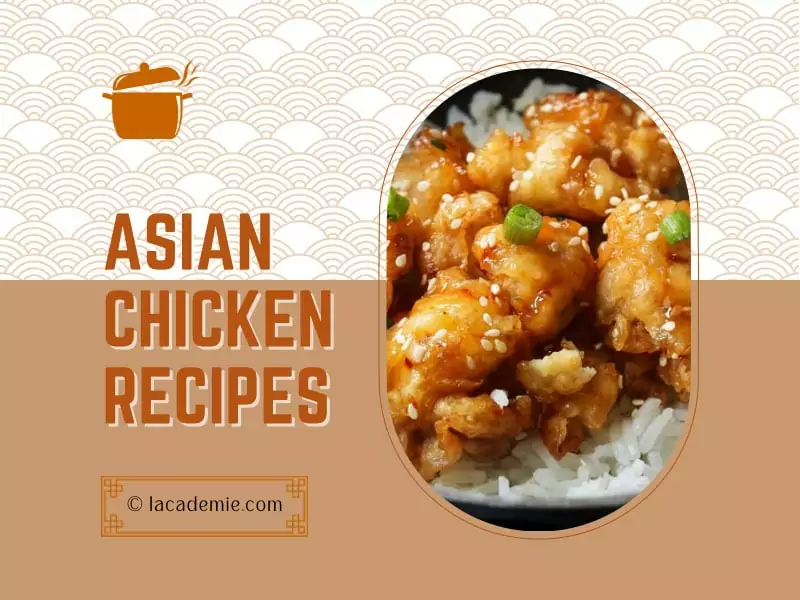 Chicken-Based Dishes Full Of Asian Flair
There are multiple categories to choose from, including several iconic delicacies in Korea, China, and India. All you need to do is improve your cooking skills so the food will turn out spectacular.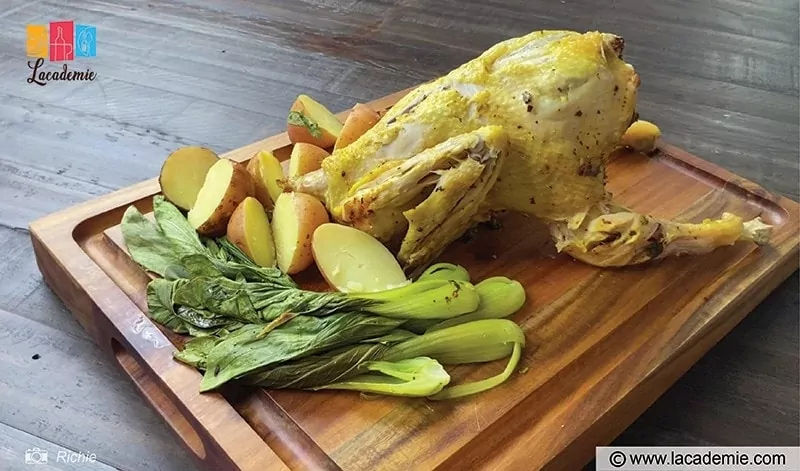 It is a yummy Vietnamese dish made with chicken, coarse salt, lemongrass, spices, and more. The juicy meat is packed with flavors, making it an ideal treat on any occasion.
Start with marinating the chicken with seasonings; then, you will steam it with a bed of coarse salt in a steamer. It might take about 35 to 45 minutes to cook, and the result comes out perfectly.
In case you can't buy coarse salt, use kosher salt instead. Do not opt for table salt, as it might not bring a more flavorful dish than you expect.
Total time: 50 minutes
No matter who you are or where you come from, you must admit that it's always good to enjoy a plate of chicken wings. But what if I tell you there is a way to make your wings much more delectable? You're correct if you think adding a generous amount of Hoisin sauce.
The Hoisin Chicken is one of the fastest and most simple Asian-inspired chicken delicacies that you can whip up. You have to marinate the wings in a Hoisin sauce, soy sauce, and honey. The combination of sweet and savory will slowly seep into the meat.
After you bake chicken wings in an oven, the caramelization process crisps up the skin so you can feel the crunchiness in each bite. The Hoisin sauce provides an appropriate level of saltiness that blends seamlessly with honey and soy sauce.
Total time: 25 minutes
Cashew Chicken is one of the more common menu items in many Asian restaurants. This Thailand-originated dish is relatively easy to replicate. Yet, you can still find so many complex flavors in its simplicity.
As a chicken-based dish, the essential ingredient is, of course, meat. Instead of using the whole portion of white meat, this version relies more on chicken tenders. When you cook the tenders right, the texture becomes flaky and moist.
The other essential part of this delicacy is the cashew sauce, which comes from chicken broth, soy sauce, and vinegar. When you fold the cashews into the mixture on a heated skillet, the nuttiness can improve the sauce's savoriness and acidity.
This Cashew Chicken recipe is so easy that you might want to make it soon.
Total time: 1 hour 25 minutes
Sweet and sour refers to a style of cooking that originated during the Tang dynasty (7th-10th century A.D). There are many variations of this style based on the choice of meat. I want to show you how to recreate the chicken version in this entry.
What people love the most about Sweet And Sour Chicken are the flavor and the texture. This Chinese specialty consists of a balance between the sweetness of sugar and the sourness of apple cider vinegar. You can also add ketchup to feel the signature umami undertone.
As for texture, the chicken has to go through a deep-frying process to get the skin to crisp up nicely. The crunchy exterior has another significant effect in that it can hold seasonings well. The sweet and sour sauce can even evenly coat the dish's entirety.
Total time: 40 minutes
According to a popular myth, General's Tso Chicken came from the province of Hunan, the home of Zuo Zongtang (General Tso), a military leader during the Qing dynasty (17th-20th century).
The story above is how most people outside of China would describe the delicacy's origin. However, locals living in Hunan have never heard of General Tso's Chicken before.
But no matter what the true origin of this Chinese-inspired recipe is, many can agree that it's juicy, tasty, and flavorful. You have to deep-fry the meat first to get the skin to become golden and crunchy. The texture is going to improve the experience to a higher degree.
Not just that, but the sauce is pretty incredible with the addition of soy sauce, Hoisin sauce, and honey. The sweetness of the honey is quite intense. But if you drizzle in some soy sauce and Hoisin sauce, the savoriness can reduce the sweetness.
Total time: 2 hours 20 minutes
One of the best things about the Sesame Chicken is its flavorful aura. And yet, when you dig deeper into this Chinese-style dish, you will realize it's just a simple stir-fried delicacy, which includes meat in a type of sauce.
To prepare the chicken, you only have to find a portion without skin. If there's some skin left, you can use a sharp knife to cut it out. The meat can be moist and juicy without being too chewy since the skin tends to toughen up in a pan.
As for the stir-frying sauce, use soy sauce, sugar, and honey. Due to the heat, the liquid will thicken up, so the chicken can get coated with a lovely sheen of savoriness. It's an exquisite experience when you bite into the chicken bits.
Total time: 25 minutes
Kung Pao Chicken, or what the Chinese would call Gong Bao Ji Ding, is a regional delicacy from China's Sichuan province. Traditionally, this recipe can numb your mouth with Sichuan seasonings. However, this version is more suitable for the overall global palate.
Instead of using the potent Sichuan's signature peppercorns, the spiciness is milder thanks to the dried chilies. It can make you break a sweat, but your tongue will be safe. The inclusion of honey and soy sauce also works to decrease the heat.
The other ingredients are cubed-up chicken breasts, bell peppers, and roasted peanuts as a garnish. You can always trust the chicken to be tender and juicy, and it only gets better with a coating of sauce. The bell peppers are there to offer some fresh crunchiness.
If you crave Asian food, you can recreate this Kung Pao Chicken recipe.
Total time: 30 minutes
Out of all the staples that you can find in a Chinese restaurant, the Orange Chicken is both the most unique and the most popular. The genius use of orange juice can make the flavor of the chicken come through most unimaginably.
Before cooking, coat the chicken in flour, cornstarch, and onion powder. The meat can soak up the natural goodness from the seasonings to enhance its savoriness. The flour and cornstarch also help the outer layer of chicken crisp up lightly.
And for the main attraction, the orange sauce consists of orange juice, soy sauce, and brown sugar. This mixture has everything in it, from acidity to savoriness and sweetness.
And when you add a dash of cornstarch, the sauce will thicken up in a pan and make the flavors even more concentrated.
Total time: 1 hour
The term "Chow Mein" comes from the Cantonese words for "stir-fried noodles." Due to the widespread nature of Chinese culture across the globe, this delicacy is available in almost all Chinese restaurants and eateries. Today, I will teach you how to make Chicken Chow Mein.
In this noodle recipe from China, you use egg noodles as a base. This component gives the overall texture a more fragrant creaminess. To balance that flavor, you add different vegetables to increase the freshness, like cabbage, carrots, and celery stalks.
The breast is still a favorite amongst cooks since it's easy to pair with other seasonings like oyster sauce, rice vinegar, and brown sugar when it comes to the chicken. Combine this mixture with noodles and chicken in a heated pan.
The result is a simple yet fulfilling specialty that you can eat alone or share with many people. The savory chicken blends in perfectly with the chewy noodles and crunchy veggies.
Total time: 20 minutes
Chicken Fried Rice is one of those dishes that you tend to make a lot to save time, but you eat it anyway since it's too good. It's quick and easy to make, but the flavors are just as complex as the food from a fancy restaurant.
Let me tell you one secret to making a good bowl of fried rice: Leftover rice from yesterday. The texture of day-old rice is somewhat tougher, resulting in the rice becoming chewier, and the sauce can stick to delicacy much easier.
When you prepare the chicken, cut it into thin strips so the flavors can penetrate each meat tissue. The stir-fried sauce consists of soy sauce and chicken bouillon (chicken essence), giving the rice a more vibrant taste.
Total time: 30 minutes
Mongolian Chicken is a derivative of Mongolian Beef, a dish that mostly appears in many Mongolian barbeque restaurants. Fun fact: Mongolian barbeque is entirely a Taiwanese creation despite having "Mongolian" in its name.
The preferred cut of meat for this Taiwanese dish is the breast. It can turn super moist and tender if you cook the meat right. The beef can become much tastier when paired with a sticky sauce consisting of soy sauce, brown sugar, and water.
The soy sauce and brown sugar blend seamlessly, creating a savory flavor. Put in cornstarch to thicken up the sauce, which can help the mixture stick to the meat much better.
Total time: 2 hours 30 minutes
The influence of Chinese cuisine throughout Southeast Asia is apparent since many immigrants decided to settle in the region. For the island country of Singapore, one of its national dishes comes from Chinese immigrants, called Hainanese Chicken Rice.
The primary method of cooking this specialty in Singapore is poaching the chicken in a pot of water infused with rice wine, soy sauce, and ginger. This process causes the chicken to become quite juicy. The seasonings manage to seep into the skin and meat to flavor the exterior.
On the other hand, you don't just boil rice with water alone. By adding the rich chicken broth, the rice can become much fluffier. The taste is mind-blowing when you feel each grain carries a ton of essence. This whole experience can stimulate your taste buds.
This nourishing Hainanese Chicken Rice will fill you with flavors.
Total time: 45 minutes
Compared to nearby countries like Thailand or Vietnam, Indonesian cuisine is not very well-known. However, it doesn't mean the country lacks the options for you to try. Let me be the one to open that door for you with this recipe called Honey Garlic Chicken.
Unlike the previous recipes, this interesting Indonesian dish requires chicken thighs, not chicken breasts. The thighs provide a much fatter texture. The skin is more delectable if you sear it on a skillet. After searing, roast the meat in an oven to get them outside to brown.
While waiting for the chicken, you can get started with the sauce by combining honey, garlic, and soy sauce. This savory mixture has all the necessary flavors to improve the chicken thighs. But if you want to add more richness to the concoction, feel free to pour in chicken broth.
Heat the sauce in a pot or skillet before drizzling it on top of the meat. Make sure to do it when the chicken is still hot so the liquid can stick more efficiently.
Total time: 35 minutes
When you have a chance to visit Indonesia, there's a type of street food that you must try called Chicken Satay. But, if you don't have a lot of time like me, you can always count on this quick recreation of a beloved Indonesian delicacy.
The most suitable cut for this popular type of street food in Indonesia is the chicken thigh. It contains a lot of dark meat, which is more tender and flavorful than parts with white meat. Marinate the thighs in brown sugar, soy sauce, and melted margarine.
The mixture can infuse the meat with so much sweetness and savoriness. To cook the specialty, skewer the meat before placing the skewers on a hot skillet. Cook until you see both sides turn brown.
Satay usually goes with a type of peanut sauce consisting of peanut butter, red chilies, and garlic. This dip is spicy and creamy at the same time. You can feel that wave of flavors sweep over you with every bite.
Total time: 45 minutes
Are you running out of recipes to make for dinner tonight? No worries, since I'm here with a recipe coming from The Philippines. Introducing Chicken Adobo, an iconic delicacy that you can always find on the table of many Filipino families.
You combine chicken thighs with a marinade, just vinegar, soy sauce, and bay leaves to get started with the preparation. This process leaves the chicken immensely juicy when you cook it. A tangy undertone also creates a unique after-taste on the meat.
When it's time to cook, sear the chicken first so both sides can turn brown. This caramelization process gives a very fragrant smokiness to the meat. After that, heat the adobo marinade in the skillet before you put the thighs back.
When you see the sauce is thick enough, remove the skillet from the heat. Chicken Adobo goes perfectly well with a side serving of rice.
Total time: 2 hours
This creative Thailand-based recipe is going to blow you away. Instead of using certain parts, the version requires you to grill a whole chicken. It's the perfect delicacy to have with either your family or a company of friends.
It's best to use a charcoal grill to make Gai Yang since the direct fire will create a layer of smokiness that an oven or a skillet can't match. Marinate the chicken with soy sauce, fish sauce, and brown sugar so the umami can penetrate the meat.
The cooking process is just grilling the whole chicken on a skewer. The caramelization takes place very quickly and turns the skin brown, enhancing the overall flavor. When the meat turns white, you can take it off the grill.
This specialty usually comes with a type of dipping sauce, which can be different based on where you get the chicken. Combine tamarind, fish sauce, and chili flakes for today's recipe. These components make a tangy and spicy dip.
Gai Yang is a fantastic dish for your BBQ party.
Total time: 30 minutes
If you're a big fan of food from South Asia, I'm sure you'd love to make this beloved recipe. Chicken Tikka Masala has everything you would want in a stew, from the creaminess of the broth to the satisfying feeling of chewing through tender chicken meat.
So, how can Chicken Tikka Masala be this captivating? It all boils down to the marinade for the meat. First, you have to make something called Masala paste, which consists of garlic, turmeric, and chili powder. The paste is quite savory, peppery, and intense.
When you submerge the meat with Masala paste and yogurt, the beef gets tenderized. The flavors slowly seep into the chicken from every side. When you sear the chicken, the essences get spread even further.
The final step is to add the sauce, which includes Masala paste, tomato puree, and thick coconut milk. Tikka Masala usually comes with rice.
Total time: 30 minutes
This healthy Indian-inspired dish is a suitable option to share with friends and family. Like Chicken Tikka Masala, the comforting Coconut Chicken Curry will wash away all of your worries with its creamy and rich consistency.
Like any delicious recipe, this dish starts with sauteing garlic and onions. This step alone is enough to make your mouth water since the fragrance is irresistible. Next, sprinkle Asian-styled aromatics like cumin, turmeric, and cayenne pepper.
After that, toss the chicken in with crushed tomato and, later, coconut milk. This step will result in a thick sauce full of unique flavors, like sweet, savory, and spicy. When stewing alongside the sauce, the chicken meat also absorbs some of those essences.
The best way to eat Chicken Curry is with Basmati rice or cauliflower rice (you just blend boiled cauliflowers until they become a paste).
Total time: 30 minutes
Chicken Yakisoba is one of the quickest and most enjoyable Japanese dishes you can make without emptying your entire budget for the week. The necessary ingredients are so easy to find that you can finish creating this delicacy in less than an hour.
Many factors make a simple plate of Yakisoba especially delightful. First, the noodles are pretty chewy, but not to the point of being leathery. The texture is perfect for retaining the most flavors from the sauce, like oyster sauce's sweetness or soy sauce's umami.
As for the chicken, the recipe calls for either chicken thighs or chicken breast. If you prefer the meat to be flaky, chicken breasts are for you. But if you want the meat to be tender and juicy, get the chicken thighs. However, both types of meat are still very delectable.
Total time: 15 minutes
Are you sick of packaged ramen but don't want to go outside to eat a good bowl of noodles? If you're not too lazy to cook, I have this wonderful homemade dish called Chicken Ramen. It doesn't take much time at all to perfect a lovely meal.
The soup of this noodle recipe from Japan consists of chicken broth, ginger, and soy sauce. This combination is much faster than cooking your stock from scratch. The flavor is still very meaty and savory. You can feel the hint of pepperiness from the ginger as well.
You can use instant ramen for the noodles since it's adequate for this delicacy. You can boil the ramen with the broth or cook it separately to eliminate the greasiness. Finally, toss the cooked chicken into the soup. The chicken provides the much-needed proteins and chewy texture.
Total time: 1 day 25 minutes (Including one day of marination time)
If you're familiar with Japanese cuisine, you might know that Miso is usually a popular ingredient for soup. However, instead of limiting this unique paste to a single role, this chicken marinated with Miso will conquer your taste buds.
Miso is a type of soybean paste in Japan, for those who don't know. Combine Miso with Mirin (Japanese seasoning wine) and Sake (Japanese rice wine) to make the marinade. Keep the chicken thighs in the Miso sauce overnight to let the umami flavor seep in.
To cook this Japanese-inspired chicken specialty, just sear both sides of the chicken until they turn brown. The caramelization crisps up the meat and fortifies the flavors. Finally, heat the Miso sauce in a skillet before drizzling it onto the chicken. The taste will become much better.
Total time: 20 minutes
"Simple is best" has always been my motto in life. Why do you have to complicate things when there's always an easy answer to every problem? Whenever I choose something to cook for dinner, my mind always goes for the easiest option. For today, it's Teriyaki Chicken.
You would be surprised how flavorful this recipe from Japan is even though the preparation only takes less than half an hour. The main attraction here is the Teriyaki sauce, which combines honey, Sake, and rice vinegar. You can get sweet, savory, and tangy tastes from just one mixture.
To start the cooking, just sear the meat until all sides become brown. Remove the chicken and then thicken up the Teriyaki sauce in the pan. Finally, put the chicken back and coat it evenly with the sauce. In the end, you have a delicious specialty to go with rice.
This Teriyaki Chicken tutorial is easy to follow.
Total time: 1 hour 15 minutes
If you're looking for a snack to go alongside a refreshing glass of beer in the summer, let me tell you about this fantastic recipe from Japan called Karaage, or simply Japanese Fried Chicken. I can assure you that once you get a taste, you don't want to go back to everyday fast food again.
A standard Karaage also uses chicken thighs since their tenderness is higher than other cuts. Before starting deep-frying, marinate the thighs with soy sauce, Mirin, and garlic. This process can help the chicken soak up the flavors to improve its savoriness.
Now to the central part, coat the meat in potato starch (you can use cornstarch as a replacement) before frying. Try not to overcrowd the pan with too many chicken pieces. When you see the exterior turn golden and crispy, Karaage is ready to serve.
There are quite a few topping options, like a simple squeeze of lemon or a drizzle of Japanese mayonnaise.
Total time: 25 minutes
Katsu-don, or Japanese cutlet, is one of the most affordable meals in Japan. Although the standard recipe utilizes pork as the primary source of protein, I will introduce you to an alternate version that uses chicken thighs.
The first thing is to spread the chicken filets out on a flat surface. This step is going to make the frying much easier. Since chicken thighs are already savory, there is no need to use an excessive amount of seasonings. Just sprinkle salt and pepper on top.
Before you get to the good part, the meat filets have to go through flour, beaten eggs, and bread crumbs. Once the cutlets are ready, just let the hot oil do the rest. If you see the meat becoming crunchy, take it out to dry.
It's always good to test out your first creation. Just slice your cutlet in half to see if it's good enough. If the knife makes a good crunch and the cutlet reveals a very juicy core, you know you're about to have good food.
Total time: 15 minutes
Apart from Chicken Cutlet, another affordable option that many Japanese restaurants sell is the Oyakodon. This specialty is popular with many business people during lunchtime or after work. The best way to eat Oyakodon is with steaming white rice.
In Japanese, the word "Oyakodon" means "Mother-Child Bowl." This name references the ingredients of this delicacy, which consists of chicken thighs and eggs. Other than those two components, there's a special Oyakodon sauce consisting of Sake, soy sauce, and Dashi stock.
To make Dashi, you boil bonito flakes with Kombu (Japanese kelp) until they produce a liquid with a light yellow hue. This stock will enhance the umami side of Oyakodon.
The most traditional way to cook the dish is cooking the meat with the sauce. After that, the cook cracks two eggs and whips them into the Oyakodon. Oyakodon goes right on top of a rice bowl when the consistency turns half solid and runny.
Total time: 30 minutes
Are you craving something spicy and rich at the same time? If you are, then you have come to the right place. I'm going to share this magnificent Korea-based delicacy called Korean Chicken Stew with you. This delicacy will warm you up immediately.
To make the cooking process easier for you, I recommend splitting the recipe into two parts. The first part focuses on the sauce, which you can create by mixing Gochujang (Korean red chili paste), sugar, and soy sauce.
The mixture will become the base, where you can feel most of the sweetness and spiciness. The second part includes the other ingredients, like chicken thighs, carrots, and potatoes. Brown chicken meat first, and then add the veggies and water to a boil.
The final steps are to throw in the sauce and wait for the stew to boil. This process will slowly thicken up the broth and further concentrate the flavors. When you can finally taste this dish, the depth of the richness is going to sweep you off your feet.
Total time: 55 minutes
Korea is one of the best countries for soups and stews. The country has so many great recipes, so it's hard to choose. However, there is always one iconic delicacy that you have to make to experience authentic Korean cuisine. That dish is Samgyetang.
This unique soup from Korea will be a life-saver during the winter. The rich chicken broth is packed with herbaceous essences from Ginseng, Ginkgo nuts, and jujube. Apart from those ingredients, the inclusion of sweet rice provides an exciting consistency to the dish.
And here comes the main event, which is the chicken. After you cook the meat alongside medicinal herbs, the meat absorbs all of the goodness to become so flavorful. With each bite, you can feel your energy start flowing back into your body.
Total time: 30 minutes
As a food blogger, I love discovering how people worldwide adapt to foreign cuisines. One of my favorite findings is this entry right here, Korean Fried Chicken. Unlike your standard western-styled fried chicken, this variant uses sauces and condiments.
The way you fry chicken in this Korean specialty is very standard. Coat the chicken wings with salt, pepper, and cornstarch before frying. You can use an air-fryer or a regular oil pan. When the skin turns crunchy, take the chicken wings out.
And it's sauce time! You make it by mixing ketchup, Gochujang, and honey in a heated saucepan. When the liquid starts bubbling and reducing in volume, just combine it with the chicken wings. Make sure to coat everything evenly.
The final step is to dig in. That magical first bite will determine your level of love for this delicacy. The glaze just sticks to the crispy skin, and it will explode in your mouth. That rush of flavors into your brain might make this experience unforgettable.
This Korean Fried Chicken will go well with your beer.
Chicken Specialties From Asia Can Be Very Nourishing
Chicken can be easy to cook, but that doesn't mean you can skimp out on the process to make a sub-par dish. It's disrespectful to your skill as well as your kitchen. You have to constantly find new and exciting recipes to ensure everyone enjoys a great meal.
That's the purpose of my article today. I want to offer you an extensive list of good chicken-based delicacies from Asia, so your mealtimes will be more memorable than before.
Thank you for reading through the article. Let me know in the comment section which recipes you like most. If you want them all, you might as well leave a thumbs-up and share this post on your social media. Once again, thank you, and continue to be awesome!
Nutrition Facts
3 servings per container
---
Amount Per ServingCalories293
% Daily Value *
Total Fat 6.9g

10

%
Cholesterol 97mg

33

%
Sodium 1278mg

54

%
Potassium 633mg

19

%
Total Carbohydrate 19.8g

7

%

Dietary Fiber 0.3g

0

%
Sugars 17.7g

Protein 33.5g

66

%
---
* The % Daily Value tells you how much a nutrient in a serving of food contributes to a daily diet. 2,000 calories a day is used for general nutrition advice.