Just look at how versatile Japanese chicken recipes are and you can see that Japanese cuisine always surprises people with its elegance and delicacy. There are 38 chicken breeds in Japan, and the Japanese have developed countless dishes to suit that number.
Ramen and Udon are not the only two on the list. You will learn about fried chicken Japanese style, unique chicken curry recipe, and some other dishes that you would not think that they originated from Japan.
Let me give you the best list of 22 chicken recipes from Japan for 2023. Are you ready to widen your horizon with the Japanese food culture?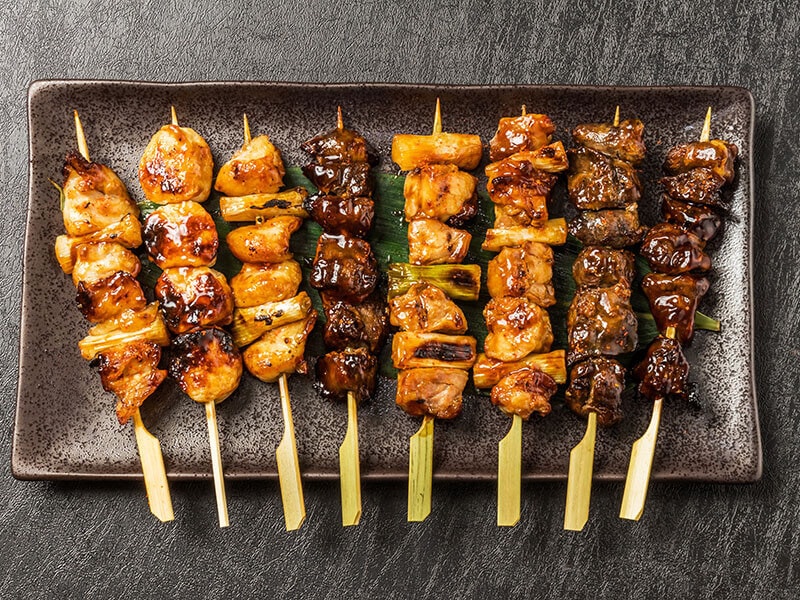 Here Is A List Of Amazing Japanese Chicken Recipes For You Today
That chicken sitting in your refrigerator will not wait any longer because, after this post, you will change it into a dozen dishes with expert skills. I think that is enough blabbering and procrastination. Let's go and trigger your latent talent with these 22 recipes from Japan.
Total time: Around 30-40 minutes.
Nagoya is the capital city of Aichi prefecture. In the past, local people created local Miso named Hatcho. They flavored the regular chicken Udon with this seasoning and introduced to the world their famous Miso Nikomi Udon.
Miso is a Japanese traditional seasoning made from fermented starchy ingredients (like soybeans, wheat, rice, etc.) with salt. Hatcho, to be more specific, is a Nayoga's soybeans fermented with a unique dark red color and thick paste form.
Udon is made of wheat flour, water, and salt. People usually use it in light salty broth noodle dishes. Sometimes, Udon can be in cold dishes, but it is not as suitable compared to Soba noodles.
Miso Nikomi Udon has its broth from simmering chicken for hours. And if you are even more devoted, you can add Bonito flakes (smoked and fermented tuna) to get the original version of the broth. Other ingredients for the topping are eggs, fried tofu, and green onions.
It will be hard for you to find the Hatcho Miso outside Japan, so you might as well use other types of soybean Miso. You can replace it with red Miso if you want to. Just be careful! The heavy broth and thick Udon might seduce you more than you think.
Learning how to make Udon noodles from scratch is necessary if you want to make real good Japanese foods.
Total time: Around 40-50 minutes.
If you are a fan of Japanese food, you probably know Teriyaki sauce. This sauce is a perfect combination of sweetness and savory. It is versatilely used with various ingredients: from salmon to chicken, from vegetables to pork.
Teriyaki sauce is like a typical Japanese BBQ dressing. It would not be hard for you to use this in your other dishes. Baked Teriyaki Chicken is a good example and can be a good meal for you and your family during family union dinners.
Teriyaki chicken is bite-sized pieces of chicken. These pieces can be chicken thigh or breast, depending on your choice. The seasoning will make the chicken a little bit salty, and you will want to have some sour food like pickles to eat along with.
Total time: 40 minutes.
When it comes to curry, people think of Indian cuisine first. However, Japanese curry's origin did not directly inherit from Indian curry.
Initially, England created their curry after being introduced to Indian curry. Then, it came to Japan in the Meiji period (1868 – 1912). Now, people have their own Japanese cooking formula for curry rice and turn it into one of their national dishes.
Curry has changed dramatically with time in Japan. There are Tamari (soy sauce) and the rich flavor of umami which are signatures of Japanese curry. People usually have potatoes, carrots, onions, and meaty ingredients like chicken in this traditional dish.
Japanese chicken curry is simple, tasty, and nutritious. You can make this dish in just 40 minutes with all the ingredients that can be found in the supermarket. The Japanese curry mix can also be purchased or made from scratch at home.
Total time: 25 minutes.
Dipping fried dumplings in the chili and ginger sauce is a dream of many Japanese on rainy days. A piece of Gyoza is stuffed with seasoned ground meat like chicken, pork, or veggies. The thick skin fills every bite with extreme satisfaction.
You can pan-fry, deep-fry, or steam your Gyoza. In this recipe, you will learn how to pan-fry and enjoy this famous Japanese starter. Besides the flavorful chili-ginger sauce, you can dip Gyoza in soy sauce or the traditional Ponzu sauce.
Other side dishes that you can make to eat with Gyoza are pickled vegetables. Since the dumplings have a salty taste, the mild flavor of sweet-and-sour pickles should be excellent to go along with.
Total time: 50 minutes.
Chawanmushi, or "steamed in a teacup", is a traditional appetizer in Japanese meals. It is just a small cup of eggs, but this dish consists of the perfect balance between sweetness and savory soy sauce.
The texture of Chawanmushi is also very fascinating. The combination of chicken thigh, vegetables, and steamed egg forms a dish with a matrix of flavors and texture.
Although this dish looks like a simple steamed egg, it demands patience and dedication during the cooking process. You will need to choose the appropriate ingredients if you want to achieve an elegant look and a silky texture for your Chawanmushi.
Japanese people of all ages love this appetizer. You can serve it in an eggshell or a cup. Just some simple decorations like a leaf of parsley should be enough to compliment your cup of Chawanmushi.
Total time: About 1 hour.
Sometimes you just have to admire how Japanese foods' names can sound very fancy while it just frankly means how it looks. Mizutaki means "cooked in the water", explaining how all the ingredients end up in the pot of Mizutaki.
With Mizutaki, you will need vegetables like carrots and cabbage, mushrooms (shiitake and matsutake), chicken thighs, and other condiments like Sake.
Mizutaki is the representative dish of Fukuoka prefecture. With skillful techniques, people extract the flavorful essence of the chicken in their pot of water. That's why this broth is rich in flavors and collagen.
However, I will give you a shortcut with this broth if you don't have too much time. In this recipe, you can use kombu dashi (soup stock from dried kelp). A hot pot is a great food to share with your family since it forces everyone to sit down and communicate with each other.
Total time: Around 10 minutes.
Some people call this dish a "three-color bowl of rice". The three colors are yellow from scrambled eggs, orange from stir-fried ground chicken, and green from vegetables. Rice is hidden underneath to complement the vivid colors above.
This bowl is very simple, and you can make it in just 10 minutes from scratch. It is also a perfect breakfast for your family.
To add more colors, you can decorate it with pickled vegetables like Beni Shoga (pickled red ginger). The sourness will help neutralize the rich taste of Soboro Donburi.
Here is a more visual instruction on how to make chicken Soboro Don.
Total time: Around 1 hour.
Japanese Harumaki is the offspring of Chinese Chun Juan (Chinese spring roll). There are three types of Harumaki, but chicken is the most common. Other ingredients stuffed inside Harumaki are carrot, shiitake, bamboo shoots, and some extra vegetables.
To have the best experience with Harumaki, you need to choose a suitable dipping sauce. Some people can choose classic salty soy sauce. Some others prefer ponzu sauce for the citrus aroma. You can eat Harumaki without dipping if you like its natural taste.
Total time: 20 minutes
Originating from Kanazawa city of Ishikawa prefecture, the Jibuni stew has earned its remarkable place in Japanese cuisine with its simplicity and flavor.
People simmer duck or chicken meat in water to extricate the sweetness, like Mizutaki's broth. The specialty is how they use wheat flour to thicken the liquid and entrap the savor. That's why the broth takes less time to make than usual.
Traditionally, people serve Jibuni in a small bowl with little broth. Shiitake mushroom, carrot, and tofu are in for the balance. Flavors of Jibuni are characterized by soy sauce and wasabi.
Total time: 1 hour
Yakitori is the Japanese way of enjoying chicken dishes like a barbecue. They chop the chicken into bite-sized pieces. Then they skewer all of these pieces and grill them outdoors with charcoal. When you taste this dish, you can feel how tender the chicken is.
The chicken and scallion (negi) are put in alternate order along the skewer, which lets them develop a sharp and peppery smell. This combination compliments the chicken pieces and stimulates people to eat more.
Negima Yakitori is everywhere in Japan or even at your local Japanese restaurants. Having a drinking night with your buddies with Negima Yakitori can be a great idea. After all, this dish is absolutely indispensable in every Japanese gathering or party.
Total time: 35 minutes (plus several hours of marinating the chicken)
Fried chicken is not a strange dish to everyone around the world. You can see fried chicken in every fast food restaurant in your city. But that would not stop the Japanese from creating their own way of making fried chicken.
And trust me, this dish will not let you down. Its taste is better than any fried chicken that I have ever tried.
Karaage differs from other countries' versions of fried chicken due to its cooking process. Fried chicken has its seasoning blend in the flour. Karaage needs you to marinate your chicken even before the coating. Sometimes, people don't marinate Karaage at all and enjoy its intrinsic flavor.
The marinade should include grated ginger, minced garlic, soy sauce, and starch. People cut boneless chicken into pieces and then quickly submerge them into the marinade for at least 30 minutes. Therefore, the flavors will be deeply rooted in the tenderness of your chicken.
You can figure out the secret of Karaage's crispiness which makes it the best fried chicken ever here.
Total time: 15 minutes
The liver is not really everyone's favorite, especially in Western cuisine. However, in Asian countries, animals' organs, like livers, are part of the food culture. Reba Yaritori means "skewed bird's liver", and "bird" here means chicken.
Just like Negima Yakitori, this dish is also a popular Japan-made snack. With the metallic yet tempting taste of the liver and the distinctive flavor of the dressing, perhaps, you can't wait to devour more after that. I highly recommend you to give liver a try.
Total time: Around 7 hours (with 6 hours of marinating the chicken).
Remember the Hoshi Miso (soybean Miso) from Aichi's Miso Nikomi Udon? This time, you will not flavor the broth with it; this sauce is to marinate the chicken. Adding sugar to the sauce to make the marinade is necessary.
This recipe uses sticky rice to eat along with Miso Chicken. However, you can use middle-grain or long-grain rice if you want to. The taste of Miso Chicken is salty and sweet, so eating this with your rice would be a perfect lunch for you.
Total time: 45 minutes.
Nabeyaki Udon is a local dish of Susaki city of Kochi prefecture. Maybe you would think, "Oh, another Ramen or Udon with distinguished broth!" Well, you are correct. But Nabeyaki broth is unique because the chicken is stewed in a Japanese traditional earthenware pot.
To add more flavor, you can serve this dish with shallots, an egg, and fish cakes. And if you want your Nabeyaki Udon to be even more traditional, you need to eat this in an earthenware pot.
The taste of chicken and soy sauce in the broth has become the hallmark of many signature Japan-style noodle recipes. Combined with all those savory ingredients, this dish is not just tasty but extremely nutritious.
Total time: 20 minutes.
With chicken, egg, scallions, and some other spices, people have invented a top layer of Oyakodon, or "parents and child bowl of rice". The "parents" is the chicken, while the "child" is the egg. Oyakodon figuratively illustrates a picture of a typical family in Japan.
Even though this dish is quick to make, the simplicity doesn't deprive the food of its delicacy. Oyakodon is a nice Japanese breakfast or lunch if you want to have a succulent and nutritious meal.
Just imagine the fat from a sunny-side-up egg melts on your tongue. Then, the tender taste from the chicken thigh and a slightly sharp flavor blend together in your mouth. I'm sure this dish can satisfy your craving for Japanese food.
Total time: 20 minutes
I'm sure that you have seen this dish at least once in your life. With a long history that no one knows its origin, Onigiri has been developing, and people now have mass-manufactured this product.
Onigiri is like the everyday food of the Japanese. Some people say its name means "love and comfort". It is just a rice ball that you can combine with other ingredients for flavors and then wrap in nori (dried seaweed).
You can find a wide variety of this dish in every convenience store around your area. Its appearance can be seen on many TV shows and social media platforms.
This is a simple dish that you can easily make without any special or unique spices that you need to order online. Onigiri can be your quick snack made from leftover chicken and rice in the refrigerator.
Do you know you can fry Onigiri and make it taste even more marvelous?
Total time: Around 20-25 minutes.
Let's talk about Karashi (Japanese yellow mustard) first. Karashi is extracted from brown mustard seeds. The difference between Karashi and Western mustard is how spicy and intense Karashi is. You can buy Karashi powder or paste on Amazon to make this dish.
With this delicacy, you need to coat the cooked chicken tenderloin in a mix of Karashi, Shiro Miso (sweet white Miso, which you can find online), and vinegar. This process will develop an intense explosion of sweetness, sourness, and piquant taste in your mouth.
This dish can act nicely as a side dish. Its light and pleasant kick will be a good accompaniment with more heavy main dishes like baked salmon or a steak.
Total time: 45 minutes.
Here is another dish with chicken broth on the list. However, with Kiritanpo Nabe, the chicken broth is very simple, and I don't have much to talk about this broth compared to other dishes. The rice part, on the other hand, has a more interesting story to tell.
Kiritanpo means "a bottle of rice" in Japanese. Theoretically, the ancient Japanese loggers in Akita prefecture went to the forest on the mountain to do their work. Their lunch was easily spoiled, so they came up with an idea.
They wrapped the rice around a stick and roasted it around their campfire. After the morning work, they came home with the leftover rice, which was now thickened and scorched. They cut these bottles of rice into pieces and cooked them with chicken broth and Miso.
At home, you can easily make these Kiritanpo with your stove or oven. Just wrap your rice around a stick or a chopstick and cook it in the oven for 10 minutes. The toppings of Kiritanpo Nabe usually are chicken thighs and enoki mushrooms.
Total time: 5 hours.
Shoyu is the Japanese soy sauce that naturally ferments. People use soy sauce a lot for flavoring their broth, of which Shoyu Ramen is an example.
To make Sapporo Ramen, you need to cook it in a wok (a deep round pan). This is to make sure all the ingredients mix well together. The cook adds the Shoyu and salt to the pan with the broth. The broth is either light chicken broth or pork broth.
The recipe in this post is the modernized version of traditional Shoyu. You will see the combination of chicken broth and pork broth with Shoyu for the base. The dish can bring you the old Hokkaido atmosphere of the early 20th century.
You can buy this special soy sauce in your local Japanese store or order it online. But if Shoyu is unavailable in your area, you can replace it with regular soy sauce.
Total time: 25 minutes.
Back in 1947, after World War II, the Japanese government wanted to encourage schools to give students better meals. The U.S. government then provided Japan with powdered milk. This later was added to the school lunches. That was how the white stew formed.
Twenty years after that, a big corporation named House Food developed the mass production of white stew. Therefore, it allowed every household in Japan to make this food at home.
White stew doesn't contain cream or cheese. The white and thick look that it has is from milk. This dish is a comfort food during winter to the Japanese. It is creamy with a pleasant aroma. The chicken is for more protein, while all the veggies give people the vitamins.
This dish is not just nutritious and beautiful but also boasts a very meaningful history behind it. It shows how the Yoshoku culture (adaptation to Western cooking techniques in Japan) heavily affects modern Japanese cuisine.
Total time: 20 minutes.
Tempura is a dish that you want to try whenever you see it. It is deep-fried battered seafood, meat, or vegetables. This dish is one of the national foods in Japan and is one of the Edo delicacies.
The origin of Tempura dates back to the 16th century when the Portuguese introduced their formula of the batter to the people in Nagasaki prefecture. Throughout history, Tempura has evolved many times, and today's Tempura recipe is not like the original anymore.
Chicken Tempura can be served with dipping sauce, and you can eat them like a snack. People in Japan also add Tempura in their Soba (and it turns into Tensoba) or assemble it with other Udon dishes.
Soba is one member of the fantastic trio of the Japanese noodle world. It is made of buckwheat and is usually a part of chilled noodle dishes. Its endurance is strong enough to not break apart in cold broth. It gives people a chewy texture when enjoyed.
You just need to know how to make the batter, and then you can turn everything into Tempura.
Total time: 45 minutes.
Tsukune is the upgraded form of Yakitori. The Japanese want more diversity in their food culture, so they chop the chicken and create Tsukune, which is the chicken meatball.
The way you cook Tsukune is the same as Yakitori. You can grill it outside or bake it in your oven. People also add breadcrumbs or flour to form the crunchiness of the dish. In addition, you can fry Tsukune if you want to.
Traditionally, the Japanese use eggs to enhance the meat texture. The egg prevents your meatballs from breaking apart. If you don't like eggs in your meatballs, you can smash the chicken until it looks like a paste. This guarantees to keep your meatballs sticky enough.
You Have Learned A Lot About Japanese Chicken Recipes After Today's Journey
Chicken is an incredible ingredient that people are so passionate about. Japanese food culture is not an exception. The way the Japanese adapt to their nature and formulate their recipes with chicken in each prefecture is amazing.
Although this list has only scratched the surface of the ocean of "Japanese cuisine", I hope that you find this list helpful. And I can't wait to read your thoughts in the comment section also. Don't forget to share this post with your loved ones. See you soon in the other post!
Nutrition Facts
6 servings per container
---
Amount Per ServingCalories499
% Daily Value *
Total Fat 29g

45

%
Cholesterol 190mg

64

%
Sodium 775mg

33

%
Potassium 63mg

2

%
Total Carbohydrate 31.5g

11

%

Dietary Fiber 0.2g

0

%
Sugars 1.7g

Protein 25.5g

50

%
---
Calcium

36

%
Iron

2

%
Vitamin D

5

%
* The % Daily Value tells you how much a nutrient in a serving of food contributes to a daily diet. 2,000 calories a day is used for general nutrition advice.