Is it possible to determine how long a cooked chicken can sit out without being contaminated? Here are several notes that you should not miss to ensure your safety in food consumption.
Obviously, compared to other meats, chicken is friendly-budget meat. And there are tons of delicious meals that you can cook with it.
You can use leftover chicken for cooking delicious dishes as well. They are not only packed with proteins and nutrients, but they are also easy-to-eat meat.
Their whitey meat can be an excellent ingredient to make any delicate around the world. So if you also love them, this post will upgrade your knowledge about chicken to another level regarding food safety and storing cooked foods. Check it out now.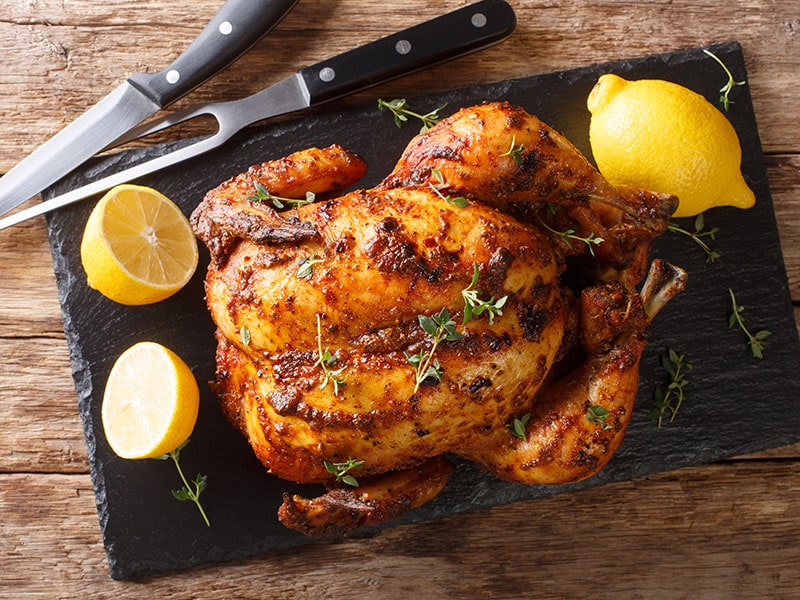 How Long Can You Really Keep Cooked Chicken Outside?
Nothing is safe if you leave your food out at room temperature too long. In general, cooked meats, particularly chicken, should not be left out for more than 2 hours. However, it also is affected by other factors. So stay tuned for more details.
| Types | At Room Temperature | In The Fridge | In The Freezer |
| --- | --- | --- | --- |
| Cooked Chicken (In General) | Maximum of 2 hours (less than 1 hour for warmer temperature) | 3 to 4 days | Up to 4 months for the best quality |
| Rotisserie Chicken (Common Dishes) | Maximum of 2 hours (less than 1 hour for warmer temperature) | 3 to 4 days | Best use in 4 months |
| Chicken Casseroles (Common Dishes) | Maximum of 2 hours (less than 1 hour for warmer temperature) | 3 to 4 days | Best use in 6 months |
| Chicken Nuggets/ Patties (Common Dishes) | Maximum of 2 hours (less than 1 hour for warmer temperature) | 3 to 4 days | Best use in 1 to 3 months |
The Rule Of Thumb – Maximum 2 Hours At Ranging From 40 To 140 F Degrees
First of all, what is a rule of thumb, and why is it 2 hours?
The rule of thumb is the principle or method based on experience to estimate something instead of on theory. And for cooked food, in general, the rule of thumb is 2 hours for them to sit outside.
Firstly, the maximum time for the cooked chicken to sit out also depends on the room temperature. According to the Food and Drug Administration (FDA) (1), the danger zone for cooked foods is from 40 to 140 F degrees (approximately 4 to 60 C degrees).
If you live in tropical countries where the weather is so hot and humid, for example, if the temperature is higher than 90 F degrees (32 C degrees), your cooked chicken should not be left outside for too long. The maximum time for them to sit out is around 1 hour.
So whether you have an outdoor/indoor party or go to a picnic, for example, with your best canned chicken recipes, you still have to be sure about your cooked chicken in terms of the temperature and safety time frame.
Misconception About Cooked Chicken That Left Outside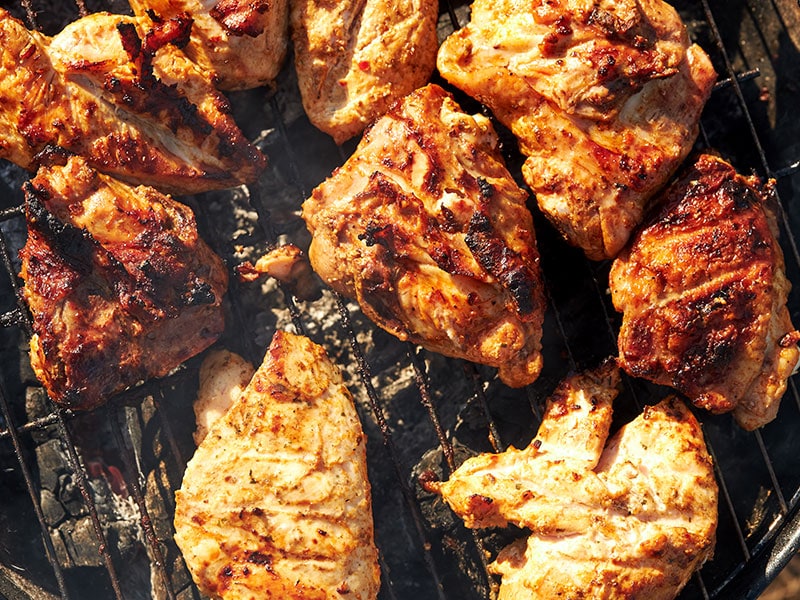 Some might think that if you keep them in a food container or cover them with a wrapper, your poultry dish is safe to leave out.
In fact, it is a big misconception. New potential bacteria might not attack your fully-covered chicken from the outside; however, those living inside the meat are the problem, and they still can grow and ruin your meat.
Within a 2-hour timeframe, the bacteria start to multiply to spoil your cooked chicken. There are 2 common bacteria called Escherichia coli (E.coli in short) and Salmonella, causing food poisoning.
Plus, many people believe that reheating their cooked foods will kill bacteria; however, it does not work that way. Your cooked chicken, regardless of what parts of it, can still be contaminated.
If your favorite cuts are the wing, it is crucial to learn which ways to reheat your chicken wings accurately.
Let's see how a food expert explains how long you can leave your food out. You can see this video to know more:
Effective Storing Cooked Chicken Tips
Many occasions and events may result in a large number of leftover foods in your kitchen. And I know how frustrating it is to throw them away wastefully.
Therefore, it is crucial to know how to store cooked food properly, especially your chicken dishes, to limit the exposure of bacteria and germs. So what will occur to your mind first when you think about preserving cooked foods? Here are 3 important notes for you to store safely.
1. Place Your Cooked Chicken In The Fridge
Assuming you just finished roasting chicken and your party is in 5 hours, you want to preserve them until then. However, you should not immediately put your hot cooked chicken in the refrigerator. It is best to let them cool to room temperature first.
The reason for this is your hot food will raise the temperature inside the fridge and is more likely to influence and endanger other foods that are already in the equipment. Once you want to eat the chicken, you can reheat it or consume cold chicken if that's your preference.
According to the United States Department of Agriculture (USDA) (2), for your safety in consuming food, they recommend dividing poultry dishes into smaller wrapped pieces or placed in shallow food containers prior to keeping them in the fridge.
Whether your chicken is roasted, grilled, fried, or stewed, the timespan that chicken can stay in the fridge is up to 4 days, as stated by USDA. However, in order to be sure your storing method is properly, you must follow USDA guidance as explained above.
2. Keep Raw And Cooked Meats Separately
Do not ever keep both of them in the same place in your fridge, as raw meats contain more bacteria than cooked ones. So be sure that your cooked chicken can be kept in a different place, away from raw one.
Of course, the raw meats have to be wrapped carefully and thoroughly to keep your fridge clean and limit bacteria growth.
3. Freezing Cooked Chicken Is Also A Good Choice
In case you cannot finish them within 4 days, you can consider freezing your cooked food. But should you freeze chicken salad? Well, there are various notices that you need to know as well.
How about freezing your fried chicken? Yes, you can also store frozen fried chicken. And with the below 2 steps, you can ensure that your cooked chicken will be safe in the freezer.
Step 1: Wrap Or Use Storage Tools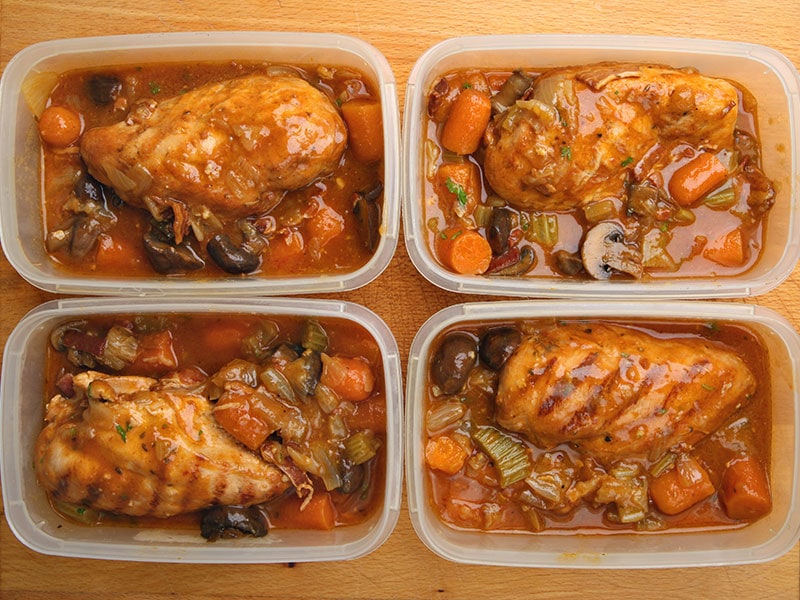 Put them in airtight containers or resealable Ziploc bags before placing them in the freezer. With the cold temperature at 0 F degrees in the freezer, the molecular movements of bacteria and germs will be slowed, making them enter a dormant stage (3).
You should remove as much air as you can before zipping off the freezer bags. Or find a handy freezer container to optimize the storage efficiency. If you want to eat them many times, dividing them into smaller proportions will be helpful for your next servings.
Step 2: Place Them In The Freezer
Ensure that your freezer works fine with the proper temperature for freezing foods.
One more simple tip to make sure that you will not let them stay there for too long is to label the time that you froze them on the containers or bags.
However, I do not recommend you keep them in the freezer for longer than 4 months to preserve the best quality of flavor. Plus, with different cooking methods, it might have different shelf lives for your cooked chicken.
For example, chicken casseroles with gravy or broth are best to use within 6 months in the freezer. If you want to freeze rotisserie chicken to help it last longer, you should consume the bird within 4 months. And for chicken nuggets or patties (like your favorite dish in McDonald's), 1 to 3 months in the freezer is the best shelf life.
And whenever you want to enjoy your chicken, simply defrost them in the microwave or place them in the fridge overnight, then reheat them to serve hot. Frozen chickens might take more than 10 hours to thaw in the fridge, so be sure your timing for it.
You can see this video to know more:
How To Tell If Your Chicken Are Bad
No one wants to eat spoiled food, whether it is accidentally or not. Chicken is easy-to-cook meat, but it is also very easy to go bad.
Sometimes, you cannot even find any suspected visual that shows your cooked chicken is bad. Therefore, I will show you 4 simple methods to check whether your cooked chicken is still safe to eat or not.
Method 1: By Sight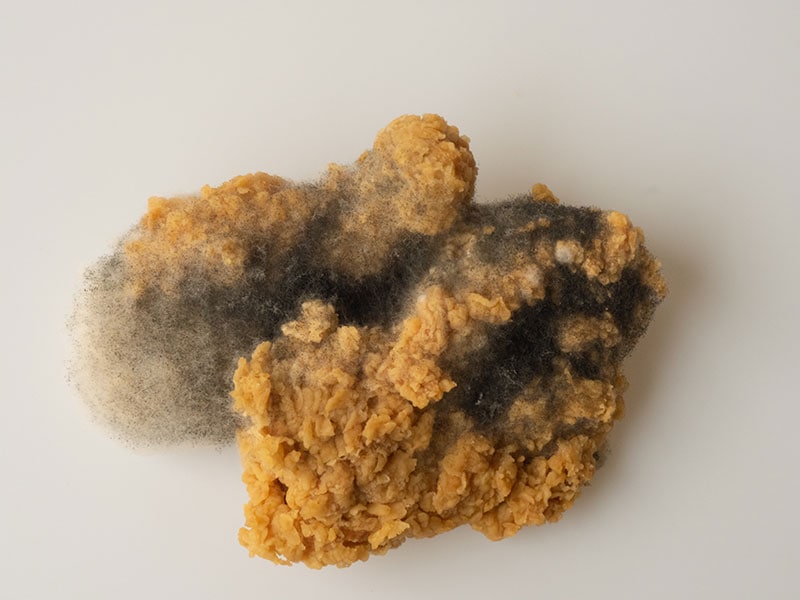 Check for any change in colors compared to the initial color of your cooked chicken. For example, roasted or fried chickens usually have an eye-catching golden brown color.
But after a period of time, you should take a close look to find any spots with irregular colors, like gray or black. Also, check for any mold, fuzzy layer on the meat.
If you see any signs like these, there is only one thing you can do with your chicken is discard them right away as they are already spoiled.
Method 2: By Smell
In fact, this method is quite tricky for you to detect bad chicken. As there are many cooking recipes that use various aromatic herbs or special seasonings, it might result in a very nice smell for your chicken.
So even though your cooked chicken has gone bad, you might not recognize it by the bad smell sometimes. However, if you detect a rotten smell, then your food is 100% spoiled.
Moreover, your uncooked chicken might smell like eggs for various reasons. This odor isn't usually a clear sign of spoiled chicken, but you should double-check to make sure.
Method 3: By Taste
How to make sure your food has gone bad if you do not taste them? Therefore, if you feel unsure about your cooked chicken, try a little bit of them in advance. Do not forget to chew them to taste carefully.
The normal flavor of their whitey meat is not too salty, bitter, sour. So if you find it tastes a little bit sour or weird generally, you should throw it away.
Method 4: By Touch
Another method to check your chicken is touching them. If you feel sticky or slimy on your fingers, do not eat them because they are spoiled though you have not found any suspicious smell.
In short, just remember, when in doubt, throw it out. Do not risk your healthy stomach for spoiled chicken. Check the following part to see its negative impact.
How Can Bad Cooked Chicken Harm Your Health?
Trust me. You don't want to jeopardize your health by eating bad chicken. If it has gone bad, do not feel guilty to throw it away; otherwise, you might find yourself on the hospital bed with food poisoning from eating spoiled chicken.
As bad chicken is already contaminated by many bacteria, germs, or viruses, it leads to food poisoning with many annoying symptoms like headache, diarrhea, nausea, and vomiting.
When you have the following conditions, some of them can be life-threatening:
A fever of more than 102 F degrees (approximately 39 C degrees)
Bloody urine
More than three days of diarrhea
Dehydration symptoms include a dry mouth or throat, dizziness, and weakness.
Once you have these symptoms, you should:
For the above serious symptoms, go to the nearest hospital for checking. The doctor will check and diagnose your problem so that you can have appropriate treatments.
With minor symptoms, you can stay at home and take a rest. Try to drink as much water as you can to keep your body from dehydration.
You should avoid eating other foods after getting food poisoning, especially fried and heavy foods. In case you are starving, try bland food like porridge, oatmeal, rice, or toast.
FAQs
I am sure there are some questions about cooked chicken that many of you will have. So let me assist you in gaining a thorough understanding of chicken cookery with below clear answers.
Do Not Let Your Chicken Sit Out For Too Long
Good foods will keep you healthy and vice versa. To make sure you and your family can consume foods safely, especially chicken, you should not leave them outside for too long.
Instead, if you cannot enjoy it immediately after it is cooked, let's put them in the fridge with some guidance that I just introduced to you. It not only helps you not to waste too many foods but also keeps your cooked chicken safe with flavor and nutrients.
Finally, if you find this post helpful for you and your family, please click like and share. And if you have any other good tips to tell how they go bad or how to store them, please comment below so you and I can discuss them more. Enjoy!
Nutrition Facts
1 servings per container
Serving Size3 oz (85g)
---
Amount Per ServingCalories187
% Daily Value *
Total Fat 11g

17

%
Cholesterol 80mg

27

%
Sodium 60mg

3

%
Potassium 173mg

5

%
Protein 20g

40

%
---
Vitamin A

10

%
Vitamin C

0.6

%
Calcium

0.8

%
Iron

7.6

%
* The % Daily Value tells you how much a nutrient in a serving of food contributes to a daily diet. 2,000 calories a day is used for general nutrition advice.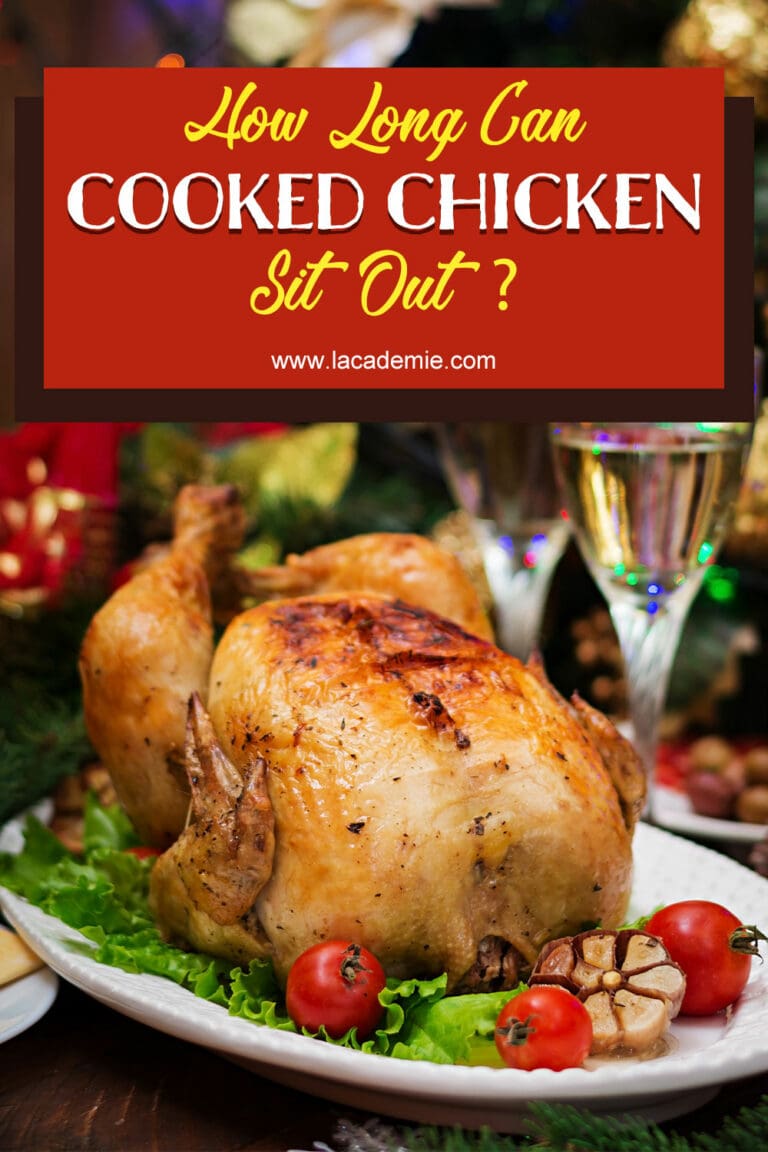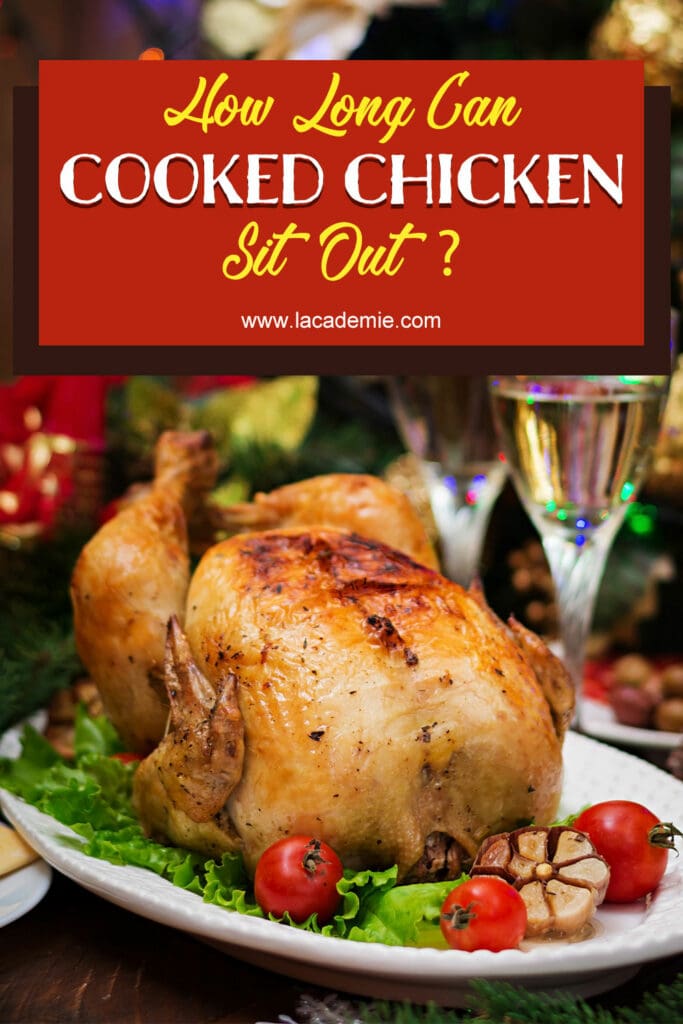 References
gov. 2021. Cooking from Food Safety for Moms to Be
usda.gov. 2021. Refrigeration & Food Safety.
usda.gov. 2021. How Temperatures Affect Food.