"What to serve with chicken noodle soup?" may be a question you often ask yourself. Chicken noodle soup is a familiar and comforting dish on a cold winter night. Or anyone would love to have one bowl of this soup when they are feeling sick and down.
Chicken noodle soup is perhaps the most iconic food of many people's childhood. The perfect light broth, the crunchy carrot and celery, and the tender chicken make this soup unforgettable.
Whether you make this dish out of canned chicken or fresh ingredients, you will always feel cozy and fulfilled both physically and mentally. However, do you know that you can enjoy chicken noodle soup with various side dishes to spice up the flavor even more?
This article will provide you with 20 surprising options so that you can apply for your next enjoyment.
Stay tuned, as I am about to reveal these side dishes right away!
What To Serve With Chicken Noodle Soup? Spice Things Up With These 21 Accompaniments Of Chicken Noodle Soup
Although it is perfectly fine to enjoy chicken noodle soup on its own, these following side dishes guarantee to make your cozy dish more flavorful, delicious, and healthy-balanced.
Here is the list of 21 accompaniments that you should try for your next chicken noodle soup. Read until the end, as there is a surprising bonus awaiting you there.
Top 15 Bread Dishes To Serve With Chicken Noodle Soup
Garlic Bread
Rosemary Bread
Cheesy Pull-Apart Bread
Pretzel Rolls
Baked Ham and Cheese Rollups
Brie, Fig, And Apple Grilled Cheese Sandwich
Cold Cut Deli Sandwich
Avocado TLT (Tempeh, Lettuce, Tomato) Sandwich
Tomato Basil Bruschetta
Grilled Vegetable Panini
Homemade Croutons
Mashed Potato Puffs
Saltine Crackers
Cream Biscuits
Goat Cheese And Arugula Pizza
Top 6 Salad Dishes To Serve With Chicken Noodle Soup
Grilled Vegetable Skewers
Green Beans with Almonds
Easy Baked Zucchini
Italian Chopped Salad
Spinach Salad With Bacon
Roasted Butternut Squash Salad
The Essential Role Of A Side Dish To Serve With Chicken Noodle Soup
Chicken noodle soup is regarded as the staple of all soups cooked with crock pots. This iconic dish is the all-time favorite choice for cold winter nights or when you are sick.
That is all thanks to its comfortable and cozy vibe. It always involves tender chicken meat, crunchy carrots and celery, egg noodles, and light broth in a hot bowl.
Eating chicken noodle soup is not only delicious but also makes you feel good and hydrated, owing to its high nutritional value.
However, chicken noodle soup offers a high level of sodium (1,176mg) and 12 grams of fat (25% of which is the harmful saturated fat)(1). That is why enjoying the soup with healthy side dishes like salad or bread is a good strategy, not only to spice the flavor up but also to balance your diet.
What To Serve With Chicken Noodle Soup? 15 Crunchy Bread Side Dishes That You Should Try
Basically, I divide my list of ideal accompaniments for chicken noodle soup into 2 broad sections: bread and salad. The following part will concentrate on the top 15 bread options (including sandwiches and pizzas) to make your main dish more soup-er.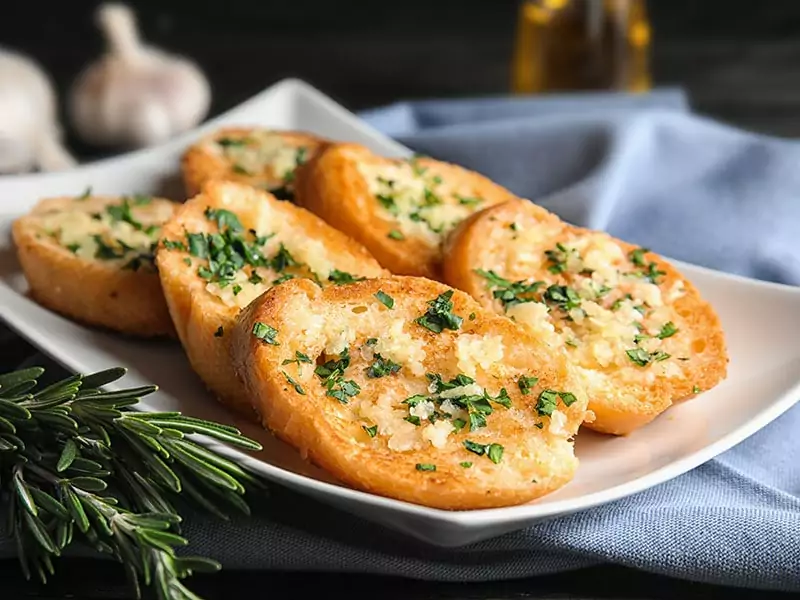 The first side dish is a heavenly match with chicken noodle soup: garlic bread. I believe there is no need to describe what this bread type is, as it is one of the most common foods out there.
You can enjoy garlic bread with chicken noodle soup by dunking it into the broth to sop it up. Both of them complement and enhance each other's flavor perfectly.
Besides the matching flavor, its crispy texture also makes your soup eating experience more dynamic and enjoyable. So remember to eat those garlic bread slices with your chicken noodle soup right away while they are still warm.
Plus, it is superly quick to prepare ready-to-eat garlic bread in under 20 minutes. There are tons of different ways to put this bread together? Here are the top three most widely known recipes: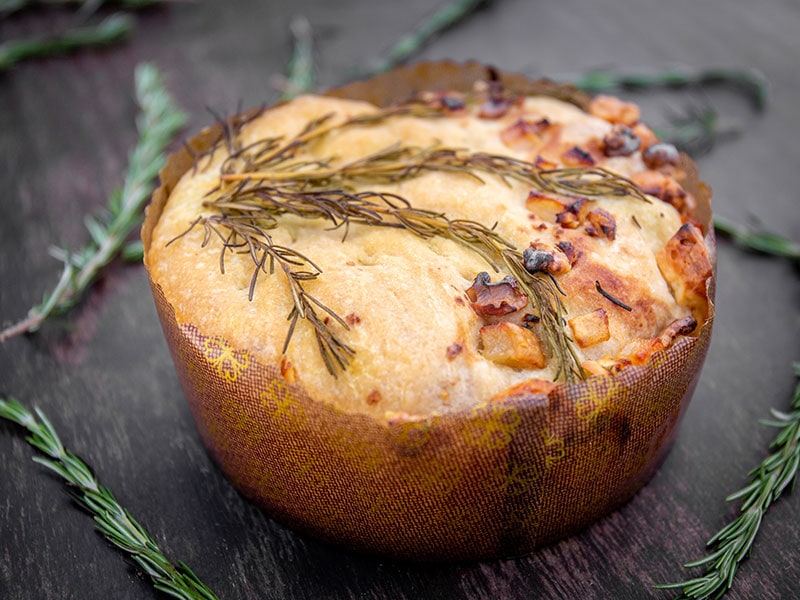 Rosemary bread is the next brilliant partner to chicken noodle soup that I want to recommend. The combination of this freshly baked bread and the soup creates a unique and charming flavor that you will never forget after trying.
Similar to garlic bread, you can dunk rosemary bread into the broth and bathe your mouth with its heavenly taste.
One drawback of this side dish is a large amount of time it takes for self-preparation, especially when you don't know the correct ways to use bread lame. It can take over 2.5 hours to make top-notch bread for yourself.
However, you can get around this issue by buying rosemary bread at many bakeries near your house.
If you want to get your hands on actually making DIY rosemary bread right in your kitchen, let's refer to the following video: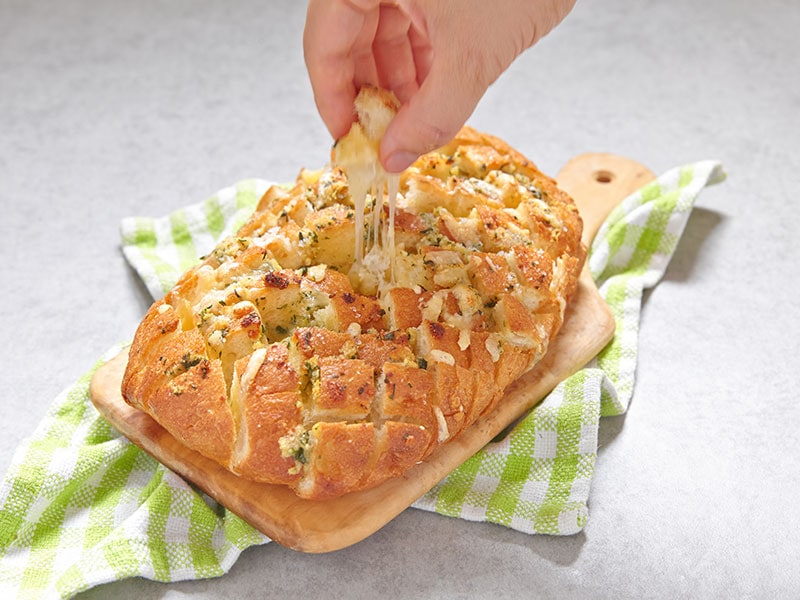 Some may doubt the combination of cheese with chicken noodle soup. However, any food combination with cheese is always soothing, isn't it? Having cheesy pull-apart bread beside your chicken noodle soup is indeed a fabulous idea.
In essence, cheesy pull-apart bread is garlic bread with a unique twist to the classic recipe. You will add more herbs, garlic, and melted cheese to generate a satisfying cheesy effect.
It only takes 30 minutes to put this cheesy bread together. Plus, you can make them in advance and store them in the refrigerator for later uses. Therefore, you will always have these hearty rolls whenever you enjoy your cozy chicken noodle soup.
You can refer to these recommended recipes from the accredited Tasty: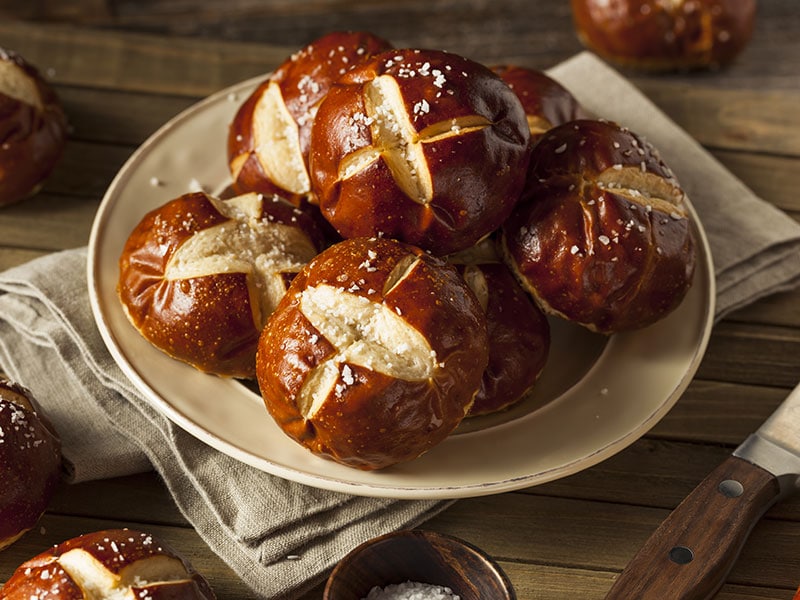 I have three words to describe pretzel rolls: salty, shiny, and dense. When served alongside chicken noodle soup, this German-originated little bun will bring a bit of chewiness, texture, and salty flavor to your hot bowl.
You can simply enjoy the sweet broth via a spoon on the one hand and devour the soft bread on the other hand. Or, you can dunk the bread into the soup and eat everything together. Whatever way you choose, you cannot go wrong with pretzel rolls.
Literally, this versatile bread will always be delicious, regardless of how you eat it. Having them as a side dish for chicken noodle soup is probably your best decision.
If you fancy the idea of doing the pretzel rolls along with a tutorial video, I have one for you right here: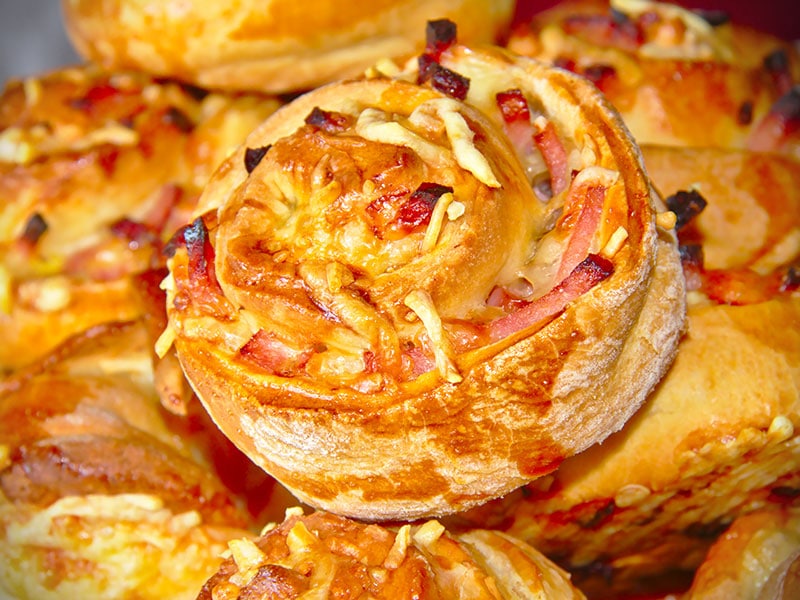 Another fabulous side dish for chicken noodle soup is the incredible baked ham and cheese rollups. This simple sandwich pairs up smashingly well with your main dish's delicious flavor.
What surprises you is that it is extremely straightforward to make this scrumptious bread. There are only three crucial ingredients that you need to gather: pizza dough, deli ham, and lots of mozzarella cheese.
If you are running short of time to learn extensively how to make baked ham and cheese rollups, try out this 1-minute tutorial video: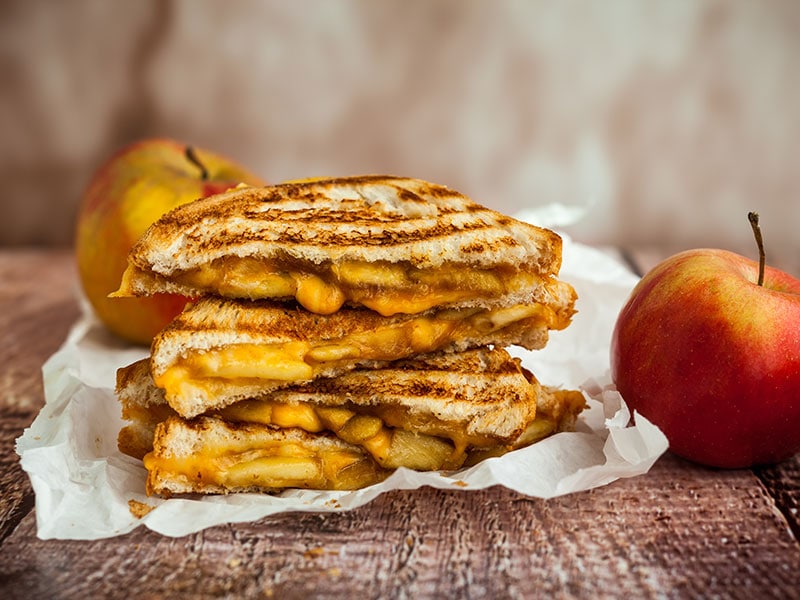 Serving sandwiches alongside chicken noodle soup is always a classic combination. One of the most brilliant sandwich types is the grilled cheese one, which makes things more gourmet when you enjoy it with a hot bowl of soup.
I know that grilled cheese is normally served as a side dish for tomato soup. However, the ingredient is absolutely fine to be your chicken noodle soup's accompaniment.
If you have a user-friendly sandwich-making machine, you can make any filling you want. For me, I usually choose creamy brie, the tart apple slices, and fig for my grilled cheese sandwich.
The brie's decadent flavor is completely in contrast to that of your light broth, giving the combination an irresistible aroma.
The following video will show you how to put together a slightly different variation to your grilled cheese sandwich: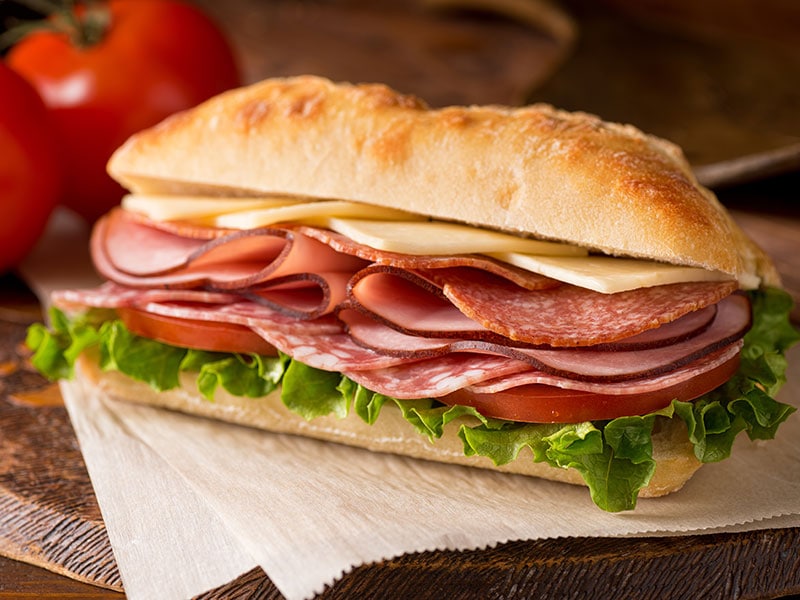 Here is another fresh candidate to sit next to your hot bowl of chicken noodle soup: a cold-cut deli sandwich. You cannot go wrong with this choice, owing to the contrast it brings to your soup.
Let's imagine while you are enjoying the hot and light broth, you have alongside a sandwich that is crunchy on the outside and soft on the inside. The intriguing flavor that it brings to your meal is surely mesmerizing.
Your sandwich's inside content depends largely on your preferences. However, the typical recipe calls for deli meats and cheese. You can try its Italian version by filling up your sandwich with salami, provolone, pepperoni, and lots of mustard. Biting it will bring a heavenly taste to your mouth.
If you enjoy hearing the crunchy sound of a cut sandwich and seeing the internal assembly of the bread, feel free to watch the following video for better tips and tricks in making a cold-cut deli sandwich for yourself: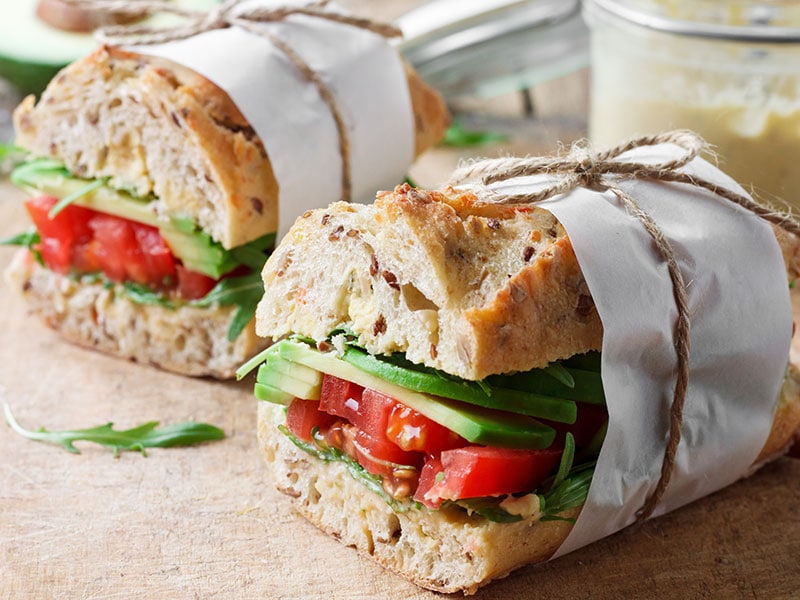 TLT sandwich is a satisfying and vegan version of your iconic BLT sandwich. Well, for those of you who are unfamiliar with these acronyms, TLT stands for Tempeh, Lettuce, and Tomato, whereas BLT is the abbreviated form of Bacon, Lettuce, and also Tomato.
When combined with avocado as the toppings, this TLT sandwich version is your go-to side dish alongside chicken noodle soup if you need to increase the level of veggies in your diet.
Tempeh is the perfect substitute for bacon in the iconic BLT sandwich. Its savory aroma will give you an effortless time in not craving bacon.
Despite being flavor-packed on its own, you can totally spread more vegan mayo and mustard on the sandwich. Its taste blends nicely into your chicken noodle soup.
Enjoy the next video on how to assemble a vegan avocado sandwich for your upcoming soup-based meal: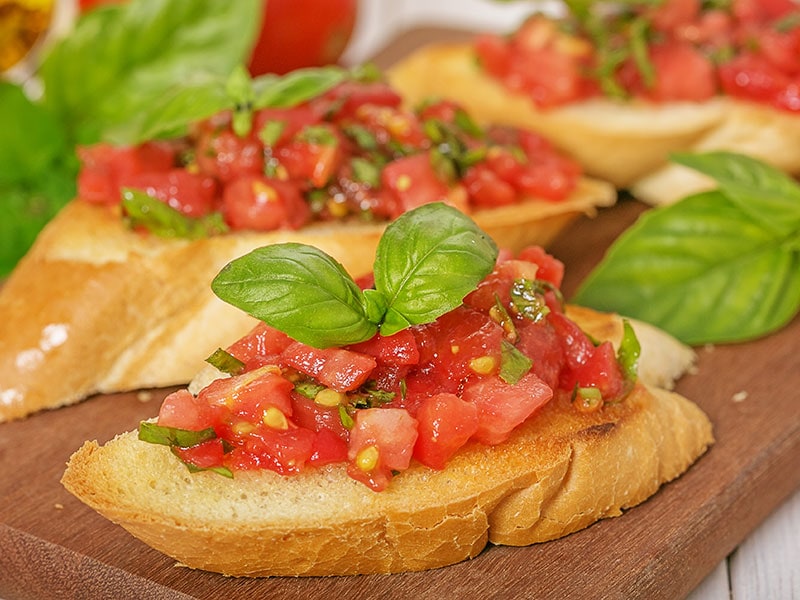 This classic Italian recipe is the best way to enjoy the fresh basil, ripened tomatoes, olive oil, and garlic on a crunchy toast. Bruschetta promises to add both the bread factor and the flavorful taste to your chicken noodle soup.
Mixing the light aroma of your chicken broth with the fresh and crunchy taste of your bruschetta by scooping up your soup with the toast. Then, enjoy your Italian side dish to feel a delicious kick of herbs and tomatoes in your mouth.
Additionally, putting this accompaniment together takes only a few minutes. That is why this recipe is ideal for those who want to get things done quickly after a long day at work.
You can refer to another classic tutorial on how to prepare bruschetta via the following video: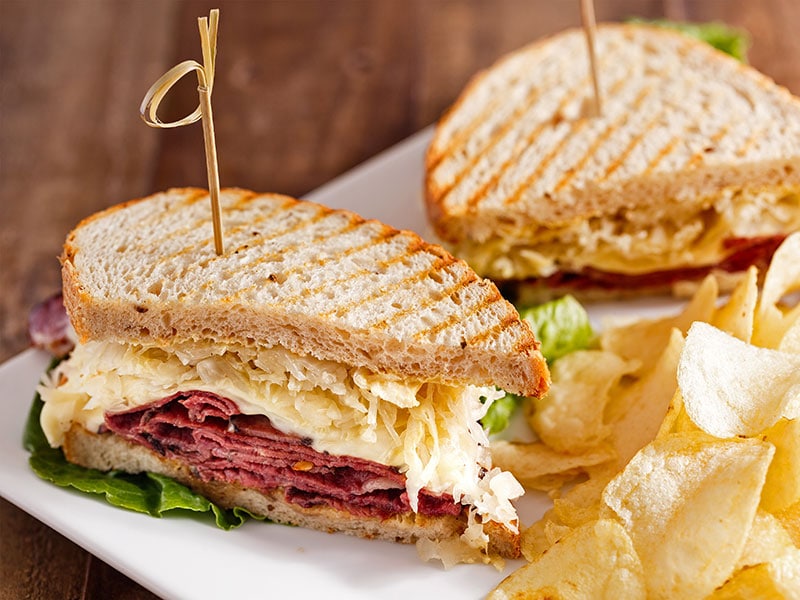 It is a fact that combining sandwiches with chicken noodle soup is a wonderful culinary application. The bread factor, with its crunchiness, then dunk in the light chicken broth, offers a satisfying and mesmerizing taste to your mouth. Plus, sandwiches often come with veggies for better nutrients. Yes, I am talking about grilled vegetable panini.
The good side of grilled vegetable panini is the number of veggies it has, which helps tremendously in balancing out the meaty content of your chicken noodle soup.
The choice of vegetables depends on your preferences. If you are more into the classic recipe, try out mushrooms, eggplant (or squash), zucchini, onions, colorful bell peppers, and mozzarella cheese. You will have a flavorful panini to eat alongside your hot soup.
And making vegetable panini doesn't take much effort, especially if you already have some top-quality panini presses right in your kitchen. Also, this dish will make your meal healthier. You can follow the following recipe to learn more about the cuisine via this detailed tutorial: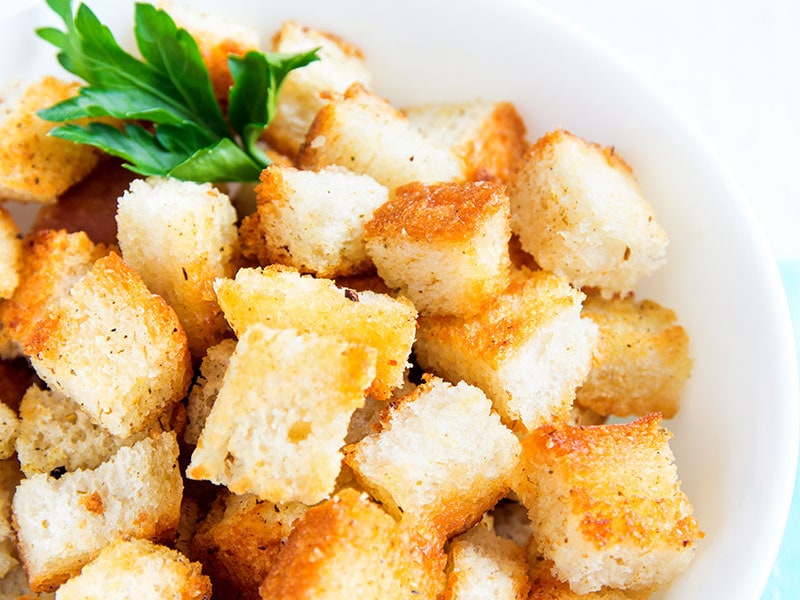 If I have to pick one side dish to make my chicken noodle soup irresistible, I will name it "homemade croutons" right away. These baked, whole grain bread pieces are so easy to make, yet its crunchy texture is the one you will not see very often. But, believe it or not, it will only take you 15 minutes to put this bread together.
What can be better than a concise tutorial video made by a French guy for this French cuisine: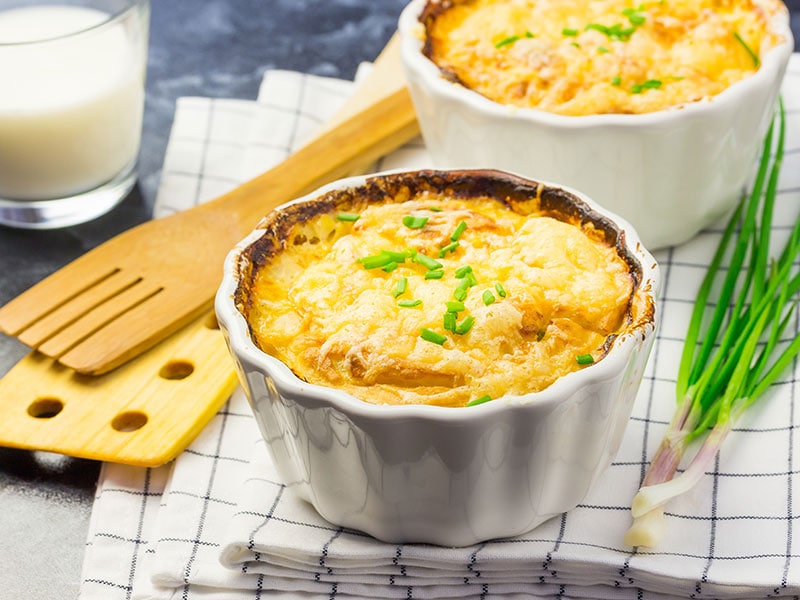 Mashed potato is a great flavor addition to your chicken noodle soup. Nevertheless, scooping the mashed ingredient into the hot bowl seems overbearing and not so aesthetically appealing. Don't worry! You can work things out with some magic from mashed potato puffs.
Basically, they are a combination of mashed potato, chives, bacon bits, and cheese packed inside an ideal bite-sized hors d'oeuvres. Their texture of outside crispy and inside fluffy will breathe some new life to your chicken noodle soup, making them the perfect companion for the main dish.
Spend around 30 minutes in the kitchen with your leftover mashed potatoes, and you will have a wonderful side dish for your chicken noodle soup.
You can also try out this delightful recipe for the dish: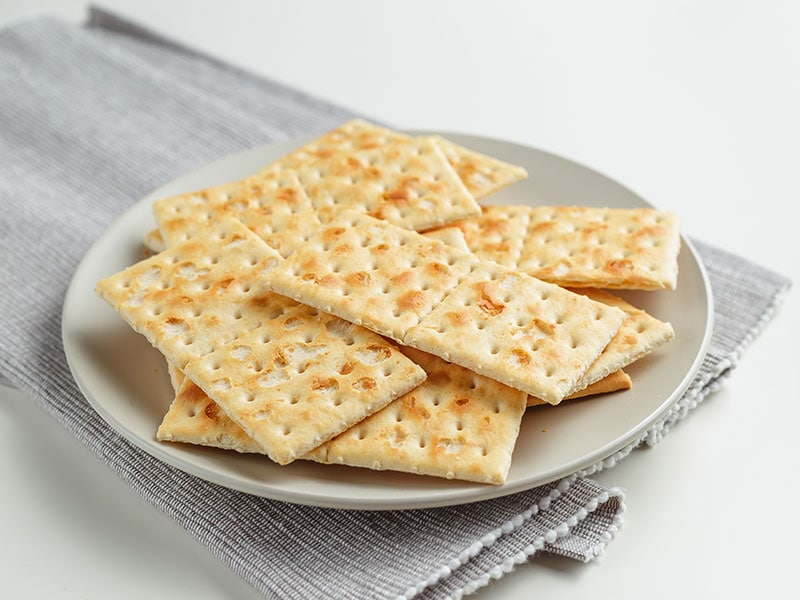 Saltine crackers are definitely the classiest companion to serve with chicken noodle soup. They offer a similar formula for a perfect soup: the crunchy texture and the salty flavor.
This accompaniment is widely available at stores. You can grab a pack or two there and store them at your house for use during these soupy nights. One brand I highly recommend is Premium Mini Saltine Crackers, with salty crackers at the bite-sized square pieces.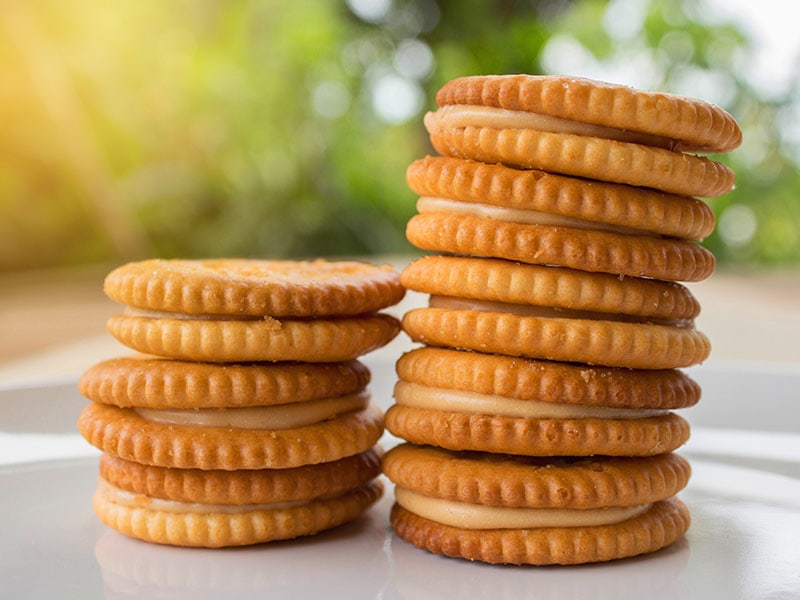 Cream biscuits can provide an equivalent crispy on the outside. However, its internal cream is the softest and fluffiest inside you will ever get your hands on. Eating cream biscuits alongside your chicken noodle soup will give you a sensational flavor treat.
It is straightforward to self-make cream biscuits. All it takes is 15 minutes of stirring dried ingredients with heavy cream and baking in the oven. The cream will substitute the position of butter like in other bread recipes. Thus, cream biscuits have a distinct milky flavor instead of the typical buttery aroma.
Let's try to make some DIY cream biscuits for your next chicken noodle soup. Trust me! You will have no regrets at all!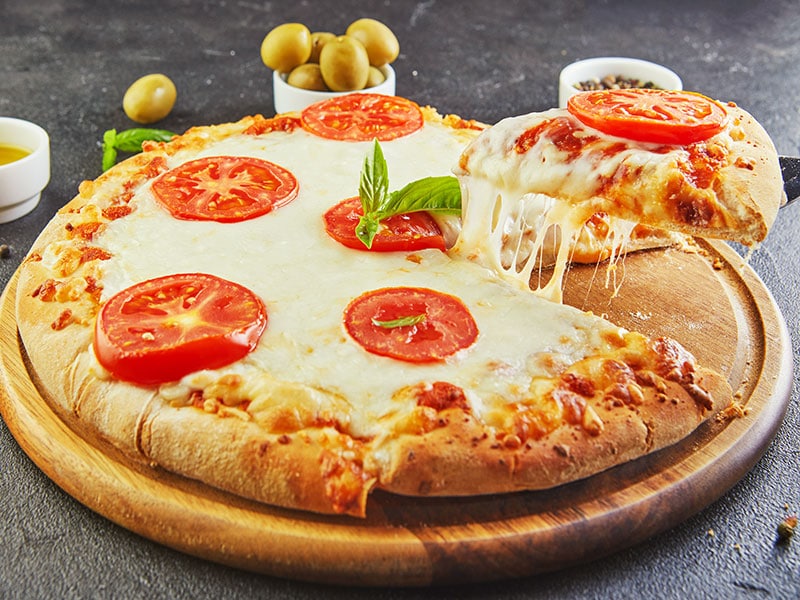 Pizza? Well, you may be surprised and skeptical about this recommendation. However, let's look at things reversely. If you consider this goat cheese and arugula pizza as the main dish, and the chicken noodle soup stays more on the side, then things start to line up nicely.
Goat cheese and arugula pizza is a simple, pesto-based variation of regular Italian cuisine. You will need 20 minutes to serve this pizza with your hot bowl of soup.
The rich flavor of goat cheese cut in thin coins, the green taste of arugula, and the herbal aroma of garlic and olive oil are the perfect combination when put together. Everything tastes even better with the crust edges and crunchy texture of the pizza itself. At the end of the day, it is a very balanced dish to serve with chicken noodle soup.
I know that you all have busy lives. So, I always try to find the shortest video illustration to give you a quick but comprehensive look at the making process of these recommended dishes. Here is another one that you should refer to:
Top 6 Salad Side Dishes To Serve With Chicken Noodle Soup
If the 15 bread options above have not satisfied you yet, let's browse through the following 6 salad companions that pair up perfectly with your chicken noodle soup.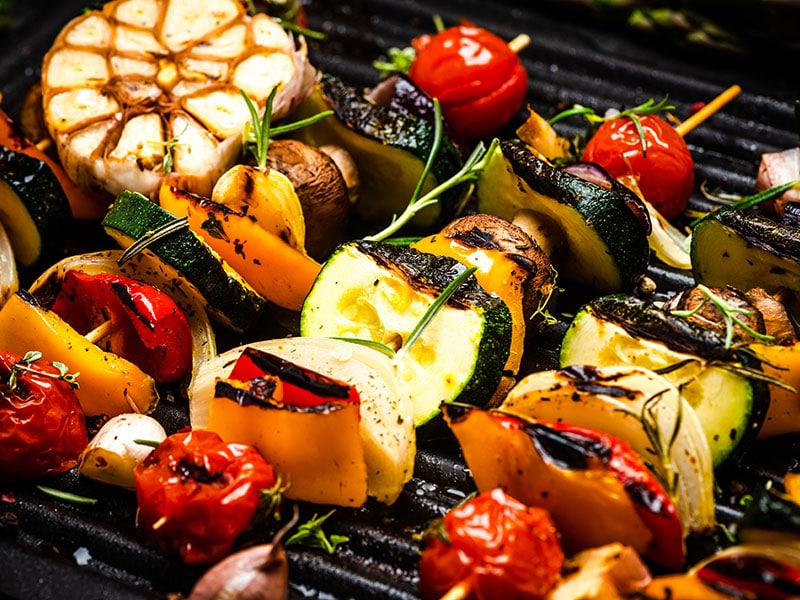 There is no better option to balance your soup-based meal than vegetables. However, not all people enjoy eating fresh and juicy veggies. You can add a more attractive texture to your greens by grilling them on skewers.
Not only packed with vitamins and nutrients, but the side dish also offers a great crunchy factor to your soft noodles. The typical way to enjoy this combination is by dipping the skewers into the broth for an extra flavor splash.
Regarding the ingredients, you can freely choose among various types of vegetables, including zucchini, mushrooms, tomatoes, pineapple, squash, and bell pepper. It is advised to coat the veggies regularly with olive oil after grilling.
I believe combining the reading and watching tutorials on a recipe really helps you learn things better. That is why I prepare a video here so that you can follow along: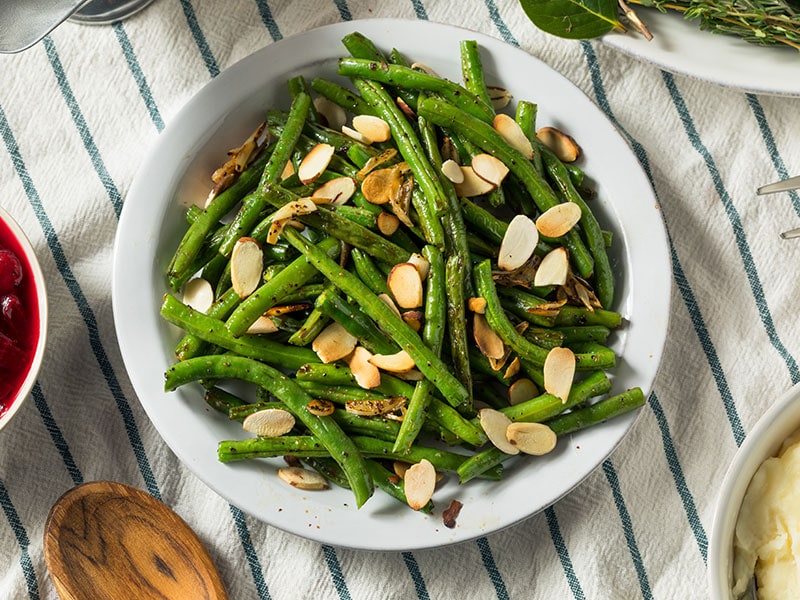 Also known as the "fancy but fast Green Beans Almondine"(2), this classic French dish is an ideal companion to almost every meal, including chicken noodle soup.
It is the combination of simplicity and elegance in one recipe: simplicity in preparing and elegance through its aesthetic.
Learn more hands-on experience in making green beans almondine via the following video: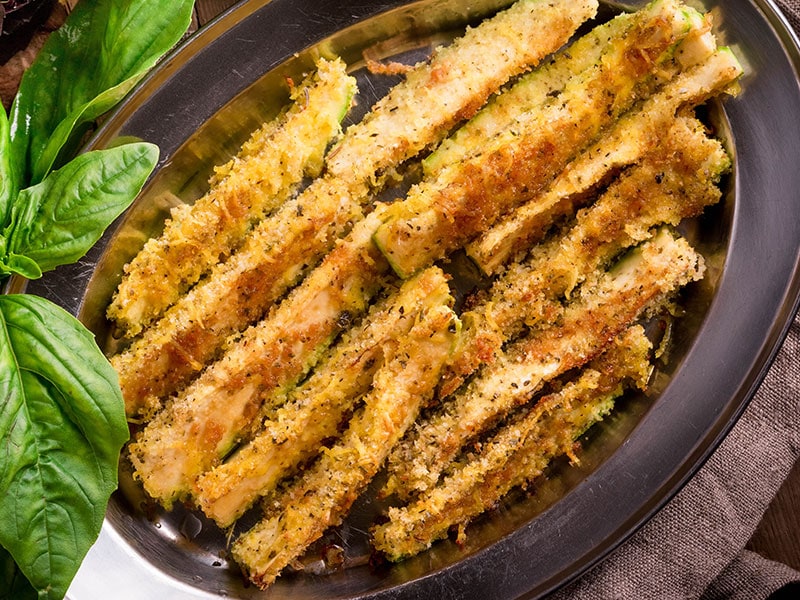 Baked zucchini is the ultimate guilt-free accompaniment to serve alongside your chicken noodle soup. It is a perfect choice for those who want to avoid consuming the carb-rich bread but still crave those crunchy and cheesy toasts.
The tenderly crispy toast with golden cheese topping is ideal for serving with chicken noodle soup, as it is naturally low in carbs (to compensate for the high-carb noodles) and keto-friendly (suitable for those on a diet)(3).
Let's learn to prepare this side dish in a more illustrative way through this tutorial video: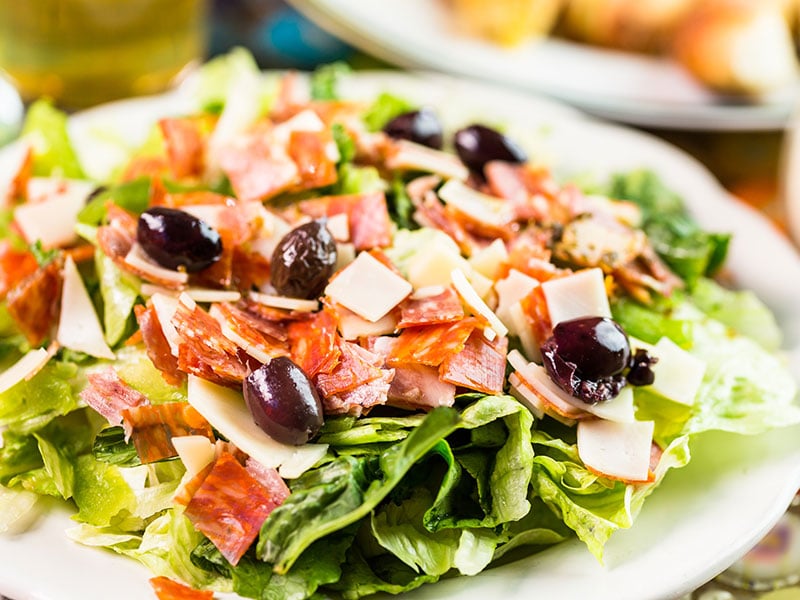 If you think veggies are light and flavorless, think again with Italian chopped salad. This side dish is healthy like other salad types. However, it has an extremely bold flavor that helps to contrast the broth's subtly light aroma of your chicken noodle soup.
The boldness of this Italian cuisine comes from its various ingredients and the fact that they are all chopped up. You will have a few cucumbers, onions, romaine, tomatoes, pepperoncini, chickpeas, mozzarella (or provolone), etc., in every bite, making it fun and flavorful to enjoy the salad.
Serving this companion with your chicken noodle soup guarantees to make you full. However, it is the kind of healthy full, unlike the stuffed feel that you have with other heavy food like frozen lasagna.
This upcoming video is quite long. Yet, it is a very detailed sharing from a real chef. So, if you are interested, check it out then: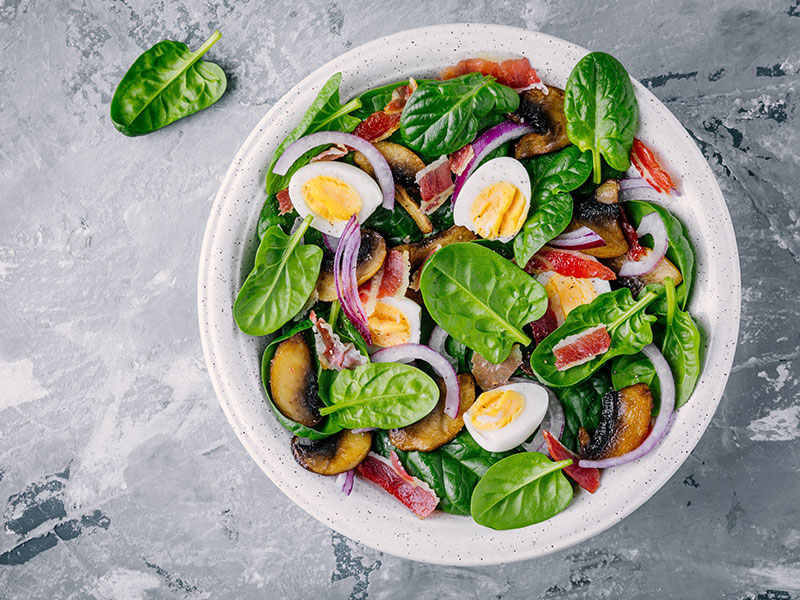 The promising combination of spinach, bacon, and eggs turns out to be another great salad for chicken noodle soup. Unlike Italian chopped salad, spinach salad with bacon is light in flavor. Yet, it produces a very satisfying texture to your soup-based meal.
This side dish promises to be a tasty source with healthy nutrients during all your chicken noodle soup meals. If you want to dig deeper into many detailed aspects of preparing this dish, try out this video: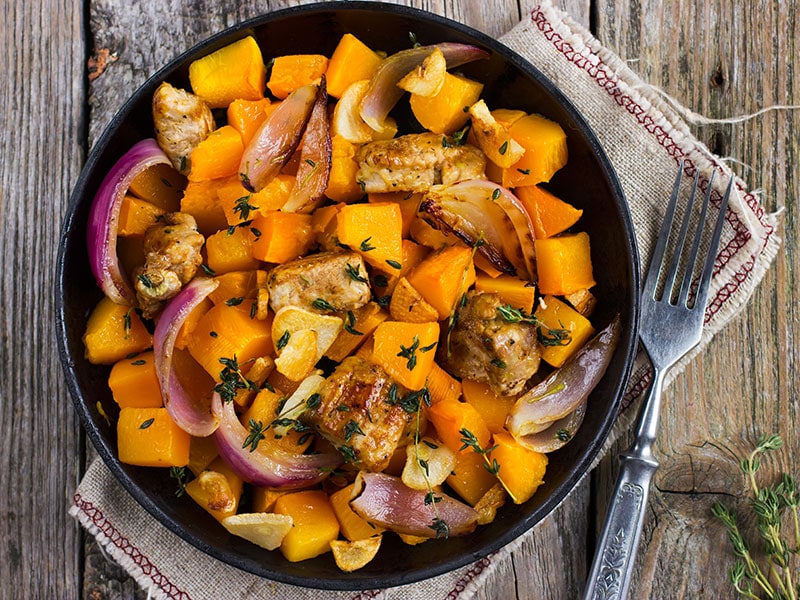 Roasted butternut squash salad will conclude my recommended salad dish to pair with your chicken noodle soup. This hearty dish is a wonderful gift for cooler months, consisting of a wide array of ingredients. You will have butternut squash mixed up with goat cheese, pomegranates, arugula, candied walnuts, cumin, and other spices.
Pulling this dish off is pretty straightforward. All can be done in less than an hour, with two elements: the butternut squash and the cider date dressing.
Like other side dishes, I also prepare a tutorial video here for those who are interested in learning more about the cuisine in question:
Surprising Bonus For What To Serve With Chicken Noodle Soup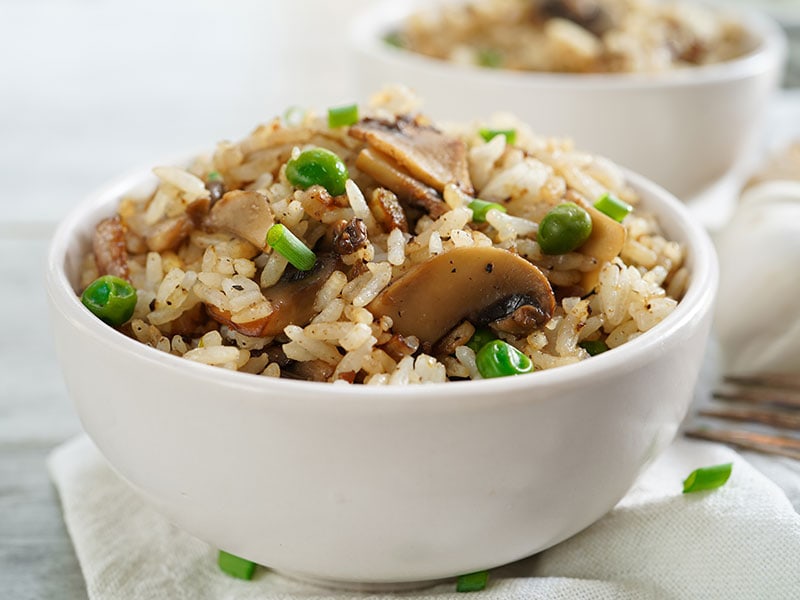 Before concluding my article on what to serve with chicken noodle soup, I want to share a surprising bonus for those who have read to the end. This special treat is neither bread nor salad. Instead, it is brown rice pilaf.
The brown rice dish is also a common choice to serve alongside chicken noodle soup, owing to its rich content of fiber, protein, nutrients, and bold flavors.
This is the end of my list for all potential side dishes alongside chicken noodle soup. I hope the list has inspired you with many yummy ideas for your upcoming soup-based meal. Thanks for reading!
And do not forget to drop a comment in the below section to share your feelings towards one of the above dishes. You can also share more companions that I have not touched on.
Nutrition Facts
8 servings per container
---
Amount Per ServingCalories150
% Daily Value *
Total Fat 12.2g

19

%
Cholesterol 32mg

11

%
Sodium 120mg

5

%
Potassium 5mg

1

%
Total Carbohydrate 8.7g

3

%
Protein 3.2g

6

%
---
* The % Daily Value tells you how much a nutrient in a serving of food contributes to a daily diet. 2,000 calories a day is used for general nutrition advice.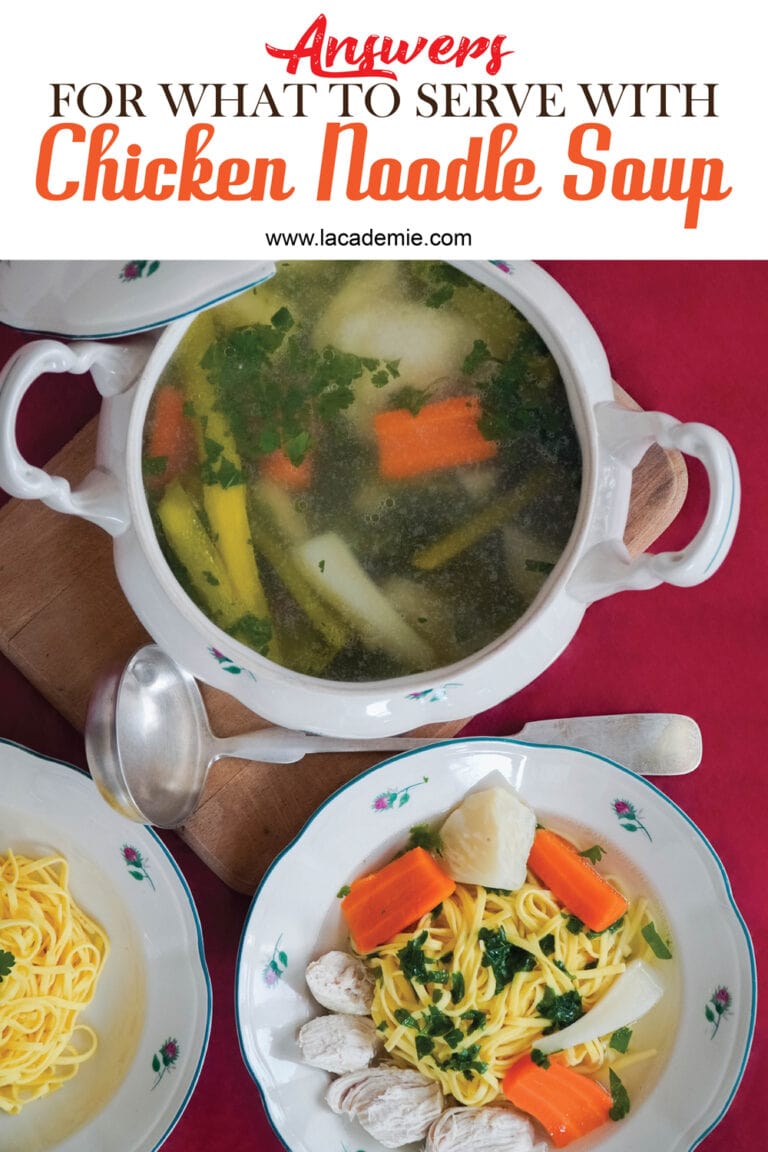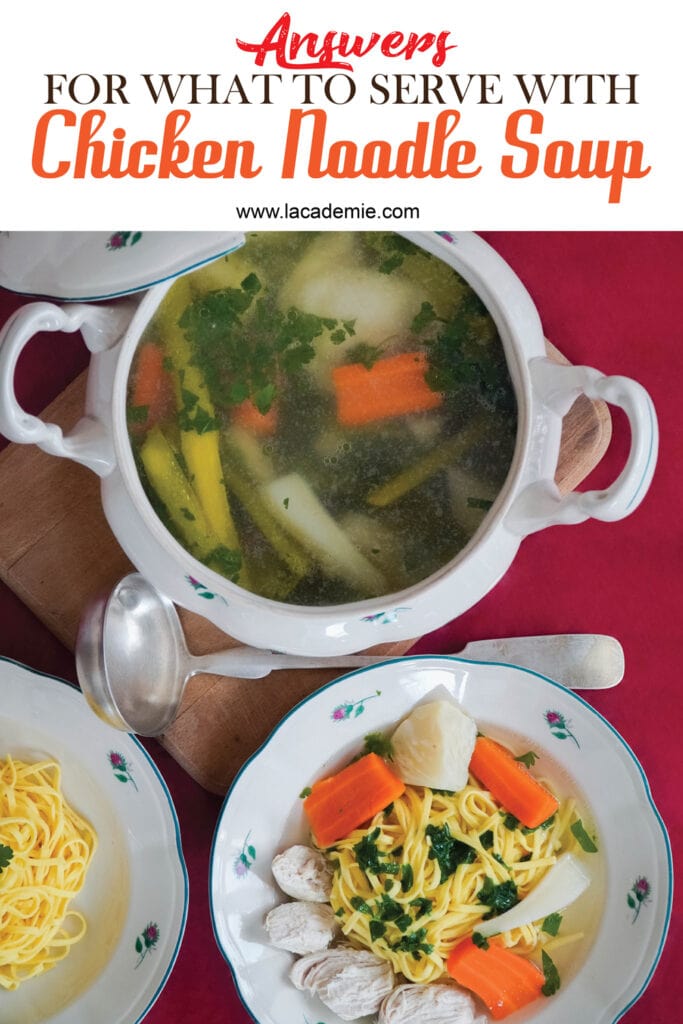 References
Healthline. 2021. Chicken Noodle Soup Isn't Healthy.
INFORUM. 2021. Fancy but fast, Green Beans Amandine will impress this Easter | INFORUM.
Wholesome Yum | Natural Keto Recipes. 2021. Is Zucchini Keto? Carbs In Zucchini | Wholesome Yum.