Type "chicken congee" on the Google search bar, and you will probably find many classic Chinese recipes. But this easy dish is also popular in Vietnam, especially for family gatherings or informal parties when everybody sits around the table and has a hearty serving of this porridge.
Let's bring that warm atmosphere to your house by cooking this dish in your kitchen. While an instant pot can cut down significantly on the cooking time, doing so doesn't guarantee the best result. This recipe follows the old-fashioned way, but it won't take very long, I promise!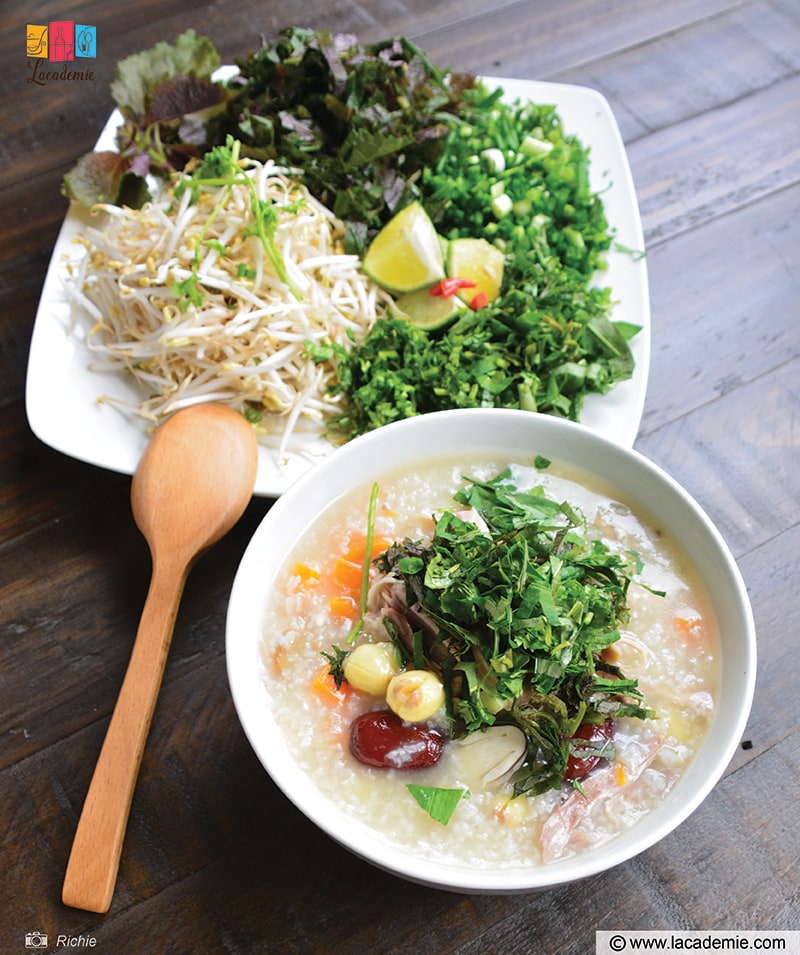 Vietnamese Chicken Congee: A Healthy Dish For Everyone
Chicken congee is quite different from the mainstream chicken soup you're familiar with. For one thing, its dominant ingredient (besides chicken) is rice cooked in chicken broth until very soft and tender.
For a more convenient version of chicken congee, you can use the leftovers of your steamed chicken cooked with coarse salt, rice, and store-bought chicken broth to make it. But of course, the homemade chicken broth is much better as you can adjust its flavor based on your liking.
For another thing, many people like to enjoy chicken congee with various side dishes. In Vietnam, where this dish is a breakfast and dinner staple, locals usually eat it with aromatic herbs and fresh greens.
According to traditional belief, chicken congee is nutritious yet extremely easy to digest, so it is the recommended food for children, the elderly, people recovering from illness, etc. But healthy foodies seeking a delicious dish can cook and enjoy it as well.
Tools
This recipe doesn't call for an instant pot, so it will take a little more time. You will need the following kitchen gadgets to prepare this dish.
Chopping board and knife: for processing the ingredients.
Small bowls: for containing the condiments.
Slotted spoon: for getting the solids out of the broth after cooking it.
Soup ladle: for getting the solids out of the broth after cooking it.
Stock pot: Make sure that it is large enough to hold the whole chicken.
Skillet: for roasting the rice, which is an important step to bring out the best flavor of the rice. If the skillet is non-stick, you should choose a suitable spatula to stir the rice without scratching the skillet.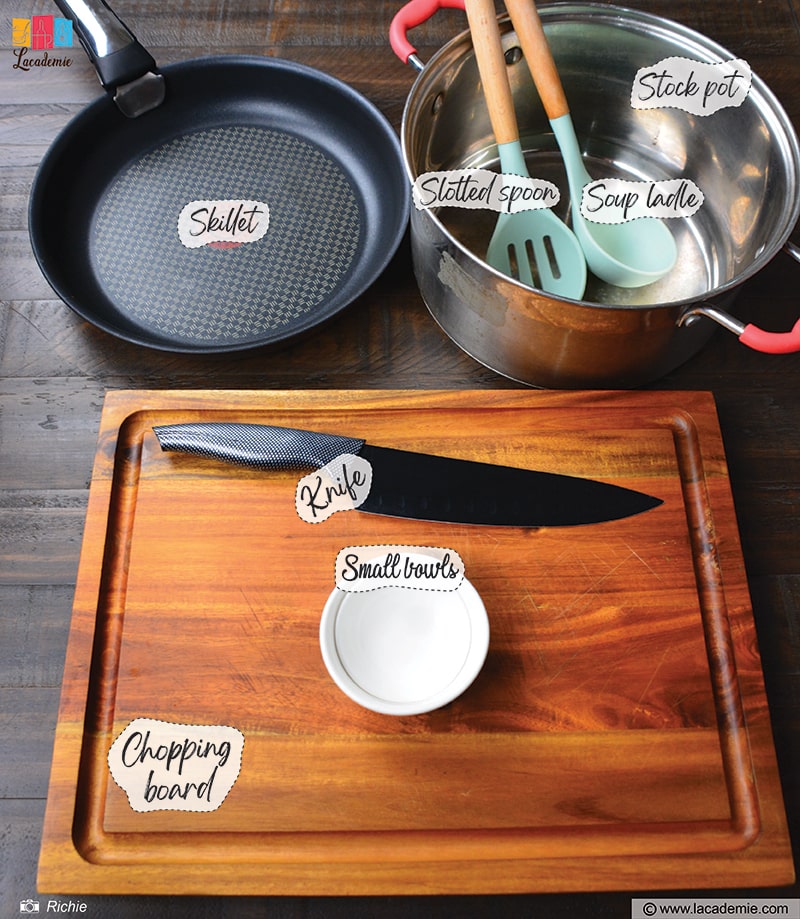 Ingredients
Chicken congee is flexible in terms of ingredients. Except for rice and chicken, you can replace the rest with anything you like. However, my personal experience is that having all these ingredients will create the best chicken congee that you can't forget.
Chicken: For the best texture and flavor, go for a free-range chicken, preferably a hen. Commercially raised chickens have relatively blander and mushier meat that is unsuitable for this dish.
Rice: I use a mix of sticky and non-sticky rice in this recipe for a more diverse mouthfeel, but you can use only one of the two types. Aromatic white rice can make congee even more flavorful to enjoy, so don't hesitate to toss it in if you have some lying around.
Fresh lotus seeds: They have a delightfully nutty taste and a chewy texture that everyone can't help liking.
Straw mushrooms: for adding more sweetness and some earthly undertones to the congee. Though I prefer fresh mushrooms, there is no problem with using canned products for this dish.
Dried jujube fruits: While some Vietnamese congee recipes don't include this ingredient, I find its mild sweetness blends well with savory chicken.
Vietnamese fish sauce: A special condiment that imparts Vietnamese flavors to this dish.
White wine: for keeping the chicken juicy and flavorful during the broth-making process.
Leek and carrot: Some versions of Vietnamese chicken congee don't have these veggies, but I like adding them to my congee for more flavors and nutrients.
Spices and seasoning: salt, brown sugar, scallion, ginger, fresh chili pepper, shallots.
Veggie sides: coriander, laksa leaves, perilla, bean sprouts, etc. You can add other kinds of herbs and greens as long as they can serve with hot congee.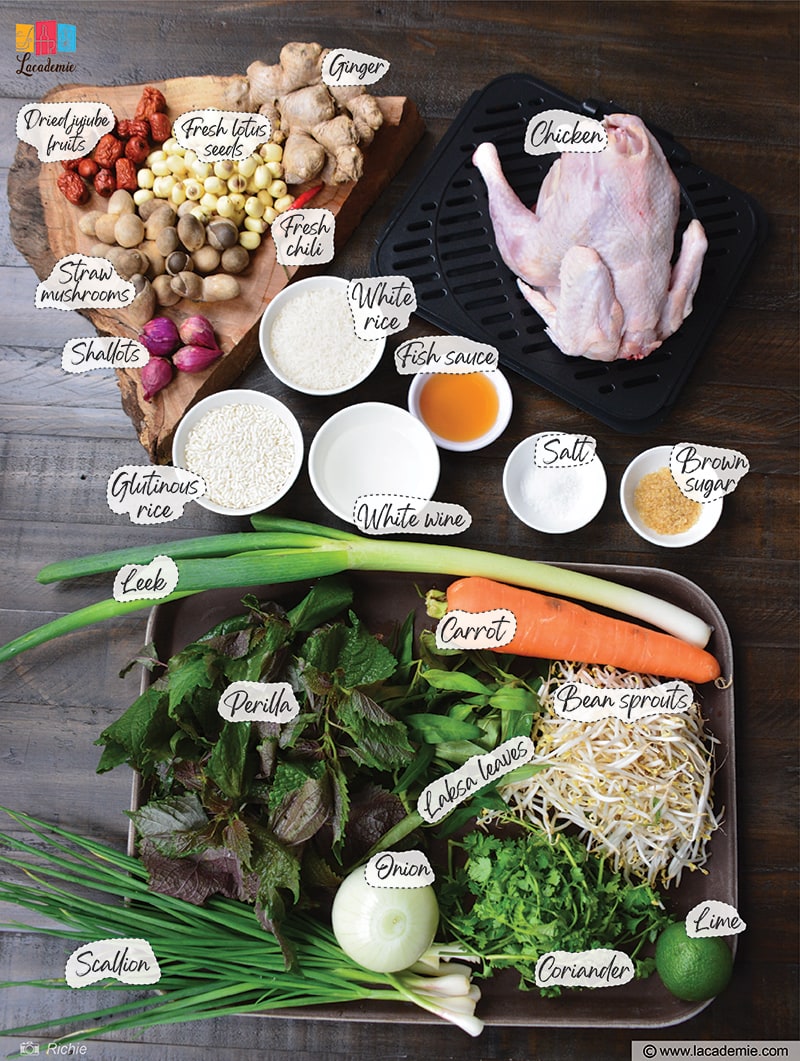 Instructions
Suppose that you only have a little more than an hour to prepare a hot meal, Vietnamese chicken congee will rise to the occasion beautifully. All you need to do is follow these easy steps;
Step 1: Prepare The Ingredients
Wash the vegetables and let them drain.
Mix the two types of rice together, then wash them under running water. Let them drain while you carry out the rest of the preparation.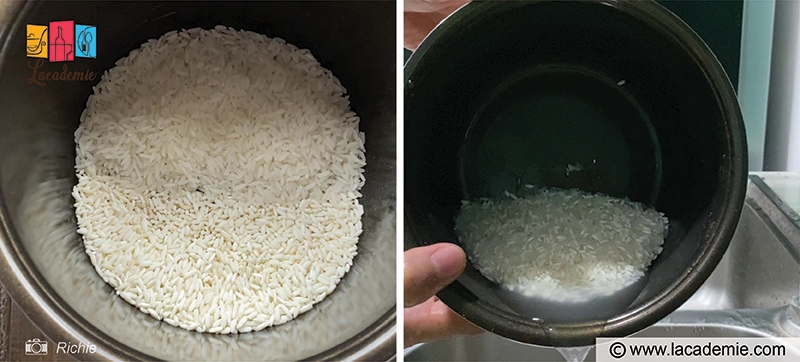 Cut ginger into thin slices. Halve the shallots. Cut the leek into short strips.
Finely chop coriander, scallion, perilla, and laksa leaves.
Cut each straw mushroom in half. Dice the carrot into bite-sized cubes.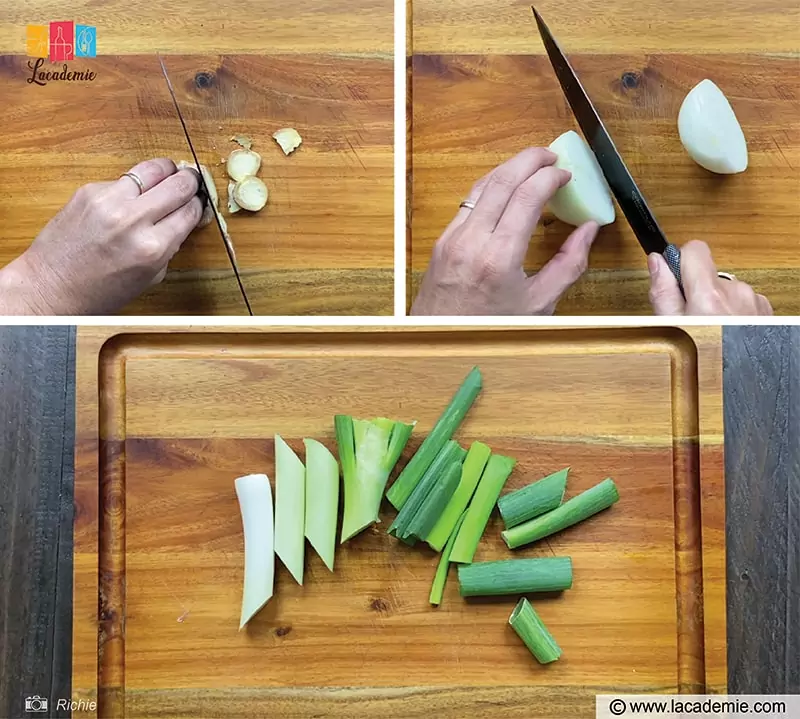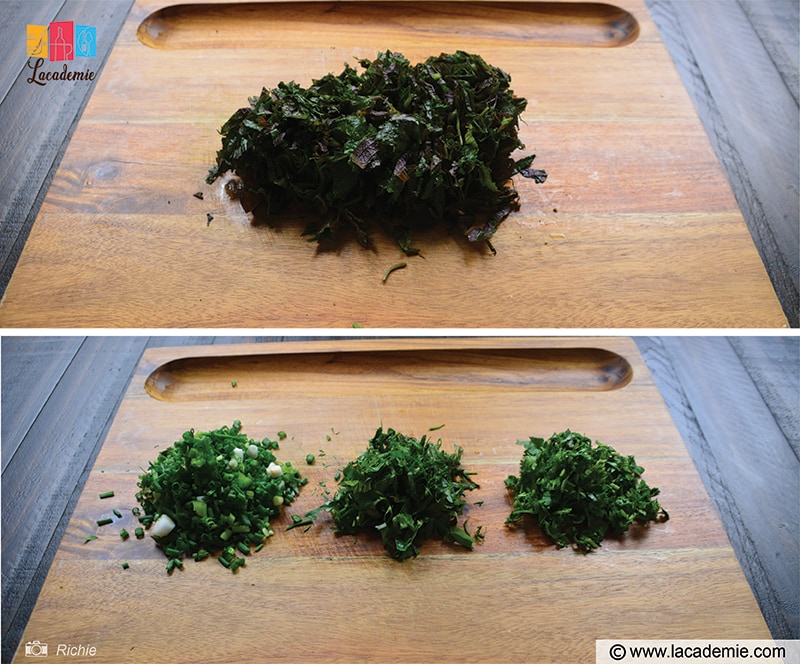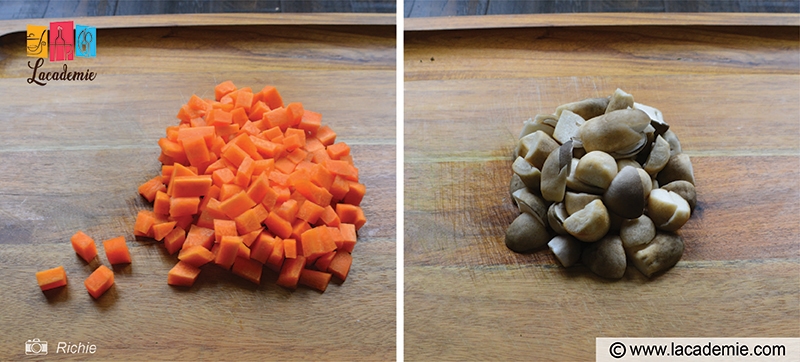 Step 2: Cook The Chicken
Put the whole chicken in the stock pot. Fill the pot with 3.5 – 4 liters of water and make sure that the water covers the chicken.
Add shallots, leeks, onions, ginger, dried jujube fruits, white wine, and salt to the pot.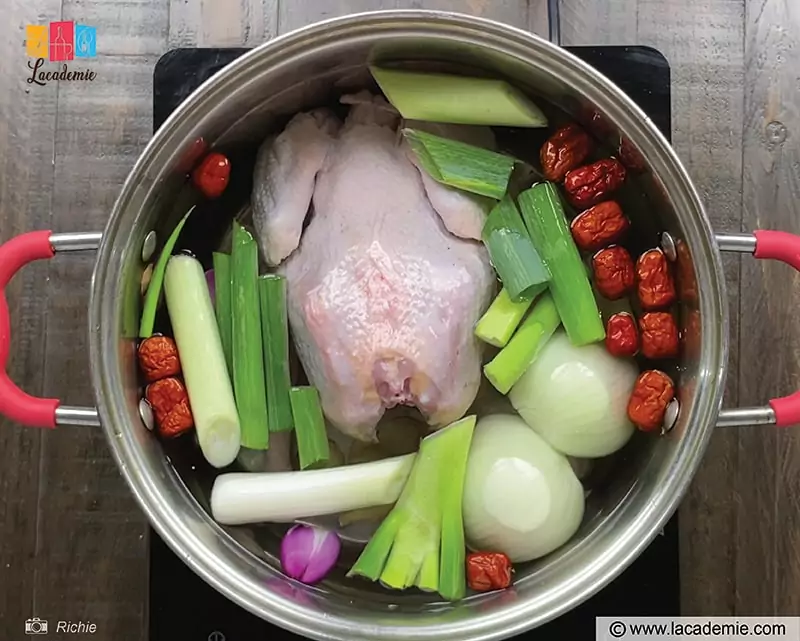 Cook on medium heat for 30 – 40 minutes. Don't put the lid on so that you can skim the foam during the process.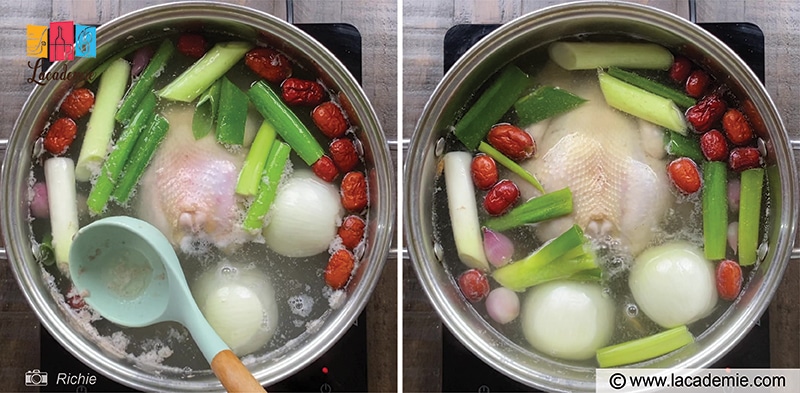 Step 3: Roast The Rice
In a skillet, lightly roast the rice until it turns pale golden brown and releases a faint fragrance. Don't forget to stir constantly to prevent burning.
Note: This step improves the flavor profile of the congee, but you have to ensure that the rice is completely dry before roasting it. Wet rice will break apart upon being roasted, which, in turn, makes your congee overly mushy.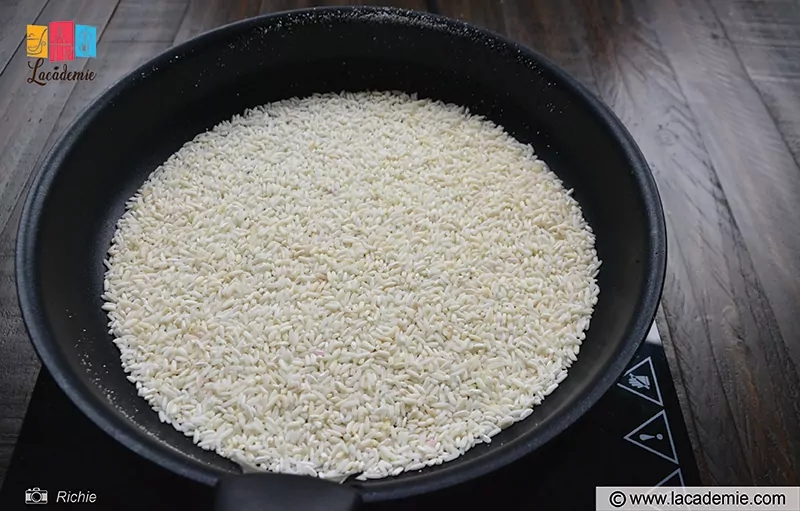 Step 4: Prepare The Congee
When the chicken is well cooked, remove the solids from the pot, except for the dried jujube fruits. Add roasted rice, lotus seeds, and carrot cubes to the pot.
Cook on medium heat for 10 minutes. Occasionally give the pot a gentle stir to prevent the rice from sticking to the bottom of the pot.

In the meantime, wait until the chicken cools down, then shred its meat into bite-sized pieces or strips.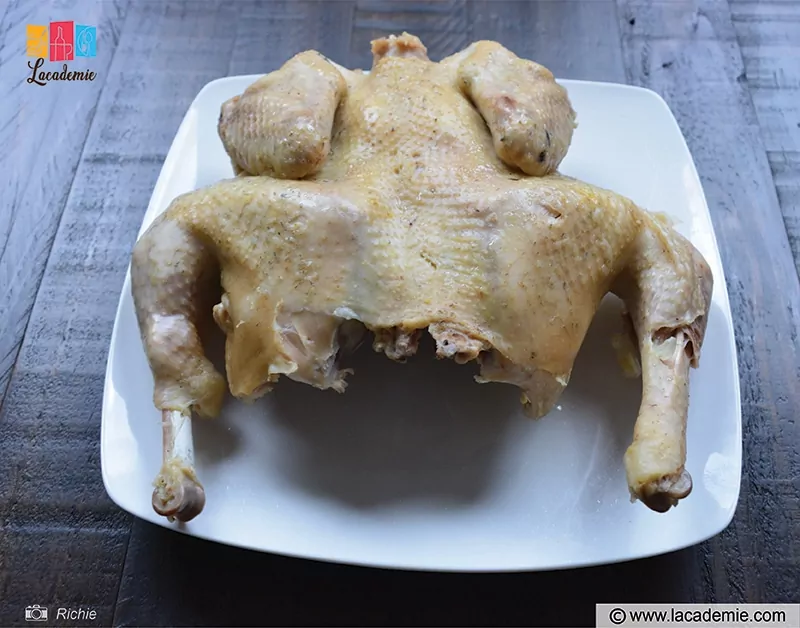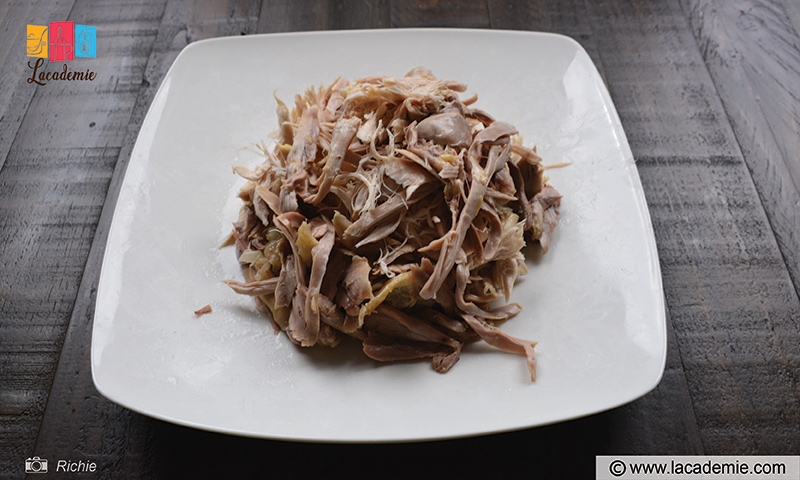 Add straw mushrooms to the pot, stir gently, turn down the heat (to avoid thickening the congee too much), and cook for another 5 – 10 minutes.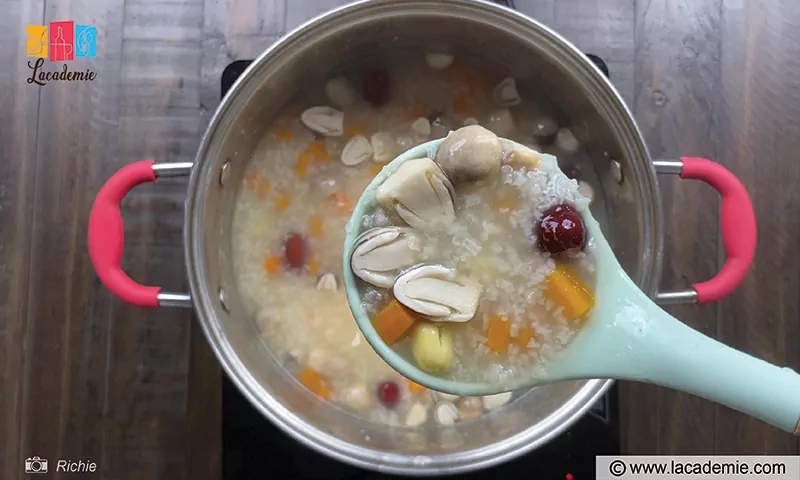 Lastly, spoon shredded chicken into the pot. Add fish sauce and brown sugar to taste.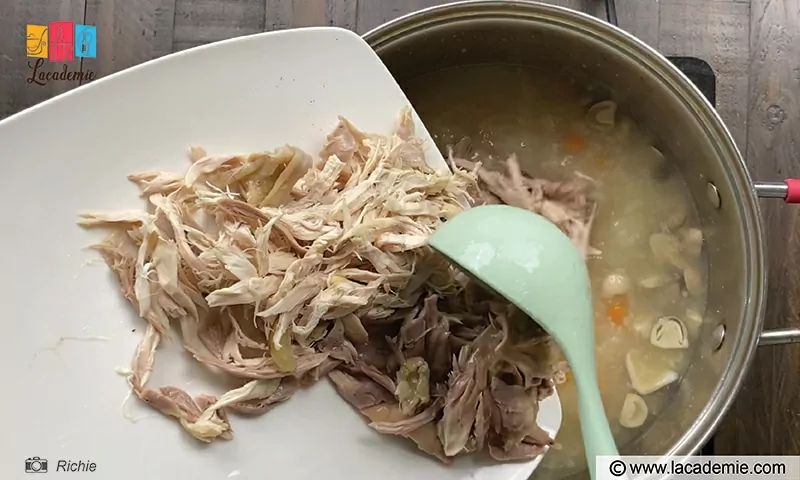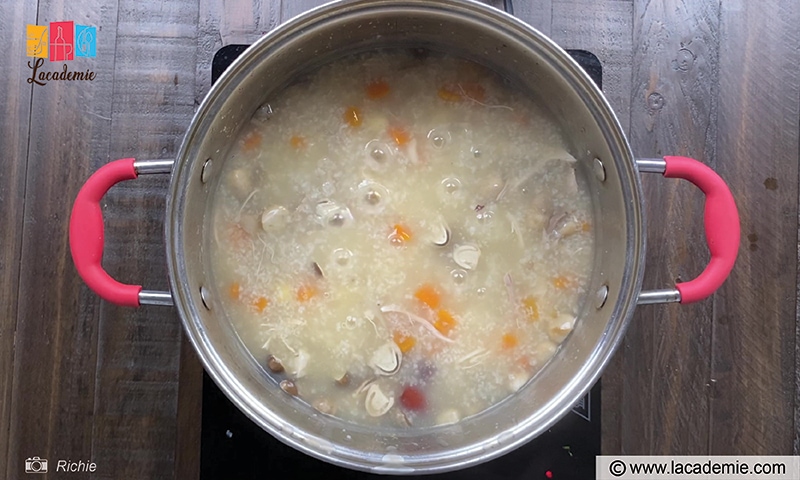 Step 3: Decorate And Serve
Ladle some congee into your bowl. Top it with chopped laksa leaves, scallion, perilla, coriander, and bean sprouts. If possible, add some fresh chili, lime juice, or black pepper garnishes because they will make your congee even more delicious.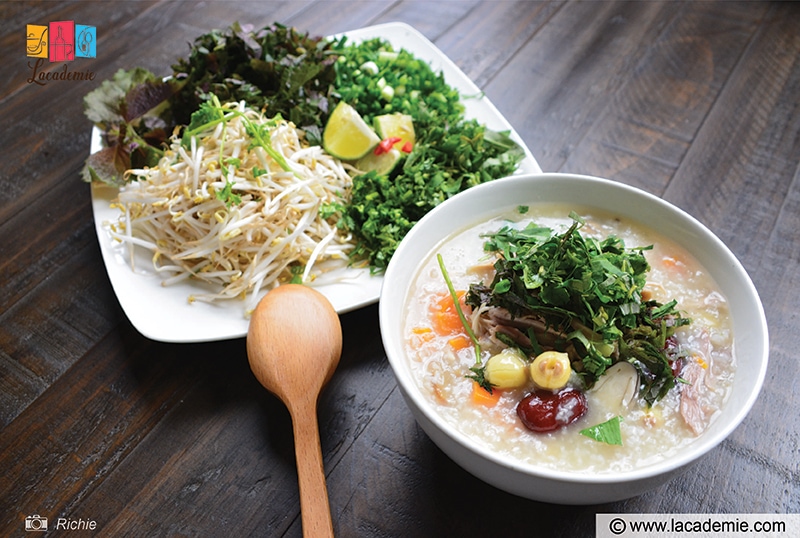 Storage
Vietnamese chicken congee is a great make-ahead recipe. You can cook it the day before and store it in an airtight container in the fridge for the next breakfast or dinner. The congee can stay good that way for 3 days.
Freezing is another excellent storage method. Prepare a resealable plastic container or freezer bag and pour your congee into it. Don't forget to stick a date label on it because freezing can keep your food for up to 3 months, a considerably long time.
Chicken Congee For The Sister's Soul, Why Not?
Vietnamese chicken congee fits the definition of a hot, hearty, home-cooked meal perfectly. Let the nuttiness of rice, lotus seeds, and straw mushrooms lull you into a sense of major contentment while the aromatic and reinvigorating vegetables indulge your taste buds.
Top it off with an elastic, savory bite of chicken, and your experience is complete. Recommend this recipe to your friends so that they can experience such wonderful feelings as well. If you want to share your opinion or any great cooking tips, feel free to leave a comment. Many thanks!
Nutrition Facts
5 servings per container
---
Amount Per ServingCalories695
% Daily Value *
Total Fat 28.7g

44

%
Cholesterol 135mg

45

%
Sodium 1171mg

49

%
Potassium 788mg

23

%
Total Carbohydrate 63g

21

%

Dietary Fiber 1.9g

4

%
Sugars 1.4g

Protein 44.9g

88

%
---
* The % Daily Value tells you how much a nutrient in a serving of food contributes to a daily diet. 2,000 calories a day is used for general nutrition advice.