Chicken thighs vs. drumsticks: are they the same thing? The answer is no. While both of them are delicious and come from the same place, there are various differences between the two cuts that can make or break your meals (and your budget, for that matter.)
Have you ever stopped at the fresh chicken line at the supermarket and become busy weighing the pros and cons between chicken thighs and drumsticks? If you are caught in that dilemma, I hope that the answer in this post will be of great use to you!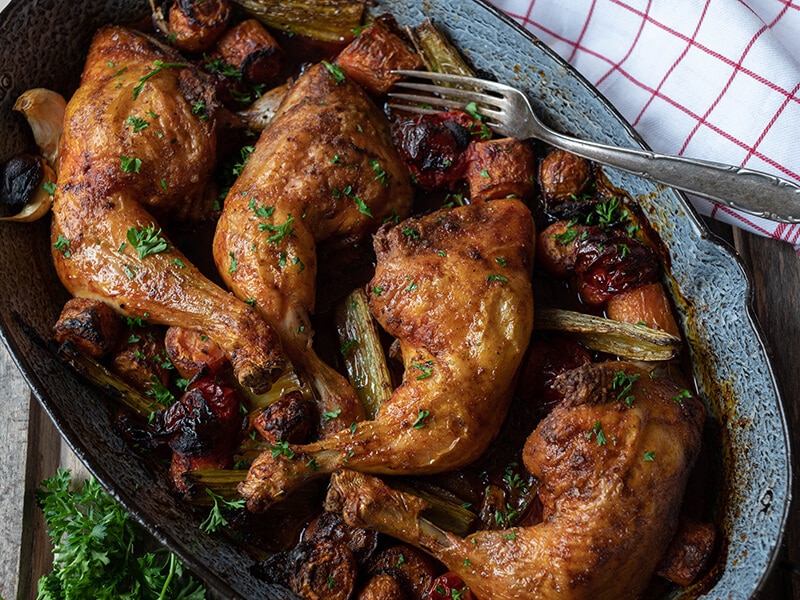 A Brief Introduction To Chicken Thighs And Drumsticks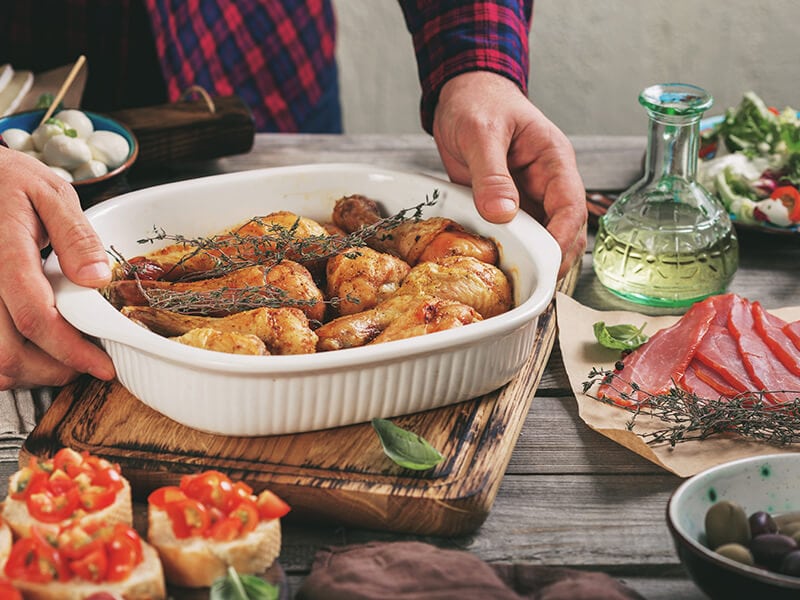 Chicken is among the most popular domesticated birds. Due to the ability to provide food along with the low cost of feeding and raising them, their distribution has flourished and become widespread all over the world.
In general, chicken can be cut into various parts ranging from the main body, legs, and wings. But do you know where the word "drumstick" originated from? There are two different theories about it, both of which started with another type of poultry: turkey.
A few centuries ago, words indicating certain body parts were considered impolite to say in women's hearing, so they needed other formal name replacements. "Legs" were such a case; people didn't want to say a "turkey leg" out loud, so they switched to "turkey drumstick" instead.
But why "drumsticks" but not any random word? Another theory points to music. It goes that turkey drumsticks were named after the old versions of drumsticks (which were bigger at the top than modern ones) due to their similarities in shape.
Whatever the case may be, "drumsticks" soon became a popular term in cookbooks. People soon used it for chickens, a practice that has stayed to this date.
Let's learn how to cut up a whole chicken like a professional chef!
Differences Between Chicken Thighs And Drumsticks
As you may know, chicken thighs and drumsticks belong to the chicken's leg, and they share a few things in common. They are both dark meat with a rich amount of protein and fat. Secondly, these two cuts are budget friendly and can be served as bone-in and skin-on parts.
Yet, the fact cannot overshadow the differences between them. Here is some basic information you should know first.
Criteria
Thighs
Drumsticks
Location

The upper section of a chicken leg

Near the lower body of the chicken

The lower section of a chicken leg

Below the knee joints

Flavor 
Juicy, rich, and savory, yet fattier than drumsticks
Juicy, rich, and savory, yet less fatty than thighs
Texture 
Tender and slightly rubbery
Tender and slightly rubbery
Uses
Cooking stock, grilling, stir-frying, slow cooking
Frying, grilling, roasting
Availability 
Sold in many forms
Usually sold as bone-in and skin-on cuts
Affordability
Budget-friendly
Budget-friendly but less expensive than chicken thighs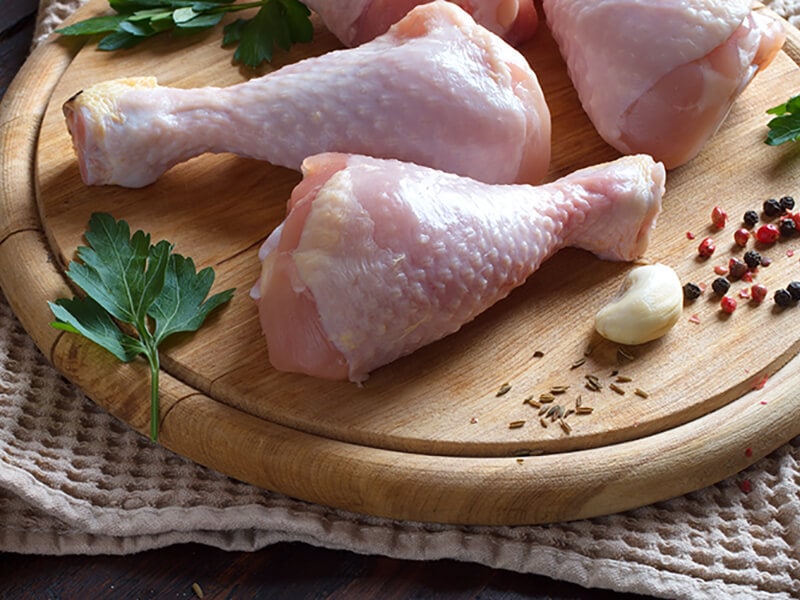 Location
The thigh is a dark meaty cut from the top section of the leg. It lies from the hip bone near the lower body to above the kneecap of the bird. The thigh meat consists of a piece of hipbone and its main bone (femur).
The chicken drumstick, on the other hand, is dark meat that exists below the knee joints to almost the feet.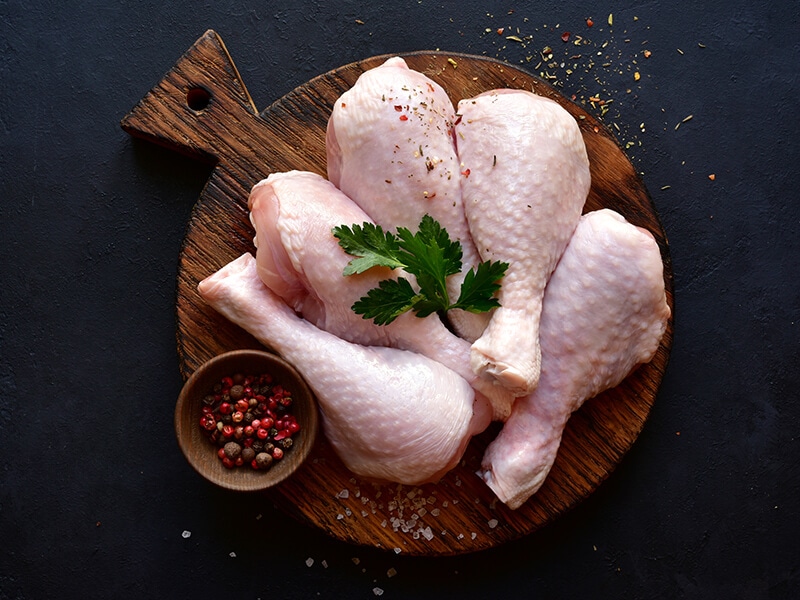 Flavor And Texture
You may think of chicken breasts as the most popular cut, but both chicken thighs and drumsticks have their own appeal. They taste nearly the same as each other: a rich, savory, and succulent flavor coming from juicy, umami-packed dark meat.
Yet, in most cases, thigh meat is considered to be fatter when compared to the lower leg. If you flip over a piece of this meat, you can see there is lots of chicken fat found in the hipbone section. The fat will impart even more richness to the meat when cooked.
In terms of meat, chicken drumsticks have more muscles than the other cut, so they can be a little tougher.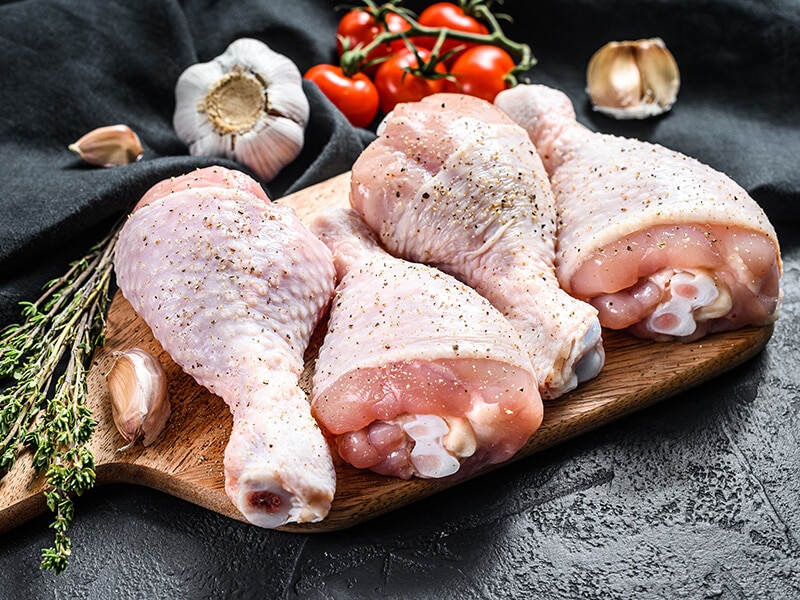 Uses
It is true that chicken can be prepared in various ways, such as steaming , baking, grilling, frying, slow-cooking, etc. Well, how can you choose appropriate cooking methods for chicken leg cuts?
Chicken Thighs
People often use the hipbone to make cooking broth. Normally, they are roasted prior to cooking so that they will give more aroma and taste to the stock.
Besides, unseasoned chicken thigh meat has a neutral to plain taste, so it goes great with spices and herbs when grilled, pan-fried, baked, or seared.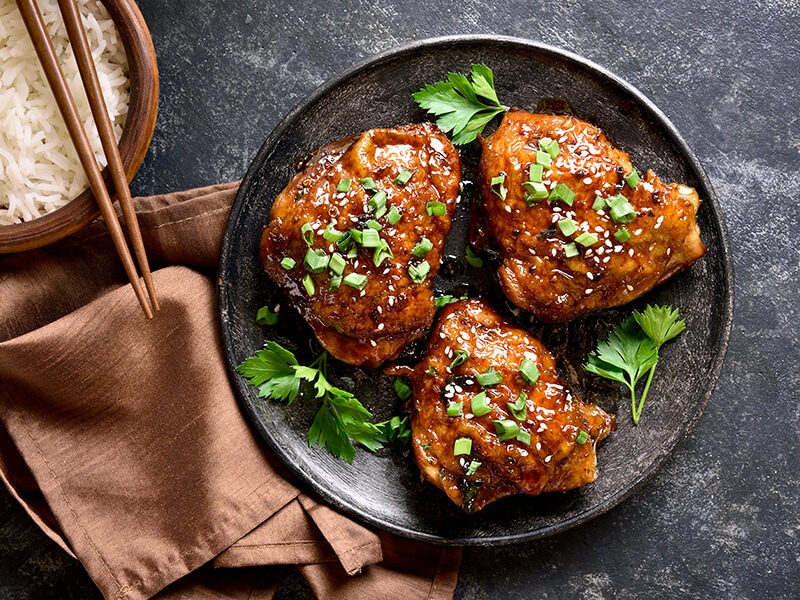 Chicken Drumsticks
Chicken leg cuts are universally popular when it comes to the crispy fried chicken dish. Who doesn't love fried chicken drumsticks? The rapid growth of fast food brands, such as KFC, McDonald, or Lotteria, has turned chicken drumsticks into a global sensation.
Apart from deep-frying, the drumsticks are versatile in terms of cooking methods. They can be cooked in many different ways, such as grilling, roasting, boiling, and slow-cooking. But be cautious when cooking chicken legs as they easily dry out when exposed to extreme heat.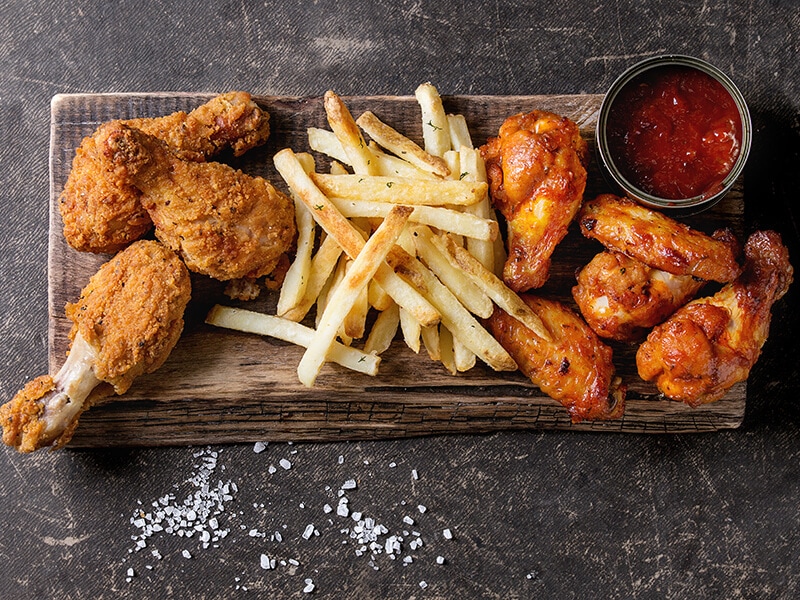 Availability And Affordability
Both chicken thighs and drumsticks can almost be found at any supermarket. But the concern of how to get a better price when choosing different types of meat can give you a headache. Chicken thighs vs. drumsticks, which one is much cheaper? Here is my answer to this question.
Chicken Thighs
The thigh cuts are sold in different ways depending on your demand and the cooking methods you opt for. They are available in three forms: Bone-in and skin-on chicken thighs, boneless chicken thighs with skin, and thighs without both skin and bones.
Basically, while chicken thighs cost you more money than drumsticks, they are cheaper than chicken breasts and wings. But remember that there is always a markup on meat-only cuts. A skinless, boneless chicken thigh may prove to be not cheap at all.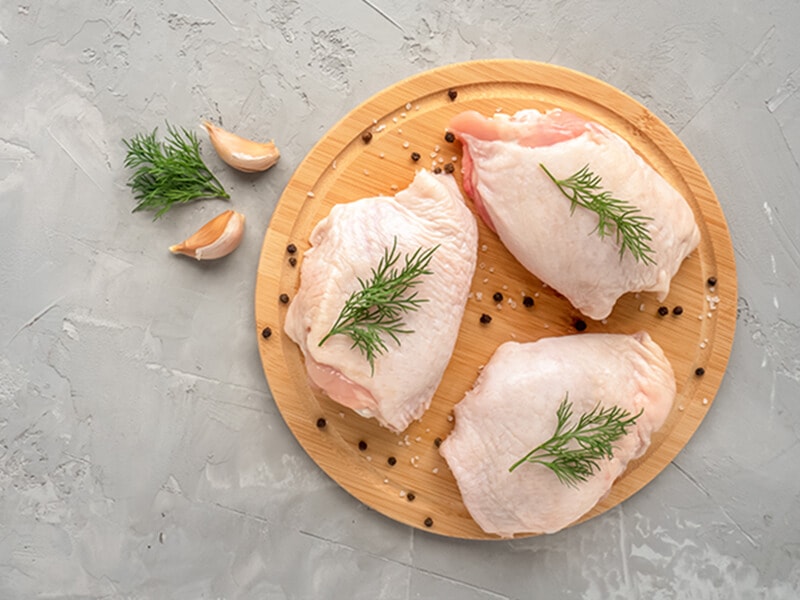 Chicken Drumsticks
Drumsticks tend to have a lower price due to their higher bone content to meat content. In addition, it is less time-consuming to separate chicken drumsticks from the whole leg.
This type of chicken meat is widely sold as bone-in and skin-on. However, it isn't difficult to find skinless, boneless chicken drumsticks at supermarkets or online retailers.
Let's learn how to debone a chicken thigh without turning it into a mess.
Nutritional Facts And Health Benefits
Not only are chicken thighs and drumsticks flavorful and delicious, but they also provide various nutrients and vitamins to human health. Below is a table that demonstrates the nutritional values found in 100 grams of these two dark meat cuts when they are skinless. (1) (2)
| Nutrients | Chicken Thighs (per 100g and meat only) | Drumsticks (per 100g and meat only)  |
| --- | --- | --- |
| Calories | 179  | 149 |
| Cholesterol | 133 mg | 127 mg |
| Protein | 24.8 g | 23.9 g |
| Calcium | 9 mg | 12 mg |
| Saturated Fatty Acids | 2.31 g | 1.6 g |
| Monounsaturated Fatty Acids | 3.36 g | 2.35 g |
| Polyunsaturated Fatty Acids | 1.7 g | 1.24 g |
| Magnesium, Mg | 24 mg | 22.4 mg |
| Phosphorus, P | 230 mg  | 184 mg |
| Sodium, Na | 106 mg | 117 mg |
| Vitamin B-1 | 0.096 mg | 0.088 mg |
| Vitamin B-6 | 0.462 mg | 0.372 mg |
| Vitamin E | 0.18 g | 0.17 mg |
| Niacin (Vitamin B3) | 6.21 mg | 5.05 mg |
| Selenium  | 27.1 µg | 27.9 µg  |
Calories
Overall, as the table suggests, chicken thighs contain more calories, cholesterol, and fats than chicken drumsticks.
100g (3.5 oz) serving of cooked (braised) chicken thighs without skins provide 179 calories, 55% of which are produced from protein while the remaining 45% come from fat.
Meanwhile, in a 100g (3.5 oz) serving of cooked skinless chicken drumsticks, a person consumes 149 calories. This means about 65% come from protein and 35% from fat. (3)
Micronutrients And Health Benefits
Though chicken thighs and drumsticks almost share the same values of essential micronutrients, the former scores a little bit higher in this aspect.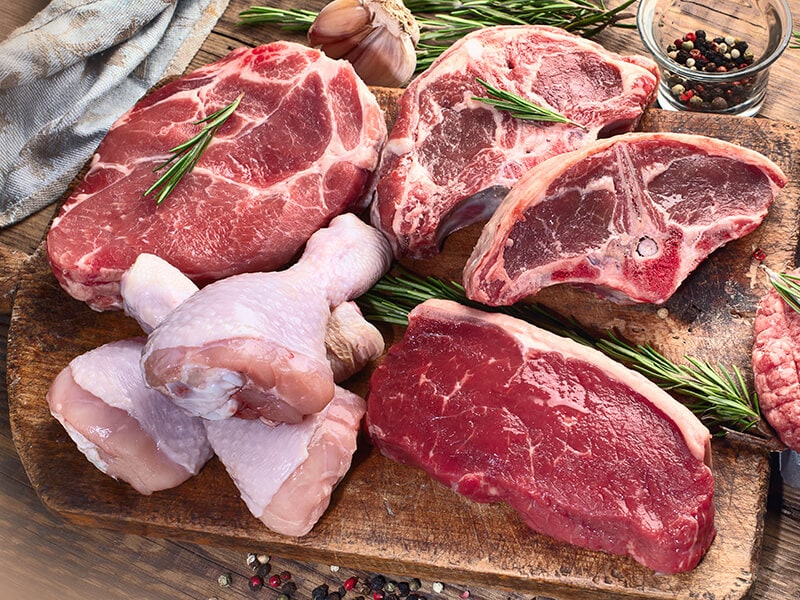 Chicken Thighs
Chicken thighs contain a higher volume of magnesium, phosphorus, vitamin B-1, and vitamin B-6. Among them, magnesium is a crucial nutrient for many processes in the human body, such as supporting muscle function and energy production.
Chicken Drumsticks
The drumsticks, on the contrary, are excellent sources of calcium, selenium, and niacin. Calcium plays an important part in building bones and keeping them healthy, while niacin stabilizes your nervous and digestive systems.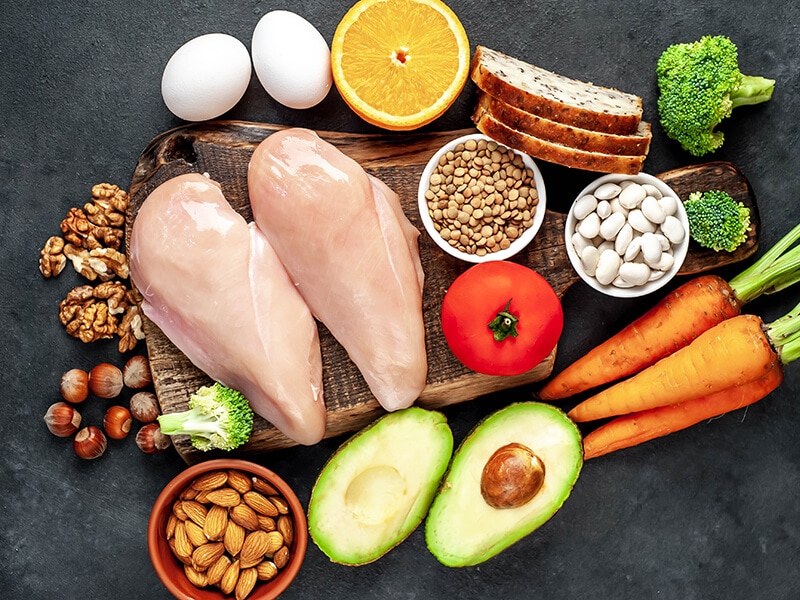 Health Effects Of Eating Chicken's Dark Meat
Eating chicken has been documented to have a close relation to the overall development of human health. Yet, the influences in meat types and your chosen cooking method also make a significant difference.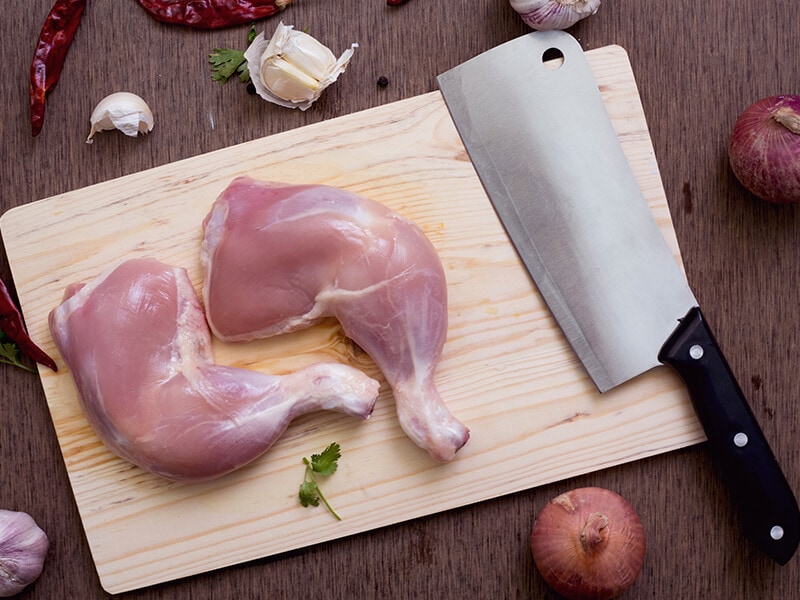 Stronger Bones And Muscles
Chicken breasts provide fewer calories and saturated fat to the human body, which helps to maintain muscle mass and control weight gain.
Yet, the nutritional values of chicken legs cannot be overlooked. Chicken thighs are often used to make cooking stocks as their bones are rich in calcium and phosphorus. These nutrients are key factors in promoting the overall health of your bones.
Cardiovascular Health
Chicken's dark meat also contains a specific amount of selenium – a powerful antioxidant that helps to protect against cell damage and infection, and blood clot. These conditions may pose potential diseases, such as high blood pressure or heart attack, etc.
Also, chicken thighs and drumsticks provide higher quantities of vitamin B12, thiamin, and niacin compared to chicken's white meat. These nutrients are essential for the control of the body's metabolism.
You don't care for chicken breasts? Good news: here are some reasons why you should cook with thighs instead!
Save These Amazing Chicken Thigh Recipes!
What are your favorite chicken thigh dishes? No matter which type of cooking method is used, chicken thighs always stand out in every dish. Now, If you would like to add more recipes to your cooking book, save these tasty dishes.
You're so bored with baked and grilled chicken thighs and would like to try something new? Try this combo of well-marinated chicken thighs, lemon, dried oregano, garlic, and some other spices. Cook the seasoned rice for 30 minutes, and the dish is ready to serve!
Chicken thighs are mostly used for making stock as their bone gives a rich and flavorful stock, which other cuts from chicken couldn't do.
So, why don't you try making chicken stew? This great dish is made of simple ingredients such as chicken thigh for the broth, some veggies, herbs, and spices. Don't forget to prepare some bread to dip into the thick, flavorful, and gravy-like broth!
Creamy, spicy, and slightly sweet are three adjectives to describe how flavorful this dish is. Among the most Indian dishes, it is mostly served as a hot soup alongside some bread or a bowl of rice. Many people like to enjoy it with hot steamed rice.
Top Dishes With Chicken Drumsticks To Make Your Mouth Water
It's time to discover the appeal of chicken drumsticks. This type of cut is well-suited for frying, grilling, and baking due to its tender and juicy qualities. I have included some of the top recipes. Are you ready? Let's check it out now!
Fried chicken is no longer unfamiliar to many people. The flavorful chicken drumsticks covered in a crispy and creamy batter always make my mouth water. However, if you are craving some fried chicken with a more healthy version, this air-fried dish is for you!
This dish is a combination of juicy chicken, the light sweetness from honey, and a touch of nutty and tangy flavor from baked garlic. It is a great comfort dish to serve at a reunion dinner where all family members want to enjoy the warm atmosphere together.
Here is an easy and delightful recipe to indulge all of your senses. Soak the drumsticks in a mixture of various spices and herbs, then place them on the smoky hot grill. The fat will drip over the hot flame, resulting in a rich aroma and tender chicken legs encased in crispy skin.
FAQs
Do you still have some lingering questions about today's topic? Let me clear them once and for all! Scroll down, and you will discover more interesting facts about chicken.
What Came First: The Chicken Thigh Or The Drumstick?
Are you on team thighs or team drumsticks? With the information in this post, you can now choose your favorite cut of dark meat. Of course, whatever your choice is, remember to consume it in moderation and use suitable cooking methods.
That also comes to the end of my articles. I hope that you had a great time. If you find this article helpful, please spread this piece of information to everybody on your friend list. Comments are definitely welcome in this post! Many thanks, and see you soon!
Paragraph
2. Food data Central Search Results (no date) FoodData Central.
Groves, M. (2022) How many calories are in chicken? Breast, thigh, wing, and more, Healthline. Healthline Media.