Butter chicken is one of my favorite foods due to its unique flavor. But, choosing what to serve with butter chicken is still a secret. That's the reason I bring this topic to you.
It seems like a hard matter to find any perfect match for butter chicken recently. Another matter is probably the lack of reliable resources on the internet. This leads to some difficulties in knowing what is suitable for butter chicken.
Luckily, you are crash-landing in the right place. In this article, you will be supported with many side dishes and nutritional facts about them. What are you waiting for?
18 Simple Side Dishes With Butter Chicken
There are 18 stunning dishes that you can eat together with butter chicken. You can find them in the shortlist below:
Pulao or Basmati Rice
Garlic Butter Kale Rice
Garlic Breadsticks
Naan Bread
Papadum
Samosa
Broccoli
Cauliflower
Saag
Aloo Gobi
Daal
Raita
Chutney
Roasted Asparagus
Kachumber Salad
Ginger Carrot Salad
Cabbage Salad
Cucumber Salad with Lemon Yogurt Dressing
What Is Butter Chicken?
Butter chicken is known as a mixture of butter, chicken, tomato gravy, and cream sauce. You can easily find its color and texture similar to curry.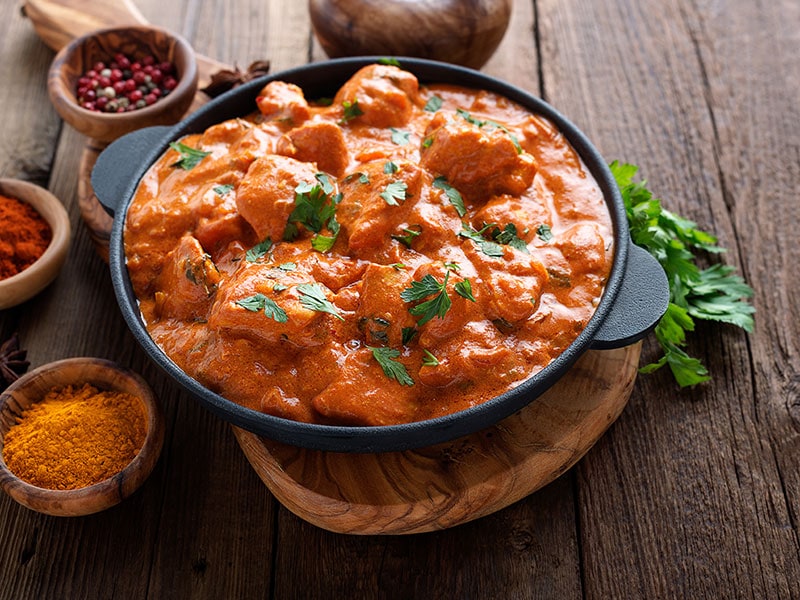 Another name for butter chicken is Murgh makhani, which has its origin in India. It was invented by mixing chicken, butter with spices accidentally. It has quickly become a popular dish worldwide.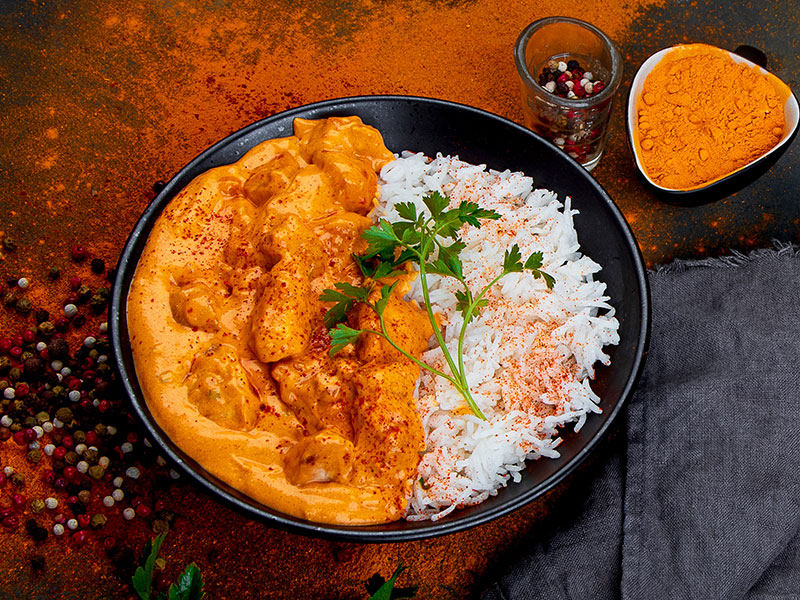 What Does Butter Chicken Taste Like?
Do you wonder what butter chicken tastes like? This section will help you know why I am addicted to butter chicken.
Butter and chicken may be the main ingredients to create a perfect murgh makhani. It is a combination of sweetness, mildness in butter, richness in chicken, and savory flavor.
Beyond the basic materials, butter chicken can mix with other seasonings to increase its smell. This depends on what spices you use. Sometimes, you can adjust the recipe to create more flavorings. Your butter chicken will have a distinctive flavor.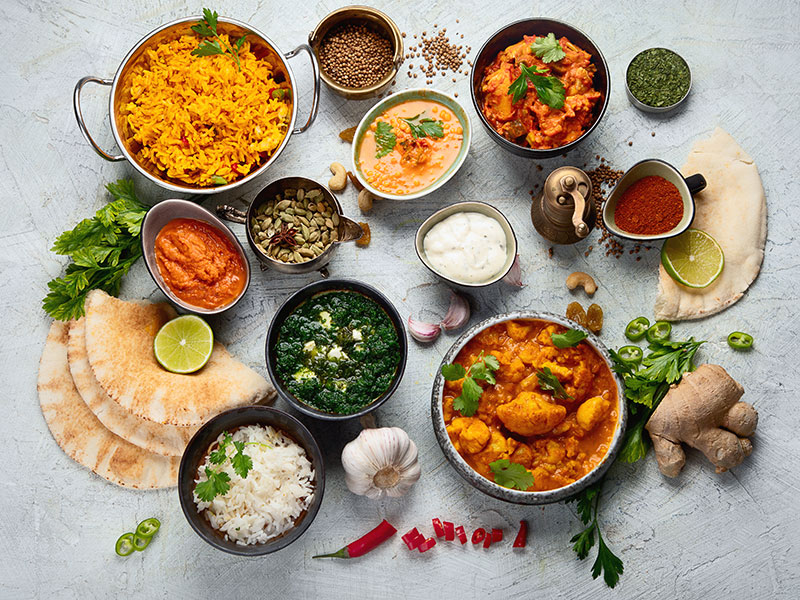 More importantly, you can enjoy a balanced flavor of butter chicken with spicy, creamy, a little sweet, and flavorful ingredients, including cream, onions, garlic, tomato gravy, etc.
Since butter chicken is quite popular in many nations, its taste may change everywhere you come.
What To Serve With Butter Chicken?
Your butter chicken will be highlighted when it is combined with other side dishes. This part will give a list of foods that you can eat with butter chicken.
You must be surprised about the versatility of butter chicken. It can be mixed with almost everything based on its mild flavor and addictive smell.
Based on what ingredients you may use, side dishes can be divided into stunning ordinary dishes and veggie-related matches.
In terms of other side dishes, I will attach a comparison table here. Take a quick look at the number of calories and fats in each side dish.
| | Calories | Fats |
| --- | --- | --- |
| Butter chicken | 419 | 32.2g |
| Basmati rice | 210 | 0.5g |
| Garlic butter kale rice | 253 | 16g |
| Garlic breadsticks | 147 | 5.5g |
| Naan bread | 261.9 | 5.1g |
| Papadum | 371 | 3.3g |
| Samosa | 252 | 6g |
| Broccoli or cauliflower | 30/ 146 | 0.34g/ 1.6g |
| Saag | 196 | 17g |
| Aloo gobi | 91 | 0.4g |
| Daal (lentils) | 222 | 4.2g |
| Raita | 125 | 6.2g |
| Chutney | 21 | 1.4g |
| Roasted asparagus | 20 | 0.2g |
| Kachumber salad | 48.6 | 0.3g |
| Ginger carrot salad | 150 | 8g |
| Cabbage salad | 220 | 15g |
| Cucumber salad with lemon yogurt dressing | 49.6 | 1.1g |
Now, it's time to start with 18 side dishes.
6 Stunning Ordinary Dishes
In this section, you will have a range of choices for combinations. There are four common side foods you can see, along with butter chicken.
Pulao Or Basmati Rice
Pulao or Basmati rice is one of the most fundamental accompaniments you can see in any Italian meal. Both of them are preferred to be mixed with butter chicken.
Pulao is known as non-stick rice. It usually consists of cashews, raisins, bay leaf, and cardamom, making it different from other ordinary rice. Besides, white rice or ordinary rice is rarely used with butter chicken because of the simplicity of flavors.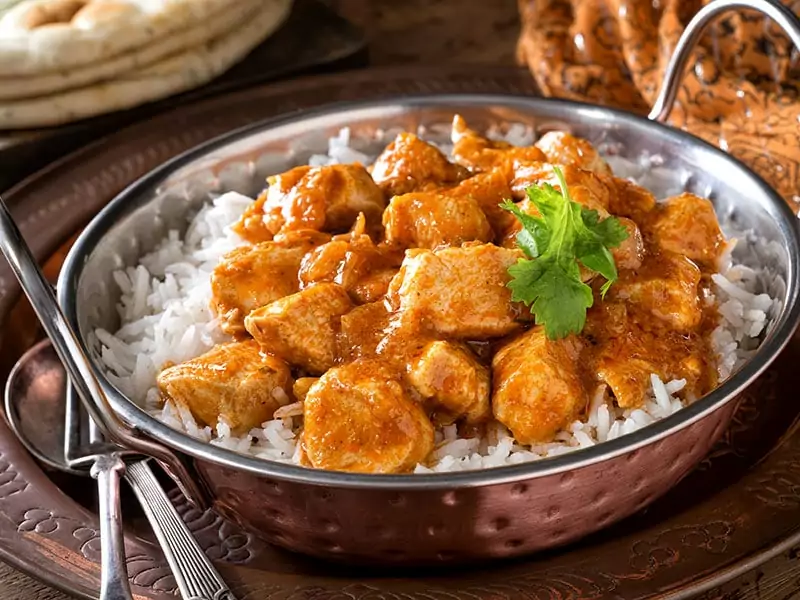 As regards Basmati, it is popular based on its fragrance and nutty taste. You can easily mix it with butter chicken as a flavor enhancer.
Garlic Butter Kale Rice
If you are a fan of garlic, you will enjoy this garlic butter Kale rice. It is believed to be a staple food when combined with butter chicken.
Rice is cooked well and goes great with kale, butter, chicken broth, and almonds. You can enjoy the tasty, buttery, crunchy, fresh flavor and aromatic smell in the pot of butter chicken. It is suitable for lunchtime and outdoor parties as well.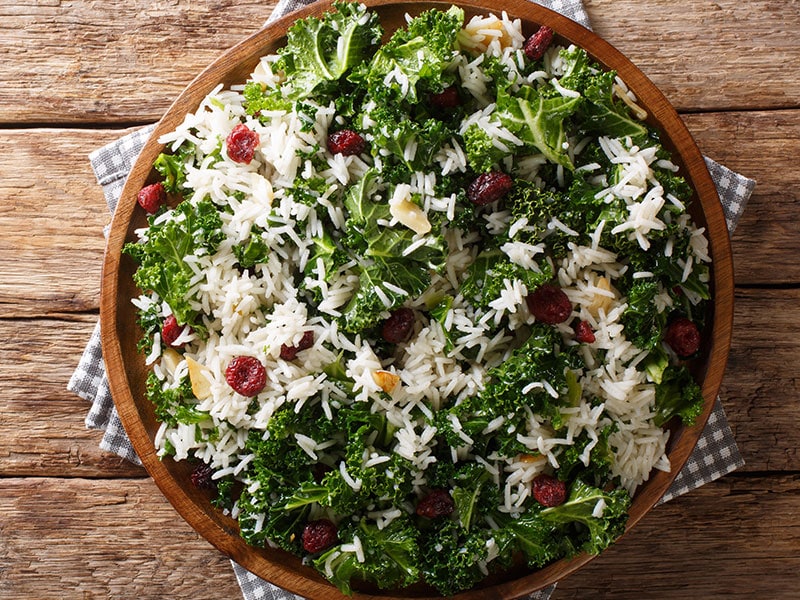 Depending on your preferences, you can add some spices to increase flavor. One more important thing is to add a bit of olive oil and salt to kale for a softer and tastier flavor.
Garlic Breadsticks
Garlic breadsticks are a simple and perfect recipe Italian people often eat with their main dish. They are usually used with soups, stews, and especially, in butter chicken.
I am addicted to tasting garlic in every dish. And the breadsticks with garlic do not disappoint me based on their taste. With a stick of bread, you can dip into buttery chicken sauce and enjoy the flavorful tastes and unique aroma.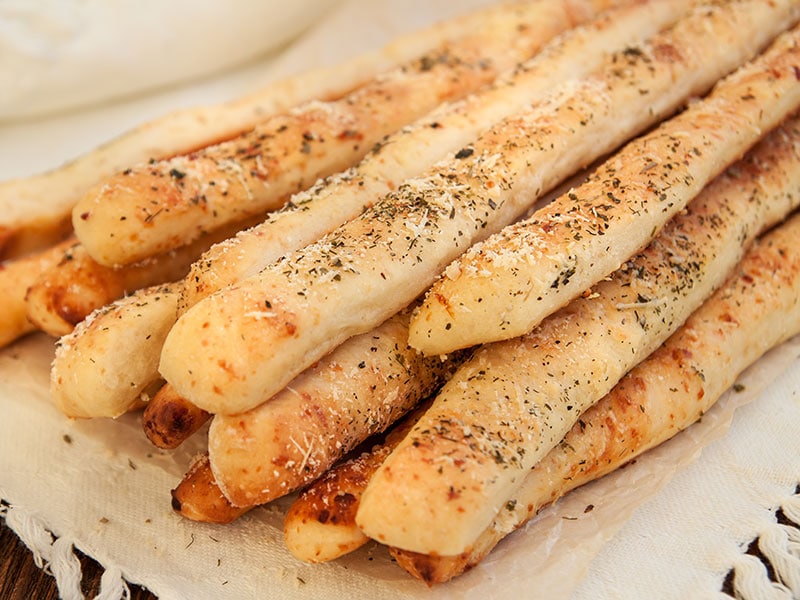 Besides, you can roast garlic breadsticks to change your flavors. It is better to serve with hot and warm garlic breadsticks.
Naan Bread
Your butter chicken would be more delicious if it is consumed with naan bread. Let's find out what naan bread is and how it can be mixed with butter chicken.
Naan bread is a traditional food that is crispy when chewing. This makes your butter chicken unique. It is also known as famous Italian bread because it is healthier than others.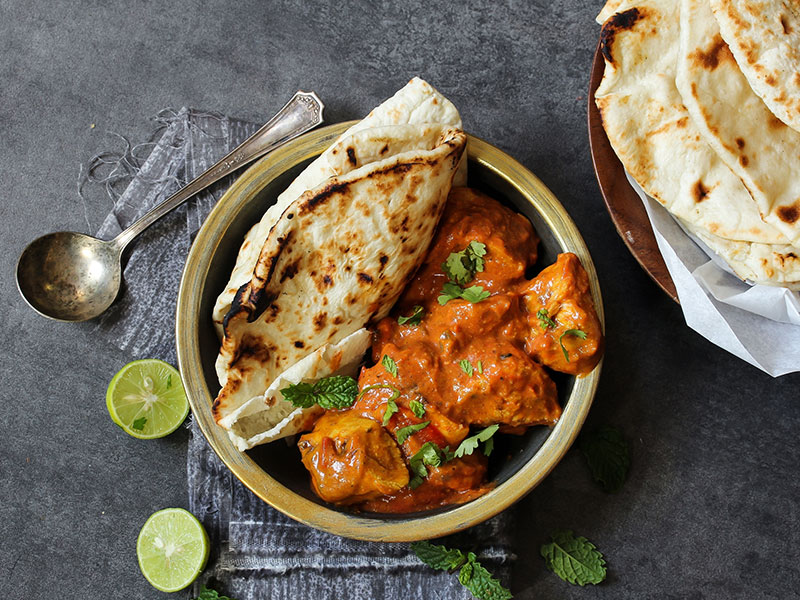 It is often made of yogurt, white bread flour, and yeast. More specifically, yogurt gives it a particular texture and aroma. It would be better to add salt, garlic, and some seasonings on its surface to boost its taste.
Papadum
Papadum is another flatbread that is larger than naan bread. It's the third side dish I highly recommend you mix with butter chicken.
Papadum is known as a thin, crisp, round flatbread. It is made of dried dough and fried till it becomes crunchy. Sometimes, it can be made with other flour such as potatoes, lentils, rice, and tapioca.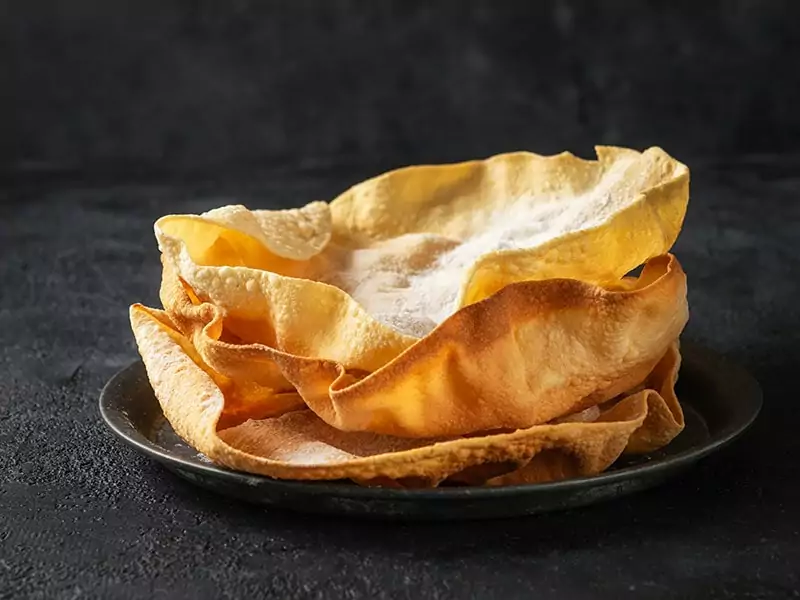 You will love eating a creamy, sweet, mild butter chicken with a plate of papadum. They would be an excellent combination of flavors.
Samosa
Another famous side dish that can be served with butter chicken is the samosa. It is a great combo for any appetizer.
Samosa is filled with fried or baked pastries and other spices as flavor enhancers such as onions, garlic, meat, and cheese. You can enjoy a blended taste of crispy crust and soft potatoes in its filling.
In case you do not have fresh meat, you can fill your samosa with some tasty frozen meatballs. Cooking with samosa will save time, give richness in protein, and be convenient to shape samosa.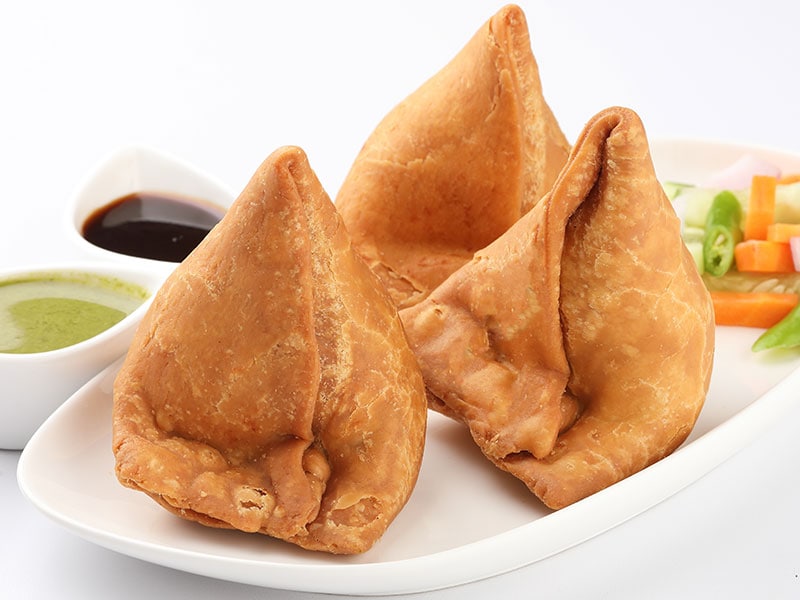 Depending on your preference, you can change the fillings to create many special samosas. After frying them, keep them cool, and taste with butter chicken. A combination of a flavorful dish and buttery chicken will give you a deep impression.
If you are a big fan of veggies, fruits, legumes, or green plants, you belong to this group. Most of the main ingredients to make these side dishes are vegetable-based products. Keep reading for a better choice.
Broccoli Or Cauliflower
It's no surprise to add veggies to a dense soup like butter chicken. And I believe that broccoli and cauliflower are ideal options. (1)
Either broccoli or cauliflower contains a certain amount of nutrients. They will go great with butter chicken if they are steamed; both of them are considered healthy side dishes thanks to their low calories and high fiber content.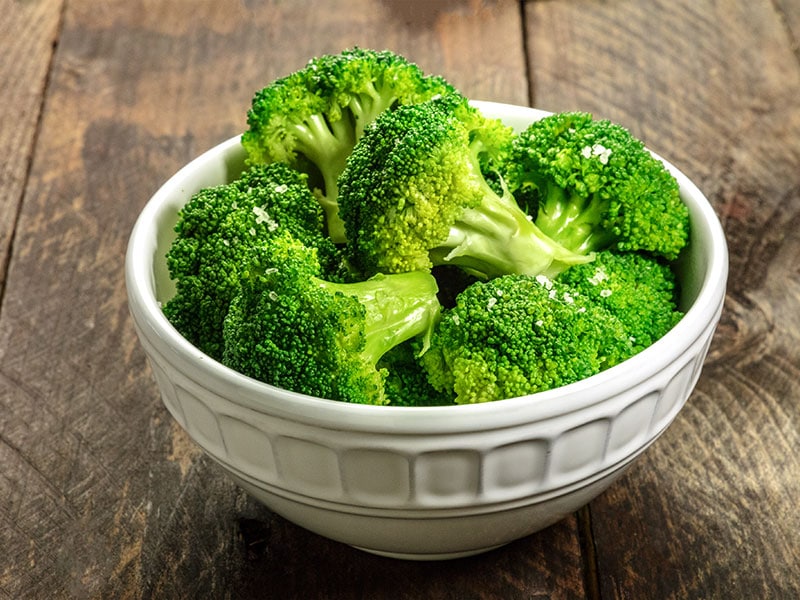 The taste of cauliflower is quite mild, while broccoli is greener, slightly bitter, and similar to grass. Besides, add some spices in case you need a tastier and yummier mixture.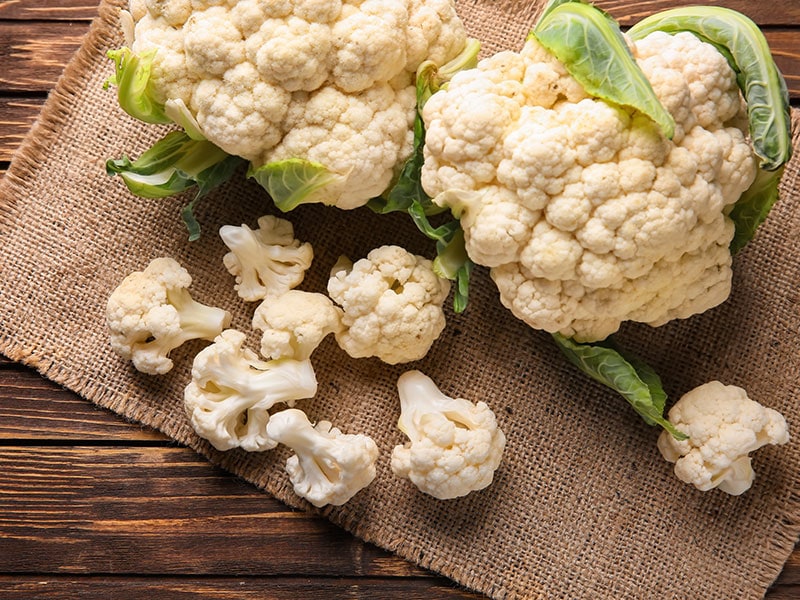 Sometimes, roasted broccoli can be called for this recipe. You can mix it with butter chicken for balancing nutrients and creating a colorful dish.
Saag
Saag is a compound of crushed green-leaf vegetables with spices. It is green and used to relieve the hot color of butter chicken.
You may find this dish popular in most Indian meals because of its nutrients. Beyond spinach, saag can be made from mustard greens, collard greens, or even chopped broccoli before mixing with common seasonings.
Sometimes, saag can contain paneer, a curdled Indian cheese to highlight the dishes. It is suitable for you if you need more greens in butter chicken.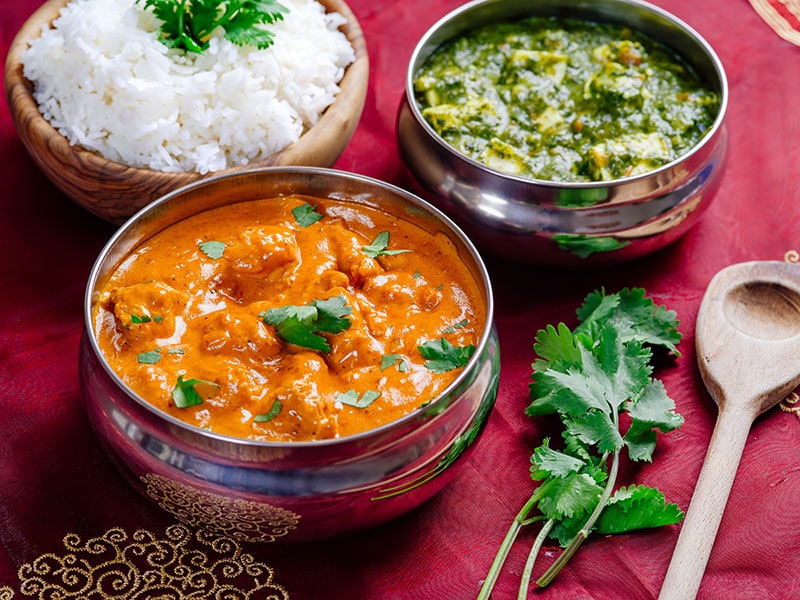 When mixing a saag dish with butter chicken, you may taste a little bitter due to mustard leaves. The variety of the flavor of saag will create incredible dishes. In addition, you can reduce the bitterness by cooking this veggie longer or simply remove it.
Aloo Gobi
If you want to diversify daily butter chicken, you can combine it with aloo gobi. Let me tell you why this partnership is popular.
Aloo gobi is a mixture of potatoes, cauliflower, green peas, and Indian spices which is suitable for vegetarians. This food has a yellow color because of turmeric.
It's one of these Asian dishes that you can just put in the instant pot and relax while waiting. Don't forget to roast both potatoes and cauliflowers beforehand to increase the flavor.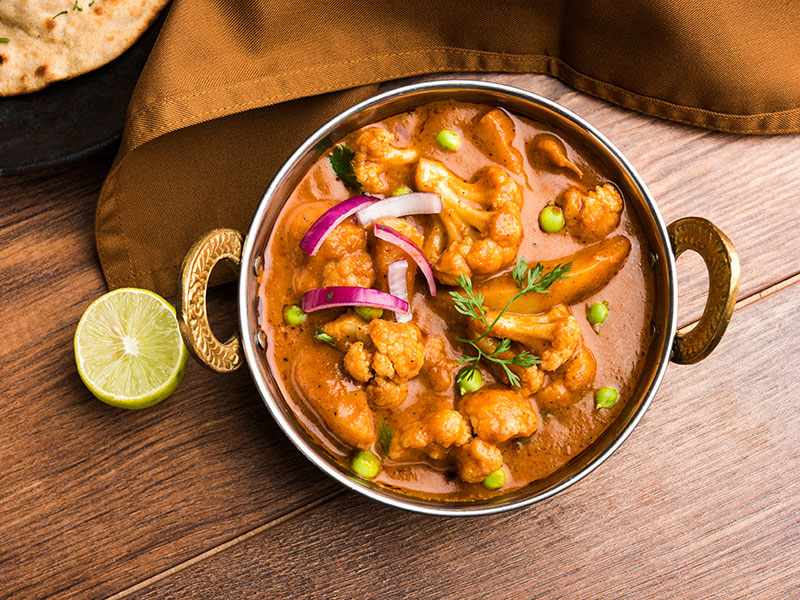 Another reason you can stick aloo gobi to butter chicken is to enhance the main dish's flavor and create an unforgettable experience. You can add more ingredients to enhance flavors, such as garlic, onions, coriander, tomato, etc.
Daal
Let's pair your butter chicken with daal to transform a daily meal into spectacular cuisine.
Daal is an ideal option for winters. Its consistency is thick and it can stick to buttery chicken due to its unique taste. Besides, it can be served with flatbread as a sauce for breakfast.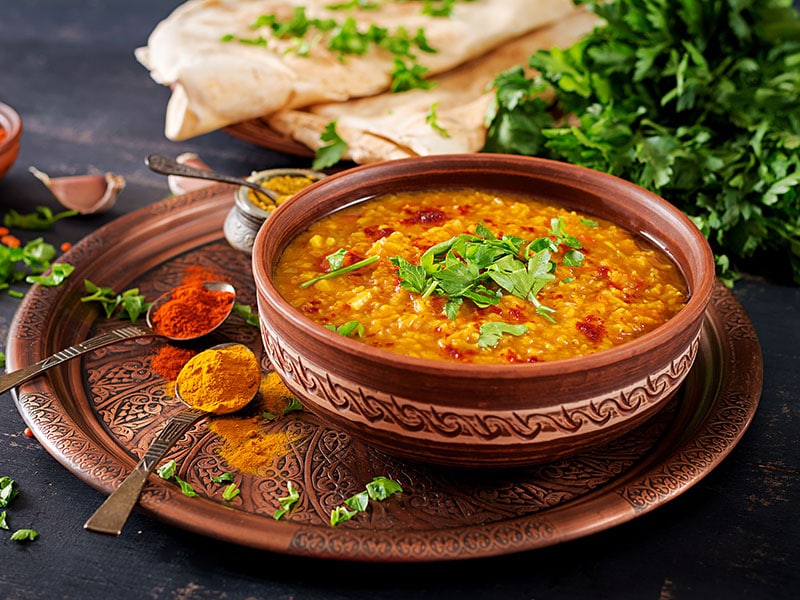 Daal seems like a group of food rather than a dish due to the included ingredients. It has dried and split pulses such as lentils, peas, and beans. They are often cooked, steamed, or stew to make thick and creamy soups.
Raita
If you are seeking other healthy veggie accompaniments, do not miss this option. It's a good way to balance the savory butter chicken.
Veggies or fruits can be used to make raita. Its main ingredients include yogurt, cucumber, and mint leaves, though other spices can be added for more aroma.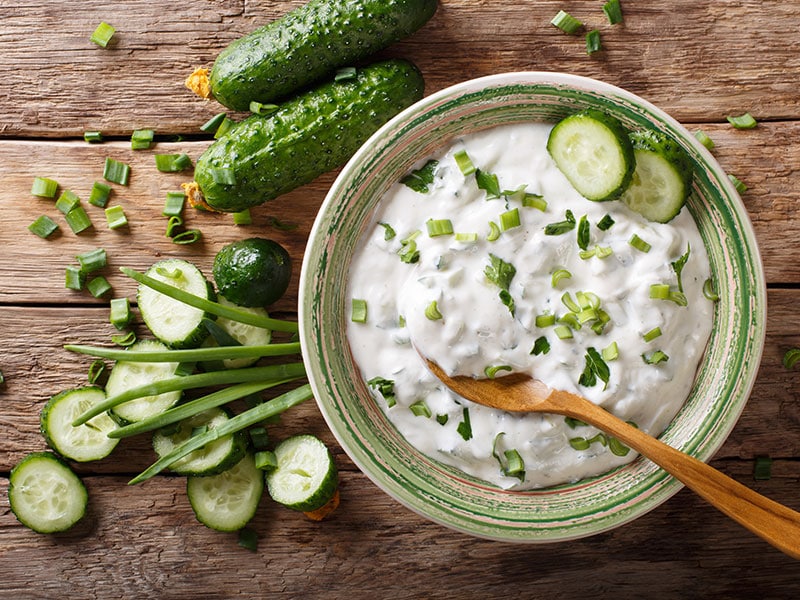 Raita is usually accompanied by main courses or simply served as a marinade in a dish. But, it will make your butter chicken distinctive. You can add carrots, onions, any herbs, or coriander to tone down the spiciness of butter chicken as well.
Chutney
Chutney is quite special to eat together with butter chicken due to a variety of flavors from sweetness to sourness, making it perfect for butter chicken.
Since chutney is made from fruits, veggies, other common herbs, spices, and vinegar, it is sweet, sour, and a bit bitter when tasting. Besides, you can find it in the mixture of cucumbers, yogurt, coconut, and tomato paste to relieve its strong flavor.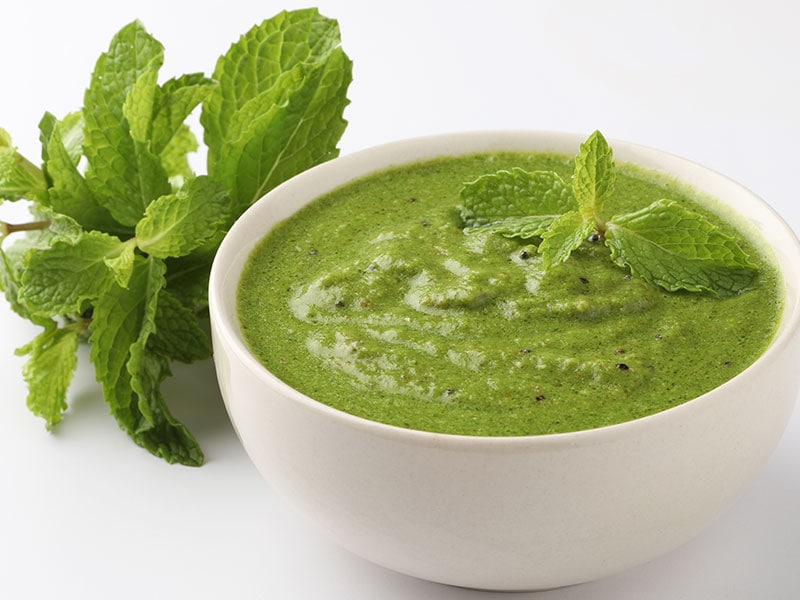 This food is suitable for serving with butter chicken due to its unique taste. Besides, it has colorful colors depending on what fruits you use. Add a little mint leaves for more aromatic flavors and green in Murgh makhani as well.
Roasted Asparagus
A quick recipe for eating with butter chicken is roasted asparagus. This food requires olive oil, garlic, lemon juice, and other spices, which are easy to prepare in the kitchen.
Not everyone can handle asparagus when it's still fresh. But when roasted with some salt and pepper, asparagus tastes really superb! You can roast it until light brown to enjoy the mild flavor which is similar to beans.
By adding lemon juice or vinegar, roasted asparagus can enhance its smell and balance the sourness and bitterness.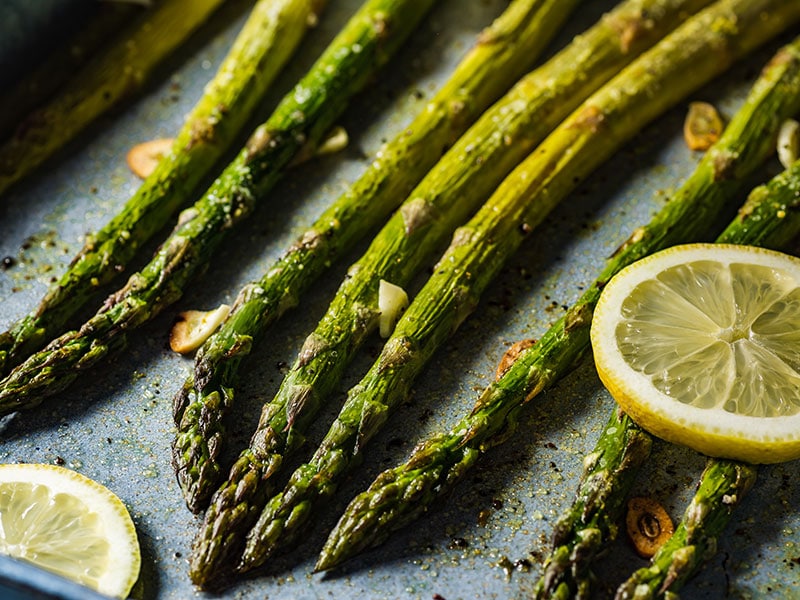 Roasted asparagus can be used as a dipper dish. However, you can slice it into small pieces and add it to the mixture of butter chicken as a flavor enhancer. Some green asparagus can ease the warm colors in your dishes.
Kachumber Salad
Kachumber salad is much healthier to add to butter chicken. An amazing dish can be made at home within a click.
Kachumber Salad is quite easy to make. You do not take a lot of time to prepare based on the available basic ingredients in your kitchen.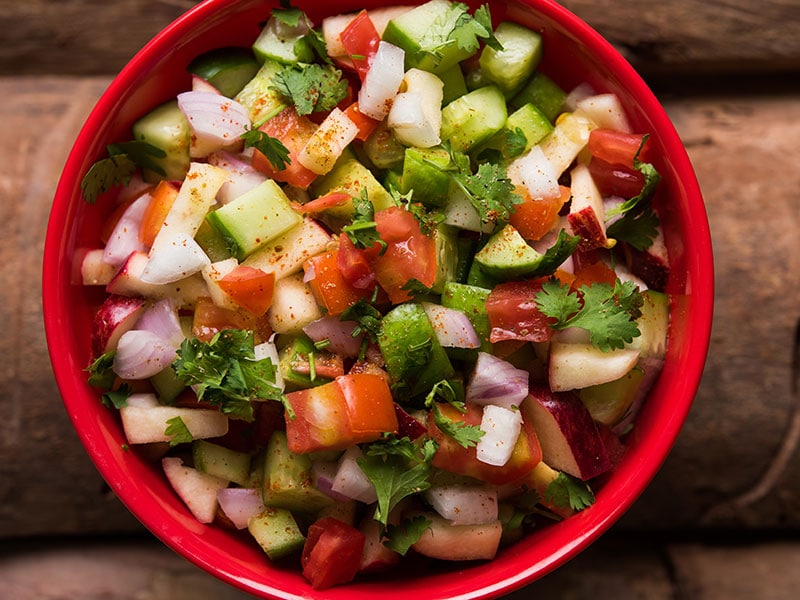 Kachumber Salad is a colorful mixture of salad including cucumbers, onions, lemon juice, tomatoes, and chilies. Beyond its nutrients, it helps your butter chicken be eye-catching and reduce greasy feelings when serving in groups or any outside party.
You can cover and refrigerate this salad within 2 hours for better uses. Significantly, if you have a curry-based butter chicken, green Kachumber salad is a perfect match.
Ginger Carrot Salad
Have you ever tried to mix ginger carrot salad with butter chicken? If not, you can start to do it right now.
You can make a spicy ginger carrot salad within a couple of minutes. This dish is super simple to make at home with thin-sliced ginger and carrots. A combination of sour cream, mayonnaise, vinegar, salt, peppers, and two main ingredients can make this salad tastier.
You may find spicy, crunchy, and a little sourness in this salad and butter chicken mixture. However, you can adjust the level of spice to your preference.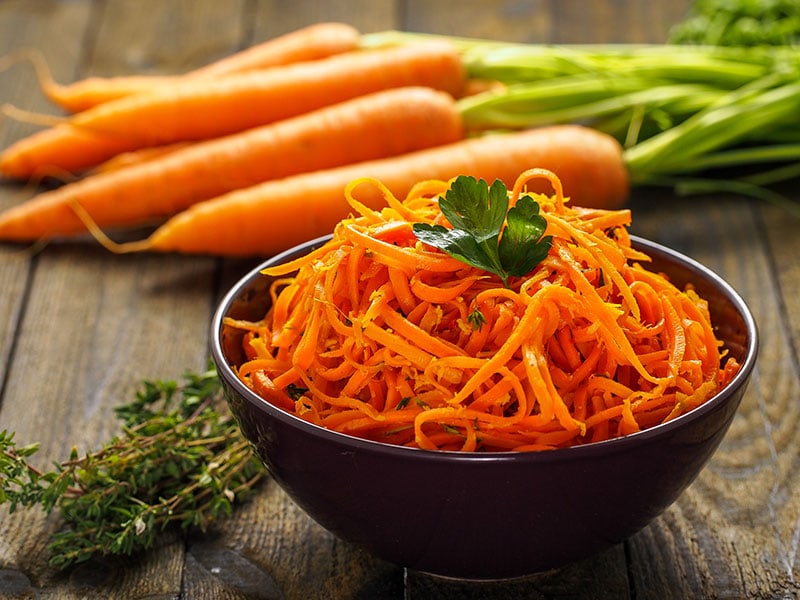 If you do not have time, ginger carrot salad can be done on the previous day. This can last up to three days. In case you want more flavorings, raisins, pistachios, or other toppings such as ham, eggs, potatoes are ideal choices.
Cabbage Salad
A new way to refresh butter chicken is cabbage salad. You might be surprised to mix and match them together. (2)
Cabbage salad has received many compliments based on green products. This can boost the potential health benefits when eating butter chicken.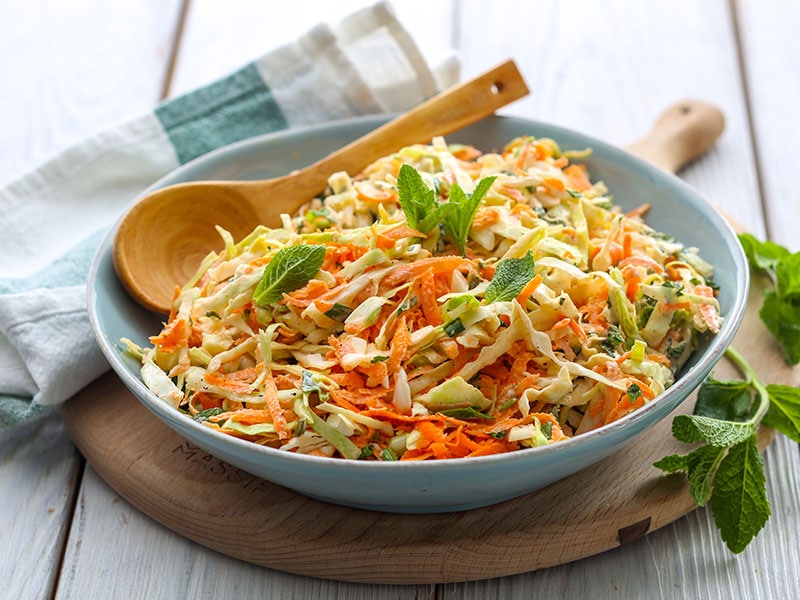 Lettuce, cabbage, and carrots are cut into small pieces before adding other seasonings. Let's enjoy the flavorful tastes with sweetness, sourness, spicy, and a bit salty dressing. This will help your cabbage salad be unique.
Some additional ingredients that you can find in cabbage salad are oranges, fresh veggies, and crunchy almonds to increase flavors.
Cucumber Salad With Lemon Yogurt Dressing
Are you seeking a new dressing with butter chicken? Let's find out about lemon yogurt dressing.
Cucumber salad is an ordinary dish that you can mix with butter chicken. But, there is a big difference when combined with lemon yogurt dressing.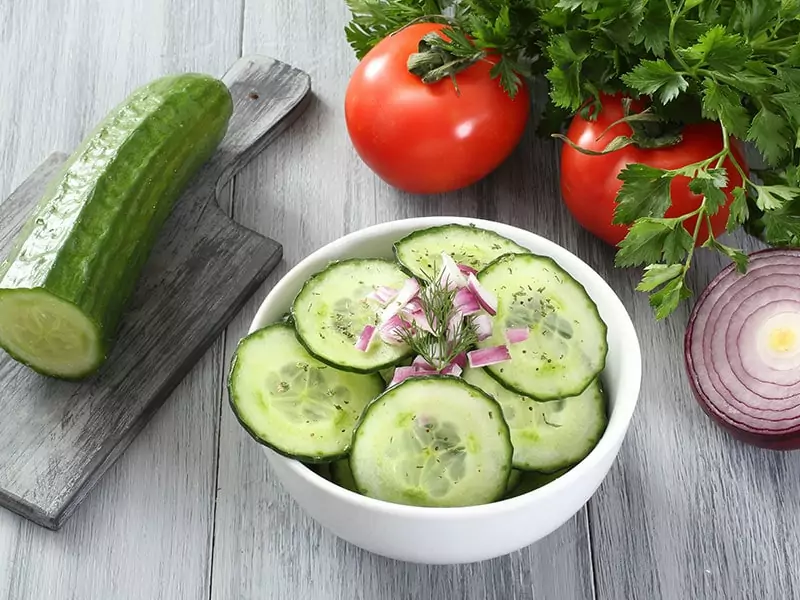 Cucumber salad with lemon yogurt dressing is creamy, crunchy, tangy, and quite rich in nutrients. It is a perfect match to butter chicken for more flavors in a dish.
In case you want to taste the sourness, add one or two teaspoons of lemon or lime juice. More importantly, this mixture is better to use with a cool version. The best time to leave it in the fridge is 1-2 hours, though yogurt may change its texture as well.
Nutritions And Benefits
You may be curious about the nutrition and benefits of butter chicken and other side dishes. This part will help you to make the right decision on what to serve with your butter chicken.
As you know, butter chicken provides you with huge potential health benefits. It contains 14gm of carbs, 30grams of protein, and 3 grams of fiber, which contributes to the improvement of digestion and supplies energy for movement in daily life.
Based on the presence of butter and cream, it has a certain amount of fat. You can choose low-fat butter and high-quality cream for better health.
FAQs
One of the most interesting parts is frequently asked questions. You may collect some valuable knowledge there.
What Are Your Thoughts?
You might have found a place where you can share your ideas. Here is the final part and you are free to send any messages to me.
You may know the benefits of butter chicken in daily life. You sometimes mix it with other sides to create as many dishes as possible since butter chicken is also a versatile food.
Butter chicken requires many steps to make at home, have you ever done it yet? What is your experience? And which side dishes did you do experiments on?
Do not hesitate to share your performance and tell me if you have problems via comments.
Nutrition Facts
8 servings per container
---
Amount Per ServingCalories240
% Daily Value *
Total Fat 8.3g

13

%
Cholesterol 15mg

5

%
Sodium 309mg

13

%
Potassium 398mg

12

%
Total Carbohydrate 34.4g

12

%

Dietary Fiber 1.5g

4

%
Sugars 0.3g

Protein 6g

12

%
---
Calcium

97

%
Iron

3

%
Vitamin D

4

%
* The % Daily Value tells you how much a nutrient in a serving of food contributes to a daily diet. 2,000 calories a day is used for general nutrition advice.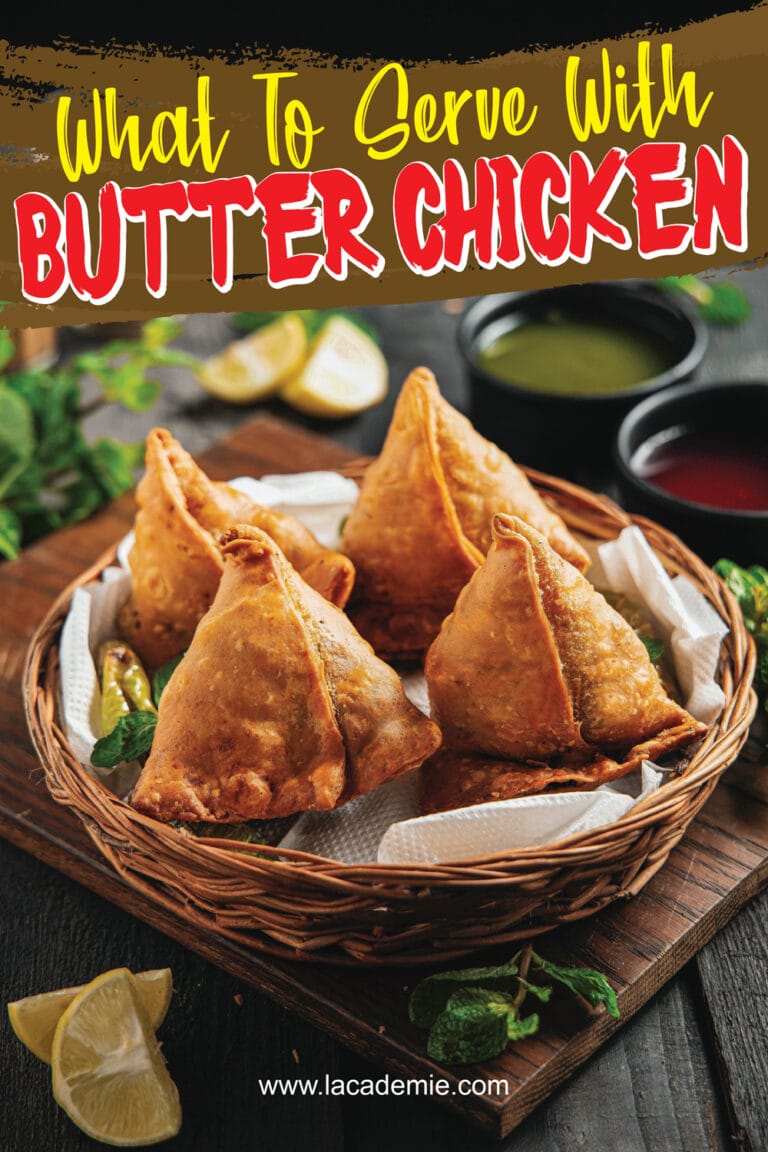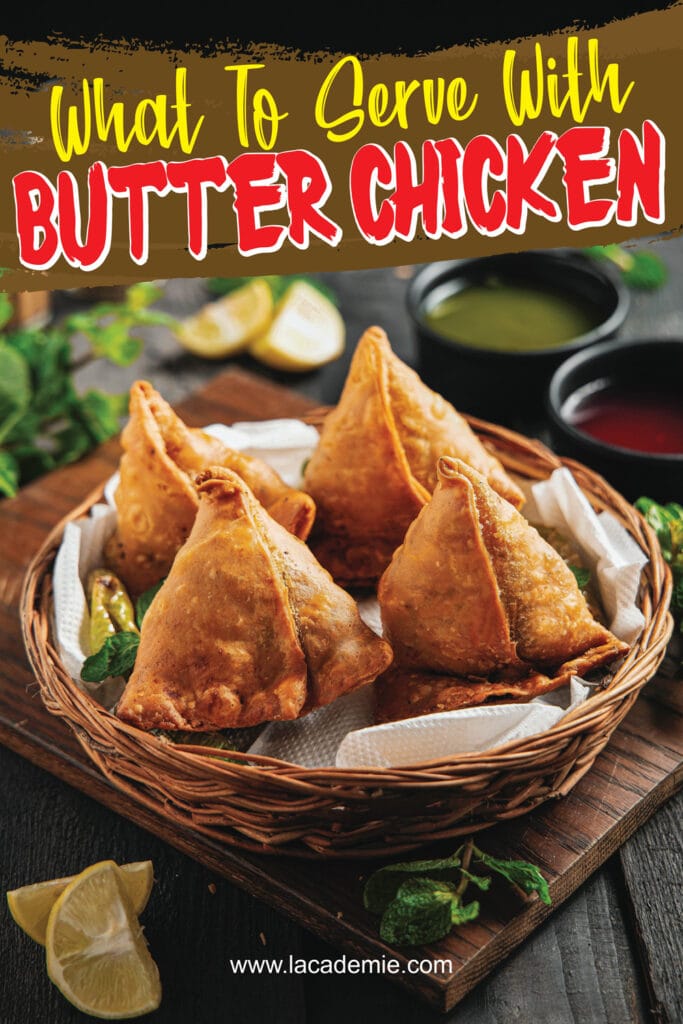 References
1. Broccoli | Food Source Information (2020).
2. 9 Impressive Health Benefits of Cabbage (2021).