How long can chicken stay in fridge so that you can prepare to cook it before everything is too late? Or you have refrigerated the leftover chicken for 3 days, is it safe to eat? If these questions are freaking you out, this post can let your hair down.
You may also be curious about problems related to chicken storage. It's important to know the signs of spoilage in chicken, the best way to store it in the fridge properly, and how to keep your chicken longer. Don't go anywhere, all you need is right here.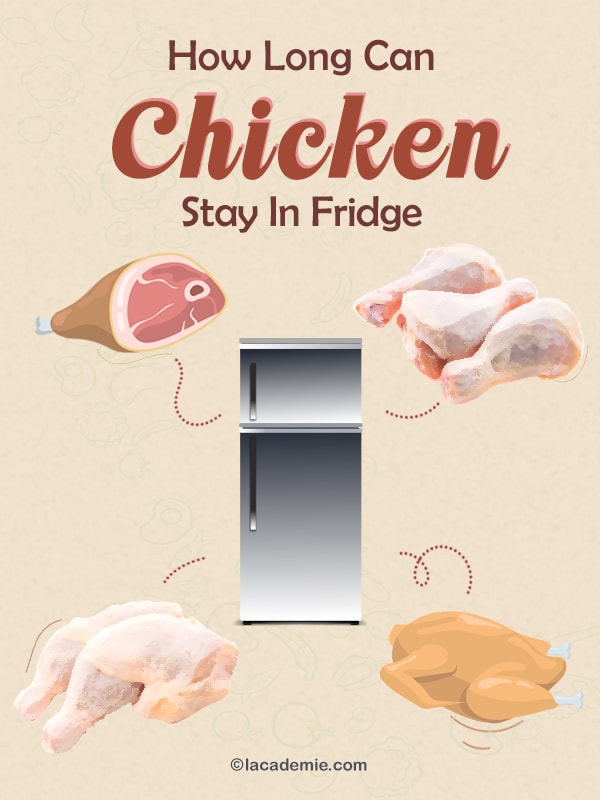 Overview About Chicken
Chicken is one of the most consuming types of meat in a daily meal. Generally, it has a versatile taste, but its flavor varies among cuisine and cooking methods. Moreover, most flesh is lean meat, so people who lose weight eat this meat in their healthy diet.
Plus, chicken is a great source of high protein content, which helps build muscles and lose weight. It provides you with vital vitamins and minerals such as vitamin A and vitamin D. These nutrients boost your immunity system and bone health. (1)
Explore some fascinating things about chicken.
Why You Should Store Chicken In The Fridge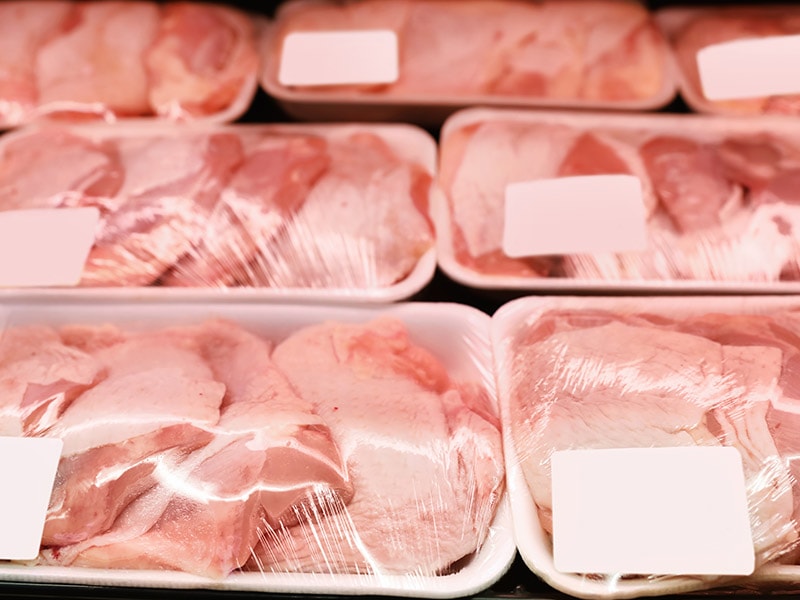 Chicken can only stay safe at room temperature for 2 hours maximum. If you're not sure you can get to cooking right after this time is up, your chicken will start spoiling.
As for cooked chicken, the reason to keep it in the fridge is related to how long you can leave your cooked chicken outside. You may know bacteria can grow fast between 40°F – 140°F.
Although high cooking temperatures kill the bacteria in the chicken, the new can grow when the meat cools down. Given that, you should not leave chickens out overnight. Refrigerating helps minimize the growth of bacteria and keeps the meat safe.
However, this method only lasts for a short term. After a limited refrigeration time, chicken would be prone to bacteria if you didn't cook it. To extend the storage time, it's advisable to freeze chicken.
The Ideal Refrigerating Time For Different Types Of Chicken
As mentioned, refrigerated chicken can only maintain its safety for a certain time. I bet you should pin this section in your kitchen. It will be helpful for your cook.
This table will demonstrate an overview of the storage time when refrigerating chicken:
| | |
| --- | --- |
| Types of chicken | Time |
| Whole chicken | 1-3 days |
| Giblets | 1-2 days |
| Ground chicken | 1-2 days |
| Other chicken parts | 2-3 days |
| Cooked chicken | 3-4 days |
| Defrosted chicken | 1-2 days |
Raw Chicken
After purchasing, raw chicken usually lasts for 1-2 days in the fridge, even if its sell-by date may expire during the storage. If you buy frozen chicken, this timeline applies to its defrosted stage. And the time to keep it in the fridge depends on several variables.
Whole Chicken
A whole chicken maintains its best quality for 1-2 days when stored in the fridge. You should wrap your meat tightly before putting it in the fridge.
Giblets
Giblets contain the liver, heart, gizzard, and neck. If you place them in an airtight container and your fridge is at a temperature of 40°F or below, they can be safely stored 1- 2 days before cooking.
Ground Chicken
If you're a fan of delicacies with minced chicken, you should pay attention to its shelf life. As ground chicken has a large amount of surface exposure to bacteria, it can only last after 1-2 days in the fridge. After this time, the increasing growth of bacteria can spoil the chicken.
Other Chicken Parts
Breast, legs, and other parts may be refrigerated for no longer than 1-2 days.
Check the time that chicken can last in the fridge.
Cooked Chicken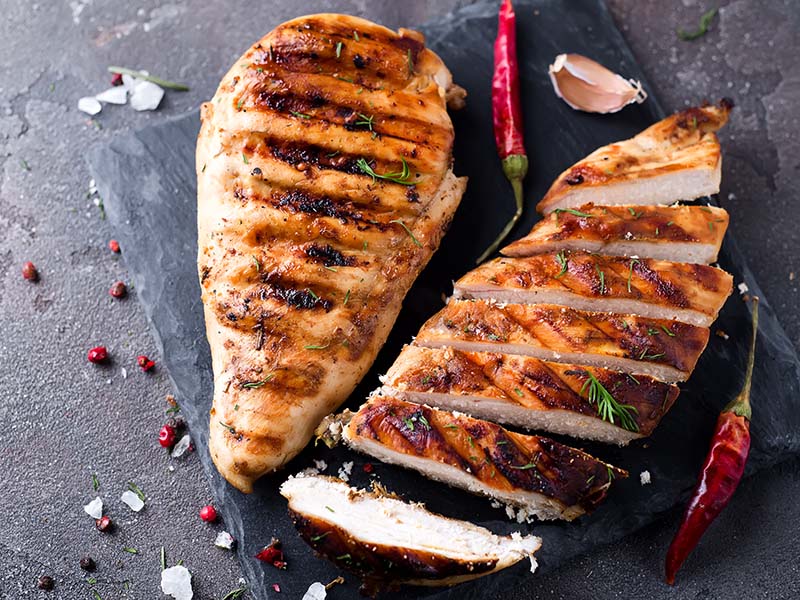 A whole cooked chicken can last for 1-2 days. And if you cut it into small portions, these pieces have the same shelf life as a cooked breast: 3-4 days in the refrigerator. After cooking, you should let it cool before wrapping, then put them in your fridge.
Defrosted Chicken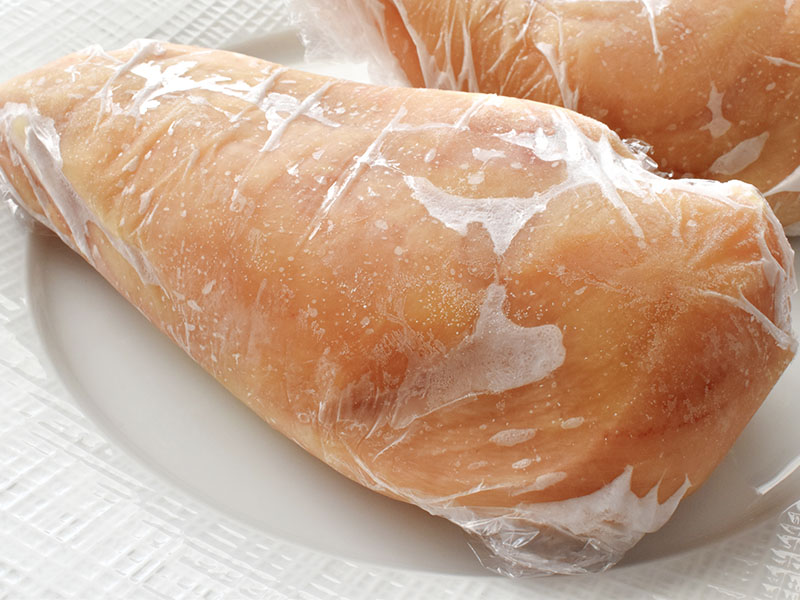 There are various ways to thaw a chicken. Some use the microwave, while others prefer their favorite defrosting tray. The shelf life of refrigerating defrosted chicken significantly varies on the defrosting process and whether you thaw raw chicken or cooked chicken.
Generally, raw, thawed chicken can stay in the fridge for 1-2 days. But this timeline only takes into effect when you thoroughly defrost the chicken.
When you thaw chicken in the fridge, it can take a whole day to complete the process. Afterward, thawed chicken can remain safe for no longer than 1-2 days in the fridge.
On the other hand, chicken thawed by microwave should be cooked immediately after taking it out of the machine. During defrosting, the temperature of chicken reaches above 40, so if you do not cook or store it, bacteria can grow and multiply.
Cooked chicken that is thawed in the fridge can be refrigerated for 3-4 days before cooking. In contrast, you need to eat the one thawed in the microwave and cold water right after defrosting.
This is how you defrost your chicken with a microwave.
Signs Of Spoiled Chicken
Any change in smell and appearance can indicate that your chicken has gone bad. You also notice the sell-by date to check the timeline.
Color
In the case of raw chicken, the fresh one usually has pale pinkness in color. When the color starts fading, you should cook your meat as soon as possible. When it turns gray or green and has mold spots, your chicken is not safe to eat anymore.
Cooked chicken should be white, and when you cut it, the clear juice melts. So, if your meat looks gray or has any gray-to-green mold showing up, it means the bacteria are attacking your chicken, and you must throw it away.
The color of chicken can tell you its quality.
Smell
Raw chicken gone spoiled has a sour smell; some describe it as ammonia or rotten egg. If you smell a sweet or unpleasant odor, it's best to discard it. For packed chicken, when you open the packing for a minute, little or no smell means it's ok and vice versa.
Cooked chicken can be hard to identify because the scent of sauce and other ingredients can overwhelm the sour flesh. Spoiled cooked chicken will smell a bit sweet and sour, or something like rotten egg or sulfur. That indicates your chicken is no longer safe to eat.
Texture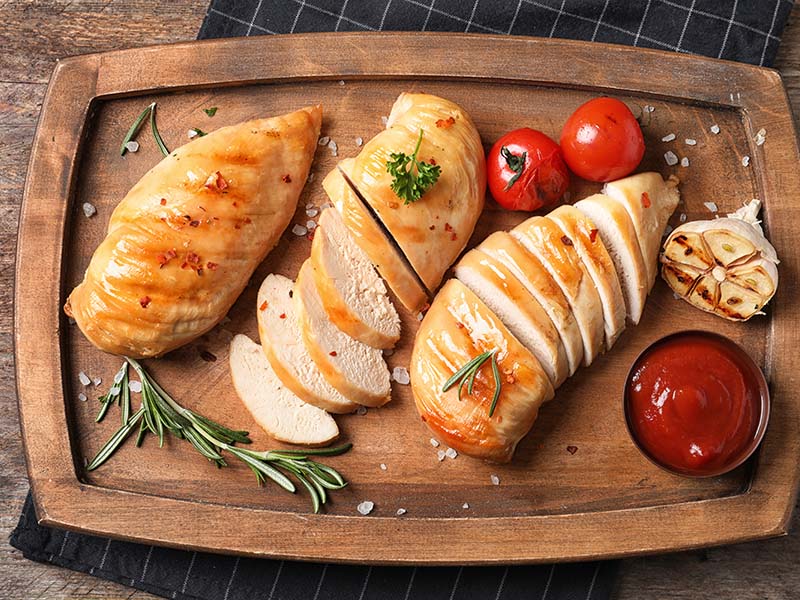 Fresh chicken must be soft and slippery. Your chicken has mucus and a slimy, sticky, or even tough and hard texture, meaning it is not edible.
It appears that unnaturally expired chicken may be glossy and slimy on its surface. In this case, you should rinse the chicken first and check the outcomes. If it's still slimy, then your chicken has been spoiled.
These changes also apply to cooked chicken. Its flesh should be firm, a bit dry. If you feel your cooked chicken becomes softer, slimmer, and sticker, you need to throw it away.
Use-By Date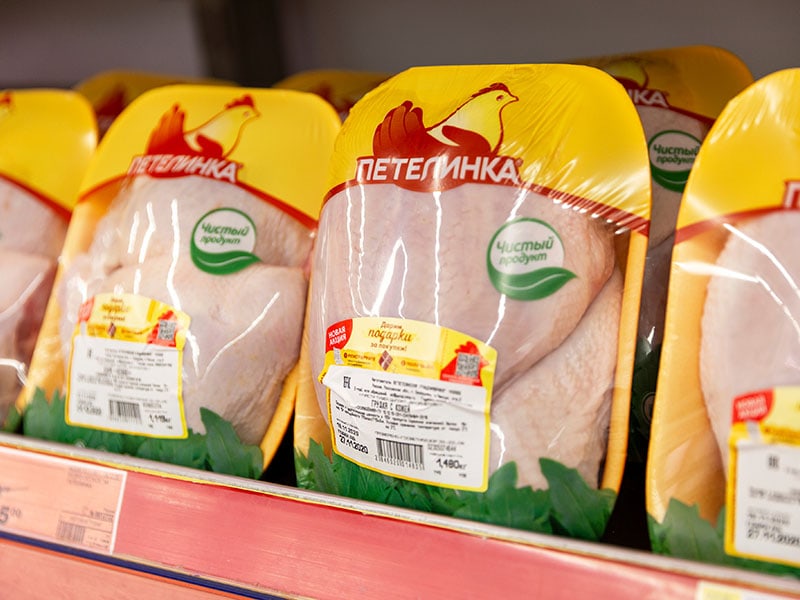 When you use store-bought chicken, it always comes with a use-by date on the package. You should follow the date available to guarantee your meat is consumable.
What happens if you cook your meat after that date? Actually, the use-by date is the ideal time that chicken remains at its best quality, not the exact expiration date.
So, it's ok to cook the chicken within 2 days after the use-by date. But remember to check the chicken carefully before cooking.
Eating Spoiled Chicken May Be Risky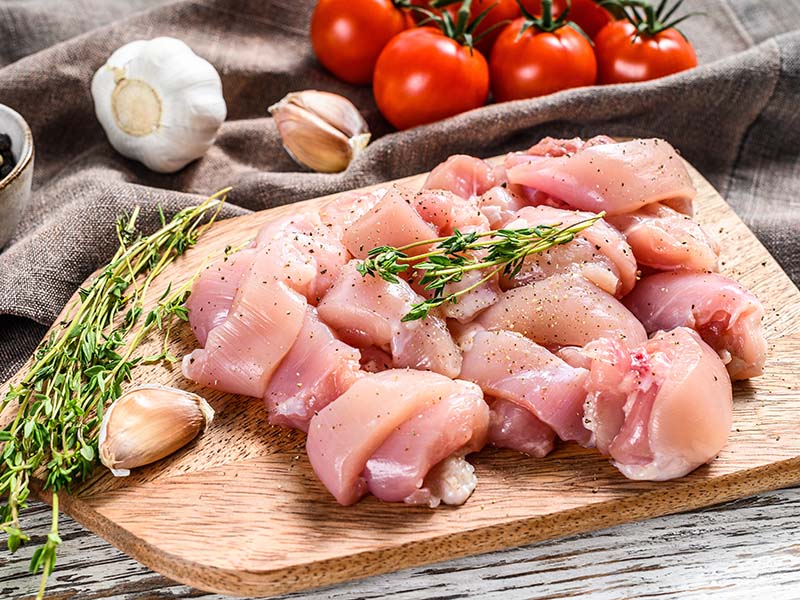 Spoiled chicken contains bacteria such as Salmonella and E.coli that are the main factor causing food-borne illness. Eating this dangerous food, you are more likely to catch food poisoning.
People who get food-borne illnesses can experience some first symptoms below:
Fever
Chills
Nausea
Vomiting
Diarrhea
The symptoms can differ from the individual. Some will have mild signs, while some become heavy. They also may last for weeks and months. In some severe cases, food poisoning affects the patient's heart and leads to death. (2)
High temperatures can kill these bacteria; therefore, always cook your meat thoroughly to protect your health.
How To Store Chicken In The Fridge Properly
The refrigerating steps not only affect the quality of the chicken but also determine how long your chicken is safe in the fridge. You should apply the following instruction next time you store your chicken:
Raw Chicken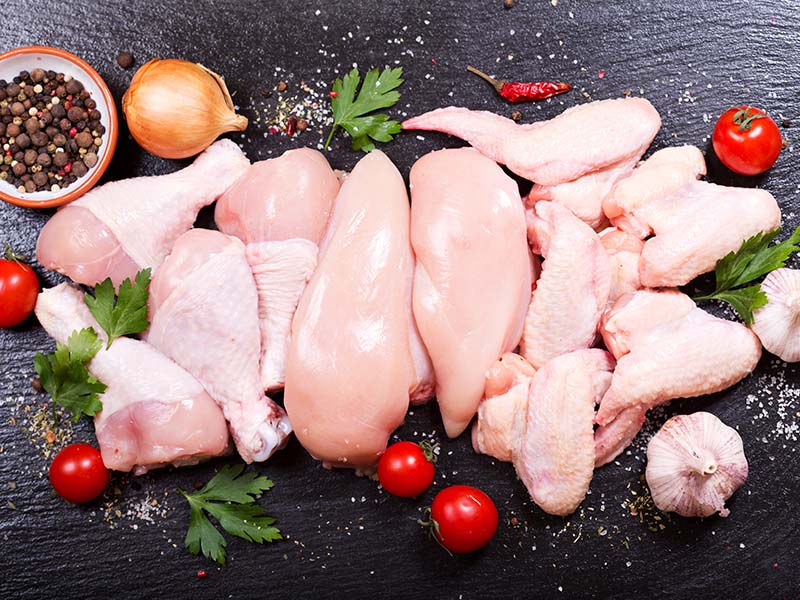 Raw chicken can not stay safe for no longer than two hours at room temperature; thus, you need to keep it in the fridge immediately after purchasing.
Step 1: Wrapping Your Chicken
Many ignore this step or only use a plastic bag to cover the chicken. Nevertheless, uncovered or poorly covered chicken seems to be spoiled faster than covered one.
When you refrigerate, you should wrap the chicken in aluminum foil or plastic wrap, then place it in an airtight container. Write information about the freezing date and time to store it.
Step 2: Refrigerating
Place the airtight container and put it on the lowest shelf of your fridge. It can prevent natural juices from leaking onto other food. Check the temperature, and ensure it is at 40°F or below. Then you're done!
Here are other ways to wrap your chicken before putting it in the fridge.
Cooked Chicken
Cooked chicken can go bad quickly if you don't store it in time and in the right ways. These step-by-step instructions will help you out!
Step 1: Cooling The Chicken
You should not put the hot chicken into the fridge right after cooking. This action can increase the fridge's temperature, which then facilitates bacteria to grow. When you take your meat out of the heat, let it cool down within about 2 hours.
Step 2: Wrapping
Do this step in the same way as wrapping raw chicken.
You should use the right-sized container to avoid circulating air, which results in moisture and the growth of bacteria. You can wrap fried chicken and chicken patties with foil without an airtight container.
Step 3: Refrigerating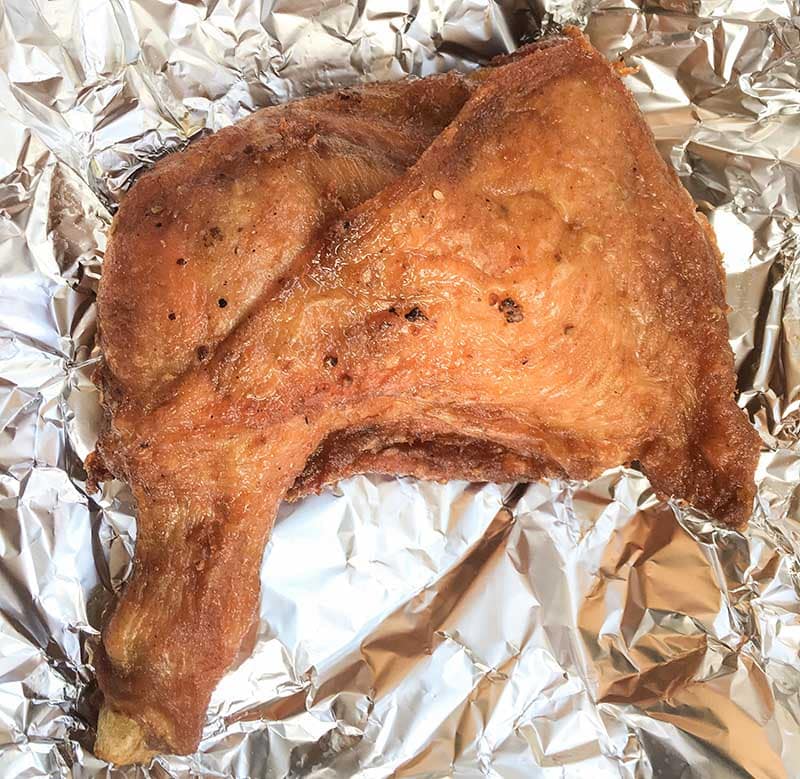 Put the airtight container of cooked chicken into the fridge. Don't forget to set the temperature at or below 40°F.
The Best Way To Freeze Chicken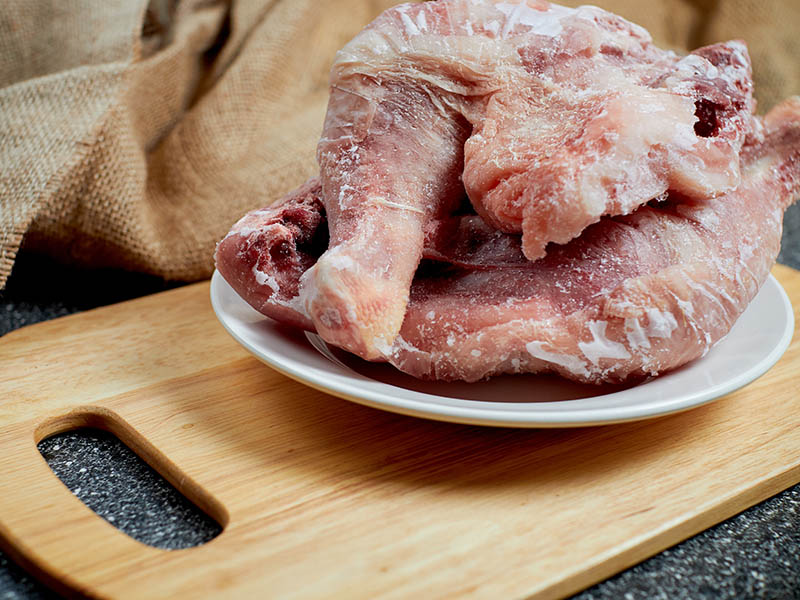 As mentioned, freezing is the most effective method to store the chicken for long-term use. Frozen chicken can stay for months to a year if you do it properly. Keep reading, and you will learn a lot of wisdom.
Raw Chicken
If you need to freeze the chicken after purchasing, remove all the packaging to prevent freezer burn. Then, wrap your meat with aluminum foil and put it into any freezer-friendly container (preferable airtight ones).
Write information about name, weight, and freezing date on the container. Try to press out as much air from the bag as possible.
Then seal the airtight container and let it in the freezer. The temperature must be at 40°F or below. Raw chicken can last for up to a year if stored properly in the freezer.
Learn a useful technique for storing and freezing your chicken.
Cooked Chicken
If you want to keep your cooked chicken for a longer time, choose the freezing method. This way, whenever you want to make some tasty dishes with leftover chicken, you only need to thaw the meat.
Label the Ziploc freezer bag with the name, weight, and the date you freeze the chicken. You can keep the shape of your available chicken, but I suggest you shred it into small parts. This step will facilitate when you want to take out a certain amount of chicken to cook.
After that, put the chicken into the bag and remove as much air from the zip bag as possible. Then seal all packages. Set your fridge at or below 40°F and place all packagers in the freezer.
Check it now: How to freeze your cooked chicken after shredding it.
How Long Can Chicken Stay In Freezer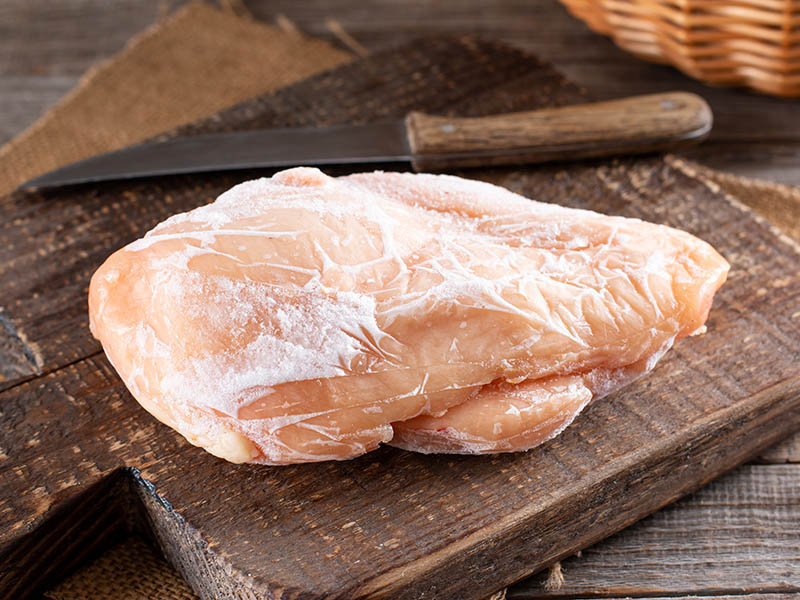 Then after freezing, how long can your chicken survive? Since this method can preserve its nutrition and stop the growth of bacteria, you can stay assured that they can last even longer than you thought.
This table will provide you with an overview of frozen chicken shelf life:
| | |
| --- | --- |
| Types Of Chicken | Time |
| A whole raw chicken | 1 year |
| Chicken parts | 9 months |
| Giblets | 3 months |
| Raw ground chicken | 3 months |
| Cooked chicken | 3-4 months |
Raw Chicken
With proper storage, a whole raw chicken will last for one year, and chicken parts will remain safe for 9 months. Frozen giblets stay good for 3 months, and ground chicken can be kept in the freezer for no longer than 3 months.
Cooked Chicken
It can be kept frozen for 3-4 months. With proper storage, a cooked chicken will be safe beyond that time. It's best to reheat this meat once, or you may encounter digestive problems.
FAQ
There are a few things you also want to know when keeping chicken in the fridge. Here are the answers I have prepared for some FAQs.
You've Received The Answer
I hope that this post addresses your problems and broadens your horizon about keeping chickens. Now it's time to reorder your chicken stuff in the fridge: what you should remove, what needs to be cooked in time, and how to wrap your chicken.
When it's done, show me the promising results via comment. And if you have any questions or any tips you want to share with everyone, don't hesitate to leave your comment here. Many thanks!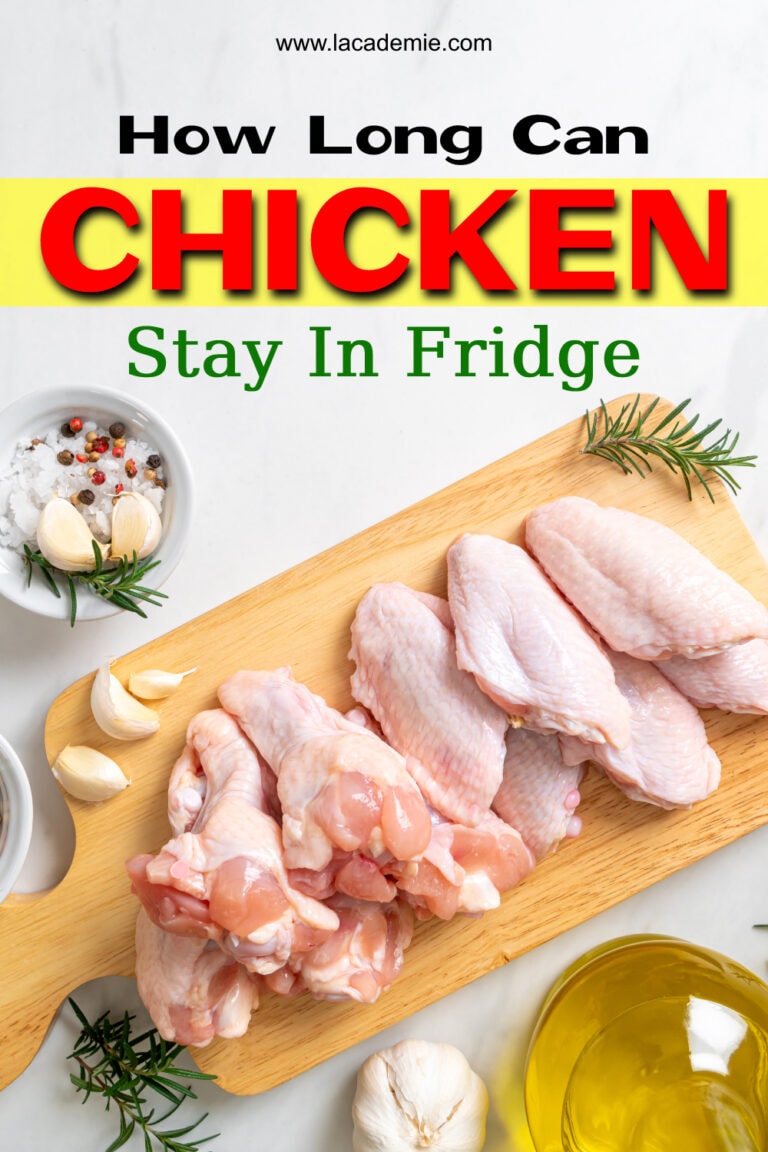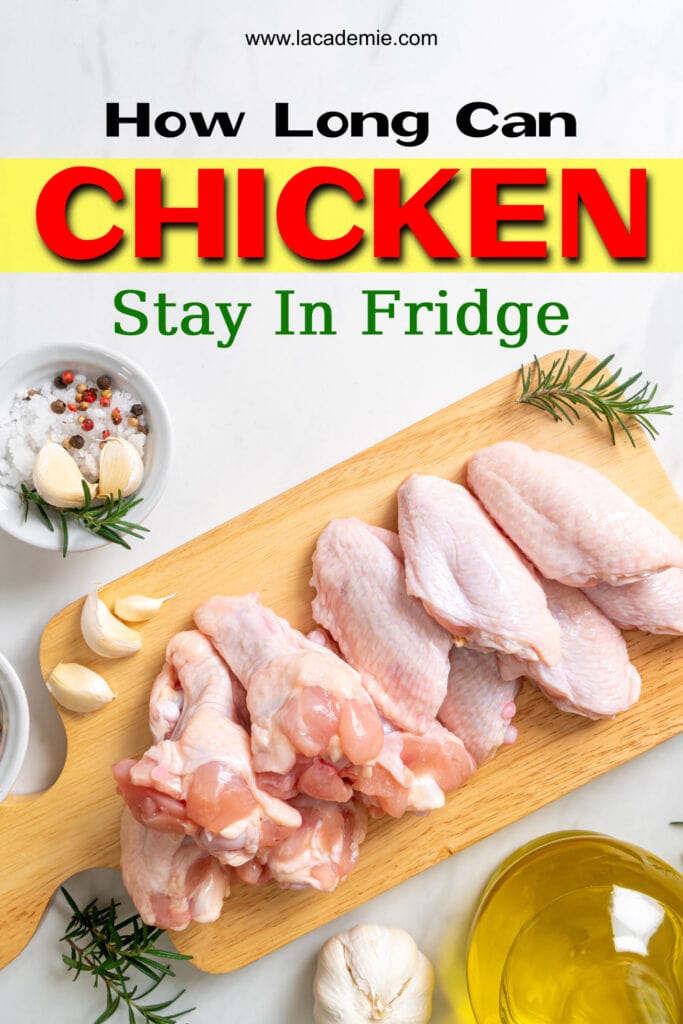 References
Healthline. 2022. Is Chicken Good for You?.
Healthline. 2021. Everything You Need to Know About Food Poisoning and How to Treat It.