You have probably been perplexed between chicken tenderloin vs. breast for at least once, haven't you? They are joined by the ribs and bone but are usually packaged and sold separately. At first glance, they can easily be mistaken if you don't cook chicken often.
However, once you have both cuts on your hand, you will notice the difference regarding the size. But that's not all. If you are curious, scroll down and explore all the dissimilarities between them – you'll be amazed!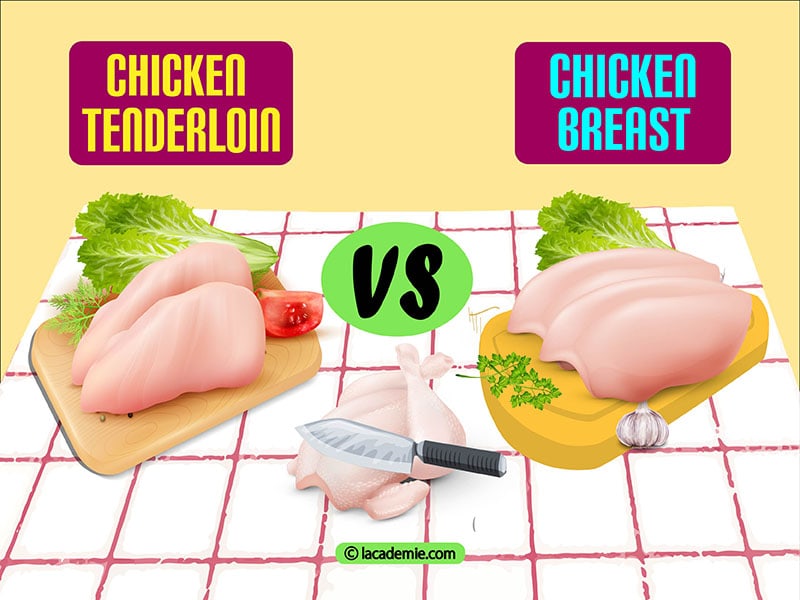 How Do Chicken Tenderloin And Breast Differ?
Apart from the name, what other aspects make them different from each other? Check out the shortlist I've rounded up below:
Its position in the bird
Shape
Size
Texture
Taste
Flexibility in cooking and cooking time
Nutritional value
Price
Before jumping to a descriptive explanation, I'll first provide you with some basic insights on chicken tenderloin and breast. Let's go!
Basic Information About Chicken Tenderloin And Breast
Even when you have cooked chicken tenderloin and chicken breast before, you may still not know all about them. This section is here to provide you with some deep insights into the two cuts.
Chicken Tenderloin
Chicken tenderloin is the muscle part attached to the underside of a chicken's breast. It is also known as chicken tender, but this term is not used correctly. The chicken tender also refers to a fried dish made from this cut or any white meat cut from the post.
Therefore, to avoid confusion, I will stick to the term "chicken tenderloin" from this point.
Every chicken has two tenderloins. The thin, elongated pieces can be gently pulled out from the breastplate. They are quite small, so the chances are that you may miss them, especially if you are a newbie to cooking with chicken.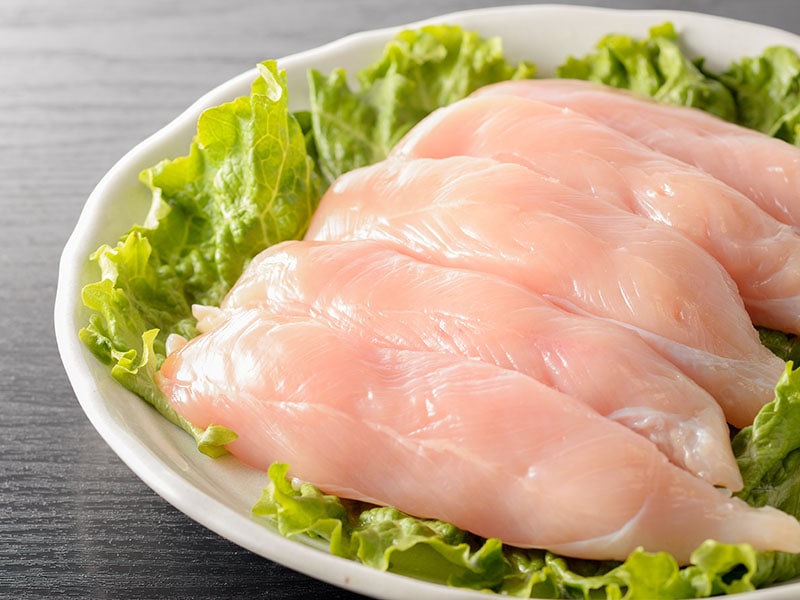 Chicken Breast
Adjacent to two tenderloins is the chicken breast, which is usually cut into halves and sold separately. Admittedly, the lean cut can be a little tough and dry when not prepared and cooked correctly, but its rich protein source makes up for this drawback.
There are two types of chicken breast: bone-in and boneless, with the latter being more popular as it is more convenient to prepare and offers an impressive versatility in cooking. However, the bone-in cut is considered to be more flavorful, not to mention less pricey.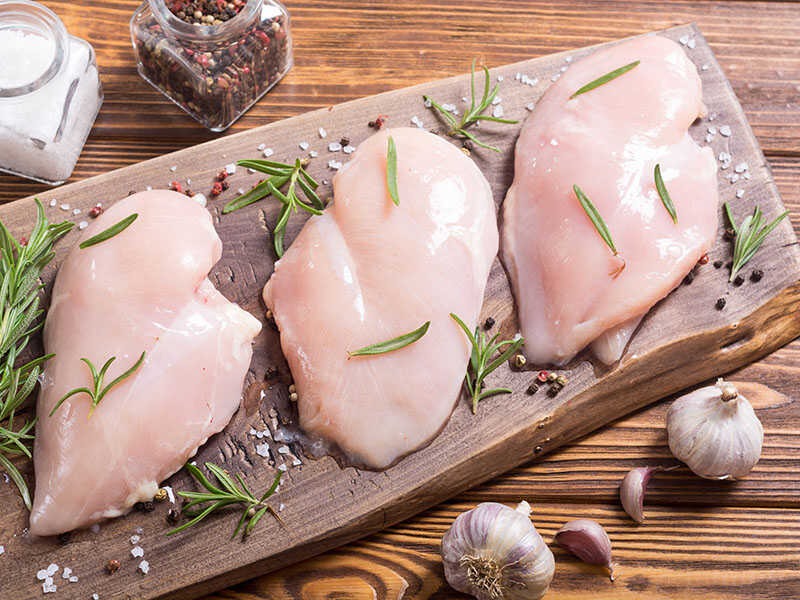 Few Things In Common Between Chicken Tenderloin and Breast
Besides the fact that they are both excellent cuts from a chicken, what else do they share in common? Not much, I must say. As mentioned earlier, they can look almost identical when sold at supermarkets since the breast is cut into strips.
Another similarity between chicken breast and tenderloin is the flavor, although this is not a general consensus and entirely depends on people's sense of taste.
Chicken Tenderloin vs. Breast: A World Of Difference
With very few similarities, you can easily tell them apart. Before exploring further, take a look at the table below, where I have briefly rounded up the differences between chicken breast and tenderloin.
| Features | Chicken Tenderloin | Chicken Breast |
| --- | --- | --- |
| Location | The inner muscle | The outer muscle |
| Shape | Long and narrow | Oblong shape |
| Size | Small | Large |
| Texture (when uncooked) | Not as plump as breast | Plump |
| Texture (when cooked) | Tender and juicy | Not as tender as tenderloin Can be hard due to "woody breast" |
| Flavor | Mildly sweet to bland Somewhat great flavor absorption | Usually bland Great flavor absorption |
| Versatility | Somewhat great | Great |
| Cooking time | Shorter cooking time than chicken breast | Longer cooking time than chicken tenderloin |
| Recommended cooking methods | Baking, steaming, and poaching | Baking and grilling |
| Nutritional content | High in sodium | High in protein |
| Price | Expensive | Somewhat expensive |
Where They Are Located
Chicken tenderloins are the long muscle strips located underneath the breast. They are relatively small, so you can only see them once the breast bones are removed. Chicken breast, conversely, is the outer muscle part attached to the ribs of the bird.
How They Look
The chicken breast has an oblong shape. When sliced into halves, they are somewhat akin to the tenderloins, which are long and tapered. Another visual difference is a long, white line running on the inner muscle cuts called tendon, which has to be removed.
No matter how you slice the breast, even with the top poultry shears, it's impossible to mimic the characteristic shape of the tenderloin. The two cuts also differ from one another in color. The tenderloin is darker when placed next to the breast, which is recognizable with a pale pink hue.
With this trick, you will be able to remove the tendon effortlessly.
How Big They Are
A tenderloin is only half the size of a chicken breast, sometimes even four to five times smaller. Therefore, it's understandable why you overlook this part until the breast is deboned.
Since tenders are small and do not contain bones, they are ideal for small children. Conversely, a chicken breast can cook up a romantic dinner for two or be enjoyed on your own if you think you are a big eater.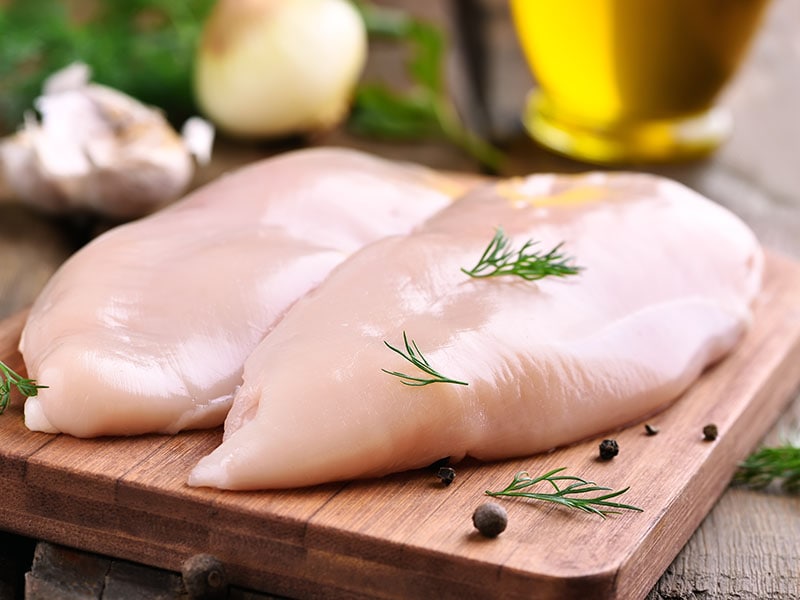 How They Feel When Cooked
When it comes to cooking, texture is as important as flavor. It determines food's quality and has a say in the success of your dish. Moreover, texture significantly affects your taste perception and the amount of food you will eat.
If the texture is of greater importance to you, chicken tenderloin is your best bet. The cut is perfectly tender and luscious when done to a turn. When at its raw state, however, it is not as plump as the breast cut.
On the other hand, chicken breast is coarser and less tender than tenderloins. There's also a phenomenon called "woody breast," an issue caused by an abnormal muscle condition, resulting in breast meat with a hard texture. (2)
While the cause is still controversial, the solution is simple. You will use a high-grade meat mallet tenderizer to pound the meat, breaking down the fibers. Thanks to the key characteristics of meat tenderizers, your hard chicken breast will become soft in no time.
Another trick to fix a woody chicken breast is to soak the meat in yogurt, buttermilk, or marinades with high acidity.
If you work out regularly, you'll probably know that chicken breast is a protein-packed and keto ingredient. This is why you'll often see chicken breasts featured in keto-friendly dishes made in air fryers. A healthy ingredient, prepared in a healthy way, for a healthy meal! Amazing, isn't it?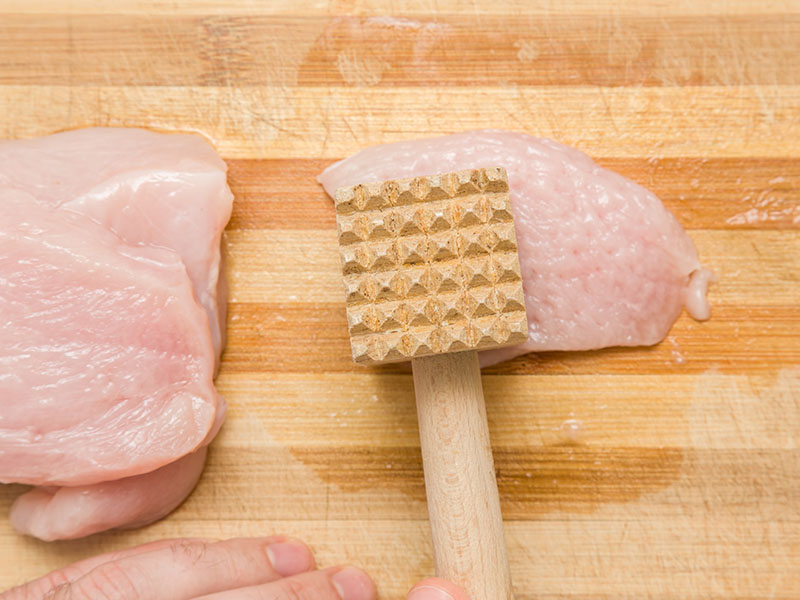 How They Taste
Overall, the taste between chicken breast and tenderloin is not too poles apart. However, some claim that the breast cut is pretty bland in taste, whereas the tenderloins are more flavorful.
This is a subjective matter, so it's difficult to tell which tastes better since countless factors are influencing the final taste, such as the texture, the cooking method, and the use of spices and seasonings.
Due to their different flavor, it's not always the case that chicken breast and chicken tenderloin are used interchangeably. To name an example, chicken breast is one of the top meats to serve with fondue, while the same cannot be said for chicken tenderloin.
And finally, here's a scoop about the chicken breast: bone-in, skin-on versions taste a million times better. The bone allows the meat to cook more evenly, whereas the skin helps retain the moisture to make it more tender on your tongue.
Versatility In Cooking
Chicken breast surpasses tenderloin concerning flexibility and versatility. With a somewhat mild to bland flavor, it is an ideal blank canvas ingredient for your recipes. It is traditionally oven-baked, but people love to stir-fry or grill it as well.
One huge benefit when cooking with chicken breast is its fantastic ability to absorb flavors. Thus, there's no need to go the extra mile. Need some quick and easy dinner ideas for a busy Monday night? A splash of olive oil, fresh herbs, and some spices are all you need to turn chicken breast tasty.
Compared to chicken breast, chicken tenderloin is not as adaptable since it does not take in much flavor. Nonetheless, you can still prepare it in the same way as you would with its counterpart, but it's best when light or deep-fried, baked, poached, or steamed.
Besides marinades, there are endless ways to make both cuts shine with exquisite flavors. You can consider rubbing it with different seasonings, stuffing it with cheese or spices, and sometimes, just a pinch of salt and pepper is enough.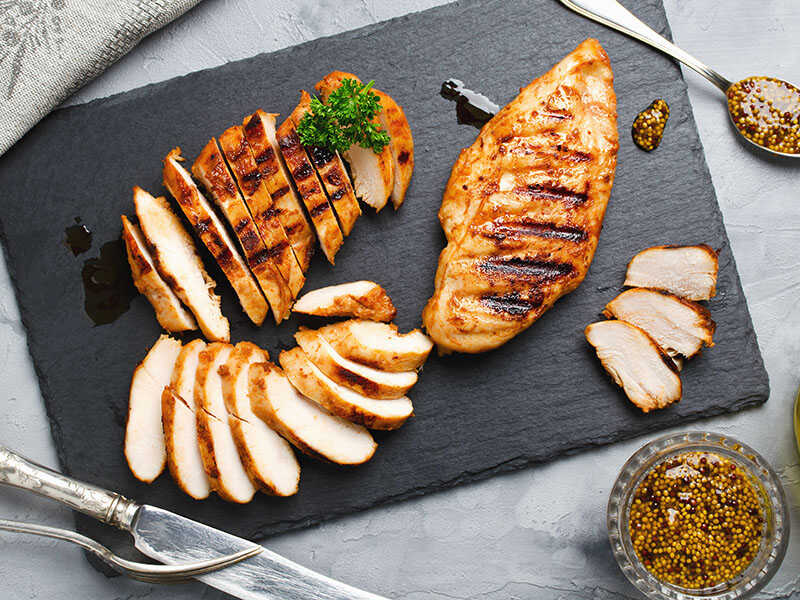 How Nutritious They Are
Generally, both cuts are loaded with wholesome nutrients, but chicken tenderloin is slightly overshadowed by chicken breast in this aspect. Let's break down their nutritional value quickly via the chart below* before diving deeper into details. (1)
| Nutrients | Chicken Tenderloin | Chicken Breast |
| --- | --- | --- |
| Calories | 263 | 165 |
| Protein | 14.7 | 31 |
| Carbs | 0 | 0 |
| Fat | 15.7 | 3.6 |
| Sodium | 451 | 74 |
*As per a serving of 100 grams, uncooked
Looking at the chart, you can be certain which cut is the nutritional powerhouse. With a generous amount of lean protein, chicken breast is ideal for athletes and bodybuilders. It's also 100 calories less than chicken tenderloin, which makes it a healthier option.
Chicken tenderloin is usually deemed an excellent choice for a low-fat diet, but it's nothing compared to chicken breast, which contains only 3.6 grams of fat. Good news for weight watchers, both cuts have no carbs!
Lastly, chicken breast surpasses chicken tenderloin in the sodium department. A diet with high sodium intake can pose several health risks, such as high blood pressure, heart diseases, and strokes.
How They Cost
If you walk through the meat display counter in the supermarket, you will see that chicken breast is way cheaper than tenderloin despite being a more nutritious option. The reason behind the yawning price gap mostly lies in the tender difference.
Cooking With Chicken Tenderloin And Breast
Finally, there are some clear distinctions in preparing and cooking methods between the two white meat cuts. Yes, not only is white meat different from dark meat chicken, various cuts from this meat type require specific cooking preparations, too. Put on the apron, and I'll show you!
Preparation
If you have bought a bone-in breast accidentally, which comes with two tenderloins, you will need to separate them first. In truth, this is not a daunting task, even if you are not a butcher.
The only thing you need for the job is a long, sharp knife for clean cuts. You will also need to dry the meat beforehand so that it won't slip, which prevents the risk of cutting yourself. Once it's firmed up, you are ready to go.
Step 1: Place the bone-in breast on the cutting board. Avoid touching anything else when you're working with raw meat to avoid cross-contamination.
Step 2: The breastbone is located in the middle of the breast and attached by the tendon. Slide the knife lengthwise and remove the tenderloin. Repeat the steps with the other side.
Step 3: Get rid of any parts you do not need, such as fat or cartilages.
Extracting the tenderloins from a chicken breast is not too challenging. Watch this video to know more:
And if you happen to need more tenders than you initially do, cut the breast meat across its grain into strips. Easy-peasy!
Here's a tip: make some shallow cuts, especially with tenderloin, before marinating so that the flavors will penetrate more deeply.
Let your imagination run when it comes to marinades, but if you want something quick and simple, a concoction of lemon juice, olive oil, salt, and pepper is enough.
Cooking Time And Doneness
As stated previously, chicken tenderloin and breast requires different cooking time. Knowing the right cooking time for chicken breast at 400 degrees F is the key to making delicious meals. Refer to the chart below to find out.
| Cooking Methods | Temperatures | Chicken Tenderloin | Chicken Breast |
| --- | --- | --- | --- |
| Baking | 375 degrees F | 20 - 25 minutes | 20 - 30 minutes |
| Deep-frying | 375 degrees F | 6 - 8 minutes | 20 - 25 minutes |
| Grilling | 425-450 degrees F | 3 - 4 minutes | 10 - 15 minutes |
| Steaming | 165 degrees F | Less than 10 minutes | 20 minutes |
Of course, you can also use different temperatures to cook these cuts. Baking chicken breast at 350 for the correct duration will also result in a delicious and juicy dish.
Note that the time listed above is only an estimation. It can vary slightly depending on how you marinate the meat, the thickness of the cut, the cooling time, etc. For both cuts, when cooked properly, the thermometer will read 165 degrees F.
FAQs
Are these two chicken cuts giving you a hard time? If so, don't be reluctant – the following section will provide you with all the answers you need.
Dinner Is Served!
The chicken tenderloin vs. breast showdown has come to an end. Have you chosen the winner? Whichever your pick is, I'm positive that you will be delighted with the result. The two cuts are, after all, like Tweedledum and Tweedledee.
Of course, chicken tenderloin and breast are not supposed to be alone on the plate. Here are some serving options to enhance your dining experience to the fullest:
Mashed potatoes
Rice pilaf
Mac and cheese
Coleslaw
Cornbread
I am sure that this post has provided you with all information about chicken tenderloin and breast. Please apologize if I missed anything, and of course, you are more than welcome to have further questions. Just comment below, and I'll respond as soon as possible!
References
How Many Calories in Chicken? Breast, Thigh, Wing, and More. (2021). Retrieved from https://www.healthline.com/nutrition/calories-in-chicken#breast
Woody breast – Wikipedia. (2021). Retrieved from https://en.wikipedia.org/wiki/Woody_breast