"How long to bake chicken breast at 350ºF" is a common question in many families' kitchens. Although baked chicken breast is a popular dish, not everyone knows how to cook it properly to keep its juicy and great flavor.
Are you looking for an exact recipe? Then, this article is for you. Not only will I help you figure out the suitable time for baking chicken breast at 350ºF, but I'll also guide you to adjust the cooking time depending on breast conditions and give some delicious recipes.
Don't miss any information below because proper baking will retain the flavor and nutrition in your chicken breast!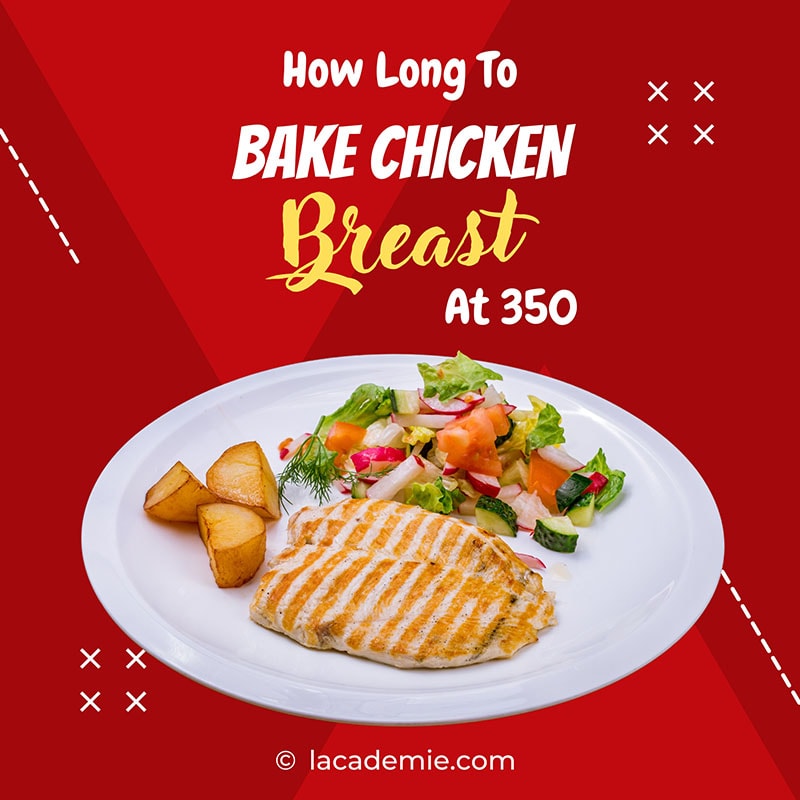 Why Should We Bake Chicken Breast At 350ºF?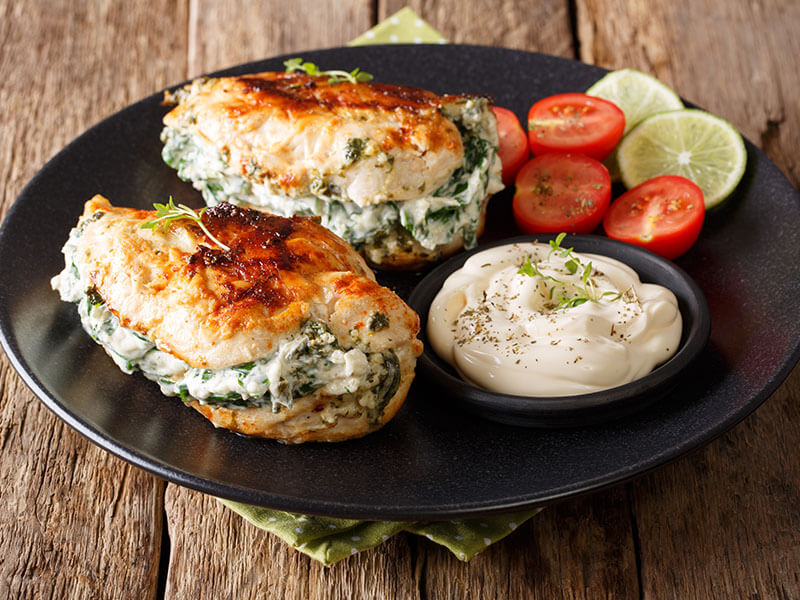 Temperature and time play an important role in making a tasty baked chicken breast, besides the seasoning and sauce recipe. Baking at a too high temperature for a long time will dry out chicken, take out the nutrients, and even comes with the potential for illness.
What about baking at a high temperature and for a short time? Of course, if you know the proper time to bake chicken breast at 400 degrees F, your chicken will be crispy outside and retain a high water content inside. However, if you got the timing wrong, the meat's inner layer can't reach the standard temperature to kill all the bacteria.
Meanwhile, if the temperature is low and the time is too long, the taste will no longer be delightsome, and you also waste time cooking. That's why I recommend baking the chicken breast at 350ºF.
It is the proper temperature that keeps water, sweetness, and nutrients in your piece of chicken. Moreover, you also need to notice the baking time as well. With a temperature of 350ºF in the oven or the air fryer, you will spend a different time waiting.
Besides, many people have figured out the perfect time to cook chicken legs in an oven at 350ºF, which results in the juiciest chicken. So this temperature is suitable for many chicken parts, not just chicken breast.
Moreover, you can even roast a whole chicken at 350 degrees F, as long as you know the proper timespan. People also utilize this temperature for baking pork ribs and salmon filets. But let's stick to the main topic and learn more details about baking chicken breast at 350.
Bone-in chicken breast baked at 350ºF at the right time results in juicy and yummy meat!
How Long Does Chicken Breast Take To Bake At 350ºF?
For households, the two main kinds of equipment used to bake chicken breast are the oven and the air fryer. The construction and operation of these two appliances are dissimilar. So, despite the same heat level, the time for baking chicken breast is different.
| | |
| --- | --- |
| Types Of Equipment | Time |
| Oven | 30-35 minutes |
| Air Fryer | 15-20 minutes |
In The Oven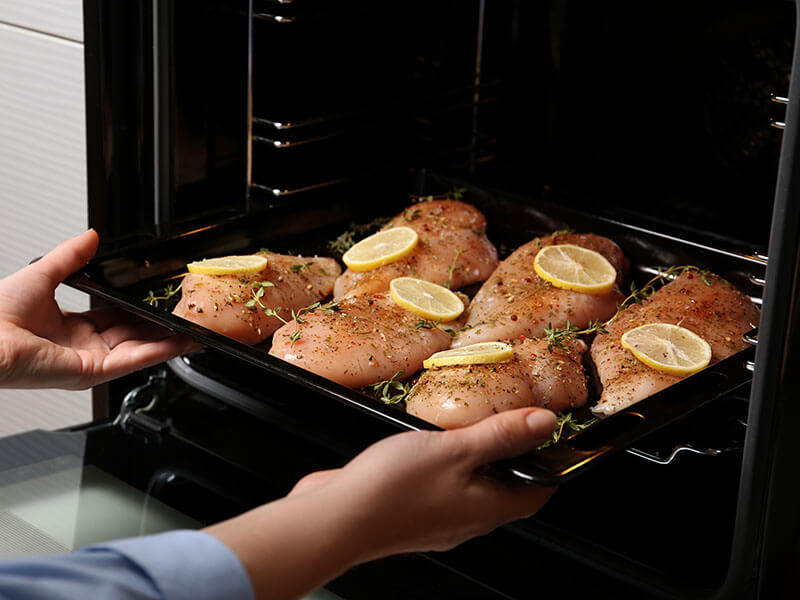 With normal and unwrapped chicken breast, the appropriate time to bake at 350ºF in the oven is 30-35 minutes.
In case you want to flip the bottom side of the chicken breast, you can bake the top side for 15 minutes and then turn over the bottom and continue baking for another 15 minutes.
Keep in mind that you should preheat the oven to 350ºF before placing the chicken breast inside. You can also use a thermometer to check the internal temperature of the chicken until it reaches 165ºF.
Follow this tutorial to have a yummy oven-baked chicken breast for your dinner!
In The Air Fryer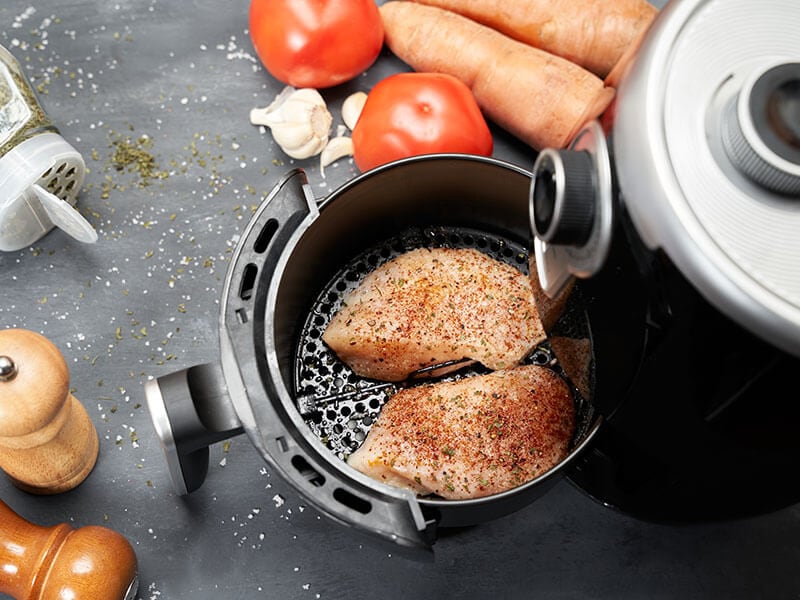 Oven-baked chicken breast needs 30 – 35 minutes to cook, while you only need 15-20 minutes to bake with the air fryer. The less time results from different heating mechanisms in two types of equipment.
The air fryer uses hot air to heat food. This hot air flow, based on the structure of the fryer, circulates the chicken breast, so it is cooked faster. Not only that, but you also don't have to flip the breast to cook both sides.
With a temperature of 350ºF in the air fryer for 20 minutes, the baked chicken breast will keep the natural taste, retain essential nutrients and remove harmful bacteria.
Just a small side note, the time for cooking in an air fryer is also varied, depending on the breast size and thickness. For example, 6-ounce chicken breast without bone needs 10 minutes, 8-ounce needs 14 minutes, and 10-ounce bakes in 16 minutes.
The Changes In Baking Time Depend On Chicken Breast Conditions
The time above is the standard time for normal medium-sized chicken breast. However, chicken breast is sometimes cut thick or thin, cut into cubes, or frozen, and the baking time varies slightly.
I have divided them into the following cases so that you can choose the appropriate time for your chicken breast. Skim the basic information in the table and then take a closer look at the detailed information!
| Types Of Chicken Breast | Baking Time In Oven | Baking Time In Air Fryer |
| --- | --- | --- |
| Frozen Breast | 45-50 minutes | 25-30 minutes |
| Thinly Cut Breast | 20-25 minutes | 10-15 minutes |
| Flattened Breast | 15-20 minutes | Around 10 minutes |
| Cubed Chicken Breast | 25-30 minutes | 10-15 minutes |
| Chicken Breast Cutlets | 20-25 minutes | 10-15 minutes |
Frozen Breast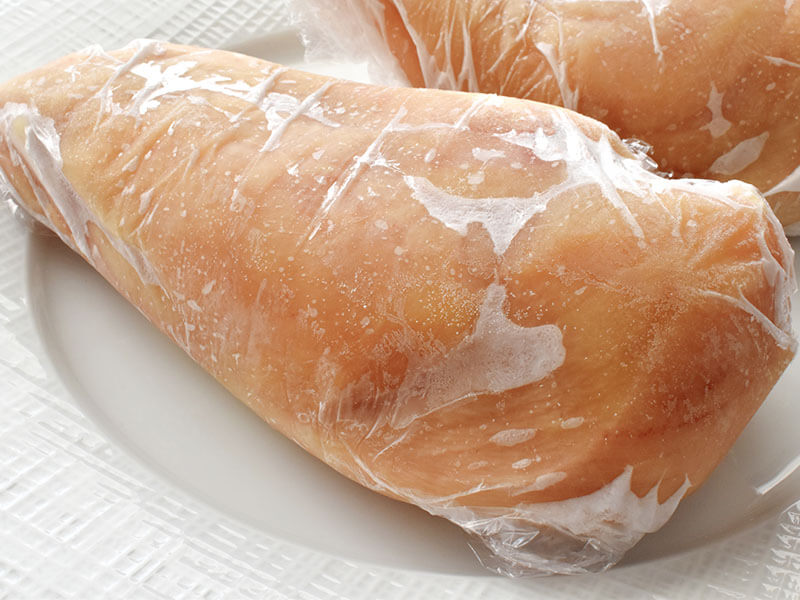 Frozen chicken breast is not too strange for many families. When you buy frozen breast from the food store and want to bake it, you will surely be confused about how long it should take to cook it, right?
The answer is that baking frozen chicken takes 50% more time than normal breast. It means that if you bake in the oven, it will take 45 – 50 minutes, while if done with an air fryer, you should spend 25 – 30 minutes baking at 350ºF.
Another method you can do is to defrost the chicken breast before baking, and then you can cook it in standard time as usual.
This is a practical example of baking frozen breast in an air fryer!
Thinly Cut Breast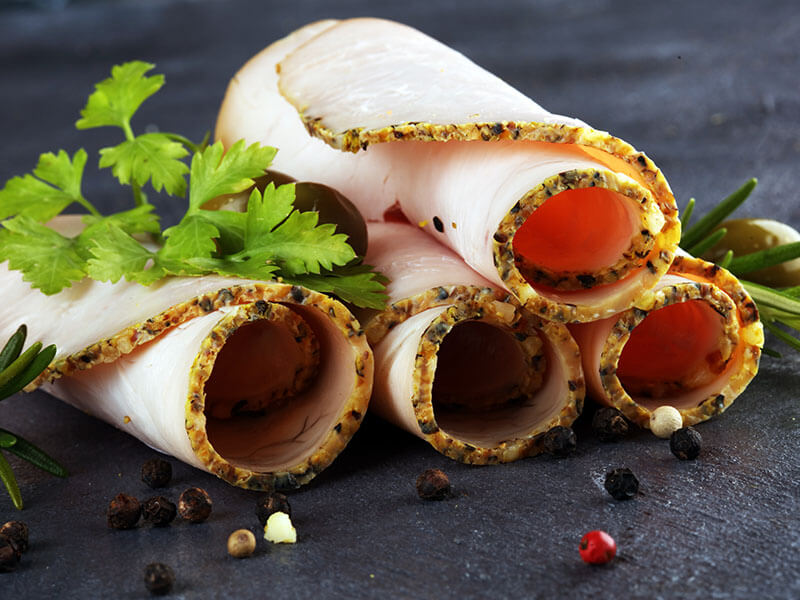 Would you rather eat thinly sliced baked chicken breast than eat a whole piece of the breast? I usually prefer to enjoy a piece of chicken that fits my mouth. Another reason is that it also takes less time to bake.
When the chicken breast is thinly sliced, you can save 5 – 10 minutes compared to average-sized chicken breast. If you bake in the oven, you only need to cook for 20 – 25 minutes. Thinly cut chicken breast baked in an air fryer takes only 10 – 15 minutes.
Flattened Breast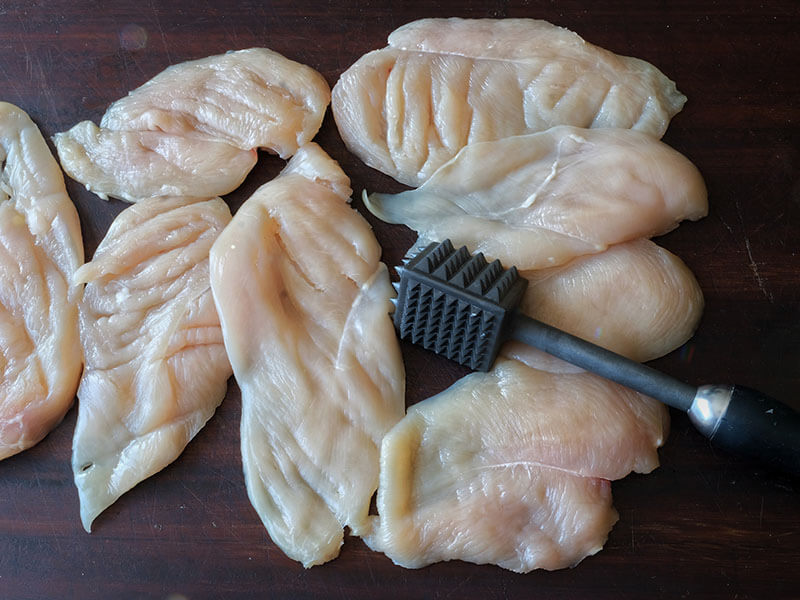 The chicken breast is flattened for sweetness and tenderness. It will also save the most cooking time. Flattened chicken breast with 3/4 inch-thickness will need 15 – 20 minutes to bake in the oven.
For an air fryer, you even take less time, only around 10 minutes, to get it cooked. However, when the chick breast is pounded down, it takes up a lot of space when spreading on the tray. It means that you need to bake many turns.
You also should remember that you must flatten all the pieces to the same thickness before baking. If the chicken pieces are unevenly thin, the baking time can be difficult to control. Moreover, you also should use foil to keep the flattened breast flavor better.
Cubed Chicken Breast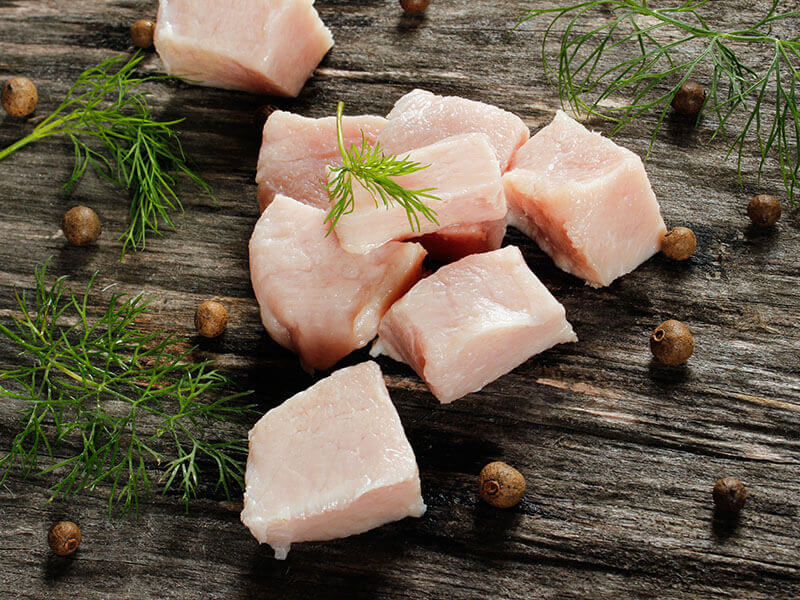 The cubed chicken breast is also a favorite type for many people. Even though the cubed chicken breast is smaller than the average chicken breast, the baking time in the oven or air fryer is about similar, or 3 – 5 minutes less.
You can observe or use a thermometer to measure if you want to be sure. Chicken breast cubes reaching 165ºF are completely cooked.
Chicken Breast Cutlet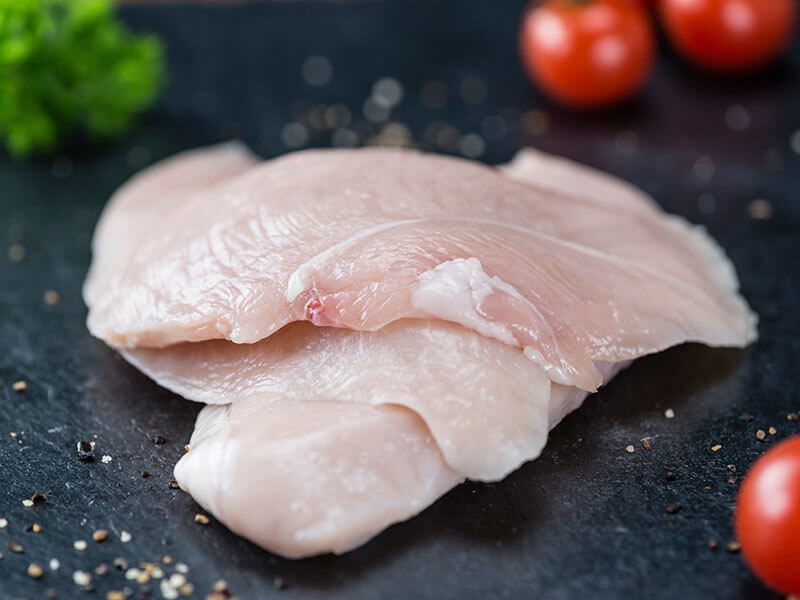 The chicken breast cutlet is a cut-in-half breast. People cut through the thickest breast portion to divide it into two halves horizontally. Then, seal chicken breast cutlets with plastic wrap and pat or lightly pound them until they reach the desired thickness.
Thus, the time for baking breast cutlets is also as long as thinly sliced breast. You will need about 20 – 25 minutes to bake it in the oven and 10 – 15 minutes in the air fryer, or less than 5 minutes.
Different Chicken Breast Dishes Will Have Different Times To Bake
If you are cooking chicken breast regularly, i.e. simply seasoning the outside of the breast, the cooking time will depend on the chicken breast conditions. However, there are some different recipes.
Like covering breast in dry bread crumbs, marinating them in a thick sauce, or stuffing check breast before baking, the time will vary. Here are the standard times for each type:
| Chicken Breast Dishes | Baking Time In Oven | Baking Time In Air Fryer |
| --- | --- | --- |
| Breaded Chicken Breast | 40-45 minutes | 25-30 minutes |
| BBQ Chicken Breast | 33-38 minutes | 18-23 minutes |
| Stuffed Chicken Breast | 40-45 minutes | 25-30 minutes |
Breaded Chicken Breast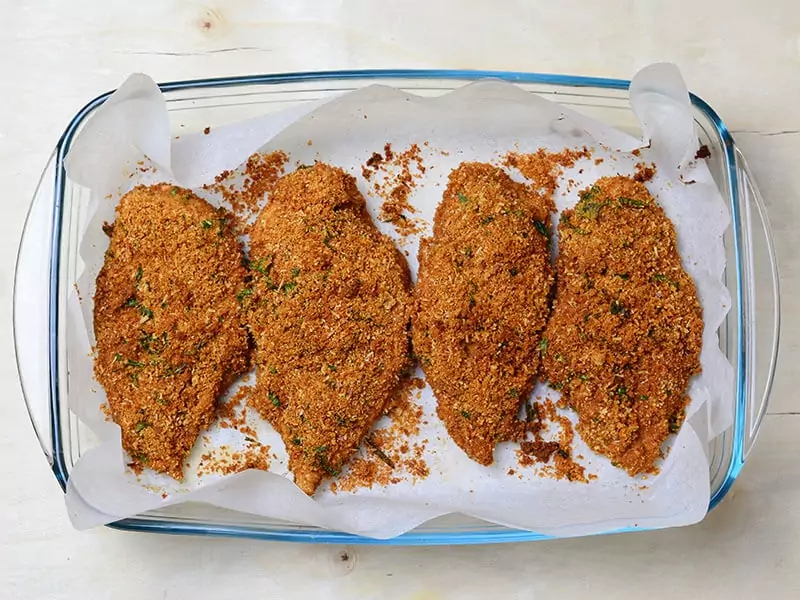 Baked chicken breast with dry bread crumbs is one of the most addictive dishes for both children and adults. The outside surface looks so crunchy. And when you bite, you will feel the soft and juicy chicken meat inside. Just imagining it is enough for me to be hungry!
Because of the cover of tiny breadcrumbs, flour, and eggs, the chicken piece will be a bit thicker than regular chicken breast. The baking time will increase 10 minutes longer than the unseasoned chicken breast for every appliance.
So bake it in the oven for 40 – 45 minutes while in the air fryer, it should be baked in 25 – 30 minutes.
BBQ Chicken Breast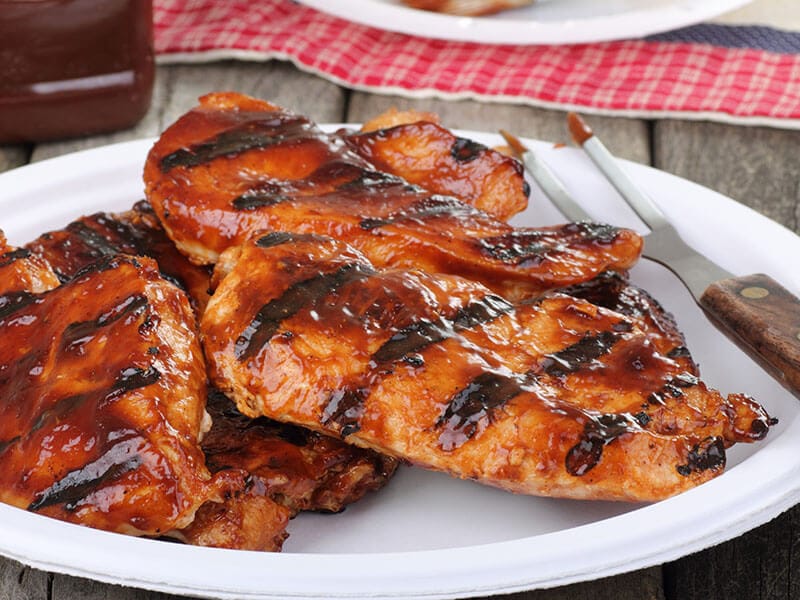 BBQ sauce is another perfect choice for baking chicken breast. Its savory glow sauce and sweet, spicy taste will make your bland chicken breast more appetizing. BBQ chicken breast is the best when you put the breast in the sauce during baking time.
BBQ sauce doesn't affect the chicken's cooking time much. If you pre-season BBQ sauce with breast, there is no need to wait any longer because the sauce has soaked evenly into the meat. If not, it takes another 2 – 3 minutes to let the breast and sauce blend better.
Stuffed Chicken Breast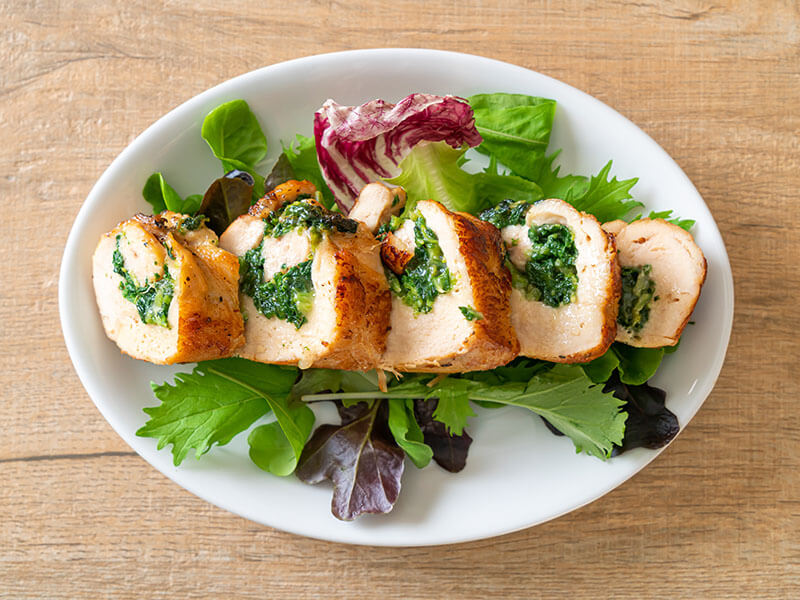 Stuffed chicken is another popular dish when it comes to chicken breast recipes. Chicken breast can go with many stuffing recipes.
Baking stuffed chicken breast in the oven or air fryer will cost 5 – 10 minutes more than the unstuffed chicken pieces. This helps both the outer shell and the stuffing inside to cook evenly and blend.
If the filling has already been cooked, it might take less time, almost the same as the unseasoned chicken breast.
Broccoli and cheese stuffed chicken breast will be a nice suggestion for your family's dinner. Let's try!
The Different Results When Baking Chicken Breast With Various Conditions
Have you ever baked chicken breast without removing its bones and skin? Do you usually cover chicken breast with foil before baking? These are the two most frequently asked questions I get when mentioning the time for baking chicken breast at 350ºF.
Today, I will break down the differences for you in each case.
Boneless, Skinless Breast Vs Bone-in, Skin-on Breast
To begin with the dissimilarities between the two types of breast, take a first look at my table for the basic knowledge:
| Breast Condition | Baking Time In Oven | Baking Time In Air Fryer |
| --- | --- | --- |
| Boneless, Skinless Breast | 30-35 minutes | 15-20 minutes |
| Bone-in, Skin-on Breast | 35-40 minutes | 20-25 minutes |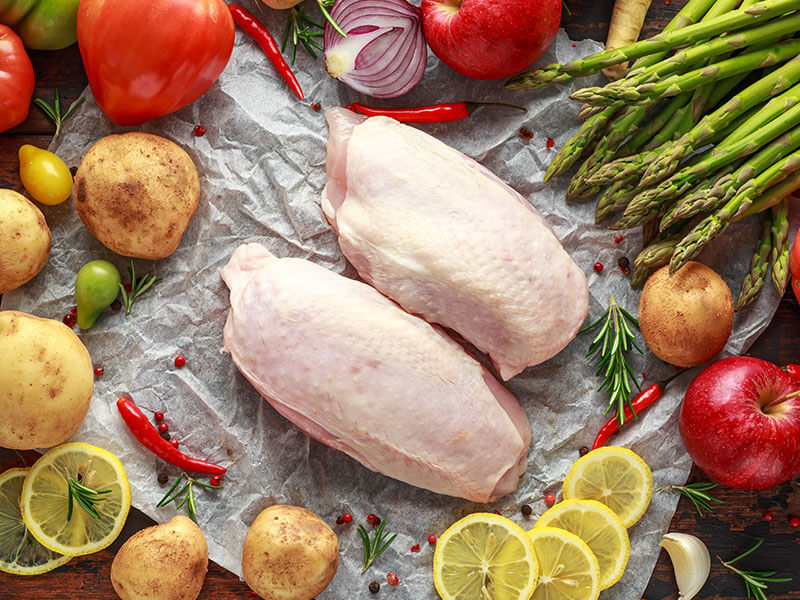 Many people, especially those with a healthy diet, have the habit of using boneless or skinless chicken breast. That's because chicken bones and skin contain a lot of cholesterol and unhealthy fats.
Boneless, skinless, or bone-in, skin-on will bring different flavors and appearances to the dish. The skin and bones can make it harder to cook, but their fat can boost chicken breast tastier, sweeter, and more eye-catching.
Of course, it comes with less health than the boneless and skinless breast!
For baked bone-in, skin-on chicken breast, you should let it in the air fryer or oven for 5 – 10 minutes more than the breast without bones and skin.
Let's try this yummy recipe for baking the boneless and skinless breast!
Chicken Breast Covered Vs Chicken Breast Uncovered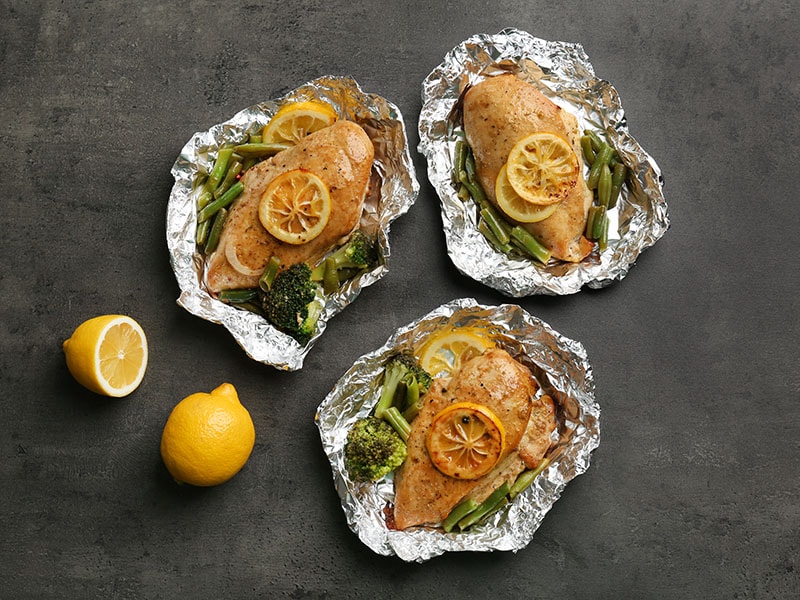 At first glance, see the special cooking time for two types in the following table:
| Breast Condition | Baking Time In Oven | Baking Time In Air Fryer |
| --- | --- | --- |
| Covered Chicken Breast | 25-30 minutes | 10-15 minutes |
| Uncovered Chicken Breast | 30-35 minutes | 15-20 minutes |
Do you often consider using foil to wrap meat up before baking? Foil seems like a good choice, and I'll show you how covered chicken breast in foil and uncovered chicken breast will give dissimilar outcomes.
Firstly, at the same 350ºF and same breast condition, baking with foil-wrapped chicken breast will speed up your cooking time by 5 – 7 minutes.
This means that if you bake in the oven with unwrapped chicken breast, it will take you 30 minutes. In contrast, with covered chicken breast, you will wait for only 25 minutes.
Next, the foil maintains a constant temperature and evenly distributes heat to all the sides of the chicken breast. It also helps to keep the moisture and sauce penetrated in the chicken. Therefore, a baked chicken breast with foil will be tender and more savory.
Nutrition Facts Of Chicken Breast Which Is Baked
Those who are interested in daily meal nutrition will surely enjoy this section. After getting the right time and temperature to make a delicious baked chicken breast, I will tell you the nutrients in the baked chicken breast so that you can control your servings properly.
How Many Nutrients Are In A Baked Chicken Breast?
Baked chicken breast is a delicious and nutritious dish, supplying many good nutrients. Here is the nutrition chart for 100 grams of chicken breast baked without skin, bones, and fat.
| Nutrients | 100 g of baked chicken breast |
| --- | --- |
| Calories | 165 kcal |
| Protein | 31 g |
| Fat | 4 g |
| Carbohydrates | 0 g |
| Fiber | 0 g |
| Sugar | 0 mg |
| Calcium | 7 mg |
| Magnesium | 29 mg |
| Phosphorus | 237 mg |
| Potassium | 378 mg |
| Sodium | 507 mg (1) |
Health Benefits When Eating Baked Chicken Breast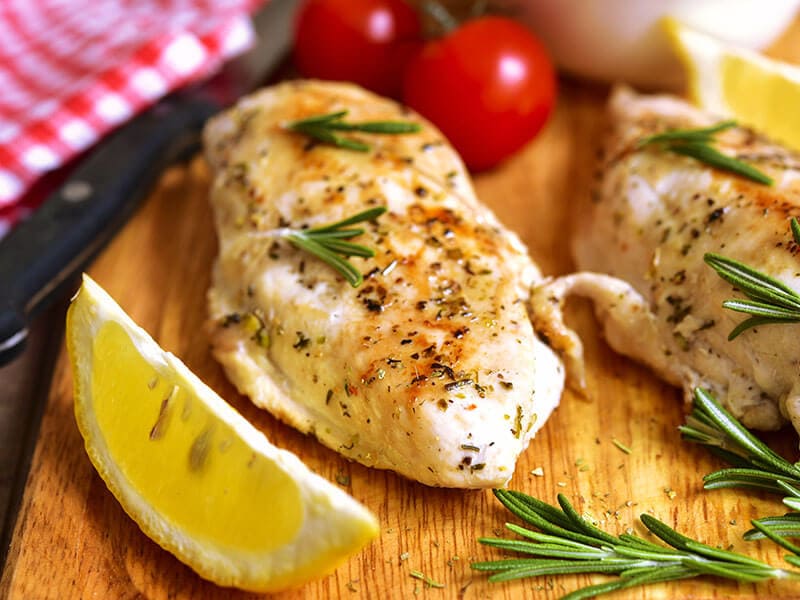 Baking chicken breast is a healthier cooking way than frying or stirring. It helps eliminate excess fat and harmful substances in the cooking process. Therefore, this is a popular cooking method nowadays.
Baking chicken breast at a high temperature such as 350ºF and during a proper time helps destroy harmful bacteria. Raw poultry meat can contain bacteria from their environment, so the standard temperature and time will make your food safe to eat.
Chicken breast without skin and bones will help to limit excess fat, cholesterol, and saturated fat. It is good for people with heart diseases, high blood pressure, diabetes, and obesity,…
It is also a wise choice for those who are following a diet because it is rich in protein and fine nutrients.
Chicken breast is easy to digest, and its vitamins help strengthen the immune system. White meat like chicken breast also reduces cancer risks, especially colon cancer. With these health benefits of baked chicken breast, add it to your list of favorite dishes now! (2)
Baked chicken breast is both healthy and delicious, here is such a recipe you should try!
Make Delicious Baked Chicken Breast At Home With This Recipe
Baking mouth-watering chicken breasts in your own kitchen is actually very easy. Here's a simple-to-follow recipe that you can make in under 60 minutes!
Ingredients
Chicken breast: I use boneless and skinless medium-sized (about 8 ounces each) for this recipe.
Olive oil: a nutritional and flavor-rich cooking oil. You can also use avocado oil if you want.
Salt and pepper: a classic combination that suits essentially every dish.
Herbs and spices: seasoning spices like rosemary, oregano, and paprika will turn your chicken breasts into a flavorful treat.
Directions
Step 1: Preheat The Oven
Preheat your oven to 350 degrees F. Most modern ovens will take about 15 minutes to do this.
Step 2: Season
Add the chicken breasts to a large plate. Rub them with olive oil and all the spices.
Step 3: Bake The Chicken Breasts
Grease a baking pan and place the chicken breasts on it. Remember to leave some space between them. Bake the chicken for 30 to 35 minutes.
Step 3: Remove From The Oven
When the internal temperature of your chicken breast reaches 165 degrees F, remove them from the oven. Allow them to rest for about 5 minutes before serving.
Some Recipes To Make Baked Chicken Breast Taste Tastier
To enrich the baked chicken breast recipe, I have some options for combining chicken breast with various sauces. Refer to the following recipes and if you bake it successfully, take a photo and share it with other readers and me!
You are tired of basic-baked chicken breast? So this baked chicken breast with garlic and butter is an amazing option for you to try! Skinless and boneless chicken breast is marinated in a smooth texture sauce that brings both a sugary and sour taste.
You will be mouth-watering while cooking them!
The recipe for baked chicken breast with honey and mustard sauce is so yummy, have you ever tried it yet? If not, do it now! It won't let you down.
The sweetness of honey softens the pungent flavor of mustard, along with a pleasant aroma. The dish of chicken breast on the dining table will be quickly cleared!
Baked honey mustard chicken breast is easy to cook for a quick meal!
You are on a diet but still, feel athirst for a BBQ party? So, why not try replacing red meats with chicken breast baked with BBQ sauce?
I will suggest an extremely easy recipe, it has simple ingredients, and you just need to marinate and throw them in the oven for 30 minutes to enjoy!
How To Store Cooked Chicken Breast For Long Use
Sometimes, you cook too much chicken breast for one meal and can't digest it all at once. Sometimes, you also want to bake chicken breast for use several times. But you don't know how to preserve the baked chicken breast. Don't worry, I'm here to help you!
Baked chicken breast can be stored in plastic box food packaging, airtight food containers, plastic wrap, or aluminum foil in the refrigerator. This can help keep them for 3 – 4 days while ensuring nutrition as well as safety.
To store properly baked chicken breasts, follow these steps:
Step 1: Resting Baked Chicken Breast
After baking, let chicken breast rest and be completely cool before preparing to save them in the refrigerator.
Step 2: Packing
Use any subjects such as box food packaging, storage container, and foil to cover the whole piece of baked chicken breast. You must ensure that the packaging is airtight to prevent bacteria from outside. If possible, use a vacuum sealer for food.
Step 3: Keeping In Refrigerator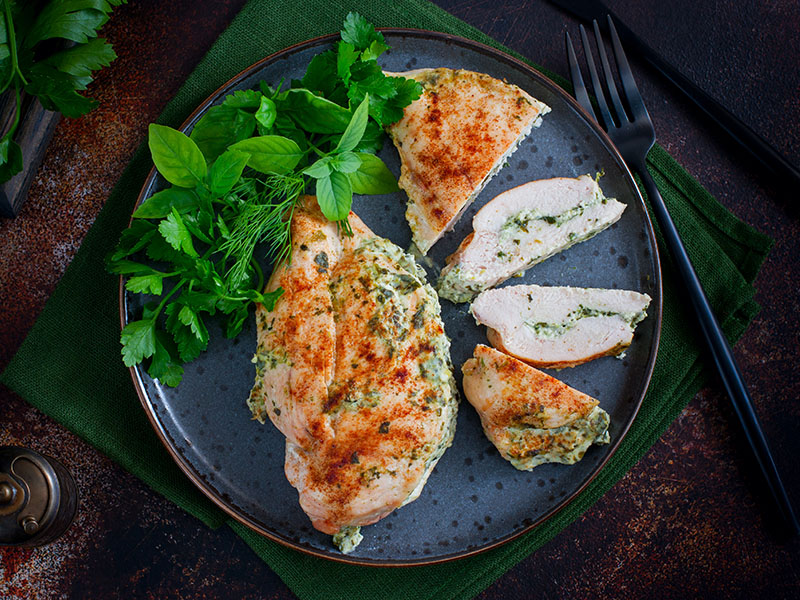 Keep baked chicken breast packs in the freezer in the fridge and use them within the next 3 – 4 days. Remember to separate raw meat from baked chicken breast.
In general, frozen baked chicken breast will make a difference in the flavor of the original dish. However, this is still a useful way to save food in case you don't have time or have leftovers.
FAQs
Baking chicken breast is not simple, right? And you might have further questions about baked chicken breast. So, I have compiled some of the most asked questions that you may want to clear up too. Find your answer below!
Suitable Temperature, Standard Time, And Mouth Watering Dish
As I have detailed, the time to bake chicken breast depends on many factors, such as breast conditions or recipes. If you ensure the right backing time as in my guide, your dish is not only delicious but also good for your health.
Don't forget to like and share my post if you find it useful for you and others in the cooking process! Thank you for reading!
Nutrition Facts
4 servings per container
---
Amount Per ServingCalories275
% Daily Value *
Total Fat 6.6g

10

%
Cholesterol 130mg

44

%
Sodium 732mg

31

%
Potassium 21mg

1

%
Total Carbohydrate 1g

1

%

Dietary Fiber 0.4g

0

%
Sugars 0.2g

Protein 52.2g

104

%
---
* The % Daily Value tells you how much a nutrient in a serving of food contributes to a daily diet. 2,000 calories a day is used for general nutrition advice.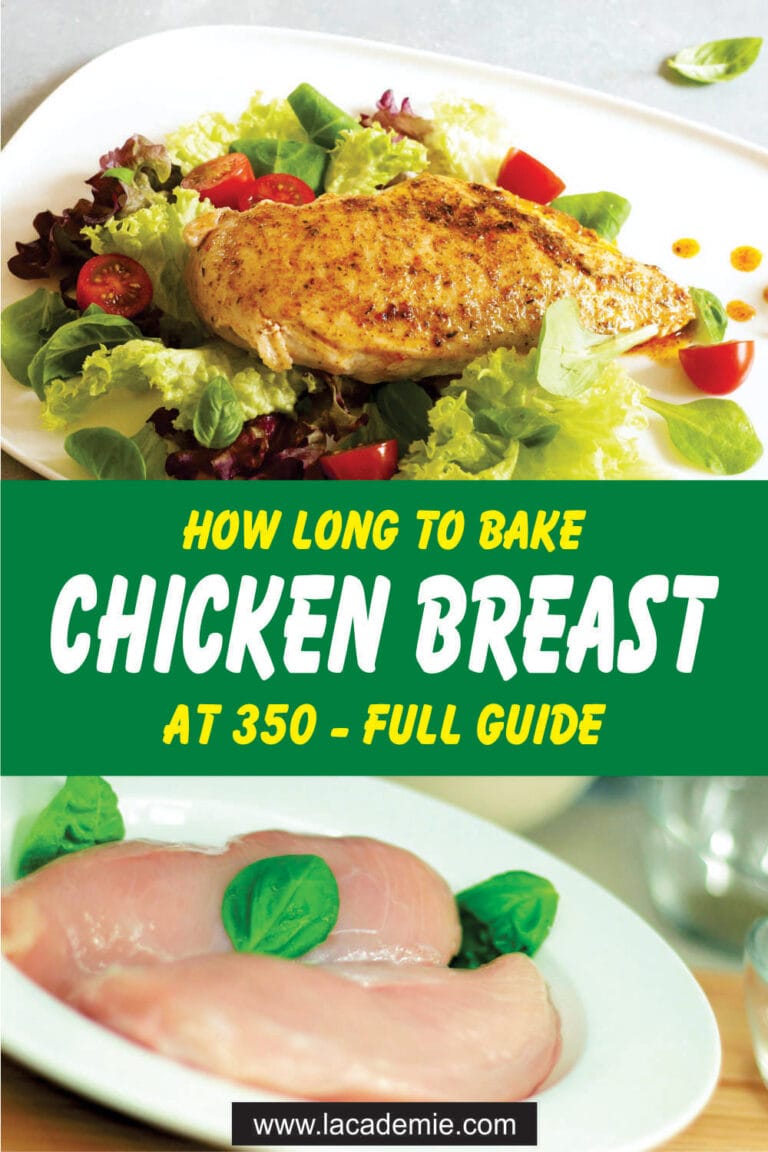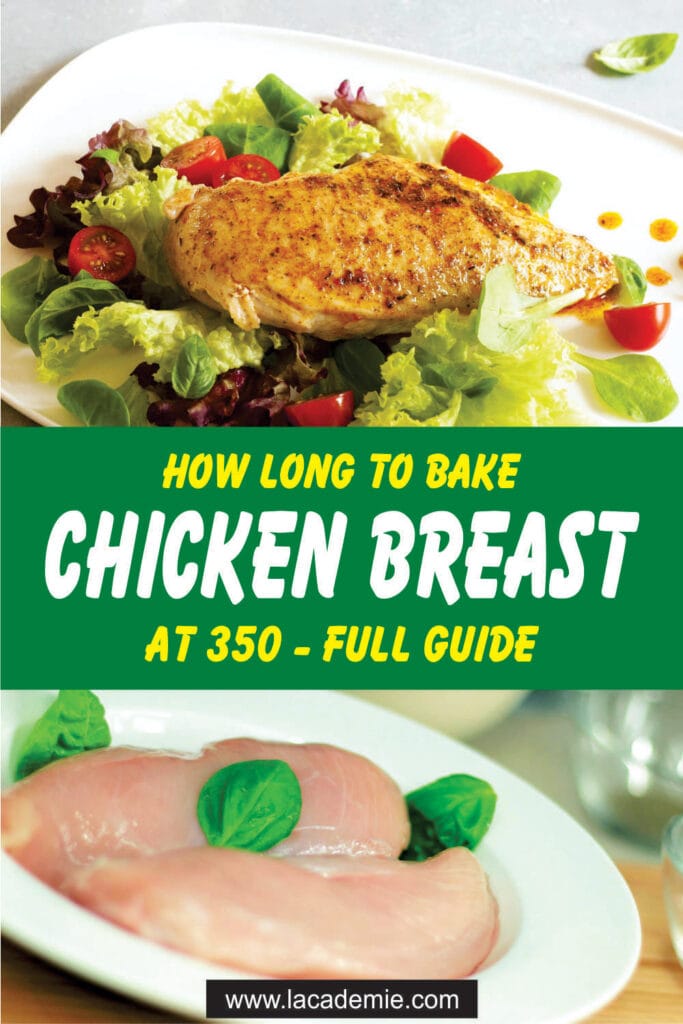 References
Fitwatch.com. 2022. How Many Calories Are In Chicken Breast Cooked (100g)?.
WebMD. 2022. Health Benefits of Chicken.