Are you wondering how long to cook chicken legs in the oven at 350℉? Yes, I know timing how long to cook food in ovens at a specific heat is not easy. You have to make sure the food is well-cooked but not burned.
So, in this article, I am going to help you find out when is the perfect time to take your chicken legs out of the oven. Furthermore, you will learn the oven tips to cook like a pro, how to upgrade your chicken, things to pay attention to, and chicken legs recipes.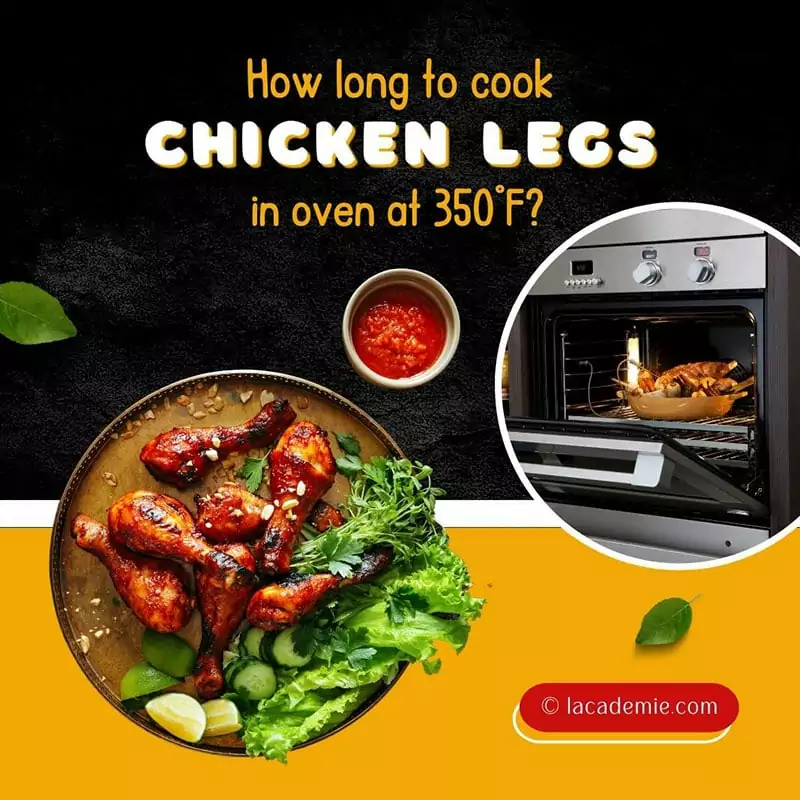 Why Should You Cook Chicken Legs In Oven At 350℉ (177℃)?
Chicken legs are not only delicious but also a great source of protein. The fat in chicken legs is healthy since it is unsaturated. (1) So, how can you make such good meat parts a perfect dish and keep the nutrition?
One of the most common methods is cooking chicken legs in an oven at 350℉. Is it really a wise way to handle your chicken legs? Here are some advantages of using the oven and setting the heat at 350℉.
Why Use The Oven To Cook Chicken Legs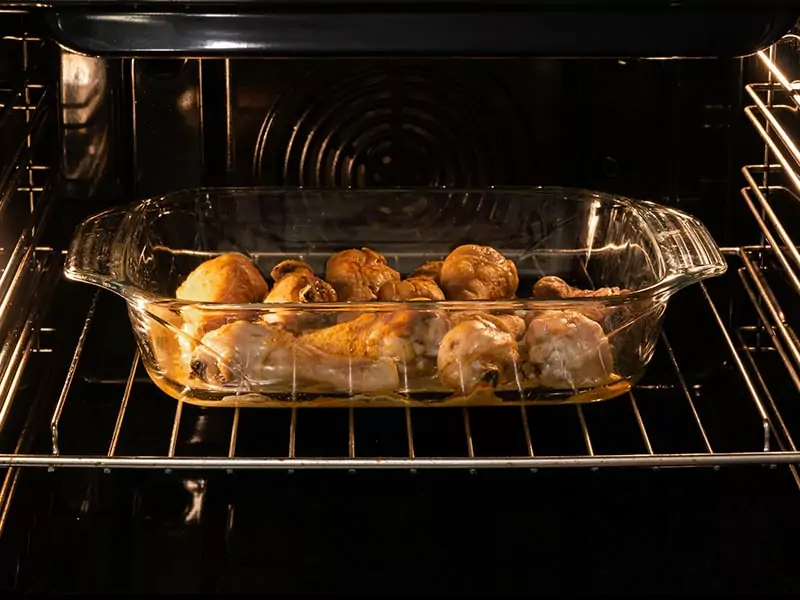 The cooking method influences the quality of the food regarding flavors and nutritional value. The oven is one of the best ways to handle chicken legs. If you want to try whether you can eat cold chicken or not, oven-baked chicken legs are a good way to find out.
Cooking in the oven does not require you to use much oil compared to using a frying pan, making the food healthier. Also, it is more convenient when the whole meat is heated in the oven, whereas you have to keep your hands busy when using the frying pan.
While using the oven is a conventional way to cook chicken, the air fryer is more modern and convenient. You can also consider using an air fryer if possible.
However, the oven still outweighs the air fryer in some ways. The air fryer has much less capacity than the oven, so the oven is the better choice for large batches.
In addition, the air fryer needs oil, but the oven does not. Thus, the oven is the healthier option to choose.
Why Cook Chicken Legs At 350℉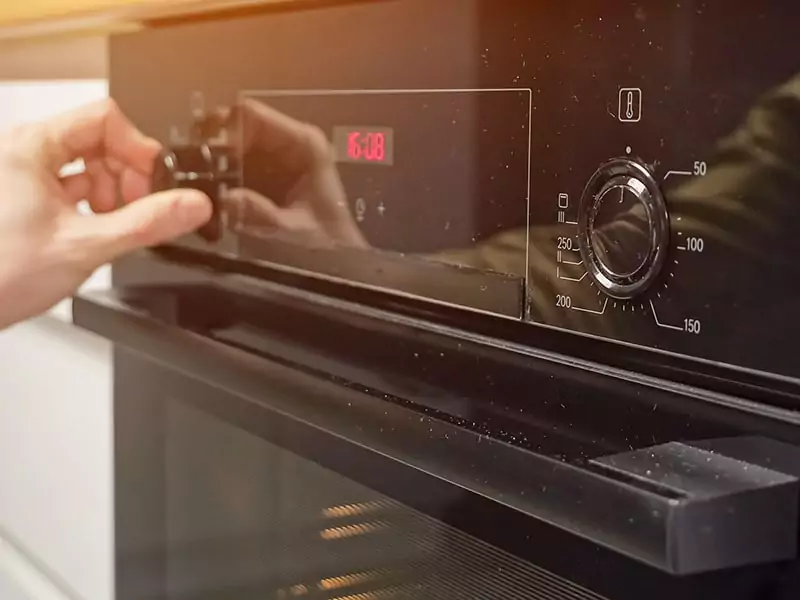 Chicken legs consist of thighs and drumsticks, which are dark meat. In contrast, the rest of the chicken is considered white meat though some mistake it as red.
Since chickens stand almost all the time, the thighs and drumsticks are the most muscular parts. That is why they contain a high amount of myoglobin, which gives the meat a darker color.
When cooked, dark meat tends to be juicier than other parts. To maintain that quality, 350℉ is an ideal temperature. Much lower temperatures extend the cooking time and do not guarantee to kill off bacteria.
Additionally, if you know the correct length of time to bake chicken thighs at 350℉, your chicken will turn out delicious every time. On a side note, this temperature is great for baking other meat and fish, such as pork or salmon.
You can apply the same temperature to cook other chicken parts, too. For example, your family will have a delicious meal if you know the right duration to bake chicken breast at 350℉.
Many people have also mastered the right duration to roast an entire chicken at 350℉ to ensure that the chicken is cooked evenly and won't dry out quickly. You can cook chicken legs at higher temperatures like 400℉ – 425℉, but 350℉ is still a favorable heating level.
How Long To Cook Chicken Legs In Oven At 350℉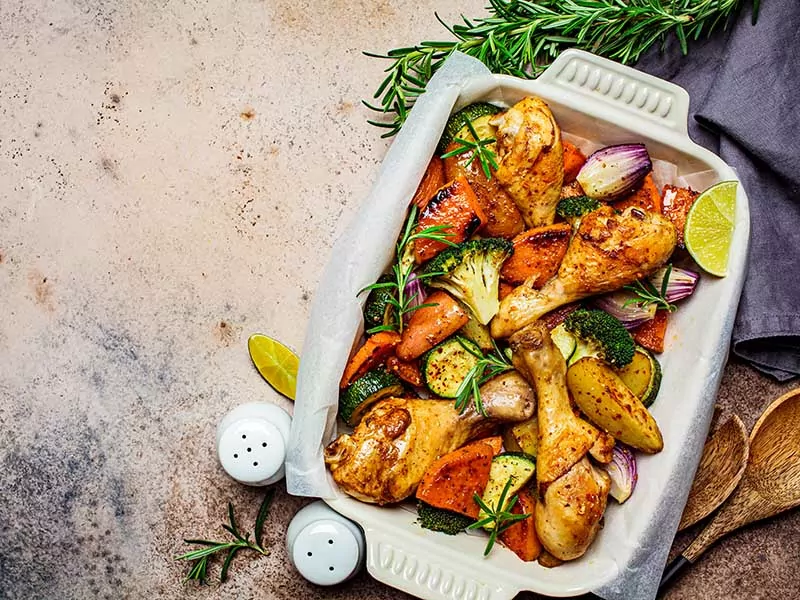 So, here is the part you are looking for. The table below is the estimated time to cook chicken legs in the oven at 350℉, according to USDA. (2)
| | | |
| --- | --- | --- |
| Chicken parts | Weight | Cooking time (In the oven at 350℉) |
| Legs or Thighs | 4 to 8 oz | 40 to 50 minutes |
| Drumsticks | 4 oz | 35 to 45 minutes |
As I mentioned above, chicken legs are dark meat. Their fat content and density are much higher than other parts. As a result, the cooking time for chicken legs is longer than that of other parts.
Make sure you do not overcrowd the foods, place them evenly in the oven for heating well. And the meat is also not frozen or wrapped with foil.
Cooking Boneless Chicken Legs
What if your recipe involves boneless chicken thighs? Cooking time for boneless chicken thighs is shorter compared to bone-in cuts.
It usually takes 20 to 30 minutes to cook boneless chicken thighs (dependent on size) in the oven at 350℉. So make sure you do not overcook them.
With Frozen Chicken Legs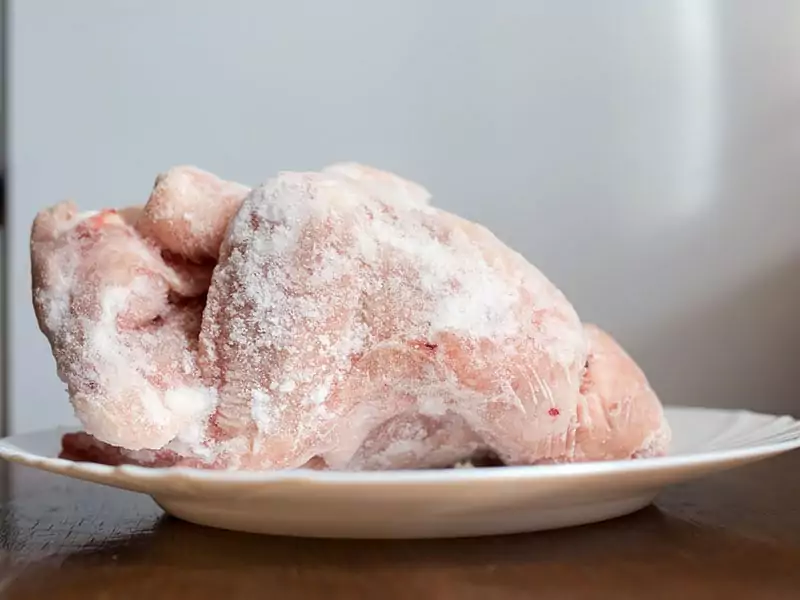 If you wonder how long you can cook frozen chicken legs in an oven at 350℉, I am afraid you have to defrost them first. There are 3 main reasons why you should not cook frozen chicken in the oven.
Firstly, cooking frozen chicken damages the texture since the heat can burn the outside, but the inside may still be cold. Secondly, you cannot marinate frozen chicken as it does not absorb the seasonings, so your recipe may be ruined.
Also, it can take much longer to cook frozen chicken. According to USDA, cooking time for frozen meat will be roughly one and a half times longer (3). For instance, if fresh chicken legs take 40 minutes to cook in the oven at 350℉, the frozen one will need 60 minutes.
As for thawing frozen chicken, you should pay attention since improper methods can cause bacteria to grow. After fully thawing, you can cook the chicken legs normally. Below are the safest ways to defrost frozen meat you should try.
| | |
| --- | --- |
| Method | Time |
| Refrigerator | 24 hours |
| Cold water | 2 – 3 hours |
| Microwave | 6-8 minutes per pound |
Using Refrigerator
To defrost chicken meat in the refrigerator, you should keep the meat well-wrapped in a zip bag. Then move the meat from the freezer to the refrigerator and let it gradually thaw.
Using Cold Water
Wrap the meat well in a zip bag or an airtight bag. After that, submerge the meat in cold water, and change the water every 30 minutes.
Using Microwave
The last recommended way is to use the microwave. You should take the meat out of the bag and place it on a microwave-safe plate.
Set the microwave to defrost mode for 2 minutes at a time. Check after each time and flip the meat if needed. Let it cool down before checking by hand.
Here are the best ways to defrost chicken you should know.
Cooking Chicken Legs With Foil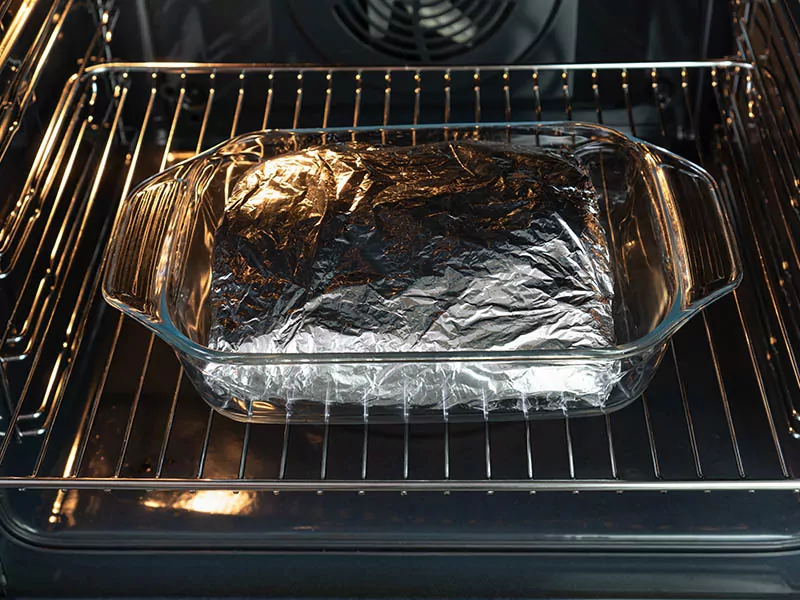 Using foil is really up to your preference. If you want to have beautiful crisp skin, then you should not. The wrapper will cause steam to form and soften the chicken skin.
But if you wish to have tender, juicer meat, you can wrap the meat in aluminum foil. However, the foil will extend the cooking time by a few more minutes.
Check Out The Best Way To Cook Chicken Legs In Oven At 350
Depending on different recipes, the steps can vary. But normally, you will need to follow these basic steps below.
Step 1: Prepare Your Chicken
Check if your chicken legs are still fresh. You do not want to bake spoiled chicken meat. Fresh raw chicken is light pink. If it turns yellow, green, or gray, you should not cook that meat anymore. Besides, the meat should not be slimy and have a bad smell.
Remember to check if the meat has gone bad to avoid food poisoning.
Step 2: Marinate The Meat
Depending on your recipes or your preference, marinate the chicken legs with seasonings. Chicken can be marinated and kept in the refrigerator for up to 2 days at most. But if you keep it at room temperature, 2 hours is the maximum time.
Step 3: Prepare The Oven
Preheat the oven for about 10 minutes until it reaches 350℉. While you wait for the oven to heat up, place your chicken on the baking sheet evenly.
In case your recipe does not require you to marinate the meat long, then you can preheat the oven while marinating the meat to save time.
Step 4: Bake The Chicken For A Suitable Amount Of Time
Put the baking sheet with chicken into the oven, and close the door firmly. And depending on the type of meat, let it be cooked for enough time.
Fresh and thawed chicken legs or thighs need 40 to 50 minutes to cook. On the other hand, fresh and thawed chicken drumsticks require 35 to 45 minutes in the oven. For boneless chicken thighs, you need to cook them for 20 to 30 minutes.
Chicken wrapped in foil can take from 5 to 7 minutes longer to get done, while frozen chicken increases cooking time by a half.
Step 5: Check If The Meat Is Done
After you take the meat out of the oven, you'd better use the food thermometer to check the internal temperature. If it reaches 165℉, then your meat is good.
But, with chicken legs, 175℉ or 185℉ is the preferred mark because they will have better texture and flavor.
Step 6: Let The Meat Rest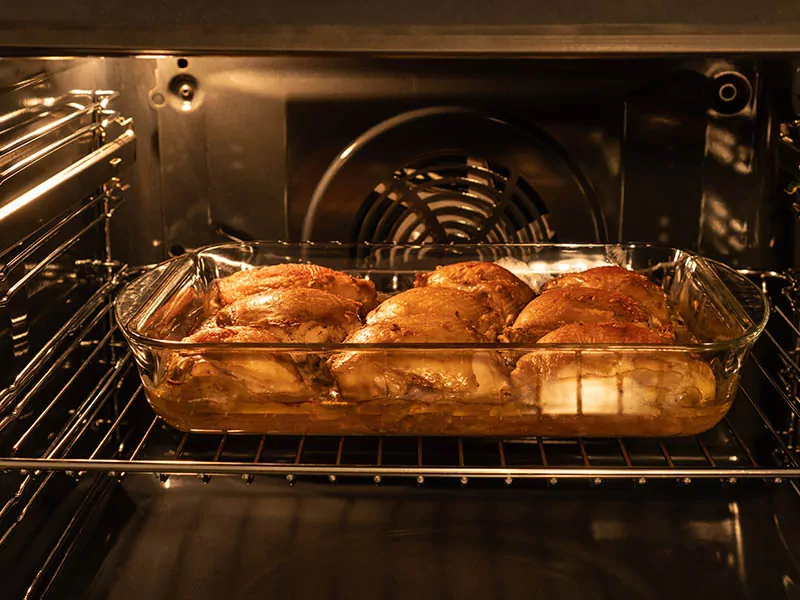 Let the meat sit for up to 10 minutes before serving. If you do not eat it instantly, you can keep the meat warm in the oven for no more than 1 hour.
Remember that cooked chicken can't sit outside for long. Therefore, you should put it in the refrigerator unless you plan to serve it soon.
How To Tell If Your Chicken Legs Are Well-Cooked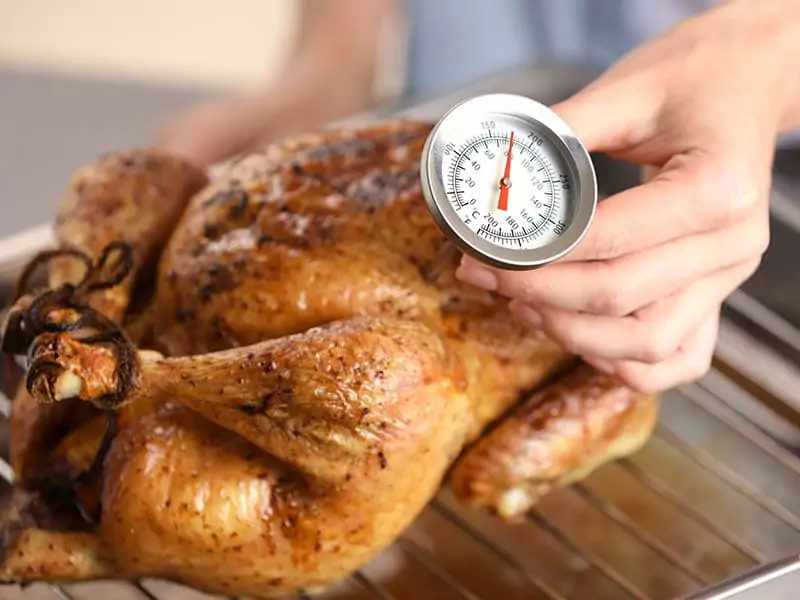 After taking the chicken out of the oven, you need to check whether it is fully cooked or not. You can use either way below.
The meat is done when the inner temperature reaches at least 165℉. So, use the food thermometer for accurate checking. Or you can use a knife to cut the meat until you see the bone. If the juice is clear, your meat is done.
Wait, the meat is still pink? Don't panic, here is the truth about that hue. Even safely-cooked chicken legs can sometimes have a pinkish tinge around the joints or bones.
The reason is that myoglobin in the muscle tissues is oxidized when cooking, causing the heme iron component to convert and creating that pink color. Thus, that pink color does not mean your poultry meat is undercooked.
Here is how you should check if the chicken is well-done.
Some Handy Tips To Cook Chicken In Oven
In this section, I am going to guide you through some useful tips for cooking chicken in the oven. I am sure they will ease your cooking and guarantee you delicious chicken meat.
Give Your Meat Some Brine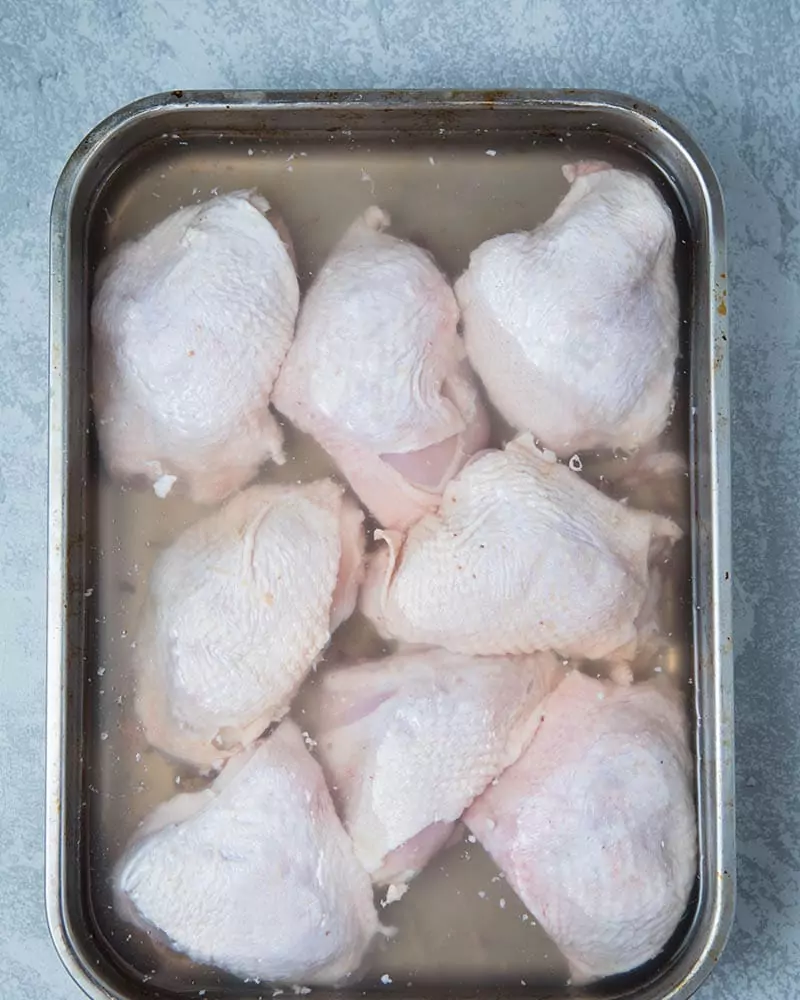 When you cook chicken in the oven, you do not want it to be too dry. A suitable amount of brine will help you keep the meat moist.
Brine is the mixture of cold water and salt, though some prefer to add sugar, honey, or herbs. To make a brine, you need to dissolve salt in water. Then, submerge your chicken in the brine, and refrigerate for up to 12 hours.
However, with chicken legs, you'd better go for dry brine because it won't soften the skin. So, what you need to do is rub ½ tablespoon of salt per side. Then refrigerate the meat for 30 to 60 minutes.
Marinate The Chicken Well
Prepare the marinade and seasonings based on your recipes. A basic marinade recipe includes olive oil, black pepper, garlic powder, onion powder, among other things. You should rub the marinade on all sides of the meat evenly.
You can also try putting all of the seasonings and the meat into a resealable bag, then toss until the marinade coats the chicken.
After seasonings, you can start baking the meat instantly. However, depending on which recipe you use, let your chicken have time to absorb the seasonings well. Chicken can be marinated in the refrigerator for no more than 2 days, though the ideal time is about 12 – 24 hours.
But, you can only marinate the meat for up to 2 hours at room temperature. Do not risk keeping it longer because bacteria can grow quickly in the 'danger zone' (40℉ – 140℉).
Enrich The Chicken Legs With Herbs
Baking chicken with herbs gives your meat a surprisingly amazing smell. You can consider adding some herbs when you marinate the meat.
People normally prefer dried herbs rather than fresh herbs. For 1 lb chicken legs, you should add about ¼ to ½ teaspoon of dried herbs since they usually have strong flavors.
But if fresh herbs are more accessible to you, go for them. Their freshness can add a nice touch to your chicken. Anyway, you need to increase the amount by 3 times compared to dried herbs.
Here are some common herbs to bake with chicken:
Rosemary
Cilantro
Dill
Tarragon
Parsley
Line The Baking Pan With Aluminum Foil/ Parchment Paper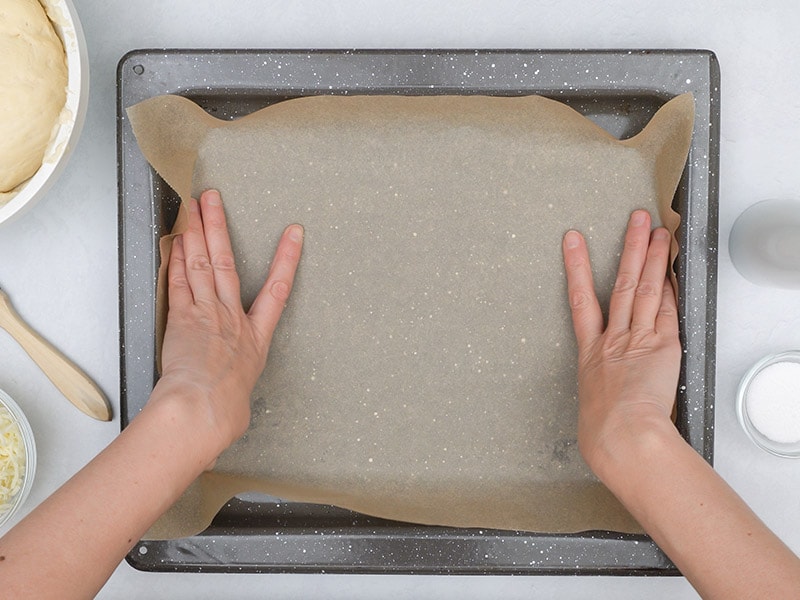 Instead of placing the chicken right on the baking pan, you can line it with foil first. This will avoid meat sticking on the pan and help with cleaning up later.
Just a reminder that the food can stick to the foil, so you may need to spray non-stick cooking spray on it. But, parchment paper is non-stick, so you do not need to spray anything if you use it.
Use Baking Rack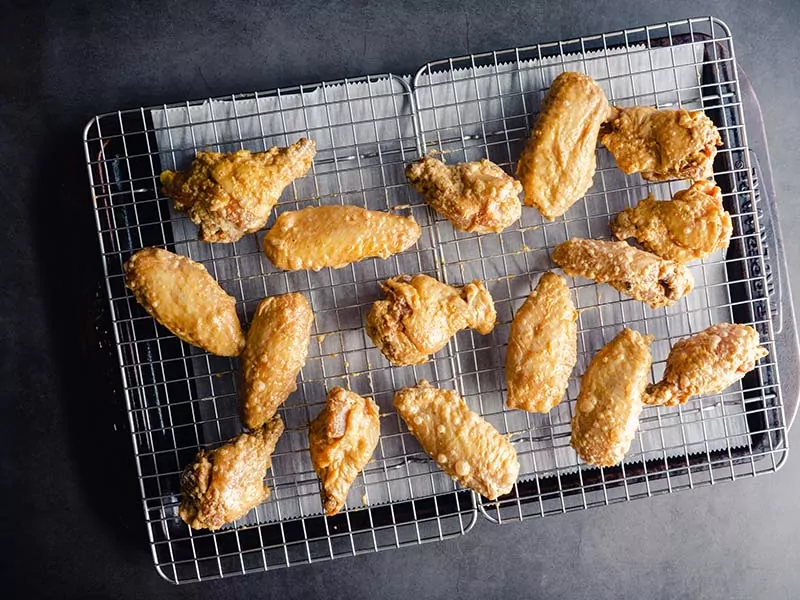 One more tip is to use a baking rack. You place the rack on the pan first before putting chicken meat on the rack. A baking rack boosts the air circulation, so your meat is cooked more evenly.
Moreover, the baking rack is one of the best methods to avoid overbaking. If you just place the food on the baking dish, the heated dish surface will keep cooking the food even after taking it out of the oven. That may result in overbaking for the bottom layer.
On the other hand, the air can reach the bottom of the rack easily, which stops the heat from overdoing the food.
Yummy Chicken Leg Recipes You Want To Try
Have you decided which recipes to cook your chicken legs with? Before making up your mind, why don't you check out these amazing chicken legs recipes?
This is a simple but delicious recipe you should not miss. Just put all of the ingredients in a zip bag to marinade well. Then bake it and you have excellent oven-baked chicken legs. The flavor will not let you down.
This is a good and simple recipe for chicken drumsticks.
Imagine a combination of chicken legs, fresh garlic, and tender potatoes; don't you want to try it out now? It is a wonderful chicken recipe to serve in the summer. This dish is easy to cook and perfect for dinner.
Honey with chicken, why not? Honey gives your drumsticks a beautiful brown color and sweet flavor. Another plus is the marinating time in this recipe is flexibility. You can serve this dish with many side dishes, from rice to potato salad.
Treat your tastebuds with this recipe. Combining lemon, garlic and chicken just brings the flavor to another level. They also provide you with protein and vitamin C. So, the recipe is worth giving a try.
FAQs
Questions about food are unlimited. Keep asking because they will help you find out the best ways to enjoy your meals. Here are some questions about chicken legs you might be curious about.
Now You Know How To Cook Chicken Legs In Oven
I think now you are ready to cook your best chicken legs in the oven. Timing how long to have your meat done at 350℉ is no longer a challenge. You have also learned some tips to level up your chicken legs dishes and things to be aware of.
If you find this article useful, I suggest you share it with your friends and family. If you have any other useful tips, do not hesitate to leave a comment. I would love to read your opinion and experience. Thank you and see you soon!
Nutrition Facts
6 servings per container
---
Amount Per ServingCalories312
% Daily Value *
Total Fat 20g

31

%
Cholesterol 105mg

35

%
Sodium 699mg

30

%
Potassium 290mg

9

%
Total Carbohydrate 1.3g

1

%

Dietary Fiber 0.3g

0

%
Sugars 0.3g

Protein 30.4g

60

%
---
* The % Daily Value tells you how much a nutrient in a serving of food contributes to a daily diet. 2,000 calories a day is used for general nutrition advice.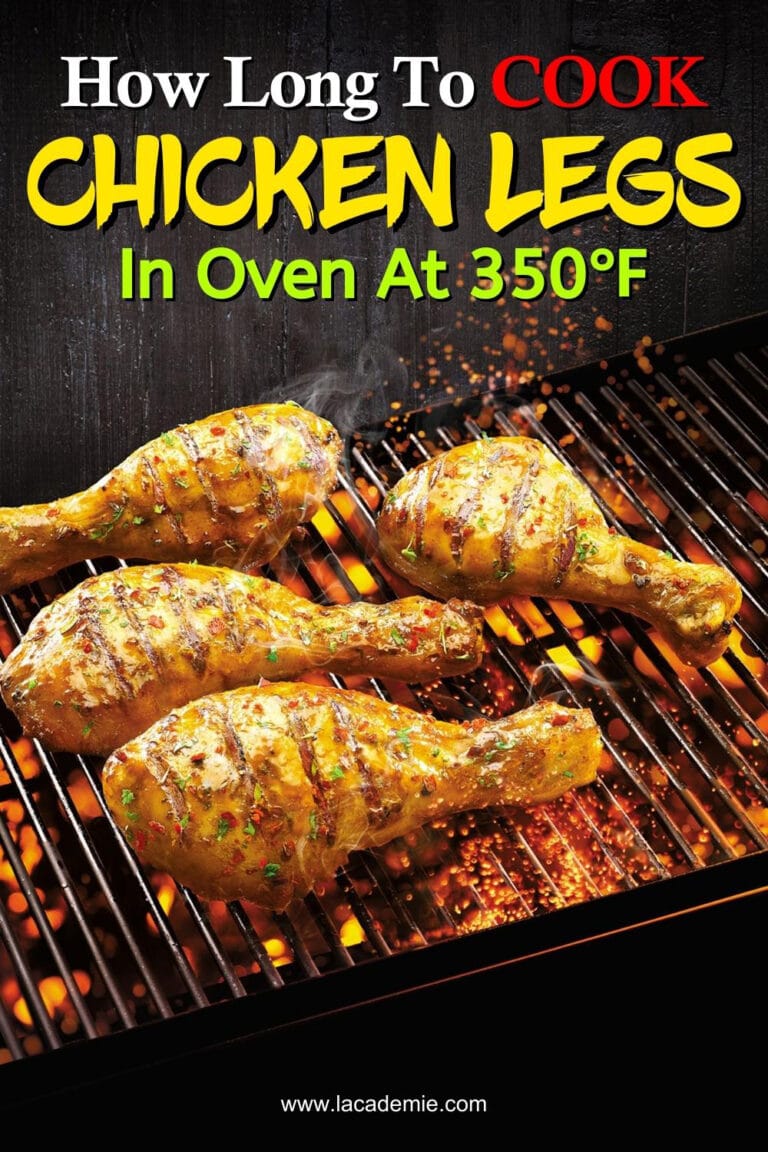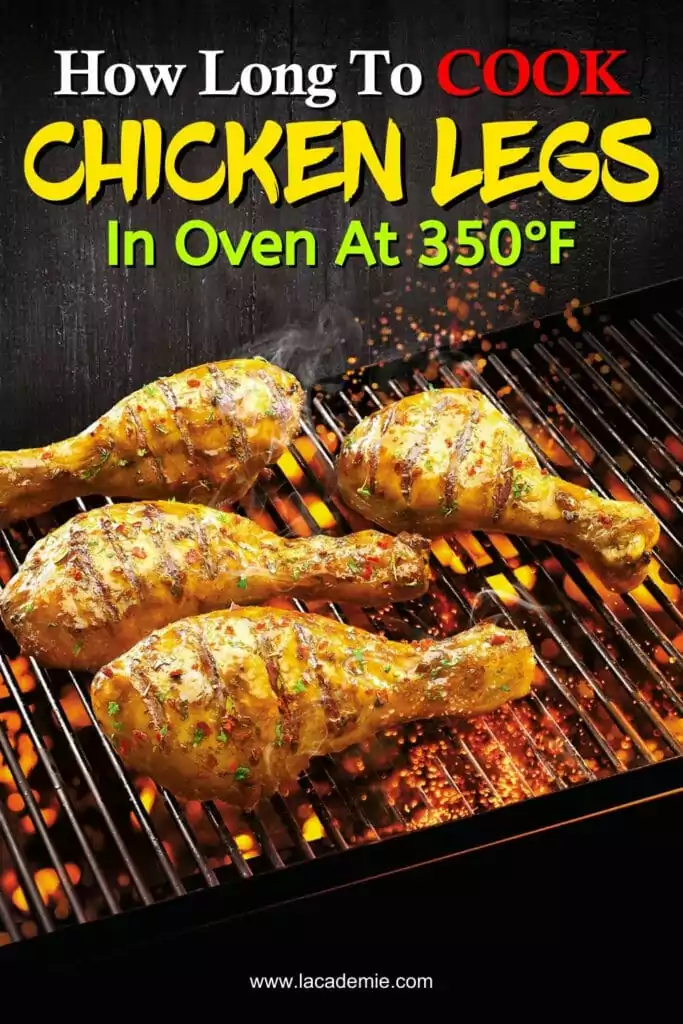 References
Fox News. 2020. Is chicken thigh fat good for you?
fsis.usda.gov. 2019. Chicken from Farm to Table.
Ask.usda.gov. 2019. Can you cook meat or poultry from the frozen state?