Cornish hens' dishes are varied, but what to serve with cornish hens might not be an easy-to-answer question. Sauces, side dishes, appetizers, desserts, many things that need to be chosen, and one minor mistake might ruin your mood.
Don't stress too much; the key is to pick things with subtle, refined, or outstanding, and contrasting flavors yet can complement well with the taste of the chicken.
Since there are many ideas and you are stuck between them, I will help you make your cornish hens dinner remarkable.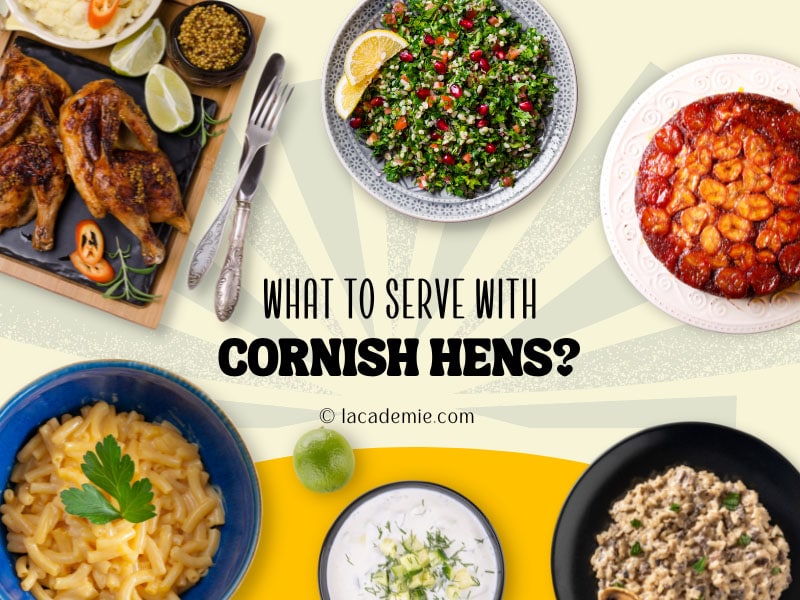 35 Incredible Ideas For Cornish Hens Dinner
Cornish hens are perfect for a weekend dinner when you have time to prepare a huge treat with your family and friends. A Cornish hen is different from a chicken in serveral aspects, one of that being their size.
Moreover, it has a more delicate taste, tender meat, and softer bone than regular chicken and is perfect for serving many dishes.
There are 35 ideas about what to serve in cornish hens' meals, from side dishes, sauces, and desserts. Are you curious why I chose them? Let's scroll down, and I will tell you why.
Pasta is an excellent way to add starch to balance your savory dinner. The bright lemony flavor blends with the warm and spicy garlic; just thinking of it can make my mouth water.
You can make some dishes to accompany your pasta as well. The ideal ones are salads but do not limit your creation as there are hundreds of ideas to serve with pasta excellently.
Moreover, since pasta should be served while still emitting slight steam, you should prepare the dish when it's about mealtime
It's impossible to go wrong with macaroni and cheese! The rich, creamy cheese taste, the starchy, and the pale undertone of macaroni go well with a little salty, meaty flavor of your cornish hens.
Like mushroom rice and risotto, it is just an ideal way to fulfill your taste buds and stomach.
Rice is always a perfect match with savory dishes to help balance the taste and elevate your main dish. You can opt for nutritious brown rice from various brands instead of white rice for healthier treats. It might be higher in price than the regular rice's, but their benefits are numerous.
A must-try dish in Haitian cuisine, mushroom rice shines because of the rich flavors from mushrooms as the various herbs and spices in it. So delicious is mushroom rice that it's a common choice for celebration among the Haitians.
In addition, mushrooms offer a rustic flavor with an attractive, chewy texture. I hope that you'll find this famous member of M-something fruits and veggies group a great dish to go with cornish hens just like I do.
You might find risotto tricky to cook; it takes a long time and requires many skills. Believe me; everything is worth it! Risotto can be a perfect complement for not only chicken but also grills. You will not regret serving it with your hens.
How to cook a perfect risotto you should not miss! Watch this video to know:
Brown rice is a healthier option to adding a starch-based side dish for your cornish hen. Besides the rice, which can be a base, thyme, with its distinct flavor, can pair well with poultry, can elevate your main dish to another level.
If you've had cornish hens before, you'll know that its lip-smacking juice is something no one should miss out on. And what's a better way to savor every last drop of that mouth-watering juice than pairing it with some spongy dinner rolls?
One of the most easy-to-pair vegetables is potatoes, especially with roasted recipes. This red potato is worth every minute of preparation. Crispy edges, tender in the middle, beautiful redskins, and the good mixes of spices can blow your mind.
Tip: You can add fresh rosemary and garlic into your recipe if you like; they are the best combination ever!
Sweet potatoes can also become a delicious side dish for your meal. Not only bringing a similar caramelized exterior and interior texture to potatoes, but sweet potatoes can also bring a pleasant starchy sweetness. A perfect side dish!
Moreover, you can use this ingredient to make main dishes or desserts too, even from the leftovers. You are not hearing wrong! Leftover sweet potato treats are varied and delicious like they are freshly made. With a little twist by combining other ingredients, nothing is impossible.
Consider this scalloped potato recipe if you are not a fan of roasted potatoes going along with the chicken. It's the extra creamy option, created by a mixture of finely sliced potatoes and creamy milk sauce.
And with a pinch of salt and pepper, this dish sings with a symphony of flavors. This combination might keep your diners sitting at the table until the end.
Tip: Additional cheese cannot go wrong with this dish. A cheese lover like me can not resist putting cheese on every creamy sauce, and it makes sense.
When it comes to Brussel sprouts, it will remind you of its signature bitterness. You might hesitate a bit, but don't worry, it goes well with poultry dishes thanks to its nutty and earthy taste.
Top your roasted Brussel sprouts with some freshly grated parmesan cheese, and a touch of citrusy lemon juice will make it an ideal side dish for your cornish hens.
Step-by-step instruction to get a scrumptious plate of roasted Brussel sprouts, let's watch this video:
Sauté is a suitable cooking method to retain the freshness of your food. And an important tool to do it is a sturdy and durable saute pan. They come in various sizes and materials, so choose a suitable one that meets your requirements and budget.
The first sautéed dish I want to recommend to you today is broccolini. It does not bring bitterness like broccoli; the vegetable sweetness and earthiness can please your palates.
Mushrooms can also be an excellent vegetable to be sautéed since they will infuse more flavor in the cooking process. And sautéed mushrooms can bring a delicate feeling to any meat, including cornish hens. So, let's serve them together.
You might be more familiar with fresh kale to make smoothies or salad, but it actually tastes well in sautéeds, especially with garlic. Kale leaves will be softer and absorb more flavor from the spices, and the pungency kick from the garlic makes the dish taste robust.
I Iove the crunchiness and sweetness that carrots bring in every dishes and it will pair well with the saltiness of your cornish hens. That's why I want to suggest to you the glazed carrots. Their flavors blend well and enhance the quality of the whole meal.
Easy, quick, flavorful, and not overpowering your cornish hens, corn on the cob can be one of the most suitable side dishes for it. On the other hand, the feeling of gnawing on a sweet corn cob that is mixed with assorted flavors is also gratifying.
Sometimes there's no need to overdo your side dish; a simple option might also work well. Refreshing your taste with steamed vegetables with butter can help you thoroughly enjoy the main dish's deliciousness.
You can have many options for butter for this dish; choose either garlic butter or lime butter will also taste great.
Some people might think green beans have a bland taste, but I don't think so. It's just perfect in a natural way. I love the vegetable crunchiness and sweetness of this vegetable and want to retain it for my suggested cornish hens' side dishes list.
On the other hand, these roasted green beans are also a perfect dish for pairing with your brisket dinner. They will upgrade your meal into a new level of goodness, I promise!
This recipe brings an excellent appetizer to your cornish hens' meal, and everyone will love it. Remember to let your "golden rings" wait for a couple of minutes before serving. It will give your onion rings the perfect crunchiness you wish for.
Nutty, sweet, and delicious are all the adjectives that I can use to describe the taste of butternut squash. This luscious recipe is so easy to make, and just the smell is enough to make you want to delve into it immediately. Trust me; you should put it beside your hens!
This is a dish that will take you quite a bit of preparation and a lot of time to get it on the plate. Of course, patience will bring outstanding results. This eggplant parmesan is well worth the effort because every piece on the plate is a work of art.
Imagine the beautiful crusted eggplant with layers of tomato sauce and mozzarella that makes my mouth water. This dish is hearty and flavorful enough to be the main course, but it still goes well as a side dish for your cornish hen.
Your eggplant dish will not be that complicated if you watch this instruction!
Salads are always perfect side dishes for savory main courses since they can give a refreshing taste from the raw vegetables. With this escarole salad recipe, you can add some bacon, bread crumbs, and blue cheese for flavorful toppings.
I highly suggest blue cheese because I love its exotic taste and spiciness.
Arugula and radish are famous for their intense, mildly spicy taste, making this combination an ideal appetizer. Don't forget feta cheese here! It is the main point to elevate this salad with its tangy and salty flavor.
In thousands of cooking ideas with basil, I always choose this salad recipe. You can prepare this salad within roughly 30 minutes, and the result is phenomenal. Make sure to have all the layers of tomatoes, basil, mozzarella, and the balsamic glaze in one bite. Stunning!
You can also save the balsamic glaze in the airtight containers in the fridge for 2 weeks. So, don't hesitate to try this Salad Caprese recipe!
This salad brings the Mediterranean feeling with many tropical fruits as ingredients. The sweet navel oranges and the taste of pomegranate with a lift of fresh herbs, simple yet elegant salad like this are perfect to be a side dish for your savory.
Lentils are easy-paired legumes that can be mixed with many things. Same goes for barley, its chewy and nutty texture can combine with the peppery, earthy, and sweet of mixed lentils to become an ideal salad next to your hens.
This creamy coleslaw might be the easiest salad to prepare on this list, and you might have already known how to make a bowl of it. This is the famous side dish in any fried chicken store worldwide because its simplicity efficiently enhances the chicken taste.
Also, they are the perfect solution to go with hamburger helper meals. Though creamy coleslaw is not the new idea in side dishes, their deliciousness is unquestionable.
And the recipe I share with you is to remake the best version of the restaurant's coleslaw salad. It will be a pity if you overlook this!
If you haven't had an idea for your cornish hens' sauce, you can consider some of mine here. The first sauce in this list is the summer-y, lemony, herby, and aromatic lemon herb sauce. It is perfect for steak, grills, pasta, and your chicken.
You can replace mayonnaise or hollandaise after trying this once.
Creamy mustard sauce, the heavy cream mixed with the sharp spice of mustard, can lift the taste of any fish, pork, ham, vegetables, and of course, poultry dish.
Having only a few simple ingredients, and you can prepare it in 5 minutes, this sauce is perfect to pair with your cornish game hens.
I love the oaky flavor of the whisky in this sauce, and that is how this sauce pairs well with any meat, not only cornish hens. All the goodness combined in one veal can enhance every ingredient on your plate.
With only 2 minutes, you will have a milky sauce for your meat; let's try it now!
The sourness of cranberry fits so well with turkey and cornish hens. As it has a significant tart taste, you can either add sugar, orange juice, or any other fruits with high sugar content to tune it out. Though, nothing can compare with the classic.
Don't worry if your sauce might be too tart and overpower the taste of cornish hens. They indeed accompany each other wonderfully.
I admit I am a mushroom enthusiast, but I promise I am not imposing my personal favorites on you since it is genuinely superb. You can prepare this versatile, creamy mushroom sauce fresh and hot within 35 minutes before serving your chicken.
Whiskey or bourbon are spirits with high alcohol content and distinctive strong taste, so they are suitable as a sauce or glaze for protein-rich dishes.
You can make it at home with very simple ingredients like pineapples for a fruity taste, brown sugar for a more excellent color, and keep them in the refrigerator for up to a week. Easy peasy!
Tip: If you accidentally make it too thick, you can add in some drops of water, and it will fix everything.
Don't mistake me for an alcoholic. It's because wine and meat are such faithful ​partners. The acidic tang and sweetness of wine can enlighten the salty, fatty, and meaty cornish hens.
Grand Marnier can make a phenomenal sauce, excellent for chicken and pork, beef, and some variants can pair with sweets, too.
A sweet-salty caramel cake is an excellent way to end a cornish hens' dinner. With this caramel apple upside-down cake, the apple can contribute the fresh, crunchy, and sweet-tart flavor and become a lovely, memorable end.
The last dish on this list, I would recommend a signature Southern corn pudding. This simple and easy-make recipe with creamy custard and sweetness from corn is perfect to end a savory meal.
Tips: You can add some lemon thyme to the mixture before baking. It lends a remarkable citrusy taste to your pudding. A scoop of vanilla ice cream as a topping can make your dessert better.
Bon Appétit! I hope That You Have A Memorable Dinner
Now you have 35 great answers for the question "What to serve with cornish hens," and each of them is worth your trying.
A family meal is always important to you and me, and it helps to connect every member of the family. Good food will also contribute a sense of happiness into the atmosphere and can be an excellent memory to remember.
I hope that with my suggestions above, I can help you with that. If you have tried those recipes and have any experience to share, feel free to comment below. That will be a significant contribution!
Nutrition Facts
4 servings per container
---
Amount Per ServingCalories55
% Daily Value *
Total Fat 2.5g

4

%
Sodium 124mg

6

%
Potassium 237mg

7

%
Total Carbohydrate 8.1g

3

%

Dietary Fiber 3.9g

12

%
Sugars 1.6g

Protein 2.1g

4

%
---
* The % Daily Value tells you how much a nutrient in a serving of food contributes to a daily diet. 2,000 calories a day is used for general nutrition advice.