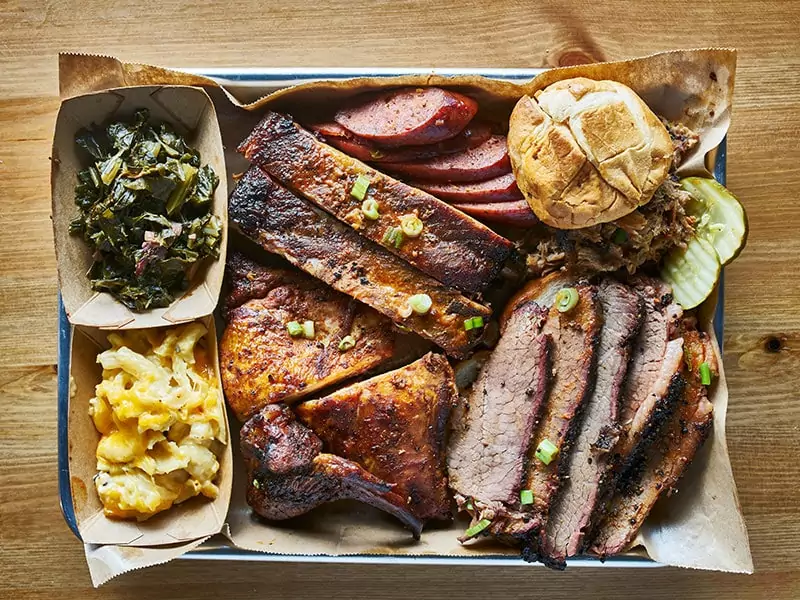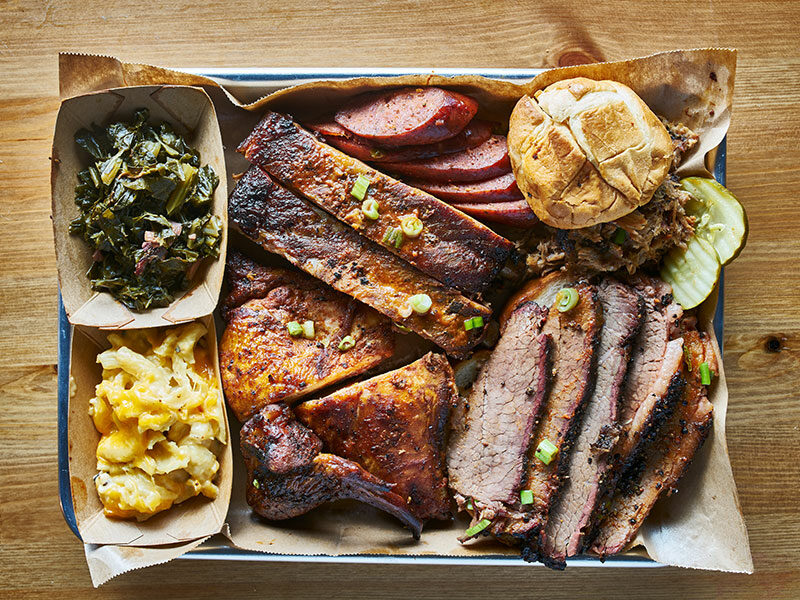 Brisket is one of the top favorites from family meals to barbeque parties, and figuring out what to serve with brisket is an important task. Although brisket is delicious, just brisket is not enough to create a hearty meal.
You need to add some interesting side dishes. Not only does it make brisket less greasy, but it also adds a sense of fun, neutralizes flavors, and adds nutrition.
Therefore, here are some side dishes that are easy to prepare and make at home to go with brisket. Of course, all your guests will have to compliment your fine dining when you add these side dishes to the menu!
What To Serve With Brisket: List Of 28 Ultimate Side Dishes
Before getting into the main part, let's take a look at 28 amazing side dishes to serve with brisket that I will show you today. Your BBQ party will be much better with these compliments. Let's find out which dishes I have for you!
Potato Side Dishes
Scalloped Potatoes
Potato Salad
Roasted Sweet Potatoes
Mashed Potato
Grilled Potato Skins
Corn Side Dishes
Corn Pudding
Corn on the Cob
Creamed Corn
Vegetable Side Dishes
Creamy Broccoli Salad
Coleslaw
Brussels Sprouts
Steamed Asparagus
Roasted Veggies
Sweet Peppers
Green Beans
Mix Vegetables
Vinagrete
Carrots
Baked Beans
Fried Green Tomatoes
Other Side Dishes
Macaroni and Cheese
Dinner Rolls
Pull-Apart Challah Rolls
French Onion Soup
Beer Batter Hush Puppies
Grilled peaches
Creamy Pasta Salad
Macaroni Salad
What Is A Brisket?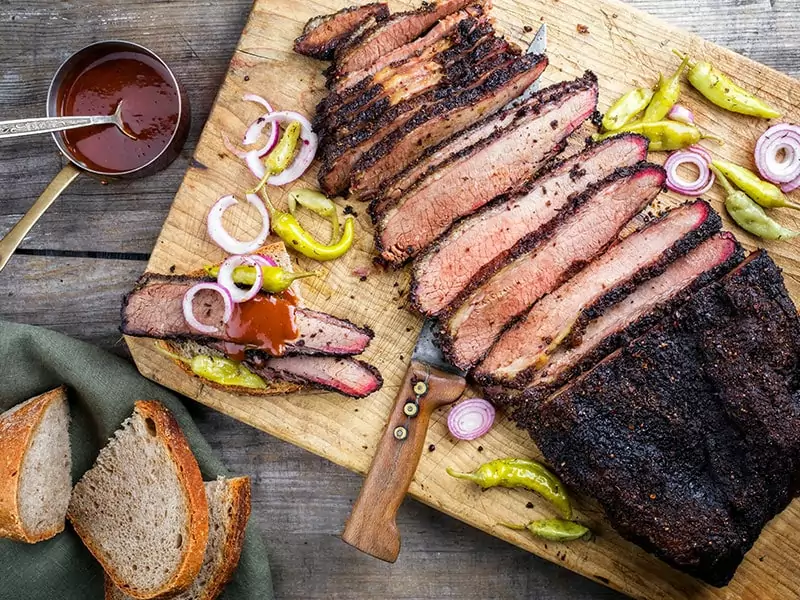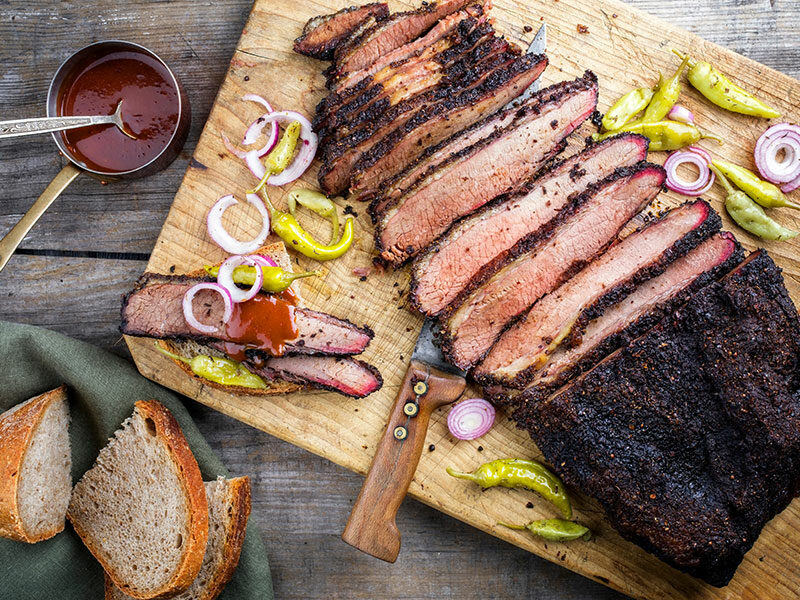 To know which side dishes will go well with brisket, you should understand the characteristics of brisket. Brisket is a beef cut from the cow's lower breast or pectoralis muscle (1). Since this area gets many exercises, it creates a pretty tough piece of meat filled with connective tissue.
This is why brisket is best suited to a thorough cooking process, usually in the oven and in the slow cooker over low heat. Brisket can create many different dishes, most commonly smoked brisket, braised dishes, and more.
When grilled or smoked, brisket is smoky, crispy, rich, and aromatic with a chewier texture than beef. It also carries the rich flavor of the marinade used. Knowing this, you can choose side dishes with the right texture and flavor to make a great addition to the brisket.
28 Amazing Side Dishes To Serve With Brisket
Now is the time to look into the details of 28 tasty side dishes to serve in your brisket party. I divide them into five groups for you to easily pick up your favorites:
5 Tasty Potato Side Dishes You Should Try
In traditional Jewish cuisine, potatoes are often served with brisket. You think too many potatoes will cause boredom? Never. Let's find out some great potato recipes that will never let you down:
Potatoes are a great accompaniment to almost any other dish, and brisket is one of them. And the best way to prepare potatoes for brisket is scalloped potatoes.
Thinly sliced ​​potato slices will keep you and your diners from getting bored eating them with brisket. Moreover, the smoky flavor blends with cream, butter, and cheese, making it all too reasonable to enhance the flavor of brisket in any case.
Scalloped potatoes are also relatively easy to make, especially if you have a useful vegetable chopper. This way, you can cut these potatoes into thin slices with an uniform size.
If you find the brisket taste a bit boring, try providing a stark contrast. Potato salad is a breath of fresh air in both flavor and texture, making it a great choice to pair with brisket. One plus point is that you can freeze your potato salad and eat it gradually.
This traditional potato salad can be customized your own way. For example, you can enhance its flavor with mayo and mustard. You can also create the perfect creamy potato salad by combining hard-boiled eggs, carrots, green peas, and pickles.
Health should come first, and you should take every opportunity to add a healthy and nutritious addition to your brisket menu. Roasted potatoes will help you do just that with both perfect texture and flavor.
You can peel off the skin or roast the whole potato if you want. It creates a little more interesting texture! Then, add some garlic scents and put them in the oven.
This is an even better addition to your fancy brisket with a little maple syrup. The wonderful sweetness plus the royal color and crispness of roasted potatoes will blend irresistibly with your brisket.
If you're tired of brisket's greasiness, let mashed potatoes rebalance your tasty brisket. Since it's not too oily, mashed potatoes are the perfect choice for both kids and adults to go with brisket.
You can use a fork or spoon to mash the potatoes. To make your mashed potatoes thicker and creamier, mix them with milk or heated chicken broth. However, don't add too much milk or chicken broth. It will make your mashed potatoes crumble!
To enjoy mashed potato as an accompaniment to brisket, simply add a pinch of salt, pepper, or butter if you'd like a little more flavor. Eating hot will bring out the best flavor, so try to use it as soon as you're done.
Grilled potato skins are a very delicious side dish when mixed with brisket. The taste of grilled potato skin with rich brisket and rich cheese will be wonderful.
This dish is also very beautiful with a unique layout when taking advantage of the grilled potato skin. This dish is guaranteed to be delicious and strange. How wonderful it is to receive guests with a luxurious dining table.
3 Amazing Corn Side Dish Recipes For Your Choice
Corn recipes are the other great choices to try with brisket. They are a counterpart of another that complement each other wonderfully:
Corn pudding has a fairly simple cooking method. You can even use canned corn to make this dish. With just a little time, you have a delicious corn pudding to cool down a summer day. You can cook corn pudding for the whole family to give a new frugal flavor to brisket.
Corn pudding has a suppleness, mixed with the sweetness and aroma of fresh corn. Either way, corn pudding is a delicious and easy side dish that goes great with brisket.
Another great thing about this dish is that you can keep it in the refrigerator and use it gradually in 1 to 2 days without affecting its quality when used.
Corn on the cob is an easy dish to make and is loved by many people. The medium-ripe corn is soft, sweet, fragrant, and beautiful, making it suitable for eating with brisket. The first is the rich flavor of the barbecue, then an extra bite of corn and chewing together creates a wonderful effect.
Furthermore, corn is a food known for its health benefits. Besides, with this type of food, you can easily prepare various delicious and rich dishes.
Hot corn cobs, spread with a little butter, crumbled cheese, or glossy onion fat, will spread the attractive aroma when enjoying. The sweetness of corn blends with the rich flavor of brisket will create a feeling that couldn't be more perfect.
Creamed corn is the perfect side dish recipe to serve with brisket. This dish gives you the comforting sensation of brisket mingling with soft sweet corn kernels in a velvety and creamy sauce.
The creamed corn recipe isn't difficult either, so you don't need to use canned cream corn if you want a more natural flavor. Instead, this easy recipe uses fresh ingredients you probably already have on hand to create the most delicious dish.
The best part about this recipe is that it's ready from start to finish in less than 15 minutes. I guarantee you you will never want to eat canned corn again after making this so delicious!
You will find out the ultimate way to make a cream corn like no other! You can see this video to know more:
12 Amazing Vegetable Side Dishes to Enhance Brisket's Flavor
Of course, a brisket BBQ party cannot be fulfilled without delicious salads prepared beforehand. The variety and freshness of vegetables will help balance the greasy taste of the brisket:
The chewy brisket is indispensable for a crunchy addition. Creamy broccoli salad is exactly a great side dish to this complement. Adding a crunchy texture to the table will add a splash of fun to your meal.
In particular, this is also a way to supplement vegetables for young guests. The creaminess of the cream overwhelms the sensation of broccoli and complements the spice of the brisket. What a perfect combination!
An extremely easy side dish to serve with brisket is coleslaw. No-fuss, no waste of time! It only takes you 5 minutes to prepare, and it will give your brisket a boost in flavor.
Why? Coleslaws with the crispiness of cabbage and carrots and the aromatic and sweet taste will be a wonderful blend with the softness and fat of brisket. No couple is more perfect than this couple.
And speaking of the process of making this dish, it's super easy! You can use any sauce you like, whether it's mayo, cream sauce, or apple cider vinegar. Coleslaw paired with your favorite veggies will always please the whole family.
These brussels sprouts look like tiny cabbages with a crisp, cool taste that goes well with the smoke and softness of brisket. Brussels sprouts will taste better when cooked just right. Roasted may be the best cooking method.
Brussels sprouts are also delicious when roasted in the oven, helping to neutralize high-protein dishes like brisket. In fact, brussels sprouts are also a portion of very healthy brain food.
Moreover, it helps lower cholesterol and has anti-inflammatory, folic acid, and antioxidant properties. You just need to pay attention that if the brussels sprouts are overcooked, they will be too soft and turn out bitter.
Are you feeling the need for something green and healthy to mix with spicy brisket? Then there's nothing better than steamed asparagus! Steamed asparagus mixed with brisket sauce will increase the richness and enhance the delicious flavor of the dish.
Everyone knows the great values ​​and uses of asparagus for health. Asparagus contains many nutrients, such as trace elements necessary for the body. Especially asparagus contains many vitamins such as A, C, and K.
This is a great suggestion to add green vegetables to your nutritional menu. You just need to pay attention that whether boiled or steamed, you also need to act quickly, do not cook for too long. It will cause the vegetables to be crushed, lose their crispness and sweetness.
You will know exactly how to steam your asparagus properly through this instruction!
There are many interesting side dishes to serve with roasted vegetables and vice versa, and brisket is one of them. Roasted vegetables are not only delicious. Not only will your brisket party be richer, but they also have the effect of supporting better digestion.
Roasted vegetables contain a huge amount of vitamins and do not contain a bit of fat, so it is also good for the diet. Moreover, the vegetables are roasted flagrantly, so mothers can help their children eat vegetables easily without getting bored as quickly as ordinary boiled vegetables.
You can grill your favorite vegetables to serve with brisket. They are all fresh, rich in nutrients, perfect for enhancing flavor when mixed with brisket sauce.
You know, brisket and sweet peppers are really made for each other, especially when it comes to grilling them. The cool sweetness of mini stuffed peppers makes the brisket flavor even more prominent.
Moreover, grilled meat with oil or butter will be less greasy when eaten with this veggie, making the food even more delicious. Not only that, the colors red, yellow, and orange look very eye-catching, stimulating our tasty brisket more.
Green beans are a very healthy dish, but you often miss them. In fact, no matter what the main dish is, stir-fried green beans are always a great and healthy accompaniment.
To turn green beans into a delicious dish to serve with brisket, simply add a little olive oil, a pinch of garlic, and parmesan cheese and fry them. If you still feel inadequate, perhaps a little spice like chili powder or curry will satisfy you.
Get yourself the most delicious green bean recipe for a healthy dinner now! You can see this video to know more:
If you are a busy person and do not have enough time to prepare elaborate side dishes to eat with brisket, then try this salad right away. This dish retains the highest natural nutrition of green vegetables and is very easy to prepare.
You can mix salads or add many toppings to create a mixed vegetable mix such as tomatoes, carrots, cucumbers, cabbage, etc., any vegetables you like. The freshness of the vegetables will balance out the flavor of the brisket for a perfect meal.
You may feel this Tomato Slaw, also known as Vinagrete, is quite strange. But I assure you this pleasant Brazilian accompaniment will bring a breath of fresh air to your barbecue party. If you are going to make brisket today, don't pass this dish up.
To make the flavor especially great when paired with brisket, even more, you should add some chili powder and cumin. You should also note that Brazilian tomato slaw should be prepared a few hours in advance so that all the spices blend together.
Carrots are fresh foods with high nutritional content that are not expensive, so they have become the choice of many family meals. Roasted carrot has a very pleasant sweet taste, so if combined with brisket, it will be irresistible.
Carrots are vegetables with a very high vitamin A content due to beta carotene content. It is also very rich in nutrients, protein, lipid, glucose, fiber elements, and other vitamins. Also, the possibilities of carrots going bad are rather low as these tubers can last for a very long time.
To serve with brisket, roasted carrots are one way you can choose if you do not have much time to cook. The sweetness of the carrots will become blended with the rich flavor of the brisket and its sauce. The number of vitamins and minerals will also be retained, ensuring your body can absorb them quickly.
Baked beans is a traditional dish that you have ever tried. This is a great pairing with brisket as it has a sweet, smoky flavor similar to brisket.
You can use canned baked beans or make your own by boiling the white beans and then baking at low heat for a long time with your favorite sauce, such as tomato sauce. Sour and some spices.
Imagine how your baked beans blended with molasses barbecue sauce, ketchup, peppers, and onions will make your brisket delicious!
You can refer to this tutorial video to make your best version of baked beans!
Again, a crunchy texture would be great to complement the brisket. Green tomatoes wrapped in the deep-fried dough will bring you a hearty meal.
The fried green tomatoes recipe uses green tomatoes, which means the unripe ones. This tomato will be less sweet and firmer than a ripe tomato. Their taste is milder, so it is very suitable to combine with flour.
A tip for you to fry more crispy and create a lighter texture is to use all-purpose flour instead of heavy flours like whole grain flour. In addition, you can add buttermilk to create a delicious taste or simply add milk.
8 Other Ideas To Serve As A Side Dishes
Besides those above suggestions, there are some other wonderful side dishes to serve with brisket you should take a look at. They will enhance your taste and make you satisfied:
Macaroni and cheese is an attractive dish from England. It's great to combine brisket with the rich cheese sauce that wraps around each boiled macaroni, barely cooked and still squishy.
Macaroni and cheese look so complicated, but there are many ways to prepare it that are not as sophisticated as you think. You can make this dish simply with the tasty cheddar and add some fresh shrimp and broccoli for extra crunch.
Crispy breadcrumbs are also a great highlight. You can absolutely add any vegetables or meat you like, and you can even combine different cheeses to create your own unique Mac and cheese flavors to combine with brisket.
Find your easy homemade mac and cheese recipe for a wonderful dinner! You can see this video to know more:
Why dinner rolls? By nature, brisket is a dish with a rich sauce, so the perfect combination for it would be a dish that can soak up the sauce and melt in your mouth with every bite. Well, and you've got your answer!
A few dinner rolls will help you take advantage of all the sauces in your brisket and give you a complete meal with complete nutrition. These pretty dinner rolls can also be served with jam, cheese, and sausage, and the kids will love it.
Pull-apart challah rolls are characterized by being soft, eggy, and buttery. It would make a delicious accompaniment to any dish with a sauce because of its absorbency, such as brisket. It will also make for a hearty feast with complete nutrition.
You can bake pull-apart challah rolls easily in a regular baking dish. Pull-apart means you can delightfully tear and pull rolls and enjoy them with your blended brisket sauce.
If you love the culinary style and want to breathe a new life into your brisket party, don't hesitate to try this fascinating and enchanting appetizer. A soup will make your brisket less greasy and more enjoyable.
French onion soup is an appetizer served with a toast at most traditional French parties. With the main ingredients being beef broth and simmered onions, this soup not only stimulates the tasty brisket but is also very delicious, nutritious, and rich in fiber.
The attractive flavor of beef broth and caramelized onions blended, served with toast and cheese, gives people a great culinary experience to serve in a brisket party.
This ultimate tutorial will help you make your French onion soup successfully! You can see this video to know more:
Beer mixed with flour makes hush puppies crispy and light in texture. The beautiful golden color plus the softness inside make this dish so enjoyable. Imagine eating them with brisket. The harmony is irresistible!
This is also an easy dish to make. You have the option of using a lighter beer or a stronger beer according to the flavor you desire. To spice up these hush puppies, season them with peppers and onions for a different eating experience.
These grilled peaches are easy to eat, taste like jam, and are very delicious. The sweet taste of grilled peaches would be great to pair with brisket.
Peach is combined with brown sugar and rosemary leaves, grilled to fragrant in the kitchen corner, ensuring you will not refuse this dish.
There is a way to increase the attractiveness of the dish even more, which is to serve it with vanilla ice cream. In addition, butter and honey would also make a delicious and delicious recipe for grilled peaches to serve with this brisket.
What could be better than pairing warm smoked brisket with a cold pasta salad! The spices in this salad make the perfect addition to the brisket. This side dish will fill your dining table with nutrition and happiness.
With this pasta salad, you can serve at BBQ parties with sandwiches or spicy Mexican burgers. The shredded cheeseburger bar will also be the perfect choice to serve on our table. Using paprika peppers creates a beautiful color for the dishes and creates a special flavor.
Macaroni salad is an extremely easy dish to make, easy to eat, quick, and suitable for many occasions. Cucumbers, onions, and cold cuts are indispensable ingredients. It's also not a bad idea to consider the possibility of freezing macaroni salad to stock up on some of this tasty dish.
For seasoning, you can add mayonnaise and a little pepper and mix well. You can increase or decrease the seasoning to your liking. If you want to make the dish more special, a little BBQ sauce will be an interesting choice.
Let's Make Some Brisket's Side Dishes!
Now you know almost any delicious dish to serve with brisket. You can, of course, combine them together or create a whole new side dish of your own with this inspiration.
Now that you have your brisket, what are you waiting for? Let's start preparing a favorite side dish to enjoy! I am sure you will love it. And don't forget to share these delicious suggestions with friends and family.
Nutrition Facts
8 servings per container
---
Amount Per ServingCalories392
% Daily Value *
Total Fat 22.4g

34

%
Cholesterol 91mg

31

%
Sodium 664mg

28

%
Potassium 159mg

5

%
Total Carbohydrate 44.1g

15

%

Dietary Fiber 4.3g

16

%
Sugars 14.3g

Protein 7g

15

%
---
Calcium

62

%
Iron

2

%
Vitamin D

12

%
* The % Daily Value tells you how much a nutrient in a serving of food contributes to a daily diet. 2,000 calories a day is used for general nutrition advice.