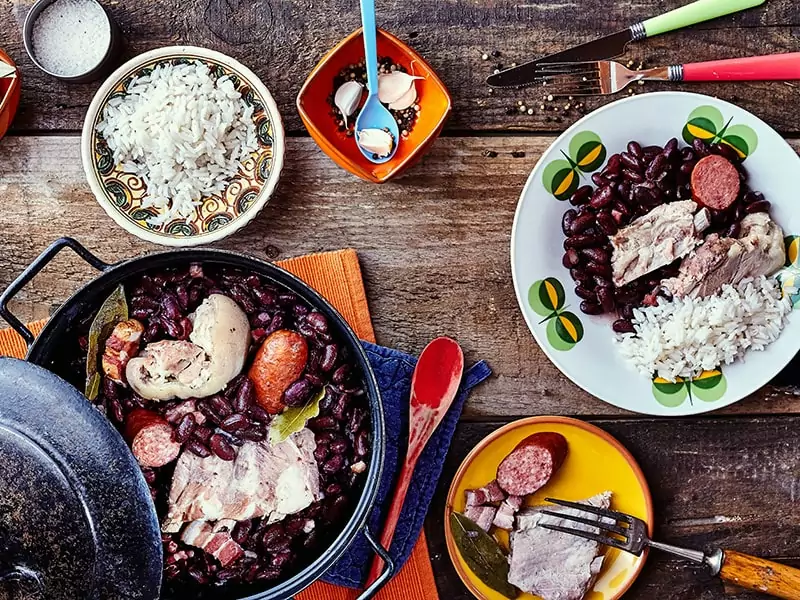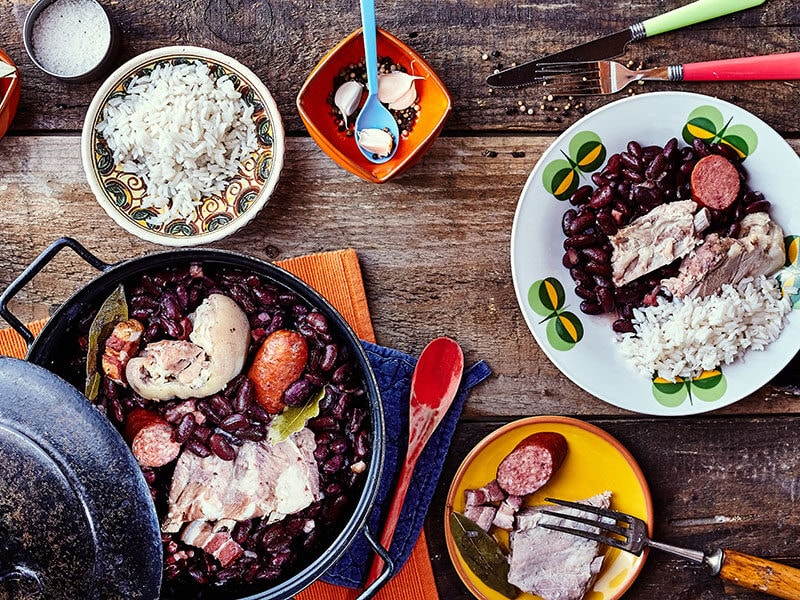 Finding a suitable Brazilian side dish to accompany other dishes in your meals makes your meals more delightful and insane. And wrong side dishes will cause boredom. Your family members or your guests will experience your meals without excitement and satisfaction.
An appropriate combination of main and side dishes can raise your meal to a new level of deliciousness of our whole meals.
My article below will help you find out the most common, delicious, attractive, but easiest Brazilian side dish to cook and serve in your meals. Let's go together!
What Are The Most Incredible Brazilian Side Dishes?
Go through the list below to know some stunning but easy-making Brazilian side dishes.
Brazilian Vinaigrette Salsa
Herbed Couscous
Salted Cod Salad
Tropeiro Beans
Deep-Fried Bananas
Brazilian Cheese Bread
Brazilian Collard Greens
Brazilian Rice
Brazilian Potato Salad
Brazilian Chicken Salad
Brazilian Refried Beans
Brazilian Leeks
Brazilian Grilled Pineapple
Brazilian Chickpeas And Rice
Brazilian Sweet Potato Salad
Brazilian Hearts Of Palm Salad
Farofa
Brazilian Shrimp And Okra Gumbo
Top 18 The Best Brazilian Treats To Pair With Your Main Dishes.
Now, it's time for you to take a better grasp of the most wonderful Brazilian recipes that can go with your main dishes and make your meals more attractive and delicious.
I will begin to introduce a Brazilian national dish going with black bean stew or feijoada. Usually, the vinaigrette can go perfectly with grilled chicken, pork or fish, and is a must at a barbecue party.
Besides, the vinaigrette salsa will be a hit if you serve with French rolls because the dish can be simply refreshing due to its incredible and tangy dressing made with olive oil and vinegar.
In spite of its glamour, the Brazilian vinaigrette salsa is so easy to make.
Like many tasty Moroccan accompaniments, couscous is the perfect ingredient in many Brazilian dishes, particularly this recipe.
So if you want something to satisfy your hunger together with your grilled meat, choose herbed couscous to be an accompaniment because it takes you little time to finish the dish, but it is a delightful side dish.
Herbed couscous, as its name, is made with pearl couscous, herbs, garlic, and lemon juice, making it a herby, fresh, tasty, and tangy side dish.
The herbed couscous's pairing possibility is endless, so you can make it to go with just about any main savories.
The final touch of olive oil and lemon juice stimulates the flavor of the whole dish and makes you feel a sense of satisfaction when you enjoy it.
Specially, you can eat the dish hot or cold, which makes it an ideal choice to bring to gatherings, barbecue parties, or picnics
When it comes to Brazilian side dishes, you mustn't miss salted cod salad because the salad is a light point in your meals when it is made with a great combo of mild saltiness stemmed from the fish and the sweetness from the magic mixture of tomatoes, olive oil, and onions.
The main ingredient is salted cod, but the dish isn't as salty and fishy as you think because the preparation period removes the right amount of salt from the fish.
You can match the salted cod salad with crispy coconut fry bread and white rice.
What can you do with your Tropeiro beans? This recipe will let you know how to make your beans a hearty and appealing side dish when you combine them with manioc flour, bacon, sausage, collard greens, and meat.
Besides, you can make the dish a complete meal by adding an egg on the top.
Tropeiro beans are traditionally a famous side dish for Brazilian fried pork cracklings and rice.
It's time for you to check the video and follow guidelines to make tropeiro beans:
Gather some bananas, flour, eggs, breadcrumbs together, and then use oil for deep-frying; you'll have banana fritters that can go with various grilled meats, such as steak and eggs and pan-grilled pork chops.
You can also top some ice cream over fried bananas to turn them into a simple but delectable side dish.
On the other hand, if you season your bananas with cinnamon, sugar, and fry them, you just have made a super simple Brazilian dessert. Of course, it will not fail you and your stomach.
Moreover, you can serve deep-fried bananas with pineapple or freshly sliced oranges. I believe that this combination will make you satisfied.
Brazilian cheese bread is cheesy, chewy, and incredibly yummy because it is made with flour, milk, eggs, olive oil, and cheese, creating a stunning addition to almost all meals. This tasty side dish is also a prevalent street delight in Brazil.
To maximize flavor, you can use Brazilia cheese bread with papaya or fruit fam for a perfect breakfast.
These Brazilian cheese bread are easy-making, but they can take you around an hour to finish the dish, so plan to make them one hour or more before eating time.
Another Brazilian side dish is collard greens that are so tasty, healthy, super easy to make even if you are not skillful at cooking.
What you need is to cook thinly sliced collard greens in garlic and olive oil, then add salt and pepper to taste. With these things, you just spend around 15 minutes or less to finish the side dish.
Thus, consider it when you have no time for complicated dishes with a lot of time for preparation and practice.
Traditionally, Brazilian collard greens are a common accompaniment to the Brazilian dish feijoada, but you can also match it with just about any meal.
If you are searching for a side dish to go with almost all the main savories, Brazilian rice must be your choice. You can make your white rice more appealing and delicious by adding it with fried garlic and some salt.
Brazilian rice is fluffy and loose, making it easy to go with soups and grilled meats like chicken, beef, and pork.
The Brazilian cooked rice can be used for many other recipes, such as rice with broccoli, rice cakes, chicken soup, and fried rice.
Another common Brazilian side dish is a potato salad that is full-flavored, warm, tasty, refreshing, and yummy but easy to make.
The potato salad is made from a combination of cubed boiled potatoes, lime juice, mayonnaise, olives, onions, garlic, and fresh herbs.
This potato salad is a perfect food to go with brisket, churrasco or grilled meats and is an excellent idea to serve for outdoor barbecue parties.
In case you love eating eggs, you can top the salad with diced hard-boiled eggs.
One more type of salad you can consider to feed a hungry crow is chicken salad. Usually, chicken salad is served at parties and weddings in Brazil. The combination of salty potatoes, sweet raisins, chicken, corn, carrots, and creamy lime dressing will make a real treat.
To maximize the flavor, dressing the salad with mayo, honey, salt, pepper, and lime juice.
The chicken salad is a perfect idea to pair well with just about grilled meat because the salad can bring you a sense of juiciness, freshness, and tastiness.
Let's try them when you get a chance!
If you are a bean lover, Brazilian refried beans are a must-try. The refried beans with Brazilian style are heavenly, rich, delicious, and very easy to make. Besides, these side dishes made with beans are an excellent source of protein and nutrition.
Brazilian refried beans are made with pureed beans, thickened with cassava flour, bacon, bay leaves, parsley, and some more added essential spices to create a dish with tastiness and attractiveness.
The side dish can be served with fried eggs, Brazilian beef stew, white rice, and vinaigrette salsa.
You will get to know how to make Brazilian refried beans after watching the video:
What can you do with your available leeks in your fridge? Now, take them out and turn them into a delightful accompaniment for your grilled chicken, meat, or fish.
With a slow cooking method, Brazilian leeks have a soft and spaghetti-like texture and a sweet balsamic glaze together with a tangy flavor.
This side dish is made with leeks as the main ingredient, crushed garlic, chopped onion, water, salt, and some finely chopped fresh basil.
You might be familiar with many side items in the Hawaiian menu made of pineapple, let me introduce another delicious dish with the same ingredient in the Brazilian way.
This is Brazilian grilled pineapple. And now you have one more idea to make a flavorful side dish for your grilled meat, fish, or chicken.
Making a side dish with grilled pineapple can give your main savories better taste, texture, and appearance. Of course, your meal will be lit with the light color of pineapples.
Your side dish will be more delicious, appealing, and tangier with the addition of brown sugar and ground cinnamon.
Now, it's time to fill up your stomach with a side dish called Brazilian chickpeas and rice that is made with rice, turmeric powder, vegetable stock, sweet corn, coriander, broccoli, and peas. However, Brazilian rice will be incomplete without garlic and garlic.
Like white rice, you can serve the side dish with vegetable soup, grilled meat or chicken if you want
What I can say is that Brazilian sweet potato salad is a perfect side dish. Usually, you use sweet potatoes to grill, bake, fry to serve with your main savories or just add them as a side ingredient. But now, let's try making sweet potato salad to know how amazing they are.
What's better; this recipe is a good idea to use your leftover sweet potato. The natural sweetness of sweet potatoes will join with the distinctive flavors of other ingredients like black beans, fresh cilantro, green chili pepper, onions, lime juice, and spices to make the salad more delightful and irresistible.
I ensure that this is the most insane salad I have ever known. Do you know about the hearts of palm? Salad with hearts of palms, chopped tomatoes will satisfy your taste as it is tasty, refreshing, sweet, and juicy.
The crunchiness of chopped palm hearts and versatile dressing as a nice touch of lime, olive oil, pepper, and salt will maximize the flavor of the side dish.
Like many other salads, you can serve heart palm salad with just about any meat-based delicacies as a great companion.
Besides, the salad will light up your meals, so let's try it once if you don't know it, and you will be addicted to its taste perfection.
The video lets you know the best way to cook Brazilian heart of palm salad:
Farofa made of cassava flour and bacon as two main ingredients is one of the common and simple side dishes in Brazil. Today, it has also become a famous dish in Angola – an African country.
Farofa has a buttery, smoky, delicious, and savory taste, making it an ideal idea to add a flavorsome touch to any bland dish or stews. Moreover, the crunchiness of farofa makes it more special to enjoy.
Your farofa is perfect to go with rice, grilled meat, and black bean stew. Moreover, you can also top farofa over your meaty dishes for better taste.
Let's discover one more Brazilian side dish that is irresistible to eat, Caruru. Caruru consists of fresh okra, dried fresh shrimps, and ground roasted peanuts.
Besides, some added spices like garlic, pepper, salt, onion, and olive oil contribute greatly to the flavor of your whole meal. Your side dish will be full-flavored, tangy, flavorful, and appealing.
You can serve the dish with rice; that will be a magic combination.
If you don't have fresh shrimp and okras, using frozen ones is also ok.
The video will guide you on how to make shrimp and okra gumbo step-by-step:
Expectation Vs. Reality
Listing all Brazilian side dishes here is impossible, but I have tried to recommend you the most desirable side dishes to enjoy with other savories in your meals.
Sometimes, these introduced recipes contain some unfavorite ingredients, for example, garlic or onions. Calm down to leave them out of your dishes when cooking.
Moreover, recipes just give you basic guidelines on cooking a specific dish, so you need to flavor the dishes as you want with your creation.
If you think that my article is useful for you, please share it with your relatives as one day they will need it like you. In case you have practical experience with these recipes, or some stuff like that, leave your comment below to share with me.
Nutrition Facts
10 servings per container
---
Amount Per ServingCalories155
% Daily Value *
Total Fat 2.1g

4

%
Cholesterol 37mg

13

%
Sodium 133mg

6

%
Potassium 185mg

6

%
Total Carbohydrate 29.4g

10

%

Dietary Fiber 2g

8

%
Sugars 5.4g

Protein 5.1g

10

%
---
Calcium

39

%
Iron

2

%
Vitamin D

4

%
* The % Daily Value tells you how much a nutrient in a serving of food contributes to a daily diet. 2,000 calories a day is used for general nutrition advice.