Venezuelan recipes, from appetizers to desserts, are surprising foods that no one can resist. They are the elite of some of the world's most renowned cuisines, including European, African, and Native American.
Therefore, with the top 30 authentic Venezuelan ideas here, you can open the door of knowledge in approaching a new cuisine in South American. So let's get ready to be stunned.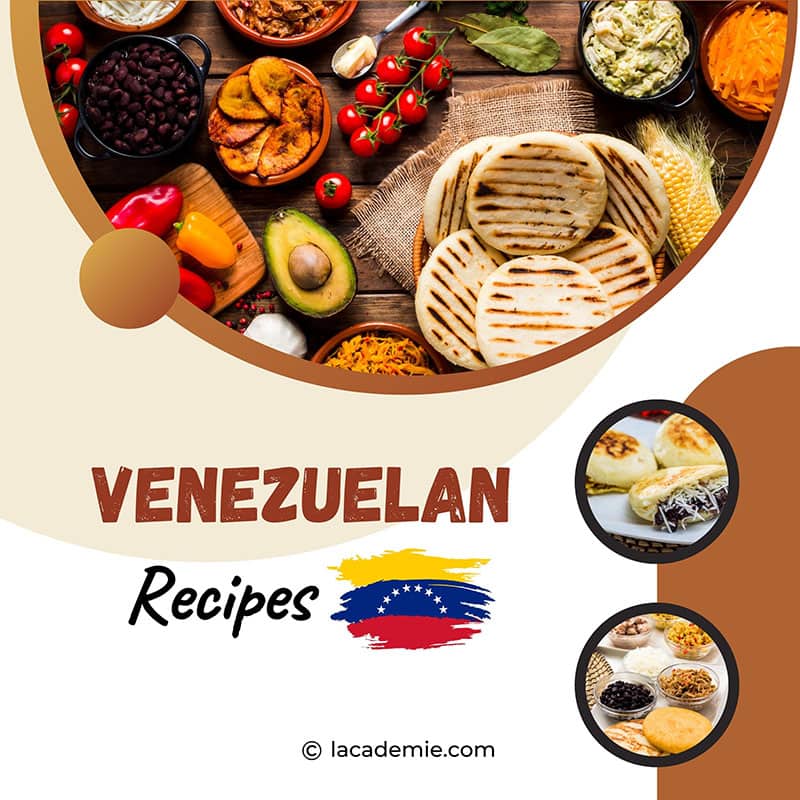 List Of 30 Most Authentic Venezuelan Recipes
These 30 ideas will help you throw the finest Venezuela-themed party, from basic to quite challenging dishes, from appetizers to sweet ones. They are also separated into 5 sections: Appetizers, Main Dishes, Side Dishes, Desserts, and Beverages recipes.
Venezuelan Appetizers
Venezuelan Arepas
Cachapas (Venezuelan Corn Pancakes)
Venezuelan Empanadas)
Tequeños (Venezuelan Cheese Sticks)
Patacones (or Tostones)
Pan de Jamon (Venezuelan Ham Bread)
Pisca Andina (Venezuelan Chicken Soup)
Venezuelan Main Dishes
Pabellon Criollo (Venezuelan Steak with Black Bean and Rice)
Sancocho (Venezuelan Beef and Vegetable Soup)
Venezuelan Lengua en Salsa
Pasticho (Venezuelan Lasagna)
Venezuelan Asado Negro
Pernil (Venezuelan Pork Roast)
Polvorosa de Pollo (Venezuelan Chicken Pot Pie)
Venezuelan Side Dishes
Venezuelan Chicken Salad
Hallacas (Venezuelan Tamales)
Caraotas Negras (Venezuelan Black Beans)
Guasacaca (Venezuelan Avocado Salsa)
Golfeados (Venezuelan Cheesy Rolls)
Casabe (Venezuelan Flatbread)
Venezuelan Desserts
Quesillo (Venezuelan Flan)
Bien Me Sabe (Venezuelan Coconut Cream Cake))
Papitas de Leche (Venezuelan Milk Truffles)
Arroz con Leche (Venezuelan Rice Pudding)
Marquesa de Chocolate
Alfajores (Venezuelan Sandwich Cookies)
Venezuelan Beverages
Chicha (Venezuelan Rice Drink)
Cocada (Venezuelan Coconut Smoothie)
Papelón con Limón (Piloncillo and Lime)
Tizana (Venezuelan Fruit Drink)
Increase Your Hunger With Venezuelan Appetizer Recipes
You cannot start a party or a full meal without appetizers. With the list of 7 of the most popular appetizers in Venezuelan cuisine, they will get you in the mood to enjoy your meal completely.
Arepa is a traditional Venezuela corn cake that has a long history. The word arepa is from the 'erepa' that means corn. They can be served alone or stuffed with other ingredients, like chicken, beef, cheese, or veggies.
Their ingredients are simple. Water will mix with cornflour and salt to make the dough, then form them into a round flat shape and grill them until you see the golden brown crisp exterior. They also have a soft and moist interior, making them so special.
The split in the middle of their thickness is ideal for filling with various kinds of yummy filling. With an easy recipe, you can turn your corn dough into a delicious breakfast or appetizer at your party.
As easy as pie with making this Venezuelan Arepas. You can see this video to know more:
Corn can be seen as the most popular cereal to make cakes in Venezuela. Here is another pancake that uses fresh corn and other ingredients with the origin from the center of Venezuela.
While this famous dish in Colombia and Venezuela originally asks for fresh corn, making it with canned corn won't change the flavor much. Besides that, frozen corn, cornflour, or all-purpose flour are also an excellent choice for your gluten-free menu.
Their flavor is something between sweet and salty. And similar to arepa, cachapas are also filled with cheese.
You might be familiar with other kinds of empanadas. Now, I'd like to introduce to you the Venezuela empanadas that are super tasty with a similar golden brown color and their incredible beef filling.
One of the core factors to decide the success of one empanada is the filling. So, follow the recipe here so you can make the best filling for yourself. With beef and many minced veggies and herbs, they are so flavorful in your mouth, so one empanada will never be enough for you.
Regarding the dough, they might need a little bit of effort. The cooking might be time-consuming but do not worry; you will feel it is worth it after taking one bite with your beef empanada.
The best recipe to make a Tequeños – Venezuelan cheese stick is here. And In Venezuela, a party cannot be complete without these crispy cheese sticks. Let's learn how to make it.
They are very easy with simple ingredients that you can easily buy in the supermarket. In fact, you just need to grab your favorite string cheese to make the filling. Most ingredients left are already in your kitchen.
Tequeños are sticks with cheese wrapped in dough. Ensure the cheese can be covered thoroughly by dough, then fried on medium heat for 3 to 5 minutes until golden brown. And now you have a lot of fun cheese sticks to shake your party up.
Patacones (or tostones) can be seen as a traditional dish that Venezuelans can eat daily. This recipe is also famous in Colombia and other South American countries. And the star of this dish is plantains.
Plantains can be hard to find in your local grocery, but you can try to look for them in any African-theme market as this dish's recipe has the origin from African.
All you have to do to make them is just fry these green plantains. Make sure the seasoning and frying process is precise so that you can have crunchy, golden plantain pieces. Also, they are served with fried fish or Venezuelan white cheese.
This appetizer is the symbol dish of Christmas in Venezuela. Pan de Jamon (Venezuela ham bread) is truly a hit at every Venezuela Christmas party. So if you want to try how Venezuelans feel Christmas right in the kitchen, make one pan de jamon. You will not regret it.
Their main ingredients are ham, olives, and raisins. You cannot find any similarity in the flavor of these ingredients, right? That's why this appetizer is so distinctive and perfect.
And nothing better than a tasty dish comes with simple preparation. So even if you are just a beginner in cooking, try to make them once to make people go wow.
Now, this is a comforting soup for your Venezuelan recipes. Though the climate in Venezuela is hot, they also have winter. So this Pisca Andina soup is a perfect treat for cold days.
Pisca Andina is native to the Andes area of Venezuela, one of the coldest areas in this country. They might have many different versions, but here is the most popular recipe with chicken stock, potatoes, poached eggs, and herbs.
They are also ideal for breakfast to start your brand new day. With just a total of 30 minutes to cook, you can taste the traditional dish of the Venezuelan Andes.
Main Dishes In Venezuelan Recipes – A Big Hit Of Your Party
It is the essential dish of a meal, ensuring that you get enough nutrients for your diet. Meats and rice are two of the most common components used to make the best main dishes in Venezuela. So, what are they and how to make them? Check out the 7 recipes below.
I will start the list of Venezuelan main dishes with the most famous one – Pabellon Criollo. They are a rice dish with shredded beef that will make your soul sing.
Rice, black beans, and shredded beef make up the Pabellon Criollo. This dish takes a long time to prepare since it requires 3 to 4 separate preparations to make a complete meal.
But do not be concerned; while it may take some time, it is simple to do. Pabellon Criollo can be served with a fried egg on top to make this dish more fulfilling.
You can see this video to know more:
Sancocho is a popular beef soup with vegetables in Venezuela. This is also an insanely popular dish in Colombian cuisine that can warm your cold days. Protein from beef and refreshing vegetables is perfect for any weekend with your family.
The preparation is effortless, making it suitable for people who are just starting in the kitchen. Beef is the main component of this dish. For a spectacular result, use high-quality beef short rib.
After cooking, the beef meat is so tender that it can literally melt on your tongue. With the touch of veggies blended flavors, this soup is a remedy for any sadness or stress in your life. So let's give it a shot one day.
The main ingredient in this Venezuelan Lengua en Salsa sounds pretty scary, to be honest. Instead of using beef meat, the beef tongue is the star of this dish. In fact, there are many amazing delicates with beef tongue around the world, and this dish is one of them.
The flavor of the beef tongue is not too different from other beef parts. And if you cook them well, it is very tender. Similar to Pabellon Criollo, Lengua en Salsa is served with rice and plantain.
Do you want to learn about another lasagna variation? Let's try Pasticho, a Venezuelan lasagna that will make you fall in love.
They are layered pasta with meat and tomato sauce, similar to traditional lasagna. The difference between the Venezuelan and ordinary ones is that they are seasoned with soy sauce and Worcestershire sauce, a fermented liquid condiment from England.
Pasticho is a delicious lasagna that is distinct in its own right. So, if you prefer to taste different versions of the same dish, you will surely want to prepare it one day.
Beef can be seen as the most common ingredient to make the authentic main dishes in Venezuela. Here is another beef-based dish for your menu.
Asado Negro is famous in Caracas – Venezuela's capital. It is a dark beef roast dish served with rice or mashed potatoes on the side. The beef will be cooked with vegetables and herbs to enhance the flavors.
You will need a slow cooker to tenderize the meat, so this meal will take at least 3 hours to prepare. But I guarantee this beef roast is the dish that you would die for.
Little heads-up: This dish needs 5 to 6 hours to cook. But, even before you taste it, you can sense the joyful atmosphere inside this dish.
Pernil is a Venezuelan pork roast dish that is usually served on Christmas. As for special events, it must require certain cooking skills. Therefore, if you want to impress others, make it for your next party.
Besides the pork, gravy also plays an important role in making this dish so tasty and flavorful. Also, ensure the cooking temperature to prevent dried and tough meat.
Raise your hand if you are a chicken pot pie lover. Follow this recipe; then, you will have the best version of chicken pot pie that you have always been looking for.
Frankly, this Venezuela-style chicken pot pie is so tasty that it will make you forget all other versions of pot pies. The tender meat and vegetables inside with the soft but crumbly dough cover truly define perfect flavors and texture.
Venezuelan-Inspired Side Dishes To Balance Everything
Indeed, nothing can replace a perfect side dish to make you satisfied with your meal. Side dishes are a great compliment to the main dishes; therefore, it would be a pity to miss them. So, let's see whichever Venezuelan side dish wows you the most.
You can use your leftover chicken to make this salad. Venezuelan chicken salad has a balanced flavor in your mouth thanks to the creamery and earthiness of ripe avocado and the sourness of lime juice, making you never get bored with it.
With less than 30 minutes and simple ingredients, now you can enjoy a bowl of fresh, healthy, and steal-the-show chicken salad. You can skip mayonnaise sauce if you do not like them.
Hallacas is a Venezuelan tamale made from dough with meat filling and wrapped in steamed banana or corn leaf.
The Venezuela version might require quite many ingredients, such as beef, chicken, onions, bell pepper, tomatoes, and other herbs. But they are not totally compulsory.
If you wonder if you can eat tamales while following a non-gluten diet, you can just skip some ingredients. Aside from this, the preparation and cooking are not too complex.
These little hallacas, which are wrapped in leaves and tied with string, resemble small presents. That is why they are so popular during the Venezuelan Christmas season.
Let's learn how to prepare a little gift – Hallacas to celebrate Christmas in Venezuela. You can see this video to know more:
This is another ideal Venezuelan side dish that is not only healthy but also so tasty. Caraotas negras is a black bean dish that can be found in any Venezuelan restaurant or residents' homes.
They are perfect for busy people who want to have a healthier diet with few ingredients and prep steps. Caraotas Negras can be served with Pabellon Criollo, a rice dish with shredded beef introduced in the main dish section.
Avocado lovers, where are you? I have a delicious dipping sauce for your Venezuelan cooking recipes here. It is Venezuelan guacamole – guasacaca, a kind of avocado-based dip.
Guasacaca is really healthy. When you see the color, the brilliant fresh green of avocado with herbs, you can't help yourself. They are a great match for any food. Chips, fries, veggies, and empanadas may all be dipped in it.
Or you can spread guasacaca on grilled meats to increase the flavor of your meals. Also, with lime juice and vinegar, these ingredients will aid your guasacaca to keep the fresh color longer than regular guacamole.
Golfeados is a popular Venezuelan pastry with a roll shape and filled with cheese and aniseed. The combination of sweet and savory in the same pastry creates an attractive roll.
They are not difficult to make. Use semi-hard, pecorino, or gouda cheese To prepare the filling. If you cannot find them in the supermarkets, select a cheese with a slightly salty flavor. Besides, dough baking is also simple, so do not worry about it.
After you take your roll out of the oven, do not forget to glaze it with syrup. The caramelized will give your pastry a more appealing appearance.
Let me present one of the oldest dishes of the pre-Columbian diet, which is very famous in many Central American, Latin American, and Caribbean countries.
Casabe is a cassava flatbread with a long history. To make casabe, you must have fresh cassava, peel, grate, and sieve them until you can shape your cassava into a thin round cake, then cook them on a hot pan. Sounds not too complicated, doesn't it?
Piece-Of-Art And Pleasant Dessert With Venezuelan Recipes
Isn't there anything better than a little sweet on your tongue after a meal? So, I'd like to introduce you to 6 Venezuelan-style desserts, which I am confident will make you feel as if life is so wonderful.
This is one of my favorite desserts. Quesillo is Venezuelan flan, and similarly to other versions of flan around the world, its ingredients are still eggs, milk (condensed and normal milk), sugar, and vanilla extract.
However, one thing that you should pay attention to is making the caramel. Do not overcook sugar, as it will be very bitter and hard to eat. Keep stirring the sugar until you see they have a puce color.
And make sure you bake them at an appropriate temperature in order to have a smooth and creamy flan dessert.
Here is Quesillo – an easy and tasty dessert that is made from eggs, milk, and sugar. You can see this video to know more:
Bien Me Sabe is a stunning and delicious Venezuelan dessert. The sweet, rich flavors of coconut and heavy cream with a touch of rum make this cake so delightful and tasty.
This is a layered cake, so it might take time to prepare it. But once you do it, you will come back for more. And remember to let the cake chill in the fridge before serving so it would taste much better.
Fun fact: Bien me sabe means 'taste good to me' in Spanish. And it truly is.
Papitas de Leche is a no-bake sweet dessert that everyone will love. This sweet only requires 3 ingredients, and it's super easy to make. In Venezuelan, its name means 'little milk potatoes' as they look similar to little potatoes.
With powdered milk, sugar, and condensed milk, mix them and knead them until you have a tough dough. Shape them into smaller balls, then dust them with the confectioner's sugar. Now you have many sweet cutie balls of papitas de leche for your treat.
This rice pudding dessert is so yummy that I cannot help but introduce it to you. In some countries, they even use rice pudding as a dinner meal.
This kind of dessert originated from Spain with common ingredients are rice mixed with water, milk, vanilla, and cinnamon. With the Venezuela version, they are made with long grain rice with other ingredients. Cook them together in around 450 to 50 minutes until the rice is extremely soft.
Another no-bake dessert that you can easily make at home with your kids. Marquesa has varied versions that come with different flavors like vanilla, coconut, coffee. But here, I'd like to share my favorite one, also the most popular marquesa in Venezuela, which is chocolate marquesa.
With easy-to-find ingredients (some of them I bet you already had at home), it only takes 30 minutes to prepare. They are a layered cake with Galletas Maria (Maria biscuit) and cream. You can find this ingredient in the baking area in the supermarkets at an affordable price.
Marquesa is very popular in Venezuela parties or holidays as they are so easy to make and delicious. They are even better to chill overnight in the fridge. So why don't you make one this weekend?
The definition of perfection is here. I guarantee this soft, crunchy, and super tasty sandwich cookie (alfajores) will surprise you. And you might ask how come this little guy can be that delicious.
Aldajores is a well-loved Latin American cookie because of its creamy and buttery flavor. So, aside from Venezuela, this dessert is insanely popular in Peru, Mexico, Argentina, etc. And suffice to say, the Venezuelans also feel the same about these decadent cookies.
They are made with cornstarch shortbread and filled with caramel or dulce de leche. Just a bite of alfajores, the contrast in their texture will genuinely blow your mind.
Caramel vs. dulce de leche, which one is better? The difference between them is the liquid that you use to make them. Sugar and water are the main ingredients to make caramel. In comparison, dulce de leche consists of milk and water.
Venezuelan Beverage Recipes – The Perfect Refresh Drinks
Venezuela has a wide variety of tropical fruits. So, it would be a huge waste if they were not turned into wonderfully refreshing beverages. With the 4 famous and authentic Venezuelan beverages as below, you will find a superb solution for your summer days.
Chicha is a Venezuelan sweet drink that is made from rice, condensed milk, and cinnamon. This dish also has different versions in Latin American areas. A beloved food in Peruvian cuisine, chica is made with fermented corn here instead. There are also variations with nuts or pineapples.
Venezuela chicha is extremely easy to make. I know some of you are not familiar with cooking rice for making this drink. But trust me, the recipe is straightforward, and the outcome is impressive.
Here is another sweet and creamy beverage that is very famous in Venezuela. Coconut is the star of this drink. It is mixed with milk, ice, and a slight hint of cinnamon, making your summer days so much better.
Indeed, as Venezuela is a country located in the hot climate zone, this frozen coconut smoothie is truly a perfect drink for people there. But it is also fantastic for you on beach days or during the summer.
And it takes very little time as only 10 minutes to make it. Use your blender to make it as smooth as possible. And with this drink, you might learn how to open a coconut. Let's try it one day.
Let's blow away your hot days with this Venezuelan coconut smoothie. You can see this video to know more:
Papelón con limón is a super refreshing drink that will help you to stay cool on hot days. There are only 3 ingredients: water, piloncillo, and lemon.
So what is piloncillo (or papelón in Venezuelan)? It is a block of unrefined sugar cane that is very famous in Latin America. If you cannot spot it in your local grocery stores, you can order it online.
To make this drink, you have to dissolve piloncillo in water, then mix it with lemon and ice. So easy, isn't it? And nothing better than a sip of papelón con limón on summer days, I guarantee.
This drink seems like a perfect reassemble of many fruits in a tropical garden. Can you imagine how refreshing they are?
Chopped papaya, melon, watermelon, pineapple, mango, apple, or whatever fruit you like, mixed with fruit punch juice to become one of the best summer drinks. And this drink is much better in the fridge for days as the fruit flavors can blend, making it intensify.
These Venezuelan Recipes Are Absolutely Worth-A-Try
Venezuelan cuisine has a long history and is diversified. Venezuelans have transformed common staple foods such as corn, rice, plantain, beans, etc., into famous worldwide delicacies.
Due to their distinct and rich tastes, Venezuelan cuisine will make you feel as if you are on cloud nine. And if you enjoy these recipes, please click like and tell me about your experience once you have tried them. Your time and effort are much appreciated. Enjoy!
Nutrition Facts
6 servings per container
---
Amount Per ServingCalories344
% Daily Value *
Total Fat 6.8g

10

%
Cholesterol 83mg

28

%
Sodium 1297mg

55

%
Potassium 747mg

22

%
Total Carbohydrate 22.2g

8

%

Dietary Fiber 2.4g

8

%
Sugars 17.4g

Protein 47.4g

94

%
---
* The % Daily Value tells you how much a nutrient in a serving of food contributes to a daily diet. 2,000 calories a day is used for general nutrition advice.