Vietnamese cuisine is known for having a plethora of tasty rolls, and grilled beef wrapped in betel leaves (Bò Nướng Lá Lốt) is one of the best ones. With their endless creativity, the Vietnamese have utilized the distinctive aroma of wild betel leaves and invented a dish you won't be able to forget.
In addition, the filling, which consists of ground beef, pork, and spices, provides a unique texture and is packed with flavors. Now if that sounds good to you, don't hesitate to scroll down and learn an easy recipe to create this Vietnamese treat at home!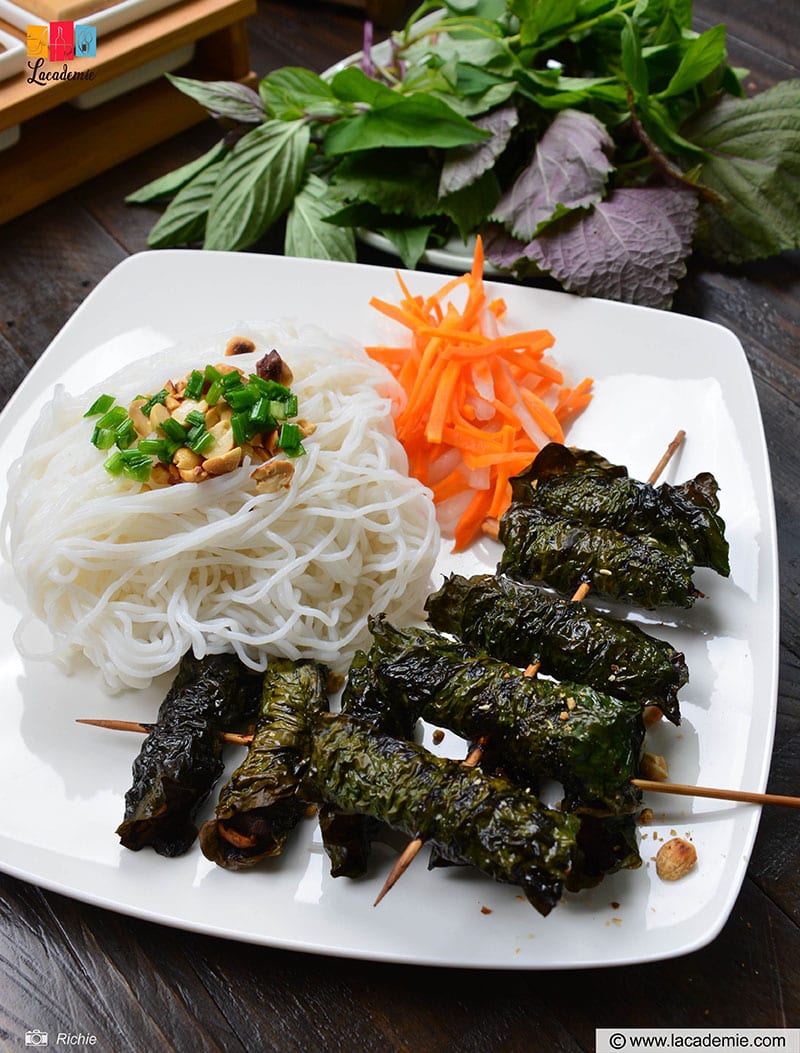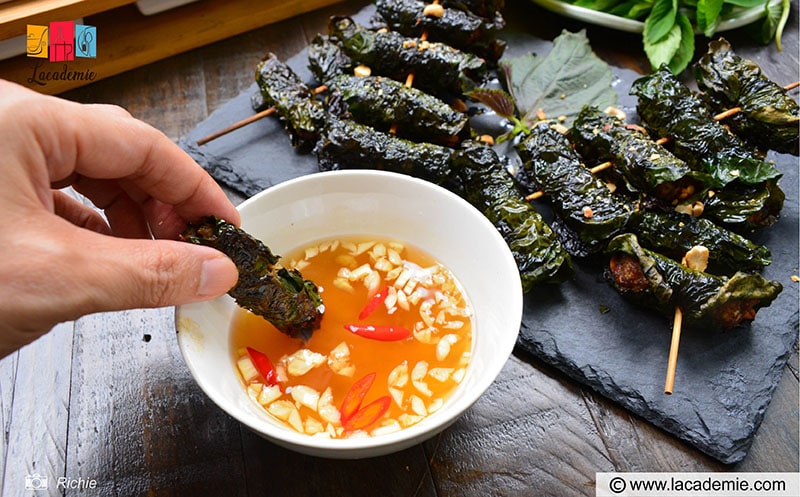 Discover More About Bo Nuong La Lot
La Lot (lolot or wild betel leaves) is a special ingredient boasting a spicy and peppery aroma and a slightly medicinal taste. While that might not sound super appealing, this flavor profile goes exceptionally well with beef or pork, creating a balanced dish that smells and tastes unlike any other.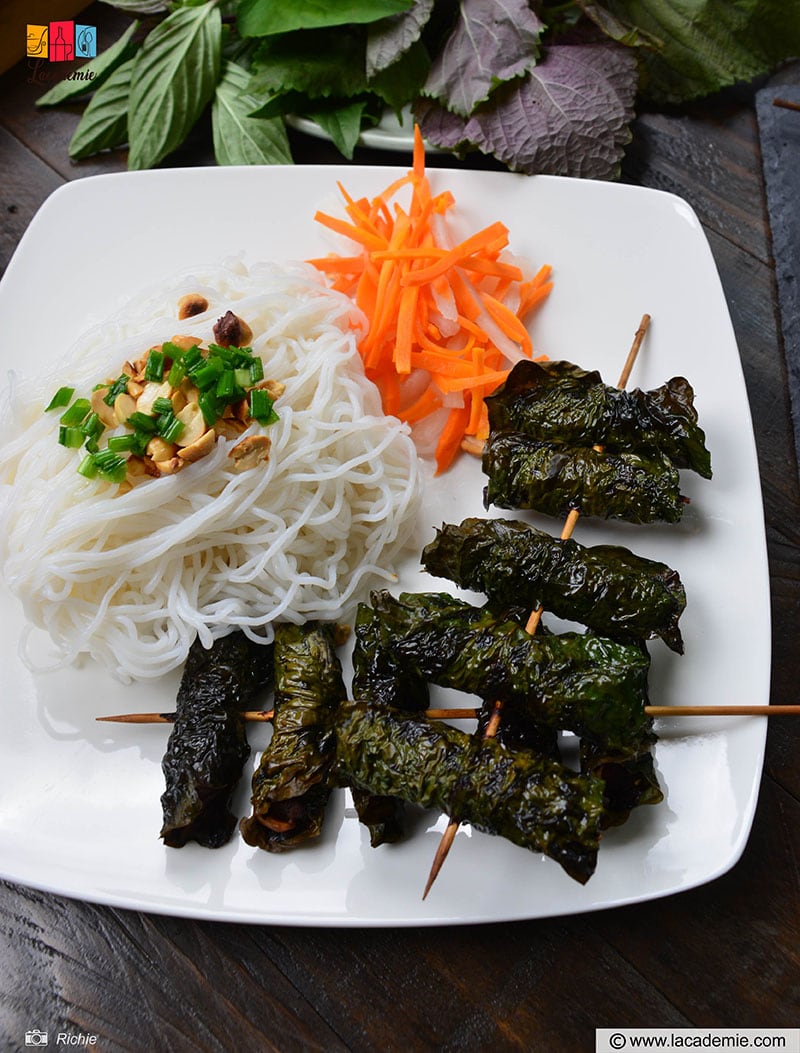 Bo Nuong La Lot is an irreplaceable part of a multi-course delicacy called Bo 7 Mon (beef served 7 ways). It also has a "cousin" called Cha Thit Cuon La Lot, which uses pork as the main protein instead of beef.
Traditionally, the Vietnamese will grill the wrapped beef over hot coals to impart it with a smoky flavor. However, if you don't want to set up a barbecue just to make this dish, you can cook the rolls in an oven instead.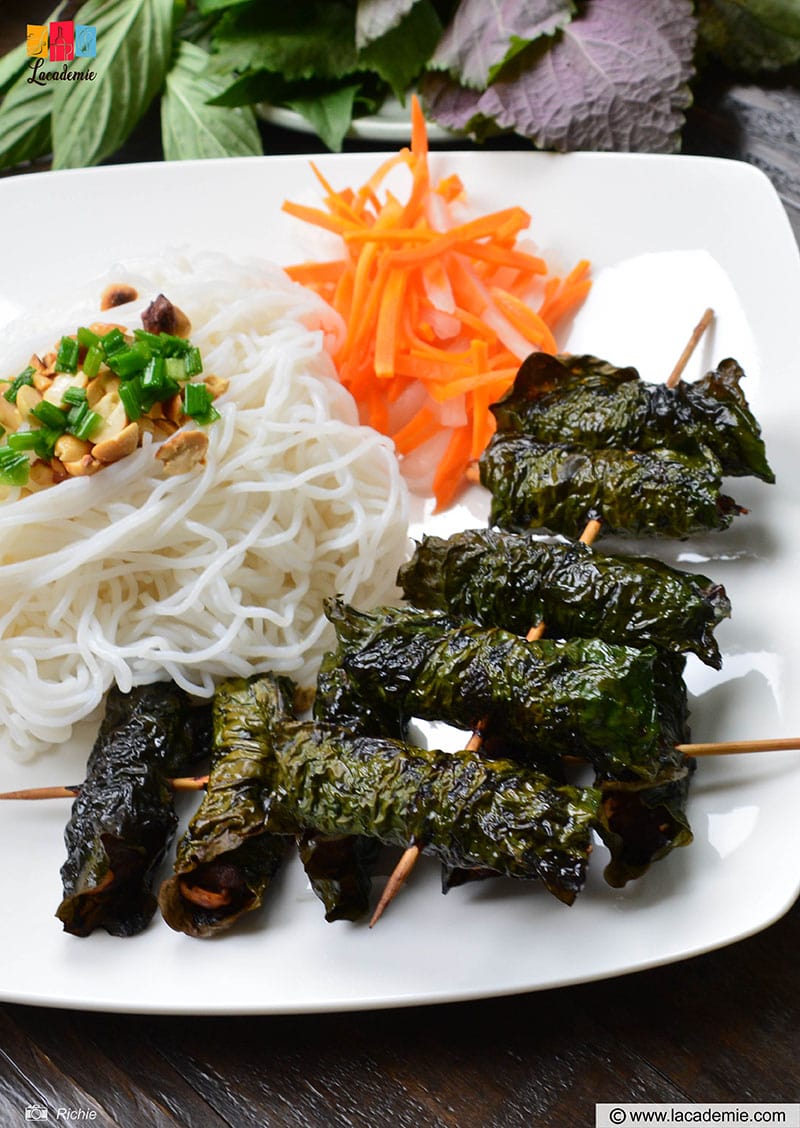 Tools
Let's start off on the right foot by preparing all the necessary tools. Here is a list of what you need.
Oven: Unless I'm having a barbecue party, I always grill the rolls in an oven. The clean-up is just so much easier this way.
Mixing bowl: For mixing the filling.
Food prep gloves: Allows you to confidently mix the filling without worrying about raw ingredients sticking to your hands.
Bamboo skewers: Help you keep the wrapping secure during cooking.
Chopping board: Provides a flat surface for you to wrap the beef.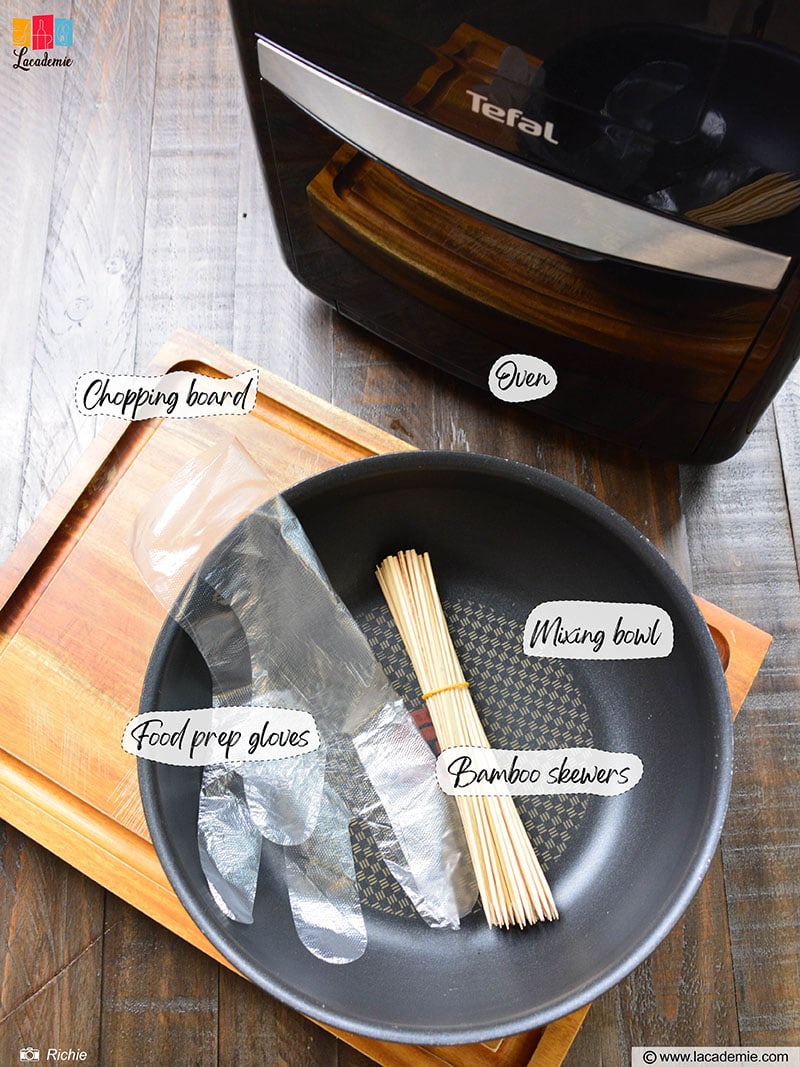 Ingredients
Since this is a Vietnamese recipe, you might need to go to an Asian store/market in order to get all the needed ingredients.
Ground beef: You can buy pre-ground beef or grind it yourself in case you have a food processor.
Ground pork: The filling will be a bit dry if it contains solely beef. Thus, some ground pork will add fattiness, which prevents your rolls from being dry and helps bind the filling. Choose pork with a high fat proportion.
Wild betel leaves: Also called piper lolot leaves. It's vital that you don't mistake them for La Trau (betel leaves). They have totally different flavor profiles and can not be used interchangeably.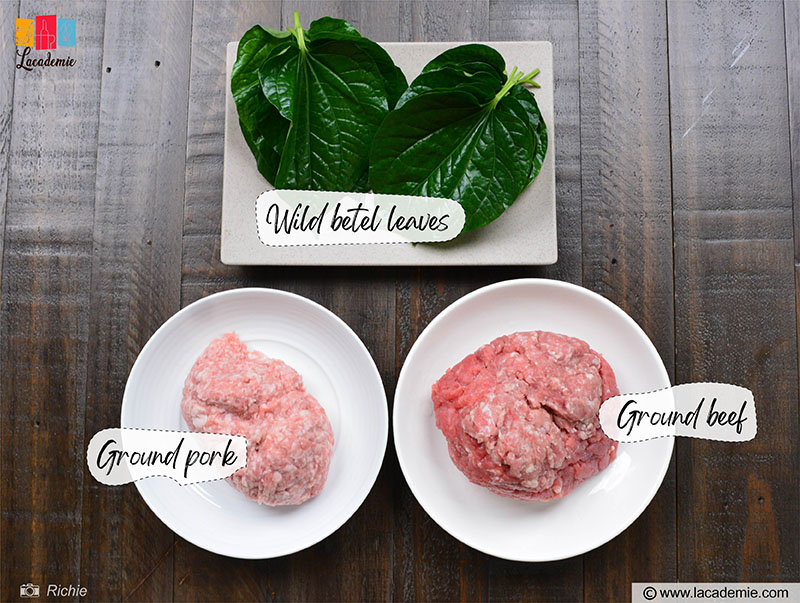 Aromatics: Onion, garlic, and lemongrass. You should mince these herbs in advance.
Vietnamese scallions and oil garnish: Improve the rolls' flavor and give them a beautiful sheen. Vietnamese people call this ingredient Sot Mo Hanh. You can easily make it at home in just a few minutes.
Spices: Five-spice powder, white sesame seeds, salt, sugar, ground pepper, red pepper powder, and soup powder.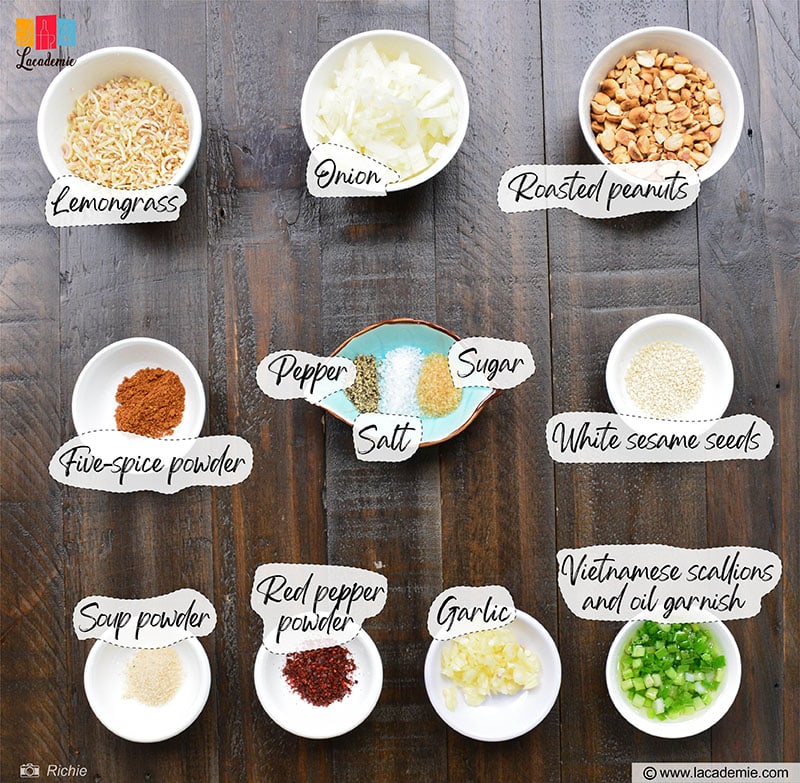 For serving
Vermicelli noodles: You can also enjoy this mouth-watering treat with hot steamed rice.
Herbs: Beefsteak plant, fish mint, peppermint, Thai basil
Vietnamese pickled carrots and daikon: A classic pickle in Vietnamese cuisine with a sweet and zesty taste.
Dipping sauce: Fish sauce, minced garlic, chili pepper, sugar, and lemon juice.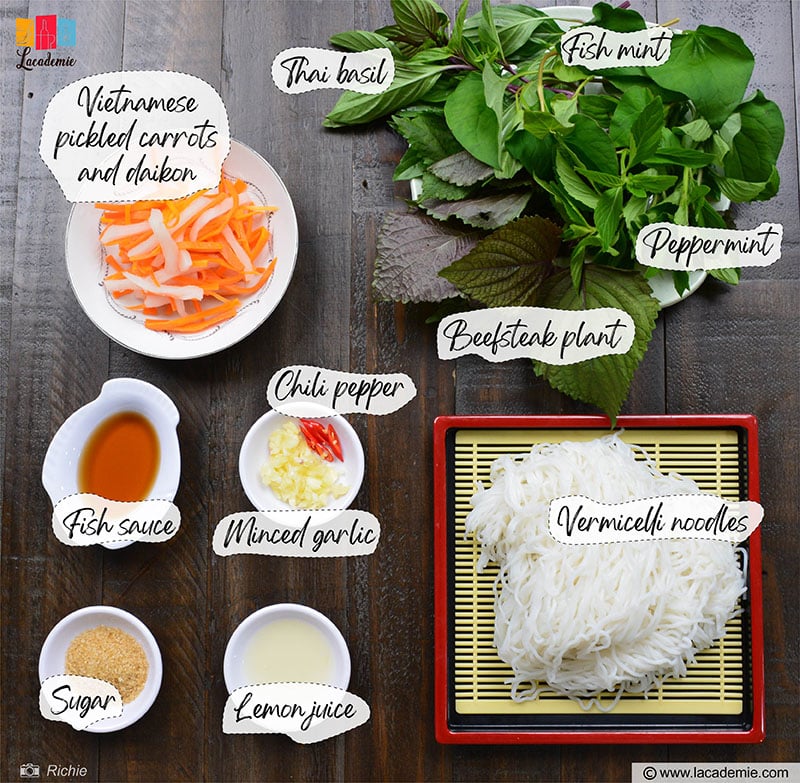 Directions
Are you ready to cook? I'm sure you are! Let's start making some delicious Bo Nuong La Lot!
Step 1: Wash The Vegetables
Rinse the herbs and vegetables, then drain them well.
Keep one part of the wild betel leaves' petioles (stems) intact, as they can help you wrap the filling more securely.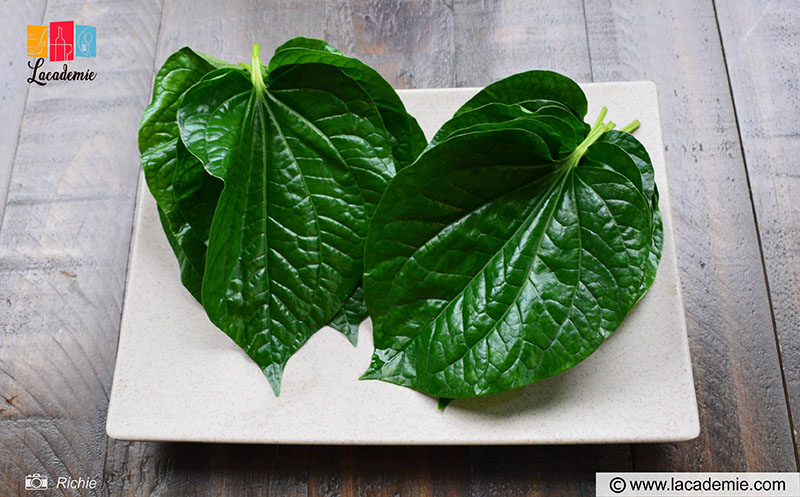 Step 2: Make The Filling
In a mixing bowl, combine the ground beef and ground pork. Add the onion, minced lemongrass, roasted peanuts, and Vietnamese scallions and oil garnish.
Then, season the mixture with salt, ground pepper, sugar, five-spice powder, red pepper powder, white sesame seeds, and soup powder.
Wearing food prep gloves, mix everything together until well combined. Allow the filling to rest for 15 minutes to absorb the spices.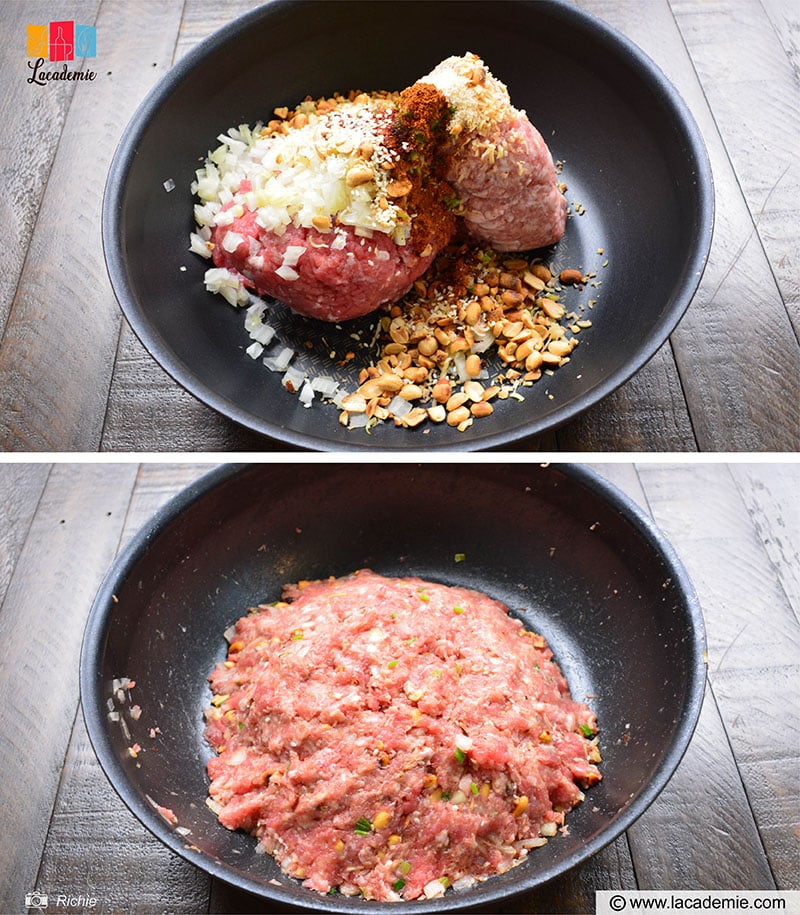 Step 3: Wrap The Filling
Lay a wild betel leaf (with the glossy side facing down and the petiole pointing away from you) on a chopping board.
Spoon some filling onto the middle of the leaf. Gently shape the filling using your fingers. Roll the leaf up neatly.
Next, use a skewer to poke a small hole in the middle of the leaf. Tuck the petiole into the hole. Pierce the roll with the skewer, ensuring that you thread through the petiole to secure the wrap.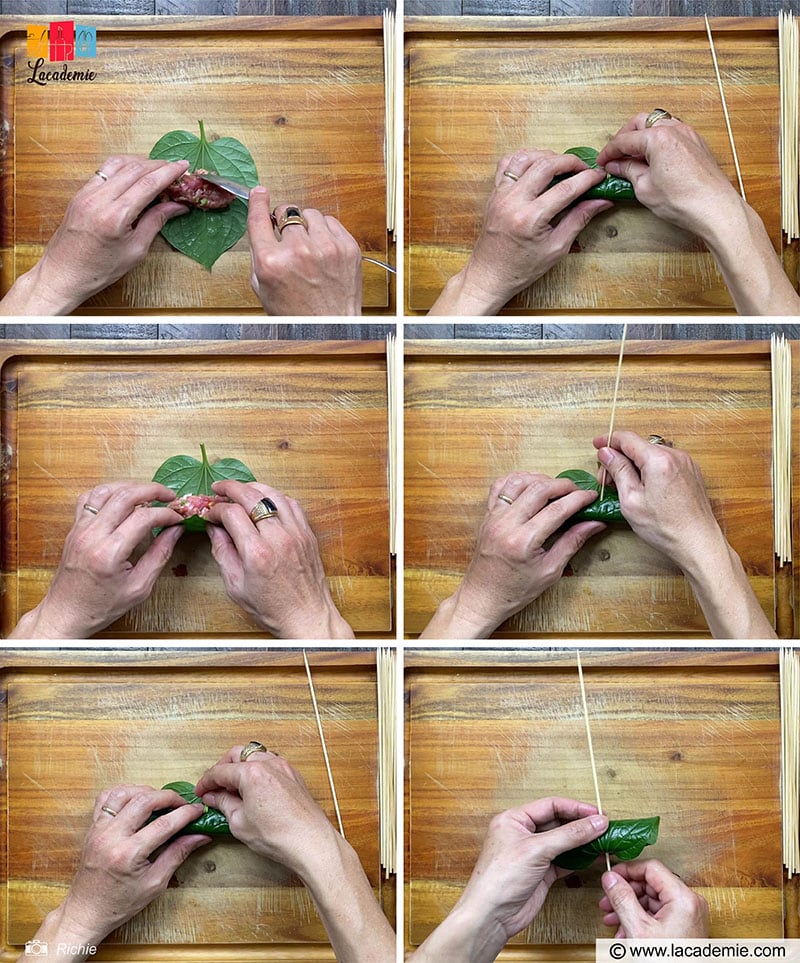 Repeat these steps until you run out of leaves and the filling.
Note: When piercing the rolls with a skewer, you should keep some space between them to help them cook evenly.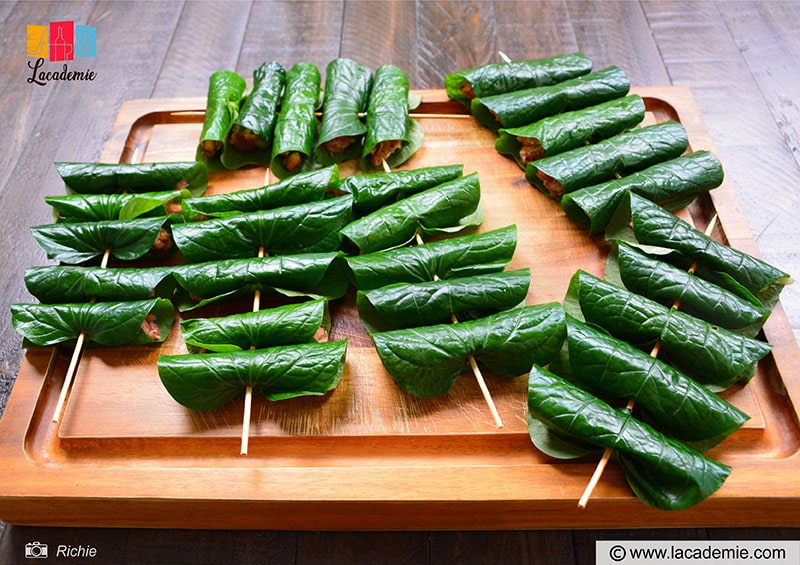 Step 4: Grill The Rolls
Preheat the oven to 400 degrees F. By giving the oven some time to heat up, you can ensure a stable cooking temperature throughout.
Arrange the beef rolls on a griddle. Then, spray a little oil over them, which prevents them from drying out.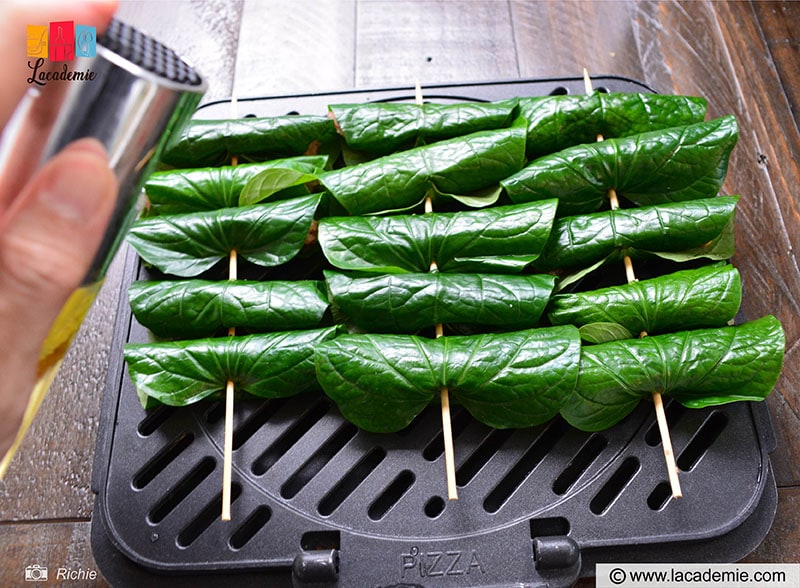 Grill the rolls at 400 degrees F for 15 minutes.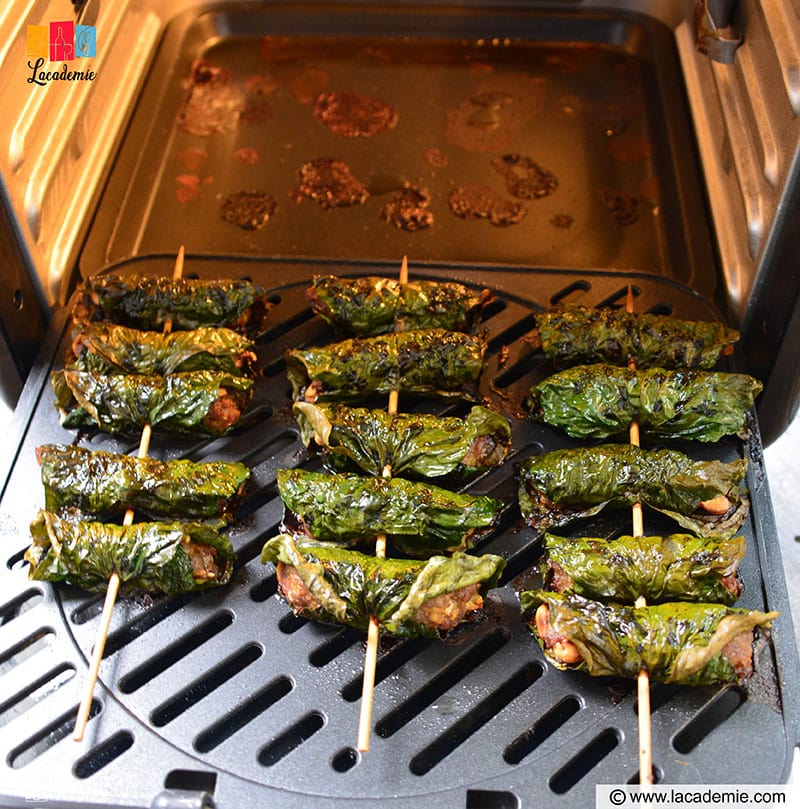 Note: If you have a small oven as I do, don't try to fit all the skewers in at once. Instead, grill them in multiple batches.
Step 5: Make The Sauce
Mix 3.5 tablespoons (about 50 milliliters) of warm water with 3.5 tablespoons of fish sauce and 5 teaspoons of sugar. Add some garlic, chili pepper, and juice of ½ a lemon. Adjust the spices to taste.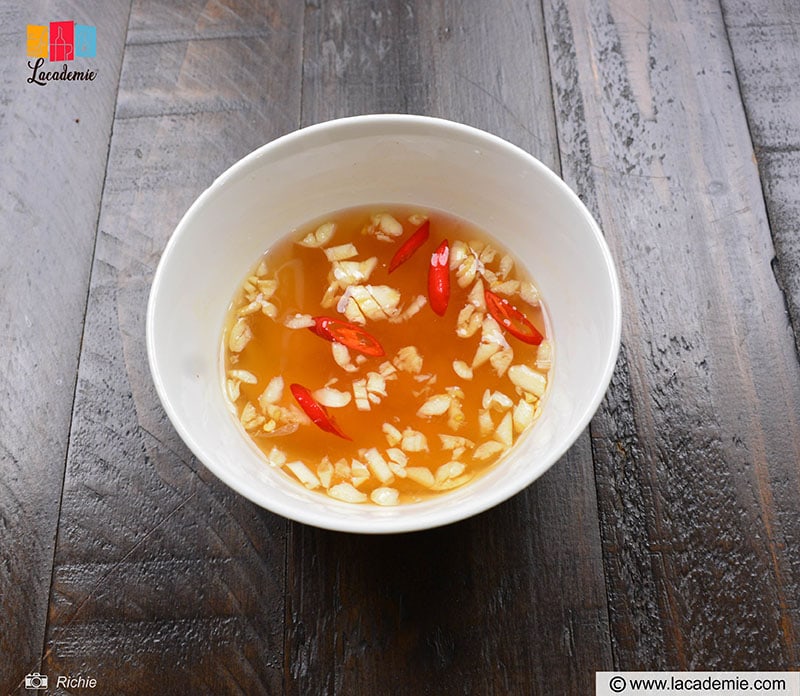 In addition, you can also serve the Bo La Lot with Nuoc Cham, a traditional Vietnamese dip also made from fish sauce. This option will take a little bit longer, but the taste will be worth it.
Step 6: Present The Dish
Place the beef roll skewers onto a serving plate next to the vermicelli noodles and aromatic herbs. When eating, remember to mix the noodles, herbs, and beef rolls well with the sauce. You can also wrap the Bo La Lot with the herbs and dip them in the sauce.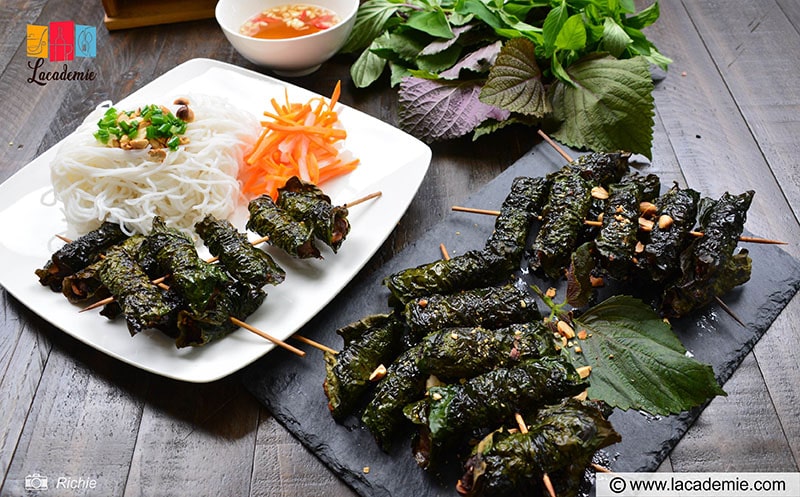 Tips And Tricks
Don't miss out on the following tips and tricks if you're looking for a way to take this dish to another level!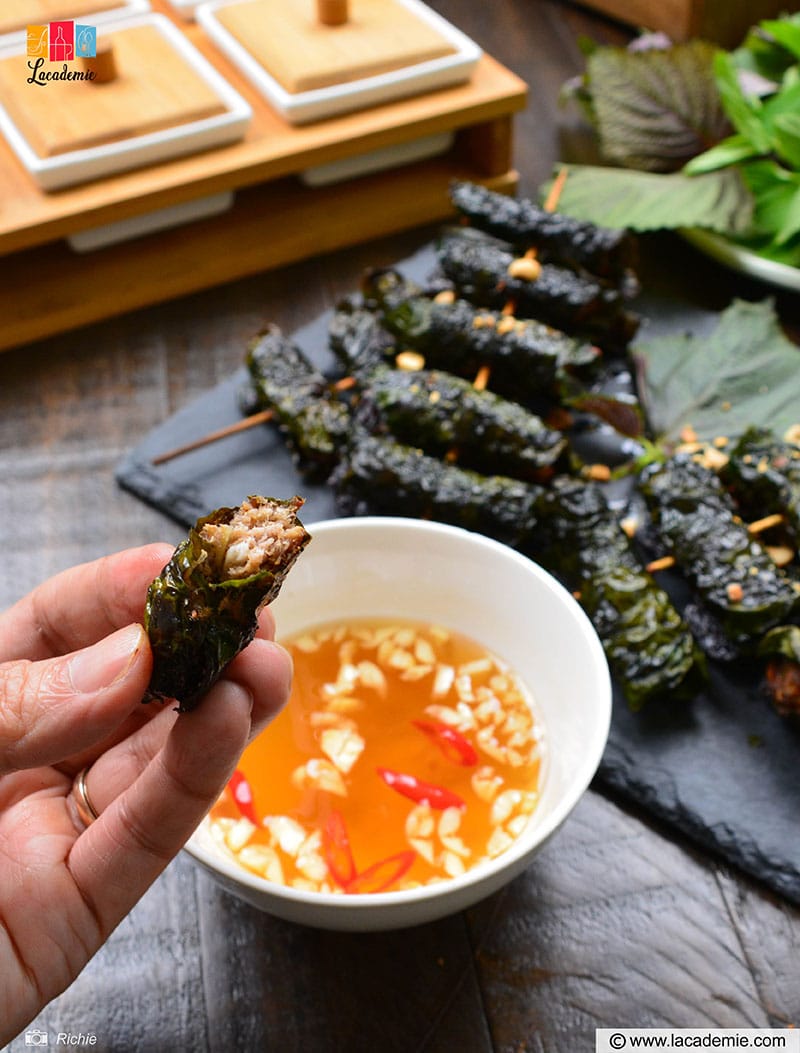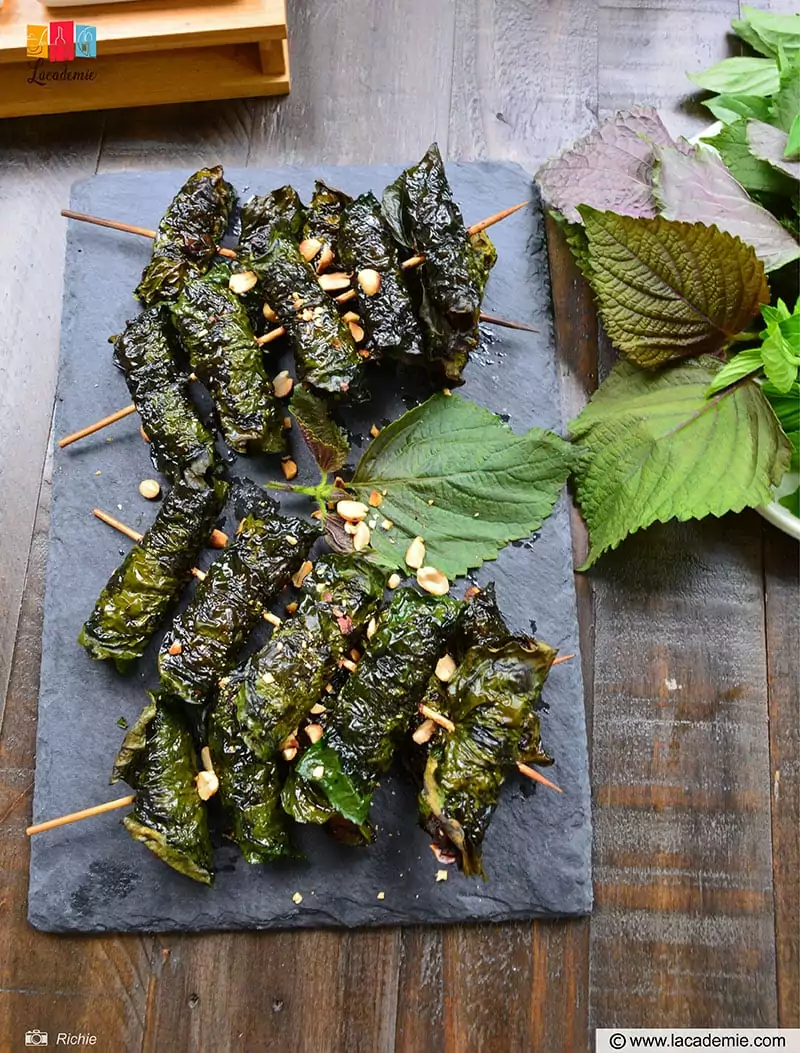 The seasonings in my recipe will give you the most authentic Bo Nuong La Lot. However, if you feel like the rolls need a bit more or less of certain spices, feel free to make your own adjustment.
If you're a fan of Vietnamese fresh spring rolls, you can create a version of this treat with Bo Nuong La Lot as the filling. Try it, and you won't be disappointed!
If you have time, you can go the traditional route and grill your beef rolls over hot charcoal to impart them with a little smokiness.
Frying is another viable option. However, you might find that the rolls are a bit greasy.
When Succulent Beef Meets Herbs
Bo Nuong La Lot perfectly fuses the distinct flavor profile of wild betel leaves with a tasty filling of ground beef, pork, and spices. If you've had too many spring or egg rolls and crave something new, this recipe is an absolute must-try!
What was your experience with these delectable and health-giving beef rolls? I'd love to hear your feedback, which will help me to improve the quality of my future posts. Lastly, please like and share today's recipe, and subscribe to Lacademie's Youtube channel to check out more Vietnamese dishes!
Nutrition Facts
4 servings per container
---
Amount Per ServingCalories481
% Daily Value *
Total Fat 28.3g

44

%
Cholesterol 104mg

35

%
Sodium 1857mg

78

%
Potassium 809mg

24

%
Total Carbohydrate 17g

6

%

Dietary Fiber 5.5g

20

%
Sugars 5.9g

Protein 42.5g

84

%
---
* The % Daily Value tells you how much a nutrient in a serving of food contributes to a daily diet. 2,000 calories a day is used for general nutrition advice.