Asian vegetarian recipes are various and happen to be delicious. Whether you're pursuing plant-based diets or looking for some meat-free suggestions for Asian guests, I bet you'll find more than a few recipes to dwell on.
These crowd-friendly foods ranging from main dishes to desserts can prove that meatless recipes are anything but boring. They can be satisfying and filling, too. Some of them might win the heart of even the pickiest eaters.
If you're on the fence about what I am saying, you can try the below list and decide later.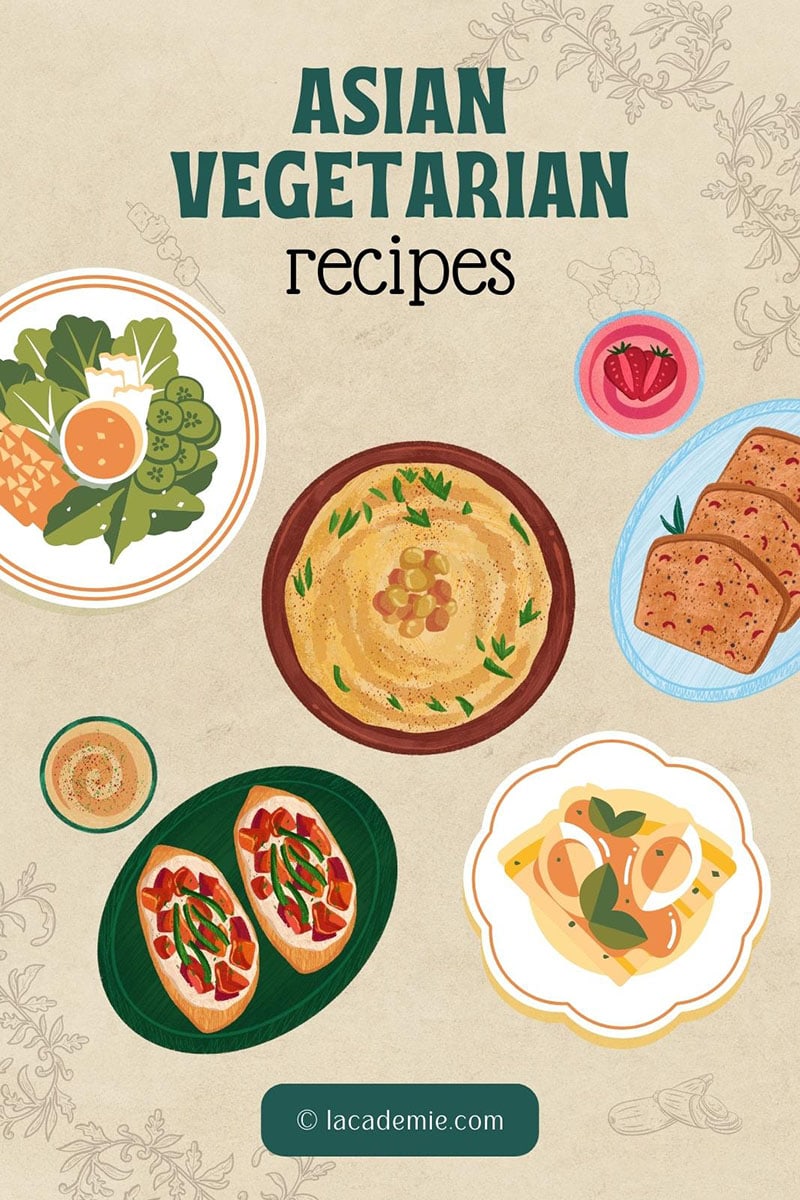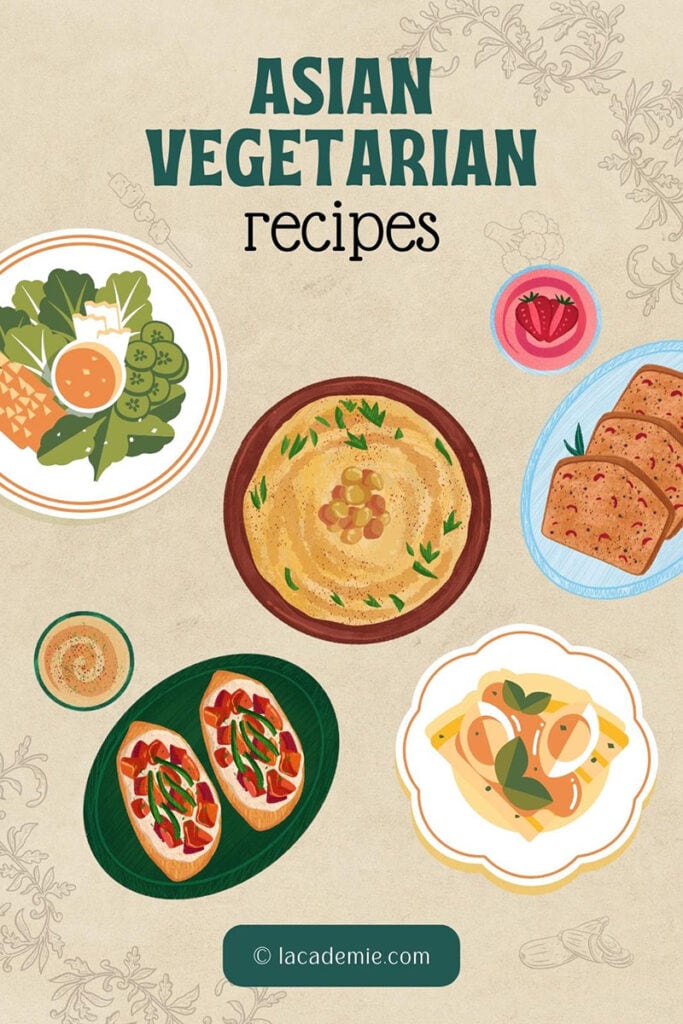 Take a trip with 51 best Asian vegetarian recipes I've collected below. You might have a chance to learn about foods from different countries such as Thailand, Indonesia, Vietnam, China and more.
Appetizers
1. Grilled Rice Balls (Yaki Onigiri)
2. Scallion Pancakes (Cong You Bing)
3. Pakoras (Indian Vegetable Fritters)
4. Spicy Tofu Lettuce Wraps
5. Tempeh Avocado Sushi
6. Korean Seaweed Rice Roll (Vegetarian Kimbap)
7. Vegetable Tempura
8. Daikon Carrot and Radish Salad
9. Dahi Vada
Main Course Recipes
10. Thai Pineapple Fried Rice
11. Peanut Sticky Rice
12. Fried Rice with Crispy Tofu
13. Mapo Tofu With Mushroom
14. Kimchi Fried Rice
15. Vegan Pad Thai
16. Veggie Lo Mein
17. Vegan Satay Noodles
18. Tofu Poke Bowl
19. Thai Drunken Noodles (Pad Kee Mao)
20. Mango Chickpea Curry
21. Vegan Bibimbap
Side Dishes
22. Pan-Fried Veggie Buns (Shui Jian Bao)
23. Korean Sweet Potatoes (Goguma Mattang)
24. Restaurant-Style Edamame
25. Vietnamese Lemongrass Tofu
26. Vegan Filipino Pandesal (Filipino Bread Rolls)
27. Vegan Rainbow Rolls
28. Garlic Eggplant
29. Thai Cucumber Salad
30. Korean Spicy Rice Cakes (Tteokbokki)
31. Simple Edamame Salad
32. Vegetable Dumplings (Vegetable Gyoza)
33. Vegan Tom Yum Soup
34. Shiitake Miso Soup
35. Vegan Vietnamese Pho
36. Simple Vegan Udon Soup
37. Korean Army Base Stew (Vegan Budaejjigae)
38. Chana Masala
39. Kung Pao Cauliflower
40. Vegetarian Moo Shu Wraps
41. Garlic Bok Choy
42. Chinese Garlic Green Beans
Desserts
43. Red Bean Soup with Mochi (Shiratama Zenzai)
44. Tofu Pudding (Tao Pho)
45. Thai Mango Sticky Rice
46. Sesame Balls (Jian Dui)
47. Indonesian Black Rice Pudding
48. Steamed Layer Cake
49. Royal Milk Tea
50. Chinese Steamed Sponge Cake (Ma Lai Gao)
51. Chickpea Flour Pancakes
Easy Asian vegetarian recipes transform familiar ingredients into unforgettable dishes, making Meatless Mondays more exciting below:
Appetizers
Looking for an impressive way to start a meal? I have a few suggestions which keep you busy in the kitchen and guarantee guests' satisfaction
Grilled rice balls, an authentic and famous Japanese dish, come in different shapes: round or triangular. You can also add any vegetarian fillings you prefer, such as mushrooms, fruit mash, and more. They all have a crisp crust and a soft center, which are flavorful to taste.
This dish could be a quick and delectable snack you can prepare for your beloved family members.
Flaky, crispy, and aromatic, these street-style Chinese pancakes are a super inviting dish you've ever made in your kitchen. Keep in mind; you should be generous when it comes to scallions (aka green onions) because they play an essential role in creating the savory flavor here.
This easy-to-make flatbread could be a top candidate for an appetizer, snack, or side dish. You should consider if you should freeze green onions to ensure you always have the necessary ingredients to make this easy, quick, and delicious dish whenever you want.
An excellent way to consume a load of mixed vegetables? Pakoras, of course. Typically, this traditional Indian appetizer consists of various greens and root vegetables that are finely shredded and combined with a delicious mixture of spices and flour.
As long as you follow the cooking instructions carefully, you'll soon get golden, crispy, and tasty vegetable fritters to serve on weeknights.
Tofu can be considered one of the highlights of a vegetarian diet, and you can make a hundred dishes from it, and believe me, this recipe deserves your attention.
The best part? This appetizer is straightforward to make and refreshing enough to brighten your whole meal. Imagine how amazing it is when eating a savory bite of tofu's flavor and mushrooms wrapped in crunchy lettuce leaves.
With its buttery flavor and super soft texture, avocado is an attractive fruit option to use in a vegetarian sushi roll. Adding smoked tempeh makes your dish more palatable and maybe ends the days of eating bland sushi.
For the ultimate treat, it's recommended that you dip it in soy sauce with wasabi paste and pickled ginger.
Korean seaweed rice rolls can be a fantastic option for picnics and outdoor parties because they're quick to make, especially if you have a user-friendly kit for making sushi. These rice rolls are quite convenient to carry around.
What's more, Korean seaweed rice rolls are super easy, fast, and could make use of vegetable leftovers in your fridge. Not to mention, they're super healthy, allowing you to eat them to your heart's content without worrying about any repercussions.
Dip it with soy sauce and enjoy; it's a safe bet that you will eat it non-stop until the last bite. This dish usually comes up when people want to discuss the differences and similarities between Korean and Japanese cuisine.
This dish also reminds me of dudubap, a famous North Korean dish that also features stuffed rice. However, instead of using seaweed as an outer layer to the rice, dudubap calls for fried tofu.
Do you know how to roll a kimbap properly? If not, let's learn now.
Vegetable tempura recipe is flexible and can be applied to any vegetable you have in your pantry. It might be one of the go-to Japanese recipes I enjoy cooking and proudly introduce to my guests on weekend dinner.
Crispy and tasty, homemade tempura is irresistible and more delicious than store-bought one because you can choose your favorite vegetables and eat them when freshly cooked.
With its red and white colors, daikon carrot and radish salad are among the most popular pickled dishes Asian people often have in their pantry.
Serve this dish at the next family dinner or your gathering, and your guests will thank you for that because it can give their taste buds a wake-up call, so they're very much ready to savor the meal.
This dish is often featured in Num Pang, a signature food that originated from Cambodia. While the main protein of this dish can change depending on the consumer's preferences, daikon carrot and radish salad are must-have ingredients in this scrumptious Cambodian dish.
Dahi vada reminds me of fried lentil dumplings soaked in creamy yogurt, topped with flavorful chutney.
This well-known Indian street dish might be a bit of work to make, but the result is impressive. Melt-in-your-mouth Dahi vada is possible if you remember to soak lentils at least 3 hours before grinding.
Main Course Recipes
These main dishes are packed with nutrition and flavors, which are ideal for your family. You can consider pairing them with some tasty Mediterranean dishes designed for vegetarians for an exciting and flavorful meal.
This Thai pineapple fried rice is easy to make and able to suit all tastes. I highly recommend that you cook it for summer parties and get-togethers. It's challenging to turn down such a colorful, healthy, and flavorful dish.
Vietnamese people often enjoy this sticky rice with peanuts in the morning because it can keep them full of energy until the next meal. In this recipe, the combination of glutinous rice, peanuts, and coconut milk creates a wonderful food with a sticky texture and delicious flavor.
As you can probably guess, peanuts are the undisputed star of this dish. That's why you'll need to check if peanuts can spoil, thus ensuring that the ones you choose are of the highest quality possible. While this might be time-consuming, you'll definitely appreciate the final results.
You might want to sprinkle roasted sesame all over the sticky rice to get the full taste of this dish.
This delicious peanut sticky rice is surprisingly easy to cook. You can see this video to know more:
You'll love how the crispy tofu blends into flavorful fried rice and almost can't stop eating it until nothing is left. This filling recipe is perfect for vegetarian diets with peas, corn, cooked rice, firm tofu, spices, and herbs.
Mapo tofu is one of the most favorite Chinese recipes which have been cooked all over the world. For a vegan version, you just need to use chopped shiitake mushrooms instead of ground pork. Fermented black beans might be necessary to add depth to the overall flavor.
For me, kimchi is always a good idea because I don't mind putting it alongside various main courses. And thanks to its long shelf-life, I rarely have to fear the possibility of kimchi getting spoiled. Adding kimchi to fried rice seems to be an ideal way to have a good dish.
Feel free to toss some vegetables and mushrooms in the pan if you prefer. Don't forget to top your plate with sesame seeds, seaweed strips, and a sunny side-up egg.
This wholesome and fuss-free vegan Pad Thai can be on the table in 30 minutes. You'll surely get a restaurant-worthy dish if you follow the step-by-step instructions, especially the dressing part. For me, this tangy, spicy, and sweet sauce is considered the soul of vegan Pad Thai.
Looking for a healthy recipe with a lot of vegetables? Look no further than veggie lo mein. The key secret is that you should sautee veggies separately because they have a different cooking duration. It would be better if you opt for sesame oil instead of olive oil.
One dish that lo mein is often mistaken for is chow mein. However, you can easily avoid this by learning the distinguishing points between low mein and chow mein. Once you do, you'll see why veggie chow mien might not be as appealing as veggie lo mein.
For fans of peanut butter, this recipe is out-of-this-world stir-fried noodles. It's loaded with healthy vegetables and creamy sauce, which will undoubtedly satisfy your craving. The best part? It's quick and easy to make.
And if you prefer a simpler noodle dish, may I suggest trying out Atho, an iconic dish in Burmese cuisine. This Burmese version of noodle features mainly vegetables, making it a perfect dish for vegetarians.
Sesame ginger tofu is the star of this recipe because it brings a bold flavor to the refreshing veggie bowl. You might need to prepare two packages of firm tofu which is the best choice because you'll cut them into cubes and bake them in the oven.
This stir-fried noodle is so flavorful that you keep making it again and again in the kitchen. There is a rumor that someone has invented it while he's drunk; that's why it has another name as Thai drunken noodles.
The great thing about this recipe is that you can throw any vegetables into the pan, such as broccoli, cauliflower, bell pepper, and more. For those who wonder, it tastes spicy, salty, and sweet. Sounds delicious?
This aromatic mango chickpea curry recipe comes together in about 25 minutes. Make it once, and you realize that it's worth a spot in your regular rotation.
In the beginning, I thought this dish was a bit weird, but when tasting it, I changed my mind because it's so rich, sweet, juicy, and fantastic. I guess I should never underestimate mango when it comes to curry dishes.
Bibimbap is my must-have dish in every Korean meal. This recipe brims with unique flavors from gojuchang sauce and various fresh vegetables. Luckily, it's pretty simple to make it at home with several pantry-friendly ingredients.
Vegan bibimbap is perfect for lazy days. Find out why and how to make it.
Side Dishes
Slow down and enjoy these simple but yummy vegetarian side dishes from Asian countries with your family and friends. It's also a good idea to enjoy them with palatable paleo and vegetarian dishes for a healthy meal plan. Don't hesitate to share them with others if you feel good.
22. Pan-Fried Veggie Buns (Shui Jian Bao)
Having breakfast with freshly-made veggie buns and a glass of soy milk seems to be an excellent way to start your day. These adorable buns taste insanely delicious and are my family's favorite food.
As you might not know, pan-fried veggie buns are popular street food in China and Taiwan.
Are you a sweet tooth? Goguma mattang is here to satisfy your craving right away. This popular Korean dish is a kind of delicious deep-fried sweet potato cubes covered in melted brown sugar.
In terms of sweetening cooked sweet potatoes, you can use honey or corn syrup instead. My kids love this snack very much and always ask for a large batch of it.
This healthy green soybean is a great option to start the meal, and it's straightforward to make in less than 10 minutes. All you need to do is add some salt into the boiling pot and sprinkle it over the top of boiled edamame before serving.
Besides its yummy flavor, edamame is well-known for its high nutrition. In short, this snack is wholesome and addictive.
Let's find out how to make restaurant-style edamame! Are you excited?
This straightforward recipe is oh-so-good and suitable for incorporating in a daily meal of a vegetarian. Adding lemongrass or some other alternative for lemongrass to fried tofu creates a fantastic aroma which you might drool just by smelling the dish.
These traditional foods from the Philippines are great for any time of day and can be paired with various things such as nut butter, fruit jam, chocolate sauce, or vegan ham. These bread rolls are fluffy, sweet, and light.
Loaded with colorful veggies, these rainbow rolls will gradually lift you and make you fall in love with fresh produce. For me, rainbow rolls are one of the best things I have ever put in my mouth. I often make it to treat my guests in summer.
Let's turn your eggplants into a tasty side dish with a flavor kick from garlic and spices. This 20-minute dish pairs well with cooked white rice or steamed buns and makes a wonderful lunch or dinner.
Discover a quick and simple way to cook eggplants with me.
Make this salad for your next family dinner, and it's guaranteed that everyone loves it. Homemade Thai dressing, fresh cucumbers, and green onions will give you the flavor punch you're waiting for.
This chewy and yummy rice cake recipe can be made more straightforward, and it takes you only a few minutes to finish. Many people like to have it bathed in sweet and spicy sauce. This way, it appears very addictive.
Prepared to be surprised when you eat this refreshing and greenish salad? It's a punch of flavors that is made simple by combining edamame, and a few delicious vegetables. This Japanese edamame is full of protein, fiber, manganese and vitamins, so consuming them surely brings you a boost of energy.
Even meat eaters will find these little vegetable dumplings satisfying, thanks to their savory fillings. This recipe can be easily found in Japanese and Chinese restaurants.
And it was the first time I made dumplings from scratch, even their wrappers. They are dairy-free, gluten-free, and cruelty-free.
These crisp pan-fried potstickers are often served when still steaming hot with sweet and sour sauce. While these go well with almost anything, I love pairing it with a well-beloved Georgian dish: Ajapsandali, aka vegetable stew. The combination of these two is quite a treat in the cold winter.
You won't miss the shrimps in this vegan version of tom yum soup because it can exude the authentic Thai flavor sip by sip. Zucchini noodles seem to be a creative way to add more veggies to the dish. With this recipe, it's recommended that you customize the heat upon your preference.
What's a better way to elevate your soup than by adding some of the most popular Japanese mushroom types? Believe it or not, shiitake miso soup is one of the most nutritious soups I have ever cooked in my life, and I prefer to have it when I feel not well and need a comforting bowl of goodness.
One of my favorite Vietnamese noodle types of all time! Vegan Vietnamese Pho features mushrooms and spices, which are used to replace beef broth and beef slices. Its unique flavor and slurpy noodles make me feel comforted and satisfied.
I can't wait to try this vegan Vietnamese Pho. Let's cook together!
If you're expecting a bowl of delicious Asian soup with a mildly earthy aroma of mushrooms, a lettuce-like flavor of bok choy, and umami white miso broth, this udon soup is all that you need. The best part? Feel free to add anything you like and make it unique each time you cook.
37. Korean Army Base Stew (Vegan Budaejjigae)
Budaejjigae is the most popular hotpot you can order when visiting a Korean bar, and this recipe is its vegetarian version. The reason behind the name "Korean army base stew" is because it was created after the Korean war and used foods from US army bases such as hotdogs, minced meat, and more.
This dish is so straightforward and so yummy. I highly recommend that you enjoy it with your family and friends.
Here's a step-by-step how to make vegan Budaejjigae.
Chana masala comes from North India and features a spicy flavor that pairs well with rice, roti, and naan. This restaurant-style recipe is a perfect idea for family dinners or get-togethers. Moreover, you can cook it in less than 30 minutes as long as you remember to soak chickpeas the night before.
This straightforward and mouth-watering recipe could combine well with white rice and makes a perfect dinner for vegetarian people. It's saucy, sweet, and spicy – what not to love?
It seems like I can eat this crunchy and crispy Chinese dish all day. Try to make it at home, and you'll love it as much as I do.
Filled with a generous amount of coleslaw, green onion, shiitake mushrooms, eggs, crispy tofu, then drizzled with delicious hoisin sauce, this recipe is not to be missed.
Instead of making homemade mandarin pancakes as at a Chinese restaurant, I suggest you use Mexican flour tortillas to wrap the filling.
Although moo shu wraps look complicated, they don't take much work to complete. Believe it or not, this dish is going to be a hit at your next meat-free party.
If you're searching for a simple, meat-free stir-fried side dish, try this one, you won't be disappointed. Bok choy has always been my favorite vegetable and my top ingredient in stir-fried vegetarian dishes.
In this recipe, garlic is tossed in the pan to complement the sweetness of bok choy and adds irresistible flavor to the whole dish.
This popular Chinese side dish only costs you 10 minutes to get ready on the dining table. Add it to your menu as soon as possible because many people like it.
You might be familiar with this recipe as a favorite Chinese takeout dish, but how about making it in your kitchen? I bet you will be satisfied with the result because it's so simple to achieve restaurant quality.
These stir-fried garlic green beans pair well with most of the food on your table, so you're welcome to have it any day you want.
Desserts
Treat yourself and your guests to some healthy and great-tasting desserts. They will surely be impressive and convince you to show these sweetish recipes.
Japanese people love to eat chewy mocha cakes bathed in warm and sweet azuki soup. It's a perfect dessert for wintertime when the temperature drops significantly. You can count on this soup to warm you up from the inside out.
This sweet tofu pudding is a delicious treat year-round. With an Instant Pot, you can make it in no time and keep it warm during the day. I'd like to have it warm with ginger sugar syrup.
The combination of glutinous rice, mango, and coconut milk has brought you a wonderful dessert that you can enjoy in the comfort of your home. This charming Thai vegetarian recipe calls for the ripest mangoes you find in your pantry and sugar to sweeten the dish.
Sticky rice with mango is also a very popular dish in Lao cuisine. Known as Khao Niaow Mak Muang in Laos, sticky rice mango sometimes are prepared with durians or Lao hog plum instead of mangoes.
These fried sesame balls come with both crunchy and chewy textures. It might taste better when freshly made because its crust will be crispier. In terms of filling, red bean paste seems to be a perfect option.
Indonesian black rice pudding consists of only three main ingredients but is a hard-to-beat Asian breakfast for vegetarians. You can have it hot and cold; either way, it tastes terrific.
This treat doesn't involve much work and can be stored in the fridge for up to 4 days.
Steamed layer cakes are a bit of work to make but worth the effort. Let's think about the time when you and your family enjoy these chewy and soft cakes together.
To complete the dish, you need to prepare mung beans, coconut milk, pandan leaves, vanilla extract, tapioca flour, and rice flour.
Royal milk tea is straightforward to make and comforting to taste, especially on cold days. It's one of the most popular drinks in Japan and calls for three ingredients, including black tea, milk, and sugar.
What makes it different from other regular milk tea is its brewing method. In this recipe, all elements are put in the pot one by one and boiled together.
You can choose among several full-bodied black teas such as Assam, Ceylon, or English Breakfast in terms of tea.
This simple sponge cake tastes delectable, thanks to its moist and fluffy texture. To my surprise, this recipe doesn't ask for baking powder and the cake still doesn't collapse. Not to mention, it's entirely oven-free. You can eat it alone or pair it with some of your favorite fruits.
These 5-ingredient, nutrient-dense, high-protein pancakes will be an energetic breakfast for your family, especially gluten-intolerant people. Often I make them as a dessert to treat my guests, and they're happy to know that these pancakes are made from chickpea flour instead of wheat or all-purpose flour.
If your concern is about legume-like flavor from chickpea flour, I suggest you serve them with a generous amount of maple syrup and favorite fresh fruits.
And if you're up to trying another famous version of Asian pancakes, I highly suggest peanut pancakes. These are famous dishes that originated from Malaysia, featuring luscious peanut flavors that blend incredibly well with a cup of hot tea.
Enjoy Vegetarian Meals More and More
If you are a lifelong vegetarian, you might find it a joyful diet good for your health and Earth's health.
As far as I know, most meat-eaters think that a vegetarian lifestyle is a strict diet, and you could prove them wrong by cooking a lot of delicious dishes without using a slice of meat.
In this case, these Asian vegetarian recipes could be helpful. They might be so good that your family and friends don't notice that they're vegetarian until you tell them so.
Even though I'm an omnivorous eater; I tend to join the Meatless Monday movement every week. For this reason, I've collected vegetarian recipes, and above are some of my favorite ones, which you can feel free to use.
I hope you like what I've listed, and let me know what you think in the comments below.
Nutrition Facts
3 servings per container
---
Amount Per ServingCalories357
% Daily Value *
Total Fat 8.6g

13

%
Sodium 353mg

15

%
Potassium 409mg

12

%
Total Carbohydrate 62.7g

21

%

Dietary Fiber 6g

24

%
Sugars 10.5g

Protein 8.8g

16

%
---
* The % Daily Value tells you how much a nutrient in a serving of food contributes to a daily diet. 2,000 calories a day is used for general nutrition advice.