Many of these Chinese beef recipes provide a great way for you to change up your mealtime. For many beef lovers out there, the usual roast beef or hamburger might be good, but won't it be better if you can experience how the Chinese prepare their cuts of beef?
From a flavorful plate of beef stir-fry to a rich and filling bowl of beef noodles, these delicacies can be a nice break from your usual menu. Not only acting as a palate cleanser, but these Chinese dishes can also help you discover another side of global cuisine.
And as your unofficial culinary assistant, I must show you how to make these scrumptious Chinese specialties. I'm sure that your family and friends will appreciate the efforts. Enough talk, let's head on over to the list.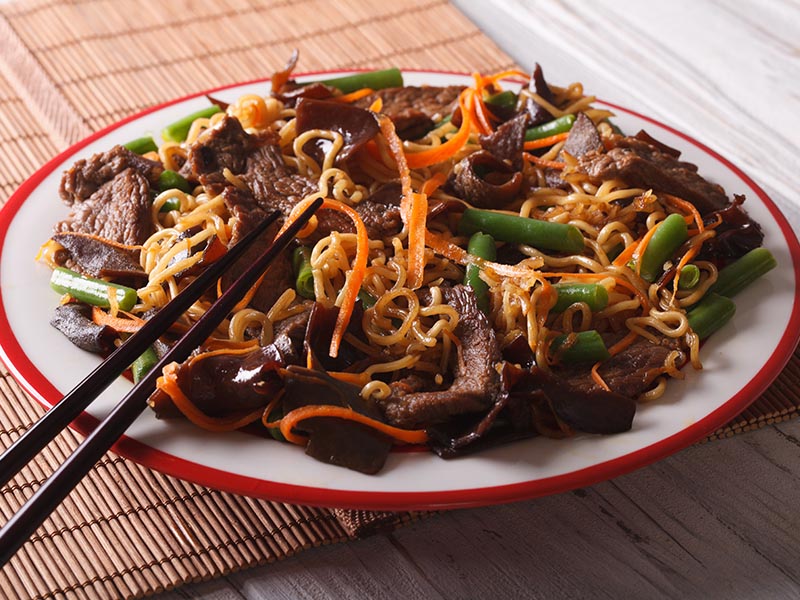 Change Your Style With Beef Recipes From China
While some of these delightful Chinese-styled recipes can be a bit difficult to follow on the first try, you will be able to master them eventually. The results will be some of the best and most exotic cuts of beef that you've ever made.
Total time: 3 hours 45 minutes
As a part of Chinese cuisine since the Han Dynasty (4th century B.C – 4th century A.D), noodles are very important to the Chinese as Pizza to New Yorkers and Cheesesteak Sandwich to Philadelphians.
Thanks to China's vast geography, there are different interpretations of noodle dishes. This includes the creation of a soup-based delicacy from China called noodle soup. Today, I want to show you how to make the Niu Rou Mian, or Beef Noodle Soup.
What makes this noodle soup so good is the broth. You have to boil the beef with its bones to get all of that meaty essence out. After that, you add more aromatics like ginger, scallion, and a handful of Sichuan peppercorns to improve the taste.
And, of course, the noodles make up the final part. The spongy texture will absorb the liquid to help the noodles become more flavorful.
This Chinese chef will teach you how to make an authentic Niu Rou Mian.
Total time: 30 minutes
Gai Lan Niu Rou, or Beef And Broccoli Stir-Fry, can be a very quick and easy meal for you. Not only that, but you can also incorporate this delicacy into your daily diet since it contains a lot of good nutrients.
To recreate Gai Lan Niu Rou, you will need three things: beef steak, broccoli, and seasoning sauce. The last part is important since it will bring a lot of unique Chinese flavors into the meat and vegetables. The sauce includes soy sauce, oyster sauce, and rice wine vinegar.
After you marinate the steak in a mixture of soy sauce and vinegar, stir fry it with the broccoli and the sauce. Add cornstarch to the sauce mixture to thicken it up. This step helps the mixture stick to the beef and broccoli quickly, enhancing the savoriness of both ingredients.
Total time: 1 hour
In this entry, I want to introduce you to a succulent side dish from China called Crispy Beef, or Cui Pi Niu Rou. It's a popular menu item in many Chinese restaurants, thanks to its unique texture and taste.
Instead of the tenderness similar to beef-based delicacies, the beef in Cui Pi Niu Rou is very crunchy thanks to a quick deep-frying process. The batter, consisting of cornstarch and water, acts as a protective layer that keeps all of the moisture inside the meat.
The other part of this specialty is the sauce, consisting of hoisin sauce, soy sauce, and Shaoxing wine (Chinese cooking wine). The soy sauce brings a mild saltiness, while the hoisin sauce has a lot of sweetness. The cooking wine adds a hint of vinegary aroma.
Total time: 2 hours
During a miserable cold winter season, there's nothing more comforting than a bowl of stew to warm you up. And that's why I'm bringing you the recipe to make this flavorful and heart-warming Chinese Beef Stew.
The simplicity is what makes this dish so good and easy to make. You are only required to get beef chunks, potatoes, and carrots. Of course, you can add other vegetables if you like. The beef makes the broth very rich and nutritious.
On the other hand, the veggies give the stew a refreshing aroma. The sweetness from them balances out the richness. To improve the savoriness, just drizzle in soy sauce and Chinese cooking wine. The soy sauce offers a mild saltiness, while the wine has some acidity.
Total time: 1 hour
While this next entry might not be a pure mainland creation, it still keeps the spirit of Chinese cuisine alive even in Canada. Ginger Beef, or Jiang Niu Rou in Chinese, is a very delectable delicacy that contains many unique flavors.
In most Jiang Niu Rou recipes, you will see that the beef needs to be deep-fried until crispy. There are two reasons for this. Firstly, this creates a really good texture that binds the sauce to the meat. Secondly, the crispy skin of the beef will keep the meat juicy.
There is also a mixture of Chinese-style sauce that you drizzle on top of the meat. To make it, mix soy sauce, sugar, and Chinese cooking wine in a heated pan. This will reduce the liquid to a perfect consistency. The sauce is very sweet with a slight savoriness.
Combine the meat, slices of ginger, and the sauce for a perfect plate of beef. You can have it alongside rice to balance out the taste.
It won't be too hard to make Ginger Beef thanks to this recipe.
Total time: 30 minutes
Chow Mein, or Stir-Fry Noodles, is a staple of Cantonese cooking in many Chinese restaurants. Thanks to its versatility, you can make Chow Mein with different sets of ingredients. In this recipe, I want to go further into the beef version of this delicacy.
To get the noodles to their preferable texture, you must fry them until the strands start to crisp up. This crunchiness is what brings a lot of that delectability to the dish. The dry noodles will also be able to soak up the beefy sauce and improve the flavor even more.
After marinating the beef in a mixture of sesame oil and cooking wine, you stir-fry the meat until it turns a nice brown. Add in the sauce consisting of oyster sauce, maple syrup, and cornstarch until it thickens up. The sauce provides a pleasant fragrance and a savoriness to the meat.
Total time: 1 hour 15 minutes
For those who prefer a peppery kick, I have a suitable delicacy for you. Szechuan Beef is such a delightful little Chinese side dish that can be paired with rice. However, this plate of beef from Sichuan province might be a nightmare if your spice tolerance is not high.
To recreate this specialty, you will have to slice up beef very thinly so the marinade can easily spread throughout the meat. The marinade includes black vinegar, soy sauce, and sesame oil. The oil gives a mild nutty aroma, while the soy sauce and vinegar offer a sense of savoriness.
And here comes the main part, which is the spicy Sichuan-inspired seasonings. They include Sichuan peppercorn, chili oil, and dried red chili. These types of chili will bring the heat to your taste buds. But the combination also improves the delectability of the beef a lot.
Total time: 35 minutes
This next entry is another delicacy from China's capital of spices, Sichuan province. While it might be too spicy for a lot of people, Sichuan Boiled Beef still packs a lot of unique tastes. When you take a bite, you will want another.
So what makes this dish so good? Well, it's thanks to both the cooking method and Sichuan's signature seasonings. The beef is coated in a layer of soy sauce, pepper, and cornstarch. The last ingredient helps the meat stay very juicy and protects the savoriness.
On the other hand, to cook the beef, you saute the Sichuan peppercorn before pouring the water in to make the soup base. You can enrich the soup base even more with a special bean paste called Doubanjiang. This type of bean paste is sweet, salty, and umami.
When you combine the beef with the soup in a bowl, there will be an explosion of fragrance. The spiciness can be overwhelming, but it can turn the beef flavorful.
Total time: 25 minutes
Moving slightly west of Sichuan province, I want to take you to Hunan with this delicacy called Hunan Beef. This stir-fried beef dish might look simple at first glance, but you can be sure that it boasts a lot of exotic features of Chinese cuisine.
With these types of specialties, you must always cut the beef into very thin slices. Doing this will ensure the beef stays tender and does not turn into a piece of leather during the cooking process. Marinate the meat in soy sauce, corn starch, and Chinese cooking wine.
When it's time to stir-fry, quickly toss the beef in a cooking pan. While you toss, drizzle in the Hunan-style sauce that includes black vinegar, soy sauce, and Doubanjiang. This combination provides a lot of savoriness to the meat. Hunan Beef goes best with a side of white rice.
Total time: 45 minutes
Lo Mein is somewhat similar to Chow Mein in that both styles require the use of egg noodles. However, Chow Mein will need you to fry the noodles until they turn crunchy. On the other hand, you boil the noodles first and then toss them alongside other ingredients with Lo Mein.
In this recipe, I want to show you the beef version of this beloved Chinese noodle dish. Aside from the beef and egg noodles, you have to get bean sprouts, mushrooms, and bell pepper. The extra vegetables can reduce the greasiness, making the noodles more delicious.
Before cooking, marinate the beef in a mixture of soy sauce, baking soda, and vegetable oil. The mixture can help tenderize the meat tissue and bring out the savoriness.
You also stir-fry Lo Mein with a special sauce consisting of soy sauce, oyster sauce, and sugar. This flavorful sauce is what makes the noodles so moist since the strands absorb most of the liquid. Every single bite from the Lo Mein will bring you close to culinary bliss.
There is no need to eat out anymore with this Beef Lo Mein recipe.
Total time: 2 hours 30 minutes
Hong Shao Niu Rou, or Red Braised Beef, is not only comforting to eat but this delicacy also has a very appetite-inducing appearance. From the thick reddish sauce to the lovely sheen surrounding the meat, you will find yourself continuously salivating when gazing at this delicacy.
The best thing about the Red Braised Beef is the texture. Thanks to the simmering process, every single cell of the beef breaks down wonderfully. This causes the meat to become tender. This also helps the seasonings to seep into the beef a lot more efficiently.
And for the seasonings, you have a mix of many aromatics like ginger, garlic, and star anise. This gives the meat a very herbal smell. Apart from that, the meat is cooked in a type of liquid consisting of bean paste, soy sauce, and rice wine. This further enhances the savory flavor.
Total time: 15 minutes
Kung Pao Ground Beef is a derivative of Kung Pao Chicken, a very popular stir-fry dish from Sichuan province. Despite the difference in the main ingredient, the core of this delicacy still focuses on enhancing its savoriness with a lot of spice.
To infuse the minced beef with as many flavors as possible, you have to mix a special Chinese-style sauce. This includes condiments like sesame oil, soy sauce, and sugar. This creates an even blend of saltiness and sweetness.
Aside from the sauce, this delectable Asian ground beef recipe requires you to add vegetables like green onion, bell pepper, and garlic. These aromatics exude a very pleasant smell during the cooking process.
To complete this Kung Pao dish, stir-fry the beef with the veggies and drizzle in the sauce until it thickens up. Throw in chili flakes to enhance the spiciness. This specialty is perfect with white rice.
Total time: 30 minutes
When it comes to iconic Guangdong delicacies, Chow Fun, or Stir-Fried Rice Noodles in English, is a favorite of so many people. The uniqueness of this delicacy lies in the use of its simple ingredients to the fullest.
The things you will need are beef, noodles, and sauces for both. For the beef sauce, you combine sugar, Chinese cooking wine, and soy sauce. This brings out a lot of flavors of the meat, increasing its savoriness.
When it comes to the noodle sauce, you will drizzle it during the stir-frying process. It includes soy sauce, oyster sauce, and black pepper. The combination gives the noodles a very dark, brownish color. On top of that, the fragrance is quite delightful as well.
This Beef Chow Fun recipe is quick, easy, and delicious to try your hands at.
Total time: 20 minutes
Hei Jiao Niu Liu, or simply Beef With Black Pepper in English, is a nourishing and quick stir-fry dish from China. Each cut of the beef is in a perfect size. Due to that, the meat manages to soak up all of the goodness from the sauce, improving its juiciness.
Unlike most Western cuisine, Chinese cuisine prefers the beef steak to be sliced thinly before the cooking process begins. This means you will have no trouble chewing through the meat if you overcook it.
This thinness also helps the condiment, consisting of oyster sauce, soy sauce, and black pepper, to spread evenly. When you take a bite of beef, the umami from the oyster sauce and the kick of spiciness from the black pepper will rush into your mouth.
Total time: 10 minutes
If you're on a diet, then this Chinese delicacy might be a perfect fit to put in your meal plan. Beef And Mushroom Stir-Fry, or Mo Gu Niu Rou, combines many nutrient-rich ingredients to create such a flavorful and savory masterpiece.
To get started, you need these components: beef, mushrooms, and garlic. Garlic is a well-known aromatic for many Asian dishes. Alongside it, you have mushrooms with their unique umami taste. Both of them will go well with the meaty and rich beef.
And of course, there is a special sauce that you combine with the ingredients to enhance the texture even further. This sauce includes condiments like cornstarch, sugar, and soy sauce. This sauce will give this delightful specialty a new layer of flavors, like sweetness and savoriness.
Total time: 60 minutes
Due to the spread of Hong Kong cuisine across the world, Fan Qie Chao Niu Rou is gaining a lot of attention. This version of Stir-Fried Beef And Tomato is not only healthy but also packs a lot of fantastic Chinese-styled flavors.
When it comes to stir-fried dishes from China, you will always have to first slice the beef very thinly. Next, marinate the beef with cornstarch, oil, and salt. This mixture can keep the beef from drying out in the frying pan, thus the texture will stay juicy.
The cooking step is quite simple. You stir-fry the meat with tomatoes, ginger, and onions. The ginger and garlic will create an irresistible fragrance while the tomatoes infuse some acidity into the meat.
The final step is to drizzle a sauce base that includes ketchup, soy sauce, and sugar. This sauce has an apparent umami aroma. Fan Qie Chao Niu Rou is nice with a bowl of steaming rice.
This version of Chinese Beef Tomato Stir-Fry is a healthy dish for you.
Total time: 2 hours 50 minutes (Braising time: 2 hours)
Originating from the Indian subcontinent, this popular Asian culinary style has many variations across countries Japan, Korea, and China. For today, I'm going to show you a curry that is part of Hong Kong cuisine. It's called Gang Shi Ka Li Niu Nan.
Most of the flavors from this Chinese-style curry lie within the beef and the broth. For the recipe, you are required to pick out the beef brisket. Don't worry about the meat being too chewy since the stewing method of curry will break down the meat tissue easily.
On the other hand, the curry broth base consists of turmeric powder, coconut milk, and Chinese cooking wine. Thanks to coconut milk, the broth is very rich and fatty. The turmeric gives the curry a signature yellow appearance, and the wine bestows that distinct dryness.
When you stew the meat in the curry, it will soak up the liquid and keep the meat moist. Since the curry is rather overwhelming in flavor, you can toss in onions and potatoes to bring a whole lot of freshness to the broth.
With Chinese Beef Dishes, The Possibility Is Endless
With so many Chinese-styled delicacies above, you will be able to create more incredible meals for yourself and your family. Don't just limit your culinary journey to just one style because there are so many wonders in this world that you can test your skill on.
How was that? I hope you enjoy another fantastic journey through the many sides of Chinese cuisine. If you like what you've read, give this article a little like, as well as share this on your social media. Please stay tuned because I will have more in the future.