Asian ground beef recipes offer a fresh culinary experience, introducing flavors from the eastern side of the globe to your meals.
Compared to chicken, pork, or fish, beef can be somewhat of a high-class delicacy, but it doesn't mean you will have limited options. Quite the opposite, you can still find a lot of notable dishes that exude creativity and ingenuity.
As your resident expert in Asian food, let me introduce you to the wonders of ground beef-based dishes in many countries with this following selection. I can guarantee you will never regret one single second here. So, let's start by jumping right in!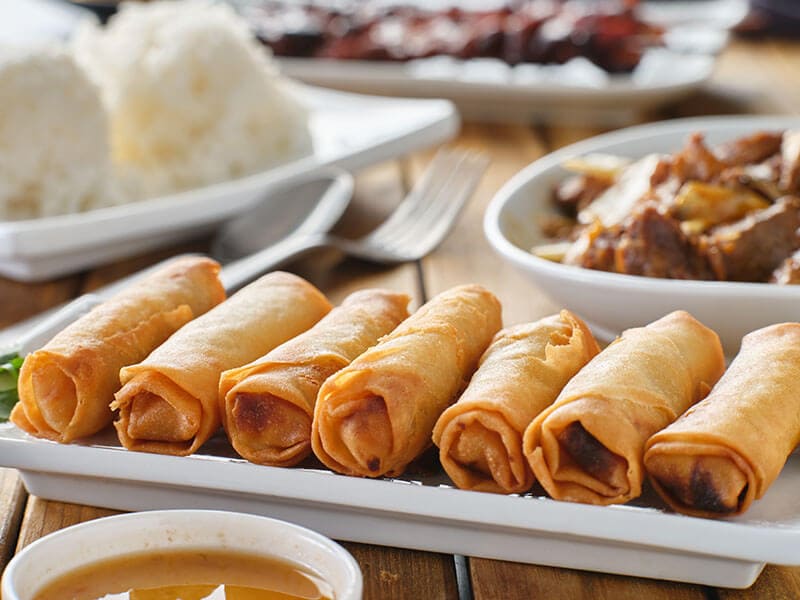 Asian ground beef recipes turn excess meat into delectable dishes, so tempting that moderation becomes a challenge. Dive in and explore these 27 easy asian ground beef recipes to satisfy your cravings below:
Total time: 25 minutes
The Cantonese Ground Beef Bowl is one of the perfect personifications of the motto "Less is more." Why do you have to go for something complicated when the combination of well-marinated beef and white rice is enough?
This Chinese ground beef dish is one of the easiest recipes you can make. The only thing you have to care about is getting the right seasonings, like Chinese cooking wine, oyster sauce, and, my favorite, soy sauce. They bring that signature explosive factor to the flavors.
The best part of the whole experience is when you can finally get a taste. The beef is quite juicy and tasty, with a heavy emphasis on umami. Eating the meat with a spoonful of rice can be pretty nourishing, and it fills you with energy.
Total time: 30 minutes
When you don't feel motivated enough to cook multiple dishes, I think this Ground Beef Fried Rice recipe will save you a lot of time. The cooking process is almost effortless as you just throw most of the ingredients in a frying pan.
To recreate this Chinese-styled delicacy, you should get the following ingredients: Ground beef, eggs, and frozen vegetables (including peas, carrots, and corns). The balance between meat and vegetables will guarantee the dish's nutritional value.
As for the rice, it's highly advisable to use leftover rice from yesterday since its fimer texture is more suitable for stir-frying. If you use freshly cooked rice, the grains will become rather mushy. Just drizzle some soy sauce on the rice to make it more savory.
This Ground Beef Fried Rice doesn't take too long to make.
Total time: 30 minutes
Nothing is more irresistible to me than the Hoisin Beef Bowl. This Chinese-inspired recipe only takes less than an hour to make, yet the overall essence will stay in your mind for a long time.
The main focus here is on beef. The cooking process usually includes stir-frying the meat in a glaze of oyster sauce, Hoisin sauce, and soy sauce. If the mixture is too salty for you, you can add a dash of honey.
With the help of heat, the sauce will reduce in volume and slowly thicken up. This process also has the effect of helping the glaze to cling to the savory beef much easier. A wave of umami and sweetness will wash over you like a tsunami when you finally get a taste.
For presentation, the meat usually goes on top of fluffy white rice. Most of the rice can absorb the flavors to increase its delectability.
Total time: 45 minutes
If you don't know, Sichuan is a province of China famed for its heavy use of spicy seasonings. A typical dish from this region will make you break a sweat. However, I can assure you that this Spicy Eggplant recipe will only cause a slight stinging sensation on your tongue.
And if you're asking whether you can use frozen ground beef to make this dish, the answer is yes. Besides it, you'll need eggplant and chicken stock.
While the eggplant is the base, it has a very mild flavor. Both meat and chicken stock can provide the necessary savoriness to make the dish more impactful.
You can add chili sauce to give the eggplant more Sichuan flair. It's not as strong in spiciness, but the sensation will still stimulate your appetite. Finally, you can serve it alongside a rice bowl when the delicacy is ready.
Total time: 24 minutes (There's a resting time of 1 hour 55 minutes)
Curry is a fantastic delicacy thanks to a creamy sauce and savory meat. The only bad thing is that you can't eat curry anywhere. Well, that's not going to be a problem now with this recipe called Curry Beef Buns. Now, you can bring curry wherever you like.
Compared to a standard meat bun, this version is quite distinct because of its color. That's because the primary cooking method for Curry Buns is baking instead of steaming. You get a glossy and golden brown coating on top of the buns.
You saute the minced beef with curry powder and turmeric powder to make the filling. The seasonings will give the meat a bit of that cinnamony and herbaceous aroma. The savoriness of the filling also increases with onions and sugar.
Total time: 15 minutes
This specialty is simply a variation of the more popular Mongolian Beef. But by adding noodles into the mix, you can feel the change in aroma and texture. It feels a lot more nourishing and perfect for a lazy summer afternoon.
Unlike the traditional Mongolian Beef recipe, you use ground meat to let the savoriness spread out evenly. Apart from the beef, there are other flavoring agents that you can use, like soy sauce, sugar, and Hoisin sauce. The blend of saltiness and sweetness is just right.
You can choose any sorts of noodles you want, but for this recipe, I recommend using linguine pasta, which is somewhat chewy, spongy, and creamy. The pasta can soak up the juice from the sauces and beef to improve the whole experience.
Total time: 45 minutes
Aush is a noodle soup available in many Middle Eastern and Central Asian countries, like Iran, Afghanistan, and Azerbaijan. The word "aush" means "thick soup" in Iranian. Aush will be a good starting point if you're new to this cuisine.
Two factors keep people coming back for Aush. The first one is the comforting broth, which consists of chicken broth, kidney beans, and chickpeas. The overabundance of richness and starch in the soup will make anyone feel good and energized.
Aside from that, this delicacy usually comes with a serving of minced meat, like beef or lamb. The savoriness can infuse itself into the soup, making the overall essence even more irresistible. If you want some acidity to the taste, you can also add a spoonful of Greek yogurt.
This is another tutorial to help you cook Afghani Noodle Soup.
Total time: 5 hours
Koofteh Tabrizi is a version of meatballs from Persia (Iran) unlike anything you have ever eaten before. The taste, as well as the presentation, are very exotic. Although the recipe is complicated for beginners, the resulting dish is worth the effort.
The incredible thing about this spectacular specialty from Iran is its size and texture. Apart from the exterior, consisting of minced beef, there's also stuffing in the middle. The core combines dried plums, tomato paste, and unripe grapes.
You can feel two different layers of flavors from the meatball. The savory beef provides a stark contrast to the tangy and sweet filling. Not just that, but the tomato sauce covering the entire delicacy also offers its umami essence.
Total time: 2 hours (Including 40 minutes of steaming time)
The diversity of Middle Eastern cuisine, particularly in Iran, would take you a lifetime to uncover fully. There are so many unique delicacies that deserve to be on your bucket list, and one of them should be this entry right here called Loobia Polo.
Traditionally speaking, Loobia Polo comes with three steps: cooking the beef stew, boiling the rice, and steaming the whole dish together. Most of the flavors come from savory beef and starchy green beans within the stew.
While the rice is quite bland, this component brings a fluffy and chewy texture to the overall experience. Rice is also quite absorbent, so you can feel the stewing liquid seep into each grain. Eating a spoonful of rice can result in different tastes exploding in your mouth.
Total time: 1 hour
Pakistan is a country that borders three regions, including South Asia, Central Asia, and the Middle East. That is why foods from Pakistan feel like a fusion between three areas. In this entry, I want to explore the South Asian influence first with this delicacy called Aloo Keema.
The main ingredients consist of ground beef, potatoes, and onions. As a typical curry dish, you can expect this recipe to be full of Asian-styled seasonings, like cinnamon, cumin, and cloves. The beef and vegetables are going to have a pretty herbaceous taste.
And for the stew base, you get milk yogurt, which is a lot creamier than regular cream. The acidity from the milk yogurt offers a side of tanginess, eliciting a strong reaction from your palate. Since it's spicy curry, you should add red chili powder and Thai chilies for extra heat.
The best food to pair with Aloo Keema is rice or Naan bread (a chewy flatbread from South Asia).
Making Aloo Keema for dinner can be a satisfying experience.
Total time: 35 minutes
For the next entry, let me show you a Pakistani delicacy that has roots in the Mughal Empire (16th-19th century A.D), an era where Islam rules South Asia. The Chapli Kebab might look similar to your typical burger patty, but it has more depth than you can imagine.
Forming the Chapli Kebab is quite simple with a food processor. You must toss in most ingredients like minced beef, tomatoes, and onions. Blend the mixture until a smooth paste starts to appear.
Of course, a South Asia-based delicacy can't go without some sort of seasonings to spice up the taste. Just sprinkle in cumin seed, chili flakes, and all-spice powder to give the meat an extra dose of herbaceous flavor during the blending.
The final step is to deep-fry the meat patty until both sides turn brown. The caramelization infuses a smoky aroma into the beef.
Total time: 1 hour
The Pakistani Grilled Meat Skewer, or Seekh Kebab, comes from the Middle Eastern side of Pakistani cuisine. This delicacy is a great party dish and an excellent way to get your friends and family to become more interested in foreign cuisine.
Surprisingly, beef is not the leading player for Seekh Kebab. Instead, the blend of spices and aromatics takes center stage this time. You can feel the flavors oozing out with fragrant ingredients like black peppercorns, coriander seeds, and red onions.
Aside from the seasonings giving the specialty its signature taste, the grilling process also adds a slight touch to the overall essence. The direct heat creates these charred marks, which provide the Kebab with a subtle smokiness.
Total time: 1 hour 15 minutes (With 20 minutes of cooling time)
China is not the only country that knows how to stuff curry into a type of pastry because this Indian Beef Curry Puff is just as delectable. Originating from Singapore and Malaysia, this delicacy is a good choice for a quick afternoon snack.
The ingredients for this curry-based specialty from Indian cuisine are easy to get. There is curry powder, ground beef, and potatoes for the filling. It doesn't look like a lot, but the savory meat and starchy potatoes can please your appetite quickly.
When it's time to assemble, wrap the core between two puff pastry sheets. Since this type of pastry contains a fair amount of butter, you can feel the flakiness once the baking process is complete. The buttery smell just makes the overall flavor so much more exquisite.
Total time: 15 minutes
If curry bread is not your cup of tea, maybe you can still try a traditional plate of curry. This Ground Beef Curry will be perfect because it's quick and easy to do. Plus, you can make a big pot to eat in the next few days, saving you time and money.
The first thing to do is saute the beef with carrots and onions. When the meat starts turning brown and the onions become translucent, you can pour in water and chicken stock. The stock will enhance the richness of the broth alongside the beef juice.
When it comes to curry, you can still make your paste. But since this recipe favors speed over authenticity, you can get the pre-made curry blocks from any Asian grocery store. The taste is still fantastic, and you don't have to make a mess out of the kitchen.
When curry stew starts bubbling, you know it's ready for serving. Just put white rice on one side of a plate and curry on the other side, or you can just layer curry on top of the rice.
Total time: 45 minutes
Bibimbap is one of Korea's most beloved foods since you can customize this certain delicacy to your liking. Thanks to its versatility, there are an endless number of Bibimbap today. But in this entry, I want to focus on the beef version solely.
A typical serving of Bibimbap includes meat and vegetables, so it's a great meal if you're health-conscious. Aside from the beef, this variant also has bean sprouts, carrots, and spinach, which provide an extra layer of crunch and freshness.
Of course, Bibimbap is not fully complete without a type of chili sauce to mix with the rice. The combined sauce includes Gochujang (Korean chili paste), sesame oil, and soy sauce. The mixture of savoriness and nuttiness just leaves your mind in a state of bliss.
Total time: 40 minutes
When it comes to comforting Korean recipes, it would be a mistake to ignore Bulgogi as a potential candidate. This delicacy is just as crucial to the nation's cuisine as Bibimbap. Let me show you how to make a Ground Beef Bulgogi Bowl version in this entry.
This recipe also has an equal split between meat and vegetables. With the veggies, you have pickled cucumber that went through a brine bath (vinegar, honey, and salt) and shredded carrots. This process keeps the meaty taste from being too overwhelming.
You saute it in a heated skillet with onion, Gochujang, and rice wine to prepare the ground beef. The meat will soak in the savory goodness to enhance its richness. With so many flavorful elements, it's always best to serve Bulgogi with rice to balance the taste.
Simple and delicious are perfect to describe this Ground Beef Bulgogi Bowl.
Total time: 15 minutes
If Korea has Bulgogi Beef Bowl, Japan also possesses its version of a beef bowl called Beef Soboro. This recipe originating from Japan is more straightforward than its Korean counterpart, but the simplicity doesn't take away its mind-blowing taste.
Before you begin with the meat, take your time to prepare the sauce first by combining Mirin (Japanese cooking wine), Sake (Japanese rice wine), and sugar. The mixture can bring a lot of that savoriness and sweetness to the meat.
And here comes the central part, which is stir-frying the minced beef. When the meat turns brown almost all the way, pour in the sauce and stir regularly. This step helps thicken up the liquid, creating a glazy coating around the beef.
For presentation, you put the Beef Soboro on top of rice and top it with a soft-boiled egg. The yolky texture makes an excellent addition to the overall flavor.
Total time: 40 minutes
Japanese Hamburg Steak is more similar to a regular burger than a steak despite having a name like that. This delicacy in Japan is a fusion between Western-style cooking and Asian creativity. If you want a simple beef-based dinner, this is your recipe.
The meat patty consists of minced beef, eggs, and bread crumbs. The last two ingredients will prevent the meat from breaking apart when frying it in a skillet. On the other hand, you can mix garlic and onions to create a more fragrant aroma.
Traditionally, a serving of Hamburg Steak comes with a special sauce, which includes Sake, Worcestershire sauce, and ketchup. This mixture usually goes onto the steak, which provides so much of that tanginess and umami to the meat.
Total time: 2 hours
There is a popular appetizer recipe in Japan called Korokke, which takes a lot of inspiration from the French delicacy Croquette. This Japanese Korokke recipe might be helpful if you want something to eat during a quick snack break.
To begin the preparation, you have to saute beef with chopped onions. Take the mixture out when you can feel the lovely aroma wafting from the frying pan. Next, boil the potatoes until they become soft and immediately mash them to create the base for the Korokke.
Form the Korokke batter into flat round shapes. Make sure not to make them too big, or the pastries will break apart. The final step is to deep fry the Korokke until the exterior, consisting of egg, flour, and bread crumbs becomes golden.
Now comes the good part, which is tasting your result. You can feel the starchy mashed potato blending nicely with the savory meat. The coating forms a superb crunchy layer that feels amazing when you bite into it.
Total time: 40 minutes
For people like me, who put a lot of emphasis on being healthy, there are times when I just crave that irresistible taste of ramen. However, typical ramen can be pretty destructive to a person's health in the long run because it's quite greasy and high in calories.
So, is there an alternate recipe to soothe the craving? Luckily, there is one called Ground Beef Ramen. This Japanese-inspired noodle dish uses gluten-free ramen. And the rest of the ingredients consist of ground beef, bok choy (Chinese cabbage), and broccoli.
You won't feel the lack of gluten with the noodles since they still feel very chewy and creamy – the inclusion of chicken broth and vinegar amps up the taste to a higher degree. The ground beef and veggies offer a contrast between meaty flavor and freshness.
This version of Ground Beef Ramen takes less than an hour to make.
Total time: 1 hour 15 minutes
Are you looking for an exciting side dish? Good, because you've come to the right place. Let me introduce you to the Dendeng Age, or Spiced Ground Beef, an Indonesia-based delicacy. This recipe is unique and delectable, thanks to its use of Asian spices.
Like I said above, the main difference between this ground beef recipe and others is the use of seasonings. You have to make a paste consisting of shallot, garlic, and coriander powder, which can enhance the savoriness with its herbal aroma.
Not only the aromatics, but you also have to add a generous amount of natural sweeteners like palm sugar and sweet soy sauce. This further increases the levels of flavors you can experience in the meat.
Last but not least, coconut milk provides the extra creaminess to overwhelm your taste buds. You always pair this specialty with white rice to reduce the intensity.
Total time: 35 minutes
A rice bowl with minced beef is the most reliable way to fill your stomach with enough nutrients. There are hundreds, if not thousands, of potential recipes to use, so it can be pretty daunting. Let me make the process easier by introducing you to this dish called Beef Laab.
While this dish from Thailand consists of just stir-fried beef and rice, don't let the simplicity fool you because the meat is filled with incredible flavors. The meat seasonings include soy sauce, fish sauce, and sugar, which provide an equal amount of umami and sweetness.
Aside from the condiments, the recipe uses aromatics like ginger root, mint, and cilantro. The herbs are best when paired with a meat ingredient like beef. The fragrance will lure you in and keep you eating as long as possible.
Total time: 20 minutes
Thailand is the home to some of the best-looking and best-tasting delicacies on Earth. Even if you cannot visit the country, recreating its cuisine will be easy with many online recipes. And one of the more notable examples is the Thai Basil Beef or Pad Gra Prow.
This special Thai recipe goes so well with a side of white rice. You only have to prepare to get the right seasonings, including fish sauce, palm sugar, and lime (juice and zest). These ingredients can make your meat extra fragrant.
When it's time to cook, just brown the beef in a heated pan before tossing in red pepper, garlic, and red chilies. Continue to add the seasonings alongside basil leaves. It's ready for consumption when you smell a minty aroma coming from the mixture.
Total time: 50 minutes
If you're a frequenter of Chinese restaurants, you're probably familiar with Spring Rolls. However, did you know that the Philippines also has a similar variant called Lumpia? The delicacy is usually a quick appetizer, so it doesn't take much effort to recreate.
You can make the filling by stir-frying the meat (pork and beef) with carrots and ginger. The fragrance from the aromatics will improve the overall flavor. When the meat has caramelized, you take it off the heat.
The rest is just using wrappers to form this Filipino ground beef-based specialty. Before deep-frying them, brush a layer of whipped eggs on the rolls. This step will help the skin to turn golden quickly.
The last thing is to toss the rolls into the hot oil and wait for the Lumpia to become crispy. The crunch you experience whenever you bite onto the roll is divine. The inside still feels moist since the exterior traps most of the steam.
Total time: 30 minutes
Picadillo is a ground beef-based recipe that exists in both Latin America and the Philippines. I want to focus on the Filipino version for today's entry since it emphasizes Asian-inspired seasonings.
To make the stew version of this beloved Filipino delicacy, you will start with the base of ground beef, potatoes, and carrots. These ingredients act as the "body," making the dish more nourishing with proteins and starchiness.
Moving on to the broth, you have components like beef stock, tomato sauce, and crushed tomatoes. The meaty essence from the meat stock feels very comforting. And when you pair the savoriness with the sourness from the tomatoes, everything goes to the next level.
This Filipino Picadillo tutorial is great for beginner cooks.
Total time: 30 minutes
Easy, delicious, and nostalgic are the best ways to describe this Filipino-style recipe. Tortang Giniling, or Filipino Beef Omelet, can make your mouth water with its appearance alone. This rustic delicacy might be a good entryway to your Filipino food journey.
The cooking process is relatively straightforward. First, you saute the ground beef with bell peppers and green peas. This step allows the initial flavors of meat and veggies to come through. You can feel the savory essence blend in together with the fresh vegetables.
The next step is to cool the mixture to room temperature before adding the beaten eggs. The final step is to fry the omelet. Sprinkle some salt and pepper if the omelet is too bland for you. When the omelet becomes fragrant, it's ready to serve with a side of ketchup and rice.
Total time: 40 minutes
To truly experience Filipino cuisine, you have to try some of the more underrated dishes. One of the best examples in this category is the Cuban-Style Rice, or as the locals would call it, Arroz A La Cubana. The ingredient list might surprise you a bit, but I think it's worth checking out.
You use minced beef and pork to create that signature rich savoriness for the base. When the meat starts turning brown, you continue to add corn, peas, and carrots. The vegetables provide a starchy and crunchy contrast to the meaty aroma.
This specialty comes with two accompaniments. The first is fluffy white rice, which contains a very delectable chewiness. The second one is a type of fruit called Cardaba banana, which has a similar texture to sweet potatoes. You have to fry the banana to crisp up the exterior.
Nutrition Facts
4 servings per container
---
Amount Per ServingCalories235
% Daily Value *
Total Fat 13.5g

20

%
Cholesterol 38mg

13

%
Sodium 693mg

29

%
Potassium 102mg

3

%
Total Carbohydrate 14.5g

5

%

Dietary Fiber 2.9g

8

%
Sugars 3.7g

Protein 13.6g

26

%
---
* The % Daily Value tells you how much a nutrient in a serving of food contributes to a daily diet. 2,000 calories a day is used for general nutrition advice.