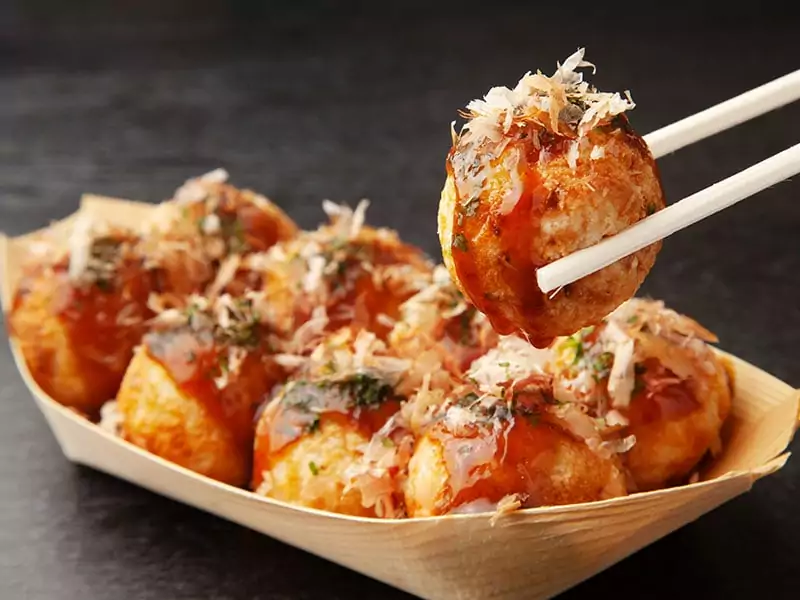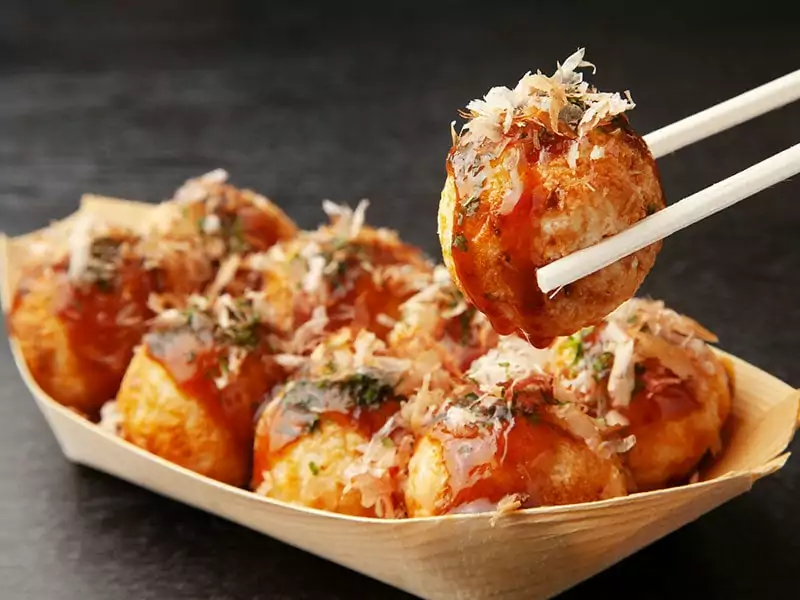 Appetizers are just amazing foods to help you boost up your cravings for the rest of the meal, and Japanese appetizers work the same way. Once you finish enjoying a delicious Japanese appetizer dish, you will look even more forward to what the main dishes are.
I have arranged a list of mouthwatering appetizer ideas below, and I think you would love to try them out!
17 Delicious Japanese Appetizer Ideas
Here is the list of 17 popular and unique Japanese appetizers that I think you would love to enjoy for your next meal!
Simmered Daikon
Agedashi Tofu
Japanese Asparagus Bacon
Yakitori
Steamed Edamame
Prawn Tempura
Vegetable Tempura
Gyoza
Okonomiyaki
Takoyaki
Japanese Potato Salad
Shishamo
Avocado Sushi
California Roll
Sashimi Platter
Tsukune (Chicken Meatball)
Nasu Dengaku (Miso Eggplants)
A Deeper Explanation On Each Appetizer
Here I will explain how each appetizer dish mentioned above looks like, so you can have a clearer idea about them. Let's get started!
1. Simmered Daikon
Simmered Daikon is made with daikon, which is Japanese white radishes, in dashi broth. The dashi broth is mainly from dashi itself, soy sauce, and mirin, a special sweetened type of liquid. You can substitute mirin with regular sugar, too.
Simmer daikon is a very light appetizer dish that is tasty and refreshing so that you can taste the original flavor of this food whose name starts with "D", but with an additional amount of mild broth.
2. Agedashi Tofu
Agedashi tofu can also be eaten as a simple Japanese accompaniment with the main courses. The dish is made with deep-fried tofu in tentsuyu sauce made from dashi, soy sauce, and mirin.
Chopped green onions, katsuobushi which are Japanese fish flakes, and grated daikon are usually the main toppings for this delicious tofu dish from Japan.
You can find Agedashi Tofu in almost all the Japanese restaurants worldwide, but it is very easy to cook this at home, too!
3. Japanese Asparagus Bacon
Japanese asparagus bacon is often found in lunch boxes, and many young people like it. Although it is not 100% authentic Japanese food, Japan has adapted this dish into its country's own style.
It is a very easy appetizer to make, and all you need are asparagus, bacon, and skewers. Easy to prepare, simple, and delicious. By the way, you can also substitute or add scallops, prawns, and mushrooms as fillings before wrapping the bacon, too!
However, because asparagus can perish quite quickly, you should look for signs of spoilage in asparagus before cooking, especially if you get your groceries a few days in advance.
4. Yakitori
Yakitori is Japanese-style skewered chicken. These skewers are called kushi, and are usually made from bamboo. The chicken meat is skewered into these kushi skewers and are grilled with charcoal fire.
They usually come in two flavors, the sweet dipping sauce called Tare sauce or salt flavor.
5. Steamed Edamame
This dish is very simple and healthy which you can enjoy as the starter in any Asian-insprired gathering, with just a bunch of steamed edamame with sprinkled salt on top of them.
Edamame is nutritious with a high amount of soy protein, fiber, and antioxidant which are all good for your body.
6. Prawn Tempura
Who doesn't love a plate of crispy, soft, and juicy Prawn Tempura? Prawn tempura are prawns deep-fried in Tempura batter, which makes the finished product not too crisp as breadcrumbs but more of a softer type of crispiness.
Usually, a plate of Prawn Tempura contains a few big pieces of Tempura with a bowl of dipping sauce called Tentsuyu. Ingredients for this sauce are easy as they are just soy sauce, mirin, and dashi.
You can find this dish in almost all Japanese restaurants worldwide, too, and it is very popular among every generation.
7. Vegetable Tempura
If you prefer Japanese ideas with veggies for your tempura recipe, you can choose this Vegetable Tempura dish over Prawn Tempura!
This dish has a mix of vegetables such as kabocha, lotus roots, sweet potatoes, mushrooms, steamed carrots dipped in tempura batter, then deep-fried. You can then dip these vegetables with tentsuyu sauce and enjoy their flavors!
8. Gyoza
This is another popular dish in so many Japanese street vendors and restaurants around the globe!
Gyoza are pan-fried dumplings made with minced pork, ginger, green onions, and more ingredients wrapped in gyoza skin. You can replace the pork with beef to create a delicious Japanese ground beef delight.
These pan-fried dumplings are juicy and very mouthwatering. The best sauce to dip for Gyoza is Ponzu, which is a sour and savory sauce that fits very well with the dish.
You can often find the frozen version of the Gyozas in Asian supermarkets, but it is not hard to make fresh Gyozas, too!
9. Okonomiyaki
Okonomiyaki is so fulfilling that it can be a good appetizer dish or even a main dish, too! Originating as a fast food to eat on the go in Osaka, the savory pan is now popularly eaten not only around all regions of Japan but also in many other countries.
Ingredients are simple, and traditional Okonomiyaki is made from the wheat flour-based batter with eggs, shredded cabbage, and proteins such as shrimps or squids, but you can choose your choice of protein, too. After finishing cooking, popular toppings to add to this savory pancake can be Japanese mayonnaise, Okonomiyaki sauce, katsuobushi, and nori.
This is definitely a must-try appetizer dish!
10. Takoyaki
Firstly, I want you to know that the machine needed for making Takoyaki can be found in Walmarts or in many Japanese markets, so making these popular octopus balls at home is not impossible. Otherwise, you can find this dish in many Japanese restaurants, too!
Takoyaki is one of the famous Japanese foods, particularly street foods that are loved by many who have tried them. They are made with wheat flour-based batter, diced octopus, pickled ginger, and green onions grilled in the Takoyaki machine.
Finish up the dish with katsuobushi, nori, Japanese mayo, the same sauce for Okonomiyaki, and they are ready for you to enjoy!
11. Japanese Potato Salad
This is a Western Potato Salad inspired dish but is changed into a more Japanese taste. The main ingredients are mashed potatoes, Japanese mayonnaise, mustard, diced cucumbers, onions, boiled eggs, vinegar, but there is more to it.
This yummy Japanese-style salad is so versatile that it is considered as an appetizer dish and a side dish for bento boxes and a regular main course, too. You can also add bacon to the dish.
12. Shishamo
Shishamo is saltwater fish mainly living in the Hokkaido area, Japan. The best part of these fish is that they can be eaten from head to tail, and when grilled, the meat becomes juicy, and the taste of the caviar inside gets enhanced.
Deep frying them is also a good option, and they will become crispy and very delicious. The ideal sauce to go with this dish is Ponzu since the savory and sour taste of the sauce compliments the taste of Shishamo.
If you can buy these fish, making them at home is not difficult at all. All in all, they are such amazing fish that you should try!
13. Avocado Roll
Avocado Rolls are healthy and can be the light finger food for you to munch first before getting into the main course. By the way, if you haven't heard about it, Japanese sometimes eat sushi by picking them up directly by hand instead of using chopsticks!
The avocados in the roll can be sliced and put on top of the sushi or rolled within the sushi, and both ways are refreshing to eat.
If you are looking for a healthy appetizer, then this dish is highly recommended!
14. California Rolls
California Rolls are the fancier version of Avocado Rolls where imitation crab meat and cucumbers are added with the avocados. Sesame seeds or caviars can be added as toppings, too.
You can find California Rolls in all sushi restaurants but also in many supermarkets. Making them at home is also easy and doesn't require a lot of ingredients!
15. Sashimi Platter
I know many of you are confused about the difference between sushi, sashimi, nigiri, and maki as they are all Japanese names, the easiest one to recognize is sashimi because they are fresh fish or meat slices.
And having a few pieces of fresh Sashimi is also a way to get you or other members excited right from the beginning of the meal!
When you are eating Sashimi as an appetizer, a variety of fish is not required. You can add or order many kinds of fish, but just a plate of salmon or tuna Sashimi is already good.
Make sure you prepare the Sashimi with soy sauce and wasabi since soy sauce will enhance the taste of the Sashimi, and wasabi will improve your digestive system and prevent you from getting food poisoning.
16. Tsukune (Chicken Meatballs)
Tsukune is similar to Yakitori, but the difference is that Tsukune uses minced chicken. The minced chicken is shaped into round or oval shapes, skewered into the kushi skewers, then grilled with charcoal fire.
Many people think the savory and sweet sauce on this yummy Japanese chicken-based dish is teriyaki sauce, but it is Tare made from soy sauce, brown sugar, mirin, and sake.
This dish can be served as an appetizer or even as a main dish that goes with rice, too.
17. Nasu Dengaku (Miso Eggplant)
Nasu Dengaku is a dish made with eggplants brushed with sweet miso glaze and grilled over fire. The amazing thing about this dish is that you can taste the mix of sweet miso and the original taste of grilled eggplant in one bite.
Eggplants are also nutritious, so if you are looking for a healthy savory appetizer then you should try this dish, too!
Which Dish Brings Out The Cravings In You?
Japanese foods, no matter savory or sweet, are most of the time healthy and delicious! The only problem is that there are so many unique dishes that it is hard to choose only a few dishes to eat for one meal.
What is your favorite Japanese appetizer? Do you like to cook the appetizer at home or enjoy it in a restaurant more? Let me know in the comment box below!
Nutrition Facts
4 servings per container
---
Amount Per ServingCalories257
% Daily Value *
Total Fat 10.5g

16

%
Sodium 666mg

28

%
Potassium 17mg

1

%
Total Carbohydrate 15.6g

5

%

Dietary Fiber 3.6g

12

%
Sugars 2.1g

Protein 25g

50

%
---
* The % Daily Value tells you how much a nutrient in a serving of food contributes to a daily diet. 2,000 calories a day is used for general nutrition advice.