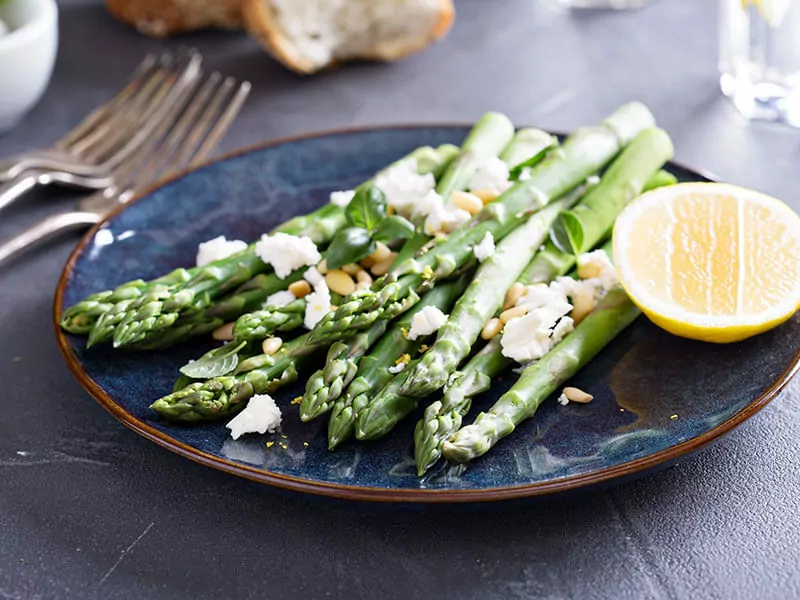 This question may come to your mind: How to tell if asparagus is bad? Are you curious about the symptoms of rotten asparagus and want to clarify? You have come to the right place!
This post will show you some spoiled signs of asparagus. Moreover, I will also offer some extra tips to store asparagus effectively and other information about this kind of vegetable.
Without any further ado, scroll down and clarify your confusion right away!
6 Signs To Identify A Spoiled Asparagus
Below are some tips on how to tell if asparagus is bad. You have to discard it if:
There is a noticeable discoloration in your asparagus.
Your asparagus starts to grow mold.
The asparagus gives out an unpleasant smell.
Wrinkly asparagus stalks need to be thrown.
You notice that your asparagus is limp
The asparagus tips are slimy
I am sure those diverse signs of spoiled asparagus amazed you. Let's explore more about this kind of vegetable before reading my detailed explanation for each symptom.
A Brief Review Of Asparagus And Its Distinct Flavors
Asparagus or asparagus spears is a species in the genus asparagus. It is a young shoot of a lily plant. Asparagus is also a favorite vegetable in many countries.
Its color usually depends on the asparagus varieties. For example, it usually has a green color, but French asparagus is purple, and Dutch or Spanish one is white.
Due to the unique taste of asparagus, it is often cooked and served as a side dish. Notably, if you're a health-aware person, you probably already know that asparagus can be made into keto-friendly side dishes.
Asparagus' intense savory flavor also makes it a perfect candidate for appetizers. I'd recommend that you try out Japanese asparagus bacon. One bite, and you'll certainly fall in love with this amazing appetizer from Japan.
In addition, you can also try eating asparagus raw. Just remember to clean the vegetable thoroughly.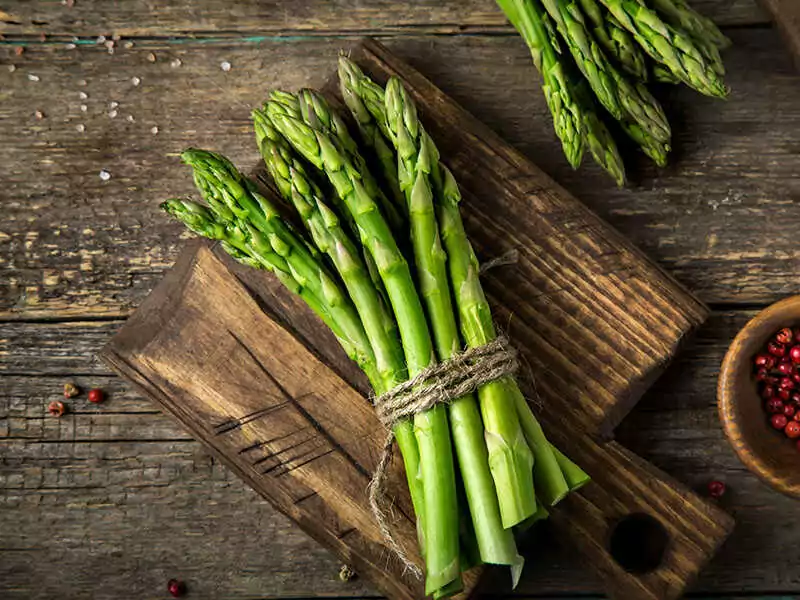 What Is The Nutrition Information Of Asparagus?
Although it is low in calories (20 calories per cup), asparagus is a beneficial vegetable that is packed with a high amount of vitamins (A and C), minerals, and antioxidants such as potassium, iron, or calcium. (1)
Some remarkable health benefits that asparagus brings to you:
Improves Digestion
Helps You Lose Weight
Lowers Blood Pressure
Supports Cardiovascular Health
Prevents Certain Types Of Cancers
Lowers Risk Of Depression
After knowing these excellent benefits of asparagus, I think you should consider adding it into your daily meal more often. However, remember that only the high-quality ones are good for your health. Let's dive into some symptoms of rotten asparagus!
Pay Attention To These 6 Noticeable Symptoms Of Spoiled Asparagus
As you know, eating spoiled food is harmful to your health. If you eat rotten food, you may suffer from nausea, diarrhea, headache, stomach pain, and other illnesses. Knowing whether your food is spoiled or not is essential.
Unlike other fruits and vegetables, the rotten signs of asparagus are not apparent. While fresh asparagus has a mild and slightly bitter taste, the rotten one tastes sour and terrible.
Therefore, I am writing this post to show you what you should pay attention to to find out the rotten asparagus. Throw your Asparagus if it has one of the following symptoms:
1. The Asparagus Start To Change Their Color
The discoloration of the asparagus is the most recognizable sign. The asparagus are usually green as they ripen. If you notice that their stalks turn gradually to yellow, do not hesitate to toss them.
2. Growing Mold Is Also A Noticeable Sign To Concern
The fresh asparagus will be spoiled in a wink if they are not stored properly. One of the most common symptoms is growing mold. Pay attention to the date of stored asparagus. They are usually molded after three to five days in the refrigerator.
3. The Asparagus Gives Off An Unpleasant Smell
Both fresh and cooked asparagus do not have any strong smell. Therefore, when you can sniff a foul smell from your asparagus, it means that you are not able to eat them anymore.
4. Your Asparagus Stalks Begin To Be Wrinkled
When the Asparagus is going bad, their stalks will go wrinkly. At this stage, you can still enjoy them by adding them to a soup or roasting them. Although the texture is imperfect and the taste is more starchy, they are still safe to eat.
5. Get Rid Of The Limpy Asparagus!
Another sign which shows that your asparagus spears are about to rot is their limp texture. The asparagus starts to become soft and mushy like wet noodles. However, although they are not at their best, you still can enjoy those asparagus by cooking them.
6. Don't Ignore When The Asparagus Tips Are Slimy!
The color of fresh asparagus tips is green. If your asparagus is about to be spoiled, the tips will turn gradually from darker green to black. Because this part is the first one that begins to rot, you may ignore it.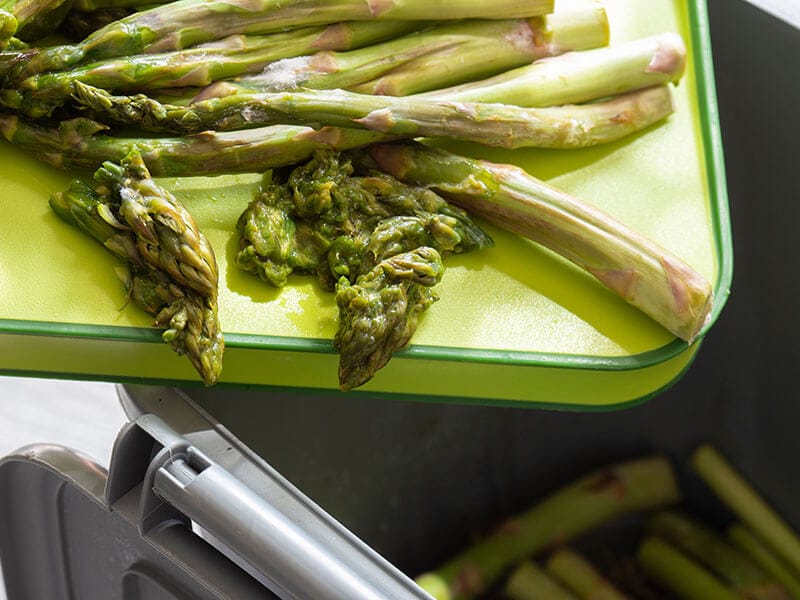 How Long Does The Asparagus Last?
After knowing about six identifying signs of spoiled asparagus, you may want to know how long the asparagus lasts. It depends on the methods used to store the asparagus.
The table below will introduce three popular ways to store asparagus and its shelf life while being placed in the refrigerator and the freezer. Find out your most suitable method!
| Storage Methods | At room temperature | In The Refrigerator | In The Freezer |
| --- | --- | --- | --- |
| Raw asparagus | 1 day | 3 - 4 days | 12 - 18 months |
| Cooked asparagus | 1 day | 3 - 5 days | 10 - 12 months |
| Pickled asparagus | 5 - 6 months | 1 year | Not necessary |
| Unopened canned asparagus | 3 - 5 years | Not necessary | Not necessary |
Try These Excellent Ways To Store Fresh And Cooked Asparagus
Below are three popular ways to store asparagus. Asparagus is often sold in bunch banded, do not remove the band after buying them. Then choose one of these methods to store fresh asparagus.
1. Refrigerating
You can refrigerate both fresh and cooked asparagus by the following detailed instructions.
Refrigerating Fresh Asparagus:
First and foremost, wash your asparagus carefully. And then, let's do a fresh-cut! Cut off a quarter-inch of the bottoms of the Asparagus bunch. This way allows them to keep fresh for a few days by soaking up water.
You have two options to refrigerate your fresh asparagus:
Wrap the asparagus stalks in a wet paper towel to keep your vegetable moist, and then put them in the crisper drawer of your refrigerator. Fresh asparagus can be kept for 5 to 7 days in the refrigerator by doing this.
Place your asparagus in a jar or airtight container. The most crucial thing is that the jar or container should be added with water. Doing this way can prolong asparagus's shelf life from 10 to 14 days.
Refrigerating Cooked Asparagus:
You can also refrigerate cooked asparagus. However, you should notice the following tips to extend the cooked asparagus's shelf life:
Do not boil your asparagus! Make sure that the cooked asparagus spears still keep their crispy texture by blanching or steaming them in a perfect amount of time. Roasting is also a considerable method.
Cooked asparagus has to be placed in an airtight container or a glass jar with a tightly sealed lid.
2. Freezing
After washing and trimming the asparagus properly, it is time to freeze them! Knowing the correct way to freeze asparagus is very important. Improper technique might result in soggy or spoiled asparagus.
But first, you should blanch the asparagus. Blanching the asparagus before freezing them will help extend their shelf life. Moreover, you can also keep the fresh green color of the asparagus by blanching it.
Divide the asparagus into two parts: small stalks and large stalks. It takes 2 minutes to boil small Asparagus stalks and about 5 to 6 minutes for the larger ones.
After blanching them, place them in a bowl that is full of ice water. It will help to keep the crunchy texture and the green color of the asparagus.
When the asparagus is totally cool, pat them dry with a towel. And then, place them in a freezer bag or airtight container and put them into your freezer as fast as possible.
3. Pickling
Because asparagus is a seasonal vegetable, pickling them for more prolonged use is the most cost-effective way. Pickled asparagus spears are usually served with other main dishes or added to a salad, such as artichoke-asparagus salad—one of the most popular French side dishes.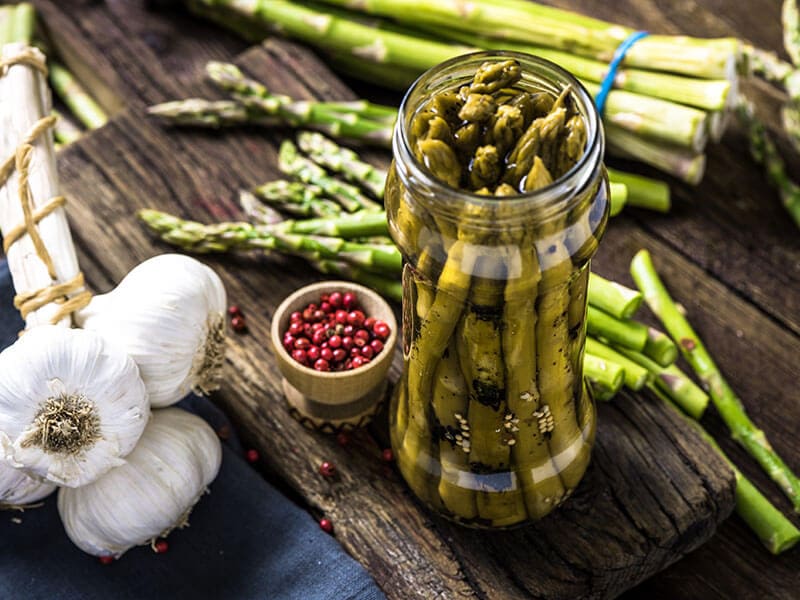 Before starting to pickle your asparagus, you should prepare the following ingredients. I am sure that they are available in everyone's kitchen.
A quarter cup of apple cider vinegar
A half tablespoon of sea salt
One tablespoon of sugar
Four cloves of garlic
One tablespoon of dill seeds
One tablespoon of mustard seeds
When everything is available, it is time to make your own tasty pickled asparagus!
Make sure that your asparagus is washed and trimmed thoroughly. Then you need to blanch it. After the asparagus is boiled well, let it dry or pat it with a towel. Next, place it into the jar, and you are ready for the next step.
Boil water and add all of the above ingredients to make the pickling brine. After the brine is done and cool down, pour it into the jar of asparagus. Make sure that all the asparagus have to be completely submerged in the brine.
Put on the lid and seal the jar carefully before putting it in your refrigerator. Your pickled asparagus will taste heavenly after two to three days.
Expand your menu with this mouth-watering spicy pickled asparagus!
4. Canning
Besides pickling asparagus, canned asparagus offers an incredible shelf life. Canning is also a great method to store banana peppers, jalapenos, and many other foods. Do not miss this canned asparagus recipe!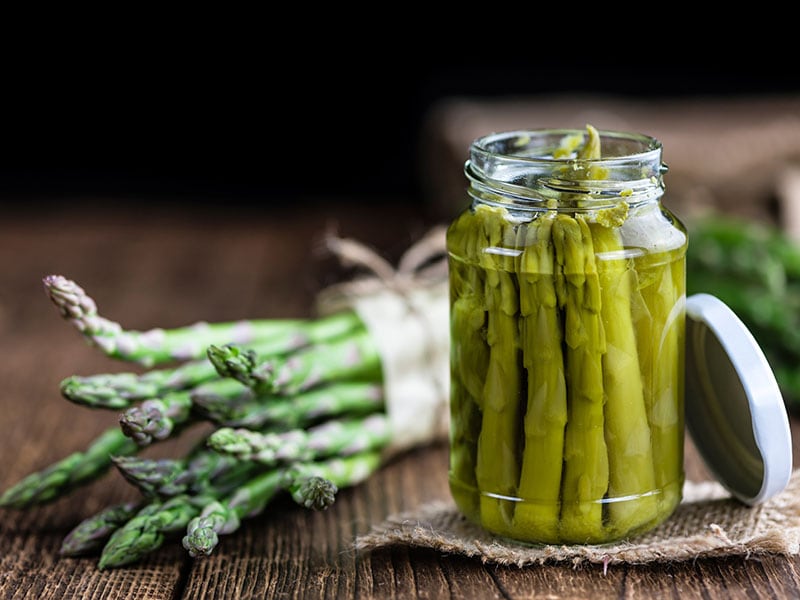 In contrast to pickled asparagus, the canning recipe is simpler. Make sure you prepare these stuff and ingredients well:
Asparagus spears
Canning jars
Canning salt
A pressure canner
The pressure canner plays an essential role in this preserving method. If you have it available at home, then go straight into the next part: making canned asparagus.
Trim your asparagus into a perfect size for canning jars. The canning asparagus can be raw or blanched. But I recommend using raw asparagus for the best result.
Pack the prepared asparagus in the canning jars. Then add about one teaspoon of canning salt. You can add more or less salt. It depends on your taste.
Boil water and pour the boiled water over the asparagus that is packed in the canning jars. Remember to leave a space about one inch at the top. Then put on the lids tightly.
This is the crucial step; you have to pressurize the jars for about 30 – 40 minutes. When the pressure canner is cool, remove the jars carefully. Place canned asparagus jars in dry locations and take them away from sunshine.
Try this amazing recipe to make your own canned asparagus easier and effective!
Recommended Asparagus Recipes
Here are some other ways to enjoy your nutrient-rich and tasty Asparagus. I will provide the needed ingredients and detailed directions. Get ready to take note and expand your daily menu with these diverse recipes:
1. Asparagus And Ham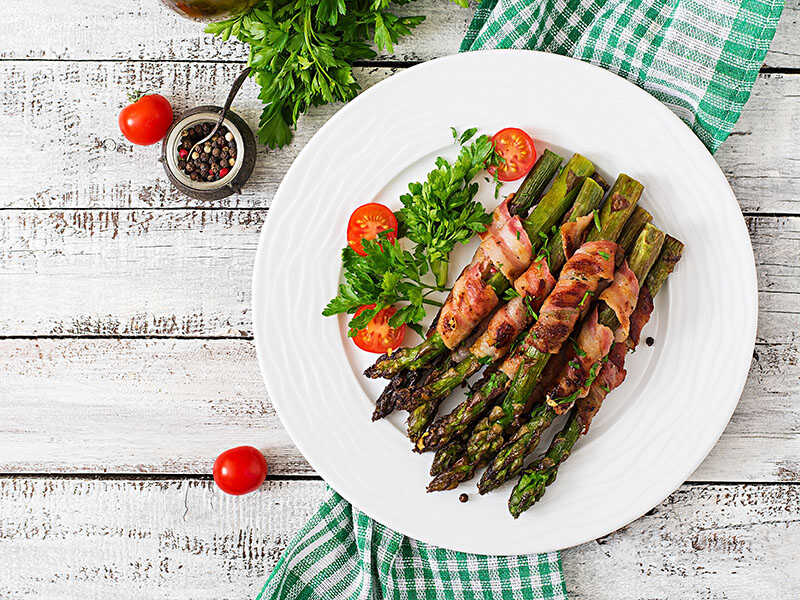 If you are curious about asparagus recipes for your daily menu, this dish will satisfy you with the slightly savory taste of ham and a fresh kick of asparagus.
Ingredients:
One bunch of Asparagus
Thin slices of ham
Two tablespoons of Parmesan cheese
One tablespoon of virgin olive oil
A quarter of a tablespoon of salt
One teaspoon of orange zest
Directions:
Stir the Asparagus with olive oil and season it with salt. Then, add the Parmesan cheese into it.
Whisk the orange zest with salt in a small bowl until the mixture is smooth and spreadable.
Fold one slice of ham in half, and put on the orange zest mixture and a spear of Asparagus. Finally, roll the ham around the Asparagus with the orange zest mixture, and it is ready to serve.
2. Pickled Asparagus And Cheese Sandwich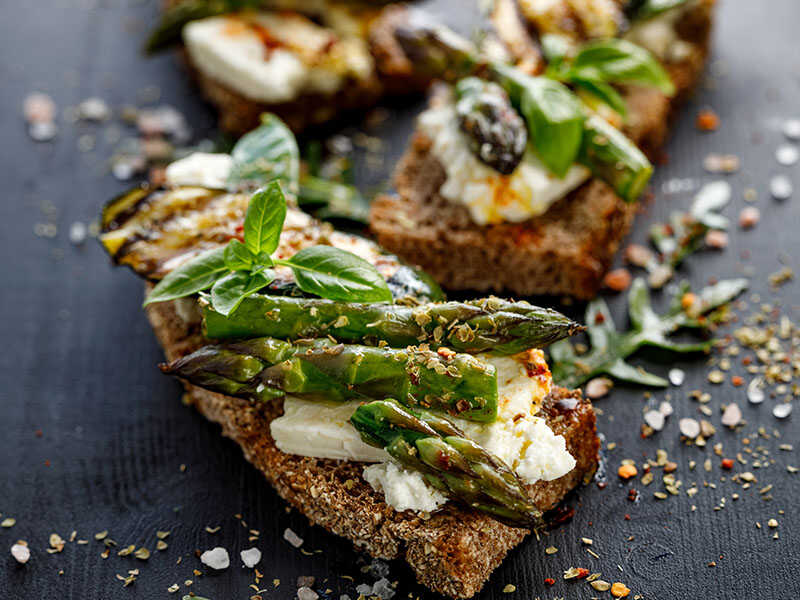 Have you tried this kind of sandwich before? The ingredients included in this sandwich may sound similar to you, but it brings an amazing taste that you never imagined! I am sure it is an ideal breakfast for you to start a new day.
Ingredients:
Two tablespoons of Parmesan cheese
Two slices of Cheddar cheese
Two slices of bread
One tablespoon of butter
Pickled Asparagus
Directions:
Melt the butter in a hot pan
Put one slice of bread into the frying pan, then add Parmesan cheese, Asparagus, and Cheddar cheese. Finally, top with another slice of bread.
Roast the sandwich until it turns golden and two kinds of cheeses are melted. Do not forget to flip your sandwich.
3. Asparagus Pasta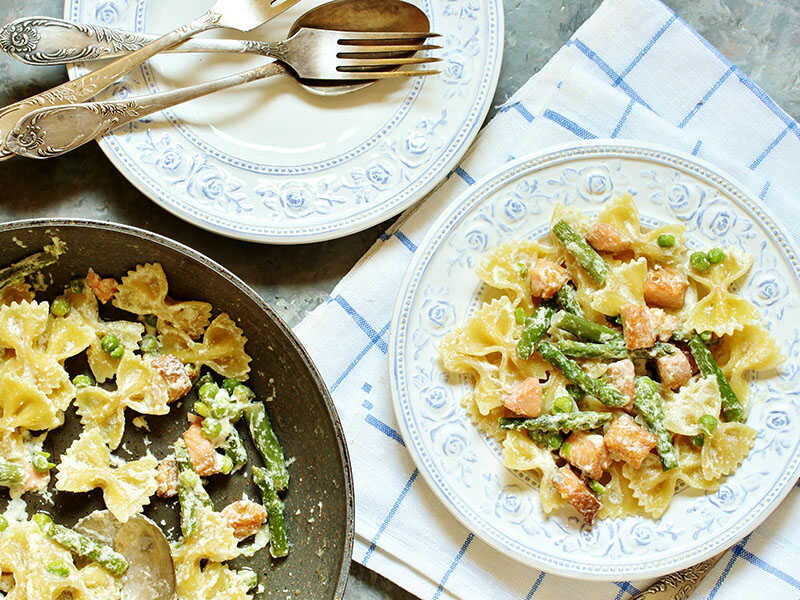 Are you getting sick of the original pasta sauce? This easy-making recipe for asparagus pasta will not disappoint you. Let's grab the available ingredients in your kitchen and amaze your beloved one with this wonderful pasta!
Ingredients:
One bunch mint
250g tub Ricotta
25g Parmesan
400g farfalle
200g Asparagus tips
Directions:
In a food processor, make a smooth green pesto by pulsing the mixture, including mint, Ricotta, and Parmesan.
Boil the farfalle until soft. It takes about 10 – 15 minutes, and then boil the Asparagus tips for 2 – 3 minutes. Next, drain the water.
Use a saucepan to stir the pasta and veggie. Then pour the green pesto into the saucepan, mix all things up, and it is time to enjoy your pasta.
There are numerous mouth-watering dishes made with Asparagus! Watch this video to know more:
FAQs
You may have some other questions that are related to the Asparagus vegetable. I hope you can find your answer after reading my answers to the following seven frequently asked questions.
Extra Information About Asparagus
The shelf life of stored Asparagus depends not only on what methods you use but also on its quality. Therefore, pay attention to choose the high-quality ones to have the best result.
Another caution is that do not forget to write the date of preserved Asparagus. It will help you remember to use it in time.
After reading my post, I hope that you will not be confused about when your Asparagus goes bad anymore. If all the information I provided is helpful, please like and share it with your family or your friends. I will be delighted if you share your ideas in the comment box.
References
Medicalnewstoday.com. 2021. Asparagus: Nutrition, benefits, and risks. [online] Available at: <https://www.medicalnewstoday.com/articles/270805#nutrition>