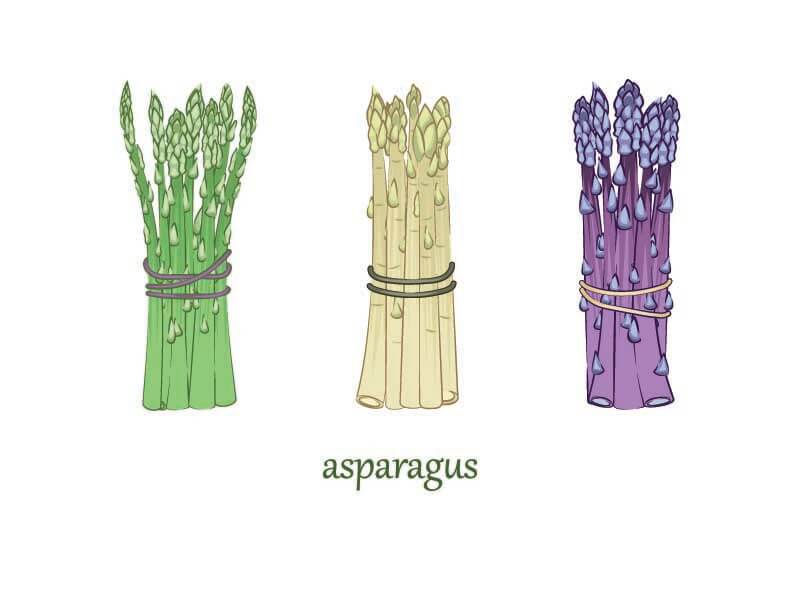 I always wish that I could try all different types of asparagus because I love it so much. They may vary greatly in tastes, appearances, and uses, but their deliciousness is always the same. If you want to discover interesting facts about asparagus, you have come to the right place.
In this article, I wrote about various types of asparagus as well as their most distinguishing features and how they are used in cooking. I am sure that after reading it, you will rush to the grocery stores and bring some asparagus home.
Must-Known Facts About Asparagus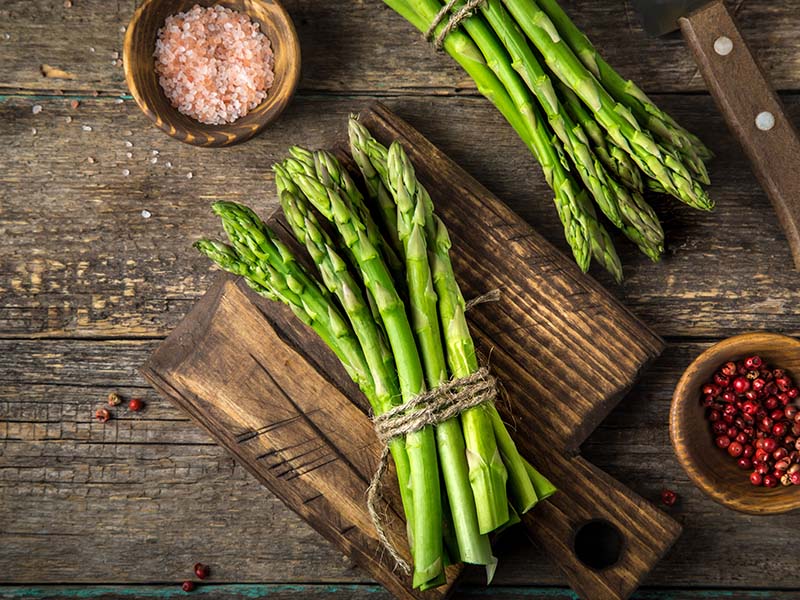 Asparagus has long been a coveted vegetable. Many foodies fall in love with the outstanding flavor of asparagus. The veggie is often roasted, grilled, and baked. But do know that it is also loaded with plenty of beneficial substances?
First, asparagus is rich in antioxidants, such as vitamin E, C, polyphenols, and flavonoids. These substances can help prevent aging, cancers, and many other diseases. They can also lower your blood pressure.
In addition, they contain a high amount of fiber, which can lower the risk of diabetes and heart diseases. Importantly, they are very low in calories.
Male Asparagus Vs. Female Asparagus
Do you know that asparagus has male and female cultivars? It is not a self-pollinated vegetable. This is one of the fascinating features of this vegetable. To help you understand these 2 types of plants. I will explain a little bit about them below.
Female asparagus produce seeds that have a red color. The male plants will pollinate these seeds. The female plants are smaller than the male ones. The flowers have three-lobed stamens and six pistils.
On the other hand, male asparagus is larger. The spears are thicker and longer, and the flowers are also longer.
15 Most Common Different Types Of Asparagus
Asparagus is classified according to the color: white, green, or purple. Each type has distinctive tastes and textures. Let's find out what their subvarieties are.
Green Asparagus And Its Varieties
Most asparagus you see in the grocery store or supermarket is green asparagus. It has a glassy and tender taste and crispy texture.
Since green asparagus is the standard type of asparagus, you can use it in any recipe that calls for asparagus, such as roasted, grilled, and baked asparagus, especially when you've mastered the perfect timespan to bake asparagus at 400. You can also add it to soups and salads.
Green asparagus is cheap but very nutritious. It is packed with calcium, potassium, vitamin B, C, fiber, and beta-carotene.
| Types of green asparagus | Appearance | Characteristics |
| --- | --- | --- |
| Apollo | Dark green color with purple tips | Adapted to cool and warm weather, good for eating fresh, freezing, and roasting |
| Mary Washington | Medium-sized, dark green, purple tips, uniform, and beautiful leaves | Delicate taste |
| Atlas | Dark green, purple bud scales | Sturdy, adapted to cool and warm weather, resistant to frost, fusarium, and diseases |
| Précoce D'Argenteuil | Pale green stalks and rosy pink tips | Sweet and tender, great for salads, roasted and sauteed dishes |
| Viking KB3 | 10 inches long, as thin as pencils | Productive, sturdy, good for making salads and roasting |
| Jersey Giant | Large, 7-9 inches | Sweet, meaty, and tender, good for eating raw and making salads |
| Jersey Knight | Green spears and purple bracts | Highly productive, heat-tolerant and disease-resistant |
| Jersey Supreme | Uniform | Productive, disease-resistant, mature early, and cold-hardy |
| Millennium | Dark green tips | Bitter when raw, productive, cold-hardy, and adapted to most soil types. |
| Grande Hybrid | Large spears, dark green, purple bud scales, cylindrical | Productive |
1. Apollo Asparagus
Apollo asparagus has a dark green color with purple tips. It has medium or large stalks that are very smooth and uniform.
You can use Apollo asparagus in a lot of ways. It is best to enjoy fréh. You can also freeze it to use it up later. People also roast it and serve it as a side dish for fish. This asparagus can be grown in both cool and warm weather. It takes less time to mature than other varieties.
2. Mary Washington Asparagus
Mary Washington is a medium-sized variety with a length of 8 inches. It is very popular in America. The stalks have a deep green color, and the tips are light purple. The shoots are long, tapered, and thick.
Notably, this type of asparagus is very uniform, which looks amazingly appealing. Its taste is also very delicate.
If you want to plant this common type of asparagus, choose the growing zones between 3 and 8. A moderate or high amount of sunlight is required. You can grow Mary Washington asparagus as a decorative plant since the leaves have a beautiful lush green color.
Here are some good reasons to grow Mary Washington asparagus.
3. Atlas Asparagus
Atlas asparagus has a rich and nutty taste. The stalks are about 8 inches long and have a dark green color. It also has some purple shades on the bud scales. Its spears are larger than other types of asparagus.
The best place to grow Atlas asparagus is where the temperature is between 45 and 84 degrees Fahrenheit. So it can be planted in both cool and hot weather. It should be placed under the sunlight for at least 6 hours a day.
You should collect it before it is longer than 8 inches to retain the best flavor and texture for cooking. The Atlas asparagus plant is very sturdy and capable of withstanding frost, harmful fungi, and diseases.
4. Precoce D'Argenteuil Asparagus
This green asparagus has a delicious sweet taste and tender texture when cooked, making it very popular in European countries, especially France. You can come across this veggie in gourmet restaurants. Turning this type of asparagus into salads is also a fantastic idea.
In terms of appearance, the plant can be up to 3 feet long. It is mainly pale green, yet the tips have a gorgeous rosy pink hue.
5. Viking KB3 Asparagus
Viking KB3 is a variety of Mary Washington asparagus. It is a productive, sturdy, and easy-to-grow type of asparagus that can adapt to every weather condition. You don't have to wait long for the veggie to mature.
This variety is best to make salads. You can also roast it with garlic and olive oil to make delicious vegetable dishes to accompany heavy main dishes. Viking KB3 is about 10 inches long at most, and the stalks are as thin as pencils. Young shoots are succulent, but they get tougher with time.
6. Jersey Giant Asparagus
With an incredibly sweet, meaty taste and tender texture, Jersey Giant asparagus is a super versatile variety. You can eat it raw or add the veggie to salads and other savory recipes. This large variety can reach a maximum length of 7-9 inches.
You should note that if you let the plant stay on the ground after reaching that size, its stalk will get sinewy and is not delicious anymore. Suitable for most weather conditions, this variety is growers' favorite. In addition, it can fight against diseases and fungi, especially fusarium.
7. Jersey Knight Asparagus
Jersey Knight asparagus may be the most delicious type of Jersey asparagus. It is also highly productive and capable of yielding almost 4 times more crops than other types.
This variety is heat-tolerant and disease-resistant. The spears are succulent and green while the bracts are purple. Interestingly, Jersey Knight is the first all-male hybrid asparagus.
8. Jersey Supreme Asparagus
Jersey Supreme is a hybrid variety that is normally harvested earlier than other varieties. It is very productive, disease-resistant, and cold-hardy. Its spears are incredibly tasty. It is best to grow it in sandy soil and in growing zones 3-8. The stalks come out uniform and delicious.
Amazingly, this type of asparagus can withstand fusarium wilt and rust. The longer you leave the plant on the ground, the more stalks it produces.
9. Millennium Asparagus
This variety tastes a little bit bitter when uncooked. But the amazingly delicious taste of cooked Millennium asparagus will charm any foodie. You can steam, grill, or stir-fry the veggie for a killer dish. This type is also very productive, cold-hardy, and adapted to most soil types.
10. Grande Hybrid Asparagus
Grande Hybrid asparagus has large spears. The spears are dark green in color, and the bud scales have a purple hue. They are smooth and cylindrical in shape. As the name says, it is a hybrid variety and is very productive.
Purple Asparagus – The Sweetest Variety
As the name suggests, this variety has a lovely purple color. This color is created thanks to the high amount of anthocyanin, a type of antioxidant. Purple asparagus is very sweet because it has high sugar content. It is also a little bit nutty.
Regarding the texture, purple asparagus is super tender, perhaps softer than most other varieties. The more the plant matures, the more tender it will be.
Another thing about this asparagus is that its purple color and tender texture won't remain after cooking. You should grill it, eat it raw, add it to salads to prepare a side treat for picnic, or blanch quickly to keep the color and texture.
| Types of purple asparagus | Appearance | Characteristics |
| --- | --- | --- |
| Purple passion | Purple when raw, light green when cooked, leaf-like bracts | Nutty and tender, good for freezing and making salads and roasted dishes |
| Stewart purple | Purple, lighter when cooked | Good for making salads, steaming, eating fresh |
| Pacific purple | Beautiful leaves | Sweet and tender, productive, good for steaming and eating raw |
11. Purple Passion Asparagus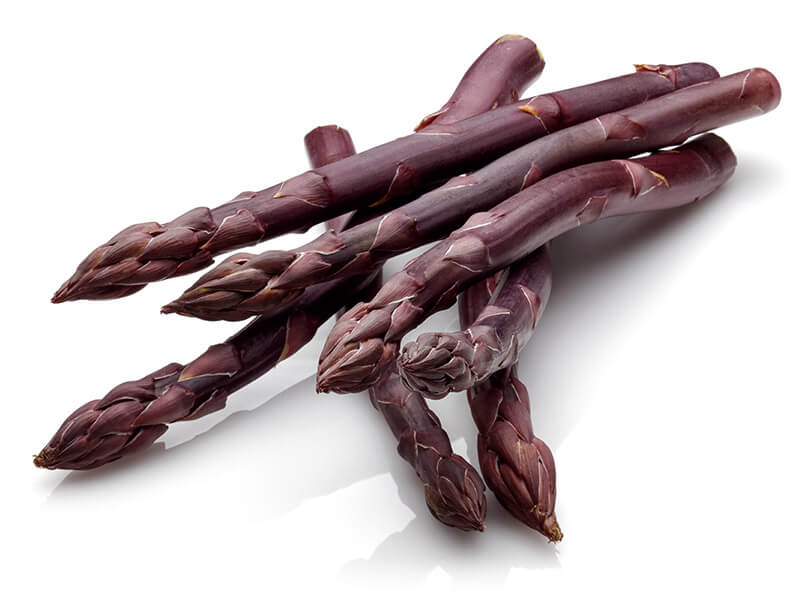 This variety is purple when raw. However, when cooked, it turns light green, while the spears are still purple. You can spot out Purple Passion asparagus by looking at its bracts, which look like leaves.
Purple Passion asparagus has a distinctive nutty and tender taste that is perfect for making salads and roasted dishes. You should note that after you cook it, its purple color will turn white.
This is one the most tender and delicious types of asparagus. You can also keep it fresh for a long time by using a freezer. If you have frozen your asparagus for a long time, make sure you know the symptoms of rotten asparagus. This will help prevent you from food poisoning.
Let's take a virtual tour to a beautiful Purple Passion Asparagus garden.
12. Stewarts Purple Asparagus
Stewarts Purple asparagus has a stunning color. Yet when cooked, the lovely purple hue will fade away. This variety is a great choice if you love sweet asparagus since it is much sweeter than green asparagus.
You can add fresh Stewarts Purple asparagus to salads, steam it, or enjoy it with dressing. Its color will stay if you steam it.
13. Pacific Purple Asparagus
This New Zealand variety is fascinatingly sweet and tender even when it is cooked. People love to serve it raw with dipping sauce or steam it because its purple color will fade away if other cooking methods are used.
This variety is fantastic in terms of productivity. It yields more crops than Purple Passion and green asparagus. You can also use it to decorate your house because its leaves of Pacific Purple asparagus are very beautiful, especially during summer.
Other Types Of Asparagus
There are a few other asparagus varieties that don't fall into the above categories. They may be a little difficult to find and purchase, so enjoy them as much as possible when you have the chance.
14. White Asparagus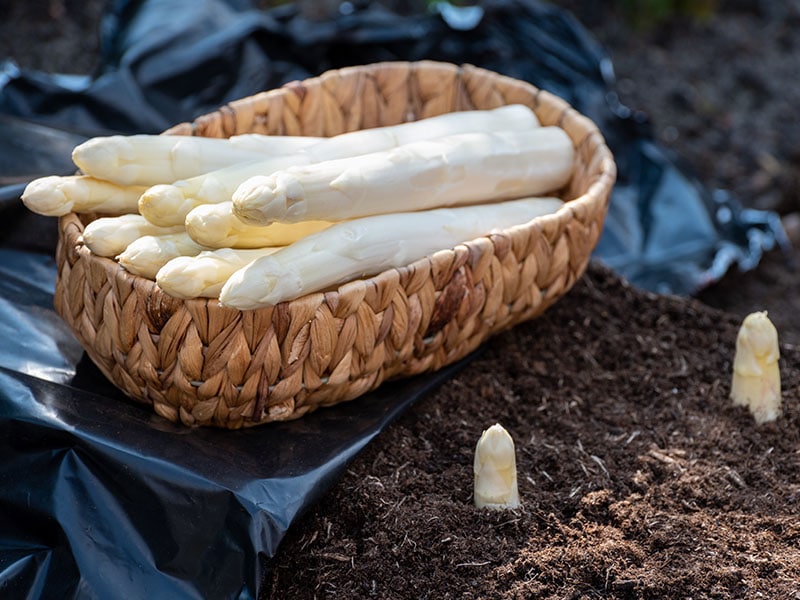 White asparagus is very popular in Europe. It is more expensive than other varieties because of its deliciously sweet taste and lower production cost.
This variety is not always available all year round, you may find it in fresh or canned form. You should peel white asparagus before cooking since the exterior is quite tough.
White asparagus is similar to the green one in many ways, except for the color (which comes from a lack of exposure to sunlight). People grow asparagus in dark or well-covered areas to create that interesting color.
Have you learned the best way to cook white asparagus?
15. Wild Asparagus
Can you guess why it is called "Wild Asparagus"? The answer is obvious. It grows in the wild. You may confuse it with green asparagus because of the green color. Yet, this type is usually thinner than common asparagus and longer as well.
This variety is popular in England and western European countries. You will see plenty of it growing near the sea, such as the cliffs and the coastal dunes.
Compared to common asparagus, wild asparagus has a more natural flavor due to the low content of sugar. Many people think this variety is tougher and more glassy than other varieties. But that's not true at all: it is rather soft. You don't need gloves when picking it up.
You need this guide to learn how to find wild asparagus.
The Best Way To Store Asparagus
Sometimes you cannot cook all of the asparagus the day you bought it, so you must know the most effective method to store asparagus in order to keep it for later uses. Check out this brief guide!
First, cut the bottom part of the asparagus, then place it in a glass of water. Fill the water until it reaches 1 inch tall in the glass. Get a plastic bag, wrap up the asparagus, and put it in the fridge. By doing this, you can store your delicious asparagus for 4 days.
Can you keep asparagus longer by freezing it? The answer is "yes." But you have to take several steps, including blanching and flash-freezing, before doing so.
4 Asparagus Recipes That You Will Fall For
It's time to cook with asparagus. If you haven't come up with any dish, check out my suggestions. They are my favorite recipes, but they will also become yours after you try them.
Speaking of asparagus, most people crave roasted asparagus. It is sweet, salty, tangy, and rich. I believe that it will be a perfect side dish for any occasion. If you want it to be even more flavorful, add some herbs such as thyme, basil and some pepper.
Roasted asparagus is the most loved asparagus recipe.
Baked asparagus is also a super delicious side dish with a touch of charred flavor. Make sure you serve it with meat and chicken dishes when the veggies are still warm.
Given how nutritious asparagus is, making soup with it is always a good idea. I love how sweet, creamy, and comforting it is. Add a little bit of tanginess with lemon juice and some richness with parmesan cheese or heavy cream.
Who doesn't love salads? If you have never tried asparagus salad, I highly recommend that you make it today. This recipe is highly customizable because you can add any of your favorite ingredients to it. The more vegetables there are, the more colorful and flavorful the salad will be.
Asparagus Will Make You Feel Over The Moon
I have shown you the most important information about various types of asparagus as well as some classic dishes that you can make with them. Now, it's your turn. Select the most impressive variety and go get it right away!
Although I try to cover as much information as possible, there might be some interesting things about these varieties that I missed. If you want to share more about them, feel free to comment below. Other readers and I will benefit from your contribution a lot.