I have tried many different types of chili peppers. All of them have incredible tastes that are memorable. Whether you are looking for a sweet variety of chili to make pickles or a very spicy one to add to your sauce, you need to read this article.
I'm going to list the best types of chili peppers that can easily be found in the United States. With this information at your fingertips, you will find the next go-to peppers for your recipes. Let's get straight into it!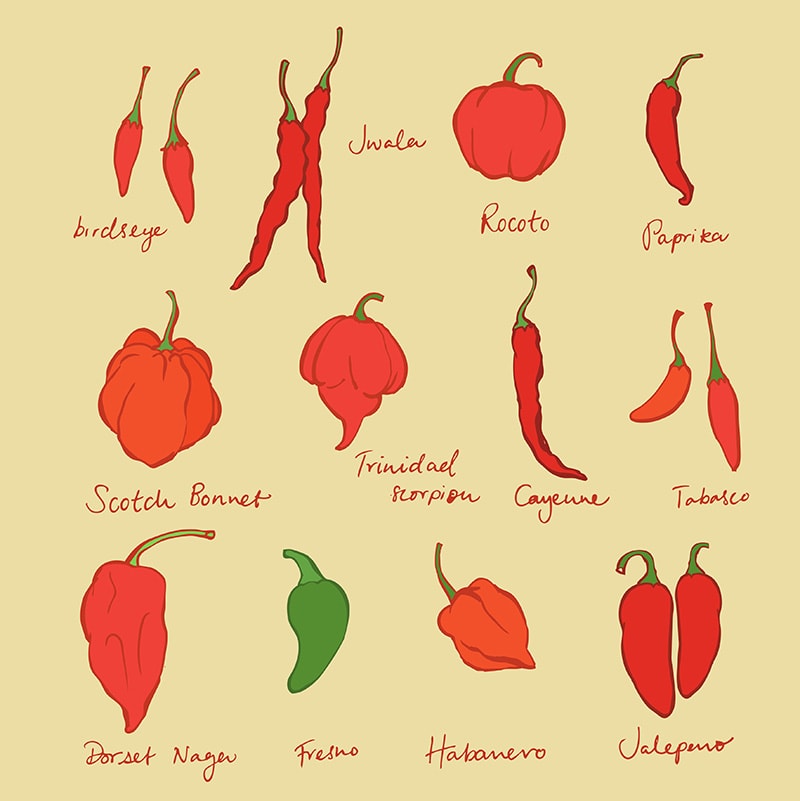 Chili Peppers – An Extreme Culinary Experience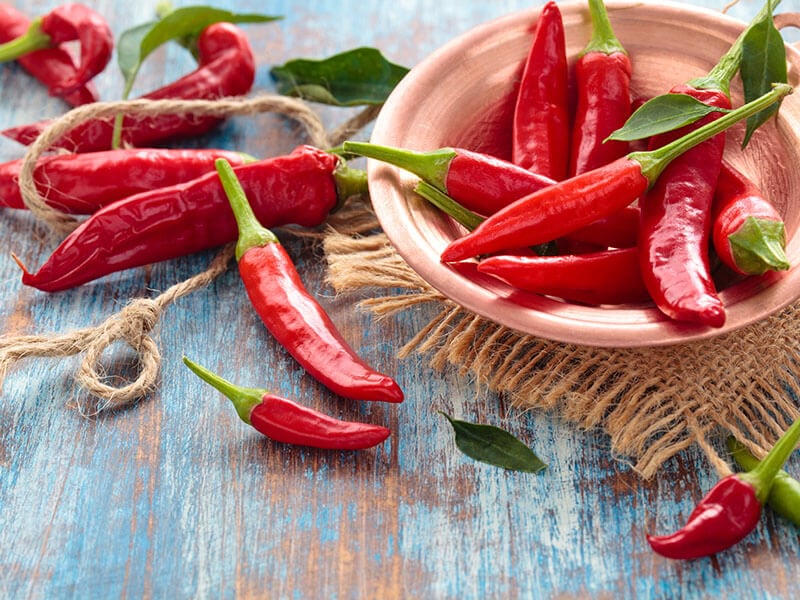 Given how spicy chilis are, many people hesitate to try them. But those who want their meals to be remarkable will find chilis a must-have element. They are always the one that creates the wonderful flavor of spicy dishes.
Chilis can burn your mouth. However, this spicy fruit is packed with plenty of nutrition. It contains various vitamins, such as vitamin A, C, and B1. They all play an important role in maintaining good health.
They also have a generous amount of potassium, reducing the risk of heart diseases. Their copper content can also improve your bone and brain health.
An Overview Scoville Scale
The Scoville Heat Unit (SHU) is an important feature of chili peppers. It is the measurement of the level of spiciness of the peppers. I will mention it a lot in the content below, so let me explain a little bit about them.
Chili peppers contain capsaicin. It is the key substance that makes the peppers spicy. People measure the amount of capsaicin using the High-Performance Liquid Chromatography (HPLC) method to determine how spicy the pepper is.
The last step is to translate the data into rankings on the Scoville scale in the forms of Scoville heat units (SHU). Chili peppers are considered hot if they contain more than 30,000 SHU. Extra hot chili falls between 30,000 and 300,000 SHU. Beyond that is the territory of extremely hot stuff.
21 Types Of Chili Peppers To Spice Up Your Dishes
It's time to dig into the main topic. In this section, I will introduce to you the 21 most common varieties of chili peppers. First of all, let's get a brief overview of each type before going into detail. Check out the table below!
| Types of Chili | Color | Shape | Scoville Scale | Uses |
| --- | --- | --- | --- | --- |
| Cayenne Pepper | Red | Long, curved end | 30,000 - 50,000 SHU | Meats, casseroles, curries, and egg dishes |
| Habanero Pepper | Red, orange, green, purple | - | 100,000 - 350,000 SHU | Salsa, salad, marinades |
| Piquillo Pepper | Red | Short, pointed tip | 500 - 1,000 SHU | Pickling, stuffing, roasted, and fried dishes |
| Serrano Pepper | Green, red, orange, yellow, brown | Long, thin | 10,000 - 23,000 SHU | Eating raw, pickings, |
| Shishito Pepper | Green | Long, fat, wrinkled | 50 to 200 SHU | Grilling, stir-frying, and stuffing |
| Bell Peppers | Green, red, orange, yellow, purple | Large, bell-like | 0 SHU | Stuffing and other savory dishes |
| Fresno Pepper | Green, orange, red | Long, fat | 2,500 10,000 SHU | Marinades, ceviches, stuffing, salads, and relishes |
| Anaheim Pepper | Red and green | Conical | 500 to 1,000 SHU | Salsa, stuffing, and roasted dishes |
| Padron Pepper | Green or yellow | Elongated | 500 to 2,500 SHU | Fried and blistered dish |
| Jalapeño Pepper | Green, red, yellow, orange | Long, fat | 4,000 to 8,500 SHU | Salads, salsa, and guacamole |
| Poblano Pepper | Dark green | Heart-like | 1,000 - 1,500 SHU | Stuffing, sauce, and other savory dishes |
| Red Thai Pepper | Green or red | Long with curved ends | 50,000 to 100,000 | Thai dishes, curries, salads |
| Habañero Pepper | Red, orange, green, yellow, and purple | Fat | 100,000 to 350,000 SHU | Pickling, salsa, hot sauces |
| Banana Pepper | Bright yellow, red, green, orange | Long | 0 to 500 SHU | Pickling, stuffing, |
| Tabasco Pepper | Green, orange, red | Small, thin | 30,000 to 50,000 SHU | Tabasco sauce, salsa verde |
| Piri Piri Pepper | Green, red | Oblong | 50,000-175,000 SHU | Vegetables, chicken, ice cream |
| Trinidad Scorpion Pepper | Green, yellow, red | Fat, pointed ends | 1,000,000 to 1,463,700 SHU | Sauces, soups, salsa, and chili |
| Scotch Bonnet Pepper | Green, red, orange, yellow, brown | Stauted | 100,000 - 350,000 SHU | Jerk dishes, ceviche, rice and beans, and rondón |
| Ghost Pepper | Red, orange, white, purple, chocolate | Fat, wrinkled, pointed ends | 1,001,304 SHU | Pork and fish dishes |
| Carolina Reaper Peppers | Red | Short, and wrinkled | 1,641,183 SHU | Jerky, barbecued meats |
| Cherry Peppers | Red | Spherical | 2,500 to 5,000 SHU | Meatloafs, meatballs, grilled ham, and burgers |
| Paprika Peppers | Red | Large, long | 250 to 1000 SHU | Roasted potatoes, grilled chicken, soups, stews |
1. Cayenne Pepper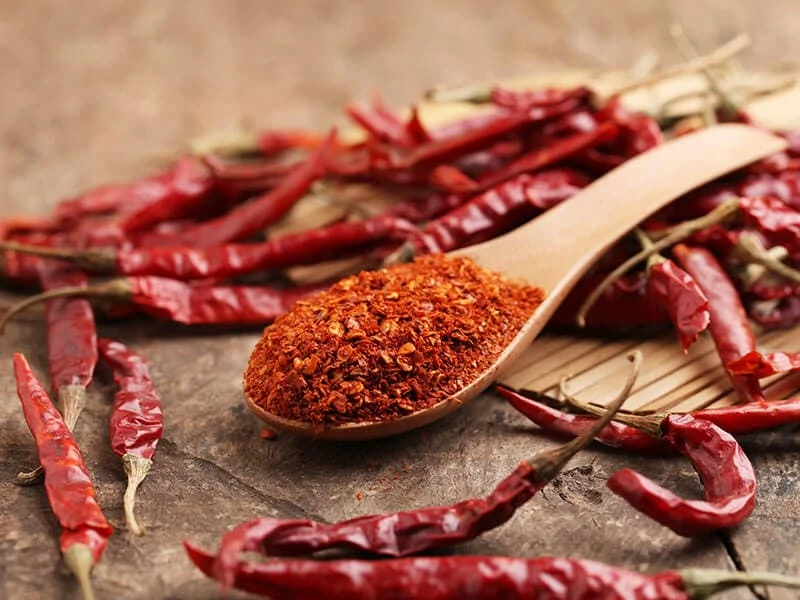 Originated in Cayenne, French Guiana, Cayenne pepper is a medium-heat variety that has been increasingly popular. It is grown in various countries and regions, including East Africa, Mexico, the United States, and India.
This type of pepper has the typical long shape with curved ends and bright red color. It is between 10 and 25 cm long. The amount of heat varies between 30,000 and 50,000 SHU.
Cayenne peppers come in both whole form and powdered form. But they are more often used in powdered form to add spiciness to various recipes, such as meats, casseroles, curries, egg dishes, cheese dishes, stews, and seafood.
The powdered form often contains Cayenne pepper alone. But sometimes, it is a mixture of different chili types. Notably, it can be a replacement for Paprika. You should always have it in your kitchen.
2. Habanero Pepper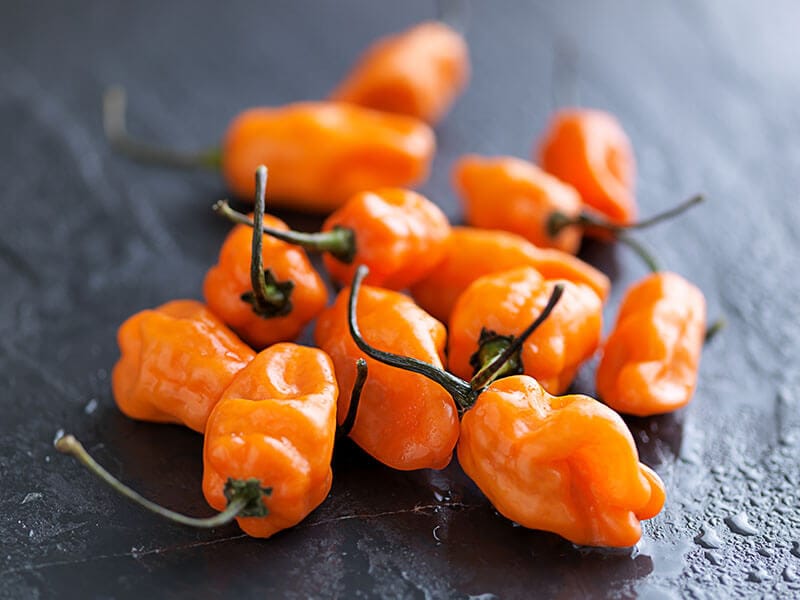 These small peppers are extremely spicy. But they also have a delicious citrusy and smokey taste. They came from the Amazon, featuring plenty of colors, namely red, orange, green, yellow, and purple. They are only about 2-6 cm long.
These cute peppers look like a Scottish Tam o' Shanter hat. They are short, fat, and have pointed ends. But this kind of pepper contains a lot of heat, with a Scoville ranking between 100,000–350,000 SHU. People often dry these peppers and grind them into powder.
Habanero peppers are popular around the world. But they are a staple of Yucatecan cuisine. People use them in the whole form or make purée, pickling, and salsa from them.
They are also added to hot sauces and other spicy dishes such as salads, stir-fried dishes, marinades, and tacos. In Mexico, people add them to tequila or mezcal bottles for days or weeks to spice them up.
If you want to make them less spicy, consider removing the inner white placental tissue because it is where the heat stays. Make sure you wear gloves when doing that.
3. Piquillo Pepper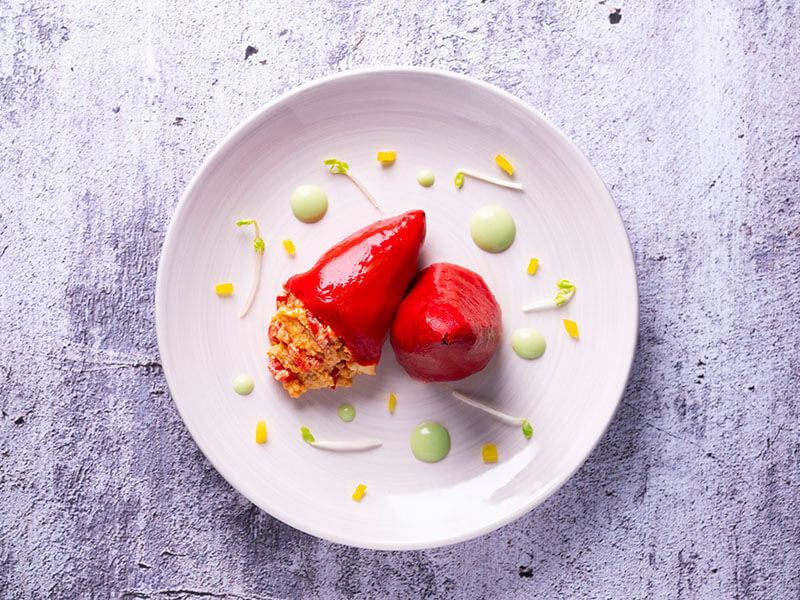 As opposed to other types of peppers, Piquillo peppers are not spicy at all. This Spanish variety has a sweet taste with just a little bit of spiciness, smokiness, and tanginess. Its taste is similar to that of bell peppers.
When ripe, they are about 2.5 – 3 inches long. These red peppers are short and have pointed ends.
Given its sweet taste, Piquillo peppers are added to various savory recipes. People often stuff them with seafood, meat, and cheese or enjoy it as a snack. They also add them to soups, sauces, roasted, and fried dishes. People also use these peppers to make pickling.
What is more amazing about Piquillo peppers is that they are highly nutritious. They have a generous amount of vitamin C. Also, they contain vitamin E, B, A, and plenty of fiber.
Piquillo peppers are best used to make stuffing. Get the best recipe now!
4. Serrano Pepper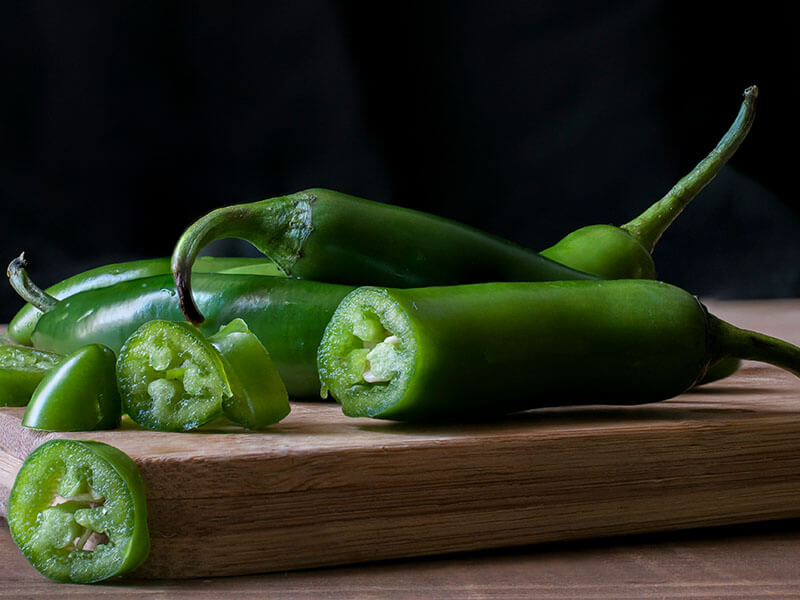 Serrano was named after its place of origin, which is the Sierra mountain ridges in Mexico. It is the second most popular chili pepper in Mexico. Unripe Serrano chili peppers are green, but they can turn brown, orange, red, and yellow upon reaching maturity.
This variety is moderately spicy with a Scoville rating of 10,000 to 23,000 SHU. Its taste is similar to that of Jalapeño pepper but is a little bit spicier. The spiciness does not come right away but after a short time.
Since the taste of Serrano peppers is comparable to that of Jalapeño peppers, you can use Jalapeño peppers as a substitution for Serrano peppers. However, they still have some differences, so make sure to taste them before trying!
The spiciness level of Serrano peppers varies according to the size and the degree of ripeness. Small peppers have more heat, and the large ones tend to be milder. Unripe peppers are less spicy than ripe peppers.
With that bright flavor, Serrano peppers are ideal for eating raw. You can slice and chop them to enjoy alongside your dishes.
Using them to make picklings and puree is also a great idea. They are also an important ingredient of salsa and pico de gallo. If you roast them, they will become sweeter and softer.
5. Shishito Pepper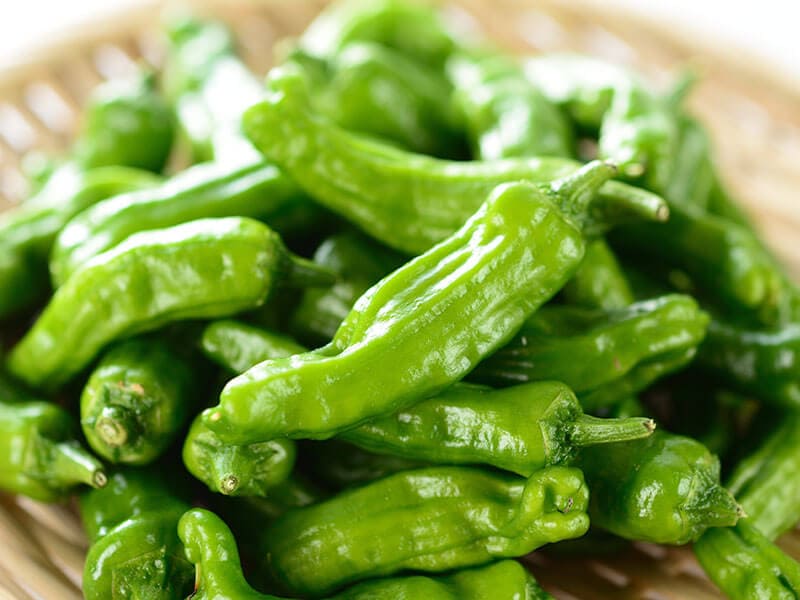 Shishito peppers are a Japanese variety. They are one of the mildest peppers, with a Scoville rating of only 50-200 SHU. They have a lovely sweet taste with some citrusy and smoky notes.
Regarding appearance, they have the typical long and thin shape of peppers, yet the ends are often flat. Their skin has some wrinkles and changes from green to red when ripening. Many people love to enjoy green Shishito Peppers.
Shishito peppers have a bright, sweet, and peppery taste. All of them are very mild. However, the pods are somewhat spicy.
This type of pepper is often compared to Padron peppers because they look pretty similar. Yet they are more wrinkled than Padron peppers and more glossy. People often grill Shishito peppers, fry them in olive oil, or use them for stuffing.
6. Bell Pepper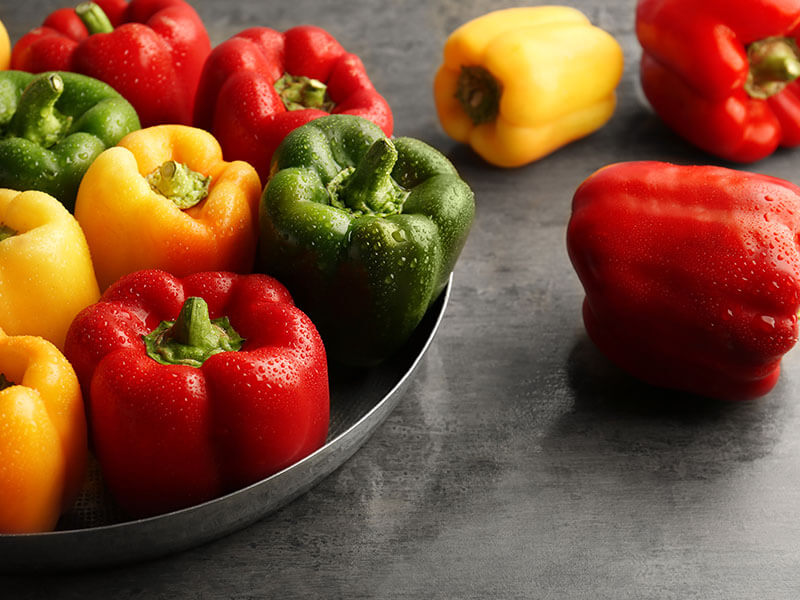 Perhaps bell peppers are the most popular types of mild peppers in the world. They are not spicy at all, but if you are looking for a versatile and attractive veggie, turn to bell peppers. Not only do they add a lot of flavor to the dishes, but they also make them more colorful.
Regarding the color, you probably know that they are usually red, green, yellow, and orange. But they can have more colors, namely purple, brown, white, and lavender. Their bell-like shape and large size make them very easy to process.
Bell peppers have an amazing mild, sweet, and grassy taste. Their flesh is so thick and crunchy. You can use them to add flavors and texture to any recipe, especially stuffing. Since they are kind of moist, they will make your dishes a little bit more watery.
Stuffed bell peppers are one of the best bell pepper recipes.
7. Fresno Pepper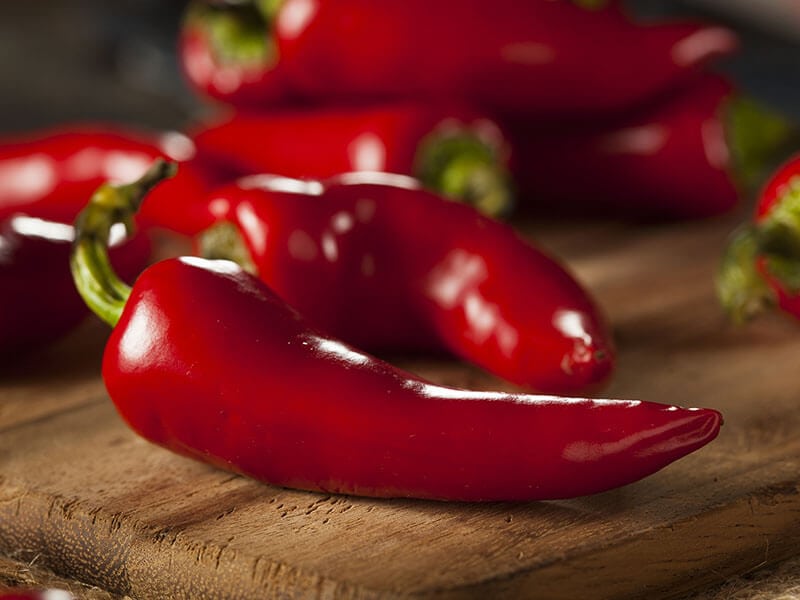 If you want to find a milder alternative to Jalapeño pepper, Fresno peppers will meet your needs. They are also a Mexican variety. Their Scoville rate is between 2,500 and 10,000 SHU. It is green when unripe and turns to orange and finally red when mature.
As the peppers ripen, they will become hotter. But people often harvest and sell them while they are still unripe.
Fresno peppers have thin walls. That feature separates them from Jalapeño peppers. In addition, ripe Fresno peppers are spicier than Jalapeño peppers. They can also have some fruity notes.
Just like Jalapeño peppers, this variety is amazingly versatile. It can be eaten raw. People also add green peppers to casseroles, stews, soups, sauces, and pickles.
The red ones are used in marinades, ceviches, salads, and relishes. You can also use them as a spicy topping for your hot dogs, sausages, burgers, and tacos. Making stuffing with them is also a common practice. They go well with potatoes, seafood, meat, and cheese.
8. Anaheim Pepper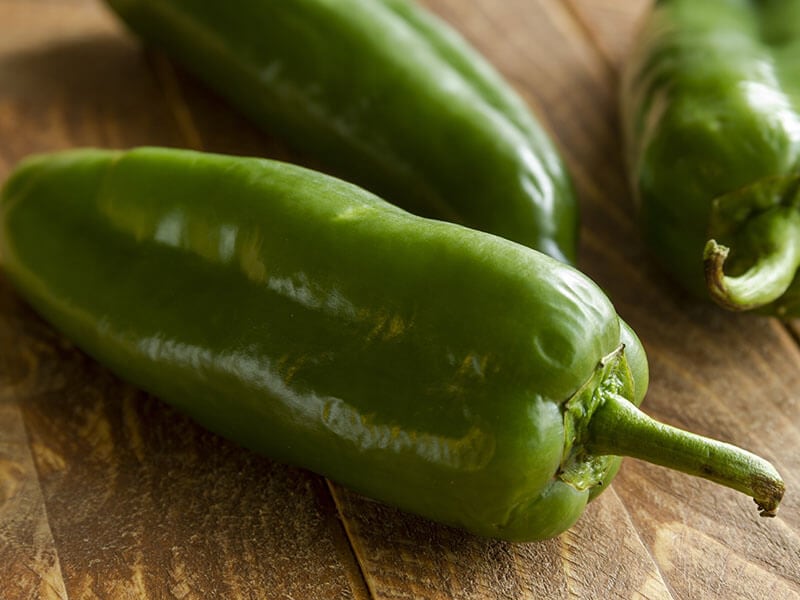 This type of pepper originated in Mexico but was named after the city of Anaheim, California. Its other names are "California pepper" and "Magdalena". If you live in New Mexico, you will also hear people call it "New Mexico chili" or "Hatch chili pepper".
Compared to the common Jalapeño Pepper, Anaheim peppers are milder and have thicker flesh. Their Scoville unit lies between 500 to 2,500 SHU. They are sweet, tangy, and smokey with a small amount of heat. They can have a conical shape and 2 typical colors, red and green.
With Anaheim peppers, you can add a complexity of flavor to a wide range of recipes. You can add them to soups, stews, and sauces. Grilling and stir-frying them also results in delicious dishes.
In addition, they are ideal for making salsa, stuffing, and roasted dishes. Interestingly, thanks to its mild taste, they can even substitute bell peppers. You can buy Anaheim pepper in 3 forms: whole, jarred, and canned.
9. Padron Pepper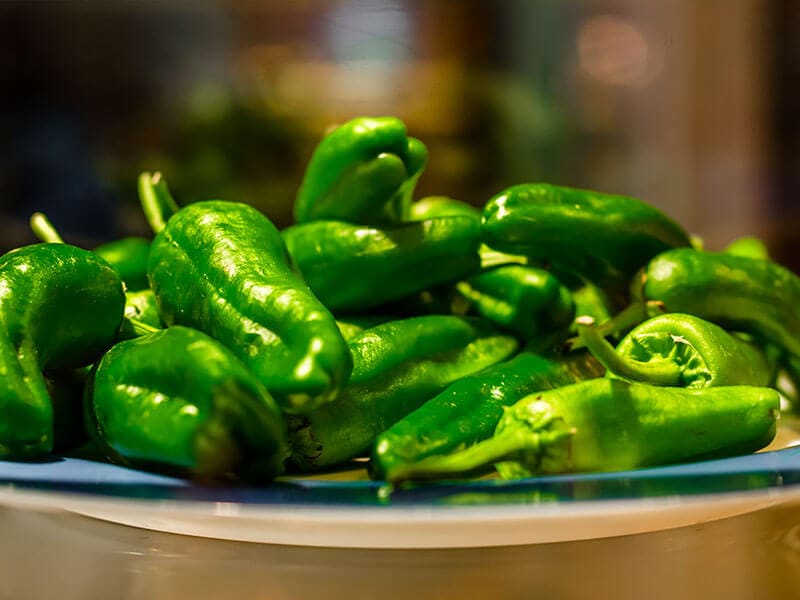 Padron peppers are also called Hebron peppers. They originated in Galicia, Spain. Their name came from the town of Padron, from which they became popular. The fruits are green or yellow and can grow to 2 inches long. They tend to get hotter when ripe.
This variety has a pleasantly mild taste, ranging from 500 to 2,500 SHU. However, some can be spicy enough to burn your tongue. Traditionally, people fry Padron pepper in olive oil and add some salt. Blistered Padron peppers are also a great dish.
In some regions, people remove the bitter-tasting stems before frying. This dish is often served with some bread.
10. Jalapeño Pepper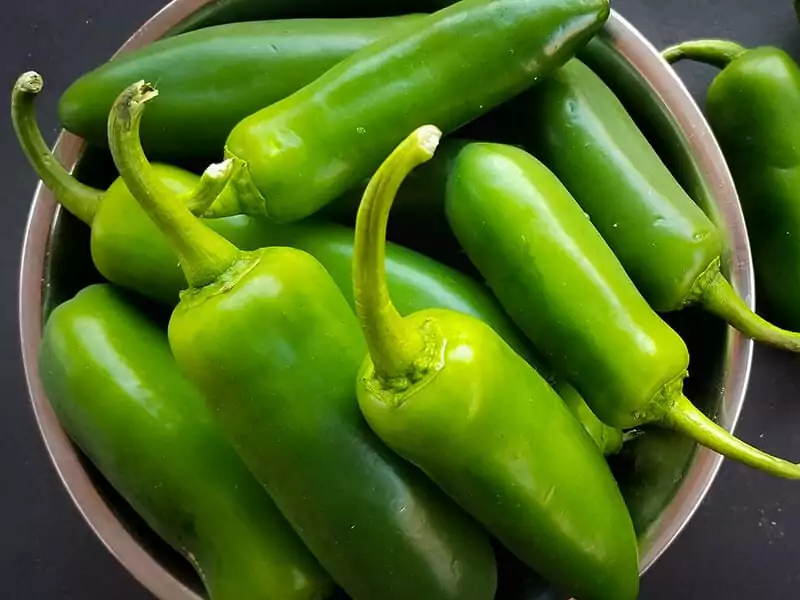 Jalapeño peppers are undoubtedly one of the most common types of pepper in the world. Its weird name came from the Spanish phrase for "from Xalapa". Xalapa is a Mexican city and the birthplace of this pepper variety.
The heat level of Jalapeño peppers varies a lot and can reach at most 10.000 SHU, depending on the cultivars and the color. Unripe fruits have a bright and fresh taste. When ripe, they have an attractive red color and sweet taste.
However, compared to other varieties, this pepper is still a mild one. It tastes quite similar to Serrano peppers. You can remove the seeds and innards to make the pepper less spicy.
I have a lot to say about how this amazing pepper is used in cooking. You can add it to any dish to spice it up. You can eat it raw along with salads, salsa, and guacamole. Roasting them and making stuffing from them is also amazing.
The wonderful flavor of Jalapeño peppers makes them perfect for making chili. You can apply methods of thickening the texture of chili to enjoy a delicious Jalapeño pepper-based dish on winter days.
This Jalapeno Poppers recipe will become your favorite after you try it.
11. Poblano Pepper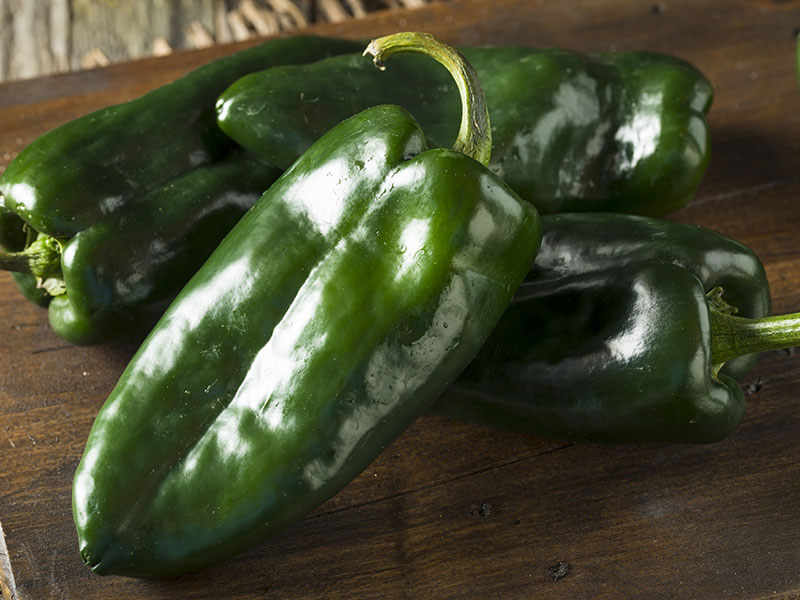 Mexico is the place of origin of many types of chili pepper. In particular, the state of Puebla is home to an amazing dark green and heart-shaped pepper named "Poblano pepper". It is a mild variety, with the Scoville scale ranging from 1,000 to 1,500 SHU.
However, not all Poblano peppers are hot. Their taste varies a lot. Even the fruits of the same plant have different levels of spiciness. In addition, red Poblano peppers have more heat than green ones.
In Mexican cuisine, Poblano peppers show up in a wide range of dishes. People often roast and peel them, then transform them into canned or frozen form.
Poblano peppers have thick skin, which is ideal for making stuffing. They also dry the peppers and ground them into a powder called "Ancho chilis".
When you are out of chili powder, it can be a great backup of chili powder. It is also a well-known ingredient in sauces and other dishes.
12. Red Thai Pepper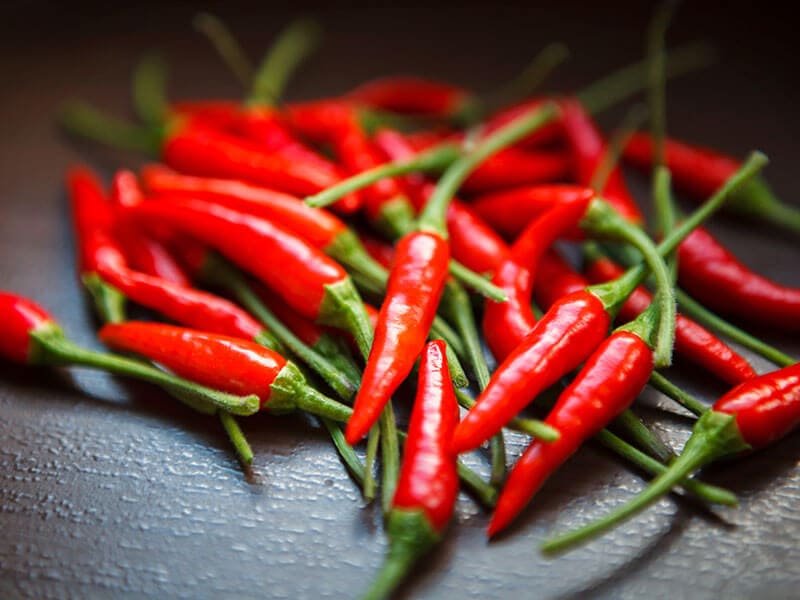 Red Thai peppers are not a single variety. They come in many different types and levels of spiciness. There are more than 79 subvarieties, and their heat is between 50,000 to 100,000 SHU. Compared to Jalapeño peppers, this type is nearly 15 times spicier.
Thai cuisine is famous for spicy dishes. What makes these dishes so delicious and spicy is Red Thai peppers. They have 2 typical colors, namely green and red. They have long shapes with curved ends.
These peppers add a strong kick and an attractive color to Thai dishes such as curries and salads. So, people will dry and ground them into fine powder. At the same time, you can use fresh Thai peppers as garnishes.
13. Banana Pepper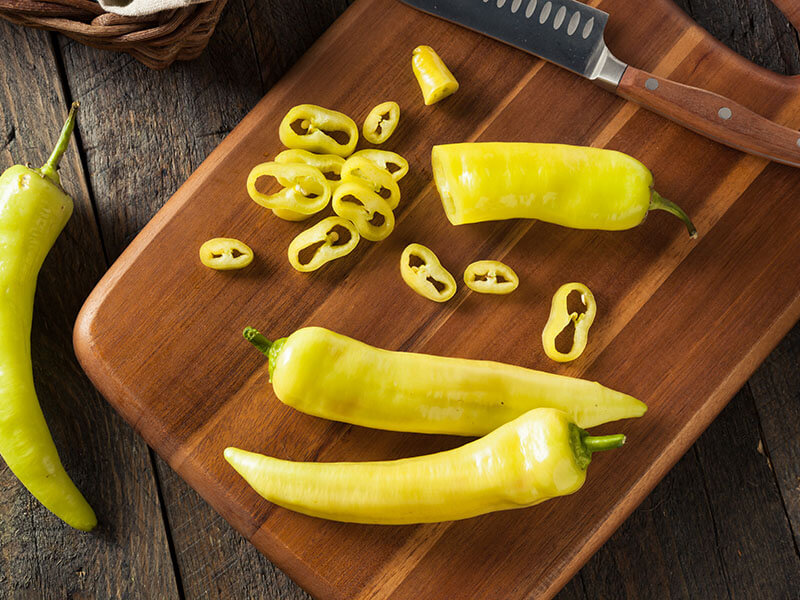 If you have ever tasted the famous pepper pickling, you will see the mild and tangy large peppers inside. They are banana peppers.
These peppers most often have a bright yellow color. Yet they can also be red, green, or orange. They are a great choice for those who like mid-peppers. You can use them to make stuffing, jellies, and pickling.
Banana peppers are often confused with pepperoncini because of their similarity in taste, appearance, and applications. Make sure you know the differences between banana peppers and pepperoncini to avoid the confusion.
Pickled Banana peppers are an amazing food that can be added to sandwiches, pizza, and Greek salads. Stuffed banana peppers pair well with Italian sausage and cheese. People also slice and chop fresh banana peppers to add more flavors to salsa and relishes.
When it comes to Banana peppers, pickles is the best recipe.
14. Tabasco Pepper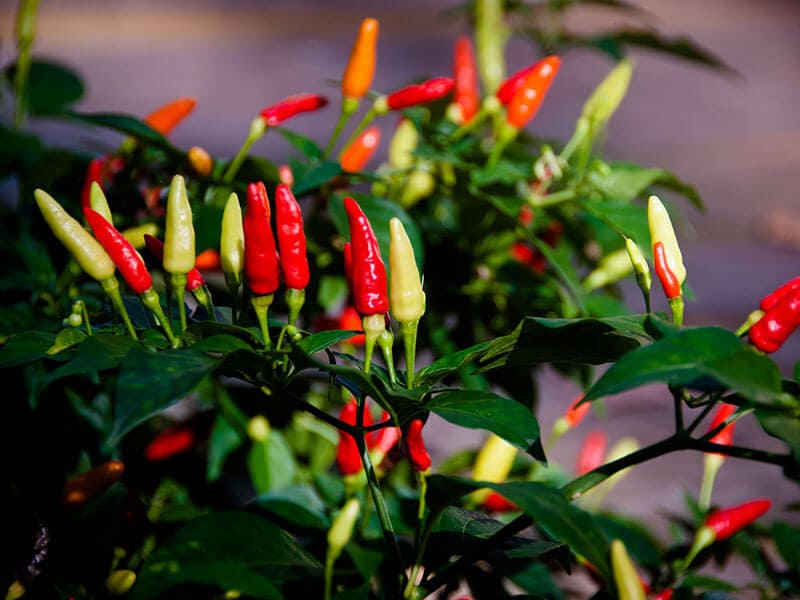 Do you know what the famous Tabasco sauce is made of? The answer is Tabasco peppers, a very spicy Mexican variety. Its Scoville scale ranges from 30,000 to 50,000 SHU.
A special thing about Tabasco peppers is that their flesh is juicy, as opposed to the dry texture of other varieties. Tabasco peppers can be green, orange, or red, depending on the level of ripeness. The ripe ones are tastier with a distinctive sweetness and fruitiness.
People often add them to sauce or dry them and grind them into fine powder. Green Tabasco peppers are also used to make salsa verde and salsa Roja.
15. Piri Piri Pepper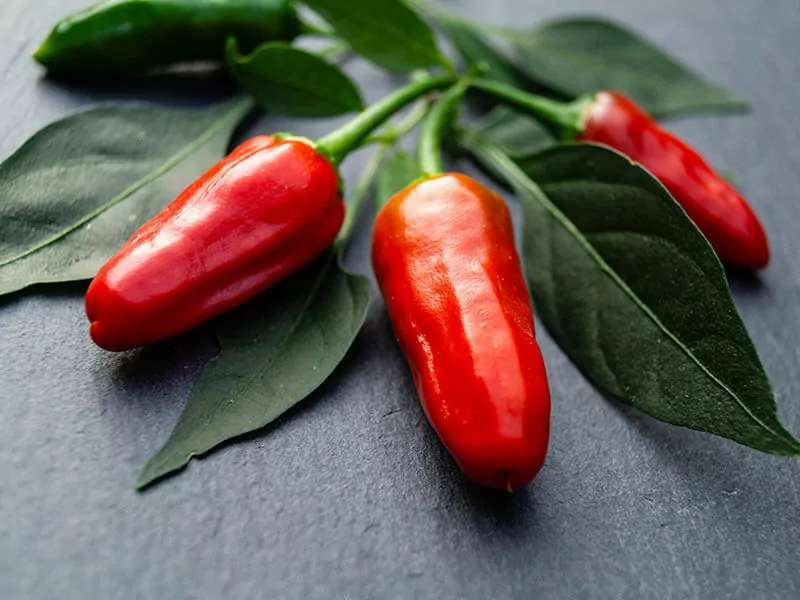 Originated in South Africa, Piri Piri or Peri Peri peppers have a lot of heat. Their Scoville unit ranges from 50,000 to 175,000 SHU. Compared to Jalapeño, Piri Piri peppers can be up to 40 times hotter. As these oblong peppers ripen, they change from green to red in color.
Although this type of pepper is very hot, it is also very sweet and flavorful. You can make delicious sauces from its fruits to serve with vegetables and meats. People also dry and grind them into powdered form and sprinkle them on the dishes to add a kick.
Traditionally, Piri Piri peppers are used to marinate foods. Their excellent taste pairs very well with chicken. They are also excellent for making chili. Remember to find some delicious dishes to enjoy alongside chili. If you want some extreme experience, try them with ice cream! You can never forget that amazing taste.
16. Trinidad Scorpion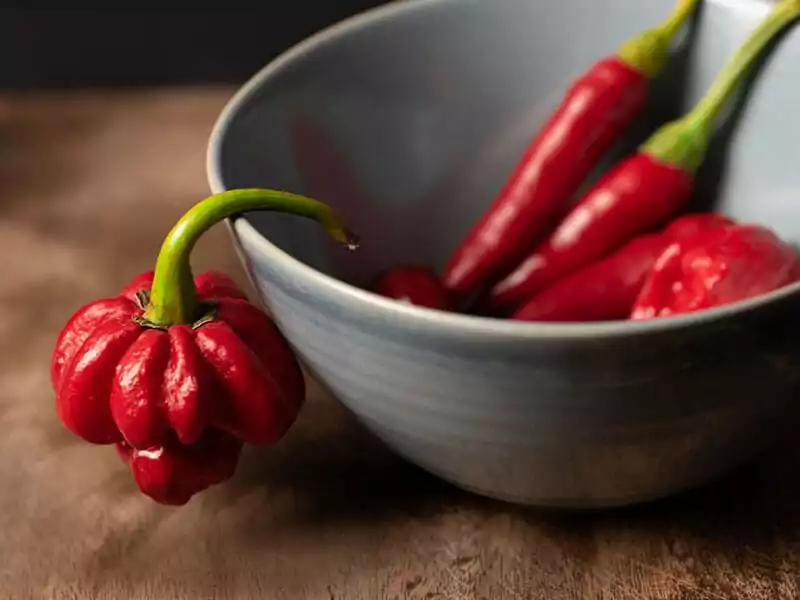 Among the peppers I have introduced, Trinidad Scorpion peppers are the spiciest ones. They have an impressive Scoville scale of between 1,000,000 – 1,463,700 SHU, which are thousands of times hotter than Jalapeño peppers.
This variety is native to the Republic of Trinidad and Tobago. It has a unique shape with a fat body and a pointed end. People name it "Scorpion" because it looks like a scorpion's stinger. It starts out green but turns to yellow and red when ripe.
Trinidad Scorpion peppers have an extremely spicy and fruity taste. They can be added to sauces, soups, salsa, and chili. Very few people eat them raw because they are just way too hot. The cooks have to wear gloves while processing them.
Trinidad Scorpion peppers come in dried form. You can sprinkle them over your dishes for a strong kick.
17. Scotch Bonnet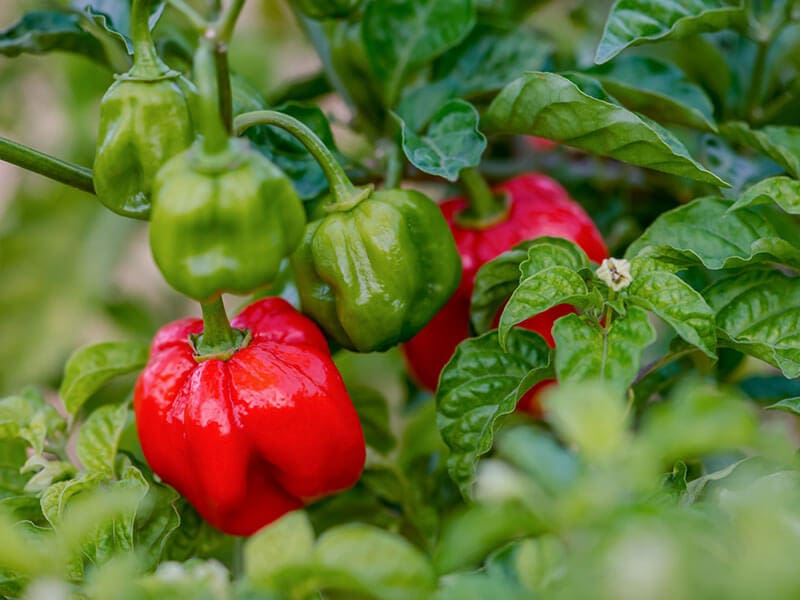 Scotch bonnet peppers are also called Bonney peppers or Caribbean red peppers. With the Scoville unit ranging from 100,000 to 350,000 SHU, they are one of the spiciest peppers in the world.
These peppers are relatively small and have a stout shape that resembles a Scottish Tam O'Shanter hat. That's why people call them Scotch Bonnet.
Similar to other spicy peppers, they come in different colors. Unripe Scotch Bonnet peppers are green, while the ripe ones can be red, orange, yellow, or brown.
Besides their powerful spiciness, these peppers also have some fruity and tropical notes. They are mostly used in Caribbean dishes such as jerk dishes, ceviche, rice and beans, and rondón. People also used them to make sauces and condiments.
When processing Scotch Bonnet, you must wear gloves. After you're done, make sure you clean the cutting board and gloves with bleach or detergent so that the capsaicin is removed completely. To minimize the heat, you can remove the inner white placental tissue.
Let's try making a delicious hot pepper sauce from Scotch Bonnet peppers.
18. Ghost Pepper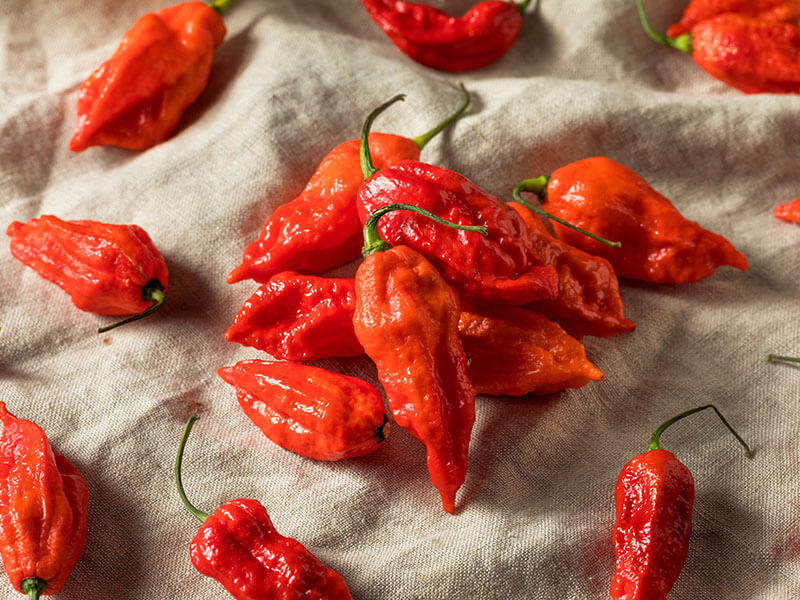 Ghost peppers are a little bit less spicy than Trinidad Scorpion peppers. Their Scoville scale is about 1,001,304 SHU. The 2007 edition of Guinness World Records recognized this variety used to be the hottest pepper.
When Ghost peppers come to your mouth, they do not show their heat right away. Instead, you will notice a hint of sweetness. However, after a few seconds, the heat starts to attack, making your eyes watery.
Compared with Trinidad Scorpion, Ghost peppers are more fruity and more pleasant. To make them less spicy, you should remove the innards because they contain the highest amount of capsaicin.
This type of pepper has wrinkled skin and a fat shape with pointed ends. They come in different colors: purple, orange, red, white, chocolate, and purple.
Similar to other peppers, You can use Ghost peppers fresh for spiciness or dry and grind them to add flavors to your pickles and chutneys. You can also serve them with pork and fish dishes, such as fermented or dried fish.
19. Carolina Reaper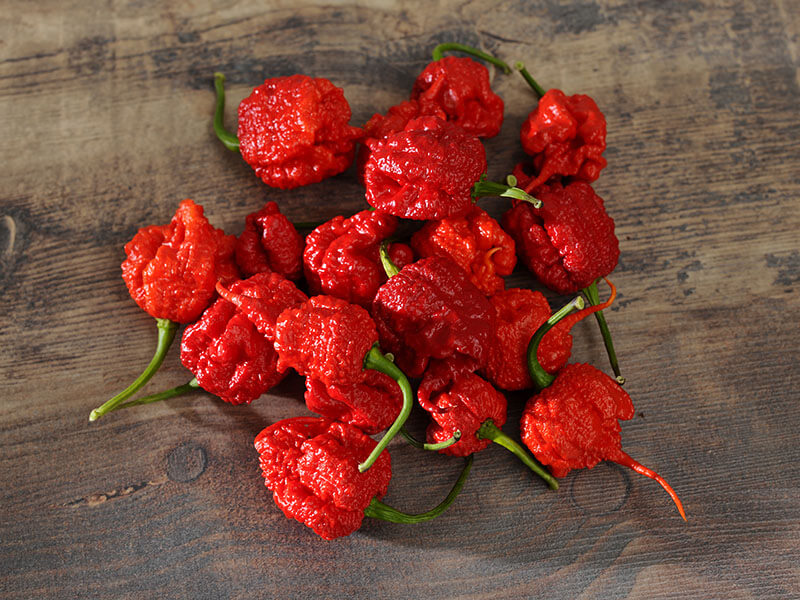 This variety was recognized by the Guinness World Record as the world's hottest chili pepper in 2013. Its appearance is very similar to Ghost peppers and Trinidad Scorpion peppers. All are short, wrinkled, and have pointed ends.
The taste of Carolina Reaper peppers is also comparable to that of the 2 previous types. When you try them, you will first notice a sweet and fruity flavor followed by an extreme amount of heat.
With such an impressive amount of heat, Carolina Reaper peppers are a favorite ingredient in cooking. But the most important thing is to watch the amount. They come in three forms, namely fresh, powdered, and flaked.
These peppers often appear in spicy Thai, Indian, and Mexican dishes. You can also use the powdered form to heat up your jerky or barbecued meats.
20. Cherry Pepper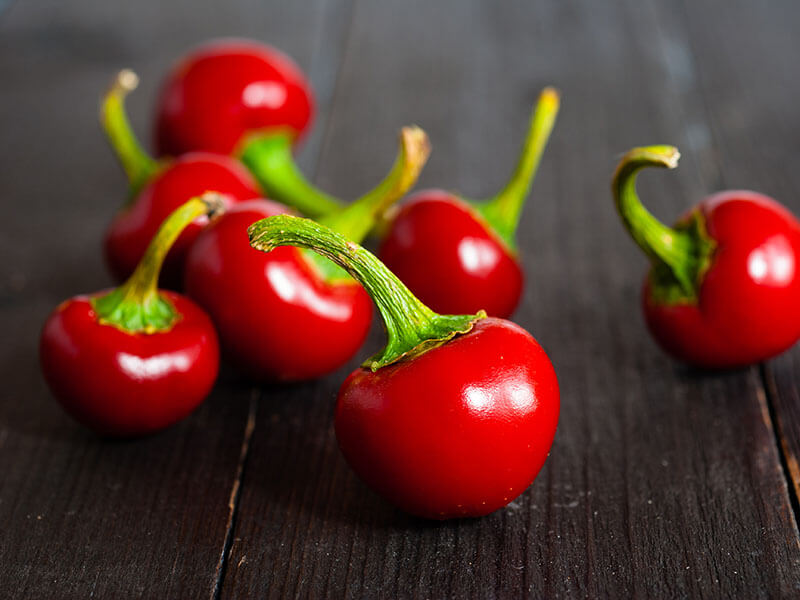 I have shown you a lot of spicy peppers. Now let's get back to the mild ones so that you have even more options.
Among the mild peppers, Cherry peppers are one of the most popular varieties. Some are sweet, while others have a low degree of spiciness, ranging from 2,500 to 5,000 SHU. They have less heat than Jalapeño peppers.
This type of chili pepper has several varieties. The mildest ones are Besler's Cherry and Cherry Pick. Cherry Bomb is the spiciest variety.
Cherry peppers come in spherical shapes, resembling the look of cherries. Their beautiful red skin is smooth, firm, and thick, making them perfect for making pickles. Pickled Cherry peppers are often added to sandwiches, salads, and cheese boards.
You can use fresh Cherry peppers to give a kick to your meatloaves, meatballs, grilled ham, and burgers. To make them less spicy, you should remove their seeds. You can also chop them and stuff them into pimento loaves, pimento cheese, and green olives.
Have plenty of Cherry peppers in the fridge? Try out this delicious recipe!
21. Paprika Peppers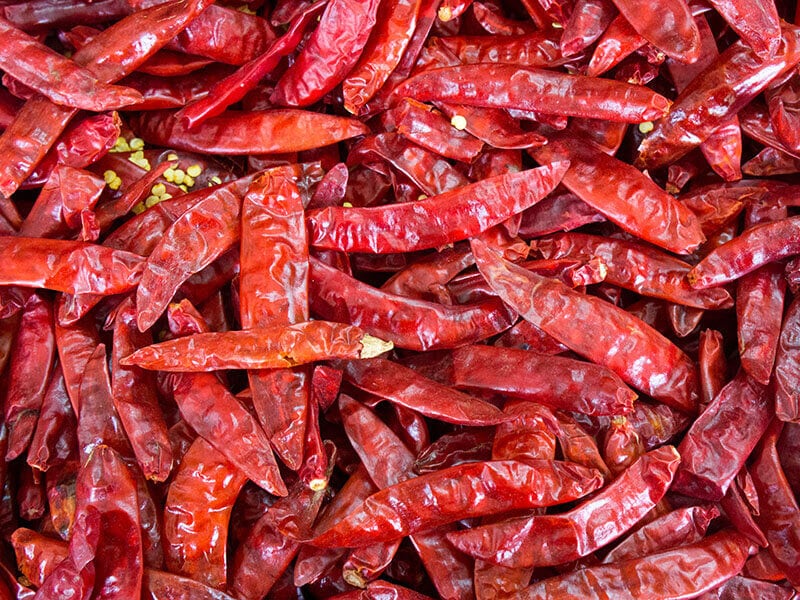 Paprika peppers originated in Hungary. Their Scoville unit ranges from 250 to 1000 SHU. Most people use this pepper in ground form. Therefore, you may not know that this type of pepper looks very attractive with a large size and bright red color.
When ground or roasted, Paprika becomes an amazing spice that can be an alternative to Gochugaru. People love to add Paprika powder to their dishes, such as soups, stew, hummus, roasted potatoes, and grilled chicken, to make them more appetizing. They add a mild, sweet, and peppery taste to rubs and sauces.
Stimulate Your Taste Buds With These Chili Peppers
Do you prefer mild peppers or spicy peppers? What is your first experience with them? Which ones are your favorites? Feel free to share your thoughts with me in the comment section. I am very curious about that.
After reading this article, I am sure that you have got a lot of interesting information about different varieties of peppers. There are way more of them than what you think, right? If this list is helpful to you, please share it with your friends. Many thanks!