Finding an arugula substitute comes to your mind while wandering around the vegetable area and finding arugula for your salad. Consider a few sorts of arugula alternatives, which I will mention in the upcoming sections.
Although not to every arugula dish, you can substitute by the greens below. But don't worry, I'll share with you my experience for your best appetite. Now, stick around, and let's find out!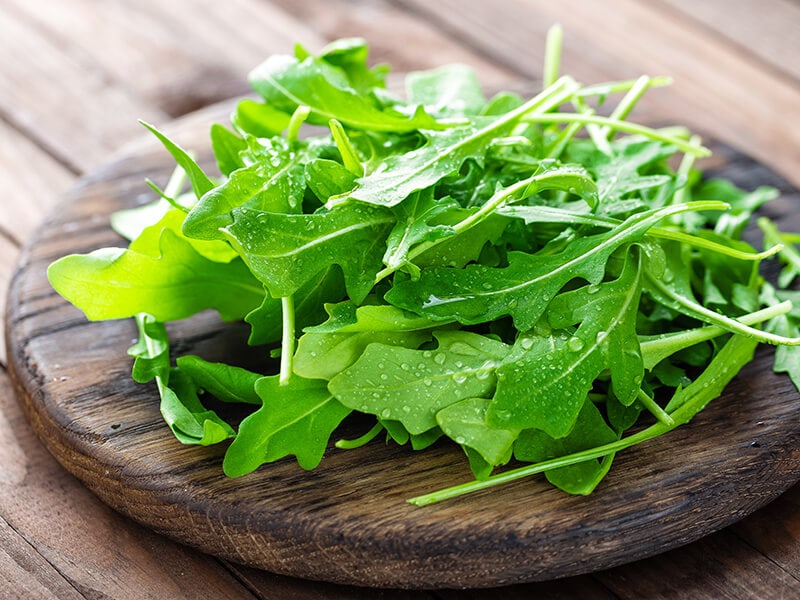 15 Arugula Substitute For Your Cart
Look around and still can not find your beloved arugula for your breakfast sandwiches or salad; change your target and look for these some best alternatives for arugula. Believe me, and you will never regret it.
Baby Spinach
Baby Kale
Basil
Cabbage
Dandelion Greens
Endive
Frisée
Escarole
Mâche
Nasturtium Leaves
Purslane
Radicchio
Radish Sprouts
Romaine Lettuce
Watercress
Something You Should Know About Arugula
Arugula has many other names, such as rocket, eruca, arugula, or roquette. All these names mention reens belonging to the Brassicaceae family and having a signature fresh peppery flavor, slightly bitter and bright tart.
Historically, arugula was a prevalent herb in Rome and continues to be a popular vegetable in Italian cuisine today. Arugula salad is one of the must-have accompaniments to go with famous Fettuccine Alfredo. Its pungent, peppery flavor also suits as fresh toppings for pizza.
An interesting fact about it is that, if grown in cold weather, its leaves will turn red.(1)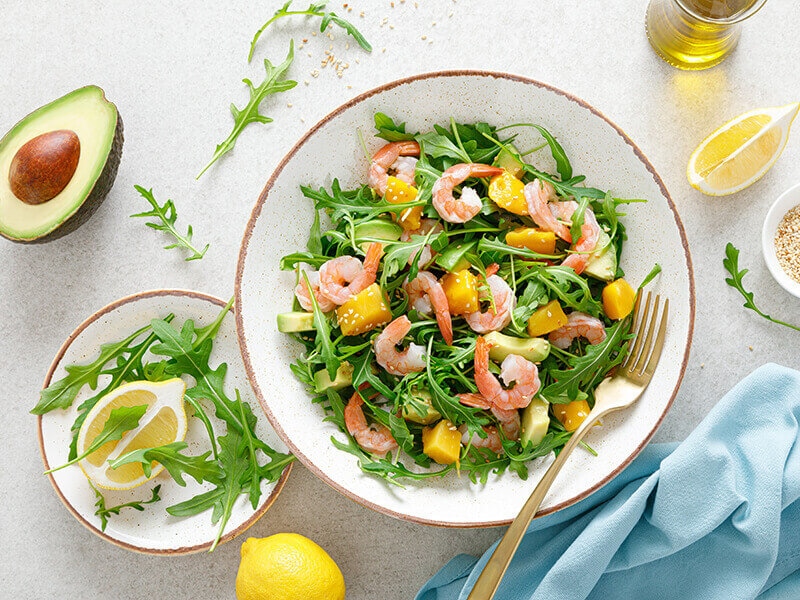 The 15 Alternatives For Arugula And How To Use Them
If you want arugula for your meals and can not find it at the store, please consider some of the substitutes below to save your mood.
The below table might help you to have a general look at this.
| | |
| --- | --- |
| Types Of Dishes | Preferable Substitutes |
| Salads | Watercress (upland cress), baby spinach, dandelion greens, mixed greens, baby kale, romaine lettuce, mâche, nasturtium leaves, purslane, radish sprouts, cabbage |
| Sandwiches / Wraps | Watercress, baby spinach, dandelion greens, mixed greens, romaine lettuce, escarole, frisée, mâche, nasturtium leaves, purslane, radish sprouts, cabbage |
| Soup | Kale, baby spinach, escarole, endive, radicchio, purslane, cabbage |
| Pizza | Basil, baby spinach, romaine lettuce, purslane |
| Pesto | Basil, watercress (upland cress), baby spinach |
1. Baby Spinach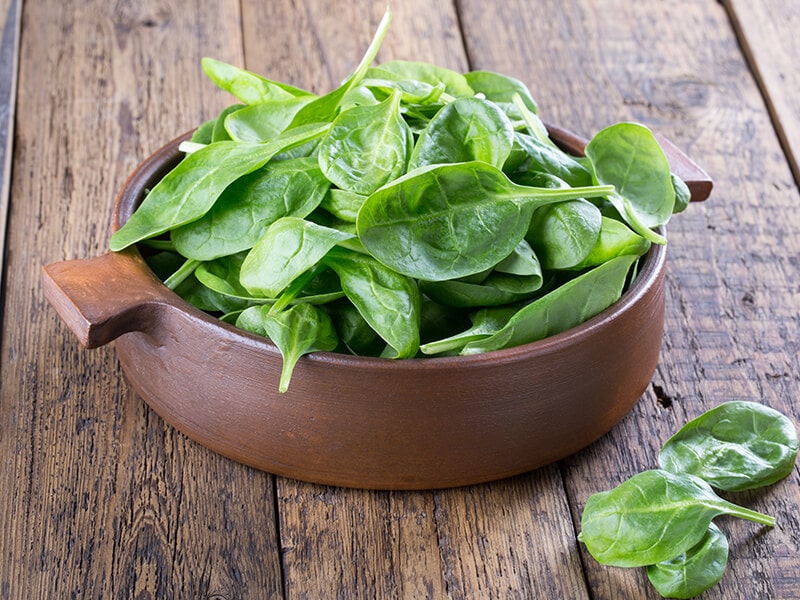 Baby spinach is an excellent salads and smoothies component by its freshness, a tinge of bitterness, and a multitude of nutrients. Although it cannot replace the typical peppery taste of arugula, the cooked quality of baby spinach will make your taste robust and explode.
With similar nutritional value and the ability to pair well with other ingredients, baby spinach can substitute for arugula in many dishes, such as fresh toppings for pizza, pesto soup, salads, or sandwiches.
Baby spinach is not a different type of spinach, in case you ask. They are just simply early-harvest regular spinach in order to have sweeter and more tender leaves.
2. Baby Kale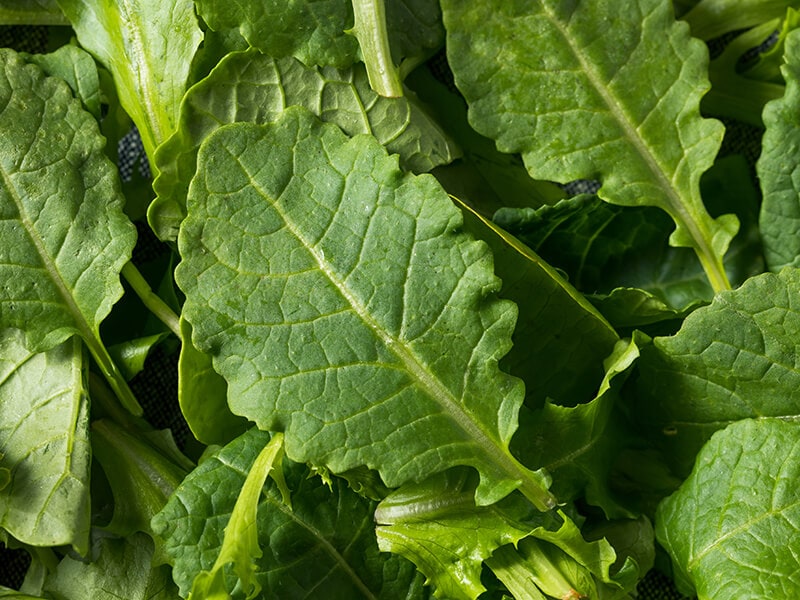 Baby kale is a baby leaf of young, immature kale so that you can eat the whole of them, even stems. This type of greens prefers to be eaten raw as their leaves are soft enough (you can still use them in cooking).
If you are in love with the freshness, crunchy and peppery flavor of arugula, baby kale can also bring you that (just a bit less). Its flavors are a bit more earthy, milder, and slightly sour, making sense to many fresh salads.
Don't worry about the nutritional value of baby kale; it shares the same amount as mature kale, which also makes them a type of "super-vegetable".
After all that, you can be assured to use baby kale in place of arugula in salads, soups, and best-to-use in smoothies (important thing goes twice!)
An idea for a 5-minute-smoothie that can blow your taste. Watch this video to know:
3. Basil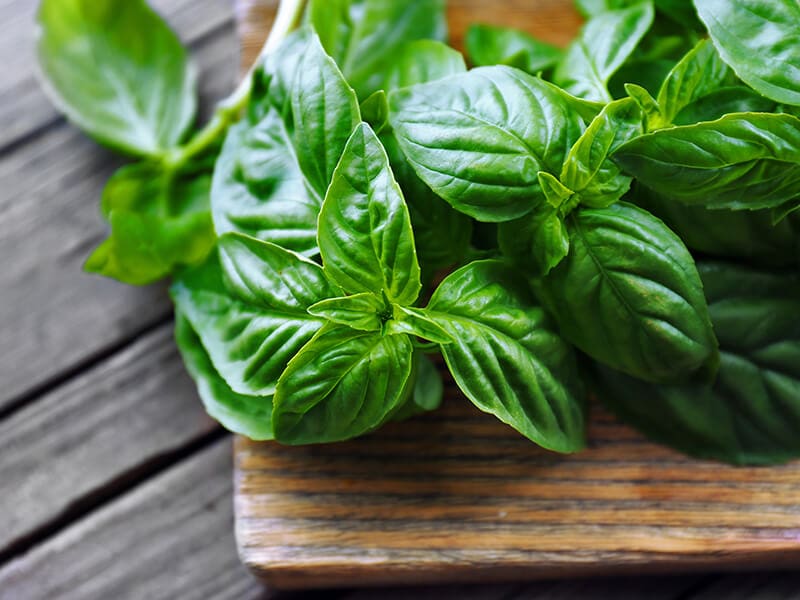 Basil is definitely an incredible herb that offers many layers of flavor. There is a long list of dishes you can make with basil. Not only a mildly pungent taste, but it also adds a slightly peppery flavor, the freshness of mint, and a hint of sweetness to any dish, especially salads.
Regarding this mild spicy taste, those who are crazy about not finding arugula for pesto can replace it with basil. It's very delicious!
Speak nicely to say back, basil is still a type of herb, and using the same amount to replace green leaves may be too much. So that, to best substitute arugula in fresh dishes, you might just want to use it as a topping.
4. Cabbage
You are not a fan of the peppery and bitterness of arugula; cabbages can help with that when adding it instead of arugula in salads or sandwiches.
Cabbage is usually criticized for having an unpleasant smell, pungent odor, and taste when cooked, so it's better for you to use it raw like coleslaw. Also, this vegetable has many different colors, which can help your salad bowl look colorful and attractive.
Both red (or purple cabbage) and green cabbage are loaded with nutrients. The slight difference in taste is the red one is a bit more earthy and smaller in size compared to the green cabbage.
However, don't ever mistake cabbage for lettuce. While some of their varieties can be quite similar, cabbage and lettuce still hold some particular differences. So, look carefully before picking.
5. Dandelion Greens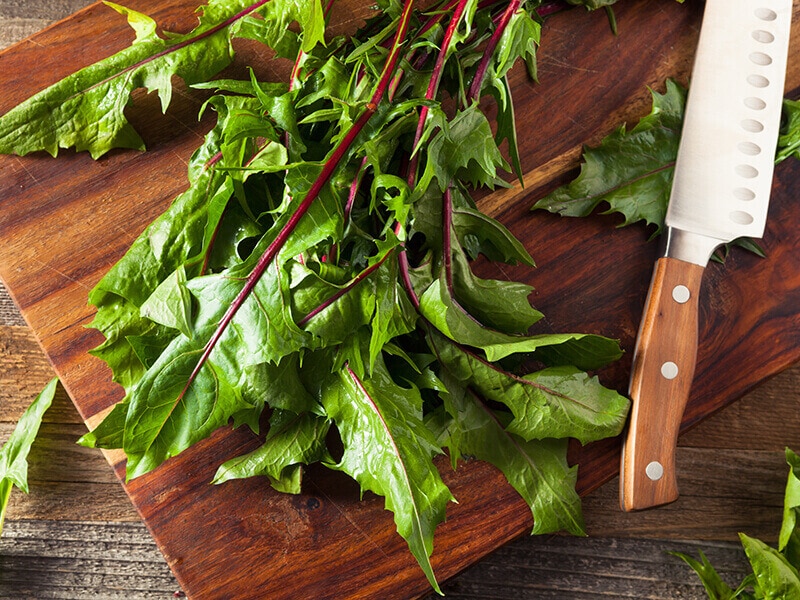 With just a glance at the leaves' shape, you might not tell where dandelion greens are and where arugula is. And not only the look, but they also share many similarities in taste, such as their earthy flavor and a hint of bitterness in your tongue.
If you love arugula for its robust intense flavor, you might be disappointed because dandelion doesn't taste peppery at all. But if you are craving a salad bowl, some dandelion greens can alter the arugula and quench your need.
The bitterness of dandelion leaves can vary with the season and might no longer be suitable for eating raw. You can then choose to cook them up because they will be less bitter when cooked.
6. Endive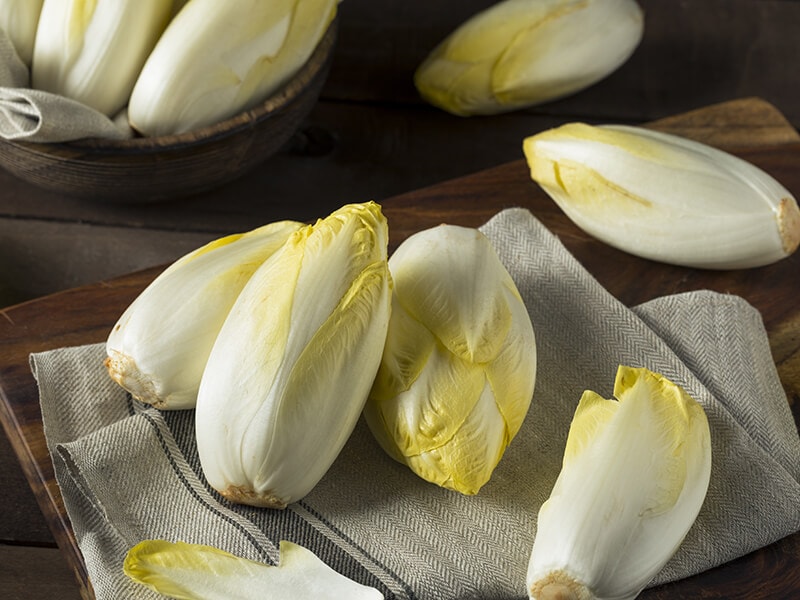 The first chicory botanical family member on the list is endive. Endive or more precisely, Belgian endive is a typical vegetable with its crunchy texture, a bit tangy, sweetness, and slight bitterness, which resembles arugula.
This unique combination makes it suitable whether eaten raw or cooked (the heat will reduce the bitterness to enhance the sweetness).
Although it's also delicious when shredded in a salad, endive is best used as a substitute for arugula in soups because it keeps its texture stable and doesn't become too mushy under heat.
7. Frisée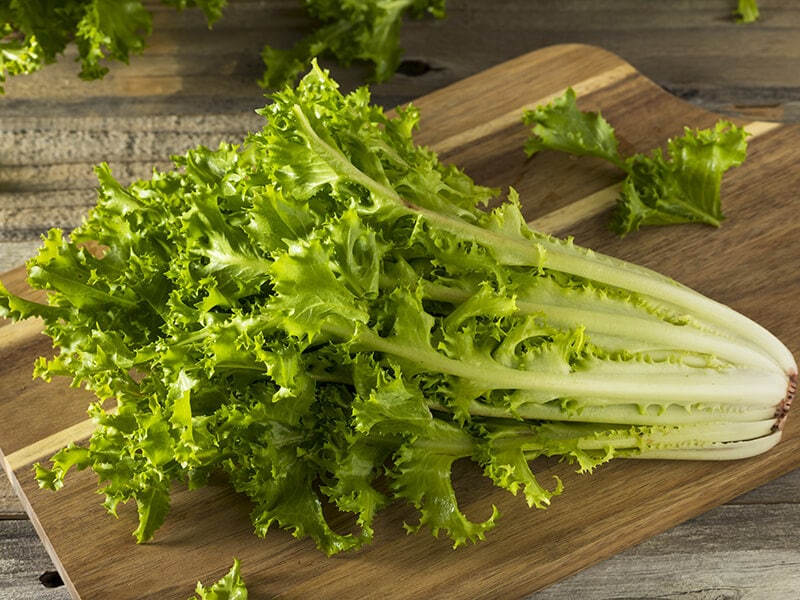 The next "nominator" is frisée or frisee. It also belongs to the chicory family with thin, green, and pale leaves, mildly bitter, and slightly peppery flavors.
Frisee is recommended to use in a green salad with warm dressings. In fact, Frisee salad is considered to be one of the French classics that any chef should know. To replace arugula, you can add a frisee salad to your sandwich.
The first tip is if you don't like bitterness, you should choose a frisee with a paler color. The lighter the leaves are, the less bitter they are.
And second, don't try to cook frisée to reduce bitterness. Instead of that, you can use the other ingredients to balance it. I recommend using food or dressings that are a little bit creamy. They can go really well to soften the bitterness.
8. Escarole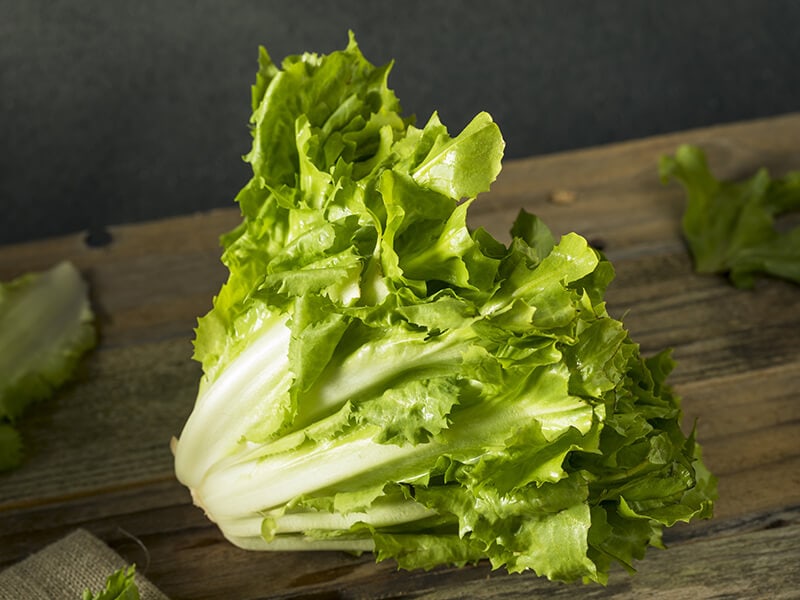 When you search for escarole at the grocery store, you might find that it resembles a head of lettuce, with its leaves leafier than kale and tastes a tad bitter.
As their signature tastes are bitterness and a hint of peppery, escarole is best to eat raw in salads, sandwiches or wraps to replace arugula.
Your leafy greens will not become slimy under high heat because the textures of escarole leaves differ depending on their position, in or outside. The outer leaves are darker green and tougher, and the inner leaves are softer and paler green.
Therefore, escarole is still a perfect, nutritious ingredient for soups like pote or stews.
9. Mâche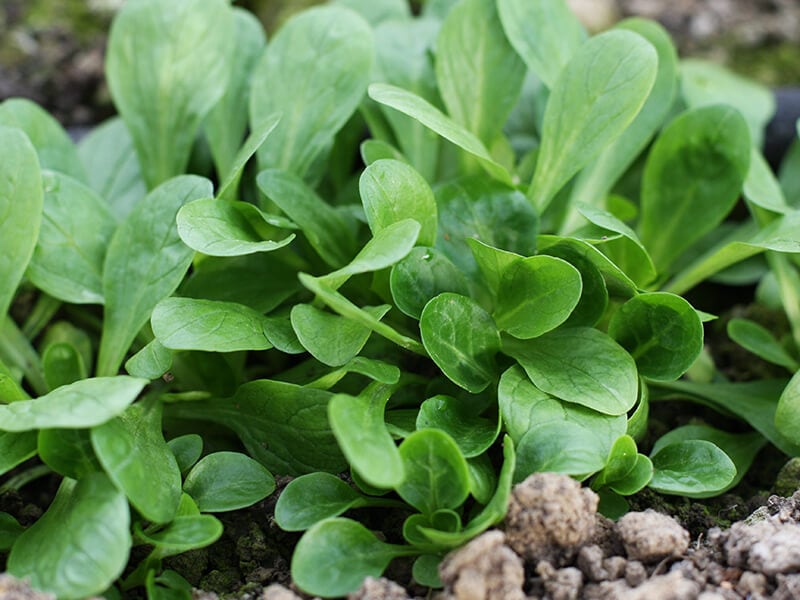 Mâche is a native leaf vegetable that is native in Europe. People may know it as corn salad, lamb's lettuce, nut lettuce, or even rapunzel. This vegetable is recognized as a weed-grown vegetable with a nutty flavor, a tangy, and a bit of bitter taste.
It is ideally used in salads so that it can substitute arugula in a fresh mixed bowl. But, don't try to cook mâche; its leaves are so tender that the heat can ruin them.
If you still don't know how to deal with this vegetable, the video will probably help!
10. Nasturtium Leaves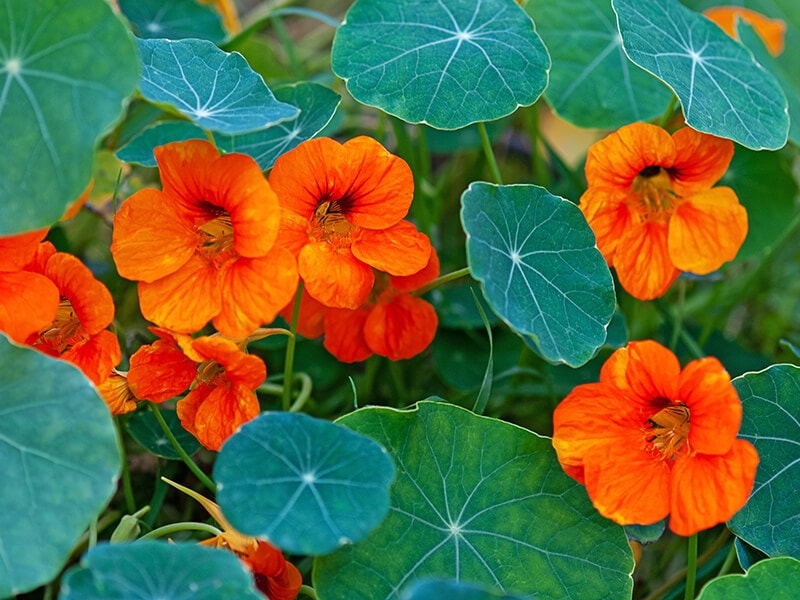 The cute slight circle shape of the leaves, nasturtium, has a beautiful orange flower and tastes very much like watercress. You can feel a mildly peppery flavor and a touch of mustard-reminiscent aroma on your top tongue.
Therefore, nasturtium leaves or Indian cress are the perfect alternatives for arugula in a salad if you fan its signature spiciness.
Also, their cute leaves' shape can be a yummy decoration on your healthy salad bowl. Some places in the East even use nasturtium leaves for tea. A cup of hot nasturtium tea for a weekday morning sounds romantic.
11. Purslane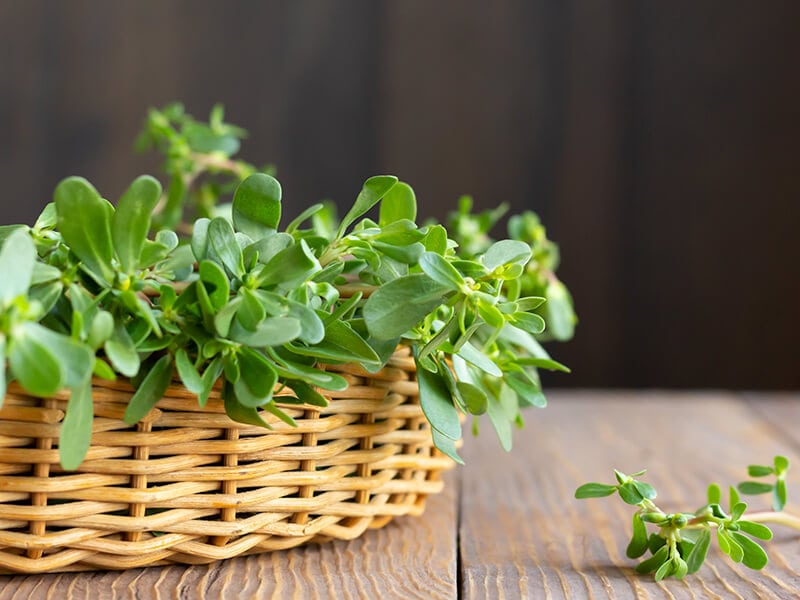 Purslane or Pursley is a red stem, green, leafy vegetable that can be eaten raw or cooked. When it is eaten raw, purslane might remind you of spinach or watercress because of its slight sourness and a bit of saltiness.
This green has a different texture with arugula but nearly the same in flavors. Yet, if you don't mind its inconsistency under heat, you can replace it with an arugula in any type of dish.
Besides, this humble "weed" is loaded with various types of vitamins. Some of those that can be listed are vitamins A or C, potassium and K, and so on. (2)
12. Radicchio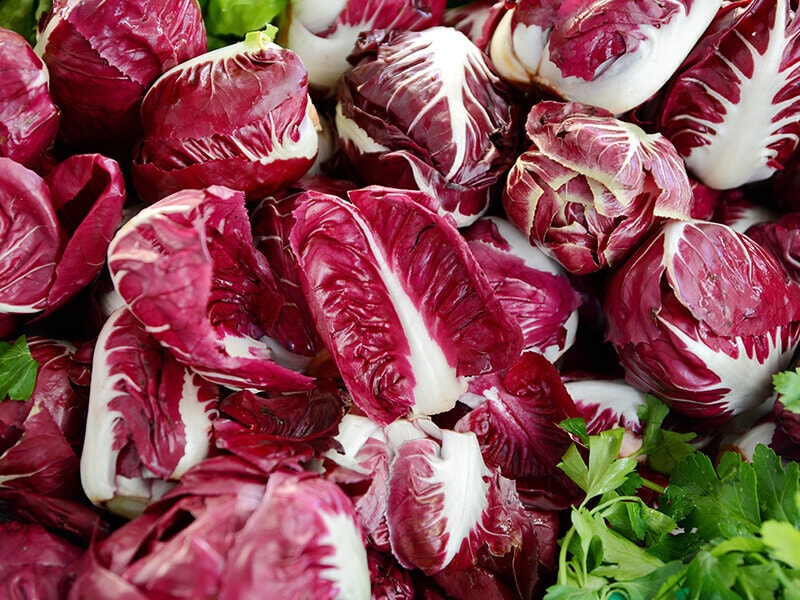 This type of vegetable from the chicory family is a pack of flavors, a little bitter, and has a chewy texture. When eaten raw, it usually brings a strong, pungent taste that somehow can remind you of arugula.
There are lots of options to go with radicchio. For example, make a radicchio salad as a side dish for your Italian dinner. If you don't like its bitterness, process radicchio before using. Then, it can go quite well on tacos, bruschetta, and fresh Vietnamese spring rolls.
Under high heat, radicchio tastes become a little milder and are a perfect substitute in soups for arugula. Because radicchio is a heartier leaf, it might not bring the same feeling as arugula in soups, but it brings another distinctive deliciousness.
13. Radish Sprouts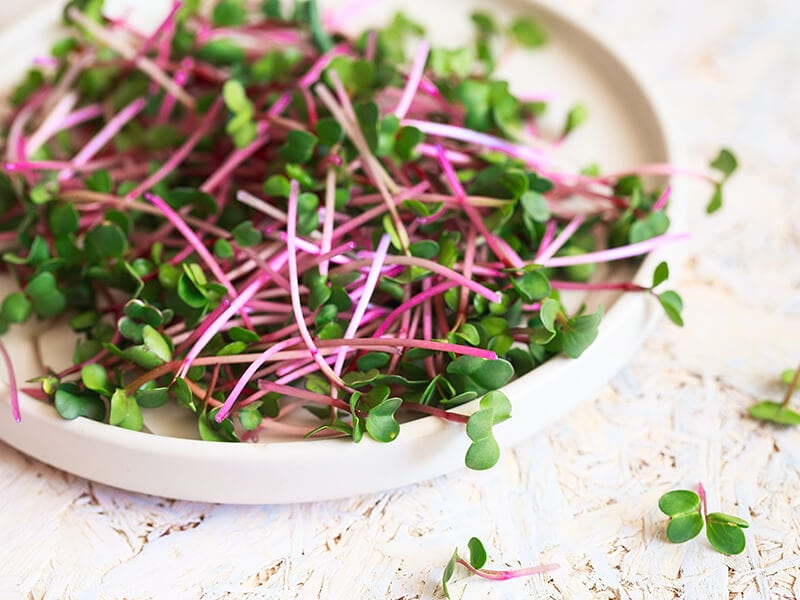 Radish sprouts or radish microgreens look like shoots so small, soft, and tender to cook. They are best to add in a salad to replace arugula as they have peppery solid tastes like radish bulbs.
Aside from that, they don't have strong bitterness like arugula. So if you are looking only for peppery flavor, these foods beginning with "R" will be perfect.
With their sweet flavor, crispy succulent texture at the same time combined with a mild, radish-like spice, radish sprouts are a favorite as a delicate garnish at famous restaurants.
14. Romaine Lettuce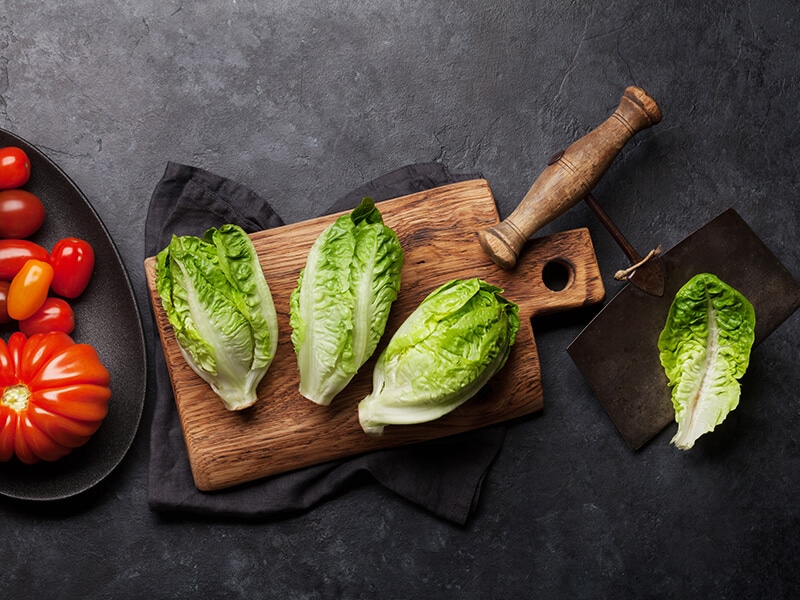 Romaine lettuce doesn't have such an outstanding flavor besides an herb-like bitterness and is more likely to be neutral. You can use it in various dishes since their texture is neither too hard to eat raw nor too soft to stir.
Arugula can be replaced by romaine lettuce in salads and fresh toppings for pizza. Caesar Salad Pizza recipe is recommended.
Romaine lettuce is also a rare lettuce that is tolerant to heat. This means you can braise romaine lettuce d for soups, or even grill it with some seasonings and meat . Sounds like a perfect grilled vegetable idea for healthy meals!
Let's make some Caesar Salad Pizza for your dinner! Watch this video to know:
15. Watercress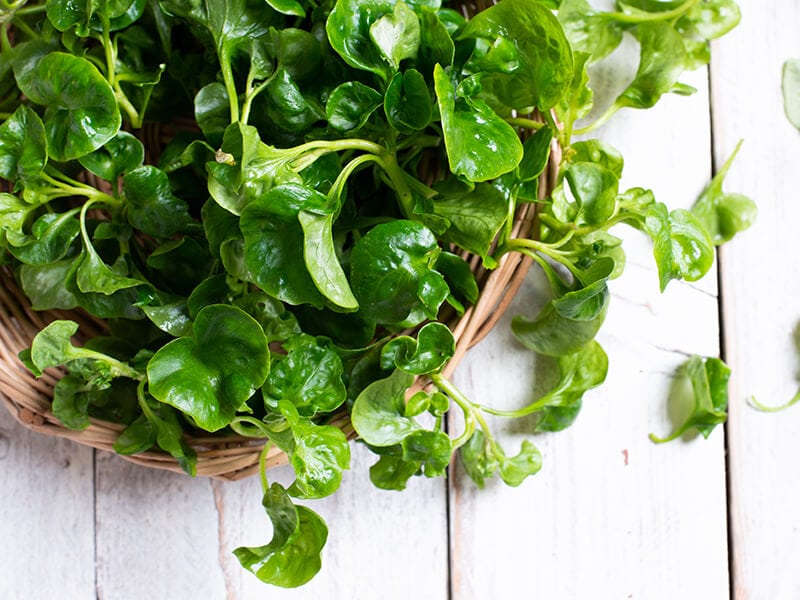 Watercress, baby watercress, or upland cress can also be used to replace arugula. These foods starting with "W" share a nearly similar flavor profile, and both have a signature peppery flavor. I personally think this is the best substitution for arugula and the best thing goes last!
Pesto, salads or sandwiches' topping, watercress can all be the solution for your problem. Once it is blended or mixed with other greens, you can not easily distinguish their tastes as they either have that spiciness and bitterness combination.
One note whether you want to add watercress into any stews or soups, you should put them in the last steps so that you won't have to bear with mushy leaves.
FAQs
Last but not least, this section is for some frequently asked questions. Check it out and find yours!
Do You Have The Idea For Arugula Substitute For Your Dish?
There might be various green leaves, vegetables, more herbs that can be arugula alternatives, which makes you confused. Don't worry, just look for the method or the dish you will prepare and choose my suggested substitutions.
It might not bring the same taste, but they are absolutely delicious.
Don't hesitate to tell me if you still can not be satisfied with those 15 vegetables! Or, if you have any engaging experiences with them in arugula-specialized dishes, share them in the comment section, as everyone else can see.
Every experience is a good lesson!
Nutrition Facts
8 servings per container
---
Amount Per ServingCalories224
% Daily Value *
Total Fat 23.5g

36

%
Cholesterol 8mg

3

%
Sodium 396mg

17

%
Potassium 137mg

4

%
Total Carbohydrate 1.8g

1

%

Dietary Fiber 0.7g

0

%
Sugars 0.6g

Protein 4.5g

8

%
---
* The % Daily Value tells you how much a nutrient in a serving of food contributes to a daily diet. 2,000 calories a day is used for general nutrition advice.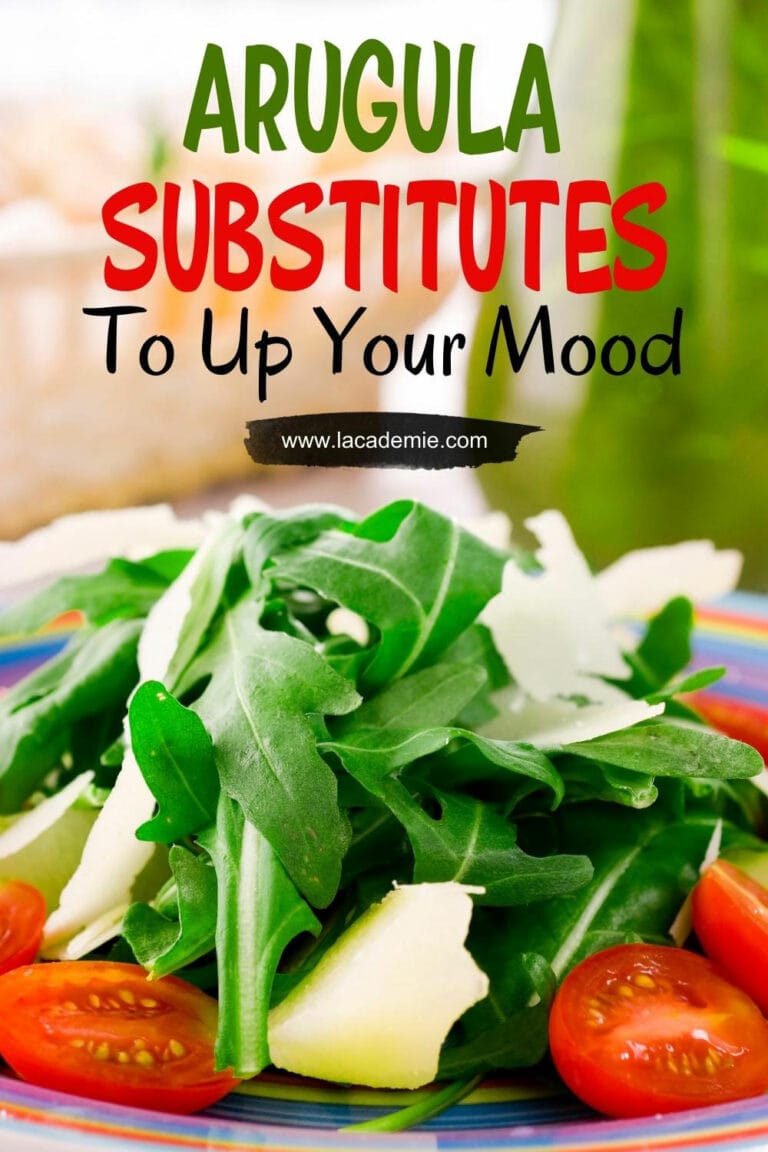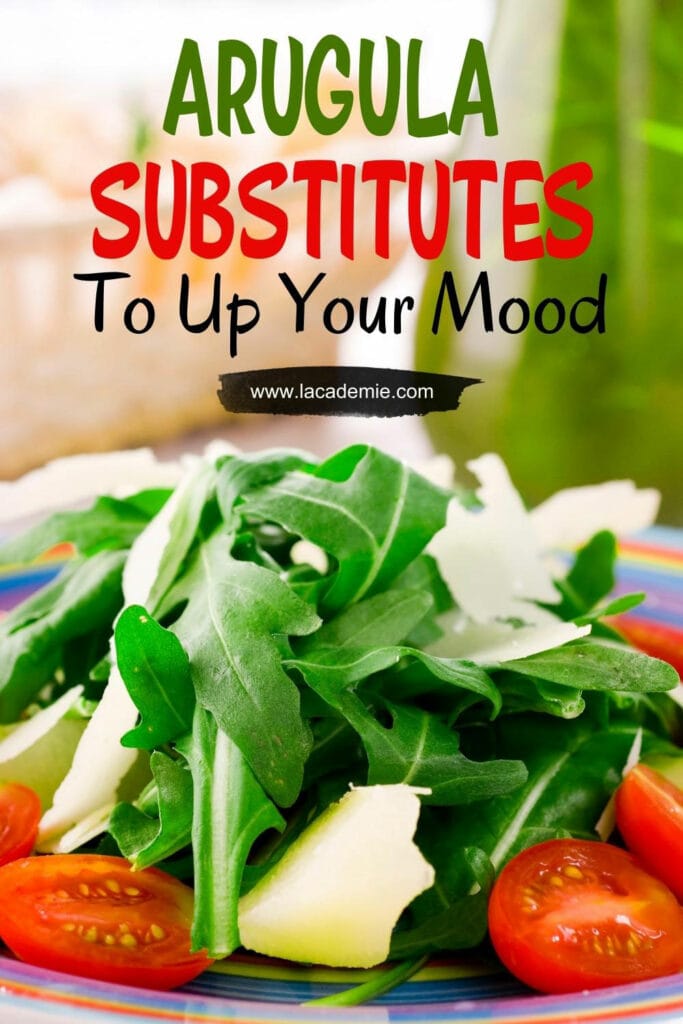 References
En.wikipedia.org. 2021. Eruca vesicaria – Wikipedia.
Palsdottir, H., 2017. Purslane – a tasty "weed" that is loaded with nutrients. Healthline.