When mentioning foods that start with W, watermelon or walnut probably comes to mind, and you might think they are all. However, the list can be a lot more extensive than you think.
The following list will tell you all about the foods that start with W, what they are, what they taste like, and some suggestions of how you can best enjoy them.
If you want to expand your knowledge about foods with names beginning from a to z, keep reading this article, and you might be surprised at what you find.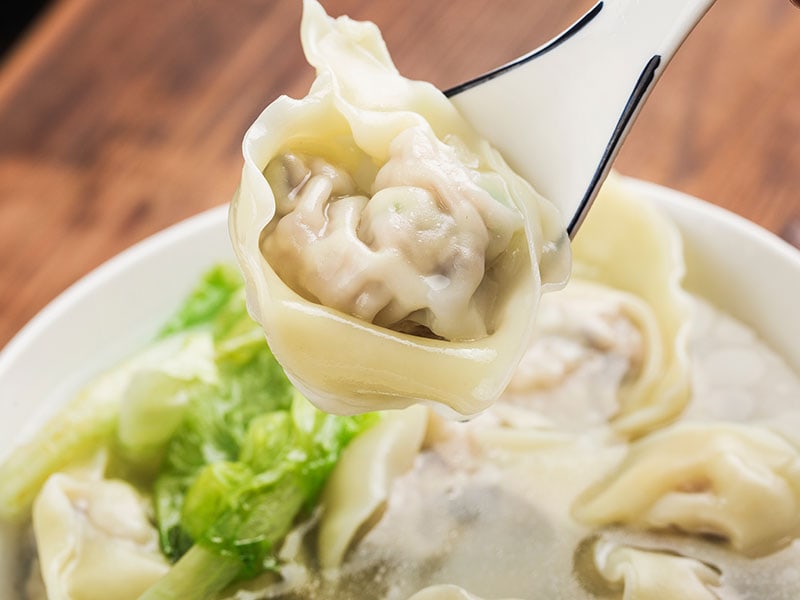 Wondrous World Of Foods Begin With W
Below is the list of "W" foods and dishes around the world, from familiar to exotic ones.
Fruits
Watermelon
Walnut
Wampee Fruit
White Currants
White Figs
Williams Pear
Wineberry
Wood Apple
Wolfberry
Wax Apples
Whitebark Raspberry
Vegetables
Walla Walla Onion
Watercress
Wheatgrass
White Button Mushroom
Winter Melon
Winter Squash
Winter Greens
Wood Ear Mushroom
Wakame (Sea Vegetable)
Water Mimosa
White Asparagus
White Beech Mushroom
Water Spinach
White Potatoes
White Turnip
Wild Leeks (Ramps)
Witlof (Belgian Endive)
Wax Beans
Meat And Seafood
Wild Boar
Wahoo Fish
Wood Pigeons
Wolffish
Wagyu Beef
Whitefish
Walleye Fish
Wrasse
Whiting
Main And Side Dishes
Welsh Rarebit
Wontons
Waldorf Salad
Wiener Schnitzel
Snacks
Waffles
White Chocolate
Wiener
Wurst Sausage
Waffle Fries
Walking Taco
Dessert
Wagon Wheels Biscuits
Walnut Cake
Warabi Mochi
Whipped Cream
Whoopie Pies
Seed, Grains, And Cereals
Wattleseed
Wheat
Wild Rice
White Rice
Wheat Berry
Wheat Bran
Wheat Flour
Weetabix
Condiments and Sauces
White Sauce
White Vinegar
Worcestershire Sauce
Wasabi
Cheese And Other Dairy Products
White Cheddar Cheese
Wisconsin Cheese
Wensleydale Cheese
Whey
Beverages
Wine
Whiskey/ Whisky
White Tea
Water
Now let's get to the main part and learn more about these amazing foods.
Fruits
1. Watermelon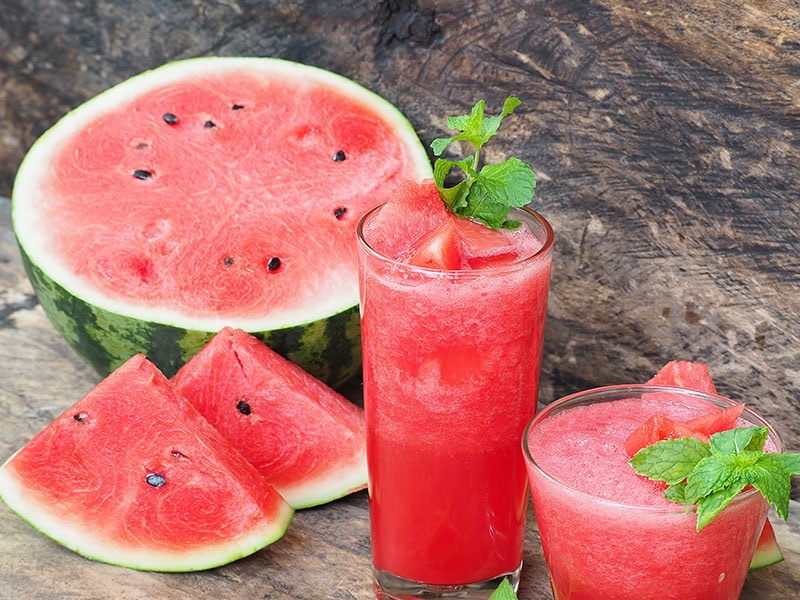 Perhaps one of the most common and well-loved fruits out there, watermelon is a fruit that is native to tropical Africa and grown all over the world. It is most recognizable by its large, oval and green exterior and red, sometimes yellow, insides.
Watermelon is actually a berry fruit, a "pepo" in botanical definition. Also known as "the fruit of summer," watermelon is popular for its sweet and refreshing taste. What makes it so great is the fresh juice that explodes in your mouth when you bite into the pieces.
And if you want to use them for a longer period but are unsure about freezing watermelon, do not worry; storing them in the freezer is not complicated at all. If anything, it'll reduce the likelihood of watermelons going bad. So I'd say that freezing watermelon is not a bad idea.
People normally eat watermelon raw and fresh. Moreover, with 92% water, it is great for dehydration, which is why it is mostly used to make beverages. However, you can also use it to make a wide variety of desserts, salads, appetizers, and entrees.
2. Walnut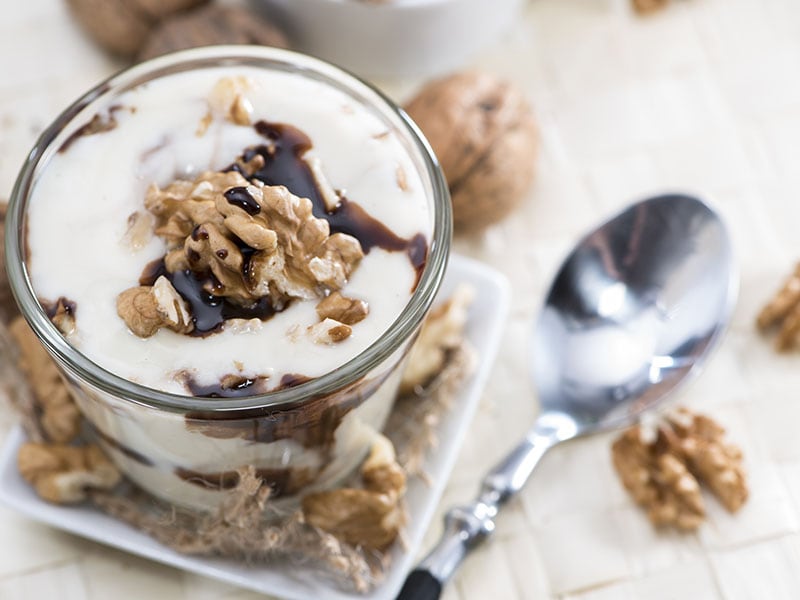 Don't confuse when differentiating pecan and walnut due to their similar appearance. In fact, walnuts have a tan shell, and the nut itself has a bumpy texture and brown color.
Regarding the flavor, their skin can add a small bitterness to the nut. But if you try the nut alone, it actually has a very mild and slightly tangy flavor.
Surprisingly, walnuts are actually a fruit. It's not just tasty but also packs a nutritious punch. Walnuts are packed with omega-3 fatty acids and antioxidants (1). These little nuts can help shield your brain, ward off heart disease, and may even play a part in preventing cancer.
It is great both individually and combined with others. It can be used to sweeten meat-based meals or as toppings for savory appetizers or salads, as well as desserts, like muffins or smoothies.
3. Wampee Fruit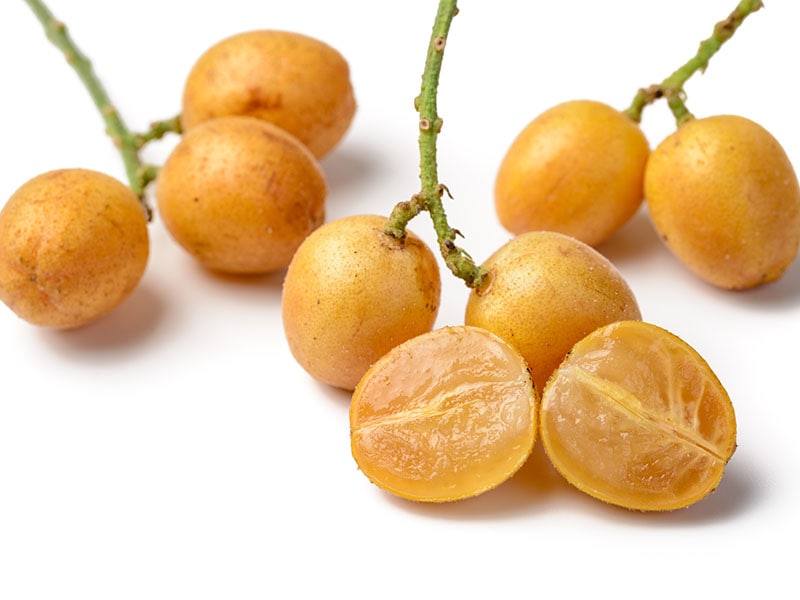 The wampee fruit can be found mainly across Southeast Asia. It is a yellow-skinned grape-sized fruit that is distantly related to citrus.
Scientists usually call it Clausena lansium, a little fruit with thin, yellowish-orange skin. Also, the juicy white flesh of the wampee fruit is an absolute treat for your taste buds.
If you are wondering how it tastes, this fruit has a pretty similar texture to a kumquat. It is sweet with a hint of sourness between the pulps. You can also eat the skin for an added spiced and bitter flavor.
You can enjoy this fruit entirely on its own, or use it to make jam, jelly, candy, etc. It is also an ideal component to ferment and make wine. In China, they are also served with some meaty dishes.
4. White Currants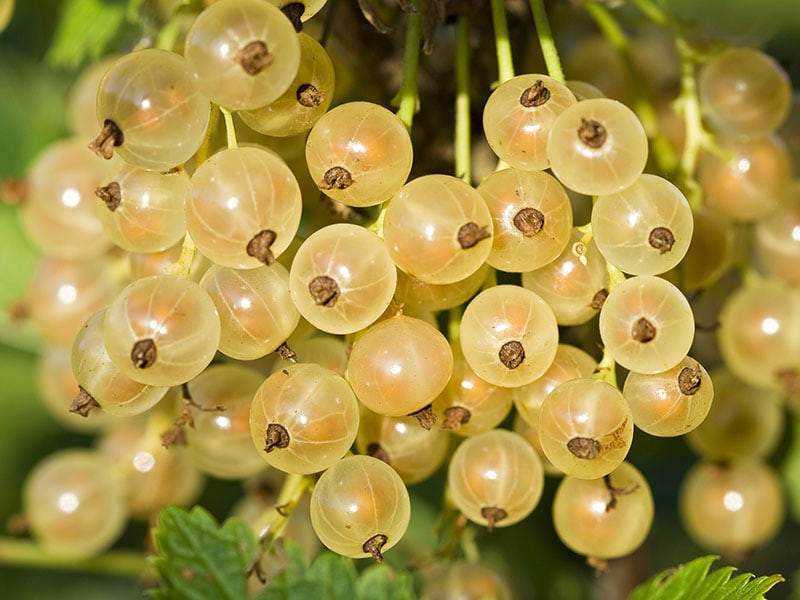 White currants look quite similar to other varieties of currants, and while at first, they appear green, when ripen, their exterior turns translucent white.
Native to Europe, white currants are a refreshing deviation from their red and black counterparts. These berries are delicious and packed with vitamin C and antioxidants. As a bonus, these currants have lower sugar content compared to many fruits.
You might be wondering what these wonderful fruits beginning with W taste like. As most currants do, they have a juicy texture and multiple seeds inside. They are considerably sweeter than black and red currants. But overall, these currants' main flavor profile is tart.
These currants are mostly eaten raw. They can also be made into jellies, wines, syrups, or other types of desserts. If you want to cook them, try pairing them with other sweet foods like vanilla, cream, peaches, basil, cherries, etc.
5. White Figs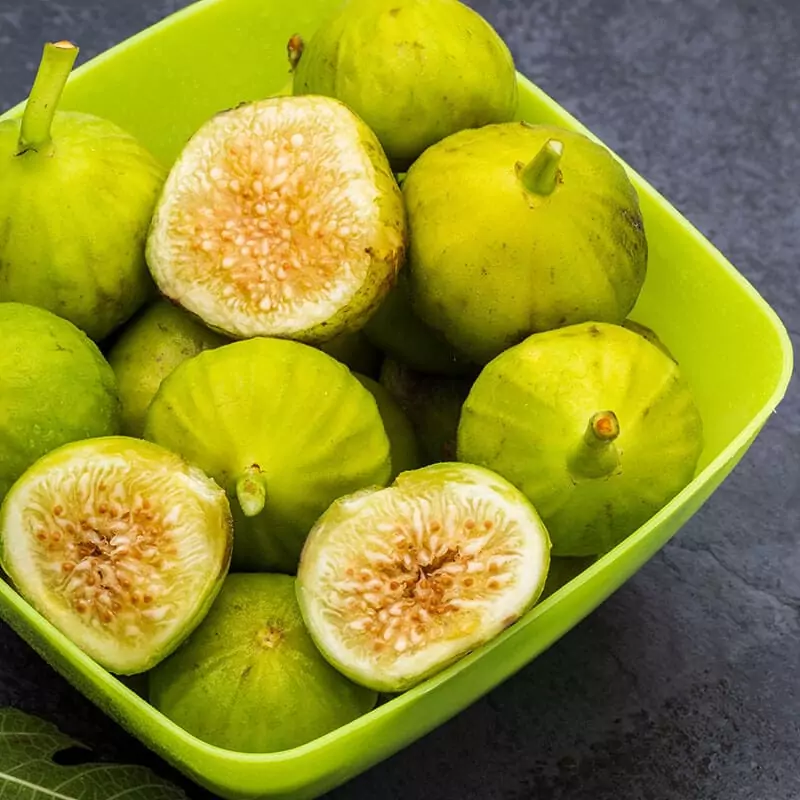 White figs are yellow to pale green fruits that grow on ficus trees. They are tender and soft inside with a chewy texture. They are known for being sweet and rich in flavor, comparable to candied strawberries.
Also known as Adriatic figs, they are readily available in supermarkets. They pack a high dose of calcium and potassium, are able to boost bone density, and are brimming with vitamins A and C (2).
These fruits can be eaten raw, dried into snacks, or made into jams and jellies. You can pair them with cheese, salted meats, wine, or bacon to make unique-tasting appetizers or even use them as the main ingredient for tarts and cakes.
White figs can be found mostly in Western Asia but have recently slowly been adapted to other parts of the world. You can find them at local farms and farmers' markets. Remember to select figs that are soft and squishy to touch, as this is a sure sign they're ripe and ready to eat.
Take a look at this video if you want to make an easy and quick fig dessert.
6. Williams Pear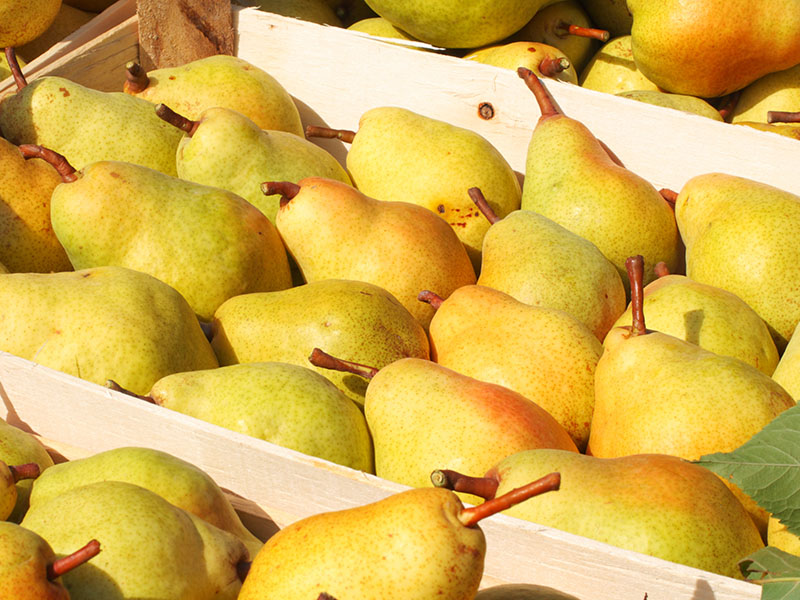 Williams Pear is one of the most popular types of pears in the world. Its skin is yellow when ripening with a smooth and firm texture. The flesh becomes creamy and tender with a juicy, super-sweet taste when fully ripe.
Also known as Bartlett pear in America and Canada, the Williams pear is a summer delight. With a bell-shaped green skin when immature, this fruit can have a tart crunch when unripe.
You can eat this tasty fruit that is yellow raw or cooked, depending on your preference. It is a great topping for your salad, yogurt, oatmeal, or even cocktail. It can also be used to add some sweetness when grilled in meals or baked into different pastries.
It's also a star in the kitchen, holding its shape perfectly after cooking, making it an ideal ingredient for canned goods. Plus, it's chock full of vitamins, antioxidants, fructose, and copper that can improve your digestion system and cholesterol level (3).
7. Wineberry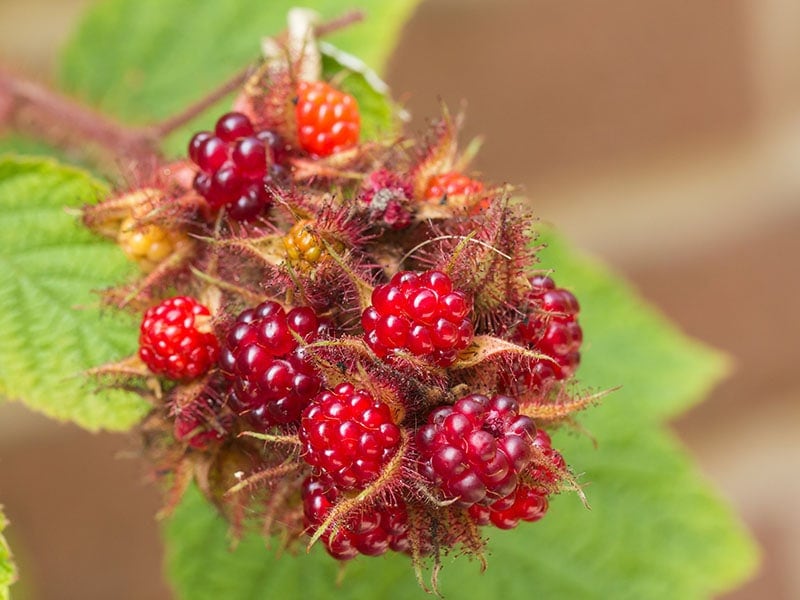 Wineberry is a species of berry native to certain parts of Asia, especially East Asia. It also has been introduced to Europe and North America. Wineberries look quite similar to raspberries, but they become more vibrant red when ripe and sticky to the touch.
Directly related to raspberries, these taste just as delightful, only a bit tarter and juicier. You can cook and eat them the way you would do with raspberries, which are to be made into pastries, jams, used as toppings for daily breakfast meals, or blended into drinks with other fruits.
As Latin puts it, the Wineberry is the "raspberry with purple hair". It's abundant in vitamin C, antioxidants, fiber, and minerals (4).
8. Wood Apple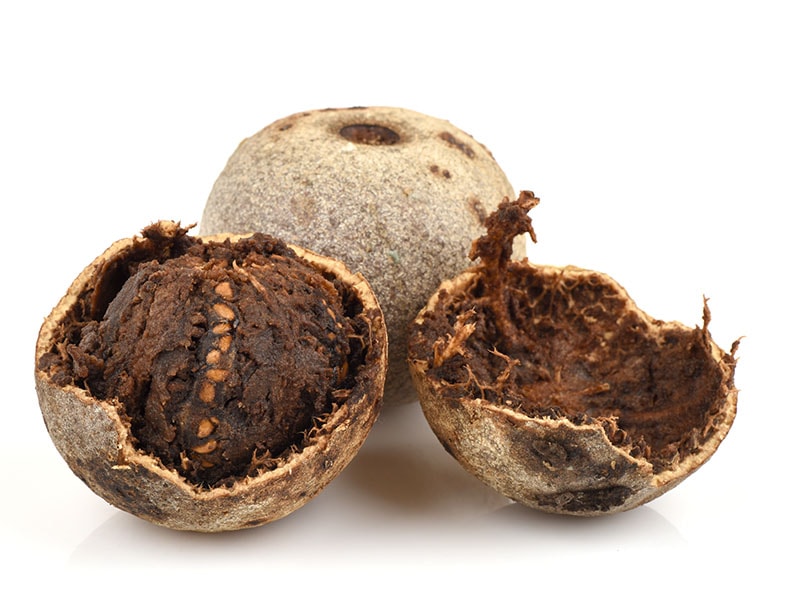 This unique gray-colored fruit is actually very popular in India, Bangladesh, and Sri Lanka. At first glance, it can look quite unappetizing with an exterior like coconut and a brown mess inside. The smell is also pretty particular, similar to an overripe banana and rotten cheese.
However, looking past its peculiar appearance, the wood apple, bael, or elephant apple, is quite delicious, with a fairly large size, delightfully sour taste, and a touch of sweetness.
You can make great desserts and beverages such as juice, chutneys, jams, ice cream, or simply eat them raw.
9. Wolfberry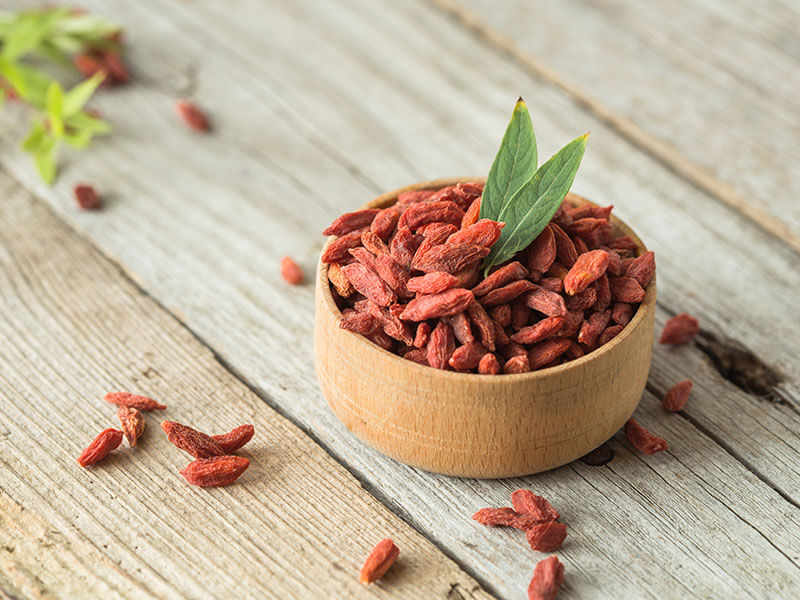 Also known as the goji berry, this bright orange-red berry is very common in Asia, mostly in China. For centuries, it has been eaten and made into medicine for the treatment of various diseases like diabetes, high blood pressure, and age-related eye problems (5).
Wolfberries are indeed nutrient-dense little gems, laden with vitamins A and C, iron, magnesium, and copper, alongside a good dose of antioxidants. They're usually found dried, sporting flavors akin to cranberries or sour cherries.
Nowadays, it has been made to be consumed in various ways. You can eat it raw or dried as well as have it as the main ingredient in teas, juices, and wines.
These berries also shine in sweet and savory dishes. But remember, moderation is key – overconsumption might lead to bloating, diarrhea, or sleep disruptions.
Do you want to try and make some tea with this miraculous wolfberry? Check out this video to find out how.
10. Wax Apples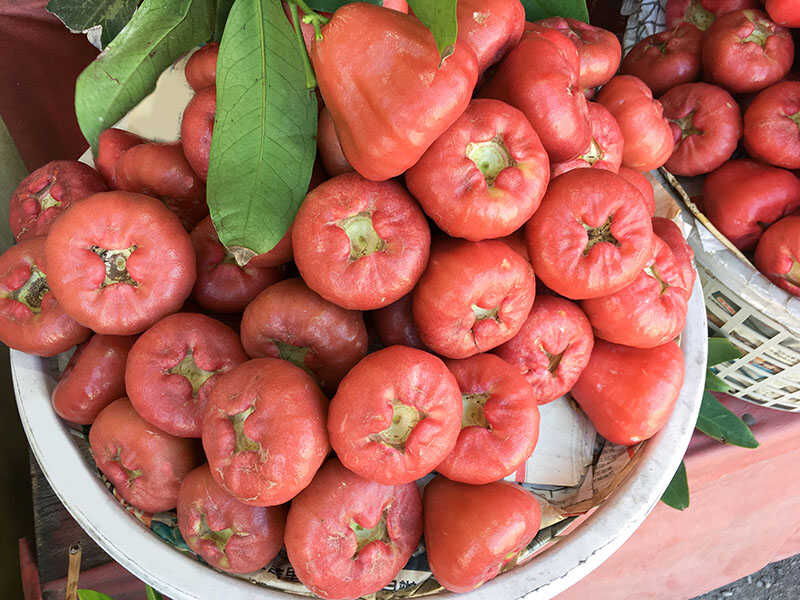 Wax apples, known scientifically as Syzygium samarangense, are a tropical delight. Despite their name, they aren't your typical apple-shaped fruit.
Instead, these beauties sport bell-shaped bodies wrapped in dark red skin, similar to the color of an apple.
They carry thick, juicy flesh, and their flavor resembles a sweet snow pear. Slightly crunchy and refreshingly juicy, wax apples stand out as a special fruit best savored on their own.
11. Whitebark Raspberry
Whitebark raspberries, scientifically known as Rubus leucodermis, come from western North America in places like New Mexico and California.
These berries, also known as blackcap raspberries, might be smaller than your standard raspberry, but they make up for size with their unique color. When ripe, their skin turns a deep, nearly black, purple. The flavor is a delightful surprise, offering a tangy twist.
Vegetables
12. Walla Walla Onion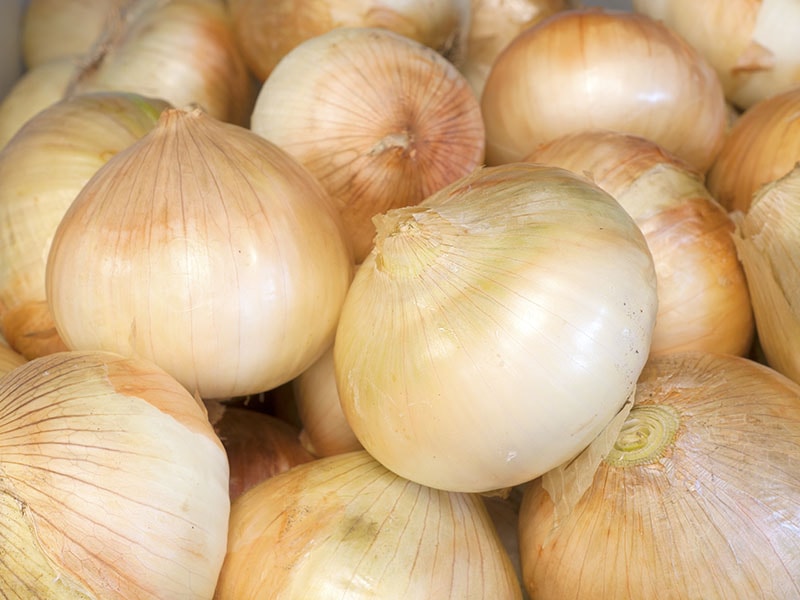 The Walla Walla onion originated in Washington, USA. It is a type of sweet onion, which means that, unlike regular onions, it doesn't taste pungent but sweet and mild instead.
The slightly flattened brown bottom and small top can identify it on the outside. On the inside is a layer of pale yellow husk covering the translucent white flesh.
Due to its high sugar and water content, the Walla Walla onion can be eaten raw if you want. You can grill it with a steak for a rich caramelized taste or simply mix it in a salad with some olive oil and light vinegar.
Or you can pair it with other dishes like roasted veggies, burgers, and sandwiches. Their flavor also tastes good with several kinds of herbs.
13. Watercress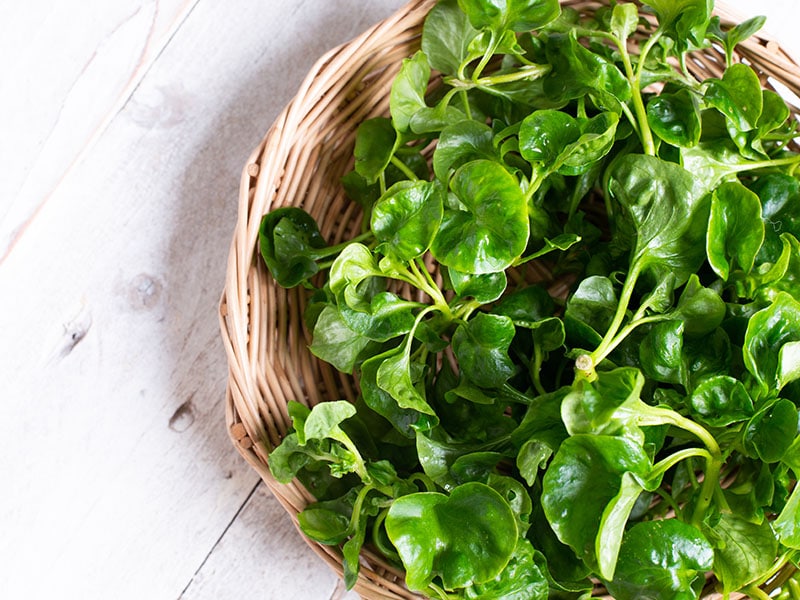 Watercress is an aquatic plant and leaf vegetable native to Europe and Asia. It has small green leaves with round and scalloped edges that grow in a cluster with thin stems.
This type of vegetable has a very distinct pungent, slightly bitter, and peppery flavor, much like mustard. It can provide you with a significant amount of vitamins A, C, E, calcium, iron, and more that can promote your heart health and osteoporosis (6).
Watercress usually has a pleasantly crunchy texture. It's recognized as one of the most nutrient-dense foods on the Aggregate Nutrient Density Index (ANDI) (7).
This veggie can be seen as the best substitute for arugula among many other options. You can enjoy this vegetable raw by putting it in salads, sandwiches, soup, and omelets or use it to add a mild grassy flavor to cooked dishes.
14. Wheatgrass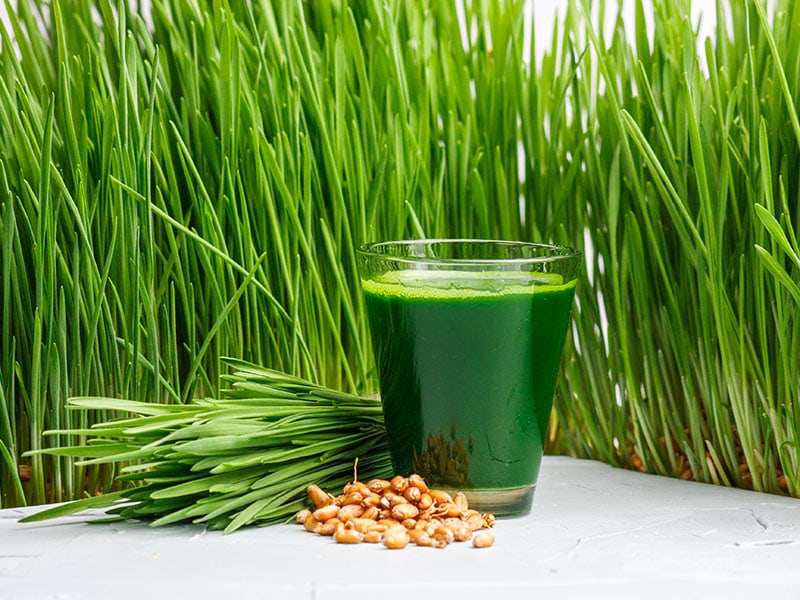 Wheatgrass is the first leaf sprouted from the wheat plant. It is typically thick, dry and looks similar to hay but is bright green.
Wheatgrass is claimed to have many different health benefits, from providing nutrients like iron, calcium, and vitamins to aiding your digestive system and eliminating toxins (8). Therefore, it is also used as a dietary supplement.
You can find wheatgrass most often as a juice and smoothie. It is also available as powder products sold at stores. Many also grow it at home.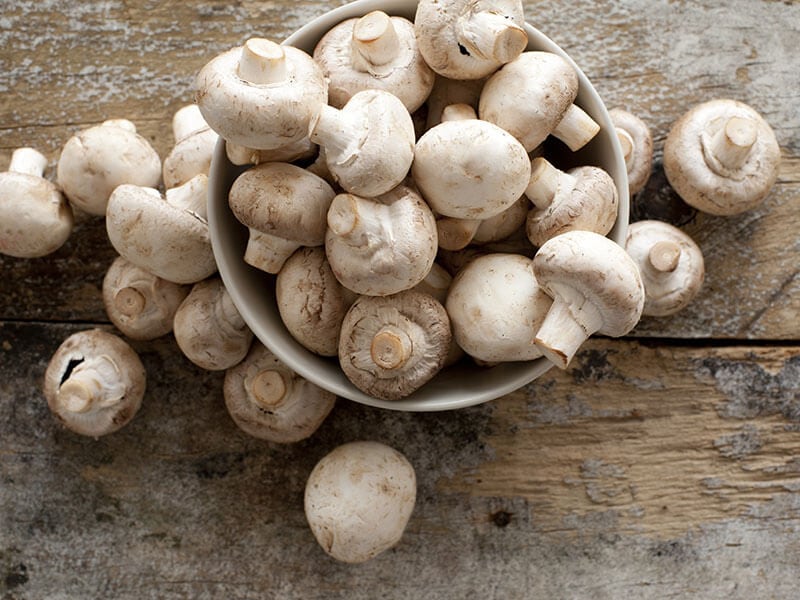 White button mushrooms are amongst some of the most common types of mushrooms. They are available at almost any grocery store or market. These mushrooms' mild flavor gets intensified into a more earthy taste and chewy texture when cooked.
They are best known for their diversity in cooking. You can pair them with almost anything from other vegetables to most types of meat. They can also be grilled, stir-fried, made into soups, or even baked and, most notably, used as a pizza topping.
Regarding its health benefit, this mushroom can enhance the activity of immune system cells and increase the production of proteins that protect and repair tissue (9).
How about adding some special flavor twist to these mushrooms? Check out this video to learn the recipe.
16. Winter Melon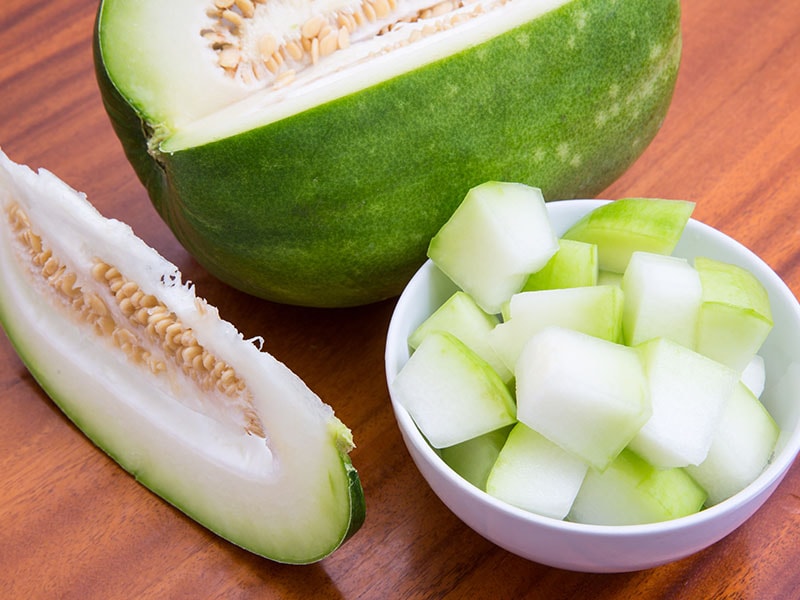 If you are familiar with Asian cuisines, you might know this vegetable. It is also known as ash gourd, coming from the same family as the squash. It has a similar shape and exterior to the watermelon, but its flesh is white on the inside.
Winter melon is a great mineral addition to meals, especially for those on a diet, as it contains approximately 96% water. You can easily find it at your local grocery store, conveniently sliced and packaged.
It has a mild flavor that has been compared to cucumber with a grassy note. It does not have a strong smell either.
Winter melon is not ideal to consume raw. You can, however, use it as the primary food in soups and stews as well as an added ingredient to stir-fried meals. Remember to season it with strong herbs and spices in recipes to increase the overall's flavor.
17. Winter Squash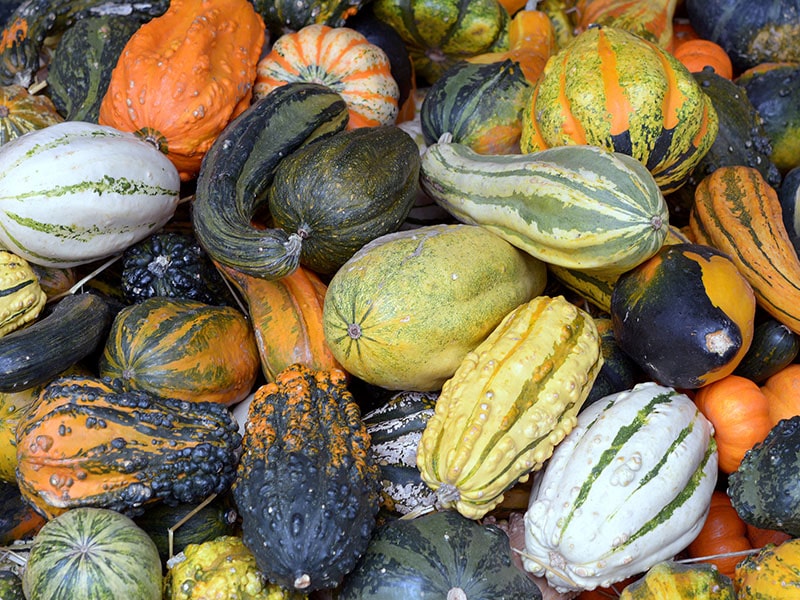 Winter squash includes several different squash species. The most common varieties you can find are butternut, pumpkins, acorn, delicata, sugar pumpkins, buttercup, spaghetti squash, etc.
These winter squashes come in small to medium sizes. The thick skin, perfect for winter storage, encases a flavor spectrum that ranges from nutty and mild to delightfully sweet. Among the varieties, butternut squash is the sweetest of them all.
Squash is versatile both in flavors and cooking methods. You can roast, boil, steam, or simmer it in a stew to enjoy as the main course. It is most often smashed, made into stuffings or spaghetti or fillings for veggie burgers or meatless meatballs.
18. Winter Greens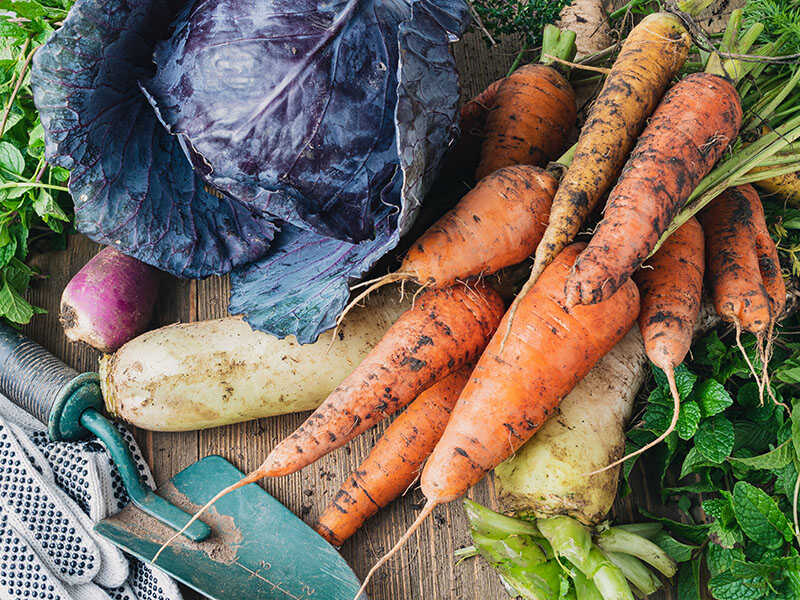 This term covers a wide range of vegetables, like chard, collards, Brussels sprouts, kale, etc., that brighten up the coldest days of the year. Each offers different flavors, textures, and nutrient profiles.
Whether you prefer them fresh or cooked, from boiling to roasting, they're versatile to go into any meal. Serving them as side dishes is a fantastic way to add a nutritious pop of color to your winter plate.
19. Wood Ear Mushroom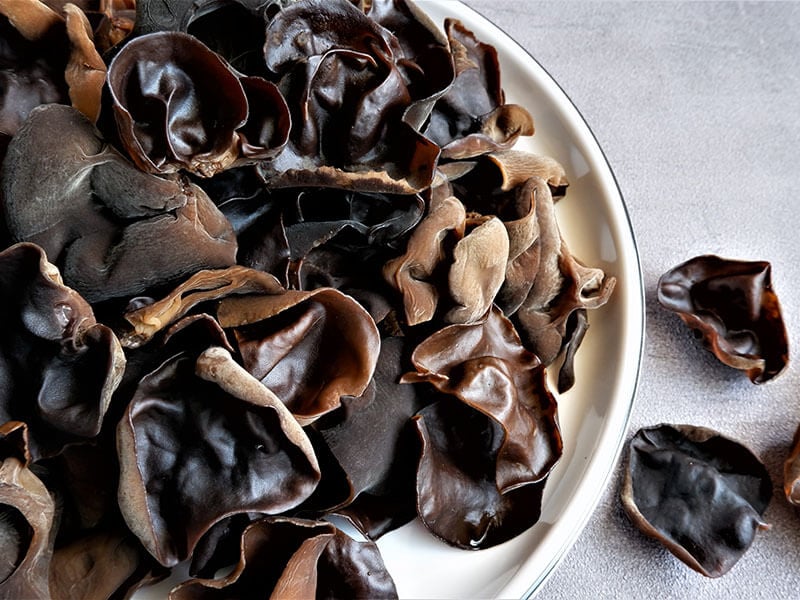 The wood ear mushroom, also known as the jelly ear mushroom, is a culinary delight from the world of fungi. The mushroom has a color ranging from dark to light brown with a small crinkled ear-like shape.
An icon of Chinese cuisine, wood ear mushrooms are widely available in Asian markets, mostly in a dried form. Its texture is jelly-like, but remember not to eat it raw. It can be added directly to soups, stir-fries, or after a quick steam/parboil to add to your salads.
20. Wakame (Sea Vegetable)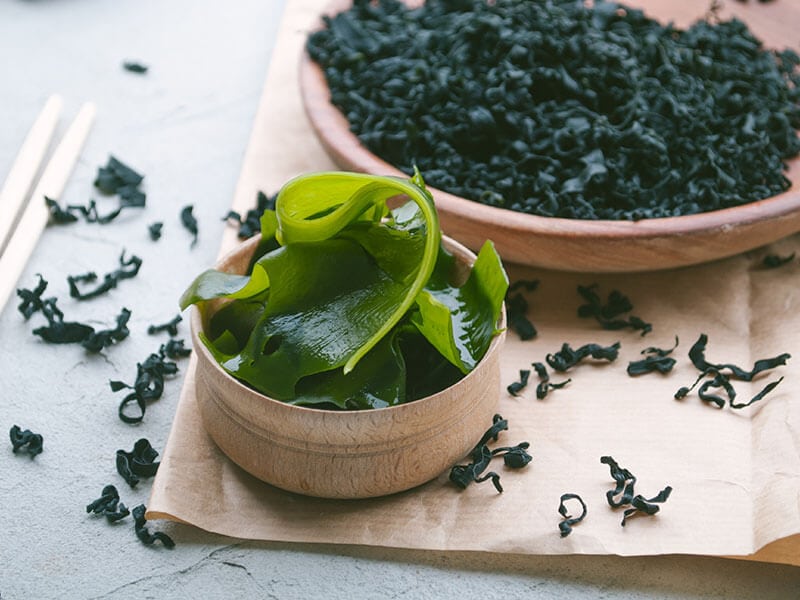 Emerging from the cold, temperate coasts of the northwest Pacific Ocean, wakame brings a subtly sweet flavor to the culinary world. This edible seaweed, with its satiny texture, is a nutritious, low-cholesterol, and low-calorie food full of health benefits (10).
Often sold dried or salted, people usually cut wakame into smaller pieces before cooking due to its expansion. Unlike nori's flat, dried sheets, wakame arrives in long strips. It's a star in Asian side dishes, especially soups, and salads like the refreshing tofu salad.
21. Water Mimosa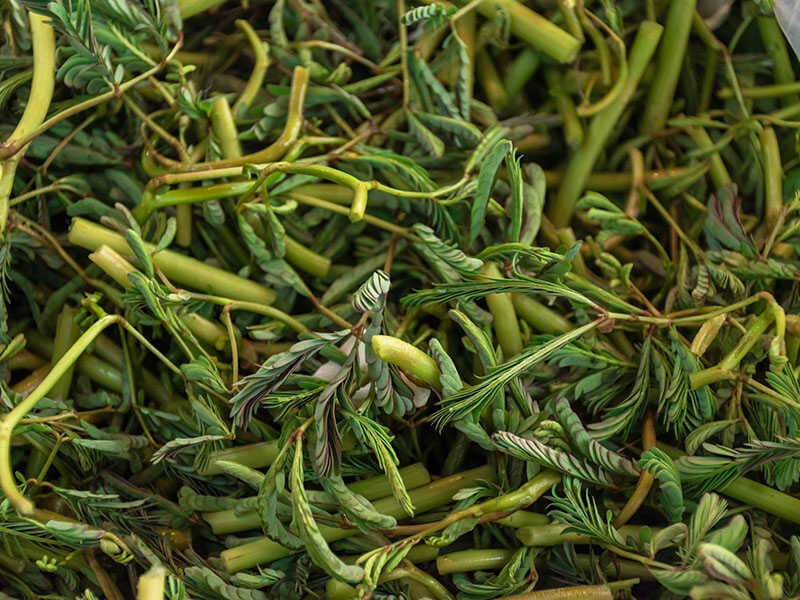 Water mimosa, known as Neptunia oleracea, is a tropical aquatic legume floating gracefully on water surfaces. This Southeast Asian favorite stands about 6 inches tall, with its shoots and leaves offering an umami flavor with hints of cabbage.
While the chewy green texture is a treat, the young stem's ends and pods are also edible, adding diversity to your plate when eaten raw or stir-fried.
22. White Asparagus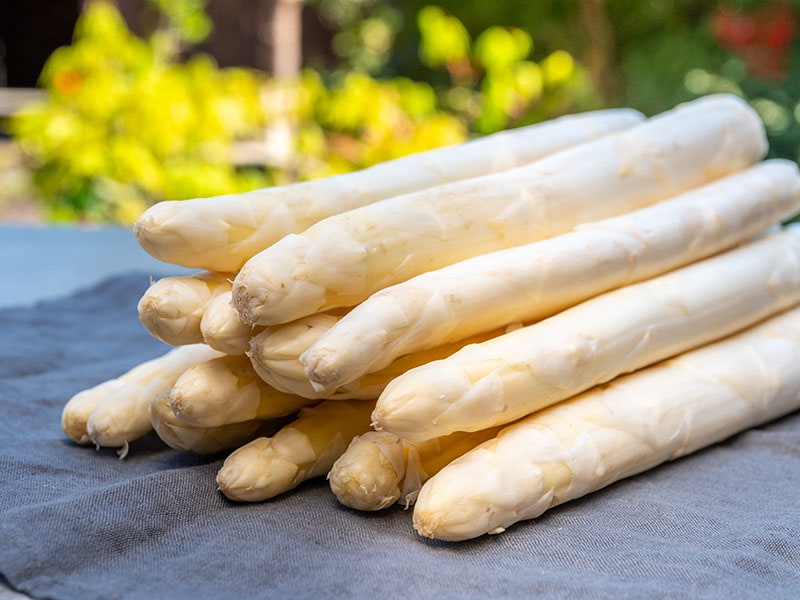 While being a sibling with the green shoot variety, white asparagus needs no sunlight to grow. Commonly, these white versions of asparagus lack chlorophyll giving them the signature white color.
They are usually sweeter, more tender in nature. While you can find it year-round, its peak season is from April to June. Whether boiled, steamed, grilled, or tossed into soup or salad, white asparagus can easily adapt to it.
Another option is to dress it with sauces or serve it as a side for a meaty main course; it's a springtime favorite, especially in Germany.
23. White Beech Mushroom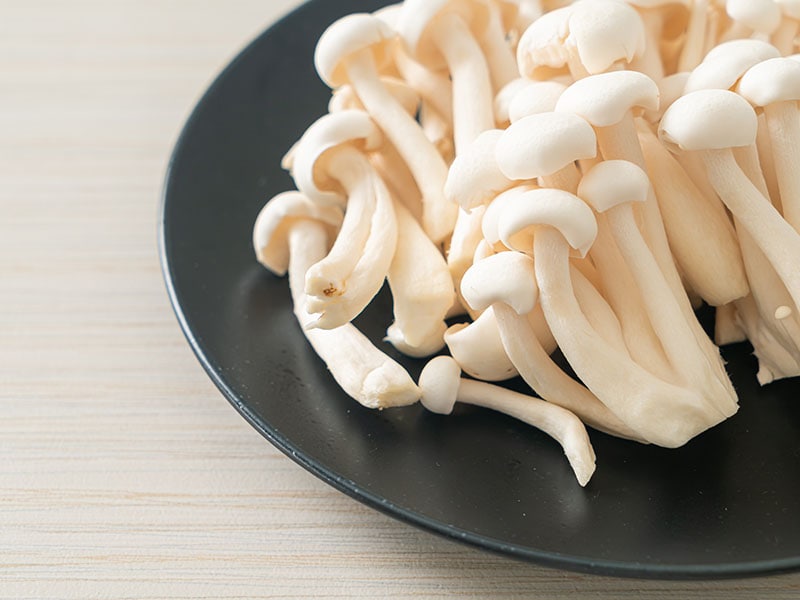 White beech mushrooms, sprouting on beech trees, come with long stems and medium-sized caps. Plus, they're also available in an appealing brown variety.
Typically, the mushrooms' crisp texture and raw bitterness turn into a nutty sweetness once cooked. They're a great addition to stir-fries, bisques, soups, and meaty or seafood dishes. Plus, they are ideal as an alternative to button mushrooms.
24. Water Spinach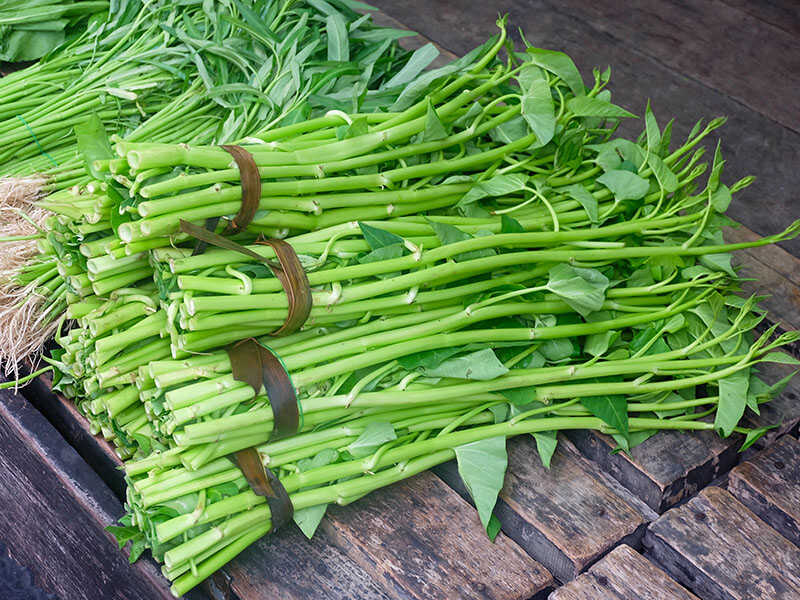 Water spinach, also known as Chinese spinach or morning glory, is not actually related to spinach. This leafy veggie, prominent in Asia, is tender with hollow stems, and all parts are edible.
The younger leaves and tender shoot tips are especially favored. Its taste is a mild blend between spinach and watercress but without that familiar spinach bitterness. Of course, you can use it to make veggie side dishes by stir-frying or boiling it.
Don't overcook it as the vegetable will turn into a dull brown color with slimy leaves, which reduces the quality of your dish.
25. White Potatoes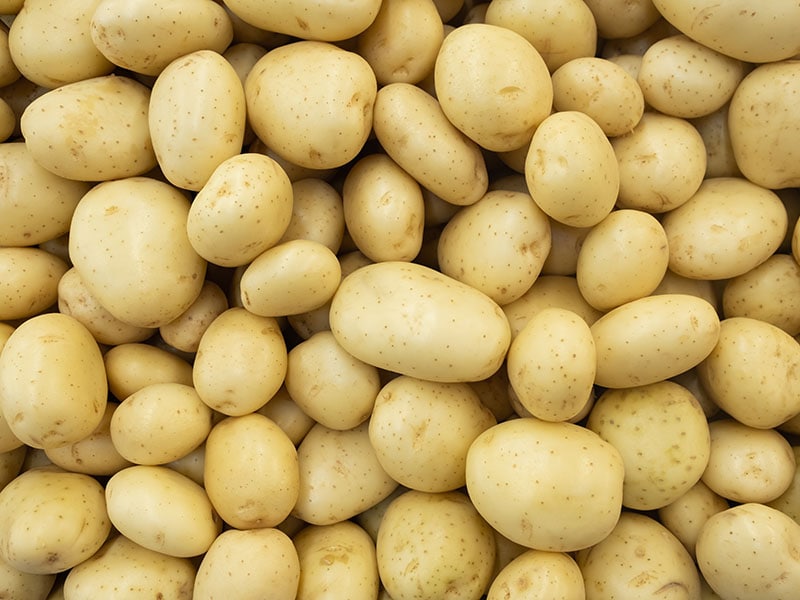 White potatoes are small to medium-sized with round-to-long shapes and thin, lighter-colored skin. Their slightly sweet and creamy taste pairs with a firmer, starchy texture that stands up well to roasting, frying, boiling, and mashing.
Beyond their culinary versatility, they are also a reliable source of carbohydrates, dietary fiber, vitamin C, and potassium (11).
26. White Turnip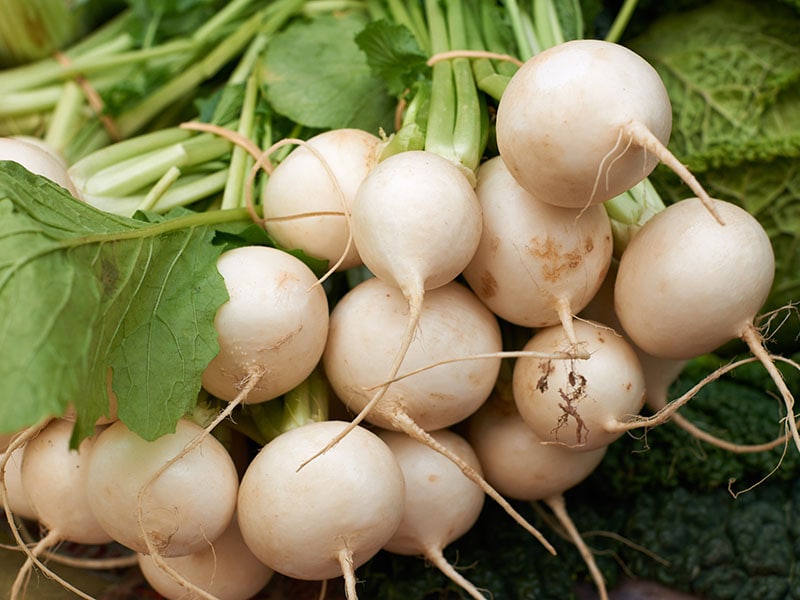 White turnips, a type of root vegetable, possess a white, fleshy taproot with a mild spicy bite when eaten raw.
Once cooked by roasting, steaming, boiling, or baking, they have a sweet, earthy, and nutty flavor profile. Starchy and crispy, they offer an interesting texture to various dishes. Plus, they're not just for eating straight up – they also make a tasty pickled treat!
27. Wild Leeks (Ramps)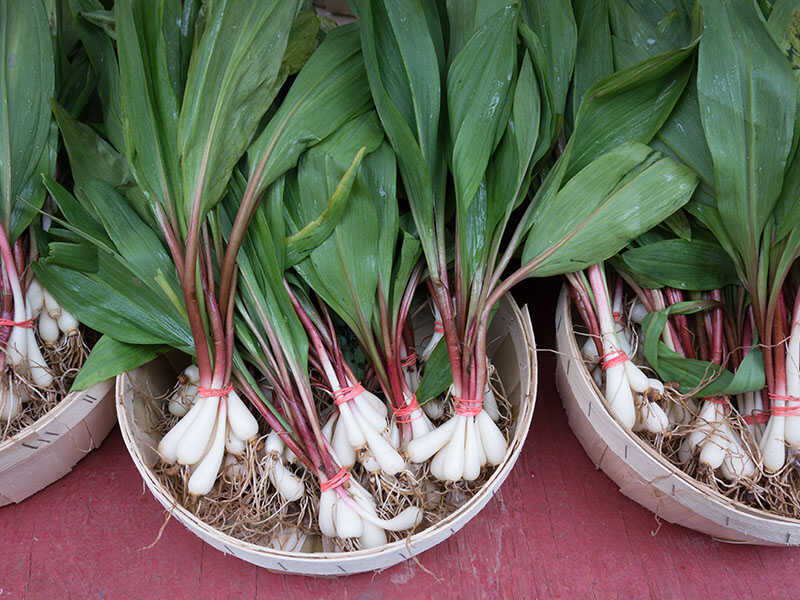 Wild leeks are an interesting find that are native to Europe and Asia. Both their bulbs and leaves are edible, presenting a mild onion flavor that's a notch garlickier than green onions and typical leek.
Whether used raw, pickled, or cooked in soups or stir-fries, they're a great substitute for scallions or shallots. Plus, wild leeks are full of kaempferol, a heart-healthy antioxidant known for its potential to reduce cancer risks (12).
28. Witlof (Belgian Endive)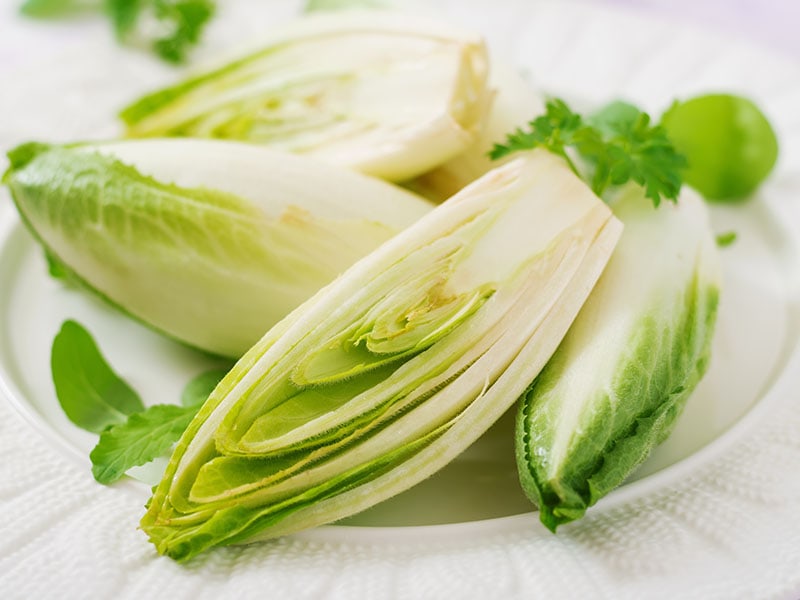 Fondly known as Belgian Endive in America, witlof is a favorite in the Netherlands that goes by the meaning "white leaf." With its pale yellow leaves curled around a cylindrical head, this veggie is as pleasing to the eye as to the palate.
Its flavor is a delicate balance of bitterness while the texture stays crispy. You can toss it raw in a salad or cook it as a side for a meaty meal. In general, witlof is a versatile addition to your kitchen.
29. Wax Beans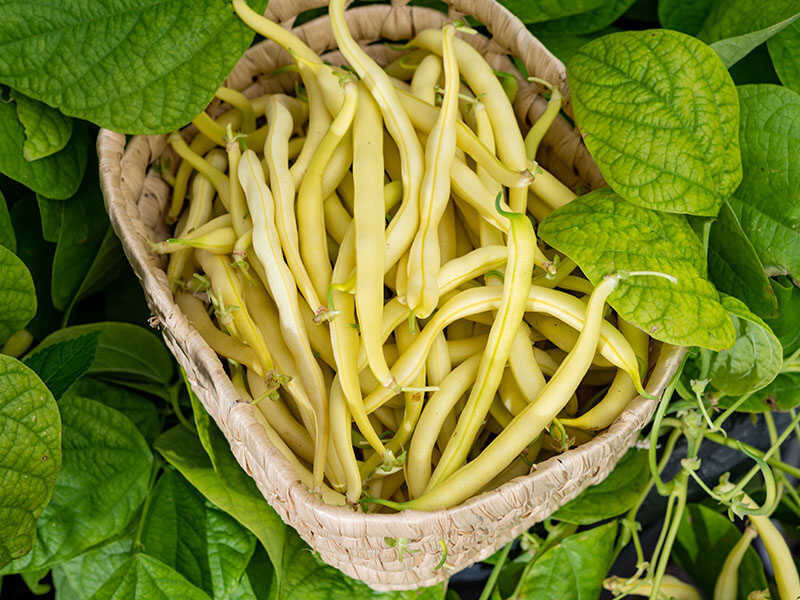 Wax beans, often called yellow or butter beans, are a vibrant twist on your classic green beans. Their taste is as pleasing as their emerald cousins.
You can enjoy them raw with a zesty dip or savor these roasted beans. They're fat and cholesterol-free, low in calories, and brimming with fiber.
Meat And Seafood
30. Wild Boar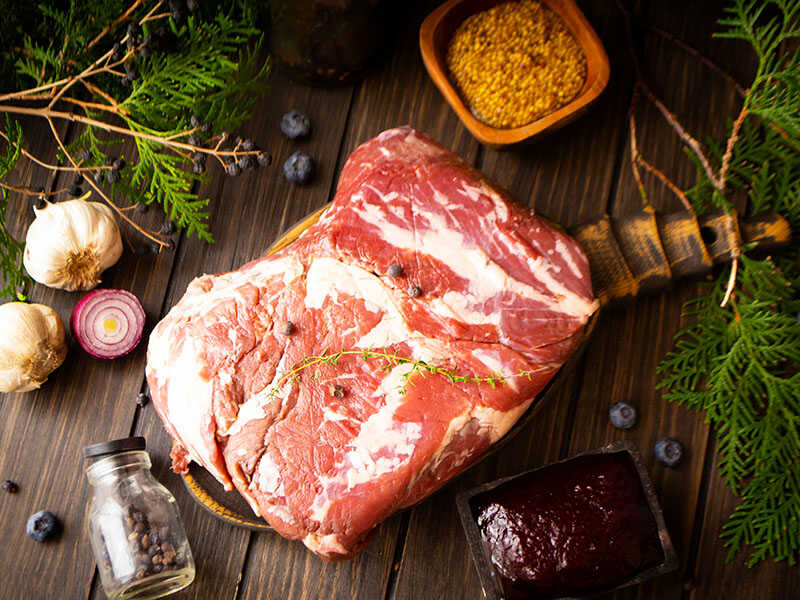 Wild boar is a nocturnal animal closely related to the domestic pig. As it is much more physically active than the regular pig, its meat is much richer in fat and has higher proteins.
Wild boar is a native species of Eurasia and North Africa. Its flavor isn't gamey, quite a surprise for a wild creature. And if you're thinking about substituting pork or beef, wild boar is an excellent choice.
Wild boar's meat can be described as similar to pork but leaner and darker red. As for the flavor, the wild boar roams freely in the wild so its diet consists mostly of grasses and nuts, resulting in an intensely sweet and nutty flavor.
When cooking wild boar, make sure you keep it at low temperatures and cook it slowly. You can make steaks from the loins, bacon from the belly, or ground the meat to make sausage, meatballs, or bologna as you would with regular pork.
31. Wahoo Fish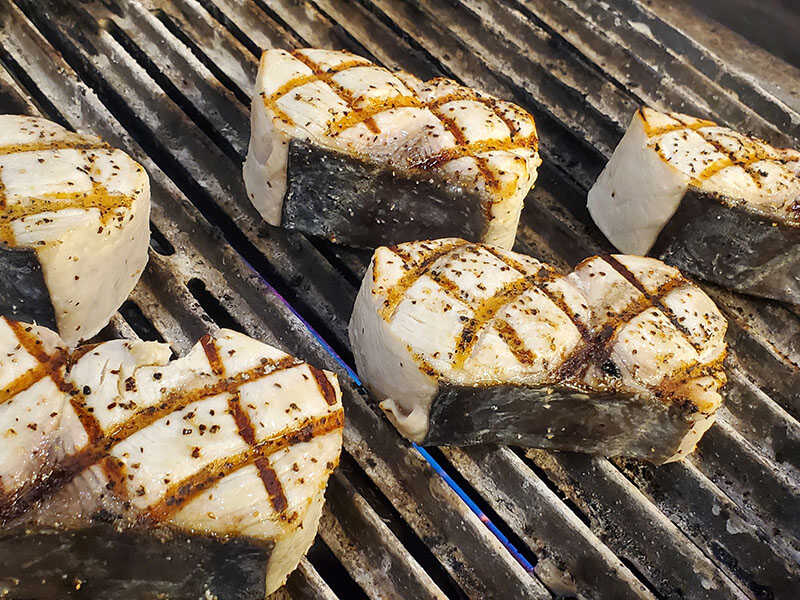 Also known as the Ono fish, this fish is from the same family as the tuna fish. It is a medium-sized highly-valued type of fish that can be found in tropical and subtropical areas. The fish is a keen swimmer known for its speed and agility, making it quite the catch for any angler.
The Wahoo fish is very highly regarded in the culinary world for its mildly sweet flesh and firm texture, which sustain even after being cooked. People usually enjoy this fish by grilling or smoking it for a smokey taste, or you can also bake it with herbs and limes.
And if you can't finish your fish all at once, put it in the fridge, and use your food to make appetizing leftover fish dishes for the next day. And there is no more food to waste. In Hawaii, it's a staple on the dining table.
32. Wood Pigeons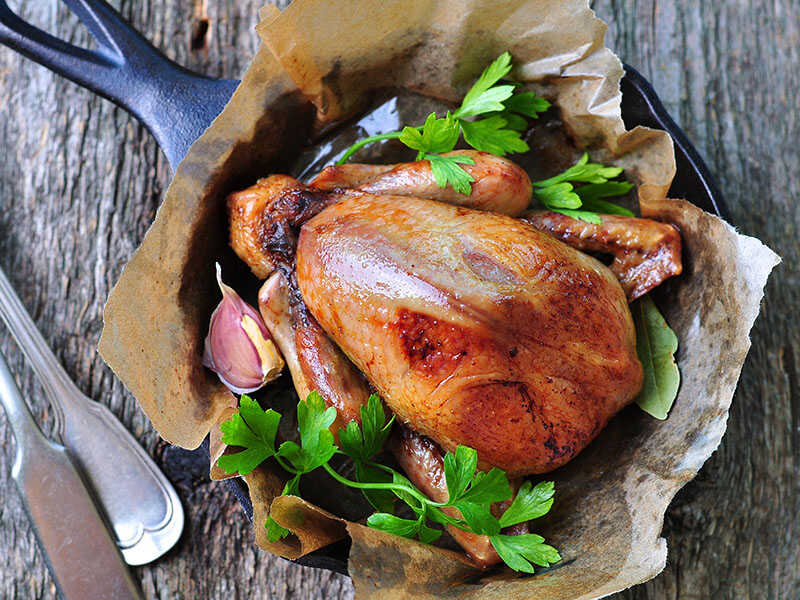 Wood pigeons are a fascinating group of medium to large birds, boasting a size that overshadows their feral counterparts. They are most commonly found in the UK, distinguishable by their white patches in the wings and neck.
Their meat is lean and white with an exceptionally tender texture. It carries more protein than beef or lamb but fewer calories and fat. They also provide flavorful meat that doesn't carry an overly gamey taste.
You can find wood pigeon meals at a lot of top restaurants and gastropubs. Try them out yourself by quick roasting or grilling them at high heat at home. Tips: as they don't have a lot of fat, try not to overcook them.
33. Wolffish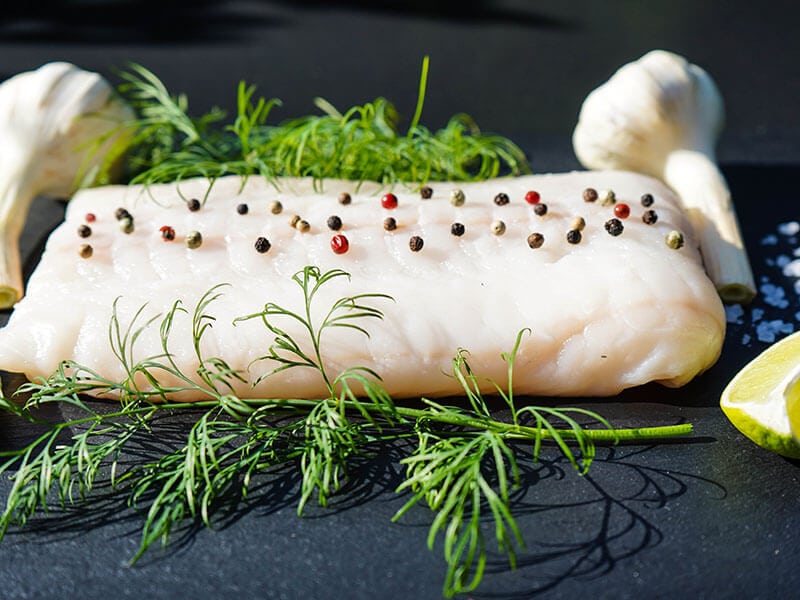 The wolffish looks slightly like an eel with its elongated body, large head, wide mouth, and incredibly sharp teeth. It is imported mainly from Canada and Norway.
An intriguing creature of the North Atlantic Ocean, wolffish is also fondly known as ocean catfish, devil fish, or seawolf. This marine dweller is quite distinctive, mainly because of its white flesh.
Because of its diet, this fish has been known to have a similar taste to shellfish, which is firm in texture but mild and sweet in flavor. This fish can be grilled, fried as cutlets, or cooked once you have removed the skin.
One of the classic ways to prepare this fish is to add it to a stew or turn it into fish soup with other white fish. Have a glass of white or rosé wine to accompany your meal for the full experience.
34. Wagyu Beef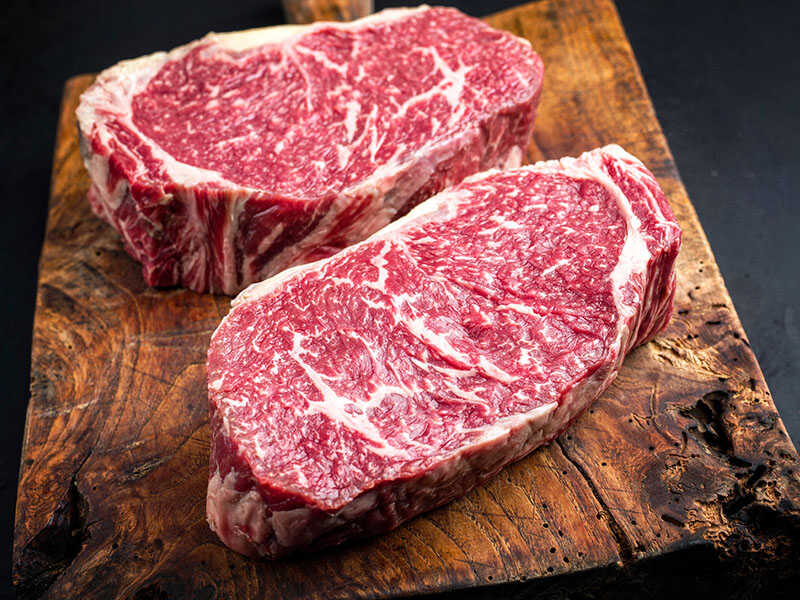 Wagyu beef, originating from Japan, has a unique claim to fame. In Japanese, "Wa" refers to Japanese and "gyu" to cow, which suggests its cultural roots.
These cattle, initially utilized in agriculture due to their impressive endurance, developed a distinct marbling from intramuscular fat cells.
The marbling meat imparts a unique tenderness and taste, savored by gourmets and fine restaurants in the U.S. Either black or red, Wagyu beef is rich in conjugated linoleic acid (CLA), a fatty acid that's quite beneficial.
35. Whitefish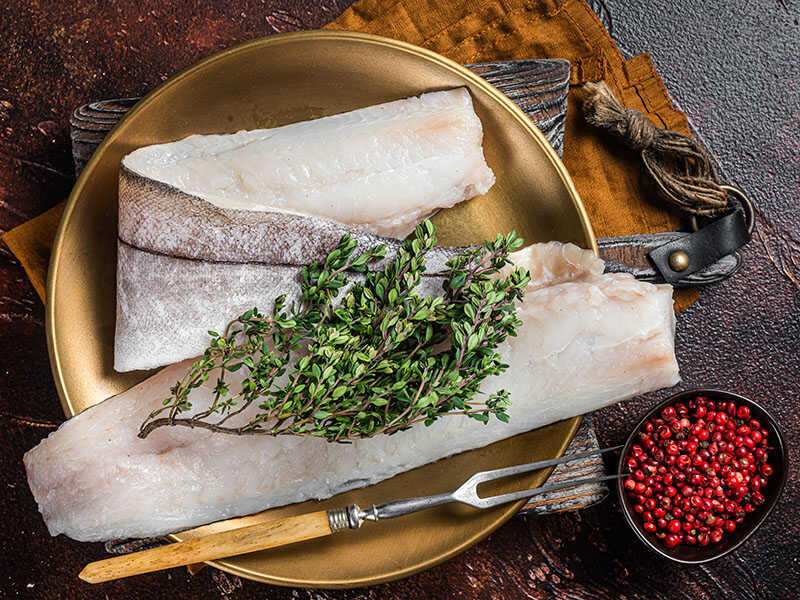 Whitefish is a broad term enveloping various species of finned, demersal fish from both Atlantic freshwater and oceanic realms. Their light-colored, flaky, low-in-oil flesh provides a versatile base for culinary creations.
You can savor them raw or transform the meat into diverse dishes like fish sticks, lutefisk, surimi, or even the classic British fish and chips. Above all, they're nutrition heroes, serving up protein, vitamin D, and a beneficial dose of omega-3 fatty acids.
36. Walleye Fish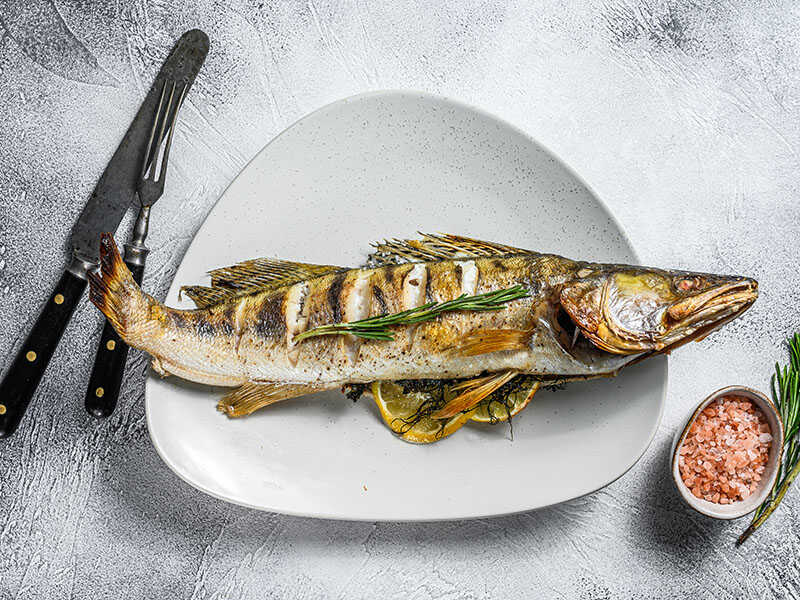 The Walleye fish is a freshwater perciform fish with eyes of gold and olive. Some people even call it the yellow walleye to differentiate it from the blue relative.
This native fish of Canada and the Northern US, also known as the yellow pike, yellow pikeperch, or pickerel, is famous for its pearlescent eyes, inspiring its name. Sporting a length of about 31 inches and a weight of up to 20 pounds, it's a notable catch.
The Walleye fish is also a hit on the menu, prized in both commercial and recreational fishing. From the staple fried Walleye in Canadian cuisine to Minnesota's pub sandwiches and State Fair sticks, Walleye fish can fit with various types of cooking.
37. Wrasse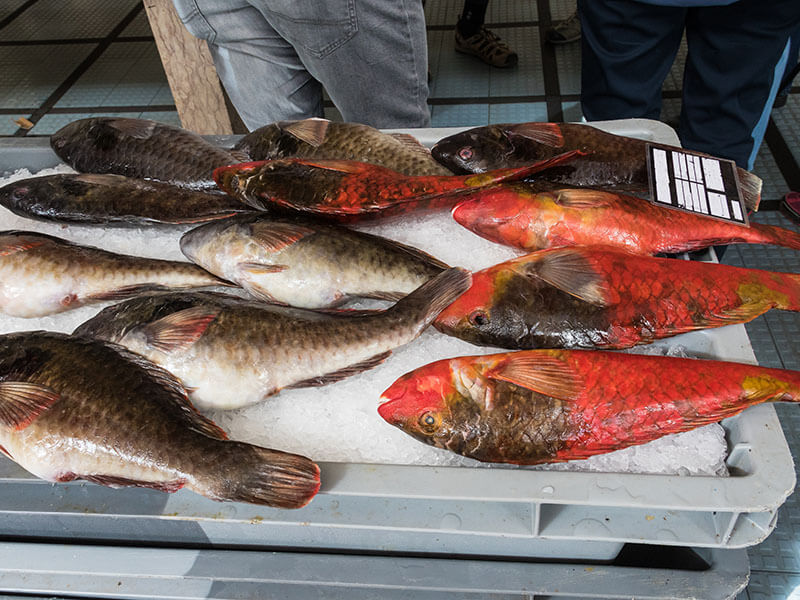 Wrasse is a member of the Labridae family with its brightly colored scales. This marine fish family is diverse, with an astounding 600 species across 81 genera. Despite their vast numbers, most of these fish are small, measuring less than 7.9 inches.
However, the Humphead Wrasse breaks this norm, reaching up to an impressive 8.2 feet. These fish usually roam in shallow, inshore rocky waters. The name "wrasse" originates from the Cornish word "wragh".
38. Whiting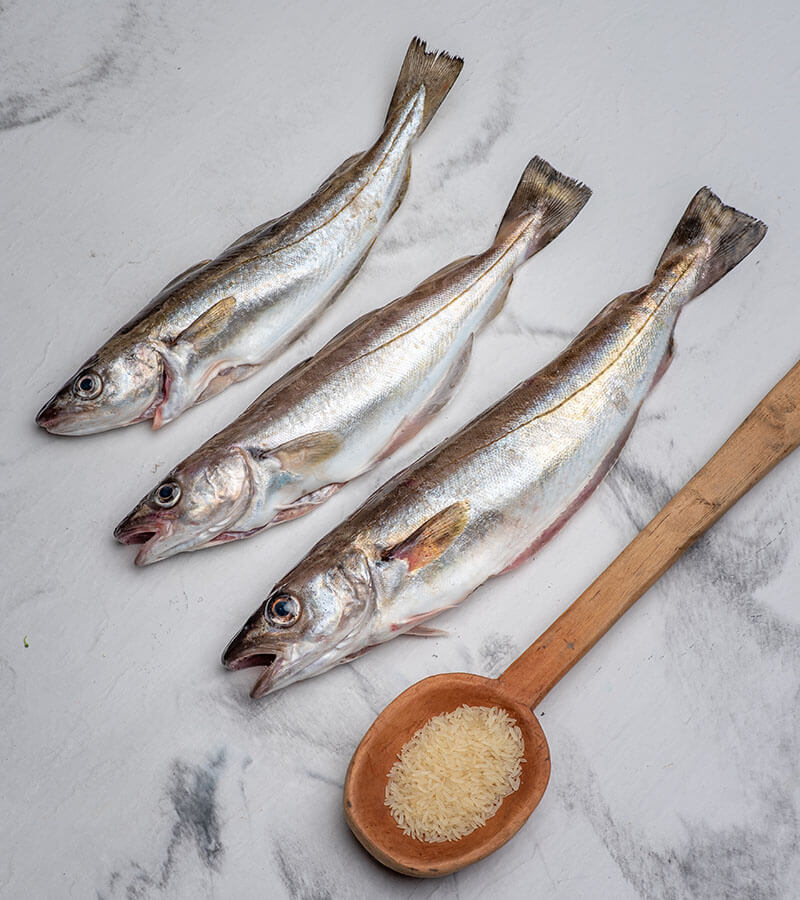 Whiting is a type of fish found mainly in the eastern Atlantic Ocean and the Mediterranean. It is recognizable for its long body, small head and chin barbel. Though its flavor is subtler than cod, its affordability makes it popular among consumers.
Known as English Whiting in the US, this fish is a member of the cod family. It's a delightful option for fish cakes or a battered and fried dish. Its flavor profile is mild and sweet but less flaky than other white fish varieties.
The sweet taste and soft flesh texture are what make it so highly regarded in cuisine. The Whiting can be quite delicate, requiring careful handling and processing. That being said, it is very versatile for you to steam, grill, poach, or even deep fry it.
Main And Side Dishes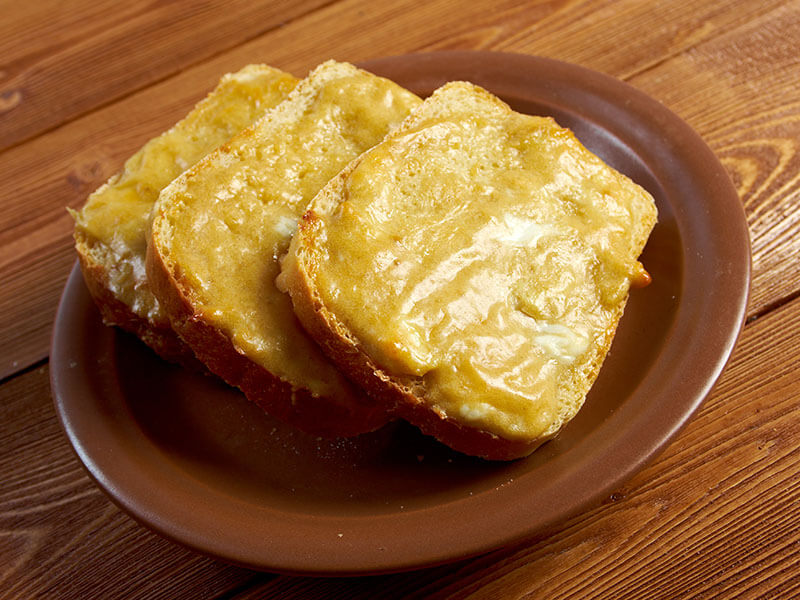 Welsh rarebit is a traditional Welsh dish well-known and loved for its perfect blend of flavors between melted cheese and savory spices. It is a mixture of cheese that is poured over slices of toasted bread with extra toppings.
The delicacy takes cheese on toast to a whole new level. Instead of merely melting cheese over bread, this hearty dish involves a rich sauce made from cheddar cheese, beer, butter, flour, and milk, with Worcestershire sauce for a savory kick.
Welsh rarebit is considered as breakfast or appetizer so for the most parts, it is served on its own or with a side salad. In addition to the basic ingredients, you can also add a few slices of bacon, ham, herbs or grilled tomatoes for a warmer, more flavorful meal.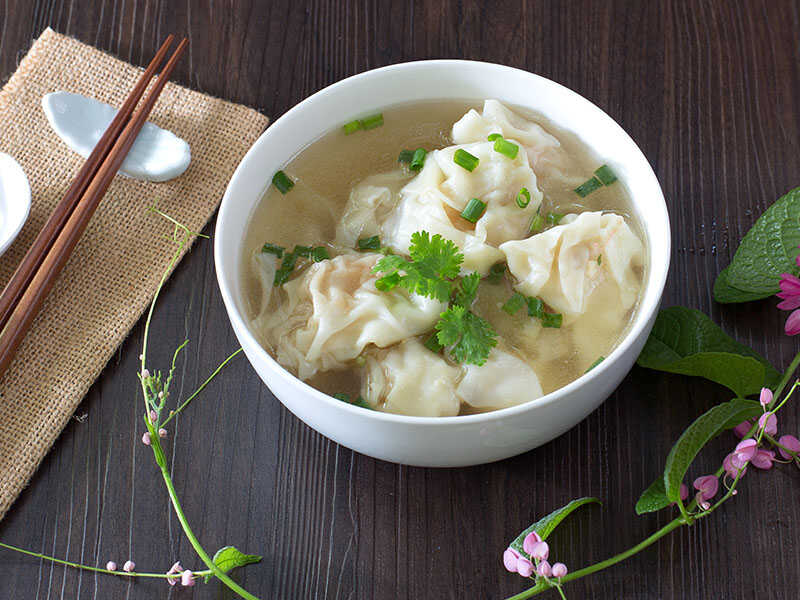 If you ask me what typical Chinese food is my go-to one, I always answer wonton. Wontons are small dumplings with savory meat fillings put inside a special wrapper made primarily from egg yolk.
They combine the slightly savory fillings and softness of the outer wrapper with condiments like garlic, soy and sesame.
Wontons can be cooked in multiple ways. The most popular of them all is the wonton soup, which is made from seasoned chicken broth. You can also fry or grill them to make a crispy and delicious appetizer.
41. Waldorf Salad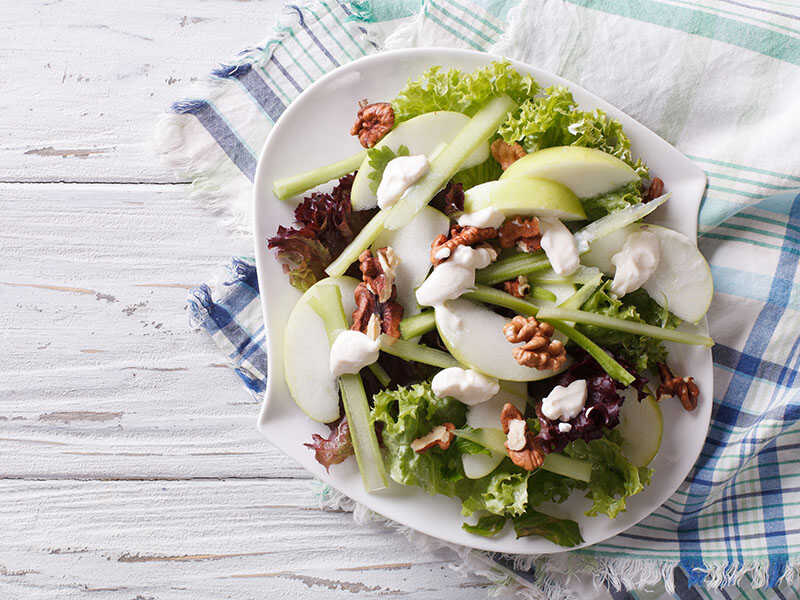 The salad takes its name from the renowned hotel Waldorf Astoria New York, first appearing in the late 1890s. This salad brings together an intriguing blend of ingredients, including chicken or turkey, complemented by a tangy yogurt dressing.
Not only is this salad loved for the refreshing taste it brings from combining soft vegetables with crunchy walnuts, but many also adore this salad for the comforting, homely feeling it brings.
42. Wiener Schnitzel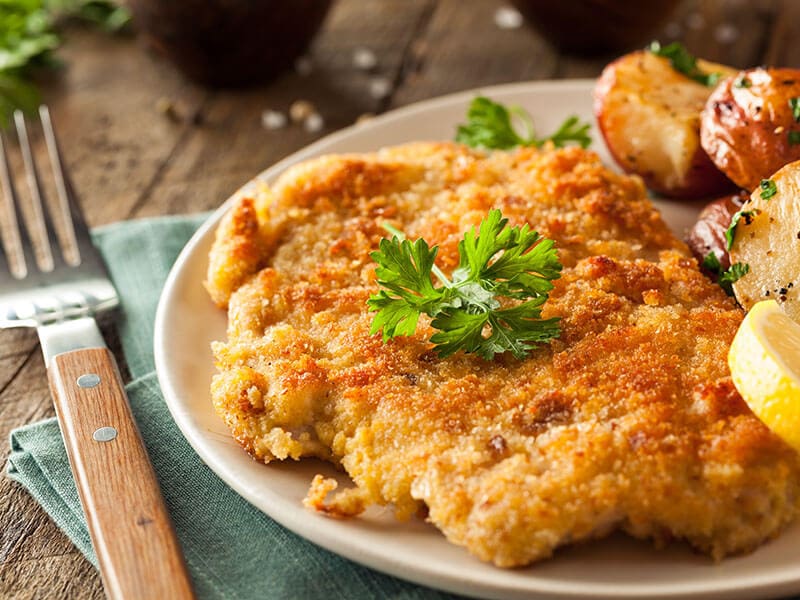 Wiener Schnitzel is a mouthwatering Viennese delicacy among Austria's national dishes. This particular schnitzel distinguishes itself from other varieties by its main ingredient – thin slices of veal cutlet, breaded and fried to a golden crisp.
It may owe some inspiration to Italy's costoletta alla Milanese. Locals, when feasting on this delicacy, love to pair it with a chilled beer. However, don't mistake this for the fast-food chain Wienerschnitzel, which specializes in hot dogs!
Snacks
43. Waffles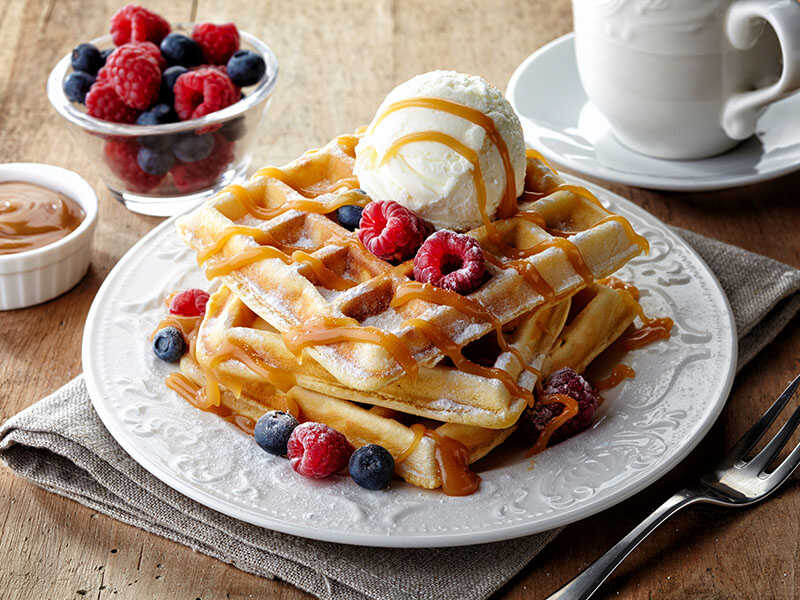 Originated from Belgium, waffles are now eaten all over the world with over a dozen varieties. Made with simple baking ingredients in only a short amount of time, they have become many households' go-to breakfast foods.
These treats are made from leavened batter or dough, with square indentations and varied shapes, from squares and hearts to Mickey Mouse faces.
Waffles in general, are well-loved because of their crispy yet light texture. There is a variety of waffle iron ideas with either sweet or savory flavors.
They can be as sweet as you want with some syrups and cheese or as savory as possible with the right seasonings and herbs.
Their crisp and fluffy texture is a step up from pancakes, and their portability makes them an easy grab-and-go meal. The fun also begins with the toppings, as waffles can be adorned with everything from classic maple syrup and butter to honey and fruit preserves.
44. White Chocolate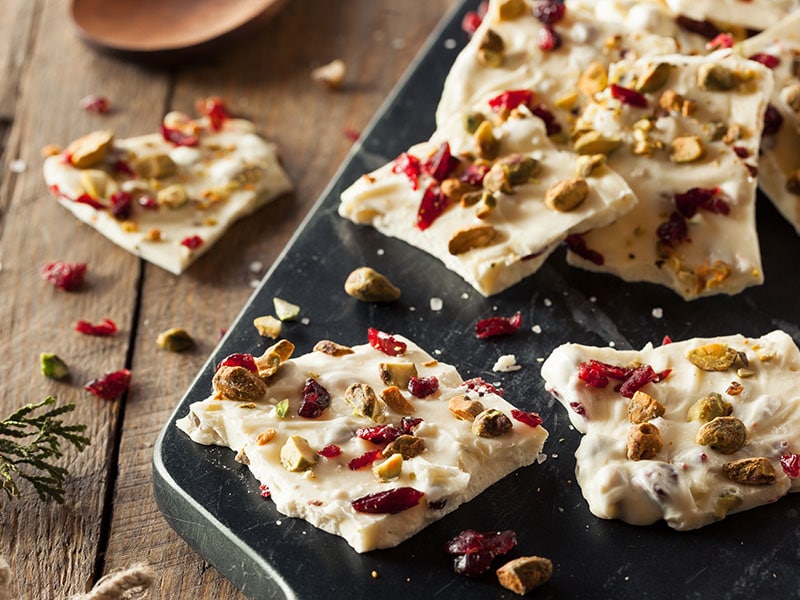 White chocolate isn't considered real chocolate because it is made only from the butter or fat of a cocoa bean and not the solids that give regular chocolates their flavors and colors.
First created by Nestlé back in 1930, white chocolate is entirely different from traditional chocolate. Instead of cocoa solids or cacao nibs, its distinct sweetness and creaminess originate from its milky elements providing a fragrant aroma.
Depending on the ingredients, some may have a floral and delicate taste, while others are more creamy and buttery.
With its light sweetness, white chocolate can be found in many desserts. It is typically paired with vanilla to enhance its creamy undertones. You can also use it to balance out the tanginess of some fruits or even soften fiery flavors in some alcoholic drinks.
45. Wiener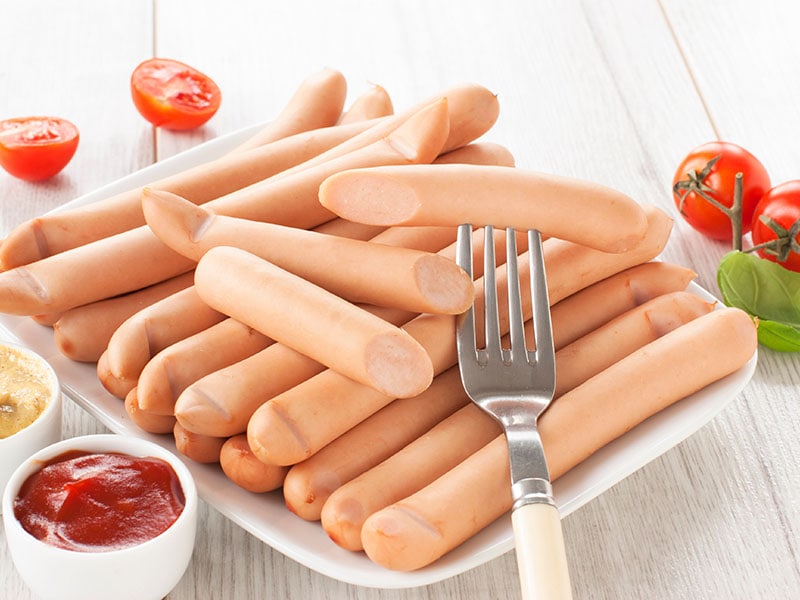 Wiener is a type of sausage that is most commonly used in a hot dog. It is traditionally made primarily from pork or beef, then wrapped in a layer of sheep intestine and smoked at low temperature.
It is named after Vienna, Austria's capital city. Wiener also goes by other names, such as frankfurter or hot dog in America. You can enjoy one right out of the package with no cooking necessary.
You can find wieners easily at most hot dog stands. Wieners can also be cooked easily at home with just a grill or an oven. You can pair wieners with different ingredients, such as cheese, tomatoes, potatoes, etc., for a fun twist in flavor.
Want a tasty recipe of simple, homemade style? This Weiner hot dog soup recipe in this video may be the answer for you.
46. Wurst Sausage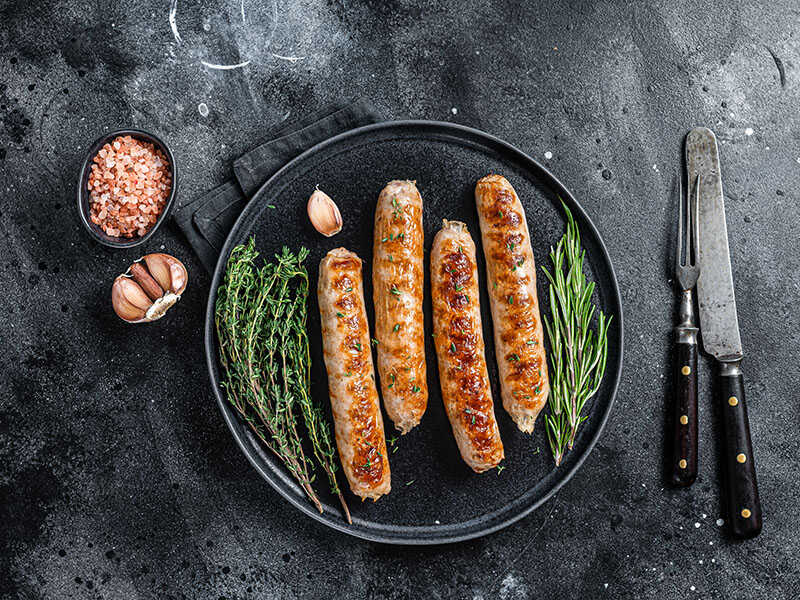 In German, "Wurst" translates to sausage, encapsulating all types of German sausages. It's a concoction of ground meat – pork, beef, or veal – encased in natural skin and intestines.
Key seasonings usually include black pepper, caraway, nutmeg, thyme, or marjoram, creating a distinct flavor. These sausages often come raw and need to be cooked before serving.
Among the myriad varieties, bratwurst, leberwurst, knackwurst, and weisswurst are some of the most popular.
47. Waffle Fries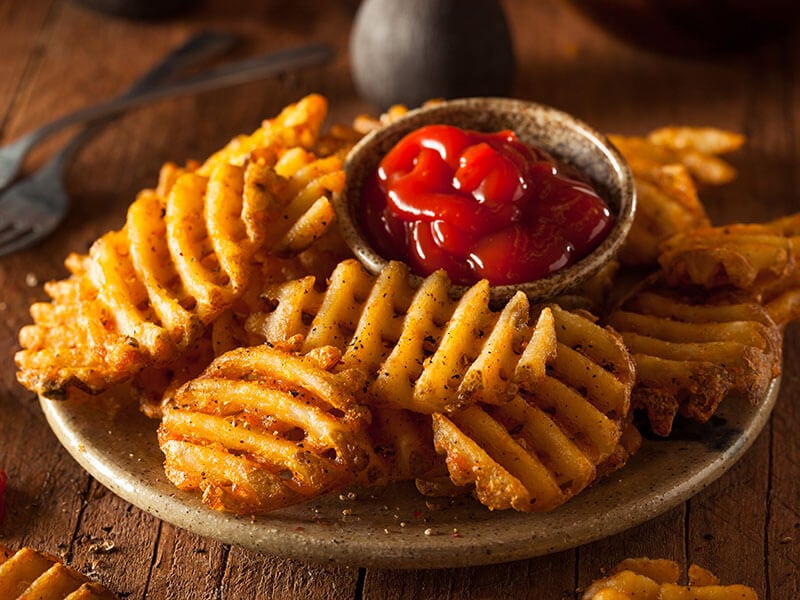 With their distinct wavy pattern, waffle fries are a fun twist on the classic French fry. These fries boast a crisscross design, unlike their crinkle-cut cousins that only sport vertical lines.
You can create this unique pattern at home using a French fry cutter or a mandolin with a special blade.
These chunkier fries, made from either potatoes or sweet potatoes, can hold seasoning and dipping sauces fairly well. They're a simple yet exciting alternative to the ordinary fry.
48. Walking Taco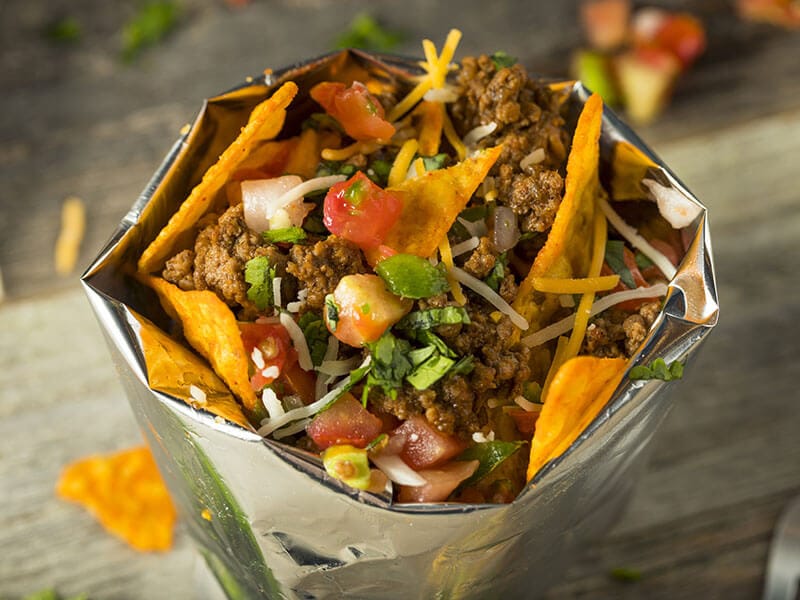 A walking taco, dating back to the 1950s, is a bag of crushed tortilla chips, like Fritos or Doritos, amped up with scrumptious taco meats, bell peppers, ripe tomatoes, tangy salsa, and creamy guacamole.
Its name is inspired by its convenience allowing you to easily munch on it while walking around. Although walking taco is like Frito pie, the latter dish is usually served on a plate. Furthermore, this nifty, edible convenience is a great addition to any lively party.
Dessert
49. Wagon Wheels Biscuits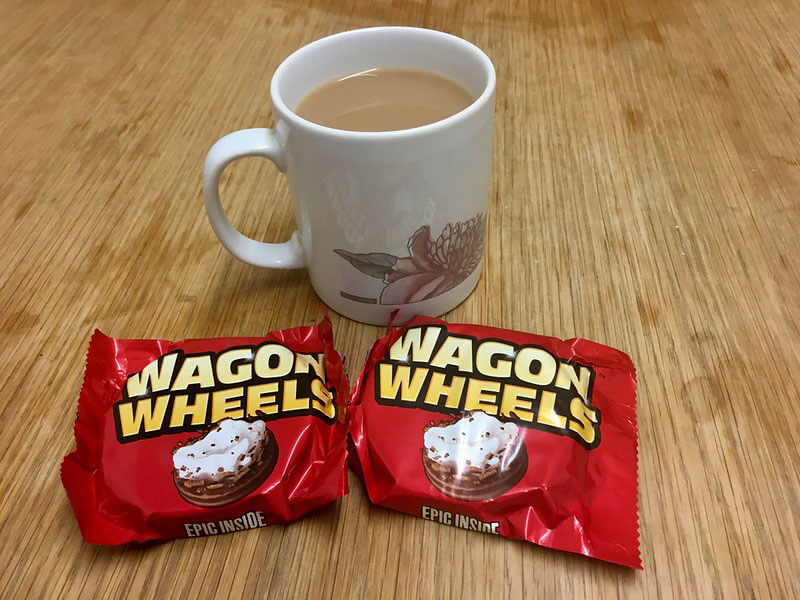 Wagon Wheels biscuits, originally called "Weston Wagon Wheels," are a sweet treat invented by William Peschardt and Garry Weston. Introduced in 1948, their popularity has spanned across the United Kingdom, Ireland, and several Commonwealth countries.
Each biscuit takes you on a delightful journey of two sandwiched biscuits with a gooey marshmallow and jam filling, all enveloped in a chocolate-flavored coating. The wheel-like shape of these biscuits is not just fun to look at but also the inspiration behind their catchy name.
50. Walnut Cake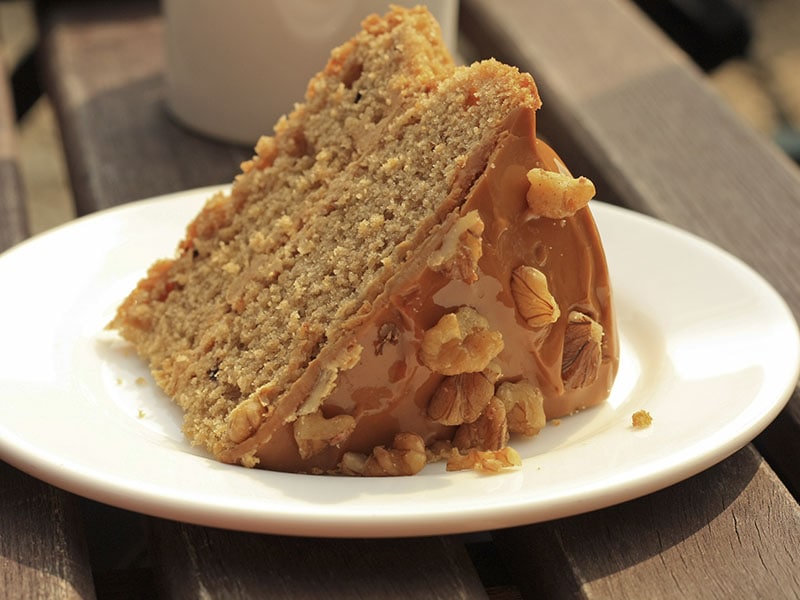 Walnut cake is a treat of golden, creamy creation. This fluffy, soft delicacy brims with walnuts' rich, buttery taste, is created using coffee cream and a lavish swirl of chocolate hazelnut spread. The treat is also a layer of strawberry cream on the top and sides.
It also lends a sweet, fruity contrast. Its delectable charm makes it a go-to dessert for the holiday season.
51. Warabi Mochi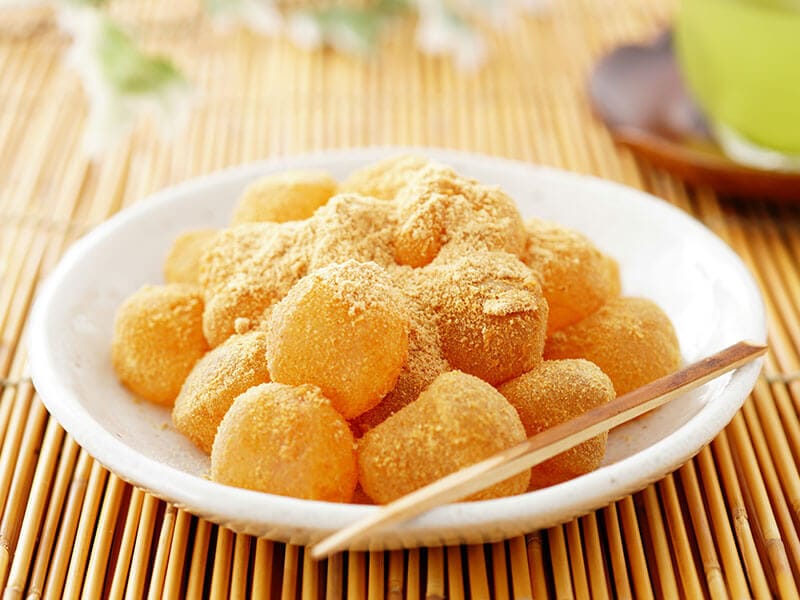 Warabi Mochi is a beloved wagashi or Japanese confection, a favorite of Emperor Daigo. This sweet is crafted from warabiko or bracken starch, resulting in a jelly-like texture that's chewier than your average mochi but dissolves quickly.
Coated in sweet toasted soybean flour, kinako, and sometimes drizzled with kuromitsu syrup, it's a delightful bite. Particularly popular in the Kansai region and Okinawa, this summertime favorite is sold from trucks.
52. Whipped Cream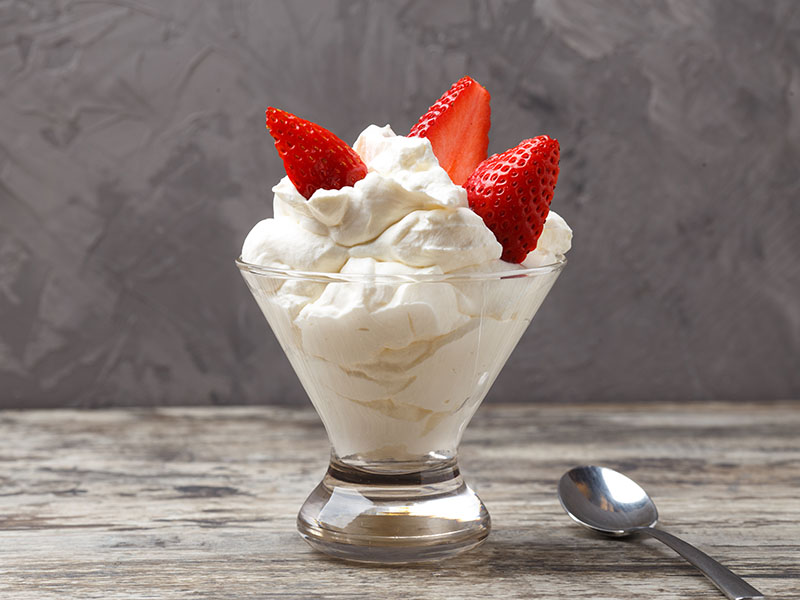 Whipped cream, or as the French say, "crème Chantilly," is a delight that takes desserts from good to amazing. Start with heavy or high-fat cream, you need to whisk it up until it's light, fluffy, and holds its shape, then sweeten it with sugar.
Some folks prefer adding a splash of vanilla for a flavor kick. This creamy wonder, loaded with a butterfat content of about 30% to 36%, is perfect for topping over fruits, desserts, and even coffee, reminiscent of the Viennese coffee house tradition.
Plus, you can use a pastry bag to pipe the whipped cream over your dessert.
53. Whoopie Pies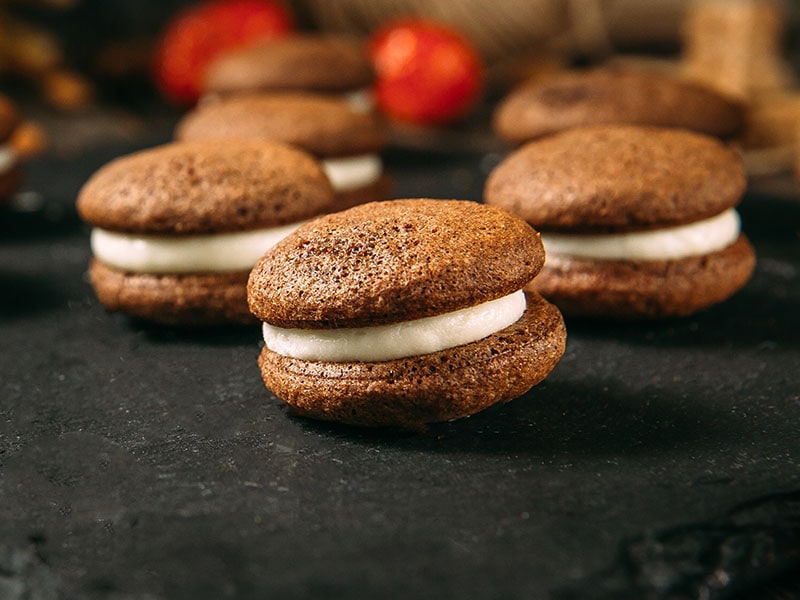 Whoopie Pies are an American baked delight from Lancaster County. They are also the most loved Pennsylvania Dutch Country's comfort foods. Typically, these unique treats might be a cookie, pie, sandwich, or cake crafted from two chocolate cake rounds.
Sandwiched between these round cookies is a mouthwatering filling, usually vanilla buttercream or marshmallow cream. Known by several names such as black moon, gob, black-and-white, bob, or "BFO" (Big Fat Oreo), these American baked goodies are an absolute joy to indulge in.
Seed, Grains, And Cereals
54. Wattleseed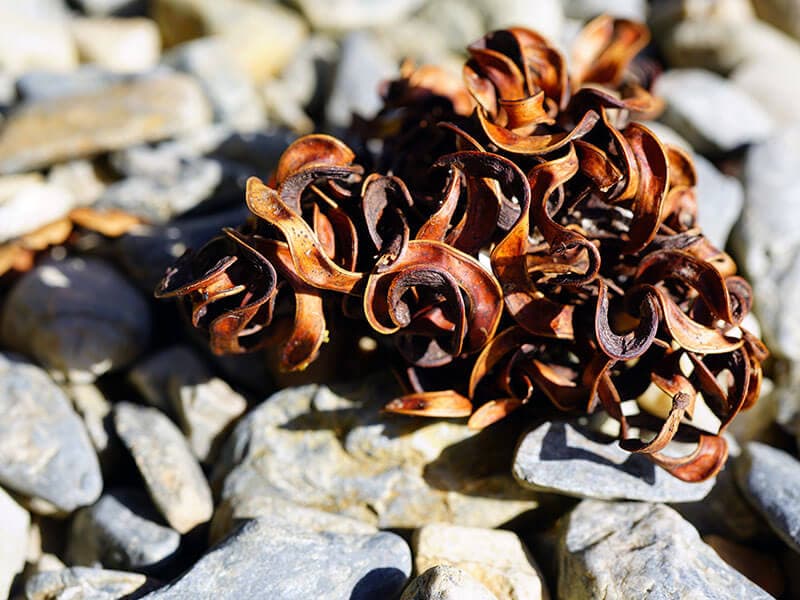 Wattleseed is an edible seed harvested from over 120 Australian Acacia species. A staple for Aboriginal Australians, it's consumed either green and cooked by dried and milled into flour for bush bread.
These seeds are credited for their high nutritional value, hardiness, and low toxicity. This low glycemic index gem is ideal for diabetic-friendly meals and ideal for pairing with ice cream, granola, chocolate, and bread. Even chefs use it to jazz up sauces and dairy desserts.
55. Wheat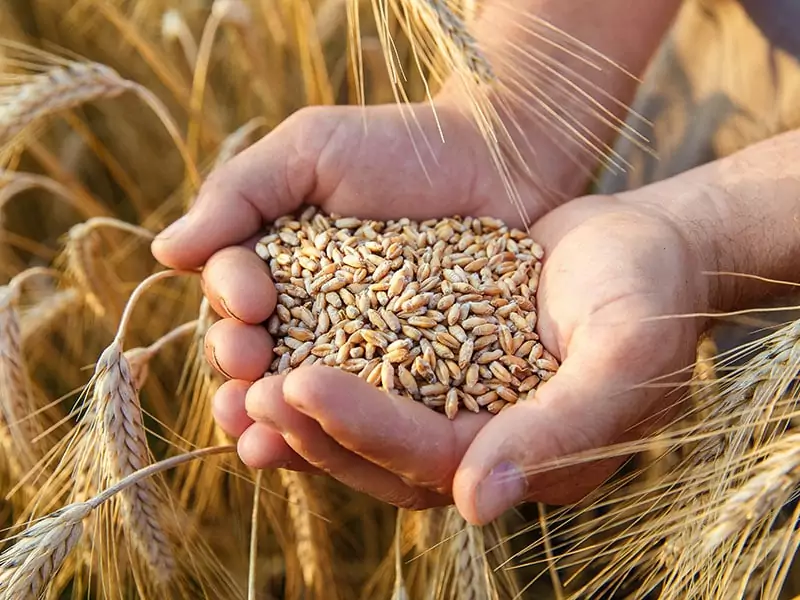 Wheat is a type of grass cultivated for its seed, which is also known as a worldwide staple food. You may recognize this grain as the main ingredient in foods such as bread, biscuits, pasta, noodles, pizza, doughnuts, pies, etc.
Wheat is so widely used partially due to its nutritional values. It is a good source of carbohydrates, fiber, vitamins, and minerals. This can help reduce your risk of heart disease, type 2 diabetes, obesity, and many other diseases (13).
However, if you have gluten intolerance, be sure to stay away from wheat-based products.
56. Wild Rice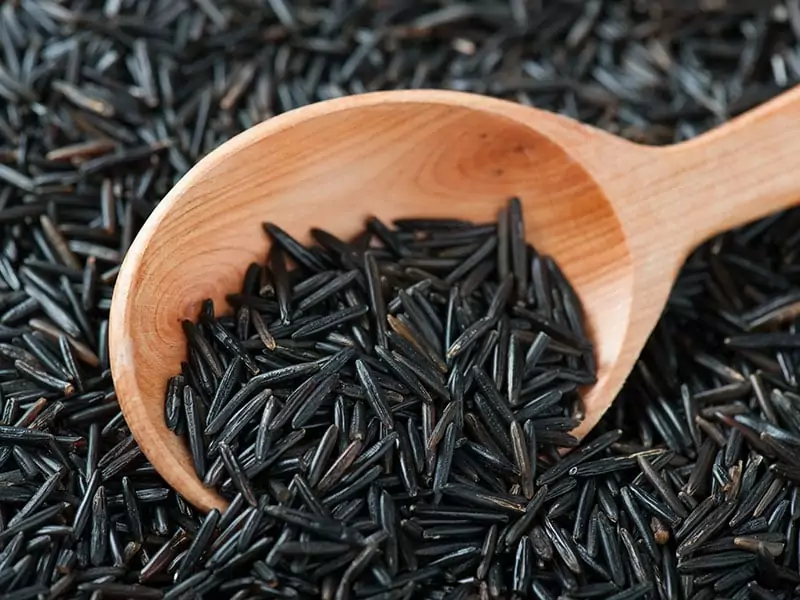 Wild rice is actually not directly related to rice. It is the seed of freshwater grass called rice because they share a similar flavor and texture. However, it tends to taste more grassy and is a bit chewier.
In addition to typical rice preparation methods, you can also try it with salad or make a pilaf with other aromatic vegetables. If you want something more flavorful, pair it with some cream, cheese, and chicken to make a delightful casserole or a bowl of soup.
Wild rice is sold for higher prices than regular rice, partially due to its health benefits. It is higher in protein, fiber, and antioxidants, which help combat cardiovascular problems (14).
57. White Rice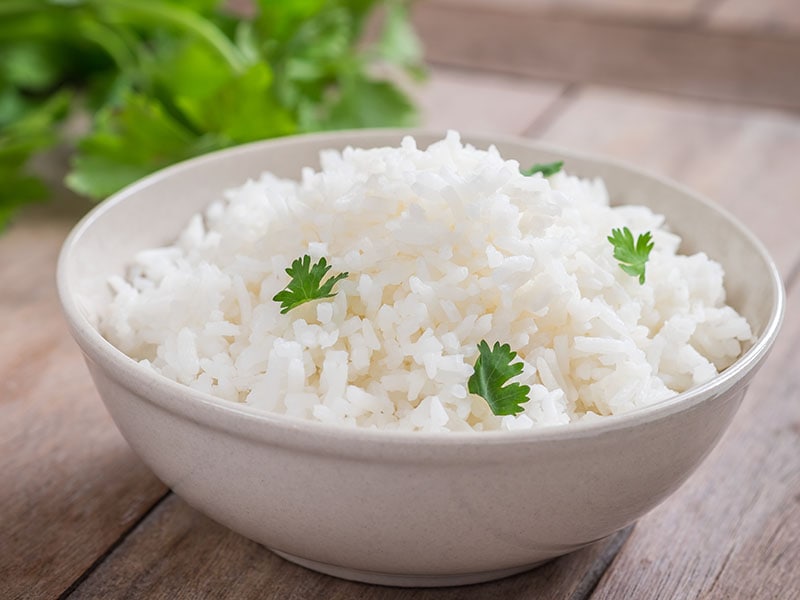 White rice, the milled rice after husk, bran, and germ removal, is a popular choice for many households. With a bit of processing, it can jazz up the taste, boosts its shelf life, and optimizes its cooking qualities.
In the US and other nations, this humble grain gets infused with extra nutrients with the addition of enriching elements like iron and B vitamins – think folic acid, niacin, and thiamine (15).
58. Wheat Berry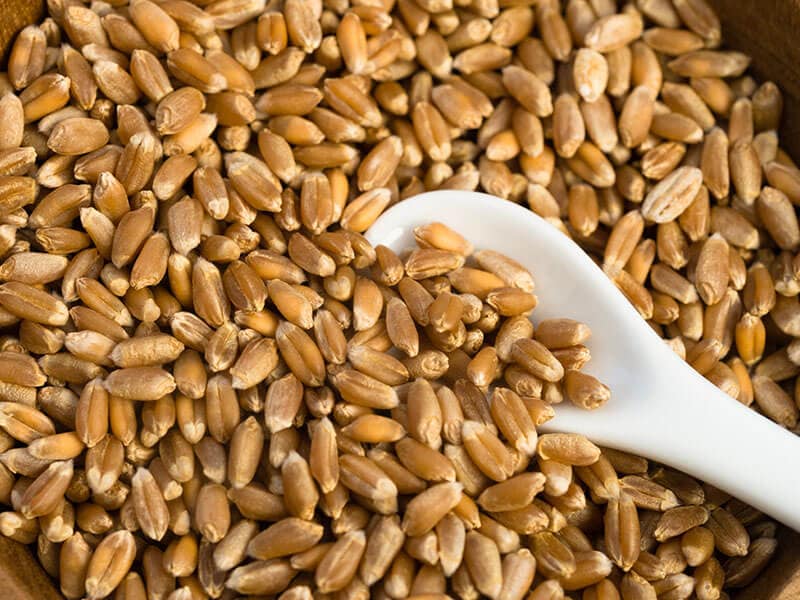 Wheat berries or wheatberry are a delightful paradox, botanically classified as a type of fruit named caryopsis, even though they're whole wheat kernels! These grains, sans husk but with the bran, germ, and endosperm intact, show off a charming tan to reddish-brown color.
Perfect for dishes like the Eastern European Christmas porridge, kutya, wheat berries also make their way into salads and bread with a unique chewy texture. With a rich nutritional profile, they offer a hearty dose of fiber, protein, and minerals like manganese and selenium.
59. Wheat Bran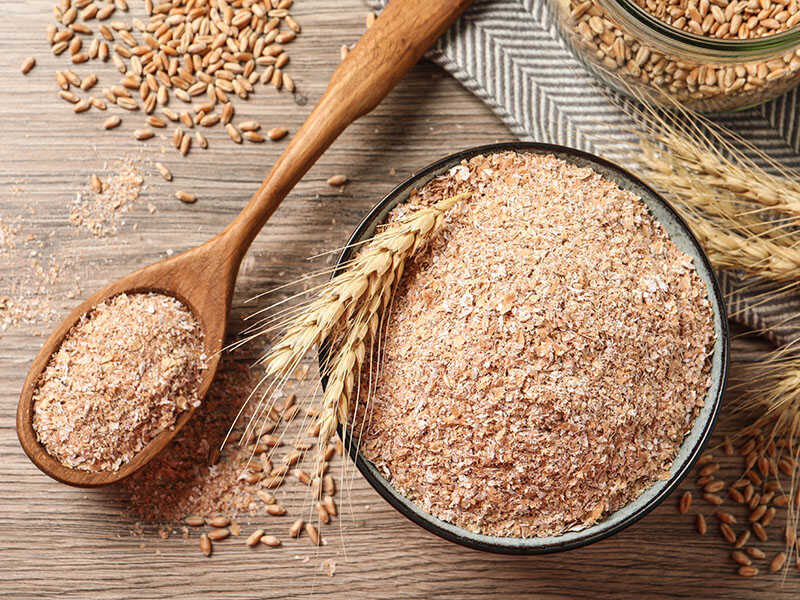 From the hard outer layer of the wheat kernel, wheat bran is a nutritious food. Its sweet, nutty flavor effortlessly enhances the taste and texture of dishes, especially bread, muffins, and other baked goods.
Its nutritional profile is noteworthy, low in total fat, saturated fat, and cholesterol while being a good source of plant-based protein. It's also rich in zinc and copper and a fabulous source of insoluble fiber that can benefit your digestion (16).
60. Wheat Flour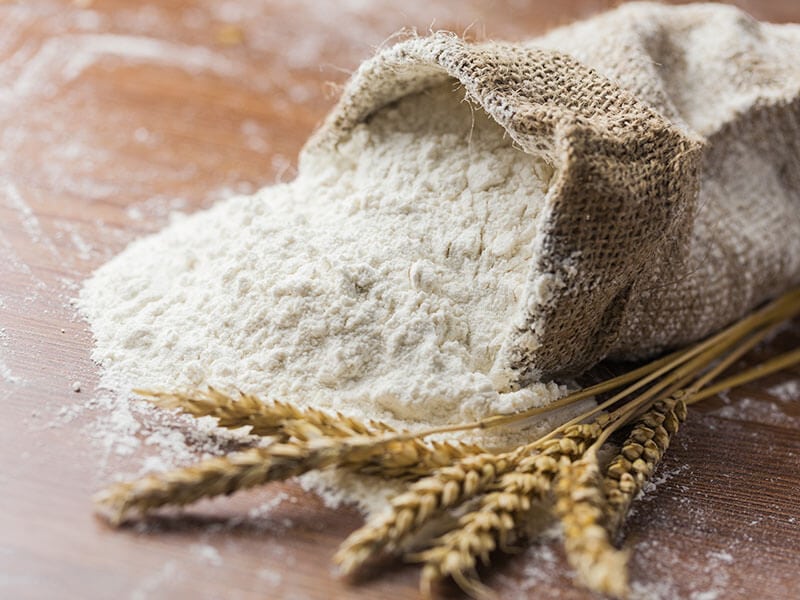 Wheat flour is the powder born from ground wheat, an essential ingredient for your bread. However, not all flours are created equal, as "soft" wheat flour has low gluten content, while the "hard" variety is gluten-rich.
The magic of wheat flour lies in its gluten – the higher it is, the more elastic the dough. This attribute makes it the preferred choice in baking, especially in making yeast bread like brioche, flatbreads like pita, and that iconic sourdough loaf.
61. Weetabix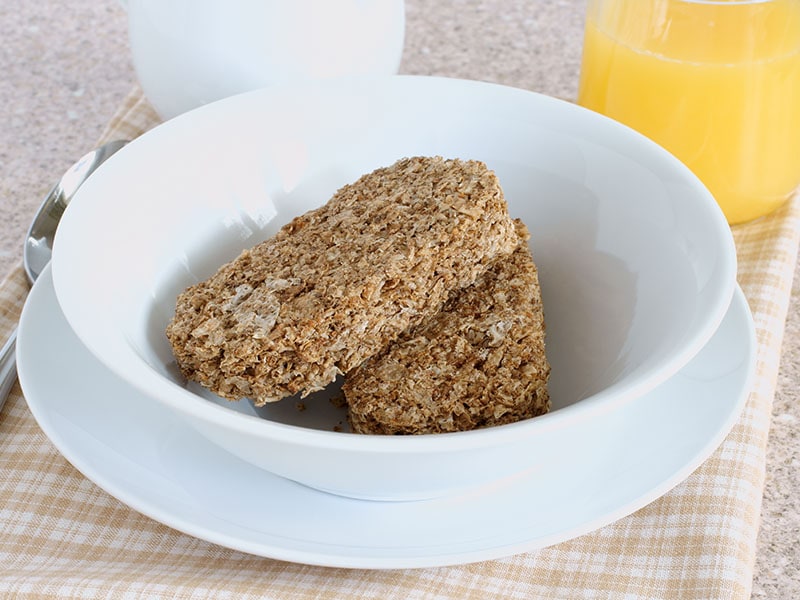 Weetabix is a palm-sized biscuit of breakfast goodness from the United Kingdom's Weetabix Limited. This wheat cereal, 97% wholegrain certified, is a low-sugar, low-saturated fat option to start your day.
The cereal is brimming with fiber, vitamins, and minerals, proudly holding a 5 Health Star Rating. Produced by Burton Latimer in Northamptonshire, it has won hearts in over 80 countries.
Condiments and Sauces
62. White Sauce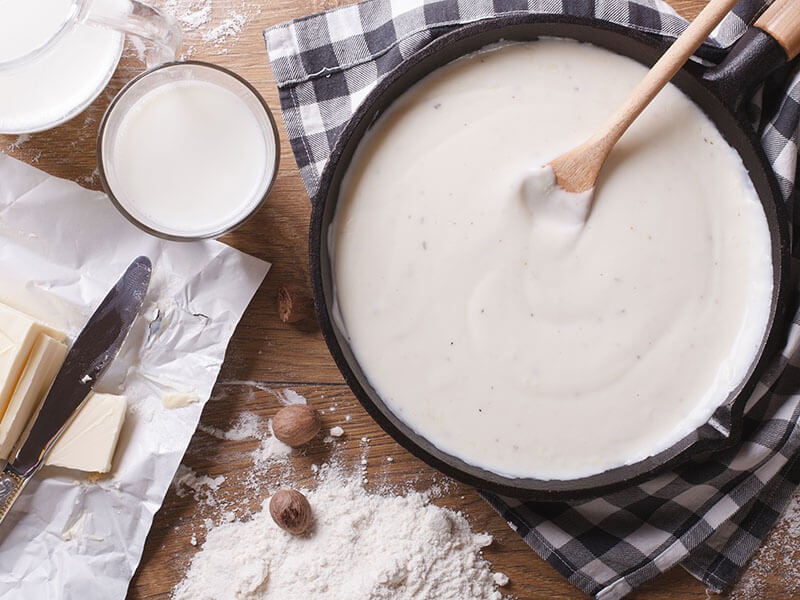 White sauce, or Béchamel, is one of the "mother sauces" in French cuisine. This creamy delight involves a blend of white roux and milk, with a touch of ground nutmeg for an extra pop of flavor.
The sauce is a versatile ingredient forming the base for sauces like Mornay and adding a silky touch to dishes. This sauce brings a luscious layer to the plate, whether it's Italian lasagne al forno, Greek moussaka, Catalan canelones, or pastitsio.
63. White Vinegar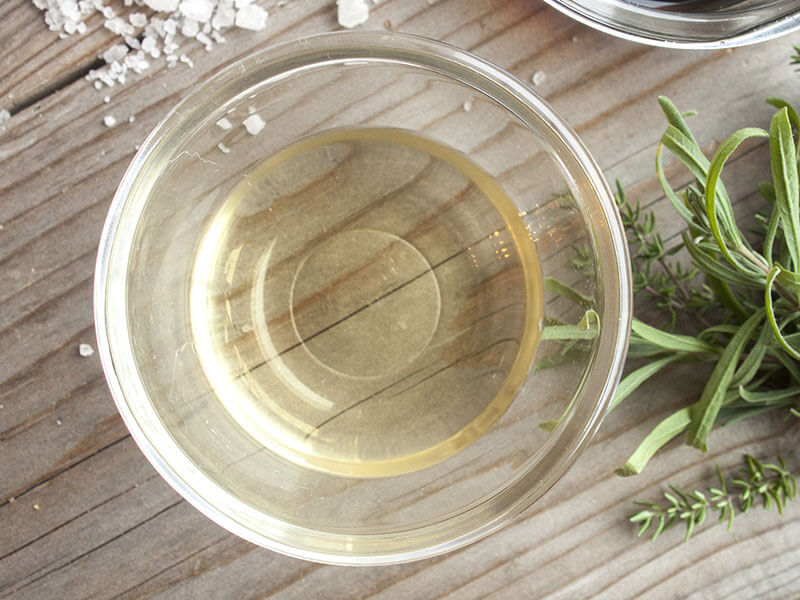 White vinegar, also known as distilled, virgin, or spirit vinegar, is a clear liquid with a mix of 4-7% acetic acid with water. It's incredibly versatile, being able to mix into salad dressings, vinaigrettes, marinades, and even sauces.
You might also see it in pickling liquids or lending a tangy twist to sweet and sour soups. Surprisingly, there are vinegar varieties out there with up to 20% acetic acid, but they're not for direct consumption as they're downright hazardous.
64. Worcestershire Sauce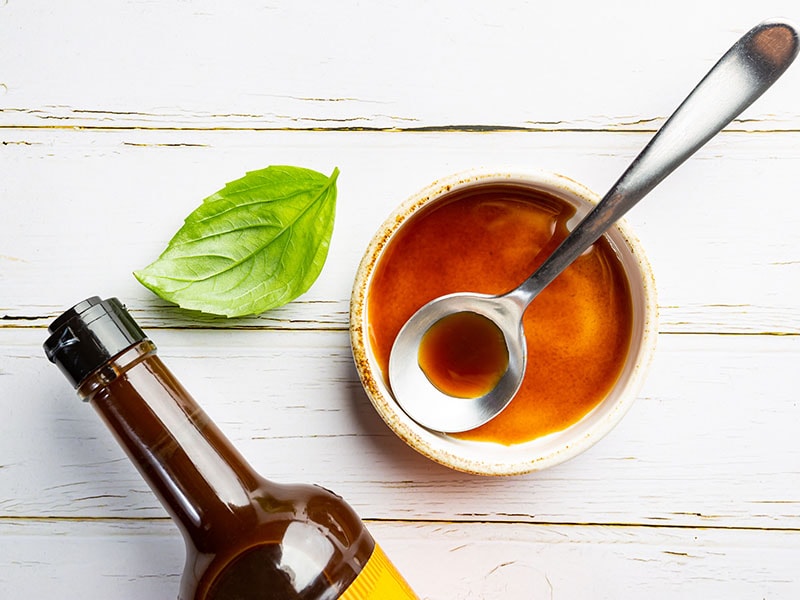 Often simply called Worcester sauce, Worcestershire is a 19th-century invention from an English county bearing the same name. This fermented condiment encompasses a vinegar base, tamarind, anchovies, molasses, and many spices.
The mixture is a robust, umami flavor akin to soy sauce, balanced with sweetness, sourness, and a hint of spice. It's a mainstay in traditional British recipes like deviled eggs, Welsh rarebit, Caesar salad, and even cocktails like the Bloody Mary.
It's a stellar marinade for red meat. But, it carries a high sodium content, so moderate use is wise. If you're in a hurry, you can use a blend of ketchup, soy sauce, and white wine vinegar to replace Worcestershire sauce.
65. Wasabi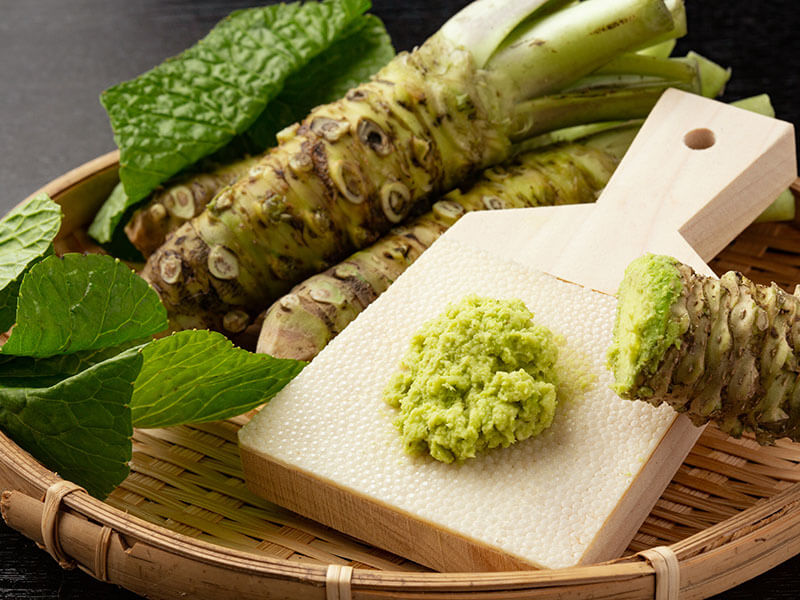 As scientists call it, Wasabi, or Wasabia japonica, hails from Japan, Korea, and parts of Russia. Its stems and leaves yield a fiery green paste, also named wasabi, integral to Japanese cuisine.
Often dubbed Japanese horseradish, it's an essential condiment for sushi and salami. Like mustard, its flavor is hot, spicy, and pungent, carrying as much heat as jalapenos.
Beyond the flavor, it's rich in fiber and possesses mighty antimicrobial properties. However, moderation is key due to its intensity. Typically, wasabi is a pricey condiment, explaining why a Western version made from horseradish steps in as a cost-effective alternative.
Cheese And Other Dairy Products
66. White Cheddar Cheese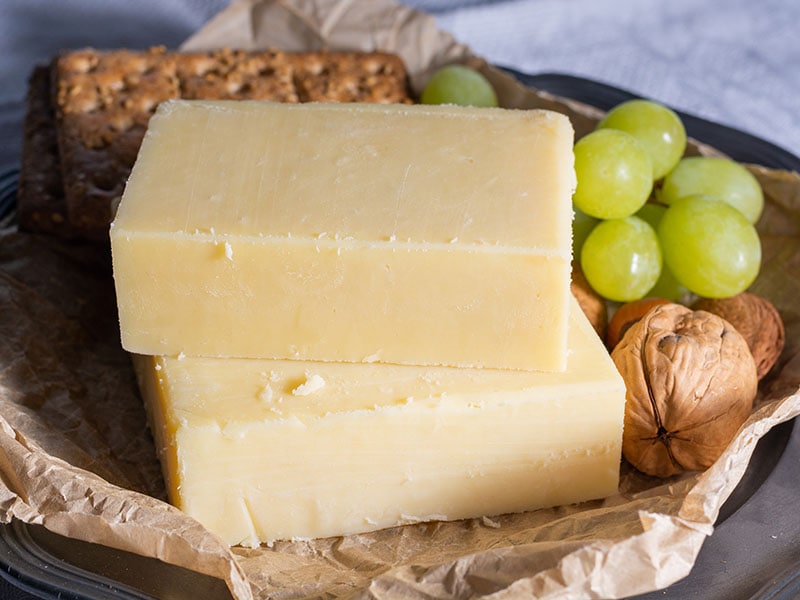 Cheddar cheese has many colors, with white cheddar cheese standing out in its natural, slightly off-white color, free from any added coloring. Beneath the rind white color, it's the same cheddar you know and love – pungent, slightly earthy, and unmistakably delicious.
The white cheddar variety is a prime pick for adding extra flavor to your cheeseburgers or baked potatoes.
From being a fantastic pairing with fresh fruits and bread for a simple dessert to swapping in for Fontina in Mexican dishes like tacos or tortillas, white cheddar can fit with any recipe.
67. Wisconsin Cheese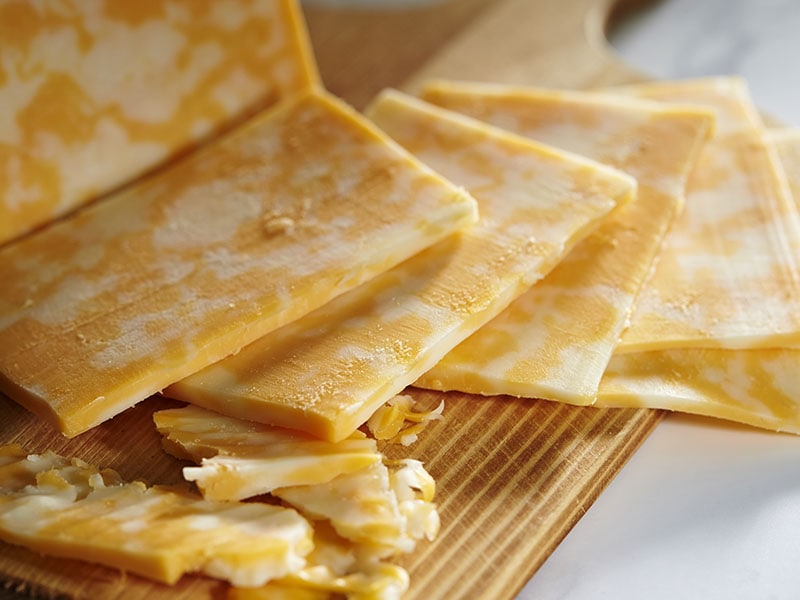 Wisconsin cheese captures the essence of the state's rich cheese-making tradition. These cheeses, crafted from the milk of cows nourished by Wisconsin's fertile land and temperate climate, are as diverse as they are delicious.
Some of the standout options include the semi-soft Wisconsin muenster with its distinctive orange rind, the salty-sweet Colby reminiscent of cheddar, and the tangy Marbled Blue-Jack.
68. Wensleydale Cheese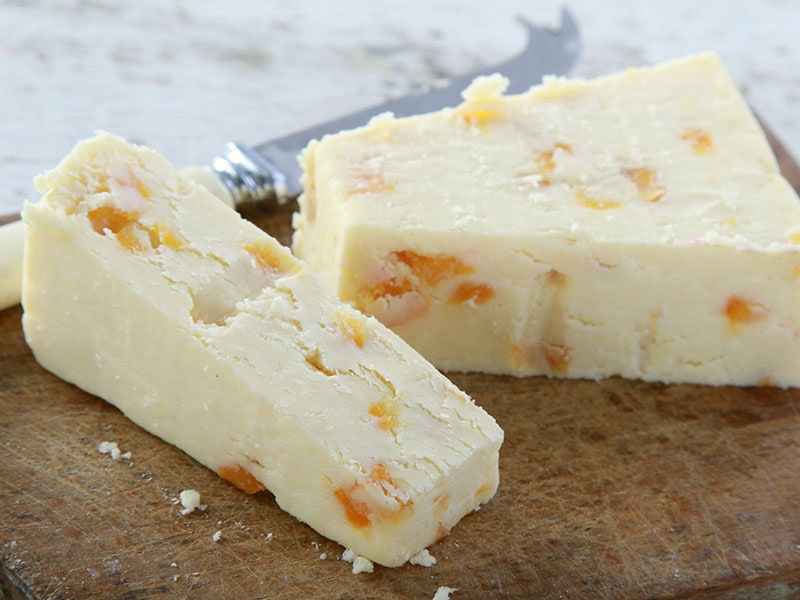 Wensleydale cheese is a gem from Wensleydale, England. Although it can be produced in other regions, only Yorkshire Wensleydale is labeled for producing authentic Wensleydale cheese. Commonly, you can pair it with fruit cakes or crumbles or serve it on a cheese board.
Made from sheep milk, this crumbly cheese delivers a nutty buttermilk flavor that combines sweetness and tartness with a honey aroma. Surprisingly, it's quite similar to white cheddar in flavor, but it holds its shape rather than melting when cooked.
69. Whey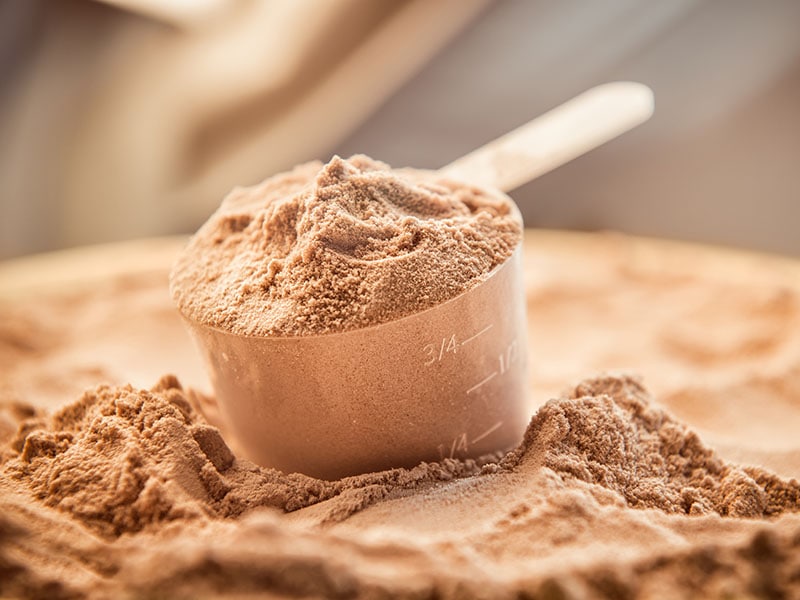 Whey, pronounced as WAY, provides a yellowish, cloudy liquid after curdling and straining milk for cheese. With a flavor ranging from sweet to sour, it offers many benefits.
Typically, this low-fat, protein-rich liquid is the secret behind those muscle-building whey proteins you see in fitness stores.
It also appears in soups, stews, oatmeal, smoothies, and even as a milk substitute in baking. Remember, this dairy product is not fit for daily consumption.
Beverages
70. Wine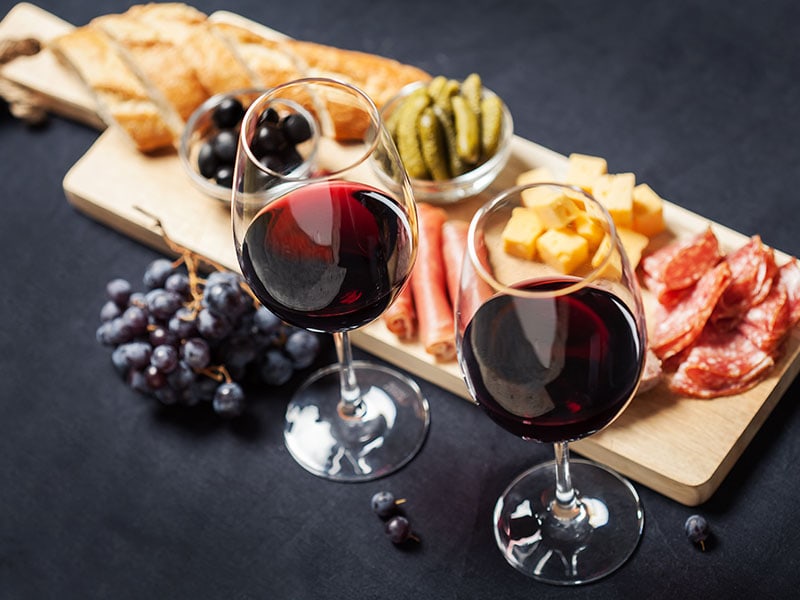 This magical alcoholic drink is usually made by fermenting different kinds of grapes. It has been around for thousands of years, therefore, having considerable significance in culture, religion as well as cuisine.
In ancient times, wine was a popular drink, often sipped instead of water. With an ABV level of 15%, this enchanting beverage spans from sweet to bone-dry.
The allure of wine lies in its delicate balance of acidity, sweetness, alcohol level, tannin (that affects its dryness), and aromatic profile.
There are five basic types of wine: red, white, rosé, sparkling, and dessert, each with their own distinct taste and suitable for different occasions. Depending on what your preferences are and what the accompanying meal is, it can be enjoyed accordingly.
71. Whiskey/ Whisky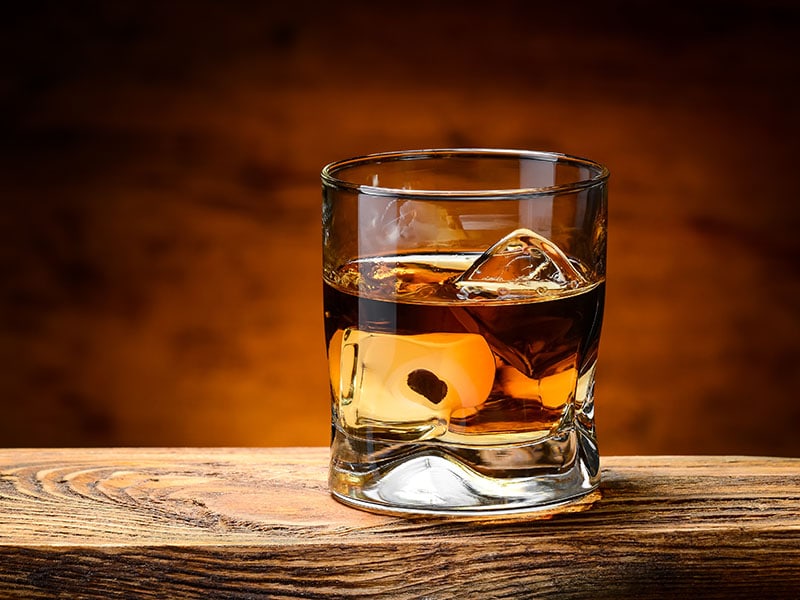 Whiskey, or "whisky" if you're talking about the Scottish, Canadian, or Japanese versions, is a spirit distilled from a fermented mash of grains like barley, wheat, rye, or corn.
When aged in oak casks, the spirit transforms into a smooth, amber-hued beverage with a kick of at least 40% alcohol by volume.
This aging process also weaves in a warmth to the flavor, laced with notes of nuts and chocolate. It's a surprisingly guilt-free indulgence containing zero sugar, fat, or carbs. From smoky Scotch and vibrant Irish whiskey to robust Bourbon, the world of whiskey is wonderfully diverse.
72. White Tea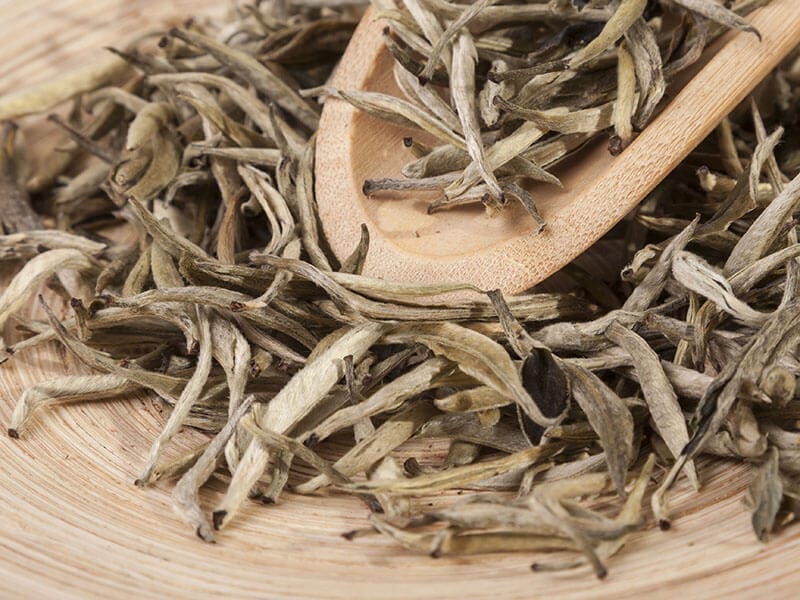 White tea is an ambiguous term generally referring to tea undergoing minimal processing. This exquisite brew is distinguished by its early harvest when the tea leaves are just budding and blanketed with delicate white hair.
With a bolder yet gentler flavor profile than other teas, it offers a unique taste experience. Also, the antioxidant level in white tea surpasses all other types while keeping the caffeine content modest.
Despite its limited seasonal availability and a slightly steeper price tag, it's worth every penny. You can usually find it in southern China, India, Thailand, and Sri Lanka.
73. Water
Water, an essential part of everyone's body, comprises about 55% to 60% of an adult's composition. When hydrated, your body can ward off issues like overheating, mood swings, constipation, and kidney stones.
Here's a handy formula to keep yourself hydrated by simply drinking ounces of water equivalent to two-thirds of your body weight in pounds. Your body even calls for extra hydration during physical activity or breastfeeding.
While US tap water is usually safe for direct drinking, boiling or filtering can help eliminate any potential germs. Also, bottled water is a great choice for a better taste and smell.
FAQs
Don't be afraid to try out some new dishes with the foods I suggested in this article. Some of them may seem strange, but maybe you will find something you really like.
Of course, if you are here for some trivia knowledge, hopefully, these are enough to help you win the game night and impress your friends.
Did you find this list helpful? Are there any other foods that start with W you would like to add? Let me know in the comment section.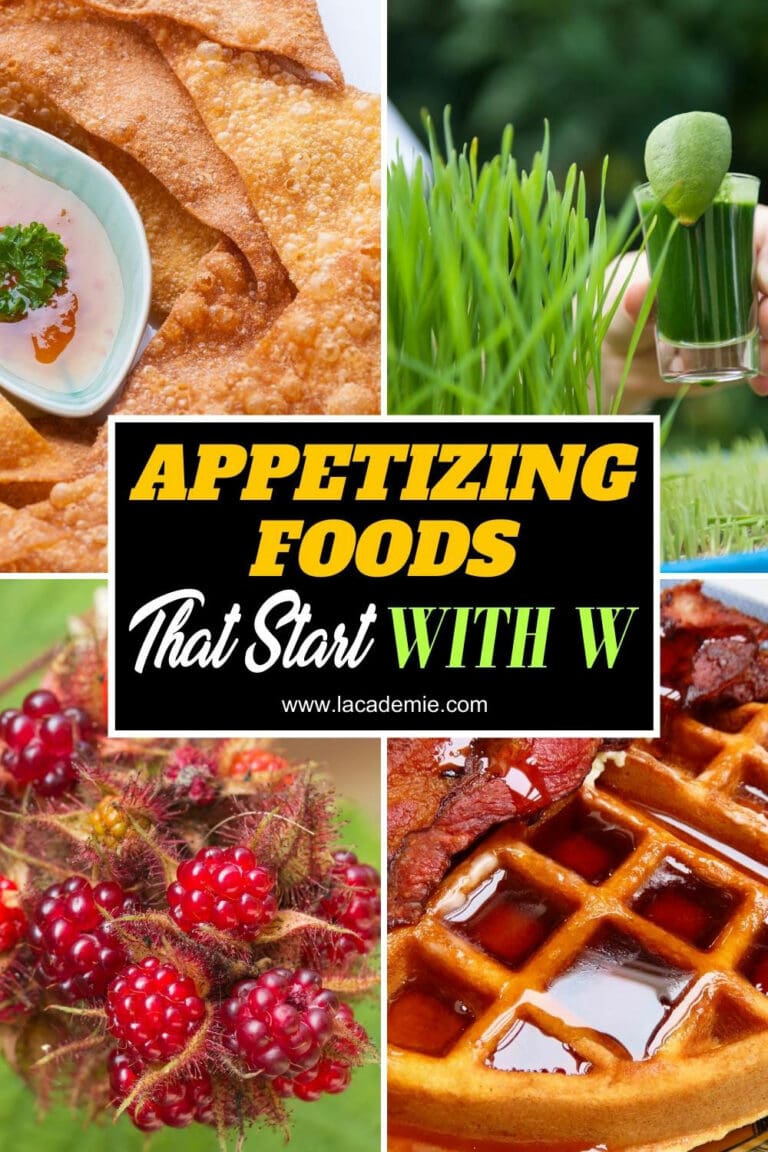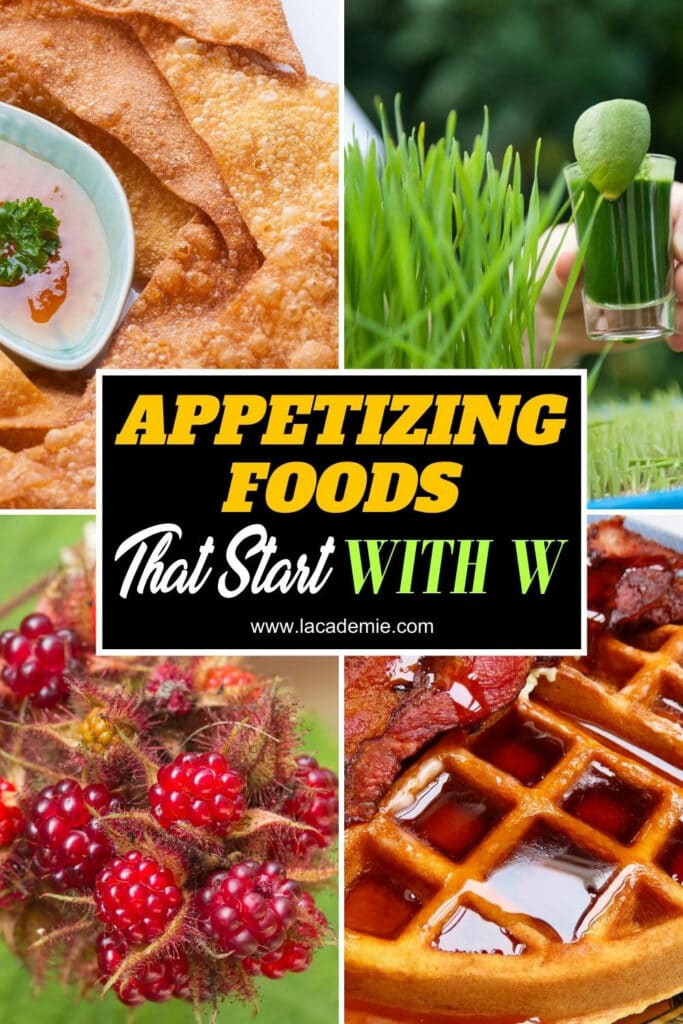 References
Walnuts 101: Nutrition Facts and Health Benefits (2023). Healthline.com.
Health Benefits of Figs (2022). Webmd.com.
Are pears good for you? Types, nutrition, calories, benefits, and more (2019). Medicalnewstoday.com.
WINEBERRIES: A SUMMER TREAT (2016). Fow.org.
Goji Berries (2022). Webmd.com.
10 Impressive Health Benefits of Watercress (2018). Healthline.com.
What makes watercress so special (2023). watercress.com.
Health Benefits of Wheatgrass (2022). Webmd.com.
Researchers Study Benefits of White Button Mushrooms (2010). ars.usda.gov.
8 Surprising Health Benefits of Wakame Seaweed (2018). Healthline.com.
Janet C. King, and Joanne L. Slavin (2013). White Potatoes, Human Health, and Dietary Guidance.
10 Health and Nutrition Benefits of Leeks and Wild Ramps (2019). Healthline.com.
Stephen Lillioja, Andrew L Neal, Linda Tapsell, and David R Jacobs, Jr (2013). Whole Grains, Type 2 Diabetes, Coronary Heart Disease, and Hypertension: Links to the Aleurone preferred over Indigestible Fiber.
Gangadaran Surendiran, Maha Alsaif, Fatemeh Ramezani Kapourchali, Mohammed H Moghadasian (2013). Nutritional constituents and health benefits of wild rice (Zizania spp.).
Is White Rice Healthy or Bad for You? (2018). Healthline.com.
Wheat Bran: Nutrition, Benefits and More (2018). Healthline.com.