Getting the precise answer for the question "Does watermelon go bad?", you will be confident about buying watermelons for the whole week's consumption, or storing a large number of watermelons for a commercial purpose.
Besides, you may wonder, "Does watermelon go bad in freezing temperatures?; Does melon go bad without refrigeration? or "How long does watermelon last in the fridge and in-room temperatures?"
My article will give you the answer to your question, let you know why they get bad, and suggest some tips so that you can store them for a prolonged period.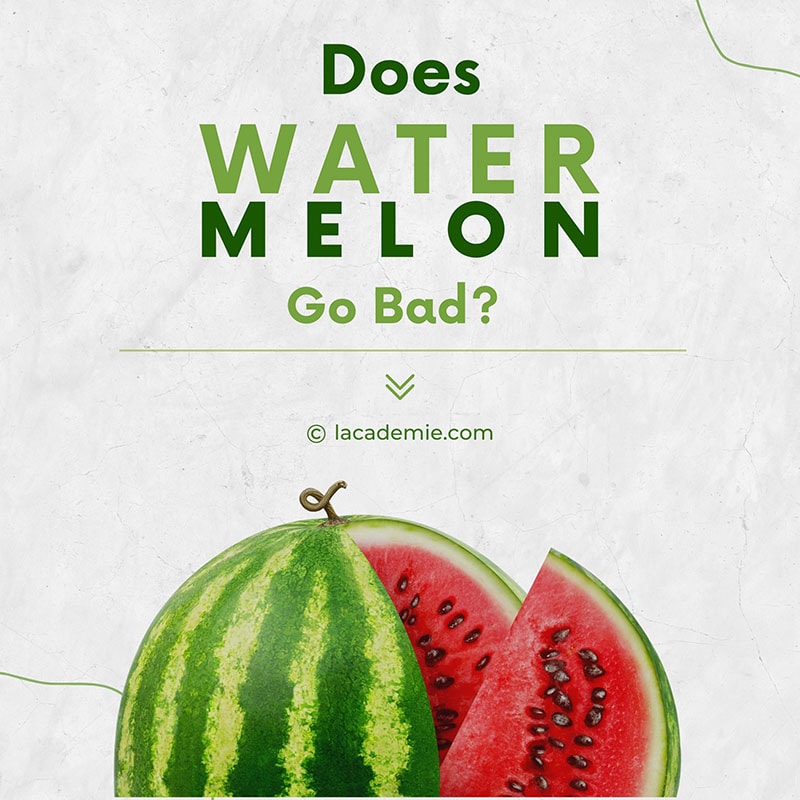 Does Watermelon Go Bad?
Definitely yes. Like many other fruits or vegetables, no matter how carefully you store watermelons, they will get worse because of many other objective and subjective reasons from storage time, heat, bacteria to preservation techniques.
So, how can I store watermelons to extend their shelf-life? Should I freeze watermelons for long-term storage? Is there any better way to keep watermelons fresh? Let's keep on reading and find out the answers to these questions in the following sections.
Awesome Watermelon Facts
You definitely know what watermelons are because you use them on a daily basis, but how do you know about them? Let's see.
As the name suggests, over 90 percent of the total mass of a watermelon is nothing except water, making this food beginning with "W" the most prevalent fruit for making beverages.
Watermelon is a perfect fruit as you can eat every part of it, from the fleshy part, the rind, to seeds. The peel can be used to make excellent salads.
With watermelons, you can eat them fresh or create numerous foods and beverages for your family, ranging from watermelon salads for summer days' side dishes to sauces or cocktails for a breezy evening on the beach. Watermelons make a great contribution to the culinary field.
As a long-held notion, you may be told that watermelon seeds could grow in the tummy if you eat them, but actually not. Watermelon seeds are also nutritious for your body.
Here is a quick chart to discover that every 100g of watermelon may hold (1).
| Principle | Nutrient Value | Percentage of Recommended Daily Allowance (RDA) |
| --- | --- | --- |
| Energy | 30 Kcal | 1.5% |
| Carbohydrate | 0.6 | 6% |
| Protein | 0.6g | 1% |
| Total Fat | 0.15g | 0.5% |
| Cholesterol | 0 | 0% |
| Vitamin A | 569 IU | 19% |
| Vitamin C | 8.1 mg | 13.5% |
| Vitamin E | 0.05 | 0.5 % |
| Potassium | 112mg | 2.5% |
| Calcium | 7 mg | 0.7% |
| Iron | 0.24 mg | 3% |
| Manganese | 0.038mg | 1.5% |
| Sugar | 7 g | |
How Beneficial Are Watermelons?
Thanks to the presence of numerous nutrients, watermelons are considered fabulous fruits as well as vegetables for your body. Let's dig in to know how good they are.
Support weight loss. Watermelons have low-calorie and low-fat content, so they are always a top priority of diet meals.
Provide your body with a great source of water. About 92 percent of watermelons are water, making them the ideal fruits for hydrating your body during the summertime.
Help you with skincare. As a rich source of vitamins, watermelons obviously benefit your skin's smoothness.
Support your nerve system. Containing a high source of potassium and magnesium, watermelons also enhance muscle tissue and nerve excitability.
Enhance your eye health. Watermelons contribute significantly to the prevention of macular degeneration thanks to the high amounts of vitamin A. Actually, vitamin A in watermelons is perfect for your eye.
Prevent the growth of cancer cells. The most striking benefit is that eating watermelon is the enemy of cancer when it can interrupt cancer cells from growing.
How To Know A Bad Watermelon?
Some signs let you know whether your watermelons are good or bad. Now, check them out!
Visible Signs On The Outside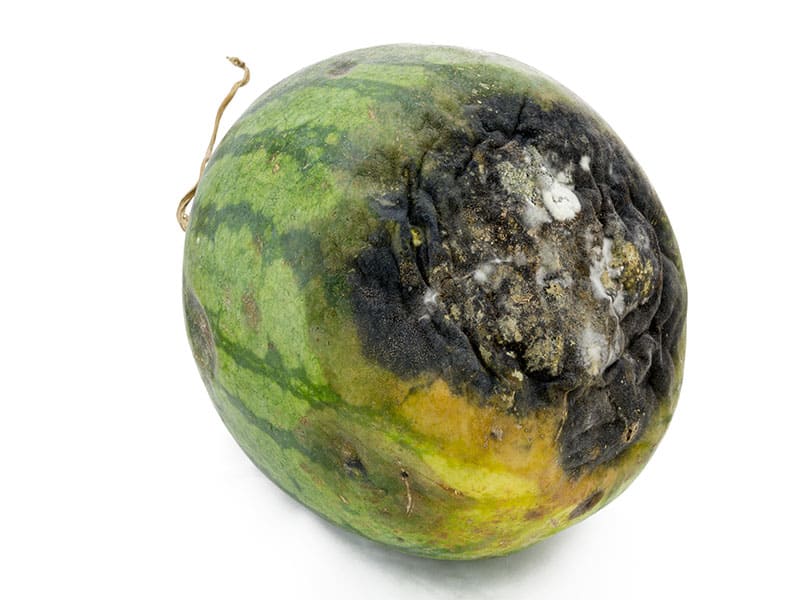 Hairy and moldy rind. Most good watermelons have a robust rind, so if you see them
too much rotten hull, stay away.
Dark patches on the rind. They can indicate the rot of a rotten watermelon.
Cracks on a melon. It could be another sign of rotting on the outside, which can make watermelons bad.
Mushy spots. Some mushy areas might come from damage, but they can cause watermelons to ripen faster and go bad.
After-Cut Signs
Sour or funky taste. If you, unfortunately, bite a bad watermelon slice, you will feel it sour and unpleasant.
Slightly fermented scent. Like many other fruits, a sour watermelon will release a fermented odor from its flesh.
Slimy and fairly white-colored layer. If you cut a spoilt watermelon, you will see a sticky or milky layer.
Why Does Watermelon Go Bad?
There are numerous elements that can make your watermelons damaged or spoiled. And the below-presented factors are the most prevalent ones.
Whole Watermelons
Although you keep watermelon as a whole, they still get bad due to some followed factors:
Overripping. With time, your watermelons definitely go bad. The texture would become soft, dry, and mealy, have an alcohol-like flavor, and they would lose their moisture.
Bacteria. Listeria bacteria growing on the rind and spreading towards the flesh of watermelon makes it inedible.
Fungus: If you see some dark-colored spots in the watermelon rind, the fungus is in the rind, and it will damage or spoil your watermelons soon.
Sliced Watermelons
After being cut, watermelon slices will be damaged by some environmental elements mentioned below. Let's check them out!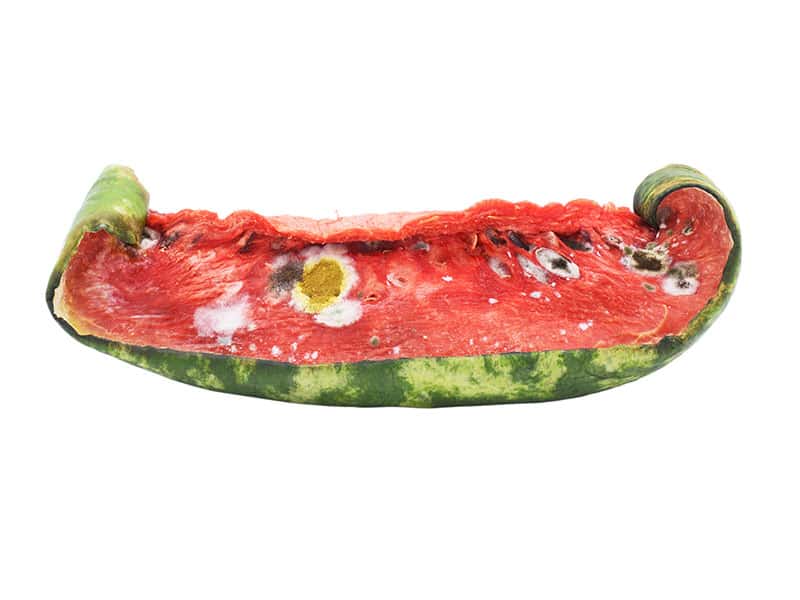 Hot temperatures. They will impact cut watermelons so much. In the summertime, if you leave out watermelon slices without refrigeration, they would get worse. The dangerous heat zone which damages your sliced watermelon is between 41 to 135 degrees Fahrenheit.
Overnight preservation. Whether you store your sliced watermelon in the fridge or not, if you leave your cut watermelon overnight after two days, it will not be good for you to consume.
Fungi mold and microorganisms. After being cut into slices, the watermelon chunks can be damaged by fungus, mold, or some microorganisms, making them inedible.
What If You Eat Rotten Watermelon?
Actually, there are a lot of people experiencing sickness from bad watermelon. I will let you know some common ailments you may get if you eat a watermelon that has gone bad.
Diarrhea, bloating, flatulence, gas, and so on. Rotten watermelons are not suitable for your digestive system, so please check their freshness and edibility before consuming them.
Food poisoning. It's listeria bacteria that cause a high risk of poisoning because of the presence of bacteria, viruses, or parasites such as Listeria in the watermelon rind.
Cramps and aches in the joints. You will experience cramps and aches if you, unfortunately, consume spoilt watermelons.
Headache. One of the signs that let you know you have health problems related to watermelons after eating it is a severe headache.
Tips To Pick A Good Watermelon
Continue reading to know some highly recommended techniques so that you can choose the perfect watermelons.
Don't select overripe watermelons. You can choose the best watermelons for you by tapping your thumb on the outer part and listening to the sound. The ideal sound would be hollow or flat rather than a deep sound.
To select the perfect watermelons, you need to seek out a firm, symmetrical fruit, free from cuts, dents, or bruises. Besides, the rind color also matters; you had better choose dark green instead of shiny color.
Lift watermelons to choose heavy watermelons because they will be full of water as they must be.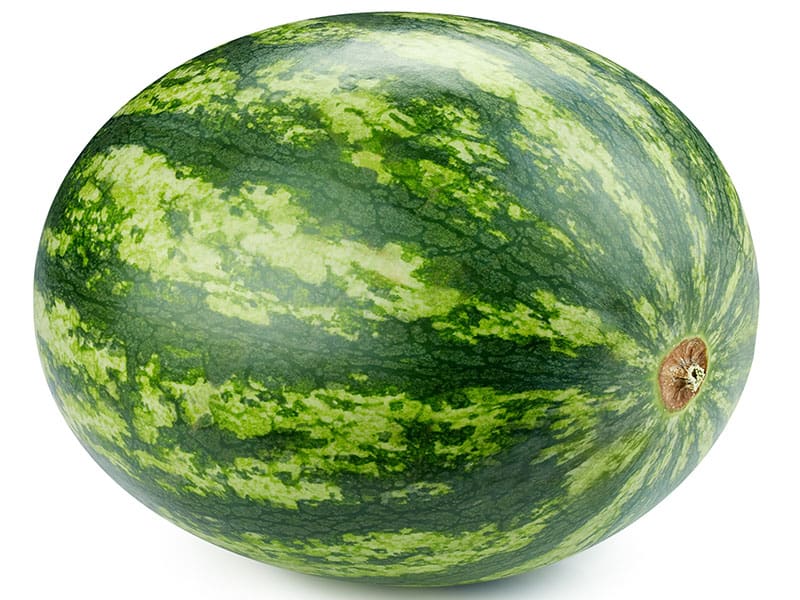 Check the field spot. You should turn watermelons upside down to check the spot color. For perfect watermelons, they are neither too white nor too yellow.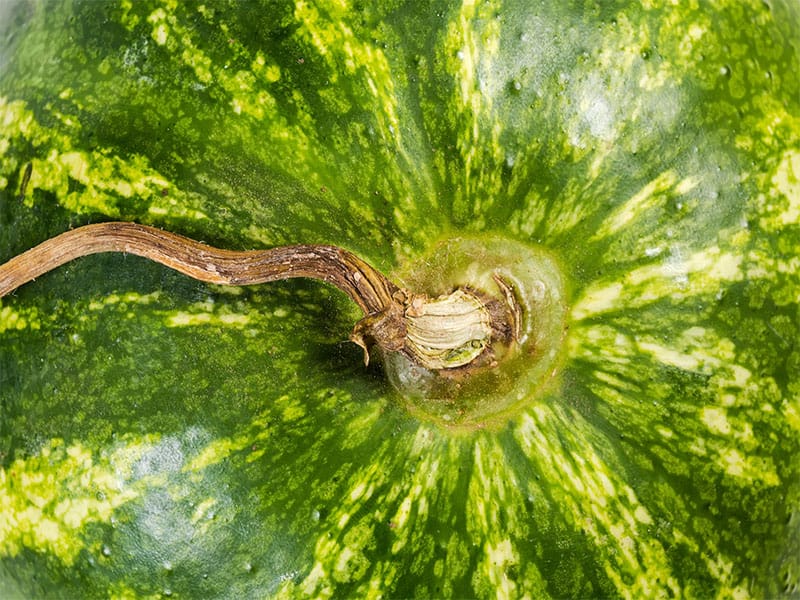 Check the tail. Observing the tail seems to be the most prevalent technique to choose good watermelons. The green stem often illustrates that the watermelons were harvested too early and may not be sweet or ripe. In contrast, dried ones show ripe watermelons.
Let's watch the video on how to pick sweet watermelons to know clearly about these above-mentioned tips.
How To Store Watermelon Safely And Effectively?
How long watermelons go bad depends on many factors, especially the degree of ripeness when they are picked and bought. However, if you know the proper methods for storing watermelon, it'll last much longer. Let's look at these familiar tips below:
With Refrigerator
If you are into cold watermelons and want to store them appropriately this section is for you.
A whole watermelon, you can maintain its freshness for up to 2 weeks in the refrigerator without wrapping, while watermelon slices or chunks can stay fresh within 3-4 days with careful covering.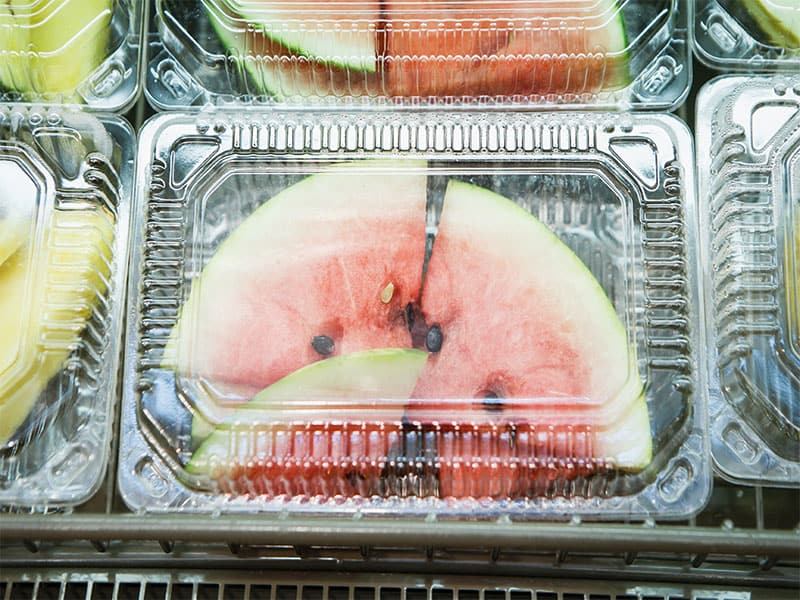 Wrapping cut-up watermelon can help to prevent scents or flavors from other foods in your fridge. However, storing large cut pieces would be better as the watermelon texture will become mushy.
Surprisingly, cut watermelons wrapped tightly in foil and plastic can stay safe for up to 10 months in the freezer. However, they are not used to eat out of hand but to add sweetness and watermelon flavor to some beverages.
Watermelon granita is a dessert that requires the natural flavors and sweetness from the fruit. The treat's refreshing touch is what you may need for desserts after BBQs or to revitalize yourself on a hot summer day.
On hot summer days, Your watermelons might begin to spoil within 3 or 4 days if they are thoroughly ripe when you bring them home. Putting them in the fridge will prolong the time they go bad, but what you need to do is consume them as soon as possible.
Without Refrigerator
Whole watermelons in the fridge can reduce their nutritional value, so it is best to store them at room temperature, out of direct sunlight, simply because that can stimulate the ripping process.
At a cool and dark place (room temperature), you can store a whole watermelon for up to a week, while cut watermelon can trigger microorganisms that cause food-borne illness. Thus, you need to get the sliced watermelon into the fridge within one hour.
It's also ideal to turn watermelon into beverages before fridging it. Watermelon juice or slushy is both suitable for when the weather turns unbearably hot. There are many varieties of blenders and juicers out there for you to choose so that you can make tasty watermelon drinks at home.
What if you want to enjoy a watermelon drink, but there's no blender or juicer around? A food processor is here to save the day. Although there are quite a few dissimilarities between food processor and blender, in this case, you can use the two kitchen appliances interchangeably
FAQs
The below section is about related watermelon questions that are asked frequently. You may find out your answers to your current problems here. Let's see!
Additional Advice
Watermelons are a healthy fruit; however, they will turn out to be dangerous fruit if they are damaged or spoiled. There is some advice you need to notice when consuming watermelons.
Don't eat too many watermelons as you may get food poisoning from watermelons if eating them excessively.
Don't eat watermelons at night before going to bed. You are not recommended to consume watermelon after 7 pm because they contain slightly acidic content that delays the digestion process during your bedtime.
Never store watermelon chunks or slices at room temperature for longer than 2 hours. You can put them in an airtight container to make oxidation or aging processes slow.
Don't buy too much watermelon for long consumption. You should plan to use a watermelon within a few days and choose the ripest ones so that you can consume the best watermelons and ensure they will not go bad.
Choose a prestigious watermelon supply source with organic cultivation to make sure that your watermelon is healthy and doesn't go bad before being taken to home.
My Top Pick
Picking a sweet and ripe watermelon is not as easy as you think. No matter how skillful you are, you sometimes pick the bad watermelons as you can consider external indicators, not internal ones.
However, external indicators such as weight, rind appearance, or sound partly reflect the internal ones.
Besides, watermelon preservation should be considered carefully, and you had better eat fresh watermelons with a suitable amount to ensure your health.
Please share the post with your acquaintances as they may need it for the time to come. Share more valuable tips that help you to choose or store watermelons freshly by leaving your comments below.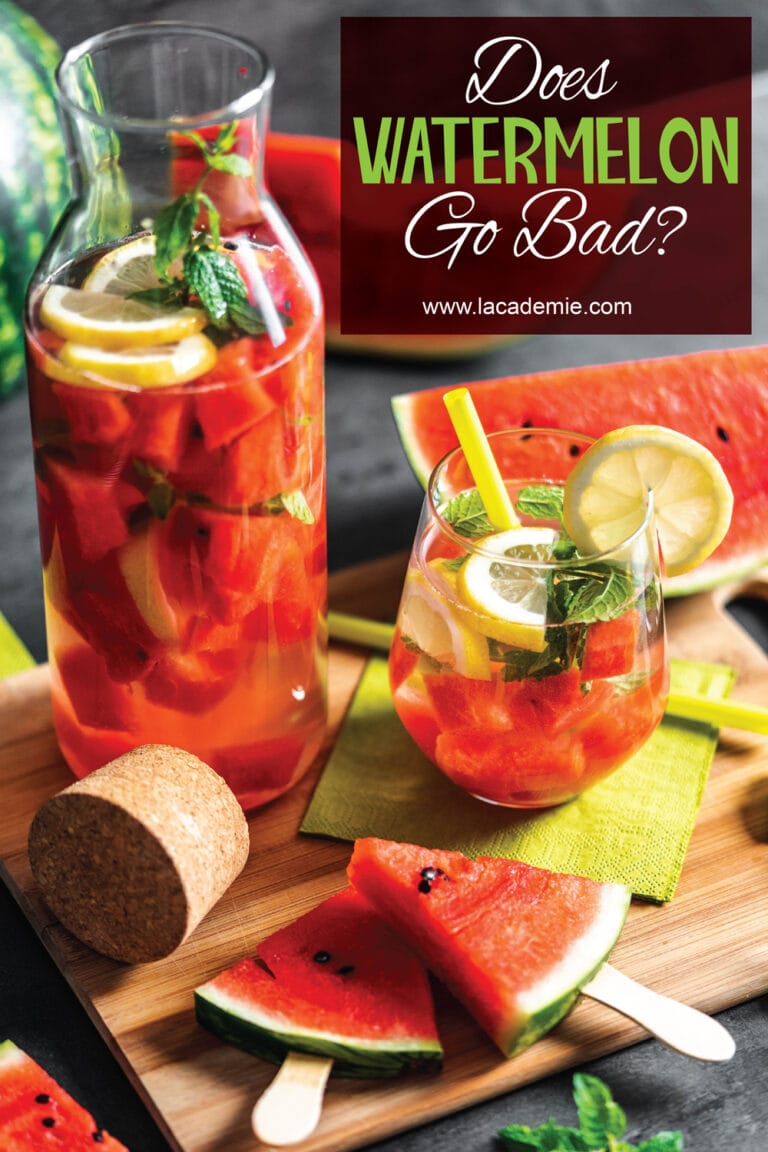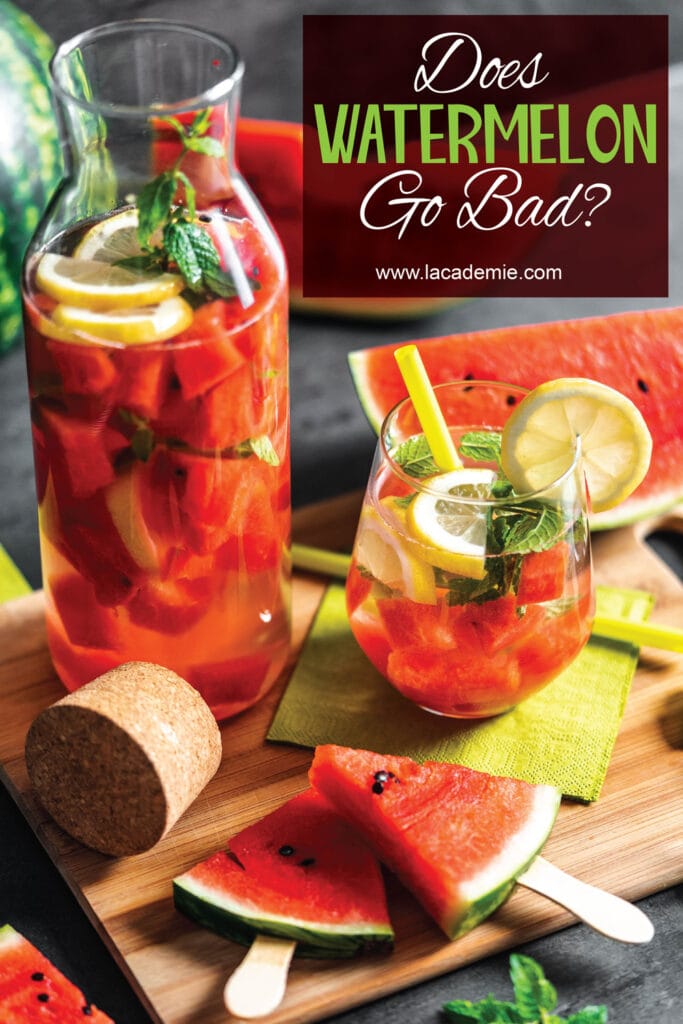 References
Fatsecret.com. 2021. Calories in 100 g of Watermelon and Nutrition Facts.
Allrecipes. 2021. 15 Heroic Saves for a Mealy, Overripe Watermelon.