This quick guide will show you how to store watermelon in the most straightforward ways possible. As you may already know, watermelon is an edible fruit that is loved all around the world. This love can be traced back to Ancient Egypt, with evidence of seeds found in Pharaoh's tombs.
It can be a wonderful snack for a hot summer day. However, this wonderful treat goes bad quickly, so it is crucial to learn how to preserve it.
A watermelon that is going bad is not only less flavorful but may also carry potential health risks. But worry not, you won't need an expert mind to understand the information I present to you. So if you miss this, it's a crime to your watermelons. Let's jump in to save them.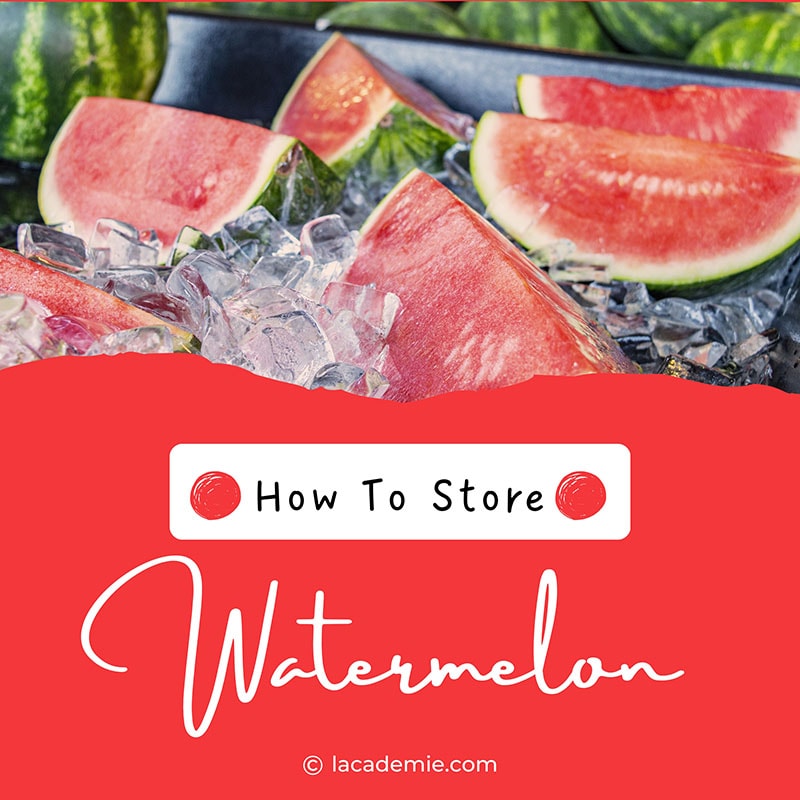 All You Need To Know About Storing Watermelon
Welcome to Watermelon 101. In 15 minutes, this content-rich guide will turn you into a watermelon expert. I will provide you with ways to store your melon effectively and helpful knowledge about other useful things related to the watermelon field.
Storing Whole Watermelon
At Room Temperature.
In The Fridge.
Storing Cut Watermelon
Large Pieces.
Chopped Pieces: can be stored in the fridge (short-term) and freezer (long-term).
Storing Dehydrated Pieces
Storing Watermelon Juice
But first of all, don't be too hasty. Before you scroll down to the main section, let's spend some time learning other handy tips first. I have prepared a thorough and detailed guide for you to dig in.
What Makes Watermelon Go Bad?
Some of you may have already known whether watermelon can spoil. But the answer is more complex than you've thought. In general, light, temperature, air, moisture, enzymatic processes, and microbial growth are some of the most important reasons.
A timelapse footage of a rotting watermelon. Watch this video to know:
Enzymes are part of the natural aging process, which eventually leads to spoilage. Microorganisms such as bacteria, yeast, and molds will speed up the process by releasing their enzymes. In other words, they are the main culprits that murder our fruits.
These bad guys need water to grow, and watermelon contains approximately 92% of water, which is ideal for them to multiply.
Best Ways To Keep Your Watermelon Fresh For Longer
Now that you know what spoils our juicy baby. It's time to deal with it. Storage depends on the state of your melon.
Storing Whole Fruit
If you happen to buy many and cannot finish them all in one go, you need to preserve the rest for future enjoyment.
At Room Temperature
Keeping them in a cool, dark place at room temperature and avoiding direct sunlight is your best option. With optimal conditions, your melon is good for up to 1 week.
In The Fridge
Putting them in the refrigerator is also an option but is not highly recommended because the nutrition and flavor will be reduced. They also take up a lot of space in your fridge. This method can make them good for up to 2 weeks.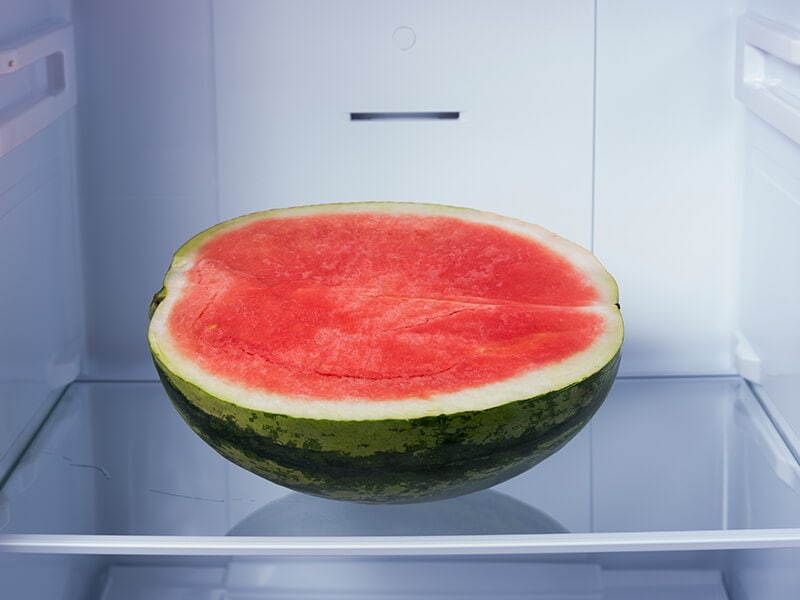 Regardless of the technique you choose, the sooner you eat them, the better the taste is. So if you don't plan to finish them all any time soon, don't buy too many.
Storing Cut Watermelon
Your melon can be chopped into small pieces or cut into bigger sizes, depending on your storing intentions.
Large Pieces
If you cut your melons into large pieces, for example, in halves, you need to wrap the cut end with plastic wrap tightly. The purpose is to isolate the flesh from the air before putting them into the fridge. Here are the detailed instructions:
Step 1: Wash your melon carefully to remove dirt or residues
Step 2: Allow time for it to dry
Step 3: Cut your melon either crosswise or lengthwise
Step 4: There are 2 ways to perform your wrapping:
Partial wrap: You just need to wrap the flesh. Cut a wrap with a covering surface bigger than the cut surface of the watermelon. After covering the cut end of the fruit, twist the unused parts of the wrap to quarantine the flesh from the air.
Full wrap: The more manageable and better way is to cover the whole piece to form an airtight seal around the melon.
Step 5: Put the wrapped piece onto a plate with the flesh end facing down. Anyway, the rind shall be a better barrier than the thin wrap.
Step 6: Put them into the fridge for storage.
This will help prevent your melons from catching smell and flavor from other kinds of food in your fridge. You should try to finish the stored pieces within 3-4 days.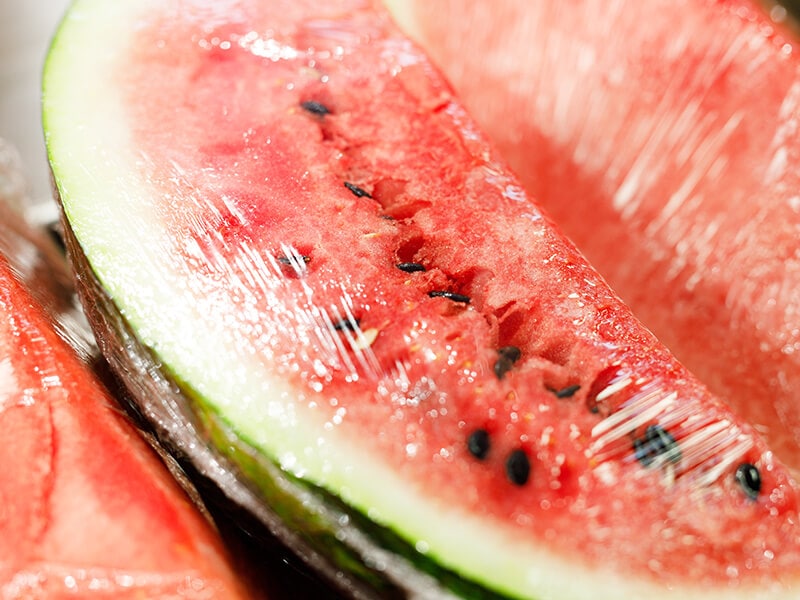 Chopped Pieces
Refrigerating watermelon is familiar. But is it possible to freeze watermelon? The answer can differ according to the situation. But in short, you can chop your watermelon and keep it in the freezer. But before you begin, let's prepare the equipment first.
Tools preparation: You will need:
A big sharp knife
Airtight containers or zip-top freezer bags
Cutting board
Towel
Roll of paper towels
Remember that this process can get quite messy as this juicy baby contains almost 92% of water. So always have some towel or paper towers close to you to wipe out any collateral damage.
The chopped pieces can be put either in the fridge for short-term storage or freezer for long-term use, depending on your personal preference.
In The Fridge (Short-Term)
You can store your melon in the fridge for up to 5 days. However, the reduction in flavor and freshness is inevitable.
Step 1: Wash your melons to remove any dirt or residue.
Step 2: Place the flat end on the cutting board for easy maneuver.
Step 3: Carefully remove the rind by curving your knife down around the melon.
Step 4: With your melon naked, run your knife down again from the top and follow the curve to cut it into slices.
Step 5 (Optional): To cube it, cut the slices into rectangle segments, then cut the rectangles into cube shapes.
Step 6: Place the cut pieces in an airtight container and put them in the fridge.
In The Freezer (Long-Term)
You can store your chopped watermelons in the freezer for up to six months. Also, keep in mind that when thawing the frozen chunks, the flesh will be softer, and the flavor quality will not be 100%.
Step 1: Wash your melons to remove any dirt or residue.
Step 2: Place the flat end on the cutting board for easy cutting.
Step 3: Curve your knife down around the melon to remove the rind.
Step 4: Run your knife horizontally and follow the curve to cut it into slices.
Step 5 (Optional): To cube it, cut the slices into rectangle segments, then cut the rectangles into cube shapes.
Step 6: Put the cut pieces onto a baking sheet, then place them in the freezer.
Note: Don't stack them up. Place them on the baking sheet in a single layer.
Step 7: Wait for around 10 minutes until they are frozen.
Step 8: Put them in zip-top freezer bags or airtight containers. If you have sliced pieces, you can stack them up to save space.
Step 9: Set the bags or containers back in the freezer.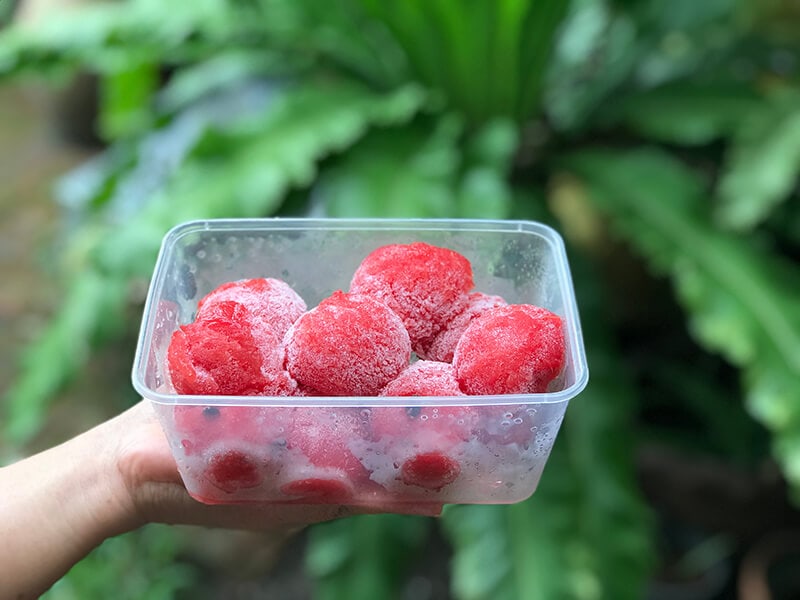 Storing Dehydrated Watermelon Pieces
Dehydrated fruits can be stored at room temperature, in the fridge, or in the freezer. But no matter where you place them, putting them into an airtight container first is a must. Please follow the instructions below:
Step 1: Moisture is the biggest threat to your dried melons, and heat produces moisture. That's why you need to dry your dehydrated pieces completely cool first.
Step 2: Divide them into a serving portion. Opening and closing your container often will increase the chance that air will get in.
Step 3: Put them in an airtight container. A plastic freezer bag, a tight-fitting lid jar, or a plastic container will do the job. You can add an oxygen absorber for even longer storage.
Step 4: Choose your desired option to place your container:
Keep the container in a dark, dry, cool place to avoid heat and light. Keeping them on your kitchen counter is not recommended because the heat from the nearby stove will shorten their shelf life.
In the fridge or the freezer:
If you reside in a humid area, you're encouraged to store them in the fridge or freezer. This will extend their shelf life and also retain their crispness for longer.
Storing Watermelon Juice
Besides the above methods, you can also try juicing your melons.
Tools needed:
Cheesecloth
Blender
Strainer
Bowl
Containers (jars or pitchers)
Turning your watermelon into juice can't be easier with these simple steps:
Step 1: Put your cubed melons into the blender.
Step 2: Hit the button and wait until they become fully liquid.
Step 3: Place the bowl under the strainer and position your cheesecloth over the strainer.
Step 4: Pour the mixture into it and start straining. You can use a spoon to help push it down better.
Step 5: Pour the resulting juice into a container for further storage. Remember to leave only a thin space to fit the lid. This will minimize the oxygen inside and keep your juice unspoiled for longer.
Step 6: Store the containers in the fridge for up to 3 days or in the freezer for up to 2 months.
2 Ways To Thaw Your Watermelon
Frozen watermelons are best served when only slightly thawed. But if you want to thaw them entirely, here are 2 simple ways:
With Cold Water:
Step 1: Put the frosted chunks into a sealed bag.
Step 2: Put the bag into a bowl of water. The ideal water temperature is 70 degrees Fahrenheit.
Step 3: The coldness gradually transfers from the bag to the water. So change the water every 30 minutes.
Step 4: Repeat the process until your melons are thawed. This should not take longer than 2 hours.
Step 5: Open the sealed bag. Take the melons out and serve as you please.
With A Fridge:
Step 1: Put your desired amount into a bowl or a plate. If you already have a container, remember to place it on a plate to avoid water leaking all over your fridge during the thawing operation.
Step 2: Leave it there to thaw. Occasionally check the state of your fruit and remove water on the plate. It may take from 6 hours to a day or more, depending on the amount.
3 Useful Tips For Picking A Good Watermelon
Picking the wrong melon will make your storing effort several times harder. That's why the chosen one should be the right one. You just need to follow these simple tips below:
Tip #1: Pick It Up
The weight to size ratio is the first indicator to show you if it's a good or bad watermelon.
Of all the melons that are the same size, pick the heaviest one. This shows that the melon contains more water and, therefore, is juicier. If it feels heavier than it looks, it's the one.
Tip #2: Knock Knock
You can also determine its ripeness by gently knocking on it and paying attention to the sound it makes.
If you hear a deep hollow sound, it indicates that the melon is ripe and has more water content. If you hear a dull sound, it means it has not optimally ripened, or the rind may be too thick. And if you start hearing yelling and shouting, it means you're probably knocking too much.
Hard to imagine what a hollow or dull sound sounds like? Don't worry! Check out the video below and hear it for yourself.
Tip #3: Visual Check
Now you've done a fine job annoying the shop owner, it's time to switch to a more gentle, smile-generating approach. But what to look at?
The yellow spot, also known as the field spot. When the watermelon grows, it lies on the ground on a particular spot called the field spot.
Watermelons stop ripening after they're picked. So the more yellow that spot is, the sweeter the watermelon is. If the spot is pretty white or not creamy yellow, it means it's prematurely harvested.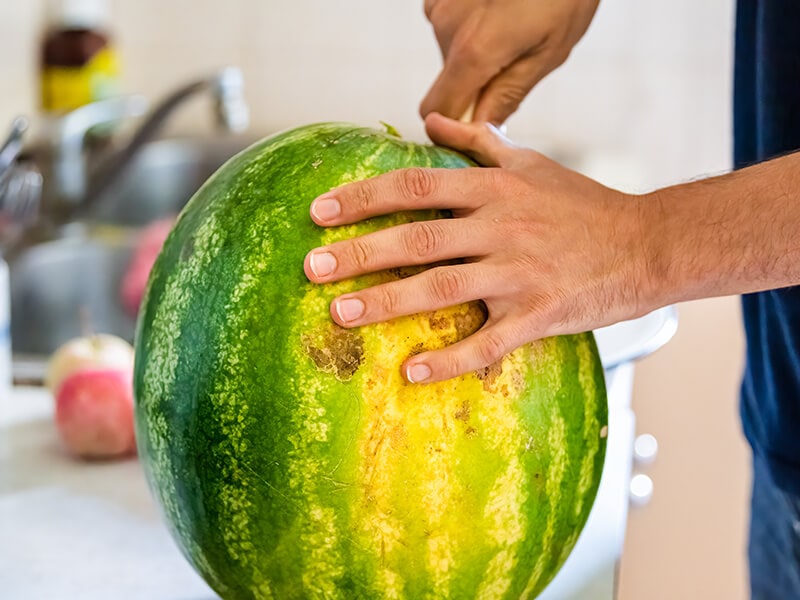 The stem. If the watermelon happens to still have the stem attached, take a look to see if it's dry or still green.
A green stem signifies that it's picked up too soon, while a dry, yellow-brown stem lets you know that it has spent sufficient time on the vine to reach its mature state.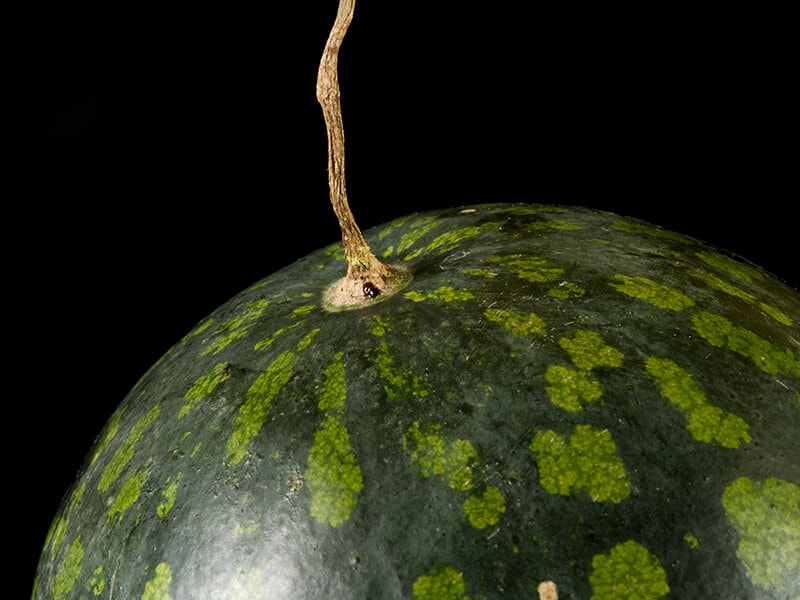 The webbing. When a bee visits and pollinates the flower, the webbing patterns will appear on the watermelon. They are dark spots and look like veins. More patterns mean more sweetness, so keep an eye out for them.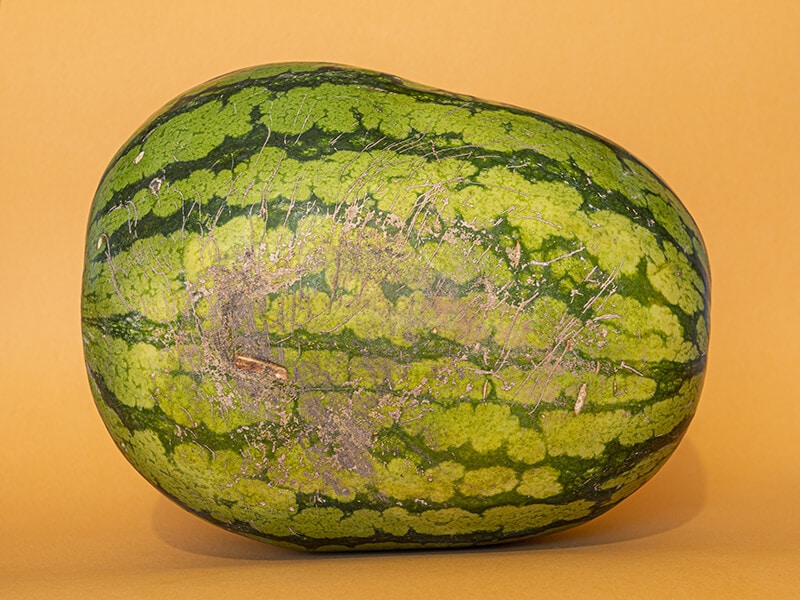 The color: Try to pick a dull-looking watermelon. If it's picked before its prime, the rind is more likely to be shiny.
3 Easy Ways To Tell If Your Melon Has Gone Bad
Everything has a shelf life, and your water is no exception. There are 3 simple techniques to tell if your juicy baby has perished.
The Chemist's Way
The easiest way is to check the presence of the nitrate substance. Prepare a glass of water and simply mash a piece of watermelon flesh into it.
If the water is turbid, it signifies that the fruit is still healthy. If the watercolor turns red, it's bad news because the high percentage of nitrate is the cause.
Outside Check
Molds: Examine the rind for any dark-colored spots or molds. The colors of molds can vary. They can be black, white, or green and look fuzzy.
Color: Your melon should have a consistent pine green shade. Some types of melon have stripes, while some don't. Any pattern that strays away from this is a suspicious sign of spoilage.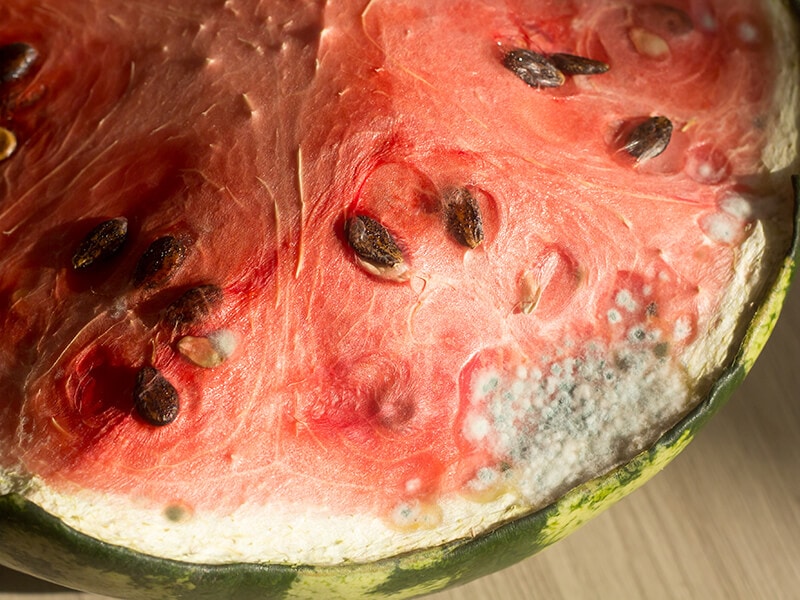 Inside Check
Flesh color: Deep pink or dear red are acceptable colors. Be cautious if you see black, yellow, or orange flesh. However, some exceptions include Yellow Doll, Tendergold, Desert King, and Yellow Baby since their natural pulp colors are yellow.
Taste: When the sourness replaces the juiciness, freshness, and sweetness, it's time to throw it away.
Smell: Bad or vinegar-like odor in your kitchen? If the source is from your watermelon, it's an inarguable sign of sourness.
Texture: Stop the love if you cut open your melon and see nothing but mushy, gritty, shriveled, or glimmy flesh.
Watermelon Shelf Life Comparison Table
To make things easy for you, I have compiled a table to show the lifespan of your melon using each method.
| State of Watermelon | Room Temperature | Fridge | Freezer |
| --- | --- | --- | --- |
| Whole | 1 week | 2 weeks | - |
| Cut: Large Pieces | 1 day | 3-4 days | 6-12 months |
| Cut: Chopped Pieces | 1 day | 5 days | 6-12 months |
| Dehydrated | 6-12 months | 1-2 year | Up to 30 years |
| Juice | 1 day | Up to 3 days | 1-2 months |
How To Dehydrate Your Watermelon With No Sweat
Dehydrating your melon doesn't require in-depth skill or knowledge. But you need to cut your watermelon into ¼" slices first. To ensure each slice's thickness, you can opt for a newbie-friendly watermelon slicer. But if you don't have one, remember not to cut it evenly.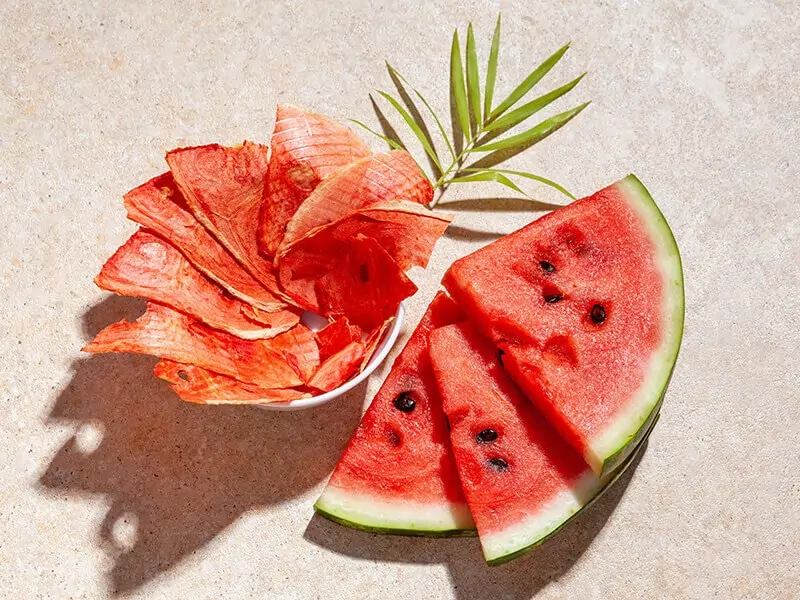 Using A Food Dehydrator
Although the initial investment seems to be high, it is a cost-effective method in the long run. This is especially true if you frequently dehydrate foods.
Watch this video to know:
Using A Microwave
No dehydrator? Don't worry. Turn on your microwave and get it done.
Step 1: You will need to clean and dry your rotating plate first. Make it shiny and spotless.
Step 2: Place your ¼" thick strips onto the plate leaving each one of them a 1-inch gap.
Step 3: Put the Setting on DEFROST, or you will burn all your melons in the process.
Step 4: Set the timer for 30 mins but pay frequent visits to turn the slices over for optimal dehydration. Apply additional time if you feel that they're not ideally dehydrated.
Step 5: Place the dried babies on a cooling rack. Give them a sufficient amount of time to cool down before putting them in storage.
Using An Oven
An oven is also a useful sidekick to dry your melons. Here are the steps:
Step 1: Lay the pieces on a cooling rack with a cookie sheet to avoid water pooling.
Step 2: Set the machine to 135 degrees Fahrenheit.
Step 3: Don't keep the oven door shut. Leave it open for 2 to 3 inches and blow the inside with a fan.
Step 4: Frequent look-ins are needed. Flip the strips over every 30 minutes. The process may take up to 18 to 24 hours.
Step 5: Just like the dehydrator and the microwave methods, sufficient cooling is still needed before you can store the dried pieces.
Using The Natural Power Of The Sun
Following the footsteps of our ancestors, we won't use any kind of modern technology but the raw power of nature. The perfect weather condition is 85 degrees Fahrenheit with 60% humidity.
Step 1: Place parchment papers on the drying rack.
Step 2: Arrange the watermelon pieces onto the rack leaving 1-inch space in between.
Step 3: Keep the insects at bay by putting cheesecloth or fine net onto the rack. Protect your vulnerable babies from creepy crawlers by not placing the rack right on the ground.
Step 4: With a small fan, the air around your rack will circulate better. This will also give the flying invaders a hard time when they try to approach your treasure.
Step 5: You won't need to flip the pieces every 30 minutes but run to them as fast as you can when you see imminent rainy clouds.
Step 6: To make them safe for consumption, you need to pasteurize them first to avoid swallowing any unseeable insects or eggs. There are 2 ways to do this:
The Hot Method: Very few things can survive the heat. Use a shallow pan to heat them at 160 degrees Fahrenheit for 30 minutes.
The Cold Method: Freeze the invaders to death by putting the dried pieces into the freezer at 0 degrees Fahrenheit for 2 days.
6 Main Types Of Watermelon
Watermelon has hundreds of types, each with a different name. But you can categorize them into these main varieties:
Seeded Watermelon:
The name is given simply because they have seeds in their flesh and can weigh from 5-45 pounds. The icebox and picnic varieties also belong to this category.
Seedless Watermelon:
This type is growing in demand and popularity, although the seeds are completely edible. However, they're not truly seedless. If you look carefully, you can notice underdeveloped white seeds in the flesh. They can weigh up to 25 pounds.
The downside is that you lose the fun of spitting watermelon seeds at your close friend.
Important note: Not recommended to do this to a stranger as it may lead to black eyes and bruises.
Icebox Watermelon:
The name suggests that this variety can fit well in the fridge with weight ranging from 5-15 pounds. They are perfect for small families.
Picnic Watermelon:
They are big babies that are suitable for a picnic day with several participants. They need more time to reach maturity because of their size and weigh between 15 to 50 pounds.
Fun fact: The record-holding heaviest watermelon weighs a whopping 350 pounds.
Miniature Watermelon:
These seedless cuties weighing only 1-7 pounds are perfect for 1-2 individuals. They also require much smaller gardening space compared to other varieties.
Yellow/ Orange Watermelon:
Their honey-like flavor is sweeter than that of red flesh watermelon. However, they lack the Lycopene that creates the traditional red color. They can be either seeded or seedless and weigh from 10 to 30 pounds.
Some Cool Watermelon Recipes
Watermelon is not just a quick snack. You can turn it into dozens of mouth-watering treats to please your belly. Please take a look at some fantastic recipes I have prepared for you below.
Watermelon Popsicle
This watermelon popsicle will be a refreshing treat for your kids in the summer. A homemade popsicle is completely safe for your health, with no artificial coloring or preservatives.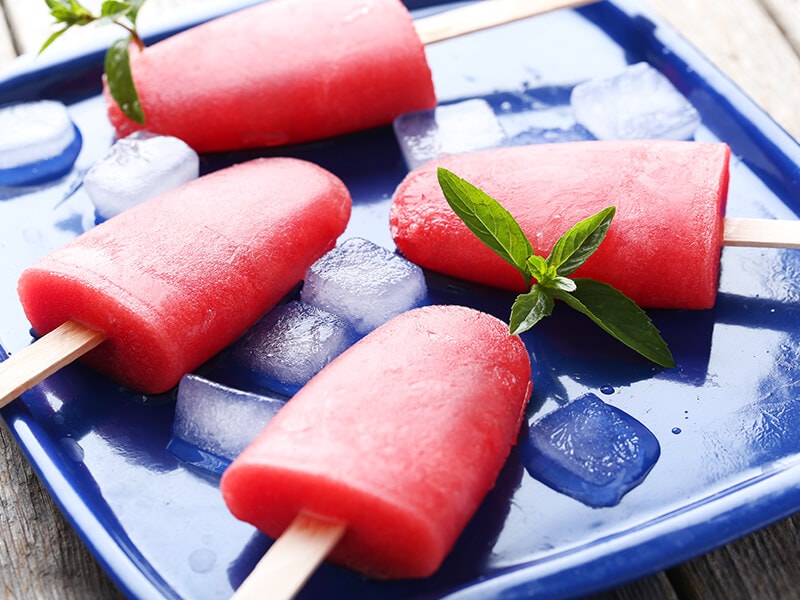 What you need :
Watermelon: It's best to use the seedless type. If you have a seeded melon, try to pick out all the black seeds.
A blender
Fresh orange juice
Molds: use BPA-free molds. There are also stainless steel popsicle molds available on the market. If you don't have molds, paper cups will also do the trick.
Sugar
Now you have prepared all the necessary stuff, let's turn them into lovely popsicles.
Variations:
You can add ½ cup of coconut milk and/or 4-5 mint leaves for a more flavorful result.
You can add Tequila / Champagne / Vodka to make boozy popsicles for adults. Note that this variation is not kid-friendly, so keep them out of reach of children.
Watermelon Smoothie
The next recipe I want to introduce is the yummy smoothie. This delicious beverage makes good use of the frozen watermelons and takes very little time and effort to prepare. There are endless possibilities of what you can add to your smoothie.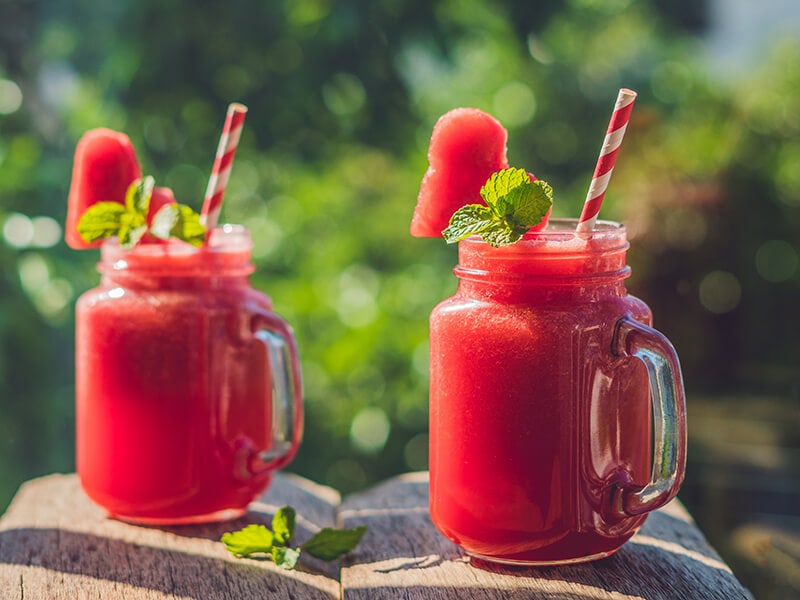 What you need:
Watermelon: Frozen watermelon is best to attain creamy thickness. Tossing fresh watermelon into the blender will probably give you watermelon juice instead.
Frozen strawberry
Lime juice
Honey
Chia seeds
A blender
Now everything is ready. Ten minutes is all you need. Watch this video:
Note: As mentioned above, this smoothie provides endless options. You can add anything to your liking, such as yogurt, syrup, honey, mint, etc. The result will be great nonetheless.
Health Benefits Of Watermelon
Watermelon is a low-calorie, fat-free, nutrient-packed fruit that is highly recommended for a healthy diet plan.
Heart Guardian
Watermelon contains a generous amount of an antioxidant called Lycopene.
This chemical helps lower blood pressure and reduce the risk of heart disease and strokes. It also carries Potassium and Citrulline, which your heart and blood pressure can benefit from. It's especially good for obese adults and older women.
Good For Skin And Hair
Is your skin too dry and your hair too weak? Watermelon is the answer you're looking for. They will benefit significantly from the vitamin A, B6, and C found in watermelon. These vitamins help moisturize your skin and strengthen your hair.
They also promote the growth of new collagen and elastin cells, which are the 2 most essential proteins that maintain elasticity and firmness for your skin. Why spend money on expensive cosmetics instead of watermelons?
Friend Of The Eyes
Vitamin A is vital for bright, sparkling eyes. Just 1 medium slice of watermelon can provide up to 10% of your daily vitamin A needs.
It helps increase the production of pigments in the eye's retina and, therefore, reduces the threat of eye-related diseases such as macular degeneration or night blindness.
Inflammation Killer And Antioxidant Supporter
Lycopene and antioxidants like vitamin A and C are great fighters against inflammation. They are exceptionally good for arthritis patients. The beneficial compounds also neutralize free radicals – incomplete atoms that always seek to bond with other atoms and cause harm to your body.
Digestion Improvement
The water and fiber in watermelon are great contributors to your healthy digestive system. They soothe the movement of your digestive tract, which ultimately results in, well, smoother pooping.
Cancer Prevention
With antioxidant properties, watermelon is the sworn enemy of cancer. More specifically, Lycopene is the most effective warrior against prostate (1) and digestive system cancers.
Athletic Performance Boost
After an intense workout, you may wake up body-full-of-pain the next day and start hating your weak, fragile body. Worry no more! This is no longer the case if you take a glass of watermelon juice beforehand, as the Citrulline helps reduce your muscle soreness.
Hydration
If you hate water but still want to stay hydrated, you can obtain the necessary fluids by eating watermelons. Not only can it quench your thirst, but it's also full of good electrolytes – a great replenisher for your body.
Nutritional Value
The table below shows the nutrients 1 cup of watermelon (154g) can provide: (2)
| | |
| --- | --- |
| Nutrient | Amount |
| Energy | 46.2 calories |
| Carbohydrate | 11.6 g |
| Lutein & zeaxanthin | 12.3 mcg |
| Choline | 6.3 mg |
| Lycopene | 6980 mcg |
| Calcium | 10.8 mg |
| Beta carotene | 467 mcg |
| Fiber | 0.6 g |
| Folate | 4.6 mcg |
| Magnesium | 15.4 mg |
| Vitamin C | 12.5 mg |
| Phosphorus | 16.9 mg |
| Vitamin A, RAE | 43.1 mcg |
| Potassium | 172 mg |
| Phytosterols | 3.08 mcg |
Risks Of Overconsumption
Watermelon undeniably does wonders to your body, but be mindful of the intake quantity as overconsumption may also lead to unwanted side effects. You should consult your doctor if you plan on a daily intake.
Digestive Issues
Watermelon is considered to have high FODMAP content (short-chain carbohydrates which your small intestine absorbs very badly). Ingestion of large amounts can lead to diarrhea, gas, and bloating. More particularly, people with irritable bowel syndrome (IBS) should be extra careful.
Water Intoxication
With 92% water content, overeating watermelon will give your body an exceeding amount of water than it actually needs. This will cause leg swelling, fatigue, weak kidneys, and a drop in sodium levels in your body.
Increase In Blood Sugar Levels
Watermelon has a high glycemic index (a rating system that shows how fast each food affects one's blood sugar levels). Those with diabetes should be extra careful before consuming in large quantities (3)
If you're a pregnant woman, you should cease your desire for watermelon for a few months because high sugar levels may cause gestational diabetes. Better be on the safe side, ladies!
FAQs
Continue with these frequently asked questions to answer any question that may still linger in your mind.
Things You Can Learn From This Guide
After reading this guide, I hope you have gained a lot of knowledge about picking, storing, preparing watermelons, and understanding the benefits and risks of consuming them.
The steps are presented in the simplest way possible, and the methods require no expert skills to implement. You should have no problem putting them into practice.
Please don't forget to like and share this informative guide with others. If you have any questions or recommendations, don't hesitate to leave a comment in the comment section below.
References
National Cancer Institute. 2021. Prostate Cancer, Nutrition, and Dietary Supplements (PDQ®)–Health Professional Version.
Medicalnewstoday.com. 2021. Watermelon: Health benefits, nutrition, and risks.
Food, H., 2021. High Glycaemic Index Foods That Diabetics Should Avoid.