Freezing watermelon is an excellent way to preserve its freshness. It's challenging, however, since this famous fruit starting with W is huge and takes up a lot of space in your fridge. Plus, would anything bad happen if I froze it?
If you have similar questions, you've come to the right place. This article will give you the answer to whether you can freeze watermelon or not; in addition, you will learn more about watermelons and how to store them correctly.
Overall, Is Watermelon Freezable?
Yes, watermelon can be kept in the freezer by using different methods: flash-freezing, sugar-coating, and syrup pack.
However, the texture and the flavor will degrade over time (10-12 months). If you don't feel like eating limp pieces of thawed watermelon, you can turn them into various by-products.
If stored properly, will watermelon get spoiled? Or will it last indefinitely? Now, I'm certain that you already have an inkling suspicion already. However, if you're not 100% sure, you can read on and find out the ultimate answer to all your questions regarding watermeon's shelf-life.
The Guide For Freezing Watermelon
Can't finish the whole watermelon in one sitting? Stock up too many of this food with "W" as the starter by chance? Here is a detailed step-to-step instruction on how to freeze your watermelon for later use.
Choose The Right One
The best candidates to freeze are the freshest ones, which are at the peak of ripeness. How can you tell?
A fully ripe watermelon is a tad heavier than others, which means it contains more water. Therefore, it would be best to judge the watermelon's weight by holding it, not by how big or small it is. Sometimes, it turns out that the small ones are weightier.
Next, check the ground spot (the watermelon area touches the ground) and see what color it is. If it's white, it's not yet ready. If it has turned pale yellow, it has reached its maturity.
Look around the watermelon to see if there are any bumps or holes. These are the cues that show your watermelon receives insufficient watering or was damaged by bugs and insects.
One more trick to check its ripeness is to tap its underbelly gently. If the sound is empty and hollow, the chances are that it has ripened and is full of juice. Unripe watermelon, on the other hand, gives off a dull sound.
Prepare Your Watermelon
Practicing food hygiene is very important, and it is no exception when it comes to watermelon. Since it is grown on the ground, watermelon is exposed to many risks, such as lead in soil.
First, wash your hands carefully before touching the watermelon. Then, rinse the watermelon under the water to get rid of dirt or any residue of harmful chemicals. Finally, cover it with a towel and let it dry before moving on to the next step.
Cut Your Watermelon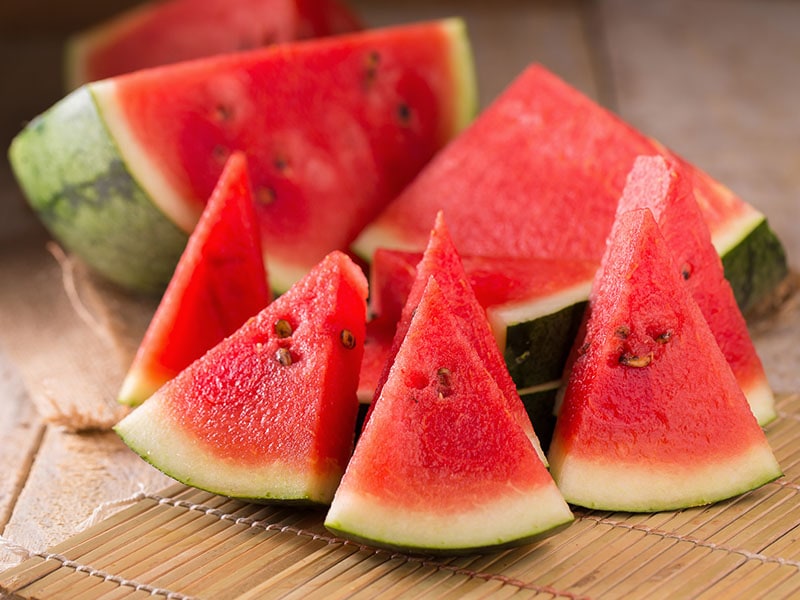 There are a few things you need to prepare. First off, a serrated blade to cut through the rind. You will also need a big cutting board (a firm and large pastry board can also do the job) to avoid the mess. Grab some towels if you wish to stop the juice from spilling on your counter.
Step 1: Start by slicing your watermelon into two halves. I prefer to slice it horizontally, but the other way round should not be any different.
Step 2: Chop off the stem, then slice the two ends of the fruit.
Step 3: Turn one-half of it upside down (make sure the board is clean). From any angle, start cutting the rind off by sliding the blade. If the rind is too thick, you may need a little pressure. Do this until you reach the flesh.
Step 4: As you finish getting rid of the rind, remove the seeds by using the tip, which is the pointy component of the knife. You can use a small spoon, too, so long as you don't scoop some of the flesh by chance.
Step 5: Hold the flesh straight up and continue to cut into slices. If it's thick, slice it into thirds.
Step 6: Chop each of the slices into small cubes. The side of each cube should be somewhat 2-2.5 centimeters (you don't want the cubes to be so tiny that you can't even pick them up).
Step 7: Repeat the above steps with the other half.
There are tons of approaches when it comes to cutting this tropical fruit, yet the one that I have just introduced to you is your best bet. Watermelon, when chopped into small cubes, will freeze faster, as the cubes have more surface than the whole flesh.
Freeze Your Watermelon
Among various methods to preserve watermelon, freezing is the most familiar approach. However, this process is not so easy, and you will need to prepare a few things before saying (a temporary) goodbye to your watermelon.
In this section, I'd like to introduce three different ways to freeze your watermelon. Each method has its own pros and cons, so go for whatever suits your needs.
The Conventional Method (Flash-Freezing)
This is the path of the least resistance for sure. It's relatively simple, and here's how you are going to do it:
Step 1: On your baking sheet, line up a sheet of parchment paper. A wax paper is also another decent alternative to use instead of parchment paper. The paper helps prevent the cubes from sticking to the sheet.
Step 2: Begin placing the cubes on the paper. Make sure that they don't touch each other; otherwise, they may freeze together.
Step 3: Freeze the cubes for 2 hours until they are hardened.
Step 4: Remove the cubes from the freezer. If the pieces of watermelon have somehow stuck to the paper, let it loosen for a minute or 2.
Step 5: Move the watermelon cubes into a Ziploc bag and seal it tightly. Leave some air inside so that the watermelon can expand without opening the bag.
Step 6: Transfer the bag of watermelon into the freezer. The quality will degrade for sure, but it is still safe to consume.
This is the good old classic method to store your melons, and I bet you have at least tried this once. The problem is, once you thaw these cubes, they lose their natural sweetness. It's such a pity, right? So the two following methods are the solutions.
The Sugar Method
I'll keep it short and sweet: sugar helps retain the sweetness of watermelon when kept in the freezer. This is how you do it:
Step 1: Transfer the watermelon cubes into a bowl.
Step 2: Sprinkle 1 cup of sugar all over them. With a spoon, stir until the cubes absorb all the sugar.
Step 3: Move the sugar-coated cubes of watermelon into a container or a Ziploc bag. Same rule: leave some space for them to expand.
Step 4: Place the container into the freezer. The use of sugar in this method, no doubt, only helps dealing with the flavor – when defrosted, the watermelon will still become mushy as usual.
Although there's no way to salvage the thawed watermelon's texture, you can still turn it into something delicious. Put the defrosted fruit into your trusted food processor blender, and select smoothie (or puree) mode. Within a few minutes, you'll have an amazing drink to treat yourself.
The Syrup Method
Well, it's basically the second technique but with a twist. In this method, you will need to boil the sugar to create a syrup.
Step 1: Fill the saucepan with 3-4 cups of water and boil over medium-high heat.
Step 2: Dissolve a cup of sugar in the boiling water. Stir regularly.
Step 3: Strain the mixture in a container and let it chill in the fridge for an hour or more.
Step 4: Move the watermelon cubes into a container (the one you will use to store it). To start with, pour a little of the syrup mixture first. Then, the watermelon slabs go in, and you soak those with the rest of the mixture. Again, give these cubes a little space for expansion.
Step 5: Close the container with an airtight lid. If you wish, place a piece of wax paper on the top to ensure that the watermelon is fully submerged. The sugary mixture helps the watermelon stay sweet and juicy.
The Myth Of "The Haunted Frozen Watermelon"
Rumor has it that there's a watermelon that has just gotten straight out of the freezer. Suddenly, the water starts to leak out of the juice. What's next? A loud banging noise, followed by several distant screams. The watermelon has just exploded on itself, without anyone touching it!
It's time to debunk the myth. Even though 91% of the watermelon's body is water,(1) there is still an abundance of air inside (which explains the hollow sound when you knock on it). If you freeze a whole watermelon uncut, the cell walls will be broken.
As the water becomes frozen, it begins to decompress. With such great pressure on the shell, it explodes, leaving a huge mess for you to clean up. Therefore, it is recommended that you store your watermelon in chunks. And, come to think of it – whose freezer has enough space to store a whole uncut watermelon?
The fact that your watermelon wants to kill you can be explained by another reason. In agriculture, most fruits and veggies are treated with forchlorfenuron – a chemical that stimulates plant growth.(2) If used to excess, plus over-watering, watermelons may explode. And trust me, they would already explode by the time you got your hands on them.
FAQs
Further Information
Because of its high water content, watermelon will become mushy and spongy after defrosting, releasing a lot of juice. Even though the texture changes, the taste is nearly the same (or it isn't as sweet as before, using the flash-freezing method).
So, what are the best ways to enjoy your thawed pieces of watermelon without bothering about the soggy mouthfeel? Turn it into sorbet, puree, juice, or even ice cream. Whatever it is, I assure you that it will delightfully quench your thirst.
Besides the juicy red flesh covered by a tough, green rind, I hope that you have gained some further insights on this gigantic fruit, mainly how to store it. If you know any extra tips and tricks on freezing watermelon, feel at ease to comment down below for me and others to see. Your ideas are highly appreciated here.
Reference
Watermelon – Wikipedia. (2021). From https://en.wikipedia.org/wiki/Watermelon
The Chemistry of Watermelons: Colour, Aroma, & Explosions. (2021). From https://www.compoundchem.com/2015/06/09/watermelon/