Although parchment paper is widely popular in the kitchen, it's not easy to find good parchment paper substitutes.
Thanks to the heat-resistant quality and non-stick characteristics, parchment paper can be used as a liner for many kitchenware like air fryers to make various dishes, for example, delicious desserts in air fryers, or you can use it in slow cookers.
It is also suitable as food wrappers because parchment paper doesn't dissolve easily in water, thus helps prevent mess. However, sometimes it's hard to find parchment paper in normal stores or supermarkets. This article will help you find the best replacement when you happen to run out of parchment paper.
But first, let's try to understand what makes parchment paper so special.
What Is Parchment Paper?
Before introducing the list of good parchment paper substitutes, I'd like to tell you more about its characteristics.
Parchment paper is non-stick because it is coated with non-stick silicone. It is a cellulose-based composite that undergoes rigorous processing to be grease resistant, heat, and water-resistant.
After compressed into flat sheets, parchment papers are then dipped into acid. The manufacturers pass the sheets through high heat so that they can withstand high temperatures up to 420º F. Finally, the silicone coating prevents the parchment paper from sticking to the pan while retaining the food's flavor.
If you want to know more about the process of making parchment paper, watch the video below.
Parchment Paper Substitutes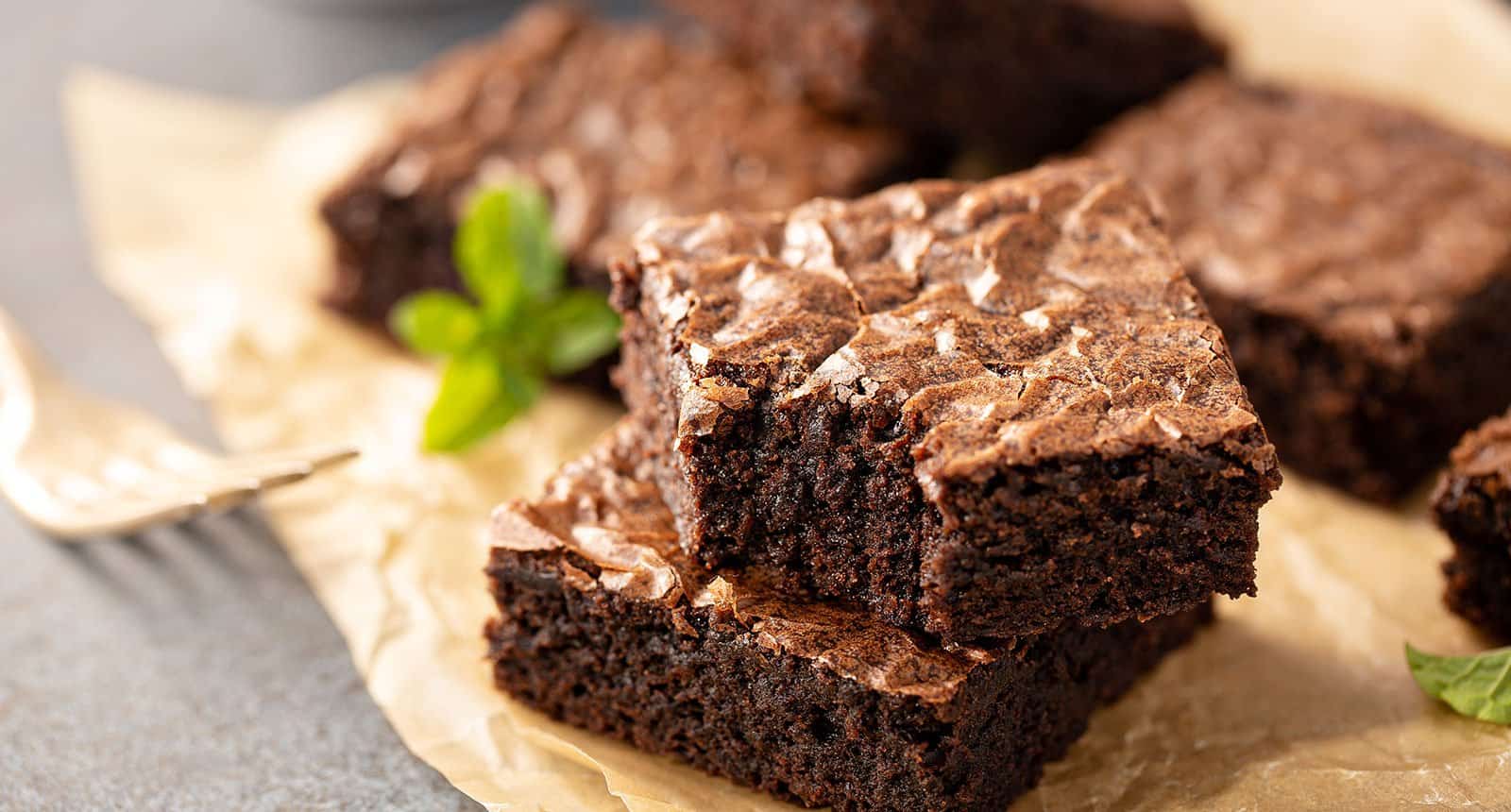 There are many good parchment paper substitutes. However, because each replacement has different characteristics, for example, some are non-stick but cannot withstand heat, etc. I will categorize all replacements depending on what you want to use them for. This way, you will know exactly the right substitute for your purposes.
Silpat Paper & Oil, Butter, Flour – Best For Baking and Kneading Dough
Silpat Paper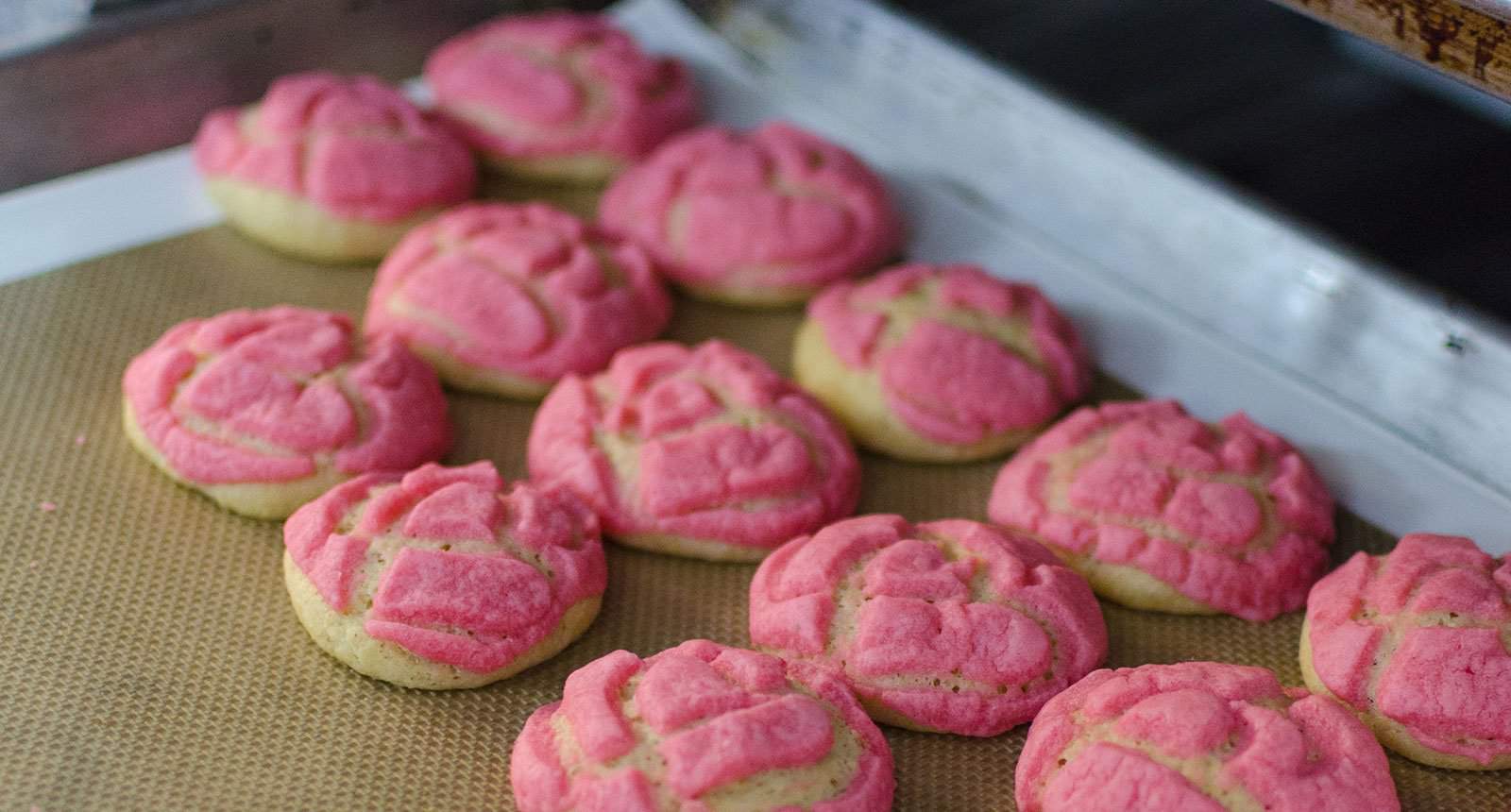 Silpat paper, or also known as a baking mat, is a good replacement for parchment paper for baking bread, cakes, or cookies.
Similar to many high-efficient baking pans, baking mats are made of silicone. While Silpat paper is more expensive than parchment paper, it actually can withstand heat better, usable from -40°C to 280°C.
Other than baking purposes, because of Silpat paper's durability in heat, it can also be used for making pizza or any type of cooking that involves heat in general. The non-stick quality is very good, so you can use it with dough without greasing the mat.
Besides durability, the Silpat mat is very flexible. You can adjust its size for your cooking utensils or requirement and re-use it many times. With proper care, some products can last up to two or three thousand usages, which is great news, especially for environment lovers and savers.
Cleaning Silpat paper is also very easy. For normal cleaning, you can use soap and water. If you want to deep clean after a few usages, mix baking soda and a little bit of vinegar to make a paste. Use a sponge or scrub brush and gently scrub the surface of the baking mat when it is still warm.
Soak the mat in the solution for about 10 minutes, then rinse again with clean water. The paper is good as new again. This is a great parchment paper substitute if you want something that lasts for a long time and environment-friendly.
Oil, Butter, and Flour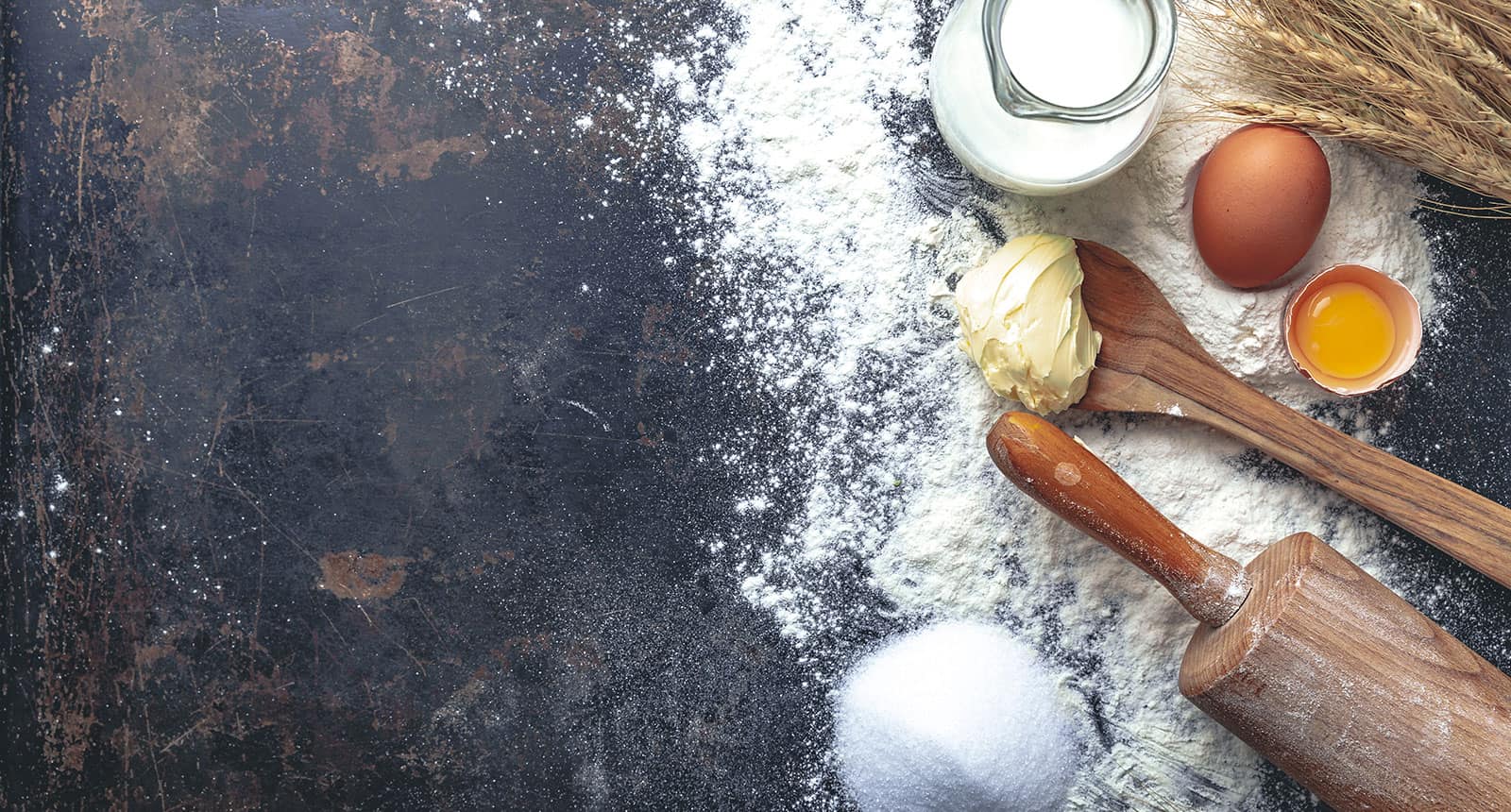 The simple answer to make your cooking utensils non-stick is oil. You can use a cooking brush, kitchen towel, or your hand to spread oil all over.
You can use any of your favorite oil, like excellent truffle oil or olive oil products. One downside of this is that your food will become greasy, especially if you go overboard with oil.
For baking purposes, most will choose to use cooking spray instead. But in case you don't have it available, using a little oil to grease the pan works just fine. Just be careful with the amount.
Some people might find butter easier to use because you can control the amount better than with oil. Use a butter stick to go over the baking pan or mold gently. This will give the outer layer a nice brown coat when done, which is a plus.
However, I only recommend using butter when baking cookies or cakes. Because butter will attract the flour, if you put the dough in a pan greased with butter, it will stick to the dough instead. Also, normal butter (even unsalted one) tastes a little salty, so if you don't like that, go with shortening or meringue.
For kneading dough, the best way to prevent sticking is to sprinkle some flour on the surface and the dough. Rub some on your hands, too. Flour can only replace parchment paper when kneading dough. You can't use it for baking and other cooking methods.
Want to know more about greasing pan? Watch the video below.
Aluminum Foil & Paper Bag – Best For Steaming And Freezer Storage
Aluminum Foil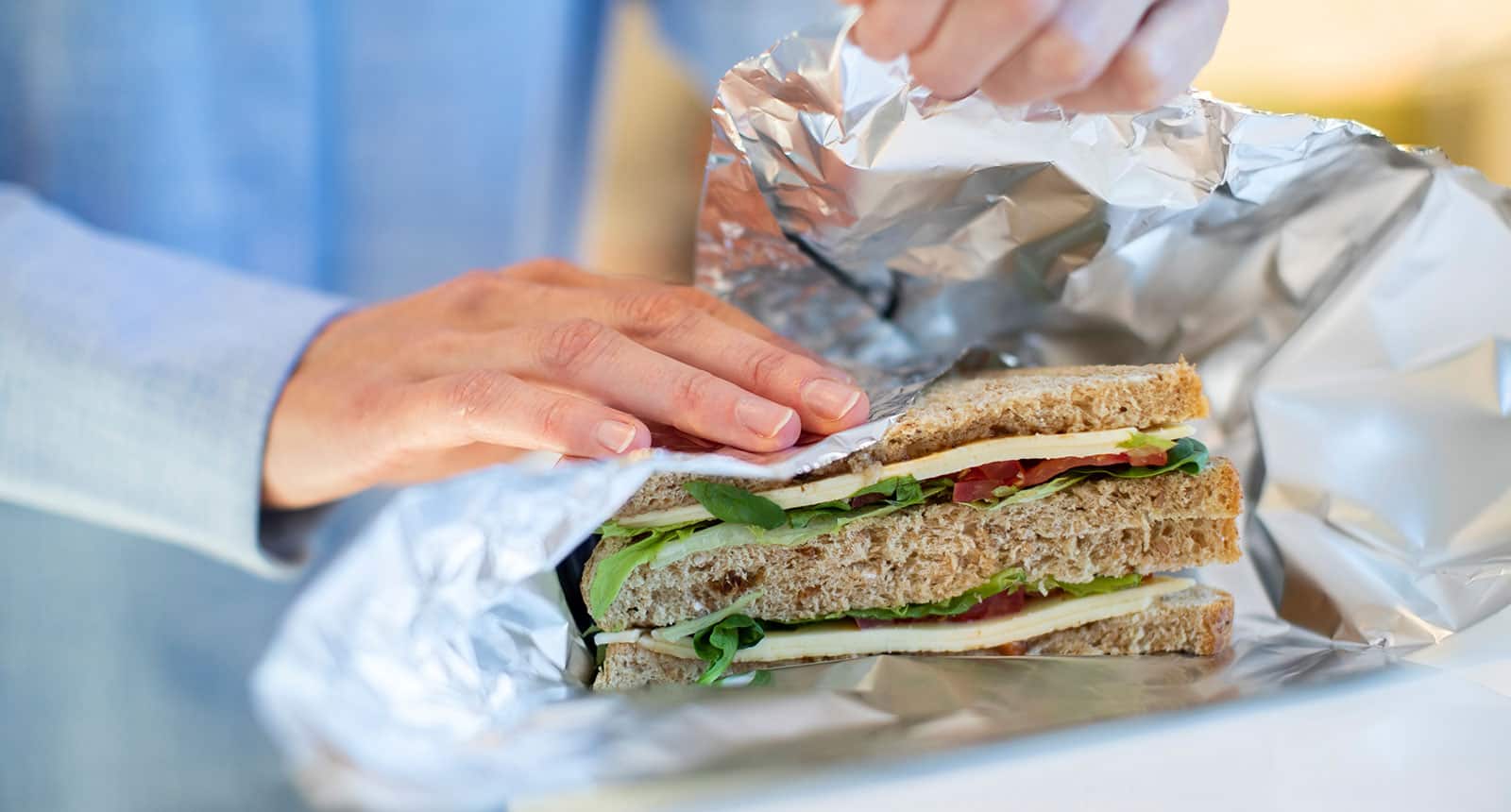 Aluminum foil is a very popular tool in cooking. As it withstands heat well, you can use aluminum foil as a parchment paper substitute when steaming veggies, meats, or other foods.
Aluminum foil or parchment paper is also an ideal tool to help you make donuts without using donut pans. However, aluminum foil on its own doesn't have non-stick characteristics, so I don't recommend using it for baking or kneading dough.
Other than steaming, you should use aluminum foil as a replacement for parchment paper when wrapping leftovers to store in the freezer, as aluminum helps prevent freezer burn. The material is quite sturdy, so you don't have to worry about liquid sipping out and making a mess.
Aluminum Foil – Best For Slow Cookers
Slow cookers are the best kitchen aid for no-hassle cooking. Put the ingredients in the morning and go back for a cooked meal in the afternoon. As slow cooker's liners are hard to accumulate, many people use parchment paper as substitutes, especially for roasting and baking.
But what if you ran out of parchment paper, too?
Again, aluminum foil will do just fine. Heat-resistant and water-proof aluminum foil can be used instead of parchment paper for roasting and baking. It even beats parchment paper in the sense that aluminum foil helps to spread heat more evenly. It also adds a golden brown to your roasted meal.
Another alternative is oil. Simply oil the pot with your favorite oil, like olive oil, sesame oil, etc., now you have a non-stick slow cooker that prevents food from sticking, which makes cleaning up so much easier. However, this method only works for dishes with low water content, as oil will mess with the recipe. And nobody wants oil greasy soup.
Paper Bag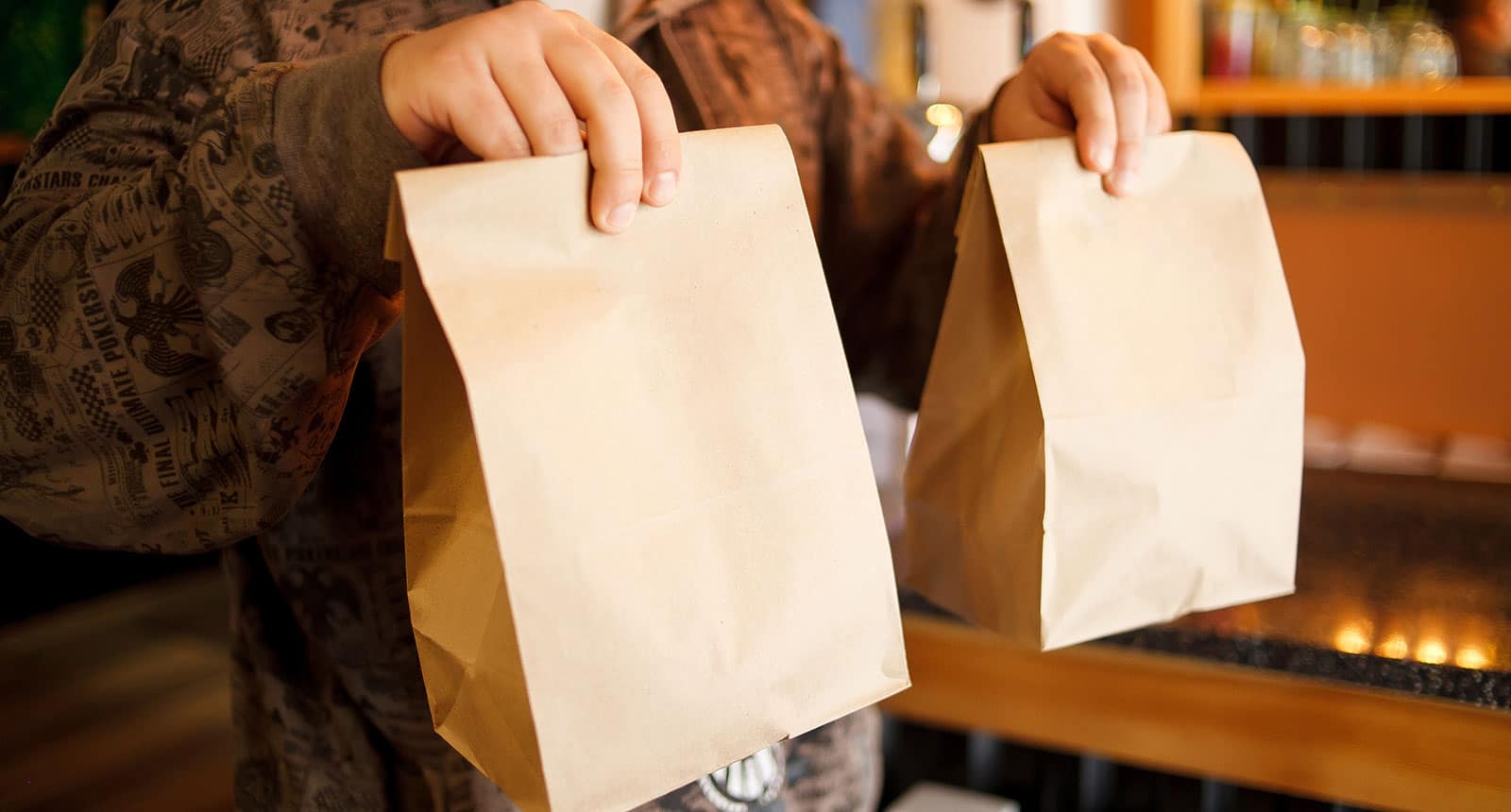 You should only restrict the use of this replacement to wrapping food items, as it doesn't have non-stick quality or heat-proof. Many people like to use a printed paper bag to wrap foods now, as it looks very eco-friendly and fashionable.
Also, if you want to save parchment paper for better use, this is a great choice. It is reusable as long as the surface is not dampened or ripped. You don't have to worry about plastic touching your foods, too.
Wax Paper – Best For Crafts And Non-Heat Cooking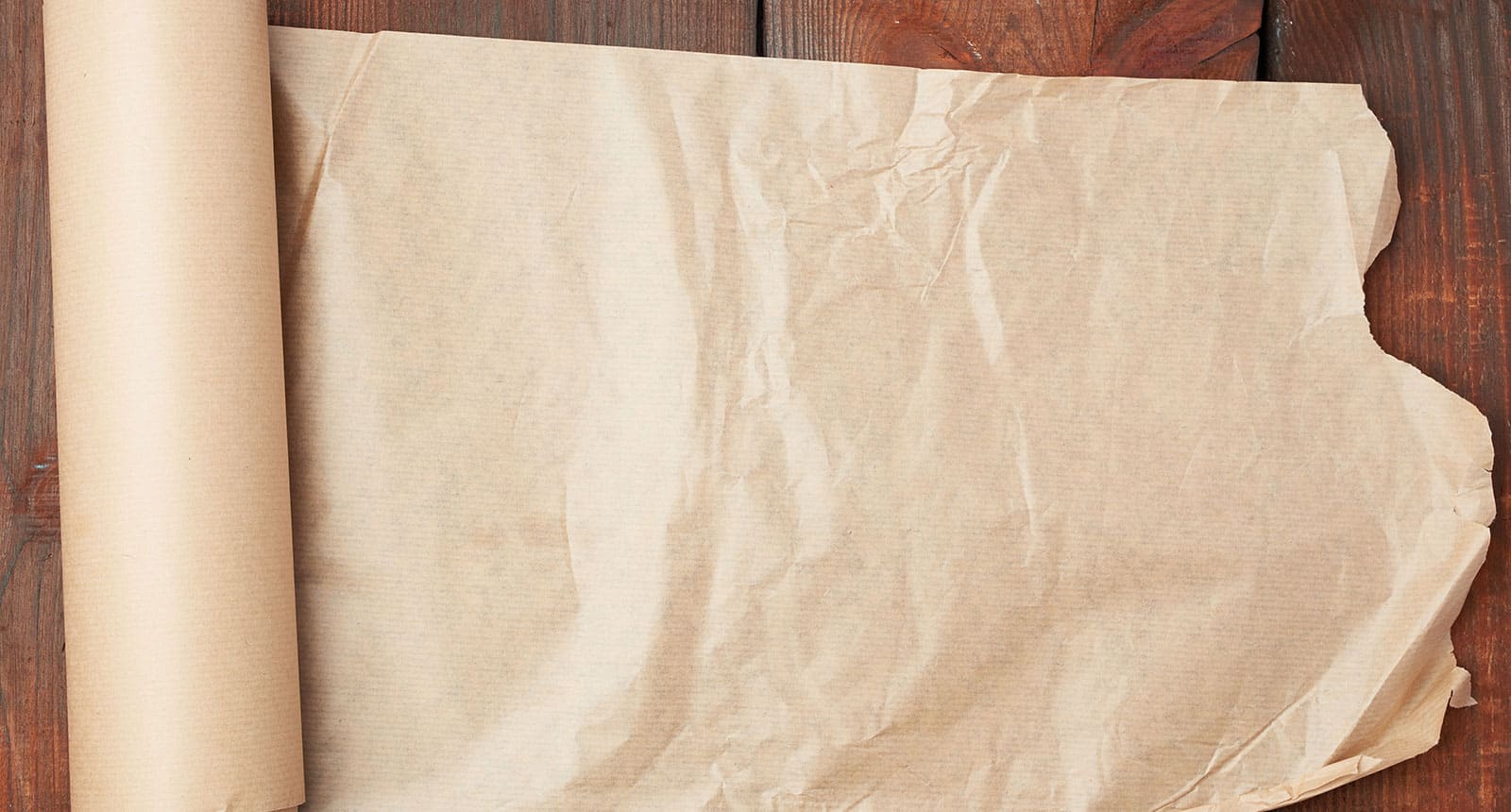 Wax paper is very similar to parchment paper as it has a very low melting degree. Therefore, if you don't know if wax paper is oven-safe or not, you shouldn't use it for cooking food in this cookware, as the toxic chemical will melt and seep into the food.
The non-stick quality, though, is on par with parchment paper. If your cooking involves no heat, you can use wax paper as a cheaper replacement for parchment paper. Likewise, it is acceptable to use parchment paper as a wax paper substitution. Overall, both of them are versatile.
For crafts purposes like pressing flowers, using wax paper is the same as using parchment paper. Do not use it for ironing patterns on T-shirts, though, as the melted wax might ruin the pattern.
Other uses of wax paper include cleaning the refrigerator, cheese storage, or roll the dough. As I said before, wax paper is non-stick, so feel free to use it to prepare the dough for your next baking batch. No more wasting flour!
Silpat Paper – Best For Air Fryers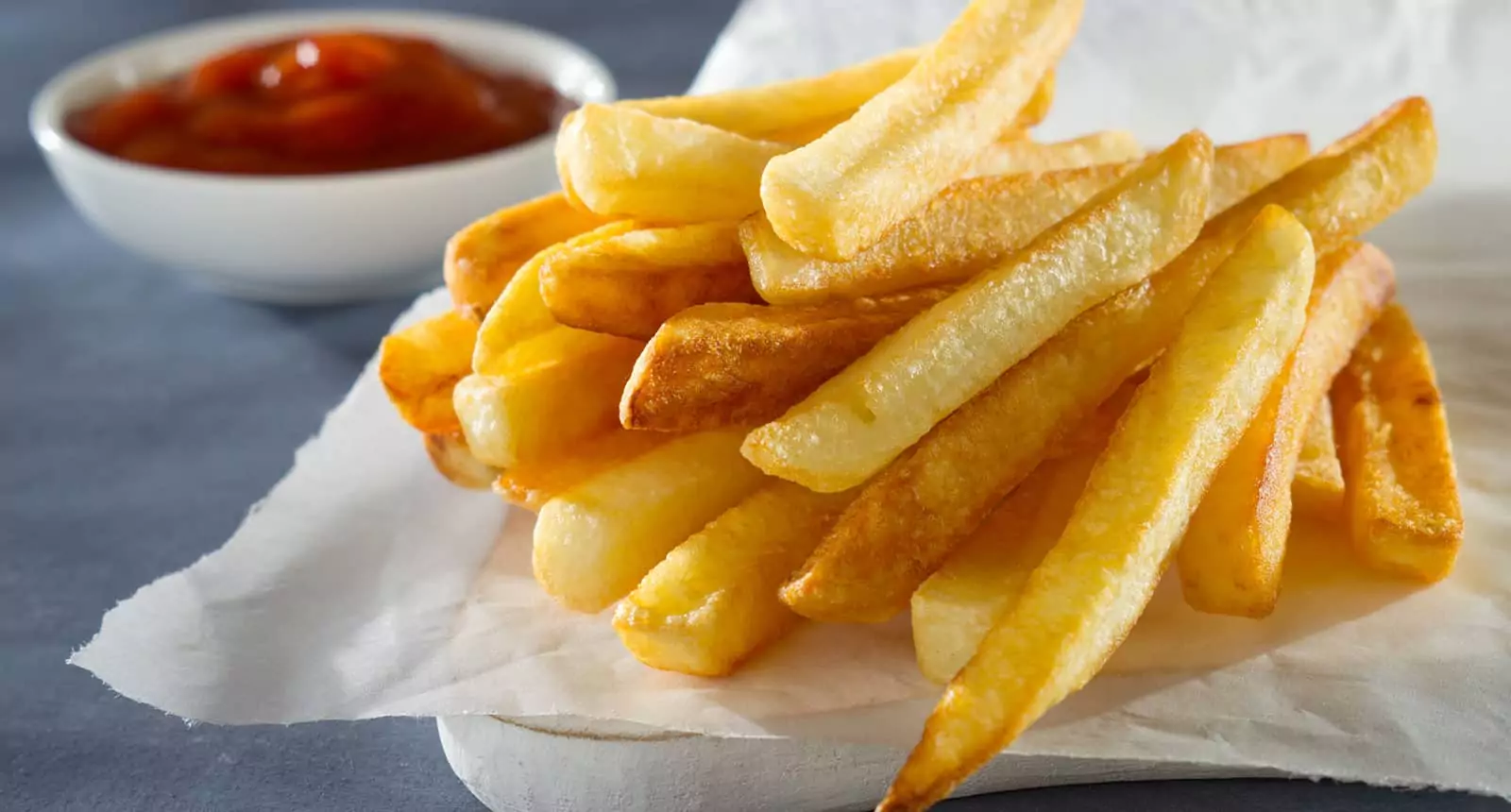 You can make many kinds of food with air fryers, from french fries to brownies. That's why air fryers are very popular in every kitchen. Because air fryers use strong air circulation for cooking the foods, it doesn't require preheating and can cook the food very quickly.
Parchment paper works great when used with air fryers. You can customize the size so that the paper fits inside the basket. It is also sturdy enough to hold the shape well, so your food won't spill, especially when you make brownies with air fryers.
Therefore, to find the perfect parchment paper substitutes for air fryers, you should look for something that is resizable, can withstand heat, and is structured. The answer is aluminum foil. For cooking veggies, meats, or foods that do not involve dough or baking, you can use aluminum foil as it is.
However, because the aluminum foil isn't non-stick, you should grease the foil with oil, butter, or cooking spray when baking so that the dough will not stick to the surface.
Silpat paper might work too, but cooking in air fryers can be messy with all the extra oil, so I tend to throw away parchment paper or aluminum foil after I'm done. The higher price of Silpat paper will make you hesitate to do that, so for convenience's sake, I still prefer aluminum foil when used with air fryers.
FAQs
Here I answer some of the most frequently asked questions about parchment paper.
Additional Advice & Tips
I still have some other tips for using parchment paper and its replacement.
If you are looking to find something to replace parchment paper to wrap food, you can use banana leaves or soaked and dried bamboo leaves, too. Of course, these are not easy to find either, so I do not include them on the list. However, if somehow you happen to have some leaves lying around, use them!
You can make parchment paper at home too. Well, they can't be used for cooking but for crafts, they're perfect. Just take any piece of white paper, crumble it up then spread coffee or cocoa liquid all over the surface. Dry it with a blow-dryer, and now you have a piece of parchment paper to make a note of or decorate your desserts.
You can show your kids how to make DIY parchment paper with the following video.
Hopefully, with this in-depth article about parchment paper substitutes, you won't ever be in a pinch again. If you have further questions, feel free to drop a comment below.