You might wonder how to make donuts without donut pan? Donuts, despite their apparent simplicity, can be very difficult to make. Making a perfect donut requires patience and, of course, proper shaping.
Actually, you can skip the ring form if you like, but those don't seem like donuts, do they? And you want to bake them instead of frying them to retain the shape.
The cooking process usually calls for a special donut pan or an excellent donut-making machine. And I believe some of you might hesitate buying a new special pan or donut maker just to make them once in a while?
Making a DIY donut pan doesn't require much, though. To make donuts, you don't need to add another pan to your kitchen aids collection. Instead, you can build a makeshift tin out of various tools that are already available.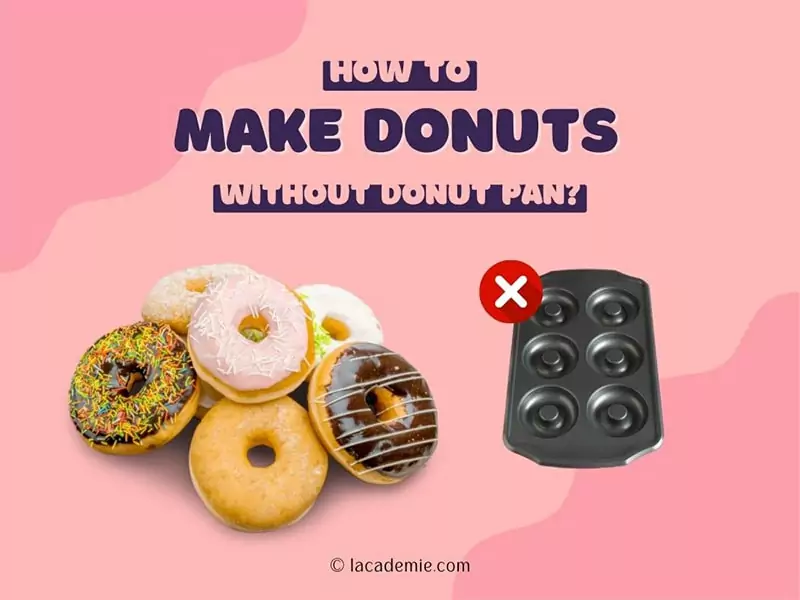 The Best Ways To Make Donuts Without Donut Pan
1. Muffin Pan With Aluminum Foil/Parchment Paper
2. Do It Yourself Donut Pans With Tissue/Parchment Paper
3. Freestyle Donuts
4. A Round Mold
5. Cookie Cutter
What Types Of Donuts Are There?
Before answering your question "How to make donuts without donut pan", let's see what kinds of donuts are available. This will decide if you actually need a donut pan or not.
The origin of the name "donut" is quite interesting. The Dutch made the very first version of donut in the 15th century and called it olykoeks (oil cakes). On their way to North America, the pilgrims adopted this olykoeks and changed its name to "doughnut" around the 17-18th century.
Donuts are classified into two categories, cake donuts, and dough donuts. Bakers can make the former ones with a cake batter using eggs and baking powder. To make regular donuts, because the batter is thin, it must be baked in a donut-shaped tray to create that conventional donut shape.
Dough donuts require yeast and time to let them rise. However, you can roll the dough on a high-quality and durable pastry board, then slice them into circle shapes with cookie cutters.
Donuts that come with a hole in the middle are called "ring donuts." There are many theories about the purpose of donut holes. The most convincing (and practical) one is that the holes are there to help cook donuts more evenly.
Apart from the classic ring-shaped donuts, there are also "filled donuts." As the name implies, these sweet treats have no holes and come in many different shapes.
Take A Look At How To Make A Donut Pan
There are many ways to make a DIY donut pan. Read on to find out.
Muffin Pan With Aluminum Foil/Parchment Paper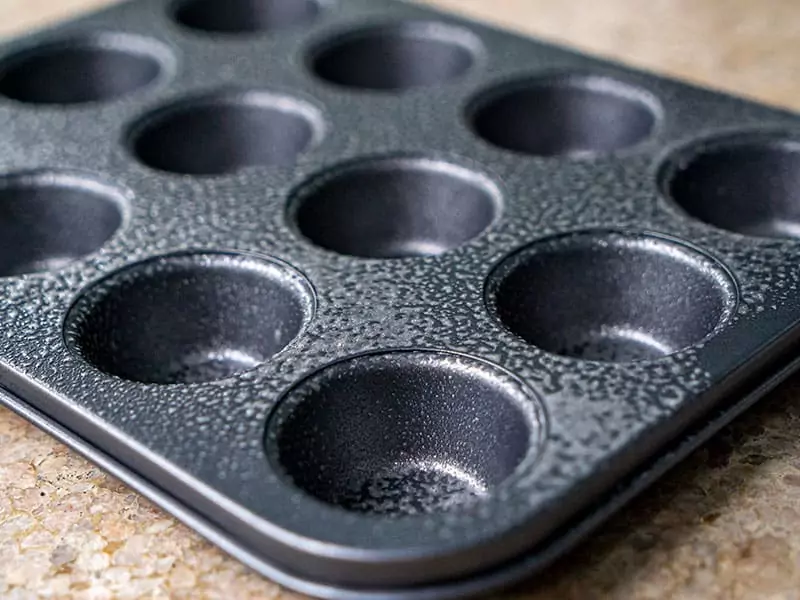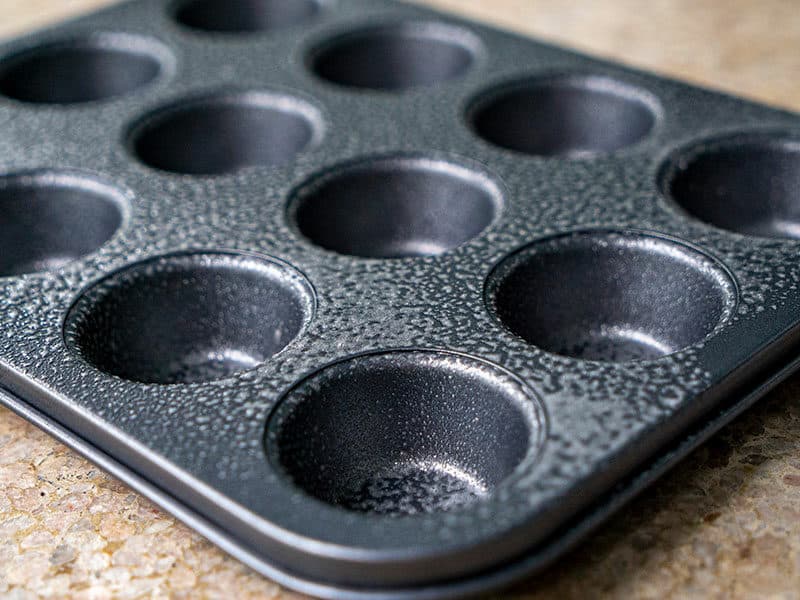 Here is what you need to modify your muffin pan into a donut pan: muffin pan (of course), cooking spray, and aluminum foil.
You can use parchment paper instead as aluminum foil is also a parchment paper's ideal replacement. Now follow these instructions to make a donut pan from your muffin pan.
Place a square of foil on one of your fingers. Be careful, don't mix up tin foil with aluminum foil, they're 2 different things. And remember that the foil should be big enough to reach the bottom of the tin cup. I always find that a 5 inches x 5 inches square works well for me.
Roll thin sheets of tin foil into cylinders of the size you prefer the center of your donuts to be by wrapping the foil around your finger. To make a mold, gently fold the sides inwards. When done, place those in the muffin tin cup and fix them into place. Continue for the remaining cups.
Grease both the muffin tray and the aluminum foil. If you are using parchment paper, you can skip this step.
In total, I usually take about 15 minutes to create these little inserts.
Do It Yourself Donut Pans With Tissue/Parchment Paper
Get some tissues or parchment papers and make cylinders with the size same as the thickness of your donuts. If you use tissue, wrap a layer of tin foil around to seal the rolls. Curl the cylinders into a loop and tape the ends together.
To make the molds, cut a big sheet of foil, then fold it in half. Push the foil circles you just made attentively into the center of the sheet. Secure it with tape with more foil along the sides of the donut shape.
Freestyle Donuts
Another option is to produce your donuts freestyle if you don't have any special tools, such as a mold, cookie-cutter, or muffin tin. Place three or four spoons of flour on a baking sheet.
To form the batter into a ring, simply use your fingers or a palette knife or spatula. You can attempt to make a circular shape. Smooth it down with a spoon.
Put your finger in the middle to make that "donut hole" and keep attempting until you achieve the desired form. Using the freestyle approach to make your donuts can help you feel very artistic and thrilling.
A Round Mold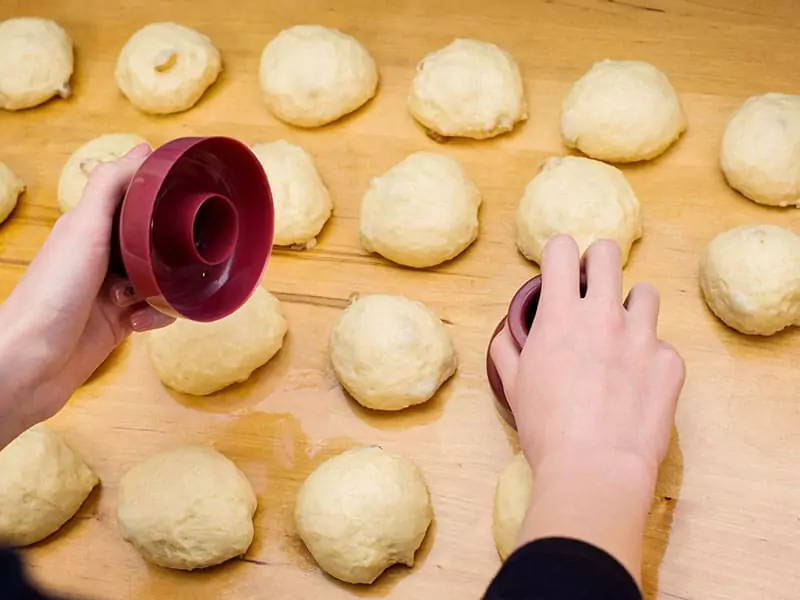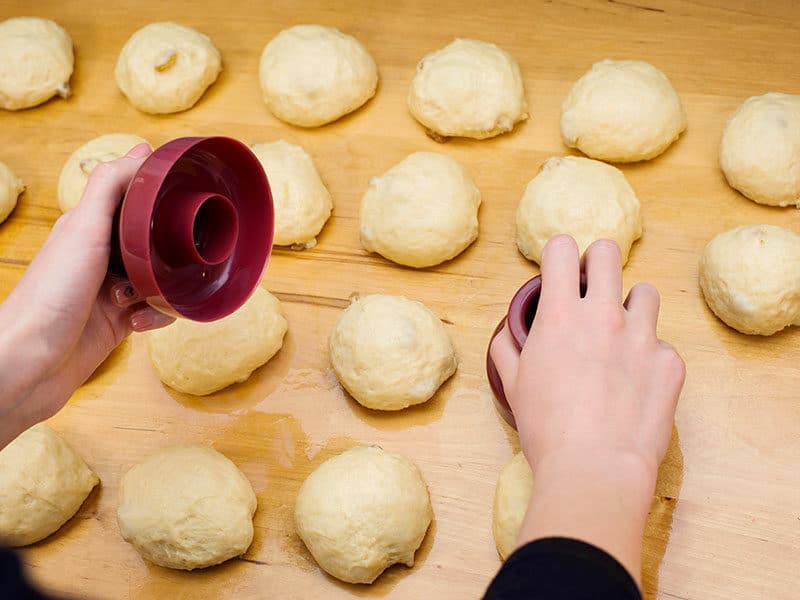 Currently, there are tons of molds in many shapes and sizes in the market. You can easily get them anywhere.
Choose a circular mold that you can easily place on a baking mat or baking pan lined with parchment paper. This will prevent your donuts from having the shape of a muffin.
As the doughnut batter will rise when baking, fill the circular mold to three-quarters capacity. To create a hole in the center of the batter, you can make foil inserts like I explained above or just stick your fingers in. You should make the hole bigger than expected as when the batter rises, it will fill up the opening.
Using a cookie cutter is another simple way to make donuts. After you knead the dough and let it rise to twice the size, roll it out on a floured surface. Flatten the dough until it's about half an inch in height.
Cut squares out of the rolled dough with a 2-inch or 3-inch round cookie cutter.
After you are done cutting the dough, position them on a cookie sheet. Don't crowd the dough because the butter will rise. To make the donut form, cut smaller circles in the middle with a tiny bottle cap. You can use pretty much everything, from the screw of a wine bottle or the cap of a water bottle.
Use Your DIY Donut Pan To Make Donuts
Now you know how to whip up a donut pan with your kitchen tools, how to actually use it for baking donuts?
As I explained before, there are two types of donuts: cake batter donuts and dough donuts. For the first ones, you will have to make a makeshift donut pan. You can use the cookie cutter to make a donut shape or a mold for the second one.
Below, I will explain in detail how to do that. Let's start with the dough donuts.
Make The Donut With Yeast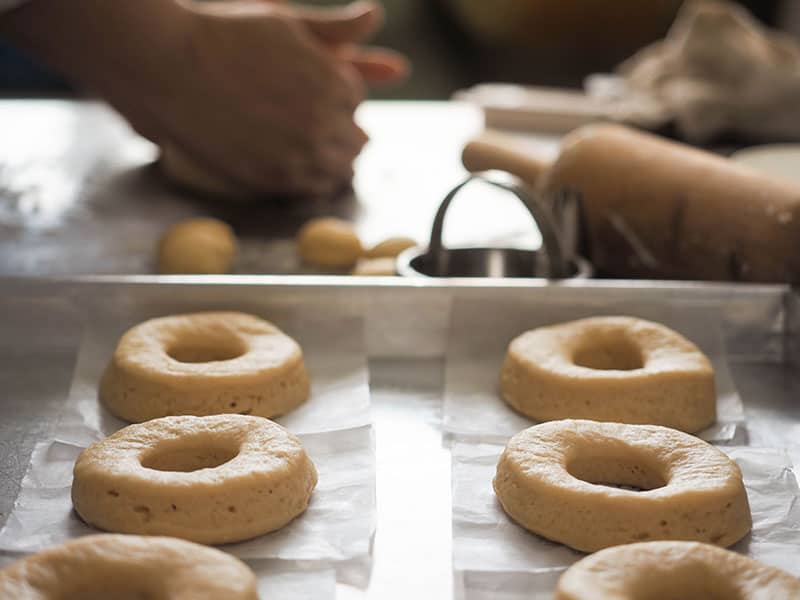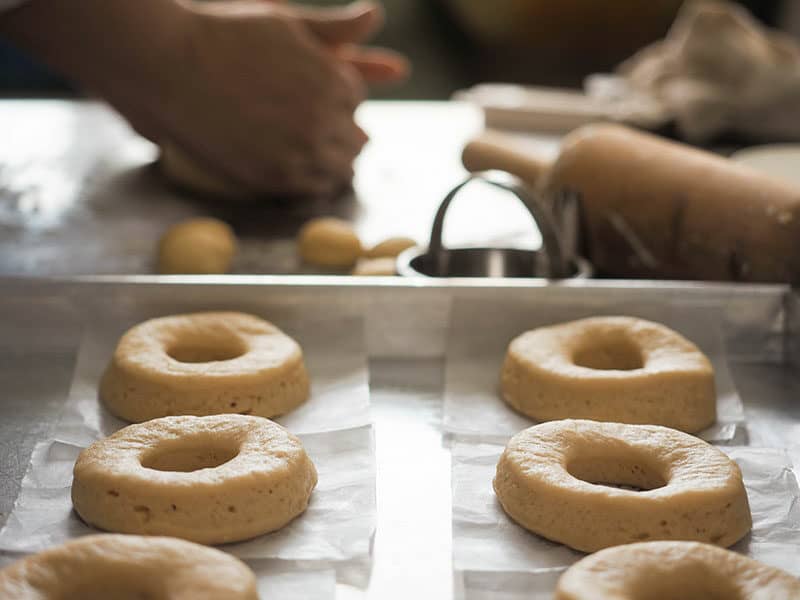 Step 1: Make The Dough
Yeast donut dough may be made by hand, or you can use a stand mixer or a bread-making machine. The ingredients are a quarter of a cup of warm milk, active dry yeast, and a half cup of sugar. You can use brown sugar for extra flavor.
Combine all the dry ingredients in a mixing bowl first, then slowly pour the warm milk in. Mix everything with a spatula until thoroughly combined, allowing the mixture to rest for about 5 minutes.
In the meantime, prepare another cup of warm milk, 2 tablespoons of melted butter, and two eggs. You should use eggs at room temperature, so let's take the egg out of the fridge before mixing ingredients. After five minutes, add these extra ingredients and mix with a spatula again.
Finally, mix in 5 cups of multipurpose flour, 1 teaspoon of salt, and a tiny bit of cinnamon or its alternative like nutmeg in powdered form for an extra punch in flavor. Transfer your dough into a flat surface covered with flour, then knead by hand until your dough is fluffy and soft.
Of course, you can use a bread machine or a stand mixer, but I like to literally get my hand dirty. Kneading dough just feels so therapeutic!
Step 2: Let It Rise And Roll
Oil a large bowl with cooking spray or olive oil, then put the kneaded dough in. Cover the bowl with a damp kitchen towel and set it aside in a warm place. You can put the bowl in a rice cooker, if you have one, and set it to warm mode.
It usually takes about an hour or so until it rises to double the size. Enable the dough to rise via the dough setting on your bread machine if you're using one. When done, roll the warm dough on a floured surface until about half an inch in thickness.
This step is the same as I explained above. Use a cookie cutter to cut the dough into circles. I recommend using 2 to 3 inches cutters, but feel free to use anything you have. After all, your donuts should shape like how you want them to.
Alternatively, you can use a circular mold to do this.
Step 3: Baking The Donuts
After cutting, you should leave your donuts to sit for an extra 45 minutes, covered with plastic wrap or a kitchen towel. During this time, you should preheat your oven.
When your oven reaches 350° F, put the donuts in. Let it bake for about 8 to 10 minutes. When they turn golden brown, take one out and stick a pin or a toothpick in to see if they're baked. If no dough sticks to the pin, you are good to go.
Don't take the donuts out immediately after turning off the oven. Let sit in the oven for 2 to 3 minutes, then take out the tray. Place them on a cooling rack until the surface is completely cooled. It usually takes about 5 to 10 minutes.
Step 4: Decorate The Donuts
Sprinkle the doughnuts with powdered sugar and eat them while they are still warm. I will introduce an easy one to make glaze recipe below for your reference. Or you can just sprinkle some confectioners sugar!
Watch this below for a visualized recipe to make yeast donuts.
Make The Donut Without Yeast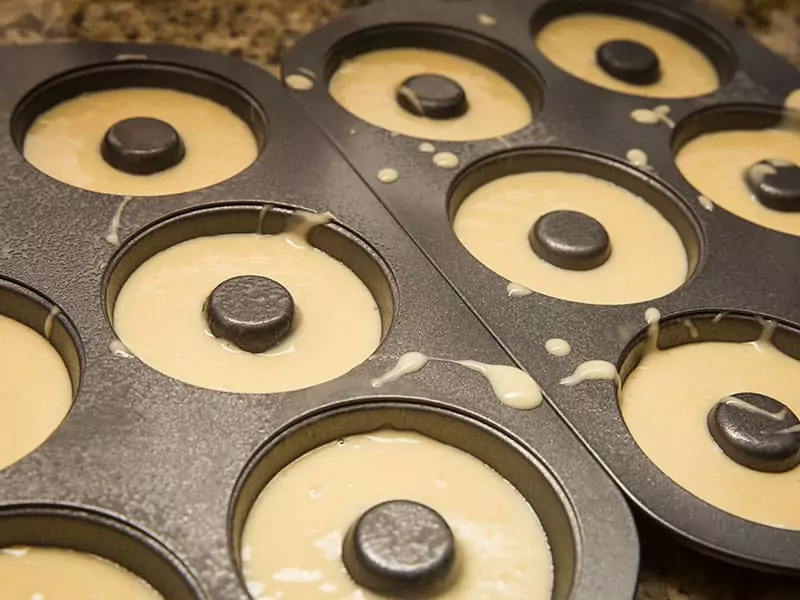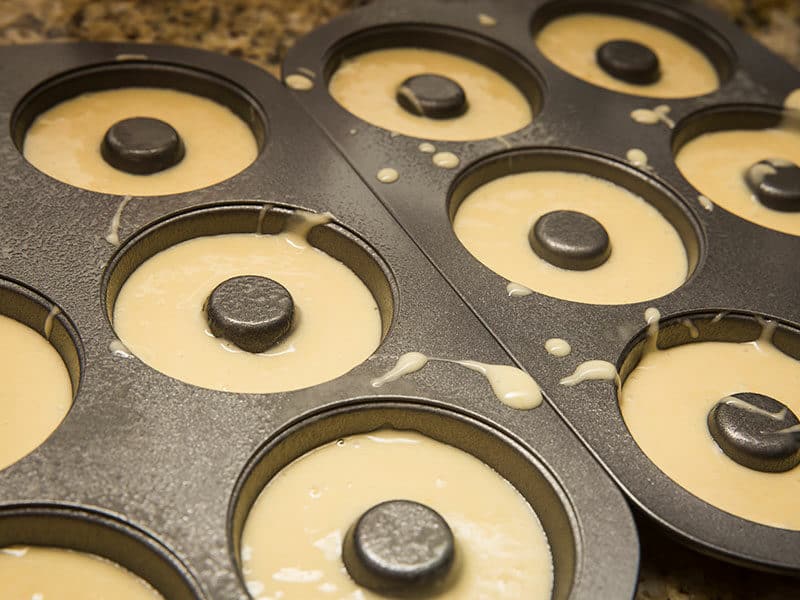 Step 1: Make The Batter
Combine dry ingredients, all-purpose flour, sugar (brown or white), baking powder and baking soda. For extra flavor, add cinnamon, or nutmeg, and a pinch of salt. Pour the liquid ingredients like melted butter and milk into the combined mixture. You can add some apple cider for extra flavor. Stir until combined but do not over mix.
If the batter still seems stiff to you, try adding a little bit of milk and stir until it is satisfactory.
Step 2: Pour Your Batter In The Makeshift Donut Pan
Spray your DIY donut pan liberally with cooking spray, making sure to coat the aluminum inserts as well. If you use parchment paper, then skip this part.
In a ziplock bag, fill your donut batter in until it's half-full and cut the corner of the bag off. This is now your piping bag to pipe the batter to the tray.
Fill the makeshift tray 3/4 of the way with the donut butter. Make circle movements when you pipe the donut in, just like you would do when decorating cupcakes.
Step 3 and Step 4 are the same as dough donuts.
Recipe For Donut Glaze
Step 1: To make the glaze, mix whole milk and vanilla extract in a saucepan. Heat the mixture over low heat for about 3 minutes or until warm. Stir in the sugar and whisk to combine.
Step 2: Dip donuts into the glaze and allow to sit for 15 minutes before serving.
Watch the following video for inspiration to make donut glaze. Beware, you shouldn't watch this video while hungry!
Do You Need To Deep Fry Donuts?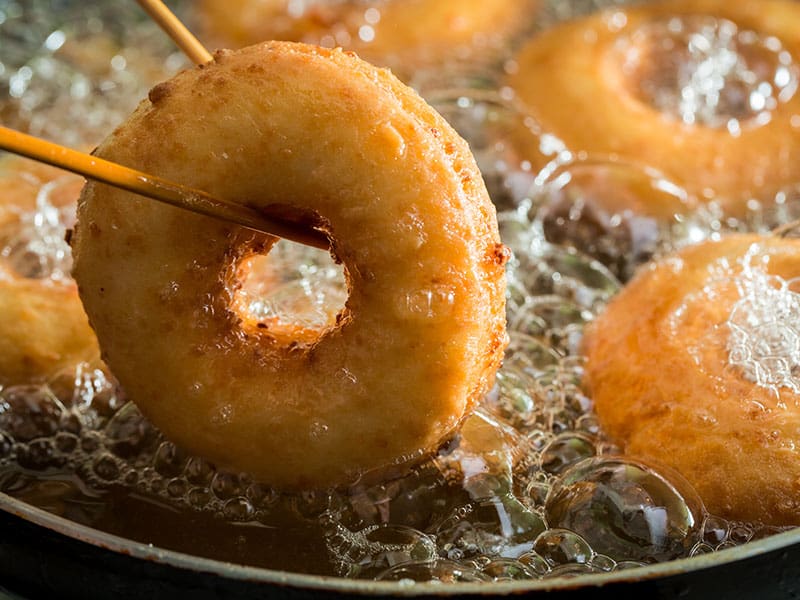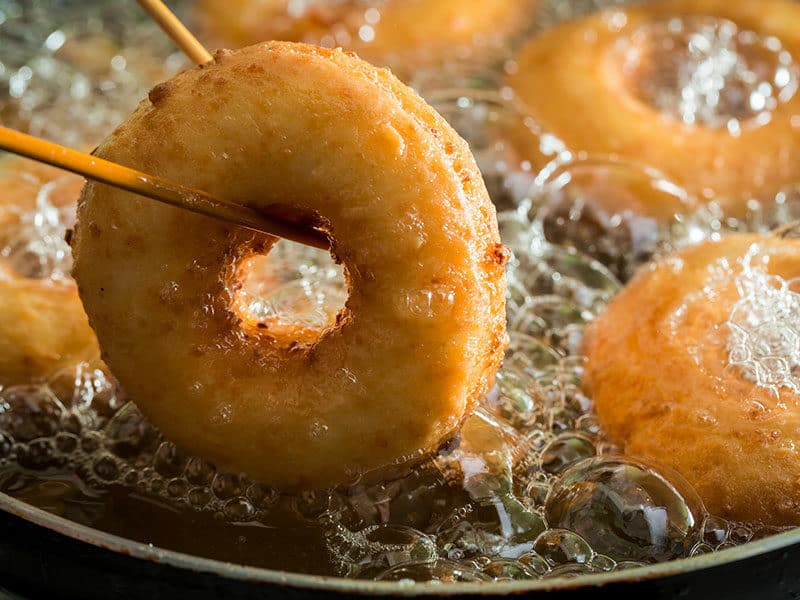 You might notice that I didn't mention frying the donuts. Well, you don't actually HAVE TO deep fry donuts to make them taste good. In my opinion, baking is far more healthy and takes a lot less effort.
However, if you like the taste of a fried donut, here's how to make some at home easily with a shallow frying pan. If you have a small-sized deep fryer that's convenient and easy to clean, feel free to use them. If not, then a normal frying pan works just fine.
Pour some high-rated frying oil for donuts, about an inch up to the side of the pan. Let it boil until you see tiny bubbles when sprinkling some flour in it.
Simply put your donuts in the pan and fry each one for about 3 minutes per side. If your donuts get to a shade of golden brown and soft to the touch, it's done. Take it out and put it over a rack to drain as much oil as possible. When the surface cools down, glaze with whatever flavor you like!
Does DIY Donut Pan Work?
It's definitely possible to create a donut pan from scratch with a muffin pan, some tin foils, or parchment papers. The taste will be the same as it would with a donut pan. However, you might notice your donuts to be smaller than the regular ones.
Also, the size will not be even, but don't you agree it's actually more fun this way? For occasional donut bakers, I think this definitely works well enough. If you make donuts often, though, you can consider buying a donut pan for more uniform shapes.
Can You Make Donuts In An Air Fryer?
The answer is yes. Cooking in an air fryer is an amazing way to make flavorful desserts while minimizing unhealthy oil. You can refer to this making donut guide with an air fryer to have the same mouthwatering fried result.
After you've done preparing the dough/batter, cover the donuts with a sheet of parchment paper. Spray the stain basket with cooking spray and set it to 350F.
Carefully transfer your donuts into the basket and cook for about 4 minutes. Due to the limited space, you might have to repeat the process a few times to cook all the donuts you've already made.
Additional Tips & Advice
Here are some additional tips for making donuts at home.
I explained how to use a zip lock bag to pipe the batter above. Well, of course, you can use a piping bag as well. Just cut the tip a little bit more so that the batter can come out easier.
You can definitely use gluten-free flour to make donuts. The taste will be just as delicious.
Instead of regular milk, you can use unsweetened milk or almond milk to add more flavor. Oat milk is also an exciting choice.
For all those home bakers who don't have a donut pan but still want to make donuts, I hope this article answered your question "how to make donuts without donut pan". These little hacks to whip up makeshift donut pans still result in remarkable and tasty donuts, albeit a little small.
As a result, you can now produce an amazing and delicious dessert without purchasing any extra equipment!
Nutrition Facts
18 servings per container
---
Amount Per ServingCalories205
% Daily Value *
Total Fat 2.5g

4

%
Cholesterol 23mg

8

%
Sodium 155mg

7

%
Potassium 62mg

2

%
Total Carbohydrate 41g

14

%

Dietary Fiber 1g

4

%
Sugars 6.6g

Protein 5g

10

%
---
* The % Daily Value tells you how much a nutrient in a serving of food contributes to a daily diet. 2,000 calories a day is used for general nutrition advice.