Donuts are a familiar name to you, but why are they called donuts? It is quite a long history but also an interesting one.
If you want to know some more facts about this favorite snack of yours, then you can spend some of your time on this article. On this little journey, you will learn some basics about the origin of donuts and more fascinating things about them.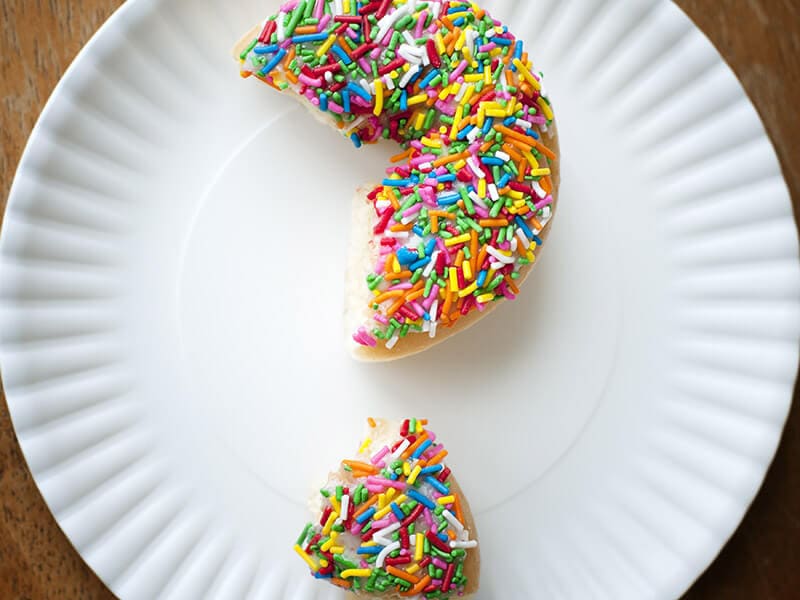 What Is Donut?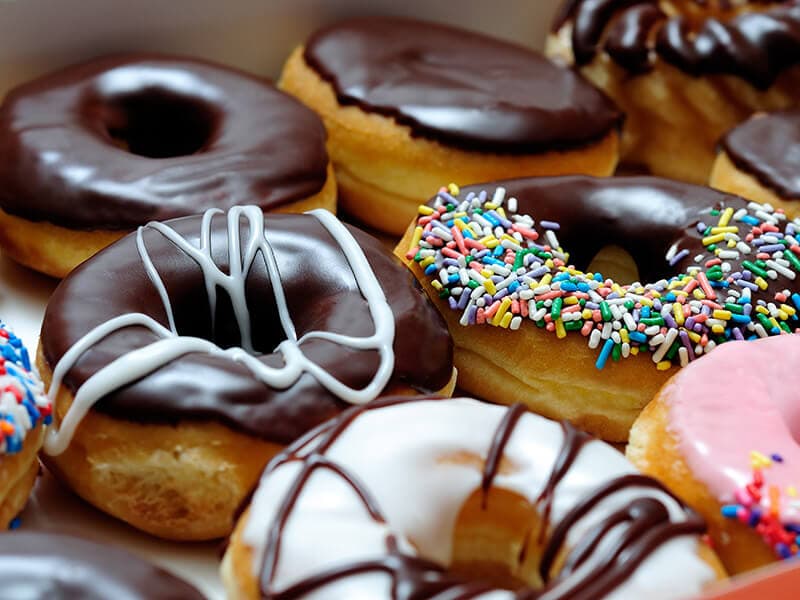 Donut is a type of leavened fried dough with the main ingredients of flour, egg, sugar, oil, and others. There's a wide range of donut varieties with different flavors and toppings depending on the country and region around the world. (1)
Usually, there are two main methods of making donuts: baking and frying. Frying will give you a somewhat tastier flavor, but baking is better for health since it doesn't consume oil. Therefore, many people prefer baking over frying for homemade donuts.
Donuts have two main types that you are probably familiar with. They are ring donuts and filled donuts. Ring donuts are those typical ring-shaped cakes, which perhaps is the first thing you think of when talking about donuts.
The hole in the middle is perhaps ring donuts' most distinct feature. Among many explanations for the donut holes, the most convincing is that they help cook the treat more evenly.
Ring donuts have a variety of toppings and fillings like chocolate, sugar, cream, and maybe some local ingredients based on the region.
Filled donuts are simpler. They are fried sphere-shaped dough injected with jam, custard, chocolate and dipped into sugar or coating with other flavors.
Why Are They Called Donuts?
The name of those cakes has gone through several changes and development by many cultures and become what they are today. These are some of the most important points in their history.
Early History Of Donuts
First, we need to trace back a little to when donuts made their first appearance in history.
In the 15th century, the Dutch made olykoeks (or oil cakes), which can be considered the early name of donuts. (2)
When the pilgrims passed through Holland in the early 17th century, they learned and adapted the methods to make these cakes. Then, they left for North America, together with the recipe to the new land.
It was not until the 18th century that the name donut appeared in the literature. An American author named Washington Irvine mentioned them in his work "Knickerbocker's History of New York".
After The First World War, donuts quickly became popular as a quick and delicious snack that you can bring or take them anywhere. The American soldiers first tasted these delightful sweets in France and decided to bring the recipe home with them.
After coming a long way, donuts now are among the top favorite sweets.
Donuts or Doughnuts?
Back then, when the pilgrims left for North America, they changed the name of olykoeks to doughnuts because they are little dough balls that look like walnuts.
The "dough" was because those early dough balls were unbalanced and pretty hard to cook. When they were fried so quickly, the center was always undercooked and remained doughy, while the layer might have been burnt due to overcooking.
The "nut" could be because those dough balls have a crispy appearance, just like walnuts after they have been fried. Another theory is that sometimes people place walnuts in the center of the cake to keep the heat and help it cook properly.
When the doughnuts came to the United States, their name was simplified into donuts for more convenience. Though there are more to debate about which is the correct one between the two, this can be summed up as:
According to the Oxford Dictionary, "doughnut" is the original international name, while "donut" is more of an American version. In fact, it was not until the 1950s that the name "donut" became popular due to Dunkin' Donuts.
The name "donut" is because, in the early 20th century, a donut firm in New York wanted to simplify the word so that it's easier for foreigners to pronounce it. In time, "donuts" also became a popular second name for doughnuts.
You can see this video to know more:
Other Names For Donuts
In some other countries, donuts still have different names. In Scotland, there are several regions that refer to ring donuts as "dough rings" while filled donuts remain the same.
In Northern Ireland, the people usually call ring donuts "gravy ring" as gravy is an old word that has the meaning of cooking oil.
Twisted and glazed donuts with a flute shape are called crullers or yum-yum in traditional Scottish cuisine. For filled donuts, most of the time, their name stays the same since there are not many variants available for them.
Why Do People Like Donuts?
Ever since they made the big entrance in the 1900s, donuts have become an inseparable part of countless people around the world. There are several factors that lead to this success and why so many become attracted to them.
The Convenience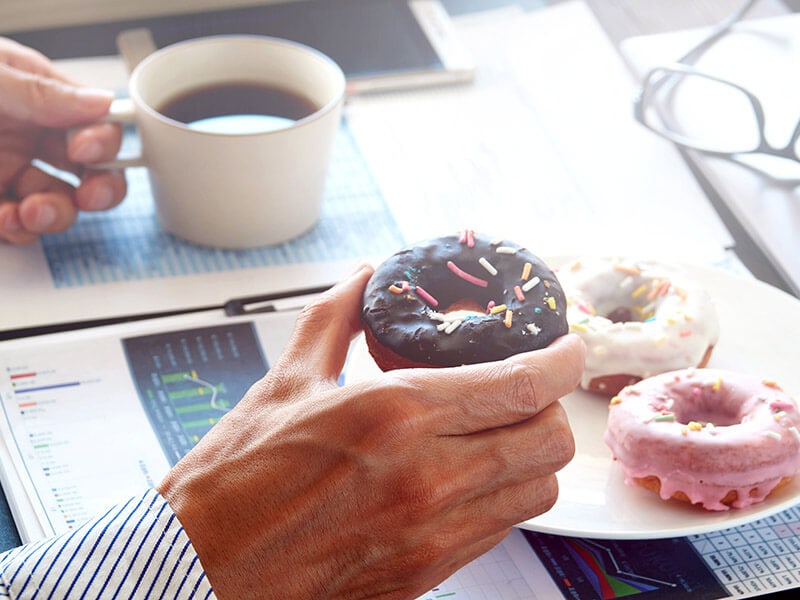 Undoubtedly, donuts are a quick and convenient food for a snack or dessert, and you can grab them anytime you want. For busy workers, this is one of the top priorities to stop at a bakery for a donut then continue driving to work.
Donuts don't need you to warm them up or pair with any sauce or any complicated preparation. You can just enjoy that tasty sweetness as soon as you get them from the store, and they will provide you with enough energy to keep up with a morning shift.
This is one of the most important reasons why people always come to donuts when they need a reliable and quick snack for the day. Donuts and coffee are probably all you need for breakfast if you are in a hurry.
Moreover, donuts are quite simple to make at home, especially if you own a good donut maker. I'll show you two simple donut recipes further in the article, so keep reading!
The Taste And Ingredients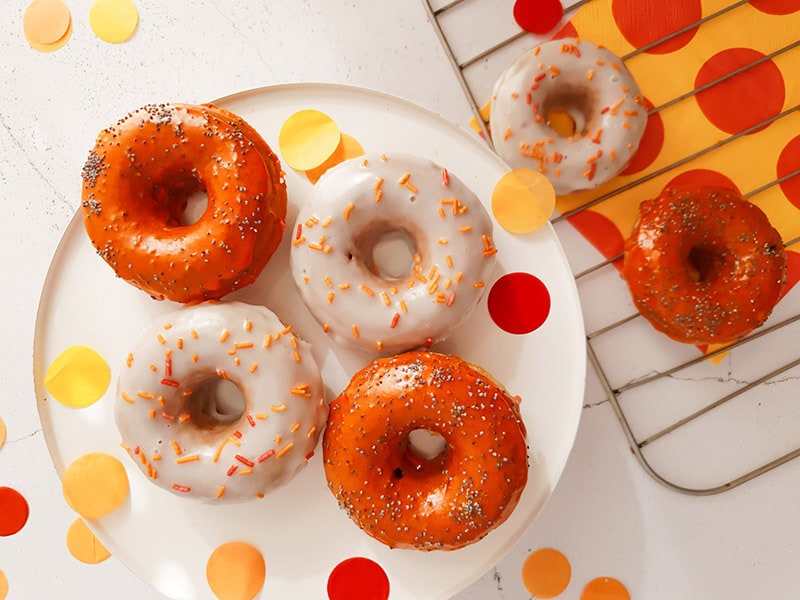 One thing for sure is that donuts are made to make you feel addicted to them. Due to the ingredients that contain a high level of fat and carbohydrate, donuts make you think that they have more nutrients than they do.
Sugar also plays a huge part in this since it has a stronger effect on the brain reward system, leading people to want more.
Also, the sugar and fat within donuts can somehow help you with concentration and memory. They will give you a burst of energy that keeps you awake for a period of time. But in the long term, this will become unhealthy as such high amounts of sugar and fat can lead to diabetes.
Quick, convenient, delicious, together with the short-term energy boost for a working day, that's enough to make nearly anyone fall for the temptation of these cakes.
How To Make Your Own Donuts At Home
Donuts are rather simple to make. With the right ingredients, you can even make donuts at home without using donut pans. If you don't trust the quality and nutrients of donuts from the stores or simply can't find any of them in the place where you live, then you can try to give it a go.
Making donuts at home is also an enjoyable thing you should try.
Ring Donuts
The typical type of donuts, with flour, eggs, oil, and sugar, you are pretty much ready to accept any challenge in making these cakes.
Step 1: Prepare The Ingredients
Mix the flour with salt, sugar, yeast, and milk in a large bowl. Melt the butter, milk, and vanilla extract in a pan with warm heat but do not boil them.
Step 2: Make The Dough
Crack the eggs into the butter and milk mixture while stirring with a spoon to form them into the dough. It's better if you have a mixer. But if you don't, you can also make the dough by hand though this will require a bit of strength.
Knead the dough by mixer or hand on a floured surface for about 10 minutes until they become bouncy when touched.
Step 3: Raising
Place all of them into a clean, oiled bowl. And cover it with plastic wrap or aluminum foil. Then, place it in a warm place. It should take about 90 minutes for it to rise.
Step 4: Form The Donuts
First, punch it down to release the air, then roll the dough with a rolling pin. Divided into equal pieces, then use your palm to mold them into dough balls.
Step 5: Stamp Out The Center To Make The Ring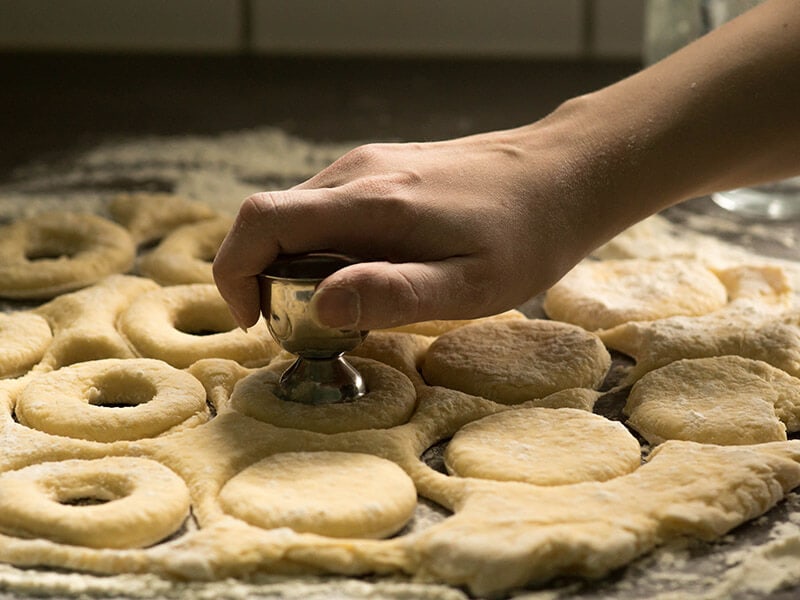 You can use a pastry cutter to stamp out the center of each donut. Make use of the leftover dough to make donut holes for later.
Step 6: Frying
Pour oil into a large pot with medium heat until it reaches 356 – 374 degrees Fahrenheit. If you don't know the suitable type of oil for frying donuts, I recommend interesterified Soybean Oil.
Step 7: Serving
Put them out of the pan with a metal spoon or a clip, drain them with kitchen paper and continue with the rest of the remaining dough.
Finally, you can roll them on powdered sugar to add another layer of flavor and better visual appeal.
Although they can be baked or fried, remember that frying will give you a tastier result, but baking is healthier. You should consider and adjust the number of ingredients to fit your and your family's preferences.
Filled Donuts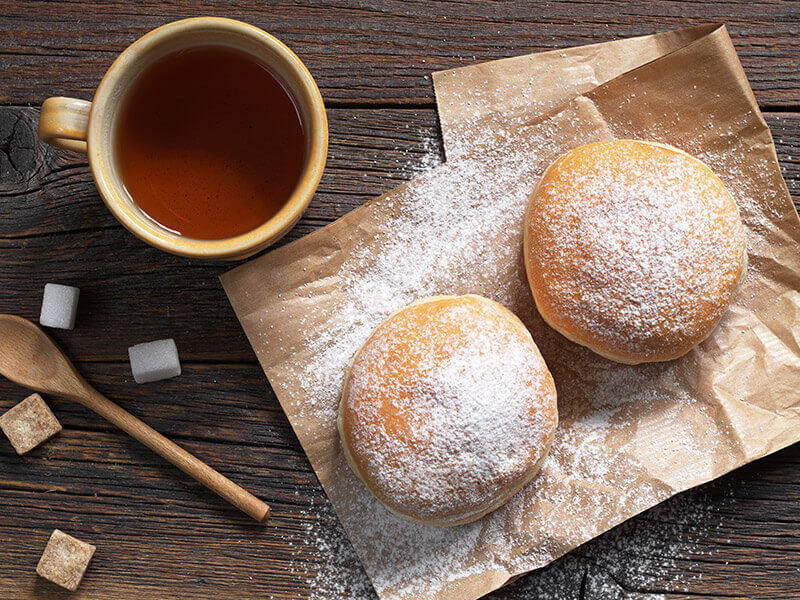 This is a simpler version. If you can make ring donuts, then this type won't be much of a problem for you to handle.
Just as the name suggested, Filled donuts can be filled with many kinds of flavors. And now you can freely choose whatever you want to put into them. The recipe and method are nearly identical with ring donuts, except you don't need to cut out the center.
Instead, you can fill them with a wide nozzle pastry bag when you have finished frying them. The fillings can be anything like cream, jam, chocolate, vanilla.
FAQs
Donut is such a fascinating food. Even just the name of it has a whole story to tell. But if you don't mind some more extra information, you can look at this section.
A Treat For Everyone
Donuts, with their long history, have now become a culture and something that people all around the world love and enjoy. They are tasty, much tempting to anyone, and not exactly a healthy treat, but life would definitely be much duller without them.
You can freely enjoy these cakes to your heart's content as long as you know how to keep a balanced diet. To share this fascinating story of donuts, please don't hesitate to send this article to everyone and get them on the same board.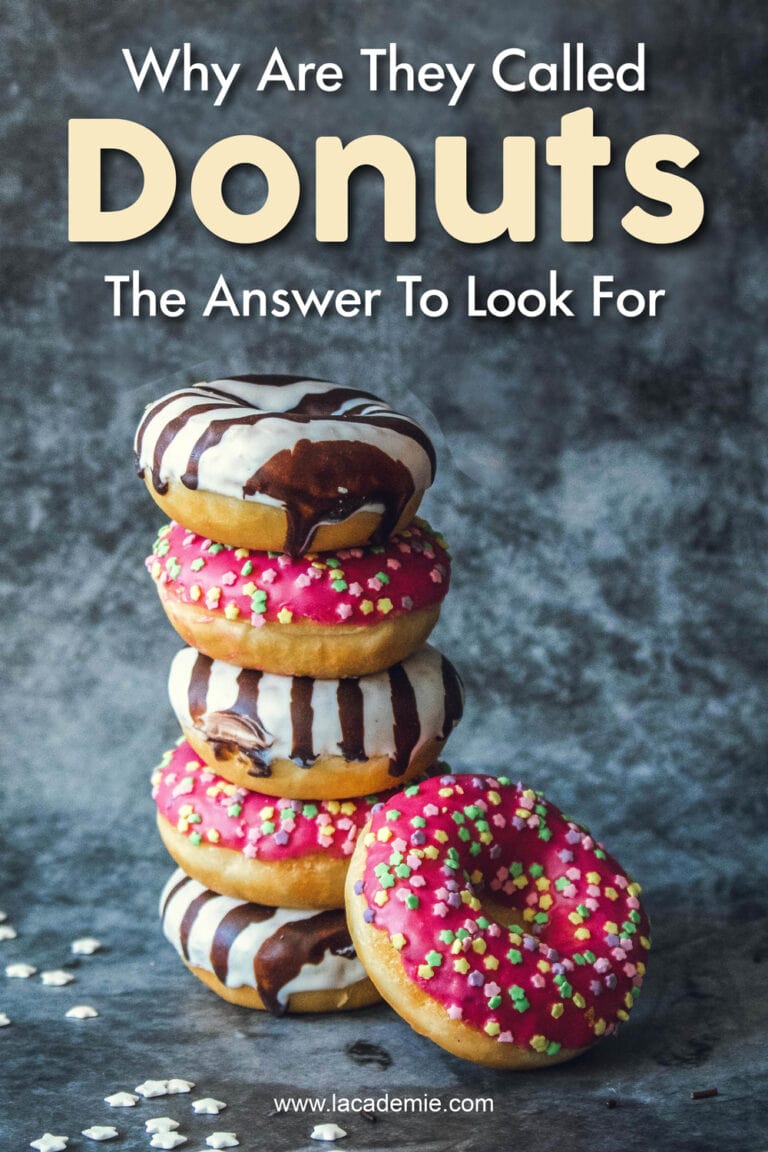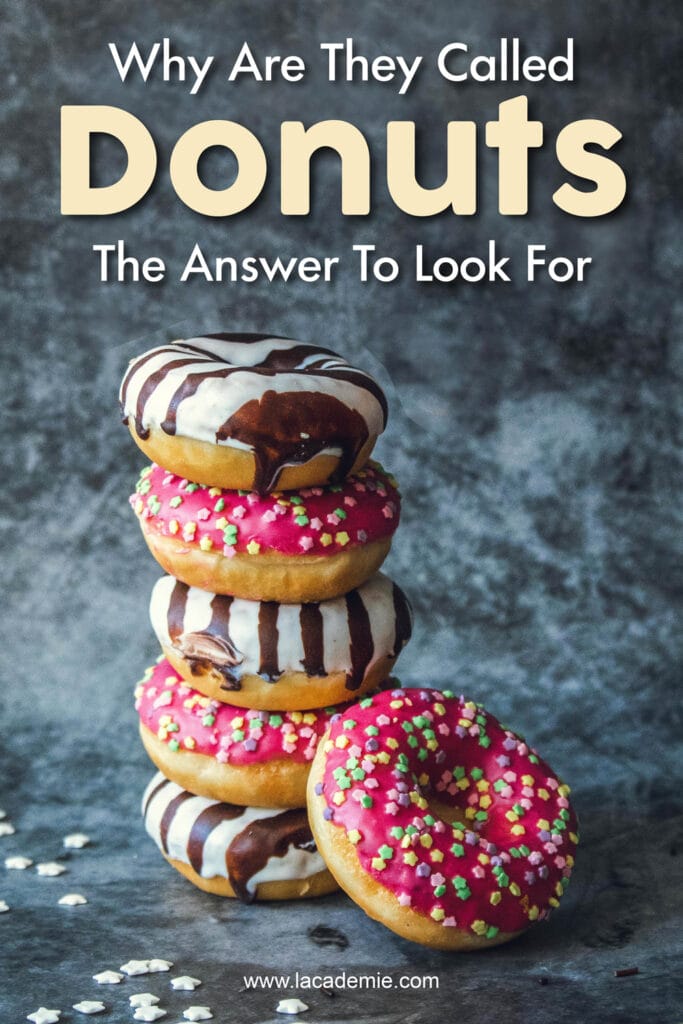 References
En.wikipedia.org. 2022. Doughnut – Wikipedia.
Jason H. 2022. Doughnuts and the Salvation Army: Doughnut History Dutch.