The exact number of how many types of donuts is so huge that it's even hard to count, and it's varied around the world. But in the end, it's still the most beloved sweets and a snack that are enjoyed all over the world.
If you want to take the first step into the world of donuts, you have come to the right place. This post will do its best to provide you with all the necessary information about the basic types of donuts, what they are, and what they will bring you.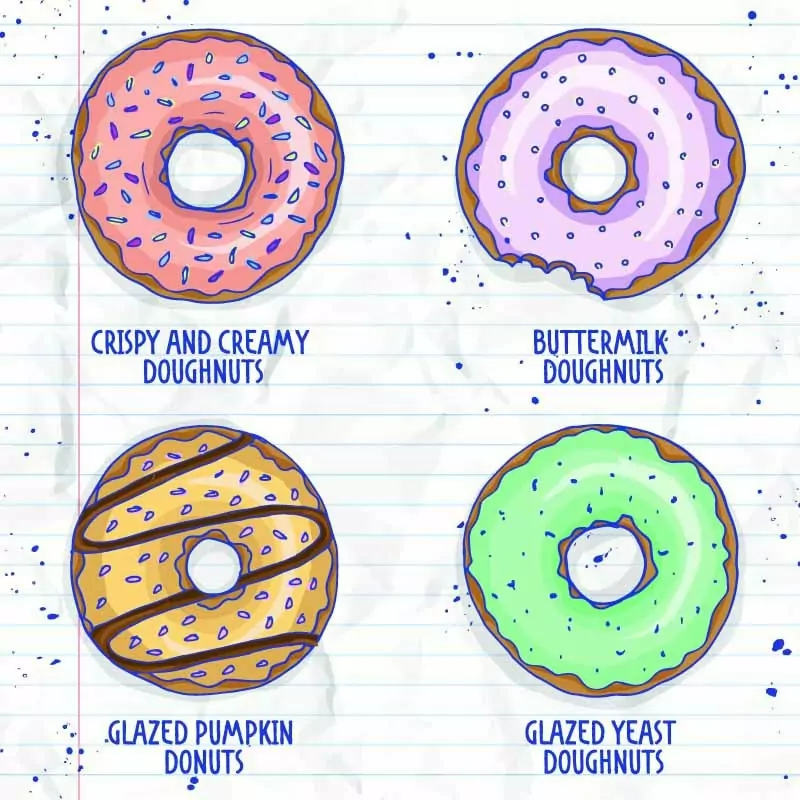 What Is Donut?
Donuts are one of the most famous kinds of cake around the world that you have probably heard about them at least once in your life. Now it's your chance to learn more about these fascinating sweets.
Basic Information About Donut
A donut (doughnut) is a type of leavened fried dough and a famous snack or dessert around the world. It has many various forms and can be either homemade or purchased from any bakeries and food stalls you can find.
Normally, a donut is made from deep-fried dough or various types of batter. The ingredients can be different for each region. The origin of donuts can be traced back to the 14th century in Europe with some simple pastries and then bagels.
In the 15th century, the olykoeks (oil cakes) were made by the Dutch and were the closest to donuts both in ingredients and the method of making. Many people believe that those olykoeks are the true origin of modern donuts.
As for where the term "donut" came from, the pilgrims who came to America decided to change this sweet treat's name to "donut" in the 17th century.
Donut has a wide range of toppings and flavors that can be chocolate, sugar, or maple. The main ingredients include water, eggs, milk, sugar, suitable oil for frying donuts, and other flavors, together with leavening agents and shortening.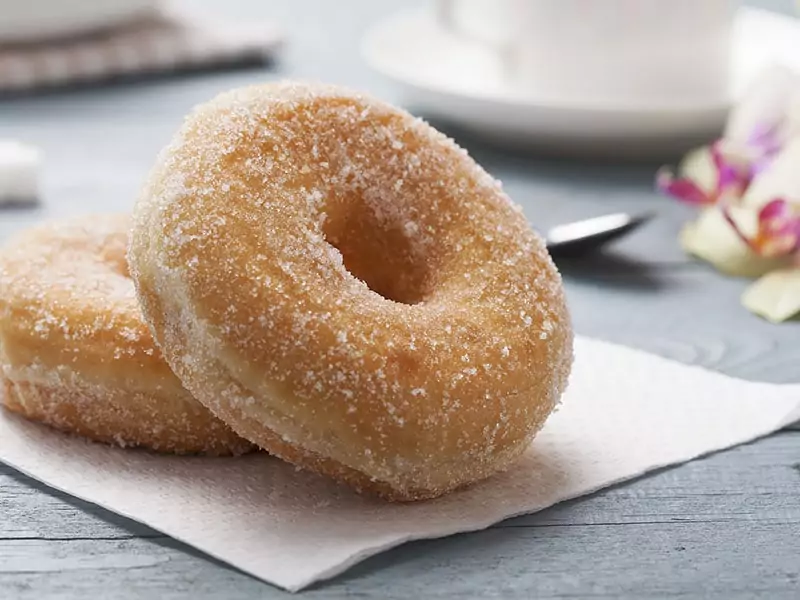 Different countries may have many variants and modifications for the ingredients and flavors. However, they mostly stick to the four main categories based on the shapes and fillings that are: ring donuts, filled donuts, donuts hole, and donuts with other shapes. (1)
Furthermore, ring donuts come in two types: those made from yeast-based doughs (raised donuts) and those made from baking powder or baking soda (cake donuts).
Interestingly, there are many purposes for the holes in donuts. For example, some people believe that the holes are there to help store the donuts more conveniently.
In the United States, Dunkin' Donuts and Krispy Kreme are no doubt two of the most beloved donut chains. Dunkin' Donuts is known for outstanding menu prices and a huge number of stores across the country.
Krispy Kreme also offers a wide menu and great prices as well as special in-house made donuts. The company is especially well-known for its glazed donuts.
Don't miss out on the next section if you want more details about many delectable types of donuts (and more)!
Donuts also has quite an interesting and inspiring history.
Types Of Donuts
Now it's time to get a little deeper into the rabbit hole. Aside from the two major types that have been mentioned above, there are still many other types that even this article cannot include all of them.
Instead, here are the most basic types of donuts based on the methods of making while considering cultural and regional differences. Each of them will be accompanied by several subtypes of their own.
| Types of Donuts | Characteristics | Leavening methods |
| --- | --- | --- |
| Raised Donuts | Crumby layer yet has a puffy interior | Yeast-raised |
| Cake Donuts | Dense, sturdy and crumbly texture | Chemical leavening agent |
| Long John | Bar-shape | Yeast-raised |
| Donut Holes | Bite-size, crispy | Cake or raised |
| Potato Donuts | Moist, fluffy | Typically yeast-leavened |
| Gourmet Donuts | Complex, combined from various dessert | Cake or raised |
| Cruller | Twisted, fluted shape | Choux pastry |
| Drop Donuts | Crispy layer but soft and doughy inside | Chemical leavening agent |
| Healthy Donuts | Organic ingredients, low calories | Usually cake |
| Filled Donuts | Typically round-shaped with no hole | Yeast-raised |
Raised Donuts
They are usually bigger than cake donuts and taller when finished due to the rising. Made from yeast leavening agents, they have a puffy structure and are softer due to the air within when they expand.
For the toppings, they will be added after the frying. Raised donuts are generally topped with a glaze with various flavors. Because raised donuts need a longer time to fry, they tend to absorb more oil.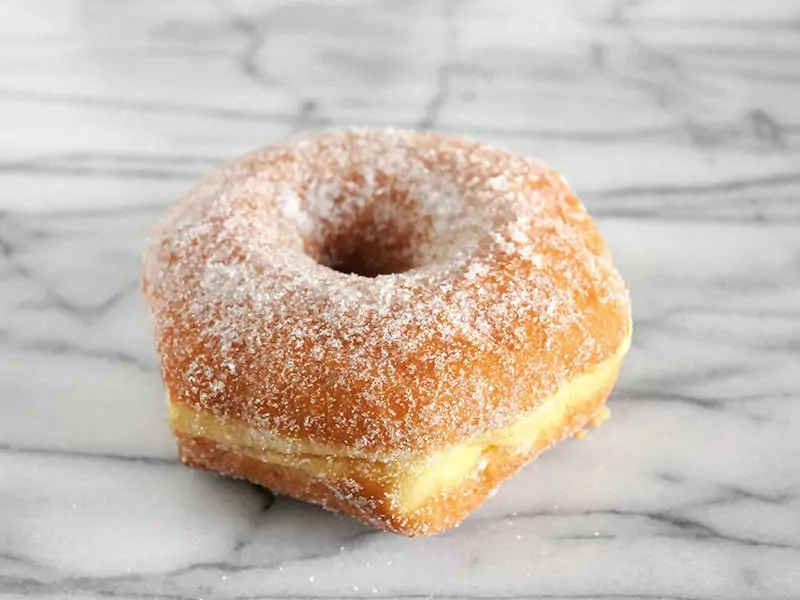 1. Malasada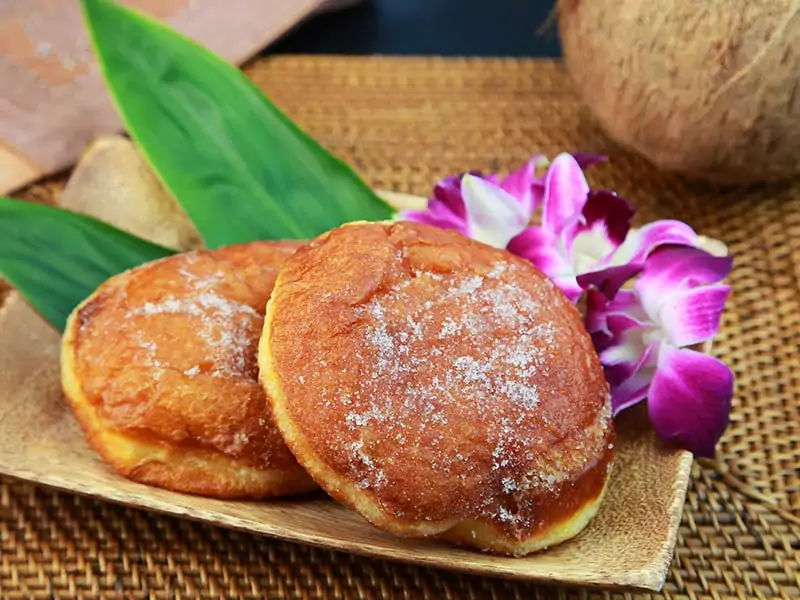 Malasada is a type of donut from Portugal. These sweet treats are famous worldwide as an iconic Portuguese street delight.
They are small, round-shaped, with the main ingredients being evaporated milk which gives them a rich texture. Malasadas are usually coated with white sugar or cinnamon sugar for a gentle and sweet flavor.
In Hawaii, they are the ideal choice for Fat Tuesday. People often fill them with more traditional ingredients and turn them into a unique sweet.
2. Glazed Donuts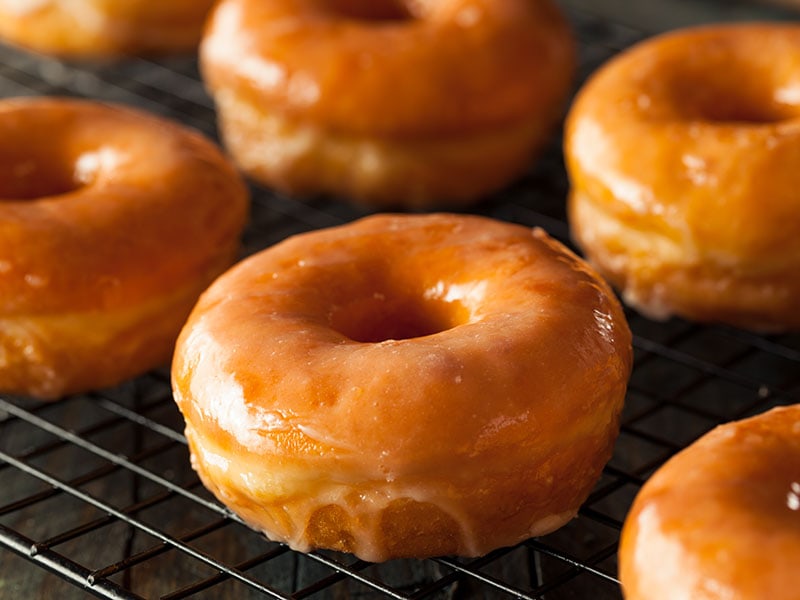 Glazed donuts are one of the most famous types of donuts as a whole. They are ring-shaped donuts coated with sugar glaze or many other kinds of flavors, and each of them is a different experience.
Glazed donuts also have many shapes, but the classic ring shapes are still the best choice.
3. Chocolate Yeast Donut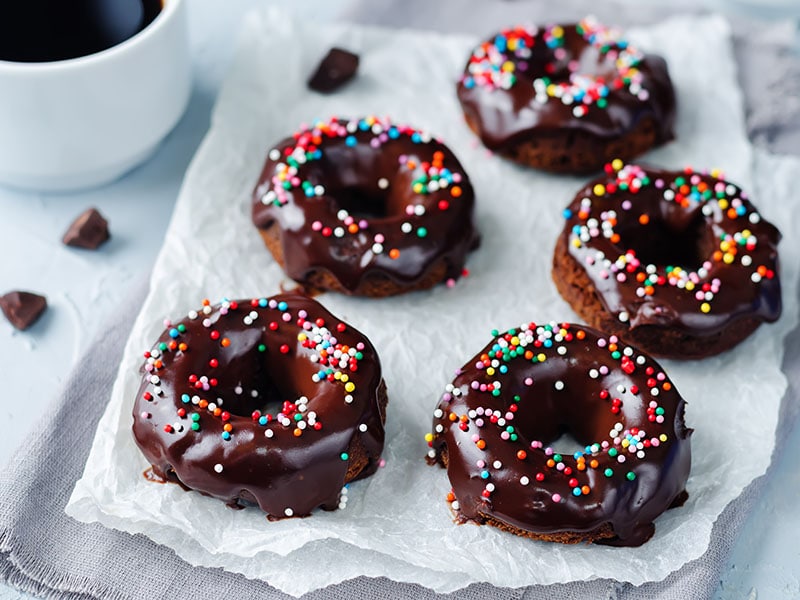 It's simple as the name states it all. They are yeast-leavened donuts but with the addition of chocolate flavor. The combination of puffy, soft texture with rich and tasty chocolate makes this type of donut very attractive to young consumers.
Cake Donuts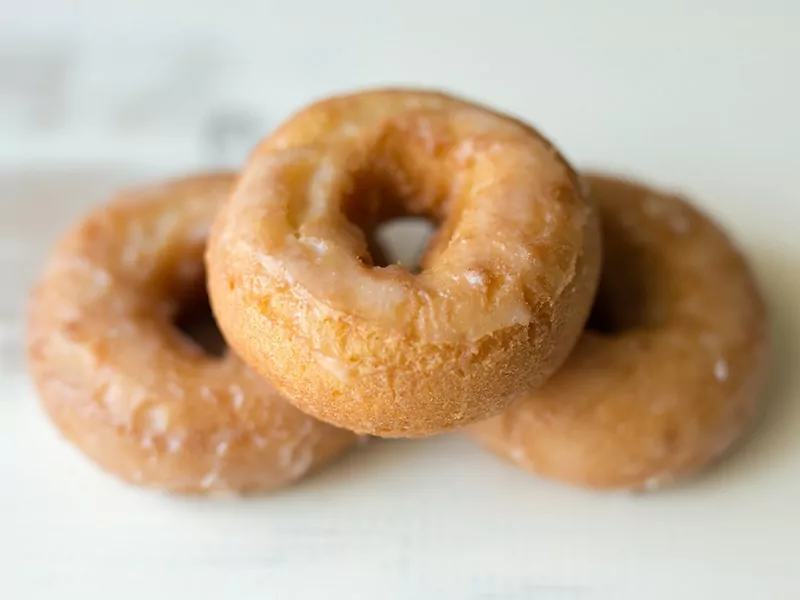 Different from raised donuts, cake donuts are leavened by chemical leavening agents like baking powder or baking soda. They are denser and have a sturdier crumb structure than raised donuts, which makes them ideal for heavier topping.
Although they have less oil than raised donuts, they contain extra fat in the batter before frying.
4. Apple Cider Donuts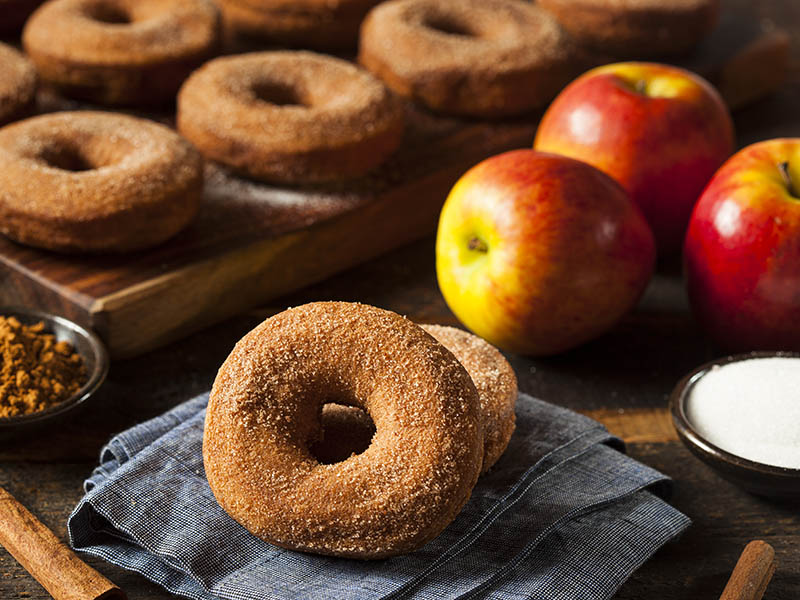 Apple cider donuts are a cakey, moist, and dense type of cake donuts made from concentrated apple cider and cinnamon. They have a very unique and strong taste due to the amount of cider incorporated within the dough.
5. Red Velvet Donuts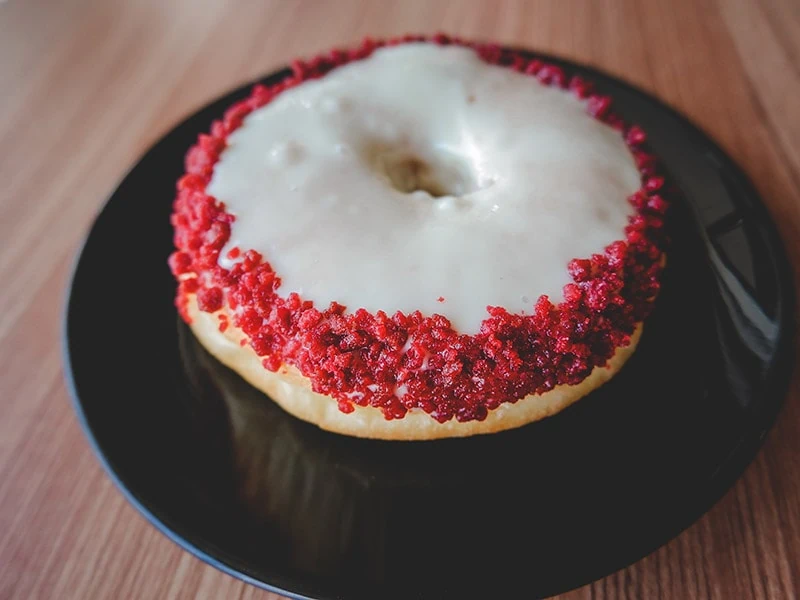 Red Velvet Donuts are mostly based on layered cakes, so it's no surprise they share the same style with each other. These donuts are made from cocoa powder, vanilla, buttermilk, and for most of the time, dyed with food coloring.
For the finishing touch, they will be topped with cream cheese frosting, which makes them no less appealing than an original cake.
6. Blueberry Cake Donuts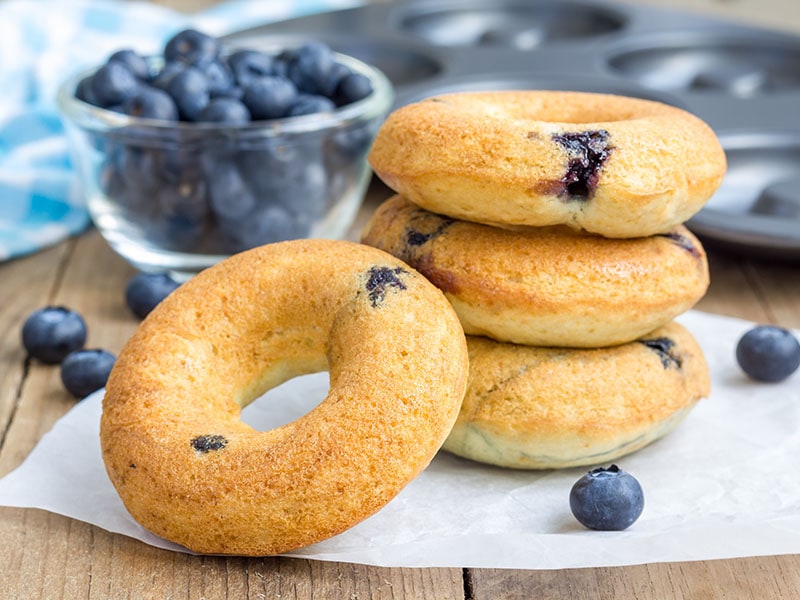 This is a type of cake donut that is filled with blueberry and is made from egg yolk, buttermilk, and baking soda. All of the ingredients give Blueberry cake donuts a crispy crunch texture with a slight tang and rich flavor.
Long John Donuts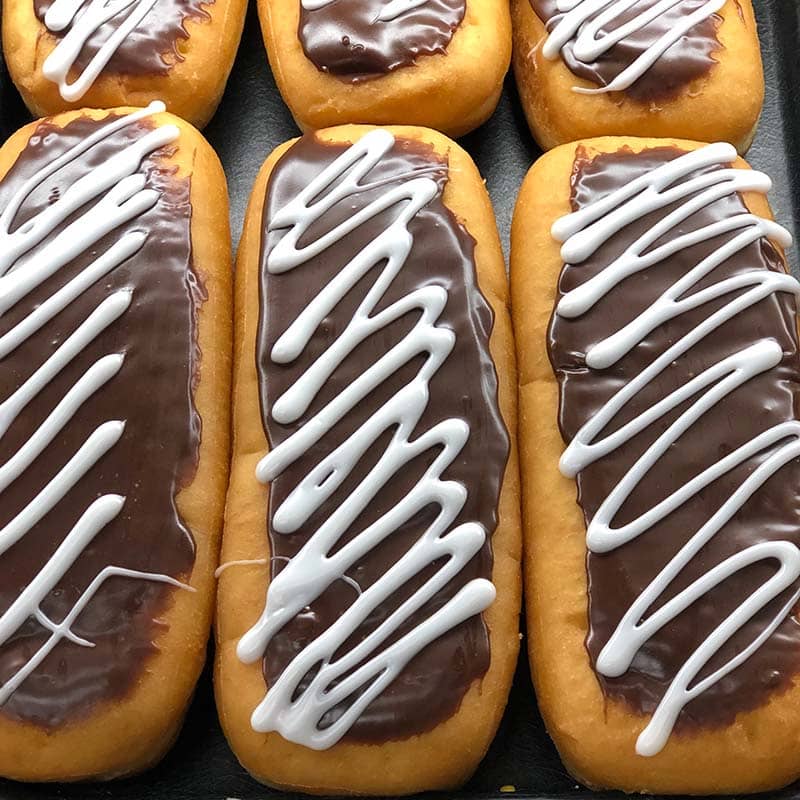 These are bar-shaped yeast donuts entirely covered with glaze or topped with cake icing. You can also fill them with custard or creme for more flavors.
The name "Long John" has its origin in the Midwestern United States and Canada. They often use it to call the oblong donuts with no filler, while in the West Coast, they are more often referred to as bar donuts.
The topping for this type of donut can be various, from chocolate, maple to even chopped bacon. Most likely, each region will have its own special recipes and the ingredients that come with them.
7. Cream-filled Long John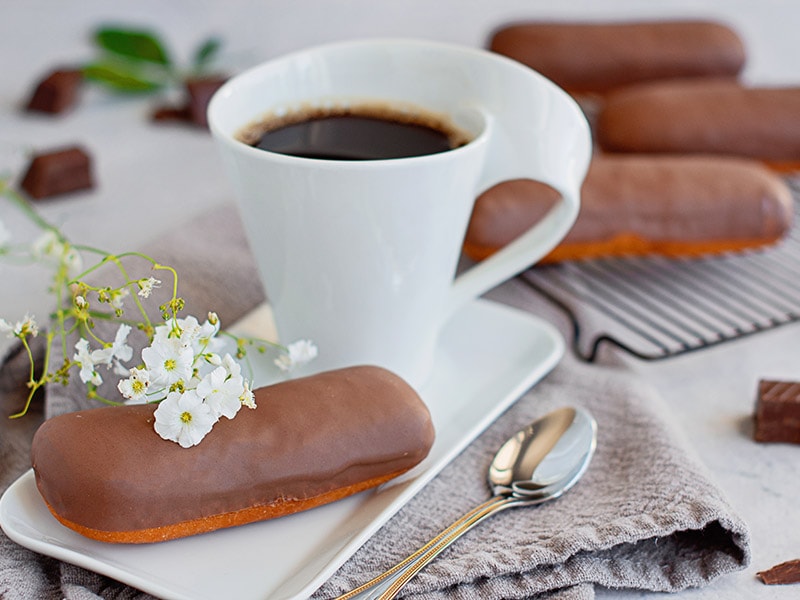 Just as the name suggested, they are oblong yeast donuts filled with cream, custard, or other flavors. Typically, they can be topped with chocolate and maple glaze.
The Middle Atlantic states of America usually categorized them as eclair donuts because they share many commons with those pastries from France.
8. Chocolate Long John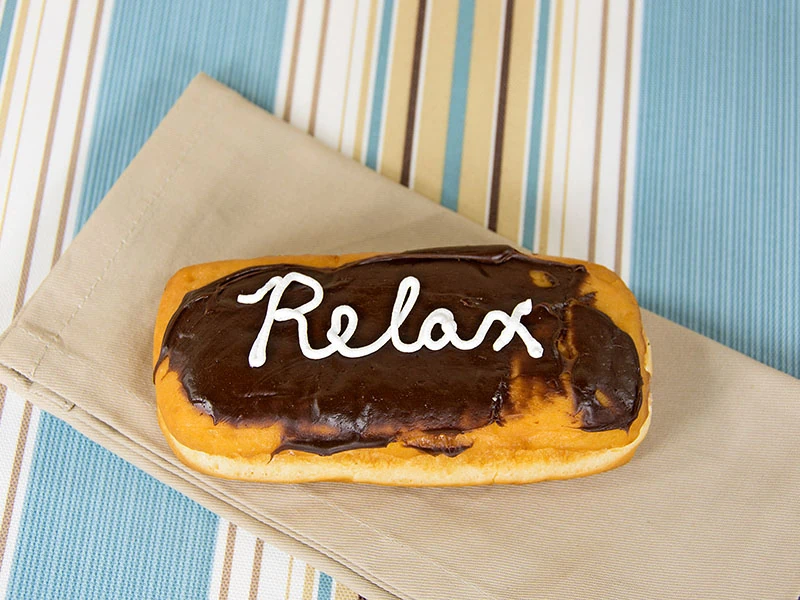 Just like the original Long John, they are also bar-shaped long donuts made of yeast and glazed with chocolate. In Western America, they are usually referred to as chocolate bars.
9. Maple Bacon Bar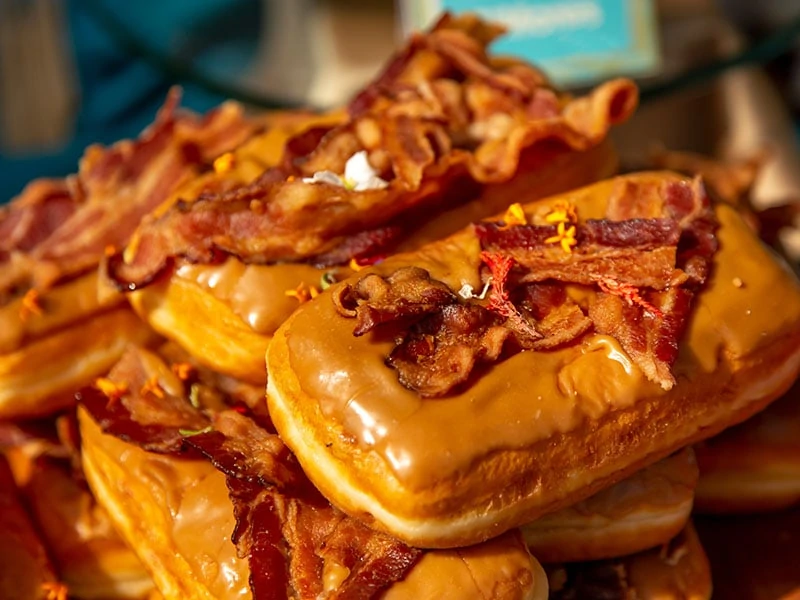 This is rather a strange combination but actually works pretty well. Basically, it's a Long John donut bar with maple and bacon on top. Since their first appearance in Portland and Oregon, they have become popular all across the United States.
10. Maple Bar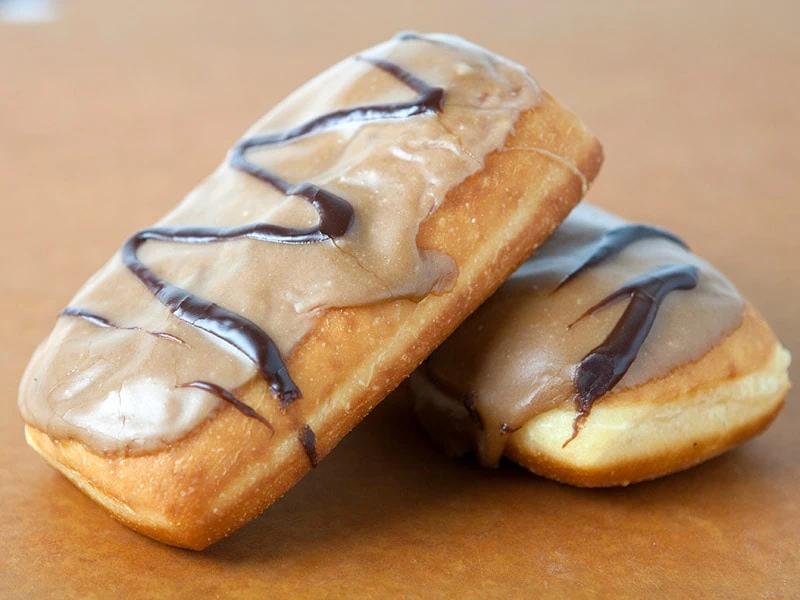 This one is a bar-shaped yeast donut just like the original Long John but with maple glaze. It is most popular on the American West Coast. In the Midwest regions of the United States, they are called maple Long Johns.
Donut Holes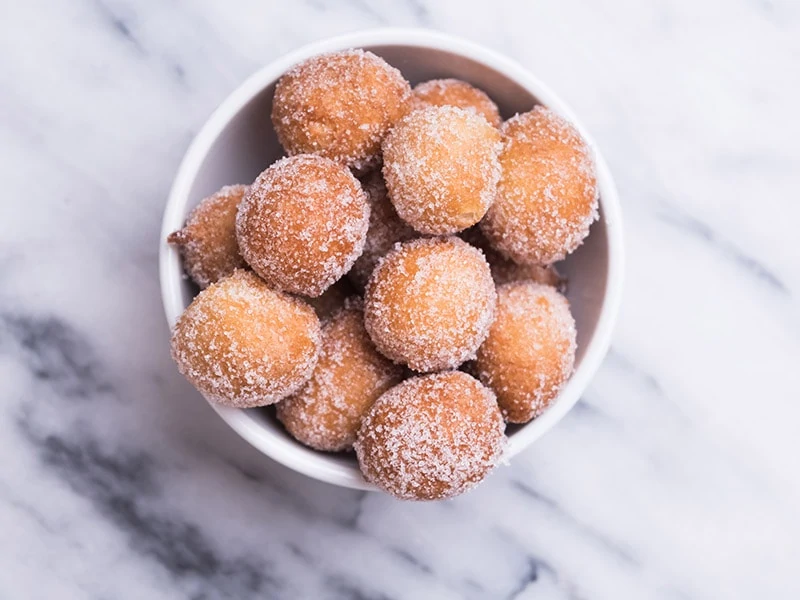 Donut Holes are small, bite-sized snacks, mostly made from the leftover dough of ring donuts, specifically, the center part. At first, it's just a way to reduce wasting food and increase profit, but over time they become a famous snack.
Normally, donut holes are just the frying dough left from ring donuts. They are much smaller in size but still have all the necessary toppings and flavors like the original one.
Sometimes people can make them by dropping a small dough ball into hot oil and frying them, like a completely separated product from ring donuts.
11. Zeppole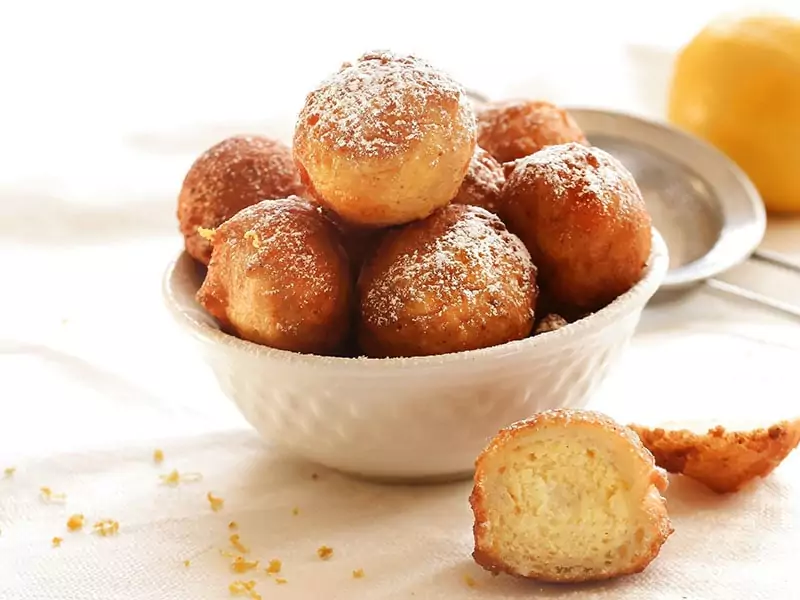 Zeppole is the Italian version of donut holes. It's a fried dough ball that is usually topped with powdered sugar and sometimes can be filled with various flavors like cream, honey, custard, or honey butter. The dish is one of the most popular Neapolitan sweet treats.
The sizes can be various, but in general, most of them are around 4 inches in measurement. Depending on the type of dough and ingredients, the Zeppole texture can be thick or airy.
12. Nun's Puff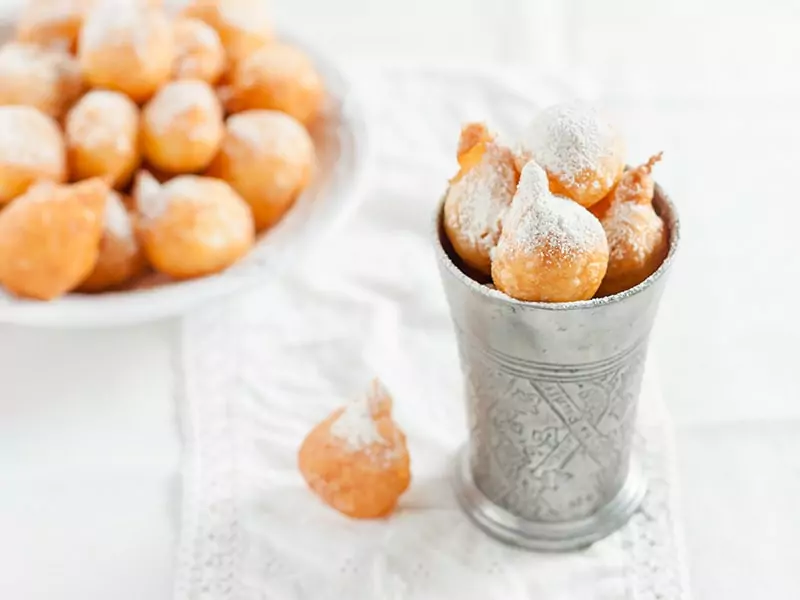 They are a kind of pastry from France made from choux dough, milk, sugar, eggs with a sugar coating, or cinnamon. They also have another name that is Pets-de-nonne. Usually, Nun's Puff will have a size of 1 inch and a half, but this can also be varied.
They are a typical treat during the Mardi Gras in France. Later on, the Americans also adapted this tradition, especially in New Orleans and Alabama. Thus Nun's Puff also comes to the United States and has its other version, which is called Beignet.
13. Lokma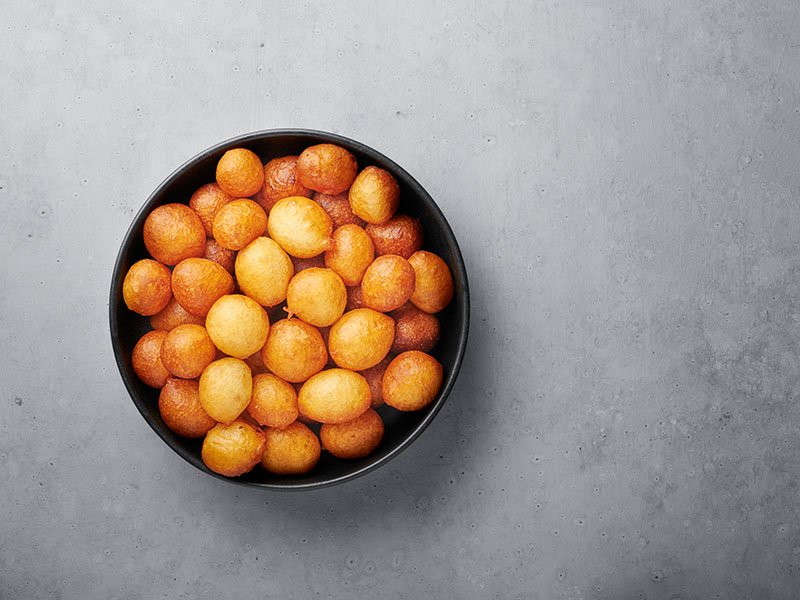 Lokma is a Greek mini size, fried doughnut coated with honey, syrup, and other flavors. It's notable by the crispy, golden layer yet soft and puffy on the inside. Before serving, people usually decorated it with chopped walnuts or cinnamon.
Potato Donuts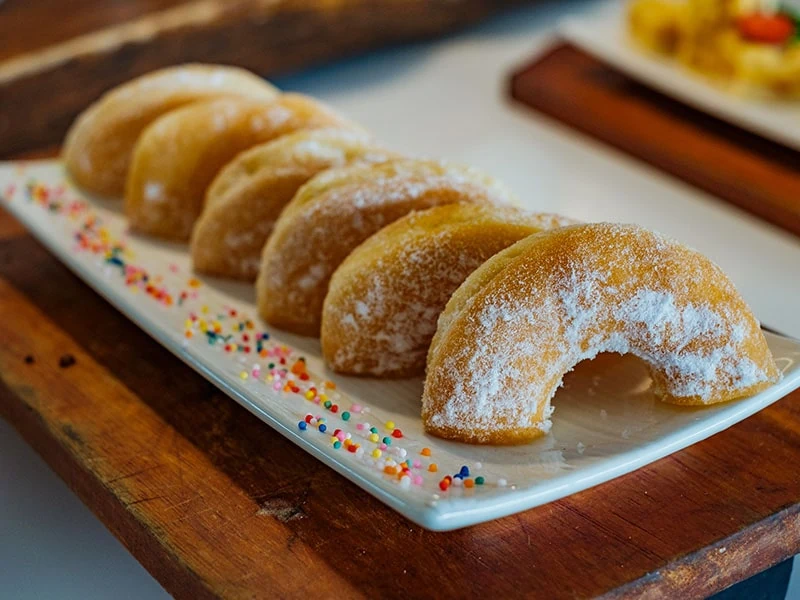 Potato donuts, also known as "Spudnuts", are a type of donut made from mashed potato or potato starch instead of flour. Typically yeast-raised and moist by nature, with a fluffy texture they tend to be lighter than flour-made donuts.
The processing method is pretty much similar to other normal donuts, frying and then topping. Potato Donuts also have a variety of flavors and toppings, just like other donuts. They can use the same topping with the others most of the time.
14. Picarones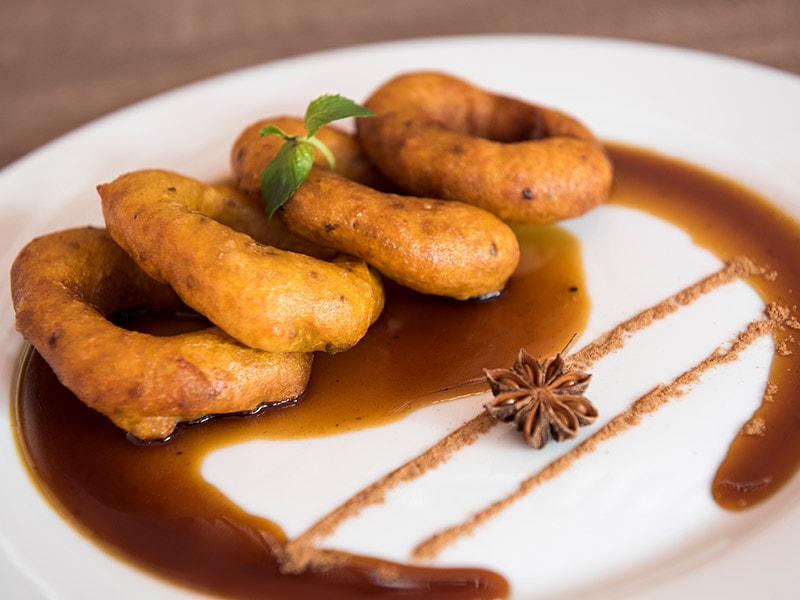 A Peru variant that is made from sweet potatoes and pumpkin. They are often filled with Peruvian brandy and served with traditional Peruvian sweets.
15. Fastnacht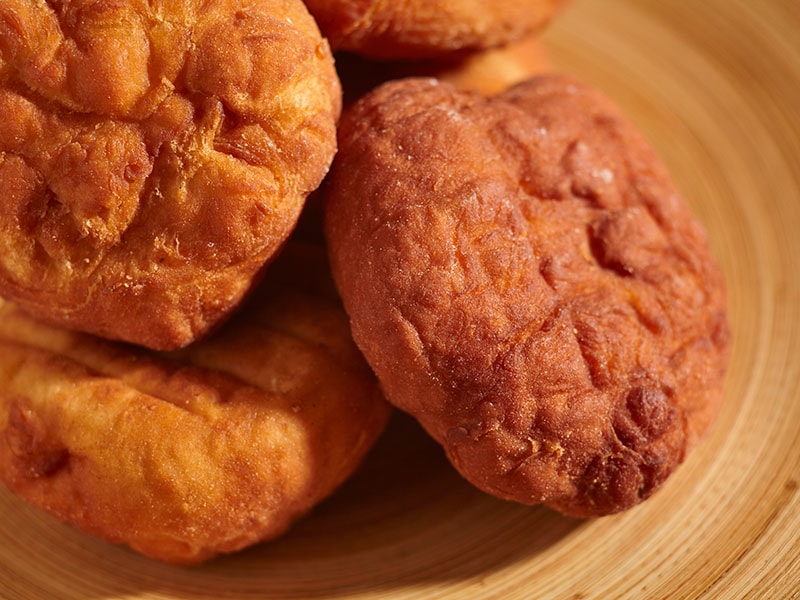 Fastnachts are fried yeast-raised potato donuts with square or triangle shapes from German. They are made from lard, sugar, fat, and butter. It is meant to use up all the fat and sugar in the house to make them for the Lenten season.
16. Maine Potato Donuts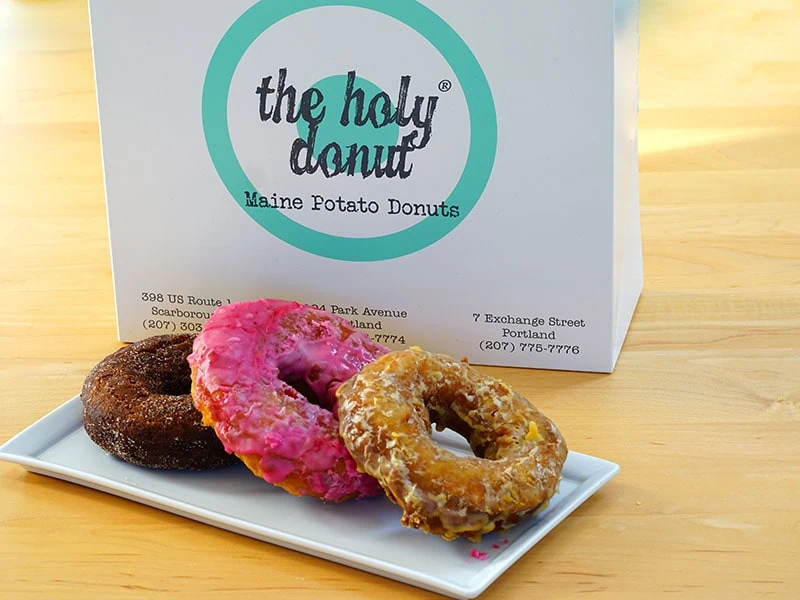 The main ingredient of these donuts is mashed Yukon Gold potatoes, which give them a creamy, sharp flavor. Other ingredients include grated nutmeg, buttermilk, and cinnamon sugar.
The method of cooking for Maine potato donuts is frying. They have ring shapes and are very popular in New England.
17. Kuih Keria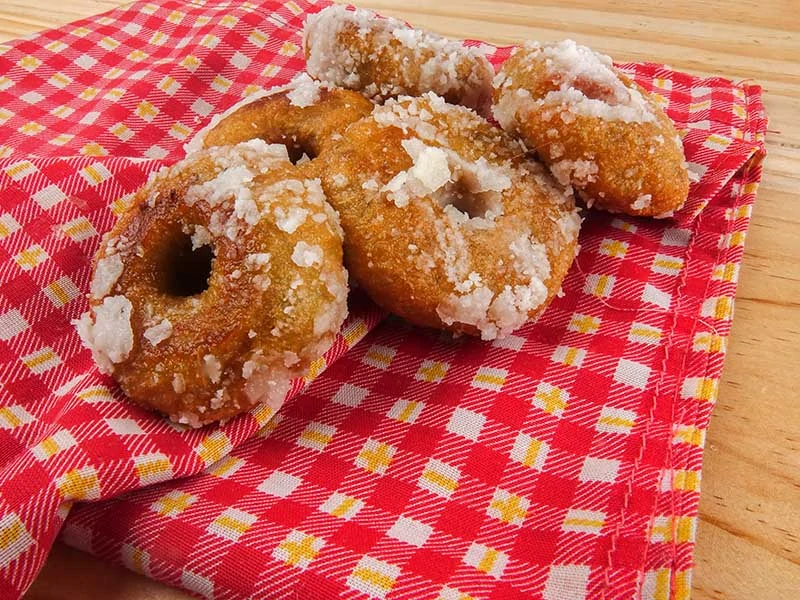 This is a sweet potato vegan donut from Malaysia. Kuih Keria is usually deep-fried, topped with a sugar glaze, and is ring-shaped just like a ring donut.
18. Graffe Napoletane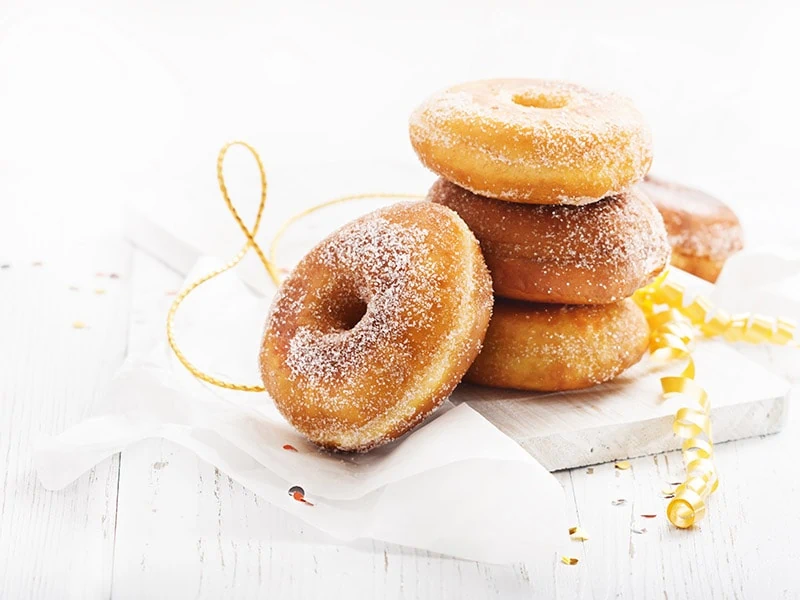 This is an Italian carnival food. Graffe Napoletane is a yeast donut with some special ingredients that are mashed potatoes and citrus mixed in the dough. Some other recipes may include limoncello, but all of them use caster sugar for coating.
Gourmet Donuts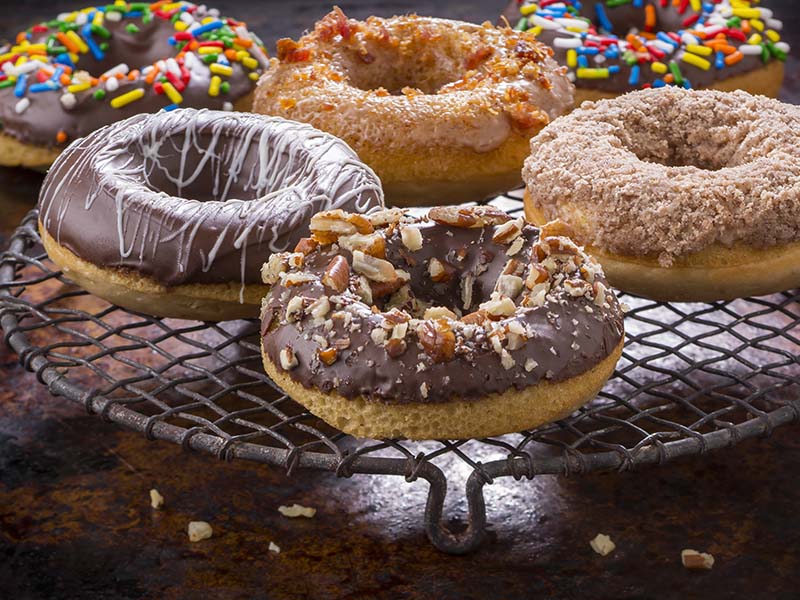 Probably the most complex and visually appealing type of donuts on this list. They're usually mixed with various other ingredients and flavors to become something more than your ordinary donuts. Their variants are only limited by the creativity of the maker.
Gourmet donuts can even combine with other desserts to become a unique and remarkable dish. Bakers from different countries and regions can freely make them in any shape and with any ingredients that they feel fit with the culture.
For example, there is cronut, an in-between of donut and croissant and donut, mochi donut made with rice flour, apple fritter, which is donuts filled with fresh apple pieces and cinnamon. Each one of them is an artful display of the baker's skills.
19. Cronut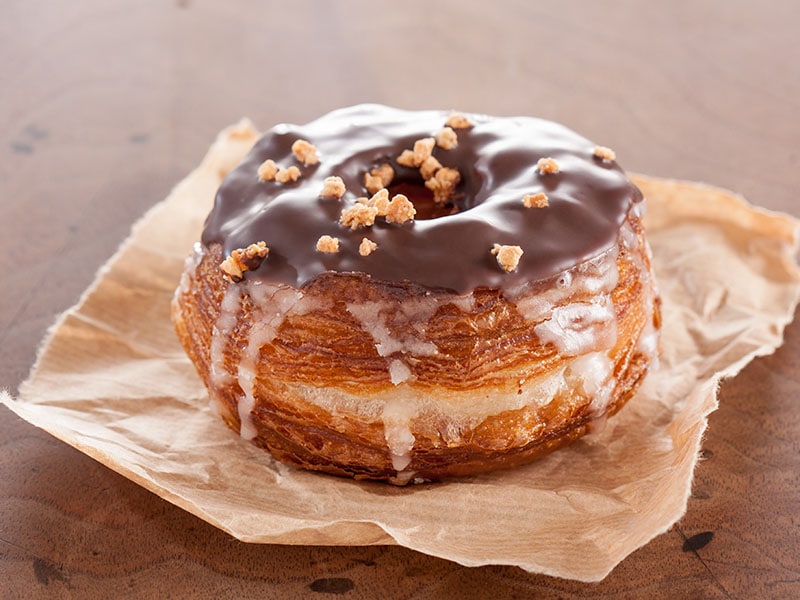 Cronut is an in-between croissant and donut. It has many layers of dough and butter, just like a croissant, and is fried like a donut. Cronut can be coated, glazed, or filled based on the preferences of the maker.
20. Apple Fritter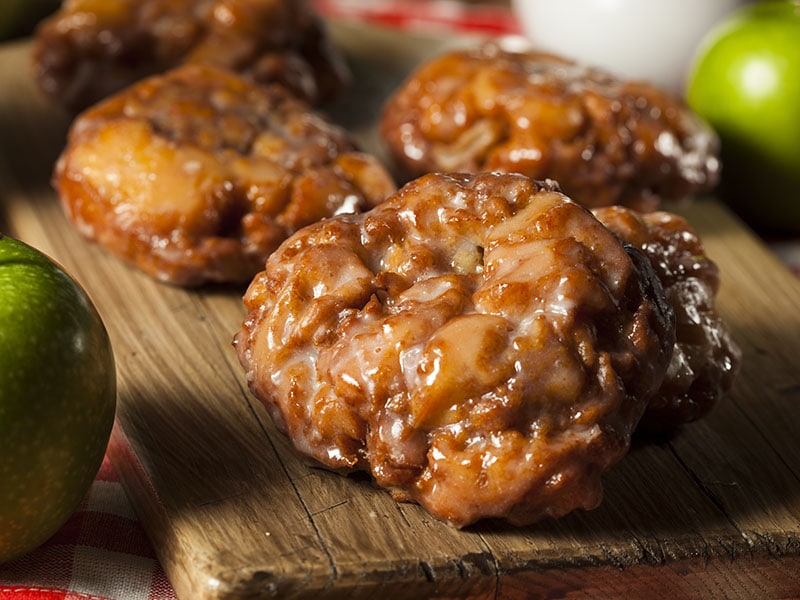 They are cake-based donuts filled with fresh apple and cinnamon, usually coated with sugar glaze or rolled in cinnamon sugar. Other versions include banana, elderflower, and peach fritters.
21. Mochi Donut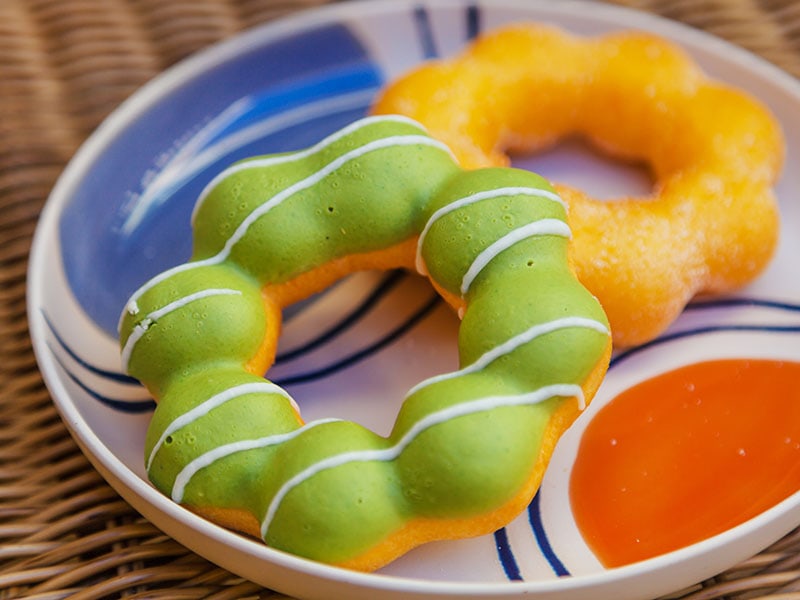 They are also known by the nickname "Pon de Ring". The main ingredient is sweet rice flour which gives them a springy texture that is different from many other types.
They are usually made by connecting eight dough balls into a ring and have many flavors like matcha, coconut, and mango.
22. Sourdough Donut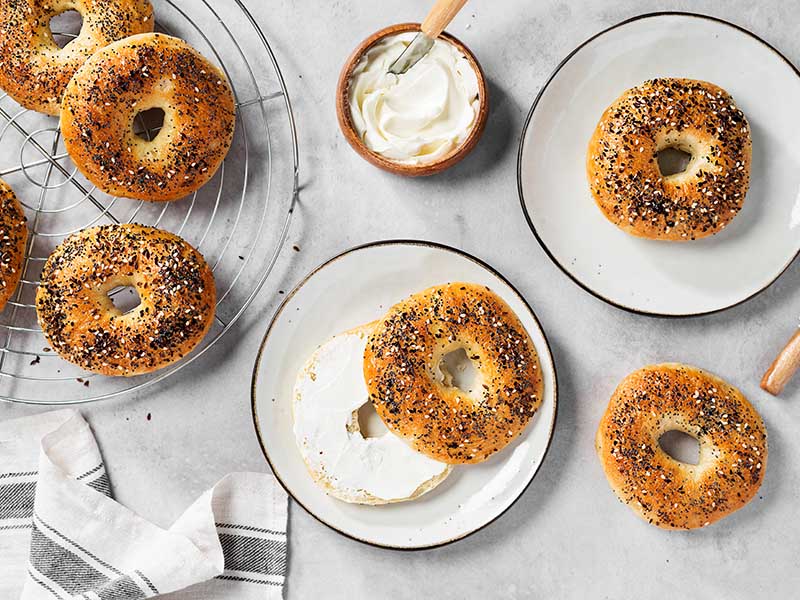 Sourdough donuts are made with a sourdough starter, a natural leavening agent that gives them a unique flavor and airy texture.
They are best to be glazed with powdered sugar or cinnamon sugar as their sweetness is gentle enough to not interrupt the flavor of sourdough starter.
23. Brioche Donut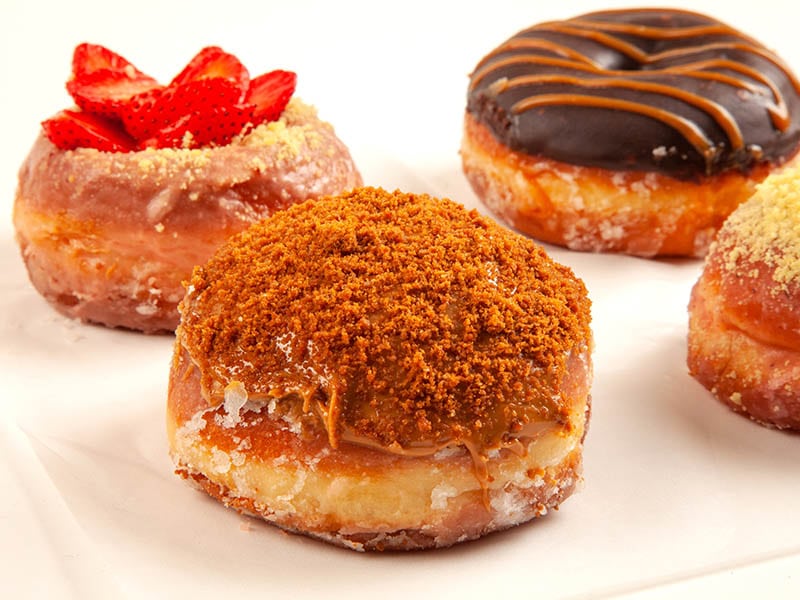 This donut is made from brioche dough which contains a high level of butter, making it very rich in flavor. Brioche has both the advantage of yeast and cake donuts that are tender, fluffy yet melt-in-the-mouth texture.
24. Beignet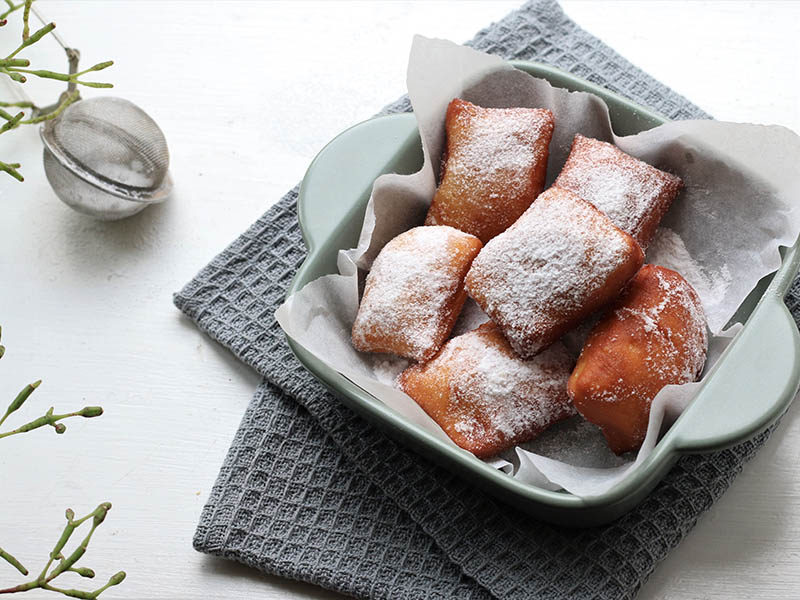 Here's a special treat from New Orleans for you to enjoy. Beignets are the successor of the French Nun's Puff that have come a long way to become their own American variant.
They are deep-fried choux dough topped with powdered sugar, but sometimes you can make them from yeast pastry. Beignet is a common dessert in New Orleans and is famous for its soft and melty texture.
Cruller
Cruller is a deep-fried donut that has a twisted shape achieved by putting the dough into a piping bag with open star tips then molding them to a unique fluted shape. They can also be done by hand by twisting dough strips together.
Cruller is very popular around the world, and many cultures have adapted them like China, Denmark, Germany, and America. The most famous should be the French cruller, a fried pastry with a light, airy texture that is crispy on the outside yet soft on the inside.
25. French Crullers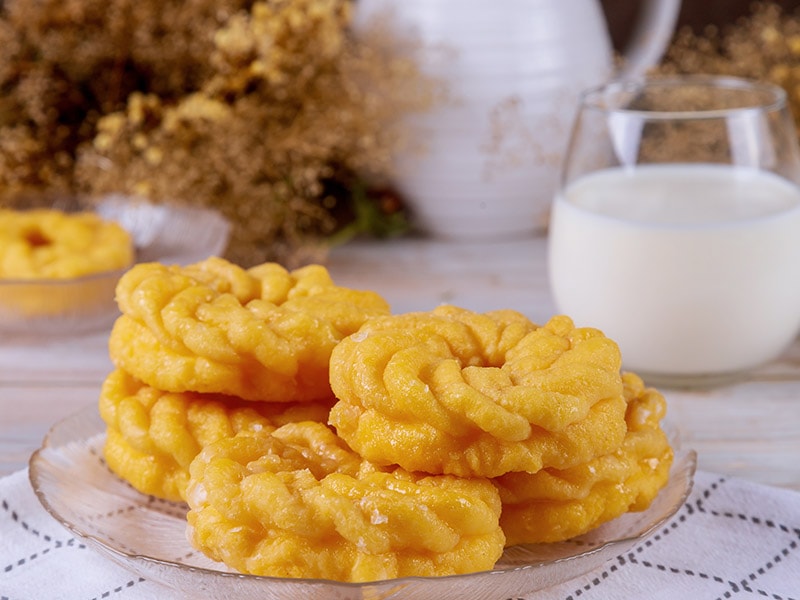 They are pastries that have their origin in France. French Crullers are fried and glazed round-shaped food made from a dough kind called choux pastry dough. In America, donut shops tend to create the crullers with their own recipes.
26. Klejne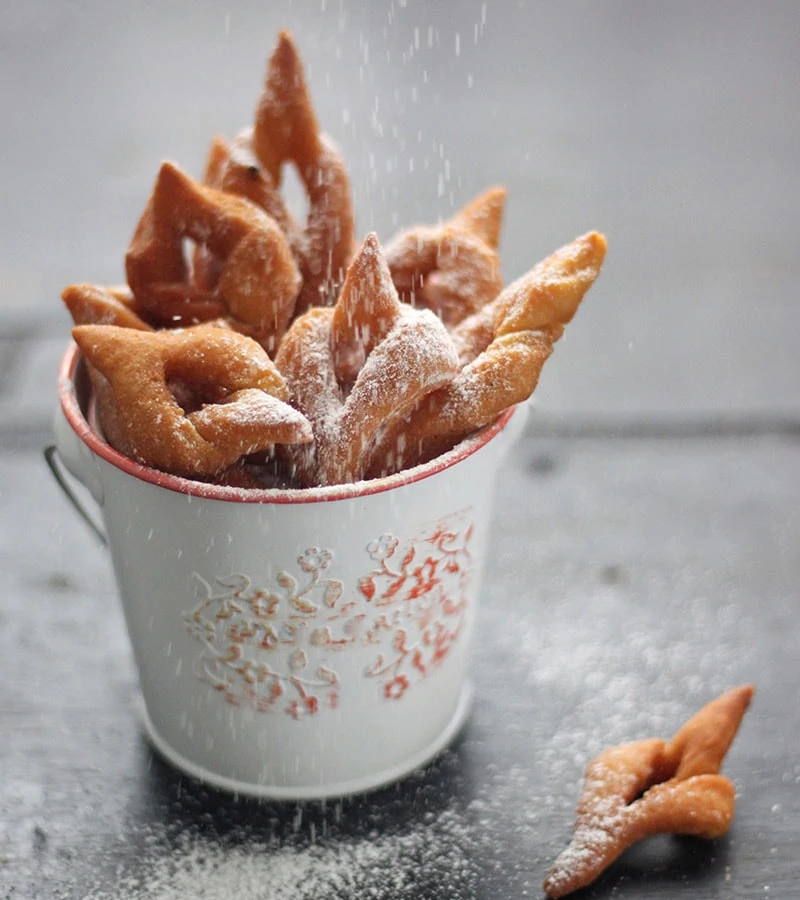 Klejne is a Danish variant of the cruller and also has a rather strange shape that looks like a pair of wings. It's also a famous treat in Icelandic gastronomy.
It's made from flattened dough that is cut into small pieces with a slit in the center, and both ends will be pulled through that slit to form a knot.
Then the Klejne will be deep-fried in oil and finally topped with powdered sugar and cinnamon to serve.
27. Cruller Donuts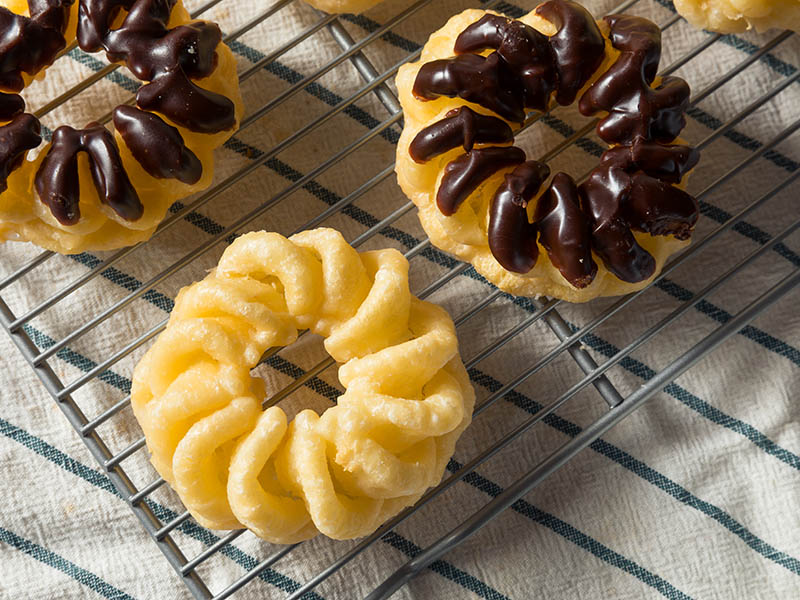 This is a popular type of donut in the United States. You can find them in many big donut chains. They are classic dense cake donuts that are molded into long flute shapes and flavored with chocolate, sugar, or other sweet sauce.
28. Milwaukee Cruller
This is a Germany style cruller that has been adapted by Milwaukee. Much different from other types, Milwaukee crullers use buttermilk as their main ingredient. They have a rectangle shape and a doughy, melty texture denser than most donut types.
29. Youtiao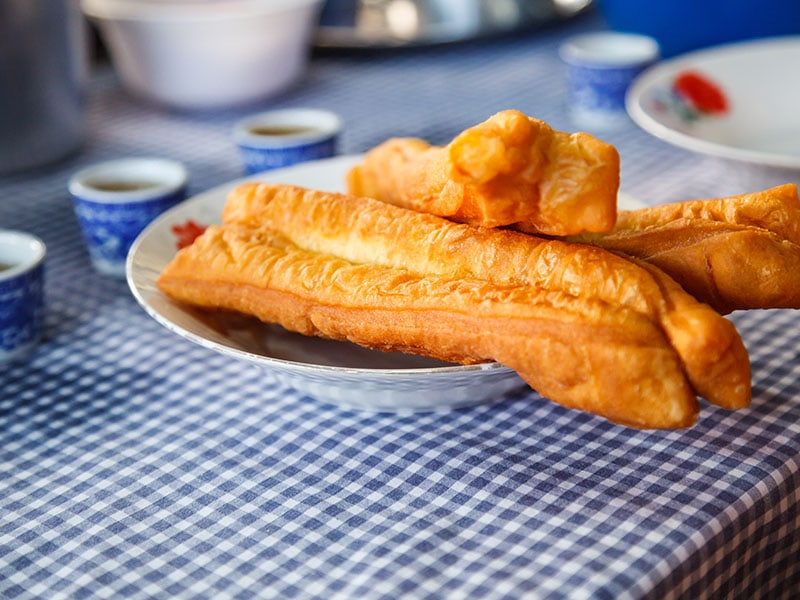 They are also known as Chinese fried dough or Chinese crullers. Youtiao is made from two long strips of fried dough tied together and can be separated easily. For the flavor, it's slightly saltier compared to other kinds of donuts and is usually served as breakfast.
Drop Donuts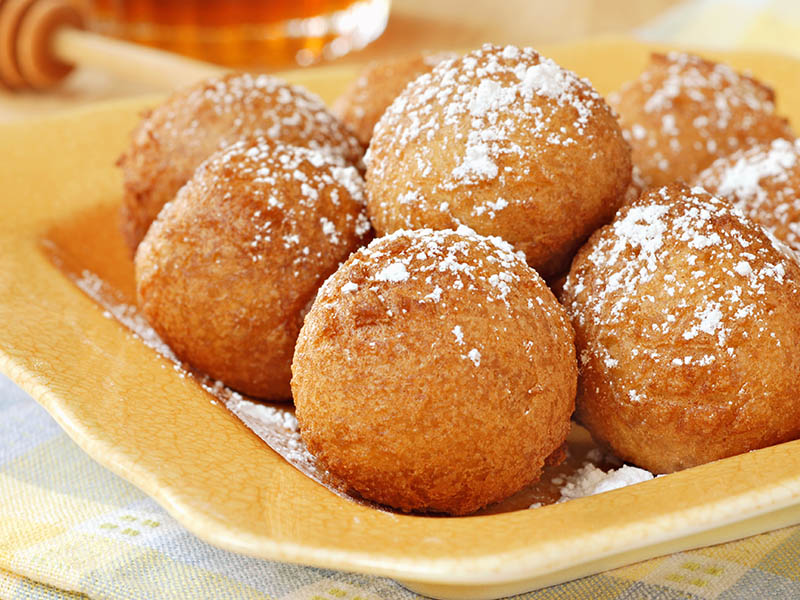 Drop donuts are the simplest type of donuts and quite similar to donut holes. They are just dough balls that are dropped into hot oil then fried until turning golden.
Commonly made from chemical leavening agents, they have a crispy layer but are soft and mushy from the inside. Unlike donut holes that are usually considered a by-product, drop donuts are a separated subtype of donuts.
Being smaller in size means that it's more convenient to enjoy them as a light snack. They are typically coated with sugar for a gently sweet flavor.
30. Olykoeks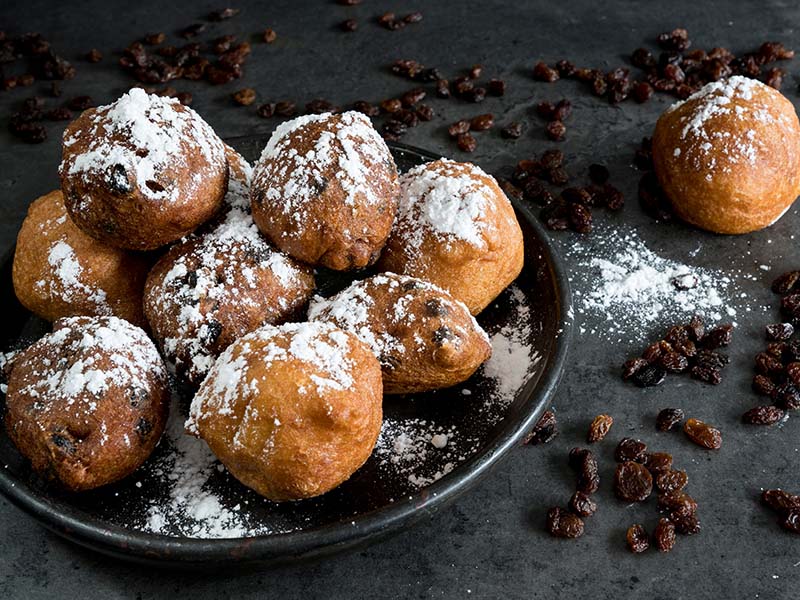 A sweet from Dutch, these fried dough balls can even be considered the origin of every donut in the world. Their name means "oily cakes" which is also the way they are made.
Olykoeks are just simply dough balls dropped into hot oil until they are done, then rolled in powdered sugar for more flavor. Many people believe that they are the first kind of donut in history.
31. Buttermilk Drop Donuts
Buttermilk donut is another donut from New Orleans and also a successor of African donuts. Buttermilk drop donuts are made from nutmeg, vanilla, and buttermilk as the key. Just like any drop donuts, they are dropped into hot oil to cook and then coated with a sugar glaze.
32. African donuts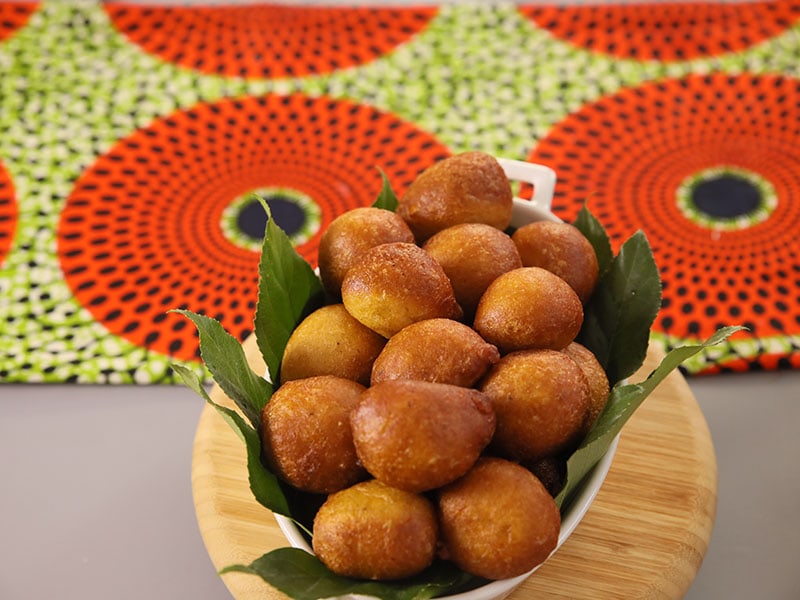 African donuts are made by dropping a small ball of batter into hot oil and fried until golden brown. The batter can be mixed with orange or nutmeg, which gives them a distinguished taste. They are tender yet crispy and can be flavored with powdered or caster sugar.
Healthy Donuts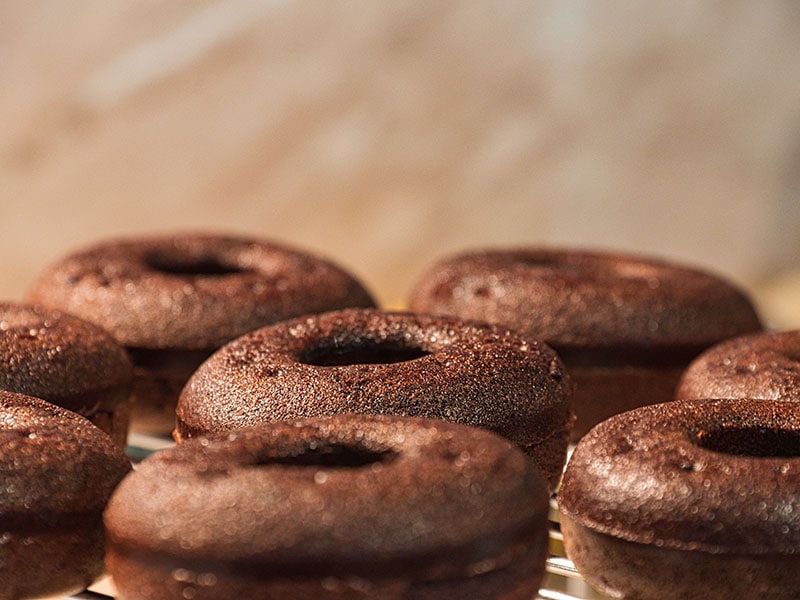 Although they used to be a somewhat rare variant, healthy donuts have earned their place as one of the most popular donuts.
To expand the market share, manufacturers begin to shift their attention to more friendly diet products and gluten-free alternatives, thus the birth of healthy donuts.
These donuts are usually made from plant-based or other organic ingredients to reduce the calorie content and are baked instead of fried to eliminate the oil.
They can be slightly different from classic donuts, but with the softness and sweet flavor that they provide, you can hardly notice the dissimilarities.
33. Keto Donuts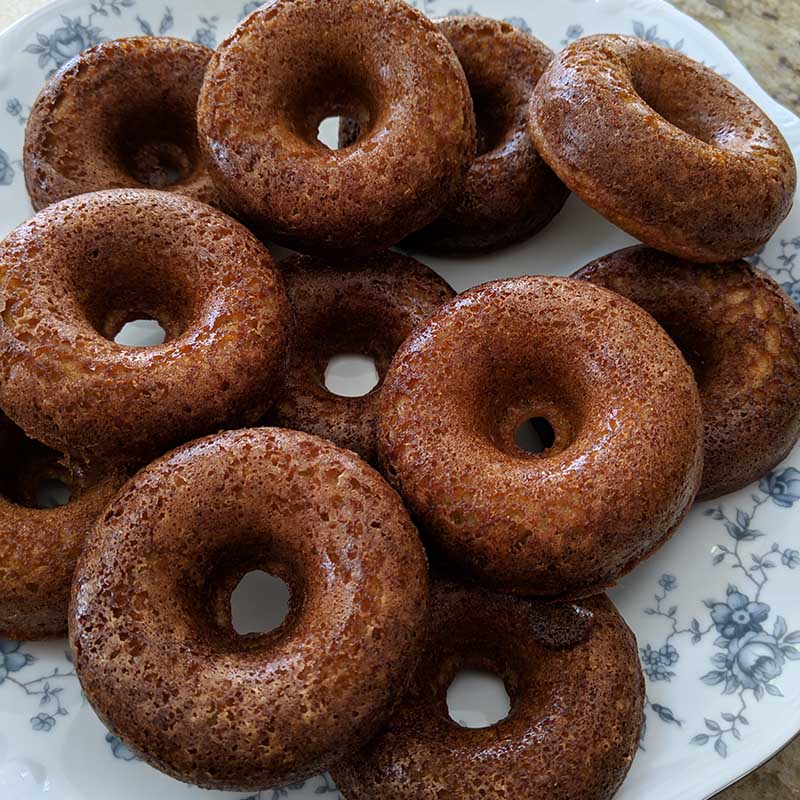 This is a healthier version of the classic donuts. Keto donuts are made from grain flour (like coconut flour or almond flour) and sugar-free sweeteners (yes, they exist). As a result, they're completely friendly to a keto diet.
34. Gluten-Free Donuts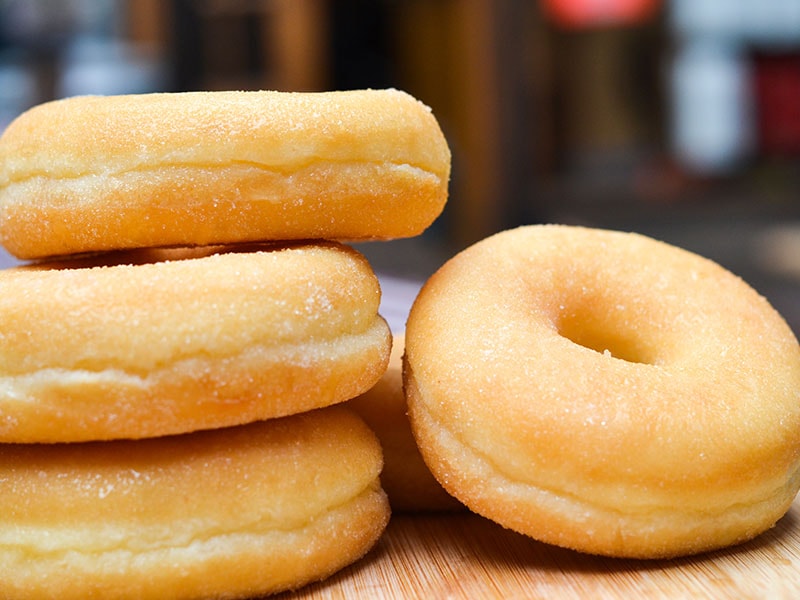 In order to make gluten-free donuts, the bakers have replaced all-purpose flour and bread flour with organic flour. These treats still manage to preserve most of the original flavors despite the change in the main ingredients.
35. Baked Donuts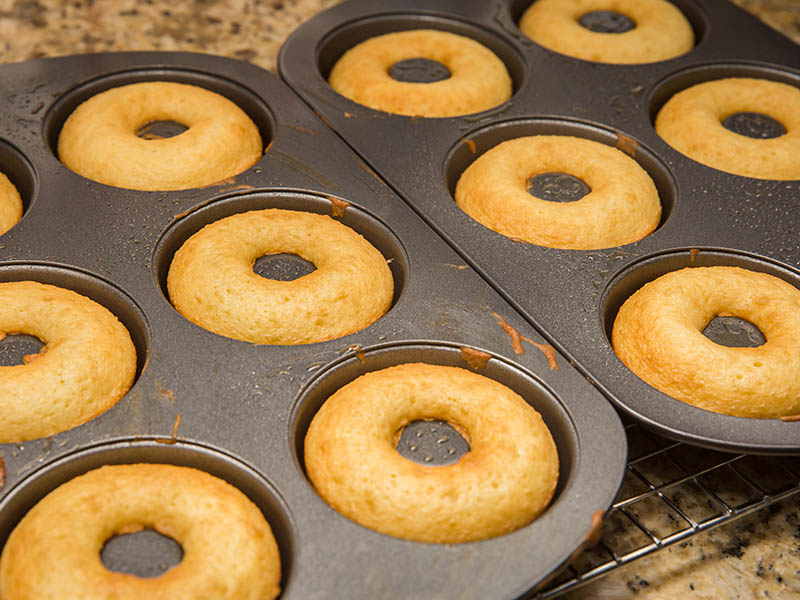 Baked donuts are your best choice when you want to enjoy donuts' original flavor with no change in the ingredients. Baking doesn't require oil, so these treats are much healthier than their fried counterparts. Plus, they're also easier for you to make at home.
36. Vegan Donuts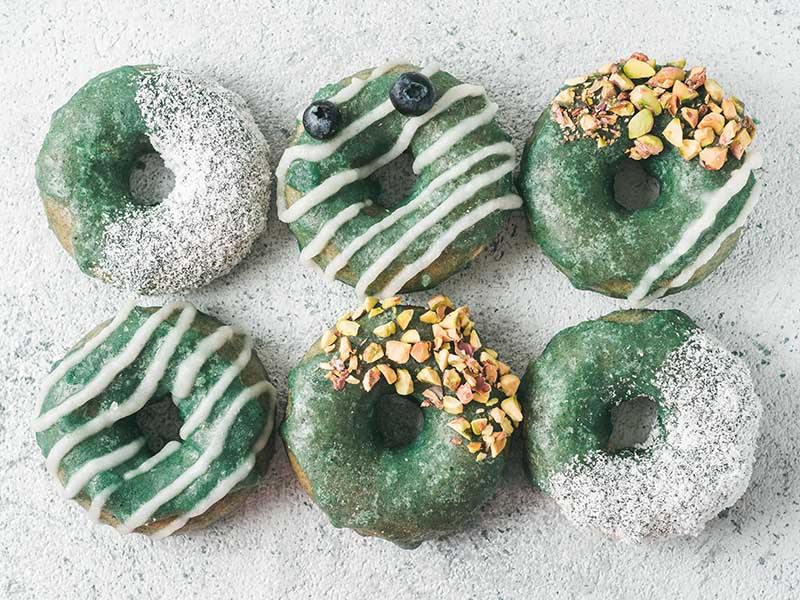 This is the best choice for you if you want a healthy alternative completely free of animal products.
Although Vegan donuts are made from plant-based ingredients like soy milk, coconut milk, and oat milk, they provide flavors that are no less remarkable than the classic donuts.
Tasty and healthy, that's enough reasons for you to give these Vegan donuts a try.
Filled Donuts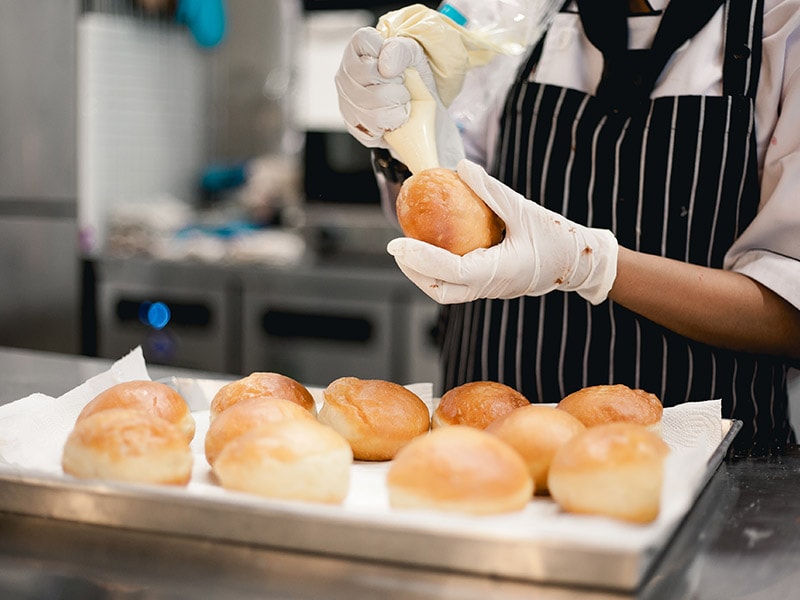 Filled donuts are a little more straightforward than ring donuts since they're just flattened fried spheres doughs, which in most cases are raised donuts. Then fill them with cream, jelly, chocolate, Nutella, and other sweet fillings.
After finishing, they are often dipped into powdered sugar or topped with various frostings. The most common toppings for them are Boston cream, coconut, key lime, and jelly.
37. Berliner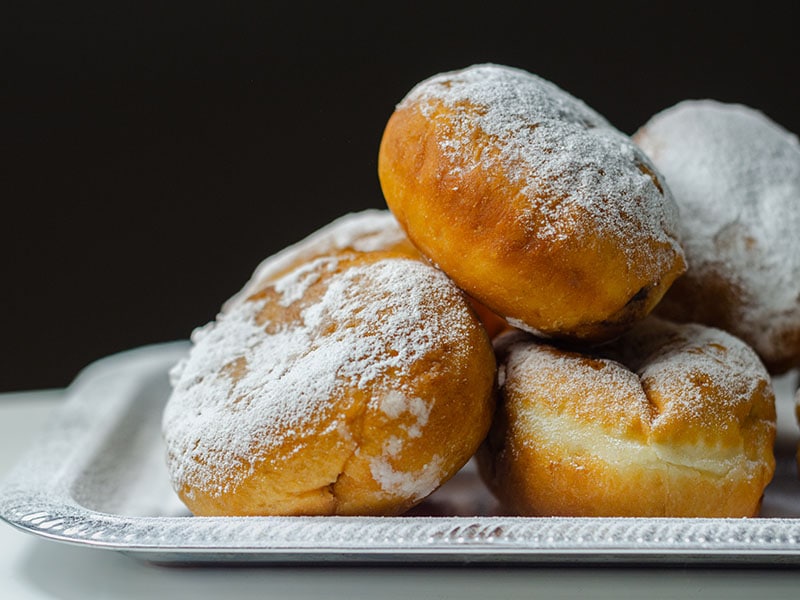 A filled yeast donut type with the main ingredients include a huge quantity of egg, milk, and butter. Berliner has its origin from Berlin, Germany, and also has numerous varieties available. One of the common variants is deep-fried dough filled with jam.
The toppings usually depend on the fillings since these factors need to be in harmony and amplify each other.
For example, strawberry-filled Berliners are usually topped with powdered sugar, Jam Berliner with icing sugar. Lemon-filled Berliner is best with coconut topping, or Spiced apple-filled Berliner topped with crumble apple.
38. Paczki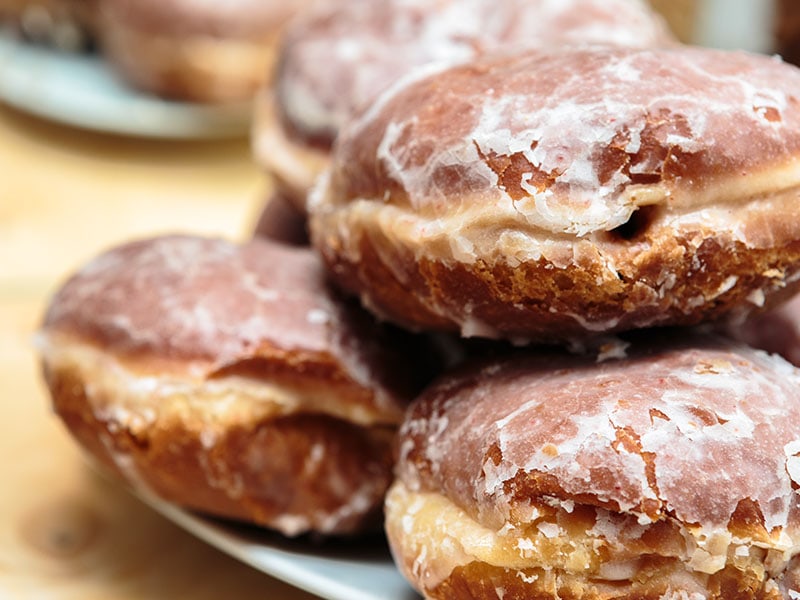 A special street treat from Poland. These donuts are very rich due to the heavy use of eggs and butter and sometimes even alcohol. Paczki is often filled with local fruit flavors like raspberry, plum, or apricot.
Traditionally, Paczki is fried and then rolled in powdered sugar. Sometimes the fillings can be cheese or cream.
39. Boston Cream Donut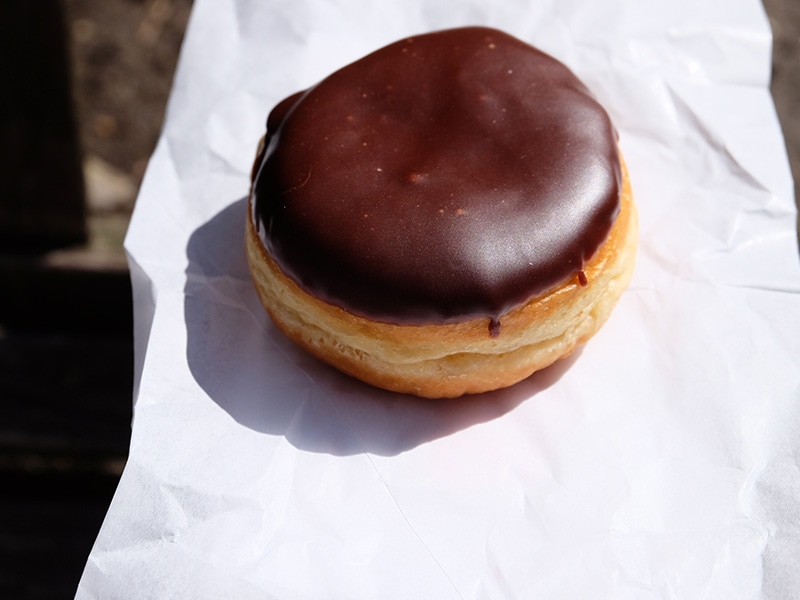 Boston Cream donut is a yeast-leavened donut and the successor of the famous Boston Cream Pie. It's made from classic ingredients with custard filling and chocolate frosting. You can also top them with rum syrup for a more traditional flavor.
Dunkin' Donuts And Krispy Kreme
In terms of brand and manufacturers, these two are some of the most famous franchises of donuts and sweets you can find in America and also around the world.
Dunkin' Donuts
Dunkin has been a long-live brand of sweets from the United States since the 1950s. Specializing in coffee and donuts, they have now expanded into one of the largest chains in the world, with approximately 12,900 locations in 49 countries. (2)
What makes Dunkin' Donuts so popular is the appeal to the working-class in America. The company offers good products with generous gifts for loyal customers. In addition, they also pay much attention to localization for every country they come to.
Furthermore, their marketing strategy is based on the American culture, which quickly captures the attention of the consumers. "American runs on Dunkin" is their famous slogan even to this day.
A good and effective strategy is what helps Dunkin' Donut to take on the world.
Krispy Kreme
Krispy Kreme is one of the two major players together with Dunkin' Donuts. The brand also has a long history ever since its foundation in 1937 in the United States. They have been making premium sweet treats that are loved by generations.
The biggest difference between Krispy Kreme and other competitors is the quality of their donuts. Unlike many other brands, Krispy Kreme makes their donuts in-house, which helps the donuts always stay fresh and tasty.
The glazing of Krispy Kreme donuts is also a significant advantage of them against others. A new batch of glazing is made every 12 hours (twice a day) to ensure its freshness. This is what makes Krispy Kreme donuts one of the best.
Honor the tradition, maintain the quality are what make Krispy Kreme different.
FAQs
Those are all the basic types of donuts that you should be aware of, but for you to know them even better, here is some extra information.
A Sweetness That Is Captive To Everyone
Ever since your childhood, the taste of donuts must have been something you are too well familiar with. Now you will know how to enjoy them properly. The crispy yet soft and tasty flavor that melts in your mouth is something you can't get enough of.
Donuts are a treat for everyone from all over the world, no matter the age. If you give them enough attention, they will become a snack to brighten your day anytime. Don't hesitate to share this article to find yourself some friends to enjoy the wonderful sweets together.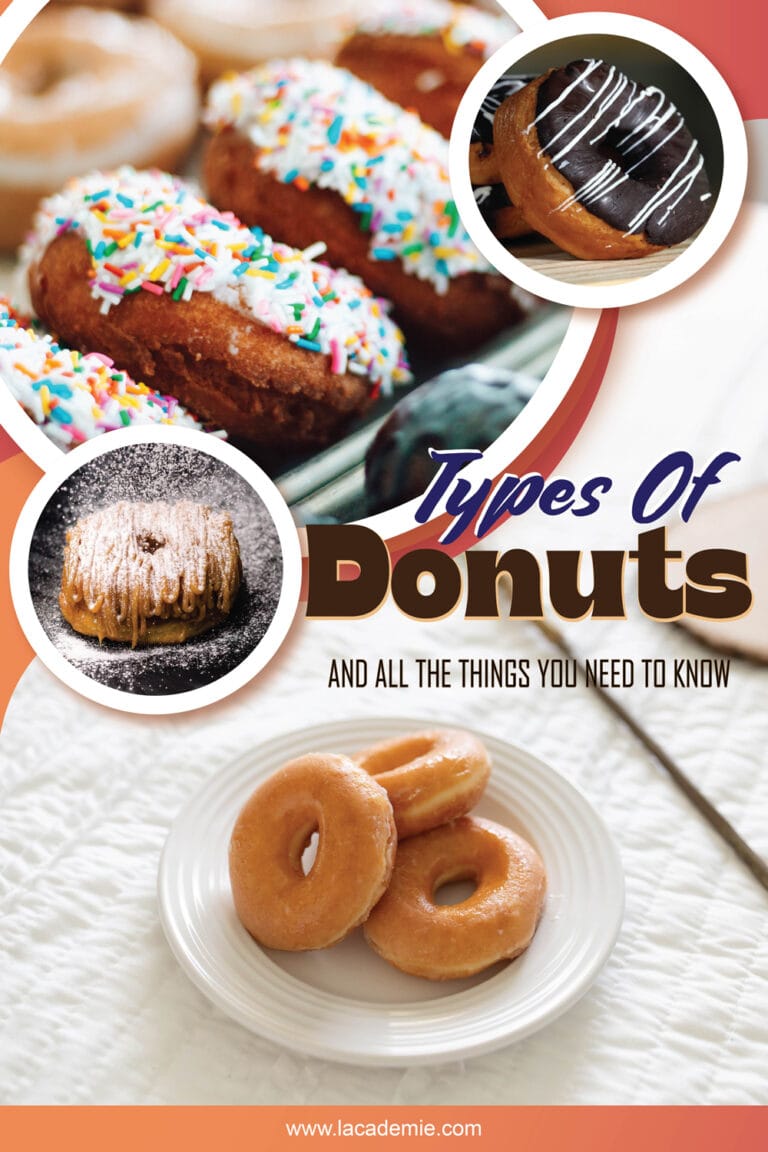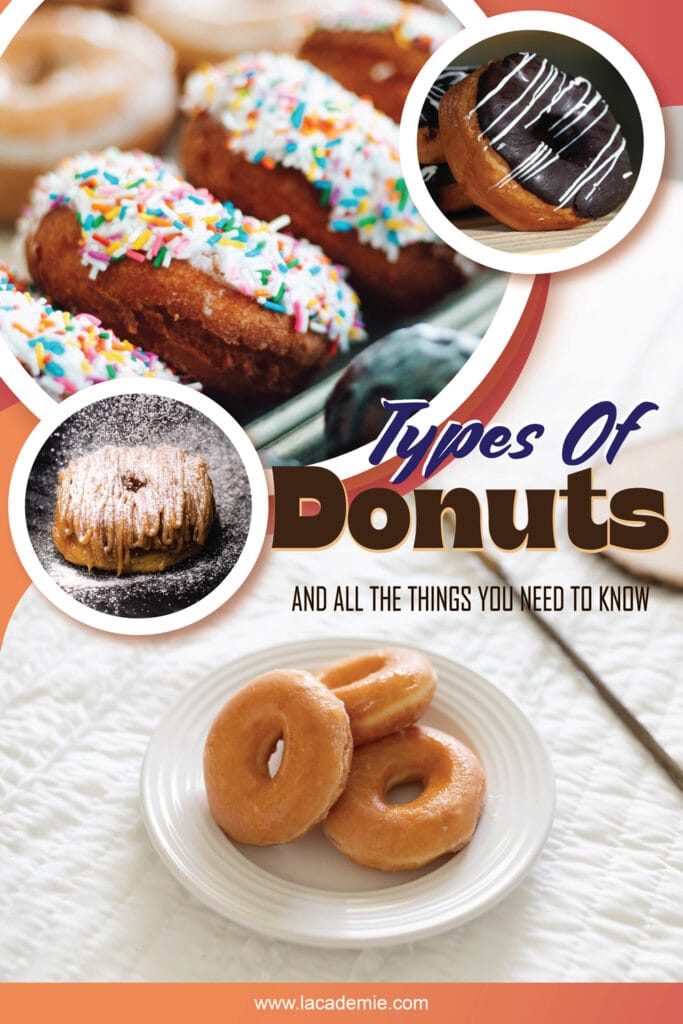 References
En.wikipedia.org. 2022. Doughnut – Wikipedia.
En.wikipedia.org. 2022. Dunkin' Donuts – Wikipedia.