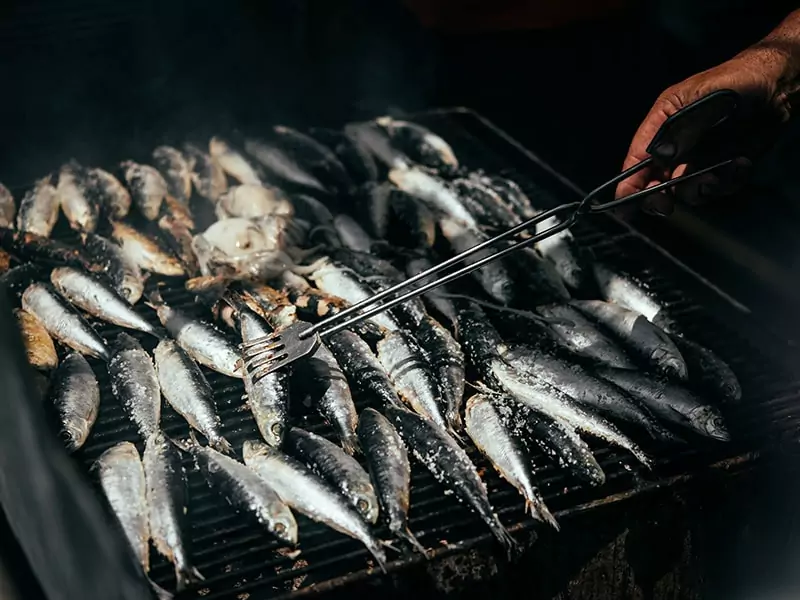 Remember to check out all the delicious Portuguese street food I listed below if you have a chance to visit Portugal on your next vacation.
When people think about Portuguese cuisine, they will usually think about the mouth-watering street snacks from cafés to pastry shops. Depending on the region, you can also find these dishes in revamped indoor markets or long-standing local bistros.
Choosing what to eat might be difficult at first since there are so many options. However, after reading this article, you will become a Portuguese street cuisine pro! So what are you waiting for? Give this article a read right now!
This country has an impressive amount of traditional sandwich dishes, and almost all of them are popular on-the-go street snacks. Here are some recommendations:
1. Bifana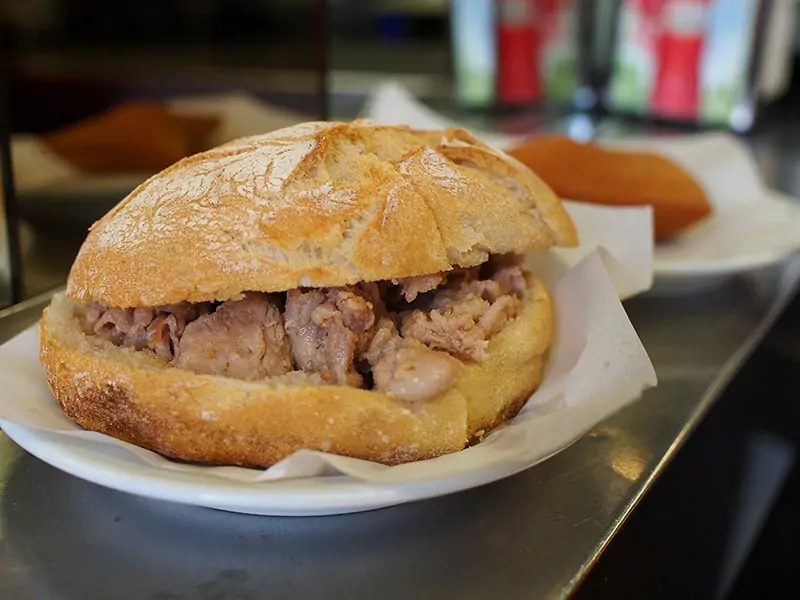 This classic Portuguese sandwich is made with just two simple ingredients: pork steaks and bread roll. This might look like a simple and ordinary sandwich, but the preparation of the pork is what makes the dish stand out.
Before being sandwiched, the steaks are seasoned and simmered in a garlic sauce. The Northern regions tend to cook the pork in a spicy broth that doubles as the sauce for the sandwich.
Sometimes, the locals add sautéed onions to spice up the flavor profile of Bifana and pair it with an Imperial cocktail or beer. People from Lisbon and the South of Portugal also pair this dish with mustard.
You can find this well-loved sandwich anywhere across the country. In fact, this dish is so popular that Portuguese McDonald's has recently introduced the McBifana!
2. Francesinha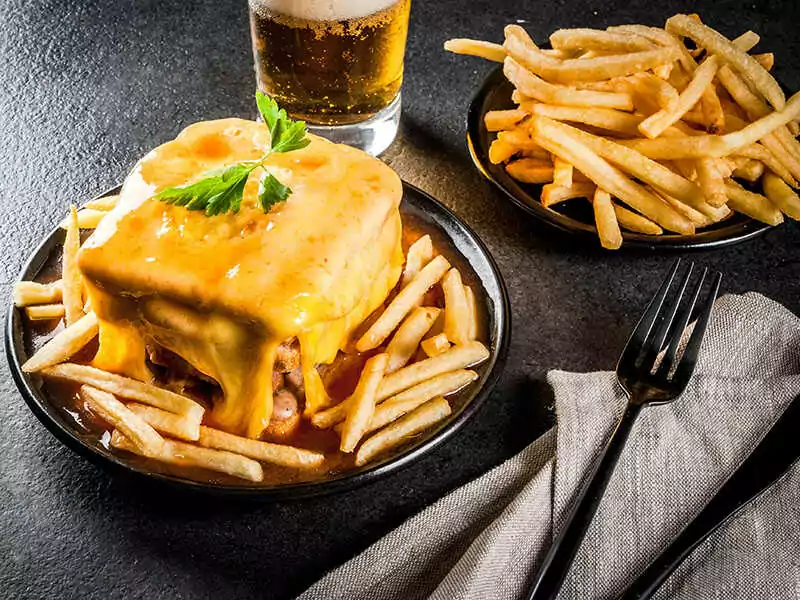 Despite being called "street food", Francesinha is definitely not an ordinary sandwich that you can grab and eat on the go. This dish is considered a staple in Portuguese cuisine and a must-have for tourists and locals alike.
This dish is a Portuguese variation of Croque Monsieur – one of the most popular dishes in France. However, instead of using only ham like its French cousin, the Francesinha recipe calls for steaks, sausages, and a generous scoop of a golden beer-based sauce.
The Portuguese Croque Monsieur was created in 1953 by Daniel David de Silva, a returned emigrant from France. Since he first made this dish in Porto (Portugal's second-largest city), it became closely associated with the city. However, you can also find it elsewhere in Portugal.
This dish will require some utensils to help you combat it. The locals often eat this cheesy sandwich with a side of fries.
3. Prego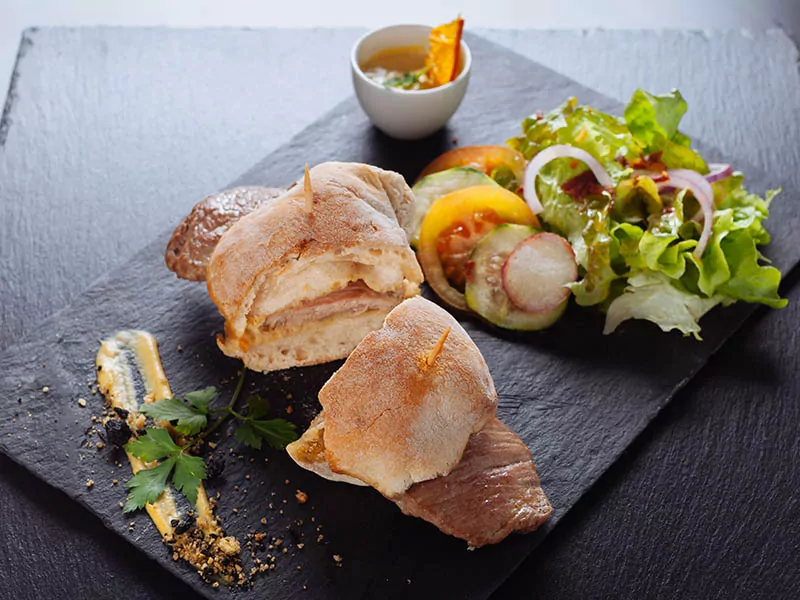 To make a Prego, the locals will marinate thinly sliced beef overnight and cook them with garlic, onion, and wine. Once cooked, they will stuff the skirt steak in crusty bread and season with a dash of Peri Peri – a type of chili sauce made from Bird's Eye Chili in Africa.
This dish is also famous in Mozambique, a former Portuguese colony. This perfectly explains the origin of the addition of Peri-Peri sauce.
This renowned mouth-watering street treat may be found in markets and restaurants across Lisbon. So be sure to add Prego to your list of must-try Portuguese dishes if you're planning a trip to the capital city of Portugal.
Most restaurants in Lisbon have two options for this dish: Prego no Pão (on bread) or Prego no Prato (on a plate). The first can be served with mustard or spicy sauce, while the second can be served with fries, rice, or salad.
4. Pão com Chouriço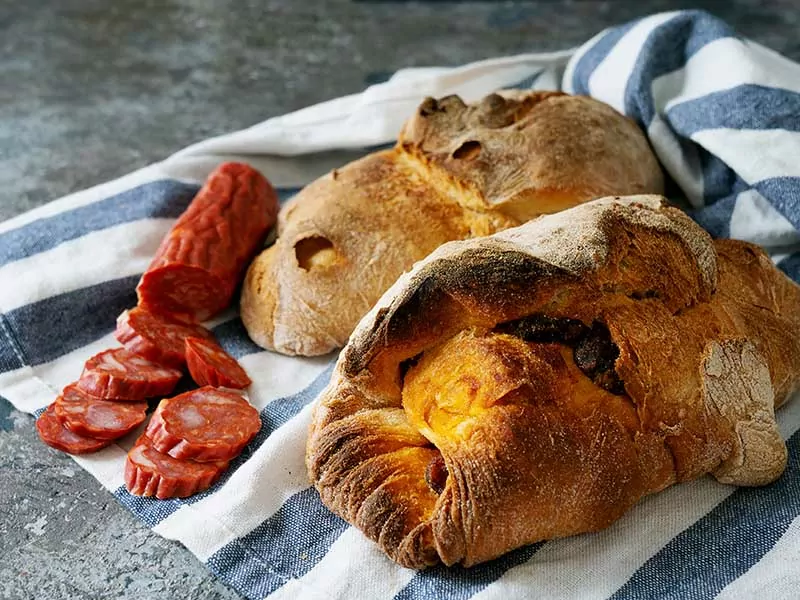 Bread and sausage are a foolproof combination, and this dish will prove it. Pão com Chouriço is an extremely popular sausage-stuffed bread roll that originated in Portugal.
This hot snack contains Chouriço (a traditional pork sausage), garlic, and paprika seasoning. These ingredients will come with a crusty bread baked in a wood fire oven.
Many tourists stated that Pão com Chouriço is their favorite snack, and it is one of the primary reasons for them to come back to Portugal again and again. Remember to go for the ones cooked in a traditional terracotta oven since they will taste better that way.
5. Cachorro Quente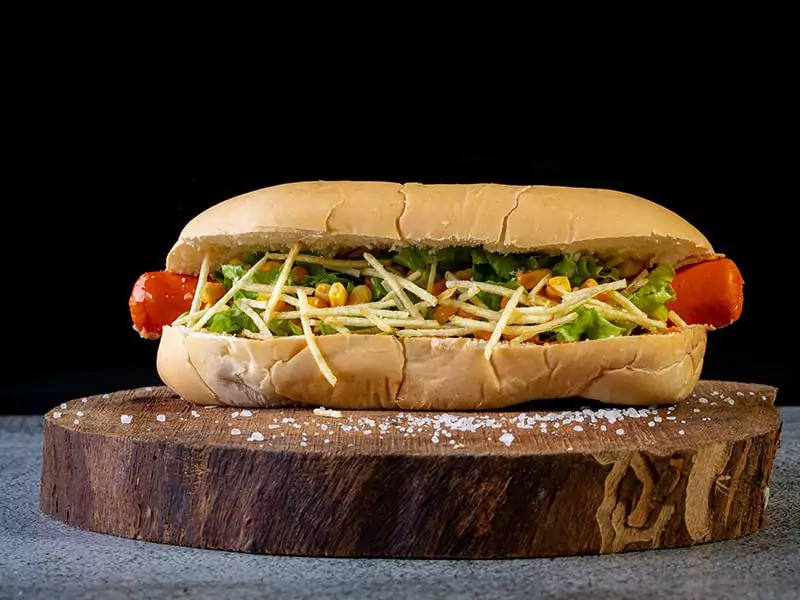 Cachorro Quente is the updated version of the familiar American hot dog. Compared to worldwide famous American dishes, Portuguese hot dogs have a unique addition of lettuce, corn, mayonnaise, and potato sticks. Most people associate this recipe with Brazilian hot dogs.
The bun for Portuguese hot dogs is also a lot bigger than that of the North Americans. The large bun and various toppings make this simple dish a fulfilling meal for Portuguese when they go out and need something that can fill them up quickly.
---
Whether sweet or savory, Portuguese people's love for deep-fried snacks borders on an obsession. Fried foods aren't typically known for being very healthy, but there are days when you deserve something extra-special. So go ahead and snack on these guilty pleasures!
6. Rissóis de Camarão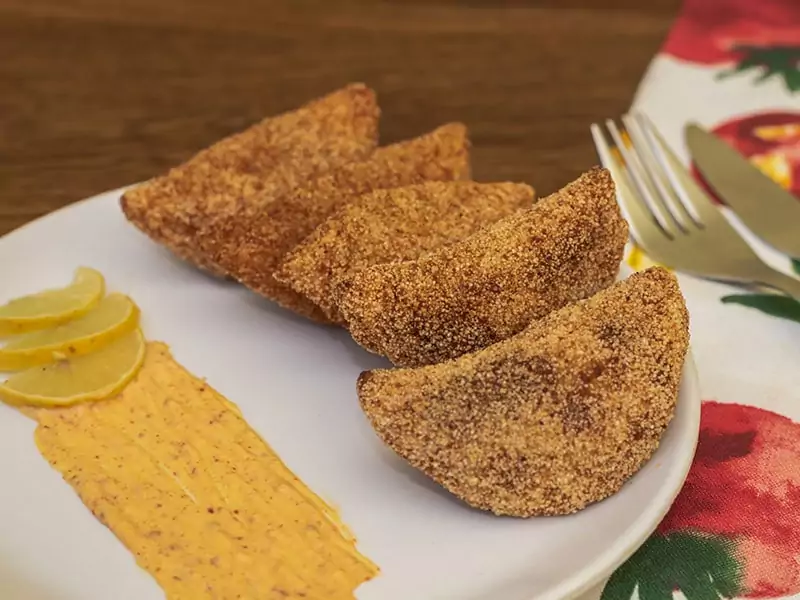 If you consider yourself a seafood enthusiast, this dish is definitely a must-taste. Rissóis de Camarão is a delectable deep-fried dish loaded with shrimp. Some variations call for cod (Rissóis de Bacalhau) and mincemeat (Rissóis de Carne), but shrimp is still the most common choice.
These half-moon-shaped turnovers are usually served as appetizers, starters, or snacks. Making Rissóis de Camarão at home is quite time-consuming, so it is not a typical everyday food. However, this dish usually makes its appearance during significant events in Portugal.
7. Chamuça
(Portuguese-Style Samosa)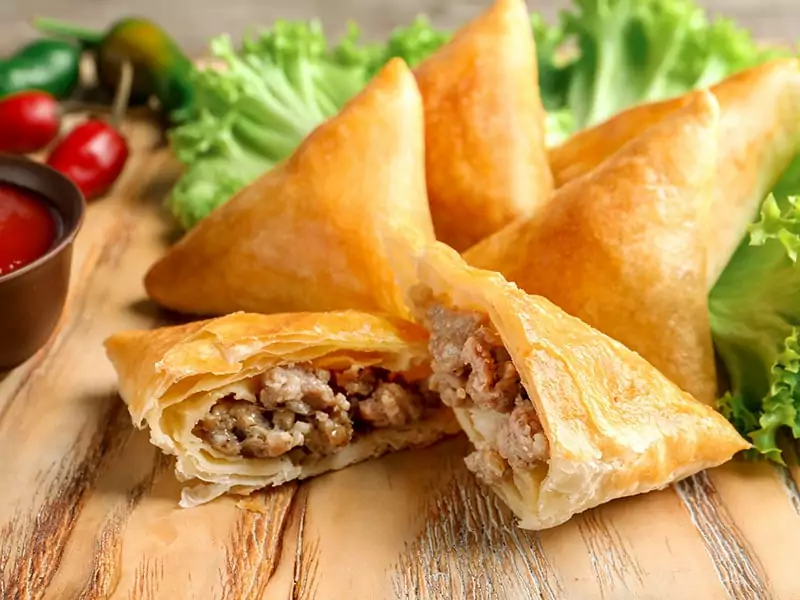 When people hear the name Samosa, they usually think of Indian cuisine. However, Samosa or Chamuça is also a typical snack, entrée, or appetizer in Portugal.
These delicious deep-fried pastries often contain various fillings like spiced potatoes, onions, peas, chicken, or other meats. Depending on the location, it can have multiple shapes, such as triangles, cones, or half-moons.
Besides India and Portugal, Chamuça is now often cooked in many regions of the world due to emigration and cultural dispersion from these locations.
8. Bolinho de Bacalhau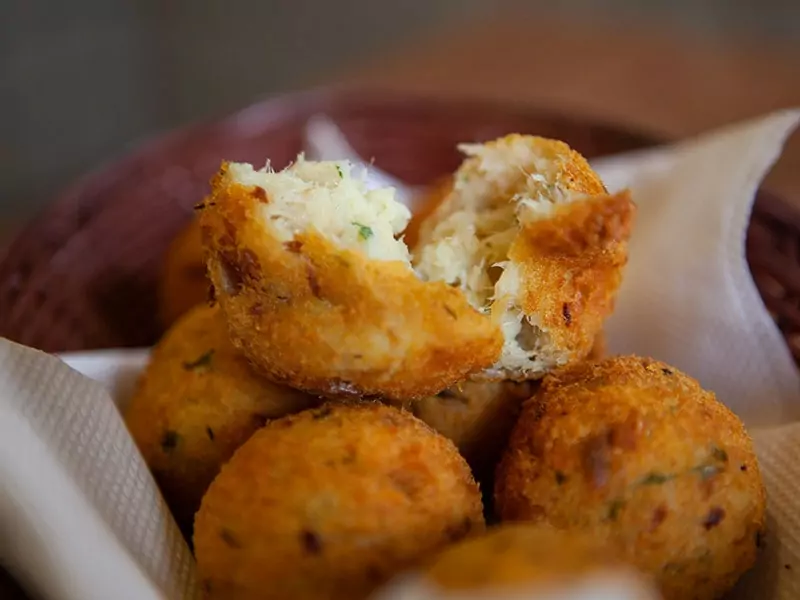 These crispy cod fritters are known as Bolinho de Bacalhau in Northern Portugal and Pastéi de Bacalhau in the Central and Southern areas of the country and Brazil.
The recipe for this dish calls for dry salted cod, mashed potatoes, onions, and various seasonings. That is why most foreigners refer to this dish as "salt cod fritters" or "salt cod croquettes". Modern locals sometimes stuff these fritters with Serra da Estrela cheese.
These crunchy yet creamy little croquettes are commonly offered as appetizers in restaurants or formal dinner events. Still, they may also be served as the main dish with rice and various fresh salads.
9. Bola de Berlim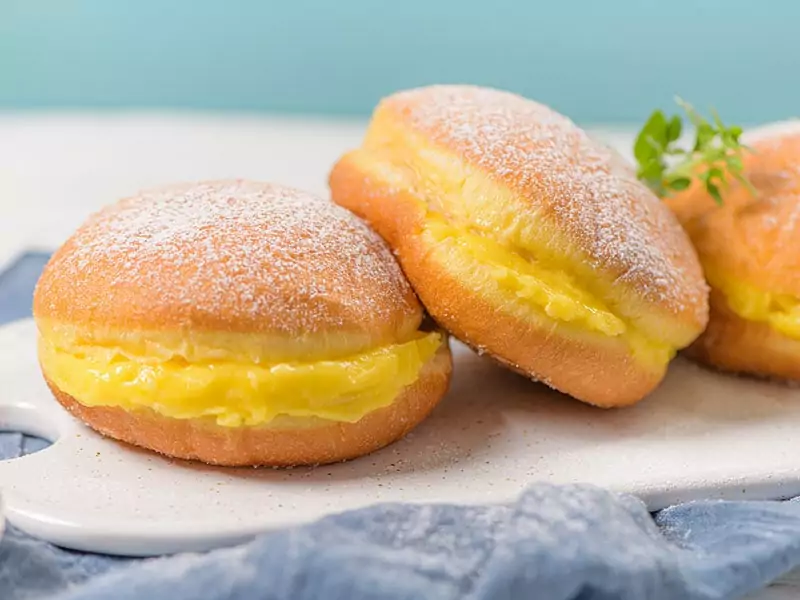 In the mood for a crispy doughnut? Pick some Bola de Berlim from the nearby bakery to give it a try! These Portuguese custard-filled doughnuts are fluffy on the outside and creamy on the inside, a perfect guilty pleasure to satisfy your sweet tooth.
Bolas de Berlim, as the name implies, is Portugal's version of Berliner doughnuts. This dessert tasted best while still warm. Although custard is the most important part of this dish, it can also be served without its signature creamy filling.
On the Portuguese coast, the street vendors usually sell Bola de Berlim on the beach so the customers can enjoy them while sunbathing. They often ring a bell and shout "olhá a bolinha" to attract customers' attention.
10. Malasada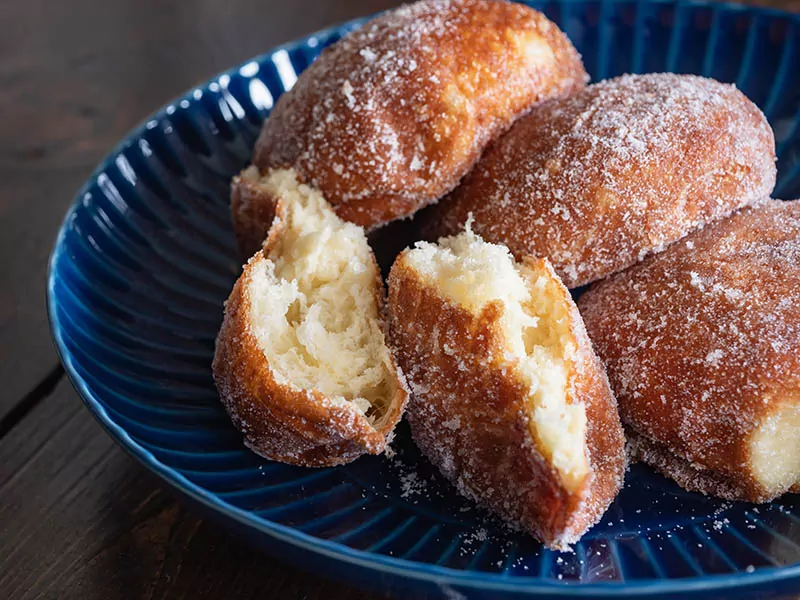 Although this is a traditional Portuguese dish, you can easily find it in countless countries across the world, especially Hawaii. However, Malasada still tastes best when bought directly from Portuguese street vendors.
This Portuguese confection is made from a flattened yeast dough flavored with lemon zest and dusted with powdered cinnamon sugar. Although traditional Portuguese Malasadas do not have holes or fillings, specific variants in foreign countries have them.
Malasadas are primarily consumed in Madeira during Terça-Feira Gorda (also known as Shrove Tuesday in English).
11. Fartura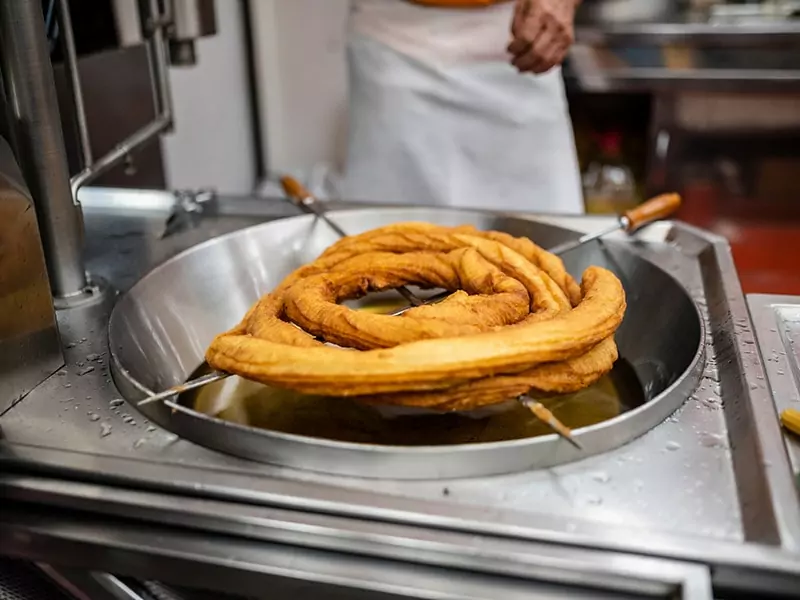 Although this sweet treat is called a "doughnut", it looks more like Churros – one of the most iconic desserts in Spain. Before serving, these Portuguese "doughnuts" will be deep-fried until golden brown and dusted with sugar.
Although its origin story is still under debate, most people believe it is adapted from Spanish Churros. The use of sugar instead of honey for sweetening is part of the Arab influence on Portuguese cuisine.
Crispy outside and soft inside, Fartura is undoubtedly the best fast food dessert that you can enjoy while strolling the streets of Portugal. Remember to eat these doughnuts while they're still hot before they harden.
---
Besides frying, Portuguese cuisine also has a wide variety of grilled, roasted, or baked street snacks. Let's have a look at the most iconic ones in this section:
12. Pastéis de Nata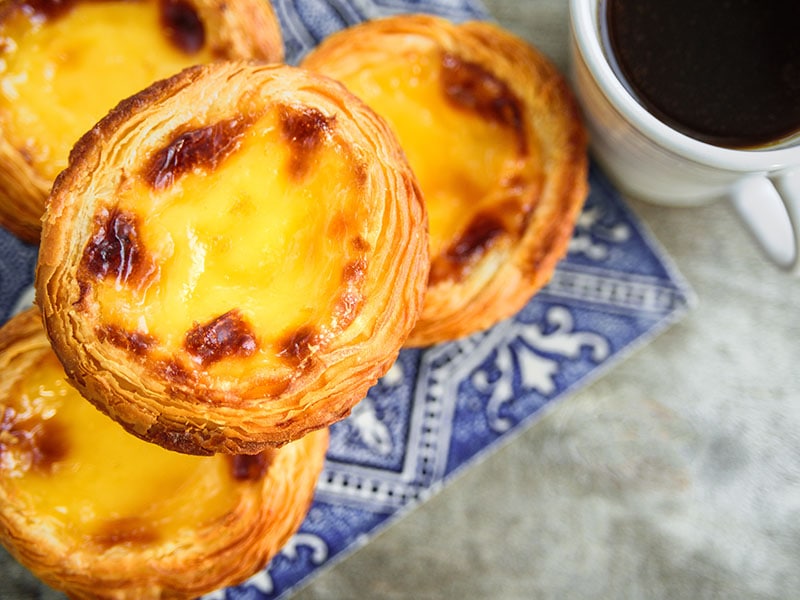 Pastéis de Nata is undoubtedly one of the most well-known Portuguese desserts. They are especially famous in Western Europe, Asia, and former Portuguese colonies like Brazil, Mozambique, Macau, and East Timor.
These flaky custard tarts can be found in bakeries and restaurants across Lisbon and may be eaten as a snack or light dessert. People are willing to queue for hours to get their hands on these delectable pastries, and it is worth it!
According to the locals, the Catholic monks of the Hieronymites Monastery were the ones who created this iconic dessert.
The monks later sold this recipe to the owner of Fábrica de Pastéis de Belém, one of the biggest bakery-cafes in Lisbon. Until this day, Pastéis de Belém is still the most popular venue in Lisbon to buy these lovely custard tarts.
13. Sardinhas Assadas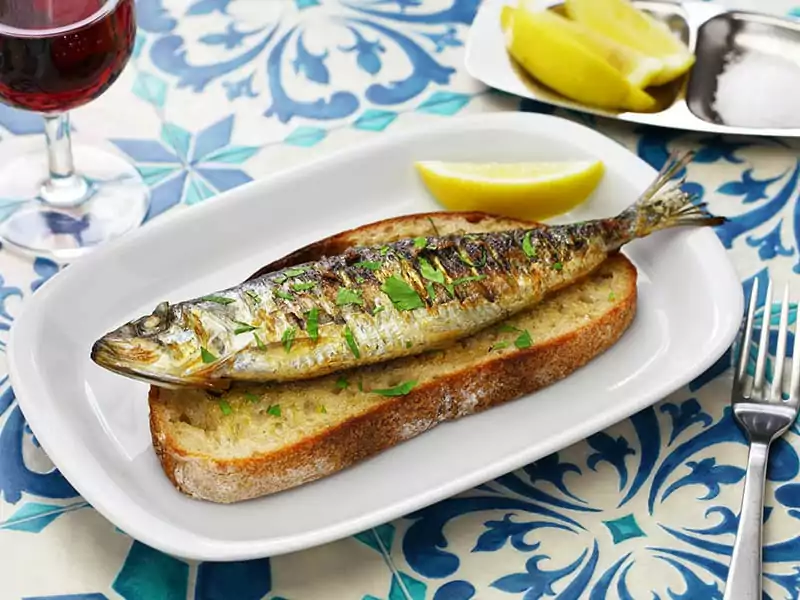 As a country positioned right next to the Atlantic Ocean, it is only natural that seafood is included in the national cuisine of Portugal.
Sardinhas Assadas contains whole charcoal-grilled sardines. The grilled fish is accompanied by a big slide of toast, with a variety of side dishes including boiled potatoes, sautéed vegetables, or salads.
In Portugal, the locals only lightly season the fish before grilling to let the natural sweetness from the freshly caught fish shine. This dish is extremely famous among locals and is usually served at festivals and outdoor events.
14. Espetada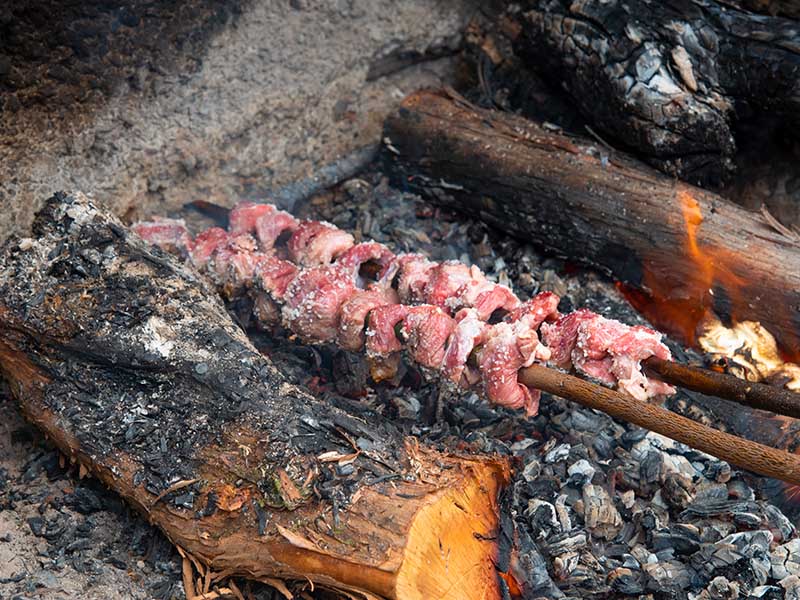 Originated from Madeira island, the dish uses a simple cooking method found on the island hundreds of years ago.
The marinated beef is skewered and grilled directly on a burning flame. The intensity of the open fire, the garlic in the marinate, and the fragrance of the bay leaf stick; everything is perfect. All the ingredients come together to enhance the flavor of this dish.
Espetada is a typical dish during Madeira picnics and gatherings. It is frequently served with the skewer hung vertically from a hook, allowing the savory juices to flow down onto a plate of thickly sliced, crusty bread.
15. Frango no Churrasco com Piri-Piri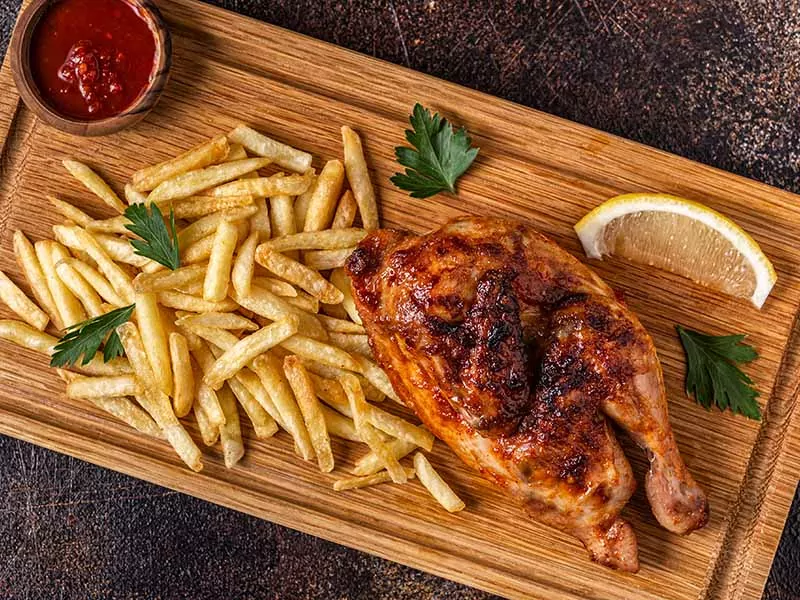 Contradicting to popular belief, Chicken Piri-Piri is considered a street food dish in Portugal. This delicious roasted chicken is first smothered with the iconic Piri Piri sauce I have mentioned earlier and roasted in the oven until the skin turns golden brown and crispy.
The Piri Piri sauce is created using paprika, garlic, and African bird's eye chili. In the time when Portugal colonized Southern Africa, this type of chili was harvested and made into this iconic sauce. Until this day, Piri Piri sauce still has an irreplaceable position in Portuguese cuisine.
16. Castanhas Assadas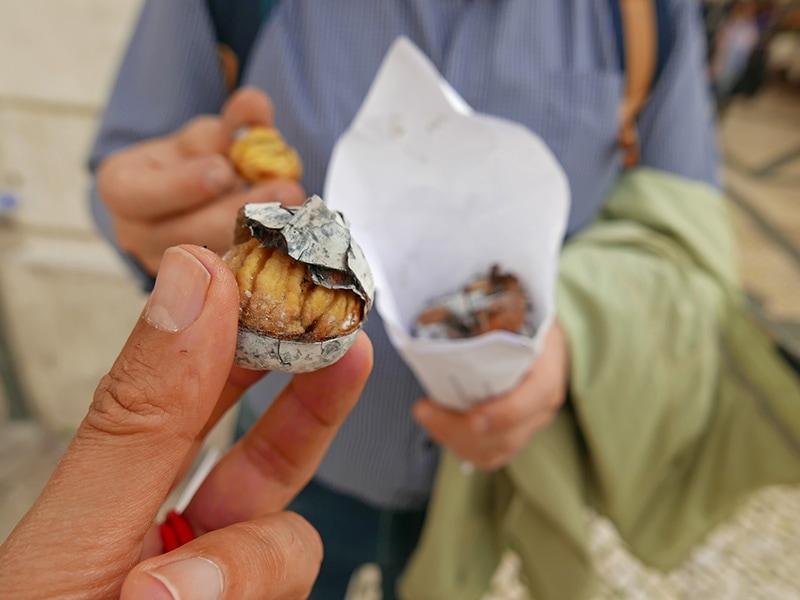 While walking on the streets of Lisbon, you can often catch sight of smokey street carts selling roasted chestnuts. The vendors usually sell this salty snack around November, when St. Martin's Day (or Dia de São Martinho in Portuguese) is celebrated across the country.
These chestnuts are roasted with mineral coal to bring out the unique salty and sweet flavor of the nuts while keeping them warm.
Since the locals use a lot of salt while roasting, the outside is a little bit salty. However, the salty exterior perfectly balances the soft and sweet nuts.