For me, the vintage British desserts are so impressive with their simple but elegant presentation. Sometimes, it can be the simple buttery cookies served at tea time or some pieces of light lemony tart after meals.
More importantly, moderate amounts of sugar and sweeteners are used in British sweet recipes.
Instead, sweet natural sources like fresh and dried fruits will be made use of, which will allow you to enjoy your favorite desserts while preventing the risks of diabetes. This supports the recent healthy lifestyle.
I also have good news for all cream lovers. Most British desserts come with tons of whipped cream or cool ice cream topping and filling. All of your cravings will be fulfilled with traditional British-styled pies, tarts, pudding, and custards. Are you excited about this?
Now, I don't want to waste your valuable time anymore. It's time to check out 26 worthy British desserts that don't get old over time! You can even find super easy recipes that just take you a few minutes to prepare.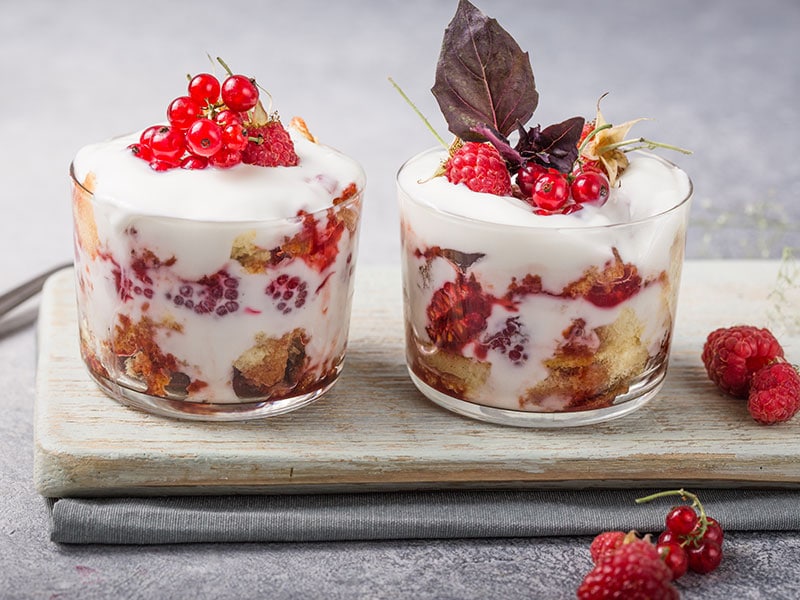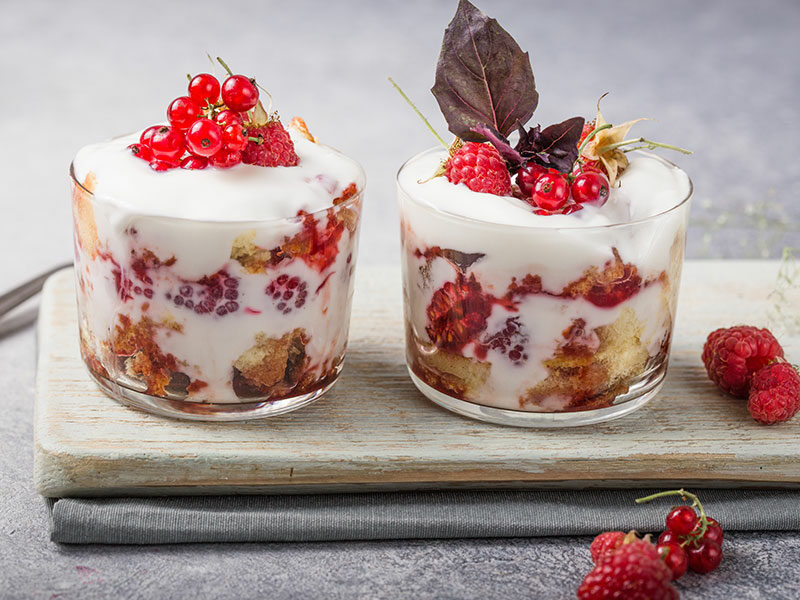 The 26 Best British Desserts For The Sweet Tooth!
You have seen appealing British desserts in TV shows or Youtube videos. This is a good chance for you to bring some of them to your home baking!
Heart-Melting Pies And Tarts
Banoffee Pie Recipe
Traditional Treacle Tart
Yorkshire Curd Tart
Apple Pie
Bakewell Tart With Feathered Icing
Welsh Cakes
Classic Shortbread Cookies
British Jammie Dodger Biscuits
Yorkshire Parkin
British Jaffa Cakes
Fifteens
Arctic Roll
Traditional Dorset Apple Cake
Scottish Dundee Cake
Jam Roly Poly
British Parfaits For Quick Desserts
Strawberry Fool (Strawberries and Cream)
Knickerbocker Glory
Lemon Syllabub
British-Styled Puddings And Custards
Sticky Toffee Pudding
Bread and Butter Pudding
Figgy Pudding
Apple Sponge Eve's Pudding
Traditional Spotted Dick (English Steamed Currant Pudding)
Queen Of Pudding
Summer Pudding
Sherry Trifle
No One Can Turn Down These 26 British Sweets!
Even if you have no time for kitchen work, the offered British desserts are among the most time-saving and simple things you should consider.
5 Types Of Pie And Tart Originating From Britain
Having a secret homemade pie crust recipe? Just combine it with fruity fillings in the following desserts from Britain!
When it comes to British desserts, you can't go without mentioning this luscious dessert with bananas as the star. It contains different layers of crust, filling, and topping. The crust is made of crushed graham crackers pressed into a pie dish and baked to reach the desired crispiness.
The cookie base is filled with gooey sweet dulce de leche and diced bananas. Topping off the pie with some whipping cream and chocolate shavings for a nice decoration.
You can use either homemade or store-bought dulce de leche. Each bite packed with creaminess, sweetness, and crispiness will get you amazed a lot!
Get ready to make a banoffee pie! Let's see this video:
Traditional treacle tart is so easy to make but wonderfully delicious with the mixing of buttery pie crust and sweet lemony filling.
In this recipe, you will bake the tart crust and then pour into it the gooey treacle filling.
After that, put it back in the oven until the filling turns brown. This sweet stuff will go well with a cup of tea during dessert time!
Have your British-themed dessert with some treacle tart! Let's see this video:
This traditional British dessert is never outdated over time due to the delicious ingredients used in its recipe.
The thinly crispy crust packed with fresh cottage cheese curd, nutmeg, and currants with a touch of lemon will surely rock your world!
In case you don't have the curd, you can substitute it with natural cottage cheese. They will give you the same result.
Apple pie is a universal favorite. Not only found in Britain, apple pie is also an insanely famous dessert in American cuisine. Considering how this pie is basically crust filled with caramelized sliced apples, some might find it hard to believe its sheer popularity.
In order to achieve its original taste and texture, you need to choose the Granny Smith apple for making the sweet and fruity filling.
The match of buttery, flaky pie crust and sweet, tender apple pieces will please every crowd!
For a creamy and sweet taste, you can serve the pie with some heavy whipping cream or sprinkles of granulated sugar.
Let's enjoy some pieces of British apple pie by this video below:
When you crave something sweet, why don't you try out this classic British dish? Bakewell tart will effectively satisfy your sweet tooth. And when water icing is put on top, this decadent sweet is but a heaven-sent dish for anyone craving a bite of something sugary.
Hence, if you have a big family, just divide the pie into small pieces for serving. By doing this, everyone can enjoy a moderate amount of sugar for dessert.
The simple cookies and cakes with a single filling or topping are just right for you. Reach your hand to pick some!
Welsh cakes is another recipe so popular that it's now essentially considered a staple dish that can be found throughout Europe. It takes little time to make, and it's incredibly soft that you might feel like the cake is melting in your mouth. And best of all, it doesn't require oven baking.
Instead, one cast-iron skillet is good enough to make this delectable Welsh treat. The rich and sweet cakes with some hidden margarine and raisins will be coated with sugar and melted butter for serving.
The classic shortbread cookies are usually served around Christmas time. The slightly sweet and buttery cookies will warm everyone up in the cold weather of the holiday!
Its recipe calls for only three ingredients of butter, icing sugar, and all-purpose flour that can be done within 30 minutes. So amazing, right?
So, with a handful of ingredients in your pantry, you can even wow your family members with a big batch of classic shortbread cookies tonight!
It's time to upgrade the simple classic buttery biscuit into an attractive version with sweet jam filling! The jammy dodger biscuits can be served year-round with various themes and shapes depending on your creativity and occasions.
You will start with making the cookie dough, shape them, and then bake them to reach a bright golden brown.
Before the biscuits are ready for serving, you will sandwich every two cookie discs with seedless raspberry jam. The fruit filling is definitely the spirit of biscuits!
Brighten up your dessert time with some jammie dodger biscuits! Watch this video to know:
When being compared with a sponge cake, the Yorkshire parkin is moister and stickier.
The dark brown color of the cake is easily assumed to be made with lots of chocolate. But it is actually created by dark brown color and black treacle.
The medium oatmeal is also an important ingredient of the nutty cake with a touch of ginger. When all the ingredients are ready, just mix them well for the runny cake batter and then bake it.
I guess you will agree with me that the British jaffa cakes are a mouth-watering treat with a thick vivid chocolate topping. One more secret of these cookie-like cakes is waiting for you to discover!
When breaking the cake in half, you will find orange jelly filling between the vanilla cake and the chocolate layer.
The simple dessert with different flavors and textures will surely impress your family and friends!
Okay, technically speaking, traybake-fifteens is a traditional recipe from Ireland. However, it has soon found its place in British cuisine, and is now considered a great treat for hot summer days there, especially when you crave some sweetness but are afraid of heating your kitchen!
So how would I describe this decadent Irish-inspired sweet treat? It is a blending of crushed digestive biscuits, candied cherries, and marshmallows that are sweetened and bound by condensed milk.
The mixture will be formed into a roll covered with desiccated coconut for a rich and sweet taste. Let it set and chill in the fridge a few hours before serving it!
Do you want a step-by-step direction in making fifteens? Check out this video to know:
The arctic roll is a fun way for you to enjoy ice cream after meals. To be more specific, it is a frozen dessert in which the ice cream and strawberry jam will be rolled up with a light sponge cake.
With a handful of ingredients, every part of the roll can be made easily at home. After that, you just assemble them for a complete dessert roll.
Because it contains ice cream that will melt quickly at room temperature, you need to serve it immediately after removing it from the freezer. Have a nice dessert!
Dorset apple cake is a rich and sweet, moist cake with a hint of cinnamon. There are no filling or topping layers accompanied with the cakes. Instead, apple chunks and fried fruit will be mixed well with the cake dough and then hidden in cake texture after baking time.
It is recommended for you to make use of eating apples that will turn wonderfully tender after you bake them. The right choice of apple will determine the deliciousness of the cake!
A Dundee cake with the nice almond topping presentation will be a crowd-pleaser you should not miss at home parties!
You just need to organize the necessary ingredients the cake calls for, then put them together, and the rest of the work is baking it.
Inside the sponge cake with hints of orange marmalade and almond, you will find lots of raisins that make delightful bites in your mouth.
Do you love a Scottish Dundee cake? You can see this video to know secrets of a Scottish Dundee cake:
The traditional British dessert Jam Roly Poly is simply a pudding filled with thick jam. The buttery and soft pudding texture is matched perfectly with the sweet and fruity gooey jam.
There is no addition of any sweetener or sugar to the dessert recipe. So, you will never feel bored when eating this heart-melting sweet.
If you want a creamy taste, serving the jam Roly Poly with some whipped cream topping will satisfy your craving!
Fast British-Themed Desserts With 3 Parfait Ideas
No need for baking or steaming. What is better and quicker than fruity whipped cream treats?
There is no doubt that fresh strawberries and whipping cream is a great match from heaven! Now, let's enjoy the combo with a quick British dessert! It is basically a blending of mashed, sweetened strawberries, and whipped cream.
The stunning dessert will be served in transparent glass and topped with some more crushed and sliced strawberries. The eye-catching dessert would be a big hit for everyone, especially children!
Here is another version of the strawberry fool. In this recipe, you have a wide choice of fruits and fruity sauces.
They can be canned peaches, blueberries, strawberries, and others, depending on your preferences.
The whipped cream and ice cream topping will be folded with your favorite fruit sauce made of pureed and strained fruits.
This would be a time-saving dessert for hot days with available ingredients in your fridge.
How about making a glass of knickerbocker glory? Let's see this video:
For those who love whipped cream, you never go wrong with this lemony dessert! It contains heavy cream sweetened and blended with white wine and lemon zest, and juice.
Although it is an extremely simple dessert, you will surely love the light and zesty cream. You just spend about 10 minutes making this creamy treat that can be consumed while you watch TV in the evening!
Surprise Everyone With 8 Puddings And Custards From Britain!
Do not make the following British sweets for your whole family, or they will ask you to repeat them from time to time in the future!
The secret ingredient of the toffee pudding is chopped pitted dates that will create the coffee-like color, natural sweetness, and fragrance for the dessert.
The sweet, dense pudding with a touch of vanilla is much more beautiful with the runny caramel sauce.
You can make it in advance, store it in airtight containers at room temperature, and then serve it the next day.
Don't worry that it will go bad because the room temperature can retain and even increase the moisture of the dessert. That would be great!
Have a nice dessert with sticky toffee pudding! Let's see this video:
The bread and butter pudding allows you to use up leftover bread. In this recipe, chunks of bread will be soaked up with a vanilla-flavored egg mixture.
Then, the bread will be baked to a golden surface. The eggy and creamy baked bread with touches of cinnamon and vanilla will be brushed with some melted butter and topped with powdered sugar.
I guess your family members will not realize this dessert is made from leftovers!
The breathtaking presentation is a plus of this Christmas-themed pudding.
For a long time, it has been an important part of the traditional English holiday. What could be better than family members getting together and enjoying some sweets on Christmas Eve?
Tons of fried fruits are hidden in the sweet and moist pudding. The addition of black treacle or molasses gives it a dark brown color like chocolate, while the brandy content extends the dessert's shelf life.
The traditional dessert contains a layer of stewed sliced apples loaded with a vanilla sponge cake.
The natural flavor of apples is the special note of this pudding without the addition of sugar.
So, it is suitable for the old who should not consume too much sugar to prevent the risks of diabetes.
It's time for apple sponge eve's pudding to get the spotlight! Check out this video to know how to make apple sponge eve's pudding:
English steamed pudding will surely brighten up every tea time. The raisin pudding drizzled with creamy custard sauce is definitely a heaven-sent dessert!
For the best results, the recipe requires shredded beef suet and caster sugar that are the two common ingredients used in British baking.
Some lemon zest put in the dough will give your treat a light and refreshing taste.
The classic queen of pudding with a rough golden meringue topping is a quick and simple dessert that can be made in no time.
It consists of baked vanilla breadcrumbs filled with raspberry or strawberry jam and topped off with well-beaten egg whites.
This fancy dessert will wow everyone with gentle bites of lemony and creamy taste mixing well with sweet fruity jam.
Summer pudding with its appealing red color is a big hit for your whole family. As the recipe's title indicates, the dessert is great for summertime. It is because it is a cool dessert without the need for baking or steaming.
To make the pudding, you will arrange white bread pieces around the internal side of a bowl without any gap and then pour a caramelized fruit mixture into it so that the bread absorbs all the liquid.
Cover the bowl with pieces of white bread and let it set in the fridge. Just serve the dessert cold for the best taste and texture!
Cool down your hot days with the summer pudding!
Sherry trifle is a fancy English dessert that will impress every guest visiting your place on holiday. It contains different layers of custard, cake, fruit, and whipped cream. All of them will be arranged in a trifle dish.
When it comes to dessert time, you just need to scoop it out for serving in small dishes. You can also prepare the treat in small glasses so that everyone can take stunning self-serving dessert portions.
Are You Ready To Become British In Dessert Time!
Yay, it's just a joke because you are yourself! However, when it comes to British desserts, you can learn the way the native people consume them according to seasons and weather.
To be more specific, fresh fruit and cream puddings or trifles are suitable for summer or hot days. In contrast, the warm and spiced-up moist cakes are great for winter desserts. That's simple for you to pick out the right ones, right?
Of course, there are British sweets that can be served on any occasion and year-round. For example, whenever you wish for a cozy tea time, some jam cookies can be served in no time!
Do I skip any British dessert recipes in this list? Have you ever tried any British homemade desserts? Just share your ideas with me through the comment section below. You can give me a like or share if you enjoy this post. Thank you, and I love you!
Nutrition Facts
6 servings per container
---
Amount Per ServingCalories508
% Daily Value *
Total Fat 21g

33

%
Cholesterol 111mg

37

%
Sodium 514mg

22

%
Potassium 375mg

11

%
Total Carbohydrate 77.1g

26

%

Dietary Fiber 3.1g

12

%
Sugars 48.9g

Protein 7.4g

15

%
---
Calcium

94

%
Iron

2

%
Vitamin D

10

%
* The % Daily Value tells you how much a nutrient in a serving of food contributes to a daily diet. 2,000 calories a day is used for general nutrition advice.