Confused about what to serve with Risotto is becoming more and more common as Risotto is gaining popularity due to its many nutritional ingredients. This article is precisely what you are looking for if you have the same concern.
Besides Pasta, Pizza, Italy is also famous for many other delicious dishes, one of which must be Italian Risotto. The Risotto did not create a craze like pizza or pasta, but it quietly conquered many diners and spread beyond Italy.
Choosing the fitting accompaniment to Risotto will make your meal unforgettable. In this article, I will provide 10 everyday side dishes to go with Risotto, whether it's after you have reheated your risotto in different ways or freshly cooked. Pick an item from the list, and start!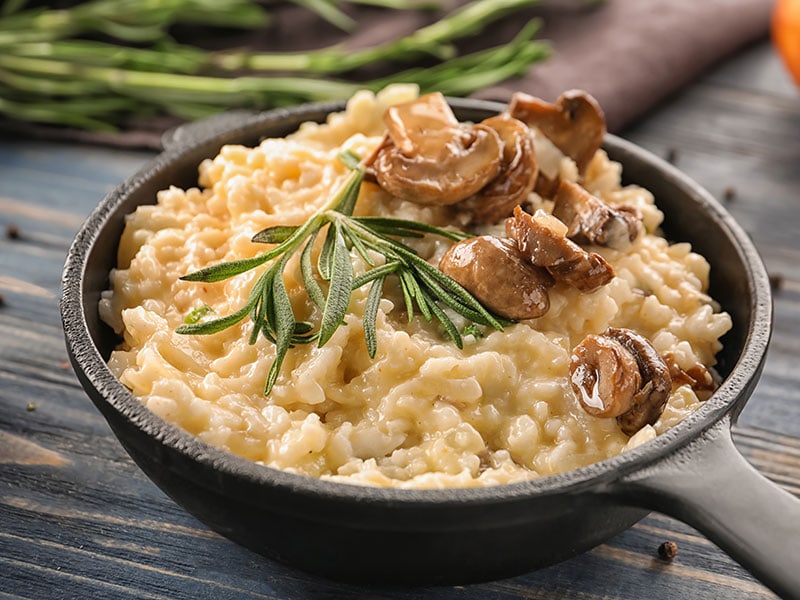 Mouth-Watering Side Dishes To Combine With Risotto
The Risotto will be raised to a new level if you combine with the following exciting side dishes:
Vegetables & Fruits
Pickled Mushrooms
Salad
Roasted Green Beans
Marinated Olives
Grilled Asparagus
Boiled Broccoli
Sauteed Spinach
Seafood
Seared Scallops
Roasted Shrimp
Meat
Grilled Sausage
Braised Lemon Chicken
Bread
Wholemeal Bread
Garlic Bread
Sauce
Pesto Sauce
What Is Risotto?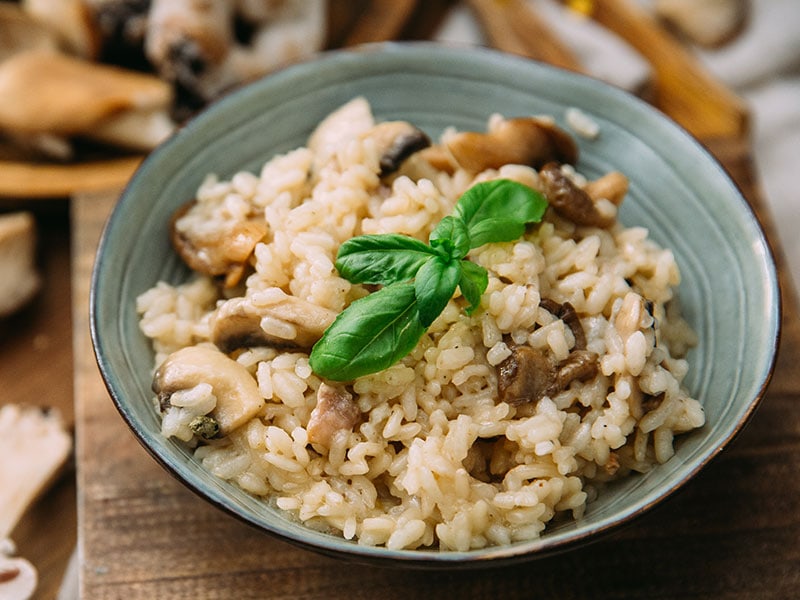 Risotto is one of the most famous dinner dishes in Italian cuisine, spreading and becoming popular in many countries. So, you can still enjoy delicious Risotto even if you don't go to Italy if you know the core information to cook this dish.
Risotto is usually cooked with a rich, savory broth and a hint of white or red wine. It can be made from meat, fish, or vegetables; sometimes Parmesan cheese, butter, and onions are added. This is the most common style of rice cooking in Italy.
A traditional risotto dish must have round, short grains of highly absorbent rice and rich amylopectin to cook Italian rice. The dish will be slightly liquid and must be served while still hot to ensure full flavor.
To get a delicious Risotto, you must pay attention to both the heat level and the amount of water. However, what makes this dish so popular is still the combination of ingredients and spices.
One of the unique ingredients to make a delicious risotto is that the wine is slowly poured over the rice; the rice will absorb the aroma of the wine and become soft and fragrant. Risotto is commonly eaten as an appetizer in Italy and many parts of the world.
Risotto has many different variations, replaced by a variety of wine, cheese, and vegetables depending on the taste and production of each region; even in Italy, there is a very special and attractive strawberry risotto.
Outside of Italy, this dish is cooked similarly to the traditional way, but with different nuts, grains, and ingredients, which somewhat alters the distinctive flavor.
What To Serve With Risotto? – Factors That Elevate Your Food
After knowing the information about Risotto, choosing what to serve with it will not be too difficult. Below is a list of Risotto side dishes that I have compiled to make your decision quickly.
Vegetables & Fruits
Nutritional balance in meals is extremely important. So, don't skip the vegetable and fruit dishes below because they provide a lot of fiber and healthy vitamins.
Pickled mushrooms are a delicious dish that many people love. With the main ingredient being processed mushrooms, it will bring you a whole new taste.
In particular, with nutrients that are very good for the body's health. Moreover, the way to make pickled mushrooms is also straightforward you can do at home.
The critical step in how to make delicious pickled mushrooms is to cook the mushroom water. Soaked mushrooms, you have finished processing the mushrooms, move on to prepare the soaking water.
You can soak the mushrooms with your favorite seasonings and a little cooking oil to help the mushrooms have a longer shelf life.
This dish brings out the natural freshness of mushrooms and the decadent richness of spices. When paired with Risotto, it elevates your dish.
Salad is a mixture of vegetables and sauces, chilled before serving or eaten directly at room temperature. You can easily prepare numerous salad variations just by changing a few ingredients. It won't affect the freshness of your salad.
Depending on the purpose of use, new foods with high protein content such as meat, eggs, or sweet sauces such as ice cream are used.
In each place and region, the salads are prepared to be more suitable for each person's taste. Today's salad is present in every meal component in the appetizer menu, sometimes even considered the main dish.
This is an effective source of vitamins and fiber for the body itself, especially the digestive system. The combination of various vegetables with an eye-catching decoration makes eating a salad feel delicious and stimulates eating.
When your digestive system works more efficiently, the food will be absorbed into the body faster. Because of its ease and convenience, salads go well with almost any dish, and Risotto is no exception. Serve with a salad for a more nutritious meal.
Risotto rice is soft and creamy, so why not pair it with something crispy and rich? Maybe you should consider roasted green beans because it's easy to make and can be modified to your liking.
Green beans are a popular food around the world. They bring not only great nutritional value but also get many health benefits.
Green beans contain high levels of chlorophyll, limiting the ability of heterocyclic amines to cause mutations, thereby reducing the risk of cancer. In addition, they also reduce the likelihood of depression and help strengthen bones.
Roasted green beans are an easy dish to make; you just need to clean the green beans and roast them over medium heat with your favorite seasonings to keep their crisp freshness. If you want more flavor, try to add cheese or sauces.
If you only know olive oil, it is a pity that you have missed an equally healthy olive product that is marinated olives.
Olives used for marinating are usually green because then they have a fresh taste. This can also reduce the possibility of olives going bad and prevent them from getting bitter. Instead, marinated olives are sour, salty, and easy to eat. They can promote health and beauty as well.
There is no need for sophisticated and complicated processing; the simplest way to eat marinated olives is to eat them directly.
Marinated olives are used as a starter; the characteristic scent will stimulate the sense of smell and taste, making you feel more hungry and more delicious.
Grilled asparagus, grilled asparagus with garlic butter, and grilled asparagus with cheese are all delicious dishes that homemakers love to choose in the nutritious barbecue menu for the family. Baked asparagus is simple, easy to make, delicious, and healthy.
In terms of nutritional value, asparagus is known as the "king" of vegetables because they contain many vitamins and good nutrients for the body, such as fiber, folate, vitamins A, B, etc. So asparagus brings a lot of great benefits to human health.
Asparagus is not only low in fat and calories but also high in soluble and insoluble fiber. It's a good choice if you're trying to lose weight because your body digests fiber slowly, helping you feel full between meals.
Therefore, when using asparagus regularly, you will have excellent immunity and less likely to suffer from minor illnesses such as the common cold.
And yet, eating asparagus also works to help protect the skin from the sun because asparagus contains an antioxidant compound called glutathione. At the same time, it helps prolong women's youth and improve the signs of aging, such as age spots and wrinkles.
Broccoli is a familiar vegetable that can be prepared in many ways, such as boiled, fried, or grilled. Broccoli is a cruciferous vegetable rich in vitamins, minerals, and antioxidants that can help prevent various diseases for human health.
However, it is essential that some nutrients in broccoli can be lost when not cooked properly. One of the standard mishandling practices is overcooking, which causes many micronutrients in vegetables to break down or interact with other ingredients in the food.
According to experts, if broccoli is processed at a high temperature, many vitamin components, especially cancer-preventing substances, will be reduced or lost all effect.
You should buy the correct type of broccoli during the season when they are in full bloom to get the freshest broccoli. The best broccoli is from late July to late October, while broccoli is harvested mainly between mid-December and mid-April every year.
Spinach is a superfood. It packs a lot of nutrients in a low-calorie package. Dark green leafy vegetables like spinach are essential for skin, hair, and bone health. They also provide protein, iron, vitamins, and minerals.
Spinach is a portion of very healthy food. Spinach is rich in iron, Vitamin C, A to help the body increase resistance. In addition, spinach also contains many carotenoids with potent antioxidant effects, helping control malignant cells' bodies.
Spinach is a versatile vegetable. This is because it can be eaten raw or cooked. Vegetables are available fresh, frozen, or canned.
The most common and delicious way to cook it is to stir it with a bit of oil, garlic, and onions. If you like, you can add some other spices like chili to increase the flavor.
Seafood
Seafood is one of the most popular foods in the world and brings significant benefits to the human body. They are rich in nutrients, serve as a good source of protein, vitamins, and minerals, are rich in omega-3 fatty acids, and reduce common ailments.
Combining seafood dishes with eye-catching looks will take your risotto meal to the next level.
Pan-fried scallops are one of the favorite European dishes with its distinctive flavor. In European restaurants, they often make several other dishes to match with the flavor of scallops. The most popular ones are potato sauce and sweet and sour sauce.
The best part of scallops is the part between the edges of the scallops. They are sweet and chewy.
First, marinate the scallops with a bit of salt, pepper, seasoning from mushrooms and seaweed. This is the secret to bringing natural sweetness to the dish.
Mix well to infuse the scallops with seasoning. Then wait for the pan to be boiling, add butter, scallops, and fry until golden on both sides.
As for the sauces, you can try countless different sauce recipes and customize them to your liking. The standard Seared scallops will have a fresh and rich taste, perfect for serving with Risotto.
Shrimp is one of the most commonly consumed seafood. The nutritional value of shrimp is relatively abundant, containing many vitamins and minerals.
Low in carbs and calories but full of nutrients, shrimp is an ideal choice if you're looking to lose weight. However, it is also essential to pay attention to the processing method. If you fry shrimp with a lot of fat or add it with a creamy sauce, it will no longer be suitable for a healthy diet.
With small shrimp, be careful to wash it with water, cut off the antennae and the sharp tip to avoid stabbing the mouth when eating, also avoid irritating the throat. They will cause coughing, especially with young children.
Green onions, herb, and pepper are washed, finely chopped to last when the shrimp is cooked and ready to be removed from the kitchen. The green color of scallions and the aroma of lemon leaves will make the plate of shrimps have an attractive color and a much more irresistible aroma.
The roasted shrimp dish has a rich sweet and salty taste and a fragrant aroma that immensely stimulates taste buds. The cooked shrimp meat is firm, which has a natural sweetness, and is very crispy.
The shrimp is attractive with golden brown color; a few green spots of the onion leaves will make this shrimp dish much more appealing.
Meat
When it comes to dishes that go with rice, I firmly believe that meat still has a prominent place. The list below offers easy-to-make pork and chicken dishes, so you don't need to waste time thinking about combining them with Risotto.
Sausage is a popular dish in many countries around the world. It is made from beef, pork, or chicken, combined with salt, spices, and other flavorings. These ingredients are pureed and filled into shells made from the intestines or other materials such as collagen and cellulose.
In particular, many types of sausage are also processed with the help of fermenting bacteria, giving this food a characteristic aroma and, in many cases, both deliciousness and red color.
Lactic acid produced by fermenting bacteria and the dry state of the meat inhibits the spread of pathogens.
You can use any kind of sausage you like. Classic Longaniza sausage will be a nice choice to make this dish more memorable. If fried sausages are too familiar, you can completely change your family's taste on calm weather days with delicious and hot grilled sausages.
Grilling sausages helps us limit the amount of oil used, reducing fat in the body. Therefore, grilled sausages are recommended for those who are afraid of gaining weight, obesity, or fearful of the smell of grease.
Grilled sausages at a moderate temperature retain all the nutrients from the meat and bring up a lovely smell.
To make this dish, choose the chicken wings. Good chicken meat has thin skin and looks fresh and smooth, maybe with white or yellow fat. Do not buy chicken that shows signs of watery discharge and an unusual fishy smell, as it will ruin your entire pan of food.
To make the dish more delicious, you can deodorize the chicken by soaking the chicken in diluted saltwater and leaving it for 10 minutes, then take it out and wash it with clean water.
This dish is attractive by the crispy chicken skin; the inside is succulent chicken with spices. The richness of herbs seasoned in the chicken makes for an enthralling dining experience. Combining with Risotto will make Risotto much more attractive.
Bread
Soft Risotto combined with crispy and fragrant bread is a perfect pairing. While not as popular as other options, this will make your meal memorable.
In the past, people used to use white flour to make bread, but today, whole wheat flour is the choice of many people. Whole wheat flour is a dark mixture of flour milled from the entire wheat kernel instead of white flour, milled from only part of the wheat kernel.
This flour is used to make rye bread, whole wheat bread, sandwiches, and bakery products with high fiber content, very good for health.
When using whole wheat flour, the dough rises less, is heavier, and the texture is not as fluffy as the one made with white flour. This is because whole-wheat flour contains bran and germ, which interferes with the development of gluten. And gluten is the main factor that creates texture and puffiness for bread.
However, in terms of nutrition, whole wheat bread is much better than white bread. In the refining process of white flour, food manufacturers often remove the outer layer of the wheat kernel, which is the part with the most nutrients.
In addition, the technology of flour whitening using additives of all-purpose white flour makes consumers tend to choose whole wheat flour.
If you're looking for a more refreshing combination, don't skip the garlic bread. Each piece of crispy cake with the rich aroma of garlic butter, adding a bit of bacon, or the smooth taste of eggs will conquer the taste buds of everyone in the family.
Garlic bread has a straightforward way to make; you can use the leftover bread after previous meals to make this dish to avoid waste. In addition to the regular version, you can combine it with bacon, cheese, chili to make the word more unique.
It seems unrelated, but I believe garlic bread will make a great addition to Risotto. Isn't it fun to enjoy both the crunch and the creamy texture in one meal?
Sauce
Are you thinking about how to make Risotto more novel? Think sauces. With just a small change, your dish will be added a unique new flavor. Here are more details!
Pesto is a sauce that originated in Genoa, located in the northern region of Italy. It dates back to around the 16th century and traditionally consists of olive oil as the main base ingredient, combined with other rich spices such as crushed garlic, basil leaves, coarse salt. Also, don't forget to add Parmesan cheese to this sauce for a rich flavor.
The way to make this pesto sauce is to crush the ingredients with a mortar and pestle.
You can use pesto as a sauce for shrimp salad or any appetizer. If you want to use pesto as a dip for vegetables and chips, mix it with a bit of Greek yogurt or cream cheese.
You can also spread pesto on grilled fish, steak, or chicken by mixing a little pesto with a bit of olive oil and spreading it over the dish with a spatula.
Pesto sauce is also suitable for vegetarians. Usually, vegetarian dishes don't seem very rich, but combining them with Pesto sauce will bring a unique and new flavor, making vegetarianism more interesting.
FAQs
So you have been provided with a lot of information about Risotto and side dishes through this post. However, if you still have questions about these dishes, you can check out the frequently asked questions listed below.
Make Your Risotto Experience Special!
Risotto is a traditional Italian dish and comes in many recipe variations, so you can easily choose the one that suits your taste. Aside from a delicious risotto recipe, pairing it with the fitting accompaniment is a way to upgrade your meal.
I have provided detailed information on 10 nutritious and straightforward side dishes in this post. You need to consider your taste and the situation to choose the right plan for your meal. Let your guests be amazed!
Suppose you want to share more on this topic or have questions, feel free to comment below. Don't hesitate because your feedback is my great motivation.
Nutrition Facts
4 servings per container
---
Amount Per ServingCalories55
% Daily Value *
Total Fat 2.5g

4

%
Sodium 124mg

6

%
Potassium 239mg

7

%
Total Carbohydrate 8.2g

3

%

Dietary Fiber 3.9g

16

%
Sugars 1.6g

Protein 2.1g

5

%
---
* The % Daily Value tells you how much a nutrient in a serving of food contributes to a daily diet. 2,000 calories a day is used for general nutrition advice.