Italian vegetarian recipes are always a godsend for people who want to do away with meat. Blessed by the mild Mediterranean climate, plenty of sunshine, and fertile soil, Italy boasts a wide range of grains, fruits, and vegetables that make its food highly savory and protein-rich.
Therefore, it isn't an exaggeration to say that vegetarian dishes are a jewel of Italian cuisine. If health reasons drive you to a vegan lifestyle, those recipes will help you happily stay that way. I guarantee you won't even miss that greasy thing known as meat.
However, before you move on, please pay attention that while those recipes don't contain meat or fish at all, some include flavorful kinds of Italian cheese. That is acceptable since many types of vegetarian diets allow their consumption.
But if yours doesn't, just ignore them for other fantastic options in this article. Alternatively, you can substitute real cheese with vegan cheese from nuts or seeds.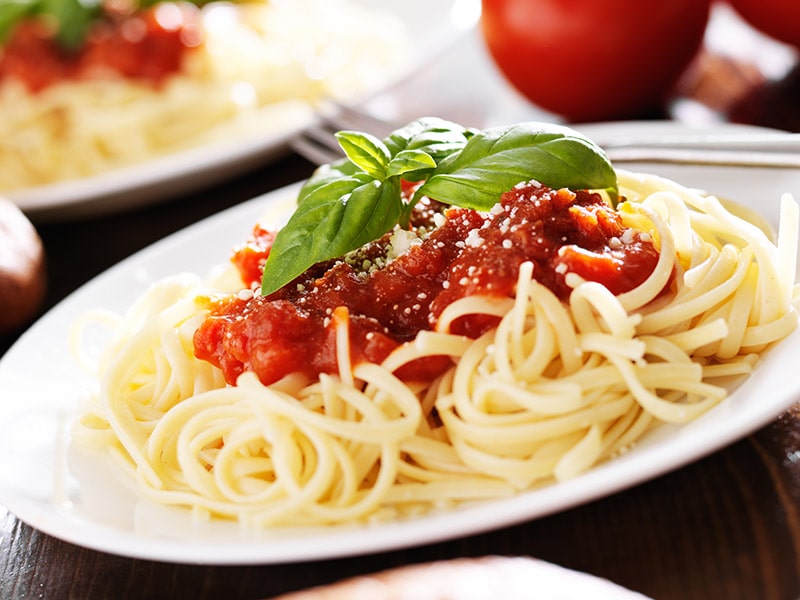 Proud To Be A Vegetarian With These Amazing Italian Recipes
This section will provide you with all the options for the main course, snacks, desserts, and beyond. These decadent dishes may entail the risk of making you forget what meat tastes like after munching on them for days, but who cares?
Total time: 1 hour to 1 hour 30 minutes
O fans of dumplings, behold Gnocchi, the divine Italian version that will leave you begging for more! While dumplings elsewhere may contain meat, Italians create their Gnocchi from merely potatoes and eggs, making it perfect for a vegetarian diet.
Like other dumplings, you need a thick dough to make Gnocchi. To create the dough, you need to grate boiled potatoes with a ricer and mix the resulting soft paste with flour and eggs. The next step is to cut the dough into bite-sized balls and leave them to rest.
When it comes to cooking Gnocchi, you can choose the traditional method of boiling them in salted water until they float to the top. Alternatively, frying the dumplings in olive oil will provide you with golden, crispy Gnocchi.
Either way, you can enhance your experience by serving the dish with rich, thick tomato sauce made fragrant with various herbs. You can whip up this sauce while waiting for the dumplings to cook.
Thanks to this guide, you can create an entirely vegan version of Potato Gnocchi with no eggs.
Total time: 30 minutes to 1 hour
A search through the collection of the most popular Italian cookbooks will reveal to you this exquisite dish. But it isn't actually served at weddings. The name means that the soup is the "marriage" of green vegetables and meat, its principal ingredients.
Unfortunately, I have to force this soup to commit "adultery" for it to work as a vegetarian recipe. Instead of the traditional meatballs, let's start with mashing navy beans, bread crumbs, tomato sauce, and spices into bite-sized balls.
You can add some wheat gluten to help with the binding. The next step is to refrigerate the balls for some time before baking them for about 20 minutes until well golden brown.
Serve them with a soup made from olive oil, onions, carrots, and vegetable broth. Now, the "wedding" is complete. The result of this "infidelity" turns out to be quite delicious and irresistible, perhaps even more than the official thing.
Total time: 30 minutes
Although some Italians have ordinary cereals for the first meal of their day, others enjoy Polenta, a staple breakfast food in Italy. Consisting mainly of boiled cornmeal, it is healthy, fulfilling, and loaded with nutrients.
However, Polenta may not be sufficiently appealing in its pure form. You can enrich its flavor by boiling it with olive oil, seasonings, and possibly some spices. After 15 to 20 minutes of cooking, the cornmeal will acquire a creamy texture and a temptingly sweet, grassy aroma.
This breakfast dish will be even more irresistible if you puree the dry Polenta before cooking it or add milk and cheese (ideally Parmesan) to the mix. But that isn't necessary. The subtle scent of corn is enough to quell your hunger.
Total time: 1 hour 40 minutes to 3 hours 30 minutes
After learning about this exciting recipe, you won't have to put up with normal bread. The best thing about it is that it isn't very difficult at all. The making of the Italian herb bread is highly comparable to that of the conventional variety, with just a few minor tweaks.
Those changes include adding olive oil and Italian seasonings (a blend of ground herbs such as thyme, sage, rosemary, basil, etc.). You can mix these ingredients directly with the dough or wait until the loaves of bread have risen and sprinkle them over the top.
Aside from that, the kneading and baking parts are largely the same. Depending on what type of bread you make, the preparation and cooking time can vary significantly. But in the end, you will always hold homemade aromatic and delicious bread in your hands. Serve it as the usual kind.
Total time: 30 minutes
Dating back to ancient Rome, Minestrone is a thick soup that combines many Mediterranean ingredients. This signature Italian recipe can contain meat and broth from animal bones. But it can also be vegetarian and deserve a place on your menu.
The main ingredients of this soup are carrots, zucchini, beans, and tomatoes. They have to be simmered in a vegetable stock along with red peppers, onions, garlic, and other spices for 10-15 minutes. To complete the soup, you just need to add leafy greens and cheese (optional).
Total time: 25 minutes to 1 hour 20 minutes
It goes without saying that no list of Italian foods can be complete without Spaghetti. So without further ado, let's jump to the pinnacle of traditional Italian foods, the simple Spaghetti with its iconic tomato sauce.
Cooking this dish is child's play. Start with boiling a pot of salted water on the stove and cooking your Spaghetti (or any type of pasta) until firm. You can concoct the tomato sauce from pureed tomatoes, olive oil, garlic, and herbs during the waiting time.
A food processor will make the task easier. Anyway, drain your freshly cooked Spaghetti and stir it with your fatty and tangy sauce. You can enjoy this age-old recipe with grated Parmesan, but feel free to leave it out for a 100% vegan experience.
Learn how to cook Spaghetti with tomato sauce like an Italian here.
Total time: 30 minutes (excluding the brining and cooling time which ranges from hours to days)
Eggplants are a ubiquitous sight in many parts of Italy, especially the southern region. Besides cooking this veggie for pasta and soups, preserving it for long-term use is another viable option. The process is a little time-consuming but definitely worthwhile.
The Italian style of making pickled eggplants involves slicing unpeeled eggplants into medium-sized strips, which are heavily mixed with salt and left undisturbed. This step helps drain the moisture as well as bitterness out of the eggplants.
You can brine the eggplants from one hour to a whole day if you're patient. After that, squeeze out any remaining excess water and immerse the eggplants in white vinegar before packing them in a glass jar.
Here, you have two choices: either marinate the eggplants for hours or boil the veggies in vinegar-mixed water and immediately transfer them to the jar. Now, squeeze out the eggplants one last time and put them in a mixture of water, olive oil, vinegar, and Italian spices.
After 24 hours, you can enjoy these pickled eggplants, though they achieve the best flavor after several days in the closed jar. The veggies can be kept in the refrigerator for a month.
Total time: 45 minutes
You know about Risotto, the jewel of Italian rice recipes, right? It is a creamy blend of rice cooked in broth, courtesy of northern Italy. The only problem is that its broth is usually meaty or fishy by nature. Read on, and you will find the remedy to that difficulty.
Start the preparation for Risotto by sauteing a mixture of mushrooms, garlic, rosemary, and spices in a saucepan. The next step is to add rice and cook for a few minutes. Remember that only true Italian rice such as Arborio or Carnaroli varieties can give you an authentic vibe.
As for the answer to the issue above, you can probably guess what it is: vegetable stock. Just add it at intervals to the mixture of rice and browned mushrooms. That means pouring in a small amount of the stock at a time, stirring the rice, waiting for it to absorb the broth, and repeating.
After about 20 minutes, the rice will soak up almost the entire volume of the stock. All you need to do now is take the saucepan off the stove and add your favorite condiments.
Total time: 10 minutes
What can be a more colorful Italian appetizer than a salad whipped up from the best of Italian fresh fruits and vegetables? In that sense, Caprese salad from the island of Capri is a perfect choice to bring more freshness to your diet.
The simple version of the salad only involves mixing sliced tomatoes and Mozzarella with seasonings along with a drizzle of top-tier olive oil. Nevertheless, you can make this recipe more vibrant with verdant green Pesto sauce, nutty avocados, pink peaches, or ruby strawberries.
If you care for Caprese Salad, follow this easy guide.
Total time: 40 minutes (excluding the brining and cooling time which ranges from hours to days)
If eggplants alone aren't good enough for you, let's try your hand on its upgraded version Giardiniera. Literally "from the garden", it is a collection of Italian pickled veggies in vinegar or oil. This delicacy consists of cauliflower, carrots, celery, bell peppers, among other things.
Giardiniera production has two stages: brining and marinating. For the first one, you need to chop the veggies into small pieces, drench them in salted water, and refrigerate them overnight.
After that, the veggies are drained before being submerged in a mixture of vinegar, olive oil, and all kinds of potent spices. Put the veggies in jars before storing them in the refrigerator for one day (more if you prefer a more intense flavor).
Total time: 15 – 20 minutes
One of the easiest recipes to cook Italian pasta is this beauty, Cacio e Pepe. The term means "cheese and pepper" in Italian, so you can guess what it is all about. But don't let its simplicity lure you into disregarding its scrumptiousness.
Obviously, boiling and draining pasta is the first step. The next one is to cook the pasta over low heat with grated cheese, butter, black pepper, and a small portion of pasta water. When these ingredients are infused into a smooth, milky sauce, your Cacio e Pepe is ready to serve.
Total time: 30 minutes
Pasta all'arrabbiata is an Italian specialty made from pasta and one of the most famous Italian sauces, Arrabbiata sauce. Its name means literally "angry" and figuratively "spicy" in Italian, so be prepared for the attack on your taste buds when you whip up this dish.
Understandably, the sauce preparation requires a lot of hot chili peppers to be cooked with garlic and herbs in olive oil. Then, simmer the mixture with chopped tomatoes until you have a scarlet and fiery sauce to toss cooked pasta with. Add some Italian cheese if possible.
Cooking Pasta all'arrabbiata is an art. Find out why here.
Total time: 45 minutes
Portobello mushrooms have a splendidly sweet and earthly taste that is highly suggestive of meat. Therefore, it is an excellent alternative to beef or pork-based fillings in regular hamburgers. This yummy Italian sandwich recipe will help your favorite fast food become healthier.
Let's start with baking the mushrooms with spices for about 20 minutes until soft and, at the same time, browning some onions in olive oil. Now, pick out a few slices of bread, ideally the sourdough type, and brush each piece with various condiments.
Those condiments should be butter, Italian cheese, and mustards. Then, you put two slices of bread together into a hamburger with mushrooms and sauteed onions in between and cook it in a skillet for 4-5 minutes until the bread is crispy and well blended with melted cheese.
Total time: 50 minutes
If you're feeling worried about the lack of sweet foods in this article, I would like to introduce you to one of the best Italian desserts.
Italian Butter Cookies are scrumptious and versatile. You can enjoy them as a snack or pair them with a cappuccino for a light breakfast like a local.
The first step of whisking together butter and milk will be easier with an electric mixer, but you can carry it out by hand. Continue to whisk until the two ingredients are well infused, and add vanilla to that fluffy mixture.
Next, mix it with flour and knead it into a smooth and elastic batter, which you have to transfer into a mold to give the cookie your desired shape. Don't forget to add sweet toppings like candied cherries or almonds.
When the cookies are ready, bake them in the oven for 10-12 minutes. Let them cool down before serving, or decorate them with chocolate if you prefer a more diverse taste and appearance. The crisp, nutty, and honeyed goodness of those cookies is sublime.
Total time: 1 hour to 1 hour 30 minutes.
There are more ways to cook eggplants in Italy than you can possibly imagine. One prominent example is Rollatini, a baked dish with eggplants, Italian cheese (usually Mozzarella), and veggies. It can also use meat or fish, which are unsurprisingly absent in this recipe.
Choose big eggplants for this dish so that you can cut them into slices more easily. Bake those eggplant strips with olive oil for about 10 minutes. When they cool down, spread tomato sauce at the bottom of a large baking dish and place them on it.
Now, spoon over the slices of eggplants with a mixture of cheese, chopped spinach, eggs, and spices. If you have any remaining tomato sauce, just sprinkle it generously. All that remains is to bake your Rollatini (preferably covered with foil) for 40 – 45 minutes.
Total time: 2 hours 50 minutes
Tortellini soup is a savory Italian soup made from the distinct pasta variety of the same name. It usually contains veggies, spices, sausages, and chicken stock. But do you know what the shocking truth about it is?
Without the animal-derived ingredients, this soup is still equally tasty. If you don't believe it, try making this Italian slow cooker delicacy by cooking soybean-based vegan sausage and seasonings first. Then, create a flavor-packed broth from vegetable stock, tomatoes, and cooked sausages.
When the broth turns a deep hue of amber and gives out a rich smell, add Tortellini and cheese (or its vegan version) for another 20-30 minutes. With a garnish of aromatic herbs, your soup is ready to complement crisp, crusty bread.
Check out this tutorial on how to turn Tortellini soup vegan.
Total time: 20 to 25 minutes
Spaghetti with tomato sauce is a household name, but not everybody has tasted its version with lemon and spinach. Let's cook this uncomplicated yet mouth-watering dish that will certainly woo your friends. Long, thin, and fine angel hair pasta is the best choice for this culinary delight.
After you've cooked your pasta to your preferred firmness, quickly prepare the tangy veggie by sauteing spinach in a blend of garlic, butter, and lemon juice for 2-3 minutes. When the veggie is soft but still chewy, toss it with pasta. Now, you can savor a quick, fiber-rich meal.
Total time: 50 minutes to 1 hour 25 minutes
Manicotti are large, hollow pasta tubes that usually contain a filling of Ricotta, chopped spinach, and ground meat. But you're going to find that the last ingredient can be easily replaced or done away with to provide you with a vegetarian pleasure.
You can buy Manicotti shells or create them from Lasagna, but I recommend the former to save time. Cook the pasta as usual. For the filling, while you can use real Ricotta, this recipe incorporates the vegan version made from spiced tofu.
The main preparation for this dish is to fill the pasta shells with Ricotta and cover them with a mixture of tomato sauce and Italian seasonings. 30-45 minutes of baking later, you can sink your teeth into their oozy, sweet, and sour goodness.
Total time: 18 to 35 minutes
A popular theory attributes the name of this Neapolitan specialty to Queen Margherita of Italy, who reigned in the 19th century. The three primary colors of the pizza, which are red, white, and green, signify the Italian flag. But most importantly, this dish is vegetarian-friendly!
The dough of Pizza Margherita is prepared in the same way as other types of pizza, with flour, yeast, salt, and olive oil. The dough will rise in the oven, so you have to knead the dough into a very thin shape with a rolling pin.
Before sending your pizza to the oven, top it with a tomato-herb sauce along with shaved white cheese and cherry tomatoes. Bake each pizza for 4-10 minutes until its exterior becomes crusty and golden brown. Don't forget to garnish it with green basil for the tri-color appearance.
Making Pizza Margherita won't be a challenge if you have help like this guide.
Total time: 30 to 50 minutes
What, another Italian soup? Although Pasta e Fagioli, literally "pasta and beans", may look like Minestrone, the two are worlds apart. The most significant difference is that the former includes, well, pasta and beans, while the latter doesn't.
Therefore, Pasta e Fagioli has a fuller-bodied taste and more effectively satisfies your hunger. This soup requires Italian seasonings and white beans to be at its best, ideally Cannellini beans (also known as white kidney beans).
Anyway, you need to saute chopped carrots, tomatoes, celery, and herbs collectively as the first step of making this tasty and hot lunch. When the mixture is ready, simmer it with vegetable broth, beans, and spices for 15-20 minutes.
To finish this recipe, add cooked pasta to the pot and turn down the flame after a few minutes. Add even more spices along with the garnish of your choice.
Total time: 30 minutes to 1 hour 20 minutes
You don't honestly think mushrooms are the only thing that can go into vegan Risotto, do you? Here is a more protein-loaded and fiber-rich alternative. The sensation of munching on crunchy asparagus is quite different from enjoying the tender and earthly-smelling mushrooms.
Anyhow, this Risotto recipe follows the same method as the one detailed above. You need to whip up a savory mixture of browned herbs and spices, which you mix with Italian rice. Then, add vegetable broth to the saucepan one cup or ladle at a time.
The difference only occurs when the rice has nearly absorbed the broth. Add chopped asparagus, peas, and seasonings to the pan and cook for a few more minutes. When there is no trace of the broth left, your fatty, sweet, and pleasantly tangy Risotto is ripe for the picking.
Total time: 45 to 50 minutes
Pumpkins are overflowing with carotenoids, hence their immense benefits to your eyesight. That is common knowledge. But do you know that you can reap this boon by making a pasta dish with this deep orange veggie?
This pasta is a little more challenging to prepare than other types. First, you have to boil a large amount of pumpkin (preferably in salted water). After that, blend it with baked onions, milk (either regular or vegan), and spices until smooth.
The following step is to simmer the creamy paste with tomato puree and buttery Italian cheese into a savory sauce. If you have some vegetable stock and flour to thicken the sauce, that would be fantastic but not compulsory.
Finally, stir in with cooked pasta, and enjoy this decadent treat. Let's see whether the earthy sweetness of this pasta can, well, open your eyes to a rather unorthodox application of pumpkins.
Total time: 5 to 20 minutes
Supposing you need to whip up something Italian, vegan, and tasty at a moment's notice, what will you make? The choices are endless, but this super easy salad recipe will unfailingly provide tantalizing tartness to your meals in an incredibly short time.
Let's take out some juicy tomatoes, ideally the pure-tasting heirloom type, and cut them into slices. Coat them with a dressing of minced garlic, olive oil, and lemon juice. Finally, garnish with herbs, leave the tomatoes to be infused with flavors, and enjoy them whenever you want!
Total time: 30 minutes
Farro is an ancient and nutrient-loaded grain that is exceptionally popular in various Italian salads and soups. It especially shines in Italian Farro Salad, a dish that flawlessly blends this grain's nutty flavor and crunchy texture with the tangy freshness of Mediterranean veggies.
Bringing this salad to your dinner table requires boiling farro in salted water first. It should take approximately 15-20 minutes for the grain to become soft. When the farro gets cool, mix it with chopped tomatoes, radishes, and other veggies you want to include.
Of course, no salad is complete without its dressing. Whisk olive oil, lemon juice, herbs, and spices together for this purpose. Lastly, mix everything in a large bowl and serve your salad.
Total time: 20 minutes (excluding the time for the dough to rise)
If you're looking for a genuinely vegan recipe that excludes meat from the beginning rather than replacing it with something else, this recipe will help. The flat-leavened Focaccia is like Italy's national bread, and it is a delightful vegan wonder when added with aromatic ingredients.
In this case, they are minced garlic, rosemary, thyme, and other herbs. Cook them with olive oil into a fragrant infusion. Give a large portion of this mixture to the yeast-containing dough you make the flatbread with. Then, knead and flatten the dough as you do with pizza.
The next step is to leave the dough to rise, which can take from one hour up to a whole day. Before baking the Focaccia, top it with the remaining garlic-rosemary infusion. Leave the flatbread in the oven for about 20 minutes until it turns golden brown and crispy.
Discover the most convenient way to cook garlic rosemary Focaccia with this thorough walkthrough.
Total time: 30 minutes
Though Ravioli may look like a dumpling, it is classified as a pillow-shaped pasta with a filling. The official version usually includes meat stuffings. But if you know which to substitute for which, this treat can make a finger-licking vegetarian dish.
The main ingredient of this recipe is vegan flour-based Ravioli that you can easily buy at any supermarket. Dip them in a batter of eggs, bread crumbs, and spices before frying them in a skillet for about 1 minute on each side.
The goal is to make sure that the Ravioli are golden and crisp both on the outside and the inside. Serve them lavishly with Italian tomato sauce and cheese (optional).
Total time: 20 minutes
Time for you to spill the beans! Have you ever tasted White Bean Salad from Tuscany? If the answer is no, let's add this treasure of healthy proteins to your menu. And if you have experienced its deliciousness, surely you can't wait to have it again.
The Cannellini variety is the universally preferred choice for this salad. Those pearl-white beans just need to be tossed with cherry tomatoes and herbs to demonstrate their sweetness and umami-packed flavor.
For a more diverse experience, you can enrich the beans with a blend of sauteed onions, mushrooms, and tomatoes. Either way, when paired with bread, this exotic salad will help you appreciate it as you never did before.
Total time: 1 hour
This gorgeous specialty from Sicily is the best friend for anyone interested in a healthy lifestyle. It is entirely plant-based and full of veggie-derived nutrients. Whipping it up is a breeze, too.
This recipe begins with cutting some eggplants into cubes and coating them with olive oil. Next, bake those cubes in the oven until tender, which may take between 30 and 35 minutes.
Don't let that time go to waste. Use it to prepare the accompanying vegetables for this dish, such as onions, bell peppers, tomatoes, and celery, by simmering them with herbs and spices. Lastly, cook that mixture with roasted eggplants for a few more minutes and garnish at your leisure.
Total time: 12 to 15 minutes (excluding 4 hours of marinating time)
When it comes to the yummiest antipastos (Italian starters), Bruschetta usually earns a high place. This little, colorful, and flavor-packed toasted bread with toppings is the best of Italian cuisine in miniature.
The official version is slightly complicated, but the vegan one is much simpler. First, you have to immerse chopped tomatoes, basil, and onions (optional) in a mixture of olive oil, vinegar, and seasonings. How long you want to marinate them is up to you, but the longer, the better.
Finally, brush toasted bread with garlic as well as these spiced tomatoes and serve right away. Interestingly, slices of French baguette are the best base for this adorable-looking appetizer.
Total time: 45 to 55 minutes
Here is another creative recipe from Tuscany. Panzanella is an easy summertime salad that allegedly first appeared in the 16th century, give or take. You can find it in many parts of central Italy or comfortably whip it up at home.
A peculiar feature of this salad is the inclusion of French or Italian bread, which is usually stale and dry. You can start with browning the bread, but that step is optional.
The real preparation begins when you mix the bread with tomatoes, cucumbers, onions, and herbs in a marinade of olive oil, seasonings, and possibly some vinegar. Leave the mixture to rest for 30 minutes, and you can enjoy this fresh, grainy, and piquant salad.
Whipping up Panzanella is easier than you think with this guide.
Total time: 1 to 5 minutes
It would be pretty dumb not to know about Caffè Latte, the legendary mixed Italian drink of espresso and milk. But do you know about Affogato, another equally heart-warming espresso-derived drink based in the Bel Paese country?
Instead of using milk for this drink, you replace it with a few scoops of vanilla ice cream. The next step is to pour in a shot of espresso over the ice cream, and your Affogato is ready to serve. Feel free to add toppings such as chocolate, cacao sauce, or Biscotti.
Food For Truth, Justice, And The Italian Way
You may want to go vegetarian for many reasons: religious purposes, opposition to animal cruelty, or health concerns. The initial intentions can vary. But once you have a taste of Italian meat-free recipes, I guarantee you will all be united in love and appreciation of these delights.
Italian vegetarian recipes come in many shapes and forms. They can be 100% vegan or contain heavenly-tasting Italian cheese and other dairy products. You will always find something that suits your taste and preference in the countless dishes from the gorgeous boot-shaped land.
Before you go, don't forget to like this post and share it with your friends. Let's spread the meatless wonders of Italian cuisine far and wide! If you have anything to comment on, please feel free to do so. Thank you and, as they say in Italian, buon appetito!
Nutrition Facts
6 servings per container
---
Amount Per ServingCalories133
% Daily Value *
Total Fat 6.9g

10

%
Cholesterol 20mg

7

%
Sodium 234mg

10

%
Potassium 302mg

9

%
Total Carbohydrate 6.2g

2

%

Dietary Fiber 1.5g

4

%
Sugars 3.3g

Protein 11.7g

22

%
---
* The % Daily Value tells you how much a nutrient in a serving of food contributes to a daily diet. 2,000 calories a day is used for general nutrition advice.