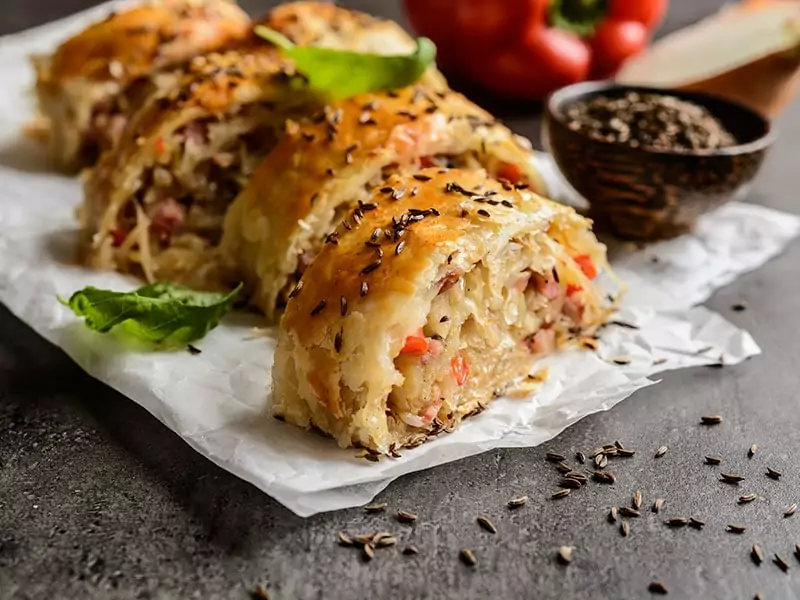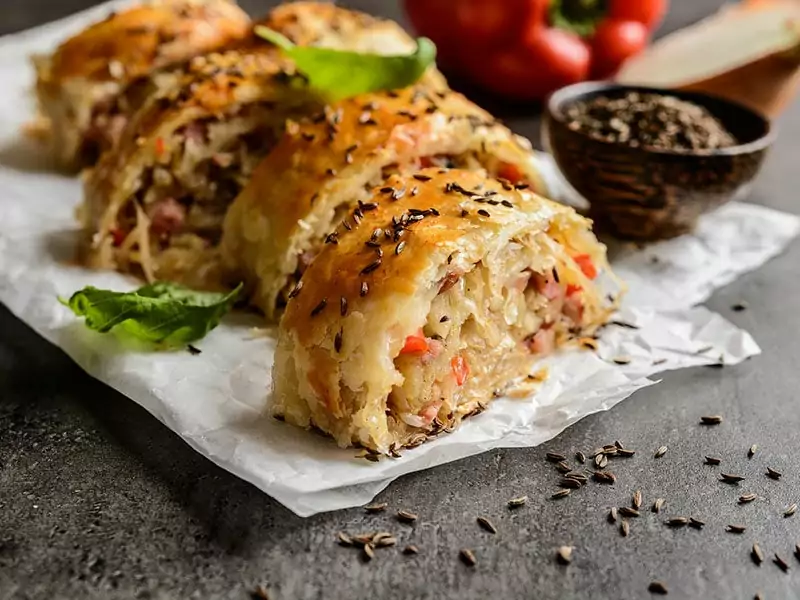 First impressions are important, and what better ways to make a good one than to start your meal with some German appetizers from among endless delectable German dishes? I highly doubt it.
Consisting mostly of well-loved ingredients like sausage, cheese, and savory vegetables, these dishes are guaranteed to please even the pickiest eaters.
From bite-sized foods to cozy soups, there's always a German dish that you can bring to the table. Whether you're feeding a huge crowd or just hanging out with close friends, these appetizers will undoubtedly be loved by everyone. Keep reading this list to find out what they are.
22 Tasty German Appetizers Everybody Adores
Split into different main ingredient categories like sausage, vegetable, cheese, and other ingredients; this list is here with some German appetizer suggestions that you can easily make.
German Sausage Appetizers
Wurstsalat (Sausage Salad)
Pretzel Pigs In A Blanket
Beer Brat Bites
German Vegetable Appetizer
Roter Heringssalat (German Red Herring Salad)
Kartoffelpuffer (German Potato Pancakes)
Pilzstrudel Mit Ziegenkäse (Mushroom Strudel With Goat Cheese)
Sauerkrautsuppe (German Sauerkraut Soup)
Sauerkraut Balls
Krautstrudel (Sauerkraut Strudel)
Kräuterbutter (German Herb Butter)
German Cheese Appetizers
Soft Pretzel Bites & Beer Cheese Dip
Cheesy Pretzel Ring Dip
Pretzel Muffins
Obatzda (German Beer Cheese Dip)
German Cheese Board
Cheese Stuffed Pretzel Wreath
Other German Appetizers
Bavarian Pretzels
Soleier (German Pickled Eggs)
Smoked Trout Dip
Flädlesuppe (German Pancake Soup)
Leberknödelsuppe (German Liver Dumpling Soup)
German Schnitzel Sliders
3 German Sausage Appetizers You Can Make In A Flash
The one thing you can always expect to find in German dishes is smoky and juicy sausages. They are excellent dishes to serve at dinners with family. These recipes will turn them into crowd-pleasing appetizers that your guests won't be able to stop munching on.
Germany is best known for its endless varieties of sausages, so it's no surprise that there is a sausage salad. This low-carb recipe features thin strips of sausage seasoned with vinegar, pickles, onions, and oil.
This traditional German salad makes an excellent appetizer for all your summer outdoor meals, especially if you have grilled dishes. It's simple, easy to put together, and tastes absolutely splendid.
If you love both pretzels and pigs in a blanket, this recipe is perfect for you. It combines two of the best snack foods and turns them into one addictive party appetizer. They are fun, easy to make, and absolutely irresistible.
Kids and adults will love these savory sausages wrapped in tender pretzels for game nights. Don't forget to complete the dish with your favorite dip. You can make a beer cheese dip for an authentic German taste or something classic like mustard and chili.
Take your game day snack to the next level with this pretzel in a blanket recipe, let's watch this video:
Everybody knows the classic beer-braised bratwurst recipe. This recipe is a simplified version, giving you the same juicy and rich sausage for only half the effort. Equip yourself with some methods of prepping brats in the ovens, and you'll have an easy-peasy yet tasty appetizer.
These bite-sized sausages are a great party appetizer. You can whip them up in no time at all using only a few ingredients. Somehow they are still tasteful enough to capture everyone's attention while leaving room for the main courses to shine.
7 German Vegetable Appetizers No One Can Resist
You might be too familiar with side foods that are made from veggies, how about appetizers with them? Germans know how to make a good and creative dish from vegetables. From salads to pancakes, you can always count on a German recipe to make eating veggies fun and exciting.
Herring is a small type of fish found mainly in the North Pacific. It's mildly sweet in flavor with soft, flaky meat. This traditional recipe blends herrings with a variety of vegetables and a creamy, tangy sauce.
This gorgeous salad can be served with a few different foods. Boiled potatoes or hard-boiled eggs are common choices to enhance the texture. Spread it all over some toasted bread to make a delightfully light breakfast or appetizer.
These golden pancakes are a memorable part of many Germans' childhood. Delicious and easy to make, these iconic foods from Germany are widely available in all sorts of places, from street corners, festivals, to home kitchens.
The texture of these pancakes makes them very fun to eat. They are crispy on the outside, yet the inside still has that signature potato fluffiness. You can eat them with a diverse selection of toppings and dips. They also make great companies for many soups and salads.
This warming dish mixes earthy mushrooms with tangy goat cheese. Everything is then wrapped up in a flaky and crispy phyllo crust, giving you a flavor-bursting appetizer to serve on any occasion.
This strudel is a mouthful on its own, but you can take it to the next level with a good creamy side dip. Add some sweetness to its taste with some balsamic syrup or some fresh ground pepper for a spicy kick.
Sauerkraut is finely cut raw cabbage that is fermented from two to six weeks. Simple as it may sound, Sauerkraut's distinctive sour flavor has become an irreplaceable part of many German dishes. It is used as a topping, filling, side dish, or even eaten on its own.
Using sauerkraut as the main ingredient, this soup holds a unique combination of flavors. It's mildly tangy with a filling savory taste, creating an amazingly hearty and warming mixture. For a toasty meal starter, serve it with some crusty bread or a fresh salad.
Sauerkraut is a flexible ingredient, you can use it in various dishes, even for unique German desserts. But with this appetizer recipe, these crispy balls are a dream come true for all snack lovers out there.
This classic recipe takes tangy sauerkraut, fries them with other meat, cream cheese, and seasonings until they are irresistibly golden.
Bite-sized and bursting with flavors, these sauerkraut balls are the perfect start to all your meals. They will also make a delightful snack for all your game nights and summer parties. Just be sure to have a creamy and tasty dip to keep them company.
Make these delicious sauerkraut balls in just a few simple steps with this video:
This heart-warming cabbage roll is the cure for all your winter blues. Filled with savory strands of cabbage and aromatic spices, it's a treat no one can turn down.
Many like to fill this pastry with bacon or bratwurst to give it an extra smoky taste. However, if you are vegetarian, you can totally leave them out and still get an insanely delicious appetizer. The vegetables themselves are flavorful enough to keep the whole dish entertaining.
Take your dish to the next level with this simple herb and butter mixture. This recipe pairs the sweetness of butter with various aromatic and earthy herbs, giving you the perfect dip to eat with almost anything.
This dish uses familiar herbs like parsley, chives, and basil, so you can quickly whip it up with no trouble at all. The mixture will go incredibly well with toasted bread, but you can also eat it as a dip for vegetables and other meat dishes.
Put together a creamy bowl of herb butter using these simple guides:
Bring Your Party To Life With These 6 German Cheese Appetizers
Beloved worldwide, cheese is the ideal choice to start your parties and get-togethers with. These recipes are evidence that you can be as creative as you want with this addicting ingredient. Find out four different ways to use cheese to make crowd-pleasing party appetizers.
Your game night will get a whole lot more exciting with these small pretzel bites dipped in delicious beer cheese. They are so easy to make, and you can even use the dip for other dishes in the meal.
The pretzels are deliciously crispy on the outside but melt with tenderness once you bite into them. The classic German dip is probably the highlight of the dish. It's sweet and creamy with that signature beer undertone that will sweep you right off your feet.
Let's make some soft pretzel bites everyone will be obsessed with this video:
Start your party off on the right foot with this pretzel and cheese combo. This plateful of goodness will have all your guests mesmerized from the very first glance. It's an exciting choice for a game night, but you can also serve it at any party.
Apart from the two main ingredients, this dish can also be infused with beer, creating the beloved German beer cheese dip that no one can resist. It looks and sounds like a handful at first, but I promise you all of the steps are very easy and doable.
This is yet another exciting way to transform pretzels. Being a combination of pretzels and muffins, these pastries are unbelievably tender but still pull apart with every bite. Warm out of the oven; they will undoubtedly steal the show before the meal even starts.
There are many different filling options for these pretzel muffins. Load them up with cheddar and feel them melt right inside your mouth. You can also do it the traditional way and use butter or chocolate for a sweeter taste.
This dip is the quickest and easiest way to bring some authentic German flavor to your dish. It's a creamy mixture of soft ripe cheese like Camembert, paprika, butter, beer, and other various seasonings.
Filled with complex but harmonized flavors, this dip serves as an incredible appetizer alongside other foods. You can spread it over your sandwich, toasted bread, or use it as a pretzel dip for a fantastically flavorful snack.
Quick and easy instructions on how to make this creamy German dip with this video:
Bring some sophistication to your dinner party with a classy cheese board. No matter how you choose to present them, they still look rustically beautiful and eye-catching. The best part is, there is a little something for everyone, so they will fit right into most people's diet.
Also known as a charcuterie board, this dish often consists of different types of cheese, meat, veggies, fresh fruits, and anything else that you like. The German version will include delicacies like bratwurst, sauerkraut, pretzels, and various cheeses.
A golden wreath of pretzels will be the center of attention at any meal. Its massive size and gorgeous appearance is enough to have everyone drooling. What's even better is the surprise faces your guest make when they dig in and find delectable stuffings inside.
Instead of dipping pretzels straight into a cheese dip, you can now stuff them full of delicious cheddar cheese and ham for a creative twist. The dip will soak the insides completely, making the pretzels even softer and filled with even more intense cheese flavors.
Top 6 Other Must-Try German Appetizers
Some of these dishes may seem unfamiliar at first but don't let that stop you from enjoying them. The exotic taste is what makes them so amazing. Gain some new culinary experiences as you make and eat them as well.
It's impossible to talk about German cuisine without mentioning the famous pretzels. These delectable street foods from Germany are often eaten as snacks, but pair them alongside some cheese sauce and you will instantly have a crowd-pleasing appetizer.
If you're already too familiar with the American version, make it in the German style instead. Bavarian pretzels' middle parts are quite thick and get thinner towards the end. They are also quite pillowy soft and light with a similar texture to bread.
Explore this brand-new way of making and eating eggs with this strange recipe. Pickled eggs are preserved in a liquid with different seasonings and then boiled to achieve a unique flavor. Many also add raw beet to the mixture to give it an eye-catching magenta shade.
These eggs may seem foreign, but they are actually a very well-loved delicacy in Germany. You can find a whole jar of them at almost any bar. You can eat them the same ways you would eat a hard-boiled egg or even just as a meal starter alongside a cold beer.
This gorgeous dip will make all your appetizers a thousand times in just a few simple steps. Unlike most dips, this one is not only creamy and rich in flavor but also a little bit chunky, thanks to all the shredded trout and vegetables.
You can serve this dip with any other ingredient; the simpler, the better. It's so flavorful that it will enhance all the foods it gets served with, whether it's fresh veggies or toasted bread.
This sensational dip is much easier to make than you think. Watch this video:
Don't let the strange name intimidate you. This soup is a lot similar to the beloved chicken noodle soup; only instead of regular noodles, it uses curled-up strips of pancakes.
This recipe was originally a way to make use of leftover pancakes. However, over time it has become comfort food to many Germans. Made with beef or vegetable broth, this soup will warm you right up on all the cold winter days.
This traditional soup from Germany may sound strange at first, but give it a try, and you might be surprised. As the name suggests, the dumplings in this soup are made of liver, bread, eggs, and herbs cooked in a savory beef broth.
In case you are wondering what liver tastes like, if cooked right, it can be pretty moist and tender with a mildly nutty flavor. This soup uses a wide variety of herbs and meat, so you don't have to worry too much about any unfamiliar flavor.
Schnitzel is a thin slice of meat covered in breadcrumbs and deep-fried until it is crispy and golden. Germans usually make this dish with pork, veal, chicken, or beef. These palm-sized sliders are insanely fun to munch on.
Sliders are typically made with small buns much like hamburgers. However, you can get as creative as you want and use other foods in place of the buns. Pretzel rolls are just as good, or you can even use the schnitzels themselves with some cheese and veggies in the middle.
Wow Your Guests From The Very Beginning
German cuisine is all about the food that will take your breath away from the first bite. The dishes are filled with gorgeous flavors and creative cooking styles. They heavily emphasize familiar ingredients such as sausages, potatoes, and, most unique of all, beer.
These German appetizers will not only keep your parties bright and cheerful but also offer you some brand new ways to eat familiar dishes. Give everyone something to talk about as you introduce them to the wonders of German cuisine. Don't forget to let me know all about how it turned out.
Nutrition Facts
6 servings per container
---
Amount Per ServingCalories228
% Daily Value *
Total Fat 18.5g

28

%
Cholesterol 34mg

12

%
Sodium 824mg

35

%
Potassium 250mg

8

%
Total Carbohydrate 6.3g

2

%

Dietary Fiber 0.9g

0

%
Sugars 3.9g

Protein 9.1g

18

%
---
Calcium

72

%
Iron

1

%
Vitamin D

18

%
* The % Daily Value tells you how much a nutrient in a serving of food contributes to a daily diet. 2,000 calories a day is used for general nutrition advice.