The following Slovakian foods are the perfect recommendations when you visit Slovakia. Although Czech and Polish cuisine mostly influences Slovakian culinary culture, its cuisines are distinctive with a unique flavor.
Potatoes and milk are the most common ingredients in Slovakia. These ingredients have a gentle flavor that will give you the best savory experience. Are you ready to explore these tasty foods? Let's dig in!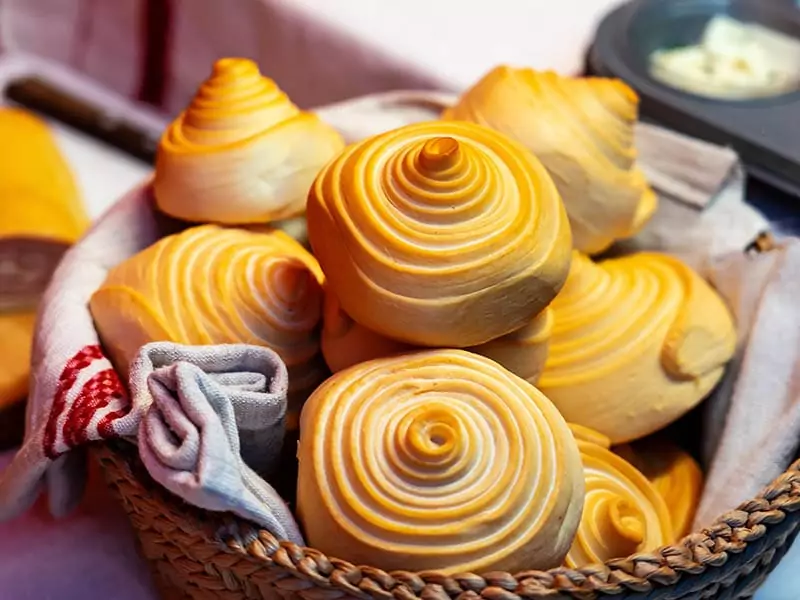 Let's Start With 9 Scrumptious Main Courses From Slovakia!
And here comes the most delicious Slovakian main courses that will trigger your hunger. Be careful! They will enchant you with the most delicate flavor, wink!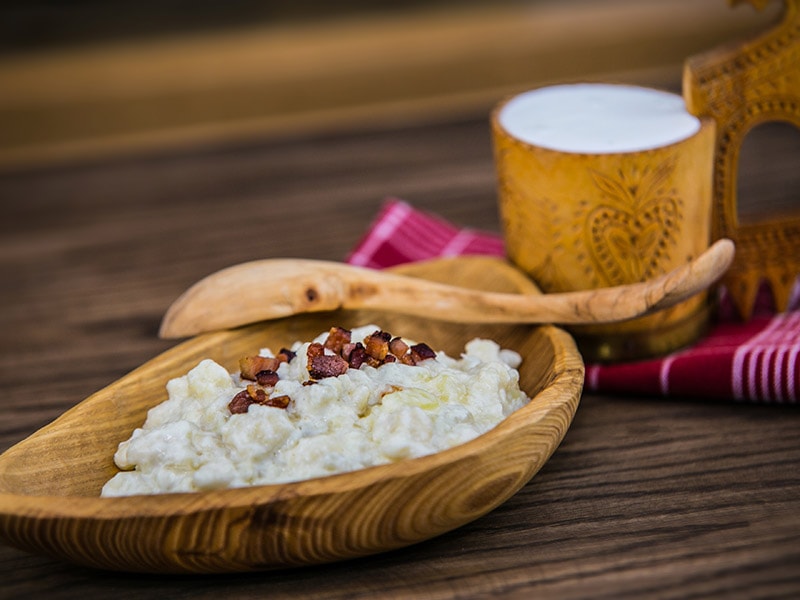 If you ask me what the most famous dish in Slovakia is, the top dish on my head will be Bryndzové Halušky. The dish is potato dumplings with sheep cheese (also known as 'bryndza') filling. These dumplings look like the famous Italian dish Gnocchi with a touch of creaminess.
Customarily, you can add some smoked bacon bits to add extra texture and flavor. You will find this dish everywhere in Slovakian territory. From the fancy restaurant in the city to the rustic house in the village, Bryndzové Halušky will surprise you with its comfort flavor.
The dish is rich in energy, so it is perfect for re-energizing after a hard-working day or some heavy physical activities like running or hiking.
You will head over heels with this delicious Bryndzové Halušky recipe.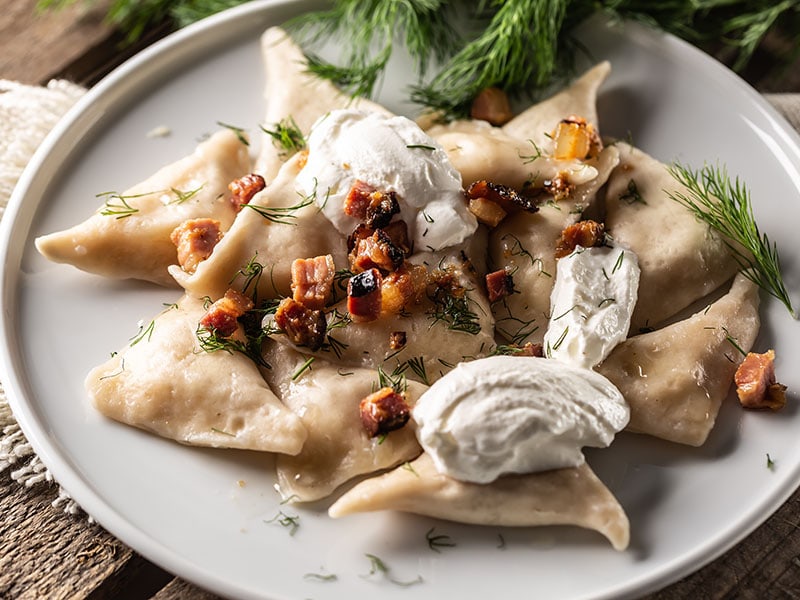 Another delectable dumpling food is coming for you! Pierogi is a perfect morning dish from Slovakia that you need to try. There is no official research on the dish's origin, but China is the top nominee.
Depending on your recipe choice, these little and soft dumplings can have a savory or sweet filling. Cheese, potatoes, sauerkraut, or even fruits will spice up these dumplings, trigger your taste, and make your mouth water.
Usually, Pierogi is a fried dish, but you will also find it in a steamed variant. If you love crispiness, go for the fried one; soft texture lovers should choose the steamed version.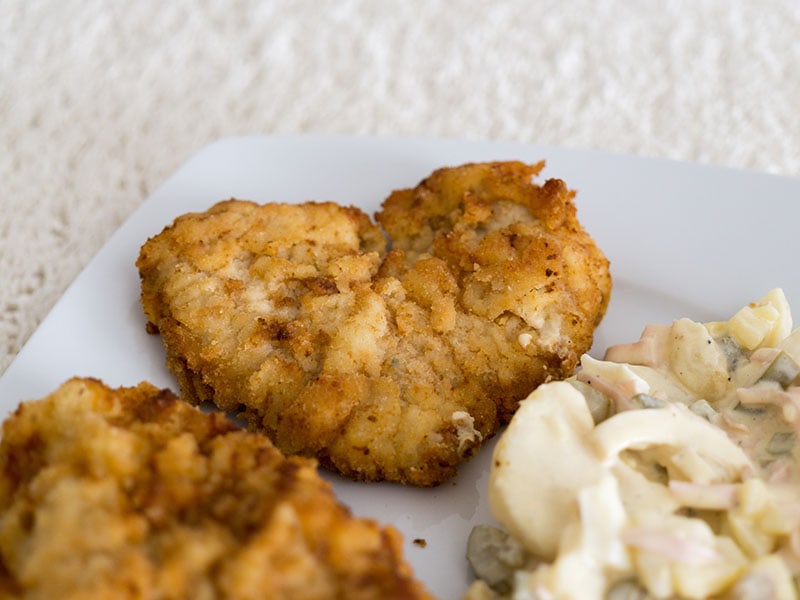 Wiener Schnitzel (aka Rezeň) is a wonderful tender pork cutlet in Slovakia. If you are looking for a scrumptious Slovakian meal for lunch, Rezeň is an excellent option for you.
There are countless versions of schnitzels worldwide; France, Italy, Japan, and Slovakia have their own unique way to create this tasty dish. All of them share a signature tenderizer to soften the meat until perfection.
The crispy fried bread crumb cover is the highlight of this magnificent dish. Although the meat is often made with pork, chicken is also a lovely option in Slovakia.
4. Fašírka (Slovakian Fried Hamburger)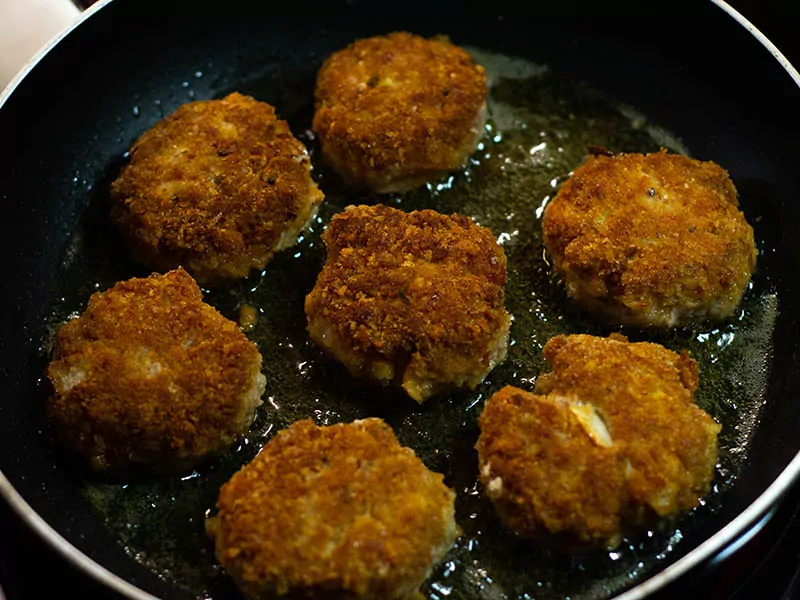 Fašírka will change your perception of a delicious hamburger. These Fašírkas or Frikadelle (a more prominent name) are delicious hamburgers with flat-fried meatballs well-known for their versions in Danish cuisine.
In Slovakia, you can have Fašírka with two soft bread slides. While serving this way, you can add sliced onion, red pepper, and mustard to boost the piquant flavor of this dish.
This tasty fried dish can also be served with mashed potatoes or cabbage to enhance the entire dish's flavor. Fašírka is an ideal dish for an on-the-go meal. Surprise your kids with these fried hamburgers in their lunch box; I'm sure they will love them.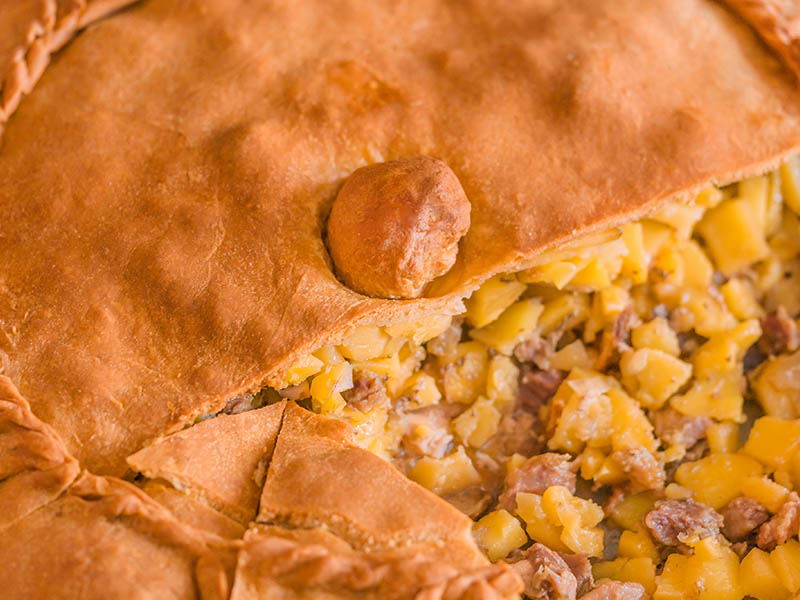 Pagach (or Pagac), also known as Belish, is a beautiful dish commonly served in Ukraina or Slovakia. The dish is a flatbread with meatless filling like potato or cabbage. However, you will find a meat-filling version in certain recipes.
As Pagach has a flat appearance, many people call it a Slovakian version of pizza. After being baked, the dish will slightly rise, forming a dense and soft body that will satisfy you through every bite.
Doesn't this Slovakian Pagach look appealing to you? Try it now!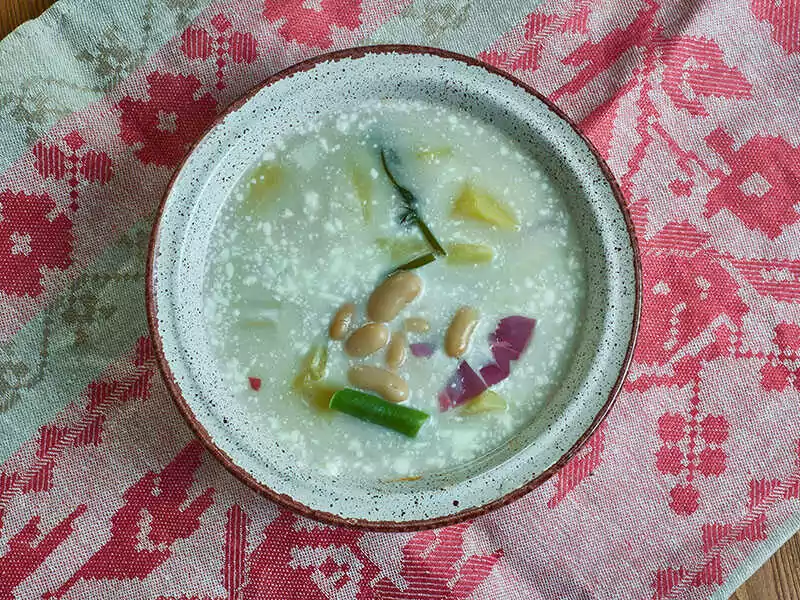 Allow me to introduce this breathtaking bean soup from Slovakia, Fazuľová Polievka. This flawless harmonization of sour and creamy will charm your food lover's soul. This bean soup is also adored in many European countries like the Czech, Romania, and Hungary.
You can have Fazuľová Polievka as the first dish of your meal or enjoy it as a main course. Feel free to pair the dish with crusty bread or butter to level up the entire dish's flavor.
To be honest, beans are one of the best ingredients to make soup. This traditional Slovakian soup will be rich in nutty flavor and packed with nutrient profiles from using fazuľa beans, a particular bean grown in Slovakia, making this soup so unique.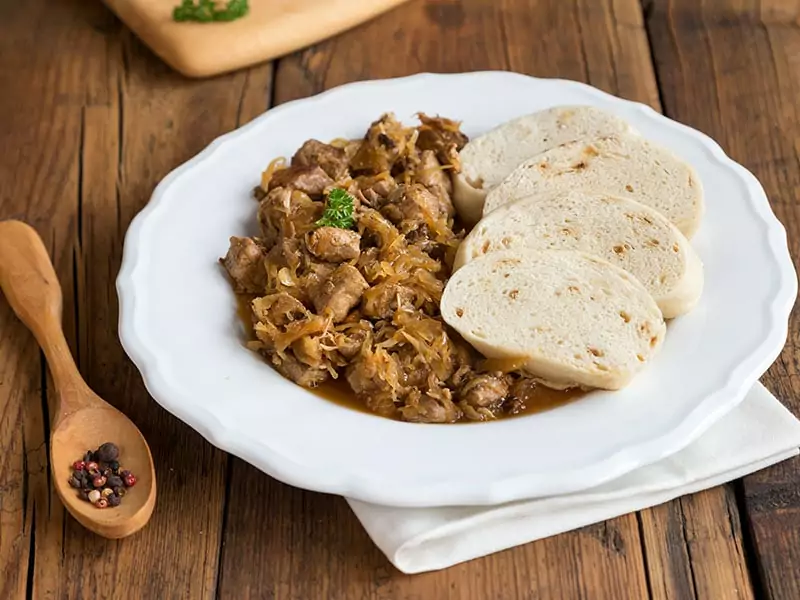 This unique dish is named after a famous Hungarian city – Szeged. However, a fascinating fact is that Segedínsky Guláš is not a traditional dish in Hungary. As a result, the dish doesn't have the signature spiciness of this country's cuisine.
After stewing the sauerkraut and pork, the juicy broth will please your taste with a tasty sweetness and a savory flavor. Bread dumplings, fresh rye bread, or boiled potatoes are lovely companions for this hearty sauce.
8. Gulášová Polievka (Traditional Goulash Soup)
Gulášová Polievka is another piece of evidence proving that Hungary's culinary culture influences Slovakian cuisine. Goulash originates in Hungary and is adored by Slovakian citizens across the nation.
Beef, onions, garlic, and peppers add a savory taste and intense aroma. Gulášová Polievka is a hit in many sports events such as tennis tournaments or running competitions. It is typically cooked on a cauldron with direct fire.
There are two significant variants of goulash soup: One is a smooth and thick sauce to pair with dumplings. The other is a hearty soup that will wow you with its sophisticated flavor. When the pot is simmering, and the meat starts to soften, you can serve the dish at this time.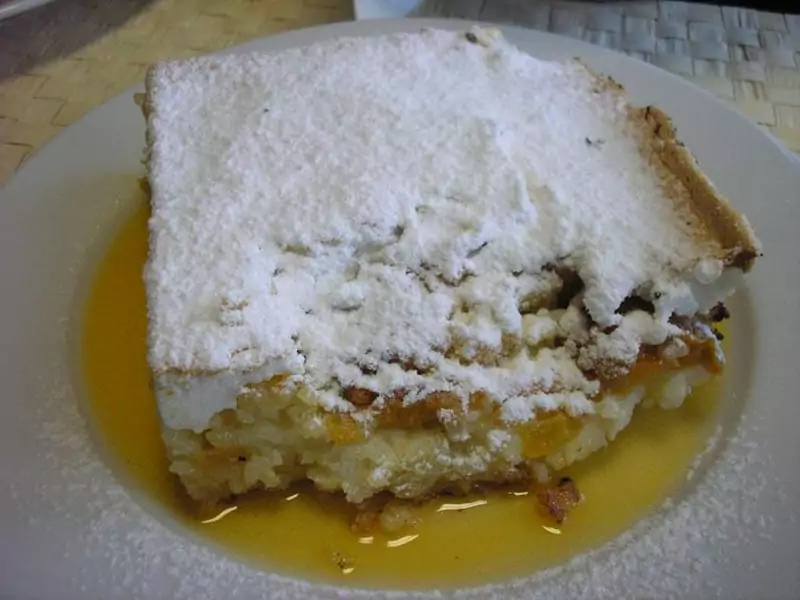 Czech and Slovak's cuisine shares a scrumptious sweet rice pudding that you will fall in love with after the first taste. Unlike other puddings, Ryžový Nákyp has a thick, dense, and slightly crumbly texture.
The pudding has many layers that you can add to create a mesmerizing fruity taste for the dish. Many cuisines serve this cake as a dessert, but in Slovakia, you can have it as a main course or serve it following a hot bowl of soup.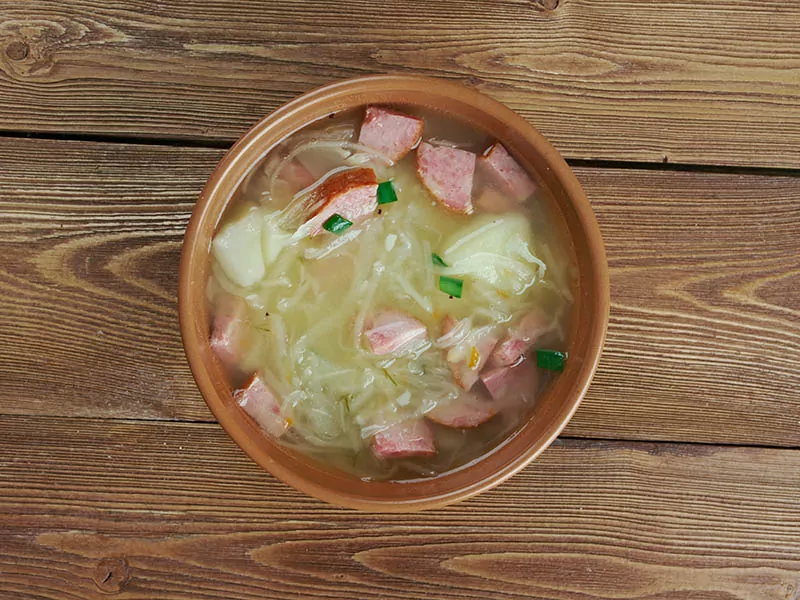 Don't you want to try a one-of-a-kind Slovakian dish for dinner? Kapuśniak (or Kapustnica) is a wonderful dish to give you the savory experience that you are looking for.
There is no fixed recipe for Kapuśniak. Each region and chef in Slovakia has its unique way of cooking and seasoning this dish. This Slovakian sauerkraut soup is a must-have dish on Christmas.
It is a typical dish in central Europe, especially in Poland and Slovakia. The sweet broth of this soup results from simmering the sauerkraut for around 45 minutes. Depending on your chosen recipe, you will find a savory taste from ham hocks or a ham bone.
Serving Kapuśniak in a bread bowl is an interesting way to enjoy the dish. The exterior is crispy, while the flavorful soup softens the interior. Tasty, right?
Yum! This Kapuśniak will be a hit at your family dinner table.
Don't Forget To Have A Look At These Full-Of-Cheese Specialties
Who doesn't love cheese, right? The following Slovakian dishes are the best suggestions for you. Keep reading to explore!
11. Bryndza (Slovakian Sheep Cheese)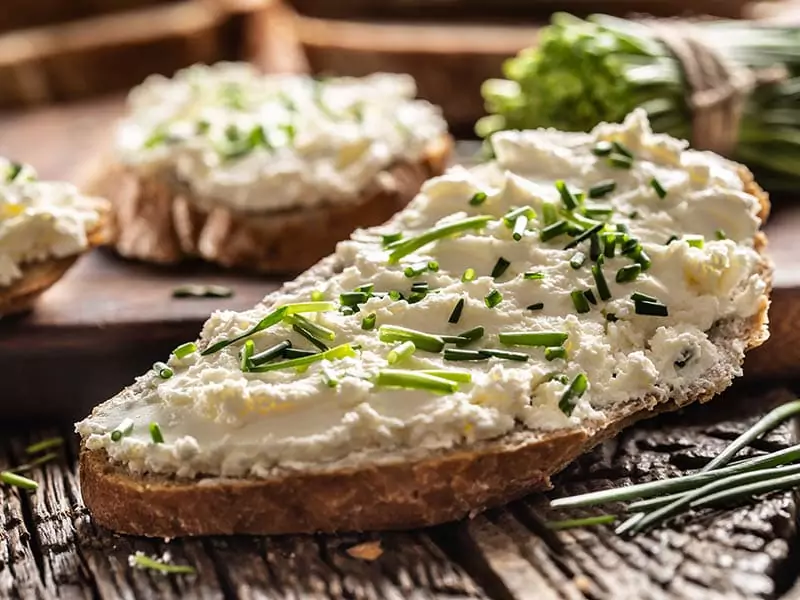 Bryndza is a Slovakian unique cheese renowned for its robust flavor and dazzling white or light yellow color. This Slovakian sheep cheese can only be made in Slovakia and is listed in the European Union Protected Geographical Indication file.
This cheese has a slightly different flavor depending on the production season. In summer, the cheese is lighter with cow milk, while in winter, the added sheep cheese makes Bryndza a little fattier.
Bryndza is one of the essential ingredients in Bryndzové Halušky and other Slovakian specialties. A mild flavor will touch your tongue when you first taste the cheese. Then, the characteristic odor will give an exciting kick in flavor with a salty aftertaste.
12. Slovenský Oštiepok (Traditional Slovak Smoked Cheese)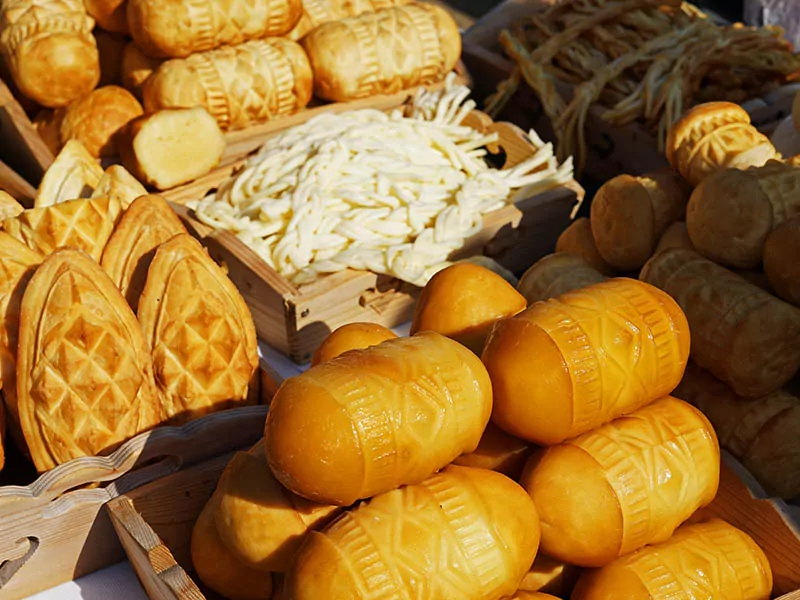 It is not an exaggeration to say that Slovenský Oštiepok is a masterpiece of Slovakian culinary culture. This is a semi-hard cheese with a yellowish-brown color resembling the appearance of a baked loaf of bread.
Oštiepok is one of Slovakia's famous specialties with a unique shaping method. The cheese is pressed into a special mold and then soaked in salty water to sustain its dazzling appearance.
The cheese usually uses cow's milk or sheep's milk. Some versions have both types. With a salty and savory taste with a hint of smoky flavor, you can pair the dish with a glass of white wine or beer.
13. Parenica (Traditional Slovak Rolled Cheeses)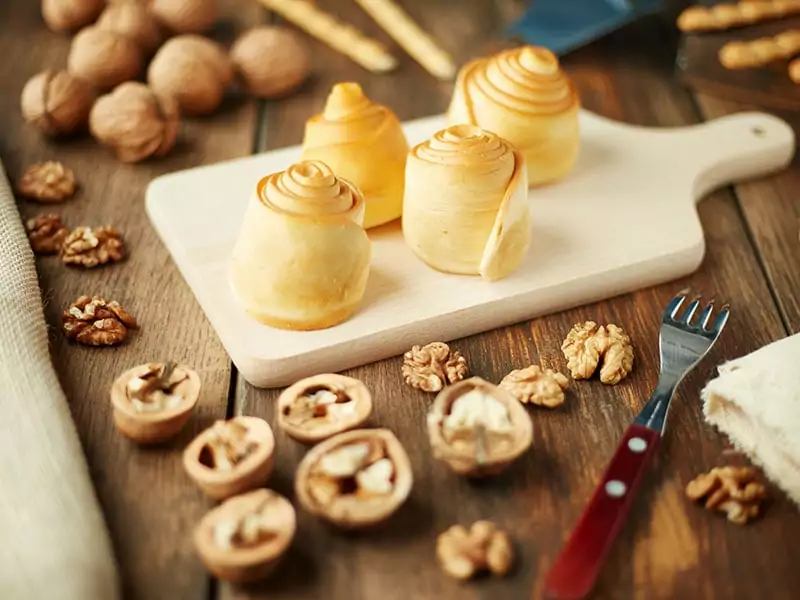 Parenica is a lovely smoked cheese with a beautiful spiral appearance from weaving the cheese strips. Some chefs roll this cake to create an S-shape representing the first letter in the country's name. It has a beautiful golden brown cover after being smoked.
Traditionally, Slovakians use cow's milk to make this cheese, but the milk mixtures are also used recently. People usually mix cow and sheep milk while making Parenica. This way, the proportion of sheep milk must be more than 50% of the total mixture.
This rolled cheese recipe is one of the Slovak cuisines with its trade name protected under the European Union (EU). And its name means 'steaming' in English, explaining the steaming process to make the cheese color darker with a soft texture and a creamy taste.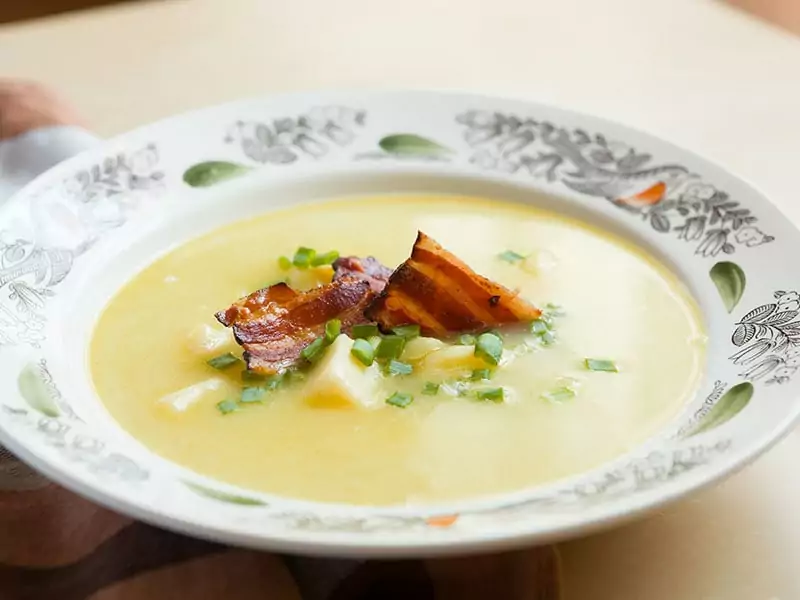 Sheep milk is truly a crucial ingredient in Slovakia. This ingredient contributes significantly to the diversity of Slovakian cuisine. Demikát is a lovely creamy soup made from the famous Bryndza cheese.
Due to the special taste of Bryndza, Demikát stands out from the other ordinary creamy soup recipes. Sour cream, cumin, and ground red pepper are some fragrant and flavorful ingredients that boost the perfection of this soup's flavor.
You should give this lovely Demikát a try because it is incredibly delicious.
Cookies and biscuits are on the way to surprise you. If you are a fan of these little sweet treats, you have to check them out right now!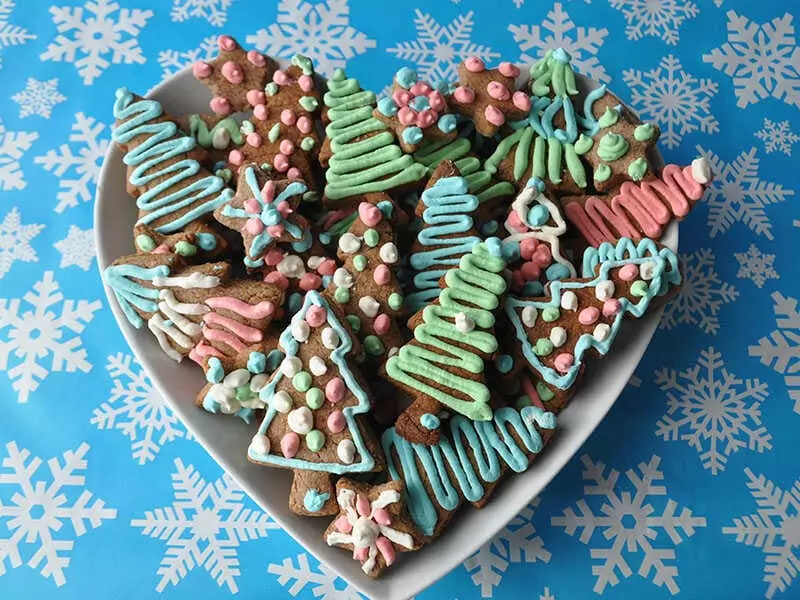 If the weather around you starts getting colder, it is because Christmas is coming closer. Medovníky will bring a traditional Slovakian festive spirit to your family's party. These cookies have a gingerbread appearance with delicate swirls of white icing.
Medovníky mimics the style of gingerbread cookies, but ginger is not a must-have ingredient of this recipe. Star anise, nutmeg, and cinnamon will form a beautiful fragrance complimenting the gentle sweetness of honey.
The best part of making these sweet treats is that you can shape the cookies in any form you like. So, why don't you give these wonderful treats a try?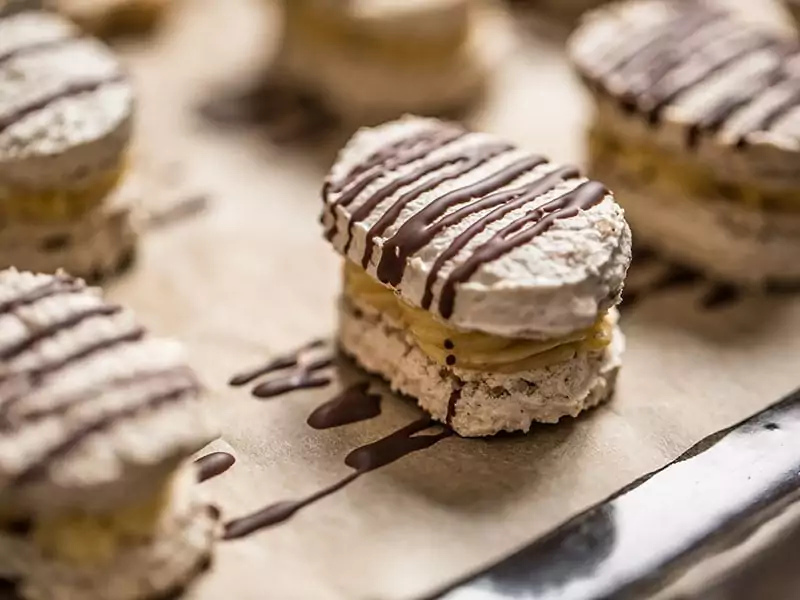 Laskonky is a creamy cookie consisting of two crispy slices of meringues and a rich cream filling. Caramel buttercream is a customary filling choice, but you will also find other recipes using different sweet fillings like chocolate or coffee.
You can keep these cookies in the freezer without freezing the filings. Little did you know that these sweet treats have a better taste when served cold. Feel free to make a cup of hot tea or coffee to enjoy these treats.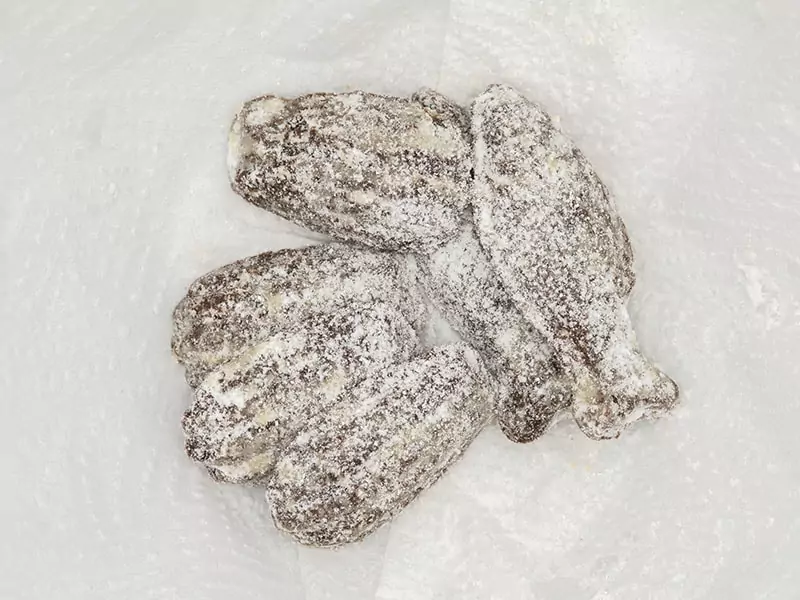 The name of this unique cookie recipe perfectly describes its appearance. Medvedie Labky or Bear's Paw cookies can light up the festive Christmas season with a gentle sweetness and bizarre appearance.
You don't have to always shape the cookies to the shape of a bear's paw; any other shapes will do, depending on your preference. A powdery cover with powdered sugar is a traditional way to decorate the treats. However, dipping the cookies in melted chocolate is another lovely option.
You can store these cookies in an airtight container for around one or two days for the cookies to develop their flavor. They taste more delicious after this step; try it!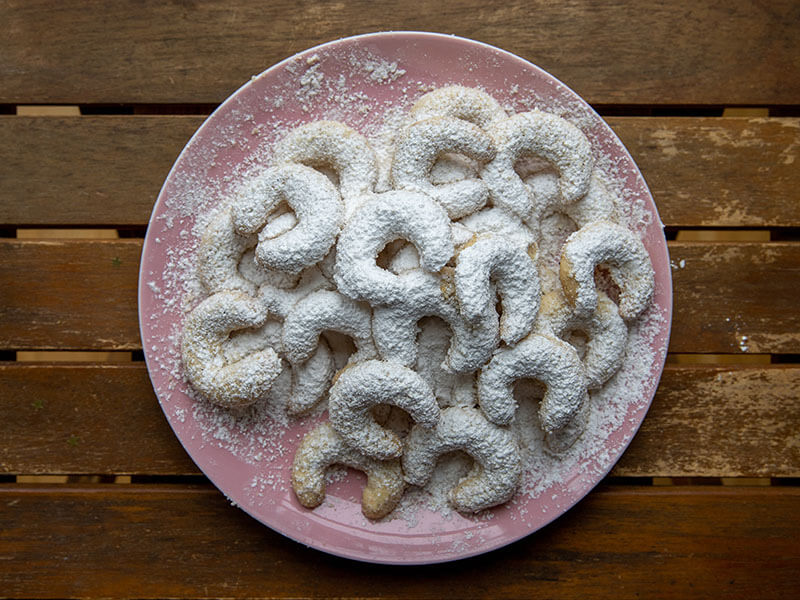 Speaking of European sweet treats, Vanillekipferl is a legendary biscuits recipe with many variants throughout the European territory. Austrian, Swiss, Czech, and of course, Slovakia have the most famous Vanillekipferl worldwide.
The crescent shape of Vanillekipferl is believed to symbolize the Turkish flag, presenting the victory over this country in 1683.
A dazzling dusting of vanilla sugar makes these cookies reach the top must-make desserts list during the Christmas season. If you are a dieter, you can have the dish as an after-supper sweet course or a mid-afternoon snack.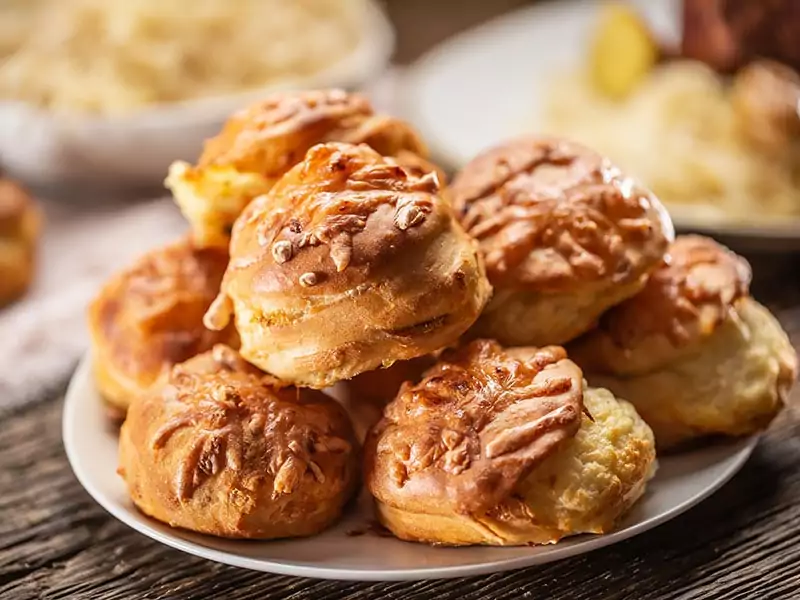 Here comes a special biscuit recipe waiting to surprise you with the most sophisticated flavor. The dough is leavened to create a soft and melty texture in every bite. The dish is customarily made out of rendered lard or pork rinds for a savory taste.
The sweet variant has various choices. You can choose potatoes, cheese, or cabbage as the main ingredient for this biscuit. Pair it with a cup of sour milk, and you will fall in love with the delicate flavor of Pagáče.
Pagáče variants vary from region to region. They are different in size, flavor, and texture too. Some have a crumbly texture, while others are soft and airy.
Unfold Other Slovakian Sweet Courses Taste Right Here!
If the cookies and biscuits section doesn't satisfy you, these beautiful Slovakian sweet dishes will fulfill that task. So, keep reading, your dream dessert is waiting for you!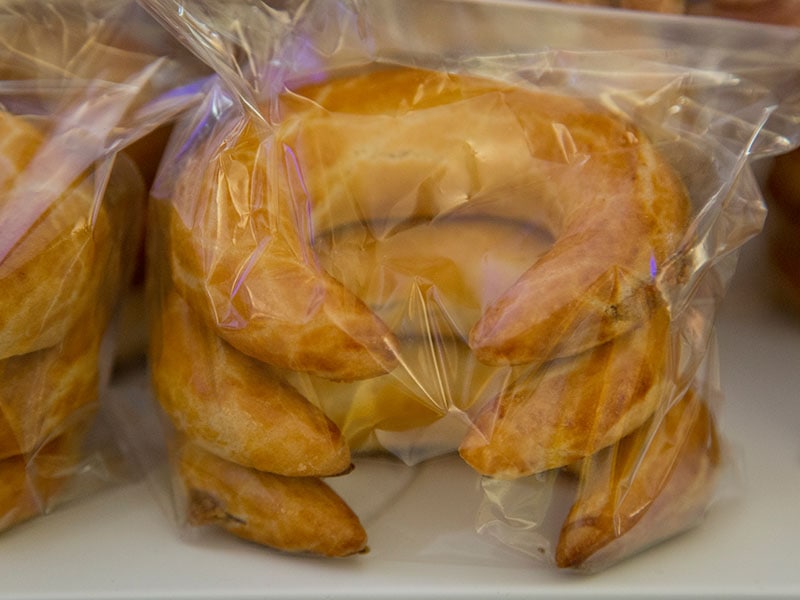 Bratislavské Rožky is a traditional dessert named after the capital of Slovakia – Bratislava. Back in the 18th century, when the first article in the city newspaper shared about a delectable pastry roll recipe, the pastry's reputation started rising domestically and globally.
The name of these nutty and flaky rolls varies from nation to nation in Europe. For example, Austrians call this treat 'Pressburg Kipfel' while Hungarians use the name 'Pozsony Kifli' for this lovely recipe.
You need to roll the pastry manually; then, add egg yolk on the dough surface for a beautiful golden brown color. Serve the pastry with a warm cup of coffee with a hint of milk or tea. This is one of the cheapest Specialties in Slovakia that you can find in any bakery.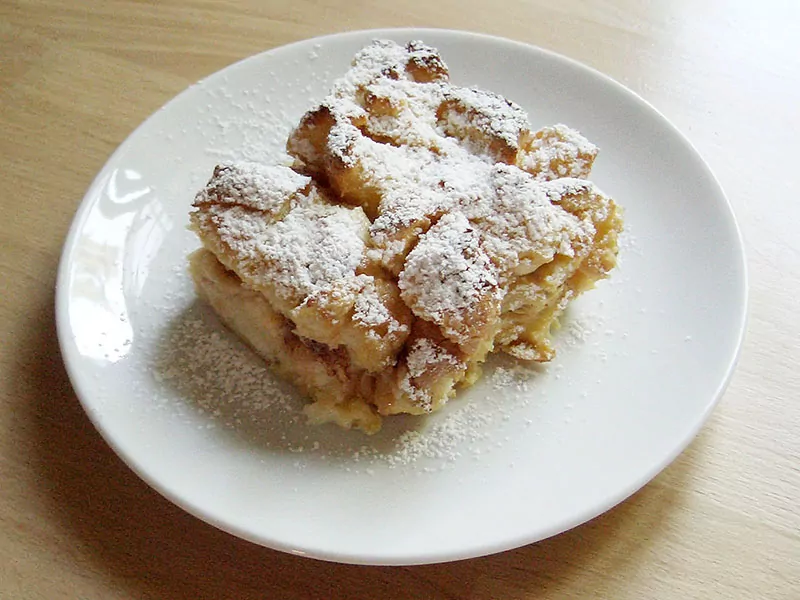 Slovakia has a special bread recipe to light up your dessert menu called 'Žemlovka'. The name of this dish comes from the word 'žemla', which means 'bread roll' in English. However, the texture is more like pudding, so Slovakians refer to this as bread pudding.
The dessert is many bread slices soaked in sweet vanilla-flavored milk. Žemľovka has many layers, but the one with the sweet forest and seasonal form a signature flavor for this treat.
Žemlovka has plenty of variants in Europe. In other countries, Žemľovka is a sweet course, but in Slovakia or Czech, people also serve it as a main course.
You can have it as a main entrée, followed by a bowl of sour soup. This dish is a great idea to treat your guests to the upcoming meal. Žemľovka has its best flavor when served warm.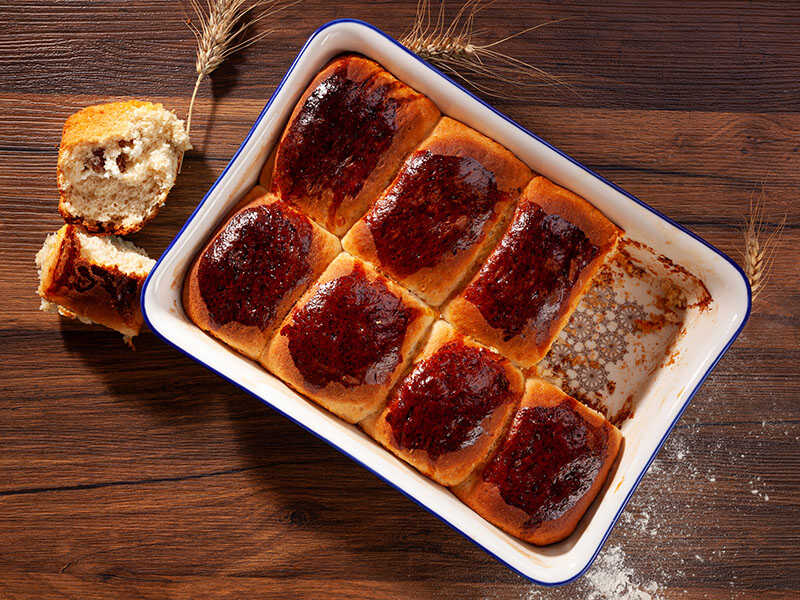 When you come to Slovakia or any country in central Europe, Buchty is a delicate, must-try dish. In Slovakia, Buchty is a plural name for these sweet treats; if you have just one piece, you should call it Buchta.
Buchty is not an easy dish to make. The recipe requires sophistication and skillful technique to create a perfect sweet dumpling. Therefore, most of the tasty Buchty recipes come from grandparents who often make this treat.
Traditionally, these dumplings are baked for a soft and spongy texture. But the steamed version called 'Buchty na Pare' will also satisfy your hunger. Either way, the sweet filling (usually jam or chocolate) will charm you with its smooth texture.
This Buchty looks simply delicious! Let's grab an apron and make this treat now!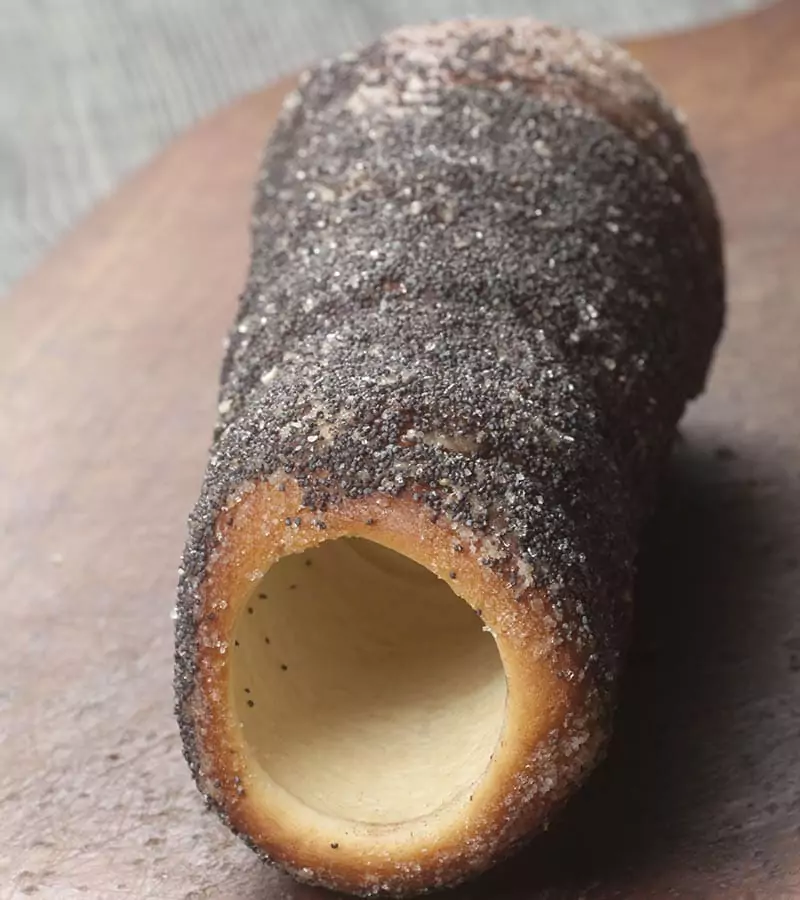 Hey! Don't miss this authentic dish from Slovakia because it will spice up your day. The cake is shaped using a stick, forming a signature hollow appearance. There are several origins of Trdelník, but Slovakia and Czech have the most famous recipe.
Trdlo or Trozkol are other names for this amazing pastry. The name 'trdlo' comes from the wooden tool that helped form this spit cake appearance. The exterior is golden brown, hiding a beautiful yellow and tasty interior.
This dish became popular when a Hungarian general visited Skalica (Slovakia's city) in the 18th century. The chef of this general treats him to this unforgettable Trdelník, and the rest of the story makes history.
Trdelník is mostly produced in the north-western part of Slovakia. Traditionally, it is served warm along with mulled wine. However, in summer, there is a variant stuffed with ice cream to blow away the scorching heat.
The dessert is protected by the European Union (EU) and is a national pride celebrated on many holidays in this country.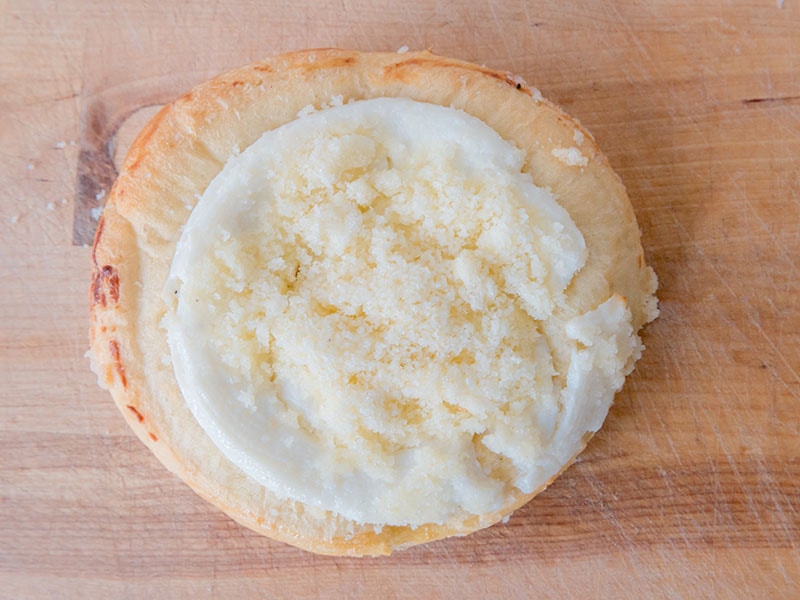 Imagine you reduce the size of a sweet pizza; you will have this beautiful Koláče dish with an amazing flavor. There are many names for this dish: You can call it Kolach, Kolacky, or Kolache. United States citizens, especially people in Texas, adore the flavor of this treat.
Koláče usually has a fruity filling, but sometimes you will also see some variants using cream cheese to enhance the creamy level. The pastry is traditionally served at church suppers or on special holidays.
25. Oblátka (Wafers Rolled With Honey)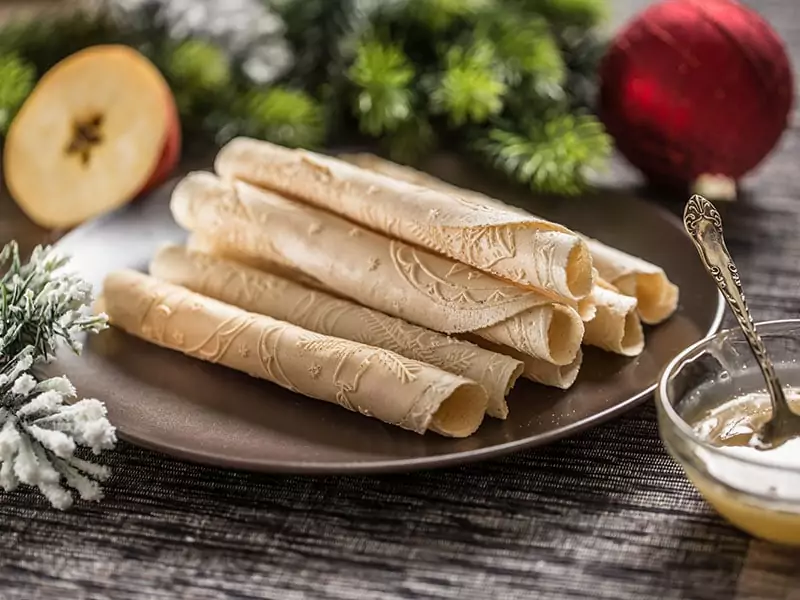 Oblátka is a Christmas wafer with sweetness from honey and a magnificent flaky texture. The key feature of this delectable wafer is the pattern on its surface. These sweet treats are usually served in the church with different religious images.
On Christmas, you will see Slovakians make them for the holiday-related ritual. In the ritual, consuming these Oblátka is believed to make your wishes for other family members come true. These wafers are a must to explore this beautiful cuisine.
26. Žinčica (Sheep Milk Drink)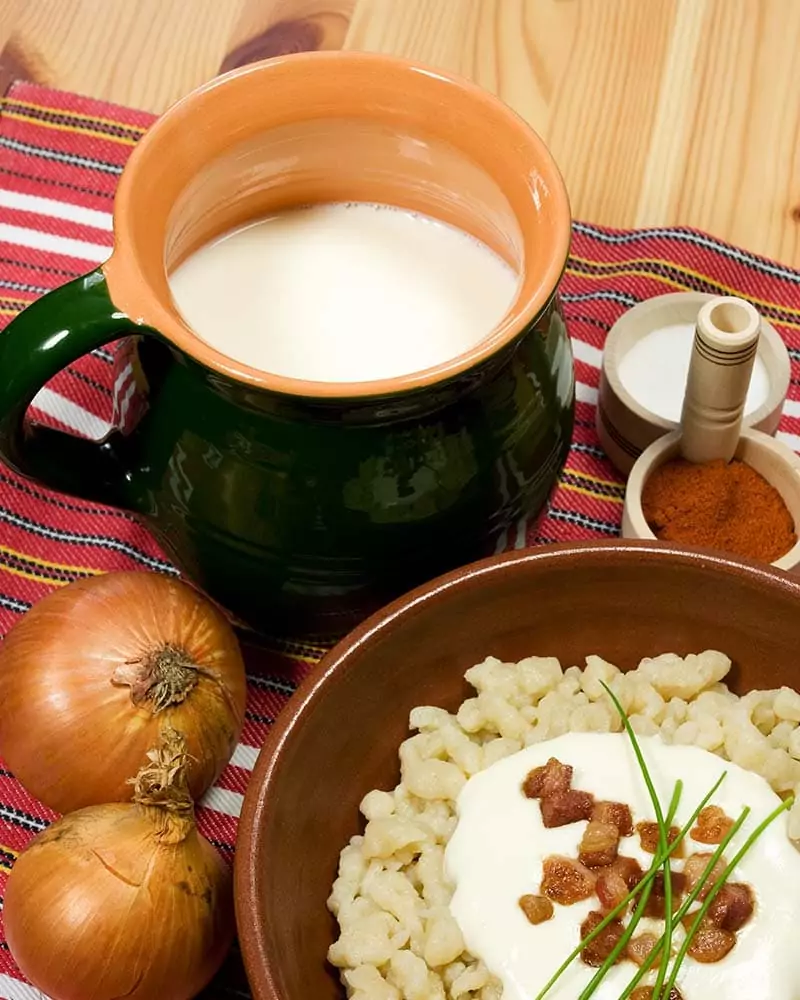 How about trying a creamy beverage from Slovakia? It's time for Žinčica to shine. In the mid-20th century, the shepherds in Slovakia started consuming this Bryndza's byproduct, and this lovely drink's reputation was prominent across the country.
Žinčica is customarily served in a wooden cup called 'črpák'. The drink is usually paired with Bryndzové Halušky to create a memorable meal. There are plenty of commercial Žinčica products that you can enjoy. Their taste is a delicate treat to your mouth.
If you want to try a commercial Žinčica product with traditional recipes and techniques, you should choose the one labeled as Žinčica Salašnícka on the package.
4 Exploding Slovakian Street Food To Amaze Your Friends
Slovakia has a rich street food profile that you have to discover. Their memorable taste will blow your mind. If you have doubts, just keep on reading!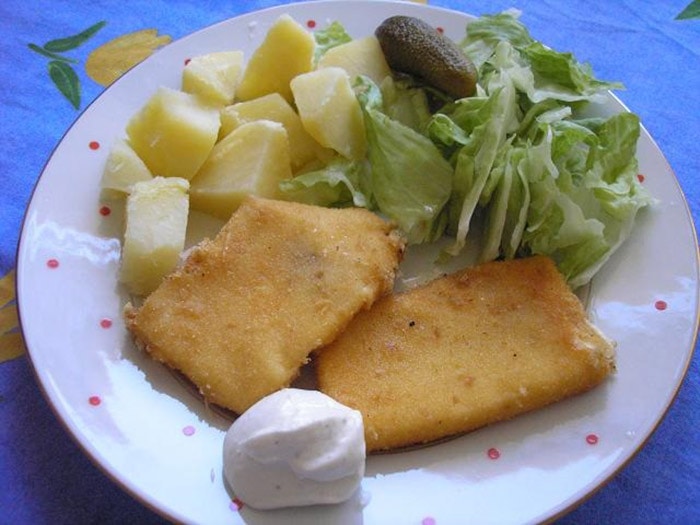 Let me welcome you to this cheesy section with a tasty Slovakian cuisine – Vyprážaný Syr. What flavor do you expect after unfolding the flaky cover? This deep-fried cheese will give your taste an alluring creaminess from the cheese.
The dish has various versions across the European territory. In the Czech, Edam and Hermelin cheeses are the most common options. While in Slovakia, Emmentaler is a popular choice with a strong flavor.
When you visit this beautiful country, I bet the first street vendor you run into will sell Vyprážaný Syr because this is one of the most famous street food dishes in this country. This is a favorite dish of many generations of Slovakian students.
In fine places like restaurants or cafeterias, Vyprážaný Syr is typically served with French fries, tartar sauce, or garnished with some vegetables.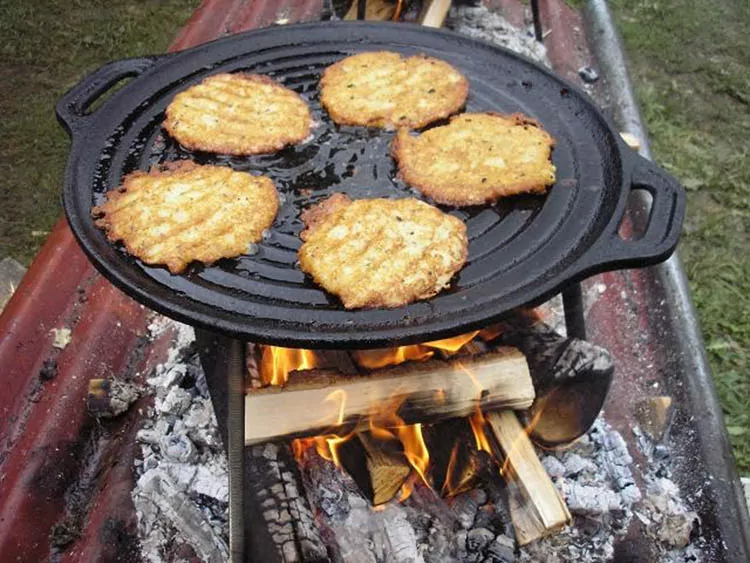 Hey! If you love the crispy texture but are still a fan of pancakes, you can try Zemiakové Placky. This is a potato pancake recipe but with a crispier cover after being deep-fried. These pancakes are made from potato dough, just like Lokše but uncooked.
Zemiakové Placky is a perfect snack recipe for those who love crunchiness. These pancakes are usually perfumed with a hint of fragrance from marjoram. They are the best street food choice when wandering around Slovakia streets.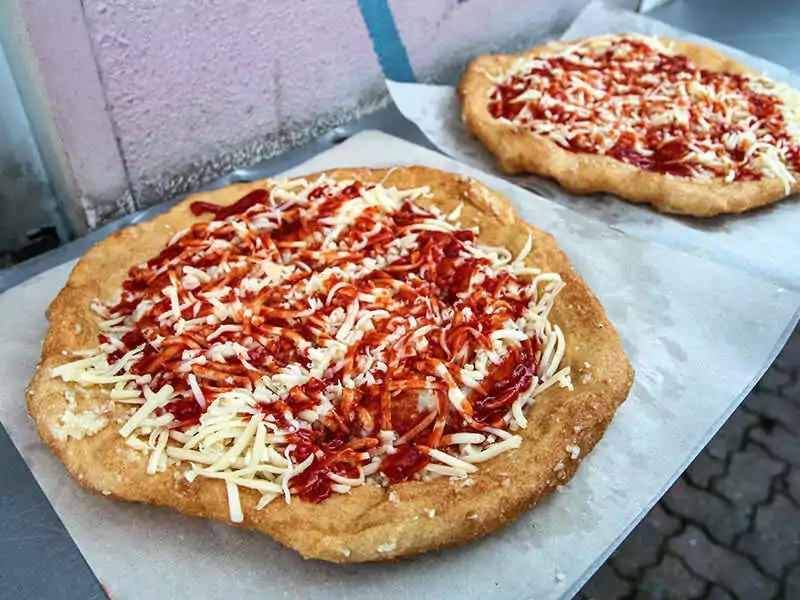 Langoš is a fried flatbread in Slovakian that has a dazzling harmonization of crispiness and creaminess. This dish is a result of using final bits from a beautiful baked bread-dough. You might find its appearance looks like a large Koláče.
The diversity of Langoš variants will suit your taste. You can make a savory one with onion, bacon, and parsley, or try a creamy version with sour cream and grated cheese. Yogurt or mashed potatoes will be an excellent option for this Langoš.
Additionally, garlic sauce, tartar sauce, and tomato ketchup are some tasty topping options for Langoš. This is a famous street food that you can find in some special events like concerts or festivals.
During summer, you will find a lot of street food vendors selling this specialty everywhere. From a small street corner to a bus-stop kiosk, you can enjoy Langoš taste in just a snap of a finger.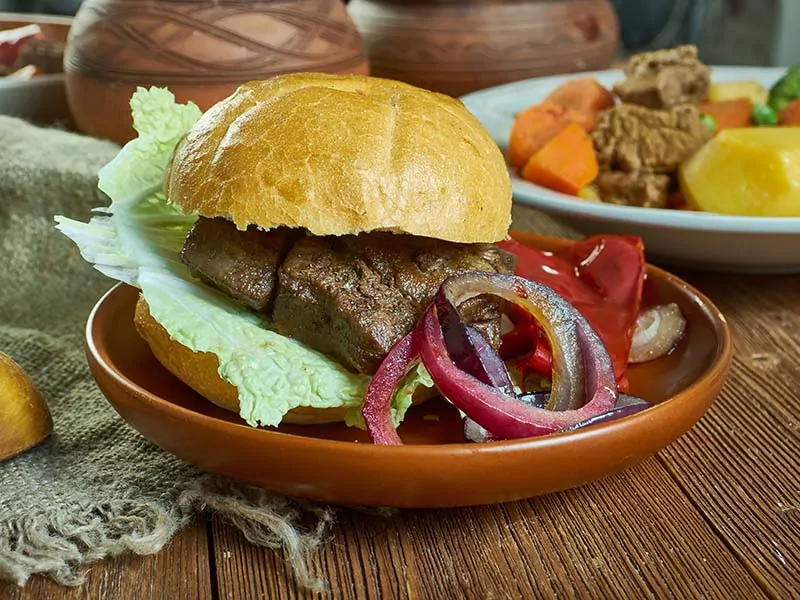 Do you know that Slovakia also has a flavorful burger recipe that could trigger your hunger? Cigánska Pečienka is popular street food with a thick slide of marinated and juicy pork cutlet or chicken breast.
Special occasions like May Day, Christmas, or Gypsy will not have their festive spirit without the presence of Cigánska Pečienka. Just go down a street and enter a fair market; this delectable sandwich is waiting for you.
You can grill the meat slices for a smokey flavor or fry them to form beautiful crispiness. Mustard and hot peppers are usually added to this burger, so if you are not a fan of piquant flavor, you need to adjust them before tasting this dish.
More Tasty Slovakian Cuisines Coming For You!
Don't go! These last cuisines from Slovakia are must-have dishes in your upcoming meal. Make them treat your family with a delectable taste from this country's specialties.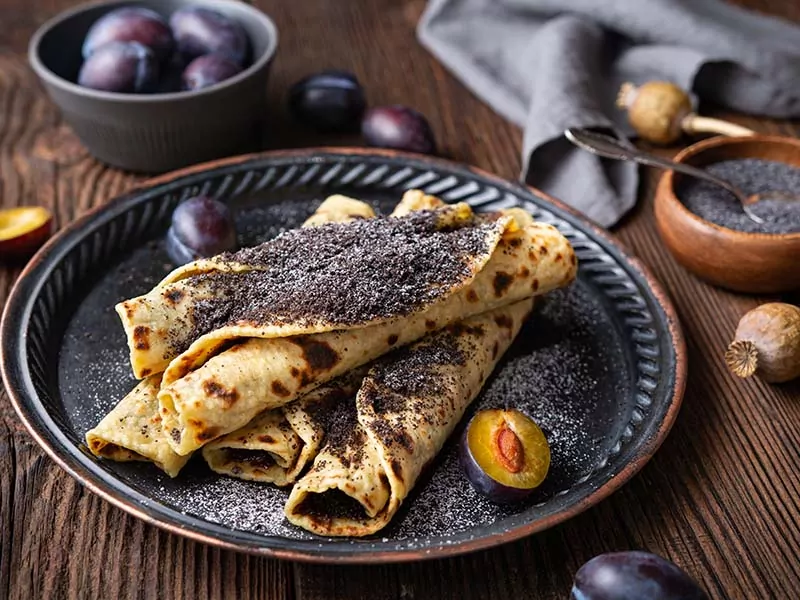 Lokše is a potato flatbread resembling the appearance of a flatbread. The dish is a popular specialty in western Slovakia and Czech. The Czech variant is more like noodles you can enjoy with a savory soup.
In the hunting season of Slovakia (usually in autumn), the duck or goose variant of Lokše is widely adored by local citizens. Sweet Lokše with poppy seeds, nuts, or Nutella fillings is a fantastic choice for sweet lovers.
Christmas tables in Slovakia will not be complete without this soft and tasty Lokše. Traditionally, Slovakians will top the cake with poppy seeds and sugar, forming a beautiful black coating for the dish. Fruit jam is also an excellent choice to pair with this pancake.
If you are a potato fan, this Lokše will surprise you.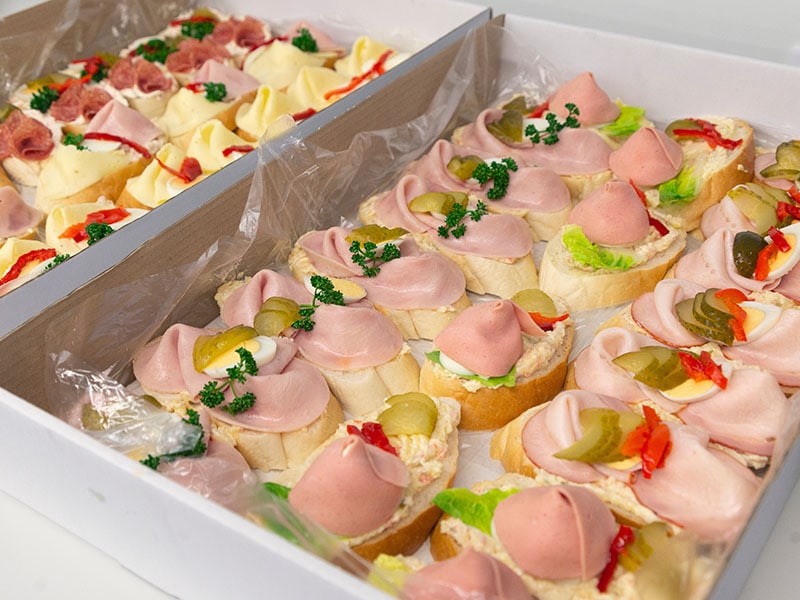 Obložené Chlebíčky is a unique sandwich that you don't actually have to sandwich the filling. These sandwiches are opened, showing all the delectable ingredients of the dish. Depending on your taste, you can make the dish meatless or full of cheese.
One fun fact about this specialty name, Obložené Chlebíčky means 'garnished small bread' in English, and the truth is this dish usually comes in small portions. They are portable and perfect for an on-the-go breakfast or a quick snack for your kid's lunch box.
33. Krvavničky (Slovakian Blood Sausage)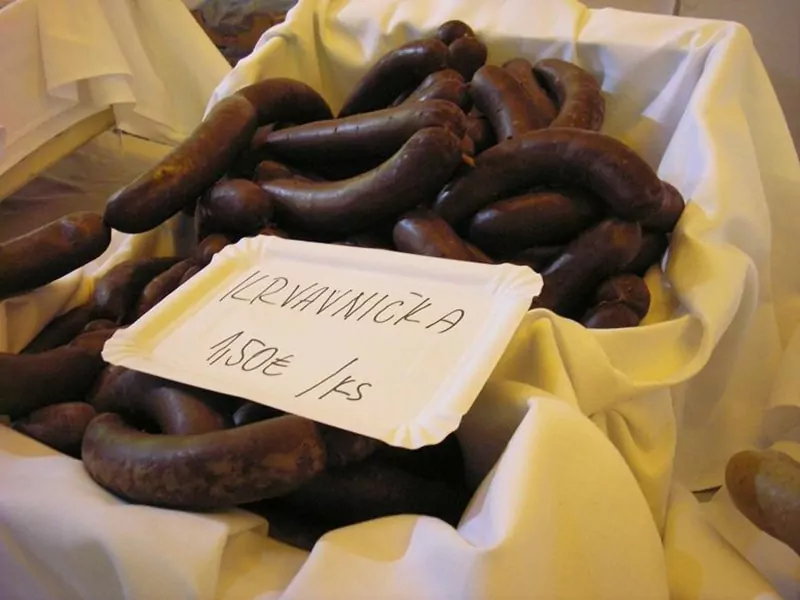 Krvavničky or Krvavnička is an authentic blood sausage from Slovakia that is not friendly for everyone due to the unique smell. The sausage is made from solidifying the pig's blood. Then, people will add lots of herbs and spices to evoke a lovely fragrance.
In Slovakia, people usually pair this dish with sauerkraut and cooked potatoes for extra flavor and texture. During winter days in this country, you will find people making this specialty for their families.
This sausage is also a unique cuisine in many other Middle and Eastern European countries. The sausage has an intense spiciness that you should consider before trying this Slovakian specialty.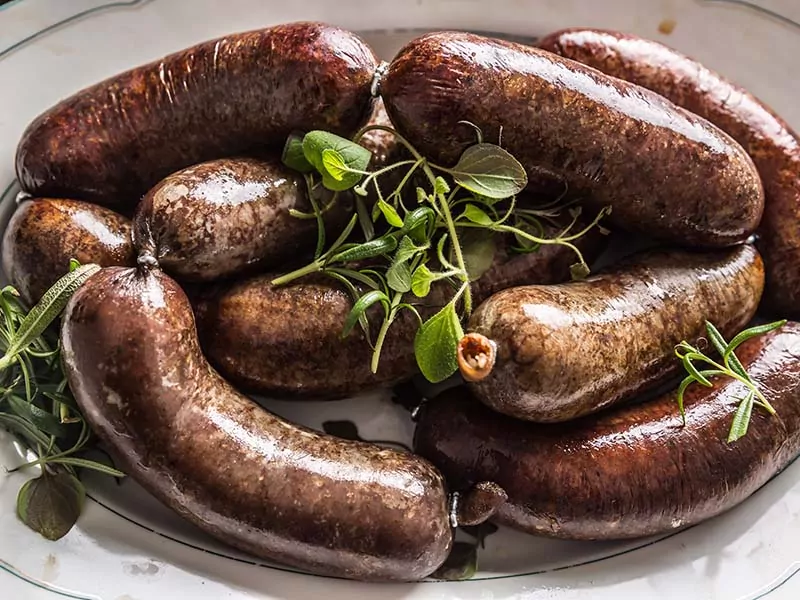 Don't be surprised because I have another Slovakian sausage for you to try. Unlike the primer one, this one has a beautiful yellowish-white color with rice or barley as the main filler ingredient.
Pig's organs like lungs, heart, and liver form the main flavor of this sausage. Some recipes add blood as well, but the original version is more common. The aroma from rice (or barley) and garlic make Jaternice smell amazing.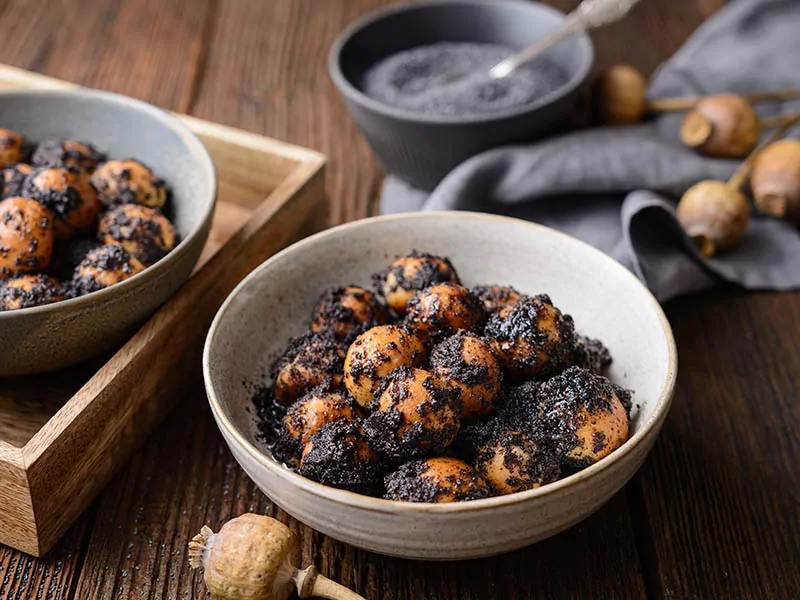 Pupáčky will be an excellent side dish for those who are craving. Bobalky, Bobaľky, or sometimes Opekance are some of the common names for these sweet little balls coated in poppies. This is a must-listed dish on Slovak Christmas Eve that you need to try.
Slovakians usually pair the dish with cheese or cabbage (sauerkraut) to add buttery flavor or crunchy texture. If you are a honey fan, a touch of this ingredient will bring a delightful sweetness.
This Pupáčky recipe should be listed in your Christmas sweet treats list.
Hey! Give Yourself A Fine Meal
Although Slovakia is just a tiny country, its cuisine is so diverse and delicious that you can not stop yourself from making them repeatedly. It will be a great idea if you make these foods to welcome your guests or treat your family.
So, how was the exploration? Share this post for your friends and leave your opinion in the comment section. Thank you, and see you in the next post!