If you were looking for a traditional ratatouille recipe to bring French Provençal cuisine to your dining table, you found it. Ratatouille is not only a healthy and unique delicacy from France, but it is also easy to make, even for beginners in the kitchen.
The original recipe doesn't include meat or fish, which makes ratatouille suitable for vegans, too.
In this article, you will learn about the origin of the dish, the complete ingredients list, and the preparation process. Moreover, I'll share some preparing and serving tips so you can enjoy this dish to the fullest.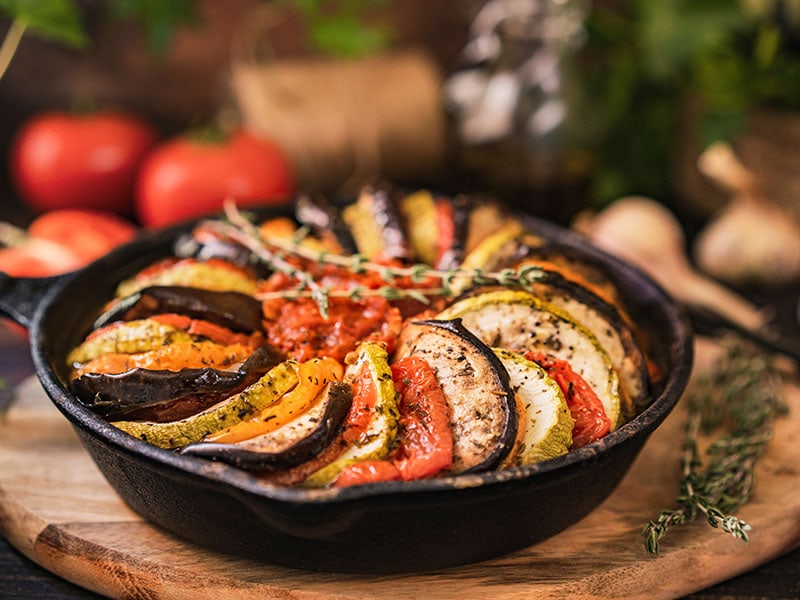 What Is Ratatouille?
Ratatouille is a famous dish from the Provence region in France. The region is known for its beautiful scenery, and delicious food, and wines, especially rose wines. The Provençal cuisine is simple and takes advantage of fresh, seasonal ingredients. It is what gives it a Mediterranean taste. Wild herbs complement seasonal vegetables and create a stunning harmony of the taste.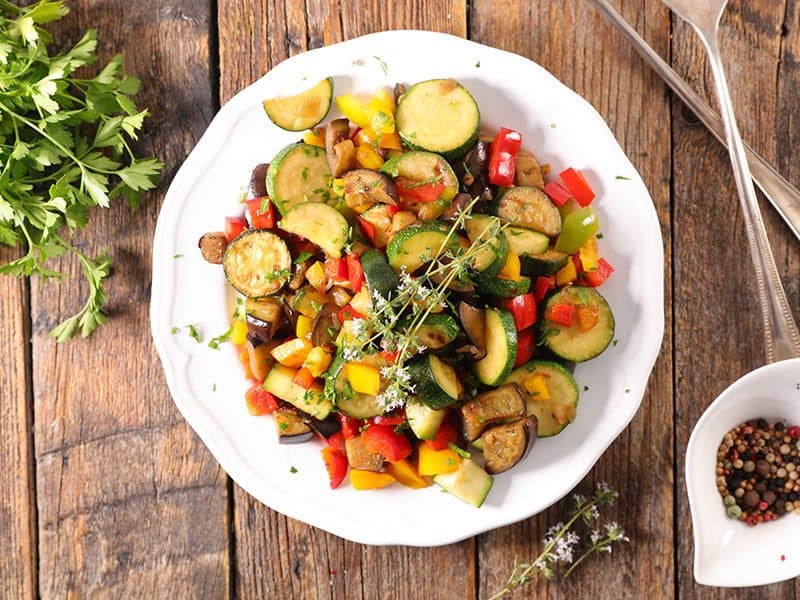 Ratatouille is essentially vegetable stew and has been created to celebrate and thank the farmers. The fruits of their hard labor are included in the dish, and there are many variations of the recipe. Commonly, you'll come up to eggplants, onions, zucchini, and other veggies and herbs.
The dish is sometimes called Ratatouille Nicoise when it includes capers, Nicoise or Kalamata olives.
However, the essential thing for the recipe is the slow-cooking process. It allows the ingredients to blend well and create a stunning harmony of comforting tastes.
Because of the healthy and fresh ingredients, ratatouille is common on the menu of people looking to lose weight healthily. Moreover, the meal is well-balanced and an excellent choice for vegans and vegetarians, because it has all beneficial nutrients.
The root for the name of this delicious R-something food is the French verb touiller. The verb means to stir up. Even though some people argue that the name represents the correct cooking method, we will stick with the traditional recipe and cooking method.
Is Ratatouille a Main Dish?
You can eat ratatouille as a main dish, as the farmers did in the past. However, nowadays, ratatouille is more of an appetizing French side food and only combined with pasta, rice, fish or chicken works as a main dish.
Watch this video to know more:
Traditional Ratatouille Recipe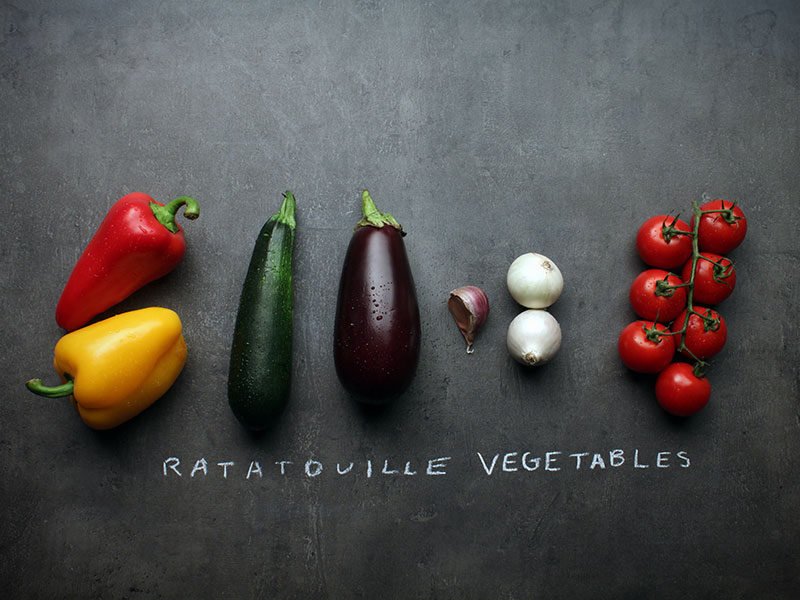 What you need:
Cutting board
Sharp knife or a versatile vegetable chopper for cutting veggies quicker
Garlic crusher
Deep stew pot
Bowl for mixing ingredients
Tray
Ingredients:
Onions
Garlic
Fresh tomatoes
Zucchini
Red and green bell peppers
Yellow squash
Eggplant
Olive oil
Vinegar
Salt
Pepper
Fresh or dried herbs de Provence
Basil
Average cooking time: One hour and a half to two hours
How to Make Your Herbs de Provence for Ratatouille?
If you don't have store-bought spice herbs de Provence, you can make them at home with proper ingredients. Spices are essential for your ratatouille to taste authentically French.
Here is what you will need:
Spice grinder
Bowl for mixing the ingredients
Container with a lid
Ingredients:
Fennel seeds – 1 tablespoon
Dried tarragon – 1 tablespoon
Dried chervil – 1 teaspoon
Dried marjoram – 3 tablespoons
Dried rosemary – 2 tablespoons
Dried summer savory – 3 tablespoons
Dried mint – 1 teaspoon
Dried lavender – 1 teaspoon
Dried basil – 1 tablespoon
Dried thyme – 1/4 cup
Start by grinding fennel seeds and rosemary in the grinder. Add the ground ingredients into a bowl and add the remaining herbs and spices to the bowl. Stir everything until it's mixed well and store it in a container with a lid. You will get enough spice for several ratatouille dishes.
How to Pick the Ingredients?
Ratatouille is best when prepared with fresh veggies. For example, sun-ripe summer tomatoes will add a fresh taste to the dish, but if you are off-season, you can pick high-quality canned tomatoes. Just remember to pay attention to the expiration date of the canned tomatoes to avoid expired products. 
When you pick eggplants, try to find young and firm vegetables. The skin should be tender, too. Don't use old and spongy eggplants, those are usually fat and can taste bitter.
Also, look for young zucchini and yellow squash. Old vegetables will be tough outside and spongy inside.
Eggplant should also be young and slender and firm, with skin tender enough to want to eat. Avoid eggplants that are fat and old and spongy, they will ruin all your efforts.
How to Cut Ingredients?
Traditional ratatouille features medium-large chunks of vegetables, rather than small ones. That will allow each ingredient to hold its shape and distinctive taste. If you cut veggies at the size of the small dice, some may overcook and lose shape during the process.
Try to cut veggies evenly and about the same size, which allows you to take more veggies on a fork, but still recognize the ingredients. The size of a champagne flute can be optimal.
Preparing Traditional Ratatouille – Step-by-Step Guide
Now when you have everything prepared, it is time for cooking. I recommend preparing everything before you start cooking because it will be easier to follow the recipe. Moreover, even experienced chefs don't cut and cook at the same time!
Watch this video to know more:
Step 1
Ratatouille starts with onions. So you can cut them into pieces and put them aside while you prepare other ingredients. For the traditional ratatouille, bell peppers should be roasted. Wash your bell peppers and dry them.
Preheat the oven to 400 degrees F and place whole bell peppers onto the baking sheet on the tray and put them in the oven. Roasting whole bell peppers will make them sweat, tender and smoky.
After 20 minutes, use your well-liked kitchen tongs to turn the peppers to the other side and put them back in the oven for 20 more minutes. You will know that your peppers are done if the skin is soft and charred and the peppers are slightly shrunken.
Remove them from the oven, let them cool a bit, peel the skin, remove the seeds and cut the peppers to even parts, similar to the size of the onions and other vegetables.
Roasted peppers are delicious and one of the tips for making traditional ratatouille.
Step 2
Chop zucchini, yellow squash, and eggplant next and put them aside.
If you have fresh tomatoes, use a strainer and a bowl to remove the seeds and dice the tomatoes. Collect the leftover juice in a separate bowl.
Step 3
The next thing to do is to prepare your garlic. Peel and chop it, and set it aside in a separate cup. Turn the oven to 375 degrees.
Step 4
Add chopped yellow squash to a bowl and pour olive oil, salt, and pepper over it. Use your hands to mix everything.
Repeat the process with eggplant in a separate bowl.
For the traditional ratatouille, roast the squash and eggplant, as you did with bell peppers.
Arrange the vegetables on a baking sheet and put them into the oven at 375 degrees for about half an hour.
Step 5
While the eggplants and yellow squash are in the oven, you should put olive oil generously in the pot and start cooking your onions. Choose a large and deep pot in which you plan to cook the entire dish.
Add salt as it will help the onions to release the juices and stir the onions. Do it on medium heat, so the onions will gradually release their vapors, which will add a pleasant taste.
Once you notice onions release their moisture, increase the heat slightly and caramelize the onions until they are light brown.
Step 6
Once the onions are done, add your roasted squash, eggplants, and peppers to them. Stir well and add the seedless chunks of tomatoes alongside tomato juice. Stir again and let it cook on medium heat for a couple of minutes. Make sure you have enough tomato juice to cover all ingredients and prevent burning later.
Then it is time to add your garlic and spices. Start by adding only salt and pepper first with a small number of herbs you prepared previously.
Bring the ingredients to a simmer on medium heat to prevent burns.
Step 7
Now it is time to get fancy. Apply a cooking technique Etuvee, which is basically covering the pot with a lid, but not completely. Make sure that the lid doesn't cover the pot entirely, so the moisture can vent.
Step 8
Let all ingredients cook for about one hour on medium heat. The squash and eggplant pieces should be slightly tender, but evenly cook and not squishy. You should still be able to put them on the fork.
Once your ratatouille is ready, let it cool for one night. Traditionally, ratatouille was prepared the day before but letting it chill for a night enhances the ingredients' flavors. Before you are ready to eat, add a bit of vinegar to boost the olive oil and tomato juice flavors. Add herbs of the province, stir the ingredients, and heat it before serving.
You can also serve ratatouille chilled with bread.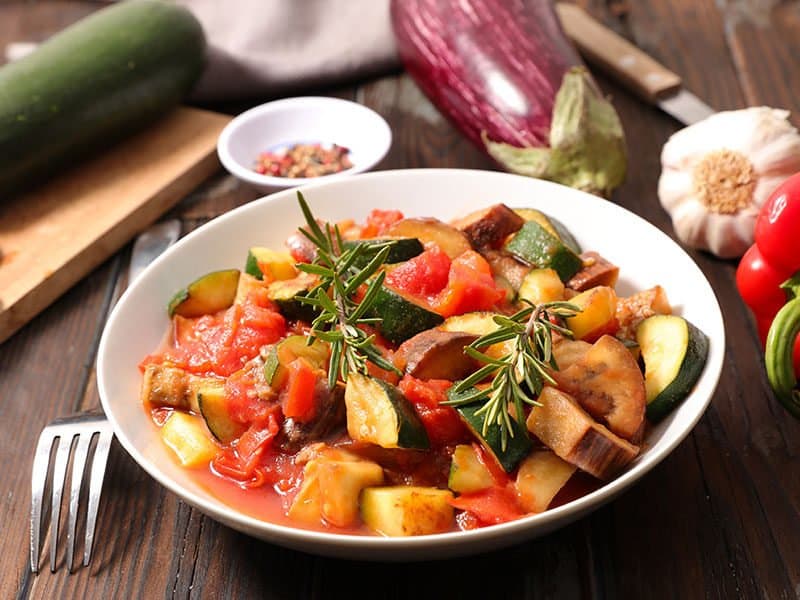 Ratatouille Recipes – Variations
Apart from different cutting techniques, some chefs come up with their own versions of ratatouille. While some may advocate for cooking all the ingredients together, others prefer to cook vegetables separately and combine them in the end.
The traditional ratatouille recipe asks for roasting bell peppers, zucchini and eggplant separately and then gradually adding the ingredients to cook together. That way, the flavors will combine gradually to a unique taste at the end. Separately cooking all ingredients isn't practical, but the fair argument is that every vegetable will maintain its original taste.
However, if you want a traditional Provence dish, cook the ingredients in a large pot starting with onions, and slowly adding the remaining ingredients.
Some recipes suggest you should mix fresh ingredients in the pot, cover them with tomato juice, and put them in the oven. While it might seem like a practical way to prepare the dish, the result isn't a stew, which ratatouille is, but something different. You also risk getting gooey vegetables and ruing the taste and presentation of your ratatouille.
Lastly, you can find a beautiful presentation of ratatouille on social media, which suggests you should cut the ingredients into small slices and align them in the pot to get a vivid dish. While it may look beautiful, thin slices are easy to overcook, and you won't get a ratatouille stew. Instead, you will end up with squashy vegetables and a pretty picture for your Instagram account.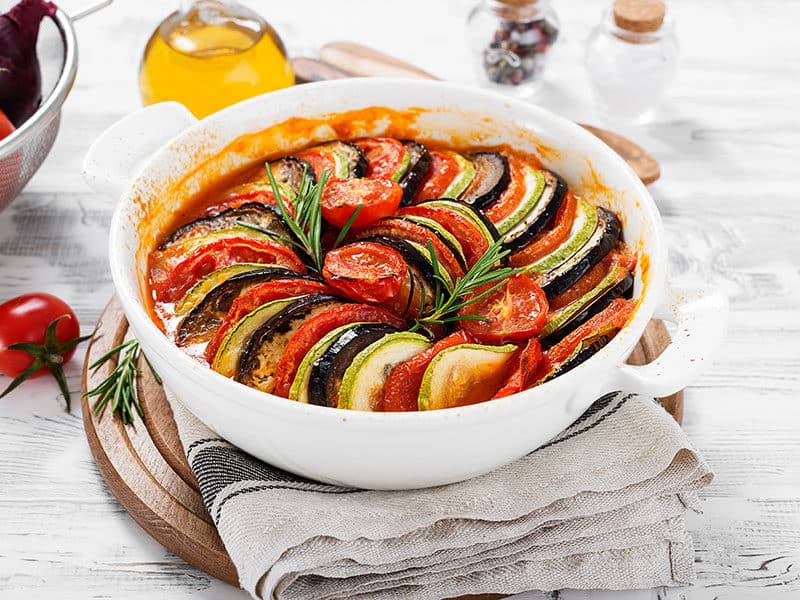 Watch this video to know more:
Top 3 Ways to Serve Ratatouille
Ratatouille is traditionally served with boiled rice or meat.
But, here are three creative ways how you can make a ratatouille a start of your meal – breakfast, lunch, or dinner!
Breakfast Idea
If you have some ratatouille leftovers, don't throw them away. Instead, make an omelet with your ideal omelette pan as you would usually do and pour the ratatouille leftovers on top of it.
The liquids will make the omelet juicy, and the combination will be a perfect, filling, and healthy breakfast as a start to an incredible day.
Lunch Idea
Ratatouille goes perfectly with grilled chicken, and you don't need a lot to garnish the dish. Grill the chicken, and put the one kitchen spoon of ratatouille on the plate. Cover it with grilled chicken and voila – you have just made a healthy dish that includes all proteins, vitamins, and fibers you need to have the energy for the rest of the day.
Ratatouille tastes better when you prepare it the day before and can stay fresh in the fridge for several days. The next day, you can use boiled potatoes, rice, or fish with the ratatouille.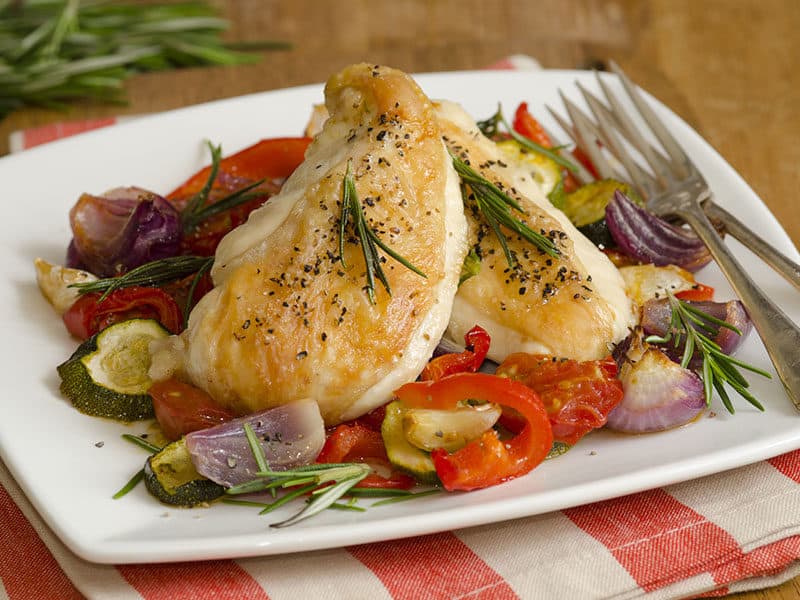 Dinner Idea
You can use ratatouille as a filling for crepes. You can use a crepe maker and make your crepes easily from eggs, flour, and milk, or buy them in the store. Warm-up your Ratatouille and fill the crepes with it.
Ratatouille crepes is an excellent trick to make the children eat healthy vegetables. Garnish the crepes with cherry tomatoes and fresh basil, and your children will love it.
Heartwarming Ratatouille – Healthy and Easy to Make Family Dish
Ratatouille is easier to prepare than to pronounce, and you will quickly learn how to do it. The flavors of this healthy dish depend on the freshness of the ingredients, and you will quickly become skilled in choosing the best vegetable for your ratatouille.
It is a versatile dish that can be served with plenty of other ingredients. Ratatouille stew is also a great way for beginners to get familiar with French cuisine and bring a Mediterranean flavor to their plates!
If you liked my traditional recipe, please consider liking it and sharing it with your friends and family, regardless of their cooking skills! Ratatouille is easy to make and even beginners can succeed in it!
Have you ever made a ratatouille at home? How did it turn out?
Nutrition Facts
8 servings per container
---
Amount Per ServingCalories121
% Daily Value *
Total Fat 6.9g

11

%
Sodium 310mg

13

%
Potassium 723mg

21

%
Total Carbohydrate 15g

5

%

Dietary Fiber 5.5g

22

%
Sugars 8.3g

Protein 3.3g

7

%
---
* The % Daily Value tells you how much a nutrient in a serving of food contributes to a daily diet. 2,000 calories a day is used for general nutrition advice.