When you are not sure what to prepare for easy French side dishes, you definitely need to read this post.
Of course, these ideas are perfect for your French-inspired party or any typical potluck. And they are so easy to make that it will not take you much time and effort. Overall, they are perfect for any comforting meal.
Moreover, the main ingredients of most side recipes originating from France are fresh and healthy veggies such as tomatoes, pumpkins, lettuce, carrots, broccoli, and others.
Hence, serving the sides with main protein courses will bring you wonderfully balanced and savory meals.
Although the French side recipes seem to be simple in presentation and ingredients, you will realize the special features in cooking methods. For example, some veggies will be grilled before being put together for making a salad. This is worth a try!
To give you perfectly yummy meals, I will offer you 20 worthy French side recipes that will effectively complement every main course. With them, you never get headaches when coming up with meal ideas. Let's get started!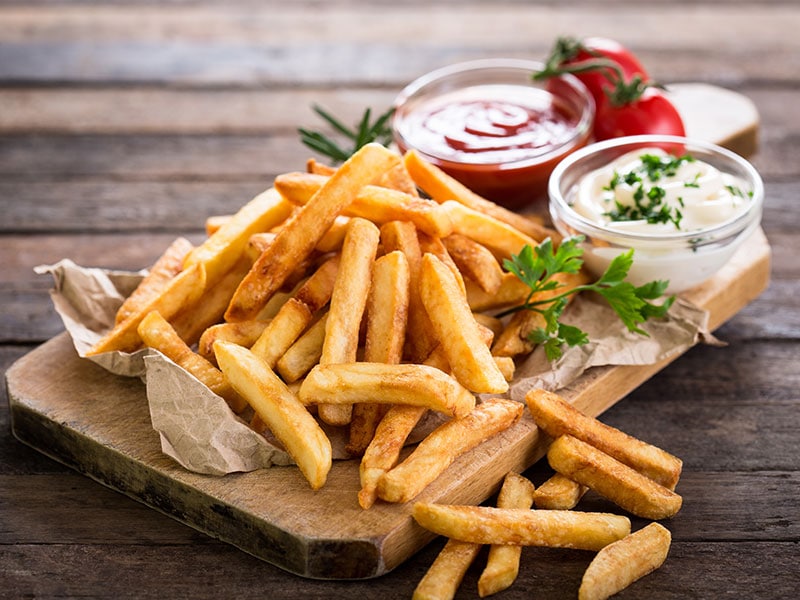 The Collection Of 20 Easy French Side Ideas!
French cuisine is diverse, from breakfast to dinner, from appetizer to dessert in French style. Some of them are for beginners, some are for professionals.
But when it comes to French side ideas, I guarantee they are simple ones. You will have many choices ranging from beautiful salads to stir-fried treats and others between them. Just find out your favorites from this list!
Refreshing Salads
Honeyed Fruit Salad Recipe
Ratatouille Salad
Salad de Maison With Fresh Lemon Dressing
French Bistro Salad
Artichoke-Asparagus Salad
Hearty Soups
French-Style Lobster Bisque
French Pumpkin Soup
French Potato And Leek Soup
French Lentil Soup
Cream Of Broccoli Soup
French Style Fried And Baked Side Recipes
Classic French Fries
Classic French Spinach Au Gratin
Traditional French Broccoli Gratin
Potatoes Gratin Dauphinois
Green Bean Casserole
French Roasted Potatoes
Stir-Fried Side Dishes
Balsamic Peppers
Wild Mushrooms Bordelaise
Haricots Verts Amandine (Green Bean Almondine)
Easy French Ratatouille
20 Easy French Side Ideas For Every Quick Meal
After hectic days, would you like convenient and nutritious meals? Just let some French-themed sides partly perfect your meals!
Mouth-Watering Salad Sides From French Cuisine
I love starting a meal with some fresh salad, making them also a brilliant choice for easy and quick French hors d'oeuvre. Moreover, its bright and refreshing flavor can effectively balance your lunches or dinners. Let's pick some French salad recipes for future use!
Most refreshing salads recipes call for veggies, but today I would like to offer you a twist coming with fresh French fruits. That sounds amazing, right! Let's see how you can make it.
The salad contains strawberries, pears, peaches, cherries, and kiwi, or you can add your preferred fruits.
All of the fresh ingredients will be cut into cubed pieces so that the salad content can be mixed well with the sweet-sour dressing. So easy to make but utterly delicious!
I guess you are so familiar with fresh veggie salad. However, have you ever tried grilled salad? It will be a must-have dish to pair with your BBQ meatballs.
The main ingredients you need for the salad are red pepper, eggplant, zucchini, summer squash, and plum tomatoes.
The bite-sized veggies will be grilled over a charcoal grill until they become tender with a light brown color. The combination of charred veggies, sour basil dressing, and creamy fresh mozzarella will be an explosion of flavors in your mouth!
I would say that salad de Maison is the best of the best salads. It is perfect from the appearance to texture and flavors. If you are planning to wow your whole family at tonight's dinner, this beautiful salad will help you to do that!
The salad consists of chopped almonds, bacon, large romaine hearts, grape tomatoes, croutons, and cheese. The fresh mixture will be tossed with tangy and sour-sweet dressing.
The delicious crunchy vegetable pairs well with cheesy flavor with a twist of crispy bacon and toasted almonds. This is definitely a match from heaven!
This classic French salad comes with common ingredients, but its flavors are not simple at all. The salad recipe calls for butter or oak lettuce, baby romaine, and herbs.
For the favorite salad flavor, the dressing is made of vinegar, sugar, and sliced shallot.
The pairing of sweet and tangy sauce and crunchy fresh veggies with a touch of aromatic herbs will be perfect for balancing protein meals.
You can see this video to know more:
With a handful of ingredients, including sliced shallots, cherry tomatoes, asparagus, and marinated artichoke hearts, you can make a tasty salad with garlicky lemon dressing.
To make the salad, you start with grilling or roasting the asparagus for a tender texture. Remember that grilling will give you a better result than toasting.
After that, the grilled or roasted will be mixed with other veggies and then tossed with lemony and garlicky dressing.
Savory French Homestyle Soups
French cuisine is highly regarded all over the world. And the following soup recipes are definitely crowd-pleasers. They are so appealing with both texture and flavors. Let's check it!
The recipe's title indicates that the original recipe requires lobster. However, you can substitute it with shrimp to make a delicious copycat red lobster dish. That would be fine as well!
The thick and smooth soup has a yellow color that will be so attractive on your dinner table.
The blending of tomato paste, seafood stock, double cream, spices, and herbs will be an utterly delicious treat for every meal.
The French pumpkin soup also has a simple but so appealing appearance, just like lobster bisque. The healthy and palatable soup is cooked with pumpkin, potatoes, milk, and seasonings.
It is so easy for you to make the soup, but you will need to spend time simmering the veggies from 35 to 50 minutes to ensure that everything turns soft.
Whenever you feel bored with meat soup, this full green creamy soup is a wise choice for you!
For those who are big fans of potatoes, you should not skip this beautiful French soup.
To make the soup, the potatoes, leeks, and carrots will be sauteed and then simmered in stock before the soft potatoes and veggies are pureed into a creamy, thickened soup texture.
Adding whipped cream to the soup will give you a savory and creamy treat. The simmered leeks naturally enhance the soup's sweetness. What could be better than this?
This French lentil soup will be a big hit for your whole family on cold days when you need something hot and hearty for lunches or dinner.
It is a perfect combination of grated bacon, carrots, onions, and celery that are simmered in a chicken broth mixture containing tomatoes, lentils, seasonings, and spices.
The slightly thick soup with healthy ingredients will be bursting with flavors in your mouth!
Are you ready to cook French lentil soup? The video below should be able to help you:
It's the turn of creamy soup cooked with broccoli. The single veggie you need for this soup is, of course, broccoli.
Hence, this side recipe is perfect for lazy days when you do not want much cooking preparation.
After the broccoli is cooked well in stock with sauteed onion and celery, the green soup mixture will be blended for a thick consistency with the addition of flour and milk.
Serve the velvety and appetizing soup with some bread for a better result!
It's Time To Talk About Fried And Baked Recipes!
Now, just find out the secret recipes of super crispy classic French fries and various creamy casserole treats cooked with veggies and potatoes!
There is no doubt that the French fries recipe is a big hit of all time. The crispy stuff is so versatile to be served with every main course or consumed on its own as a charming French street food.
Indeed, they can pair well with many dishes. You can enjoy it as your salmon patties' accompaniment, or with the most basic one – fried chicken.
The russet potatoes with a high level of starch are highly recommended here. Before being fried, the raw and shredded potatoes need to be processed well to remove starch resistance.
Moreover, the desired temperature is also the key point in creating the French fries crispy on the outside while creamy and moist from the inside.
Are you craving a cheesy and gooey side dish? If yes, I have a traditional French recipe for you!
The ingredients you need for the spinach au gratin are spinach leaves, shallots, butter, plain flour, double cream, cheddar cheese, and dried breadcrumbs.
The veggies will be folded with a super cheesy texture. The recipe will be a perfect balance between green ingredients and cheese content. Such a wonderful treat to be presented at your dinner table!
Do you want the step-by-step instructions for preparing some spinach gratin? You can see this video to know more:
This classic French recipe will allow you to upgrade the broccoli game to a new race of cheese. This recipe will require absolutely fresh broccoli. However, the best technique to store broccoli is quite simple and straightforward, I'm certain that you can nail it on your very first try.
The boiled broccoli will be soaked up with a creamy and savory sauce made of melted butter, flour, milk, and seasonings and then topped with cheese.
After that, it will be baked until the cheese surface turns golden brown. This stunning side will help you fight any cheese cravings!
If you are planning for a full lunch or dinner, just let this starchy and creamy baked side dish perfects your meal!
In this recipe, the diced potatoes will be mixed with layers of shredded Gruyere and folded with herbal, savory cream sauce.
The dish is topped off with Parmesan cheese and Gruyere before being baked. The bubbling and cheesy surface will also make your mouth water a lot!
What will you do with some green beans? Sautéing it with garlicky sauce or simply poaching it. That's great, but I have a more appealing green bean side dish for you to try at any quick meal.
The special note of this baking recipe is the creamy mushroom sauce. It will be poured over poached green beans and sauteed mushrooms before being ready for baking. The savory sauce will complement the bland flavor of green beans.
With a handful of ingredients, including potatoes, butter, salt, and pepper, preparing some French-style baked potatoes is just a piece of cake.
The moist and tender potatoes are perfectly served with every grilled meat or poultry dish.
The simple seasonings effectively complement the bland potato flavor and also allow the baked dish to pair well with any savory recipe.
This video will show you how to make perfect roasted potatoes.
How About French-Style Stir-Fried Recipes?
It is said that less is more, and I think this saying applies well with the stir-fries below. You don't need to add much seasoning to them, but their flavors are still attractive.
The balsamic pepper recipe is perfect for a healthy vegan meal. It contains shredded red pepper and yellow or orange pepper that will be stir-fried in olive oil, vinegar, salt, and pepper.
For a better taste, you can add some diced onion to the dish. The simple side just takes you about 10 minutes for everything to be done and ready to be served hot with any main courses!
For those who are craving tender and earthy mushroom dishes, try this recipe once, and you will go crazy with it!
The stir-fried treat calls for mixed fresh wild mushrooms that need to be rinsed or dipped in water for hygiene purposes and then drained off the water.
After that, the sliced mushrooms will be sauteed for caramelization and flavored with salt and pepper. The addition of butter, shallot, and parsley will enhance the flavor of this simple dish.
You know what, this green bean dish is an amazing solution to go with sausage meals too. It seems to be simple, but its flavor will surprise you a lot. The special note of this recipe is the butter and lemon stir-frying sauce with a hint of almond that will make the green beans much more glorious.
Before being sauteed, the green beans need to be poached for a velvety green color that will make the dish more attractive. The tender green beans with a twist of aromatic roasted almonds will be a great treat for your whole family!
The French Ratatouille has a colorful appearance of so many veggies put together in the same pot. To make the dish, you need to combine both stir-frying and simmering methods.
The chopped veggies such as zucchini, eggplant, sweet peppers, and ripe tomatoes will be stir-fried, seasoned, and then they will be simmered for the desired tenderness with thyme and bay leaves.
When it is done, garnish some fresh chopped basil over the dish for a beautiful flavor.
Are you looking for a visual direction in making the French Ratatouille? The video below should be able to help you:
From Simple Sides To A Complex Meal!
With some green veggies that you have on hand, preparing French-style sides is at your reach. If you have a lot of time, two or three sides added to your meal would be wonderful. However, in case you are so busy, one single side is still fine!
The most important thing here is that you can put some fiber and nutrition into your daily diet. And there is no doubt that the French-inspired side dishes will help you with this.
In addition, a perfect meal is an elegant flavor combination of main courses and sides. Hence, even if you have super savory main dishes but lacking the sides, this would be imperfect!
Do I miss any simple French side ideas? Or Do you usually make French-style homemade sides for your meals? Feel free to share your ideas with me by commenting below this post. If what I share is useful for you, just drop me a like or share! See you!
Nutrition Facts
8 servings per container
---
Amount Per ServingCalories413
% Daily Value *
Total Fat 35.9g

54

%
Cholesterol 39mg

13

%
Sodium 431mg

18

%
Potassium 399mg

12

%
Total Carbohydrate 12.5g

4

%

Dietary Fiber 1.5g

4

%
Sugars 3.7g

Protein 13.1g

26

%
---
Calcium

178

%
Iron

1

%
Vitamin D

6

%
* The % Daily Value tells you how much a nutrient in a serving of food contributes to a daily diet. 2,000 calories a day is used for general nutrition advice.