Every party starts with an appetizer, and these French ones will indeed surpass your expectations. Whether you choose meat or vegetarian recipes, they all will surely do their jobs to the fullest and leave your guests more excited about your meal.
Moreover, these appetizers reflect closely what French cuisine is about. So if you want to enjoy signature French dishes, you can't skip them. Even when you don't intend to make an entire French party, they can still make your dinner table more elegant.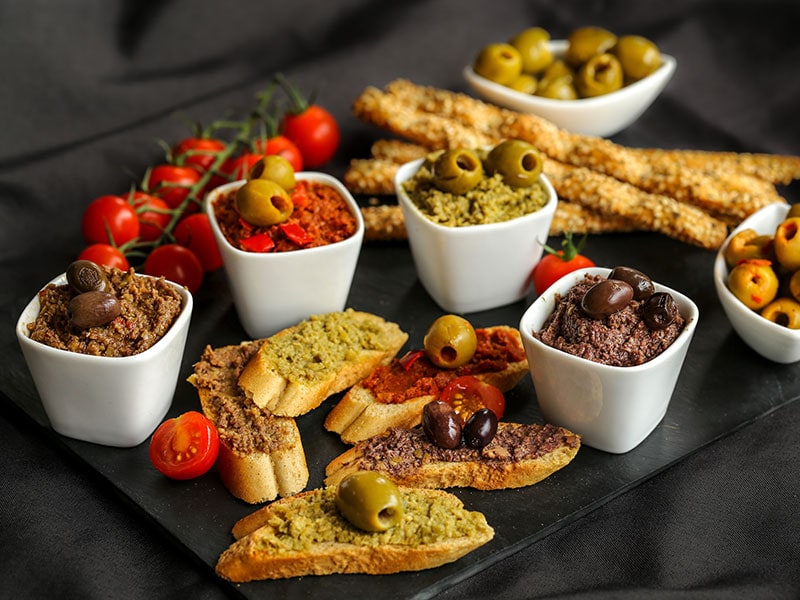 You Will Regret Not Trying These French Appetizers
You may know it already, but French appetizers aren't so simple as those regular ones you make every day. But the result will be absolutely worth all your time and effort. And don't worry too much. I have included some essential tips to make things easier for you.
Meat Dishes
Foie Gras
Escargot
Cake Sale (French Savory Cake)
Vol Au Vent
Tarte Flambee
Steak Tartare
Seafood Dishes
Coquilles St. Jacques (French Scallop Dish)
Brandade (Salted Cod Spread)
Smoked Salmon Canapes
Salmon Rillettes
Cheese Dishes
Gougères (French Cheese Puffs)
Fromage Fort (Cheese Spread)
Cheese Souffle
Baked Camembert
Vegetarian Dishes
Tapenade
Socca (France Chickpea Flatbread)
Onion Galette
Pissaladiere
Potatoes Au Gratin
French Potato Salad
Lyonnaise Salad
Don't stop here now! Keep on reading! There is so much for you to find out!
You Can't Miss Out On These French Meat Appetizers
You may think meat isn't suitable for appetizers as they need to be light-flavored, so diners remain hungry enough for the following courses. However, these meat dishes are truly perfect appetizers for your dinner meal.
You can consider foie gras the pinnacle of French cuisine. Once you try it, you'll never forget its smooth, buttery texture and rich yet delicate flavor. Most of the time, foie gras is made into a paste or pate. But if you want, you can pan-seared it for your appetizer.
Despite its fame, many people still oppose foie gras due to the traditional preparation method. To earn proper foie gras, ducks or gooses will be force-fed so that their livers get fat enough.
What's a French food that begins with the letter "E" and contains cooked land snails? That's right, it's escargot. Although the main ingredient might seem repulsive to some, escargot is considered quite a delicacy here, and its flavor truly lives up to its reputation.
Not any land snails can meet the requirement. They need to be large enough so diners can get a full, satisfying bite.
And don't back away now. All the snails are removed and cleaned before being cooked. So, you need not worry about the cleanliness.
Forget their unappealing appearance, these escargots will take your heart away. Let's see this video:
Cakes used to appear last in meals as a dessert. However, coming to a French dinner, what greets you first might be this cake. But don't get confused since it's indeed an appetizer.
Why? It's because a cake sale is a savory cake with all the vegetables, meat, or cheese. And just like ordinary sweet cakes, you are free to make this dish to your liking.
However, make sure you don't add too many ingredients, or your cake will turn into a big mess of flavors. Instead, make two or three cakes with different combinations each.
One dish of vol-au-vent will make your dinner table much more elegant while, in fact, this V-something food is a simple recipe to make.
Just place several circles of puff pastry on top of each other. Remember to make a hole in those on top. That way, when baking, the pastry will rise with a hole in the center so later, you can fill them with all the foods you want.
The most regular filling choice in France is chicken or fish, but you are free to make them in either sweet or savory styles.
Hardly any dishes in this world have so many names like this one. Tarte Flambee is its name in France. However, German people call it Flammkuchen, whereas, in Alsatian, it's known as Flàmmaküacha.
No matter which name you choose, they all share the same meaning: a pie baked in flames. Though this translation does describe pretty correctly how to make Tarte flambee, the twist here is there's no flambee required in making this dish.
There's no easier way to make a tarte flambee than this recipe! Let's see this video:
Japan is not the only country eating raw meat. In fact, raw meat has been one part of European and US cuisine for a long time. And when you try French cuisine, this steak tartare is an exemplary dish for those uncooked recipes.
Since steak tartare has no precise recipes, you can mix all the spices and seasonings as you like. Just don't forget the egg yolk for the last step. Also, if you don't have a suitable mold to shape your steak tartare, feel free to serve it as a patty.
Liven Up Your Dinner Table With These Seafood Appetizers!
Though France is not really well-known for its seafood dishes, these appetizers made with seafood are out of the world! Going by French cuisine's characteristics, you can clearly taste all the ingredients' flavor in one dish.
Here is a small gift from the ocean to your meal. Though its name is long, you can shorten it as a French scallop dish. And traditionally, this recipe doesn't contain anything but scallops. Simply put, it's a scallop gratin with creamy wine sauce.
However, nowadays, people have added mushrooms for an extra earthy flavor. And it'd be better if you serve this dish on a scallop-shaped plate, so it looks more appealing. The better-looking one looks, the more your guests can enjoy it.
Still don't know how to make Coquilles St. Jacques? This professional chef will teach you!
Brandade was first created in the 18th century, and now, it has spread to other countries all over the world. While each country has its distinct brandade version, the French one is still regarded as the classic one that all people should try at least once.
However, even in France, there have been some disputes regarding brandade. One side insists on following the traditional recipes, which means making this dipping with cod alone. In contrast, other experts say potatoes make this dish smoother and more enjoyable.
Canapes are the most suitable appetizer for a buffet for their bite-sized appearance. They are also served as finger food for drinking parties. One canape consists of four parts: a base topped with a spread, the main ingredient, and some veggies for the garnish.
With this recipe, you are free to choose the base, spread, and garnish. Only the main component has to be smoked salmon of top-notch quality. My usual combination tends to be salmon with Greek yogurt-based sauce, rye bread, and sliced radish.
Your smoked salmon canapes will look like some gorgeous cakes. Watch this video to know:
Rillettes is how French people preserve their meat for longer use. Typically, rillettes would be made with meat like pork, rabbit, or poultry meat. After seasoning, the meat is cooked in fat for several hours, at least 4 hours, until it turns into a pate-like spread.
Today, rillette also contains all kinds of fish, and salmon is one of the most well-liked ones. While the slow cooking method doesn't apply to fish, you can still make the salmon version by mixing the fish with mayonnaise.
Another reason for you to consider making salmon rillette is that it's a lip-smacking dish you can make with leftover fish. It can be made in advance for the following day's meal, and when you eat it with a piece of toast, you'll be greeted with an explosion of flavors.
The 4 Most Well-Loved French Appetizers With Cheese
"France" means "cheese," and "cheese" means "France." You can't talk about French cuisine, and French appetizers in particular, without mentioning cheese. And here are the tastiest cheese appetizers I want to introduce to you!
Gougeres look like your regular choux pastries in any bakeries. However, inside, instead of cream filling, you get tons of melted cheese. Since delicious French cheese makes up for this dish's taste, you'd better choose ones with high quality and bold flavor.
When served warm, gougeres are a perfect appetizer to your dinner party. Or you can enjoy them cold with some champagne as some snacks.
Its name in France means "strong cheese." And trust me, it deserves that name. Imagine all the cheese available is blended with other herbs and spices in a food processor. To me, fromage fort is the true definition of "cheese flavor."
Thus, I strongly suggest this spread if you are a cheese lover. Any cheese will do with it, just scour your house for as many cheese kinds as possible. However, if you want to add blue cheese, let's go light with it since this strong-flavored cheese can outshine other ingredients.
Say "Hello" to your party table with this cheese spread! Check out this video:
Sweet souffles are for dessert, while savory souffles with meat or fish are counted as side dishes or main courses. Then, what souffle is suitable for an appetizer? My answer is this cheese version.
Though it's still a part of the savory souffles, cheese ones are much lighter and airier, thus leaving your stomach enough room for the next dish. And don't worry too much about the time. Even if your timing is a bit off, it doesn't ruin your souffle entirely.
Many have compared camembert with brie. And while both of them share some similarities, there are some gaps between them. Since brie contains cream, it's more buttery and delicate, whereas camembert is more robust with a hint of sourness.
Also, people often sell camembert in a whole wheel, so it's more suitable for this recipe. And baked camembert doesn't take much time to make. All you have to do is use some herbs and seasonings to flavor the cheese and bake it in the oven. Super easy, isn't it?
Follow this instruction, and you'll have a lovely platter with baked camembert. Let's see this video:
These French Appetizers Will Satisfy Even The Choosiest Vegetarians
Besides all these recipes above, the vast recipes from French cuisine also provides appetizers for vegetarians. And they vary by region, depending on what vegetables can grow in each area. So, based on their ingredients, you can guess where they come from.
If you want a taste of classic French cuisine, tapenade would be one of my foremost recommendations. Made with olives and anchovies, this dish is usually served with bread as an appetizer. But sometimes, French people will stuff tapenade into some main courses.
As olives are the main element for this spread, you should pay close attention to their flavor when choosing. The best choice would be cured ones that are pretty mild. Also, to alter the tapenade's consistency, pour a bit of olive oil gradually into the blend.
If you come to Nice city in France, socca is a must-try dish. While it's widely considered a famous French street food, socca also makes an exciting appetizer for your dinner meal.
You only need one unique ingredient to make this flatbread: Chickpea flour. While this flour tastes delicious with its nutty flavor, it takes a little time to hydrate and rise.
Serve socca with some cheeses or olives, and you'll have a beautiful appetizer. Besides that, you can use it as an authentic French companion dish for soup and stew or a dessert.
Make some of these soccas for your midday snack! Let's see this video:
Galette has always been considered a fruit-filled dessert. And galette has always been a famous sweet delicacy from France. However, if you replace those fruits with caramelized onions, you've got one fantastic appetizer for yourself.
And to tell the truth, who doesn't love caramelized onions? But to make them good enough for a galette, you need to wait patiently until they reach the right texture.
Apart from onions, you can add other ingredients for more flavors like cheese, mustard, or white wine. Some even put garlic and scallions into the filling with onions.
You might mistake this dish with a pizza, but pissaladiere is actually a tart. And it requires a thicker dough than your ordinary Margherita pizza.
Also, if you look at the toppings, you can see the differences clearly: Standard pissaladiere is often topped with caramelized onions, anchovies, and olives. Sometimes, bakers will also use pissalat, an anchovy paste, for this recipe.
You argue potatoes au gratin fit the category "main dish" more, but with smaller portions, this recipe still can be served as an appetizer.
This dish is one of the simplest, with nothing but sliced potatoes and cream. You can add cheese if you want, but some may claim that it is not authentic.
Also, if you want to stay on the traditional way, don't boil your potatoes beforehand. Keep them raw and add them to the sauce later.
If you are tired of your everyday potato salad, how about making it in French style? I'm not saying standard potato salads with mayonnaise, and hard-boiled eggs are no good.
But have you imagined potatoes with different colors dressed in wine vinegar? Just saying it makes my mouth watering already.
For a colorful potato salad, make sure you choose baby potatoes in all colors: red, gold, and white. As for the dressing, besides red wine vinegar, you can add apple cider for more layers of flavor.
This potato salad will take you to France right away! Let's see this video:
While standard salads tend to use hard-boiled eggs, this Lyonnaise salad includes a poached egg instead. And I must say, nothing's better than seeing your yolk running and coating all the ingredients with its rich flavor.
Other than this, Lyonnaise salad doesn't include anything else but lettuce and bacon. But simplicity is really the best in this case. Crunchy vegetables and salty bacon are truly born for each other.
Now You Can Prepare Your Party With These French Appetizers!
With these French appetizers, your dinner table will look classier than ever. Yet, you should not care about only these dishes but should pay more attention to the main course as well. Or else, they will take all the spotlights to themselves.
If you think this list suits your taste, share it with your relatives to hear their thoughts about those dishes. And don't forget to write down your thoughts or troubles regarding these appetizers in the comment section below!
Nutrition Facts
12 servings per container
---
Amount Per ServingCalories133
% Daily Value *
Total Fat 8.4g

13

%
Cholesterol 27mg

9

%
Sodium 688mg

29

%
Potassium 86mg

3

%
Total Carbohydrate 6.7g

2

%

Dietary Fiber 1g

4

%
Sugars 0.8g

Protein 7.5g

15

%
---
* The % Daily Value tells you how much a nutrient in a serving of food contributes to a daily diet. 2,000 calories a day is used for general nutrition advice.