Ever found yourself intrigued by foods that start with E? I've got you covered! In this fascinating culinary journey, you'll discover exotic dishes from around the globe.
By exploring these unique flavors, you'll not only expand your food knowledge but also impress your friends with newfound culinary expertise. So, let's dive into the world of "E" foods and see how these captivating dishes can elevate your taste buds and dining experiences!
A Tasty Tour Of Foods Beginning With E!
Here are several foods that start with "E" I have researched for a long time. These dishes come from all over the world, and all of them are delicious and flavorful.
Fruits And Nuts
Emu Apple
Elderberry
Emblica
Early Girl Tomatoes
Early Gold Mango
Eastern Hawthorn Fruit
Etrog
Elephant Apple
Emperor Grapes
Empire Apples
Entawak
Emu Berry Fruit
Enterprise Apple
Egg Fruit
English Walnut
Earthnut
Vegetables, Legumes, And Herbs
Endive
English Spinach
Escarole
Edamame
Eggplant
Estragon (Tarragon)
Food (And Dishes) With Meats and Seafood
Eels
Elk Meat
Emu Meat
English Sole
Ecrevisse
Escabeche
Escargot
Entrecote
Escovitch Fish
Egg Roll
Escalope
Easter Ham
Embutido (Filipino-style Meatloaf)
Etouffee
Enchiladas
Eru Soup
Dairy and Egg Dishes
Eggs
Edam Cheese
Eggs Benedict
Egg Foo Young (Chinese Omelette)
Evaporated Milk
Emmental Cheese
Egg Drop Soup
Easter Egg
Egg Salad
Breads and Pastries
English Muffin
Éclair
Elephant Ears
Ensaimada
Egg Tart
Empanadas
Eccles Cake
Eggo Waffle
Pasta and Noodles
Elbow Macaroni
Egg Noodles
Dessert, Snacks, and Beverages
Eggnog
Espresso
Earl Grey Tea
Edy's Pie
Easter Pie
Other
EVOO
Erbazzone
Echicha
Edikang Ikong
Ekwang
Eggplant Parmesan
Elote
Erissery
Fruits And Nuts
1. Emu Apple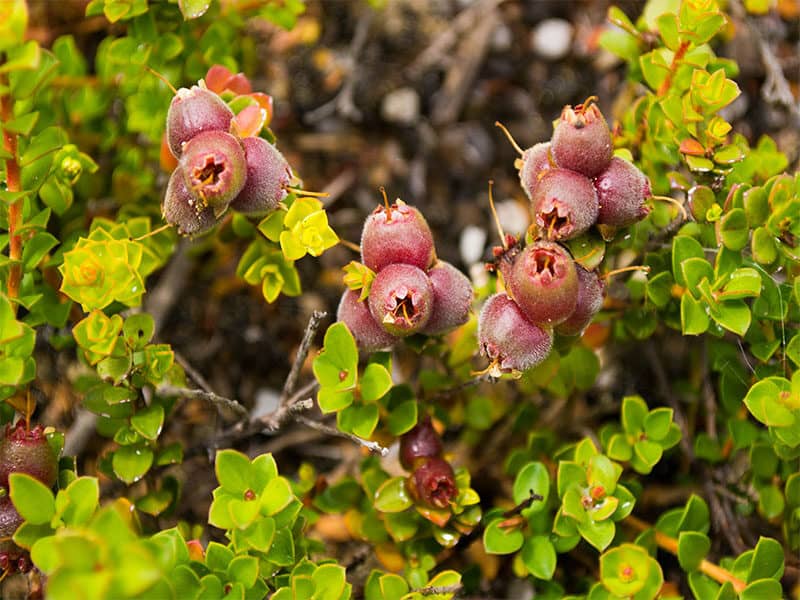 The origin of the Emu apple (scientific name is Owenia acidula) is in Australia. With a height of over 10 meters, this tree is suitable for a shady tree. The fruit from this tree is called the Emu apple, which is small and red with several speckles.
Emu apples are a good source of antioxidants, fiber, and vitamins. Besides being used to eat, experts have taken the extraction from Emu apples to produce beauty products for caring for your skin.
These items can help you maintain the moisture on your skin and protect your skin from the effects of harmful UVB.
2. Elderberry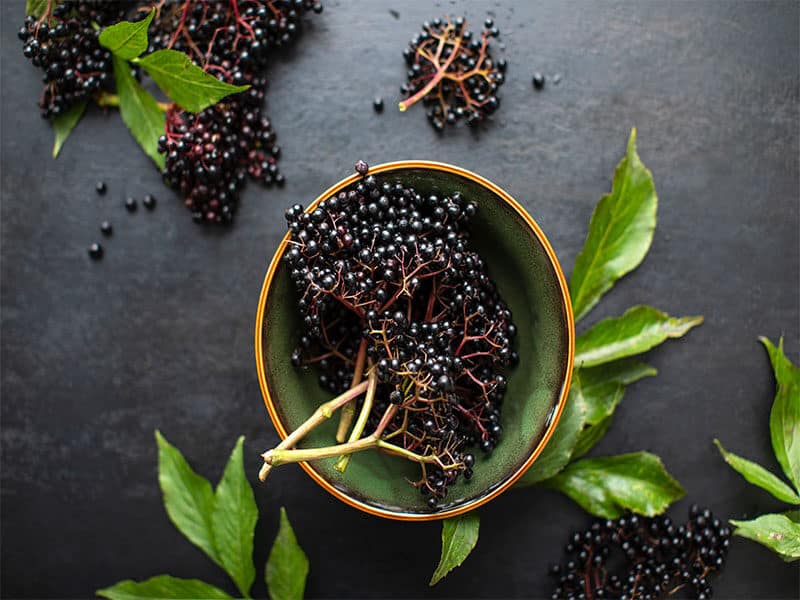 Elderberry is from Europe and is cultivated in various countries. Its flowers have white or cream color then they will pollinate and create elderberries. When these fruits are ripe, they will turn into black or blue-black berries.
You will find this fruit that begins with "E" not too sweet, and perfectly neutralizes between sour and earthy flavor. You can use elderberries for many dishes such as jam, jelly, baked products, or salads, and even extract juice from them.
Many experts recommend you consume elderberries since they contain numerous antioxidants and vitamins that can encourage your immune system (1). If you catch a cold or flu, eating elderberries can help you ease the symptoms.
However, the elderberry plant's uncooked berries, leaves, bark, and roots contain lectin and cyanide that can lead to nausea, vomiting, and diarrhea. Therefore, it is best to consume them cooked or processed to eliminate the cyanide.
3. Emblica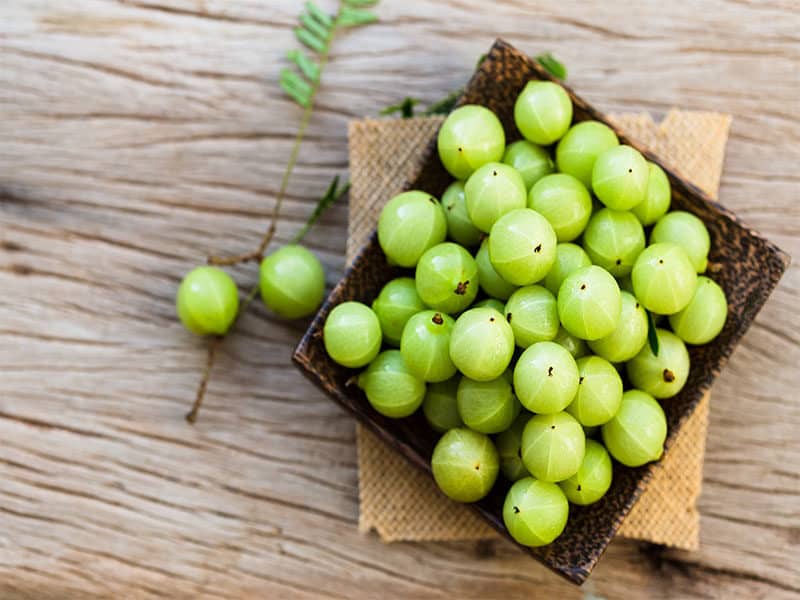 Embica is a tropical fruit and is usually known by different names like Indian Gooseberry or emblic. The Emblica has a light yellow color, a smooth surface, and is quite firm when holding. You need to wait until autumn to taste it.
You can feel its flavor is quite bitter, sour, astringent, and pretty fibrous. Its culinary uses vary. You can enjoy them raw or cook them with some recipes, such as an Indian dish named Amle Ka Murabbah (made with soaked fruit in syrup).
Plus, people also use it as an antioxidant substance to produce pharmaceutical products or cosmetics (2).
4. Early Girl Tomatoes
Early Girl tomatoes are a medium-sized F1 hybrid. These fruits have been a favorite in the United States since the early '70 for their mild flavor that balances sweet and crispy tang. They shine when added to bagels, sandwiches, salads, soups, and sauces.
Growing these tomatoes is a breeze, whether in a garden or a large container. Just ensure they get plenty of sunlight and plant them in moist, warm soil for the best results!
5. Early Gold Mango
Pine Island, Florida, is the birthplace of the delicious Early Gold mango. They are early-season fruits available from May. This medium-sized mango, with its oblong shape and dark yellow flesh, weighs less than a pound on average.
When you take a bite, you can uncover an aromatic, sweet flavor accompanied by a smooth, fiberless texture.
6. Eastern Hawthorn Fruit
Eastern Hawthorn fruits are the edible berries of the Eastern Hawthorn tree, typically found in temperate regions throughout the Northern Hemisphere, including Europe, Asia, North Africa, and North America.
With a slightly sweet taste and a tart hint, these berries are a flavorful addition to jellies or ham making-process. Just remember to avoid the seeds, as they can be poisonous.
Aside from their culinary uses, Eastern Hawthorn fruit features many properties for treating heart disease, digestive and kidney issues, and lower anxiety and blood pressure (3).
7. Etrog
Etrog is a unique lemon-like fruit that actually refers to any citron variety. Unlike regular lemons, etrog has thick skin and is quite dry. In the culinary world, it's mainly used to make candied peel and jam.
Beyond its taste, etrog holds special significance in the Jewish celebration of Sukkot, also known as the Feast of Booths.
8. Elephant Apple
Elephant apple (Dillenia indica), is a tropical fruit native to India. It's a large, greenish-yellow fruit with glutinous, fibrous, and edible flesh, offering a sour taste. You might find it in some Indian curries, dal, fish preparations, jellies, and jams.
Despite its culinary uses, the elephant apple isn't a commercial fruit since it mainly serves as a primary food source for forest animals in its native region.
9. Emperor Grapes
Emperor grapes are red Australian wine grapes that flourish in South Australia and New South Wales. These large fruits range from light red to reddish-purple and have a firm, crisp texture with tough skins.
With a mildly sweet flavor, they can be enjoyed as table grapes or used to make wines like Genova, Genova Rosa, Red Emperador, and Emperado.
10. Empire Apples
Originating in Geneva, and New York back in 1945, Empire apples are a hybrid of McIntosh and Red Delicious varieties. They're one of America's top 15 most common cultivars, with a picking season between September and October.
Known for their firm, crunchy texture and resistance to bruising, these apples have bright creamy-colored flesh beneath red skin.
Empire apples are sweet, perfect for salads, sauces, and baked pies. If you need a substitute, Galas, Braeburns, or Honeycrisps offer a similar crispness.
11. Entawak
Entawak, also known as Mentawa fruit, is a tasty relative of jackfruit and breadfruit hailing from central parts of Southeast Asia. Inside the round, spiky shell about 3-4 inches long, you'll discover a delicious yellowish-orange pulp surrounding its seeds.
The sweet flavor has delightful pumpkin notes, perfect for eating fresh. In addition, don't forget the edible seeds – just remember to roast and salt them first.
12. Emu Berry Fruit
Emu berry fruit refers to several Australian plants, such as Grewia latifolia, Podocarpus drouynianus, and Grewia retusifolia.
Among the mentioned names, Grewia latifolia produces small, edible fruits with soothing and healing properties, ideal for eating raw or using in medicines.
On the other hand, Podocarpus drouynianus offers edible, plum-like fruits with no distinctive flavor. Meanwhile, Grewia retusifolia bears fruits with a chewy texture and a sweet-tangy taste, perfect for crafting drinks and medicines.
13. Enterprise Apple
The Enterprise apple is a modern cultivar created by the PRI disease-resistant apple breeding program. Known for its excellent disease resistance, this apple boasts an elongated, large shape.
Its skin displays a beautiful gradient from red to orange or yellow. Furthermore, its texture is both crisp and firm, with a mildly tart-sweet flavor accompanied by warm spice notes. Overall, this versatile apple is perfect for eating fresh or using in cooking.
14. Egg Fruit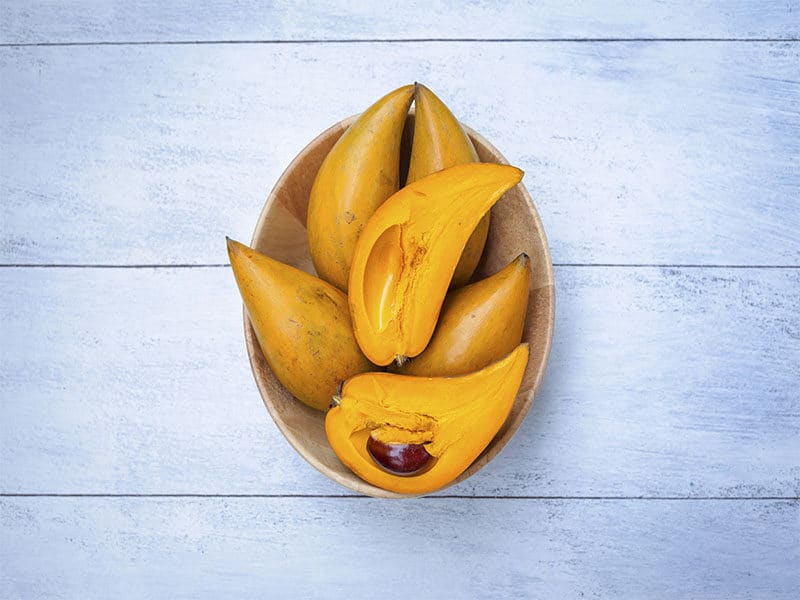 Egg fruit (Pouteria campechiana) is from Central American countries and south of Mexico. Do you wonder why people call it egg fruit? Its meat is a smooth, soft texture with orange-yellow color that is similar to cooked egg yolk. Plus, ripe fruits have a musky smell.
You should harvest it dedicatedly as its definite surface is easily damaged. You cannot eat egg fruit year-round since it becomes ripe in late fall or winter. You can eat egg fruit alone as a snack.
On the other hand, it is also ideal for making jelly, jam, ice cream, smoothies, or baked goods. For extra flavor, you can add spices like ginger, allspice, turmeric, etc.
When you consume any food, you should know how it affects your health, and I will answer this question about egg fruit. You can get numerous benefits from niacin, vitamins A and C in its meat (4).
Egg fruit also contributes to improving your bones and hair health thanks to calcium and phosphorus.
15. English Walnut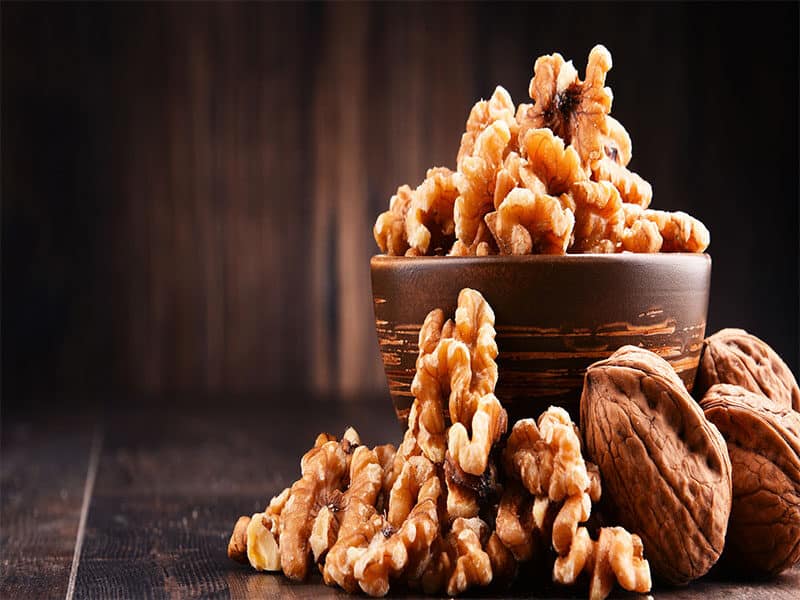 Another name of English walnut is Persian walnuts and used commonly in various countries. Besides walnuts, people also use wood from this tree to make furniture. You need to remove the thin shell to reveal the walnut meat insides.
English walnuts have a sweet, nutty, and bitter flavor, making them an excellent ingredient for baking, milking, or producing candy. It is an indispensable food for people who are on a diet and can reduce cholesterol levels (5).
If you are pregnant, eating English walnuts is one of the best ways to increase neurocognitive function for your babies because English walnuts consist of vitamin E, folate, melatonin and almost all omega-3 essential fatty acids.
16. Earthnut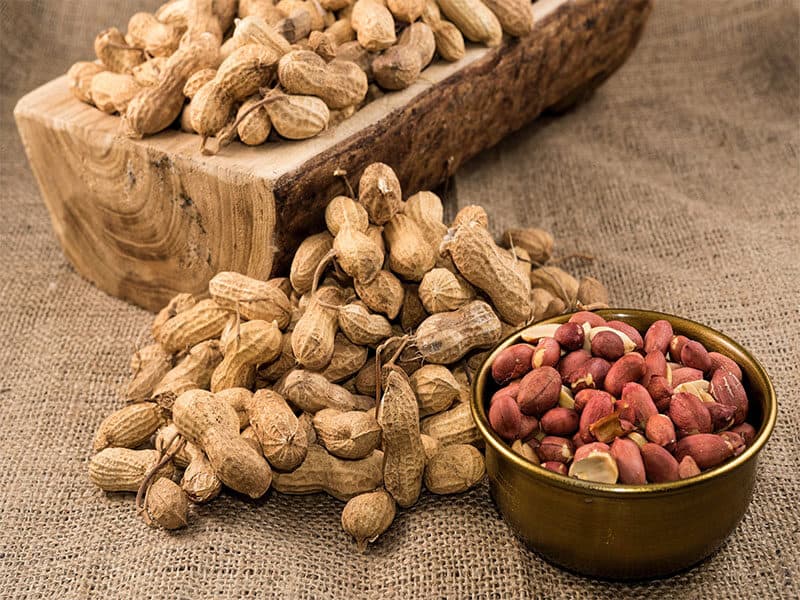 Earthnut belongs to the carrot family as both of them have edible tubers. Besides this name, you also know it by hognut or pignut and even peanut. You can grow it as long as you live in subtropical or tropical climates, and it offers you quite high economic value.
Peanuts' flavor will vary depending on the processing method, but generally, you can taste oily, with a bit of sweet flavor and quite a crunchy profile. You can use peanuts to process many dishes; the most famous dish is earthnut butter.
Like other nuts, peanuts also contain several proteins and healthy fats, such as omega-6 (6). Besides, you can bring roasted peanuts and eat them in snack time to supplement energy as they are quite high in calories.
Vegetables, Legumes, And Herbs
17. Endive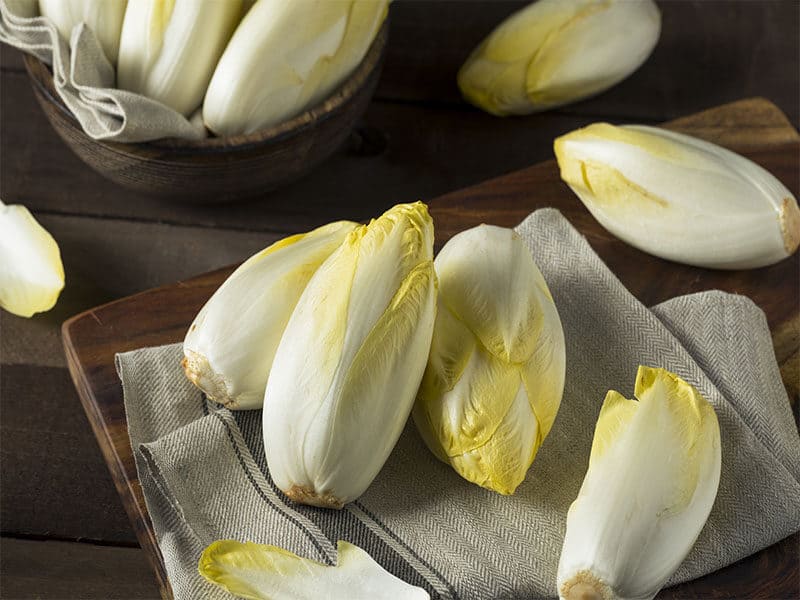 Endive is a leafy green belonging to the chicory family, relative to puntarelle, Belgian endive, and radicchio.
It has to experience 2 steps of growing: the first step is growing in the fields, and the last step is growing in cool, high moisture, and dark rooms. So it is not an easy-to-grown veggie.
Therefore, if you see an endive in supermarkets, don't hesitate to pick it up right away. You can use it to eat raw or cook. Endive has a crunchy texture with a pleasant bitterness when you taste it raw, and it is a perfect choice to add to salads.
When you cook it, it will become softer and sweeter. You can serve it as a starter dish or substitute crackers and chips. Besides the flavor, it features a lot of benefits to your health, such as supplement fibers, vitamins A, C, and folate, which can promote your healthy weight and heart health (7).
However, it is not a great food for blood-thinner patients as it might result in some side effects, like blood clots.
18. English Spinach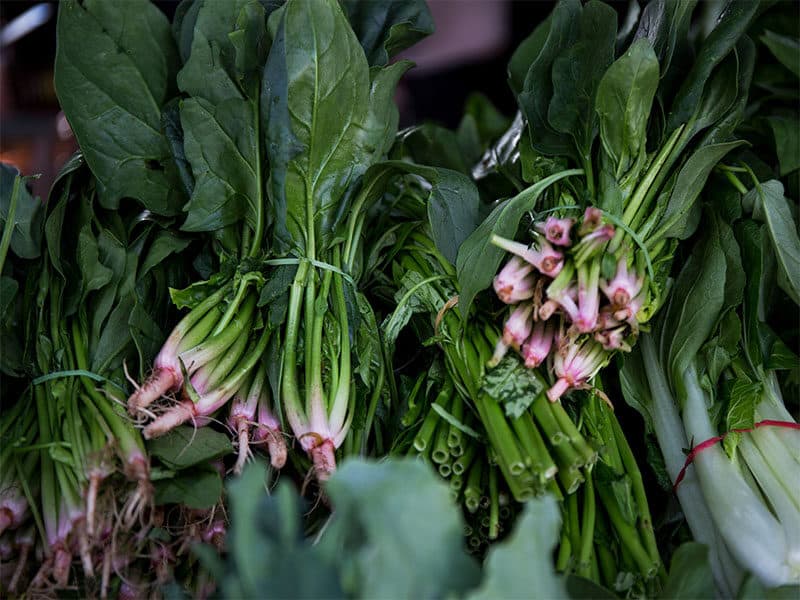 English spinach (or true spinach) is a leafy green that is grown to harvest leaves and stems. A mature English spinach is up to 30 centimeters in height. The leaf is quite thick, soft, and has an oval shape. If you pick it when it is young, it is called baby spinach.
You can find a dedicated flavor when you taste it, and you should eat English spinach from May to October to enjoy the full flavor. The young spinach can be used to make salads with cucumbers, tomatoes, and olives, or spread on bread. Don't forget to drop some cheese in these salads.
You just need to boil for up to 1 minute for older spinach to keep it crunchy and sweet. To store it properly, you can pack unwashed spinach into plastic resealable bags to maintain its green and fresh appearance.
Moreover, please note that English spinach is not similar to silverbeet. The former has green veins on their smaller and flatter leaves, while silverbeet has white veins.
19. Escarole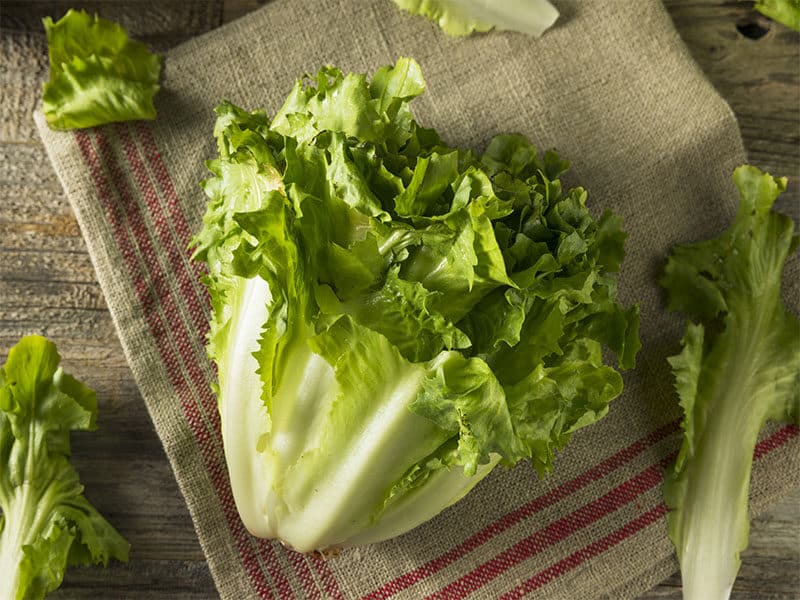 Do you know how to distinguish between escarole and kale? Indeed, the appearance of escarole is quite similar to kale, but it is leafier. Each leaf of it is wide, wavy-edged, and short which will help you choose the right green.
Escarole is a member of the chicory family known for its bitter notes coming from the lactucopicrin compound. Rich in vitamin K, vitamin A, folate, and fiber, escarole can be a nutritious addition to your diet.
The further you separate every leaf, the lighter green of leaves will appear. The dark green outers will have a more bitter flavor and are quite hard, while the lighter ones are softer and a little bit sweet.
The darker leaves with a mild bitterness are suitable for you to saute or cook soup, and the inner leaves are excellent for healthy salads or sandwiches. You can add cheese to salads to supplement protein alongside fiber from this green.
20. Edamame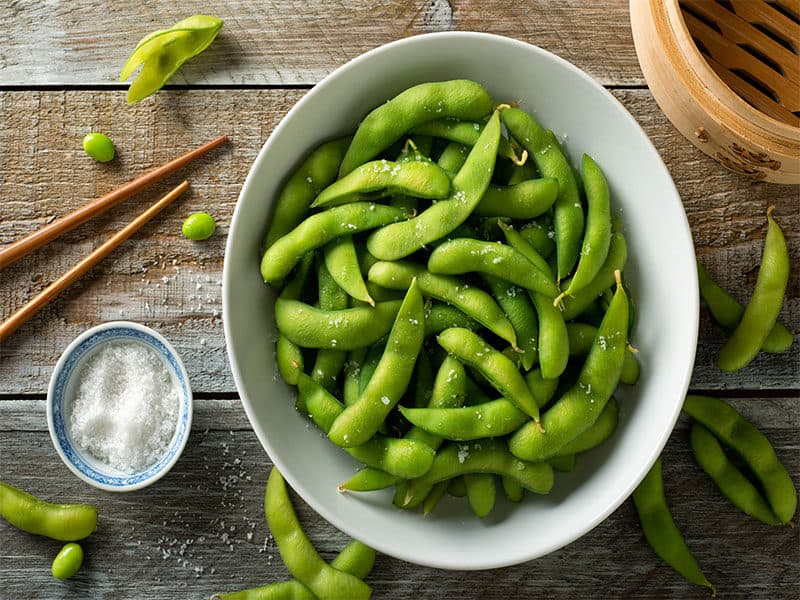 Edamame refers to young soybeans, and you can eat soybeans right from pods without undergoing any process. These beans are green and are added to soup, stew, noodles dishes, salads, or simply a snack for afternoon meals.
You can easily purchase frozen edamame for more convenience. Moreover, they are normally steamed and served as appetizers on the Japanese menu. In general, Edamame's flavor is mild and sweet, reminding you of the taste of tofu or soybean products.
For cooked edamame, its taste is similar to a cooked potato that is soft without being squishy. Raw edamame is considered poisonous, but cooked one offers you various benefits, including providing protein, reducing blood sugar and cholesterol, and more.
21. Eggplant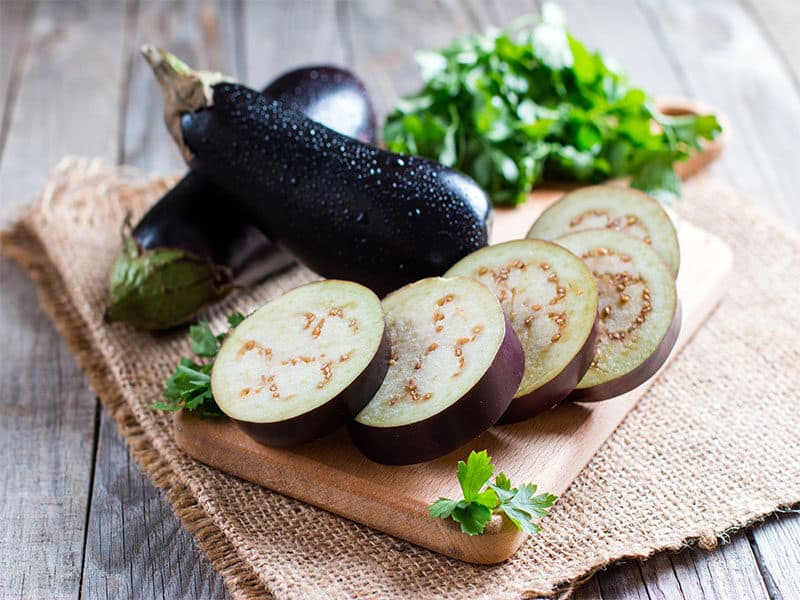 Eggplant (aka aubergine) is a member of the nightshade family (including okra, tomatoes, and zucchini). And they grow prosperity in hot climates.
You can see a wide range of eggplant species with various shapes and colors, but the most common is purple eggplant with a long or teardrop shape.
You can eat seeds in eggplant since they are tiny and easy to digest. Because zucchini and summer squash also belong to this family, the flavor of eggplant is similar to them: mild, tender, and naturally sweet with slightly bitter notes.
Its texture is quite porous when raw, but it softens and quickly absorbs condiments when cooked. Eggplant also offers many health advantages, including supplementing minerals and vitamins, improving heart health, preventing cancer, and more.
22. Estragon (Tarragon)
Estragon, also known as serpentaria, is a versatile herb from the Asteraceae family. It is widely used in North America and Eurasia, popular for culinary and medicinal purposes. Estragon flavor is a unique blend of licorice-like, bitter, and sweet notes, setting it apart from fennel.
You can use it fresh or dried in various dishes, such as soups, eggs, and meaty meals. Packed with manganese, iron, and potassium, estragon may even help improve sleep and digestion (8).
Food (And Dishes) With Meats and Seafood
23. Eels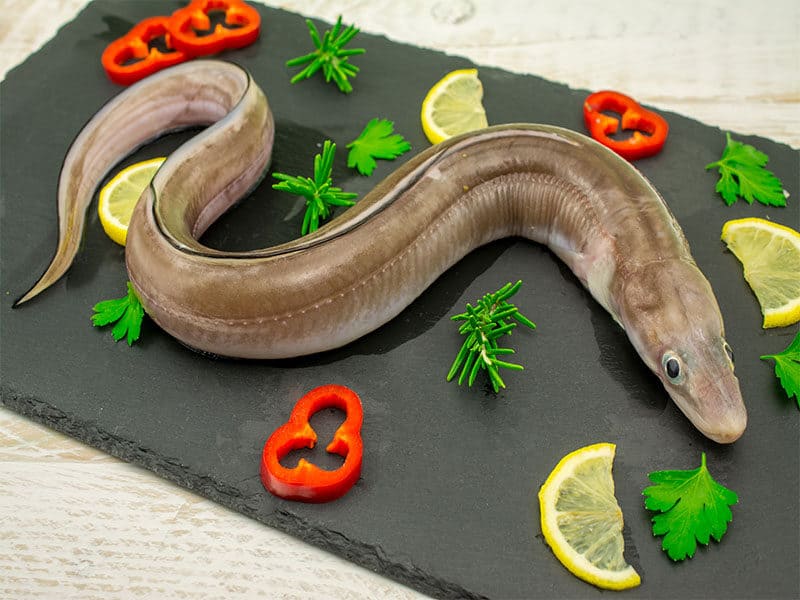 Eels are a type of fish. They are quite popular and easy to access in many countries, especially Mediterranean countries, thanks to their affordable price and high nutrients.
They belong to ray-finned fish and can be used to cook many delicious dishes from grilling to sushi. The average length of them is 2 inches, and they live in mud, sand, and rocks.
There are 2 kinds of eels, including freshwater eels and saltwater eels. Eel's tastes are also different due to different varieties. But overall, you can enjoy their sweet, light flavors and soft texture. Many people say their flavor is quite similar to lobsters and salmon but more dedicated.
Eels are a significant source of numerous vitamins A, D, B12, thiamin, niacin, and minerals such as zinc, calcium, and more. But it is important to note that eel blood is poisonous. Therefore, this fish variety should not be eaten raw.
24. Elk Meat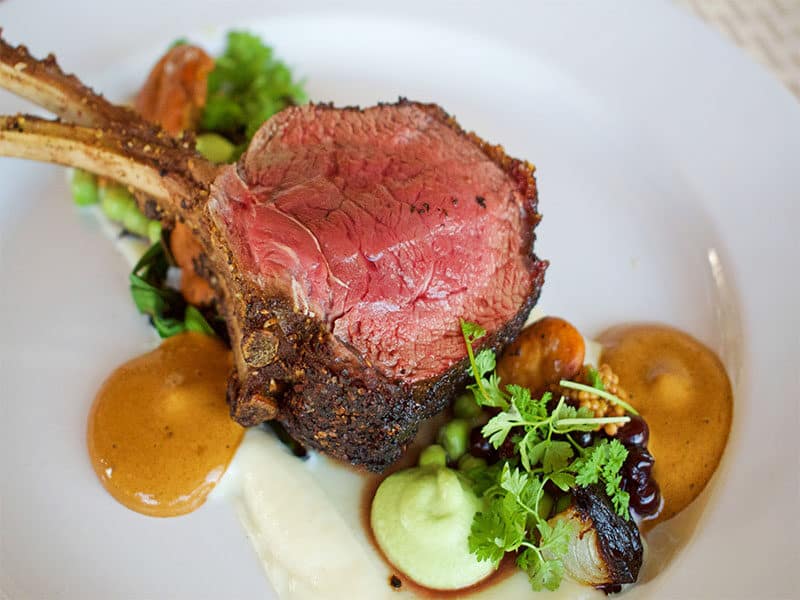 Elk meat has become the most hunted food in recent years and is really good for your health. Although it is rare on the market, its price is quite affordable compared to bison meat.
Its taste is similar to beef, but the nutrition facts are better than beef. You can get a large amount of protein when you taste elk meat, but the fat and cholesterol you gain are quite low.
You can use elk meat for alternative meat when you cook a dish needing beef. The elk meat has a dark red color and dense texture. However, it is so tender that you don't have to marinate it before cooking.
This is also a great meat for making jerky. Elk jerky is healthier than beef jerky as well. Overall, this is one of the best game meats that you should try once!
25. Emu Meat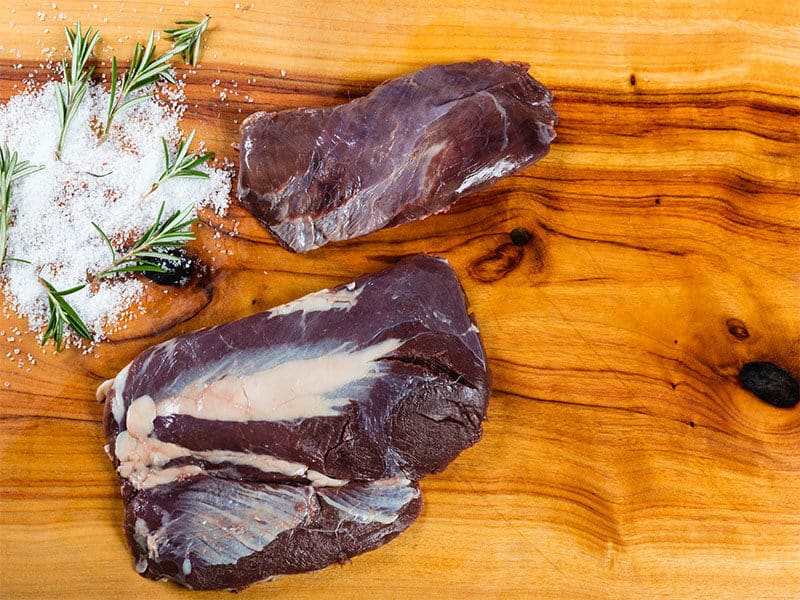 Have you ever wondered what the second-large bird living on the Earth is? If you have searched, the right answer to this question is Amu. Besides the kangaroo, the emu can be considered a native bird in Australia.
Emu meat is a great choice for many people who are looking for beef substitutes as you can find it has a tasteful and similar texture to beef.
However, it is low in fat and low in cholesterol, making it a perfect replacement for other red meat. Emu meat is also rich in many nutrients, such as iron and B vitamins, to boost your health (9).
The softness and texture of this must-try Australian food can vary based on the cooking methods. I recommend you try to fry or grill emu meat to taste its full flavor.
26. English Sole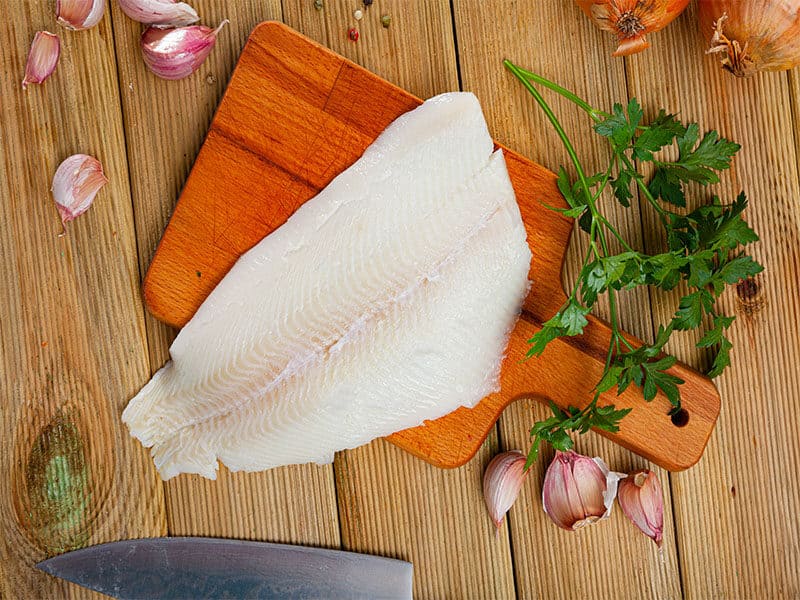 English sole (Parophrys vetulus) is one of the most popular flatfish in the Pleuronectidae family. They live on the muddy and sandy bottom. You can catch English Sole in Western Pacific.
The fish can reach up to 23 inches in length and around 3 pounds. You can enjoy dishes made from English sole year-round, but the best time is spring days and summer days.
The meat of the English sole is tender, has a white color, and a dedicated flavor. You can saute or bake it to enjoy its full flavor.
27. Ecrevisse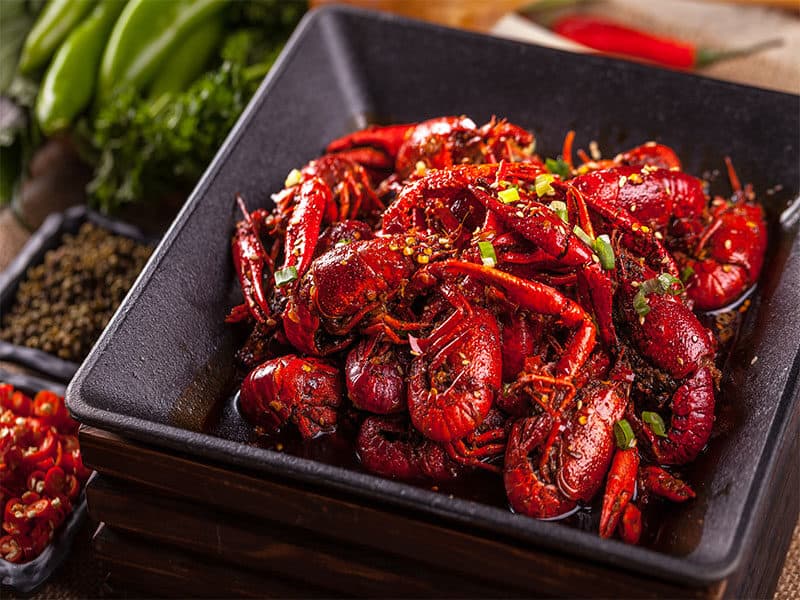 Ecrevisse is a French word for crayfish in English. Many might mistake crayfish for lobster, but these two are not the same thing. The former lives in freshwater, and you can catch it in streams and brooks where clean freshwater flows across as they cannot exist in dirty water.
You can realize their flavor is similar to shrimp, crab, and lobster mixture when you enjoy them. Besides, as they live in freshwater, they don't have a salty flavor but have a sweet taste. That's why many people love it.
You can try to cook crayfish with a Cajun-seasoned traditional recipe. You don't need to worry about lacking crayfish to cook as they are available year-round at supermarkets.
28. Escabeche
Escabeche is a flavorful dish celebrated in Spain, Portugal, and many Spanish-speaking countries. Although it's always served cold, Escabeche differs from ceviche, a raw seafood dish. Commonly, Escabeche employs cooked ingredients, offering greater diversity.
It consists of fried and marinated fish, meat, or vegetables. Escabeche's unique flavor comes from a spicy and tangy sauce made from lime or lemon juice, vinegar, paprika, garlic, and other spices.
29. Escargot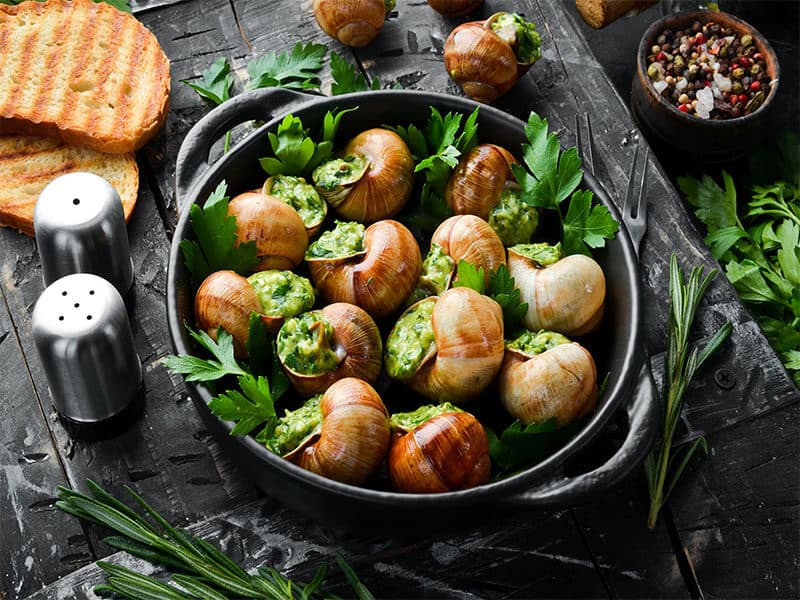 Escargot is a special snail dish that is popular in European countries. If you are in the USA, it is quite hard to enjoy this dish, but French restaurants in the USA might serve this dish. I recommend you taste escargot in restaurants instead of catching snails in your garden.
Escargot is quite mild and chewy. The optimal way to cook it is to add butter, wine, or broth to the snails to increase the flavor. Plus, they are typically served in the shells, though you need to remove them from the shell before cooking.
If you doubt the benefits of escargot, you can be comfortable as it is rich in protein, and this substance is the same as in beef or pork. In addition, it is low in fat but high in vitamins and minerals such as calcium, vitamin A, or iron (10).
30. Entrecote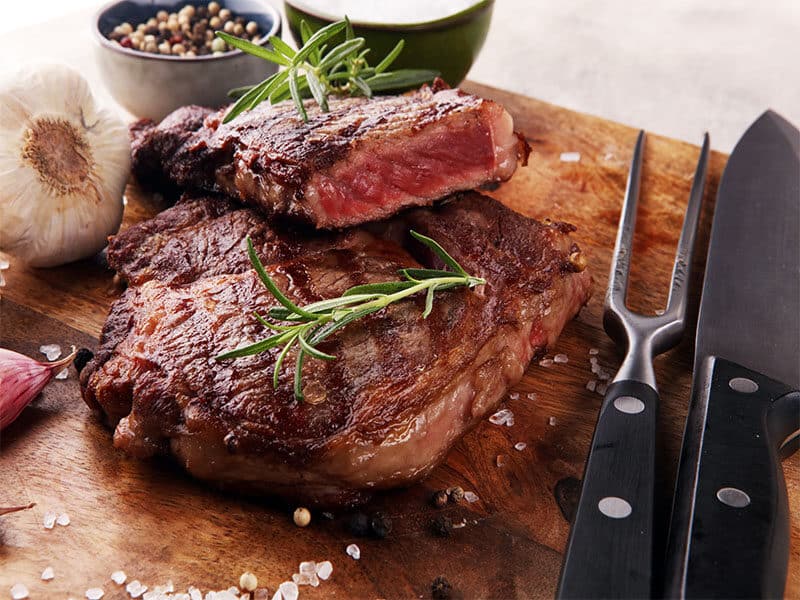 If you are finding premium quality beef to cook authentic steak, entrecote is an excellent selection. This is a French word referring to a cut of beef.
Entrecote is a meat part between every bone-in ribeye. The ribs are chosen from 6th to 12th ribs, and that's why entrecote is pricey. So simply put, this is a boneless rib-eye.
The entrecote is thin but juicy and tender, which will help you process a flavorful steak. Remember not to cook entrecote too long. The perfect time is 4 minutes for one side and 3 minutes for the other side.
31. Escovitch Fish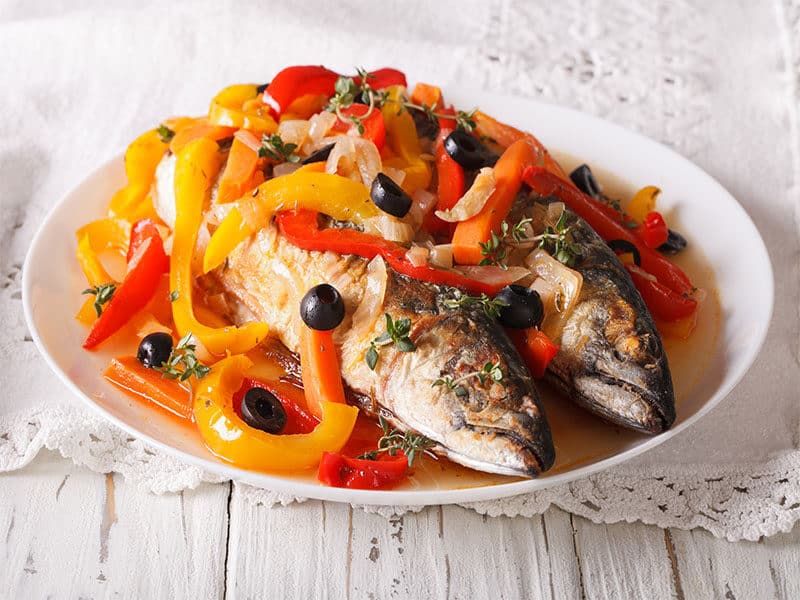 Escovitch fish is a well-known dish in the Caribbean countries, especially Jamaica. In fact, it is the Jamaican version of Escabeche which I introduced above.
The secret to making an excellent escovitch fish is to place the whole fish in deep oil and fry it until it is crispy and has an eye-catching golden color.
If you eat fish alone, it is quite greasy; thus, people normally add pickled vegetables to the dish. You can make pickled veggies on your own with bell peppers, carrots, chayote, and onion in vinegar sauce.
The crunchy fried fish with a sweet and a little sour flavor of pickles result in an addictive treat.
Quick fact: Escovitch derives from the word "Escabeche", referring to pan-fried and marinated with spices.
32. Egg Roll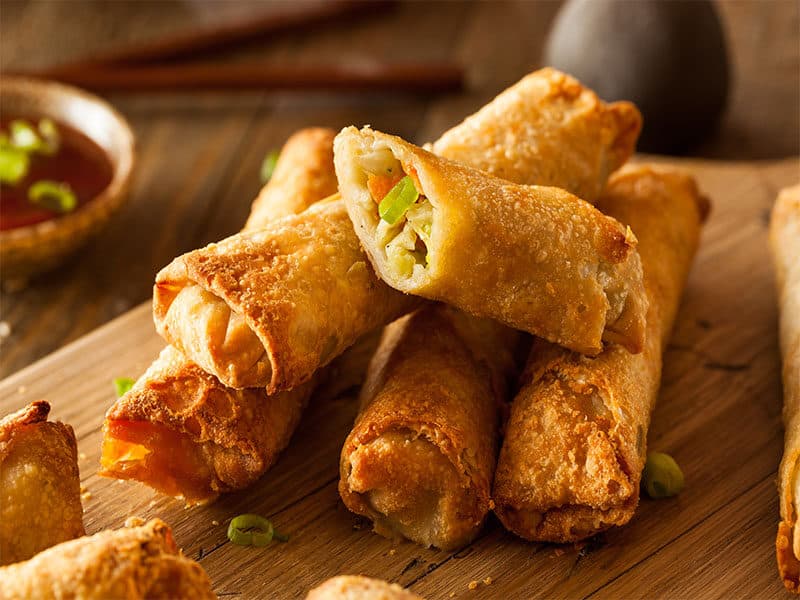 Egg roll is from Chinese cuisine and served in almost all Chinese restaurants. You can distinguish egg rolls and spring rolls by the wrapping material. The egg roll is wrapped with wheat dough, while the spring roll is covered with rice paper.
There are differences between spring rolls and egg rolls because of their fillings' ingredients. Egg roll's filling contains ground pork, shredded carrots, cabbages, then seasoned with sesame oil, ginger, garlic, and other spices; you need to fry egg rolls in a deep oil pan and serve it immediately.
You can eat it like a snack for the afternoon or a fried appetizer dish. You can taste the umami from meat, fresh and crispy from veggies and fried dough, and savory from spices. You can dip egg roll into soy sauce, duck sauce, hot mustard, or plum sauce to bring the flavor to a new level.
33. Escalope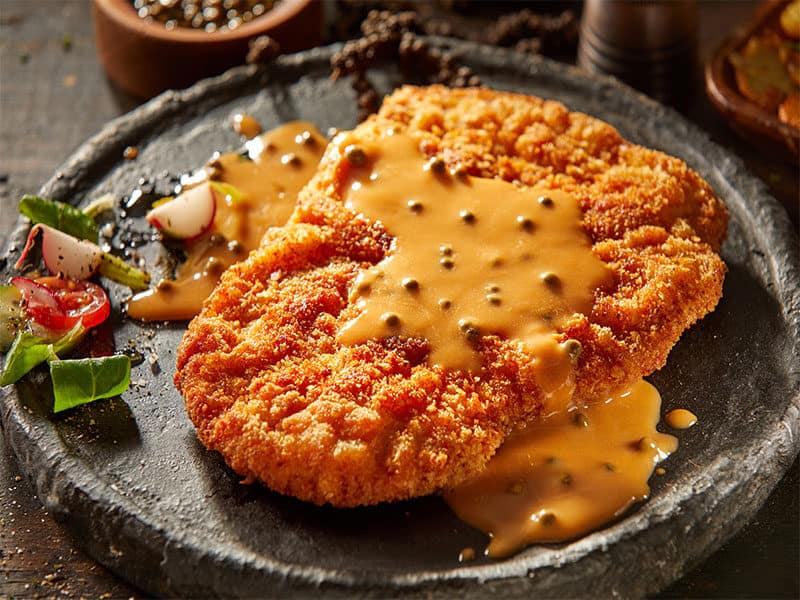 Escalope is a popular dish and served in many local restaurants; nevertheless, you can prepare to cook this dish at home with several basic ingredients: a thin slice of boneless veal meat, breadcrumbs, and egg.
First, you need to use a rolling pin or a mallet to break down the meat's fibres. After that, you will coat them with other ingredients and fry them. The meat can be any type, even fish. Nowadays, the common meat is veal.
As you know, meat and egg are rich in protein and will add energy to your meals. Moreover, the rich sauce is a perfect companion to this fried meat. With the crunchy flavor from fried breadcrumbs and tender meat, Escalope is a good choice for a hearty main course or as a sandwich filling.
34. Easter Ham
Easter ham holds a special place as a traditional dish served during Easter celebrations. Its origin dates back to when meat was slaughtered in the fall and cured throughout the winter, making it ready for Easter.
This flavorful dish, often smoked or cured, can be enjoyed either hot or cold. Regional variations, such as Southern-style honey-glazed ham, add a delightful twist.
With the smoky, salty, and mildly sweet taste of these hams, they pair well with classic sides like mashed potatoes, green beans, and corn.
35. Embutido (Filipino-style Meatloaf)
Embutido is a Filipino take on meatloaf with its roots in the American version. This yummy dish consists of ground pork, chicken, or beef with hard-boiled eggs, ham or sausage, breadcrumbs, and vegetables.
Once the mixture is rolled into a log shape, it's either steamed or baked. Locals love serving Embutido at Christmas, special occasions, and feasts. Enjoy it as a main dish, hot or cold, and don't forget to add a side of ketchup for an extra flavor!
36. Etouffee
Etouffee is a beloved staple of Louisiana's Cajun and Creole cuisines that highlights the flavors of shrimp or crab. To make it, people simmer shellfish in a rich sauce crafted from vegetables and a roux (a blend of flour and butter).
In addition, Etouffee utilizes the smothering cooking technique. This mouthwatering meal is served over rice with a kick from Creole or Cajun seasonings. For more information, Etouffee is thicker than Gumbo, another popular Louisiana dish.
37. Enchiladas
Enchiladas have a rich history, originating as a Mexican staple since the Mayan civilization. These mouthwatering delights consist of corn tortillas rolled around a delicious filling, which combines cheese, beans, meats, and vegetables.
The rich sauce, usually a spicy mixture of chili powder and other spices in a tomato-based broth, sets enchiladas apart. However, green salsa verde and cheese-based sauces, like chile con queso, also pair well to make up the Enchilada sauce.
Served with rice and salsa, enchiladas are best enjoyed with a fork, unlike their finger-food cousin, the burrito.
38. Eru Soup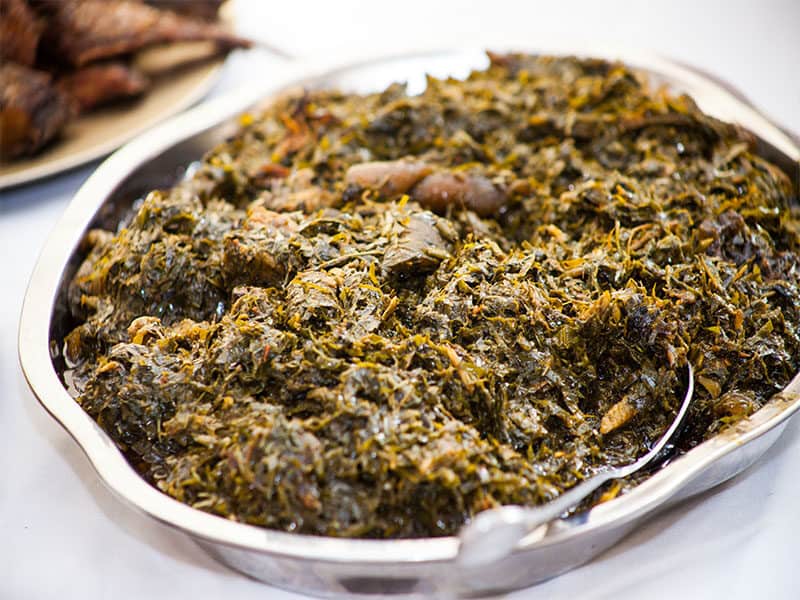 Eru soup, a staple in Cameroonian cuisine fairly similar to Afang soup, features the wild African vegetable known as eru or Gnetum africanum. As a dried soup, it doesn't require much water because the moisture from the eru leaves is sufficient.
Crayfish is another key ingredient for an umami-sweet flavor and extra protein. When you taste Eru soup, you'll notice its soft, starchy, and smooth texture, making it a delicious and nutritious meal choice.
Dairy and Egg Dishes
39. Eggs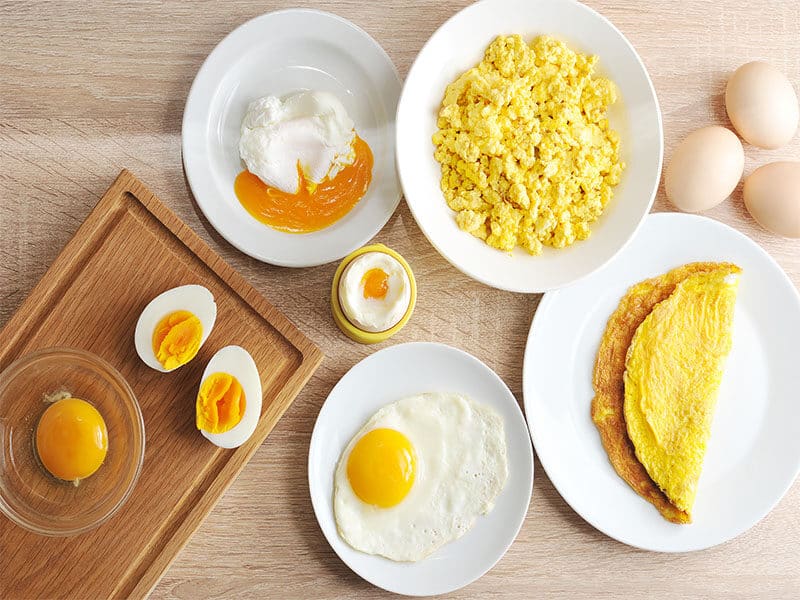 The "king" in this list is eggs, and I believe that all people have eggs in their refrigerators. Besides chicken, eggs are other most eaten foods around the world. Moreover, eggs are not only products from female chickens, but they can be from ducks, quails, or ostriches.
The average weight of an egg is 50 grams, but this figure can change depending on the chicken breed. All you need to know is that the 2 main parts of an egg are white and egg yolk.
The eggs you usually eat are unfertilized. Eggs are a significant source of protein, fat, and other good substances. There are plenty of easy and delicious egg ideas that you can try. You can use them, especially egg yolks, to make cakes, sauces, etc., or simply boil, poach, and fry them to enjoy.
Remember to store them properly to prevent them from spoiling and cook them completely to remove all bacteria.
40. Edam Cheese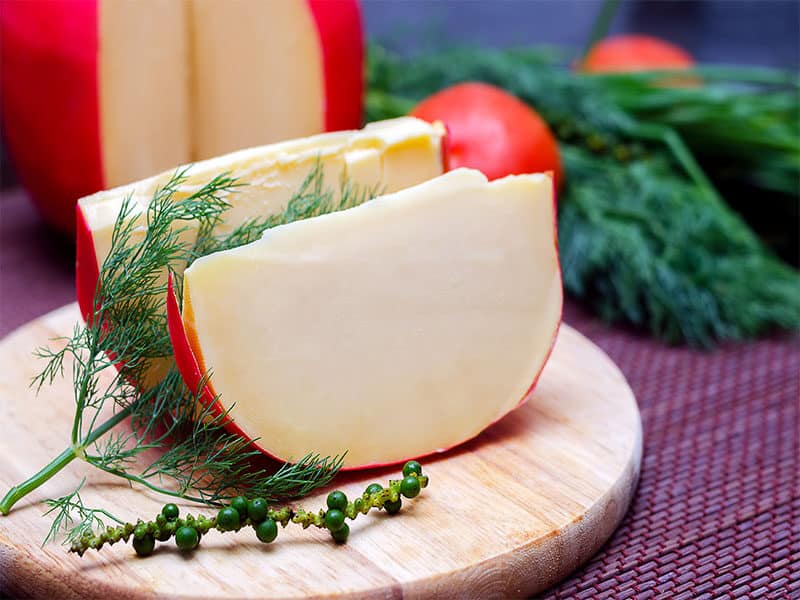 If you are looking for a type of cheese that can be used as a dessert or starter dish and can persuade younger guests, Edam cheese is a perfect selection for you.
Edam cheese originates from Edam town, Netherlands, where grasses are grown at the same high and cows produce milk with consistent flavor.
Edam cheese is made from cow's milk or goat's milk to make a perfect semi-hard texture. You don't need to worry about fat content, as these kinds of milk are skimmed to reduce this figure. People typically consume them young. They have a slightly salty, mild taste and seem not to have smells.
When you store Edam cheese longer, the flavor and texture will become firmer and sharper. You can combine Edam cheese with a lot of fruits such as peaches, apricots, and cherries to neutralize the salty and sweet flavor.
This cheese variety is also an ideal replacement for Fontina cheese because these types all have a nutty flavor. So if you can't find any piece of Fontina cheese in your area, go for Edam cheese.
41. Eggs Benedict
Eggs Benedict is a beloved American breakfast or brunch dish popular in New York. Its origins may be debated, but Charles Ranhofer published a similar recipe called eggs à la Benedick in 1894.
The dish features two English muffins topped with Canadian bacon, poached eggs, and Hollandaise sauce for a creamy, rich, and lemony buttery flavor.
Busy folks can easily make it at home, and there are numerous variations to try, such as adding avocado or salmon to the original recipe.
42. Egg Foo Young (Chinese Omelette)
Egg Foo Young is a Chinese-style omelet dish rooted in Guangdong province, with its name coming from Cantonese. You'll find it in many Chinese-American restaurants.
To make this tasty meal, simply combine eggs, bean sprouts, carrots, cabbage, spring onions, mushrooms, and your choice of meat, like pork, shrimp, or chicken. Cooking it is as easy as making an omelet, and it's best served with soy sauce or gravy for dipping.
43. Evaporated Milk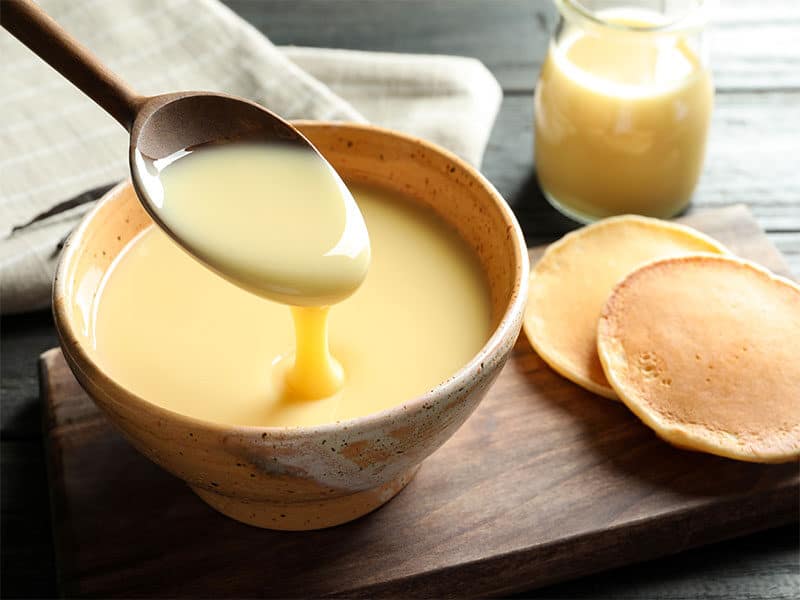 Evaporated milk is one of 2 kinds of condensed milk that are removed 60 percent of water from milk and don't add sugar content for sweetness. This condensed milk can be cooked on high heat to create a darker color and caramelized flavor.
They are simply canned cow's milk that you can easily buy at any supermarket. Plus, evaporated milk can be made from skimmed, whole, or low-fat milk to implement your wishes.
For culinary uses, evaporated milk is perfect for making pies, cakes, candies, and shakes. If you are not really a big fan of it, you can use half-and-half, heavy cream, or regular milk to replace it.
44. Emmental Cheese
Emmental cheese is a yellow, unpasteurized, hard cheese from Emmental, Switzerland. It has gained recognition as a geographical indication in various countries, including Hungary, Jamaica, France, Russia, and Germany.
Crafted from cow's milk, this cheese offers a mild, slightly buttery taste.
Fun fact: the USDA uses the words "Swiss" and "Emmentaler" interchangeably, so don't be confused when you see these two different names!
45. Egg Drop Soup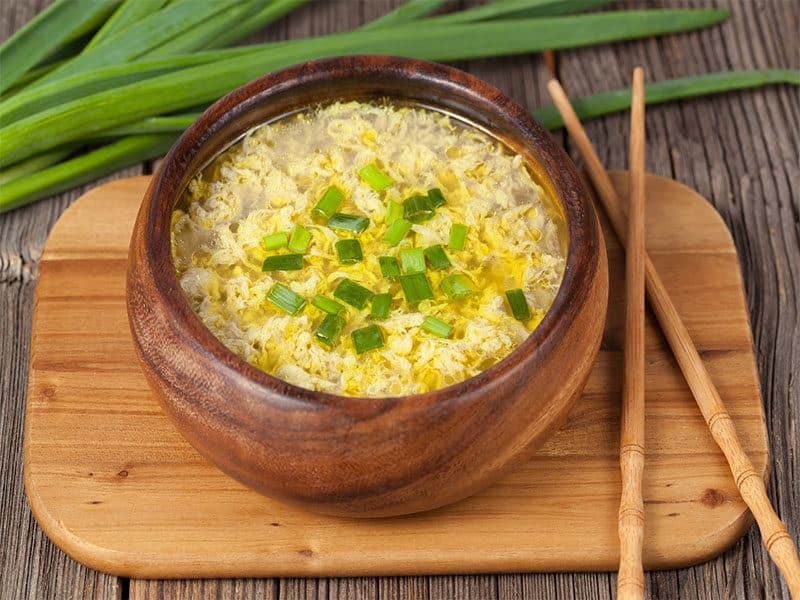 The way to cook egg drop soup is as simple as its name. You just need chicken broth, eggs, cornstarch, and other basic condiments in your kitchen. Remember to beat eggs before pouring them into the chicken broth to create a wispy texture.
You can enjoy it as a light starter. Egg drop soup is also good for sick people who are bored with porridge. Protein in eggs and chicken broth is an excellent source for you.
46. Easter Egg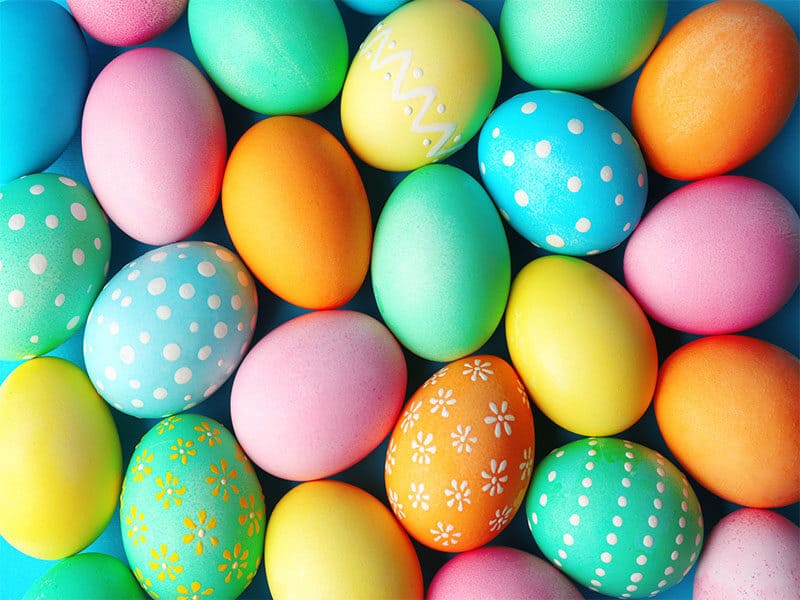 Easter Egg is one of the symbols of festivals and is decorated with various colors to make it become a gorgeous appearance. Many people also call them Paschal eggs; no matter what you call them, these eggs are a great gift on Easter occasions.
People will boil the eggs first, then decorate them with dyes or paints. It might take around 10 to 15 minutes until the eggs are cooked. Remember to submerge them in cool water before decorating. These eggs are hidden in hard-to-see corners that allow children to search for them.
47. Egg Salad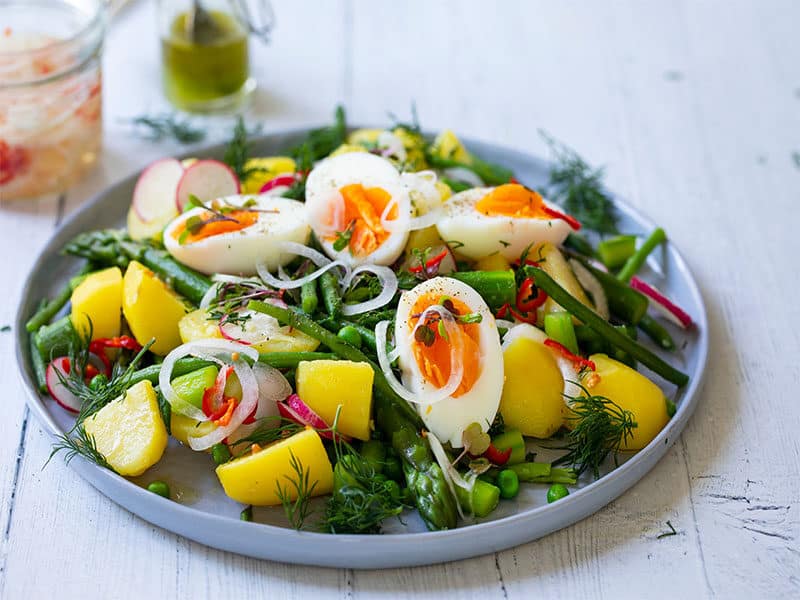 You surely cannot find the recipe easier than the steps to make egg salad. This food is simple to make, but the flavor is incredible, as you will be surprised at the creamy flavor. Furthermore, you can enjoy it as a sandwich filling or as a side dish with meaty delicacies.
You will make this dish to spread on bread or eat it with your crackers, which boosts your energy in the mornings. The ingredients for processing egg salad are straightforward: boiled eggs, mayonnaise, chives, dill, salt, pepper, and Dijon mustard.
Sometimes, the simplest thing will bring you wonderful value, like this food. You just need to spend about 15 minutes before enjoying the dish. And do not forget to check the shelf life of egg salad for the safest consumption. No one wants to get sick from eating eggs.
Breads and Pastries
48. English Muffin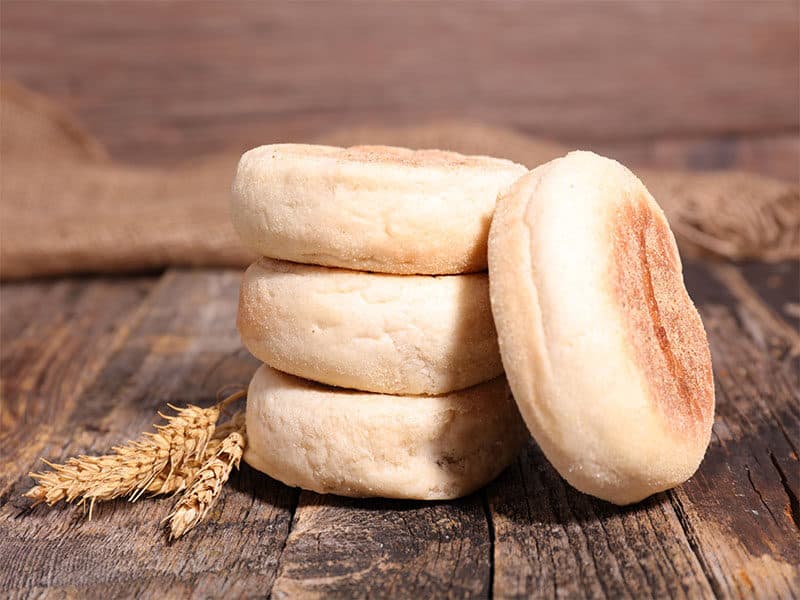 How many people assume that English muffins originate in England? Contrary to popular belief, English is not an authentic English dish.
The small round bread of English muffins mainly consists of yeast dough. It originated in the USA, created by Samuel Bath Thomas, an immigrant from England. Additionally, Thomas' brand remains the most popular choice in America.
Loved at breakfast and teatime, these muffins debuted to the British in the 1990s, who dubbed them "American muffins." These muffins are cooked on the stovetop and split before serving.
These English muffins might look like crumpets, but they don't have milk in their recipe and are cooked on both sides, unlike the thin and round British griddled bread.
You can combine this bread with numerous ingredients such as sausages, jams, eggs, and more, but I recommend spreading butter and tasting it. You can find English muffins in different versions, including cinnamon raisin, whole wheat, apple cinnamon, or multigrain.
If you are vegan and want to taste the dish, you can make it at home and replace dairy products with almond milk, water, or soy milk and add olive oil instead of butter.
49. Éclair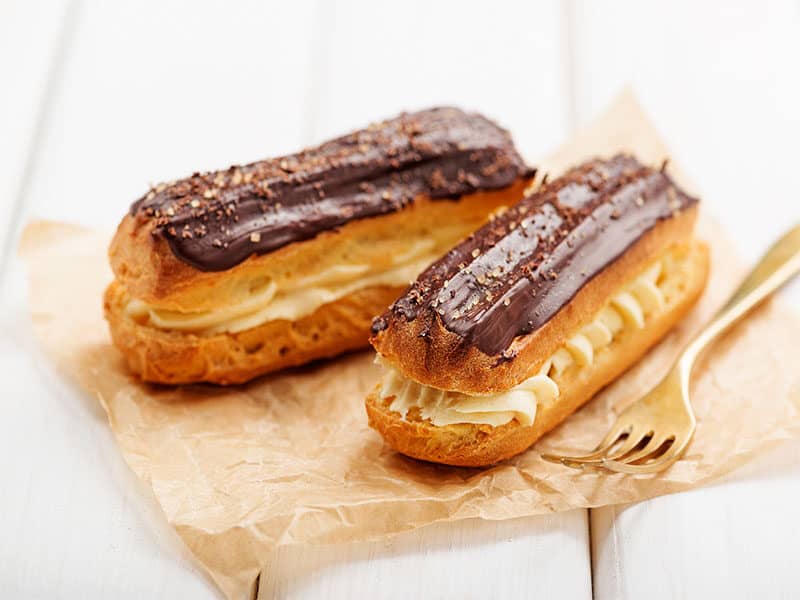 Éclair is a famous European cooking idea, particularly in the world of French desserts. The treat first appeared in Lyon during the mid-19th century. The French word "éclair" translates to "flash of lightning," possibly due to the speed at which they're eaten or their glistening, creamy frosting that looks like a flash.
The dough to make éclair is choux pastry; it will rise when baking, create the hollow inside, and allow you to fill it with custard or pastry cream. Éclairs are unique because they don't use any leavening agents. To finish the dish, you need to dip the éclair into fondant icing.
The fondant icing can be made of various flavors, but chocolate is the most common. If something ruins your mood in a day, an éclair will help you reduce stress and come back to work productively.
Furthermore, some may say these French treats look like hot dog buns. Remember to enjoy this decadent pastry using a knife and fork to stay true to French etiquette.
50. Elephant Ears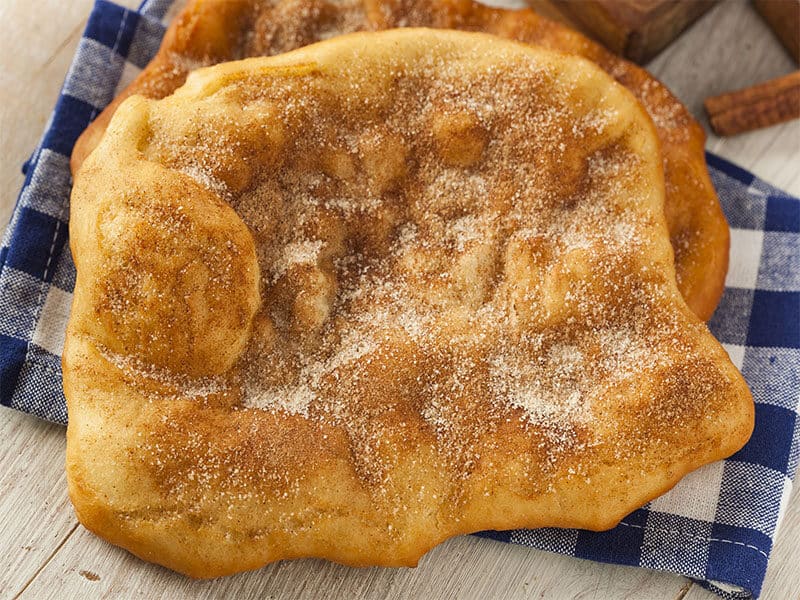 It is a funny name, isn't it? The elephant ears don't contain any true elephant ears. This snack is made from dough and covered with sugar and cinnamon. You can easily purchase it from carnivals, theme parks, and food trucks. Its shape is a wrinkled circle, making you imagine elephant ears.
Elephant ears are a French pastry that earned their quirky name due to their large shape. Known by various monikers, such as pig's ear, palmier, or palm heart, these pastries have captured the hearts of dessert lovers worldwide.
You'll encounter numerous delicious variations, such as Spain's palmeras, Latin America's orejas, and Germany's schweineohren, proving that elephant ears are a global sensation.
51. Ensaimada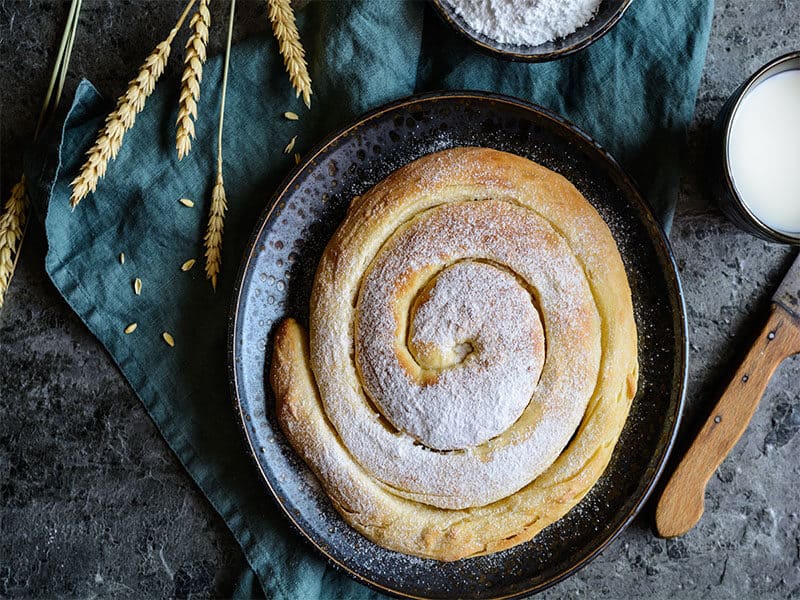 The Ensaimada is traditional sweet bread from Spain. This bread is made from wheat flour, mother dough, sugar, water, eggs, and pork fat. You can realize it in the form of coils, and it is covered with powdered sugar.
The treat originates from Mallorca, the largest island in the Balearic Islands, part of Spain. It's beloved sweet in many Spanish-speaking countries, with the defining ingredient being pork lard, but you can replace it with butter.
You can eat it for breakfast, afternoon meals, or as a dessert. Plus, you may eat it as bread or fill it with pumpkin, custard, or chocolate. To fully savor this delectable delight, pair it with coffee or hot chocolate.
52. Egg Tart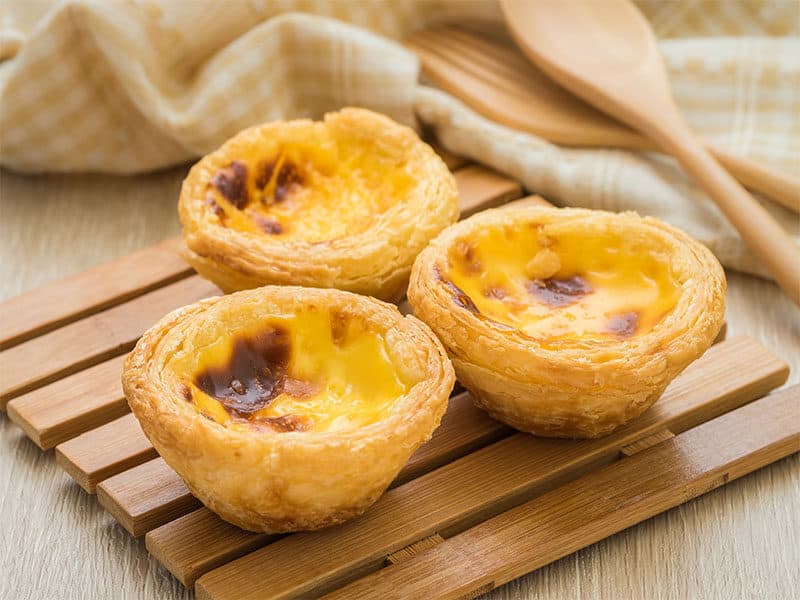 Egg tarts are a type of custard tart and a popular dim sum item in Hong Kong and Macau cuisines. They first appeared in Guangzhou in the early 20th century, drawing inspiration from Portuguese pastel de nata and English custard tarts.
What makes them irresistible is the flaky outer shell combined with a creamy center. Notably, the Hong Kong version features a shortcrust, while the Macau variant sports a puff pastry with a sweeter flavor.
The creamy and smooth filling with a crispy crust will not disappoint you. Besides, the milky taste and the buttery crust will remind you of a Western custard.
53. Empanadas
Empanadas are tasty turnovers with flaky pastry, thought to have originated in Galicia, Spain. They're a popular treat in the Iberian Peninsula, Southern Europe, and Latin America, either baked or fried.
They come with various delicious fillings, such as beef, seafood, chicken, ham, fruits, corn, or potatoes. With their small size and half-moon shape, they can be served as a starter, entree, or snack. Interestingly, Italian calzones and Cornish pastries share a connection to these delightful bites.
54. Eccles Cake
Despite its name, Eccles cake is a delicious English pie, not a cake. It originates from the town of Eccles in Greater Manchester. Surprisingly, the pie was once banned in the 17th century due to supposed pagan connections.
This pastry delight has a buttery, flaky crust filled with tart and sweet currants and might also contain spices and candied peel. It's simpler to make than mince pies but rich in calories, perfect for a satisfying midday snack.
55. Eggo Waffle
Eggo waffles have been around since 1953. They were first called "Froffles" and are now a frozen waffle brand by the Kellogg Company. These waffles have been a favorite in North America since the late 1960s with their catchy advertising slogan, "L'eggo my Eggo."
There's always an Eggo waffle to suit every taste bud with a variety of mouthwatering flavors like brown sugar cinnamon, strawberry, blueberry, buttermilk, and chocolate chip.
Pasta and Noodles
56. Elbow Macaroni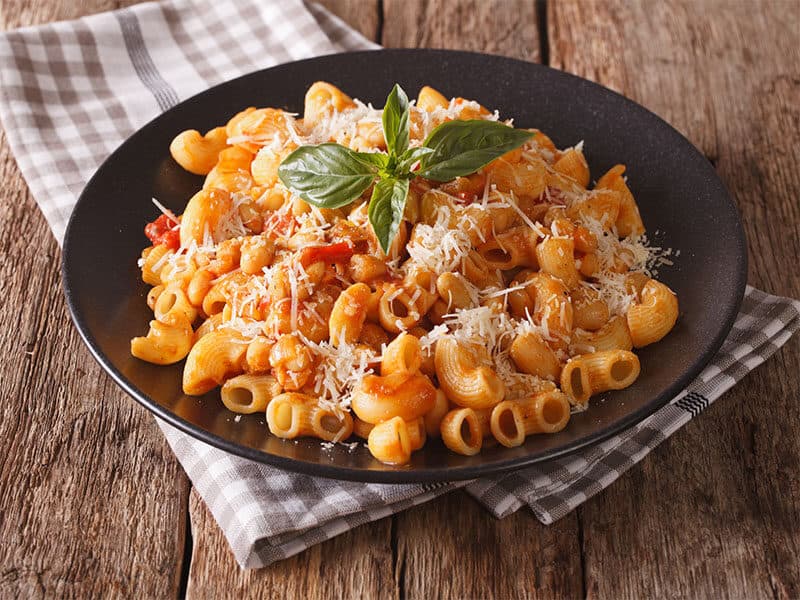 Elbow macaroni, with the same flavor as regular macaroni, sports a unique short, semi-circular shape that adds a fun twist to various dishes. Kids love it because it's small and easy to scoop!
Made from durum wheat, elbow macaroni pairs well with a range of pasta sauces, from tomato-based to cream-based or even wine-based.
You can use elbow macaroni in soups, salads, pasta dishes, and more. It's simple to cook by boiling, cooking in milk, or even microwaving.
57. Egg Noodles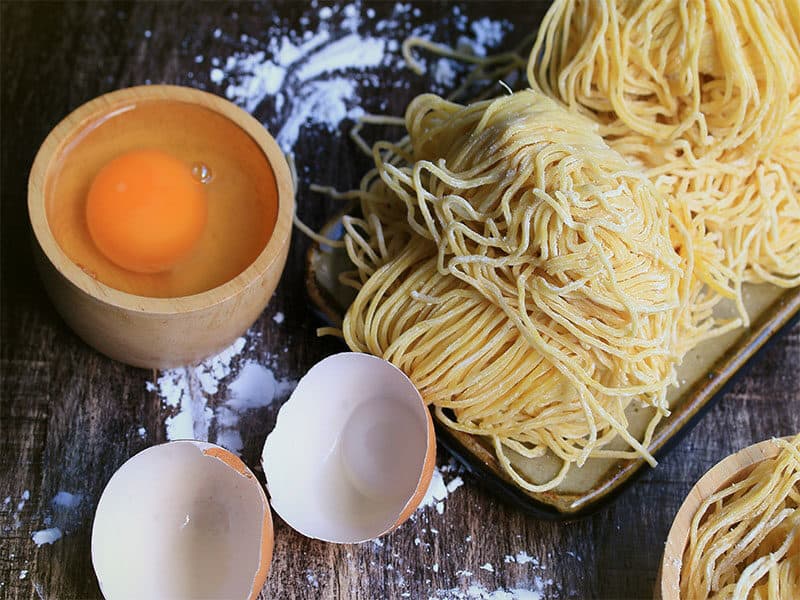 Can you guess what the main ingredients in egg noodles are? That's right; this food is made from eggs and flour. The dough will be kneaded and cut into strips, then boiled to serve like pasta.
Egg noodles hold a special place in Asian cooking, particularly in Chinese cuisine, but they also appear in Turkey, Germany, and other countries. With their ribbon-like shape, they're cooked until soft and tender.
Egg noodles are a great alternative choice when you are bored with regular pasta, and you can find them in almost all Asian meals. After boiling egg noodles, you can add butter to increase sparkle looking and pour beef stroganoff or cream sauce into them, then enjoy the dish.
What sets them apart from ordinary pasta is the added protein from eggs, making them more nutritious and giving them a fattier flavor. Some popular dishes featuring egg noodles include chow mein, beef stroganoff, and German Spätzle.
Dessert, Snacks, and Beverages
58. Eggnog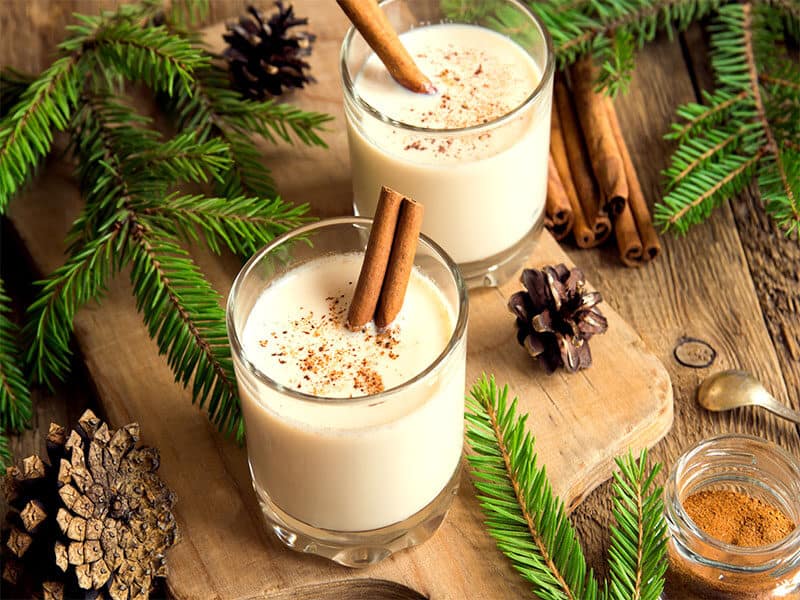 At Christmas or holidays, people always enjoy eggnog as an indispensable beverage. As its name implies, the dish's ingredients consist of alcoholic beverages, milk, egg, cream, and sugar.
While cream and milk are used for fatty flavor, sugar for sweetness, then the egg is used to create a frothy texture, and alcohol is perfect for festival seasons. The alcohol you can use is rum, whiskey, or brandy.
Besides these key factors, you can sprinkle some pinches of vanilla, cinnamon, or nutmeg to upgrade its taste. Eggnog will be served as a cold or warm drink on cold days.
Moreover, you can have 2 eggnog versions: non-alcohol and alcohol drinks or numerous flavors to reach more customer targets.
59. Espresso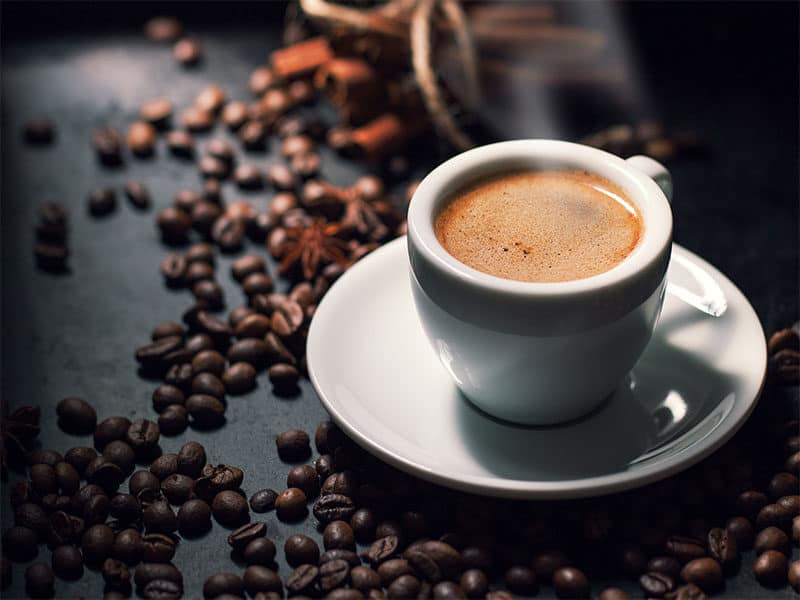 Espresso is a well-known Italian coffee and served into each shot that contains concentrated flavor. The coffee offers a thicker, more intense flavor than its regular counterpart. Espresso grind is brewed under high pressure, resulting in a velvety reddish-brown foam on top called crema.
Surprisingly, it contains less caffeine than an equal amount of coffee. The flavor is commonly creamy and well-rounded, with a smooth aftertaste. When ordering, keep in mind the standard measurements: a shot for one serving or a doppio for the default double shot.
In addition, you will need to grind coffee beans finer than regular coffee and be packed more carefully and firmly.
The ideal temperature to make Espresso is 190 degrees F. A shot of Espresso is a perfect way to start a new day and boost your energy. You can taste this coffee with biscotti to have an authentic Italian breakfast.
60. Earl Grey Tea
Earl Grey tea is a wonderful blend that combines black tea with Bergamot essential oil, offering a delightful mix of floral, citrus, and grapefruit flavors. Although some modern versions may use oolong or green tea, the classic version can pack as much caffeine as coffee.
Different from coffee, though, Earl Grey Tea is rich in antioxidants that may improve heart conditions (11). Finally, just remember, it's best enjoyed without milk.
61. Edy's Pie
Edy's Pie, an American favorite since 1921, is a chocolate-covered vanilla ice cream treat that's ideal for summer. You might remember it as Eskimo Pie, but in 2021, the name changed to Edy's Pie to reflect a more culturally sensitive approach.
62. Easter Pie
Easter Pie is an Italian treasure to celebrate the end of Lent. Also known as Torta Pasqualina or Pizza Rustica in Italy, this buttery, flaky pastry is filled with ricotta, mozzarella, eggs, and a mix of cold Italian meats, like prosciutto, sweet Italian sausage, and salami.
With origins likely in the 17th century, it's traditionally served cold at room temperature. Thanks to southern Italian immigrants, this festive dish has found its way into American hearts as well.
Other
63. EVOO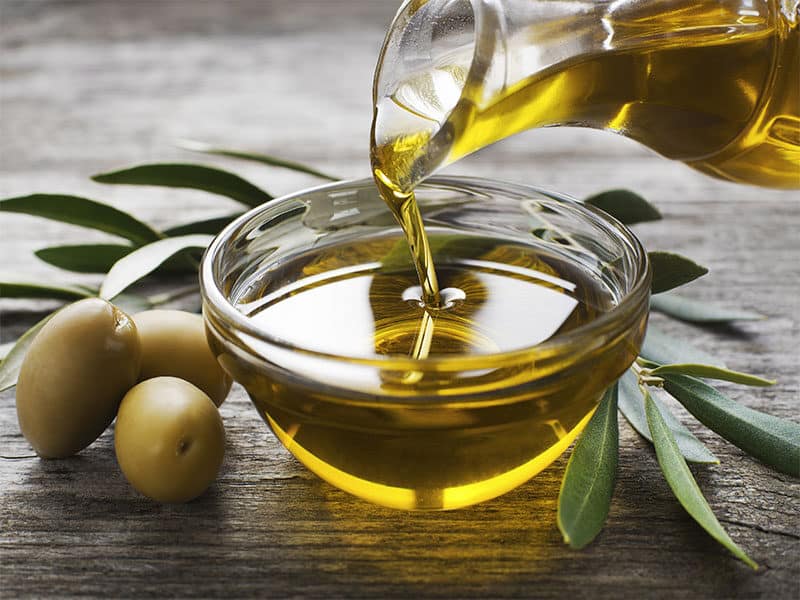 EVOO is the finest oil and is made from pure olive by the cold-pressed method. The standard EVOO will have a forest-green color with a fruity aroma and a little bit of peppery and grassy flavor, while regular olive oil has a lighter color and neutral taste.
EVOO, or extra virgin olive oil, is a healthy and delicious option for your kitchen with a free fatty acid level below 0.8 percent. Although it can handle heat, you'll benefit most from its nutrients by using it in salad dressings or dips.
The advantages of adding EVOO to your meal are numerous. Olive oil will provide you with some health benefits such as anti-inflammatory, preventing heart problems or cancer, and more (12). And please note that you should use no more than two tablespoons per day.
64. Erbazzone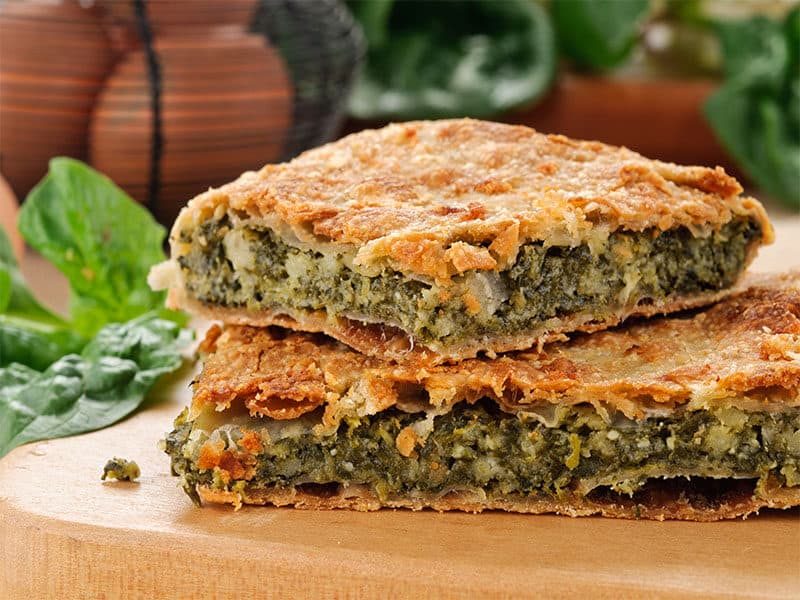 As a traditional savory pie from Reggio Emilia, Erbazzone is an ideal option for food lovers who enjoy exploring global cuisine.
With a simple recipe, this pie features a delicious dough filled with ingredients like onions, cucumbers, spinach, cured pig's back fat, parsley, garlic, breadcrumbs, and Parmigiano Reggiano cheese.
Erbazzone works for any meal, making it a convenient option for busy days or even a school lunch for the kids. Plus, you may add a drizzle of olive oil to create a lighter version. The crispy dough and fresh vegetables make Erbazzone a perfect choice for picnics with loved ones.
65. Echicha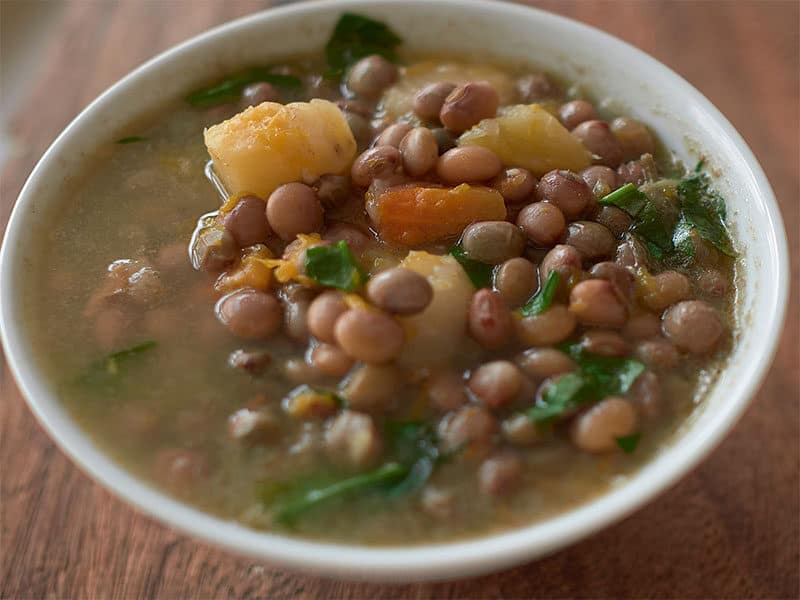 Also known as Achicha, Echicha is a Nigerian dish from the Igbo region. Perfect for the dry season when fresh veggies are scarce, this meal is made with simple ingredients, like cocoyams, pigeon peas, palm oil, and traditional condiments.
The star of the recipe is pigeon pea with a crisp texture and nutty flavor reminiscent of edamame. Remember to soak the dried peas overnight before cooking. Echicha is high in fiber and beta-carotene and low in calories, making it a great choice for those focused on eye and skin health.
66. Edikang Ikong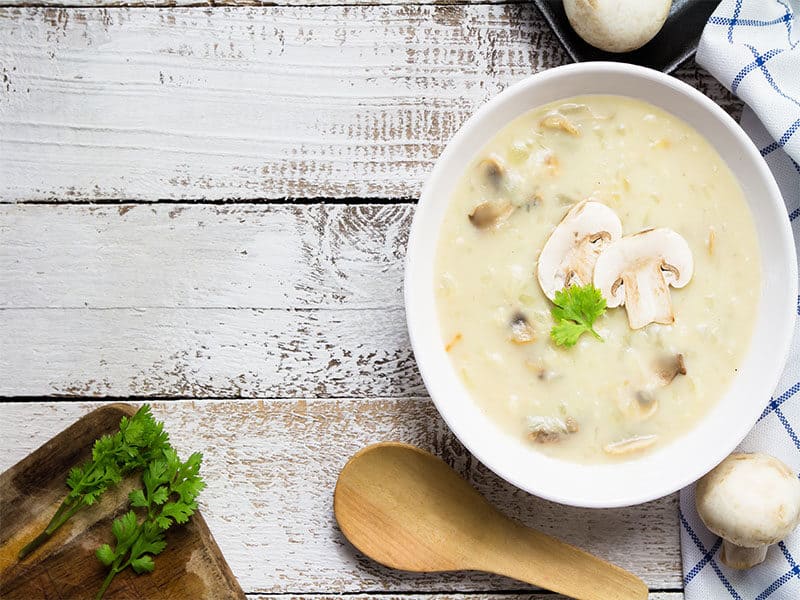 Another special Nigerian dish is Edikang Ikong, often served at both daily meals and special events. It's similar to another Nigerian soup called Afang.
In the past, its high cost due to ingredients like beef, dried fish, crayfish, bush meat, and cow tripe made it unattainable for many. However, today, numerous Nigerian families can savor this delicious soup.
Rich in nutrients like protein, vitamins B1, B2, E, iron, and fiber, Edikang Ikong is believed to be a perfect addition to the diets of unwell people. The dish can promote bone health, improve skin conditions, and support weight loss (13).
67. Ekwang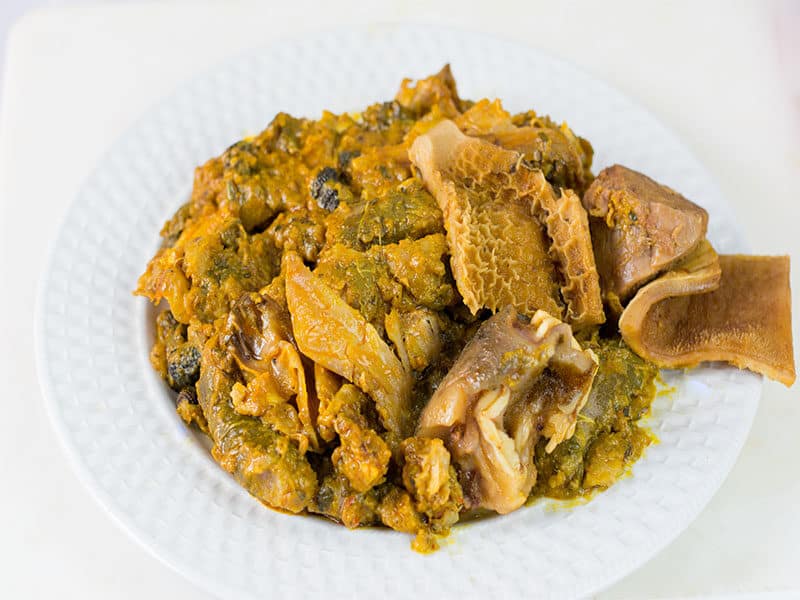 The popular dish in Nigerian and Cameroonian cuisines, Ekwang, is known for its labor-intensive preparation process. Cocoyams, the main ingredient, are grated and then carefully wrapped in cocoyam leaves.
Accompanying these neatly bundled cocoyams, a flavorful broth is created using crayfish, spices, and palm oil. Infused with African spices, Ekwang captivates the taste buds and often disappears from plates within minutes after being served.
68. Eggplant Parmesan
Old but gold is used to describe Eggplant Parmesan. It is an Italian classic baking dish with slices of eggplants, parmesan, mozzarella, tomato sauce, and basil that are arranged according to order. The porous texture of eggplants holds moisture and absorbs water well.
Known as Parmigiana or Melanzane alla Parmigiana in Italian, the dish is a traditional southern Italian dish, though some northern regions claim its origin too. This tasty meal tastes similar to chicken parmesan but offers more vitamins and antioxidants.
In a way, it's like a vegetarian lasagna without pasta, making it a delightful choice for both vegetarians and those seeking a nutritious meal.
You can sprinkle some salts on slices of eggplants to draw water out of them. You will find this dish cheesy, not too oily, and full-flavored moisture in every bite. You can keep this dish in the fridge for up to 5 days if you cannot eat it up.
69. Elote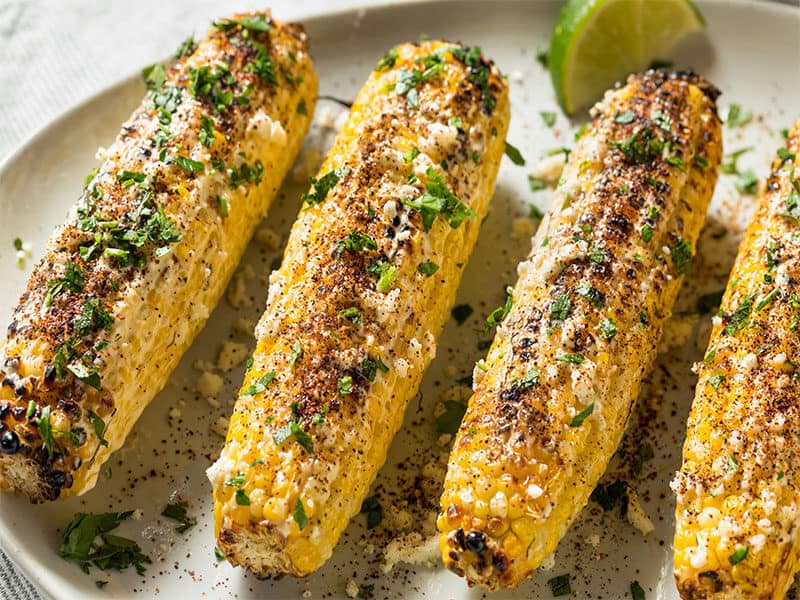 Elote is classic street food from Mexico, with the key ingredient is corn. The corn will be covered with salt, butter, lime juice, chile powder, cotija cheese, crema fresca, or mayonnaise and roasted on open grills.
In Spanish, the word Elote stands for "corn cob," a mouthwatering Mexican grilled corn on the cob. It's distinct from Esquites, another Mexican street corn dish served off the cob. The key to elote's incredible flavor is its seasoning, combining cumin, chili powder, and chipotle powder.
You will hold the whole corn and bite it little by little. You can feel tasty and flavorful roasted corn in your mouth like a carefree and warm summer night. I think the perfect time to taste Elote is on winter days when your mouth releases cold breath with smoke.
70. Erissery
Erissery is a delicious vegetarian curry from Kerala, a small coastal state in southwestern India. This mild flavor dish features grated coconut, pumpkin, peas, and curry seasoning. As they are best served hot, you can pair them with steamed rice or Kanji, an Indian rice water-based dish.
Not only does it make a fantastic main course, but it can also be a delightful side dish to complement any meal.
FAQs
In this appetizing journey, I've prepared a collection of frequently asked questions to satisfy your curiosity and tickle your taste buds. Don't skip it.
Among numerous foods, it is hard to remember foods with E, but I am sure after reading my post, you have collected a lot of information about foods and their characteristics. These dishes will come from different countries, but their common point is to please you and your tummy.
On a day when you don't know what you should cook for your family, don't hesitate to visit this article and pick several special dishes for you.
I am really excited to hear from you. Don't forget to leave a comment to share your thoughts about your favorite E-starting food. Also, you may do me a favor by sharing the post with others. See you soon!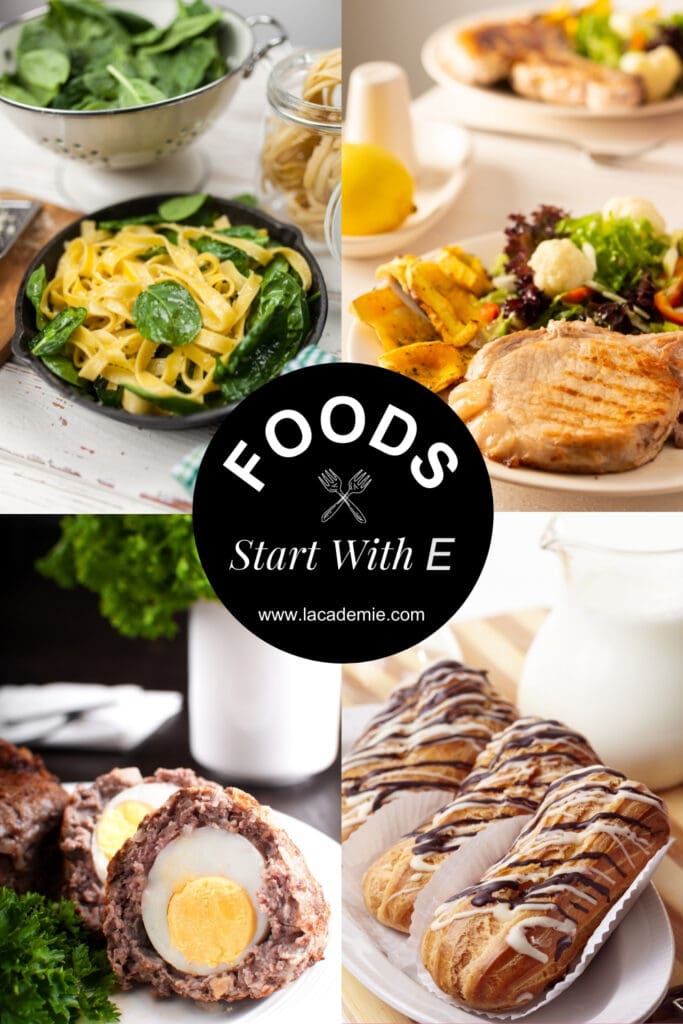 References
Elderberry: Benefits and Dangers (2023). Healthline.com.
Xiaoli Liu, Mouming Zhao, Jinshui Wang, Bao Yang, Yueming Jiang (2008). Antioxidant activity of methanolic extract of emblica fruit (Phyllanthus emblica L.) from six regions in China.
Hawthorn (2023). nccih.nih.gov.
Canistel (2023). foodprint.org.
English Walnut – Uses, Side Effects, and More (2023). Webmd.com.
Peanuts 101: Nutrition Facts and Health Benefits (2023). Healthline.com.
What Are the Health Benefits of Endive? (2022). Webmd.com.
8 Surprising Benefits and Uses of Tarragon (2022). Healthline.com.
Emu Meat: New Source of Healthier Meat Towards Niche Market (2014). pubag.nal.usda.gov.
ESCARGOT SNAILS (2019). Fdc.nal.usda.gov.
All You Need to Know About Bergamot Tea (Earl Grey) (2019). Healthline.com.
Is extra-virgin olive oil extra healthy? (2021). Health.harvard.edu.
https://drhealthbenefits.com/food-bevarages/food/health-benefits-edikaikong-soup
Foods by The Alphabet
Foods That Start with E (You are here)