Dividing foods into the alphabet can help you remember dishes and quickly find them if necessary, and I will bring to you foods that start with e. You probably don't know how various foods with e until you explore them.
In this post, you will know these dishes and some information about them. You can richen your knowledge and cook for you beloved people nutrients foods. The dishes can come from various countries, but I think this is one of the best ways to discover different cultures through cuisine.
If you are curious about them, don't hesitate to scroll down and read more.
List Of 42 Foods That Start With E
Here are several foods that start with E I have researched for a long time. These dishes come from all over the world, and all of them are delicious and flavorful.
Eggs
English Muffin
Earthnut
Edam Cheese
Eels
Eggnog
Egg Roll
Egg Salad
Elbow Macaroni
Elk Meat
Emu Meat
Endive
English Sole
Emu Apple
Espresso
English Walnut
Evaporated Milk
English Spinach
Escalope
Escarole
Éclair
Ecrevisse
Edamame
Egg Noodles
Emblica
Escargot
Entrecote
EVOO
Egg Fruit
Eggplant
Elderberry
Erbazzone
Echicha
Edikang Ikong
Ekwang
Eru Soup
Escovitch Fish
Elephant ears
Ensaimada
Egg Tart
Egg Drop Soup
Elote
Tasty Foods That Start With E
You can try to challenge your brain to determine how many foods that start with e you can remember; I am sure you cannot list all the foods, and I am too. Therefore, I can just introduce you to 42 dishes that certainly are mouth-watering and can attract you after the first bite. Let's discover with me.
Eggs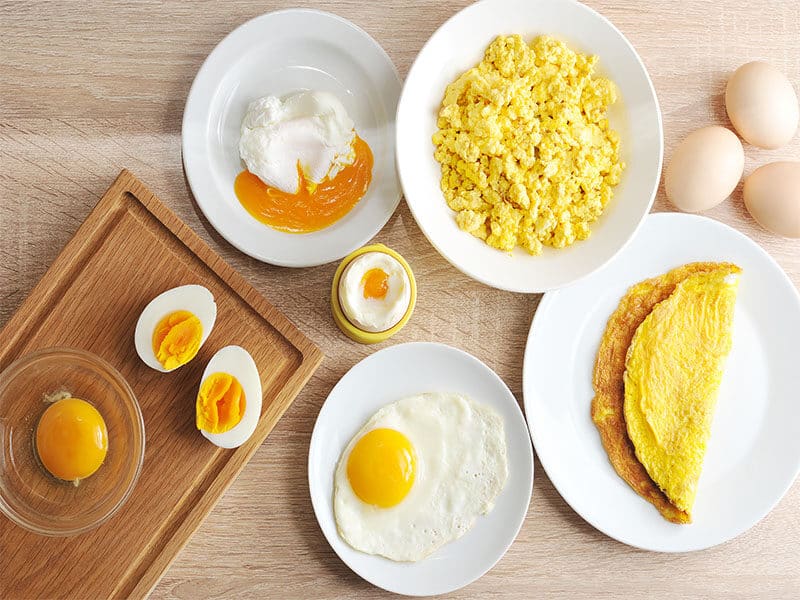 The "king" in this list is eggs, and I believe that all people have eggs in their refrigerators. The average weight of an egg is 50 grams, but this figure can change depending on the chicken breed. All you know that the 2 main parts of an egg are white and egg yolk.
The eggs you usually eat are unfertilized. Eggs are a significant source of protein, fat, and other good substances. There are plenty of easy and delicious egg ideas that you can try. You can use them, especially egg yolks, to make cakes, sauces, etc., or simply boil them to enjoy.
Remember to store them properly to prevent them from spoiling and cook them completely to remove all bacteria.
English Muffin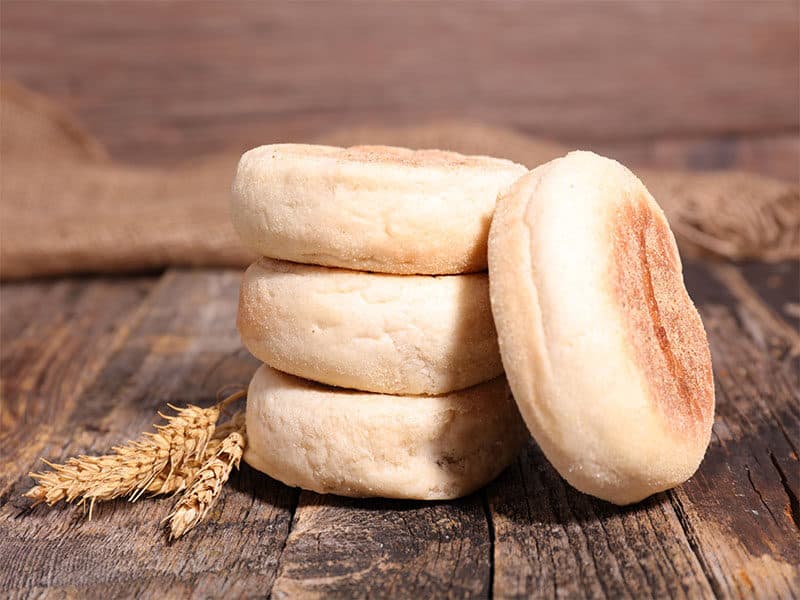 How many people assume that English muffins originate in England? Contrary to popular belief, English is not an authentic English dish. English muffin is leaved bread and a favorite breakfast of many people.
You can combine this bread with numerous ingredients such as sausages, jams, eggs and more but I recommend you to spread butter and taste it. You can find English muffins with different versions, including cinnamon raisin, whole wheat, apple cinnamon, or multigrain.
If you are vegan and want to taste the dish, you can make it at home and replace dairy products with almond milk, water, or soy milk and add olive oil instead of butter.
Earthnut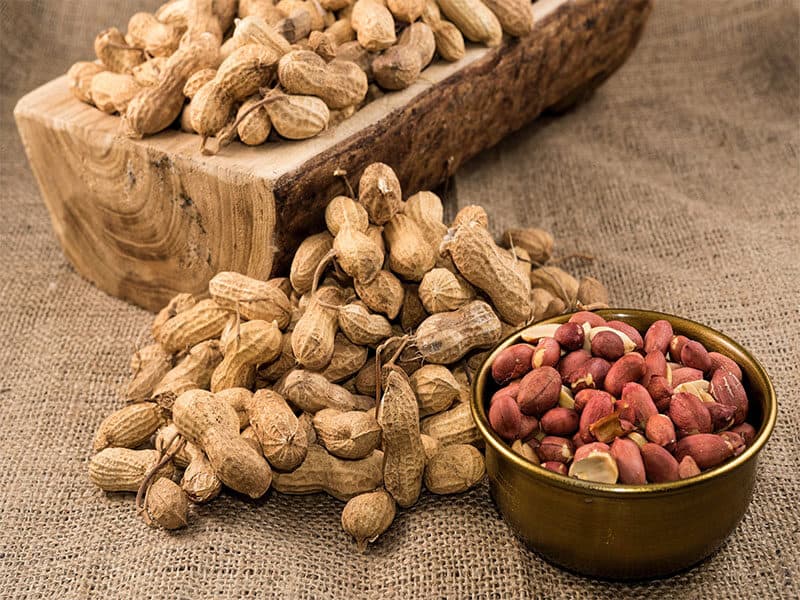 Earthnut belongs to the carrot family as both of them have edible tubers. Besides this name, you also know it by hognut or pignut and even peanut. You can grow it as long as you live in subtropical or tropical climates, and it offers you quite high economic values.
You can find peanuts' flavor will vary depending on the processing method, but generally, you can taste oily, a little bit sweet flavor, and quite crunchy profile. You can use peanuts and process many dishes, and the most famous dish is earthnut butter.
Like other nuts, peanuts also contain several healthy fats such as omega-3, omega-6, and more. Besides, you can bring roasted peanuts and eat them in snack time to supplement energy as they are quite high in calories.
Edam Cheese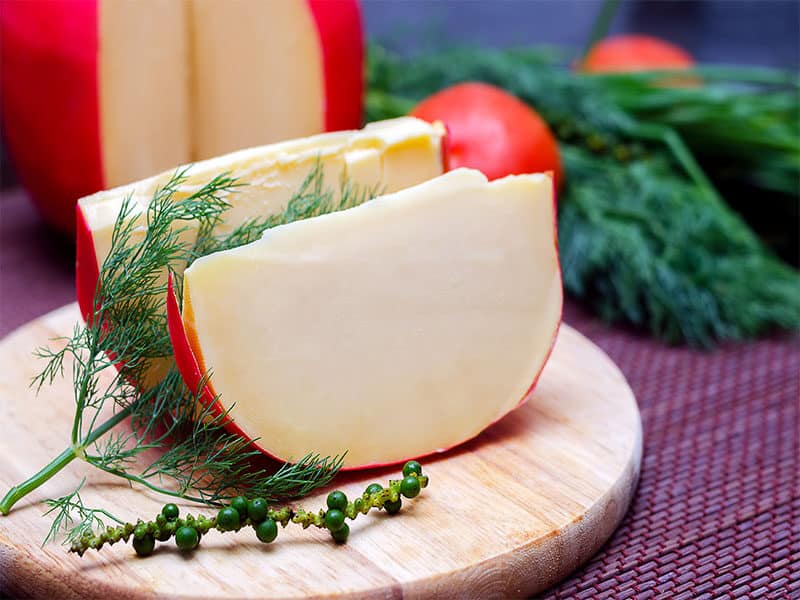 If you are finding a type of cheese that can be used as a dessert or starter dish and can persuade younger guests, Edam cheese is a perfect selection for you. The origin of Edam cheese is from the Netherlands, where grasses are grown at the same high and cows produce milk with consistent flavor.
Edam cheese is made from cow's milk or goat's milk to make a perfect semi-hard texture. You don't need to worry about fat content, as these kinds of milk are skimmed to reduce this figure. The best date to enjoy Edam cheese is young when young cheese has a slightly salty, mild taste and seems not to have smells.
When you store Edam cheese longer, the flavor and texture will become firmer and sharper. You can combine Edam cheese with a lot of fruits such as peaches, apricots, and cherries to neutralize the salty and sweet flavor.
This cheese variety is also an ideal replacement for Fontina cheese because these types all have a nutty flavor. So if you can't find any piece of Fontina cheese in your area, go for Edam cheese.
Eels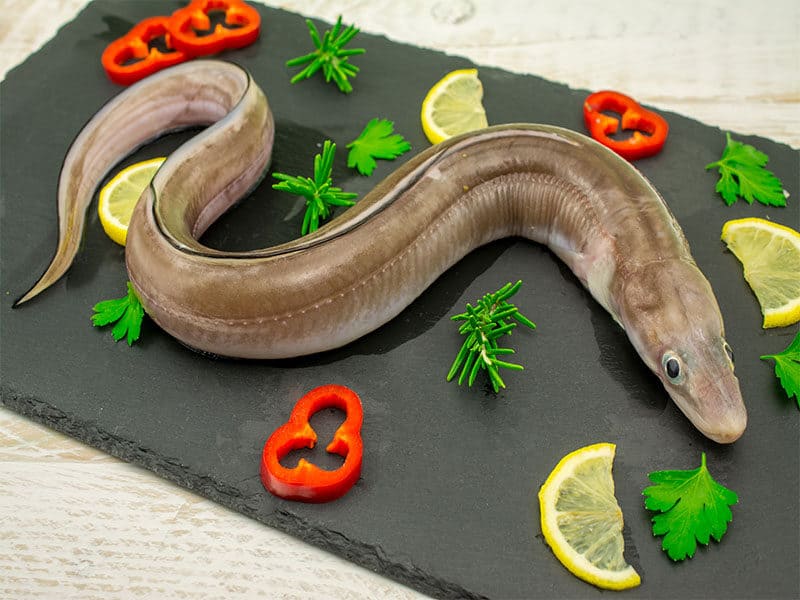 Eels are quite popular and easy to access in many countries, especially Western countries, thanks to their affordable price and high in nutrients. They belong to ray-finned fish and can be used to cook many delicious dishes from grilling to sushi. The average length of them is 2 inches, and they live in mud, sand, and rocks.
There are 2 kinds of eels, including freshwater eels and saltwater eels. Eel's tastes are also different due to different varieties. But overall, you can enjoy their sweet, light flavors and soft texture. Many people say their flavor is quite similar to lobsters, salmon but more dedicated.
Eels are a significant source to provide you numerous vitamins A, vitamin D, vitamin B12, thiamin, niacin, and minerals such as zinc, calcium, and more.
Eggnog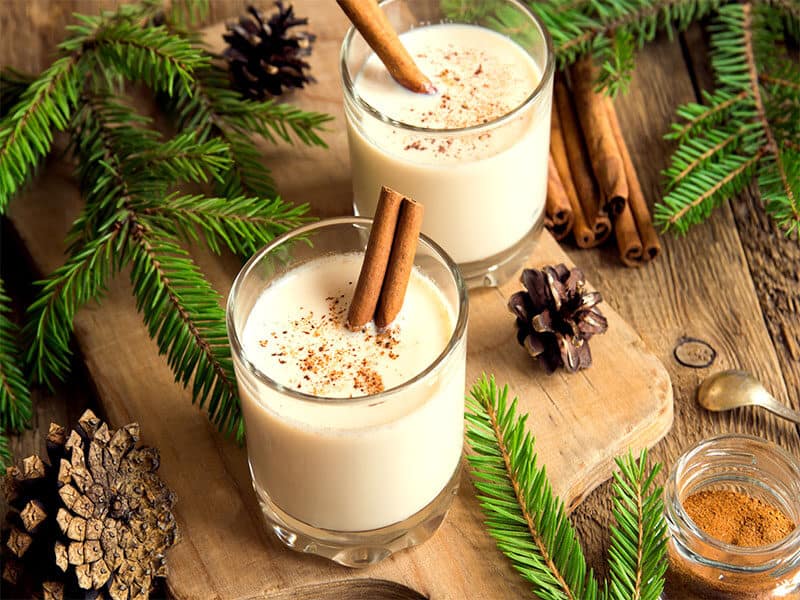 At Christmas, people always enjoy Eggnog as an indispensable beverage. As its name implies, the dish's ingredients consist of alcoholic beverages, milk, egg, cream, and sugar.
While cream and milk are used for fatty flavor, sugar for sweetness, then the egg is used to create a frothy texture, and alcohol is perfect for festival seasons. The alcohol you can use is rum, whiskey, or brandy.
Besides these key factors, you can sprinkle some pinches of vanilla, cinnamon, or nutmeg to upgrade its taste. Eggnog will be served as a cold drink or warm drink on cold days. You can realize how Eggnog is famous when it is produced with 2 versions: non-alcohol and alcohol drink or numerous flavors to reach more customer targets.
Egg Roll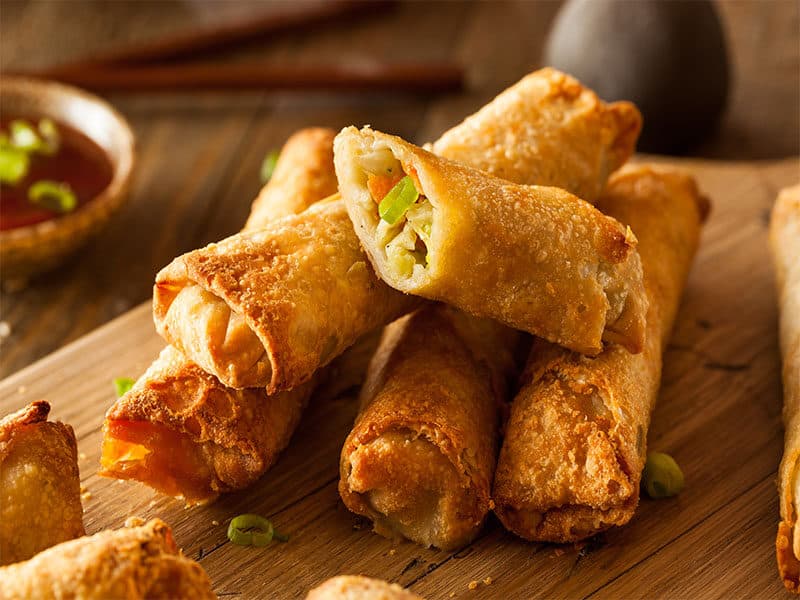 Egg roll is from Chinese and served in almost all Chinese restaurants. You can distinguish egg roll and spring roll by the wrapping material. Egg roll is wrapped with wheat dough, while spring roll is covered with rice paper.
There are differences between spring rolls and egg rolls because of their fillings' ingredients. Egg roll's filling contains ground pork, shredded carrots, cabbages, then seasoned with sesame oil, ginger, garlic, and other spices; you need to fry egg rolls in a deep oil pan and serve it immediately.
You can eat it like a snack for the afternoon or an appetizer dish. You can taste the umami taste from meat, fresh and crispy from veggies and fried dough, as well as savory from spices. You can dip egg roll into soy sauce, duck sauce, hot mustard, or plum sauce to bring the flavor to a new level.
Egg Salad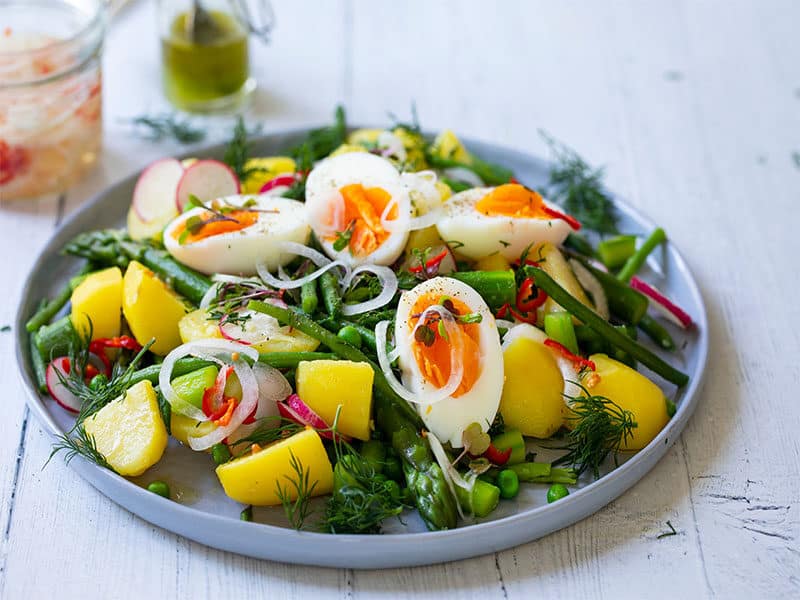 You surely cannot find the recipe easier than the steps to make egg salad. This food is simple to make, but the flavor is incredible as you will be surprised at the creamy, fatty flavor and aromatic.
You will make this dish to spread on bread or eat it with your crackers, and it is excellent to boost your energy in the mornings. The ingredients for processing egg salad are straightforward: boiled eggs, mayonnaise, chives, dill, salt, pepper,, and Dijon mustard.
Sometimes, the simplest thing will bring you wonderful value like this food. You just need to spend about 15 minutes before enjoying the dish. And do not forget to check the shelf life of egg salad for the safest consumption. No one wants to get sick from eating eggs.
Elbow Macaroni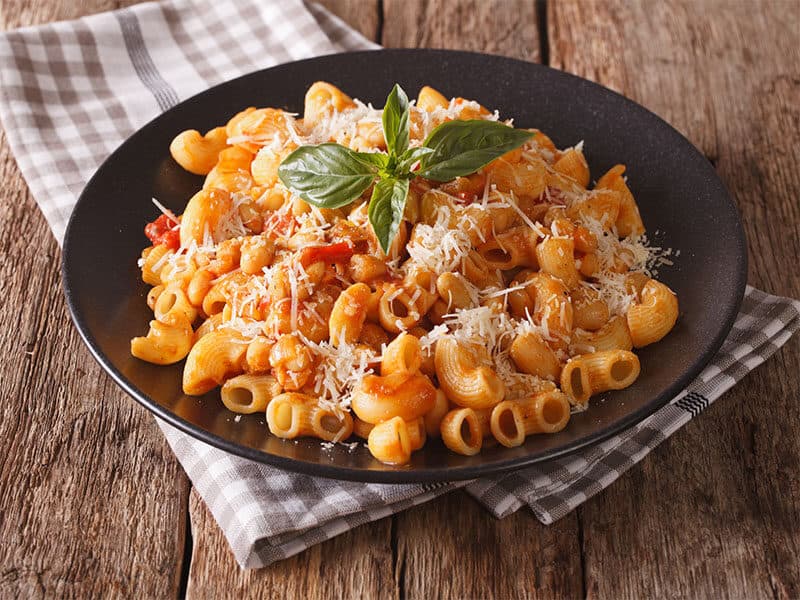 Elbow macaroni has the same flavor as regular macaroni but has been produced in a different shape that is short semi-circular shape. You can use Elbow macaroni for cooking various dishes such as soup, salad, pasta, and more.
Its shape always makes children excited as it is small and easy to scoop. There are many ways to cook elbow macaroni, such as boiling, cooking in milk, or microwaving. Elbow macaroni is made from durum wheat, so it is delicious to enjoy.
You can mix this macaroni with different types of sauce, especially pasta sauce such as tomato-based, oil-based, cream-based, or wine-based. Let's try to cook elbow macaroni pasta for your beloved people whenever you have free time.
Elk Meat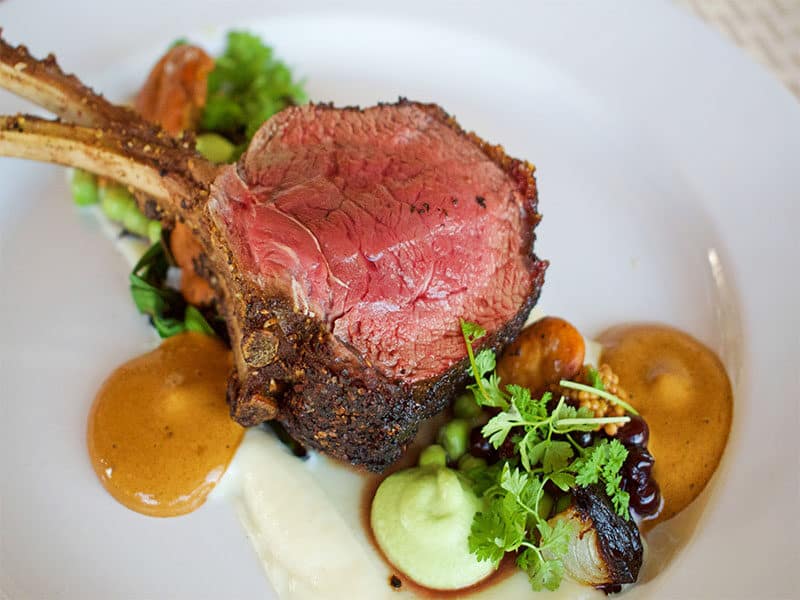 Elk meat has become the most hunted food in recent years, and it is really good for your health. Although it is rare on the market, its price is quite affordable compared to bison meat.
Its taste is similar to beef, but the nutrition facts are better than beef. You can get a large amount of protein when you taste elk meat, but the fat and cholesterol you gain are quite low.
You can use elk meat for alternative meat when you cook a dish needing beef. The elk meat has a dark red color and dense texture. However, it is so tender that you don't have to marinate it before cooking.
Emu Meat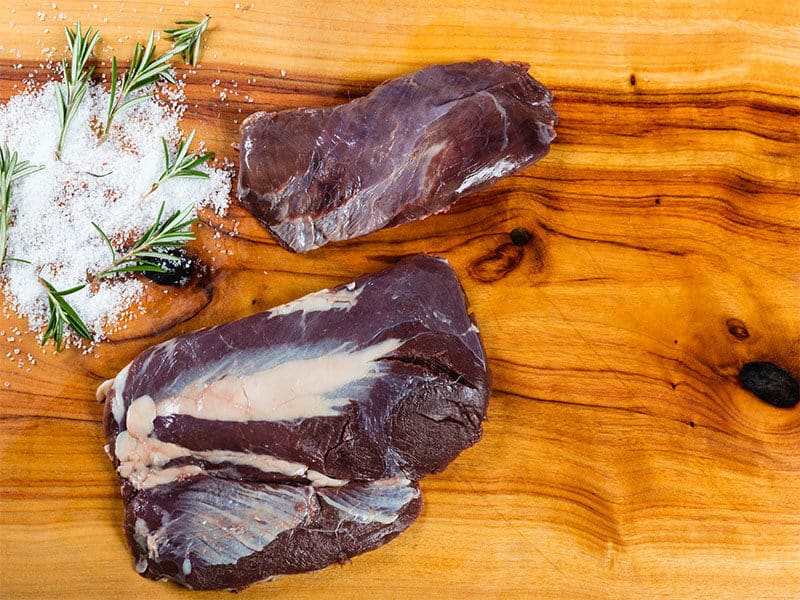 Have you ever wondered what the second-large bird is living on the Earth? If you have searched, the right answer for this question is Amu. Besides the kangaroo, the emu can be considered a native bird in Australia.
Emu meat is a great choice for many people who are looking for beef substitutes as you can find it a tasteful and similar texture to beef. However, it is low in fat, cholesterol, and calories. Emu meat is also rich in many minerals such as iron, vitamin C, and protein to boost your health.
The softness and texture of this must-try Australian food can vary based on the cooking methods. I recommend you try to fry or grill emu meat to taste its full flavor.
Endive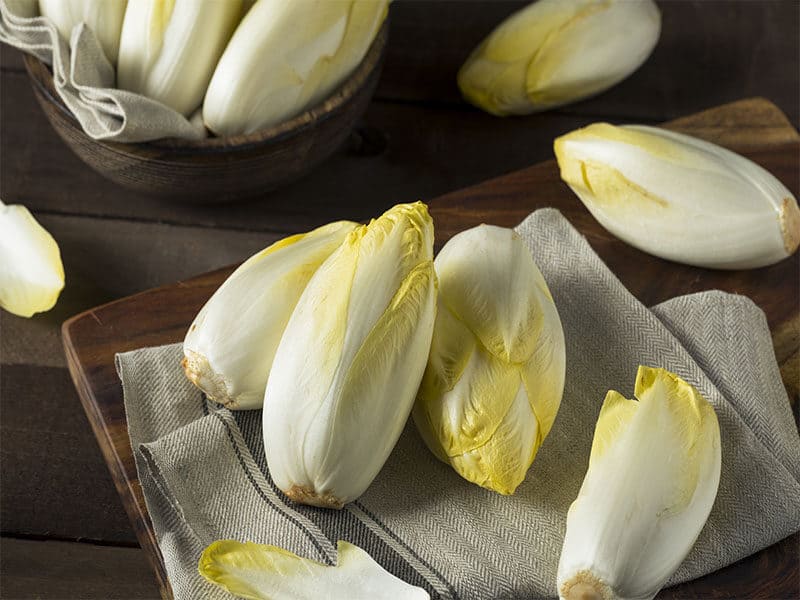 Endive is a leafy green that belongs to the chicory family. It has to experience 2 steps of growing, the first step is to grow on in the fields, and the last step is to grow in cool, high in moisture and dark rooms.
Therefore, if you see endive in supermarkets, don't hesitate to pick it now. You can use it to eat raw or cook. Endive has a crunchy texture with a pleasant bitterness when you taste it raw, and it is a perfect choice to add to salads.
When you cook it, it will become softer and sweeter. You can serve it as a starter dish or substitute crackers and chips. Besides the flavor, it features a lot of benefits to your health, such as supplement fibers, vitamins E, A, C, and especially inulin which can encourage your digestive system.
English Sole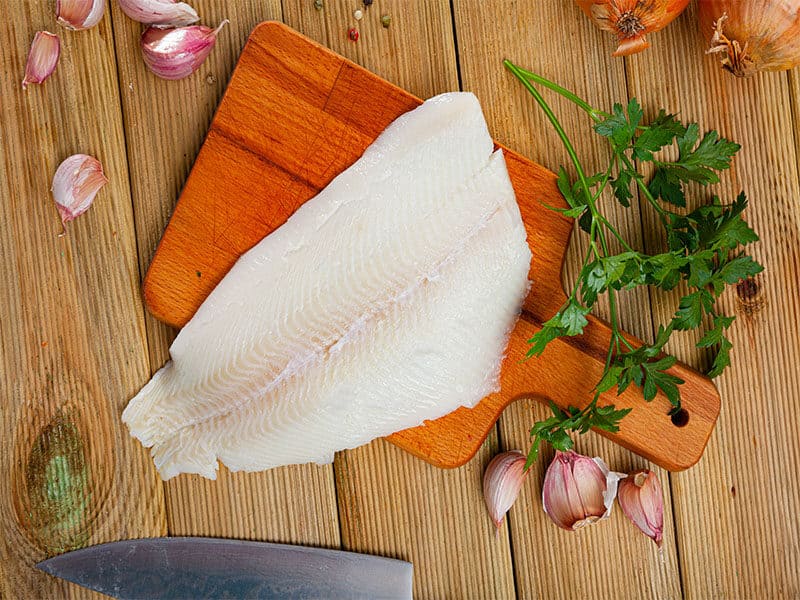 English sole is one of the most popular flatfish and lives on the muddy and sandy bottom. You can catch English Sole in Western Pacific. You can enjoy dishes made from English sole year-round but the best time is spring days and summer days.
The meat of the English sole is tender, white color texture, and has dedicate flavor. You can saute or bake it to enjoy its full flavor.
Emu Apple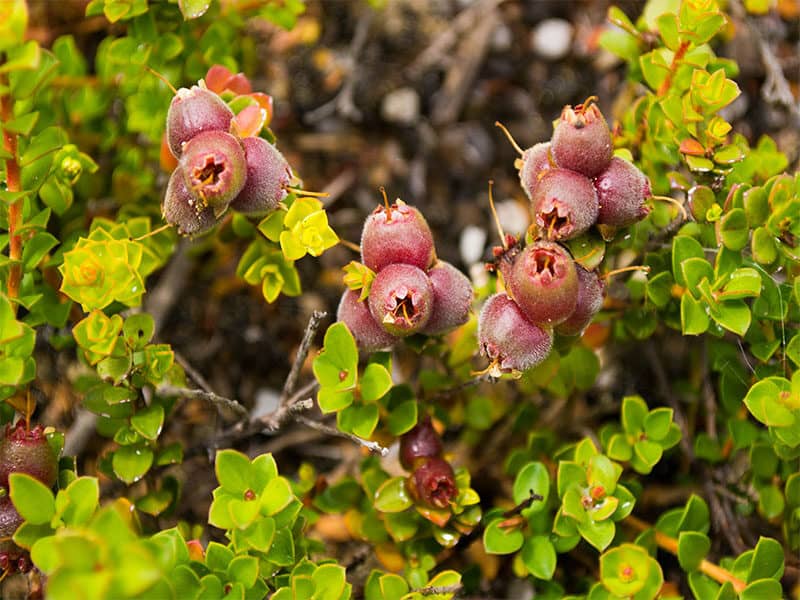 The origin of the Emu apple is in Australia. With a height is over 10 meters, this tree is a suitable option for a shady tree. The fruit from this tree is called Emu apple that is small and has a red color with several speckles.
Emu apple is a good source of antioxidants and vitamin C; therefore, it is good for losing weight. Besides being used to eat, experts have taken the extraction from Emu apples to produce beauty products for caring for your skin.
These items can help you maintain the moisture on your skin and protect your skin from the effects of harmful UVB.
Espresso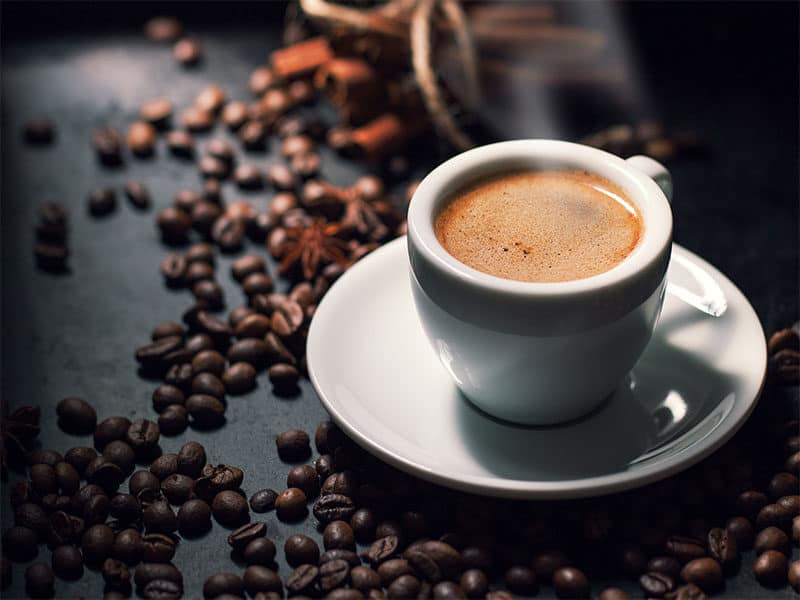 Espresso is a well-known Italian coffee and served into each shot that contains concentrated flavor. This drink is stronger than normal coffee and has brown foam after being extracted from coffee machines.
You can choose any kind of coffee to make Espresso as the differences place in the grinding process. You need to grind coffee beans finer than regular coffee and be packed more carefully and firmly.
The ideal temperature to make Espresso is 190 degrees F. A shot of Espresso is a perfect way to start a new day and boost your energy. You can taste this coffee with biscotti to have an authentic Italian breakfast.
English Walnut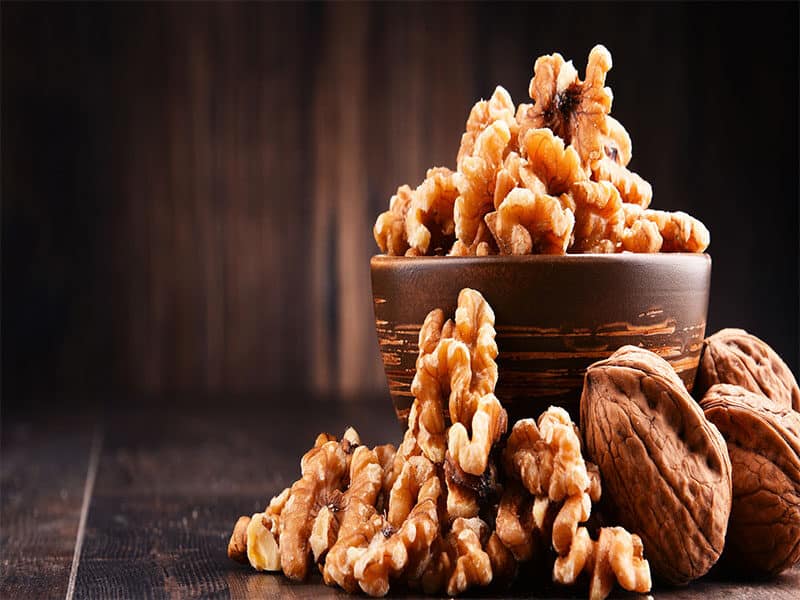 Another name of English walnut is Persian walnuts and used commonly in various countries. Besides walnuts, people also use wood from this tree to make furniture. You need to remove the shell to reveal the walnut meat insides.
English walnuts have a sweet and bitter flavor,, making them an excellent ingredient for baking, milking, or producing candy. It is an indispensable food for people who are on a diet and can reduce cholesterol levels.
If you are pregnancy, eating English walnut is one of the best ways to increase neurocognitive function for you babies because English walnuts consist of vitamin E, folate, melatonin and almost all omega-3 essential fatty acids.
Evaporated Milk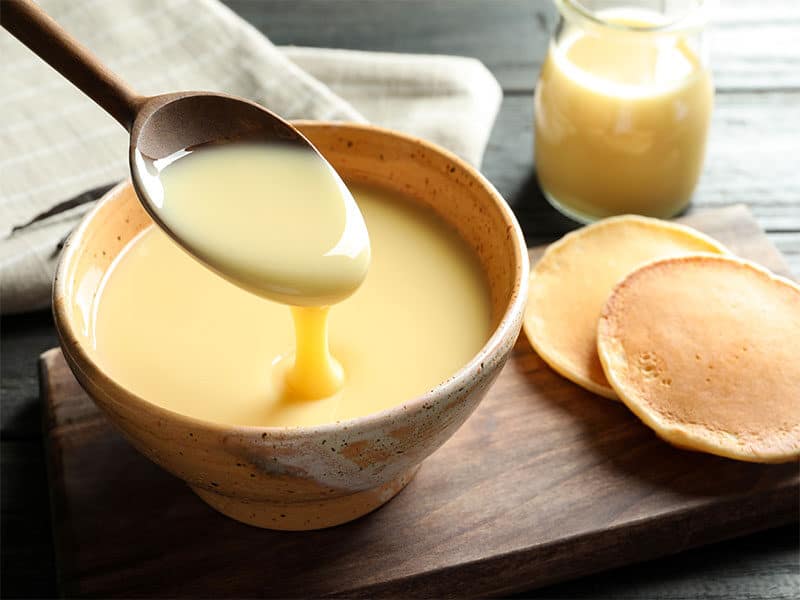 Evaporated milk is one of 2 kinds of condensed milk that are removed 60 percent of water from milk and don't add sugar content for sweetness. This condensed milk can be cooked on high heat to create a darker color and caramelized flavor.
Evaporated milk can be made from a wide range of milk such as skimmed milk, whole milk, or even low-fat milk to implement your wishes. You can use evaporated milk to making pie and savory that don't require a sweetener.
English Spinach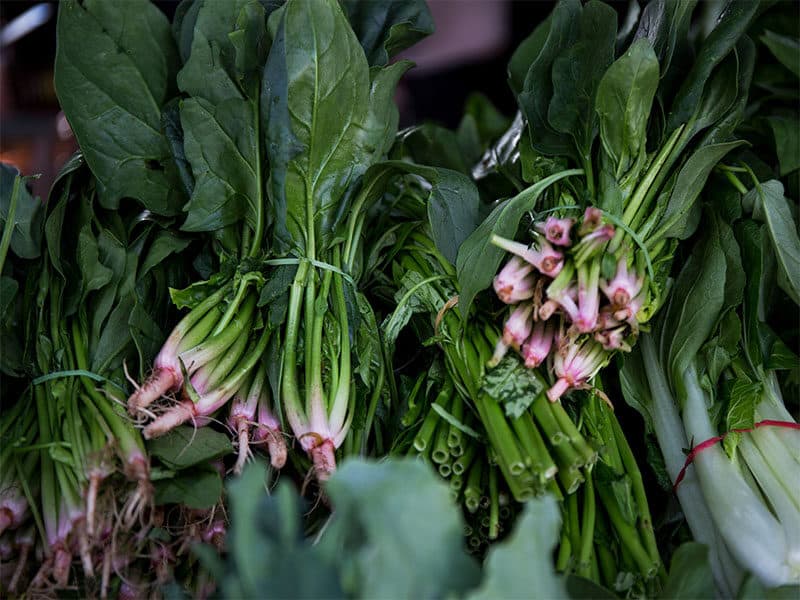 English spinach is a leafy green that is grown to harvest leaves and stems. A mature English spinach is up to 30 centimeters in height. The leaf is quite thick, soft, and has an oval shape. If you pick when it is young, it is called baby spinach.
You can find dedicated flavor when you taste it, and you should eat English spinach from May to October to enjoy the full flavor. The young spinach can be used to make salads with cucumbers, tomatoes, olive, or spreading on bread. Don't forget to drop some cheese in these salads.
You just need to boil for up to 1 minute for older spinach to keep it crunchy and sweet. To store it properly, you can pack unwashed spinach into plastic resealable bags for maintaining its green and fresh appearance.
Escalope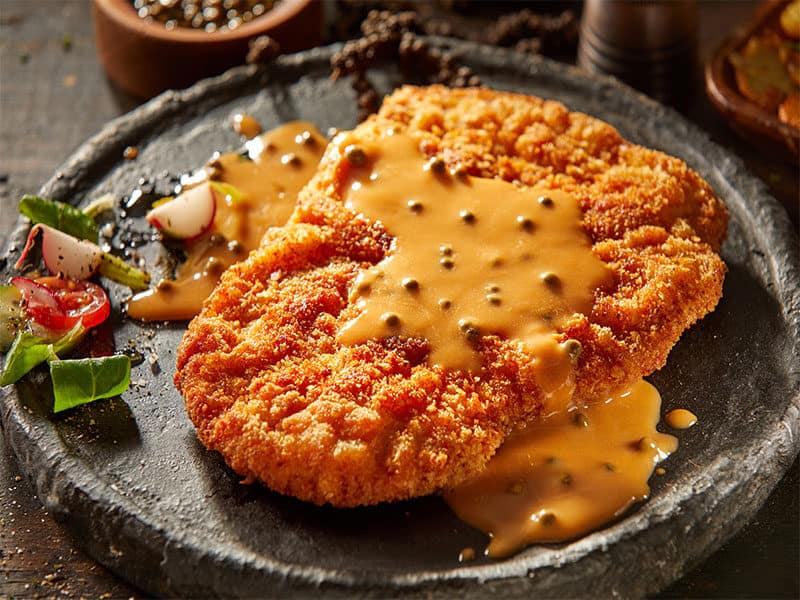 Escalope is a popular dish and served in many local restaurants; nevertheless, you can prepare to cook this dish at home with several basic ingredients: a thin slice of veal meat, breadcrumbs, and egg, or you can combine any meat you like, such as chicken or pork.
As you know, meat and egg are rich in protein and will add energy to your meals. The rich sauce is a perfect companion to this fried meat. The crunchy flavor from fried breadcrumbs and Unami-sweet from meat are a good choice after a hard workday.
Escarole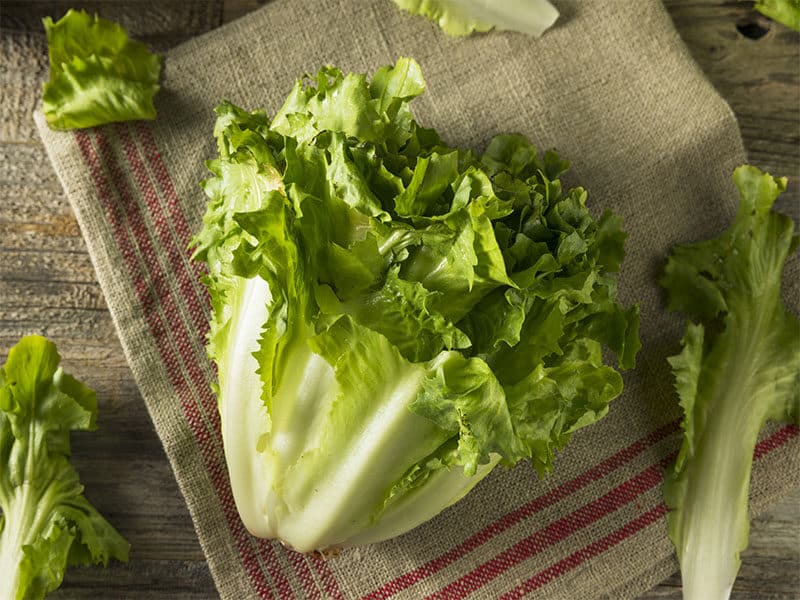 Do you know how to distinguish between escarole and kale? Indeed, the appearance of escarole is quite similar to kale, but it is leafier. Each leaf of it is wide, wavy-edged, and short that will help you choose the right green.
The further you separate every leaf, the lighter green of leaves will appear. The dark green outers will have a more bitter flavor and quite hard, while the lighter ones are softer and a little bit sweet.
The darker leaves are suitable for you to saute or cook soup, and the inner leaves are excellent for healthy salads. You can add cheese to salads to supplement protein alongside fiber from this green.
Éclair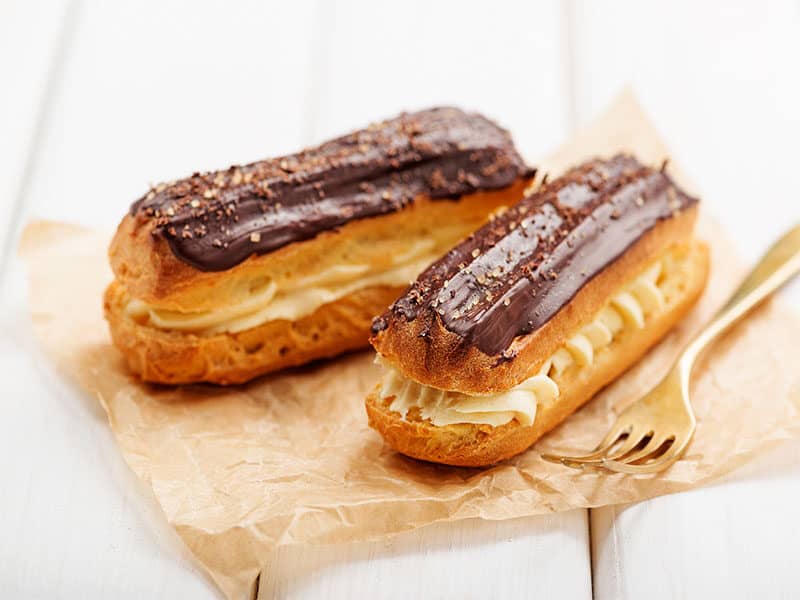 Éclair is a famous European cooking idea, particularly in the world of French desserts. If you may not know, Eclair is a French word that means lightning to point to the porous texture and fondant icing of this cake.
The dough to make éclair is choux pastry; it will raise when baking and create the hollow inside and allow you to fill with custard or pastry cream. To finish the dish, you need to dip the éclair into fondant icing.
The fondant icing can be made of various flavors, but the most common one is chocolate. If something ruins your mood in a day, an éclair will help you reduce stress and come back to work productively.
Ecrevisse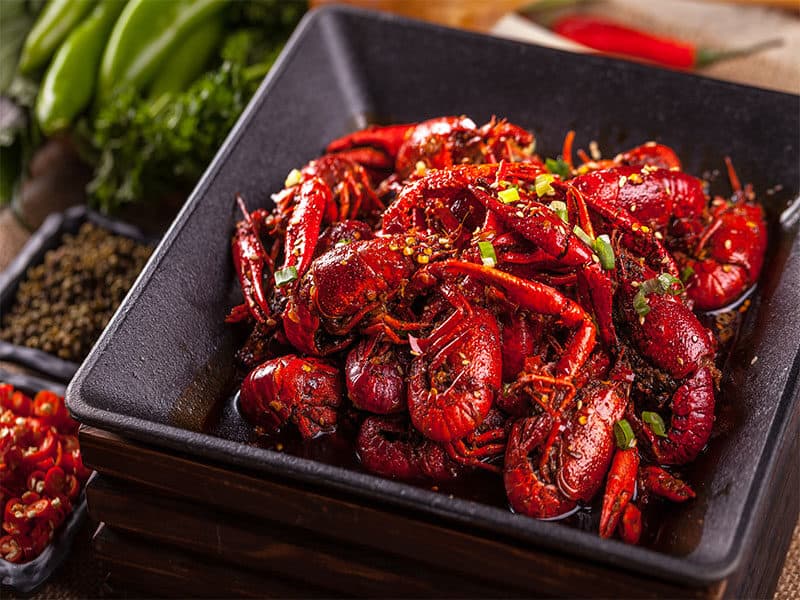 Ecrevisse is a French word, and you can find information about it through the English name is crayfish. Crayfish can misunderstand with lobster, but it is not. They live in freshwater, and you can catch it in streams, brooks where clean freshwater flows across as they cannot exist in dirty water.
You can realize their flavor is similar to shrimp, crab, and lobster mixture when you enjoy them. Besides, as they live in freshwater, they don't have a salty flavor but have a sweet taste. That's why many people love it.
You can try to cook crayfish with a Cajun-seasoned traditional recipe. You don't need to worry about lacking crayfish to cook as they are available year-round at supermarkets.
Edamame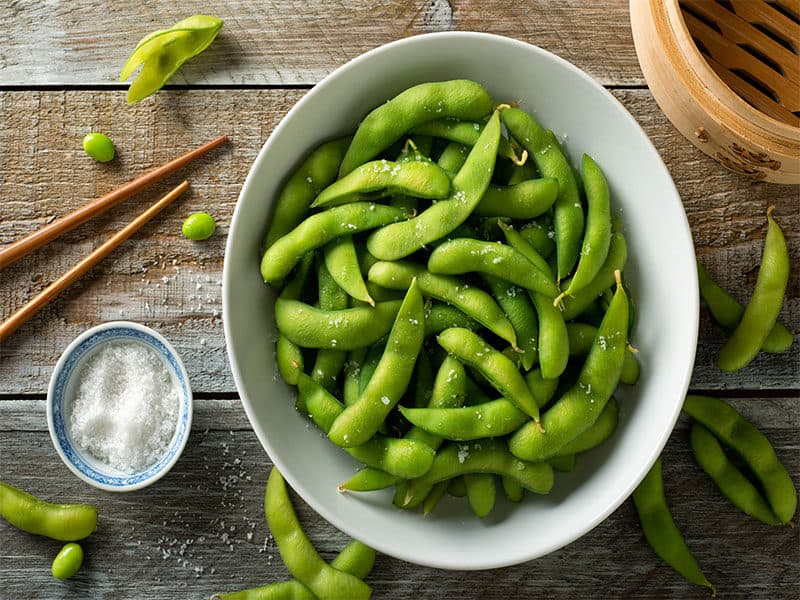 Edamame refers to young soybeans that mean you can eat soybeans staying in pods. These beans are green and are added to soup, stew, noodles dishes, salads, or simply a snack for afternoon meals.
You can easily purchase frozen edamame for more convenience. Moreover, they are normally steamed and served as appetizers on the Japanese menu. In general, edamame flavor is mild and quite sweet, which somehow reminds you of the taste of tofu or soybeans products.
For cooked edamame, its taste is similar to a cooked potato that is soft without squishy. Raw edamame is harmful, but cooked one offers you various benefits, including providing protein, reducing blood sugar and cholesterol, and more.
Egg Noodles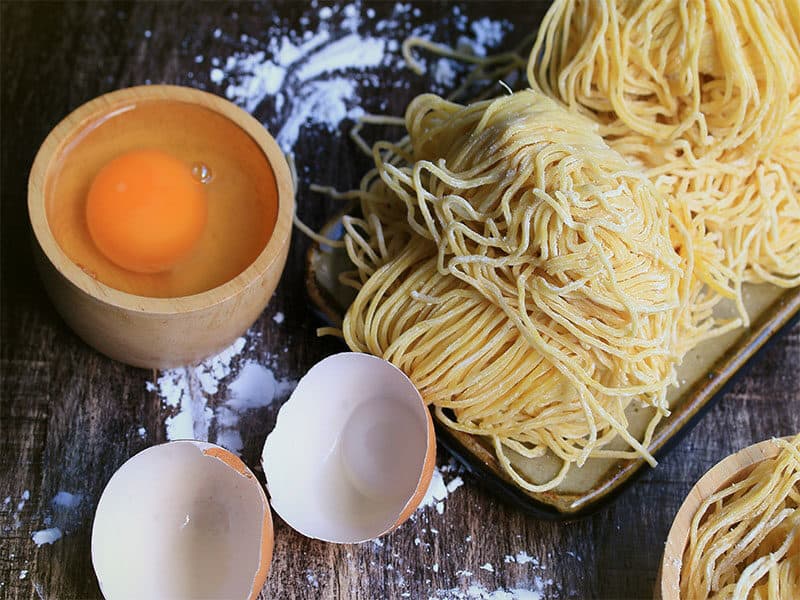 Can you guess what the main ingredients in egg noodles are? That's right; this food is made from eggs and flour. The dough will be kneaded and cut into strips, then boiled to serve like pasta.
Egg noodles are a great alternative choice when you are bored with regular pasta, and you can find them in almost all meals of Asian. After boiling egg noodles, you can add butter to increase sparkle looking and pour beef stroganoff or cream sauce into them, then enjoy the dish.
Emblica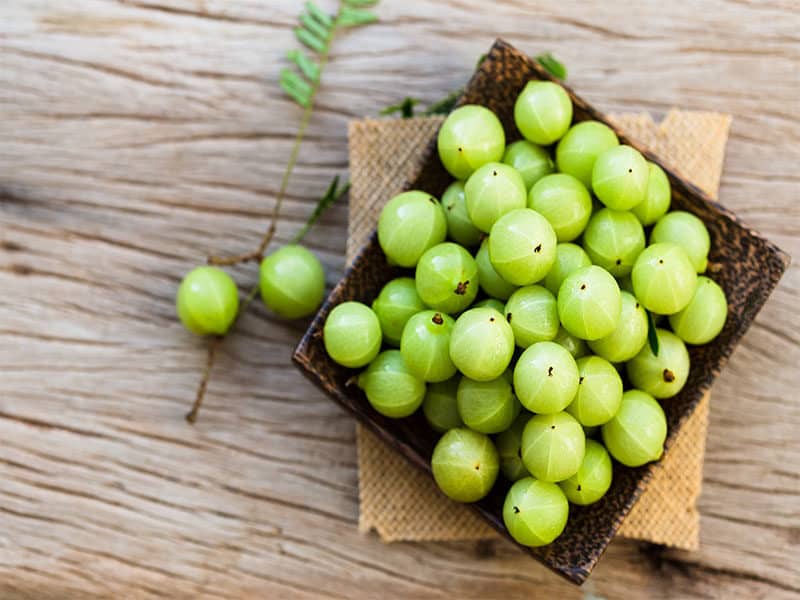 Embica is usually known by a different name that is Indian Gooseberry. The Emblica has a light yellow color, smooth surface, and quite firm when holding. You need to wait until fall to taste it.
You can feel its flavor is quite bitter, sour, astringent, and pretty fibrous; therefore, people use it as an antioxidant substance rather than eating it. Besides, emblica is used as a medicine for anti-inflammatory, anti-cancer actions, and more.
Escargot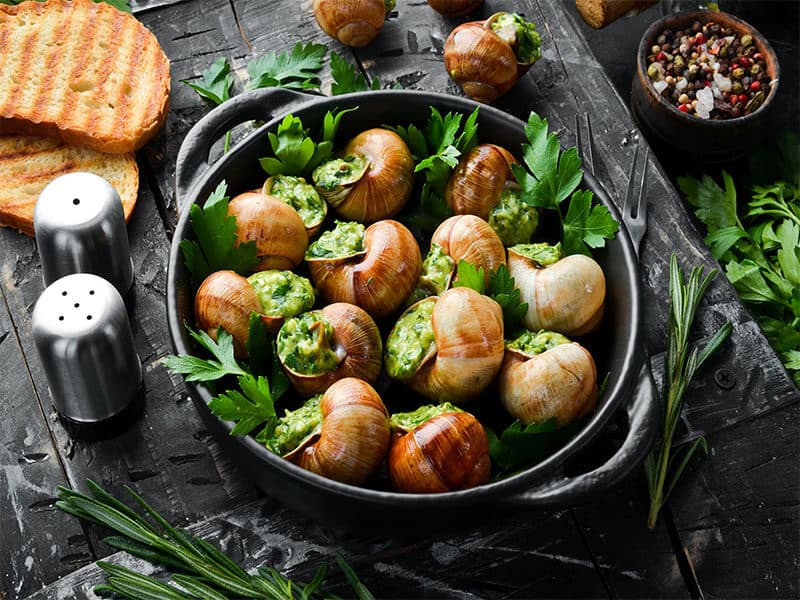 Escargot is a special snail dish that is popular in European countries. If you are in the USA, it is quite hard to enjoy this dish, but French restaurants in the USA will serve this dish. I recommend you taste escargot in restaurants instead of catching snails in your garden and cooking them as all kinds of snail is edible.
The flavor of escargot is quite similar to clams, and people vote it is more delicious and tastier than fish or chicken. Escargot has some hints of mushroom, and the optimal way to cook it is to add butter to the recipe.
If you doubt the benefits of escargot, you can be comfortable as it is rich in protein, and this substance is the same as in beef or pork. In addition, it is low fat but high in vitamins and minerals such as calcium, vitamin A or iron.
Entrecote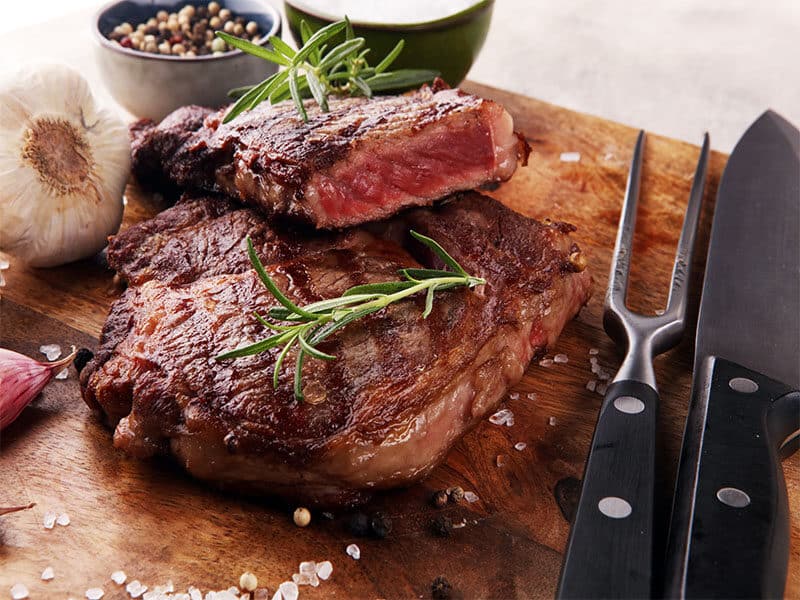 If you are finding premium quality beef to cook authentic steak, entrecote is an excellent selection. Entrecote is a meat part between every bone-in rib eye. The ribs are chosen from 6th to 12th ribs, and that's why entrecote is pricey.
The entrecote is thin but juicy and tender that will help you process a flavorful steak. Remember not to cook entrecote too long and the perfect time is 4 minutes for one side and 3 minutes for the other side.
EVOO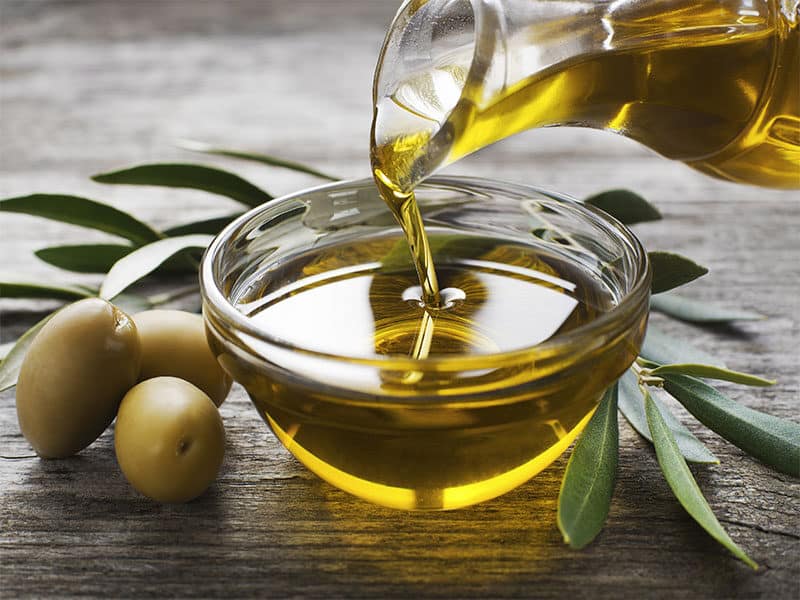 In case you are chefs or simply cooking lovers, you surely know EVOO stands for extra virgin olive oil. During the extractive oil process, 2 kinds of oil will be produced: EVOO and regular olive oil.
EVOO is the finest oil and made from pure olive by the cold-pressed method. You cannot allow olive to expose to any heat since it will ruin the oil. The standard EVOO will have a forest-green color with a fruity aroma and a little bit peppery and grassy flavor, while regular olive oil has a lighter color and neutral taste.
The advantages of adding EVOO to your meal don't need to discuss. I will provide you some health benefits such as anti-inflammatory, boosting your skin and hair, protecting you from diabetes, and more.
Egg Fruit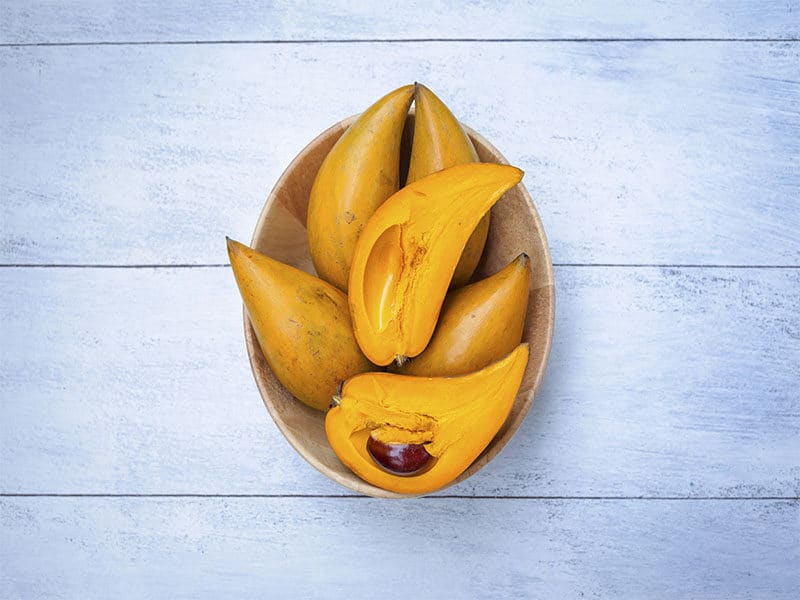 Egg fruit is from central American countries and south of Mexico. Do you wonder why people call it egg fruit? Its meat is a smooth, soft texture with orange-yellow color that is similar to cooked egg yolk.
You should harvest it dedicatedly as its definite surface is easy to be damaged. You cannot eat egg fruit year around since it becomes ripe in late fall or winter. You can eat egg fruit alone or making jelly or jam from this fruit.
When you consume any food, you should know how it affects your health, and I will answer this question about egg fruit. You can get numerous benefits from beta-carotene and vitamin A that appears in its meat.
Egg fruit also contributes to improving your bones and hair health thanks to calcium and phosphorus.
Eggplant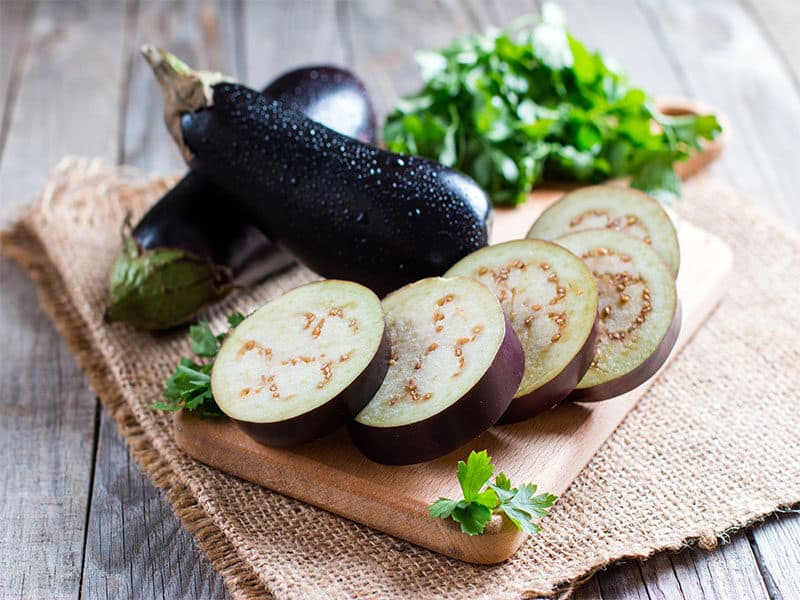 Eggplant is a member of the nightshade family and grows prosperity in hot climates. You can see a wide range of eggplant species with various shapes and colors, but the most common is purple eggplant with a long shape or teardrop shape.
You can eat seeds in eggplant since they are tiny and easy to digest. Because zucchini and summer squash also belong to this family, the flavor of eggplant is similar to them: mild, tender, naturally sweet with slightly bitter notes.
Its texture is quite porous when raw, but it softens and absorbs condiments quickly when being cooked. Eggplant offers you a lot of health advantages, including supplementing minerals and vitamins, improving heart health, contributing to prevent cancer, and more.
Elderberry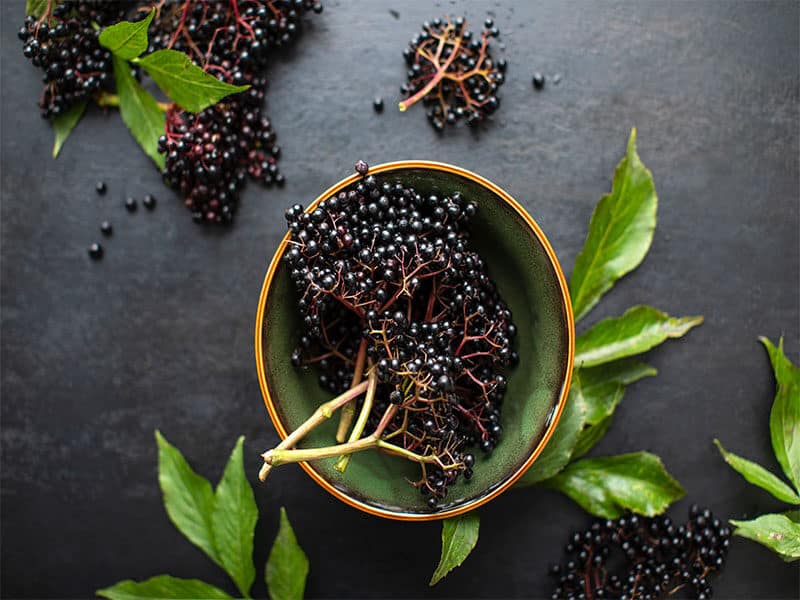 Elderberry is from Europe and cultivated in various countries. Its flowers have white or cream color then they will pollinate and create elderberries. When these fruits are ripe, they will turn into black or blue-black berries.
You will find this fruit that begins with "E" not too sweet and perfectly neutralizes between sour and earthy flavor. You can process elderberries to many dishes such as jam, jelly, baked products, or salads and even extract juice from them.
Many experts recommend you consume elderberries since they contain numerous antioxidants and vitamins that can encourage your immune system and reduce your stress. If you catch a cold or flu, eating elderberries can help you ease the symptoms.
Erbazzone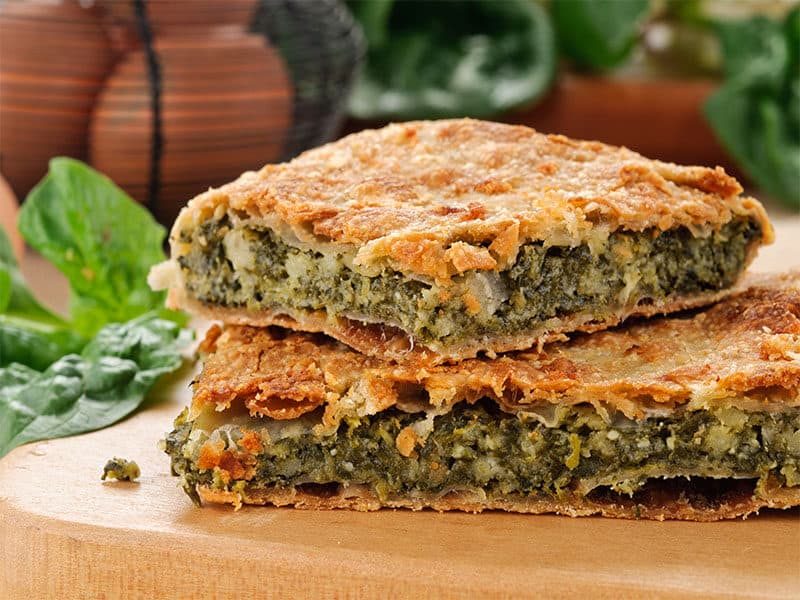 If you love to explore cuisine worldwide, you will certainly hear Erbazzone that is a traditional savory pie from Reggio Emilia. The recipe of Erbazzone is quite simple with dough and basic filling including onions, cucumbers, spinach, cured pig's back fat, parsley, garlic, breadcrumbs, and Parmigiano Reggiano cheese.
You can enjoy erbazzone to replace for all meals in a day. You don't need to spend much time processing this dish, and it is suitable for your kids to bring to school. Olive oil can be added like a more simple and lighter version of this dish.
You can feel the crispy from the dough and the fresh, flavorful taste from vegetables. If you are going to go to a picnic, don't forget to prepare Erbazzone for your beloved people.
Echicha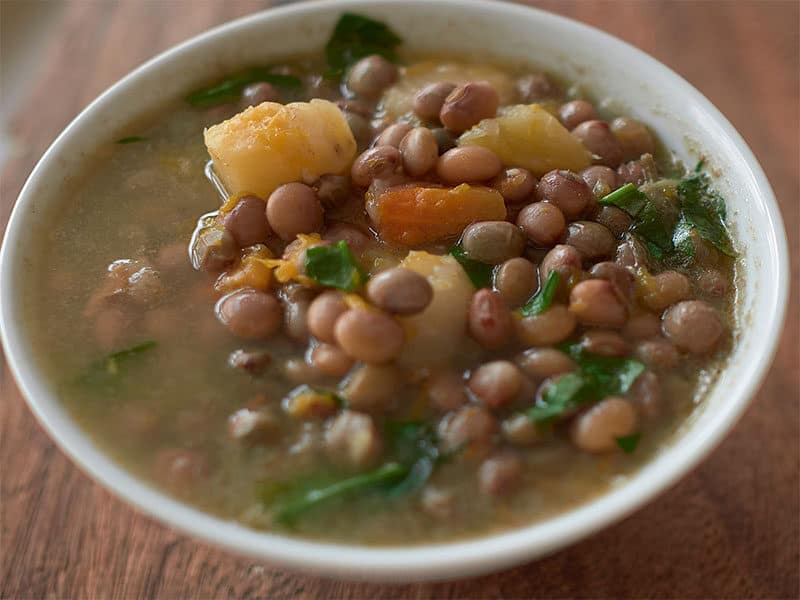 Echicha also has another name: Achicha. Echicha (Achicha) is a dish that comes from Nigeria, particularly the Igbo region. This dish is usually eaten in the dried season when fresh veggies cannot find. Its ingredients are really simple with cocoyams, pigeon peas, palm oil, and traditional condiments.
The flavor of pigeon peas, the main ingredient in this recipe, is quite similar to edamame that has a crisp texture and nutty flavor. Almost all the pigeon peas you eat are dried peas; thus, don't forget to soak them overnight before cooking.
This dish is high in fiber content and consists of beta-carotene, which is great for eye and skin health. Besides, if you want to lose weight, echicha will support you as it is low in calories.
Edikang Ikong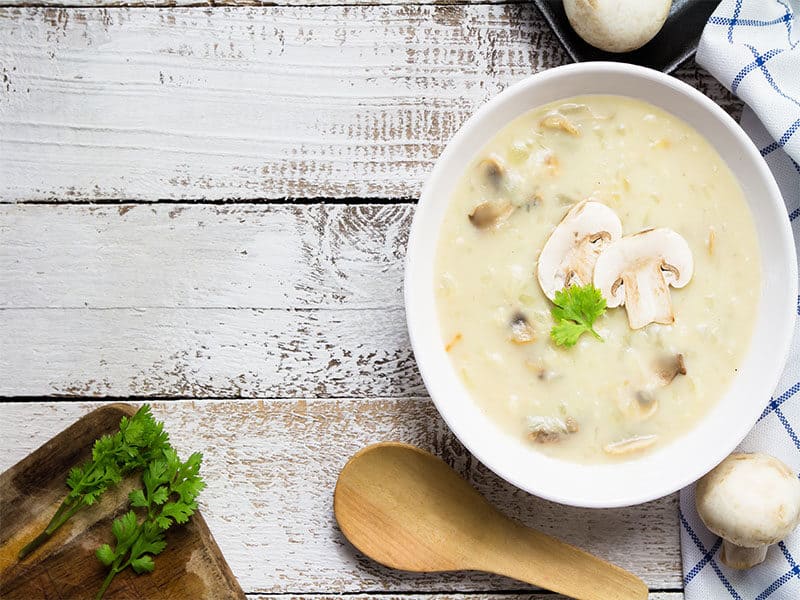 Another special dish comes from Nigeria that is Edikang Ikong. This dish will appear in daily meals or even significant events of Nigerian.
Once upon a time, normal people cannot afford to eat this food due to its high price when it contains beef, dried fish, crayfish, bush meat, cow tripe: pumpkin leaves, and more. But now, many families in Nigeria can enjoy Edikang Ikong.
This soup is high in nutrients such as protein, vitamins B1, B2, E, Iron, fiber, and more; thus, many people believe that it is a perfect addition for sick people.
Ekwang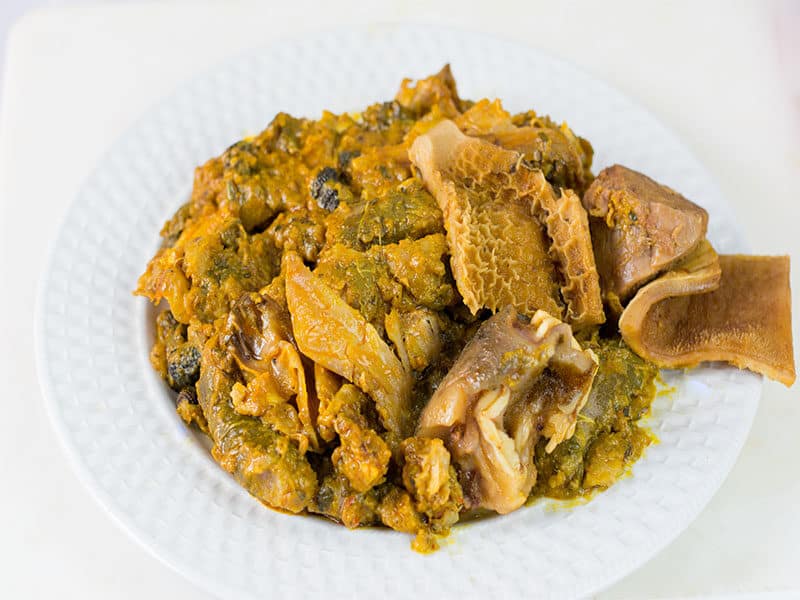 The key ingredient of Ekwang is cocoyams, and you need to grate them to process this soup. The food requires much laborious and time since you have to wrap grated cocoyams in cocoyam leaves.
Besides well-tied cocoyams, you should prepare tasty broth made from crayfish, spices, and palm oil. Ekwang will disappear from the dish within several minutes after being served.
Eru Soup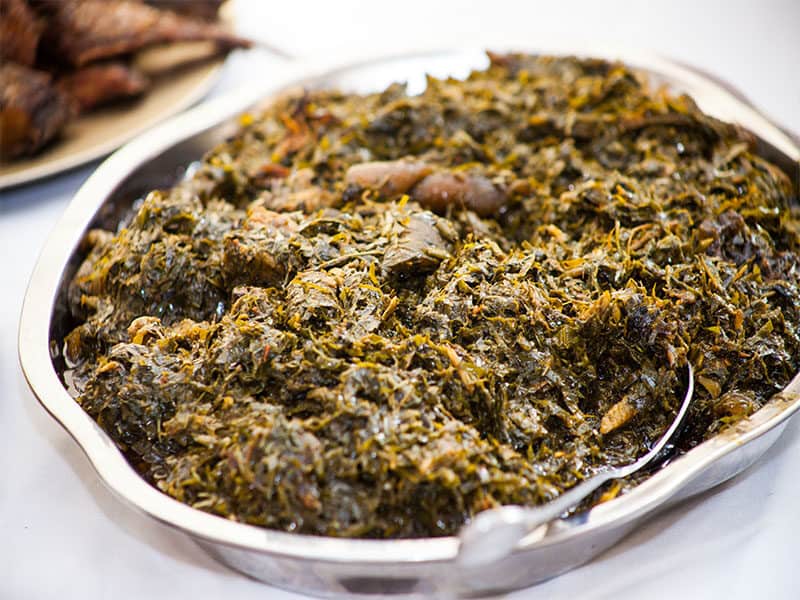 Eru soup is made from eru, which is a wild plant, and you can just find it in African groceries. This dish is a staple in Cameroonian cuisine. Eru is a dried soup which means after adding eru, you don't have to pour any water into the pot as the moisture from eru is enough.
Besides eru, crayfish is an indispensable ingredient. It will provide you an umami-sweet flavor for this soup and supplement protein for it. You will find it soft, starchy, and smooth when you taste it; all of the factors create an excellent and nutritious meal.
Escovitch Fish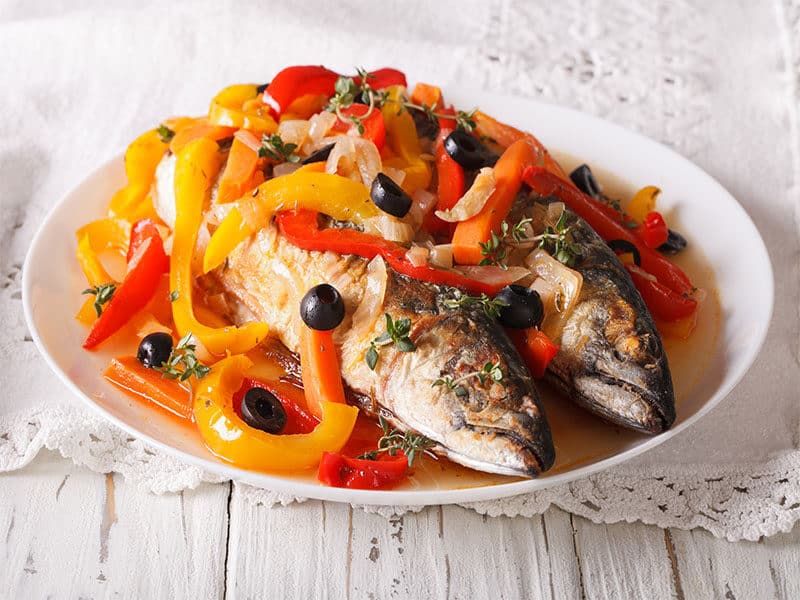 Escovitch fish is a well-known dish in the Caribbean where you can find almost all of the dishes with spicy flavor. The secret to making an excellent escovitch fish is to place whole fish in deep oil and fry until it is crispy and has an eye-catching golden color.
If you just eat fish, it is quite greasy; thus, people will taste it with pickled vegetables. You can make pickled veggies on your own with bell peppers, carrots, chayote, onion in vinegar sauce.
The crunchy fried fish with sweet and a little sour flavor of pickles are addictive taste, and you will continue enjoying it until there is nothing in the dish.
Eggplant Parmesan
Old but gold is used to describe Eggplant Parmesan. It is an Italian classic baking dish with slices of eggplants, parmesan, mozzarella, tomato sauce, and basil that are arranged according to order. The porous texture of eggplants not only holds moisture but also absorbs water well.
You can sprinkle some salts on slices of eggplants to draw water out of them. You will find this dish cheesy, not too oily, and full-flavored moisture in every bite. You can keep this dish in the fridge for up to 5 days if you cannot eat it up.
Elephant Ears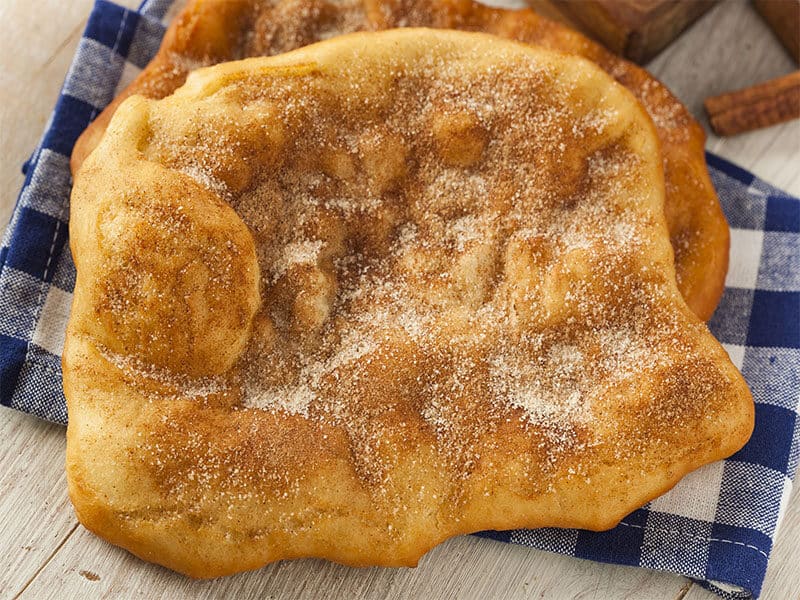 It is a funny name, isn't it? The elephant ears don't contain any true elephant ears. This snack is made from dough and covered with sugar and cinnamon. You can easily purchase it from carnivals, theme parks, and food trucks. Its shape is a circle and wrinkled that make you imagine elephant ears.
Easter Egg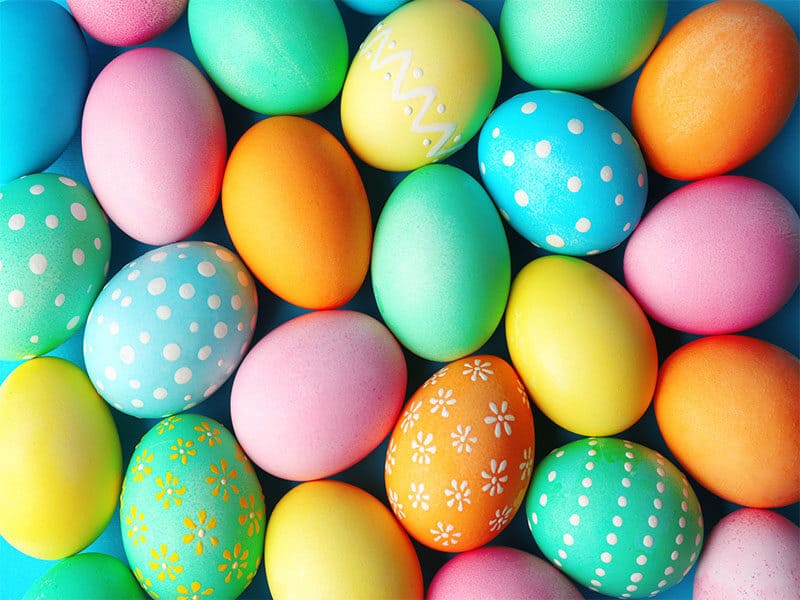 Easter Egg is one of the symbols of festivals and decorated with various colors to make it become a gorgeous appearance. Many people also call it Paschal egg; no matter what you call, these eggs are a great gift on Easter occasion.
Chocolate is the most common material to make Easter eggs, but now many people produce them with a wide range of shapes, flavors, colors, and sizes. These eggs are hidden in hard-to-see corners that allow children to search for them.
Ensaimada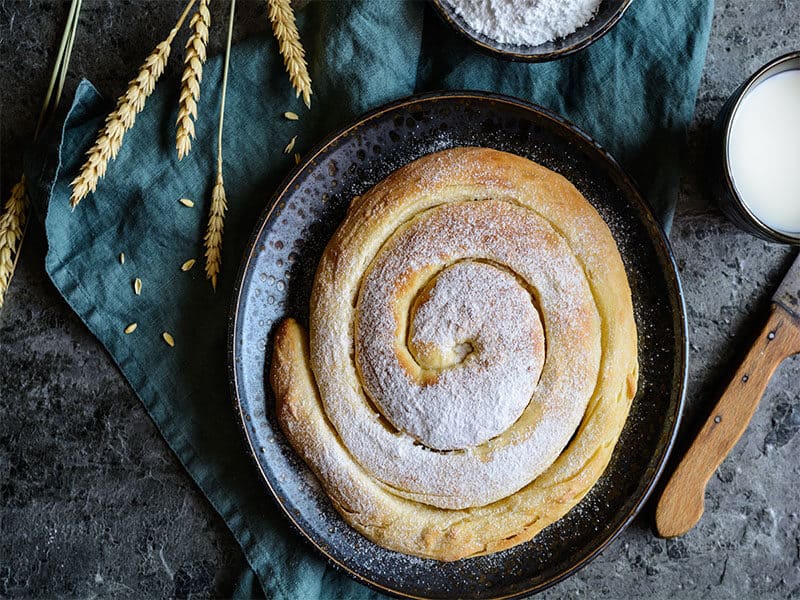 The ensaimada is traditional sweet bread from Spain. This bread is made from wheat flour, mother dough, sugar, water, eggs, and pork fat. You can realize it in the form of coils, and it is covered with powdered sugar.
You can eat it in breakfast, afternoon meals or as a dessert. Ensaimada is not hard to make, but you need to wait for a long time since the dough needs time to rise. You can eat original bread or fill it with pumpkin, custard, or chocolate.
Egg Tart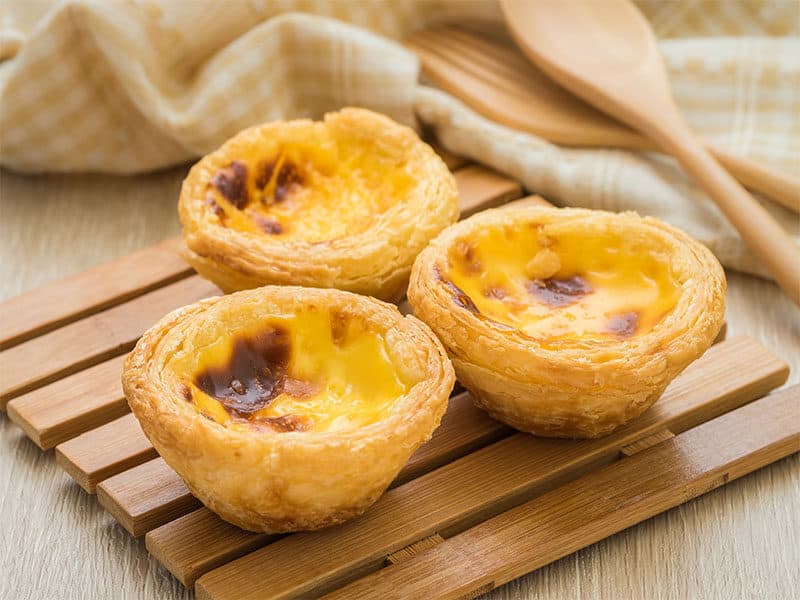 Egg tart is a popular sweet baked cake that is introduced the first time in Guangzhou. You need to spread pastry doughs inside cupcakes then pour the signature mixture into them. The filling is a combination of milk, cream, eggs, sugar, or honey.
The creamy and smooth filling with a crispy crust will not disappoint you. Besides, the milky taste and the buttery crust will remind you of a Western custard.
Egg Drop Soup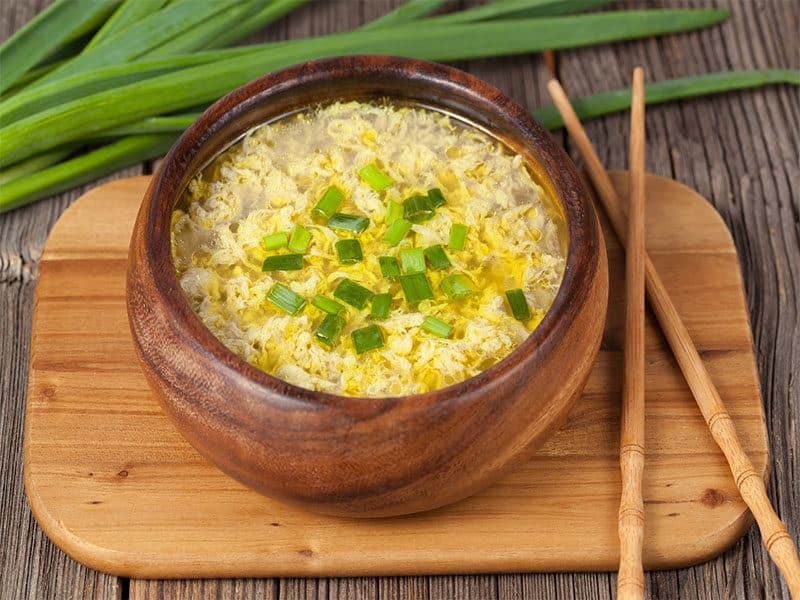 The way to cook egg drop soup is simple as its name. You just need chicken broth, eggs, cornstarch, and other basic condiments in your kitchen. Remember to stir gently to have a smooth texture.
Egg drop soup is also good for sick people who are bored with porridge. Protein in eggs and chicken broth is an excellent source for you.
Elote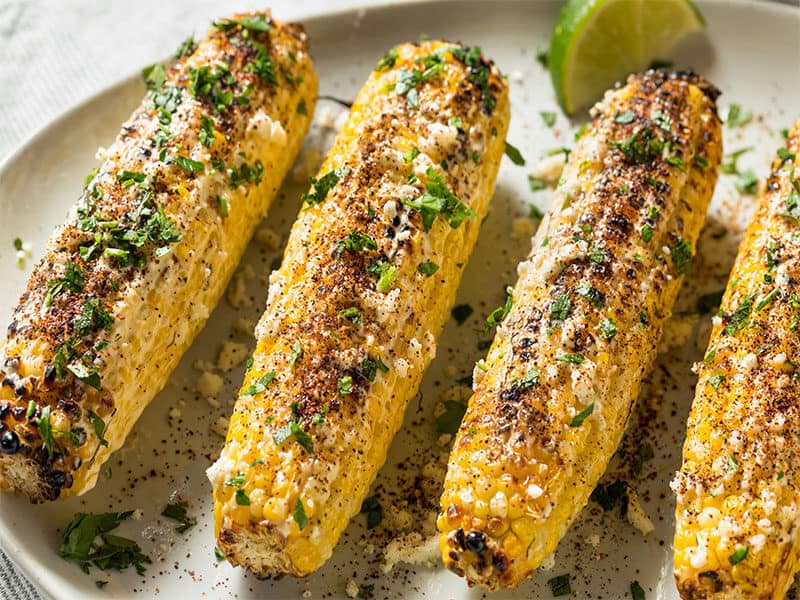 Elote is classic street food from Mexico, with the key ingredient is corn. The corn will be covered with salt, butter, lime juice, chile powder, cotija cheese, crema fresca, or mayonnaise and roasted on open grills.
You will hold whole corn and bite a little by little. You can feel tasty and flavorful roasted corn in your mouth like a carefree and warm summer night. I think the perfect time to taste elote is on winter days when your mouth releases cold breath with smoke.
Among numerous foods, it is hard to remember foods with E, but I am sure after reading my post, you have collected a lot of information about foods and their characteristics. These dishes will come from different countries, but the common point of them is to please you and your tummy.
In a day you don't know what you should cook for your family, don't hesitate to visit my blog and pick several special dishes for you. My post cannot cover all foods that start with E; thus, let's type some words for me if you know other foods.
I am really excited to hear from you. Don't forget to come back to my site and reference more foods that start with other alphabets such as L, K, A, and more. See you soon!