I find it hard to name all the food that starts with N; there seem to be very few of them that spring up in my mind. And as a curious person, I decided to go online and do a thorough search on all foods. I was eye-opened; there are a lot more than I ever imagined!
Today I'm bringing to you a comprehensive list of all the wholesome foods that start with N from cultures all around the globe. Be prepared for both household names and exotic foods.
Hopefully, you will gain some helpful knowledge and find suitable foods to have a tasty and novel swap for your meal. I'm sure these one-of-a-kind dishes will breathe novelty into your mundane daily meal. So let's dwell on it!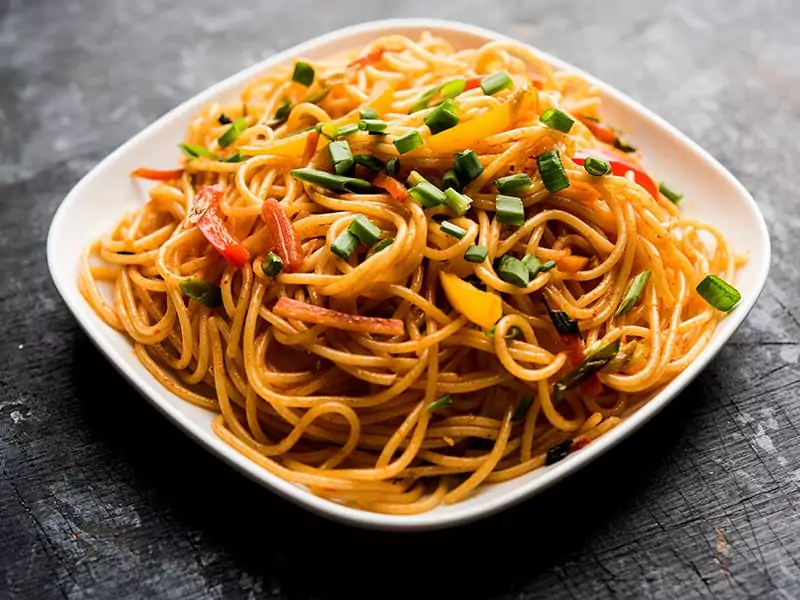 49 Foods That Start With N Around The World
Here is the curated list of numerous foods that have the name starting with the letter N, and interestingly, most of them are fruits and vegetables:
Fruits And Vegetables Start "N"
Nance Fruits
Napa Cabbage
Nasturtium
Nashi Pear
Nectarine
Nettle
Neem
Nutmeg Melon
Navel Oranges
Natal Plum
Naranjilla
Nipa
New Zealand Spinach
Food With N At The Start Of The Word
Nugget
Nachos
Neapolitan Pizza
New Orleans Gumbo
Natto
Natillas
Nougat
Nantua
Ndolé
Nihari
'Nduja
Nasi Goreng
Noodles
Nutella
Desserts & Snacks That Start With N
Nougatine
Nerds
Neapolitan Ice Cream
Nonpareil
No-Bake Cookies
Bread And Pastry Creations Starting With "N"
Naan Bread
Nut Bread
Nankhatai
Norwegian Apple Cake
Navette
Seafood Starting With "N"
Norwegian Salmon
North Atlantic Shrimp
North Sea Sole
Cheese Beginning With "N"
Neufchatel Cheese
Norbury Blue
Other N-Starting Food Items
Nutmeg
Neep (Turnip)
Nameko Mushroom
Nigella Seeds
Navy Bean
Nectar
Nori
Fruits And Vegetables Start "N"
All vegetables and fruits that begin with N are irresistibly delicious and have loads of healthful benefits.
1. Nance Fruits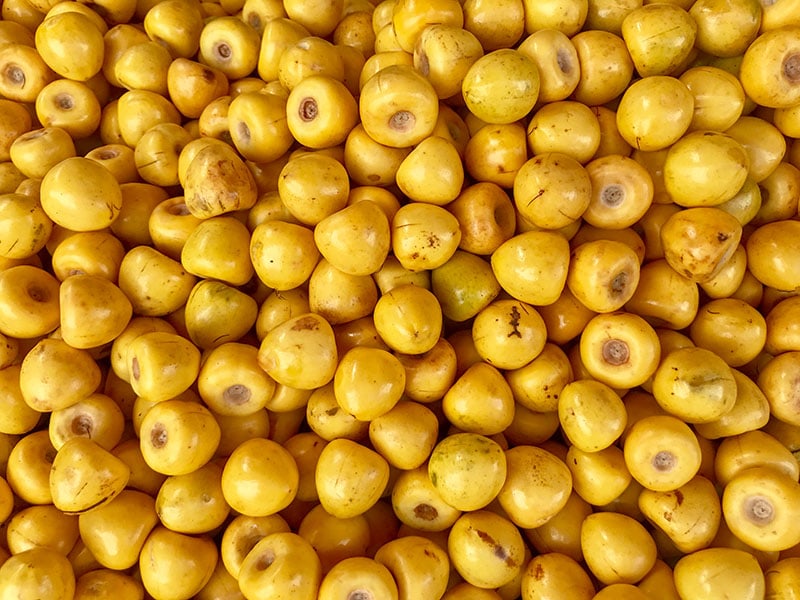 Nance fruits (Byrsonima crassifolia) are harvested off a plant native to tropical regions of America. They are the same size as cherries, with a deep yellow and orange color. They taste sweet and have a fantastic aroma that is described as a soap-scented fragrance.
The fruit is also a common sighting in South American areas with countries like Mexico, Bolivia, Colombia, Haiti, and Cuba.
Nance fruits are eaten raw or used as an ingredient in multiple desserts. They can be candied in sugar or fermented to make liquor and are most commonly used in frozen desserts like ice cream and sorbets.
2. Napa Cabbage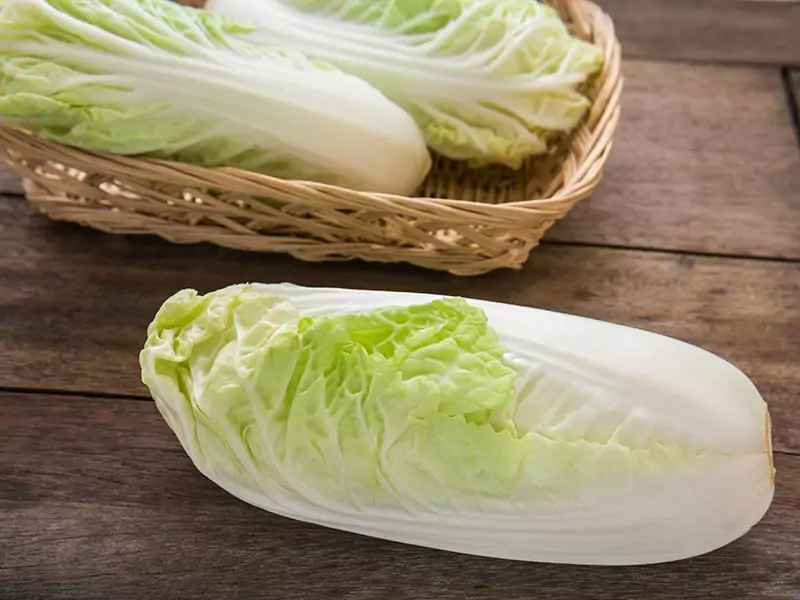 Napa cabbage, or wombok in Australia, is a type of cabbage that originated near Beijing, China. It has been widely cultivated throughout the world since the 20th century, in Asia, Europe, and America.
It has a distinct shape from the commonly known cabbage, with an oblong shape and leaves densely layering side by side. Its leaves are much juicier, thinner, and less crunchy than regular cabbage, so it is used widely in Asian countries.
Napa cabbages are prepared in various ways: simply boiled, stir-fried, or featuring soups. They are also perfect for quick veggie side dishes which can stimulate the deliciousness of a whole meal. The vegetable is also full of calcium and vitamin B6 for strengthening your bones.
For example, Korea's signature, known as kimchi, is also made from napa cabbages. You will see Koreans always serve them along with other main dishes. Another common use of this vegetable is for hotpots.
3. Nasturtium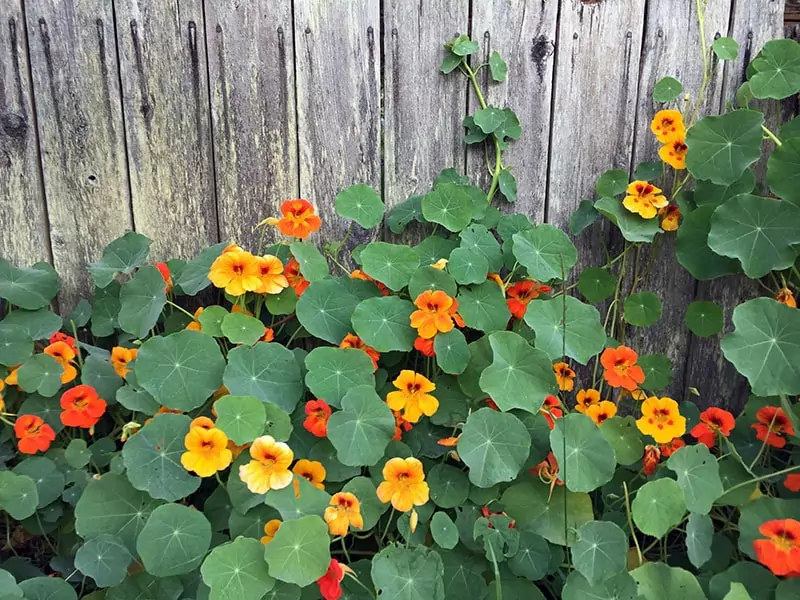 Nasturtiums is a group of 80 species that are native to South and Central America. Amazingly, all parts of nasturtiums are edible, including flowers, stems, leaves, and seed pods. The flavor is pretty much reminiscent of radish or watercress, peppery and fresh.
Nasturtium is easy to grow; its showy flowers add pops of colors (red, yellow, or orange) to your garden. This plant family can adapt well to winter weather and survive at an altitude of up to 10,000 feet. Moreover, it's not only pleasing to the eye but also used to make meals full of novel and natural taste.
The plant is also high in vitamin C, making it an outstanding pick for making herbal medicine. In some cases, people even use nasturtium to control pests by attracting other predatory insects.
Nasturtium flowers are used in salad and stir-fried dishes, while its green seed pods are usually harvested and steeped in spiced vinegar and served as a condiment or garnish. Its stems and tubers are also used as a staple food in many regions.
4. Nashi Pear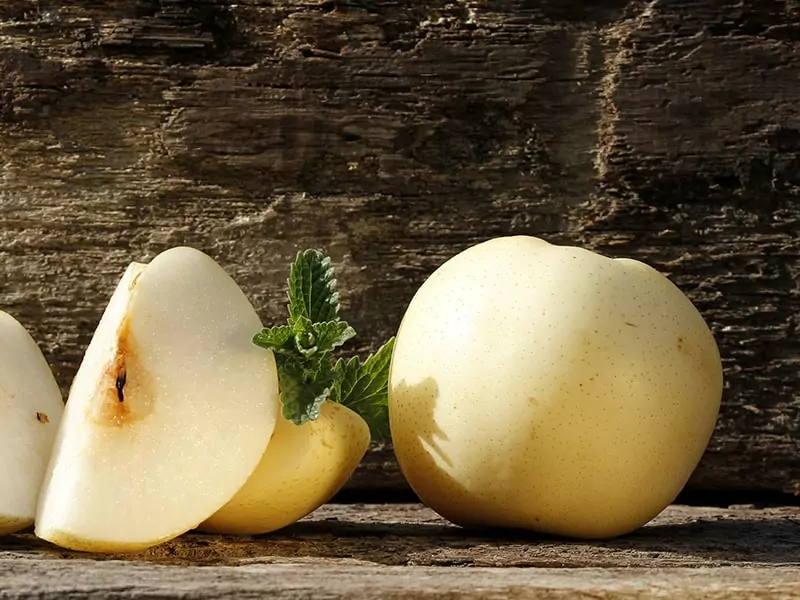 Nashi pear is the common name for all species of Asian pears. Nashi pear typically has a brown-dotted white or yellow-brown skin and a round shape. Its flesh is crunchy, incredibly juicy, and full of pleasant sweetness.
Unlike European pears, you cannot use Asian pears in baked goods or jams because they contain too much juice. Instead, Nashi pear makes an excellent choice to eat as a snack. They are peeled and served raw or dipped in spices to enhance the sweetness.
Pear juice is also a favored fruit juice for its refreshingness. Nashi pear is known to help people with vocal problems and treat sore throats. Having a glass of pear juice every day is an efficient method to lose weight.
5. Nectarine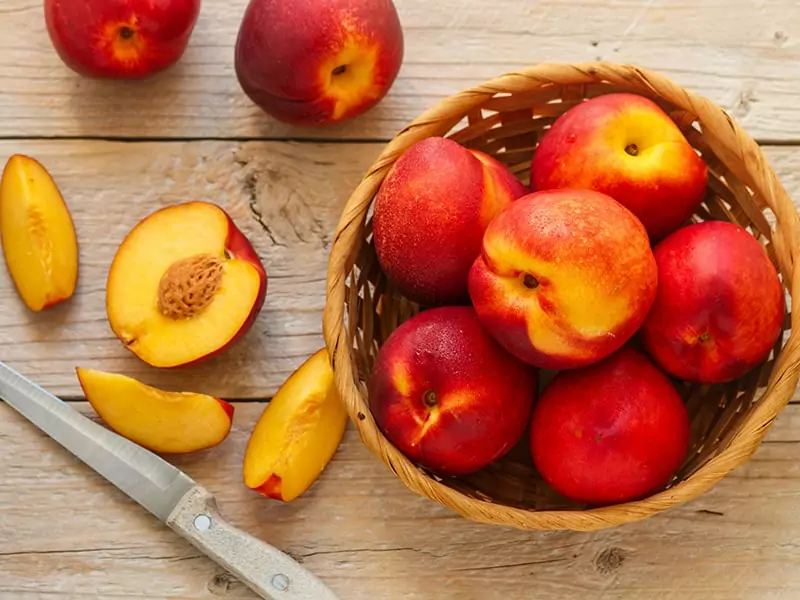 Nectarine is a common name for varieties of peaches that have smooth, glossy skin and lacks the fuzzy hair that is common in peaches. Nectarine and peaches are commercially categorized as two different fruits.
Nectarine appears more reddish than other types of peaches, but they can also come in orange, yellow, red, or white. In addition, the fruits are generally smaller and bear more sweetness and firmer texture. However, these N-something fruits are easily bruised. White flesh nectarine is sweeter than yellow flesh.
Both peaches and nectarines commonly have clingstone or freestone, where the pit can be either stuck or free from the flesh. Furthermore, you can usually find nectarines widely available during the winter months at peak quality.
The fruits can be consumed whole without peeling off the skin. It is recommended to leave the skin on cause it takes up the majority of vitamin C content and has more aroma. Nectarines can be grilled and used in salad, filling in burgers, or simply detox drinks.
6. Nettle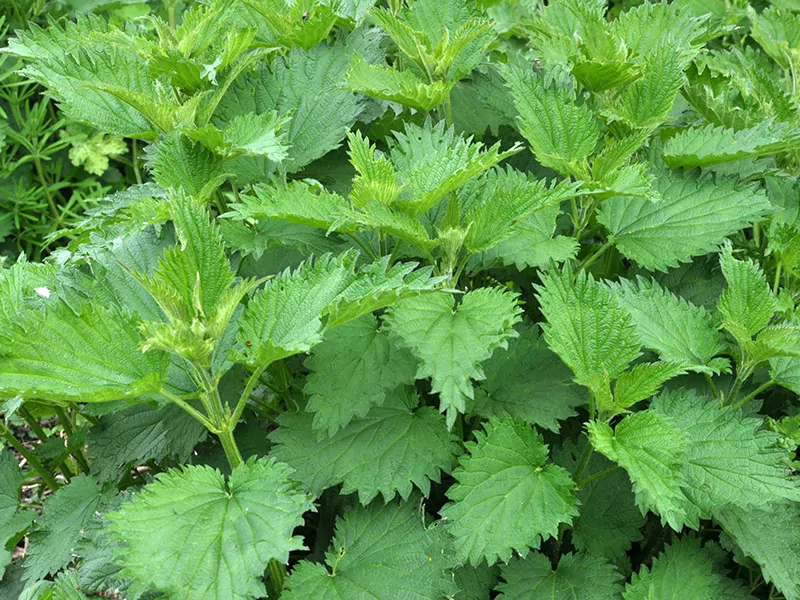 Nettle (Urtica dioica) is a short shrub plant native to temperate zones. Its leaves are quite familiar to perilla, forming a heart shape with a saw-like pattern on the edges. Young nettle leaves have long been used as a traditional food for both culinary and medicinal purposes.
Cooked nettle leaves have a blended flavor of spinach and cucumber. They are used in a wide variety of recipes, including nettle soup, sauces, dressings, and baked goods. Nettles leaves are also used to make drinks such as beer, smoothies, and tea.
Nettle tea is considered a superb herb because of the huge amount of nutrients and benefits it brings to the body. Nettle tea is good for overall health and wellness. It promotes quality sleep, detoxifies the body, and aids fertility.
7. Neem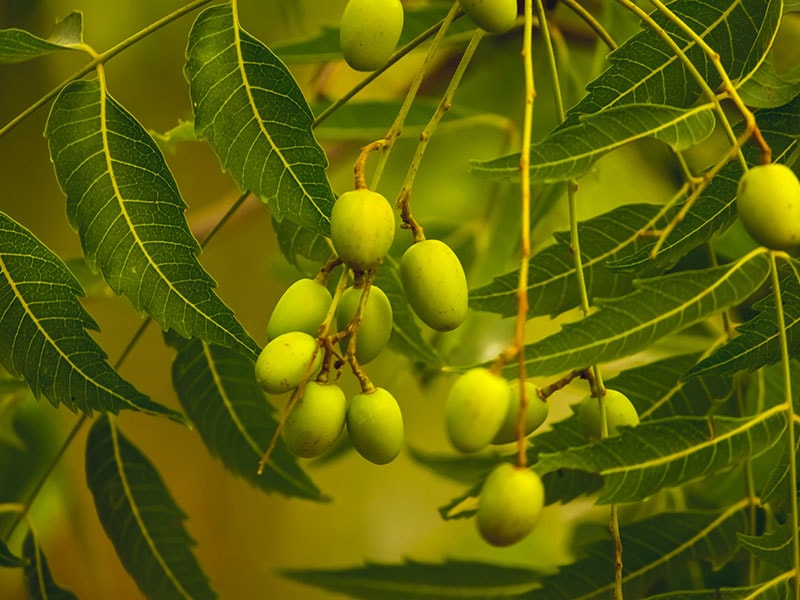 Neem or Indian lilac is a tree native to northeast Indian and Africa. They grow primarily in tropical and subtropical regions. Leaves, flowers, fruits, and sap are edible parts of the neem tree, and they are used in several areas of Southeast Asia.
Young neem leaves are stripped off the branches and eaten raw or stir-fried with other vegetables or mixed into salads. The leaves are very bitter, with Myanmar people often boiling them with tamarinds to mild the bitterness.
Flowers are used both as a flavoring and a vegetable. The sap is used to ferment alcohol, and fully ripe fruits offer sweet pulp for drinks and snacks. In India, people even dry the leaves and put them in the cupboard to prevent any pests.
8. Nutmeg Melon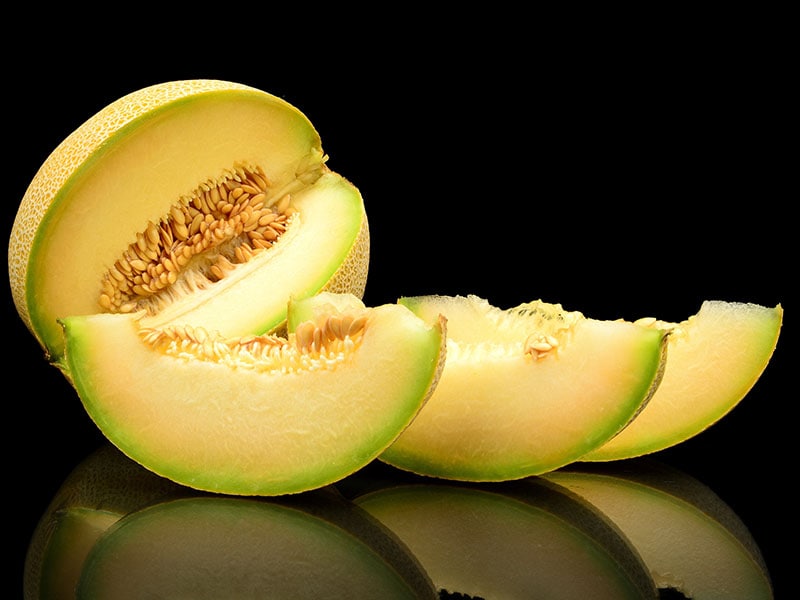 Nutmeg melon is the general term for cantaloupe varieties with netted skin (e.g., cantaloupe) or smooth skin (e.g., honeydew). Most of the time, nutmeg melon has a shape similar to a nutmeg.
Depending on the variety, nutmeg melons can have green or yellow thick pulp; they boast juicy and sweet mouthful bites. The fruit also boasts a rich content of water and electrolytes, perfect for rehydrating yourself. In addition, nutmeg melon can help with reducing blood pressure issues.
Nutmeg melon can be eaten fresh or chopped into pieces and mixed in a salad, yogurt, or topped ice cream. I suggest you try including cantaloupe in the Russian spring salad recipe; the mild sweetness and crunchy texture compliment the overall flavors amazingly.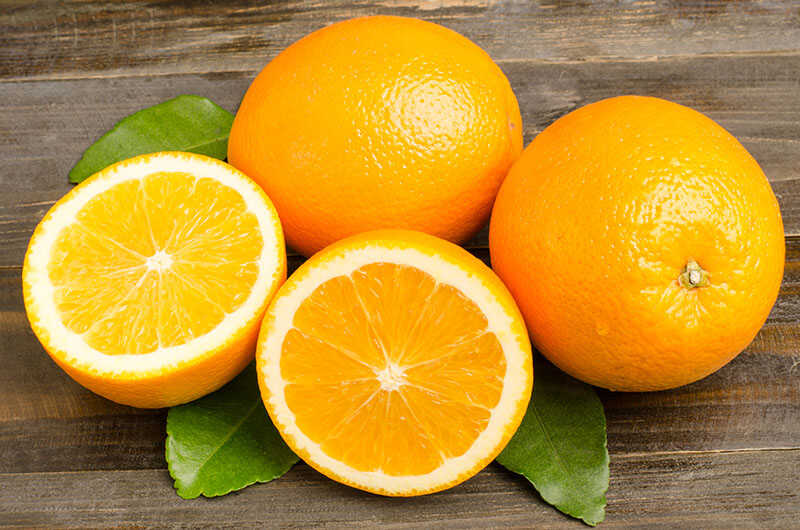 Navel oranges are winter fruits that sport bright, thick skins, which are a breeze to peel. Named for their unique feature, these oranges have a second, smaller fruit growing at the apex, akin to a human navel.
Although they may be slightly bitter after peeling due to exposed limonin and not as juicy as their counterparts, they are a seasonal favorite from November to March.
Commonly, their peak availability is in the first quarter of the year. These vibrant oranges can have outstanding sweetness with a mildly acidic profile and a touch of fragrance.
10. Natal Plum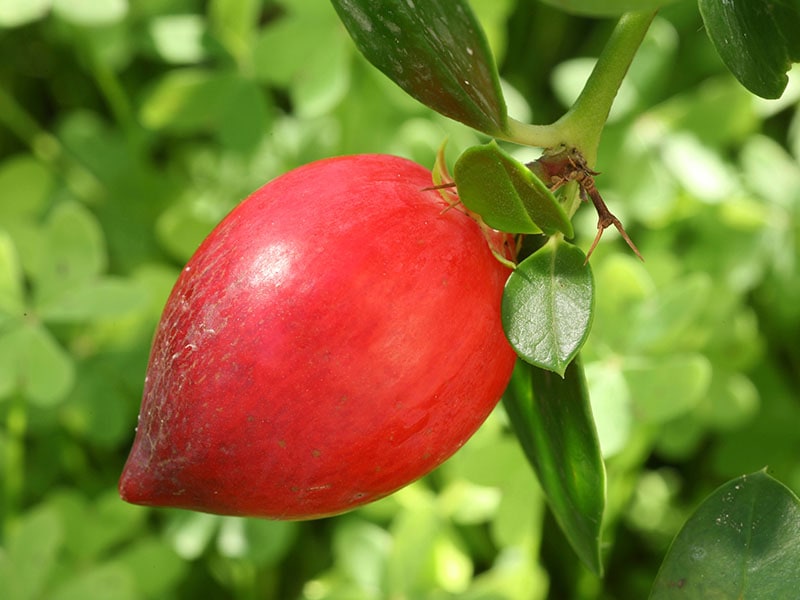 Natal plum (Carissa macrocarpa) is a shrub plant from South Africa. It's recognized by the locals as "large num-num" in the Zulu language. Normally, this plant has its roots in the coastal bush of the Eastern Cape and Natal, where it thrives.
The fruits stand out being the only edible part of the plant, while the stems and leaves carry toxicity (1). Also, its fruits are juicy and squishy with a sweet yet tangy flavor.
Besides its taste, the Natal plum is a nutritional fruit with Vitamin C, magnesium, and calcium. These plums are best savored raw, as cooking can leave a milky residue and turn them too soft. However, they also lend themselves wonderfully to salads or even pickles, giving you a taste of South Africa in every bite.
11. Naranjilla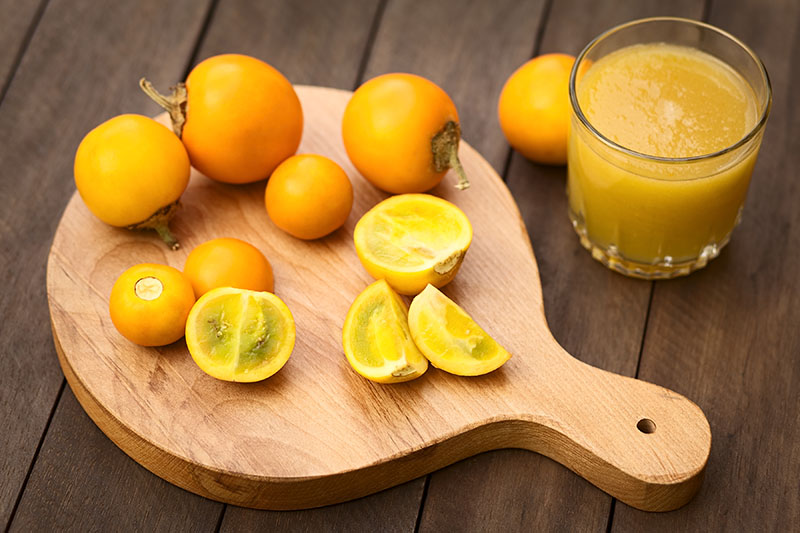 Meet Naranjilla, or Solanum quitoense if you're going by the book. This charismatic fruit's name of Naranjilla is mainly used in Ecuador, Costa Rica, and Panama. Surprisingly, these fruits are quite similar to the Spanish oranges from the look.
The Naranjilla plants are usually cloaked in short purple hairs, which might come as a surprise. As for the taste, these fruits offer a flavor combination of rhubarb and limes for a one-of-a-kind experience.
While the skin can be somewhat tough, that's a small hurdle for the bold flavor it holds. Diluted juice is the favored way to consume this fruit, softening its robust tanginess. For a little fun, some prefer to crush the pulp with rocks before blending it with sugar and ice to enjoy.
When frozen, Naranjilla juice steps up as an excellent ingredient for sauces, dishes, wines, sherbets, pies, and even cakes. Don't forget Naranjilla can make a great beverage called "lulada."
12. Nipa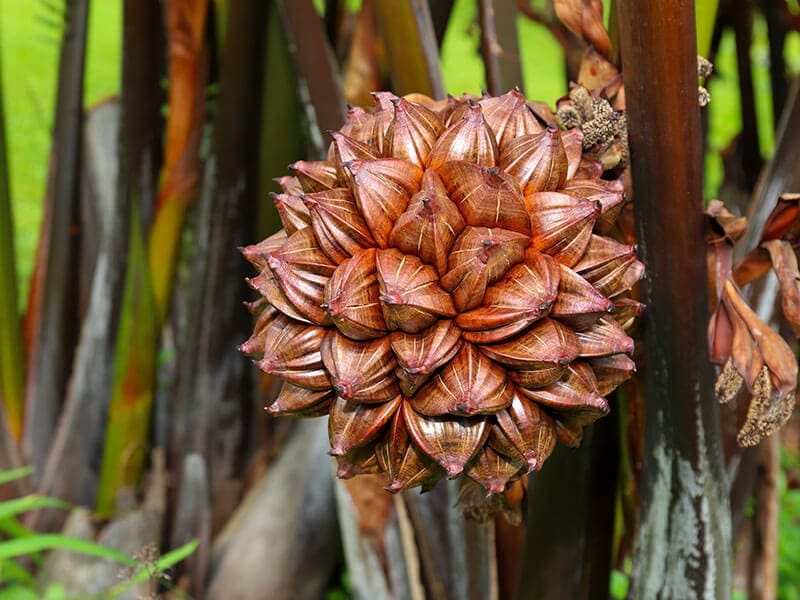 Nipa is a rhizomatous leaf palm plant widely available in the tidal rivers of Southern Asia and Austria. This unique fruit features a tough exterior that guards its delicate, gel-like interior.
Beneath its hard shell, you'll find translucent meat that carries a creamy flavor, reminding some of the coconut. Nipa isn't just a burst of deliciousness, it's also good for your health.
Believe it or not, the seeds have been known to soothe toothaches and headaches, all while lifting your spirits. Also, this fruit, with its delightful texture, finds its way into jams and jellies, lending them its unique flavor. It also plays an essential role in the preparation of alcoholic beverages.
13. New Zealand Spinach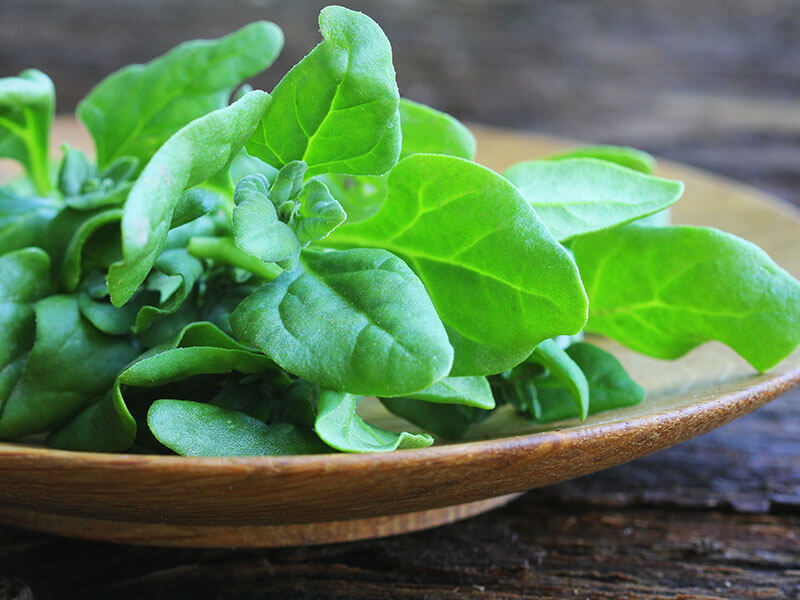 Get to know New Zealand Spinach, a plant native to – you guessed it – New Zealand. Known scientifically as Tetragonia tetragonioides, this flowering beauty belongs to the fig-marigold family.
These green leaves come in bright green, triangular leaves, ranging from 3–15 cm long. Interestingly, it's an invasive species across Africa, Europe, and the Americas (2).
Nutritionally, this plant is low in calories and brimming with vitamins, a true gift for the health-conscious. As for the taste, young leaves have a flavor similar to common spinach. However, as they mature, the leaves can take on a slightly bitter, acrid profile.
It's best to blanch these leaves in hot water before digging in. One last fun fact: insects are not a problem for New Zealand spinach, as even slugs and snails steer clear!
Food With N At The Start Of The Word
There is only one food that has a name starting with N, and it's nothing unfamiliar it's nuggets!
14. Nugget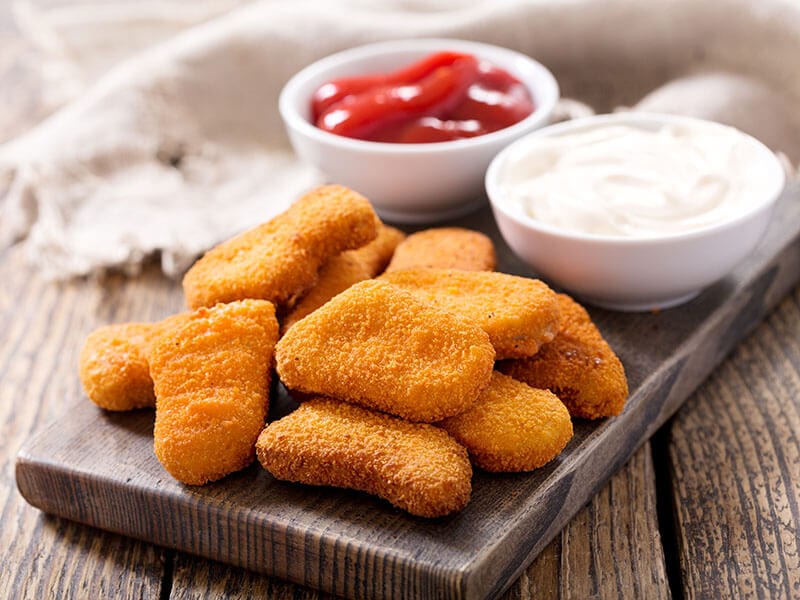 Nugget is a piece of chicken meat that is deboned, mashed, and covered in batter or breadcrumbs, and deep-fried. They are one of the most popular fast foods, debuted in the 1950s by Robert C. Baker, among US people and are readily available in every restaurant.
Chicken nuggets are sold frozen in packages and ready for use at any time. They are served with dipping sauce to enhance the flavors and. Popular dipping sauces to pair with nuggets are ketchup, chili sauce, and mustard.
15. Nachos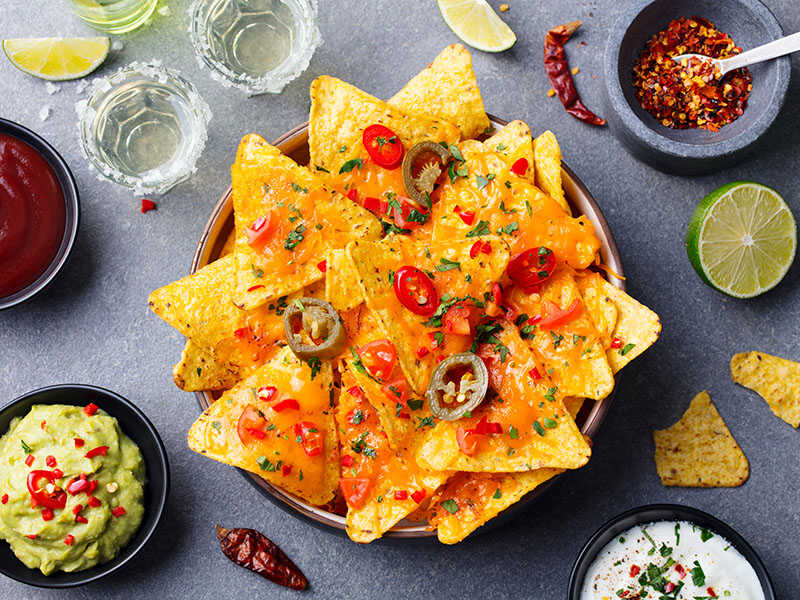 Nachos is a regional dish originating in Northern Mexico from the Piedras Negras city of Coahuila, which includes toasted or fried corn tortilla chips usually poured over with rich cheese-based sauce. It is often served as an appetizer or a light snack.
There are many variations of nachos that you can choose from in terms of toppings and dressings. One of the most popular version is nacho supreme topped with flavorful ingredients. Personally, I prefer nachos as a pierogi side dish, although it's much more common to serve nachos with guacamole.
Exquisite versions of nachos may include fried beans, slices of jalapenos, ground beef, and various herbs. There are also a lot of options for sauces, including guacamole, salsa, or sour cream. These advanced and elaborate nachos are hearty enough to serve as the main dish.
16. Neapolitan Pizza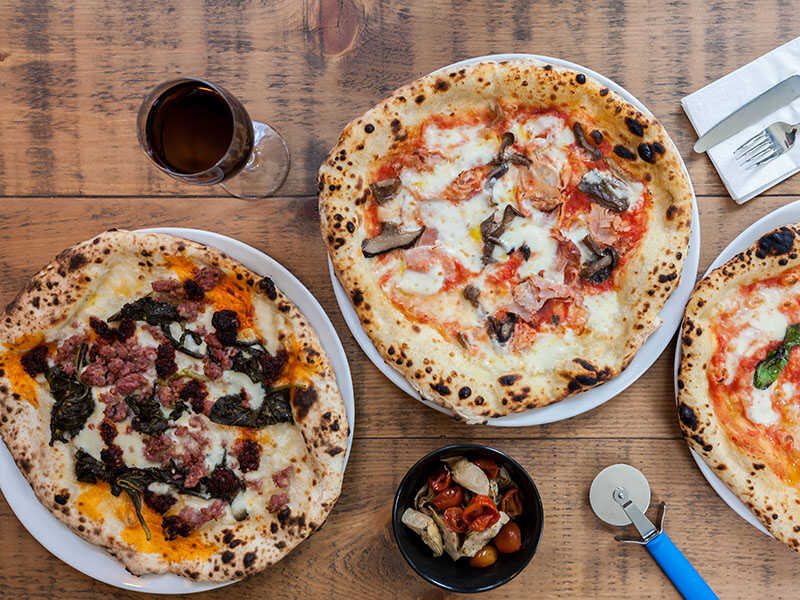 Neapolitan pizza, hailing from Naples, is a pizza composed of wheat flour, natural Neapolitan or brewer's yeast, salt, and water for the dough. Interestingly, Neapolitan pizza requires specific San Marzano tomatoes or Pomodorino del Piennolo del Vesuvio, and mozzarella cheese as toppings.
Commonly, the baking process of Neapolitan pizza requires just 60–90 seconds in a roaring 905 °F wood-fired oven. Resulting in a pizza that is soft, elastic, tender, and fragrant.
Also, its marinara sauce lends a distinct flavor, and its recognition on UNESCO's list of intangible cultural heritage elevates it to a global treasure.
17. New Orleans Gumbo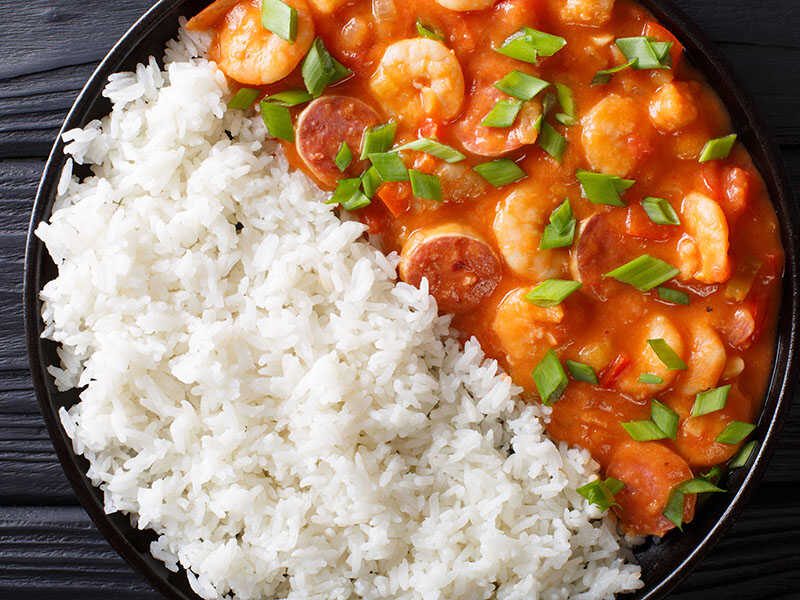 New Orleans Gumbo, a prominent dish from Louisiana and New Orlean, promises a rich, hearty stew experience. This flavorful delight gets its flavor from strong stock and generous helpings of meat or shellfish.
Distinctive to the New Orleans variant is a French dark roux, verging on chocolate-like in color, and a frequent inclusion of tomatoes. In the past, people used to mix this gumbo with cooked okra and rice, transforming the stew into a satisfying, standalone meal.
18. Natto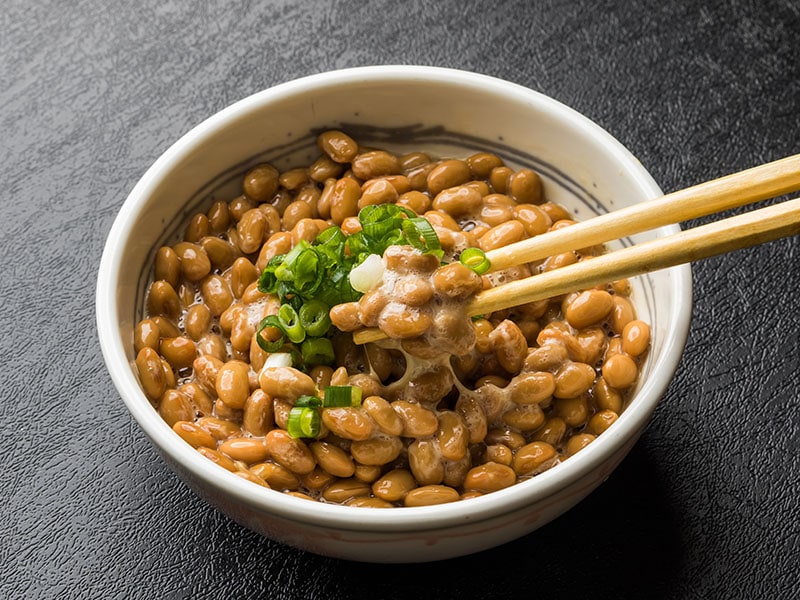 Natto is a traditional Japanese food that includes fermented soybeans. It is among the most popular foods to foreigners, along with sushi and sashimi. You can enjoy it as a typical Japanese accompaniment that is usually served at breakfast to boost your energy.
Natto is considered an acquired taste, which means people who have not substantially experienced it are very likely to dislike it. This is due to the slimy, sticky texture and overwhelmingly intense flavors it carries.
Natto is combined with mustard, dipping sauce, or even raw egg yolk, mixed well, and poured all over hot rice. People who have grown familiar with natto describe the taste as rich, nutty, umami, and decadent.
Despite being in between both love and hate, natto is widely known for its health benefits. A 2009 survey reported that about 70% of Japanese enjoy natto, and the rest do not like it but still eat it for health benefits.
19. Natillas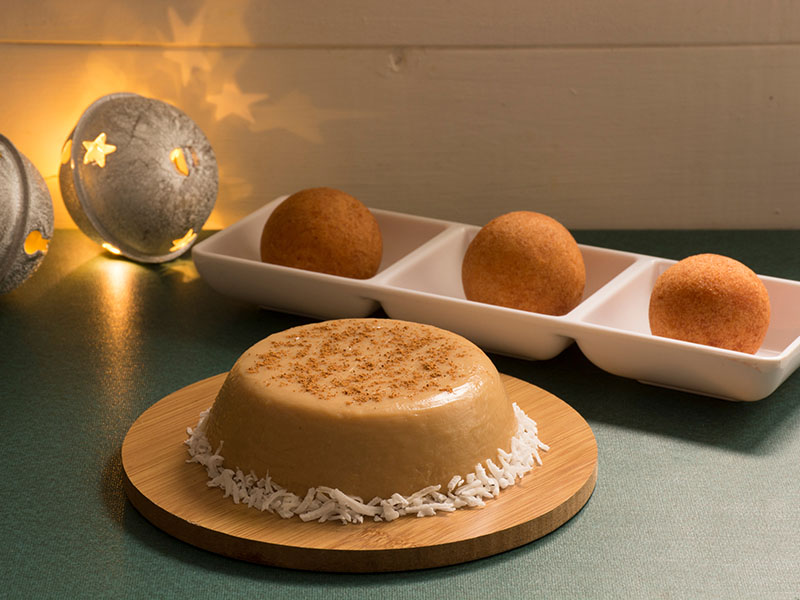 Natillas is the common name for varieties of custards and similar dishes in the Spanish-speaking world. They typically contain egg, milk, and sugar as the three standard ingredients, but it sometimes depends on the place where it's made.
There is a broad range of delicacies under the categorization of natillas. Cinnamon, vanilla, lemon peel, and other aromatic ingredients are included to enhance the flavors. They are served with accompaniments like fresh cheese, cookies, caramel, chocolate, or coconut.
20. Nougat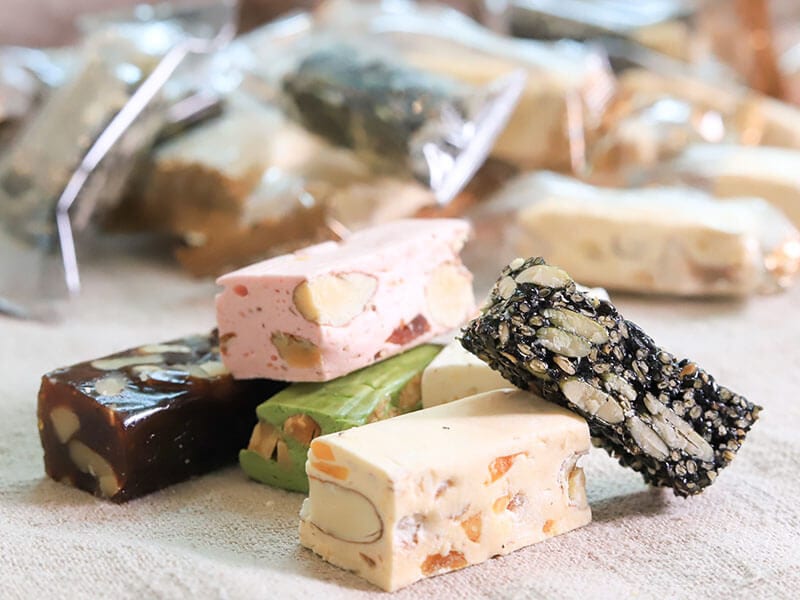 Nougat is a sweet treat that is usually given as a gift on special occasions, but it definitely cheers you up. Traditionally, they are made from sugar or honey, roasted nuts, egg white, and chopped candied fruits.
The candies have a chewy and toothsome texture, which is a combination of different ingredients and bears a super sweet taste. Furthermore, the candy originates in the Middle East or Central Asia.
Modern variations call for the use of marshmallows and powdered milk as the base, with nuts and fruits being more versatile. Some recipes use cookies as an ingredient, and candied fruits may be substituted with dried fruit to mild the sweetness and add to the look.
Flavorings like cocoa powder, cinnamon, matcha powder, or dried rose petals are also added. Modern nougat has a crunchier and grainier texture, and they have a mesmerizing look created by pops of colors contrasting against the milky white base.
21. Nantua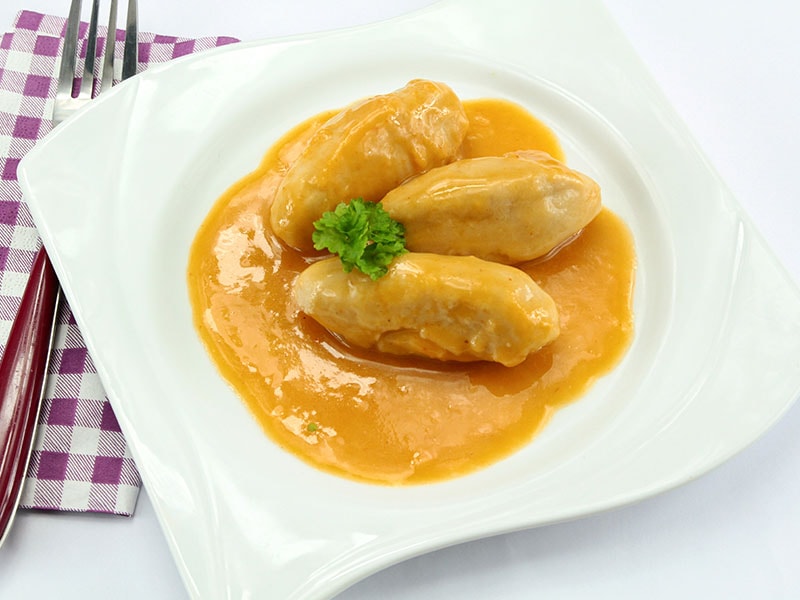 Nantua sauce, from the French city of the same name, is a Bechamel-based creation with a twist. It's a rich, creamy blend of cream and crayfish butter, which gives it a distinct place in French cuisine.
Typically, most seafood dishes in France are compatible with this sauce. Its flavors blend beautifully with the delicate taste of the sea. Furthermore, Nantua is the classic accompaniment to quenelles de brochet, pike dumplings that are a gastronomic delight.
This sauce doesn't just taste good; it serves a purpose too. It softens the meat layers, aiding in digestion and making your hearty meal feels lighter.
22. Ndolé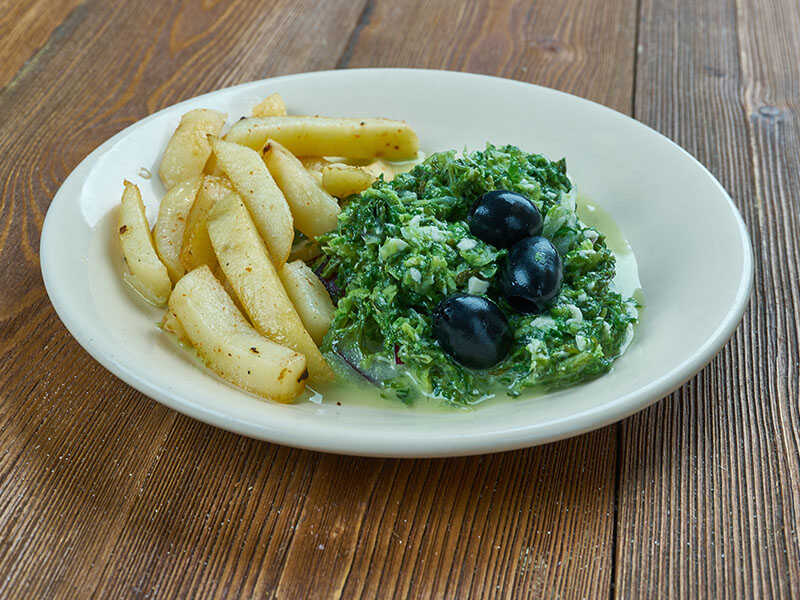 Ndolé is a flavorful representation of Cameroon's culinary artistry. It's a stew that harmoniously blends peanuts, shrimp, and beef, with a hint of bitter, aromatic leaves for an unexpected twist.
This traditional dish is usually complemented by plantains or other starchy sides, but rice also makes a worthy companion. Variations may swap shrimp for fish, showcasing the recipe's versatility.
23. Nihari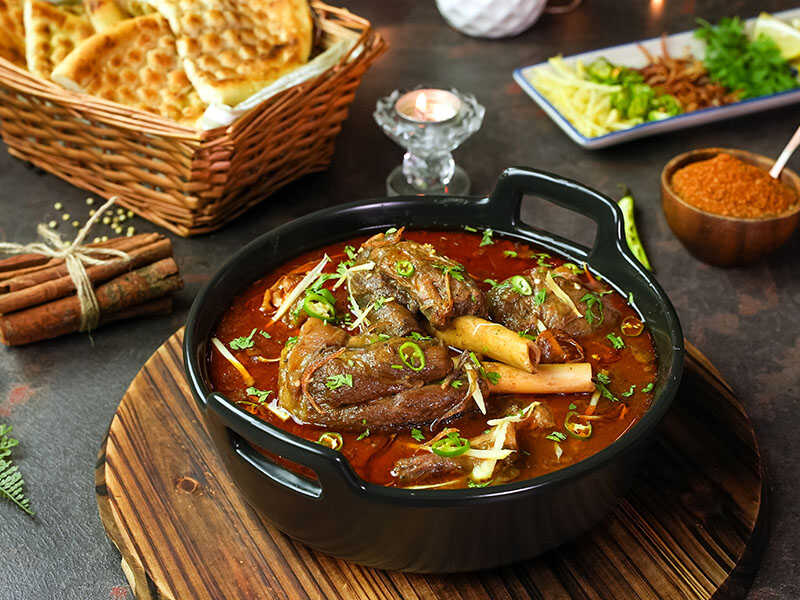 Nihari is a rich, flavorful curry that is a gem from the culinary traditions of Pakistan. Its roots can be traced back to Lucknow, the capital of 18th-century Awadh. The stew is simmered slowly, allowing beef or mutton to meld with the robust flavors of long black peppers and marrow.
A unique aspect of this dish is the taar, the leftover curry from the previous day, which infuses a unique touch to the next day's nihari. Surprisingly, some restaurants serving NIhari can have the taar dating back hundreds of years. In Pakistan and Bangladesh, naan serves as the perfect companion to this dish.
Beyond its gastronomic appeal, Nihari is also known as a comforting remedy for fever, rhinorrhea, and the common cold.
24. 'Nduja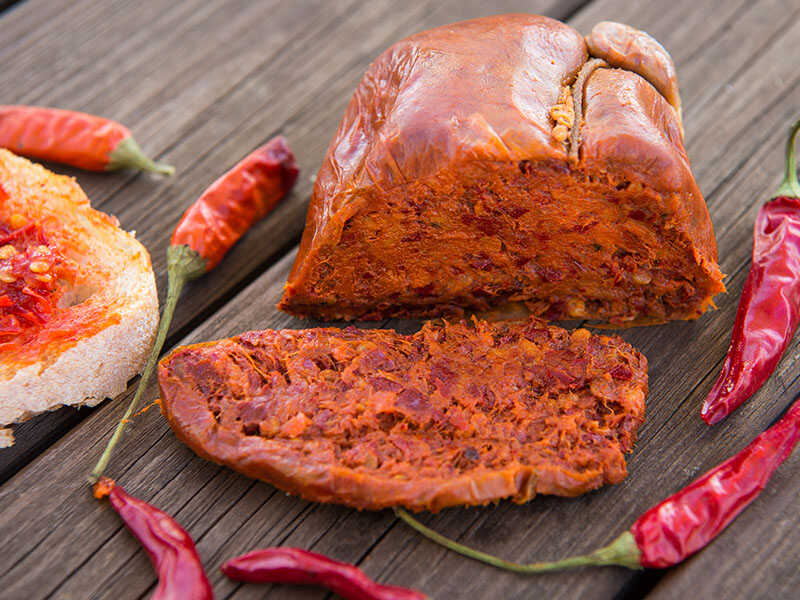 From the Calabria region of Italy, 'Nduja is a soft, spicy sausage paste that makes your taste buds tingle with delight. The history of this fiery delicacy has humble beginnings, as it was once a mix of meat consumed by the poor in Southern Italy (3).
The recipe usually combines pig's head meat, fat, and roasted Calabrian chili peppers before being smoked. This creates a taste profile that's bursting with heat and balanced by a soft texture.
'Nduja shares a striking resemblance to Spain's sobrassada from the Balearic Islands. Nowadays, 'Nduja usually appears as a popular spread for breads, sandwiches, and pizzas. It also pairs well with strong cheese or finds its way into pasta recipes for enhancing the flavor.
25. Nasi Goreng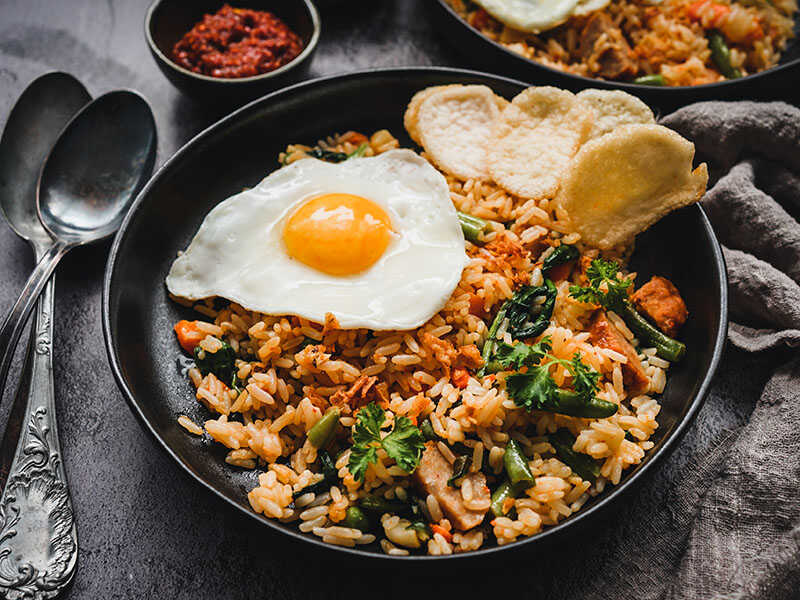 Nasi Goreng is a fried rice dish originating from Indonesia. It is a national dish in Indonesia and is primarily consumed in Malay-speaking communities. If you have the chance to travel to Indonesia, don't hesitate to give this dish a try, especially the one found in Balinese cuisine.
Nasi Goreng is usually made from leftover rice, which lends a chewy texture to the dish and sets it apart from other types of Asian fried rice. The rice is seasoned with salt, shrimp paste, pepper, onions, sweet soy sauce, etc. Shredded beef or chicken may be used to make it nutritious.
A platter of Nasi Goreng is served with many accompaniments such as pickled vegetables, sunny side up or boiled eggs, beans, lettuce, tomatoes, etc.
It makes both a fulfilling breakfast and a hearty dinner. If you travel to Indonesia, do not forget to taste this delicious dish.
26. Noodles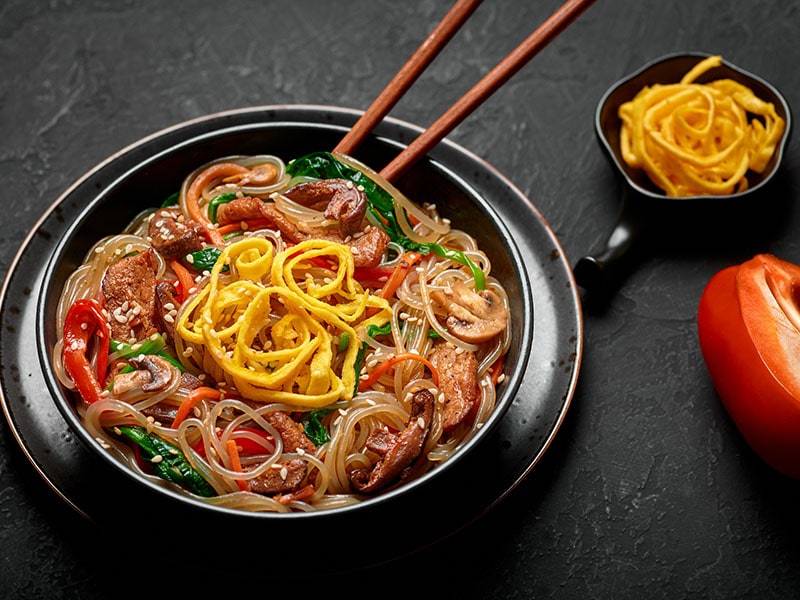 Noodles are flat or long round strips of rolled unleavened dough and cooked in a flavorful broth. They can be stir-fried and deep-fried. Noodles are usually served in a broth as a noodle soup or mixed with sauce (just like spaghetti).
There are a wide variety of noodles, most of which are a staple food in Asian cuisines. Some worldwide popular noodle dishes include Japanese' ramen noodle soup, Vietnamese flat noodle soup (pho), Korean mixed glass noodles (japchae), etc.
Noodles are made from starchy ingredients but mostly are whole grains, nuts, and beans. Some typical noodles are wheat noodles (which prevail in Eastern Asian cuisine), rice noodles (in Southeast Asia, primary Vietnamese cuisine), and buckwheat.
27. Nutella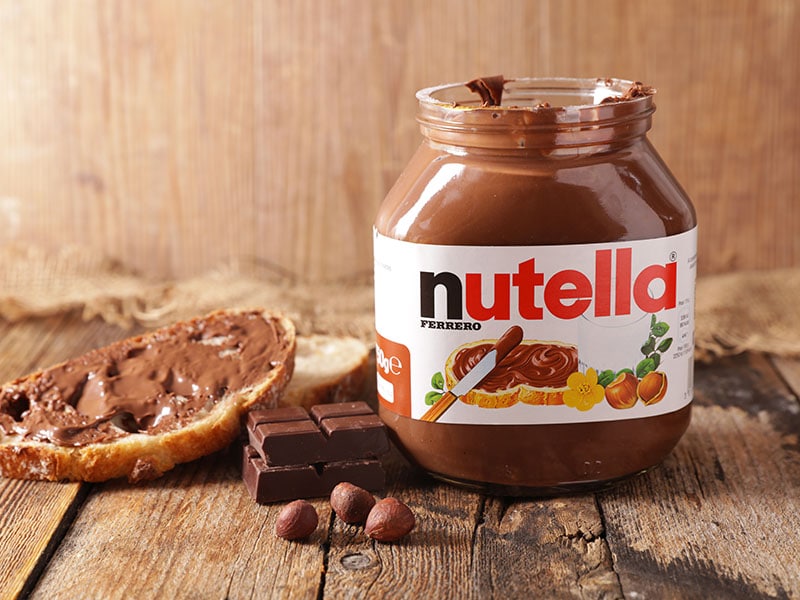 Nutella is the brand of a store-bought spread made from hazelnut cocoa. Despite being a brand's name, the product has gained popularity and become a ubiquitous food in the US mainstream, so Nutella is also used to refer to the spread.
Surprisingly, Nutella is the creation of Italian cuisine (4). Aside from toasts, the spread usually appears with sprinkles on bread slices in Australia. Furthermore, the product now comes in various flavors.
The most content of Nutella is sugar and palm oil (50%), hazelnuts (13%), cocoa, and skimmed milk. Other flavorings and enhancers are added to create thick consistency and flavors. Each production of Nutella applies a different recipe so that they may taste differently.
A generous spread of Nutella is perfect to comfort toasted bread, pancakes, bananas, waffles and make your breakfast fulfilling. You can include Nutella in various desserts and baked goods recipes; the creaminess and nutty flavors add a whole world of flavors to them.
Desserts & Snacks That Start With N
28. Nougatine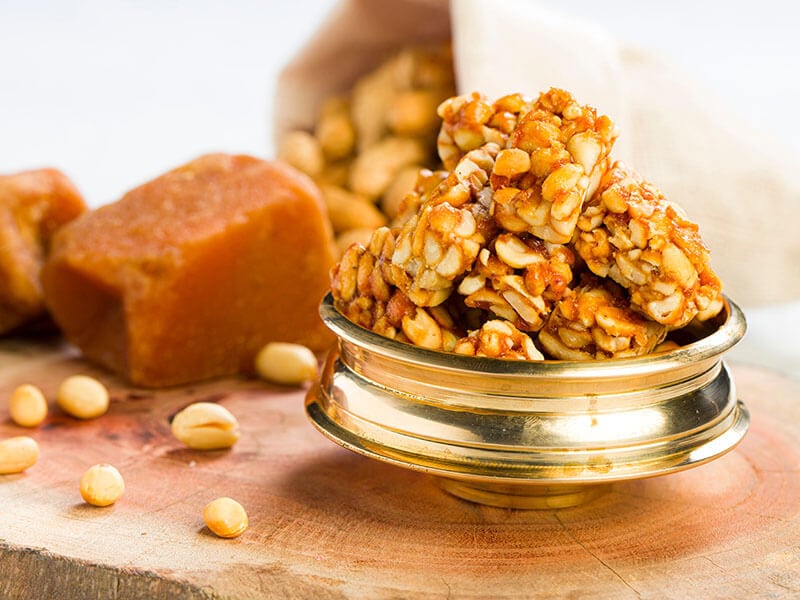 Nougatine is a unique dessert delight that combines caramel and almond flakes. Its crunchy texture makes it a perfect topping for soft desserts like pudding and ice cream.
The magic of Nougatine lies in the preparation when sliced almonds are carefully embedded in clear caramel, creating an irresistible toffee. This mix of sweetness and crunch adds an extra layer of enjoyment to any dessert it appears.
29. Nerds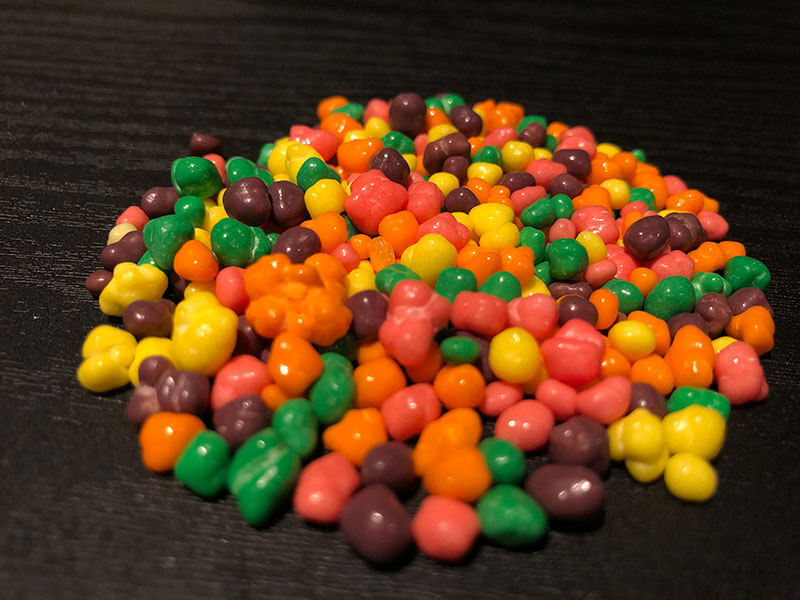 Nerds is an American candy that first hit the market in 1983. The sweet treat has become a staple of sweet-tooth cravings. These neon-colored candies, a product of Sunmark Corporation, delight everyone with their diverse shapes and range of flavors.
Whether you favor orange, cherry, strawberries, or grapes, there's always a flavor for everyone. Typically, the core of each candy is made up of sucrose crystals of around 0.2 – 1 millimeter, tiny yet powerful sugar particles that bring a sweet burst.
Adding to the unique experience is a glaze of carnauba wax, providing a hard bite and glossy finish that make Nerds distinct. With a normal serving size of about 15 grams or one tablespoon, these candies offer a colorful addition to many dessert recipes.
30. Neapolitan Ice Cream
Also known as Harlequin Ice Cream, Neapolitan ice cream is a colorful delight from Naples, Italy. This ice cream earned a special place in history as the first to combine three distinct flavors for a unique experience.
Louis Ferdinand Jungius, the creative head chef of the royal Prussian household, is credited with its creation back in 1839. The delicious dessert then journeyed across the ocean to the US in the 1860s, thanks to Italian immigrants.
Its trio of vibrant colors, embodying the flavors of vanilla, chocolate, and strawberry, is designed to mirror the Italian flag. This frozen treat is a creamy and chill dessert ideal for any meal.
31. Nonpareil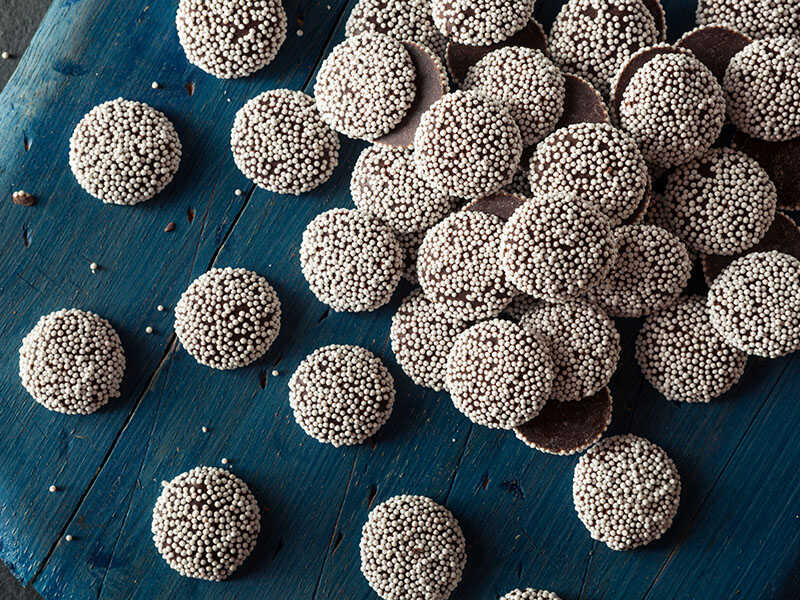 These tiny, colorful balls of Nonpareils trace back to 17th-century French recipes. Known by various names around the globe, they're called "sprinkles" in the US and Canada, "jimmies" in the US, and "jazzies" in the UK.
They are essentially condensed forms of sugar capsules coated with an array of colors, adding a decorative sweet touch to cakes and ice creams. While their vibrant colors and sweet taste can be very enticing, their high sugar content is not fit for daily consumption.
Interestingly, there's a recent trend with the emergence of chocolate nonpareils, giving a cocoa twist to these classic confections.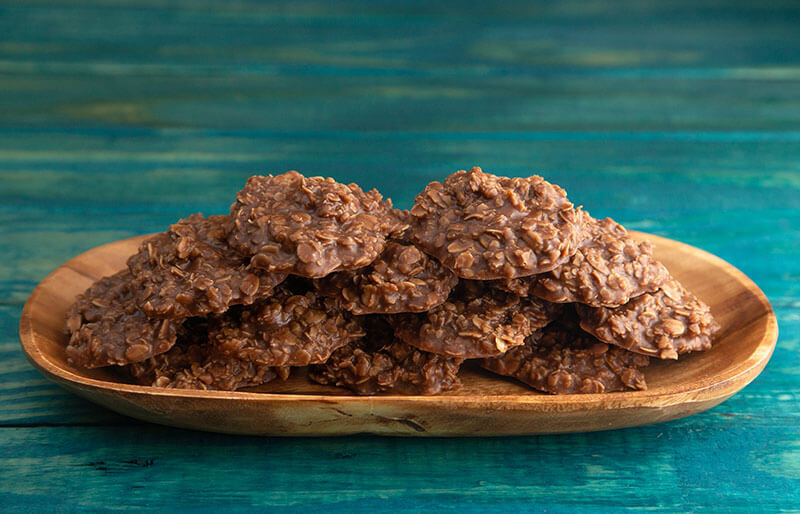 No-Bake Cookies, as their name suggests, are a dream come true for those who crave sweets but dread the oven. You can relish the flavors of sugar, milk, butter, cocoa powder, peanut butter, vanilla extract, and oatmeal, all working in harmony.
These beauties are quite straightforward to whip up with some recipes that might ask for a bit of stovetop action for certain ingredients, but the majority of the process involves just mixing everything together.
The best part is there's no need to wait for them to harden in the refrigerator. For those who have a flair for the creative, adding sprinkles, small marshmallows, or frosting can transform these cookies into a festive treat.
Bread And Pastry Creations Starting With "N"
33. Naan Bread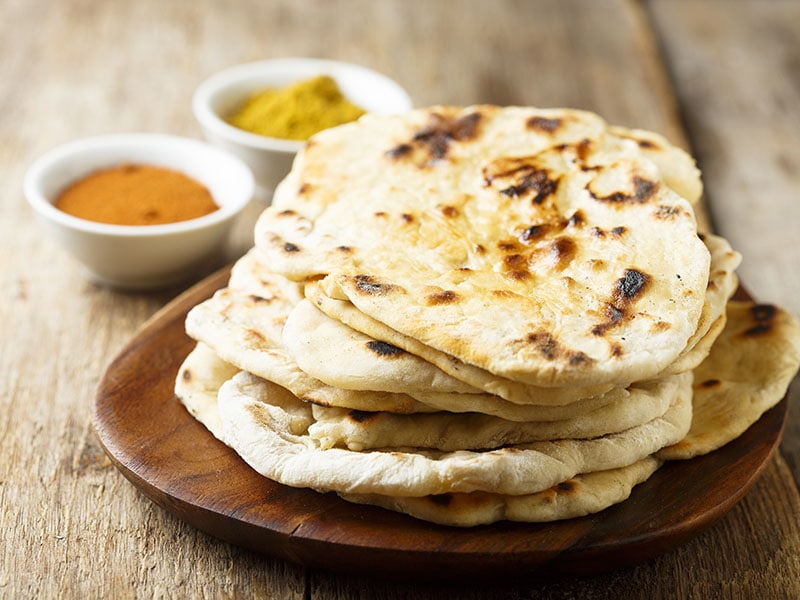 Naan bread is a flatbread primarily consumed as a staple food in the Middle East and Western Indian cuisines. It is made from flour, yeast, salt, butter, and yogurt. People usually serve this soft and fluffy bread as an exotic Indian side dish at many parties because they are easy to prepare.
They are baked over the side of the tandoor oven, so each naan is toasted evenly and has a slightly chewy and soft texture, with a distinct taste. You can enjoy the traditional and local ways with a spread of butter or yogurt, fill it with grounded meat and herbs, or dip it in a yummy sauce.
Naan bread is absolutely delicious, even without accompaniments, and they make the perfect base for homemade pizza, sandwiches, bread, and many other types of pastry.
34. Nut Bread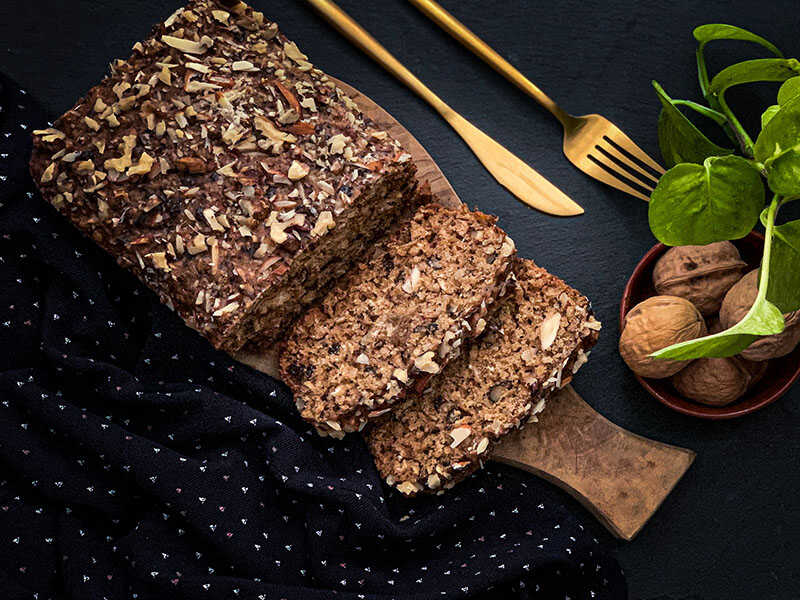 A loaf of nut bread is your perfect companion for a quick and tasty breakfast. This sweet, easy-to-make bread requires only a few ingredients and minimal time in the kitchen.
The real charm lies in its fragrance – from walnuts to pistachios, any nut of your choice can be included in the recipe, guaranteeing a signature nutty flavor. Usually, it's best served warm or accompanied by a dollop of ice cream for extra sweetness.
35. Nankhatai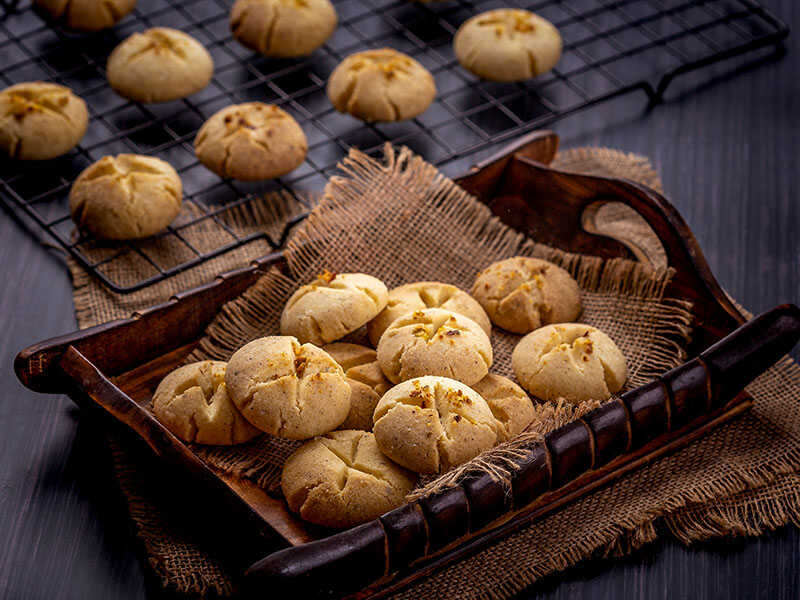 Nankhatai is a type of Indian cookie with a rich history originating from the vibrant city of Surat in the 16th century. These shortbread biscuits, made of flour, sugar, milk, and eggs, are beautifully flavored with nutmeg and cardamom.
They have a buttery, crumbly texture, and their crispness adds to their appeal. Commonly, an evening tea paired with Nankhatai brings about a harmony of flavors, making it an excellent snack choice.
Furthermore, these biscuits are loved in Northern India and hold popularity in Pakistan, Bangladesh, and Myanmar.
36. Norwegian Apple Cake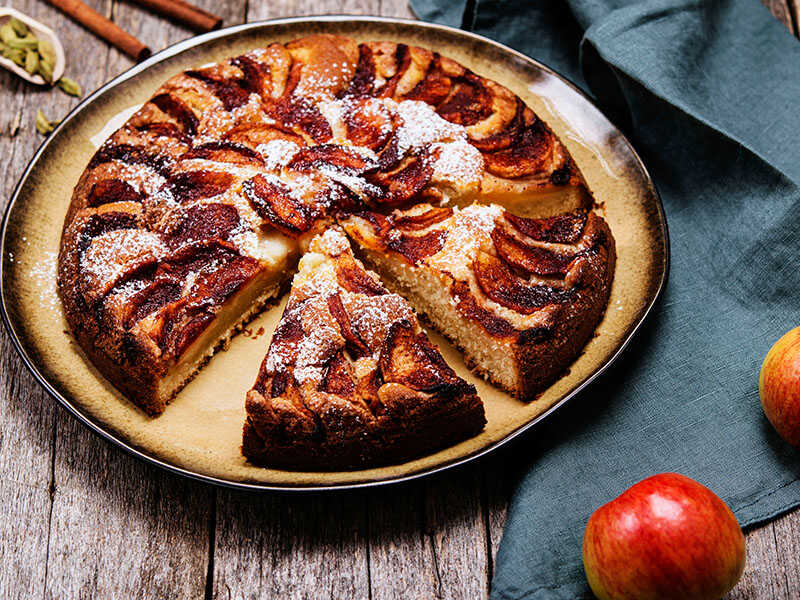 Eplekake, or Norwegian apple cake, is a Nordic delight that warms the heart. This cake is a masterful blend of sour apples baked in a dough made from sugar, butter, flour, eggs, and baking powder.
The result is a soft, buttery cake filled with cinnamon sugar apples. Serving it warm not only elevates the flavors but also envelops you in a cozy, homey feeling.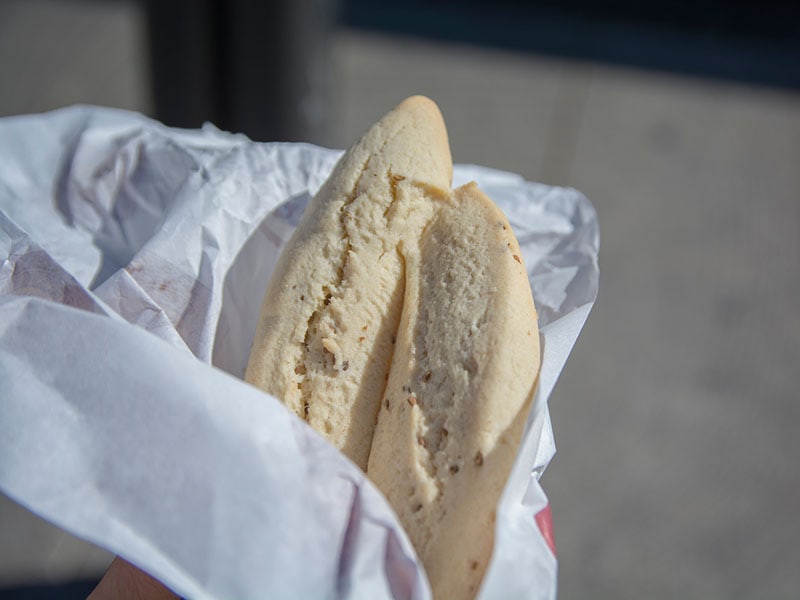 Navette, named after the French term for "shuttle", is a charming culinary tradition from France. This cylinder-shaped cookie, made with a delightful blend of orange blossom, flour, sugar, eggs, and butter, is a part of the Catholic holiday of Candlemas.
Seafood Starting With "N"
38. Norwegian Salmon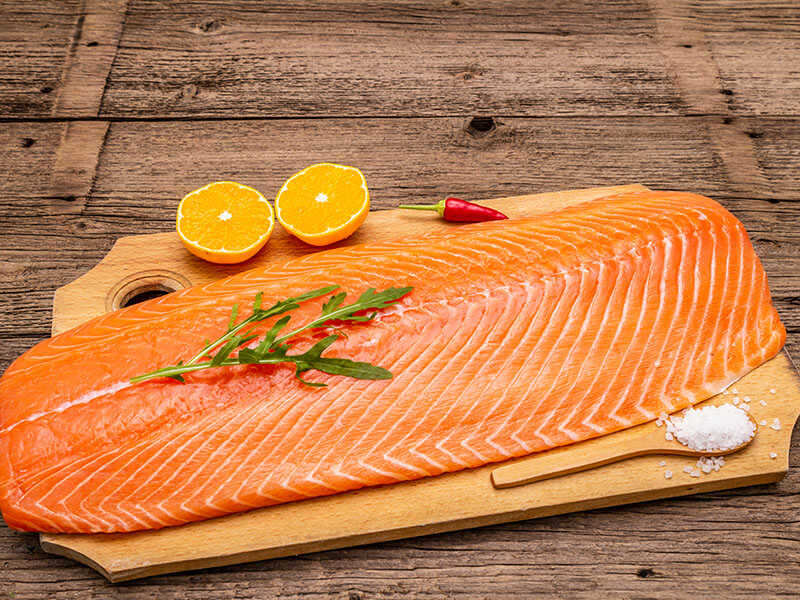 Norwegian Atlantic salmon, or simply Norwegian salmon, is a wonderful delicacy from the icy waters of Norway. Commonly, the name mainly refers to one species – Salmo Salar.
This remarkable fish, born in freshwater but maturing in the sea, is farmed with meticulous care. Norwegian salmon is a bounty of fresh, sea-taste flavors, with a moist texture that can even be savored raw.
Also, the meat is a pleasure to the palate, packed with beneficial fish oil, essential vitamins, minerals, and antioxidants.
39. North Atlantic Shrimp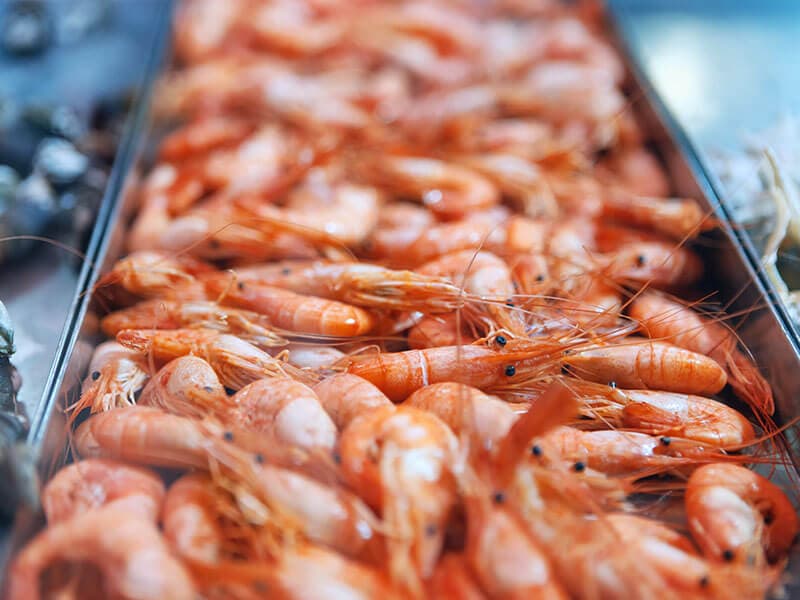 The North Atlantic Shrimp is scientifically known as Pandalus borealis. You'd recognize this shrimp variety by its range of colors, from light to a more vibrant reddish-pink.
Usually, it's a resident of the cold northern Atlantic and Pacific Oceans, and it goes by many names, including pink shrimp, Nordic shrimp, deepwater prawn, deep-sea prawn, great northern prawn, northern shrimp, coldwater prawn, and Maine shrimp.
Its taste profile offers a sweet, fresh, and mild flavor and a tender texture. Plus, it's a nutritional catch, serving up plenty of proteins and keeping the calorie count low.
40. North Sea Sole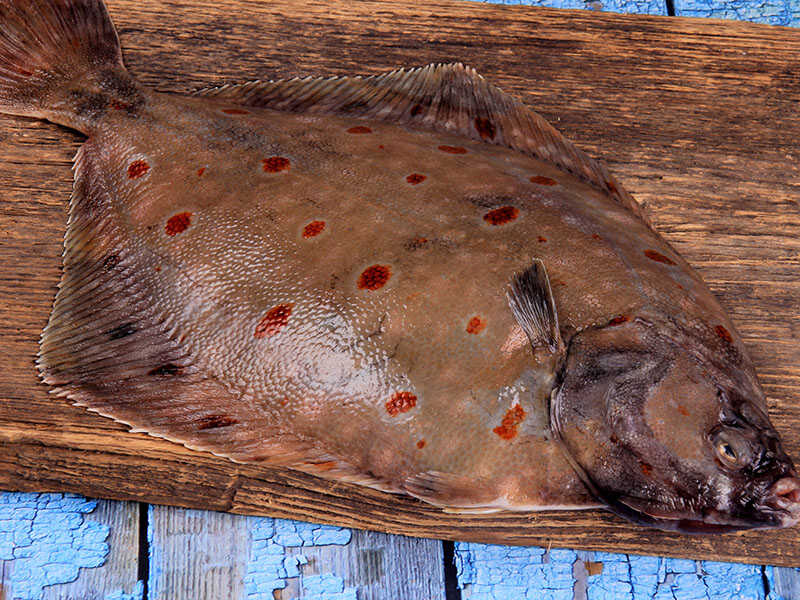 North Sea Sole, a standout member of the Soleidae family, might share its name with other flatfish. Its skin usually takes on a brown or greenish brown hue, with striking red or orange spots adding a touch of brilliance.
Beneath this vibrant exterior is a mild, sweet flavor with a meat-like texture that surprises and delights consumers. Also, sole is a healthier choice, containing less mercury than many popular white fish.
Add in a high protein content and a rich supply of vitamins B6 and B12, you have a fish that supports cardiovascular and neurological health.
Cheese Beginning With "N"
41. Neufchatel Cheese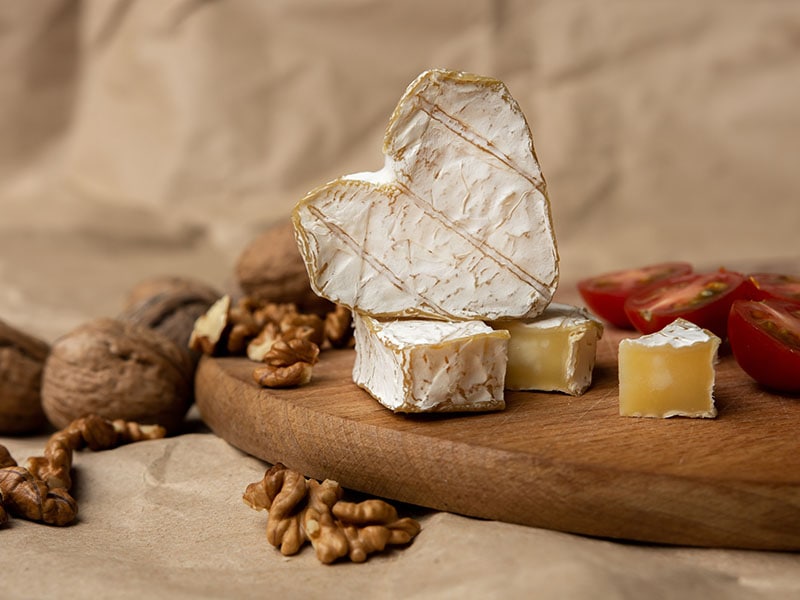 Neufchatel cheese is a mold-ripened cheese with white color, semi-soft and grainy texture, and a mushroomy and nutty taste. The cheese is usually made with cow milk in a heart shape or a huge block in the Neufchâtel-en-Bray region of Normandy.
The cheese is also one of the oldest varieties dating back to the 6th century. Commonly, Neufchetel cheese takes 8 to 10 weeks to age, with each block weighing around 3.5–21.2 ounces.
There's also the American Neufchatel cheese, a product that including cream in the Neufchatel recipe. So when you compare Neufatchel cheese against cream cheese, you'll see the former is much softer and contains lower fat content. So Neufchatel is also a healthy swap-in for cream cheese.
42. Norbury Blue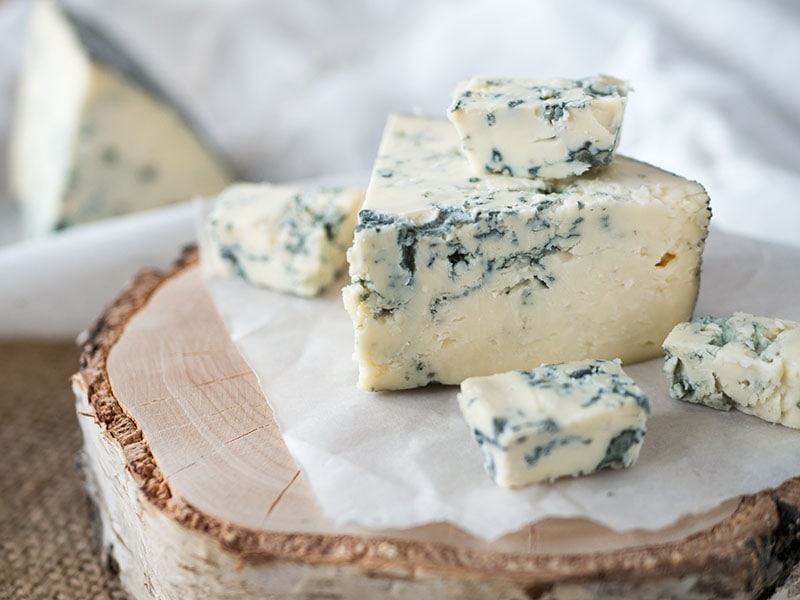 Norbury Blue is a wonderful type of blue cheese that originates in Surrey, a country in Southeast England. It is fermented with a special vegetarian rennet and a blue mold which results in its distinct blue shade and marbled look.
The cheese has a lovely creamy, soft texture and a mild musty aroma. The blue mold adds a note of earthy and smoky flavor to it, which complements the super-rich taste that is reminiscent of Brie cheese.
Tangy and impressive, it is an excellent accompaniment in various recipes, from simple toasted bread or champagne to salad or baked goods. And it's a delicious dish in its own right, paired with champagne. It is truly an indulgence!
Other N-Starting Food Items
43. Nutmeg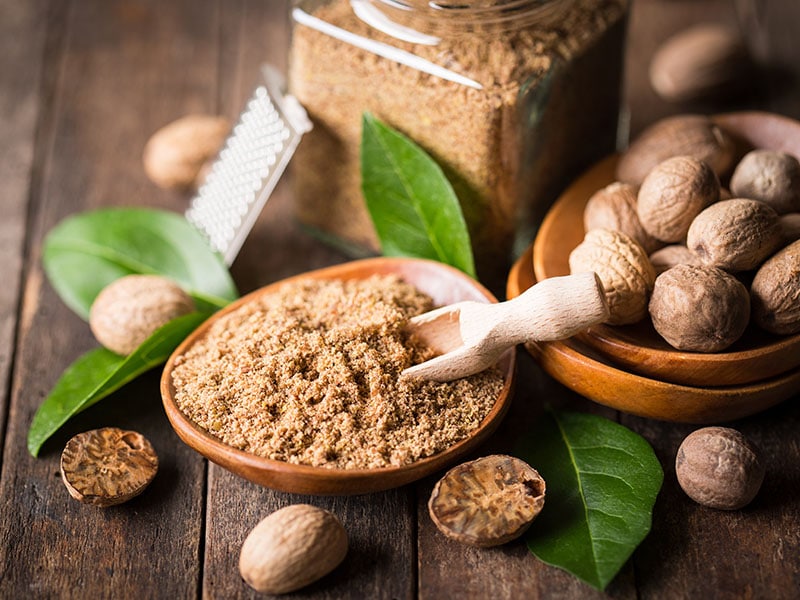 Nutmeg is the ground nutmeg seeds of several plants belonging to the genus Myristica and primarily cultivated in Indonesia. The spice is a common condiment for the autumn season with a signature depth in flavor.
The powder is used primarily as a spice for stew or savory dishes. It has a tangy, warm fragrance and a sweet, nutty taste. Thanks to the unique flavors, nutmeg has become a significant ingredient in various recipes.
However, it might be challenging to find them sometimes. But do not fret; there are plenty of alternatives to nutmeg. They can work so well that you won't even notice nutmeg's absence.
Commonly, it takes around 6 to 8 weeks to fully dry the nutmeg seeds. Note that if you overconsume nutmeg, you may get allergic reactions or psychoactive effects.
44. Neep (Turnip)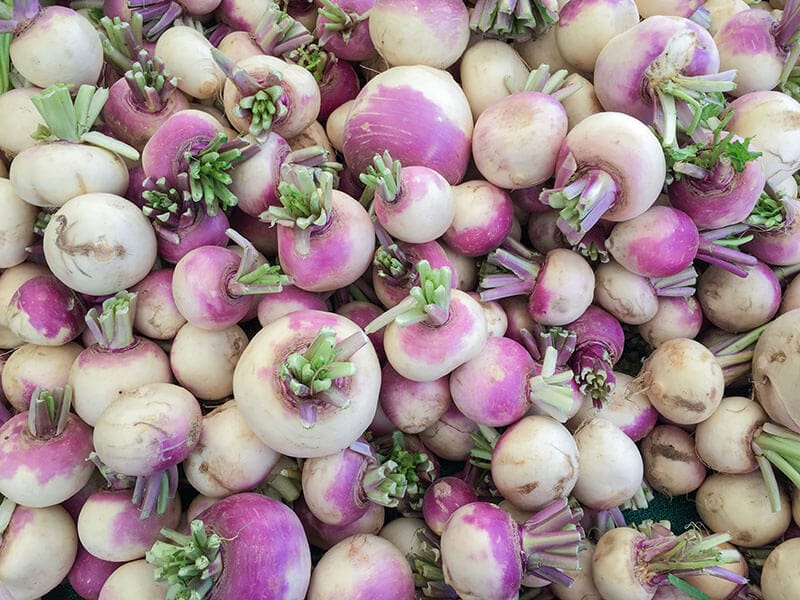 You might be more familiar with another name neep like turnip. This root vegetable, typically of the white variety, can be found in temperate regions worldwide. Now, here's something you may not have known – it's a close relative of the cauliflower!
Usually, the starchy flesh of turnip is perfect for roasting or mashing to enjoy its subtle sweetness. And don't forget about the leaves, as they're edible and bursting with nutrition. However, you should learn about the storing methods of turnip to retain its valuable nutrients.
Neeps come with various vitamins, fiber, and minerals like magnesium, potassium, and manganese that are great for muscle strengthening. From being a star ingredient in gravies and salads to being pickled for an extra tang, this humble vegetable has a lot to offer.
45. Nameko Mushroom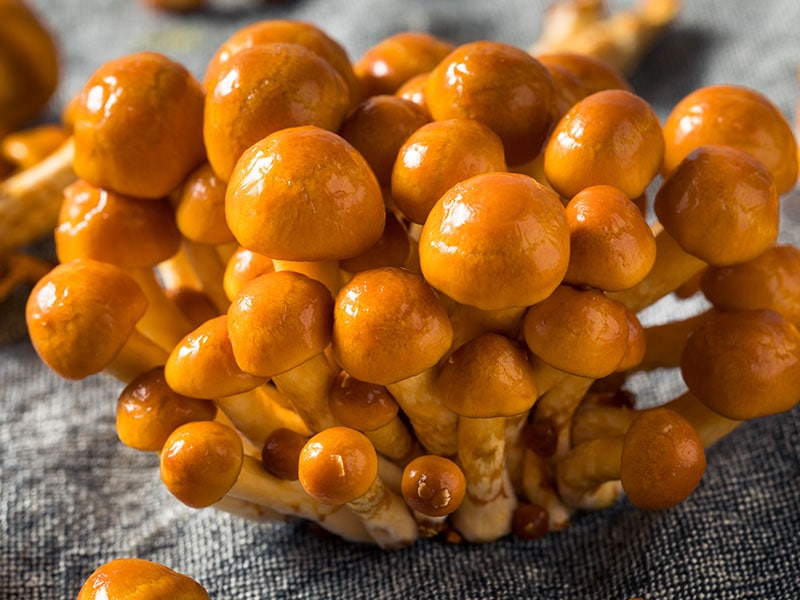 Nameko mushroom has an earthy, nutty, and fruity flavor reminiscent of butterscotch or cashews, so it is also known as butterscotch mushroom in the US. It is mostly used as an ingredient in stir-fries, soups, stews, risotto, and a wonderful accompaniment to meat dishes.
The mushroom is a primary ingredient in the Japanese miso soup, and a common vegetable served in the Japanese hotpot. Also, these fungi are a native mushroom species of Japan, frequently found as a beloved ingredient in many Japanese cooking recipes.
Wild nameko mushrooms thrive in bunches on dead oak trunks from fall to winter when the temperature drops down to below 50 fahrenheit. If you want to have the authentic taste of nameko mushrooms, don't miss out on it.
46. Nigella Seeds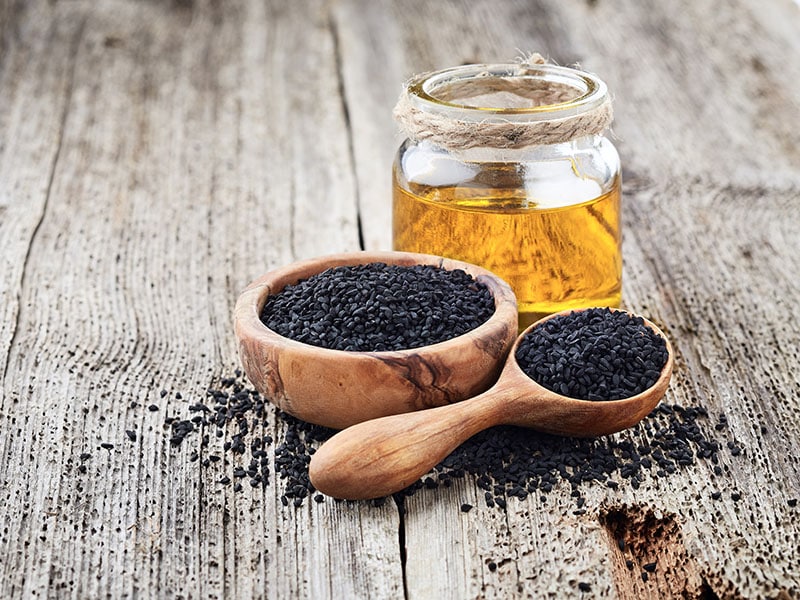 Nigella seeds are harvested from the Nigella sativa from the Ranunculaceae family (5), a flowering plant native to Eastern Europe and Western Asia. They are also known as black cumin or black caraway, considered one of the oldest spices ever used. They were found in Tutankhamun's tomb.
They have a pungent taste accompanied by a mildly bitter flavor that is reminiscent of toasted onions. The black, crunchy seeds are used as a spice or natural flavorings and seasoning and are naturalized in African, Middle East, South Asia, Southwest, and Indian cuisines.
Dried-roasted nigella seeds add a smoky, nutty flavor and crunchy bite when sprinkled on salads, curries, vegetables, bread, and stir-fries. In addition, the seeds are full of nutrients that help lower cholesterol, improve fertility, and regulate blood sugar levels.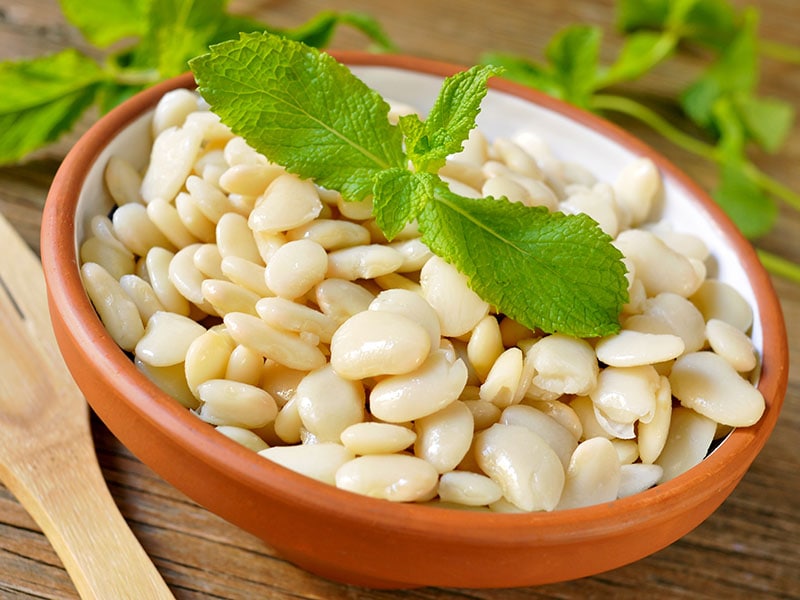 Navy bean (also known as haricot, pearl haricot bean, pea bean, or Boston bean) is a species of common bean that originated in the Americas. The beans are generally smaller than other types of beans and have a distinctive white color. Cooked Navy beans are soft, creamy, and have a decadent mouthfeel.
Navy beans are a standard ingredient in the Boston baked beans of New England gastronomy and white bean and rice, a signature dish of South Louisiana. You can puree them and add soups, sauces, and stews as excellent thickening agents and flavoring agents.
They are also used to make delectable baked creations; I suggest you try Navy bean pie; this sweet treat will keep you grinning from ear to ear!
48. Nectar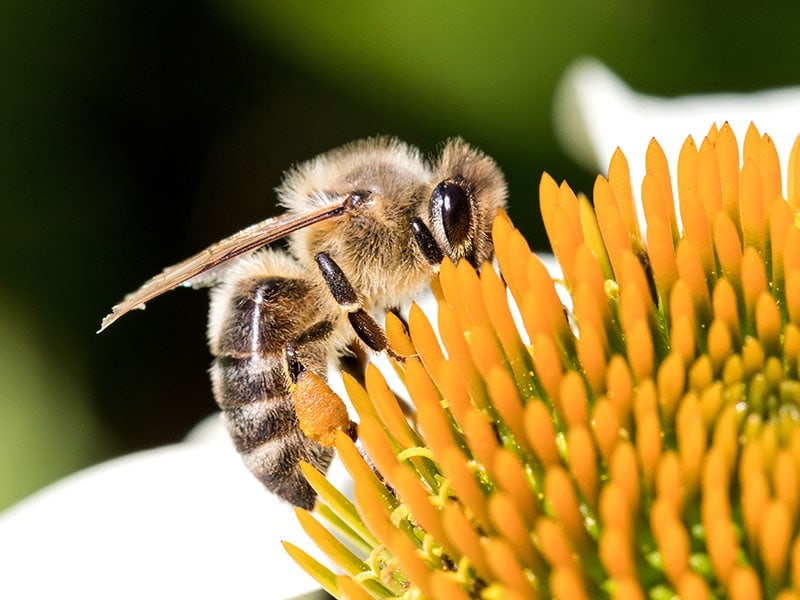 What else is more wholesome and tranquil than natural creations? Nectar is certainly among those beautiful gifts that Mother Nature generously gives to the world. Nectar is a sweet viscous liquid produced by flowers to attract bees and birds in exchange for their help with pollination.
It is worth mentioning that not all nectar is edible. You should look for those flowers that have been identified as safe for human consumption. Some notable edible nectar includes those collected from Japanese honeysuckle, false hibiscus, and grevilleas.
A curious forager never passes through the opportunity to collect this fresh and delicious liquid. You can use nectar as a natural sweetener or drink it directly (of course, if you have plenty of it).
49. Nori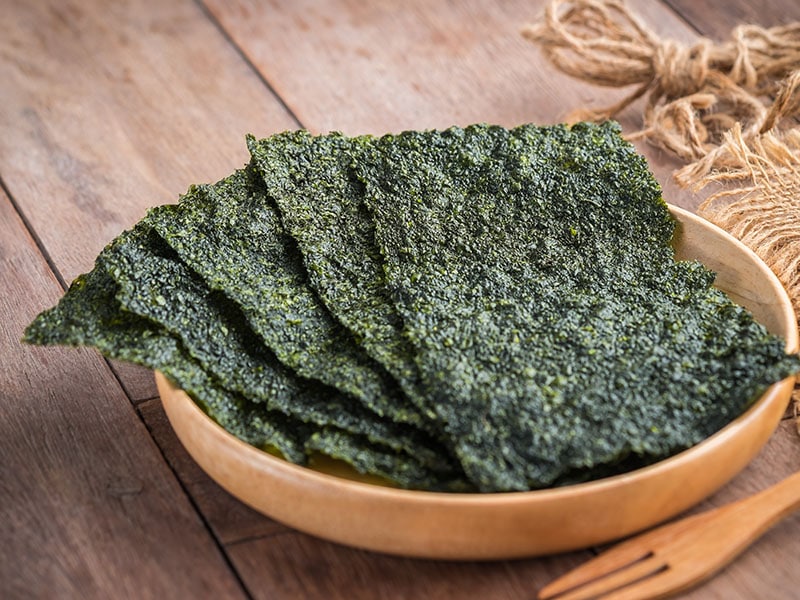 Nori is Japanese dried edible seaweed sheets made using a type of red algae from the Pyrpia genus that is popular in Japanese cuisine. It has a savory taste, a slightly dry and strawy texture, and a distinctive aroma.
In terms of meaning, Japanese used to refer to the word nori to seaweeds. The origin of nori can date back to the 8th century. Before evolving into a sheet form, the Japanese consumed nori as a paste.
Nori is commonly used as wrappers in sushi and rice balls (onigiri), where it adds depth to the flavors of plain rice. Its Korean equivalent, "kim," is also used for the same purpose. Nori is cut and sprinkled on soups and noodles both as garnish and flavorings.
FAQs
Food That Starts With N For Your Challenge
As I have introduced to you a wide variety of food starting with N, hopefully, you have some new inspirations and courage to try diverse foods from around the world. Let's count all the food on this list to see how many you know, how many you have eaten.
I hope you find this post interesting and you can use it to your benefit. If you know any wholesome food that starts with the letter N, don't hesitate to introduce it in the comment section. And share this post with your friends and family; they are going to be thrilled!