Take 2 minutes and name all the types of Japanese mushrooms you know. If you feel confused, it's okay, because you'll notice that most of the mushrooms sold and consumed on the market right now come from Europe and North America.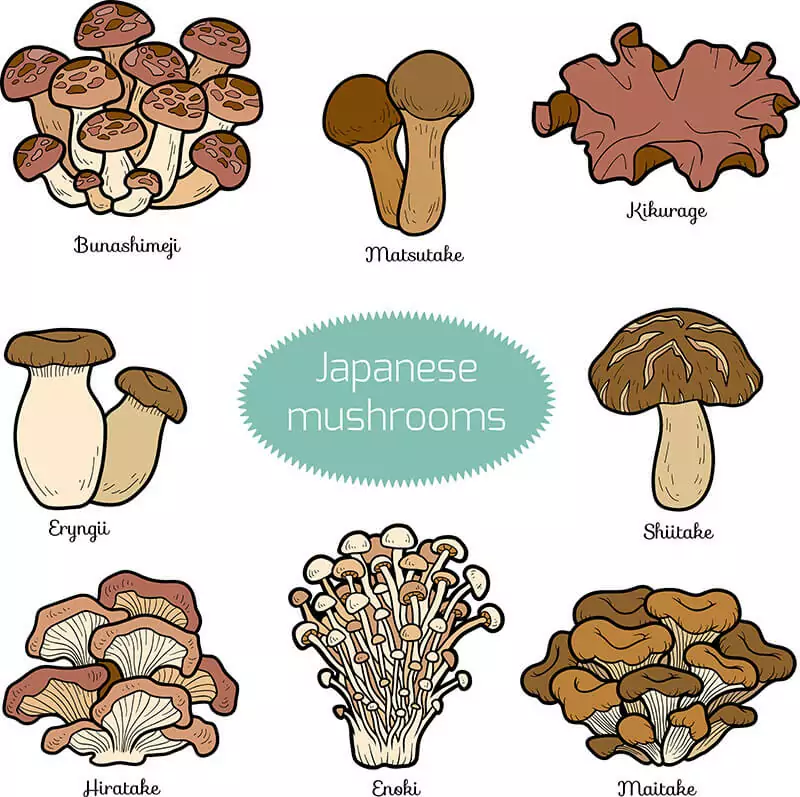 ​​Well, no one can deny how tasty they are, but what if you want to try some new types of edible mushrooms? What if you want a mushroom collection from all countries? Then let's get started with mushrooms from Japan right now.
Maybe you've already known about Japanese mushrooms, maybe you haven't. But it's always fun to learn and double-check your knowledge, right? There is so much valuable information in this article waiting for you!
Mushrooms To The Japanese – A Gift From Mother Nature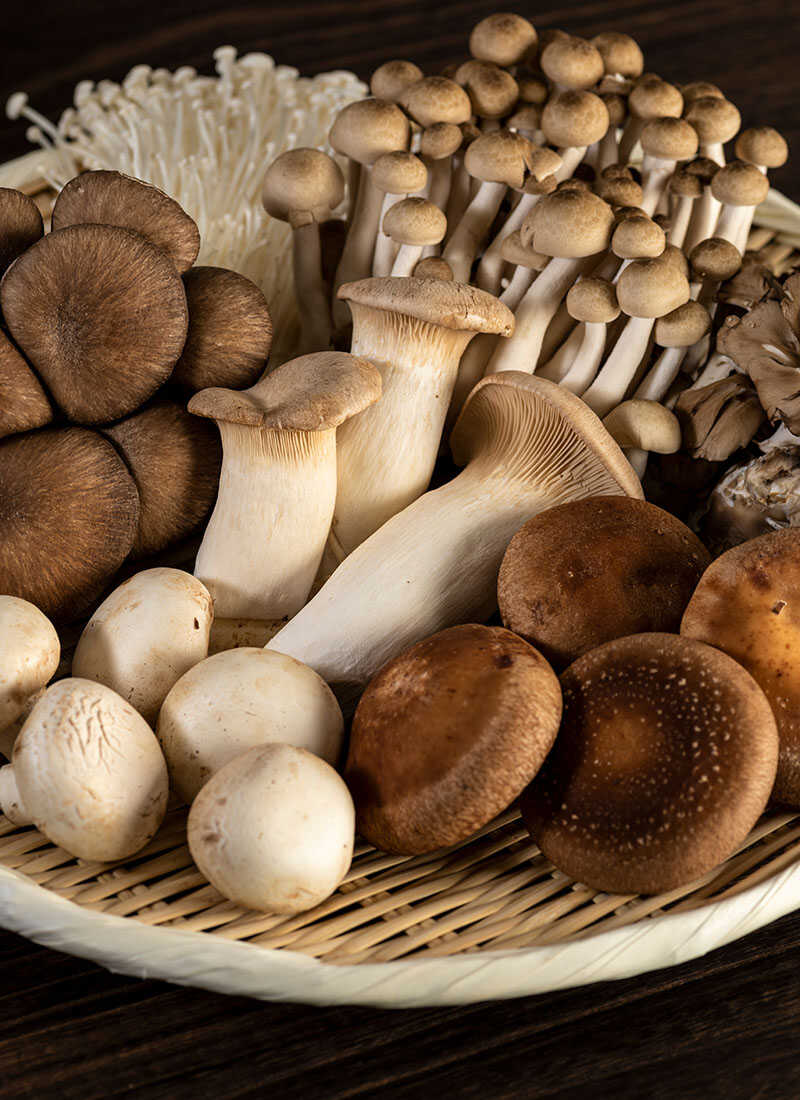 Multiple excavations in Japan found the mushroom ceramics from the early Jōmon period, which is the Japanese prehistory dated from 14000 – 300 BCE. This discovery indicates that mushrooms have always been an important source of nutrients in Japanese culture.
Japanese cuisine highly appreciates mushrooms' flavor for their delicious taste and health benefits. Can you imagine all the precious nutritional values within one small piece of mushrooms: fiber, protein, vitamin B and D, and many minerals? But wait, there's more!
Recent research has found out that mushrooms are super beneficial. Fighting the spread of breast cancer tissue, decreasing the risk of depression, slowing down your aging process, and many more benefits. No wonder why Japanese love mushrooms so much!
Because of the naturally humid environment in Japan, there appear to be more than 5000 different kinds of mushrooms, but only around 100 are edible. But that is still an accountable number of mushrooms for you to try, isn't it?
Dr. Weston is here to explain to you the health benefits of mushrooms!
Japanese Mushrooms – You Will Regret Not Trying Earlier
Different from the Europe and North America mushrooms, Asian in general and Japanese mushrooms, in particular, have a very signature taste as well as texture. So if you are looking for some new, unique mushrooms, keep reading, and you won't be disappointed.
| Type of mushroom | Their appearance | Taste and smell | Nutritional value |
| --- | --- | --- | --- |
| Shiitake mushrooms | Dark brown color | Strong earthy taste and firm texture | Strengthen the immune system, providing vitamins and mineral |
| Matsutake mushrooms | Light yellow, long shape | Earthy, woodsy taste and strong aroma | Great source of vitamin B and fiber |
| Maitake mushrooms | Flowy appearance | Smoky and woodsy flavor, juicy texture | Lowering blood pressure, providing cancer properties |
| Eringi mushrooms | Thick stem with small and flat cap | Seafood-like flavor with a dense, firm texture | Maintaining the cholesterol level, good for a low carb diet. |
| Enoki mushrooms | White, long, thin stem with small caps; clustered together | Mild fruity taste with a crunchy texture | Providing multiple antioxidants, vitamin B, and minerals. |
| Nameko mushrooms | Long, slender stem with small-cap | Umami flavor, slightly crunchy | Containing cancer-fighting properties. |
| Shimeji mushrooms | White stem, small brown cap | Strong earthy and woodsy flavor and smell | Good for a low carb diet, high fiber. |
| Hiratake mushrooms | Oyster shaped, grow in cluster | Earthy and sweet taste, anise smell | Providing lots of vitamins and minerals. Lowering cholesterol levels. |
| Kikurage mushrooms | Dark color, flowy appearance | Firm, rubbery, slippery texture with a mild earthy flavor | Reducing inflammation and providing antioxidants, iron. |
| Tamagotake mushrooms | Bright red cap | Strong umami and earthy taste, with crispy texture | Rich in vitamins, minerals, and fibers. |
| Saketsubatake mushrooms | Reddish-brown cap, white stem | Unique creosote-like smell, and potato-like taste. | Good source of protein, good for people on a weight-loss diet, and high cholesterol |
| Moriharatake mushrooms | Brown color, large open cap | Earthy, woodsy flavor, similar to Portobellos | Providing vitamin B and vitamin D2, with valuable mineral |
| Iwatake mushrooms | Thin slices, almost rock-like | Earthy, aroma smell with a bitter taste | Rich in fiber, protein, calcium, and vitamin A |
Shiitake Mushrooms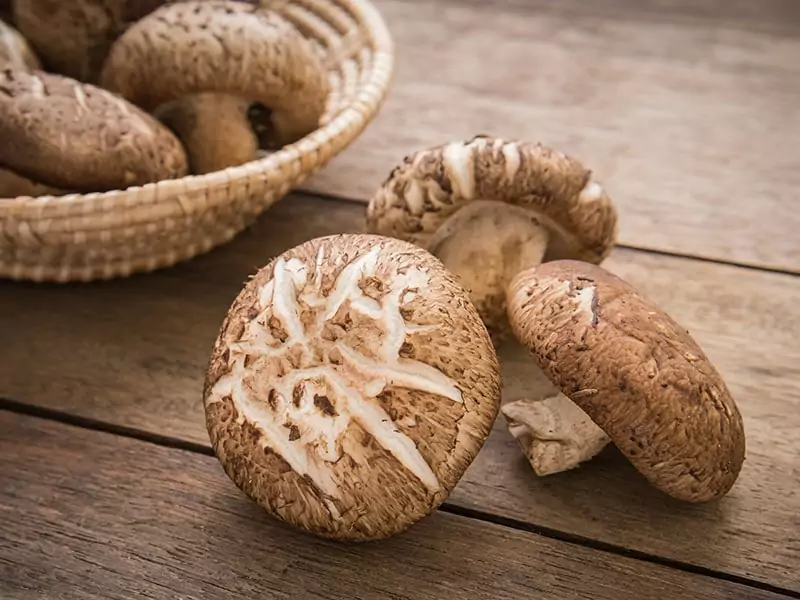 Shiitake mushrooms are probably the most popular mushrooms in Japanese cuisine and the most consumed Japanese mushrooms on the international market. And its famous reputation can't be explained other than its unique taste and texture.
They are flavorful with a strong earthy, umami taste and meaty, chewy texture that will attract you in the very first bite. You will most likely find them dried already. The reason is that the flavors would be so much stronger after dehydration.
Not only are the Shiitakes tasty, but they are also good for your health. Dietitians highly recommend these mushrooms to people lacking copper and to vegetarians or vegans. The high natural protein in Shiitake would make it a perfect meat substitute.
Recent research even found out that Shiitake can help cure infections, decrease swelling, and even slow down the growth of cancer tumors. All thanks to pantothenic acid and selenium within it. Tasty and healthy, you have to try right after this article!
If you want to use these Japanese mushrooms in a Japanese way, try to add them to nabe or sukiyaki, which are types of hotpot, super comforting for your soul on a cold night. Or you can also use the familiar ways to cook them, such as sauteing or adding them to the soup!
Watch this video to know more:
Matsutake Mushrooms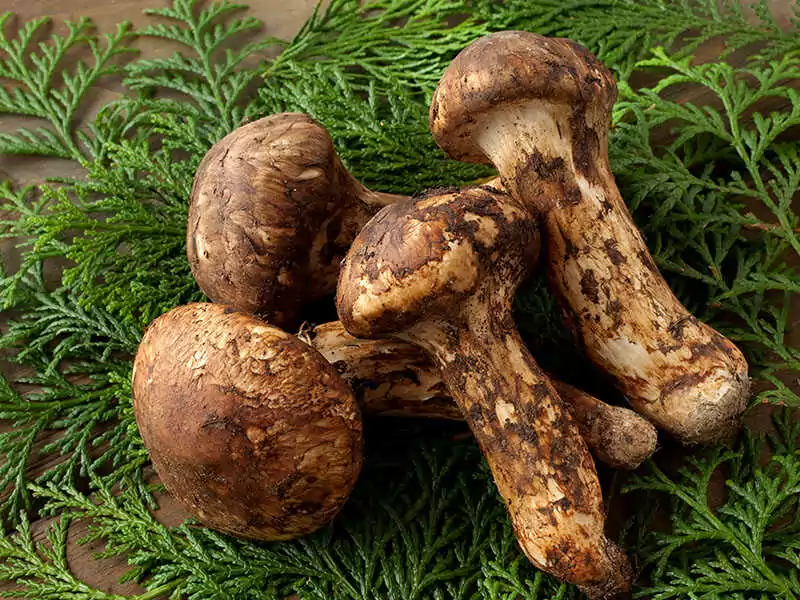 Matsutake mushrooms, or you can say it's Japanese Truffle. This shows how precious these mushrooms are, especially when they are now on the Red List. Apart from climate change, the slow growth rate and overexploitation are also good explanations for their situation.
Matsutake mushrooms usually grow underneath the tree, in long shapes, but it's not easy to collect them at all. These mushrooms cannot be cultivated and only grow during autumn, so their price is eye-popping. But you pay what you get!
This type of mushroom is very well-known for its high level of copper, which is important for your body to create platelets. At the same time, they contain a great source of protein, vitamin D, and multiple minerals. A bit pricey, but definitely worth it!
Don't forget their delicious flavor. Matsutake mushrooms have a signature earthy and spicy taste, along with a strong aroma. One note on this type of mushroom is to eat them as soon as they're harvested because they will lose the flavors when you keep them for too long.
Because of the richness in flavor and fragrance, Japanese cuisine loves to minimize all the recipes for Matsutake mushrooms. Whether to consume mushroom raw or not? This is not a bad idea with this variety, or you can grill, cook it in rice, or special soup like Dobin-Mushi, Osuimono.
Easy recipe to cook Matsutake mushrooms with rice – optimize the flavors.
Maitake Mushrooms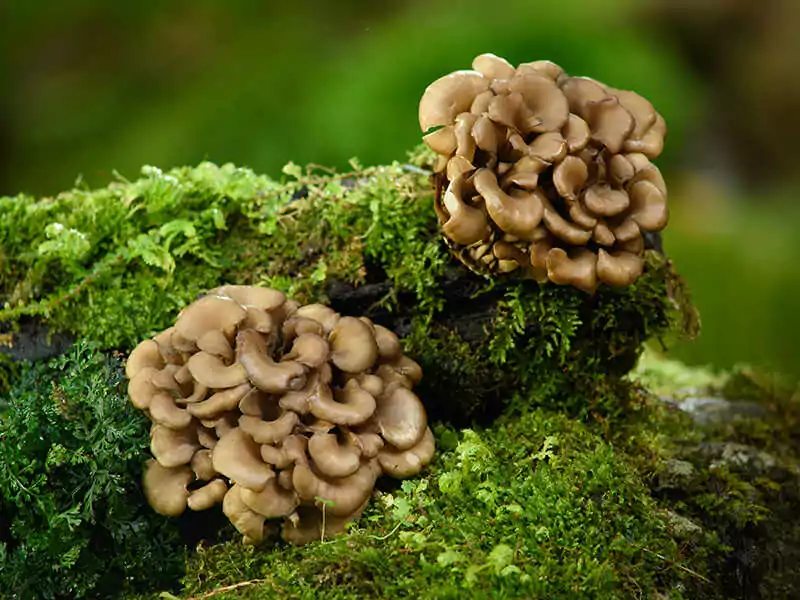 Maybe you didn't know this fact, but Maitake in kanji means "dancing". These mushrooms earn this name, all thanks to their flowy appearance. Another name for the Maitake is "Hen of the Woods", no explanation other than that they look like fluffy hens.
Before the special sawdust cultivation, You could only find Maitake mushrooms in warm and wet environments during the autumn season. Luckily, thanks to the development of science, the price of these mushrooms is very affordable.
Maitake mushrooms are famous for having multiple medicinal elements, such as vitamin B, C, copper, potassium, amino acids, and beta-glucans. What's important about these nutrients is that they play a huge role in preventing cancer. But that's not all!
Maitake mushrooms are good friends for people with high cholesterol or glucose levels as they work well in keeping those problems under control. Another plus is that they will strengthen your immune system. Did I mention they are super tasty with a hearty flavor?
This type of mushroom has an earthy, smoky, and woody flavor that makes them perfect for tempura, adding taste to your soba and udon. Try handly separating the mushrooms into small pieces to keep the perfect texture to keep their precious earthy flavor.
That's right, maybe they are not as flavorful as Shiitake or Matsutake mushrooms, but the flavor of umami and soft texture will satisfy your heart. Highly recommend using them as side dishes in soup or pasta so you can enhance the flavors on the whole plate of food.
A heartfelt Maitake miso soup just for you.
Eringi Mushrooms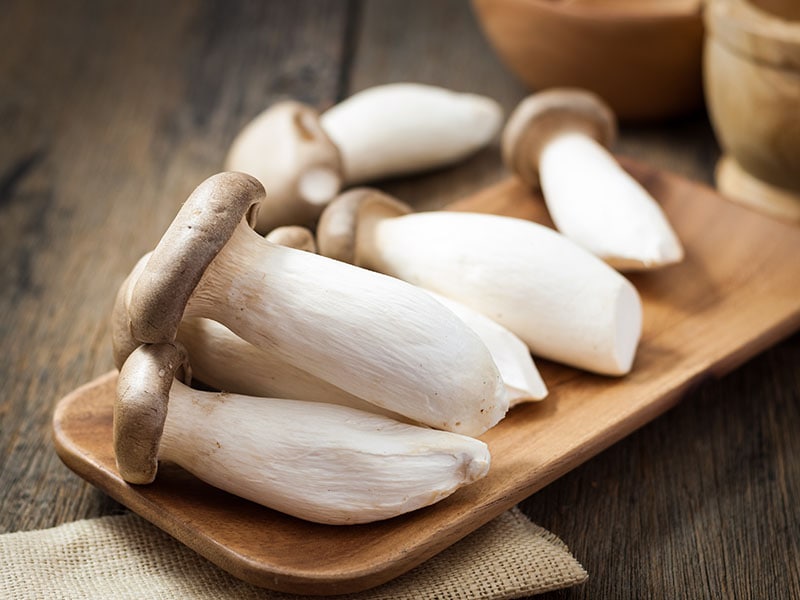 Eringi mushrooms can also be called King Oyster mushrooms. This type of mushroom is quite new to Japanese cuisine. It's mainly because they were first cultivated in this country in 1993. But Eringi mushrooms quickly immerse themselves in Japanese daily cuisine.
With a great source of protein and vitamins such as vitamin D, vitamin C, and minerals, Eringi mushrooms are highly recommended by dietitians to include in daily cooking. So why not give it a try?
Eringi mushrooms are signature with thick and dense stems but have small and flat caps. Their texture is described to be firm with an almost seafood-like flavor. That's why they are very versatile in cooking, from grilling, sauteeing to making soup. All is possible!
Simply sauteeing your Eringi mushrooms with butter is all you need.
Enoki Mushrooms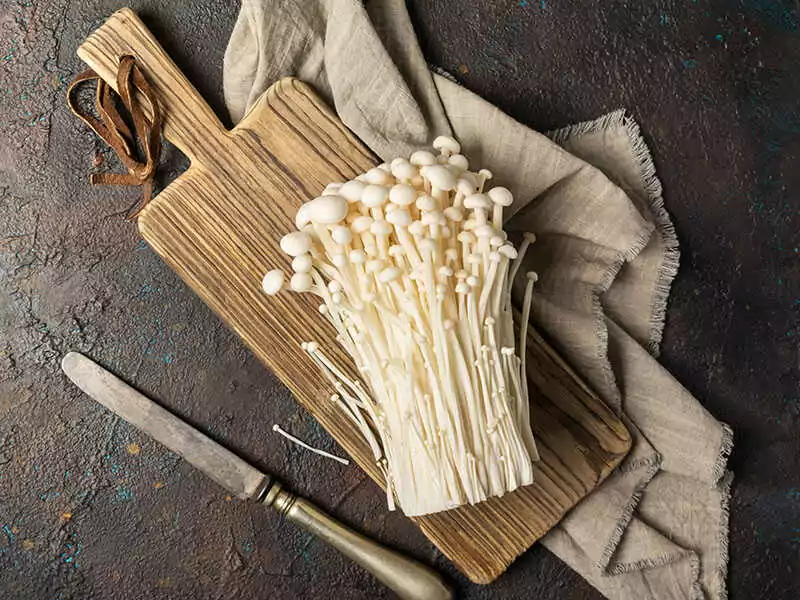 Enoki mushrooms are popular in East Asian cuisine in general and Japanese in particular. You can find them in Asian markets, packed in bunches with the signature long, thin stems and small caps. Their staple flavors are mild and fruity, with a crunchy texture.
They are very high in vitamin B and D, definitely very good for your body. At the same time, because they are high in fiber, they work perfectly to boost your immune system and improve gut, stomach well-being.
One fun fact about Enoki mushrooms is that they are always white, thin, and long. But this appearance is because of their cultivation condition. They are required to be grown in the dark. In the wild, they have a dark brown color and fan-shaping.
There are many Japanese recipes you can try with the Enoki mushrooms. Because of the mild flavor with broth-absorbing nature, they are very popular in Japanese hotpot. You can also add them to soups like Nabe, Sukiyaki, or appetizers like Aemono. Feel free to try!
Spicy enoki mushrooms and beef soup, simple and tasty.
Nameko Mushrooms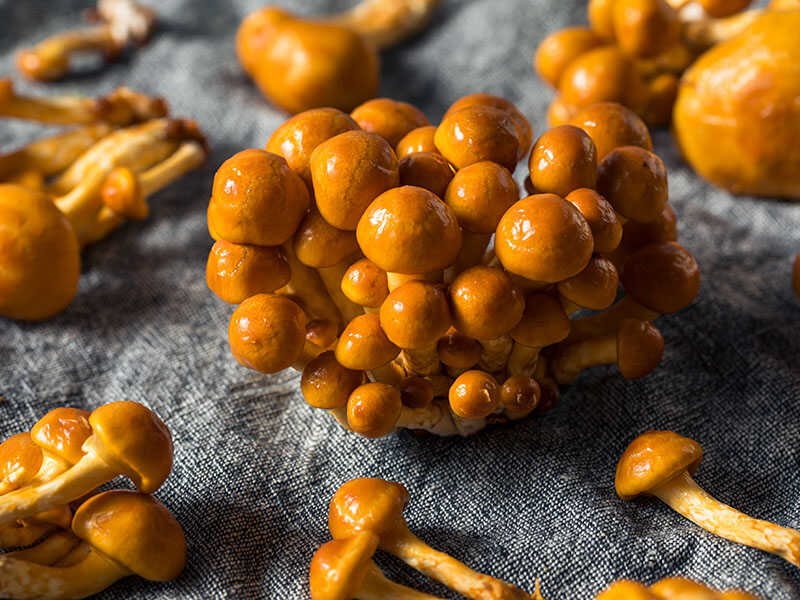 Nameko mushrooms have an attractive appearance with yellow color. They also have long and slender stems with small caps. For their unique, eye-catching color, they earn the name "Butterscotch mushrooms" in some areas.
But the color is not the only reason for that name, but also because they have a quite slimy texture, almost like covering in gelatin. Want to try some unusual mushrooms recipe? This mushrooms suit very well with chocolate dishes because of their natural slippery texture.
Using Nameko mushrooms daily is also a good choice. The slime on these mushrooms can act as a natural thickener, which would be perfect for your soup. What's best is that the slime won't have the unusual taste after cooking, but actually light umami, crunchy flavor.
Nameko mushrooms can help to strengthen your immune system and prevent the spread of cancer tissue. They are the perfect ingredients for a good bowl of soup, such as Nameko miso soup, Aemono, etc. Don't forget to try some recipes after the article.
You should see the video below:
Shimeji Mushrooms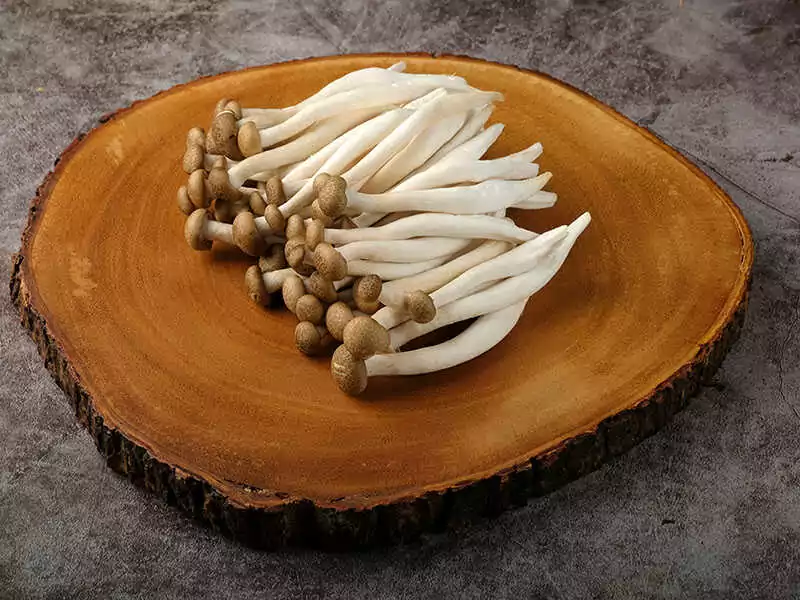 Shimeji mushrooms have an ordinary appearance with white stems and small brown caps. However, the flavor is top-notch. People even describe: "For fragrance, Matsutake, for flavor Shimeji". So you just can't doubt the taste of these mushrooms.
Even though Shimeji mushrooms can be eaten raw, they have quite a harsh taste, so they're usually cooked. Mushrooms, in general, are known for having strong cell walls that can only be destroyed by heat. So, when you cook Shimeji, there will be more nutrients.
Shimeji mushrooms are very well-loved by vegetarians and vegans for their high nutritional values: copper, vitamin B, potassium, zinc, etc, contained in these small mushrooms. So don't wait anymore, put them in your "must-try-list" now!
Because of their unique flavors, they are widely used in many different recipes. They can be made into saute, soups, nabe, pasta, or even tempura, etc. So many tasty dishes with just a small amount of mushrooms. Must try right away!
Sauteed Shimeji mushrooms with herbs are enough to steal your heart.
Hiratake Mushrooms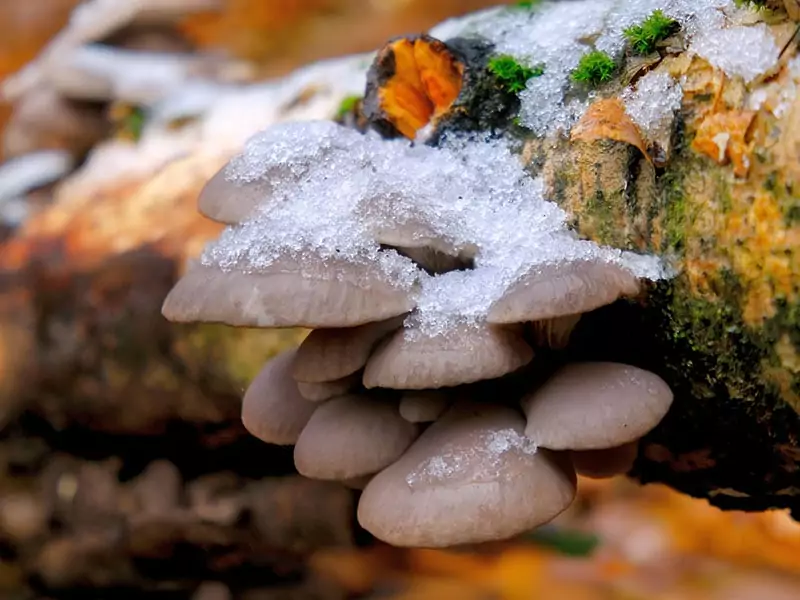 Fact that you probably didn't know, "Hiratake" in Japanese means "flat mushroom". But on the appearance, they resemble the oyster shape rather than a flat shape. But the name would not be a problem anymore, as soon as you have a taste of these mushrooms.
The flavor of Hiratake mushrooms is very elegant and savory, with a hint of earthiness in the end. Some even think this type of mushrooms have a unique sweetness, mixing with an anise smell when cooked. But when eating raw, they taste like Button mushrooms.
Because of their slightly chewy texture, Hiratake mushrooms are very commonly used in Japanese cuisine, especially when it comes to soup or soy sauce. Not to mention, they will benefit your cholesterol level and provide a great source of vitamins and minerals.
Stir-frying the Hiratake mushrooms takes less than 15 minutes.
Kikurage Mushrooms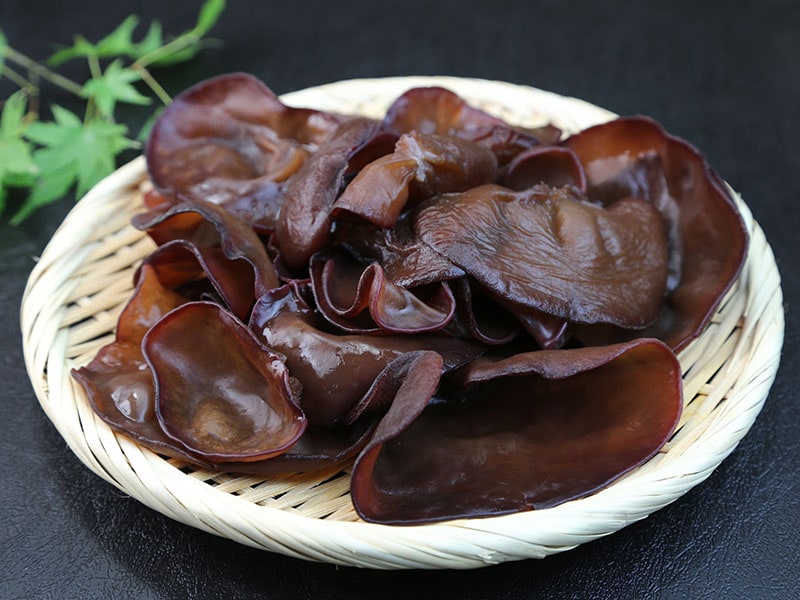 The name might sound really exotic to you, but Kikurage, also called Wood Ear mushrooms, are very common in many countries' cuisine. But definitely most popular in East Asian countries: Korea, Japan or China.
"Kikurage" in Japanese means "Tree jellyfish", so you probably can imagine the funky texture and shape of these mushrooms, right? They have a firm, rubbery and slippery texture with a mild earthy flavor. For these natural traits, they work very well with many recipes.
Although not the most mesmerizing tasting mushrooms, they make up with all the health benefits. Kikurage mushrooms are rich in fiber and protein and very low in calories. That's why they are very famous to vegetarians and vegans, but that's not all the benefits.
These mushrooms contain a high level of vitamin B1 and B2, which later change the carbohydrates into glucose and strengthen your liver function. They've been an important ingredient in traditional Asian medicine and now recently grow in Western medicine.
Kikurages are recognized for their anti-inflammation effect and improve your immune system. They can also protect your heart health and control your cholesterol level. That's why they are widely used in Japanese soup, stew, or salad. Don't forget to try it!
Watch this video to know more:
Tamagotake Mushrooms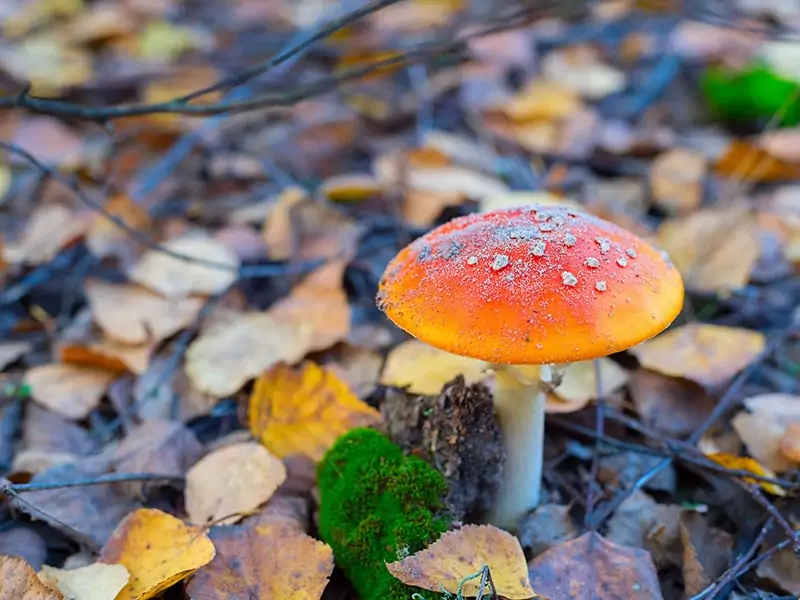 If you are a fan of mushrooms, you probably have heard that red mushrooms are intoxicating, right? But this is not the same case for Tamagotake mushrooms.
They're very safe to eat, so feel free to have a taste sometimes. In fact, they are rich in vitamins, minerals, and fiber.
This type of mushroom can be found under the tree, from summer to fall. So you can have an experience of mushroom picking, but remember to be careful. You don't want to mistype some poisonous mushrooms with Tamagotake mushrooms.
Well, that's enough warning, let's talk about the taste of this mushroom. Tamagotake mushrooms have strong umami and earthy flavor with a crispy texture. So if you want to keep the taste as well as the signature, remember to try grilling or frying.
Saketsubatake Mushrooms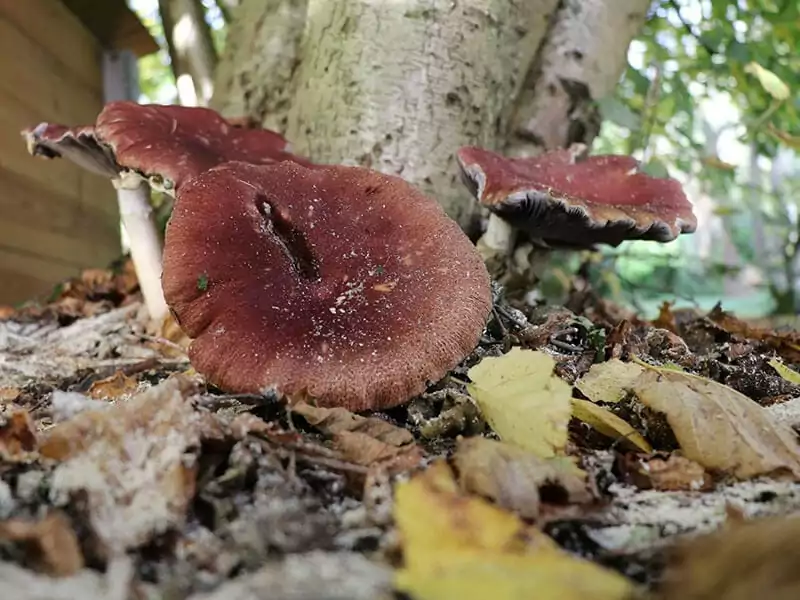 Saketsubatake mushroom can also be called Burgundy mushroom or King Stropharia. This type of mushroom has signature reddish-brown color caps with white stem. They're found in Europe and North America, and this mushroom also seems to exist in Japan.
Saketsubatake mushrooms have a long history of being regarded as poisonous because of their Strophariaceae origin – a notoriously poisonous family. Even in the USA state of Louisana, it is illegal to grow Saketsubatake mushrooms.
But now, focus only on the mushroom, shall we? The Saketsubatake mushrooms are very easy to recognize, especially when they are 20-30cm tall. They have quite a melting texture, a unique creosote-like smell, and a potato-like taste.
Not special in taste, Saketsubatake mushrooms make up in the nutrition, maybe not as striking as other types of mushrooms, but they are still very healthy for your body. These mushrooms are a good source of protein, low calorie, with no fat or cholesterol.
A few types of research were conducted on this type of mushroom, trying to find the connection between them and the cure for HIV. Although there is no significant result, there is still a lot of hope and potential for the future outcome.
Because Saketsubatake is not widely-cultivated, the amount of these mushrooms on the market is still very limited, so are the purchasing customers. Antonio Carluccio, a famous Italian chef, highly recommends sauteing in butter or grilling and complimenting the taste.
Moriharatake Mushrooms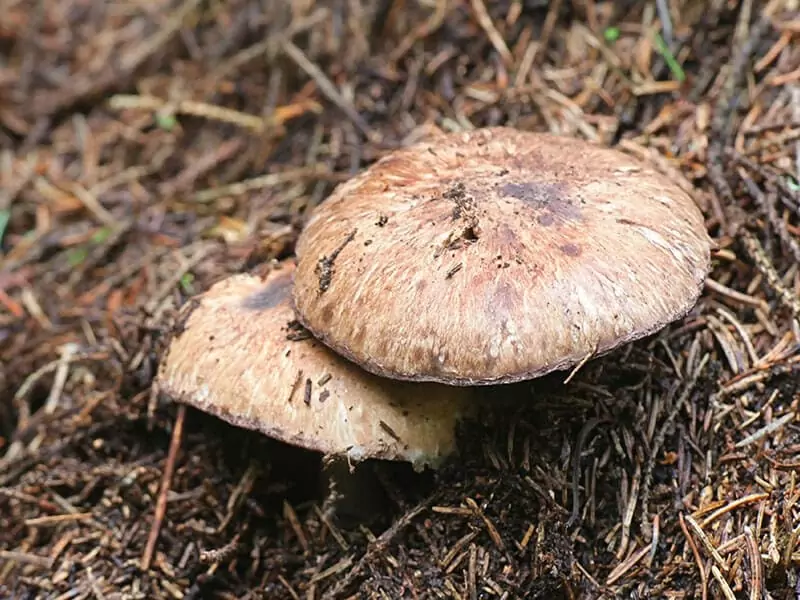 Moriharatake mushrooms are also known as Scaly Wood mushrooms, Blushing Wood mushrooms, or Pinewood mushrooms. They are usually found in early summer or during September and November, in Europe, North America, Africa, and apparently Asia.
They are signature for the broad brown cap up to 10cm, but when cut open, the flesh would be completely white and slowly turn red after. Moirharatake mushrooms have an earthy and woodsy flavor, similar to Portobello when they're fully cooked.
This type of mushroom is not commonly consumed, but why is that? Well, just like the Saketsubatake mushroom, they're are a member of a poisonous family. So they are not encouraged to consume for fear of mistaking them with the inedible one.
But how about their nutritional value? Moriharatake mushrooms are actually very healthy, with multiple vitamins B2, 6, 14, and vitamin D2, potassium, magnesium, and zinc, at a very low calorie. Also, they are very high in fiber and protein, so worth a try, right?
Moriharatake mushrooms have a common point with their family: the toxin level. But don't worry, it would only be in the cell wall, so you will need to cook them to have fully safe mushrooms. Using them in soup, sauce or risottos is a very good decision.
Iwatake Mushrooms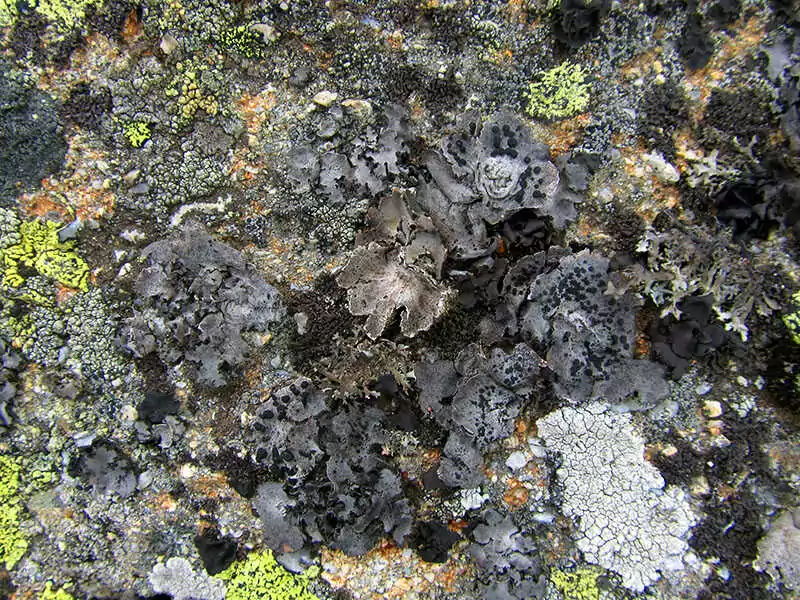 A more common name for Iwatake mushrooms is Rock Tripe mushrooms, and they earn this name because they simply grow on the rock with dark color. And another reason is that they are very hard, almost as much as a rock, unless you soak them in water for hours.
At an early age, Iwatake mushrooms were used as a famine food in extreme cases. Apart from the fact that they are hard to eat, Iwatake mushrooms are among the highest nutritional value and least acidic.
By the dry weight, which is very light, they contain a lot of fiber, protein, and calcium. Not to mention they are also rich in vitamin A and carbs. That's the reason why they benefit the people in famine so much.
When Iwatake mushrooms are fully soaked for a few hours, they will change to a more firm, leathery texture. But keep in mind that these mushrooms will be very bitter in the first boiling, so try to boil a few times to get rid of the bitterness if you don't like bitterness.
Iwatake mushrooms, in general, have a mild earthy, aroma smell with quite a bland taste. Some even describe them as tasting like cucumber. For the natural flavor and texture, they are usually used in soup or as minced medicine in Asian tradition.
From Seasonal Food To A Year-Round Must-Have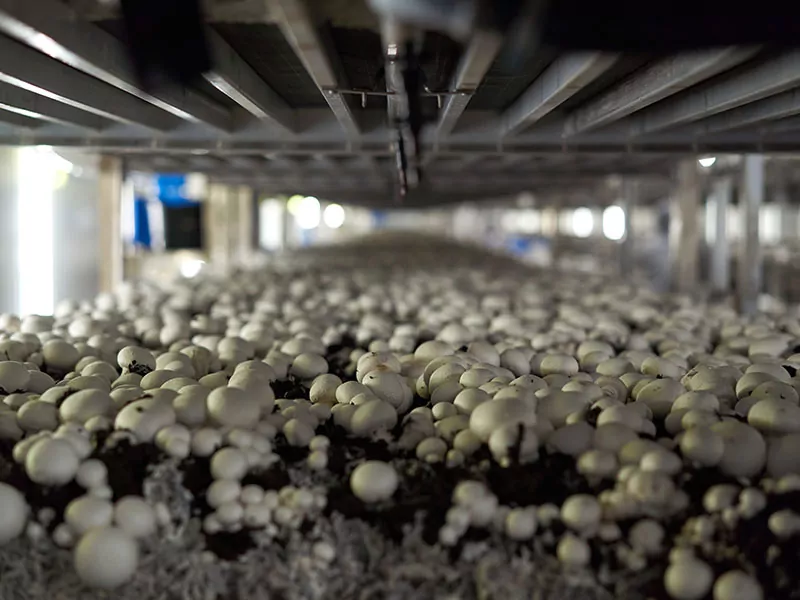 For a long time, most edible Japanese mushrooms have been in the wild and are only available during the autumn season. But after a long time of researching, the farmers have found a way to change the whole situation to the opposite.
By creating a controlled environment and using sawdust as fertilizer, this farming method brought mushrooms to everyone. Not to mention the price is super affordable, even for popular types such as Nameko, Enoki, or Shimeji.
But sadly, not all wild mushrooms can be domesticated, and Matsutake is one of them. In 2020, the International Union for Conservation of Nature had listed Matsutake in the Red List of species facing extinction due to dramatic climate change.
Human beings' impact on the environment is huge, so remember to be careful with your actions. And let's hope that the scientists and farmers also find out good techniques to stop the species from extinction!
Cleaning Mushrooms Like A Professional
Same as any ingredients, besides checking for any bad signs of mushrooms, you need to clean the mushrooms before cooking them, so here are two best ways to make sure your mushrooms are as clean as a whistle. What are you waiting for? Check out these methods right away!
"Don't Let Your Mushroom Touch The Water"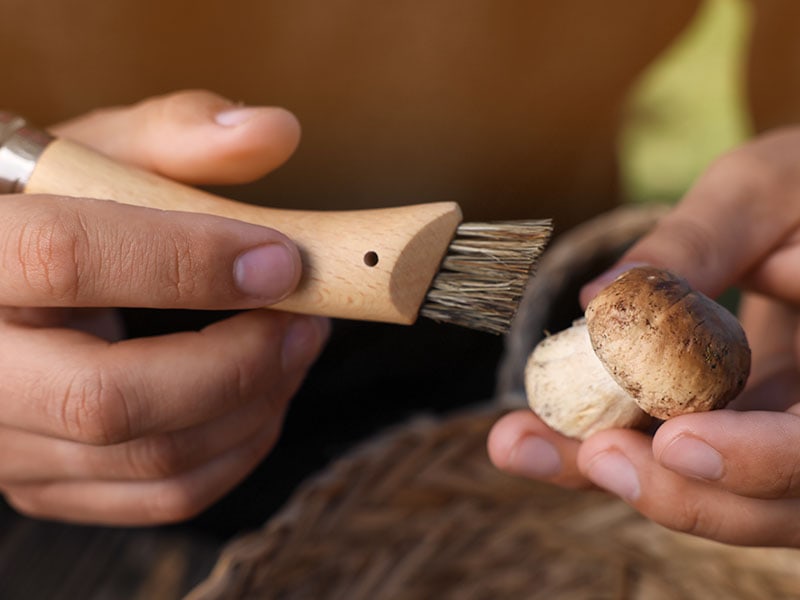 This golden advice is from old age, but they stay throughout the years for a reason. Mushrooms are naturally porous; in another way, they are built like a sponge. And what does a sponge do? Exactly, they absorb water!
But what does that mean to your mushrooms? Well, your mushrooms will lose their natural crispiness and probably be water-logged. This will cause your mushrooms to be super slimy and watery when cooking, and you don't want that to happen, trust me.
So these are what you need to prepare to achieve your clean and delicious mushrooms:
A piece of dry cloth or a paper towel (a pastry brush is also great)
A little warm water (they will be super beneficial in getting rid of the dirt)
Some clean paper towels
Now, let's get your hands dirty!
Step 1: Damp Your Tool With A Bit Of Water
The tool can be a dry cloth, paper towel, or pastry brush. Don't worry too much about what the tool is. As long as they are not so sharp that they can cut your mushrooms and make you feel comfortable, they are perfectly good.
I understand that you should keep the mushrooms away from the water. But sometimes, you need to break the rule a bit, especially when the dirt on the mushrooms is so stubborn. There is no absolute in the world anyway, right?
Step 2: It's Manual Labor, My Friends
Well, you know the drill. It's time to work your hand and scrub, scrub, scrub. I understand it would be a lot of work to scrub all the mushrooms, one by one. But the result will be worth it when you see all your mushrooms are fresh as if you just handpick them from the garden.
Step 3: No Excess Water
Now, use the extra paper towels and carefully absorb all the excess water. The water you use on your tools might be little. But if you want the mushrooms to be in the best state, it's always better to make sure there is no extra water on them.
Clean your mushrooms like an expert with a toothbrush (or dry cloths).
Fast Mushroom Cleaning For Fast Use?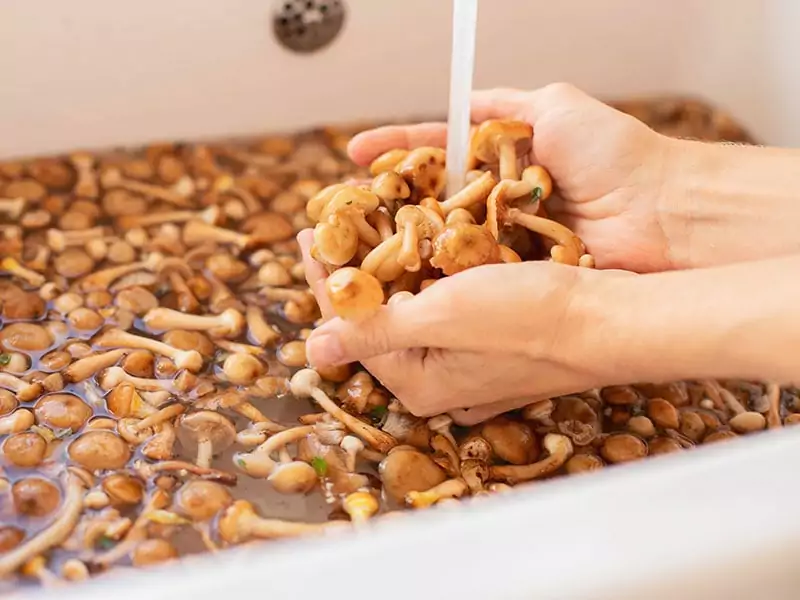 You don't have the patience it takes to brush one by one mushroom? Say less, that's why I will teach you how to clean your mushrooms super fast and easy. This way might contradict the original way, but it works. That's what matters after all!
Preparing these items and getting to work right away:
Cool water
A container (can be a sink or bowl, your choice!)
Some paper towels
Step 1: Fill The Container With Water
You heard it right! Fill your container, it can be a sink or a bowl, with cool water, and then drop all your mushrooms in the water.
Slightly use your finger to scrub out the dirt. But keep in mind that don't let them soak for too long. You don't want them to be water-logged anyway. Clean the mushrooms as fast as you can and quickly take them out of the water!
Step 2: Dry Out The Extra Water
This step would be super easy to do. Just simply use the paper towel and damp around your mushrooms to absorb the excess water out. But remember, this washing method won't keep your mushrooms fresh as long as the original way.
Sad but true, once you have soaked the mushrooms, you can't expect otherwise. so this technique would be perfect if you decide to use the mushrooms right away. But guarantee you, they will taste perfectly fresh and crispy when eating!
A small tip for you if you want to preserve the mushrooms in the fridge for a while: Remember to store paper bags instead of plastic because the latter one will block all the airflow, so your mushrooms will turn slimy very fast.
You should see the video below:
FAQs
If you still have some questions about Japanese mushrooms, keep on reading because these FAQs would help you a lot. If you don't have any questions? Well, knowledge is never too much, so if you've scrolled down this far, why not keep on reading?
Japanese Mushrooms – No More Boring Veggies
Mushrooms are inseparable parts of Japanese cuisine not only for their delicious taste but also for the health benefits within. If you ever ask yourself why the average age of Japanese people is so high, remember mushrooms are a part of their daily meal.
But that doesn't mean that you have to make a full Japanese meal to actually enjoy these types of mushrooms. They are very versatile in cooking, so feel free to experiment and create your recipe.
Well, that's all I have for you today. I hope you have some new information on Japanese mushrooms, and don't forget to comment below your favorite Japanese mushrooms and the recipes along with them.