Are you searching for delectable vegan Vietnamese recipes to add to your meal rotation? Look no further, as today's post is here to solve all of your problems. With a rich and flavorful culinary heritage, Vietnam offers a wide variety of dishes that you can easily adapt to a vegan lifestyle.
In this article, I'll introduce to you an array of recipes in several categories: condiments, rice dishes, rolls, and more. So, if you're ready to broaden your culinary horizons and learn some new vegan Vietnamese recipes, let's get started!
7 Rice-Based Dishes For Tasty Vegan Meals
Rice is an iconic ingredient in the cuisine of Vietnam and many other Asian countries. You can incorporate rice into plenty of delicious Vietnamese vegan dishes, and here are the top picks.
Total time: 2 hours 30 minutes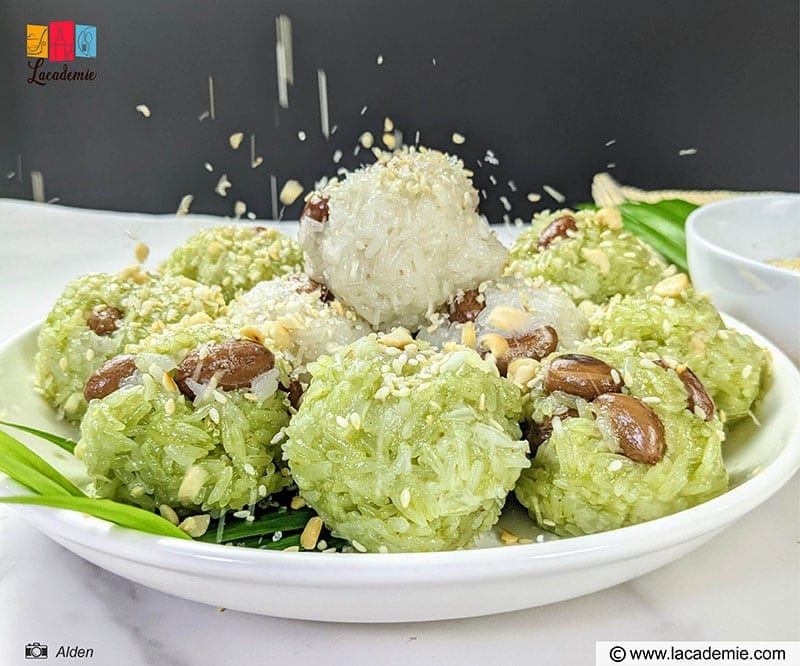 Xoi is another unique aspect of Vietnamese cuisine that every foodie has to try. Xoi Dau Phong is one of the most beloved vegan-friendly variations of this classic dish, renowned for its signature stickiness and irresistible flavor.
Imagine a plate of perfectly cooked glutinous rice, bursting with a unique blend of sweet and salty flavors, topped with the crunch of peanuts and the smooth richness of coconut milk. Better yet, there's also a vibrant green version infused with the enchanting essence of pandan leaves.
Total time: 45 minutes
Since ancient times, rice has always been a staple in Vietnamese cuisine. Since this starchy ingredient is completely vegan, it's an ideal choice for people following a plant-based diet. The first rice-based dish from Vietnam I want to introduce to you is vegan fried rice.
Essentially, this recipe consists of 2 main ingredients: cooked rice, preferably refrigerated or leftover, and a mixture of vegetables and aromatics. Cold rice is better for making fried rice because the grains separate better, giving your dish the best texture.
Common choices for veggies include carrots, green peas, and mushrooms. That said, you can pretty much add anything you want to the mix. I usually throw in some tofu to take the protein content up a notch.
Total time: 1 hour 20 minutes
Com Tam is undoubtedly one of Saigon's most well-known street foods. Typically, the locals will enjoy broken rice with grilled pork, egg meatloaf, sunny-side-up egg, and shredded pork skin. However, you can replace all of them with vegan alternatives.
To mimic the taste and texture of the meat, marinate TVP or firm tofu slices with a mixture of sweet chili sauce, vegan fish sauce, and soy sauce. After that, briefly fry or saute them, and you'll have a near-perfect substitute for the grilled pork.
You can also use the tofu for making vegan egg meatloaf. As for the pork skin, simply replace it with cooked, drained, and seasoned vermicelli noodles. Remember to opt for vegan fish sauce when making the dipping sauce.
All you need to know to master vegan Vietnamese broken rice.
Total time: 1 hour 15 minutes
Chao is a kind of rice porridge that's perfect when you're under the weather or simply want a light and soothing meal. This congee is incredibly easy to make. Think of cooking rice, but with more water and a few extra herbs, like lemongrass and ginger, to accentuate the aroma and flavor.
Vietnamese people will serve the congee with pork ribs, chicken, or duck if this is a typical Chao dish. But since you're going full vegan, mushrooms (whatever type you like), corn, tofu, and root veggies are the best topping choices.
You can also adjust the texture of the congee by adding more or less water. There's no fixed way to make Chao, so don't feel bad if you enjoy a slightly watery porridge.
Total time: 1 hour
Xoi Dau Xanh is another variation of Xoi widely enjoyed in Vietnam. There are actually 3 ways to make mung bean sticky rice, each resulting in a slightly different dish. Worry not; I'll cover them all in this post.
The first and probably the most straightforward method is to cook the mung beans together with glutinous rice. You only need to wash and soak the beans and cook them whole without any further preparation.
The final result will be a beautiful blend of white rice and yellow mung beans. To round off the dish, garnish the dish with fried shallots, toasted peanuts, sesame seeds, and fried shallots.
Total time: 3 hours
The next version of mung bean sticky rice, Xoi Vo, includes cooked glutinous rice tossed in steamed and ground beans. The action of coating and rubbing the rice with mung bean powder, which the Vietnamese call "Vò," is what gives the dish its name.
Typically, the rice grains in Vietnamese Xoi will stick together, creating a unique chewy mouthfeel. However, one special thing about Xoi Vo is that the grains will be completely separated. Interestingly, Northern and Southern Vietnam people have different ways of enjoying this delicacy.
Northerners prefer to keep the seasonings minimal to bring out the natural richness of the mung beans. On the other hand, Southerners usually add coconut milk and sugar to the rice, resulting in a sweeter treat.
Total time: 3 hours 45 minutes
Last but certainly not least in the mung bean sticky rice family is Xôi Xéo, a famous breakfast coming from the capital of Vietnam – Ha Noi. In this traditional Vietnamese delicacy, the rice and the mung beans are cooked separately.
Since the beans won't be able to infuse the starchy ingredient with its bright yellow color, people will add turmeric powder while cooking the rice to give it a more vibrant appearance. You can also enhance its richness by pouring in a little coconut milk.
As for the mung beans, the Vietnamese will steam then pound them with a mortar and pestle until they become a smooth paste. The mung bean paste is then rolled into a ball, cut into slices, and served over the sticky rice. Garnish with some fried shallots, and your scrumptious vegan breakfast is ready!
Try this authentic Xoi Xeo recipe and impress your loved ones!
4 Vegan Noodle Dishes You Don't Want To Miss
Besides rice, there are also a great number of famous Vietnamese noodle-based recipes waiting for you to explore. The problem is that most of them are not vegan-friendly. Worry not. I have collected the vegan version of these delicious dishes for you!
Total time: 1 hour
Ah, Pho. What else to say about this delicacy? Everyone and their dog seems to have known about Pho at this point. An enchanting Vietnamese noodle soup consisting of a flavorful yet refreshing broth paired with rice noodles, Pho has captured the hearts of countless food lovers.
The big question here is: Can you really make Pho vegan? Well, the answer is a strong yes as there are various kinds of Pho! To make up for the lack of pork bones, you'll be simmering the broth with a multitude of spices.
Of course, the noodle soup can't be as rich as the traditional version, but the flavor gap between them is negligible.
An relaxing guide to making tasty vegan Pho.
Total time: 1 hour 30 minutes
Although not as well-known as Pho, Hu Tieu is also a tasty noodle soup dish in Vietnamese cuisine. The dish is an invention of the Teochew people, who migrated from China to Vietnam via the Cambodian border. As such, Hu Tieu is especially popular in Southern Vietnam.
Like the previous vegan Pho, you'll flavor the broth with traditional Vietnamese spices and aromatic herbs. Daikon radish, which has a naturally sweet taste, plays an important role in boosting the broth taste. One special ingredient I love to add to my vegan Hu Tieu is crispy fried tofu skin.
Total time: 2 hours
Bun Bo Hue stems from Hue, the Imperial City of Vietnam, during the Nguyen dynasty. Like most Hue-originated delicacies, this recipe is linked with the royal cooking style and praised for its complex taste and impressive presentation.
One look at this extraordinary Vietnamese soup dish, and you'll be mesmerized by its rich broth, which is a perfect blend of savoriness and distinct spiciness. And don't worry about the lack of meat, the combination of daikon, pineapple, lemongrass, and various spices more than make up for it.
Don't forget about the special annatto oil to achieve the iconic reddish broth. You can create this oil at home by extracting annatto seeds. As for the beef alternatives, I often opt for fried tofu and king oyster mushrooms, which taste just like meat with the right seasonings.
Add Bun Bo Hue to your vegan diet by following this easy recipe.
Total time: 45 minutes
Bun Rieu is a rustic Vietnamese recipe that started as a poor man's dish and is connected deeply to the country's agricultural roots. Despite its humble beginning, this noodle soup is now well-loved by people from all walks of life.
In the original version, the locals will use minced crab to make the Rieu, which is a smooth crab paste. For the vegan alternative, strained bean curds with added seasonings are the best choice.
Like the Bun Bo Hue mentioned above, Bun Rieu also has an attractive reddish broth, thanks to the use of annatto seed oil. In addition, tomatoes are an indispensable ingredient in this noodle soup as they give your Bun Rieu its signature fresh and tart taste.
6 Vegan Recipes To Showcase Vietnamese Banh
Vietnamese Banh recipes are a sight to behold. They come in a variety of shapes, forms, and flavors. Explore the beauty of vegan Vietnamese Banh in this section.
Total time: 35 minutes
Banh Mi is not just a beloved street food in Vietnam, but a part of countless people's lives. Running late and needing a quick yet filling breakfast? Banh Mi is the number one choice. Going home after a long day of work and too tired to prepare dinner? A loaf of Banh Mi will suffice.
There are numerous filling choices for Banh Mi, but the most prominent ones are Vietnamese ham, eggs, pate, pickled veggies, and fresh herbs. While some are not vegan-friendly, you can easily substitute them with their vegan alternatives.
For example, marinated tofu tastes just as good as meat, and you probably won't be able to tell the differences between regular and vegan pate. You can also elevate your sandwich by making a special sauce from vegan mayonnaise, sriracha, and hoisin sauce.
Vegan Banh Mi is truly a blast to make and enjoy!
Total time: 30 minutes
Banh Xeo is a popular dish in every region of Vietnam, and each area has its own twist on the recipe. Regardless of the version, your crepe should be crispy and thin. The word Xeo in its name refers to the unique sizzling sound the batter makes when it touches the heated skillet.
The filling for a traditional Banh Xeo usually includes bean sprouts, prawns, mung beans, scallions, and pork. Since you're making the vegan variation, replace the prawns and pork with tofu and mushrooms.
Fresh herbs and the fish sauce-based dipping sauce are must-haves for serving Banh Xeo. Remember to choose vegan fish sauce or soy sauce to make the sauce suitable for your plant-based diet.
Total time: 1 hour 45 minutes
Banh Cuon is what I consider to be a perfect Vietnamese-style breakfast. The dish consists of thin sheets of rice batter wrapped around a savory filling of ground pork, shallots, and wood ear mushrooms. The locals then serve these rolls with Nuoc Cham (fish sauce-based dipping sauce), Vietnamese pork sausage (optional), and herbs.
As you can see, pork and fish sauce are the two ingredients that prevent vegans from adding these tasty rice rolls to their diet. To solve this issue, swap out the minced meat for firm tofu and replace the fish sauce with soy sauce.
Total time: about 2 hours (excluding the soaking time for the mung beans)
These sticky dumplings are a creation of people living in Central Vietnam. The name of these dumplings indicates how the locals cook them: Tran (loosely translated to naked) without wrappings. The original version is made from sticky rice flour filled with pork, wood ear mushrooms, and pepper.
You'll replace the pork with cooked mung beans for this vegan variation. To enhance the flavor, season the mung beans with salt and pepper. Top the dumplings with Vietnamese scallion oil and vegan dipping sauce when serving.
Total time: 1 hour 30 minutes
Banh Bot Chien is a street treat attached to the childhood of many Vietnamese, especially the ones living in the Southern part of the country. While there's nothing fancy or complicated about this dish, the simplicity is what makes it so attractive.
A serving of Banh Bot Chien consists of fried rice flour cubes, fried eggs, scallion oil, and some vegetables (usually shredded papaya). Depending on the vendors, the rice flour cakes can be shatteringly crispy or more on the tender side.
There are 3 choices to replace the eggs in this recipe. You can use Just Egg, tofu scramble, or vegan egg. Traditionally, the Vietnamese will pair Banh Bot Chien with a tangy and sweet soy sauce, but you can also try it with vegan Nuoc Cham.
Vegan-style Banh Bot Chien tastes just as delicious as the original.
Total time: 45 minutes
Banh Beo is another delicacy from Hue that I believe you will love. The literal translation for these flat rice cakes is "water fern cakes" due to the similarity in appearance. Banh Beo is a common snack in Vietnam, but you'll also see people enjoy it for lunch and dinner.
This dish has a number of regional variations. While the batter, which is a mix of rice flour and tapioca flour, remains mostly unchanged, the cake's topping is different in different parts of Vietnam. The original version from Hue typically includes dried shrimp, scallion oil, and pork cracklings.
For my vegan readers, change the pork, shrimp, and pork skins for mushrooms and crumbled tempeh. To experience Banh Beo the most authentic way, cook and serve the rice cakes in individual tiny dishes.
5 Vietnamese Tofu Delicacies That Will Impress You
Now I know what you're thinking: "Isn't tofu part of most recipes in this post?" While that's true, this section is dedicated to the dishes where tofu takes the main stage.
Total time: 25 minutes
Dau Hu Sot Ca is a dish that most Vietnamese grew up eating. It's an easy yet yummy recipe suitable for a family meal, especially on days when you're busy. The dish is made by cooking tofu with a rich tomato sauce spiced with garlic, soy sauce, and other seasonings.
The result is a dish that's bursting with flavor and aroma. The sauce infuses its sweet and tangy flavor beautifully into the tofu. You can either fry or bake the tofu if you want a less oily dish. I find hot Jasmine rice the best dish to serve with Dau Hu Sot Ca, but you can pair it with brown rice as well.
Take tofu to the next level with Dau Hu Sot Ca – a Vietnamese classic.
Total time: 20 minutes
Lemongrass (Sa) is a special herb in Asian cuisine with a citrusy and slight ginger-like taste. Its bright flavor and aroma make it an ideal choice for many culinary creations, and Dau Hu Sa is one of my favorites. You can easily cook this recipe from scratch in just 20 minutes!
This tofu-based recipe is a true delight for the taste buds. The delicate combination of silky tofu and fragrant lemongrass creates a harmonious blend of flavor that's both soothing and satisfying.
The lemongrass infuses the tofu with its unique citrusy aroma, adding a burst of freshness to each bite. The dish is further elevated by the balance of spices, making for an unforgettable experience.
Total time: 30 minutes
Tofu pudding is a beloved snack or dessert in Vietnam. This silky pudding is made from soybean curd and served with sugar syrup. The Vietnamese love enjoying Tao Pho in the summer as they believe it to have great cooling properties.
Every bite is a decadent indulgence, leaving a lingering sweetness on the palate. Depending on the region, people might add coconut milk or ginger to the syrup. The delicate tofu base provides a blank canvas for the sweet yet subtle taste of ginger-infused sugar syrup to shine through.
Recreate Tao Pho, an iconic Vietnamese street food, right in your kitchen.
Total time: 40 minutes
Satisfy your cravings for the taste of the sea with these spicy seaweed tofu rolls, also known as Ca Keo Chay (vegan elongate mudskipper). This dish provides a vegan alternative to seafood, making it a great choice for strict vegans who don't consume fish.
The rolls are a fusion of flavors, combining the umami taste of seaweed with the smooth yet slightly chewy texture of fried tofu and the heat from a blend of seasonings. You can serve this dish as a starter or pair it with rice and vegetables for a fulfilling meal.
Total time: 50 minutes (excluding the fermenting time)
Fermented tofu or Chao is a unique condiment of Chinese origin that's incredibly popular in Vietnam. This traditional dish is made by fermenting tofu with a mixture of spices, wine, and vinegar or oil. The result is a tangy and spicy flavor profile that's unlike anything else.
The tofu, which is often cut into 1-inch cubes, provides a depth of flavor to any dish it is added to. The fermentation process gives the tofu a subtle funkiness, which balances beautifully with its smooth and silky texture.
There are plenty of ways for you to enjoy Chao. I usually use it to make dipping sauces for vegetables. Some people like to serve it with rice or use it as a vegan alternative to cheese.
3 Essential Vegan Vietnamese Condiments
Vietnamese cuisine places a significant emphasis on condiments, with a bowl of dipping sauce being a staple at every family meal. If you're a vegan, here are 3 must-try options for you.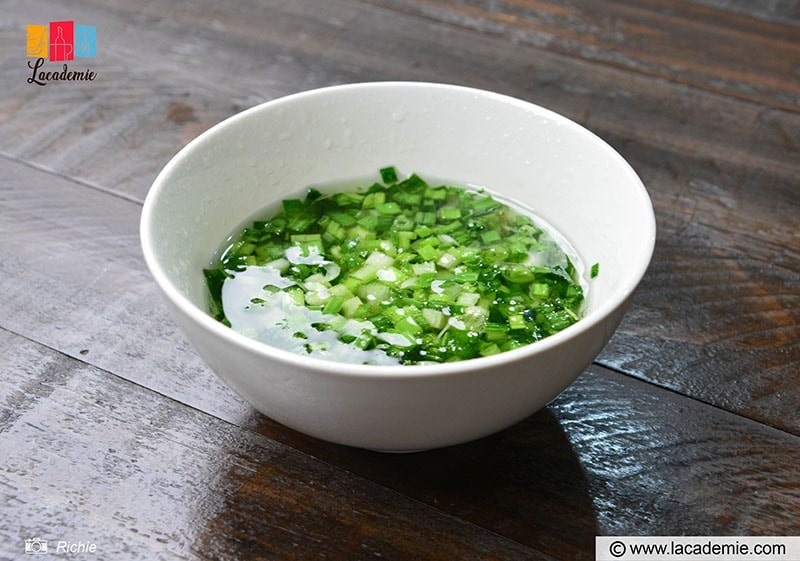 Mo Hanh is another essential in Vietnamese cuisine, especially for fans of Com Tam. The scallions provide a mild onion flavor that compliments many dishes, while the hot oil adds a touch of richness and depth.
The basis of this garnish is simple yet yields a fantastic result. Simply heat some neutral-flavored oil in a pan, then stir in chopped scallions. Give everything a quick stir, and that's it.
There are many ways to incorporate this yummy garnish into your vegan diet, and I'll include the best recipes in today's post. So keep scrolling!
Total time: 5 minutes
Nuoc Cham is among the most important sauces in Vietnamese cuisine. It practically opens the gate to the most famous dishes from Vietnam. I mean, how can you enjoy Banh Xeo, Banh Cuon, and many more without a bowl of savory and sweet Nuoc Cham?
The biggest problem is that Nuoc Cham uses fish sauce as the main ingredient, which isn't exactly vegan-friendly. Fortunately, you can swap the fish sauce out for vegan fish sauce or soy sauce. Mix your vegan sauce of choice with a little chili, sugar, garlic, and lime juice, and your dip is ready.
Learn how to make a flavorsome vegan Nuoc Cham in under 30 seconds.
Total time: 25 minutes
Pâté is a French-originated paste made from ground meat, such as pork, beef, poultry, fat, herbs, and spices. In Vietnamese cuisine, people commonly use pâté as a spread for Banh Mi and a pastry called Pâté Chaud. It also tastes great on crackers and crostini.
Vegan pâté is a plant-based take on the traditional French spread. It uses a blend of sunflower seeds, mushrooms, tomato paste, and various seasonings to create a depth of flavor that's unmatched. And don't worry about the texture. The pâté will come out as smooth and creamy as the non-vegan version.
12 Other Vegan Vietnamese Dishes To Try
In this part, you'll find many excellent vegan recipes that don't fall into any of the above categories. They can be rolls, soup, or even desserts. Let's check them out!
Total time: 45 minutes
Fresh spring rolls are my favorite Vietnamese appetizer of all time. While most recipes include shrimp or pork, you can easily replace these ingredients with vegan-friendly protein, like tofu and king oyster mushrooms. With crisp veggies adding a refreshing crunch, these rolls are an absolute delight to enjoy.
Highlighting the taste of Goi Cuon Chay is the signature sweet and savory peanut dipping sauce. You can make the sauce by cooking peanuts with water and other spices until the mixture turns creamy and smooth. Can't wait? No problem, just swap the peanuts for peanut butter to save time.
Total time: 1 hour
Get ready for the ultimate vegan twist on a classic Vietnamese favorite! Introducing Cha Gio Chay – a mouth-watering for fans of crispy, fried starters.
With a filling of shredded taro, crunchy carrots, earthy mushrooms, and tofu, these rolls are packed with nutritious veggies that burst with flavor in every bite. As there won't be actual eggs in this dish, you should add cooked glass noodles to the filling so as to improve its texture.
Some recipes might ask you to briefly stir-fry the veggies before wrapping them, while others might not. Whether you choose to cook the vegetables or keep it simple, you'll be in for an irresistible treat.
Total time: 45 minutes
Canh (or soup) is a must-have in Vietnamese daily meals. While many people will think of soups as appetizers or light meals, people from Vietnam typically treat Canh as a side dish to enjoy with rice. The main ingredients in most Canh recipes are vegetables and some sort of protein like meat or fish.
For this particular recipe, the veggie of choice is Kho Qua (bitter melon) stuffed with mock pock seitan. True to their name, these odd-looking melons have a bitter flavor profile that might be a put-off for people trying them for the first time.
If you're starting to lose interest, you should know that bitter melon is incredibly healthy. According to researchers, these veggies can help fight viruses, diabetes, and even cancer cells. From the standpoint of folk medicine, Kho Qua possesses excellent cooling properties.
Give Canh Kho Qua Chay a try, and you might like its unique bitter taste more than you think!
Total time: 30 minutes
Curry is a popular dish in many Asian countries. The Vietnamese version of curry is much less spicy than the ones you find in Indian or Thai cuisines. With the addition of coconut milk, this dish strikes a great balance between sweet and fatty and is an outstanding choice for any meal.
Besides coconut milk, root vegetables, such as taro and potatoes, are the must-have ingredients in any Vietnamese curry. While non-vegan recipes often include chicken or pork as the main protein, you can use eggplants and mushrooms to turn your curry into a fully plant-based dish.
When your delicious curry is ready for serving, pair it with banh mi, hot rice, or rice noodles for the most authentic Vietnamese experience.
Total time: 20 minutes
Do Chua (literally "pickled stuff) is a pungent Vietnamese side dish made from carrots and daikon. In Vietnam, you'll see this treat stuffed inside almost every Banh Mi. The crunchy veggies are pickled in a vinegar mixture, giving them a sweet and tangy flavor.
The thing I love the most about this recipe is that it's really quick to make. Unlike other pickled dishes, which might take up to days to complete, you can whip up a jar of tasty Do Chua in under an hour. That said, your carrot and daikon will taste better if you let them rest for a few days.
Total time: 4 days 25 minutes
Dua Chua is another must-try Vietnamese-style pickle recipe. While the previous Do Chua has a vibrant red and white color, Dua Chua is rather pale in comparison. But don't let their appearance fool you. These pickled mustard greens are really addictive.
This dish is the traditional side dish for the Tet Holiday (Vietnamese Lunar New Year), where people tend to consume a lot of oily food. This is because the tangy and refreshing taste of Dua Chua balances out the greasiness of fried food. Of course, the Vietnamese also enjoy Dua Chua for normal family meals.
Want to celebrate New Year the Vietnamese way? Start with making Dua Chua.
Total time: 25 minutes
Papaya is a unique fruit commonly found in tropical countries. It has an intense aroma and sweetness when ripe and makes for a yummy dessert. At the same time, young papaya, which is crunchy and slightly sour, is a perfect ingredient for making salads.
This health-giving Vietnamese delicacy combines the natural flavor of unripe papaya with carrots, cucumbers, herbs, toasted peanuts, and chili pepper. The locals will skillfully toss the vegetables in a rice vinegar-based dressing to create a sweet, tangy, and light salad.
Total time: 30 minutes
Bap Nuong Mo Hanh is an extremely easy recipe with only 2 main ingredients: corn on the cob and Vietnamese scallion oil. Thanks to its simplicity, the dish is one of the most popular street foods in Vietnam, with countless vendors selling it throughout the country.
One small note is that you should cook the corn by boiling or steaming it before placing it on the grill. Doing this will cut down on the time it has to sit on an open fire and reduce the risk of totally drying it out. Since the corn has already been cooked, a quick grill is enough to give it a beautiful char and a smoky flavor.
Total time: 35 minutes
Honestly speaking, this is not the most visually-appealing dish on today's list. However, I'm certain that its taste will impress you right after the first bite. The dish features a perfect blend of sweet, savory, and umami flavors.
The eggplant is cooked until melt-in-your-mouth tender in a rich sauce made from soy sauce and spices, which compliments the slightly bitter taste of the veggies perfectly. This dish is best served over a bed of steaming hot rice that soaks up the delicious sauce.
Total time: 55 minutes
As mentioned above, Pâté Chaud (or Pâté So) is a popular utilization of pâté in Vietnamese food culture. This dish is a flaky puff pastry with multiple light layers of crusts on the exterior. The filling usually consists of ground pork, chicken, or beef.
To make the filling for the vegan version, you'll mix together vegan pâté, tofu, shredded carrot, and a couple of spices. As the pastry's name in French literally means "hot pie," it's best to enjoy it right out of the oven. You can serve it as a starter or a quick meal.
Total time: 6 hours 40 minutes
Che is an old-school Vietnamese dessert with numerous varieties. Most versions of Che come in the form of a sweet soup containing one or multiple kinds of beans.
For Che Ba Mau, you'll be using mung beans, red kidney, pinto beans, and pandan jelly to create three layers of colors: yellow, red, and green. However, feel free to customize these ingredients to your liking and make whatever combination of three colors that you like.
Sweetened coconut milk is an irreplaceable part of this dessert. The sweet and creamy coconut milk that's poured over the beans and jelly is the cherry on top, creating a perfect balance of textures and flavors.
Total time: 1 hour 5 minutes
Can't get enough of that chewy pandan jelly in Che Ba Mau? Well, this recipe is for you. In Vietnam, the locals call their jellies Rau Cau, which is a combination of gelatin powder with sweet seasonings, like fruit, coffee, milk, and of course, pandan.
However, since gelatin powder is not vegan-friendly, you'll be using agar agar powder instead. Besides coconut and pandan, you can mix and match any flavor combinations that you fancy. Don't be afraid to put your own spin on this classic dish, the options for customization are endless!
Have A Perfect Vegan Meal In Vietnamese-Style!
Vietnamese cuisine offers many tasty and healthy alternatives to traditional meat-based dishes. From fragrant vegan Pho to flavorsome vegan Banh Mi, there's something for everyone in the world of vegan Vietnamese cooking.
By incorporating more plant-based ingredients into your daily meals, you can improve your overall well-being and enjoy a new twist on old-school dishes. If you love today's post, kindly give it a good rating, share, and comment your thoughts below. Thank you very much!
Nutrition Facts
18 servings per container
---
Amount Per ServingCalories562
% Daily Value *
Total Fat 23.4g

36

%
Sodium 418mg

18

%
Potassium 327mg

10

%
Total Carbohydrate 75.3g

25

%

Dietary Fiber 4.2g

16

%
Sugars 4.1g

Protein 14.6g

29

%
---
* The % Daily Value tells you how much a nutrient in a serving of food contributes to a daily diet. 2,000 calories a day is used for general nutrition advice.