If you're looking for a way to start your meal with a bang, Vietnamese appetizers are top-notch choices. Blessed with an abundance of fresh ingredients, the Vietnamese have created numerous mouth-watering recipes.
In today's post, I'll take you on a food journey to explore the colorful cuisine of Vietnam and its many, many delicious starters. From flavor-packed salads to meaty sausages and rolls, there is something for everyone!
8 Crazy Delicious Vietnamese Salads
Salad (Gỏi or Nộm) is a big part of Vietnamese food culture. Interestingly, since mayonnaise is a Western invention, you won't find this common dressing in most traditional Vietnamese salads.
Total time: 30 minutes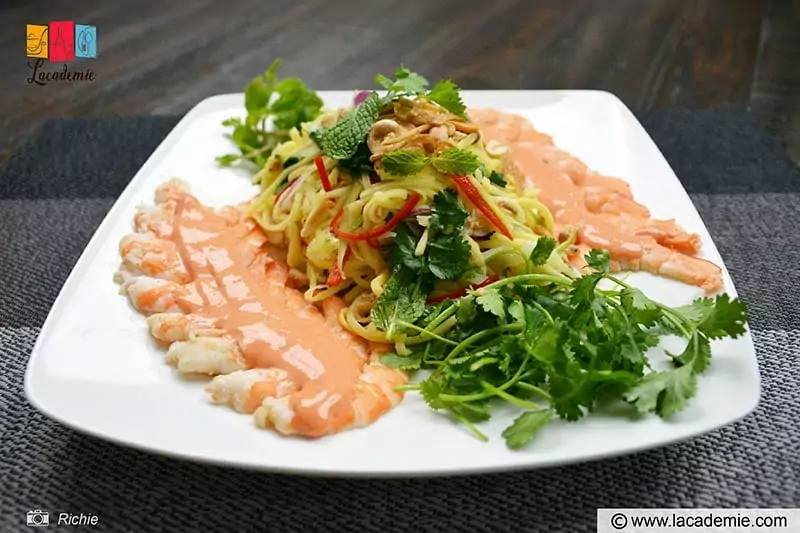 Goi Tom Xoai is an extraordinary combination of green mango and seafood. Mangoes are one of the most prominent fruits in Vietnam, and the people are masters at turning this tropical goodness into tasty recipes.
Unlike ripe mangoes, which boast a pleasant sweetness, green mangoes are a little sour with a crunchy bite. This flavor profile makes them an immaculate choice for various salad recipes. Add some shrimp and a slightly tangy vinegar dressing, and you have Goi Tom Xoai – a light and refreshing starter dish.
To take your salad to the next level, don't forget to make a sweet and spicy sauce and drizzle it on top of the shrimp. Feel free to throw in some thinly sliced boiled pork belly for a heartier dish.
Total time: 45 minutes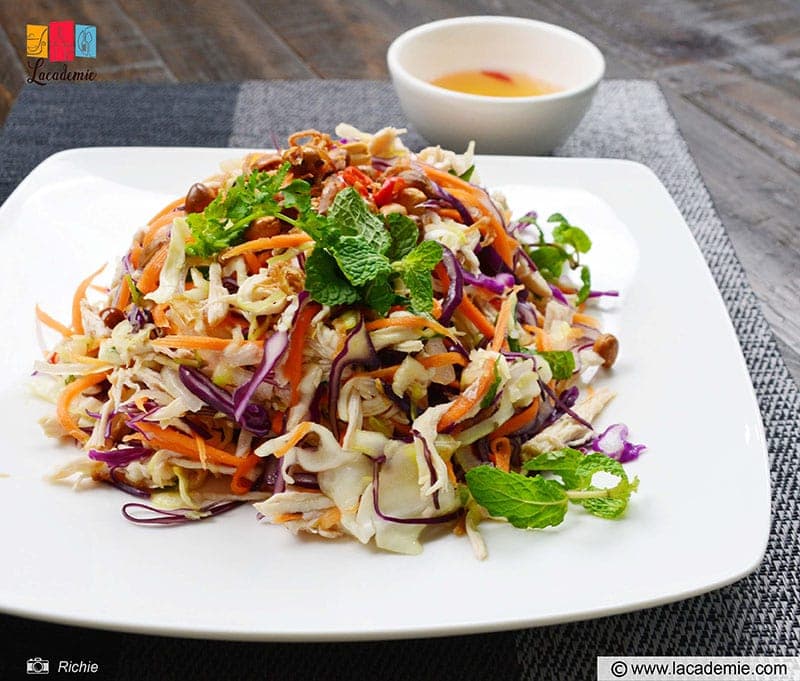 Goi Ga is my go-to when I want to start my meal with a yummy Vietnamese chicken-based dish. This dish is a mixture of perfectly boiled and shredded chicken with a plethora of crunchy veggies and aromatics, such as cabbages, carrots, onions, cilantro, and mint.
To highlight the flavor of all the ingredients, the locals will toss them in a sweet and tangy vinaigrette made mainly from fish sauce, sugar, and lime juice. Since the dressing contains no oil or mayonnaise, this salad is incredibly refreshing and healthy.
Total time: 1 hour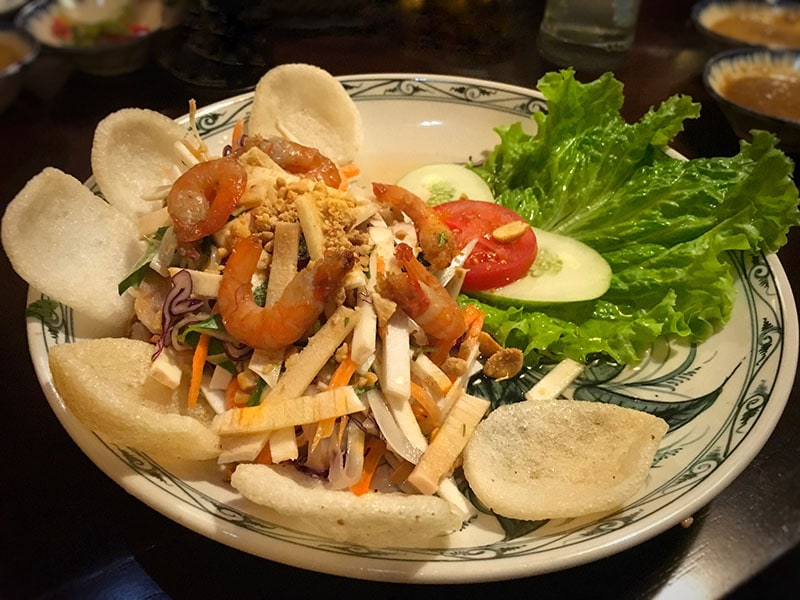 The Mekong Delta, also called Mien Tay (Western region), is home to numerous tasty dishes. Goi Cu Hu Dua is one of my favorite delicacies coming from this fertile area. The star in this recipe is the white, crunchy, and mildly sweet Cu Hu Dua (coconut cores).
In order to obtain this unique ingredient, the locals will choose an old or unfruitful coconut tree, then climb to its top and cut off the leaves and fruits. Only then will they be able to harvest its core, which is located inside the trunk and wrapped in a thin capsule.
Since getting Cu Hu Dua is not an easy task, this salad is a fancy dish that frequently appears in banquets. In addition to the coconut cores, carrots, boiled shrimp, and thinly sliced pork are other must-have ingredients. To round off the dish, toss everything in sweet and spicy fish sauce.
Total time: 15 minutes
Apart from Chinese cuisine, the Vietnamese also take inspiration from Thai food culture, and Goi Du Du is a prime example. Known as som tum in Thailand, this salad is essentially green papaya, shrimp, pork, and an array of herbs tossed in a vinegar-based dressing.
Vietnamese papaya salad is a perfect choice for a summertime appetizer. The vinaigrette's sweet and sour flavor enhances the green papaya to create a vivid and refreshing salad. Don't forget to sprinkle some roasted peanuts for extra crunchiness.
Total time: 35 minutes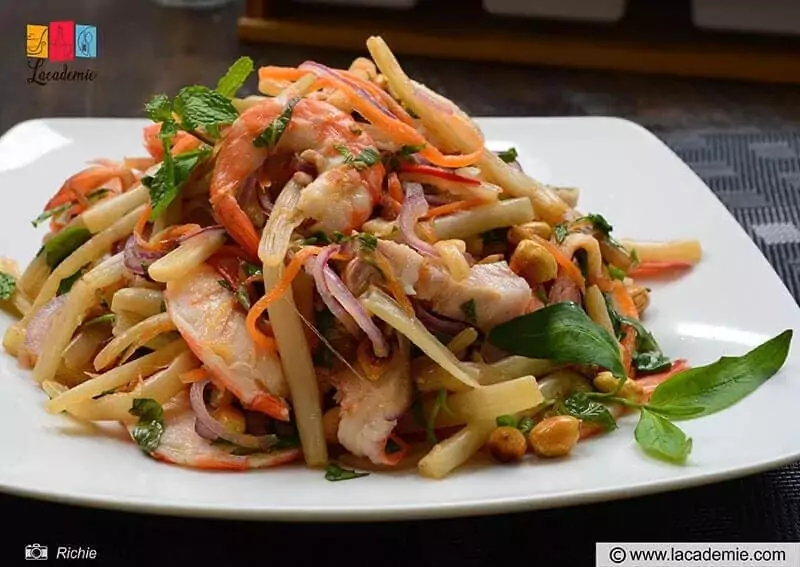 The lotus has a significant meaning in Vietnamese culture, as it symbolizes purity, optimism, and an unyielding spirit to overcome hardship. In fact, most Vietnamese think of the lotus flower as their national flower, albeit unofficial.
Given their appreciation for the lotus (and good food!), it comes as no surprise that Vietnamese people have found ways to turn it into delicious dishes. Goi Ngo Sen is a flavorful combination of lotus stem with pork and shrimp.
For the best Goi Ngo Sen, you should choose pork belly with crispy skin and a decent meat ratio. The salad will taste even better when you enjoy it with prawn crackers (Banh Phong Tom).
A yummy and simple Goi Ngo Sen recipe to recreate at home.
Total time: 17 minutes
Here is a mouth-watering vegan Vietnamese treat for people who follow a plant-based diet. In this recipe, crispy, golden-fried tofu is the main protein. Accompanying the tofu are vermicelli noodles, lettuce, carrots, and cucumber. To make the dish fully vegan-friendly, opt for vegan fish sauce.
In addition to having an outstanding flavor, this salad is quite health-giving, thanks to the high nutritional value of tofu. For this reason, it is worth trying even if you aren't a vegan, especially when your banquets are full of hearty, meaty dishes.
Total time: 20 minutes
Besides mangoes and papaya, the Vietnamese also make use of young jackfruit as an ingredient for salad. While ripe jackfruit is famous for its distinct aroma and high sugar content, green jackfruit's sweetness is quite mild.
This recipe is most popular in central Vietnam. Making Goi Mit is extremely simple. You only need to mix shredded jackfruit with pork, shrimp, roasted peanuts, and a few other spices. Pair it with toasted sesame rice paper, and you have a well-balanced appetizer that everyone will love.
8. Duck Feet Salad (Gỏi Chân Vịt)
Total time: 40 minutes
You might find the idea of eating duck feet a bit strange at first, but I guarantee that they taste better than they look.
There's not much meat in duck feet, so once you've removed the bones, the only part left is springy and crispy duck skin. Mix them with cucumber, banana blossom, herbs, and sweet-spice fish sauce, and your appetizer is ready!
The most important thing to remember is that you have to clean and rinse the feet thoroughly with vinegar or white wine. Otherwise, they will have an unpleasant smell.
Discover the Delight of 5 Must-Try Vietnamese Rolls
This section will cover all the best Vietnamese rolls that the locals typically enjoy as a first course. Some of them require no cooking, while others need to be fried or grilled. Let's dive in!
Total time: 1 hour 5 minutes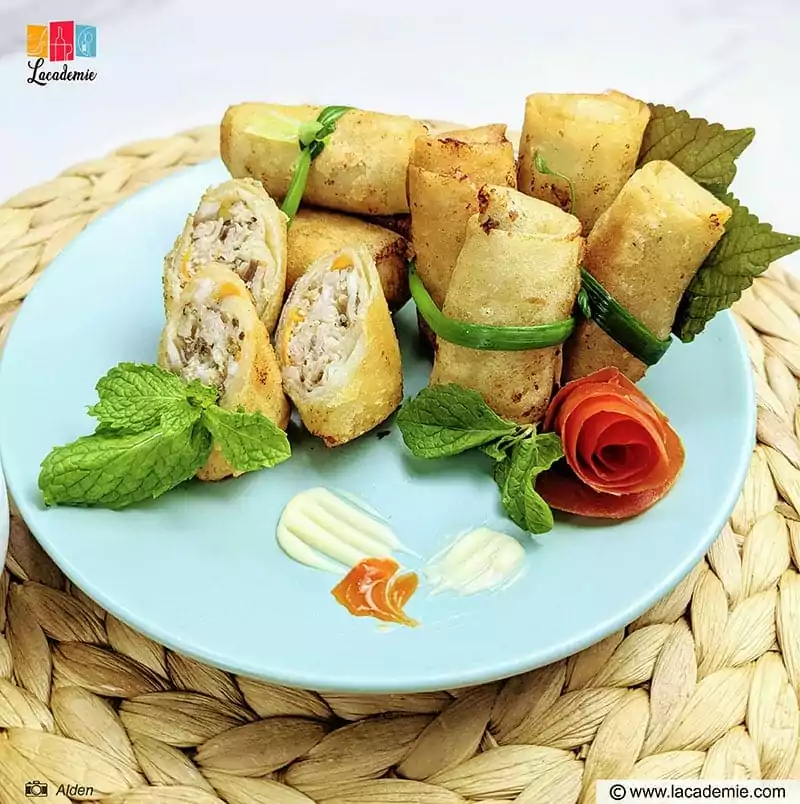 The next appetizer I'd like to introduce to you is Vietnamese egg rolls, a dish that my grandma makes for every family reunion. Interestingly, this delicacy has two different names, Cha Gio in Southern Vietnam and Nem Ran in the Northern parts.
However you call them, these rolls always consist of a delectable meat (or seafood) and veggies filling wrapped in rice paper or spring roll wrappers. After wrapping, the rolls are fried to perfection, giving them a crispy outer shell while the inside is incredibly moist.
I highly recommend making Vietnamese traditional dipping sauce (Nuoc Cham) to serve with your Cha Gio. Besides the classic version, you can also try some other variations of this dish, such as Cha Gio Re, which uses vermicelli sheets as the wrapper, or Cha Gio Chay (vegetarian rolls).
Total time: 35 minutes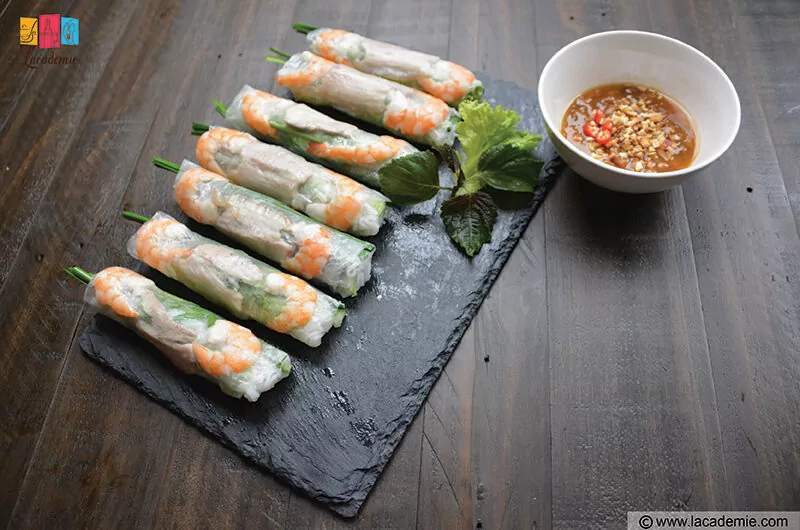 In addition to Cha Gio, Goi Cuon is another must-try dish when speaking about Vietnamese rolls. While fried egg rolls are likely to be a Chinese-inspired recipe, these rice paper rolls, which include aromatic herbs, rice noodles, pork, and shrimp, are a true Vietnamese creation.
If deep-fried rolls are too greasy for your taste, you'll love Goi Cuon as it's served fresh with a thick peanut sauce. For the most authentic taste, use a pork cut that has a balanced fat and lean meat ratio, such as side pork.
Goi Cuon is one of the most popular street treats in Vietnam, especially in the Southern region. But this doesn't mean you can't find these summer rolls in other parts of the country. In fact, each area puts its own twist on the original recipe, resulting in a diverse culinary experience.
Total time: 25 minutes
Every foodie and their pets know about Pho, a universally loved Vietnamese noodle soup. In addition to the old-school way, people also use Pho noodles in other recipes, such as Pho Xao (stir-fried Pho), Pho Chien Phong (crispy fried Pho), and Pho Cuon (Pho rolls).
The noodles used in this appetizer are quite different from the ones in run-off-the-mill Pho-based dishes, though. You'll use flat sheets of uncut noodles as a wrapper for stir-fried beef, aromatics, and eggs.
Besides beef, fried pork and shrimp also make excellent fillings for this treat. I also like to add some lettuce to the mix. As for the dipping sauce, Ha Noi-style chili sauce, which is spicy and sour, is the most authentic choice.
Discover the authentic way to make Pho Rolls.
Total time: 40 minutes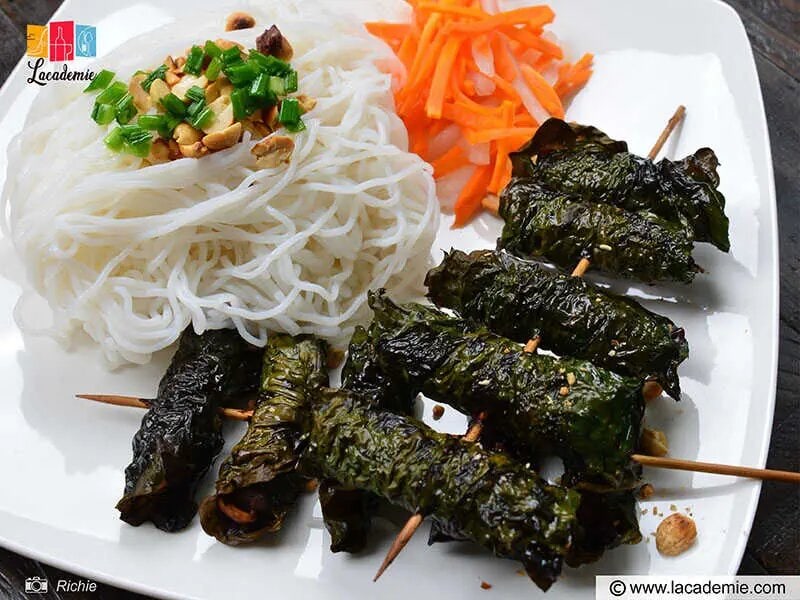 Imagine a spring roll, but instead of rice paper, the filling is wrapped in wild betel (lolot) leaves, and you have Bo La Lot. The lolot leaves lend their distinct herbal and peppery taste and aroma to the rolls, giving this delicacy a unique flavor profile.
As for the filling, beef (sometimes a mixture of beef and pork) is the meat of choice. After wrapping the beef neatly in the betel leaves, the Vietnamese will grill them over charcoal. For serving, you can enjoy them as a stand-alone hors d'oeuvre or pair them with rice paper and fresh veggies.
To maximize their yumminess, I recommend adding some roasted peanuts mixed with Vietnamese scallion oil on top.
Total time: 1 hour
As the name implies, the core ingredient of these rolls is thinly shredded pork skin (Bi) wrapped in rice paper. If you've tried Vietnamese broken rice before, I'm sure that you know how delicious pork skin can be. This dish is especially popular in the Mekong Delta.
In addition, Vietnamese people also add toasted and finely crushed rice, white radish, carrots, pickles, chili peppers, and herbs to the filling. The preferred dipping sauce for Bi Cuon is sweet and spicy fish sauce.
4 Vietnamese "Bánh" To Sink Your Teeth Into
Vietnamese "Bánh" come in many different shapes and forms. They can be dumplings, cake, or even bread. In this section, let's explore the type of Banh that works great as an appetizer.
Total time: 1 hour 10 minutes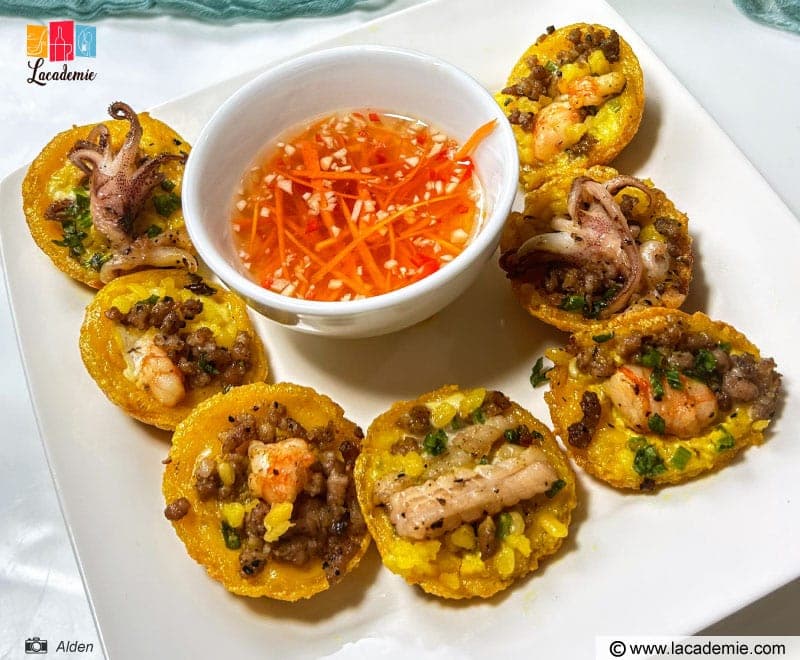 Have you ever heard of Banh Xeo, a savory stuffed pancake named after the sizzling sound it makes during cooking? Due to their similar batters, many people consider Banh Khot a cousin of Banh Xeo. Moreover, Banh Khot also resembles Banh Can, another Vietnamese classic, in terms of appearance.
That said, these mini pancakes have enough unique characteristics to make them stand apart from other delicacies. Unlike Banh Can, which has simple toppings, Banh Khot can be topped with pork, squid, or prawns.
Since it has a smaller shape, Banh Khot is more suitable for serving as an appetizer than Banh Xeo. Combine these pancakes with fresh veggies, aromatic herbs, and a spicy, savory, and sweet dipping sauce, and you're guaranteed a phenomenal starter course!
Total time: 1 hour
Next on the list is a recipe from the capital of Vietnam, Hanoi. Banh Tom first appeared in the 1970s and was sold by street vendors around Ho Tay (Tay lake). The dish is a combination of three main ingredients: fresh shrimp, sweet potatoes, and flour.
To cook these fritters, you'll first clean, peel, and devein the shrimp. Next, cut the sweet potatoes into matchsticks and dip them in the batter. Divide the sweet potatoes into portions based on how big you want the fritters to be, and deep fry them with the shrimp.
In addition to being an easy-to-make appetizer, Banh Tom is a great option for a quick snack. If you happen to come across a street stall selling this treat during your trip to Vietnam, don't hesitate to give it a try!
Making Banh Tom – a Vietnamese street staple, at home is super easy!
Total time: 1 hour 45 minutes
Banh It Tran is a specialty of Central Vietnam that people typically enjoy as a quick bite or an appetizer. These round dumplings have a savory filling consisting of mung beans, pork, wood ear mushrooms, and pepper. Covering this flavorful mixture is a smooth, chewy layer of sticky rice flour.
Legend has it that a princess in ancient Vietnam invented the original recipe. The word "Tran" (literally "naked") in the name describes the traditional way to cook this dish. Unlike other Vietnamese dumplings that are wrapped in banana leaves and then steamed, Banh It Tran is cooked with no additional wrapping.
The dumplings taste the best when enjoyed with a spicy, sweet, and savory dipping sauce and pickles. In some areas, people also serve them with coconut milk and Mo Hanh (scallion and oil garnish). If you're a vegan, you can make a meat-free version of this dish by omitting the pork.
Total time: 2 hours
Originating from Hue, the former imperial capital of Vietnam, Banh Bot Loc will capture your attention with its translucent appearance. Tapioca flour is the starch of choice for this recipe, resulting in a chewy texture. It's also common to add rice flour or cornstarch to the wrapper.
For the fillings, pork belly and shrimp are the most popular options. You might also find variations with ground pork and mushrooms. After neatly folding the flour wrapper around the filling, the Vietnamese will either boil or steam Banh Bot Loc.
There are two main types of Banh Bot Loc: Tran and La. Banh Bot Loc La (La means leaf) is wrapped in banana leaves before cooking. On the other hand, like the previous Banh It Tran, Banh Bot Loc Tran is cooked "naked."
Learn an easy way to make Banh Bot Loc at home.
6 Other Vietnamese Appetizers You Will Love
Here are some more delectable Vietnamese appetizers apart from salads and rolls that I'm sure you'll love!
Total time: 1 hour 5 minutes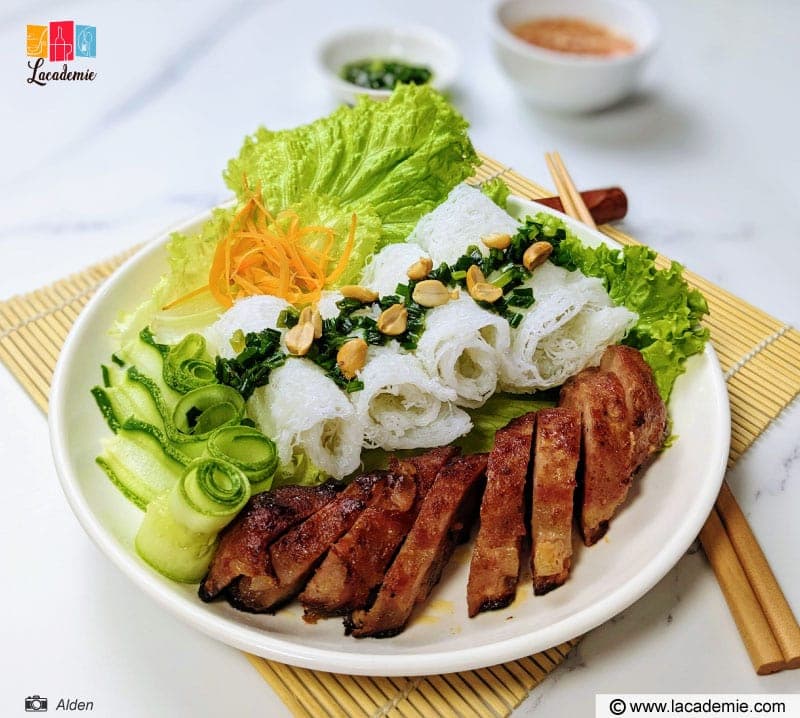 First on the list is my all-time favorite, Nem Nuong. These rustic sausages are a specialty originating from the coastal province of Khanh Hoa. The locals make them using a mixture of ground pork and pork fat flavored with minced garlic, fish sauce, annatto oil, and a few other spices.
The results are meaty sausages with a sweet and savory flavor and a reddish tint. Traditionally, Vietnamese people will grill Nem Nuong on a charcoal grill to give it some charred marks and smokiness. However, you can also cook them in an oven.
Nem Nuong works great as a stand-alone appetizer and tastes especially great when served with a bowl of Vietnamese Nuoc Cham. You can also enjoy it with vermicelli noodles if you want a main dish that'll satisfy even the pickiest eaters.
Total time: 50 minutes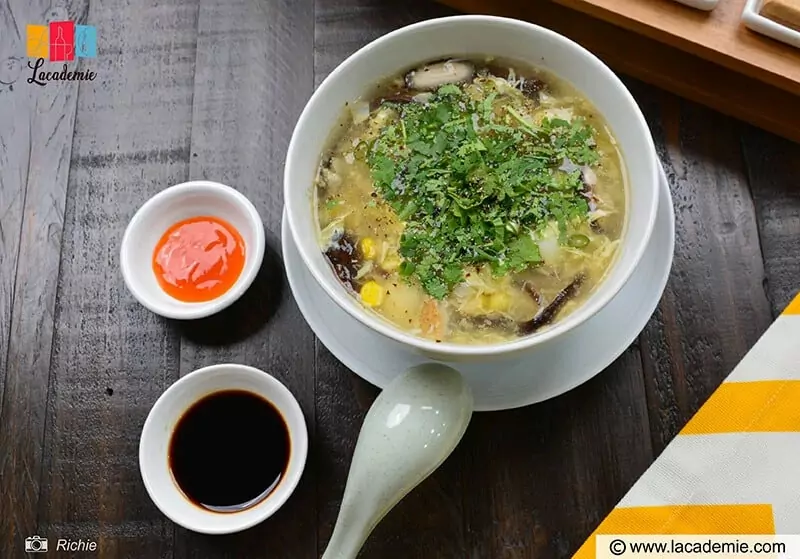 This dish is inspired by egg drop crab soup, a delicacy of Chinese cuisine. Apart from being a common appetizer at parties and weddings, this scrumptious Vietnamese soup is also a well-loved breakfast treat.
Thanks to the use of cornstarch, this soup has a thick consistency that's somewhat comparable to the cream of corn soup. Eggs and crab meat (or imitation crab) are the two main ingredients that give this dish its unique appearance.
Besides, the Vietnamese also add boiled quail eggs, corn kernels, and mushrooms to the soup. Some other variations might include shredded chicken, asparagus, julienned Cha Lua, and century eggs.
Total time: 1 day and 2 hours
You can think of Nem Chua as the Vietnamese equivalent of cured pork. Instead of dry-curing or smoking, people in Vietnam use a special fermenting technique that involves wrapping a minced pork and spices mixture in banana leaves.
After a few days, the rolls will have a sour and sweet flavor with spicy and salty notes. At this point, you can unwrap and enjoy them right away or grill them on a charcoal stove. For the best result, use leaner pork cuts, like loin or tenderloin.
There are numerous regional variations of Nem Chua, each with its unique flavor. Among the many versions, Vietnamese people often consider Nem Chua Thanh Hoa (a Northern province) the best one.
Test your cooking skill with this unique Vietnamese-style fermented pork.
Total time: 1 hour 15 minutes
Chao Tom is a specialty of Hue, a province in Central Vietnam where the royal family lived in the past. As such, sugarcane prawns used to be a luxurious appetizer only the wealthiest people got to enjoy.
Essentially, Chao Tom consists of well-flavored prawn paste wrapped around sugarcane. Not only does the sugarcane add to the dish's visual appeal, but it also infuses the paste with a natural sweetness that's impossible to find in artificial sweeteners.
You can fry, steam, or grill the Chao Tom as you like. No matter what cooking method you choose, the shrimp paste will be full of flavors and have an irresistibly springy texture. Enjoy them as finger food or take them out of the sugar cane stick and serve them with vermicelli noodles and Vietnamese dipping sauce.
Total time: 50 minutes
Cha Lua is undoubtedly among the most versatile dishes in Vietnamese cuisine. Made from a mixture of ground pork and tapioca starch seasoned with fish sauce, salt, and pepper, these silky smooth (Lua means "silk" in Vietnamese) sausages can fit into any meal.
Come to any Vietnamese banquet, and you'll see a plate of Cha Lua. People commonly cut it into triangle shapes, almost similar to how you cut a pizza, and serve it as a starter or side dish. Moreover, you can stuff the ham into Banh Mi and enjoy this heavenly combo as a breakfast.
"What makes this dish so appealing?" you wonder. The answer lies in its simplicity. Cha Lua is not too salty nor too sweet. In fact, it is quite mild in taste and possesses a slight hint of banana leaves' aroma. This uncomplicated flavor profile allows it to go well with literally everything!
Total time: 4 hours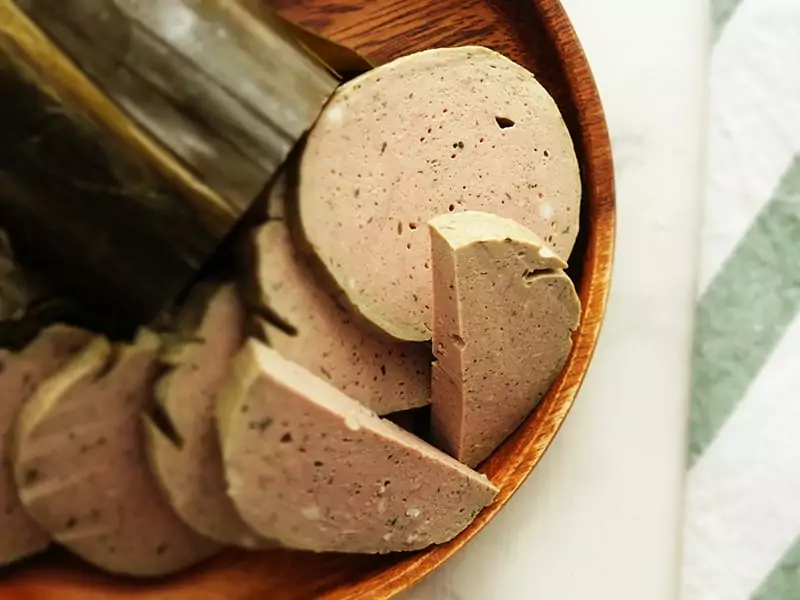 Cha Bo will strike your fancy if you find the previously mentioned Cha Lua a little bland. While the former is made from pork, the latter consists of lean ground beef. The locals also add pepper to the mix, which gives this delicacy a distinct spiciness.
As a result, Cha Bo has a dark, almost reddish appearance and a more robust flavor than Cha Lua. Despite the differences, you can enjoy Cha Bo the same way as its cousin Cha Lua.
In other words, the Vietnamese beef roll is also highly versatile and can fit into any meal. This dish is most prominent in the Central region of Vietnam, like Hue and Da Nang.
Impress Everyone With These Vietnamese Starters!
That's all the Vietnamese appetizers that I want to introduce. I'm sure that you're now super eager to try them after reading about their unique flavor profiles and meanings. Why don't you give them a shot tomorrow (or today if you can't wait anymore)?
What's your favorite dish on today's list? Drop a comment to let me and other readers know the answer. If this post has helped you in any way, please show your support by giving a high rating and sharing it with other food enthusiasts. Thank you, and see you next time!
Nutrition Facts
3 servings per container
---
Amount Per ServingCalories302
% Daily Value *
Total Fat 5.4g

8

%
Cholesterol 133mg

45

%
Sodium 2278mg

95

%
Potassium 560mg

16

%
Total Carbohydrate 48.9g

16

%

Dietary Fiber 8g

32

%
Sugars 13.8g

Protein 19.4g

38

%
---
* The % Daily Value tells you how much a nutrient in a serving of food contributes to a daily diet. 2,000 calories a day is used for general nutrition advice.