This Vietnamese green mango salad with shrimp ("Gỏi Tôm Xoài") is a brilliant way to turn unripe mango into a colorful and flavorsome appetizer or side dish. The combination of fruit, herbs, and seafood creates an immaculate dish that tastes as refreshing as it looks.
If you're tired of the same old salad every day and want to bring an exciting Asian twist to your appetizer, Goi Tom Xoai is a perfect choice. Let's dive right into today's post and learn a simple-to-make recipe for this outstanding Vietnamese dish.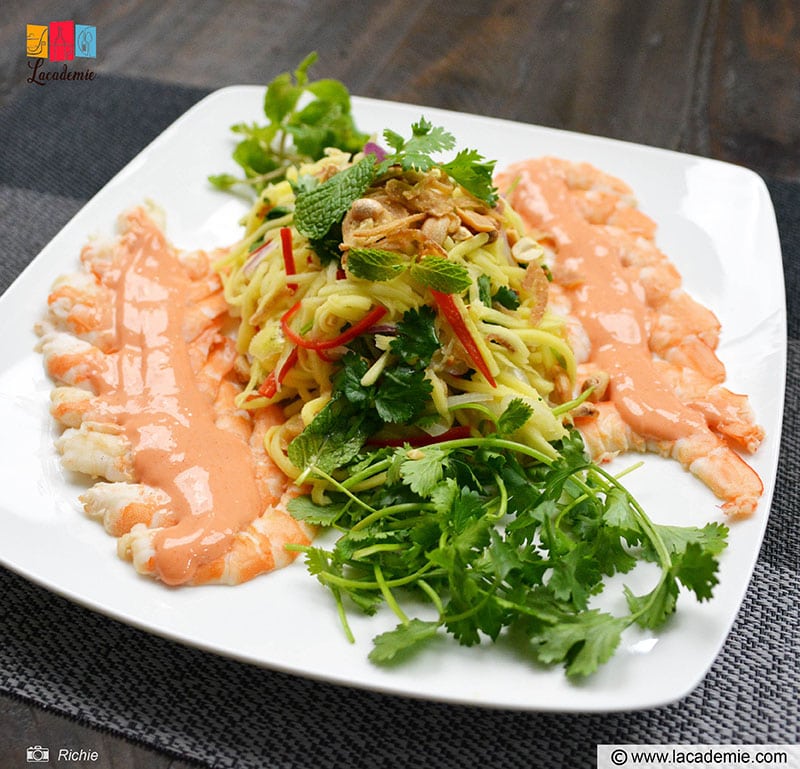 Goi Tom Xoai – The Best Way To Enjoy Green Mango
While salad is something that practically appears in almost every cuisine, the Vietnamese way to make this dish is different from the Western way.
People in Vietnam prefer a dressing made from vinegar and fish sauce as opposed to cream, mayonnaise, or olive oil. As a result, the salad recipes from this country are often light and refreshing instead of being creamy or a bit greasy, like the ones from Europe or America.
Goi Tom Xoai is one of the most well-loved salad dishes in Vietnam. It includes green mango, which has a slightly sweet and sour taste, shrimp, and aromatic herbs. These ingredients give the dish a unique flavor profile and a crunchy texture.
Tools
For the smoothest cooking experience, you should prepare the following kitchen tools.
Food prep gloves: For tossing the vegetables and peeling the shrimp.
Knife and chopping board: For cutting the ingredients.
Vegetable peeler: For peeling and shredding the mango.
Small pot: For steaming the shrimp.
Mixing bowl: For mixing the salad.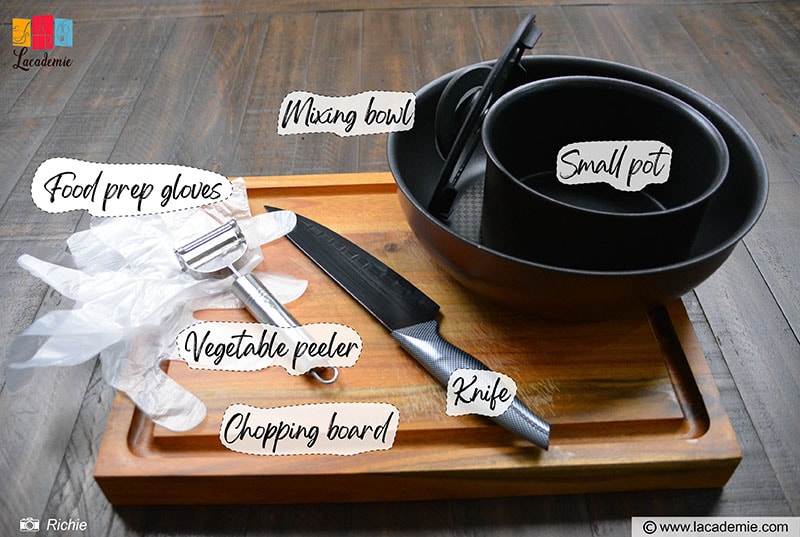 Ingredients
Green mango and shrimp are the two essentials in this recipe. Besides, don't forget to grab a bottle of premium fish sauce and vinegar to make the dressing.
Green mango: Opt for unripe mango that has a crunchy texture and a balanced sweet and tart taste.
Shrimp: Add a form of protein to the salad.
Cilantro: Aromatic herbs that have a lemony and spicy flavor.
Spearmint: Lends a subtly sweet taste and refreshing taste to the dish.
Cowhorn pepper: Choose the kind that's not too spicy.
Ginger: Not only will you add ginger to the salad, but you'll also use it for enhancing the shrimp's flavor.
Fish sauce: A common ingredient in countless Vietnamese dishes.
Mayonnaise, ketchup, chili sauce: For making the sauce.
Roasted peanuts: Nutty and crispy roasted peanuts make a great addition to Goi Tom Xoai.
Shallot and fried shallots: For garnishing and adding more flavor.
Mustard: You can use any type of mustard you want.
Vinegar: Use lime or kumquat juice in case you run out of vinegar.
Onion: Offers a sweet and slightly pungent taste with a crisp texture.
Other spices: Brown sugar and salt.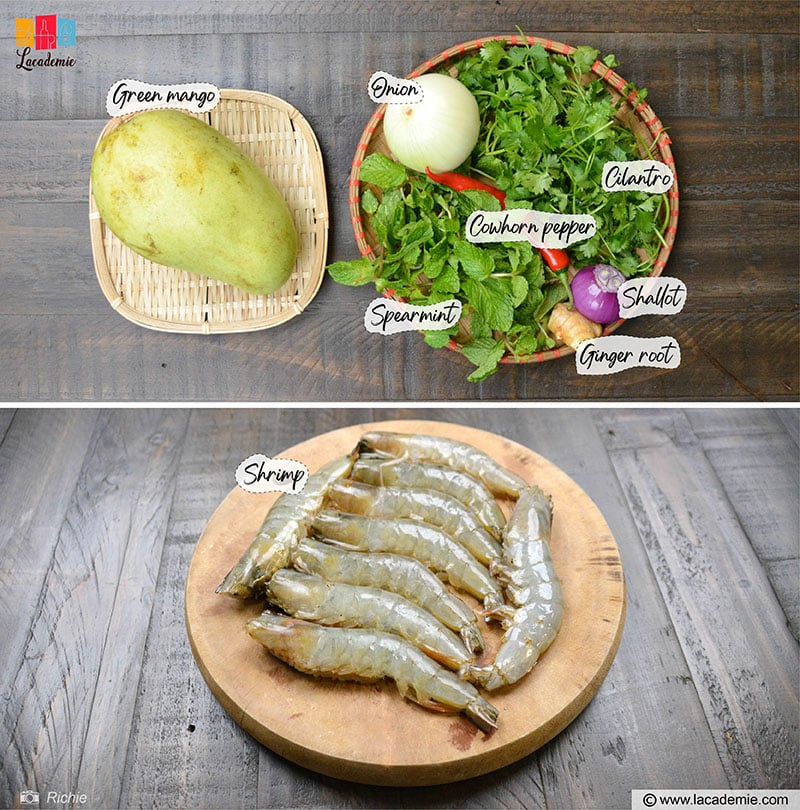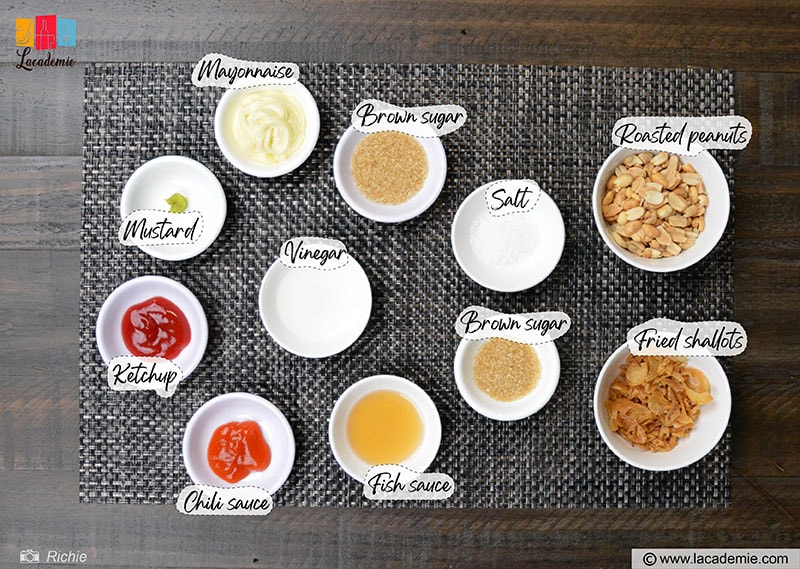 Directions
Once you've got everything ready, it's time to put on your food prep gloves and make this delightful summer salad!
Step 1: Prepare The Ingredients
Wash the vegetables thoroughly.
Clean the shrimp. Then, devein and remove their heads.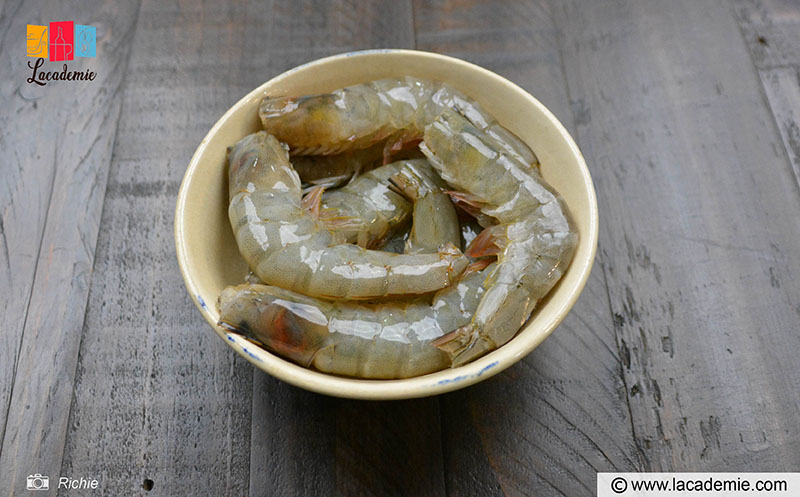 Peel the skin off the ginger and julienne it. Remove the seeds from the cowhorn pepper. Next, cut the pepper into thin slices.
Thinly slice the shallot and half an onion. You'll use the remaining half of the onion to steam the shrimp.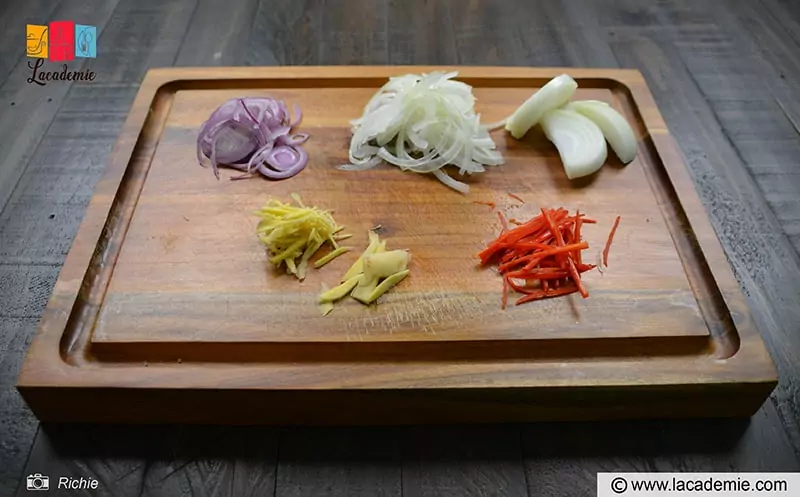 Peel the mango and julienne it into long and thin sticks using the vegetable peeler.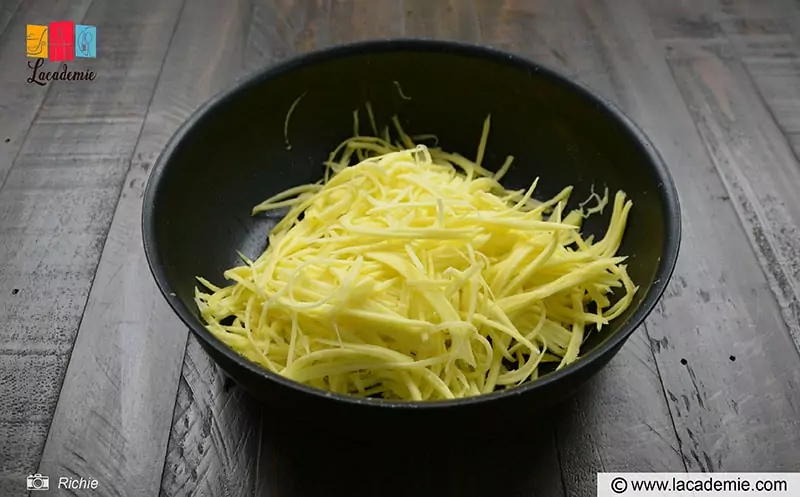 Step 2: Mix The Salad
Put the shredded mango in a mixing bowl and add the following ingredients: ginger, cowhorn pepper, shallot, and sliced onion. Save a little bit of ginger for steaming the shrimp later.
Season the mixture with 2 teaspoons of brown sugar and 2 teaspoons of salt. Wearing food prep gloves, toss all the ingredients until well combined.
Let the salad rest for 10 minutes for the mango and veggies to absorb all the spices. The brown sugar will enhance the shallot and onion crispness and reduce their pungent taste.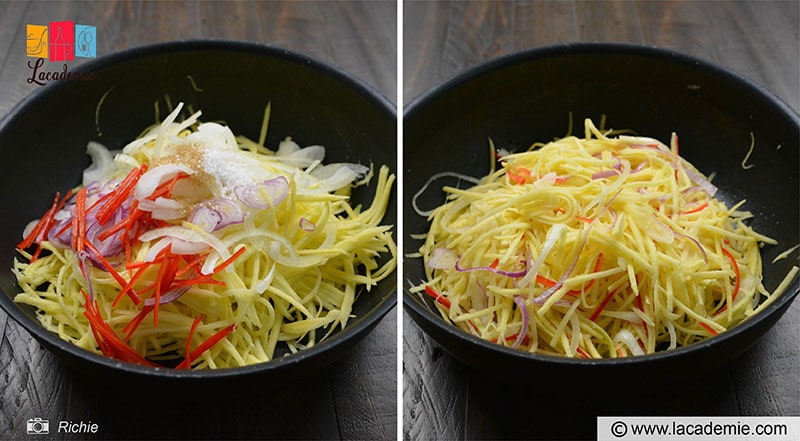 Step 3: Steam The Shrimp
Place the shrimp in a small bowl. Add the remaining half of the onion and some ginger slices to the bowl. Next, steam the shrimp for 10 minutes on medium heat. You can also boil the shrimp, but steaming is a better option for retaining their sweetness.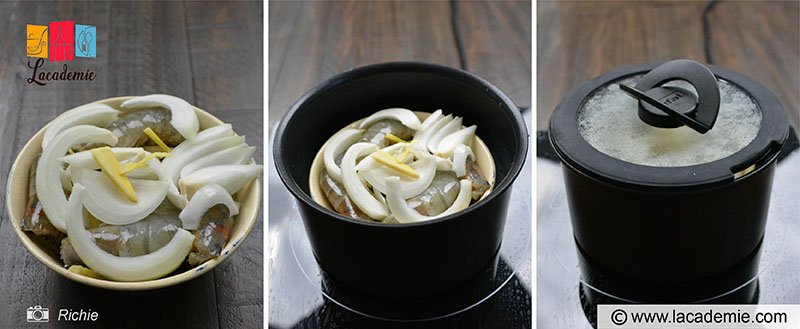 After boiling, take the shrimp out of the steamer pot. Set aside and allow them to cool.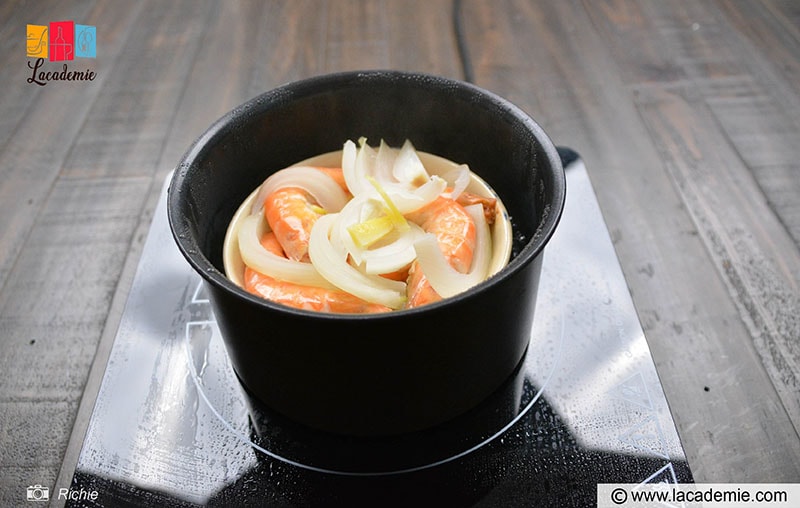 Step 4: Add More Vegetables To The Salad
After marinating for 10 minutes, continue to add vinegar, fish sauce, and 3 teaspoons of brown sugar to the salad.
Shred the cilantro and spearmint. Then, add them to the mixing bowl along with fried shallots and roasted peanuts. Toss all the ingredients well to combine. Next, transfer the salad to the middle of a plate.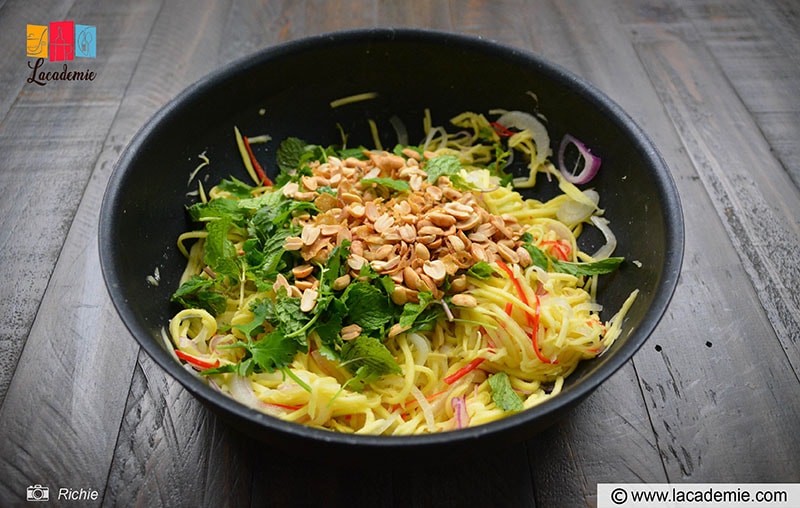 Step 5: Peel The Shrimp
Once the shrimp have come to room temperature, peel and cut them in half lengthwise. Remember to wear food prep gloves while peeling your shrimp. Place the peeled shrimp around the salad.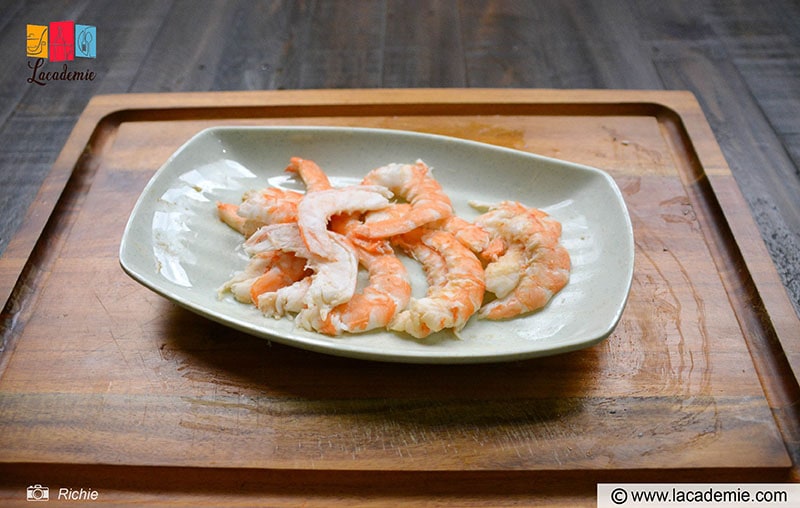 Step 6: Make The Sauce
Mix the mayonnaise, chili sauce, ketchup, and mustard in a small bowl. Stir until they blend into an orange-ish mixture.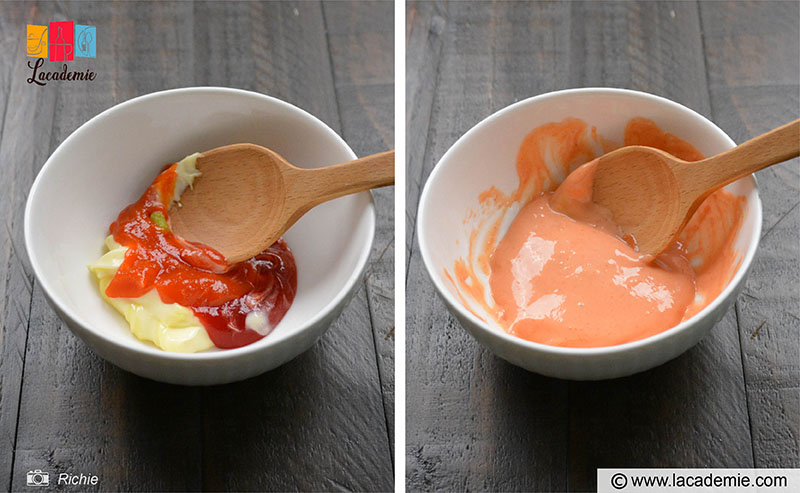 Step 7: Finish The Dish
Drizzle the sauce over the shrimp but not the salad as it's already well-flavored. Garnish the dish with more cilantro and spearmint to make it more eye-catching.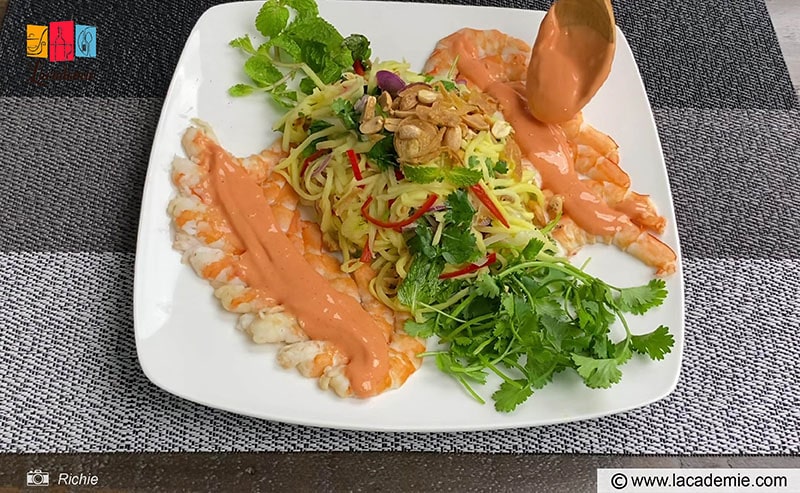 Useful Tips For Storing And Serving Goi Tom Xoai
Here are some handy tips for storing leftovers and leveling up your Goi Tom Xoai with suitable side treats!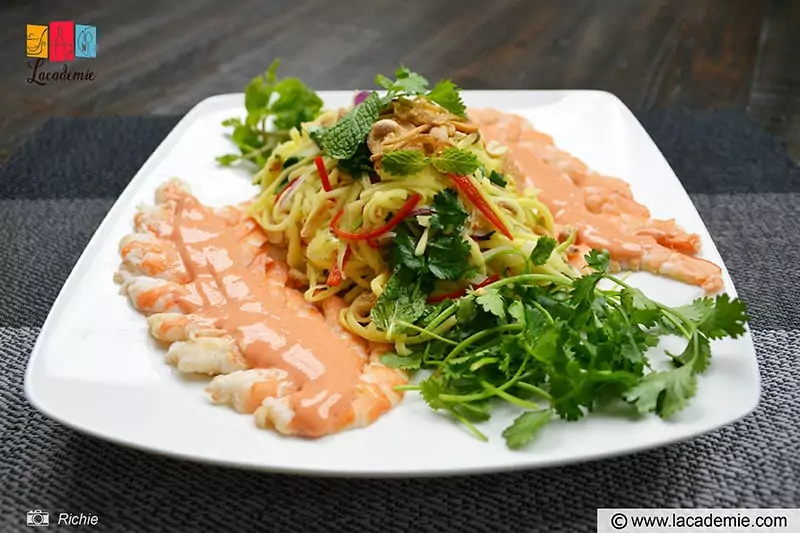 You can keep the leftover salad in the fridge for about 1 to 2 days. The dish still tastes great cold, but I recommend enjoying it as soon as possible.
Banh Phong Tom (prawn crackers) are the best side treat to enjoy with Goi Tom Xoai. These deep-fried crackers are extremely crispy and have a sweet and savory flavor.
Dried shrimp is an acceptable alternative to fresh shrimp if you need to whip up a quick appetizer.
Besides green mango, you can try this recipe with green papaya. The result will be quite similar to som tum, a salad from Thai cuisine.
If you want to transform this salad into a filling main dish, add some boiled pork belly. Remember to slice the pork thinly.
Let Goi Tom Xoai Rock Your Summer!
Vietnamese green mango salad is an immaculate choice if you need a break from the typically oily and creamy salad. It's refreshing, light, and packed with a lot of flavors. My family especially loves enjoying a bowl of Goi Tom Xoai in the summer!
Give Goi Tom Xoai a go today if you haven't had a chance to try this Vietnamese delicacy before. I promise the result won't disappoint! Leave a comment to tell me what you think about Goi Tom Xoai. Like and share this post if you find it useful and I'll see you again soon in future recipes.
Nutrition Facts
3 servings per container
---
Amount Per ServingCalories302
% Daily Value *
Total Fat 5.4g

9

%
Cholesterol 133mg

45

%
Sodium 2278mg

95

%
Potassium 560mg

16

%
Total Carbohydrate 48.9g

17

%

Dietary Fiber 8g

32

%
Sugars 13.8g

Protein 19.4g

39

%
---
* The % Daily Value tells you how much a nutrient in a serving of food contributes to a daily diet. 2,000 calories a day is used for general nutrition advice.