If you're a fan of tasty appetizers, you'll absolutely love this air fryer stuffed mushroom recipe! Not only is it quick and easy to make, but the air fryer also ensures that you don't have to worry about a big clean-up after cooking.
With their incredibly cream filling that features three kinds of delectable cheese, these mushrooms are sure to be a hit at your next gathering or family dinner. So why not give today's recipe a try and see for yourself just how satisfying mushrooms can taste?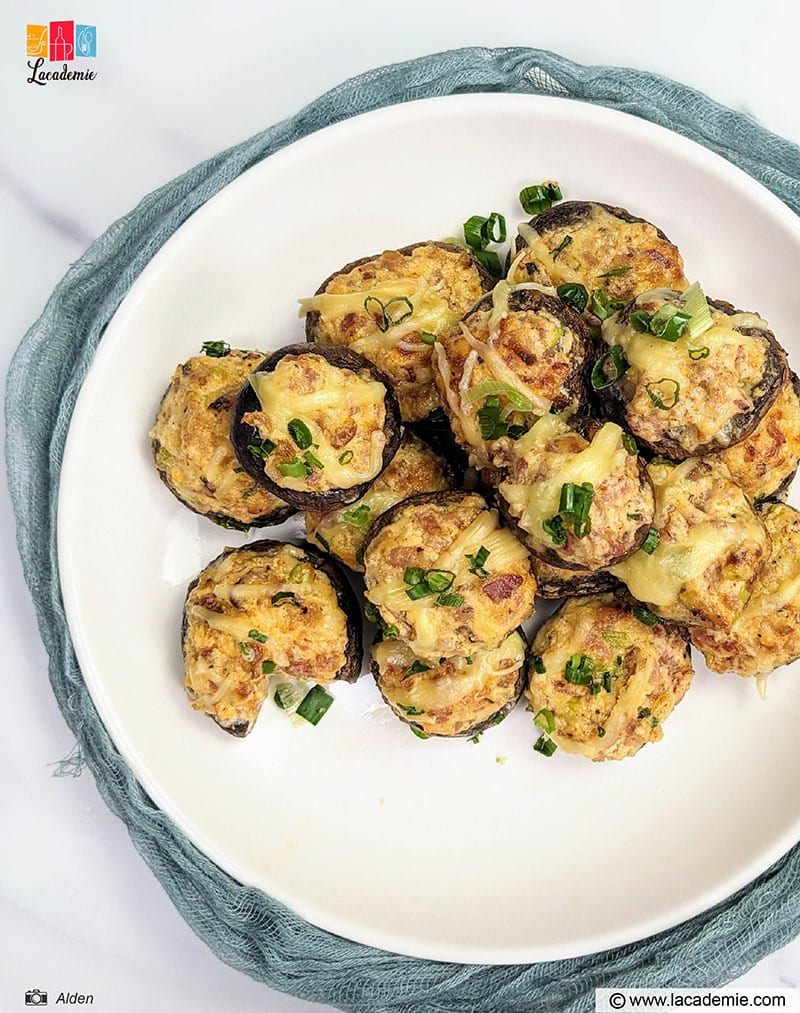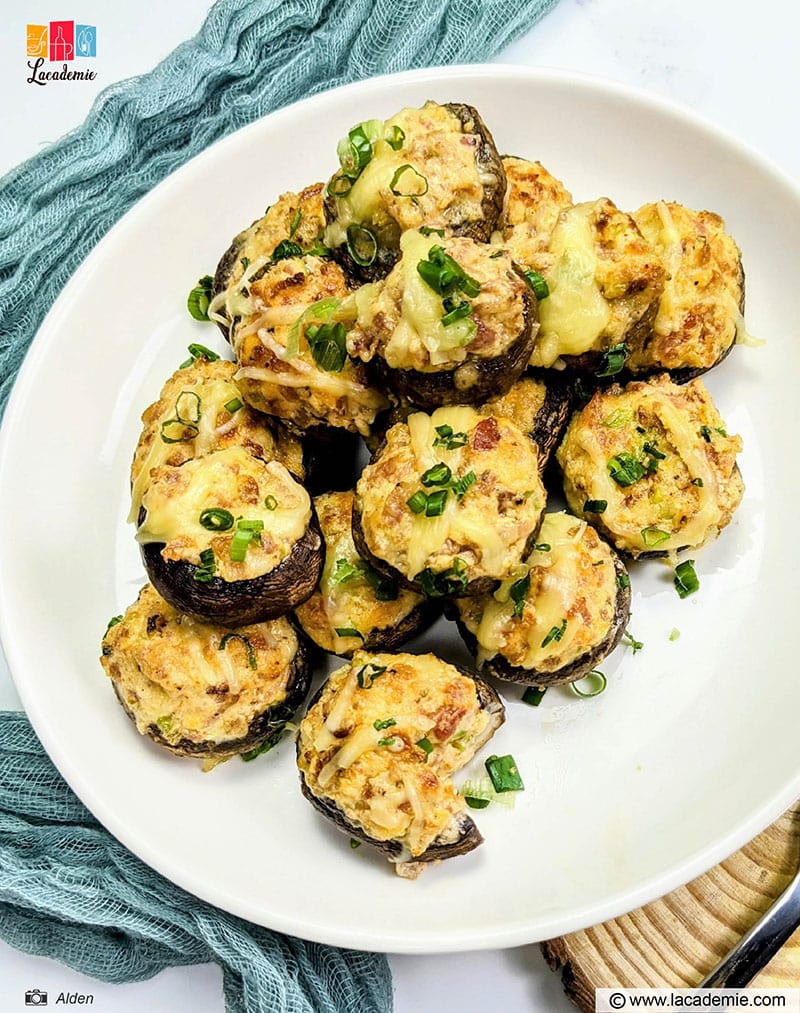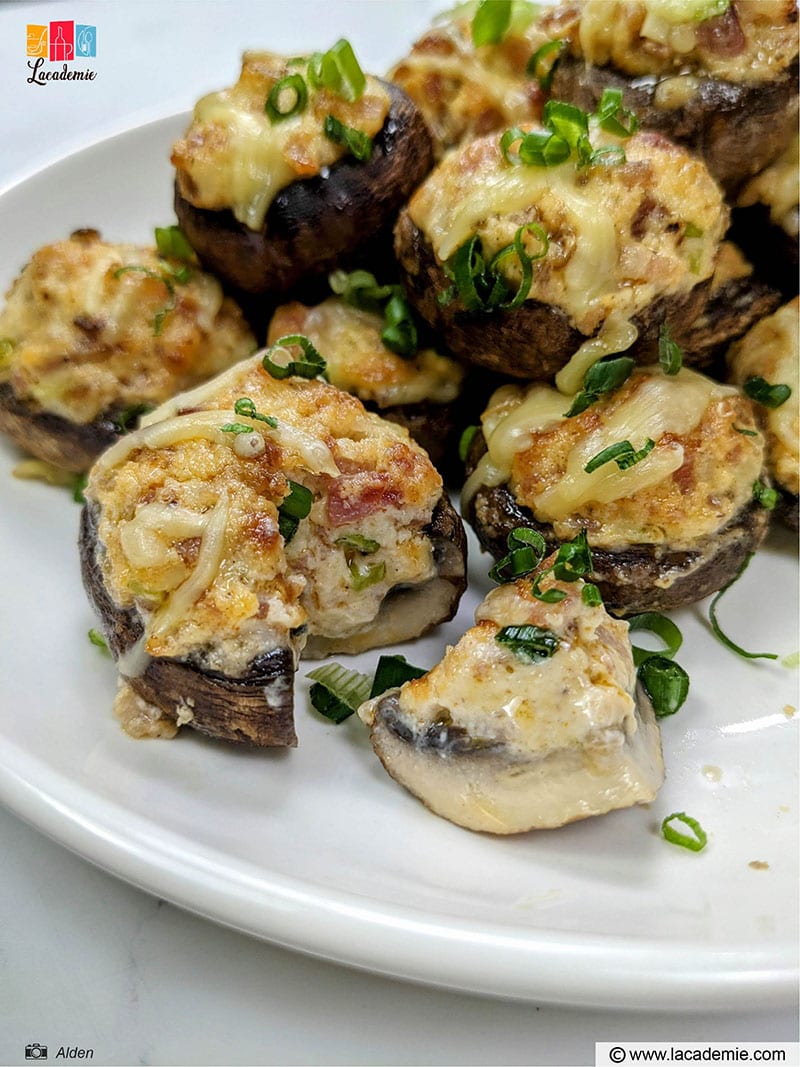 Reasons To Give These Stuffed Mushrooms A Try Today!
Here are the 3 biggest reasons I believe that every food lover should make this air fryer stuffed mushroom recipe.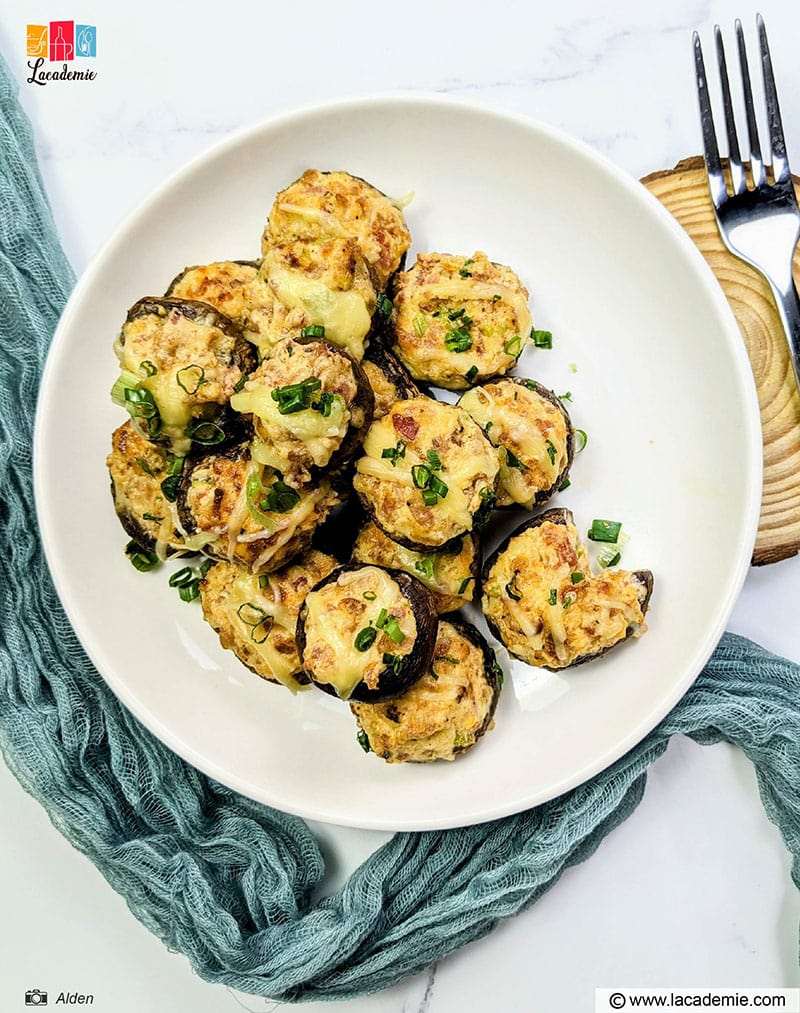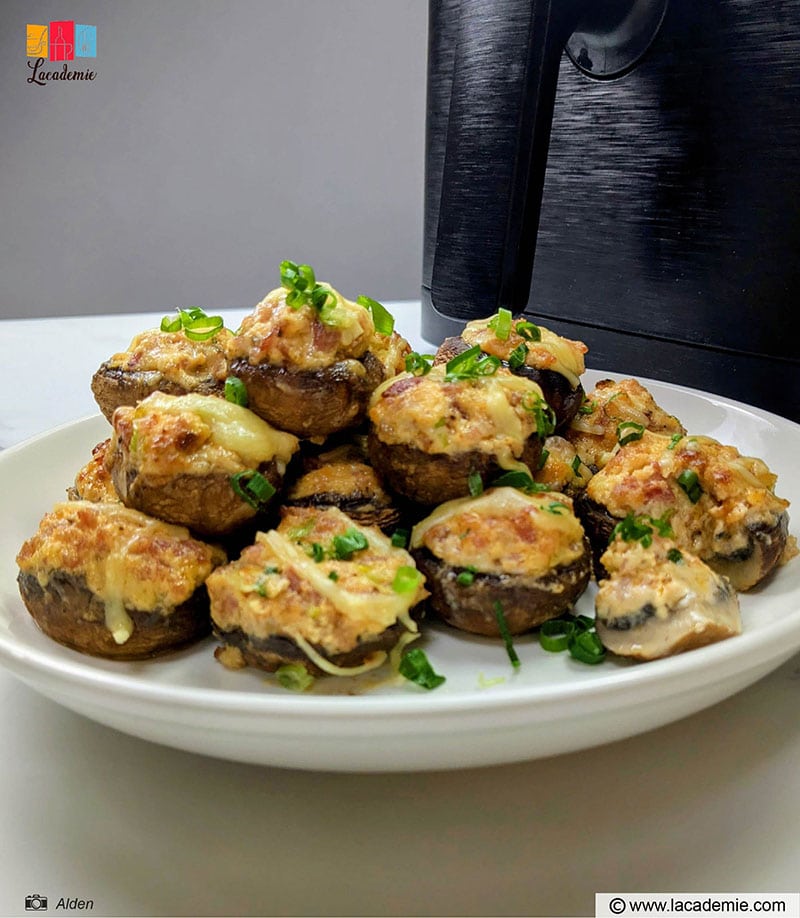 Easy, quick, and mess-free: The air fryer makes cooking a breeze. Besides a little oil to grease the basket, you don't need to use much oil. Better yet, you won't have to deal with the burden of cleaning your kitchen after cooking. Moreover, the recipe only takes about 20 minutes to complete.
Cheese-filled and extremely creamy: These stuffed mushrooms are filled with cream cheese, parmesan, and cheddar cheese, which turn ooey-gooey and incredibly creamy when cooked.
Healthy: The lack of oil means fewer calories and less fat, making them a healthier dish. Plus, mushrooms are also a great source of nutrients and antioxidants that help you combat illness and promote good health.
Tools
The following kitchen tools will provide all the help you need to whip up delectable stuffed mushrooms.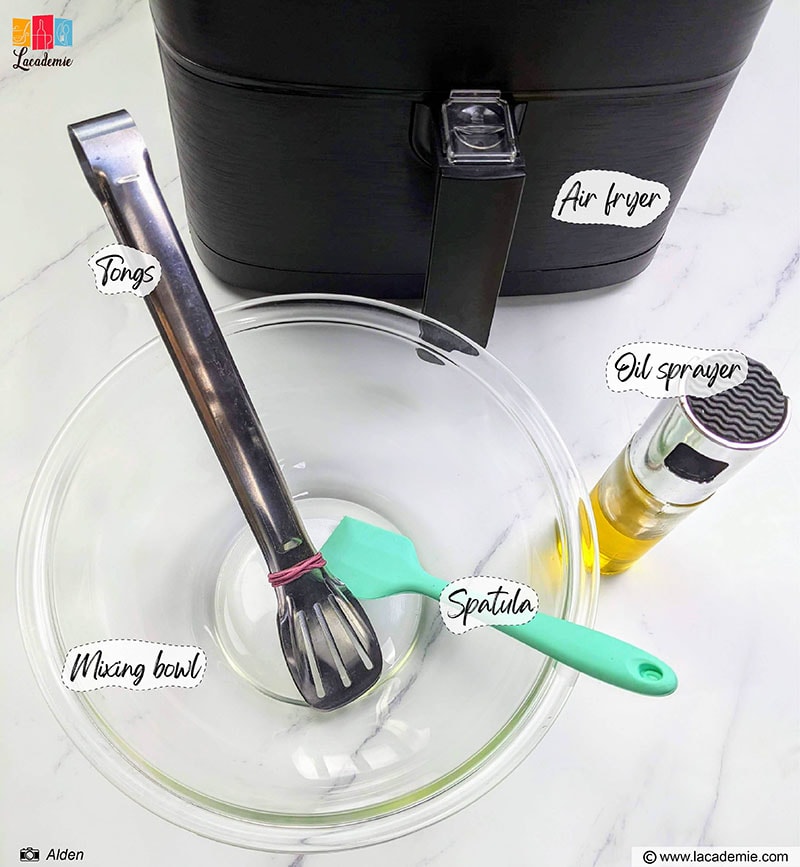 Air fryer: There are plenty of great air fryer brands to choose from. I recommend the COSORI Pro air fryer oven combo gen II.
Mixing bowl: For mixing the filling.
Spatula: Helps you combine the filling with ease.
Tongs: For taking the mushrooms in and out of the air fryer.
Oil sprayer: For greasing the air fryer basket.
Ingredients
The ingredients for this recipe are highly customizable, as you can switch up the mushrooms and cheese to your liking. These are the ingredients I usually go with.
Button, cremini, or portobello mushrooms: These 3 kinds of mushrooms are actually different mature stages of the same fungi species. Feel free to go for your favorite type.
Bacon: Adds texture and a savory taste to the filling. Remember to mince your bacon before adding it to the filling mixture.
Cheese: Cream cheese, parmesan cheese, and cheddar cheese are my choice for the filling, but you can swap them out for other types as well.
Scallions: You'll add the scallion heads (the white parts) to the filling and use the green parts for garnishing.
Spices: Garlic powder, salt, pepper, paprika.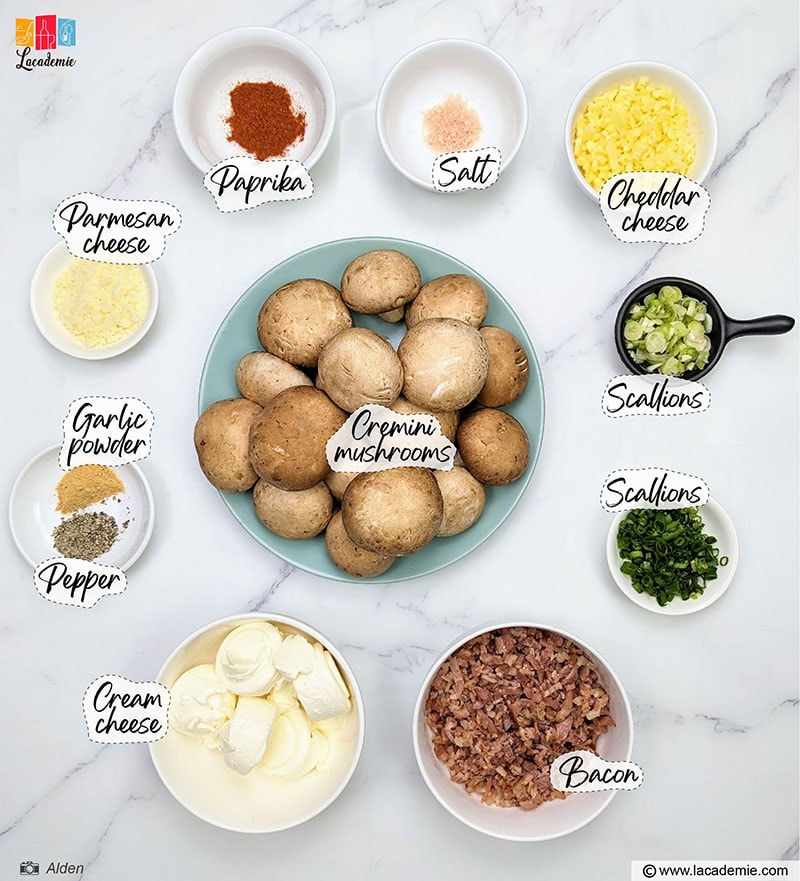 Directions
Now that you have all the ingredients on hand, let's move on to the step-by-step instructions for how to make yummy air fryer stuffed mushrooms.
Step 1: Make The Filling
Add 7 ounces of bacon, 1 teaspoon of garlic powder, 7 ounces of cream cheese, 1 ounce of finely chopped cheddar cheese, 2 tablespoons of grated parmesan cheese, 1 teaspoon of pepper, 1 tablespoon of finely chopped scallion heads, 1 teaspoon of paprika, and ½ teaspoon of salt to a mixing bowl.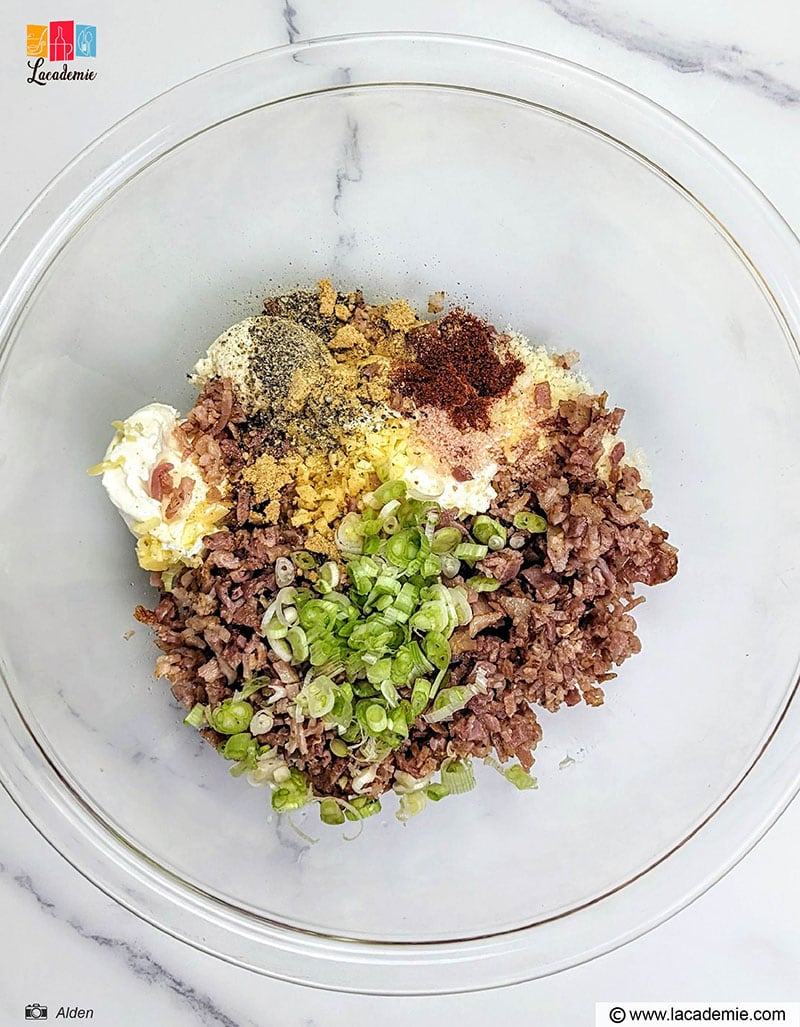 Mix everything well with a spatula.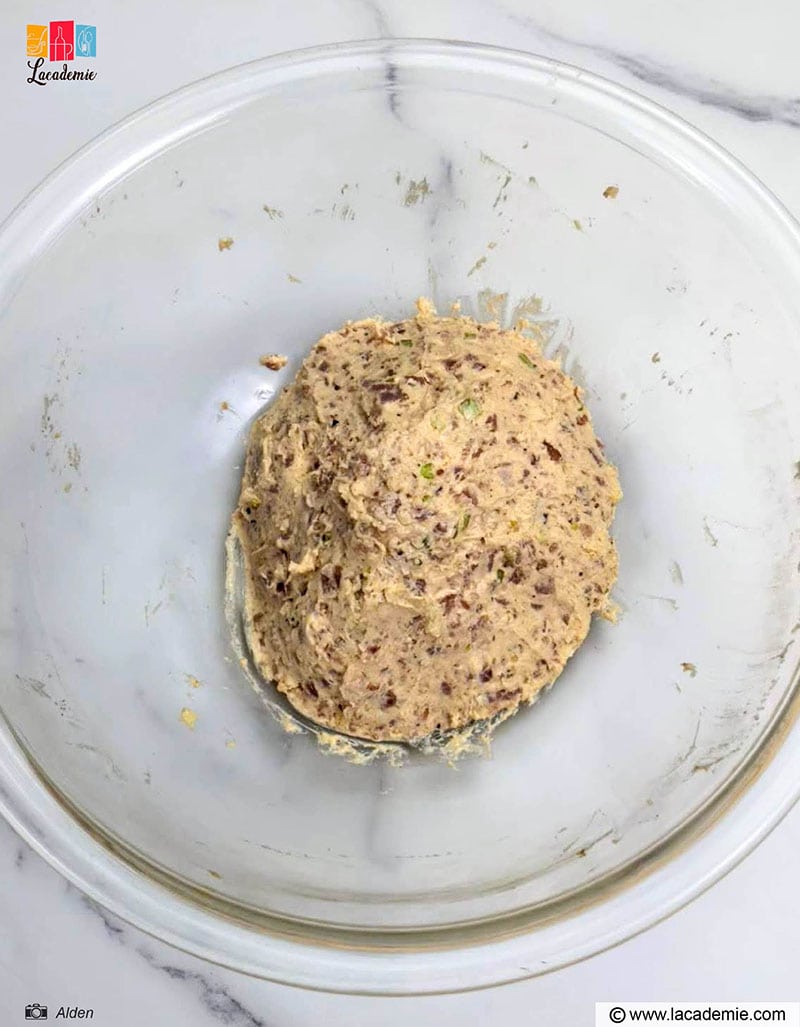 Step 2: Stuff The Mushrooms
Gently remove the mushrooms' stems using your hands.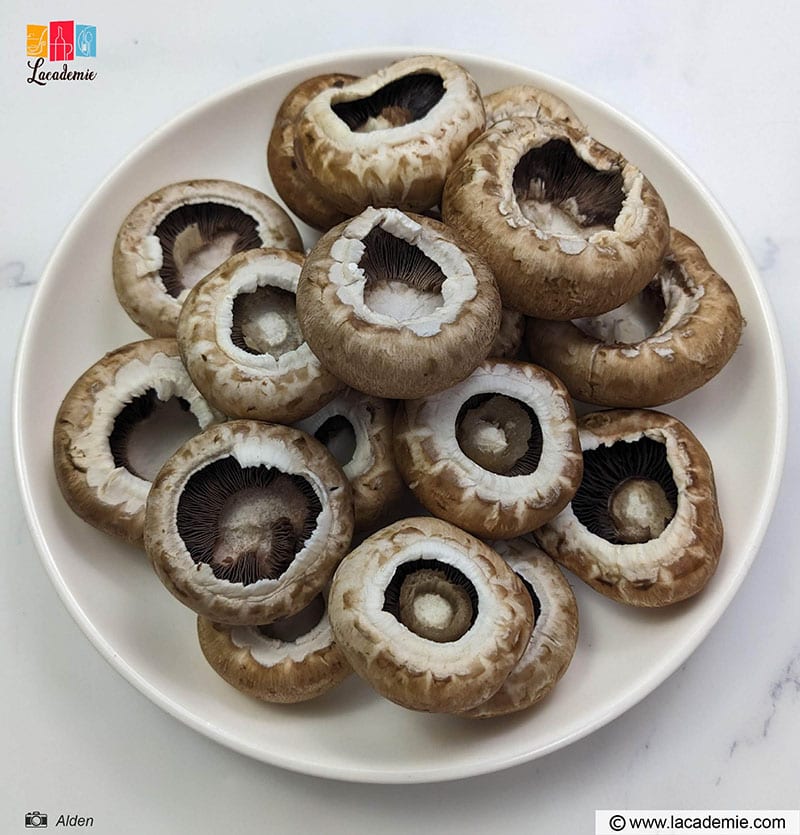 Stuff the filling into the mushrooms' caps. Press the filling so that it fills up the mushrooms.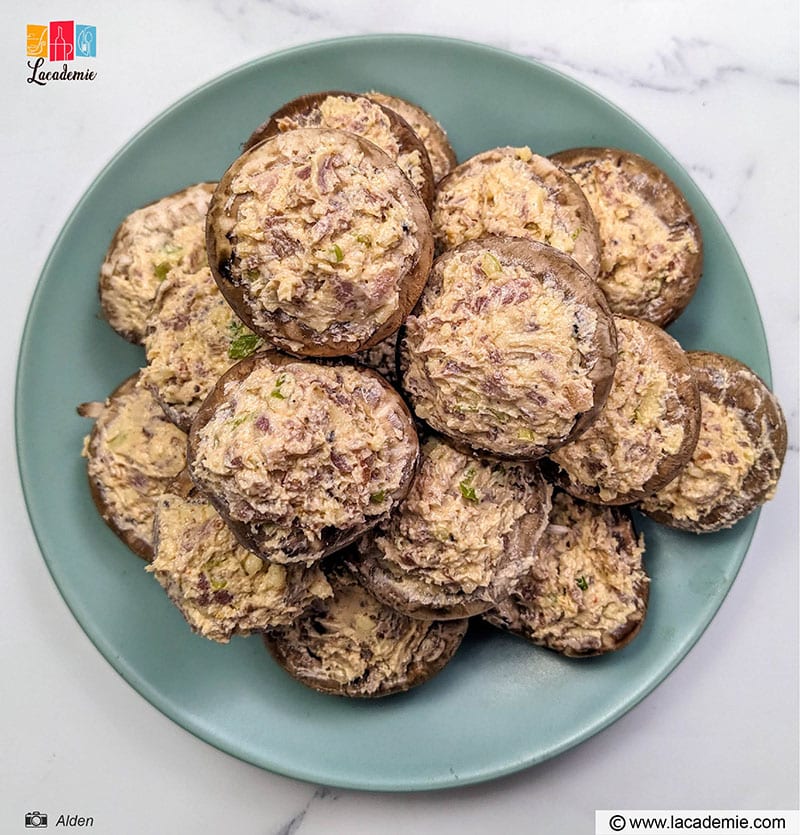 Step 3: Air Fry The Mushrooms
Preheat the air fryer to 400 degrees F for about 5 minutes.
Spray cooking oil on the air fryer basket and put the mushrooms in.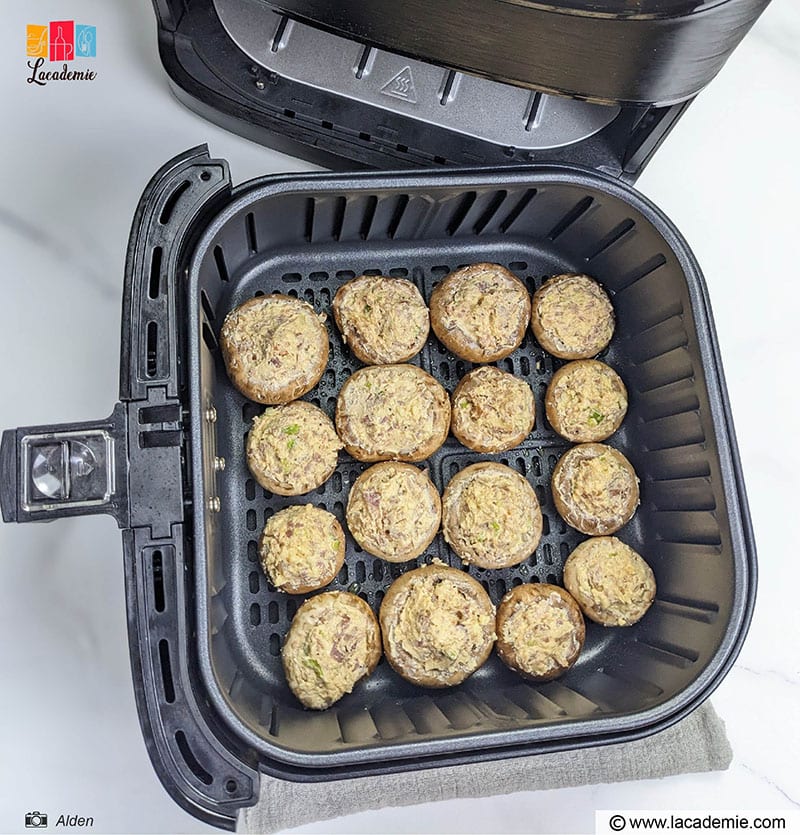 Reduce the temperature to 350 degrees F and air fry the mushrooms for 6 minutes.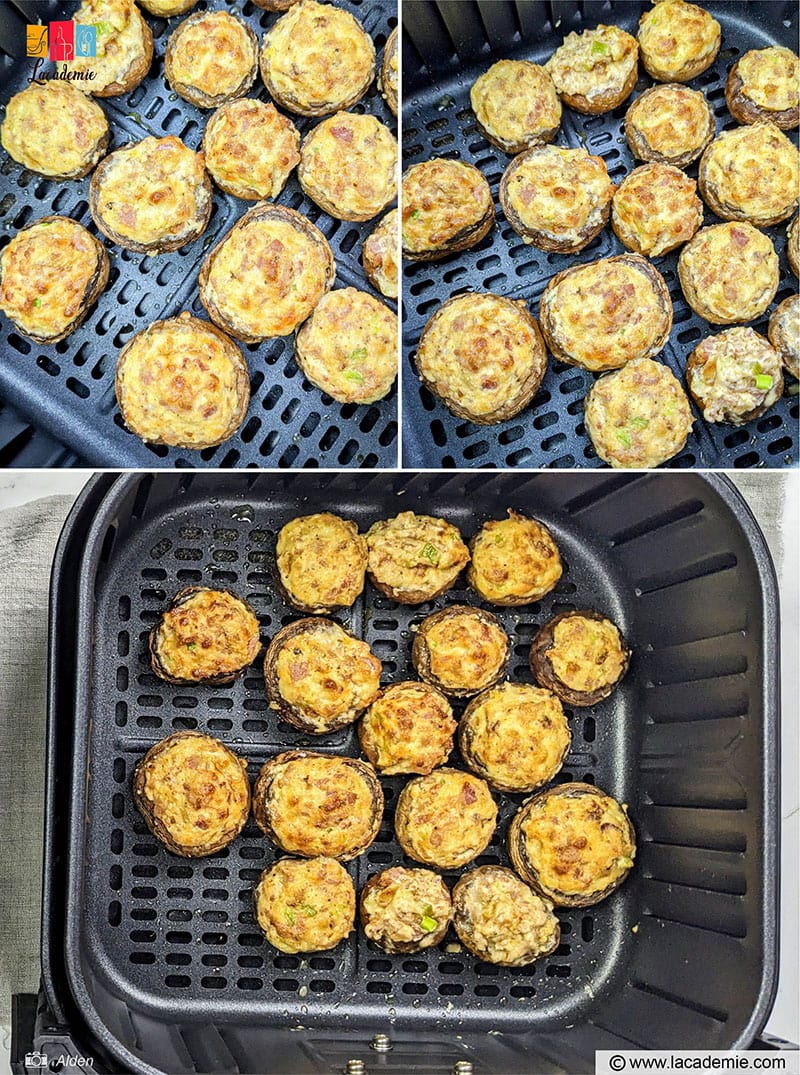 After 6 minutes, sprinkle the mushrooms with ½ tablespoon shredded cheddar cheese (optional). Cook the mushrooms for another 2 minutes to melt the cheese.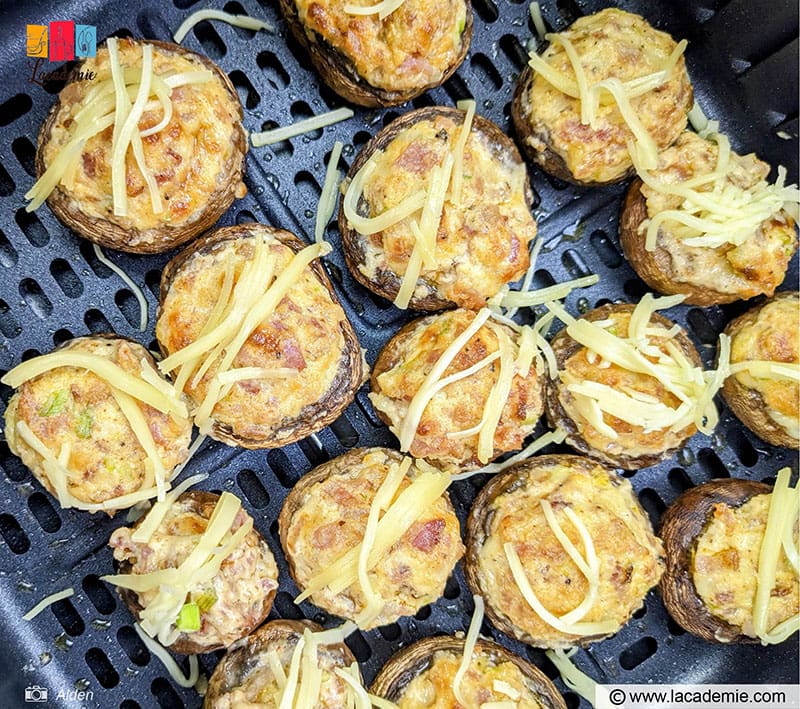 Once the mushrooms are perfectly cooked, sprinkle them with scallions. Let them rest for about 5 minutes, and enjoy!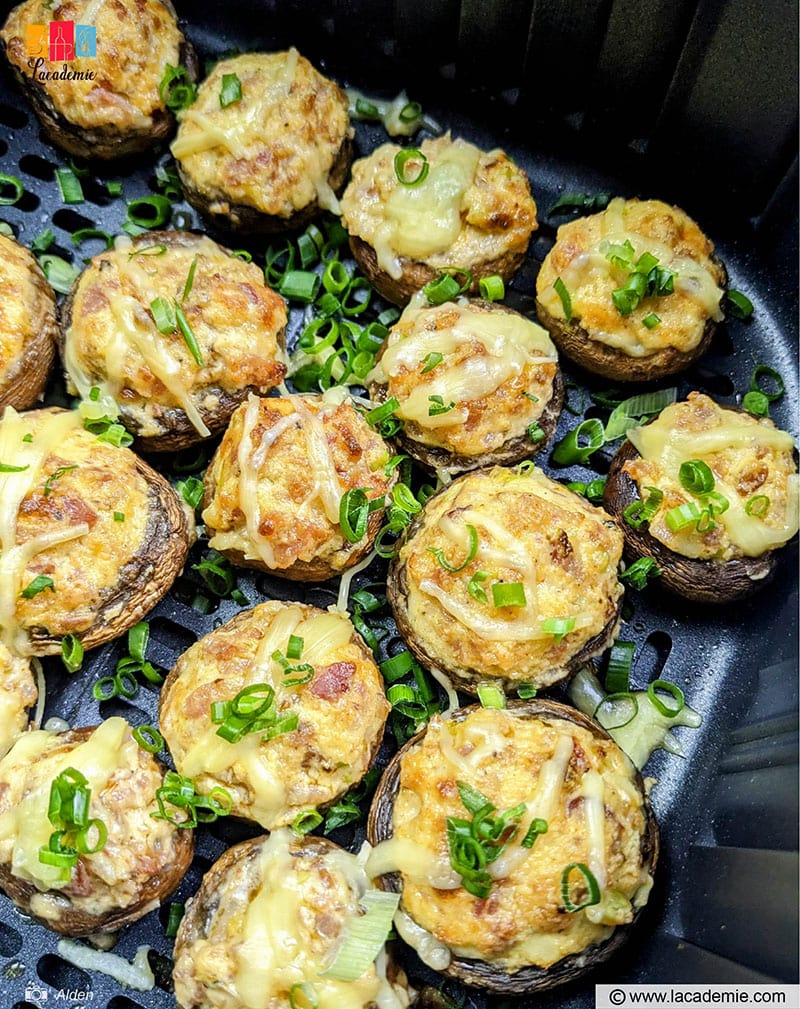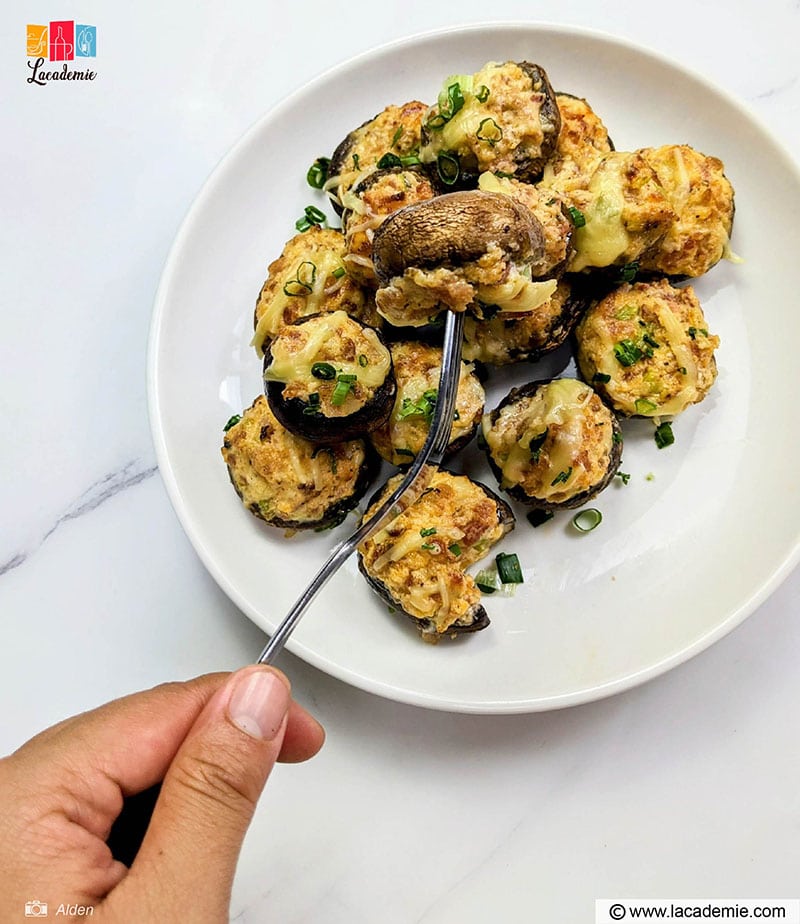 Additional Tips To Know
Don't miss out on this section for more tips to elevate your stuffed mushrooms and change up the recipe to suit your preferences.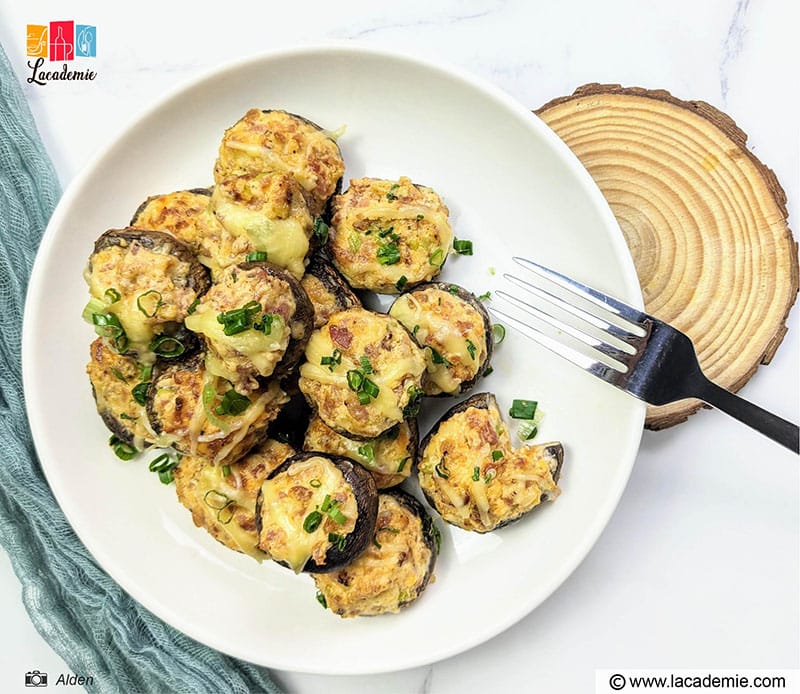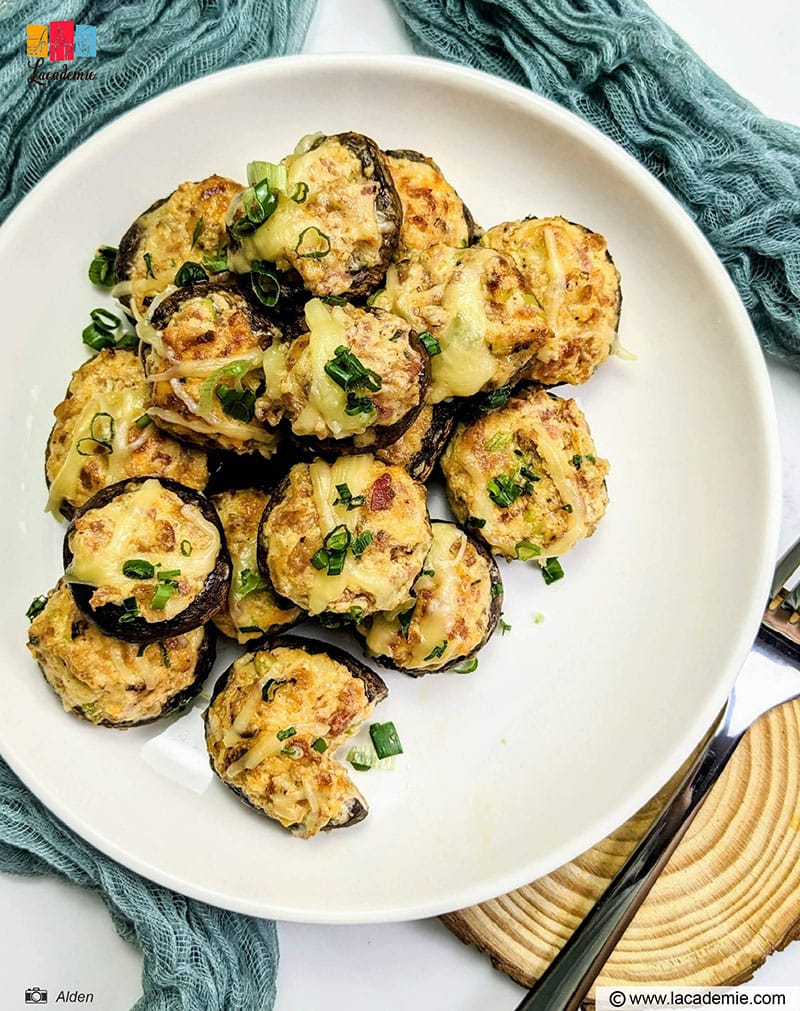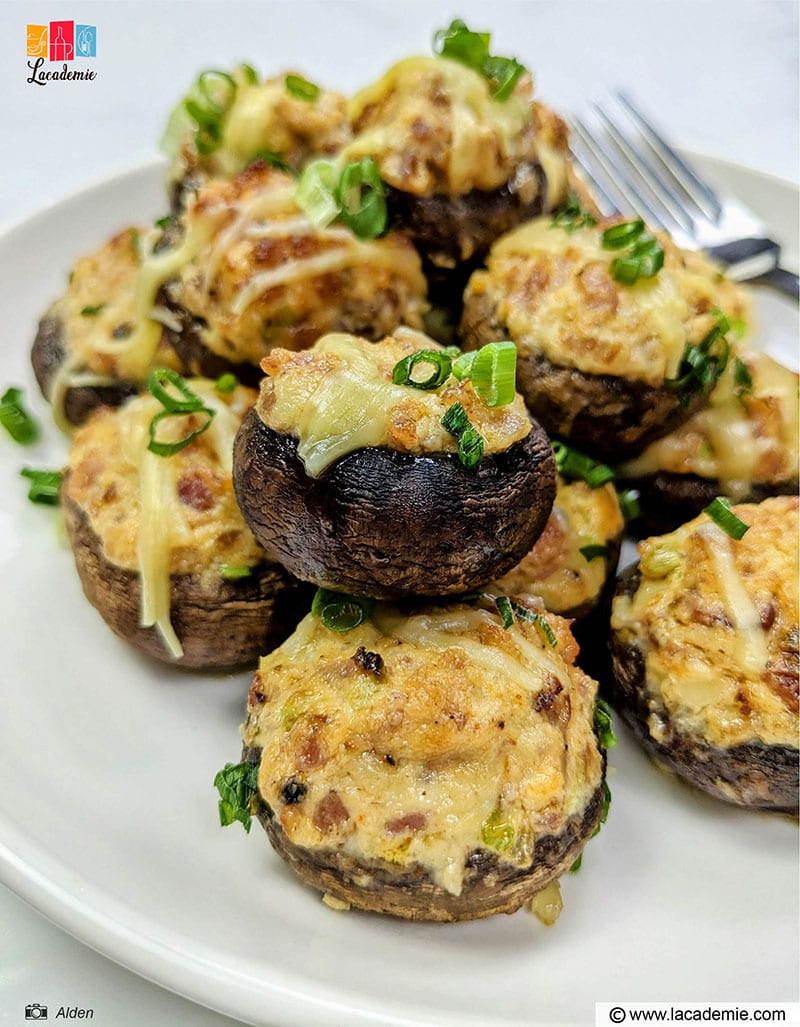 Feel free to customize the filling to your liking. For example, you can add bell peppers, diced onions, or chopped spinach to the mixture.
If you want the dish to be more protein-rich, replace the bacon with minced meat or crab meat.
Another excellent choice for the filling is spinach artichoke dip, which is flavorful, creamy, and rich in nutrition.
If the mushroom caps aren't large enough to fit the filling, try pressing them firmly to increase their size. You can also scoop out a thin layer inside the mushroom caps.
Treat Your Loved Ones To A Crowd-Pleasing Appetizer
I hope you and your loved ones enjoy trying out this air fryer stuffed mushroom recipe as much as I did. Not only are these creamy mushrooms make for a healthy and tasty appetizer, but they're also incredibly effortless to make.
Don't forget to leave a comment below and let me know how your stuffed mushrooms turn out. Also, please drop a 5-star rating on this post if you found it helpful. Sharing is caring, so if you have friends or family who love to cook, be sure to pass this recipe along to them as well!
Nutrition Facts
4 servings per container
---
Amount Per ServingCalories465
% Daily Value *
Total Fat 41.2g

64

%
Cholesterol 101mg

34

%
Sodium 883mg

37

%
Potassium 196mg

6

%
Total Carbohydrate 7.3g

3

%

Dietary Fiber 0.5g

0

%
Sugars 1.6g

Protein 17g

34

%
---
Calcium

190

%
Iron

1

%
Vitamin D

1

%
* The % Daily Value tells you how much a nutrient in a serving of food contributes to a daily diet. 2,000 calories a day is used for general nutrition advice.