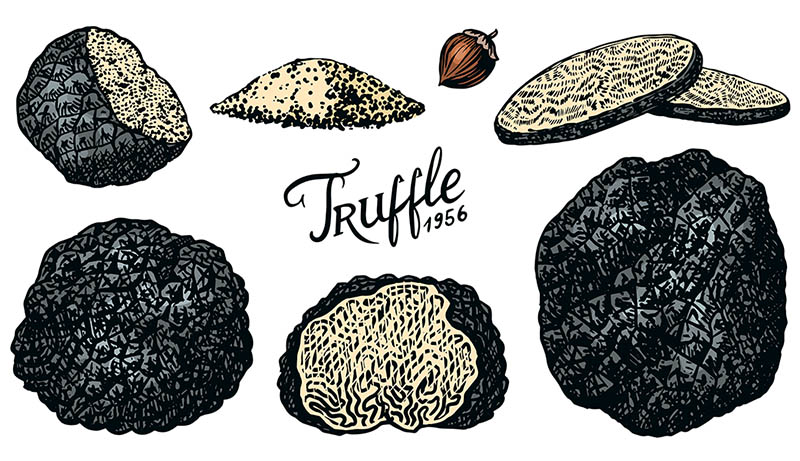 If you are into cooking, you should learn more about different types of truffles! There are many varieties with distinctive features that will surprise you! Let's explore the best out of them and more interesting information about these rough black diamonds!
Most of you may not figure out the differences between various truffles, probably because it is not common sense that you have to know. Do you want to know the definition of truffles and other interesting things? If yes, start to read the article right now!
What Are Truffles?
Truffles are a typical type of mushroom. They are the fruiting body of ascomycete fungus, one of the Tuber genus species. They grow underground about 0.7 to 4 inches below the root. Truffles are actually related to carrots more than fungus.
Romans and Greeks usually use truffles for both culinary and medical purposes. They are fantastic delicacies and also helpful medicines. However, truffles are pretty expensive. That's one of the reasons why people often call them "black diamonds."
You can find the most edible and typical truffles in French, Italian, and other national haute cuisines. If you go to a five-star restaurant, these fungi may be on the menu in the name of some tiny dessert dishes. You should totally try these dishes if you have the chance!
Most Common Types Of Truffles That You Should Know
Here comes the best part! A complete list of truffle types is coming your way! I will show everything you want to learn about them, including the appearance, how each type of truffle tastes, and what makes them stand out from the others! Let's get started, shall we?
Types of Truffles
Appearance
Smell and Taste
Summer Black Truffle

Lumpy, knobby rounded outside
White to yellow inside without veins

Delicate aroma with fruity note; smell like Porcini Mushrooms note
Mild taste
Whitish Truffle

Small, tuber-like, reddish, smooth surface
Pinkish brown inside

Young: aromatic, pleasant
Aged: stinky, gas-like odor

Geopora Cooperi
- Yellow-brown, crumpy, furrowed outside
- Convoluted-tissue-like inside
Sour, resembling bad apple cider
Périgord Truffle
Rough appearance with dark color
Smell pleasant, earthy, subtle; taste like roasted dry fruits
Burgundy Truffle
Darker flesh than Summer Black Truffle
More aromatic, chocolate-like
Tuscan Truffle
White or beige skin and flesh
Different flavors in raw (sharper) and cooked forms (more pleasant)
White Piedmont Truffle
Smooth surface, creamy color
Heady and pungent
Oregon Black Truffle
Dark skin, lighter flesh with brown spots
Exceptional pineapple-like taste; smell pungent, earthy
Australian Truffle
Gray-black to darker black, grainy; firm and dense flesh
Robust, musky, savory, earthy with a note of mint and hazelnut
Brumale Truffle
Having white veins on the inner pulp
Pungent, musky, slightly bitter, moss-like, similar to humus soil
Chinese Black Truffle
Look like Périgord Truffles but rounder and darker with fewer veins
Chewy, elastic
Spanish Black Truffle
Look exactly like Périgord Truffles
Intense fragrance; umami, garlicky, olivey, buttery flavor
Garlic Truffle
Spherical shape, purple-brown to gray-brown flesh with white veins
Taste heady, garlic-like
1. Périgord Truffle (Winter Black Truffle)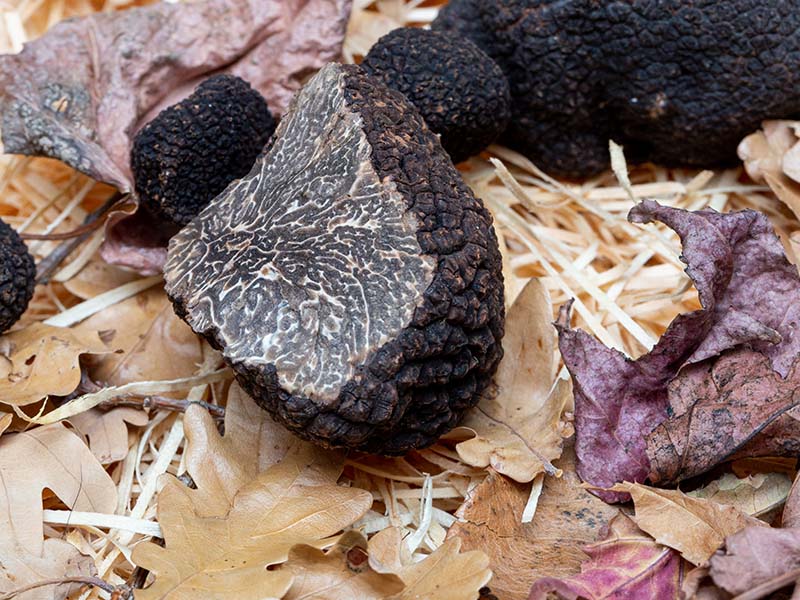 Périgord Truffle, or "The Black Diamond of Provence," is the most popular truffle that can easily be found in southern France and Italy. It includes a rough appearance with dark color, and the flesh inside is black with white or yellowish spidery veins running through.
It is also called Winter Black Truffle for the time it shows up in the year. You'll find it between November and March. It smells really pleasant with an earthy, subtle aroma and has a flavor that may remind you of eating roasted dry fruits.
Let's learn some facts about the amazing Pérogord Truffle!
2. Summer Black Truffle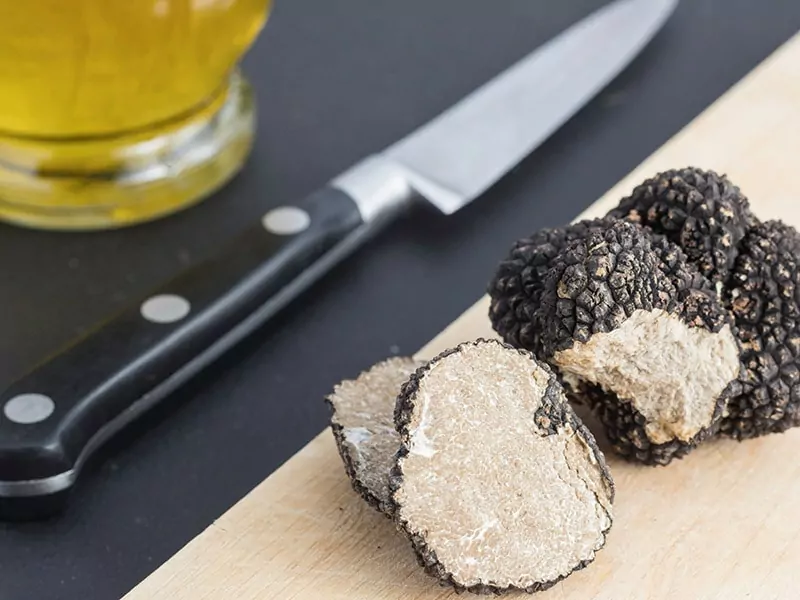 Summer Black Truffle consists of a lumpy, knobby rounded shape with dark brown skin. It looks pretty much like the Winter Black Truffle from the outside, but it has white to yellow inside without veins.
It looks different from other types since it has a tiny cavity on the base. Another difference is its special delicate aroma having a fruity note that will release after a few minutes. This smell may remind you of Porcini Mushrooms note.
You can find Summer Black Truffle on the surface, under the birch tree, beech tree, or conifers (fine, fir, etc.) so it is not necessarily under the ground. It usually appears during the summer or fall, from May to September.
You can meet Summer Black Truffles in pasta dishes, meat, dough, soup, salads, and many other appetizers. They taste mild, thereby can fit in almost any dish.
Let's find out what is inside Summer Black Truffle!
3. Burgundy Truffle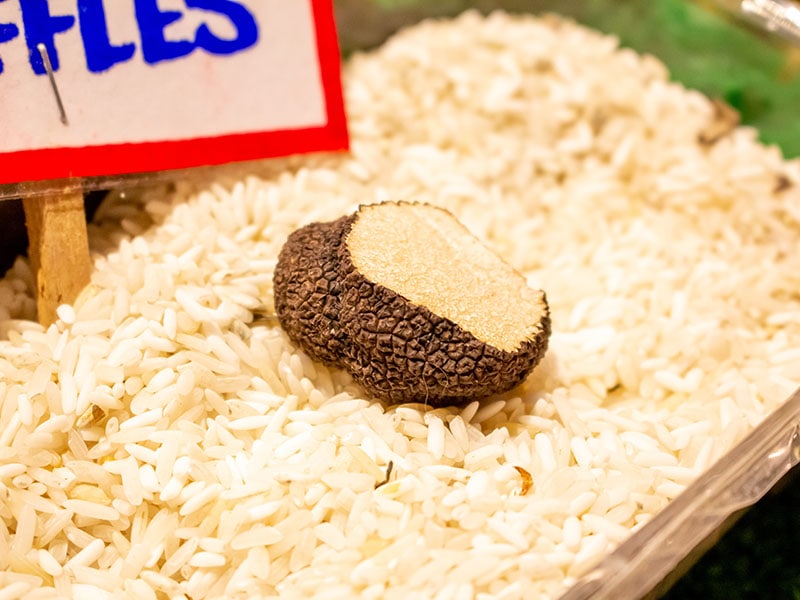 Burgundy Truffle is the same species as Summer Black Truffle, and sometimes people also call it Summer Truffle based on the time it's harvested. It looks like Summer Black Truffle with darker and more aromatic flesh. It smells and even tastes really like chocolate!
You can usually find Burgundy Truffles from October to December. They often appear in meat and fish dishes, eggs dishes, and appetizers.
4. Tuscan Truffle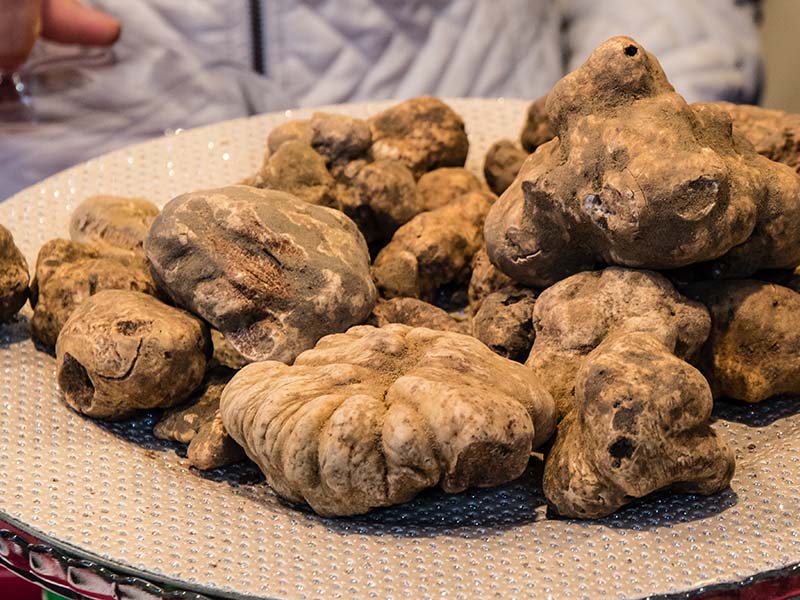 Tuscan Truffle is a white variety of truffles that includes a unique taste when you eat it raw and when you cook it. It will have a sharp taste when eaten raw and more pleasant when cooked with oil.
This type is usually used to make the most authentic truffle oil ever and also truffle paste. Its season is during spring, from January to April.
5. White Piedmont Truffle (Alba Truffle)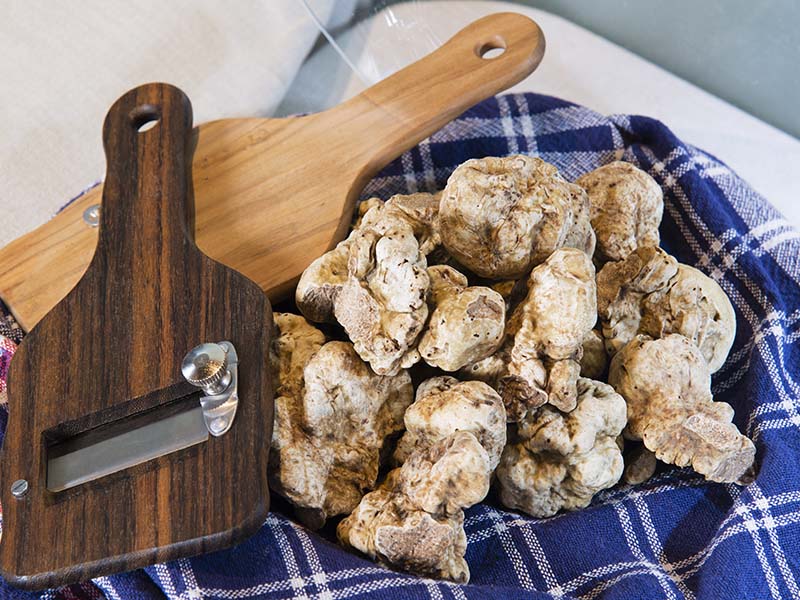 White Piedmont Truffle, or Alba Truffle, is from the Piedmont region in northern Italy. It contains a quite smooth surface with creamy color, not really white. Its smell is heady and intense, resembling cheese, garlic, or shallots.
People always eat White Piedmont Truffle raw in grated form. The cook will shave and top pasta or rice dishes with this truffle.
"White Magic" is the gorgeous name that people give White Piedmont Truffle!
6. Whitish Truffle (Bianchetto Truffle)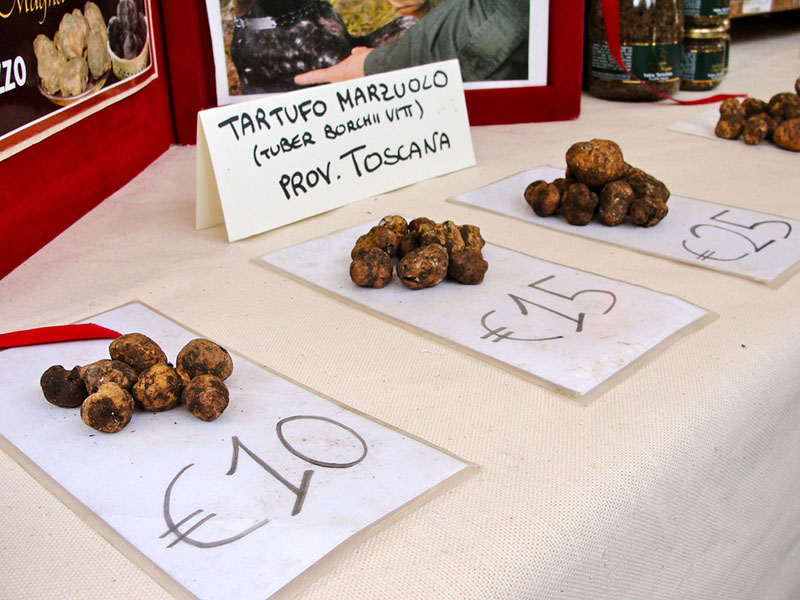 Whitish Truffle is smaller than other types of truffles with a tuber-like exterior. The mature Whitish Truffle includes a reddish, smooth surface with dark brown marks. When you slice it in half, the flesh of the aged truffle is pinkish brown, which is much darker than the young.
The smell of Whitish Truffle also changes according to its age. The young truffle smells aromatic and pleasant, while the mature truffle has a stinky, gas-like odor. You will find it in spring, during January and near the end of April.
7. Geopora Cooperi (Pine/ Fuzzy Truffle)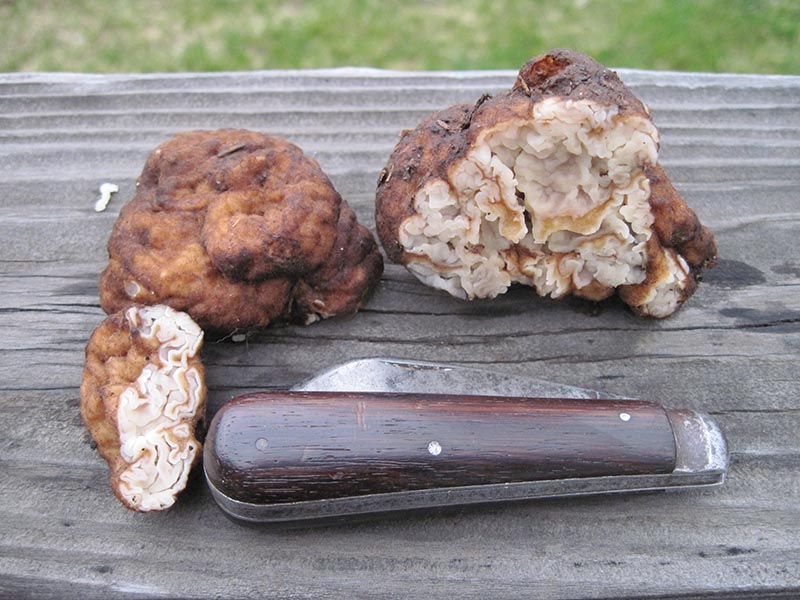 Geopora Cooperi has more familiar names like "Pine Truffle" or "Fuzzy Truffle." It has a yellow-brown, crumpy, and furrowed exterior from first sight. It includes a unique interior surface that looks like deeply folded and convoluted tissues.
Geopora Cooperi tastes and fragrances like most other types of truffles, but sometimes it smells a little bit sour that may remind you of bad apple cider.
8. Oregon Black Truffle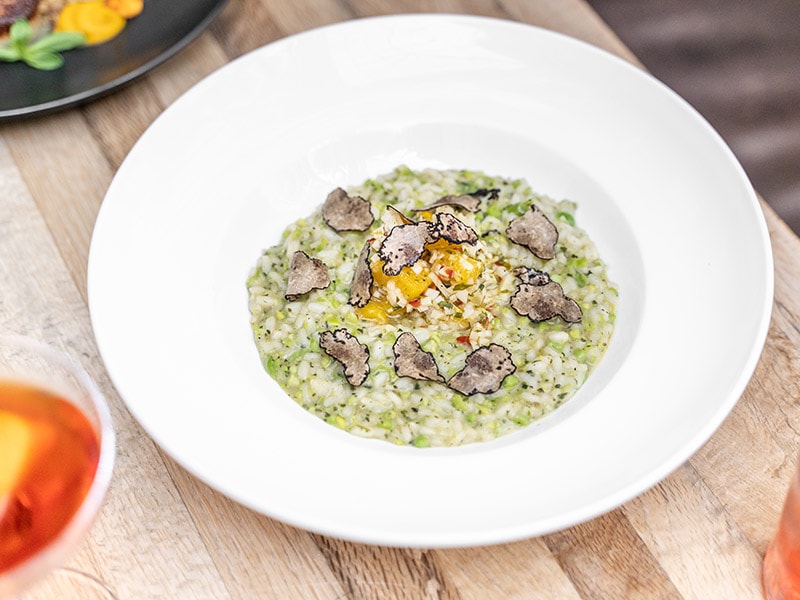 Oregon Black Truffle is a famous type of truffle in culinary use. It includes an exceptional pineapple-like taste that you can hardly find in other species. You can find Oregon black Truffles between November and March.
Like other Black Truffles, it has dark-colored skin and light-colored flesh inside with some brown spots. Its season can last from fall to spring.
The pungent and earthy smell of Oregon Black Truffle will fade away if it is exposed to heat. Therefore, like White Piedmont Truffles, the chef will grate this truffle raw over the meat-based dishes and even some desserts.
Here's how they hunt the most precious delicacy – Oregon Black Truffle!
9. Australian Truffle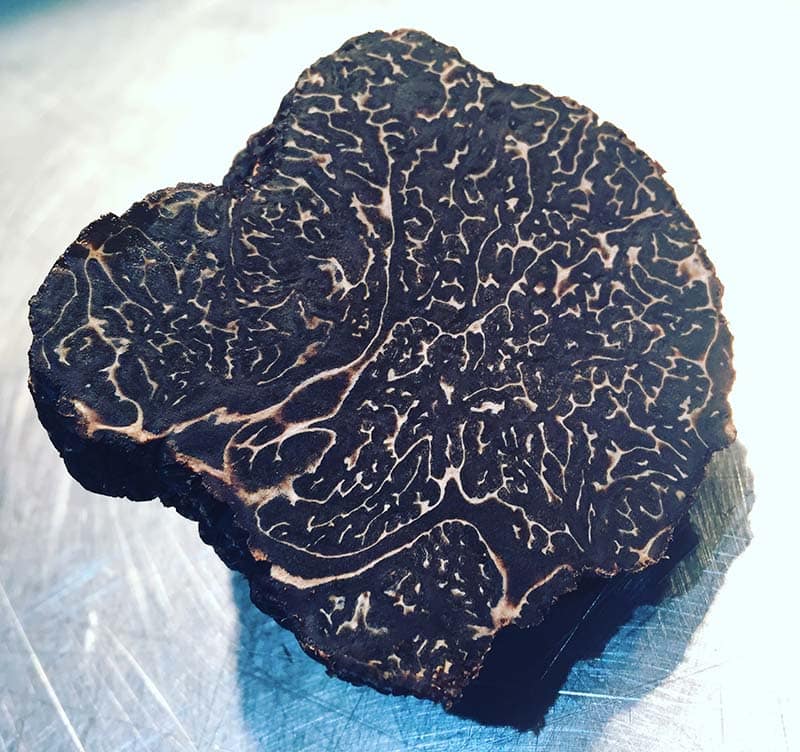 Australian Truffle is one of the most delicious truffle types with high-quality intensity at a reasonable price! Their season is from May to July. The outside look of Aussie Black Truffles is gray-black to darker black and with a grainy texture.
You can smell the robust, musky aroma like a mixture of garlic, nuts, and chocolate when you first sniff Australian Truffle. The flesh is dense, firm, and smooth with savory, earthy flavor combined with a note of mint and hazelnut.
10. Brumale Truffle (Moscato/Muscat Truffle)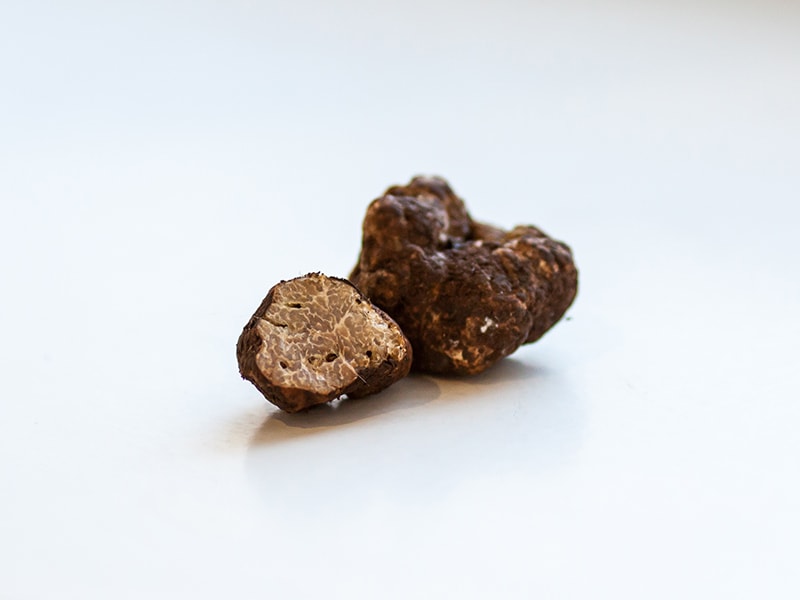 Brumale Truffles look so similar to Périgord Truffes that many people cannot tell them apart; however, its inner pulp also includes white veins that make it look different from others. Its less warty look and less nutmeg-like smell than Tuber Brumale show that it's Winter Truffle.
The flavor and aroma of Brumale Truffles are also a little bit different from others. It smells pungent, musky, and tastes slightly bitter, which is similar to humus soil. You will feel this pungent, moss-like aroma when you consume it raw or cooked.
For the special flavor and aroma, Brumale Truffle is famous and most used by chefs who like to add strong personal taste to their dishes. Moreover, Brumale Truffle seems to be more affordable than other truffle types, so you should consider it for a budget-saving dish.
11. Chinese Black Truffle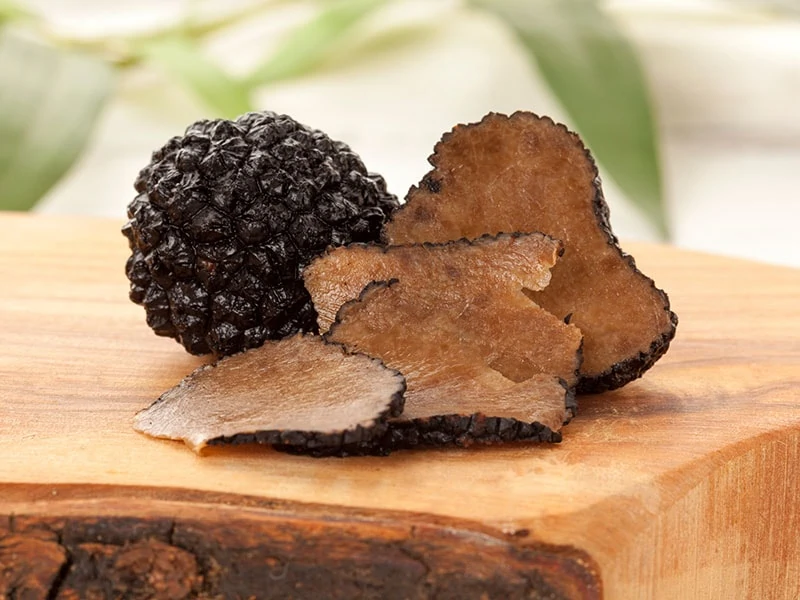 Chinese Black Truffles are sometimes labeled as "Winter Black Truffles" for their similar characteristics with the French and Italian species.
People also mistake this type for the Périgord type for the similarity in appearance, but it actually includes a distinctively chewy, elastic texture and flavor. Its shape is also rounder than Périgord. Chinese Black Truffle seems to be darker with fewer veins.
Finding Chinese Black Truffles in China is not that easy!
12. Spanish Black Truffle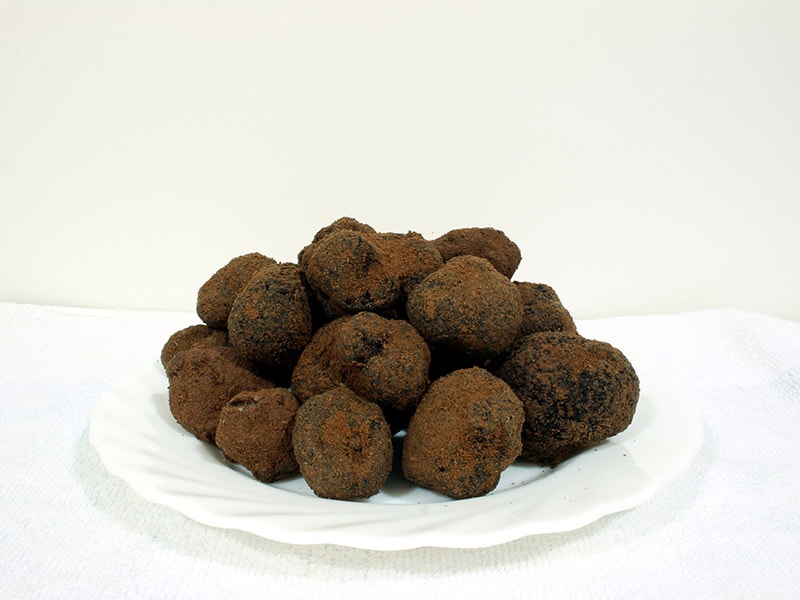 Spanish Black Truffle can be one of the most worthy truffle types you purchase! Spanish find these fungi in east-central Spain. Their high-quality black truffles have gained fame and become one of the best exported products of Spain.
Black truffles of Spain have an intense fragrance and umami taste with a garlicky, olivey, buttery flavor. It looks exactly like Périgord Truffles.
13. Garlic Truffle (Smooth Black Truffle)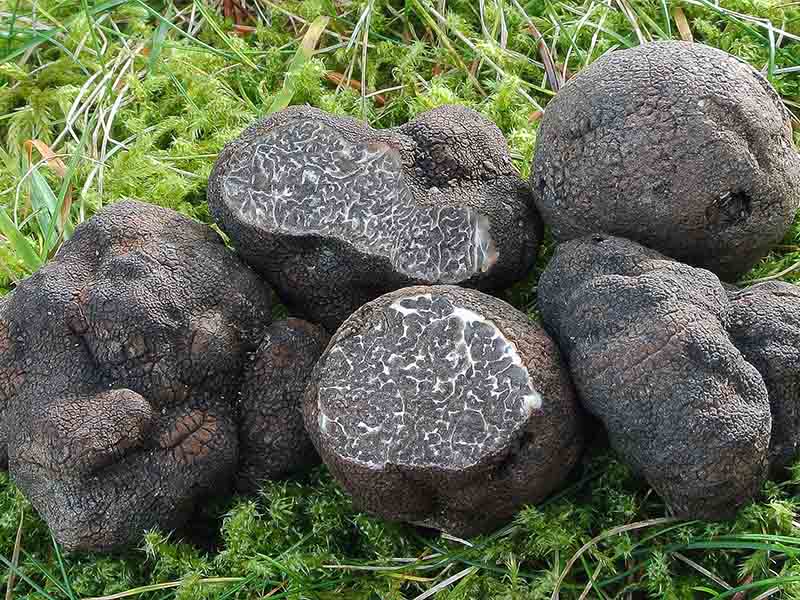 These garlic-odor truffles can be found in Europe, especially in central Italy. Garlic Truffle consists of a spherical shape outside and purple-brown to gray-brown flesh inside with white veins. As its name suggests, it has a heady scent and taste that will remind you of garlic.
Secret Tips To Work With Truffles That Noone Tells You
As I've said earlier, truffles may not be a product you use daily since most types are pretty high in price, so here is the complete truffle guideline for you when you have the chance to deal with these delicious black diamonds!
These are also some great ways for you to cook your truffles!
Use your truffles as soon as you have them on hand! Fresh truffles are the best when you use them as quickly as possible, most ideally on the same day or within 3 days after you buy them.
Most truffles are heat sensitive and can be eaten raw, so you may want to add them at the final stage of cooking as a topping when your dish is ready.
Never combine truffles with acidic items such as vinegar or citrus juice (lemon, lime, etc.).
Truffles are in their best state with warming dishes like pasta, pizza, mashed potatoes, risotto, etc. Warmth can activate the aroma and taste of truffles!
You can always use a sharp knife to slice your truffles, but things get easier if you have a truffle slicer. Adjust the dial to the perfect desired thickness, then move the truffles across the blade.
I hope that you can apply these tips while cooking with truffles! Enjoy your precious truffles!
Enrich Your Dinner With These Delectable Types Of Truffles!
You should totally try truffles once if you have never tasted them! Although they are a little bit high in price, I'm sure that they will be worth every penny that you spend since they taste nothing like ordinary mushrooms!
Have you learned anything interesting about the species of truffles from this article? If you have something to share with me, leave a comment in the below section! Don't forget to like and share this article to spread the word to other people! Sharing is truly caring!