You must wonder, "what do truffles taste like?" when you have been introduced to this weird lumpy thing. Although this ingredient can usually be found in many staple Italian dishes as well as Mediterranean cuisine, it's probably not a mundane thing you can find in any corner of the world.
Yes, I'm talking about truffle – a kind of culinary fungus, and not truffle – a decadent mini-sized dessert often seen at fancy parties. So if your goal is to find out what the truffle dessert tastes like, leave a comment, and I might discuss it another day. For now, let's focus on this exquisite fungus.
You may receive the answer like "musky," "earthy," or "meaty with a hint of mushroom flavor" when you ask gourmets who have tried this expensive food. However, truffles' taste is much more than that.
In my post, I will give you the most accurate description of the taste of truffles and the additional information on the related questions. Quickly scroll down for that useful knowledge!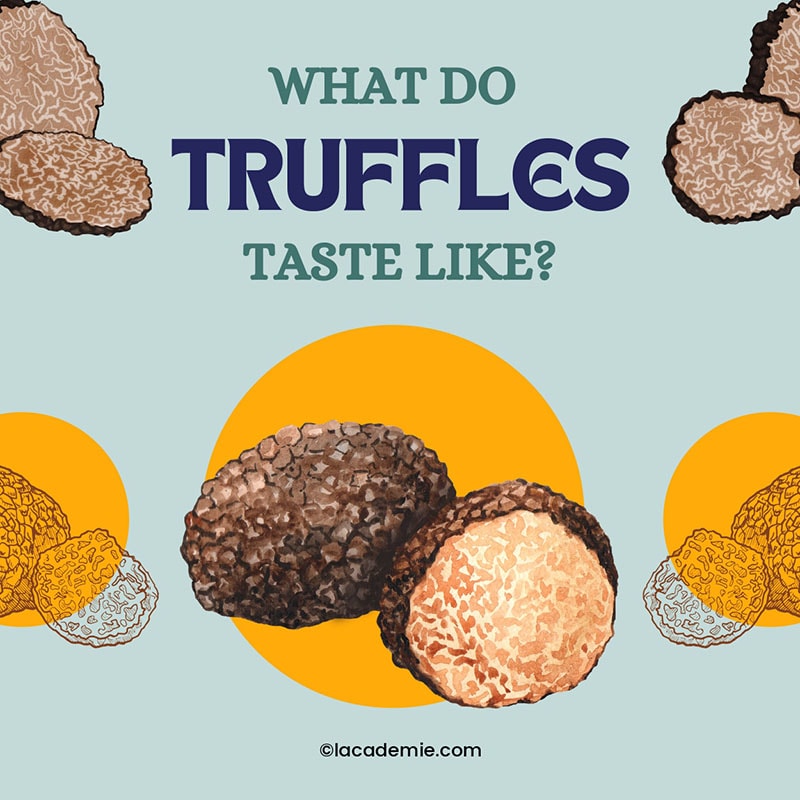 What Is The Taste Of Truffles?
What do truffles taste like? Well, despite the lumpy, weird, and unappetizing look truffles dress in, they are highly sought-after by many foodies because of the distinctive flavors.
This ingredient has an earthy, meaty, musky, and garlic-like taste with a smelly mushroom flavor. Mixed with a soft, spongy texture, truffles bring you the most special experience.
However, that's only the typical description. How to tell exactly what truffles taste like is much more complex than you thought. As truffles have various kinds, no one can give you a precise answer.
But don't be too confused. Below, I will detailly show you the little differences among various truffles, based on the harvested season as well as the rooted places.
Truffles – The Diamond Of The Culinary World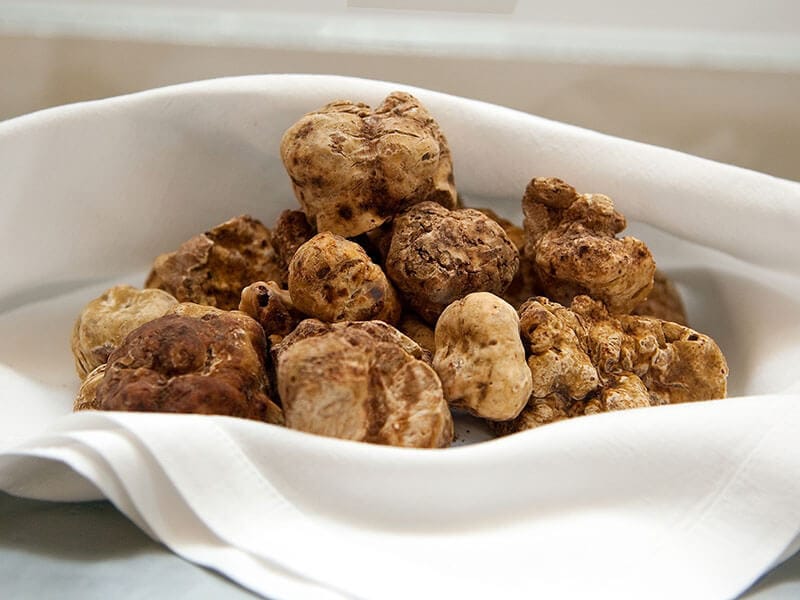 Wait! Before going to the central part, I would like to give you some must-know information about truffles. I'm sure many of you might not have a clear image of this food. Don't worry. The short summary below can help you out!
1. Truffles – Not The Chocolate You Often Eat
When it comes to truffles, you may mistakenly think of them as a kind of mushroom because of their fruiting body and the way they disperse spores.
Truffles, on the other hand, are actually a fungus species from the Tuber genus. They are one of the ten Tuber spices which are recognized as can-be-consume delicacies.
Truffles are subterranean fungi that grow underground broadleaved woodlands. Most of them are usually found to attach themselves to oaks and beeches. Every truffle has a close relationship with these giant trees since they take the nutrients from the tree roots.
This fungus has a potato-like appearance with lumpy and rough skin, which is confused as a wild mushroom. But once you try truffles, you can realize they are not the same. Their distinctive aromatic flavor sets them apart from any other kind of mushroom.
2. Type Of Truffles – How Many Members In Truffles Family?
It is a fact that there is more than one variety of truffles. Some of these types have similar names, which can get your mind around when you look at the menu of a truffles-specialized restaurant.
Truffles are classified based on their color, season, or outward appearance. Despite that, it is hard to list them in a few short lines. However, I can tell you know the two most well-known used kinds of truffles in the world.
Black Truffles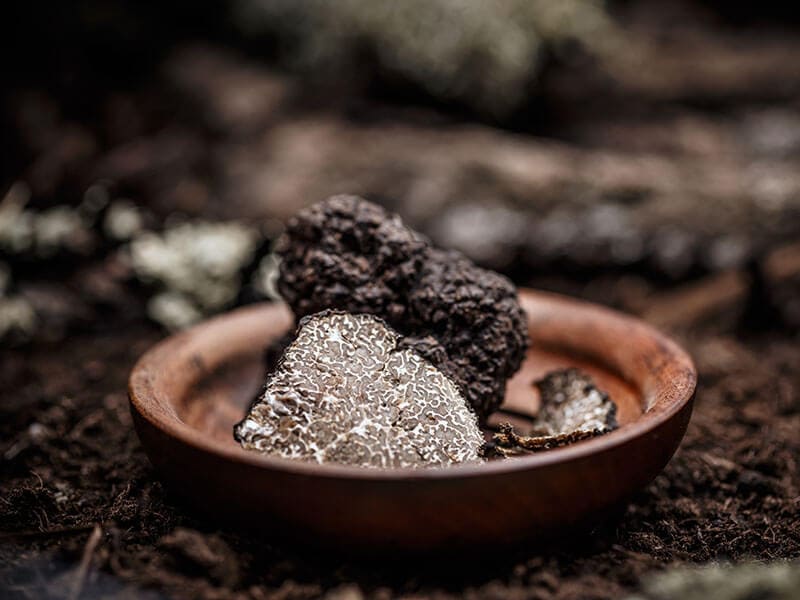 As its name suggests, this kind of truffles has a grayish-black or rough brownish-black skin. On the inside, spidery white veins are spread throughout the brown or black flesh.
Black truffles are usually found in Italy, Spain, and France. They are harvested near oaks, chestnut, hazelnut, elm, and poplar trees. And each truffle's popular weight often ranges from 50 – 90 grams.
Despite their hefty price tag, black truffles are actually considered the most affordable truffles by truffles huge fans.
Important information that you need to know about black truffles.
White Truffles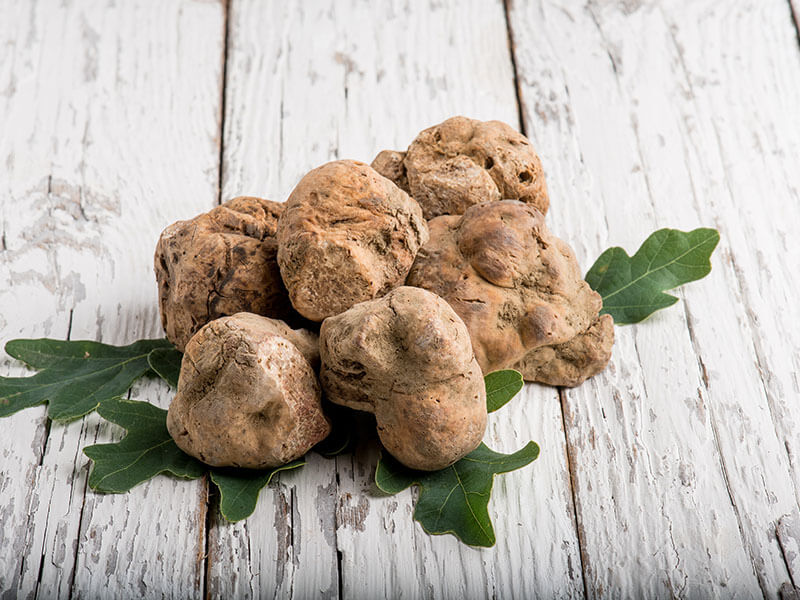 From the outside look, white truffles are not a pure white color as you might think. They are yellowish or grayish, looking almost like potatoes that have just been dug under the ground.
Unlike black truffles, white truffles have almost smooth skin. You'll probably find them quite better-looking than the black truffles. Moreover, white truffles' soft inner flesh usually has a lighter brown with spidery white veins.
White truffles also offer a longer shelf life than black ones, which explains why they cost much more dollars.
3. Why Are Truffles Known As The Most Expensive Food?
Truffles are known as one of "the most expensive foods in the world", probably only overshadowed by saffron and its exquisite taste or caviar. Truffles have been highly regarded by many chefs in the world, and now you can see them even on the reviews of some home cooks.
A French gastronome – Jean Anthelme Brillat-Savarin, has named this fungus as "the diamond of the kitchen" (1) . But that is not entirely the reason for their exorbitant prices. To be more specific, truffles are paid top dollar due to four main reasons below:
It's Hard To Cultivate
Cultivating truffles cannot be implemented year-round. Depending on the weather and soil properties of each region, truffles will grow differently. This is a stubborn species that only germinates and thrives under certain conditions.
Cultivation time can sometimes take up to ten years. Moreover, the results may not always be as expected.
Harvesting Truffles Is Like Gold Hunting
As truffles grow under the ground, farmers need some special assistants such as trained dogs or trained pigs.
The olfactory skills of these two animals help to sniff out the smell of truffles and make it easier for farmers to find their exact location. However, dogs are usually more popular than pigs since the latter tend to eat most of the truffles instead of giving to the farmers.
Truffles' Short Shelf Life Make It Rare
Truffles do not have a long shelf life. It needs to be harvested on time for the best quality. If you miss out on the harvested season, it also means you lose a trillion dollars.
Furthermore, truffles tend to lose their watery content right after harvest. Therefore, it is a must to be quickly stored and delivered to your hand.
Do you know why truffles are named the world's most expensive food? You can see this video to know more:
How Do Truffles – The Most Expensive Food Exactly Taste Like?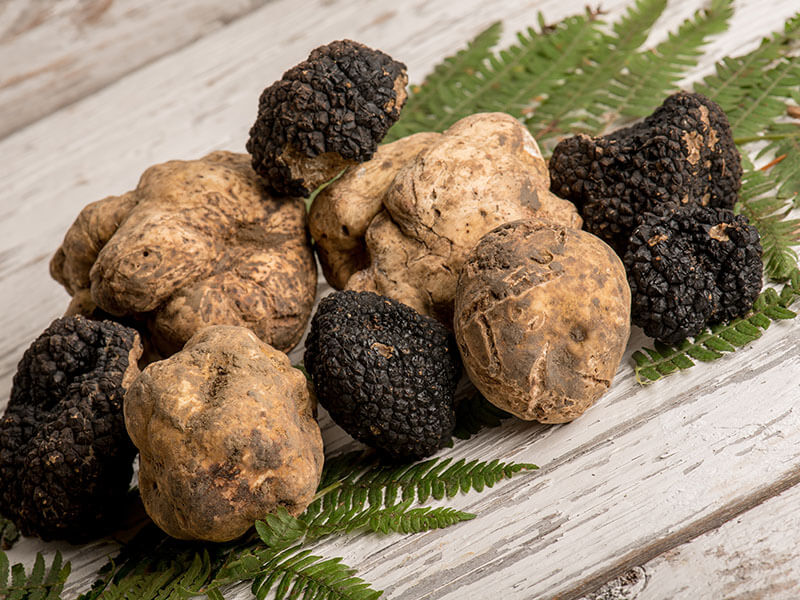 Actually, the taste of truffles depends so much on their origins, growing conditions, harvested season, and even the tree roots they attach themselves to. As a result, I'm sure you cannot find a duplicated truffles' flavor from other parts of the world.
In case you want to know the typical flavor of some popular kinds of truffles, I'm here to help you. Although it may not completely be full, it can help you to imagine the basic tastes of this most expensive food. Let's get started!
1. Black Truffles
First, I will describe the taste of two black truffles. These two kinds are the most popular ones which appear in many restaurants in the world.
Black Winter Truffles
Black winter truffles are also known as "Périgord Truffle" or "The Black Diamond of Provence". They mainly grow in Italy, France, or Spain. With the soft texture on the inside, this kind of truffle is described to have a chocolate-like and earthy flavor.
Additionally, some may find the oaky taste as the whole life of this truffle is attached to the roots of oak trees (or other large trees as well).
Black Summer Truffles
Black summer truffles also have another lovely name, which is Truffe de la St. Jean. As the black winter ones, they also can be found in France and Italy. The only difference between black summer truffles and black winter truffles is the season they are harvested.
However, though they have the same earthy and chocolate-like taste, black summer truffles' taste is much more subtle and dedicated. It also reminds you of a pleasant and lovely aroma from perfume.
2. White Truffles
Now, let's turn to the white ones. There are also two common white truffles. You might not have heard about them in your place, but they are definitely the favorite truffles of many dinners around the world.
White Winter Truffles
White winter truffles have other nicknames, called "White Truffle from Alba" or "Italian White Truffle," as they usually grow in Alba and Piedmont, Italy. This kind of truffle is praised and highly evaluated by its garlicky flavor.
In addition, white winter truffles are also reminiscent of shallots, with a hint of musky and earthy fragrance from the land they grew in.
White Summer Truffles
"Marzuili truffles" is another name for white summer truffles. These truffles have the same Italia origin as white winter truffles as well, which mainly grow in Tuscany, Marches, and Piedmont.
Similar to the black ones, the difference lies in the harvesting time. These summer-harvested truffles always seem to have a more gentle taste than those winter-harvested ones.
As a result, it is obvious that despite having an alike garlicky and musky flavor as the winter ones, white summer truffles dress on themselves a more elegant reminiscence.
What Are The Uses Of Truffles In The Culinary World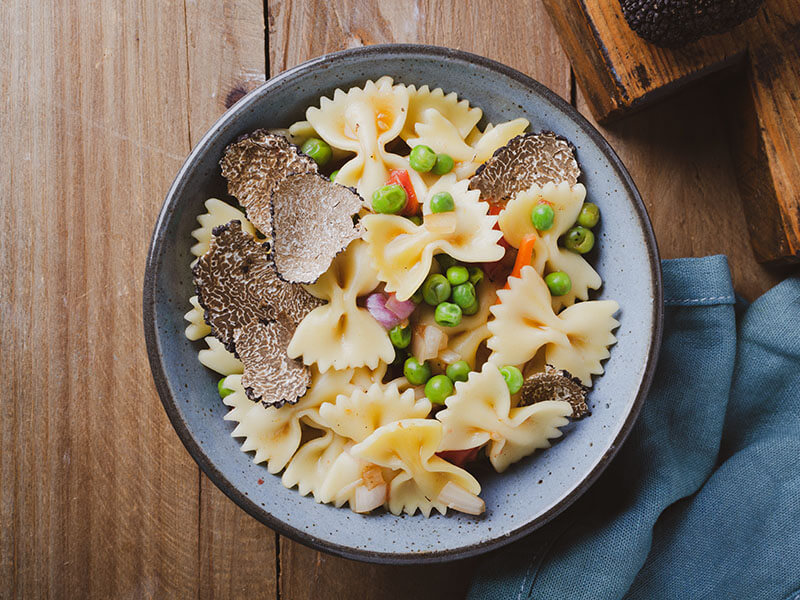 Truffles can be cooked, eaten raw or processed into other forms of products. And the taste can also be different according to how it is used. Hence, you may need to know some information about truffles' application in the culinary field.
1. Truffle Is The Main Ingredient In Cooking
In Italian restaurants, truffles are famous for their companion with fresh pasta. Most prominent are al dente tagliatelle and pappardelle.
By finely thin-shaving in pieces and putting on the top of pasta, your pasta can not only be enhanced in flavor but it also is dressed on the luxury look as a 5-star restaurant dish.
On the other hand, truffles can be an accompanying food for risotto to double the flavorful taste.
If you ever need to rewarm this dish and find that the various methods to reheat risotto still can't fully bring out its flavor, consider adding a bit of truffle into it.
In order to create the umami flavor, truffles also go with steak. Moreover, this ingredient can work well with cheese, pâtés, or foie gras preparations.
You can see this video to know more:
2. Truffles Oil Is Now Worldwide Known
For those who have a limited budget, truffles oil can be the greatest invention. Premium culinary truffle oil is convenient and much cheaper. It is used to add the flavor of truffles into the dish without overwhelming the smell.
Truffles oil also is used with fresh truffles to double the flavor of your dish. And one thing you need to keep in mind: Find the top quality of truffles. It deserves your dollar. I'm sure you don't want to end up throwing a fake one labeled under the name of truffles oil.
3. Truffle Salt – A New Invention Of Truffles Products
Truffles salt is one of the products invented in the last few years to meet the needs of consumers. This condiment consists of traditional salt and small pieces of truffles (either black or white).
Truffles salt is also commonly used as an ingredient to enhance the flavor of your dishes. And though it has a lighter flavor than truffles oil, it's still very favored because it can provide the truffles-like flavor as expected.
Note: Real truffles salt must have pieces of real truffles. The others mostly contain synthetic chemicals to create truffles' flavors.
4. Have You Heard About Truffles Vodka?
Another interesting invention of this expensive ingredient is truffles vodka. Because some of the truffles' aromatic molecules are soluble in alcohol, manufacturers add them to vodka to create another vodka.
Homemade truffles vodka is quite popular with vodka fans as it is easy to make. With only some finely thin-sliced truffles and good-quality vodka, you can enjoy this exotic alcohol a month later.
Notes – Choosing Truffles For The Best Taste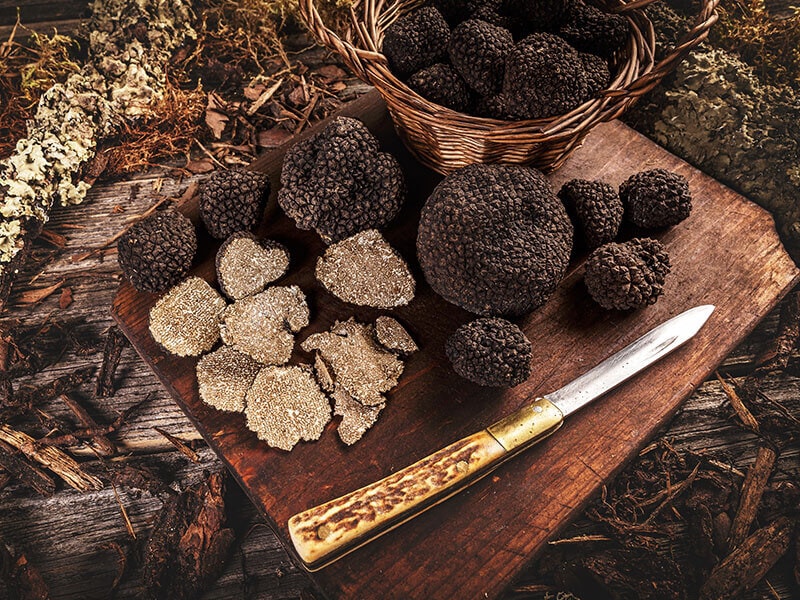 Through my description of truffles' taste, some of you might want to try truffles for real. If you are going to try your hand at cooking fresh truffles, I have some useful truffles choosing tips for you.
1. Look For The Holes
The first thing you need to notice is whether the truffles on your hand have any holes in their skin. The hole is a warning that there are insects in these truffles. Therefore, if you find some holes, skip over that batch of truffles.
2 Check Out The Smell Of Truffles
After a careful evaluation on the outside look, check out the truffles' smell immediately. Truffles should have a distinctive aromatic fragrance. Be wary. Step away from that store as soon as you find the truffles they sell are bad and moldy in smell.
3. Specialty Stores Are The Best Truffles Providers
Another note for buying truffles is the place you buy them. For safe and top-quality truffles, don't ever go to a small grocery store in your town. Even small grocery stores have truffles; they tend to don't know how to properly store them to preserve the flavor of this precious ingredient.
4. Clean Truffles Are Also Important
Truffles are sold by their weight. If you're not careful, you could end up buying a few grams of useless soil. Don't think a few grams is insignificant because one kilogram of top-quality truffles can cost you a hundred thousand dollars.
Take a quick glance at the truffles on the counter, look for the clean ones as truffles filled with sand or soil will make them heavier.
How To Eat Truffles – Tips For Having The Best Taste
It is essential to know how to prepare and eat truffles. Since there are so many types of truffles in the world, there are a few things you need to remember to enjoy the best truffles' flavors.
White Truffles Taste Best When Eaten Raw
Almost all white truffles have a more subtle flavor than black truffles, so they are usually eaten raw. The classic way to eat white truffles is by shaving them on the top of your plate.
Depending on your preference, white truffles can also be warmed before being served.
Cooking Black Truffles To Have A More Pleasant Taste
As I mentioned above, black truffles have a more intense and pungent flavor. It is better to add them to your recipes within cooking time.
However, remember to add black truffles towards the end of your cooking. They will be overcooked if you add them from the beginning.
Health Benefits Offers Vs. High Price: Is It Worth It?
Excluding delicious taste, are truffles rich in nutrition, and worth your money? Then here is my answer:
Yes, they are!
A Source Of Important Nutrients
If you're looking for an impressive nutrient profile, truffles are the right pick. Truffles are rich in protein, fat, fiber, magnesium, manganese, iron, and calcium. Moreover, vitamin C is also prominent in this fungus. (2)
Cancer Cells Killers
Numerous test-tube studies have proven that truffles can help to protect your body by killing cancer cells. Especially cancer cells that develop in a woman's body, such as cervical cancer and breast cancer. (3)
A Package Of Antioxidants
Besides vitamin C, truffles also have other antioxidants, including gallic acid, homogentisic acid, and lycopene (4). These antioxidants play an essential role in killing cancer cells and reducing inflammation.
FAQs
Don't forget to check out these frequently asked questions below to learn about this special ingredient. They may help to solve some of your remaining questions that have not been answered in the main parts.
What Are Your Experiences On Tasting Truffles?
Truffles' tastes are something really hard to tell. Their flavors range from earthy, mushroom-like, nutty, meaty, oaky to musky, garlicky, and chocolate-like, depending on each person's separated experiences.
In this post, I can only tell you the typical taste that most gourmets describe. But no matter how your experiences of truffles are, their flavor and nutritional value are worth every penny you spend. I guarantee.
Now, if any of you has already tasted this precious ingredient, remember to leave a comment in the section below. I would love to hear all of the opinions from you all!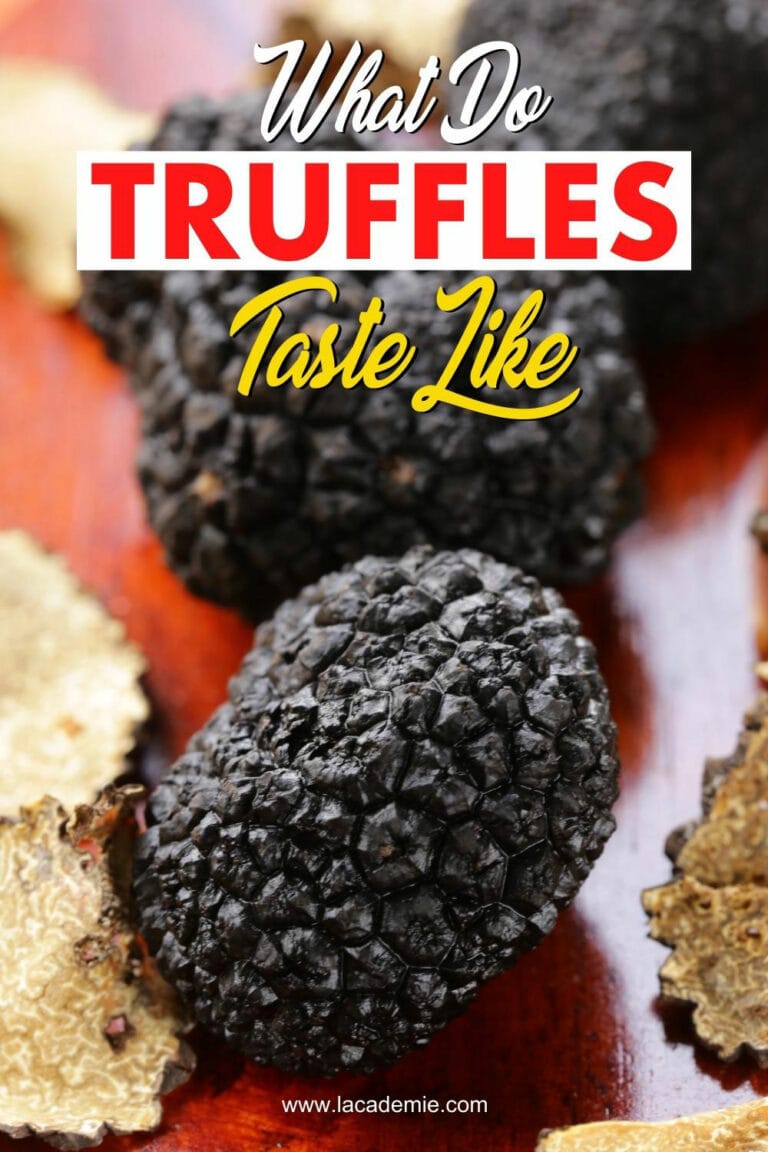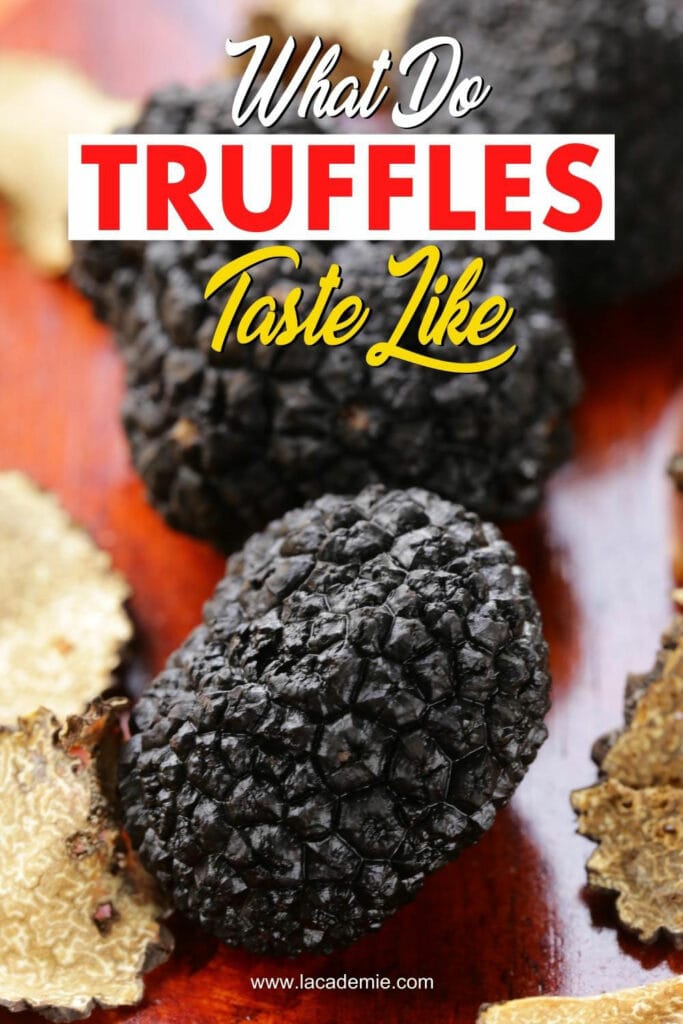 References
Truffle – Wikipedia. En.wikipedia.org. 2021.
El Enshasy, H., Elsayed, E. A., Aziz, R., & Wadaan, M. A. (2013). Mushrooms and truffles: historical biofactories for complementary medicine in Africa and in the Middle East. Evidence-Based Complementary and Alternative Medicine, 2013.
Beara, I. N., Lesjak, M. M., Četojević-Simin, D. D., Marjanović, Ž. S., Ristić, J. D., Mrkonjić, Z. O., & Mimica-Dukić, N. M. (2014). Phenolic profile, antioxidant, anti-inflammatory and cytotoxic activities of black (Tuber aestivum Vittad.) and white (Tuber magnatum Pico) truffles. Food chemistry, 165, 460-466.
Yan, X., Wang, Y., Sang, X., & Fan, L. (2017). Nutritional value, chemical composition and antioxidant activity of three Tuber species from China. AMB Express, 7(1), 1-8.